"A tree is best measured when it is down," the poet Carl Sandburg once observed, "and so it is with people." The recent death of Harry Belafonte at the age of 96 has prompted many assessments of what this pioneering singer-actor-activist accomplished in a long and fruitful life.
Belafonte's career as a ground-breaking entertainer brought him substantial wealth and fame; according to Playbill magazine, "By 1959, he was the highest paid Black entertainer in the industry, appearing in raucously successful engagements in Las Vegas, New York, and Los Angeles." He scored on Broadway, winning a 1954 Tony for Best Featured Actor in a Musical – John Murray Anderson's Almanac. Belafonte was the first Black person to win the prestigious award. A 1960 television special, "Tonight with Belafonte," brought him an Emmy for Outstanding Performance in a Variety or Musical Program or Series, making him the first Black person to win that award. He found equal success in the recording studio, bringing Calypso music to the masses via such hits as "Day-O (The Banana Boat Song)" and "Jamaica Farewell."
Harry Belafonte - Day-O (The Banana Boat Song) (Live)www.youtube.com
Belafonte's blockbuster stardom is all the more remarkable for happening in a world plagued by virulent systemic racism. Though he never stopped performing, by the early 1960s he'd shifted his energies to the nascent Civil Right movement. He was a friend and adviser to the Reverend Doctor Martin Luther King, Jr. and, as the New York Times stated, Belafonte "put up much of the seed money to help start the Student Nonviolent Coordinating Committee and was one of the principal fund-raisers for that organization and Dr. King's Southern Christian Leadership Conference."
The Southern Poverty Law Center notes that "he helped launch one of Mississippi's first voter registration drives and provided funding for the Freedom Riders. His activism extended beyond the U.S. as he fought against apartheid alongside Nelson Mandela and Miriam Makeba, campaigned for Mandela's release from prison, and advocated for famine relief in Africa." And in 1987, he received an appointment to UNICEF as a goodwill ambassador.
Over a career spanning more than seventy years, Belafonte brought joy to millions of people. He also did something that is, perhaps, even greater: he fostered the hope that a better world for all could be created. And, by his example, demonstrated how we might go about bringing that world into existence.
Finding common ground in its aftermath
Regardless of any other conclusion from the election cycle of 2020, neither party received a sweeping mandate or a clear win. Dreams of a Blue or Red wave proved to be just that: dreams. The margin of victory will have been razor thin, whether for the White House, the Senate, or the House. It seems clear that the American people do not trust either party to have complete control, which has been the long-term trend of our history (and a healthy one in my view).

We have an opportunity in this moment to learn a lesson personally and to insist that our elected leaders do the same. The country is divided, indeed far more divided than the pollsters would have led us to believe. In general, they confidently predicted sweeping margins for Democrats that just did not exist in reality. Without regard to why those pollsters were wrong and without casting aspersions on their motivation, we must accept the reality that about half the country deeply disagrees with whichever partisan view we personally hold.
Further, we must accept the reality that we've done nothing, as a society, to bridge the deep gap in thinking that exists. Both sides tried everything in this election to convince voters of the perfidy and bad intentions of the other side. The discourse from the candidates themselves fell to the level of schoolyard taunts in the so-called first debate, which actually left me feeling dumber for having watched it.
As for "coverage" of the election, one could quickly determine the point of view of any given outlet, journalist, or commentator as we lacked any coherent, comprehensive, and fact-based reporting on the candidates, their records, or the issues that actually matter. Under such conditions we merely demonize the other and create echo chambers that amplify our own notions: we do nothing to engage with and understand the other.
Of course, one might argue that such a gap cannot be bridged anyway. One might argue that our politicians, political parties, and media reflect, rather than create, the deep difference in culture between the Red and the Blue. One might (merely to take a representative example of the Blue and Red polar ideologies) posit that secular humanism simply cannot exist alongside a theocentric world view. One might, quite convincingly, cite threatening statements from the firebrands of one side or the other as proof that Red or Blue adherents want to destroy their opponents' reputations, livelihoods, or basic freedoms. Indeed, whether by rioting or stockpiling weapons the Blues and Reds give ample evidence of mutual hatred and distrust.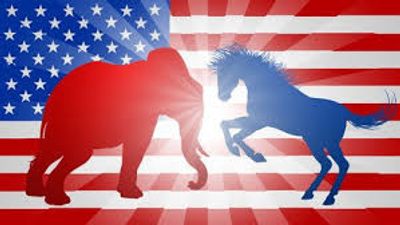 I suggest that we each, as individuals, reject this paradigm. That rejection requires both a conscious decision and actual work.

The decision part involves a choice to open one's mind to the possibility that the other has honest motives and acts in goodwill for humankind. It means deciding to lower, if only by a fraction, one's own very well self-justified guard as a sign of openness to dialog. We cannot even begin to talk if we continue to excoriate each other from behind our respective shield walls like medieval warriors.
The work part involves putting oneself in the shoes of the other in a very real way. I suspect that many of us have the lived experience of telling someone else about a problem, only to have them say, "I understand. That happened to me…." Then that person tells us what happened to them in a way that neither responds to our situation nor gives any indication that they actually heard what we were talking about.
Rather, they turned our experience into a parable justifying their own point of view and actions. I think that we could agree that we don't turn to that person again for advice or counsel, as we no longer trust them to provide either.
And, if we are honest, we also recognize that we have been that bad counsel and that we have turned the experience of others into enabling us to be the hero of our own story. In other words, when we confront the deepest corners of ourselves, we see that we have been the badly counseled and the bad counselor.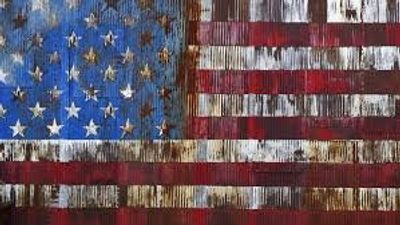 What to do then?

Seek common ground. Seek it upon whatever mundane foundations you can find.
I'm reminded of "Breakfast at Tiffany's" by Deep Blue Something. The singer laments:
"You'll say that we've got nothing in common
No common ground to stand on
And we're falling apart
Our lives have come between us
Still, I know you just don't care."
But, the singer finds common ground in the seemingly mundane movie of the song's title:
And I said, "What about Breakfast at Tiffany's?"
She said, "I think I remember the film
And as I recall I both think we kind of liked it."
And I said, "Well that's the one thing we've got."
As much as it sounds silly to seek wisdom 1990s pop songs, I do see wisdom here.
Rather than focusing on that which divides us, let's focus on what we do have in common. We'll never bridge the deeper divides if we can't find ways to relate to one another as people. If we think about our own lived experience, it's a lot easier to find common ground on big things when there is common ground on small things first.
So, let's find those small opportunities and embrace them.
The far-right group has links with the 2017 Unite the Right Rally and recent alt-right rallies in Portland, Oregon.
In case you were blissfully unaware, last night marked the first presidential debate between President Trump and Democratic nominee Joe Biden.
In what has been called "maybe the worst presidential debate in American history," Trump's constant interruptions of both Biden and moderator Chris Wallace did very little to expand his appeal beyond his existing fervent fan base. The president also repeatedly tried to associate Biden with the radical left—a statement that is simply not true. And while Biden kept a relatively calm composure, he missed a few key talking points, his most memorable quote being "Will you shut up, man?"
But the most disconcerting moment in the debate was when President Trump blatantly failed to denounce white supremacy.
"You have repeatedly criticized the vice president for not specifically calling out Antifa and other left wing extremist groups," Wallace said to Trump. "But are you willing tonight to condemn white supremacists and militia groups and to say that they need to stand down and not add to the violence in a number of these cities, as we saw in Kenosha and as we've seen in Portland?"
After a few moments of fumbling and putting the blame on left-wing groups, Trump's response was: "Proud Boys, stand back and stand by."
President Donald Trump: White supremacist group Proud Boys should 'stand back and stand by'www.youtube.com
Social media was immediately flooded with people voicing their concerns. While Trump has clearly displayed white supremacist behavior throughout his presidency, this is perhaps the most blatant example of all. The aforementioned Proud Boys have reportedly been celebrating Trump's apparent endorsement—but who are they, anyway?

The Proud Boys are a far-right, all-male extremist group that was formed in 2016 by Gavin McInnes, who describes the organization as a "pro-Western fraternal organization." Though they firmly denounce any accusations of racism (even filing a defamation lawsuit after being categorized as a hate group), they have been described as violent, nationalistic, Islamophobic, transphobic, and misogynistic. Though they deny any connotation with the alt-right, some of their core values include "anti-political correctness," "anti-racial guilt," and "reinstating a spirit of Western Chauvinism."
In its early months, the Proud Boys veered away from begin just a men's club and began growing into a flat-out, far-right extremist group that lived up to McInnes's longtime racist ideals. "I love being white and I think it's something to be very proud of," McInnes told the New York Times in 2003. "I don't want our culture diluted. We need to close the borders now and let everyone assimilate to a Western, white, English-speaking way of life."
In his detailed plan for the Proud Boys, McInnes stated that members would be sorted into nationwide chapters, and that each member can be sorted into one of three ranks. To achieve the first rank, you must publicly declare your pride in being a Proud Boy. The second is to receive a brutal beating while reciting five breakfast cereal names, and the third is to get a Proud Boy tattoo. "It's very freeing to finally admit the West is the best," McInness wrote. "That's because it's the truth."
No matter what accusations you might hear about violent protests supposedly escalated by Antifa, violence has been a major aspect of the Proud Boys' M.O. since their inception. A notable ex-Proud Boy is Jason Kessler, the founder of the infamous Unite the Right Rally in Charlottesville, Virginia in 2017. Many Proud Boys attended the event, which resulted in the death of a counter-protester named Heather Heyer.
More recently, the Proud Boys have had a significant presence in the current protests and rallies in Portland, Oregon. Their involvement in Black Lives Matter protests has revealed that they feel a duty to assist law enforcement officers.
And now, with fairly explicit approval from Trump, the Proud Boys feel a renewed sense of responsibility to further uphold their xenophobic beliefs.
"To say Proud Boys are energized by [Trump's statement at the debate] is an understatement," Megan Squire, a computer science professor who tracks online extremism, told NBC News. "They were pro-Trump before this shoutout, and they are absolutely over the moon now. Their fantasy is to fight antifa in his defense, and he apparently just asked them to do just that."
Screenshots of the Proud Boys' Telegram, a private messenger app, evidence their glee following the debate.
"Trump basically said go f*ck them up," member Joe Biggs wrote. "This makes me so happy."

If you were somehow unsure of Trump's white supremacy before, hopefully this alarming situation helps clear it up.
ALEC puts people in for-profit jails, prevents gun laws, and stops action against climate change—all from inside locked hotel conference rooms.
In the "corporate bill mill" where corporate leaders and politicians meet, schmooze, and decide the future of the planet, evil is at work.
Georgia Senator Nan Orrick, a former ALEC (American Legislative Exchange Council) member, describes back rooms in Vegas resorts and behind-closed-doors legislative sessions where corporations not only vote on bills—they write them.
ALEC brands itself as an educational charity, she says, but hefty donations (memberships can cost $25,000 a year) fund "education efforts" for legislators, according to a local 11 Alive broadcast—educational efforts led by multi-billion dollar corporations with specific agendas.
The Investigators: ALEC - The Backroom Where Laws Are Bornwww.youtube.com
In the end, Orrick left ALEC because it was just a bunch of "angry white men," she said.

But these "angry white men" have arguably guided America towards the state it's currently in, making some sort of revolution inevitable.
From the Prison Industrial Complex to Stand Your Ground: ALEC's History of Oppression and Harm
ALEC was partly responsible for the massive spike in prison populations over the last few decades—a 500% increase over the last 40 years, to be exact. In 1995, ALEC's "Truth Sentencing Act" was signed in 25 states. ALEC also pushed for mandatory minimum sentences for nonviolent drug offenders. And ALEC helped privatize the bail bond industry and has worked to pass laws to create for-profit prisons, catalyzing what we now know as the Prison Industrial Complex.
Unsurprisingly, two of ALEC's major sponsors include the Corrections Corporation of America and the Geo Group (formerly Wackenhut Corrections).
"An In These Times investigation last summer revealed that ALEC arranged secret meetings between Arizona's state legislators and CCA to draft what became SB 1070, Arizona's notorious immigration law, to keep CCA prisons flush with immigrant detainees," write Mike Elk and Bob Sloan in The Nation. "ALEC has proven expertly capable of devising endless ways to help private corporations benefit from the country's massive prison population."
In Ava DuVernay's documentary 13th, which tells the story of Black oppression in America from the ratification of the 13th Amendment in 1865 until today, she dives into ALEC and how—building on momentum from the War on Drugs—it resulted in the mass criminalization of Black people, leading to a system of punishment that Michelle Alexander calls "The New Jim Crow."
13TH | FULL FEATURE | Netflixwww.youtube.com
ALEC has a long track record of creating racist policies that disenfranchise vulnerable populations. For example, they were an origin point of voter ID laws that successfully prevented many voters from participating in elections. In 2011, the civil rights organization Color of Change launched an investigation into ALEC's political actions in 2011, and reported that for years, "the right wing has been trying to stop Black people, other people of color, young people, and the elderly from voting for partisan gain—and now some of America's biggest companies are helping them do it."

ALEC was also responsible for creating the "Stand Your Ground Laws," which helped George Zimmerman go home free after he shot Trayvon Martin.
Once people began connecting the dots and investigating this law across states, they realized that the bill looked almost identical from state to state—and were able to trace its origins back to ALEC.
A Foundation Built on Disregard For Human Life
Destruction is in ALEC's lifeblood. Two of ALEC's early founders were the Koch brothers, both of whom played a significant role in destroying early government action against climate change. Over recent years, ALEC has doubled down on its efforts to defend fracking and to fight against protestors and whistleblowers, passing bills that threaten to fine and imprison anyone who attempts to vandalize pipelines, and beyond.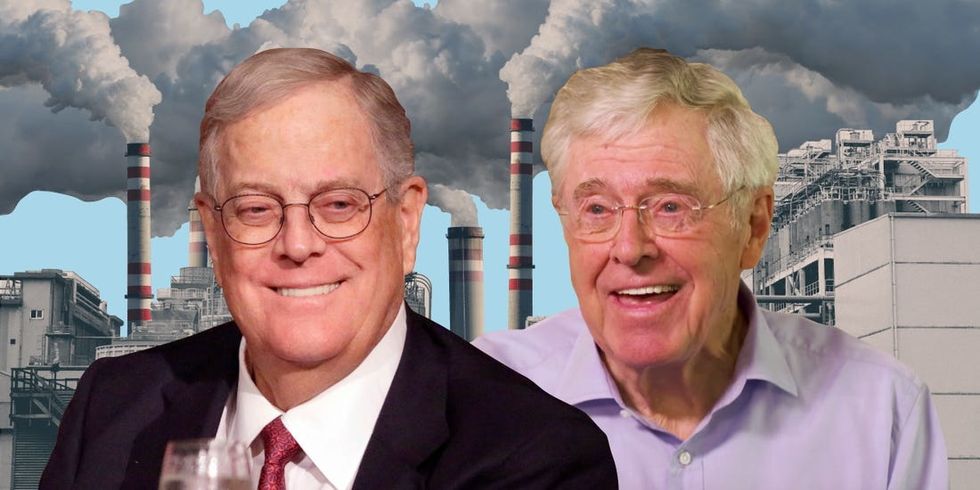 Koch Brothers
Other current corporate sponsors include the tobacco industry, the giant pharmaceutical company Pfizer, the National Rifle Association, Wal-Mart, ExxonMobil, and hundreds of other corporations. That means that these major corporations have a say in what bills are passed where.

ALEC has faced some resistance. After whistleblowers published a database called ALEC Exposed in Wikipedia, corporate sponsors began to face pressure to leave the shadowy lawmaking organization. Coca-Cola, Kraft, Intuit, the Gates Foundation, Google, and other companies pulled out. Hundreds of legislators have cut ties—but ALEC continues to meet year after year.
ALEC Is Still Alive and Well—and Was Fighting to Reopen in Mid-May
ALEC is still alive and well today, if quiet (or very good at diverting attention from it). According to the ALEC Exposed Wikipedia page, ALEC has been "Leading Right-Wing Campaign to Reopen the Economy Despite COVID-19" this May.
The suffering that some of ALEC's bills have caused is literally unimaginable–and genuinely apocalyptic in scale. The number of lives ruined from big pharma, gun violence, climate change, and mass incarceration is absolutely uncountable. Bills like the "No Sanctuary Cities for Illegal Immigrants Act," the "Consistency of Firearm Regulation" Act (which prevents local areas from restricting firearm possession), and many others have each had brutal lived consequences on people's lives—and each was created in an unjust, secretive way.
Yet ALEC still insists that it's a legal organization and that its nay-sayers are simply delusional leftists.
But if ALEC really were a legal organization, wouldn't they open their doors to the media instead of forcibly removing the reporters who try to enter at its annual policy summit?
Of course the fact that corporations are running the show nowadays isn't exactly a surprise, and ALEC is just one of the many corporate lobbyist groups that are "ghostwriting the government," as one Harvard Political Review report put it. The best of these groups are probably so secretive that no one knows exactly what they're called or where they are. Certainly, ALEC is growing alongside the times, figuring out how to further its agenda as more politicians refuse corporate donations, and who knows: It may disappear completely, reforming itself as another slick corporate group in some other identical hotel ballroom, ruining lives with the flick of a few keystrokes.
But at least the people are beginning to wise up to the fact that many of our lawmakers have pledged allegiance not to the people but to corporations.
United States of ALEC: A Follow-Upwww.youtube.com
COVID-19 should not be a partisan issue.
Candace Owens, a right wing activist well-known for speaking out against anything any democrat does, took to Twitter today to share that she is actively spreading COVID-19.
Owens' tirade was triggered by an experience in Whole Foods in which her and her husband were asked to put on medical masks or otherwise cover their mouths. Apparently, Owens was unaware of D.C. Mayor Muriel Bowser's April 8 mandate requiring customers to "wear a mask or mouth covering" when shopping. According to Owens, this polite request to do her part in stopping the spread of a deadly virus is an indication that the country is "spiraling into tyranny."
Police enforcement @wholefoods? #coronavirus is spiraling into tyranny. https://t.co/EXA56c7ynJ

— Candace Owens (@Candace Owens) 1586893774.0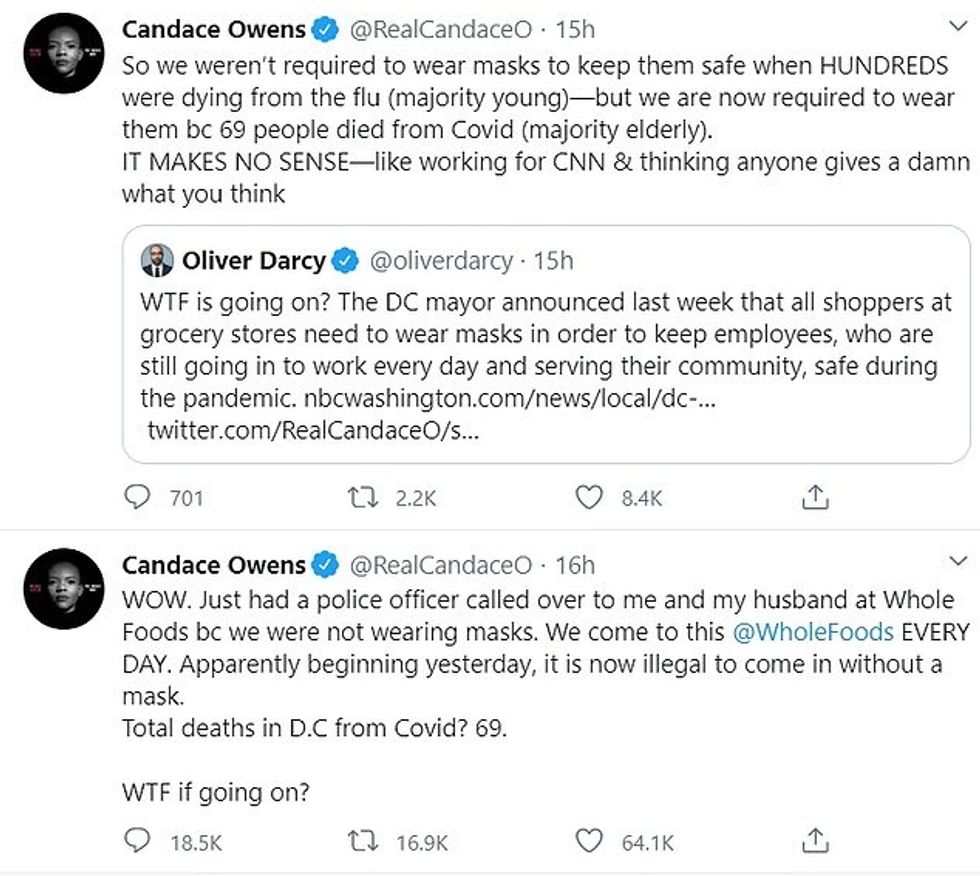 Owens said that she responded to the police officer by saying, "I don't have a mask. I haven't bought one."
She continued in the video, "I didn't race to buy toilet paper, I'm not a part of the corona crazies. I'm not a part of the tin foil hat, bunkering in my basement. I'm just living my life." The conservative activist went on to describe her and her husband being asked to hold their clothing up to their faces while shopping.
Owens' then went on to bemoan the coronavirus measures imposed in Washington DC, claiming there is "no empirical evidence to support the wearing of masks."

All of this would just be a matter of opinion (though one that seems rather insensitive to share at this time), if Owens didn't soon make it clear that mask-wearing isn't the only social distancing rule she is disobeying. She then began to tweet about the many times she had left the house recently for unnecessary reasons, each time risking spreading or contracting the deadly virus.
And to really clear my conscience, I'd like to also to confess that we stopped at the gas station to pick up propan… https://t.co/FmVvU7HqXQ

— Candace Owens (@Candace Owens) 1586966175.0
While Owens is correct that lockdown and social distancing is a nuisance, the selfishness of railing against restrictions put in place to save lives is truly astounding. Everyone agrees that it's a scary time in the United States, and we all know that it would be better if we could live our lives normally and run multiple unnecessary errands a day. Unfortunately, the reality is that we all have to work together to stay home and slow the spread of a deadly virus.
Of course, Owens isn't the first republican to treat social distancing as a nuisance or even as a democratic hoax. President Trump has implied that the Democrats are to blame for the flagging economy and even for the virus itself, all while threatening to reopen businesses well before experts advise. The fact that republicans have made COVID-19 a partisan issue only further points to the core ideology at the heart of the current administration: Selfishness.
Unfortunately, this is not some petty political issue we're talking about. If people like Owens continue to shirk social distancing rules, the cost will be measured in lives lost.
This week, Rep. Alexandria Ocasio-Cortez and Senator Ed Markey will be proposing the most ambitious plan to fight climate change yet.
Recycle. Take shorter showers. Turn the lights off.

Over the past several decades, most of us have heard these diatribes repeated over and over, and have perhaps become numbed to these mantras, which promise that tiny droplets of collective action could potentially save the planet from environmental ruination.
It's true that small changes are important, and that each person contributes to the growing levels of waste and pollution that are killing our ecosystems and raising the planet's temperatures so dramatically that Manhattan-size gaps are forming in Antarctic ice. But it's also true that 71% of carbon emissions come from just 100 companies. It's also true that the scale of the crisis has grown unmanageable, and poses an unprecedented threat to human life.
That's where the Green New Deal comes in.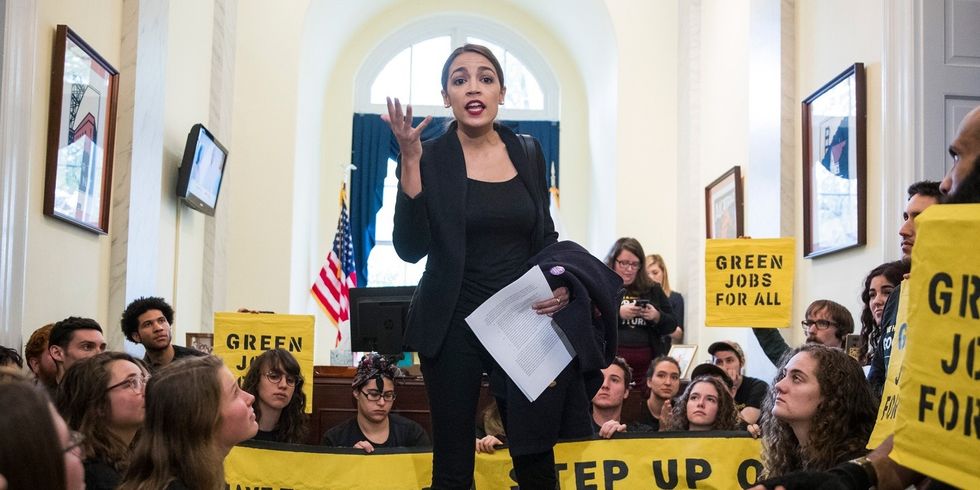 Image via The Intercept
"It's the only plan that matches the scale of the crisis," said Naomi Klein of the proposal, speaking on livestream yesterday night to thousands of activists tuning in across America. The livestream was hosted by the Sunrise Movement, a millennial-founded organization dedicated to supporting and fortifying the Green New Deal, especially as it's proposed in Congress in the coming week. Klein is the author of This Changes Everything, a book that argues that impending climate catastrophe actually presents an extraordinary opportunity to revamp the world's economic systems for the better. "I believe we were born for this moment," she told viewers.

Named after FDR's New Deal—which revolutionized the entire country on a tremendous scale, planting three billion trees and establishing hundreds of national forests in addition to catalyzing widespread economic, agricultural, and social reforms—the Green New Deal seeks to implant reforms on an equivalent scale in a time when it seems like there is no other option.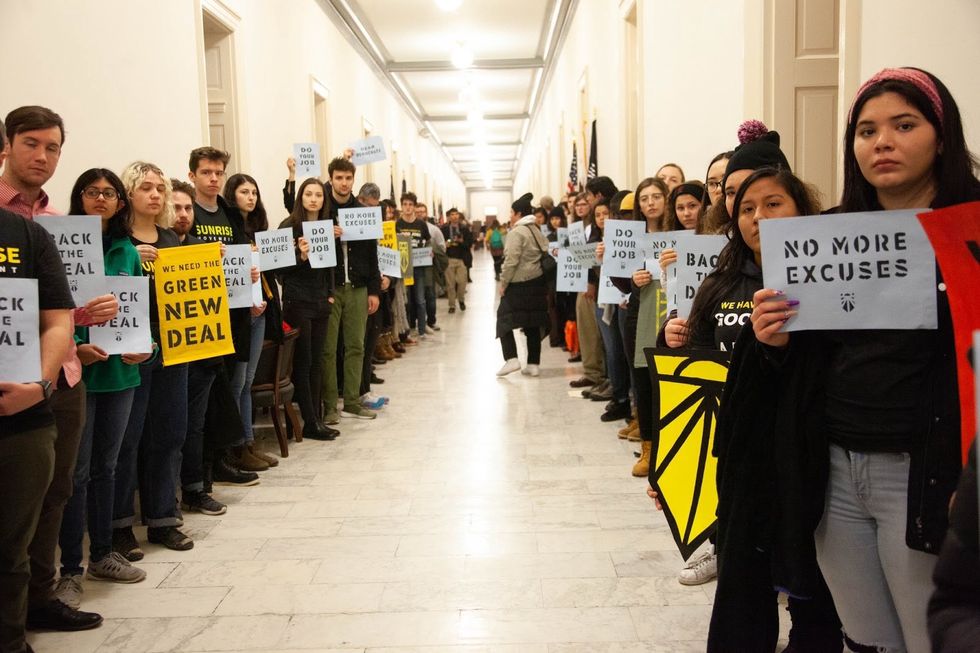 Image via Vice News
The plan has gone through several phases, but the one that's being proposed in Congress this week focuses on several fundamental points. First: achieve net-zero carbon emissions by 2030, and transition to renewable energy on a huge scale through initiatives like the creation of a nationwide electrical grid. Second: institute a living wage for all, in tandem with the creation of unlimited numbers of green jobs. These are the plan's main tenets, but its ideological aspirations stretch much further. It hopes to generate thousands of jobs in the form of start-ups and maintenance, and to start a wave of international trade in the renewable energy sector.

The original plan focused on a switch to 100% renewable energy by 2030, but a recent five-page draft obtained today by Bloomberg didn't mention this point, perhaps as a nod to moderates, though the omission is still subject to change. The draft proposes large-scale investment in green technology, the restoration of threatened lands, waste removal, and "massive growth in clean U.S. manufacturing, removing pollution byproducts and greenhouse gas emissions from that sector as much as technologically feasible."
The term "Green New Deal" is not a new one, though it has been going through different iterations since its inception. It was coined in a 2007 column by Thomas Friedman, and Barack Obama included it in his 2008 platform. Britain also took note, but a surge of Republican/Tory victories stymied its momentum.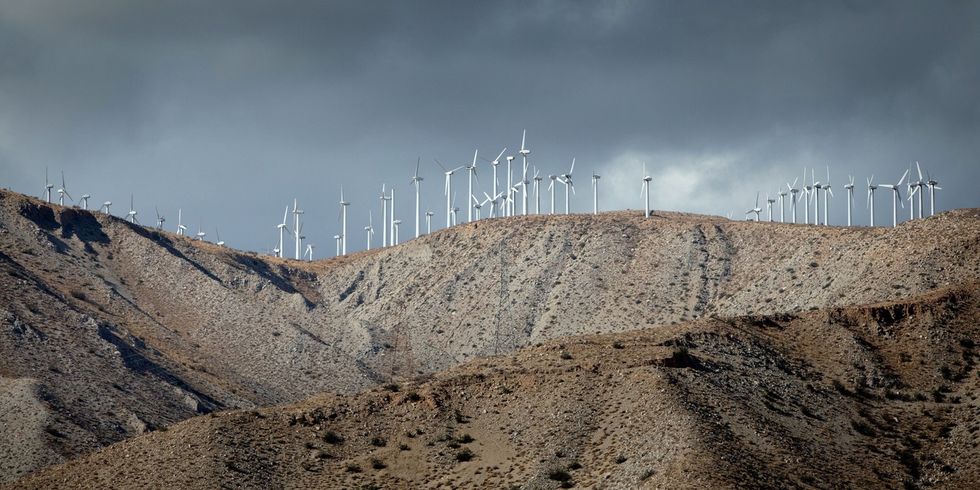 Image via theintercept.com
The GND has found new life in Representative Alexandria Ocasio-Cortez, the Bronx electorate whose rise to political success has been accompanied by widespread social media fame. Ocasio-Cortez showed up in person to support a Sunrise Movement sit-in in Nancy Pelosi's office, demanding the creation of a committee dedicated to developing and pushing the GND, and since then she has become one of its biggest proponents. Now she will be proposing it in Congress this week, alongside Massachusetts senator Ed Markey. The plan has also garnered support from Rep. Ayanna Pressley, as well as 2020 presidential candidates Kamala Harris, Cory Booker, and Bernie Sanders.

The Sunrise Movement began in 2015, when it was founded by climate activists Sara Blazevic and Varsini Prakash, and quickly gained momentum, taking notes from the heady drive of the 1963 civil rights protests of Birmingham, Alabama. Its founders gathered activists, reached out to politicians, and pulled together the finer points of the Sanders campaign and other recent social movements; the successful Pelosi sit-in was the product of months of organizing.
The movement is appealing in a narrative sense: the vision of young people fighting against bloated fossil fuel behemoths has a definite draw to it. There's also the fact that science says the fate of the entire world requires unprecedented global change over the next few years, otherwise catastrophes like Hurricane Sandy and the California wildfires will become the stuff of the everyday.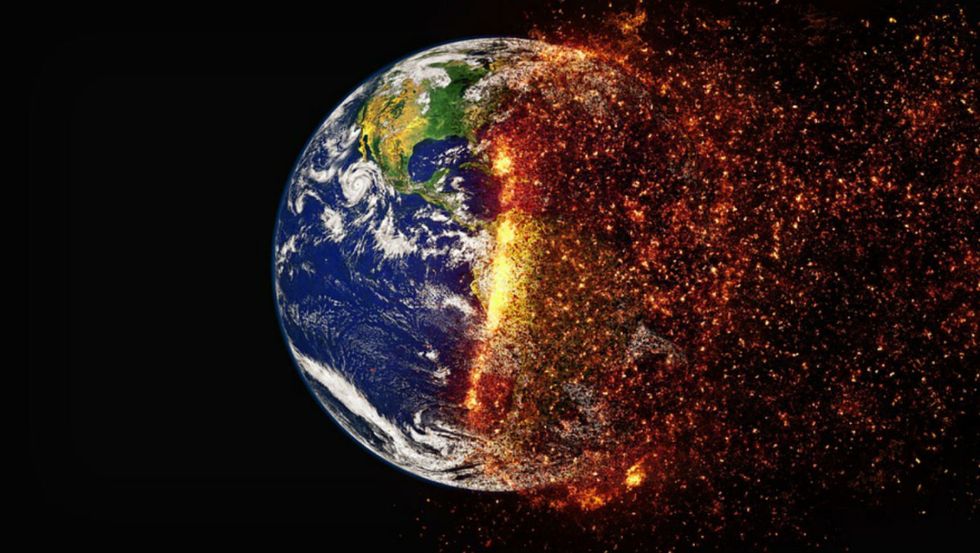 Image via theinsurgent.com
But the GND is still just an idea, and it could remain that way. Its lack of specific policy has been subject to criticism, though an official draft has yet to be unveiled, and conservative news sources have labeled it as a hoax, an amorphous idea without policy to back it.
While the GND might seem like an impossibly ambitious proposition, humans have revamped and reshaped the world before a hundred times over, and we are nothing if not creative and adaptive. We've created technologies that connect the globe and turned empty landscapes to highway-lined cities in a matter of years. Now—unless you like the idea of joining Elon Musk's exclusive Mars colony—it's time to turn all of our collective energies towards the future of the home we share.
70 leading Democrats have signed on in support so far, and momentum is building for its official proposition. The Sunrise Movement is planning on facilitating office visits to congress people across the country this week, as well as a rally in Washington on February 26th.
In an age of doomsday threats and constant headlines about plastic oceans and refugee crises facilitated by environmental droughts, the idea of a Green New Deal—something that could actually, genuinely make a difference that touches every aspect of life—seems like a light at the end of the tunnel. Now it's just a matter of getting there.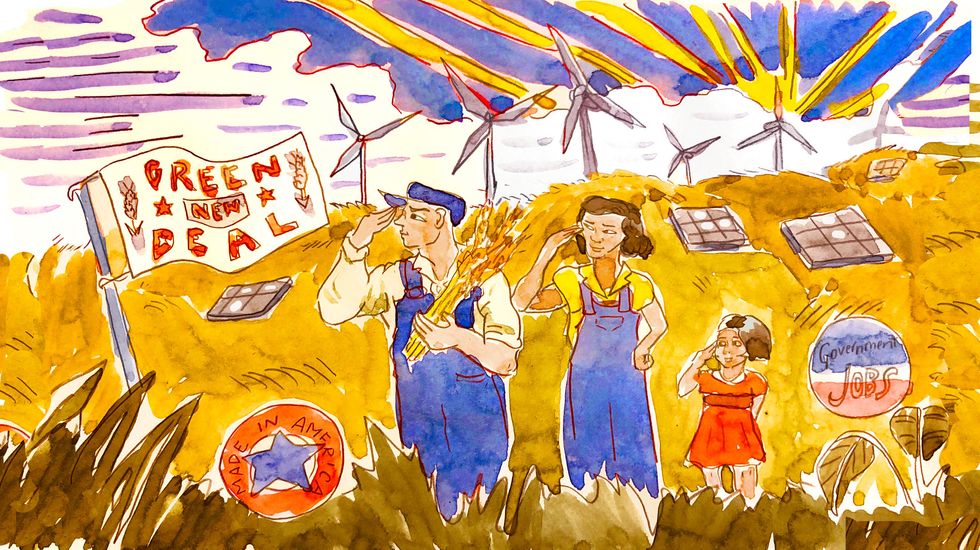 Image via radioopensource.org
Environmental crisis affects the poor and vulnerable at disproportionate levels; it catalyzes mental and physical illness, economic decline, and overall devastation. Irreparable damage has already been done—but the fight is not quite over yet, though time is running out.
---
Eden Arielle Gordon is a writer and musician from New York City. Follow her on Twitter at @edenarielmusic.

---
Democrats have control of the House for the first time in eight years. Now, they have a mandate to push for a bold agenda on infrastructure, healthcare, immigration, and voting rights.
After months of warnings, the "Blue Wave" finally came to shore. Democrats took back control of the House, gaining 32 seats, a number that could increase to 38 or 39, depending on the results of the uncalled races. With the party back in charge of the lower chamber, much of the discussion around what their priorities should be has revolved around investigating the president and his myriad offinancial and political scandals. House Democrats have a clear mandate to fulfill their constitutional duty to provideoversight of the White House, but Democrats also have a mandate to address a number of major legislative issues. Though it's unlikely Democrats that will get any of these priorities pushed before the president and a Republican Senate, it's crucial that they signal to their voters what they want to done should they win the presidency and the Senate in the future.
Infrastructure
As a candidate and in the beginning of his presidency, Donald Trump promised to tackle the nation's crumbling infrastructure. That, of course, has gone nowhere and every "Infrastructure Week" ended in some scandal, quickly becoming anongoing joke. But thestate of America's infrastructure is nothing to joke about. Infrastructure spending has long been a Democratic Party priority before Trump attempted to co-opt it. Democrats should push that issue once again, proposing a bold infrastructure plan to repair crumbling roads and bridges, modernize public transportation systems, expand access to high-speed, fiber-optic Internet, and invest in green energy projects like wind, solar, and hydroelectric power.
Such an infrastructure plan would signal the party's commitment to investing in neglected communities and funding renewable energy projects such as a broader plan to combat climate change—not to mention open the door to the manyeconomic benefits of infrastructure spending. It would also establish a clear contrast with Trump's previous infrastructure plan that's been criticized as agiveaway to private contractors. The president has said he is willing to work with Democrats, so why not press him to keep his word? Democrats would be wise to pressure the president and his Republican supporters to prioritize infrastructure, or face political consequences.
Healthcare
No other issue played a bigger role in the Democrats' midterm success than healthcare. Their electoral message on healthcare was simple: Protect people with pre-existing conditions, expand coverage and stop proposed cuts to Medicare and Medicaid. Now they must deliver on these promises. House Democrats can immediately pass legislation to protect coverage for people with pre-existing conditions, pressuring Trump and other Republicans who have vowed to do the same to keep their word. With a full repeal of the Affordable Care act now temporarily off the table, Democrats should push to expand coverage and address the limitations of the ACA. These can range from introducing incremental policies that get support from more moderate Democrats, like legislation tostabilize insurance markets, to bolder policies that attract the progressive wing of the party, like allowing Medicare more power tonegotiate drug prices and proposing aMedicare buy-in for 55 to 64-year-olds.
While the long-term goal for the party should be to push for a Medicare for All system, these are positive steps toward a goal that still has a lot of opposition from within the party. Finally, any budget proposed by House Democrats should reverse any funding cuts to Medicare and Medicaid. Democrats have an ideal opportunity to push for a positive vision on healthcare and continue to have the upper hand on the issue heading into 2020.
Immigration
Bitter political battles over immigration, especially over funding for the border wall and the fate of DACA, will be a prominent feature of politics the next two years. Democrats are right to be alarmed over the administration's immigration policies like family separation and ending DACA, but now it's crucial they advocate for an immigration agenda in contrast to the Republican agenda. With the fate of DACA likely in thehands of the Supreme Court, Democrats must push for a long-term legislative solution. The most stable solution is the passage of the Dream Act. It would also be politically beneficial for the Democrats to bring it to the floor cleanly, without a compromise on funding for the wall. Furthermore, Democrats should schedule hearings about the family separation policy and Trump's pre-election decision to bring troops to the southern border in response to the migrant caravan. Democratic voters havebecome more liberal on immigration, and it's important the party signal to its base that they are willing to find solutions on the issue without compromising its core values.
Voting Rights
Much of the post-election analysis has focused on the effects of voter suppression, notably in Georgia, North Dakota, and Florida. These voter suppression efforts have only increased since theSupreme Court struck down the section of the Voting Rights Act, which required states with a history of racial discrimination to get permission from the Department of Justice when enacting any changes in voting laws. In response, states around the country immediately passed strict voter ID laws. Fortunately, the Supreme Court decision left the door open for future legislative action. House Democrats can immediately take action andstrengthen the Voting Rights Act. They would also be wise to propose legislation to make Election Day a federal holiday, or move Election Day to a Sunday, as it is in most places around the world. While Republicans are busy spreadingconspiracy theories about voter fraud, Democrats should take the opposite path and make it clear they will fight continuing discrimination in voting. For strategic and moral purposes, the party has an obligation to extend democracy in every way when voting rights are under tremendous pressure.
Dan is a writer, thinker and occasional optimist in this random, chaotic world. You can follow him on Twitter @danescalona77.
In the wake of the Tree of Life shooting we're left wondering: how did we get here?
Is Robert Bowers a Fascist?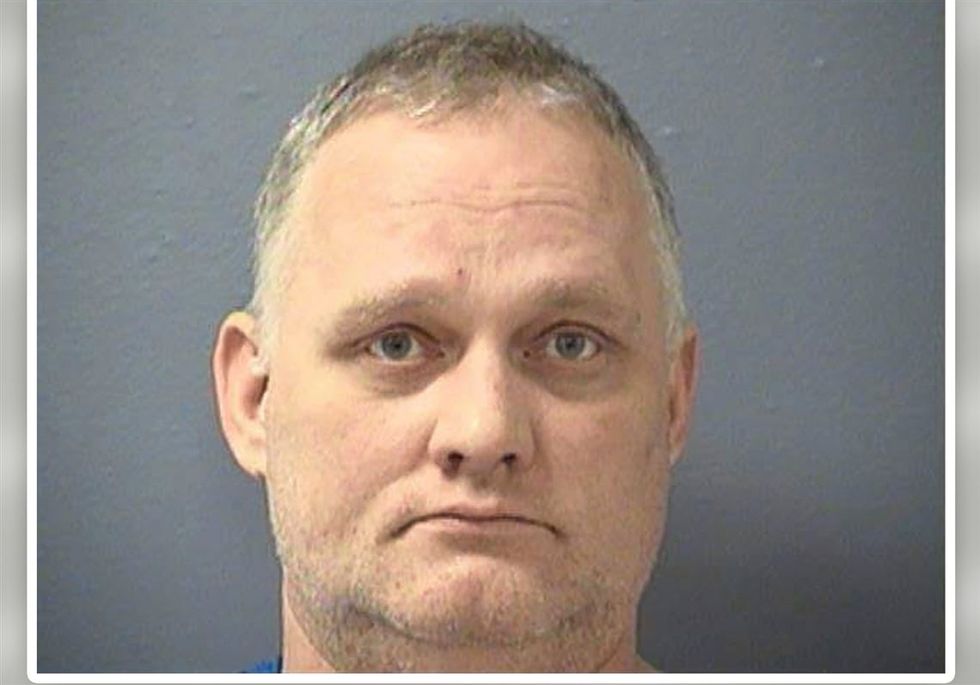 Pittsburgh Gazette
If Umberto Eco is to be taken at face value when he describes his Ur-fascist as "impatient for death,"¹ the question we're left with in the wake of the Tree of Life Synagogue shooting is this: Why now, in 21st century America, has this distinctly 20th century urge, this death drive, suddenly rematerialized? The other questions–ones concerning motive, logistics, and cultural response–while meaningful in their own right, only explain the symptoms, not the disease.

Fascism in its truest sense is a type of suicide, one committed not by an individual but by an entire society. Still, the important conversation (as with an individual suicide) doesn't concern method. When a man takes his own life, the why is a far more incisive question than the how. If we're to extrapolate this metaphor, to argue about gun control, anti-semitism, and President Trump's brusque response to this tragedy is tantamount to debating the meaning of using rope over a straight razor. In the interest of being thorough, however, let's briefly explore these symptoms:
Immediately following the attack, Robert Bowers' social media posts went loud, his comments regarding Jewish conspiracies sitting somewhere between Alex Jones' InfoWars and the Protocols of the Elders of Zion. "Jews are the children of satan," he shouted into the Internet void. What the public was given were echoes, reverberations after the fact. The shooter's motive was never in question.
The issue then splintered, its fragments taking familiar trajectories. Pragmatists argued for tighter gun control, in this case perhaps an antihistamine, but one that could at least theoretically prevent another maniac from gunning down a room full of unarmed civilians. Others blamed the increasingly volatile rhetoric of the Trump regime for galvanizing a new generation of angry white men. When looking at the recent rise of extremist provocateurs,² this second point can feel the more crucial (though it goes without saying that these views are far from mutually exclusive), but in reality, it's closer to a half truth. Barack Obama's assessment of Trump (and by extension his rhetoric and the hate it inspires) as the "symptom not cause" of our present spiritual crisis mirrors this opinion, whether he meant it to or not. Still, we're left wondering: if Trump, Bowers, Cesar Sayoc, Richard Spencer, the alt-right, et al. are symptoms, what's the cause?

Contextless Nostalgia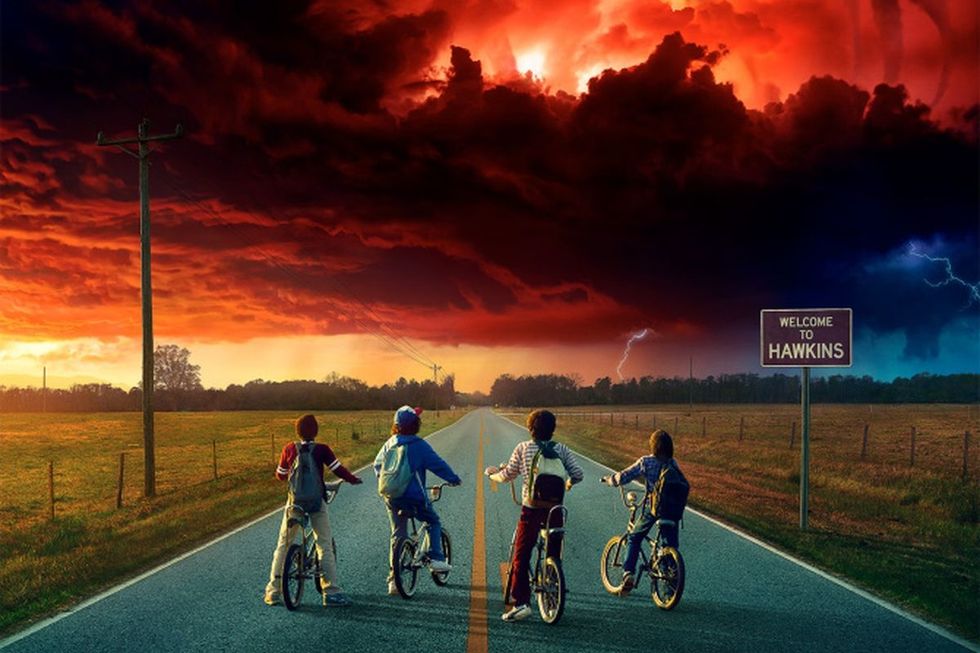 It's been stated time and time again that we're becoming increasingly obsessed with nostalgia, cripplingly so. Whether or not it's true, again, is not so important. The why, however, remains.
Nostalgia, in the classic sense, is a wistful remembrance, a pained recalling of a time where things were better. It's a belief, however erroneous, that the past contains more happiness than the present. A fitting example of nostalgic art is Richard Linklater's Dazed and Confused, a film so nostalgic it feels documental, produced for the former rebels/present yuppies of Gen X as a glimmering look at their past, a reassurance that they were indeed once cool. Saccharine or not (depends on who you ask), the film certainly comports to this traditional definition.
Today's televisual/cinematic nostalgia, if one can really call it that, has a distinctly different flavor. Instead of being a monument to the past, a shared generational experience, nostalgia has been co-opted as an aesthetic, a mood. Stranger Things, a show decidedly millennial in both content and attitude, is a perfect example of this. The outfits, the lingo, the references, and the sets all feel nostalgic, but a look at the show's viewership demographics quickly reveal this feeling doesn't fit nostalgia's true definition. 18-39 year-olds aren't old enough to have memories from the early 80s.
The television producer's argument that Stranger Things and other period dramas give a younger audience access to the past (which is new to them) while also capturing an older demographic who experienced the events on the show first hand doesn't hold water, especially when you consider that the Duffer Brothers are only 34-years-old. The nostalgia they're capturing isn't genuine. It's a fractal cobbling of present day ideals and past aesthetics–not nostalgia, but mutation, a rehashing and reliving of history with no frame of reference. It's time travel to a non-existent past.
One look around–bell bottom jeans, Mad Men, 90s-inspired music videos, Rolling Stones and Led Zeppelin songs playing on truck commercials–and it's impossible not to see this frantic pawing as the defining mark of our culture. It's not the end of history; it's a fraught and dizzying attempt to reimagine it and a cultural impetus to live in the mangled architecture of this imagined past.
Nostalgia for Stakes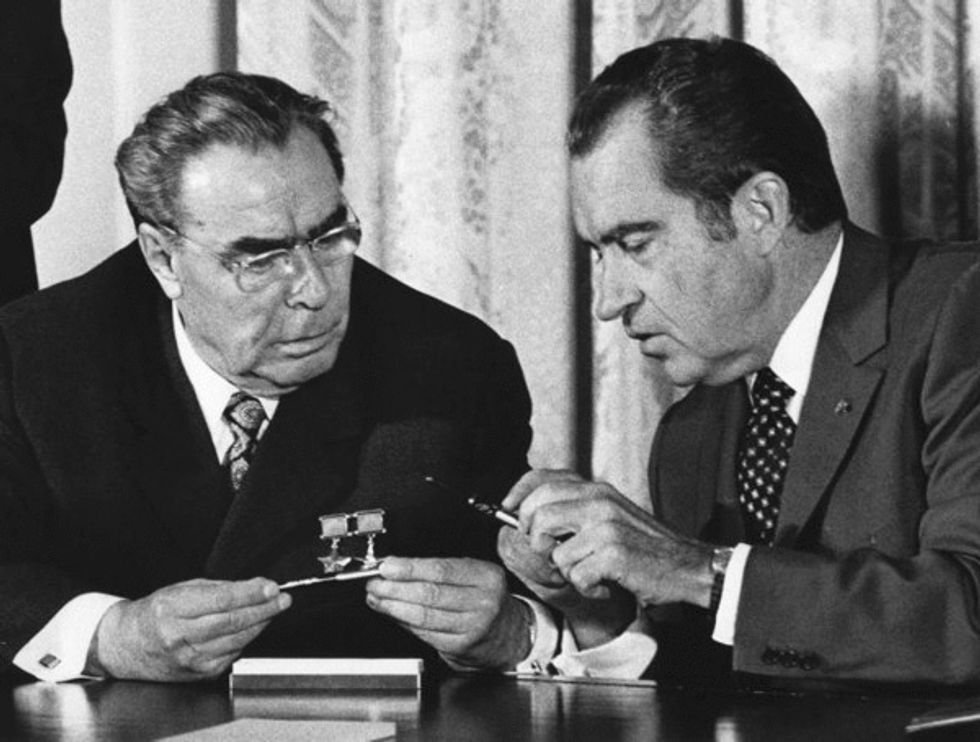 To return to Eco for a moment, the Ur-Fascist is also marked by the fact that he's "deprived of a clear social identity." Eco goes on to say that fascism takes this lack of identity and fills the void with nationalism. While this is certainly true, from average Trump supporters all the way down to Cesar Sayoc and Robert Bowers, Eco never identifies the cause of this deprivation.³ The contextless nostalgia of our present offers an entrée into diagnosis–Bowers and others like him, while certainly insane, aren't so far removed from society as to be immune to its mores.
This new form of nostalgia, this amalgam of distorted realities, functions as both an escape hatch from our present existential void–a void of unmeaning, a loss of stakes–and one of its root causes. This new, fundamentally false, cultural memory is a product of our present zeitgeist. It's born of an influx of information and static confusion, one created by a society so materially comfortable that it's primarily concerned with artistic and aesthetic trends, with manufacturing meaning. The loss of stakes, however, can be traced back to the 1970s.
Following the Vietnam War and the Strategic Arms Limitation Talks (SALT), the U.S. found itself in a peculiar position. After nearly 40 years of perpetual war, we lacked an enemy to align ourselves against. A malaise set in, one that would typify the 1970s. Then, in 1983, Ronald Reagan offered the American people a respite from having to define themselves by anything other than what they are not. He declared the Soviet Union an "evil empire," rekindling Cold War rhetoric which had long since burnt out. Announcing this a few years after signing a non-proliferation treaty with the Soviets probably felt strange to anyone paying attention, but it didn't matter. We had an enemy again.
But was the Soviet Union truly our enemy or one recreated by spiritual necessity? Manufactured animosity and organic threats converged at a single point. For Reagan's part, all he did was stir up past resentments, but his demagoguery wasn't feeding some Weimar-esque yearning for a return to greatness, but a nostalgia for dire consequences. Because the method and end result are similar—a monolith enemy is created onto which a society can project its fears—this distinction can feel unimportant. But, this marked a significant change.
America's enemies were no longer an existential threat. They were created as convenient scapegoats for economic and political turmoil. The recession of 1973, the OPEC oil embargo, and the 1979 energy crisis, while not unserious, paled in comparison to the socio-economic climates that spawned the original iterations of fascism. The U.S. economy was down, sure, but there was no question as to where the seat of global power resided. Still, at the quotidian level, lines at the pump and the rapid decrease in factory jobs were panic-inducing. If we take this moment to be the birth of American fascism, the moment in which we became "constitutionally incapable of objectively evaluating the force of [our enemies],"⁴ then it represents a reversal of what happened in the Weimar Republic. Instead of a fascism born out of economic powerlessness and spiritual fervor, ours is the result of a spiritual drought created by material excess.
Convergence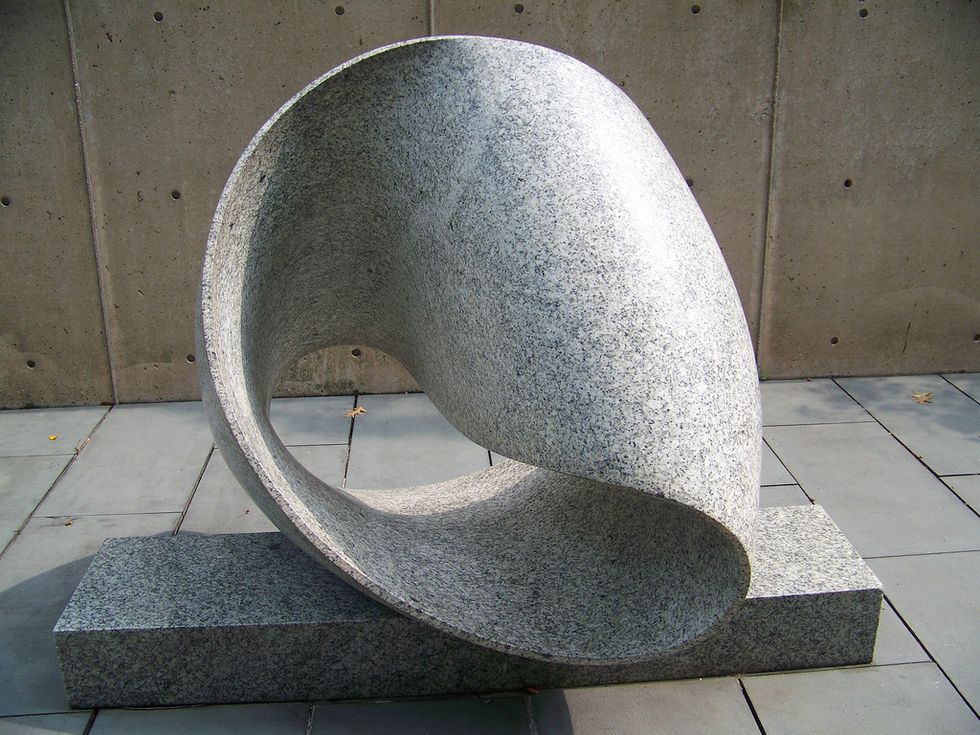 On an individual level, it's hard to even differentiate Robert Bowers from the likes of Steven Paddock. Sure, Bowers is racist and anti-Semitic, but this is just a variation on the theme of the deranged lone gunman. If one steps back and looks at the furor in the stands at Donald Trump's rallies or at the violence in Charlottesville last year, however, it becomes impossible to miss this creeping trend, conservatism fading in the rearview as our society pushes ever rightward. But why?

If an individual suicide is an escape from life, an assertion that death is preferable to the anguish of everyday existence, then fascism, the societal suicide, must be an escape of the same order. At this point, it's clear that our sprint towards authoritarianism comes from our society's collective yearning for stakes, for meaning. There's no great existential threat, so we look to our leaders to manufacture one. But fascism is European. Its great figures have been dead for nearly a century. It's foreign, an anachronism. It doesn't make sense until one considers our present infatuation with nostalgia. Not nostalgia as feeling but as concept, as aesthetic. American neo-fascism is the point at which nostalgia for stakes and loss of context converge. Today's fascist is one who rifles through an ephemeral past, one he never really experienced, searching for an enemy that he's not only ill-equipped to assess, but that doesn't exist in any meaningful sense.
For those who feel disenfranchised by the end of history (or late capitalism or neoliberalism, whichever buzzword one assigns it), the options are limited. For reasonable people, it's a choice between participating in society or being forced to its margins. The neo-fascist avoids both options entirely, shirking nihilism and resignation. Instead, he dives head first into the shallow pool of contextless nostalgia, attempting to plumb the depths of history without realizing he's splashing around in a puddle. It's a frenetic and palsied search for a transgressive idea with which to define his world and by extension, himself. Robert Bowers is insane, yes. But the massacre he committed is simply a fringe response to a mainstream problem.
Donald Trump and the Fascist Urge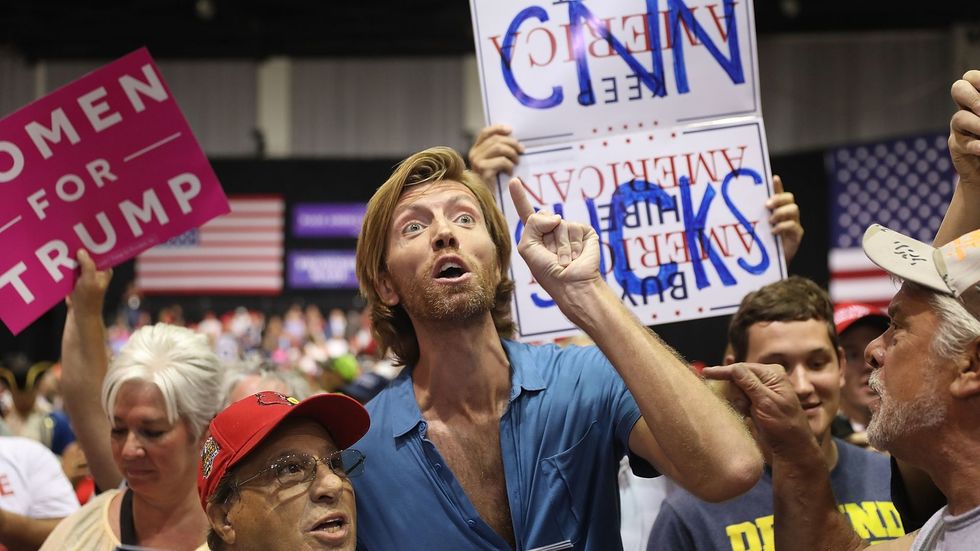 Axios
If Robert Bowers is a fascist, then what do we make of Donald Trump, whose rallies and policies embolden Bowers and those like him? This question has been on the tip of the media's tongue for three years, a veritable op-ed monsoon raging on both sides of the political aisle. It's here where Jean Baudrillard's idea of media as Möbius strip⁵ becomes relevant. Is Donald Trump a fascist? In this age of constant transmission, of signs and symbols ad infinitum, the answer and question morph into one. The answer is yes because we're asking. The harder pill to swallow is that we're asking because we want it to be true.

If a contextless nostalgia for stakes is the spiritual issue of our time, then it's preposterous to assume that it only affects the 42% of Americans who support Donald Trump. The other 58%, (liberals, socialists, some civility-obsessed conservatives) just manifest their yearning in a different way. The media frenzy surrounding Trump's campaign–the comparisons to Hitler, the endless, dizzying video coverage of his rallies and speeches–serves this latent desire. The mainstream media's posturing against Trump, their denouncing him as fascist, served only to legitimize him as such.
The #Resistance, the anti-fascists, the op-eds from supposed Trump staffers quietly opposing him from inside the White House, all work in service of the neo-fascistic lunge. The liberal outrage at Trump simply fulfills the desire for stakes in reverse. Instead of supporting Trump and accepting a manufactured enemy (immigrants, Jews, whomever), the anti-fascist (even linguistically the term anti-fascist, by virtue of its existence, seeks to build Trump into that enemy) wills him into being that thing by virtue of the anti-fascist's constitutional need for something to define himself against. Thus, simultaneity is achieved. Trump is a fascist not because of his racism or demonstrative hand gestures, but because both his supporters and detractors alike have willed him into the role.
Unfortunately, we're rapidly approaching a time in which the hows and whys lose their importance. Acts of terror, like Robert Bowers' attack, cut through the mediated blur and give us an honest glimpse at the stakes we're clamoring for, that we claim, by virtue of our actions, to need. In those moments the romance of crisis fades. With the rise of a Neo-American Bund, the regularity of racist and xenophobic sentiments and policy decisions, and the attempted suppression of the press, this once contextless urge is transformed into a frightening reality. Still, considering the The Tree of Life massacre already feels old, tired, like a relic of the past, it seems unlikely that this, or any one moment, will be enough to snap us from our nostalgic impulse and back into the present. It feels as though we're stuck in circumlocution, doomed to grasp for stakes until we conjure them in some perverse alchemical procedure.
Footnotes:

1. While a more accurate representation of Eco's point would include in it the idea of "heroic death," it feels safe to call this a death drive nonetheless. Suicidal ideation, however sublimated, is still suicidal ideation.
2. One that immediately comes to mind is Gavin McInnes, the leader of the Proud Boys, a far right group that was recently videotaped mercilessly beating protesters on the Upper East Side of Manhattan.
3. He also never attempts to. His piece on Ur fascism was written in 1995 and would have had to have been incredibly prescient to stay entirely relevant today.
4. Ur-Fascism, Umberto Eco, 1995
5. The Möbius strip, while constantly turning over itself, only has one side. In Baudrillard's view it's a perfect metaphor for binary or dichotomy (of ideals, information what have you), of which he believes(ed) no longer exist in modern society. It's a means of illustrating how information is constantly conflated.
Matt Clibanoff is a writer and editor based in New York City who covers music, politics, sports and pop culture. He currently serves as Lead Editor for Gramercy Media. His editorial work can be found in Inked Magazine, Pop Dust, The Liberty Project, and All Things Go. His fiction has been published in Forth Magazine. -- Find Matt at his website and on Twitter: @mattclibanoff
Brett Kavanaugh is now a Supreme Court Justice.
Brett Kavanaugh has been confirmed by a margin of 50-48.
If you're like me and thought Brett Kavanaugh's alleged presence at a gang rape back in the 80s was going be the final nail in the coffin regarding his nomination, sorry, you were wrong. As of this afternoon, Kavanaugh has been nominated to the Supreme Court, replacing retiring Justice Anthony Kennedy, with a final vote of 50-48. Key swing voters, like Joe Manchin III, Susan Collins, and Jeff Flake all voted yes, with the rest of the Senate, save for Lisa Murkowski, voting along party lines.
With this confirmation, the American people can put the myth of the "principled" Republican to bed. Liberals tend to fetishize Susan Collins' bipartisan record because she's pro-choice, but during the votes that have shaped American history *cough* Iraq War *cough* she's always voted with her party. Her decision on Kavanaugh was par for the course. Joe Manchin III and Jeff Flake's votes weren't particularly surprising either. The former, while technically a Democrat, votes with Trump over 60% of the time. The latter, who asked for an FBI investigation but didn't seem to care that the alleged victim was never questioned, was just pleased he got to pretend he had integrity for a few minutes before voting yes. Rather than go on a lengthy diatribe however, I've decide to publish a list of all 50 Senators who voted to confirm the newest member of the Supreme Court. The midterms are on November 6th.
Joe Manchin III D-W.Va
Lamar Alexander R-Tenn.
John Barrasso R-Wyo.
Roy Blunt R-Mo.
John Boozman R-Ark.
Richard M. Burr R-N.C.
Shelley Moore Capito R-W.Va.
Bill Cassidy R-La.
Susan Collins R-Me.
Bob Corker R-Tenn.
John Cornyn R-Tex.
Tom Cotton R-Ark.
Michael D. Crapo R-Idaho
Ted Cruz R-Tex.
Steve Daines R-Mont.
Michael B. Enzi R-Wyo.
Joni Ernst R-Iowa
Deb Fischer R-Neb.
Jeff Flake R-Ariz.
Cory Gardner R-Colo.
Lindsey Graham R-S.C.
Chuck Grassley R-Iowa
Orrin Hatch R-Utah
Dean Heller R-Nev.
John Hoeven R-N.D.
Cindy Hyde-Smith R-Miss.
James M. Inhofe R-Okla.
Johnny Isakson R-Ga.
Ron Johnson R-WIs.
John Kennedy R-La.
Jon Kyl R-Ariz.
James Lankford R-Okla.
Mike Lee R-Utah
Mitch McConnell R-Ky.
Jerry Moran R-Kan.
Rand Paul R-Ky.
David Perdue R-Ga.
Rob Portman R-Ohio
Jim Risch R-Idaho
Pat Roberts R-Kan.
Michael Rounds R-S.D.
Marco Rubio R-Fla.
Ben Sasse R-Neb.
Tim Scott R-S.C.
Richard C. Shelby R-Ala.
Dan Sullivan R-Alaska
John Thune R-S.D.
Thom Tills R-N.C.
Pat Toomey R-PA
Roger Wicker R-Miss.
Todd Young R-Ind.
Matt Clibanoff is a writer and editor based in New York City who covers music, politics, sports and pop culture. He currently serves as Lead Editor for Gramercy Media. His editorial work can be found in Inked Magazine, Pop Dust, The Liberty Project, and All Things Go. His fiction has been published in Forth Magazine. -- Find Matt at his website and on Twitter: @mattclibanoff
The Senate will hold the final vote as early as Saturday
Judge Brett M. Kavanaugh's chances of landing his Supreme Court nomination reached new heights Friday as the Senate narrowly voted to limit debate and move to a final vote.
The procedure, known as cloture, resulted in a 51-49 vote that saw the majority of senators following party allegiances. Two surprising exceptions were Republican Lisa Murkowski from Alaska who voted 'No,' and Democrat Joe Manchin III from West Virginia who voted 'Yes.' Murkowski's vote is surprising given her FiveThirtyEight "Trump score" of nearly 83%, which is the percentage of how often she votes in line with the president's position on any given issue. Manchin's position is less surprising when you consider his 61% score.
The vote comes one day after the conclusion of the FBI's investigation into the alleged sexual misconduct of Kavanaugh by Christine Blasey Ford and second accuser Deborah Ramirez. Senators vehemently disagreed over the integrity of the report and were bitterly divided along party lines.
Judiciary Committee chairman Charles E. Grassley (R-Iowa) called Kavanaugh "the most qualified nominee in our nation's history" and accused Democrats of waging a smear campaign against the judge. Swing-vote senators Jeff Flake (R-Ariz.) and Susan Collins (R-Maine) seemed to be satisfied with the FBI's findings, while Senator Dianne Feinstein (D-Calif.) was more critical, concluding, "The most notable part of this report is what's not in it."
Today's vote is the penultimate step in one of the most contentious Supreme Court nomination processes in national memory. If confirmed, Judge Kavanaugh will be President Trump's second successful nominee to the high court and will tip its ideological scale to the right for decades. Kavanaugh would replace retired Justice Anthony M. Kennedy, who was the court's swing vote and wrote the majority opinion in landmark cases such as Citizens United v. FEC, Planned Parenthood v. Casey, and Obergefell v. Hodges.
President Trump tweeted that he was "very proud" of the Senate for saying "Yes" to the procedural vote.
Very proud of the U.S. Senate for voting "YES" to advance the nomination of Judge Brett Kavanaugh!
— Donald J. Trump (@realDonaldTrump) October 5, 2018
The final vote is planned to take place on Saturday after 30 hours of last-minute debate. Scheduling complications include the absence of GOP Sen. Steve Daines of Montana because of his daughter's wedding, as well as Monday's Columbus Day holiday. Republicans cannot afford to lose a vote if all Democrats vote against the nominee.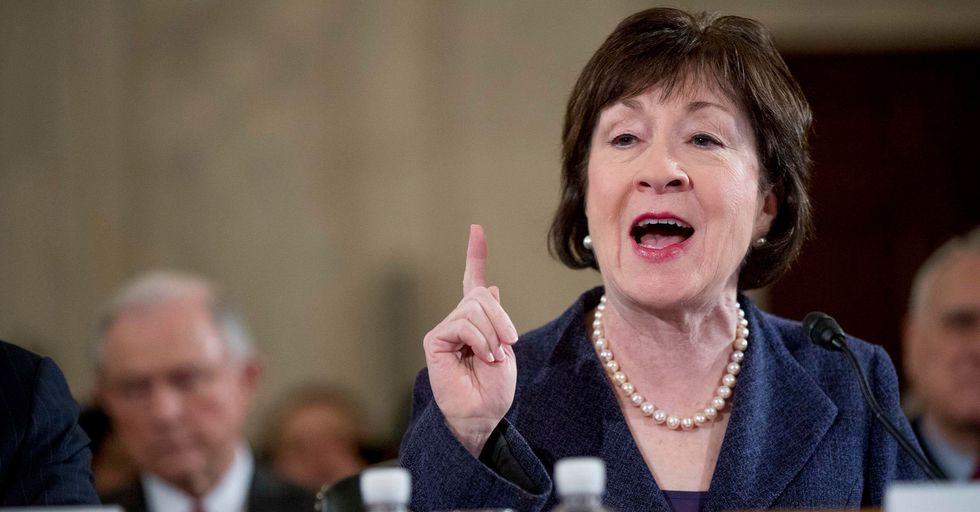 Susan Collins (R-Maine) will reveal her final vote for the SCOTUS nominee Friday at 3:00pm ET.Andrew Harnik, AP
Swing vote Susan Collins, who voted 'Yes' on moving the nomination process along, has stated publicly that this vote did not necessarily correlate with her final vote on Judge Kavanaugh. Her decision will be revealed Friday afternoon. Other undecided senators to watch include Joe Manchin, Lisa Murkowski, and Jeff Flake.
Earlier this week, former Supreme Court justice John Paul Stevens, 98, said Kavanaugh's testimony proved him unfit to sit on the nation's highest court. Speaking to a group of retirees in Florida, Stevens suggested the nominee lacked the appropriate temperament and showed potential for political bias.

On Thursday, Kavanaugh said he's an "independent, impartial" judge in an op-ed he published in the Wall Street Journal. The results of a recent public opinion poll concludes more Americans believe Ford than the Supreme Court nominee.
Joshua Smalley
is a New York-based writer, editor, and playwright. Find Josh at his
website
and on Twitter:
@smalleywrites
Gone at 81, his legacy will live on
Thoughts and prayers are ringing in with harmony at the news that Senator John McCain lost his brave battle with brain cancer. A life well-lived, filled with strength and struggle, wins and losses, and ups and downs, McCain's 81 years on Earth have left a mighty legacy, one that his family will forever cherish, politicians from both sides of the aisle appreciate, and Americans admire.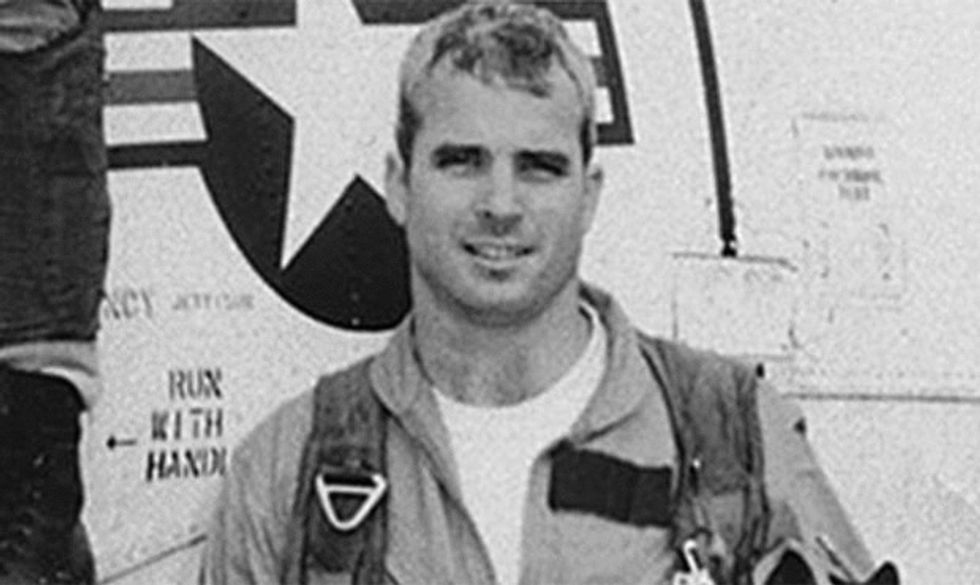 War herohttp://ktar.com
Political affiliations aside, most agree that McCain was a true hero – in every sense of the word. Be it his unimaginable imprisonment in Vietnam, his devotion to his family, his thoughtful approach to politics, or his courage against cancer, McCain made a difference, created conversation, and gifted us with values and integrity that seem to be otherwise slipping away.
McCain once wrote, "I made a small place for myself in the story of America and the history of my times." But many would argue his place was far more profound. His life as a warrior, an independent voice among the Republican party, and a true leader among colleagues and candidates, McCain's drive, determination, and duty to our country never waned and was welcomed by those who subscribed to his sensibilities, wanted something better to believe in, and a future to look forward to.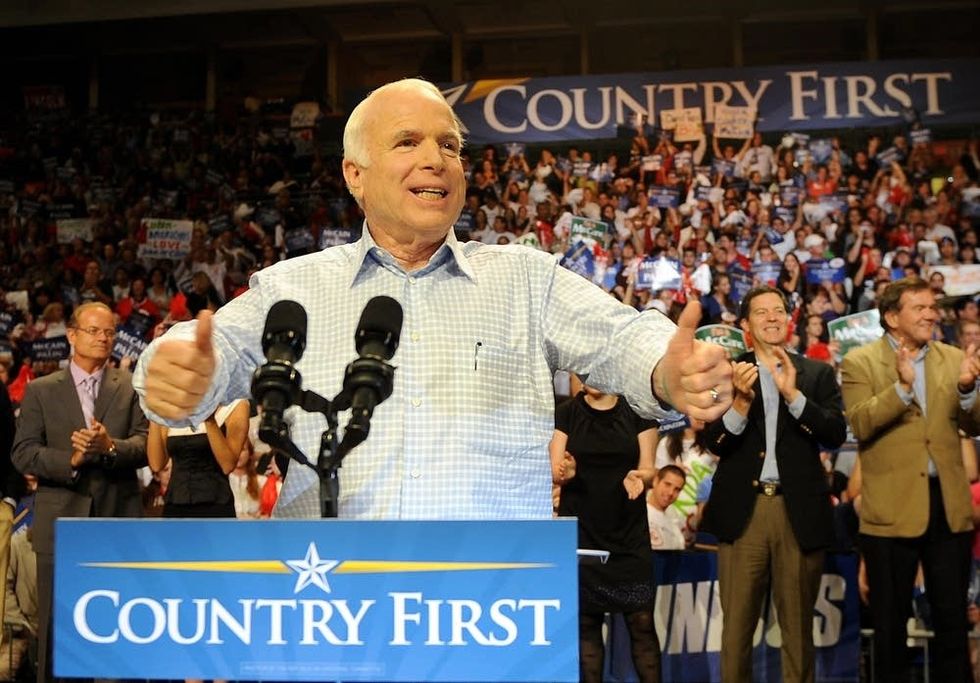 On the campaign trailuselectionatlas.org
As reported by NBC News, "'With the senator when he passed were his wife, Cindy, and their family. At his death, he had served the United States of America faithfully for 60 years,' McCain's office said in (a) statement."

Known for his wit as much as his work on Capitol Hill, McCain's fair and balanced take on issues gained him well-deserved recognition and camaraderie. As NBC News eloquently explains, "In his 36 years in Congress, McCain became one of the country's most respected and influential politicians, challenging his fellow lawmakers to reach across the aisle for the good of the country. On a variety of issues — torture, immigration, campaign finance, the Iraq War — McCain was often known as the moral center of the Senate and of the Republican Party."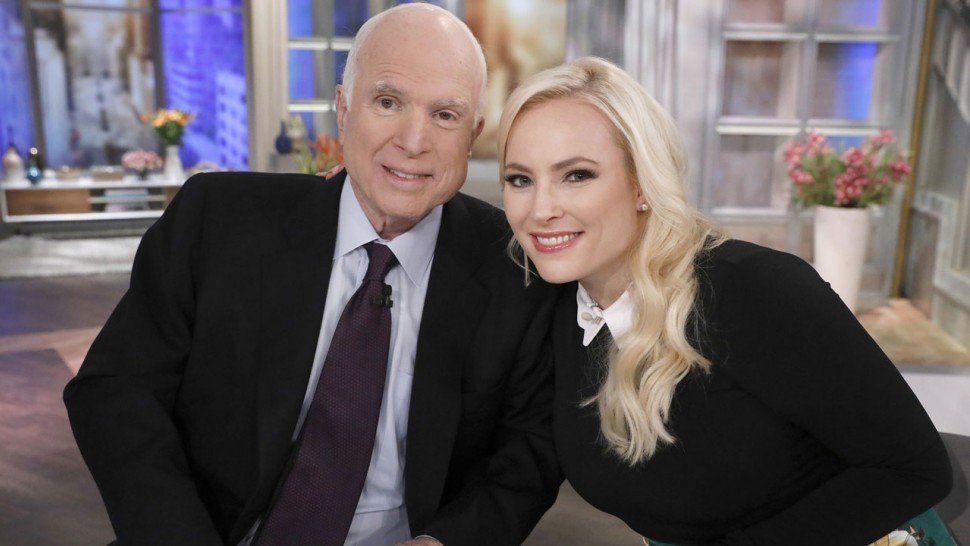 A father's love www.etonline.com
His daughter, Meghan McCain, shared, "All that I am is thanks to him. Now that he is gone, the task of my lifetime is to live up to his example, his expectations, and his love." Perhaps we can all take something from his example and use it to raise the bar, challenge ourselves, and show compassion when it counts.
A maverick, a man of honor, John McCain. Rest in peace.