Pogues frontman Shane McGowan was an ancient 65 when he died on November 30. Television producer Norman Lear was a youthful 101 when he left this realm on December 5. No doubt his zest for life kept him going for so long – and his zest for controversy.
Norman Lear's work was an integral part of American life in the second half of the 20th Century. Television programs like Maude, Sanford and Son, and The Jeffersons dragged television out of the 1950s and into the real world. As Variety states: "Lear's shows were the first to address the serious political, cultural and social flashpoints of the day – racism, abortion, feminism, homosexuality, the Vietnam war – by working pointed new wrinkles into the standard domestic comedy formula. No subject was taboo: Two 1977 episodes of All in the Family revolved around the attempted rape of lead character Archie Bunker's wife Edith."
All in the Family, which ran on CBS from 1971 to 1979, typified the clash of generations. Middle-aged bigot Archie Bunker – played by Carrol O'Connor – was a right-wing King Lear in Queens, raging at the radical changes in society. Archie didn't let ignorance get in the way of his opinions; once he argued that people who lived in communes were communists. The thing is, the old dog was actually capable of learning new tricks. Archie never evolved into any kind of saint. But over the nine seasons "Family" aired, experience taught Archie the benefits of listening to (and respecting) viewpoints far different from his own.
All in the Family was the jewel in Lear's crown, but don't forget the highly popular shows One Day at a Time (which featured Bonnie Franklin as a divorcee raising two daughters in the Midwest) and Mary Hartman, Mary Hartman (with Louise Lasser as the titular figure in a parody of soap opera conventions). Good or bad, Lear's work was never indifferent.
More recently, you may have heard about Lear's lively activism. His TV shows were themselves arguments for free and unfettered speech, and Lear supported a slate of liberal causes. In 1981 he founded People for the American Way. The organization's website describes the ways that PFAW has "engaged cultural and community leaders and individual activists in campaigns promoting freedom of expression, civic engagement, fair courts, and legal and lived equality for LGBTQ people."
Lear's life was a long and fulfilling one. In 1978 he was given the first of two Peabody Awards, the most prestigious award in television. "To Norman Lear," it reads, "...for giving us comedy with a social conscience. He uses humor to give us a better understanding of social issues. He lets us laugh at our own shortcomings and prejudices, and while doing this, maintains the highest entertainment standards."
A pioneer, a gadfly of the state, a mensch. To paraphrase a lyric from All in the Family's theme song, "Mister, we could use a guy like Norman Lear again."
This White House has the highest turnover of any recent administration. Who's leaving?
Trump's staff has the highest turnover within the first year out of the past five administrations. So far, as of April 16, 2018, a total of 32 of staffers and cabinet members have either resigned or been fired. While turnover is expected in the high stress environment of the White House, the frequency of exits is unprecedented. Who are the administration members who have left and been replaced? Here's a timeline of the most important officials who have left the administration.
Feb. 13, 2017 — National Security Adviser Michael Flynn was the first to be forced out of the administration. This was over concerns that Flynn lied to administration officials about the nature of his conversations with the Russian ambassador to the United States.
May 9, 2017 — FBI Director James Comey was fired. Trump said he felt frustrated by Comey's testimony about the FBI investigation into Russia's meddling during the 2016 campaign and the possible contacts with Trump advisers. This came out after the administration said Trump fired Comey based on recommendations from Attorney General Jeff Sessions.
June 2, 2017 — White House Communications Director Mike Dubke resigned from his post. He told colleagues that his reasons were personal.
July 21, 2017 — White House Press Secretary Sean Spicer resigned. This followed after he had told Trump he disagreed with his appointment of Anthony Scaramucci to replace Dubke as communications director.
July 28, 2017 — White House Chief of Staff Reince Priebus was forced out of his position after a tumultuous six months in the position. He was widely viewed as weak and ineffective.
July 31, 2017 — White House Communications Director Anthony Scaramucci was fired days after just 10 days. This came after ranting to a reporter about his co-workers. He described them as paranoid and mentally ill while throwing in a few choice curse words. Scaramucci was fired by the new chief of staff John Kelly.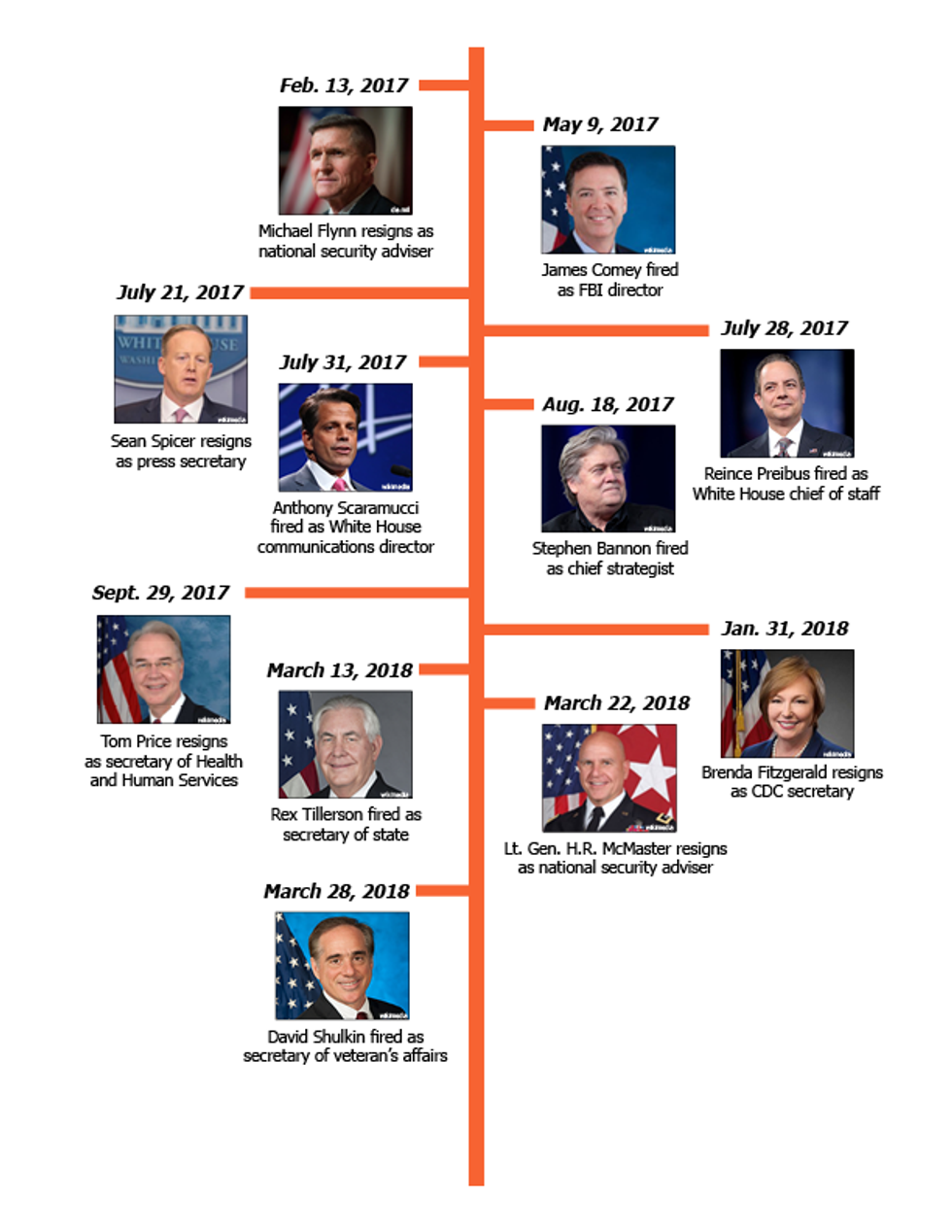 A visual timeline of Trump Administration exits Graphic by Lauren Aguirre
Aug. 18, 2017 — Chief Strategist Stephen Bannon was fired shortly after Kelly took over as chief of staff. Bannon was a highly controversial figure in the administration. He was a former head of Brietbart News — a far right-wing website that puts a heavy spin on its stories.
Aug. 25, 2017 — Adviser Sebastian Gorka was forced out shortly after Bannon left the administration. He was a former Breitbart News writer and was closely aligned with Bannon.
Sept. 20, 2017 — Director of Oval Office Operations Keith Schiller resigned shortly after Kelly came in as chief of staff. Schiller was a longtime aide and bodyguard to Trump since before he started his political career. Schiller was hired by the Republican National Committee.
Sept. 29, 2017 — Secretary of Health and Human Services Tom Price resigned surrounding controversy that he used taxpayer money to fund thousands of dollars in travel bills and chartered flights.
Dec. 13, 2017 — Communications Director for the Office of Public Liaison Omarosa Manigault Newman was fired by Kelly. Newman was a former contestant on Trump's reality show The Apprentice.
Jan. 18, 2018 — Chief of External Affairs for Corporation for National and Community Service Carl Higbie resigned after CNN reported on disparaging remarks he had made in the past about black people, Muslims, LGBT, and veterans with post-traumatic stress disorder.
Jan. 31, 2018 — Director of Centers for Disease Control and Prevention Brenda Fitzgerald resigned over her financial investments in tobacco and health care companies that created potential conflicts of interest.
Feb. 7, 2018 — White House Staff Secretary Rob Porter resigned a day after his two ex-wives accused him of physical abuse during their marriages.
Feb. 9, 2018 — White House Speechwriter David Sorensen resigned after reports of accusations from his ex-wife saying he abused her during their marriage.
March 13, 2018 — Secretary of State Rex Tillerson was fired by tweet. Trump had posted that he would replace Tillerson with Mike Pompeo, the CIA director.
March 22, 2018 — National Security Adviser Lt. Gen. H.R. McMaster resigned after it became clear that Trump no longer wanted him. He was replaced by John Bolton, who is a hardline former U.S. ambassador to the United Nations.
March 28, 2018 — Secretary of Veterans Affairs David Shulkin was fired by Trump after weeks of uncertainty. He was replaced by Trump's White House physician Dr. Ronny Jackson, a rear admiral in the navy.
March 29, 2018 — White House Communications Director Hope Hicks resigned. She had worked with Trump for years and was an important adviser on the campaign. In late February, she announced that she would resign in the coming weeks.
Despite being the highest court in the land, let's remember that Supreme Court decisions can be—and have been—overturned.
The Supreme Court's handed down a handful of controversial decisions.
These include Obergefell v. Hodges, which legalized same-sex marriage in all 50 states. As expected, many on the right were quick to criticize the Court. But the Supreme Court isn't a newbie. Justices, both past and present, have handed down disruptive decisions.
But these decisions, while irrevocable, are not exactly permanent.
In 2008, District of Columbia v. Heller had many on the left up in arms. This decision stated that the Second Amendment guarantees American citizens the right to a firearm for personal safety.
And of course, there is the most famously debated Supreme Court decision: Roe v. Wade. The 1973 case legalized abortion across the nation. Whether you agree with these decisions or not, they are the law. The Supreme Court has the final say in the federal court system. While their decisions are irrevocable, they're not necessarily permanent. Under the Constitution, there are three ways to overrule a Supreme Court decision.
1. Congressional Statute
If the Supreme Court has struck down all or part of a federal statute, Congress can go back and adjust the statute to their liking. This is often used to supplement or augment Court decisions. For example, the Supreme Court decided in the 2000 case FDA v. Brown & Williamson Tobacco Corp that the FDA didn't have the authority to regulate tobacco. Congress changed that with the Family Smoking Prevention and Tobacco Control Act of 2009.
Until a case concerning this federal statute comes before the Supreme Court, Congress has the final say.
2. Constitutional Amendment
The Supreme Court has the final word on the meaning of the Constitution. But there is a process of amending the Constitution. Article Five of the Constitution lays out the specific process. Amendments can be proposed by Congress, with two-thirds approval in both the House and the Senate. States can also propose them with a two-thirds majority, and the holding of a convention for proposing the amendments. Once proposed, the amendment must be ratified by a three-fourths majority of the states. The voting to ratify or reject the proposed amendment can take place in state legislatures or state conventions.
Since the adoption of the Bill of Rights, 17 amendments have been ratified. One principle example of a Constitutional amendment overturning a Supreme Court case is the Sixteenth Amendment.
In Pollock v. Farmers' Loan and Trust Company, the Supreme Court declared a progressive federal income tax unconstitutional. In 1913, the Sixteenth Amendment was ratified — completely negating this decision.
3. The Supreme Court
Finally, the Supreme Court can overrule itself. This is probably the simplest, if most unlikely, avenue. The most famous example of this is Brown v. Board of Education. This landmark case declared racial segregation unconstitutional in public schools. This case directly contradicts a case decided almost 60 years prior called Plessy v. Ferguson, which began the legal standard of "separate but equal" for segregation. But the Supreme Court doesn't change its mind often. The Brown v. Board decision was issued almost 60 years after Plessy.
Capital punishment has long been a debated topic in the U.S. Do you know both sides?
Capital punishment is a major moral question in the United States. Is the government justified in killing someone, even if they committed a terrible crime? Rick Halperin, the director of the Embrey Human Rights program at Southern Methodist University, discusses this and other ethical questions surrounding capital punishment. Halperin has done extensive research on the death penalty and is a recognized international authority on the subject.

Editor's note: This conversation has been edited for clarity and length.
From an ethical and human rights standpoint, should the government have the death penalty?
Never. The government clearly has the power to kill people, but that's different than whether they have the right to kill people. The most fundamental human right that anybody in this world has is not the right to life, but the right to life with dignity. And the death penalty, in any country, used against any individual or group of individuals violates that most fundamental right — even if it were to be used on a person or a group of persons who are guilty of heinous and violent offenses. The death penalty is the most fundamental human rights violation of any country in the world, including our own.
From your perspective, would life imprisonment be a better alternative to capital punishment?
I would say that mandatory life imprisonment without parole, to me, is a major human rights issue and violation. The U.S. is the only country that has such a thing. So, there's no globally recognized sanction about the penalty of life in prison without parole. Our country is the only one that has it and uses it.
Society has a right to be protected from violent offenders. There's no question about that. I would like to believe that all people can be given an opportunity to get better than the worst moment of their life. But if they can't, if they are too ill, too psychopathic or they just don't want to get better, then I think society should keep those people behind bars for the protection of other innocent people.
Is there a human rights implication in the racial makeup of prisons? Statistically, there are more black Americans incarcerated than white Americans. The same trend continues with executions.
I think that that is incontrovertible. African Americans, who only comprise 13 percent of this country's population, are clearly incarcerated at much greater percentages than their numbers in society. No question about it. The criminal justice system is inherent in its racism. We are in a nation of 330 million people and have several million people incarcerated, most of whom are poor and/or people of color.
We're in 2017 and most Americans don't want to face the fact that on issues of criminal justice and social justice issues, we remain a brutally racist society. That's just a fact. It's not a pretty one to face about ourselves in 2017, but that is — collectively as a people on issues of criminal justice and beyond — in large part who we remain. We're not in anything like a post-racial society. We are disgustingly racist country. It's amazing. We shouldn't be, but we are.
Do you think it's cruel to have prisoners wait on Death Row before they are executed?
Absolutely. Death Row is physical and psychological terror and torture. The death penalty is not just an act in which a human being is put to death in the name of the law. That's not the death penalty.
The death penalty is a process and it begins the moment an individual (an agent of the state) announces their intention to seek death. That process is dragged out through incarceration, trial, conviction, post-conviction appeals, time spent on Death Row, and ultimately execution — if that is carried out. So, time and conditions on death row absolutely are physical and psychological terror and torture.
Since we are a society that does have capital punishment, in your view, is there a way to carry out the death penalty without causing too much suffering?
No. There's no such thing as a humane or painless way to kill somebody.
You know, we have five [legal] methods of killing people. We have more methods of killing people than any country in the world. They're all legal. We don't use them much anymore, but they're all still legal. We used to hang people and we still shoot people. We strap people in electric chairs and sent anywhere between two and five thousand volts of electricity through their bodies and hope that they don't catch on fire, but frequently they do. Or we use lethal gas and the condemned person will disappear in a cloud of poisonous gas. But invariably, they'll cough, they'll choke, they'll sever part of their tongue, their eyes will bulge out.
Or we try to make ourselves feel better as a society by just saying, well, we'll chemically poison them. We'll strap them on a gurney and just put them to sleep. But even that has been horrifically botched. There's been over 50 botched, gruesomely botched, lethal injections. Including many in the last three years in states like Ohio, where an inmate took over 25 minutes to be put to death. In Oklahoma, where it was over 50 minutes. In Arizona, where it was almost 2 hours. So, we want to pat ourselves on the back and say that lethal injection is clean, quick and painless but the reality is it isn't.
There just isn't any way to make killing somebody that is pain-free and mistake free. It can't be done.
One of the ways the government tries to make an execution an easier process is to have doctors on site. But that seems to contradict a doctor's promise to heal people. What do you think about that?
The doctors are not supposed to be on site. The American Medical Association and the American Nurses Association has prohibited doctors and nurses and medical personnel from participating in executions with the threat of losing their medical license if they are found out.
Because they are not supposed to participate in a process which, if botched, the doctor would have to give the go-ahead that this individual is not dead and that the execution process would have to resume or continue in order to kill the person. They are not supposed to be in the death chamber. I am not under any illusions that several of them are, but it's outrageous. They should lose their license. They should not be participating in a system of human extermination.
People on death row have been exonerated due to newly discovered DNA evidence. What is your reaction to that?
I think it's great, of course. I think even pro-death penalty people would realize that we don't want to execute innocent people. So if DNA can help free somebody who should never have been convicted or incarcerated in the first place, then clearly that is a great usage of DNA to get somebody away from the shadow of death.
Sadly, most people who are on death row and most death penalty cases do not contain DNA. And the law in the United States is that if their case doesn't have DNA, you might be factually innocent, but the law says you can be put to death. That's the law in this depraved country. You can be innocent, but if you don't have DNA to help you, it's just too damn bad for you.
It's not your family member. It's probably not ever going to be you or anybody you know. But it is somebody. And the fact that this country says, "Well, sorry. A jury of your peers got it wrong and that's just too bad." It's depraved. But DNA to free people from death row is a great usage of that technology to spare innocent people.
You obviously think we are on the wrong path with capital punishment. What would you change in the United States to shift opinion on to the right path?
I would say education is a fundamental aspect in changing the culture in this country. Nobody in this country, per se, really talks about the death penalty a whole lot. But I think having mandatory human rights education in this country, starting in kindergarten and going through university, would do a lot of good.
People could study human rights the way they study any other subject. We ought to be about to talk about human rights in this country the way we talk about politics or sports. But we don't. There's no culture of human rights in the United States and it's a real pity. It's a great moral failing of younger and future generations. So, if we educated people about human rights and human dignity, we would have a better understanding as to how awful and how violent the death penalty is of people's basic human rights to a life with dignity.
Do you think capital punishment will end in the United States anytime soon?
However anybody feels about the death penalty, whether they're for it or against it or whether they don't even think about it, the process of ending the death penalty in the United States is already underway. We're not talking about if the death penalty is going to be ended. We're talking about when is it going to end. It's just a matter of when and how many more people are going to be put to death before it ends.
Many people in this country have come to learn about the death penalty, including pro-death penalty people, people who used to be fanatic supporters of the death penalty, have come to understand the shortcomings and the inherent flaws of the death penalty to change their opinions about it. The fact that 10 years ago, over 320 people were sentenced to death in this country and last year, only 30. Death sentencing is way down. Executions are way down. Removals from death row because of innocence are up. People's knowledge of the death penalty is better.
Are we still going to kill people in the immediate future? Sadly, yes. We killed 20 people last year in 2016. We have a bunch of people that are going to be killed this year. So, it's closer. I don't know when it's going to end, but sooner or later, this country is going to be death penalty free.
Knowing and understanding how these cases affect your life is important to understanding your freedoms.
The Supreme Court hands down decisions every year, but not every one makes history. Here are four landmark cases to know:

1. Brown v. Board of Education (1954)
This decision ended segregation in public schools. Prior to this decision, "separate but equal" had been the law of the land. Meaning, segregation was legal as long as the education institutions were on equal footing. However, in Brown v. Board, the Supreme Court overturned its past precedent in saying, "Separate educational facilities are inherently unequal." Now, segregation of schools by race is unconstitutional.
2. Loving v. Virginia (1967)
Until this case made it to the Supreme Court, interracial marriage wasn't a constitutionally protected right. By 1967, more than 30 states had legalized marriages between different races — but it was still illegal in 16 states. The Court ruled in Loving v. Virginia that Americans have the fundamental right to marry anyone of any race under the U.S. Constitution.
Musings: From two perspectives of tech conglomerate fines, antitrust laws, and the tech world as a whole
Lauren: The EU has given Google a $2.7 billion fine due to alleged antitrust violations. According to EU antitrust regulators, the internet giant is a monopoly. And so Google now has to prove that it has rivals that had made substantial inroads to its businesses, including specialized search categories, mobile phones, and online ad buying. This fine and punishment could also set a precedent for other tech giants. Seems like they're not as unstoppable as many have believed.

Jane: It would set a precedent in Europe. Google has been doing that here forever. But the application of antitrust laws to tech companies interesting. Amazon, Google, Apple, and etc. easily outpace other smaller companies and since they dominate the newer, harder to regulate marketplaces, there is a lack of checks and balances in place
L: The law is definitely slow to catch up in this area. It feels like the second a new law addressing internet companies or online privacy passes, things are updated into something new that needs a whole new framework of regulations. The pace of advancement in technology and regulations just don't match up. Because of this, so much of what is done online is in a legal gray area. That's why it's interesting that Europe is attacking the problem using antitrust law. Those laws are pretty old, but are working in the context of the 21st century.
It feels like the second a new law addressing internet companies or online privacy passes, things are updated into something new that needs a whole new framework of regulations
J: The concept is still the same. Make sure the market is in favor of the consumer. Limiting competition does the exact opposite. Manipulating search results when Google is the primary search engine is shady.
L: This also shows how much the digital world can affect the real one. If you can't Google a business, it might as well not exist. When you think about it, Google has immense power over our lives. So does Facebook or Amazon. These websites and companies are deeply ingrained in our daily lives and our economy.
J: Amazon is trying to be the one-stop shop for everything. They've been trying to get into the grocery business for a long time and buying Whole Foods would cement them in the industry. It could be very successful or they can run the grocery story to the ground since Amazon's model is vastly different from Whole Foods.
L: I think Amazon might use Whole Foods as a testing ground for their new grocery shopping concept Amazon Go. That will be a huge change for the industry.
J: It would definitely blur industry lines even more but Amazon has a history of doing that anyway. Bezos purchased the Washington Post a few years ago. In Whole Foods case, prices might possibly go down. But you never know. There's a lot of unknown as tech companies melded and absorb other traditional companies.
With Trump as president, the term 'impeachment' is always thrown around, but what does it mean?
Discussion of the possible impeachment of President Donald Trump has been following news regarding his administration and business practices for several months. Most recently, a Democratic congressman has announced plans to file articles of impeachment in the House of Representatives. However, not many people truly understand what impeachment means and how it really works. Impeachment is a process laid out in the Constitution as a check on presidential power, but it has only really been put to use twice in all of American history.

First, it's important to note that impeachment does not automatically equal removal from office. When Congress votes to impeach a president, it begins a process that may or may not end in the president being forced to leave. Only two presidents have ever been impeached: Andrew Johnson and Bill Clinton. Richard Nixon was never impeached. However, he was the only president to ever resign from office.
First, it's important to note that impeachment does not automatically equal removal from office.
That said, what does impeachment really mean? According to the Constitution, a vote in the House of Representatives is required to formally impeach a president. If the vote passes, then the president has been formally charged. He will then be tried in the Senate to determine whether or not he is guilty. The Chief Justice of the Supreme Court is constitutionally required to preside over the trial.
The president can be convicted only by a two-thirds majority vote in the Senate. Once that happens, he will be removed from office and banned from ever holding any another elected office in the United States. He can also be held liable and "subject to indictment, trial, judgement, and punishment, according to the law" for his actions that resulted in his removal. After the president is removed, the vice president would be sworn into office in his place, according to the line of succession.
If the president is not convicted, then things essentially return to normal — at least in process. However, there would probably be many political implications for a present who was impeached.
Clinton was impeached, but not convicted or removed from office. After the trial, his administration faced a few hurdles. He struggled with a low approval rating, which gave him much less leverage with Congress. However, it wasn't really devastating to his administration. Many on the left viewed the entire proceeding as a political move. (Clinton's impeachment had come about after a famous stained dress was uncovered, after all.) The vote to impeach passed under the pretense that the president lying about an affair to the public was morally corrupt.
But could President Trump be impeached? He could. All it takes is a vote in the House of Representatives. Still, with Republicans in the majority, it's unlikely a vote would pass. Unless Trump's response to the events in Charlottesville changed a lot of minds on the conservative side. Impeachment might become more of a possibility if Republicans end up losing their majority in Congress.
However, impeachment isn't really taken lightly. There would likely have to be definitive proof of wrongdoing before a vote would even be considered. That said, allegations of colluding with Russia to win an election or using the federal government to increase profits for his businesses are much more serious accusations than lying publicly about an affair. These are uncharted waters and no one really knows what's going to happen.
Is there truth behind going green and can it really help save the planet?
So many campaigns want you to recycle, avoid creating trash and reduce your carbon footprint. There are many, many tips online to living a green lifestyle. And many people are attempting to reduce waste and conserve energy — but is this enough to really make an impact?

Sure, if every single person (or at least most people) in developed societies lived an eco-friendly lifestyle, there would be a significant impact on the environment. But right now, about 75 percent of Americans don't do more than turn off the lights and recycle even though about 79% consider themselves environmentally conscious.
...fossil fuels are intertwined with pretty much everything we do.
If you live in an urban area, it might be a little easier to make more green lifestyle choices. Your city probably has the ability to recycle more than in other areas. You have access to public transportation and many more options when it comes time to shop or get groceries. These options just aren't as widely available in suburban and rural areas. Some municipalities don't even have any kind of recycling plant. Everything (including plastic, paper, bottles and cans) goes to the dump. Beside the fact that going through the effort to change your lifestyle to become more green takes time and money that some just can't spare.
But let's take a step back. Even if a lot of people do everything right and live an incredibly environmentally conscious lifestyle, nothing will really change. Why? Because fossil fuels are intertwined with pretty much everything we do. The solution to global warming isn't rooted in going paperless (using paper is more eco-friendly than smartphones anyway). The solution is in fundamentally changing the very fabric of our economy. That's not something individuals can do on their own.
Almost everything you buy and consume has to be transported to the store (for you to purchase. Within the country, this is done with trucks. Overseas, it's usually done with ships or planes. Every single one of those vehicles burns some type of fossil fuels to get going. You probably burn them when you're going to the store too. (You can't really get around this by ordering online either.)
In the end, using an electric car can actually put more carbon in the atmosphere than your average gas-powered car.
Electric cars are often seen as a solution for this. It's better to use electricity than gas, right? Definitely — if most of the power didn't come from burning fossil fuels. America's power grid is powered by about 40 percent coal, 25 percent natural gas, 20 percent nuclear power and about 10 percent renewable sources (mostly hydroelectricity). If you own or are considering an electric car, you would most likely still be burning fossil fuels. And that's not even taking into account everything that goes into making a new car. Just like a regular car electric vehicles require precious metals and minerals to be manufactured. What's more is all of the materials and parts are transported using fossil fuels as well as the final product itself. In the end, using an electric car can actually put more carbon in the atmosphere than your average gas-powered car.
Just about every facet of our modern economy depends on burning fossil fuels. That isn't something one person can change. To really live a sustainable and eco-friendly lifestyle, we need to change everything about how we live. That just isn't an easy process.
Of course, it still helps to reduce, reuse and recycle — but that only makes a relatively small impact compared to the overall economy. But it isn't all doom and gloom. The Paris Agreement was an encouraging step toward reducing carbon emissions around the world. If you really care about reducing your carbon footprint, the best solution is to organize and lobby companies and the government to change procedures and regulations. Ultimately, individuals independently choosing to live a greener lifestyle only makes a small impact in reducing our global carbon footprint.