Time's Up, one of the largest organizations fighting against sexual assault, says they can't help the alleged victim.
Content warning: the following article contains a brief depiction of sexual assault.

For the entirety of his run in the 2020 presidential race (and much of his decades-long career), Joe Biden hasn't had the best track record regarding his treatment of women.
The former vice president, who's earned a shocking lead in the Democratic primaries thus far, has racked up multiple accusations from women who say he was inappropriate towards them. Many of these recounts involve a disregard for personal space, improper comments about appearance, and even some condescending finger-wagging, but none of them explicitly depicted a sexual assault. Until now.
Tara Reade didn't initially go public with her sexual assault story about Joe Biden when it allegedly occurred in 1993. A staff assistant of Biden's at the time, Reade told her brother and close friend but otherwise kept her story silent. But, in an episode recently aired of Katie Halper's podcast, Reade has finally let her story out in the world.
Reade says that she was called to bring a gym bag to Biden, who was Chair of the Senate Judiciary Committee at the time, near the Capitol. Nobody else was around. "We were alone, and it was the strangest thing," Reade said. "There was no exchange, really. He just had me up against the wall." In what seemed like one swift motion, she added, Biden had his hands under her clothes and then began penetrating her digitally. "I pulled back, and he said, 'Come on, man, I heard you liked me'...It's like he implied that I had done this."
Reade tried to come forward with her story in April 2019, but she was halted after her claims of sexual harassment got her doxxed and smeared as a Russian agent. In January of this year, Reade tried again telling her story to Time's Up, the organization that rose as Hollywood's initial #MeToo movement unfolded. However, as Ryan Grim reports in The Intercept, Time's Up couldn't provide assistance "because Biden was a candidate for federal office, and assisting a case against him, Time's Up said, could jeopardize the organization's nonprofit status."
Reade told Grim she was conflicted about coming forward with her sexual assault allegation as the 2020 election carried on because she feared she'd be "help[ing] Trump" win over Biden. But, if our two presidential front-runners are both men accused of sexual assault, and one of the largest organizations intended to help survivors can't help at all, there's a much larger issue than simply defeating Trump: It's how we handle assault at the hands of the world's most powerful men.
With the Democratic nomination essentially a toss-up between Bernie Sanders and Joe Biden, America's fear of electing competent, prepared women is prevalent.
This week, Senator Elizabeth Warren suspended her campaign in the 2020 presidential election.
The announcement arrived after a disappointing Super Tuesday for the progressive candidate, who failed to win her home state of Massachusetts. "I refuse to let disappointment blind me— or you—to what we've accomplished," Warren wrote. "We didn't reach our goal, but what we have done together—what you have done—has made a lasting difference. It's not the scale of the difference we wanted to make, but it matters—and the changes will have ripples for years to come."
Warren built a successful grassroots movement and, for much of the race, was a Democratic front-runner. She supports key issues like the Green New Deal and Medicare for All, and she mapped out proposals for affordable housing and free college for lower-income students. Her liberal policies earned her numerous comparisons to Bernie Sanders, but as Warren fell behind and her more moderate opponents, like Amy Klobuchar, Michael Bloomberg, and Pete Buttigieg, exited the race—each endorsing former Vice President Joe Biden—it became clearer that her participation might be splitting the progressive vote. Her choice to bow out for the sake of the country's future is honorable, but her departure makes the Democratic nomination a toss-up between Sanders and Biden as congresswoman Tulsi Gabbard trails behind significantly. That shouldn't be the case.
Yes, Biden has decades of experience; he first became a senator in 1972, while Warren wouldn't be elected until thirty years later. Despite serving two terms as vice president, however, Biden failed to match Warren's sharp wit in debates—his muddled answers and seemingly inattentive performances spurred headlines like "Is Joe Biden OK?" Additionally, there's an ongoing list of allegations about his creepy behavior towards girls and women, for which he's never formally apologized.

When it comes to policy, Biden can be moderate to a dangerous degree. His stance on abortion has wavered throughout the years (to be fair, Warren was a Republican until the '90s), and he supported a constitutional amendment in the '80s that would have let states overturn Roe v. Wade. In the '90s, he voted against legalization of gay marriage, and later in the early '00s, he voted in favor of the Iraq War. Today, he opposes Medicare for All, would let states individually allow to legalize recreational marijuana, doesn't believe in abolishing ICE, and wouldn't bring U.S. troops home from overseas; Warren's stance on each of those issues is the opposite, which makes the trending #WarrenToBiden hashtag so disappointing.
Though Warren has generally kept her gender out of her campaign (aside from telling little girls that she's running for president because "that's what girls do"), much of Biden's sudden lead ahead of her can be accredited to sexism. Despite experience, Warren has proven time again and again that she's incredibly fit to be president; how has Biden become our most "electable" option?

Yes, Democrats need to unite to ultimately defeat Donald Trump. But we also can't risk electing a candidate who repeatedly appears mentally unwell, poses dangers to women, and doesn't have an aggressive plan to tackle the climate crisis. Thankfully, we have a viable candidate left with Sanders, but Biden shouldn't be the other choice. The U.S. deserves better than Biden, but it'll be hard to get there until we've overcome our fear of electing a woman.
It's time we stop acting like the leading Democratic candidate is the only old guy who's ever had a heart attack.
Whoever your pick might be in the 2020 Presidential Election, there's an overarching issue that's been largely prominent: the age of the Democratic front-runner, Bernie Sanders.
At 78, Sanders would be the oldest elected president in the country's history (a title currently held by Trump). The topic of his health became more hotly debated after he suffered a heart attack last October, resulting in him having two stents inserted. Though he bounced back to give one of his best debates yet that very same month, critics have been quick to cite Sanders' declining health as a hindrance to his electability. The backlash is getting even louder as Sanders claims he won't divulge his comprehensive health records. "We have released a detailed medical report, and I'm comfortable on what we have done," he said this week during a CNN town hall.
Sanders' campaign has released letters from three doctors who all asserted the senator is in good health. "I do not see a reason why he would not be able to function effectively in a high stress job," said Dr. Mary Ann McLaughlin, director of cardiovascular health and wellness at Mount Sinai Heart in New York. Why are Sanders' opposers so adamant that his health will fail him in office?
Yes, the senator is the oldest candidate in the race, but not by much: Michael Bloomberg and Joe Biden are 78 and 77 respectively, while Sanders' fellow progressive Elizabeth Warren is 70—the same age as Trump when he was elected. The health of Bloomberg, Biden, and Warren hasn't been scrutinized nearly as much as Sanders'. Sure, he might be the only one of the bunch who's suffered a heart attack, but that alone shouldn't be a disqualifier; notable politicians including President Dwight D. Eisenhower, President Lyndon Johnson, and Vice President Dick Cheney all proceeded with lengthy, successful careers in office despite suffering heart attacks early on.
A heart attack should not render an otherwise healthy candidate unfit for presidency, and Sanders' campaign has offered enough proof of his well-being. Our country's entire history has been predominantly dictated by old white men—why make an exception for someone who can actually instigate radical change?
This is a major step towards fairer treatment of the LGBTQ+ community.
Virginia just made history in the name of equality.
The state just passed the Virginia Values Act, effectively becoming the first Southern state to pass a bill that protects the lives and rights of people in the LGBTQ+ community. The bill outlines anti-discrimination protections for queer folks on the basis of sexual orientation and gender identity. Though it must still go through more procedural votes before going to the governor, a victory on this bill is feasible based on the results of the 2019 midterm elections. If passed, the Virginia Values Act will make the commonwealth the first state in the South to have non-discrimination policies related to sexual orientation.
"Today, history was made in Virginia, and LGBTQ Virginians are one step closer to being protected from discrimination. No one should be discriminated against simply because of who they are or whom they love," said Alphonso David, president of the Human Rights Campaign. "This day would not have been possible without the years and years of tireless work from advocates across the commonwealth, or the voters in Virginia that filled the halls of the General Assembly with pro-equality champions who fulfilled their promises. HRC is proud to have worked to elect pro-equality lawmakers across Virginia in 2019, and we are thrilled to see that effort culminate in this important victory today."
Based on previous presidential campaigns, Virginia has been considered a "swing state," and more left-leaning bills like the Virginia Values Act could indicate how the state votes in this year's presidential election. So far, fifteen states and Washington, D.C. have passed laws that include protections against workplace discrimination on the basis of sexual orientation and gender identity: California, Colorado, Connecticut, Hawaii, Illinois, Iowa, Massachusetts, Maine, Nevada, New Jersey, New Mexico, Oregon, Rhode Island, Vermont, and Washington. For the rest, it's time to catch up.
The company claims over 600 law enforcement agencies use their app, but in the wrong hands, it could pose extreme dangers. Here's an explainer.
Imagine you're at a bar and you see a person you find attractive.
You sneakily take a photo of them, and use that photo in an app that pulls up every public photo of that person available online. Links to each photo are also provided, meaning you can find out this person's name, workplace, hometown, friends, and more, without even talking to them. An app called Clearview AI has made the potential for this situation a reality.
Recently, New York Times reporter Kashmir Hill investigated the tiny start-up that's taking revolutionary steps in facial recognition technology. Clearview AI was developed by Hoan Ton-That, a San Francisco techie by way of Australia, who marketed the app as a tool for law enforcement to hunt down their victims. Clearview's database contains over three billion images scraped from millions of websites; the premise is, when you take a photo of a person, you can upload it and see public photos of that person and access links to where those photos are from.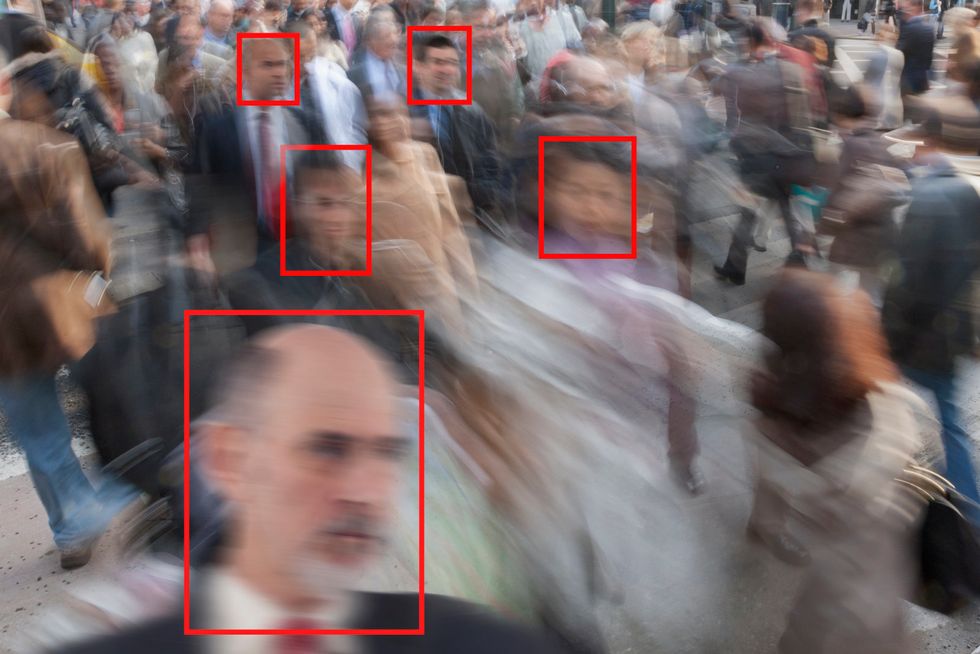 Facial Crowd Recognition Technology Getty Images
Though this sounds like a remarkable tool for law enforcement, Clearview poses severe threats to privacy if placed in the wrong hands. As Hill described in her appearance on Times podcast The Daily this week, someone with malicious intent could theoretically take a photo of a stranger, upload it to Clearview, and uncover personal information like that person's name, where they work, where they live, and who their family members are. In short: the concept is so risky that companies who were able to do the same thing first, like Google, refused to.

Still, Clearview claims that over 600 law enforcement agencies have been using the app, although they've kept their list of customers private. Clearview's investors have cited the app's crime-solving capabilities as a means to back it; Clearview has already helped track down suspects on numerous accounts. But, as Hill's reports found, the app isn't always perfect and might not be fully unbiased; "After the company realized I was asking officers to run my photo through the app, my face was flagged by Clearview's systems and for a while showed no matches," Hill wrote. "When asked about this, Mr. Ton-That laughed and called it a 'software bug.'" Later, when Ton-That ran another photo of Hill through the app, it pulled up a decade's worth of photos—many of which Hill didn't even realize were public.
"Our belief is that this is the best use of the technology," Ton-That told Hill. But is Clearview's usefulness in law enforcement worth leaving our privacy behind every time we leave the house?
The president attended the annual anti-abortion event in Washington, D.C.
Today, Donald Trump became the first-ever president to attend the March for Life.
The March for Life—not to be confused with the very different March for our Lives—is an annual gathering with an ultimate mission to end abortion in the United States. At the national march in Washington, D.C. this morning, Trump expressed that he was honored to be the first president in attendance.
Trump delivered his speech in a very characteristic manner, claiming the venue had maxed capacity, bragging about his contributions to the anti-abortion movement, and describing himself and his presidency with hyperbolic statements: "Unborn children have never had a stronger defender in the White House," he assured the crowd.
"When it comes to abortion...Democrats have embraced the most radical and extreme positions," Trump added.
March for Life's official website says they "celebrate life from the moment of conception to the moment of natural death, and every moment in between," a sentiment underlined in Trump's speech. "We are fighting for those who have no voice," he added. "[The women at the march] just make it your life's mission to spread God's grace." But of course, Trump's words and his actions haven't always aligned: just last November, the Associated Press reported that nearly 70,000 migrant children were held in U.S. government custody over the past year. While Trump may care about the fate of unborn children (or at least pretend to to gain the support of evangelical christians) he has made it extremely clear how little he cares about living children.
Many of the Australia Zoo's most recent patients came from the severe bushfire.
According to CBS, nearly half a billion animals have died in the bushfires that are currently terrorizing Australia.
Australia is home to expansive, unique wildlife, as well as plenty of residents who are fighting to keep the beauty of their country intact. One famed family, the Irwins—of the late Steve Irwin—is taking major steps to help.
Terri, Steve's widow, took over the Australia Zoo after his death in 2006. Since then, she and the two Irwin children, Bindi and Robert, have continued their shared passion for wildlife conservation and environmentalism, which has only been amplified in the wake of the fires.
"With so many devastating fires within Australia, my heart breaks for the people and wildlife who have lost so much," Bindi wrote on Instagram, ensuring fans that the Zoo and the Irwin's home would be safe. "Our Wildlife Hospital is busier than ever though, having officially treated over 90,000 patients."
Below, check out some of the recent patients at the Australia Zoo that the Irwins have helped.
From gun laws to Internet privacy, here are new state laws you need to know about.
As we ring in the new year, states across the country are also ringing in new laws.
We've rounded up the most interesting new statutes that you need to know, from hot topic issues like marijuana and gun reform to other concerns like Internet privacy. Check our your new rights (and restrictions) below:
Higher minimum wages
The federal minimum wage has remained $7.25 since 2009, but 24 states and 48 cities and counties are taking matters into their own hands. Many of these—mostly in California, raising minimum rage to $12.00 an hour—went into effect New Year's Day, with the rest raising minimum wage later in the year.
Legal recreational marijuana in Illinois
Now, Illinoisans 21 and older can buy recreational marijuana. Additionally, individuals with nonviolent marijuana convictions for up to 30 grams of weed are pardoned by the law.
No more discrimination against natural hair in California
There have been far too many cases of black students and employees being discriminated against for their natural hair. Thanks to the Crown Act, that's now illegal in California. Hairstyles like afros, dreadlocks, and braids can no longer be targeted by dress code policies.
More freedom for sexual abuse survivors
In California, sexual assault victims of all ages have three years to sue, as of January 1. Victims of childhood sexual abuse now have until age 40 to file lawsuits (up from age 26).
Illinois lifted their 10-year statute of limitations entirely, meaning victims of all ages can press charges whenever they're ready, regardless of time.
Changing gun laws
President Trump has called for "red flag" laws in the wake of recent mass shootings. These laws, which have taken effect in 17 states and Washington, DC, enable those who have seen warning signs to seek a court order that would temporarily prevent someone in crisis from accessing a firearm.
However, Tennessee is loosening their laws, allowing its residents to take an online course to obtain a concealed carry permit. The course is 90 minutes and the permit costs $65.
Looser traffic laws for cyclists
Portland, Oregon has long been considered one of the country's most bike-friendly cities, and things are about to get a little speedier for two-wheeled travelers. Oregon now allows cyclists to treat stop signs as yields instead of having to abide by the same traffic laws as motor vehicles, making for a much less annoying ride.
More plastic bag bans
While bringing reusable bags should be part of everyone's grocery shopping routine, Oregon is the latest state to ban plastic bags entirely. You might have to pay a small fee for paper ones.
Albuquerque, New Mexico has also banned plastic bags.
Stricter laws for kids' car seats
Washington is tightening their laws on child car seats. Once they've reached the manufacturer-set weight and height limits on their forward-facing restraint system, children under 4 feet 9 inches tall need to use a booster seat. That means booster seats for some sixth-graders.
No more cash bail in New York
New York has ended the money bail system for nearly all misdemeanor and nonviolent felony charges. Exceptions include cases involving sex crimes and domestic violence.
Privacy for Internet users
Californians will be able to opt out of the sale of their personal information online and can sue companies that fail to implement reasonable security practices. To be clear, your data can still be collected—this law just means they must disclose what they're collecting when you ask.
Fewer surprise medical bills
Texas is taking action against ridiculously high surprise medical bills with a list of rules implemented by the Texas Department of Insurance.
"Patients should never be asked to sign away their protections and pay a much higher price when they have no realistic alternative and incomplete information," said Stacey Pogue, a senior policy analyst with the Center for Public Policy Priorities in Austin.