"A tree is best measured when it is down," the poet Carl Sandburg once observed, "and so it is with people." The recent death of Harry Belafonte at the age of 96 has prompted many assessments of what this pioneering singer-actor-activist accomplished in a long and fruitful life.
Belafonte's career as a ground-breaking entertainer brought him substantial wealth and fame; according to Playbill magazine, "By 1959, he was the highest paid Black entertainer in the industry, appearing in raucously successful engagements in Las Vegas, New York, and Los Angeles." He scored on Broadway, winning a 1954 Tony for Best Featured Actor in a Musical – John Murray Anderson's Almanac. Belafonte was the first Black person to win the prestigious award. A 1960 television special, "Tonight with Belafonte," brought him an Emmy for Outstanding Performance in a Variety or Musical Program or Series, making him the first Black person to win that award. He found equal success in the recording studio, bringing Calypso music to the masses via such hits as "Day-O (The Banana Boat Song)" and "Jamaica Farewell."
Harry Belafonte - Day-O (The Banana Boat Song) (Live)www.youtube.com
Belafonte's blockbuster stardom is all the more remarkable for happening in a world plagued by virulent systemic racism. Though he never stopped performing, by the early 1960s he'd shifted his energies to the nascent Civil Right movement. He was a friend and adviser to the Reverend Doctor Martin Luther King, Jr. and, as the New York Times stated, Belafonte "put up much of the seed money to help start the Student Nonviolent Coordinating Committee and was one of the principal fund-raisers for that organization and Dr. King's Southern Christian Leadership Conference."
The Southern Poverty Law Center notes that "he helped launch one of Mississippi's first voter registration drives and provided funding for the Freedom Riders. His activism extended beyond the U.S. as he fought against apartheid alongside Nelson Mandela and Miriam Makeba, campaigned for Mandela's release from prison, and advocated for famine relief in Africa." And in 1987, he received an appointment to UNICEF as a goodwill ambassador.
Over a career spanning more than seventy years, Belafonte brought joy to millions of people. He also did something that is, perhaps, even greater: he fostered the hope that a better world for all could be created. And, by his example, demonstrated how we might go about bringing that world into existence.
A series by tech entrepreneurs, anonymous… or not
ZOOM
Knock, knock.
Who's there?
Zoom.
Zoom who?
Zoom is you?
When Liberty Project asked me to write this post, I was reluctant. Call it fatigue, call it Irish humility, or false humility… an unreliable distinction. But I didn't really want to explain myself to the world wide web (as if anyone would care…).
That damned interweb with all of its likes and tweets and blocks and gaslighting. I thought I'd surfed the whole thing, but seems like last night while the rest of us were sleeping they put up more stuff… F**g tech… Sometimes I question my vocation as a tech entrepreneur, given some of the leaking carcinogens the West World web has unleashed on the reality my children and theirs will inherit.
But I digress…. The assignment was clear: answer one simple question in under 1000 words.
The question is:
Why are you betting on Ireland as the future talent pool for your tech company?
I agreed to write this post, so long as I could frame it as a thoughtful account of what's really going through my head — which has as much to do with metaphysics as it does with business shite. I'm still conflicted about letting my words get published, but I was enticed by the appropriate reassurances from the editorial team at Liberty Project — no editing of my words without approval, total anonymity for myself and the other contributors to this series.
And as a footnote to this, I was asked by Liberty Project to recommend other potential contributors — people I know who are turning to global talent markets. I suggested a few and I hope they write something. It's an important conversation to have.
So here goes:
About the business stuff: As is true for any momentous corporate decision, the question has countless answers. So I had trouble distilling the essence, the 'zero moment of truth' — the 'ZMOT,' as the hip techies say. But then I figured it out, and it was a tiny bit mind-expanding.
I've hit my limit, I'm done. I've had it with American arrogance, which has seeped down from the top of our oligarchist two-party system. It's metastasized and festered in our brains and society's vital organs. So much so that the fun and invention and job satisfaction has been ripped away from doing business as a tech entrepreneur in America now. Gone are the days of code and mission, the 'esprit de corps' and scrappy small-team dynamics that made it fun to go to work and work from work… It's enough to hear the banshee call to arms. I'll not do something for the money alone. It has to make sense.
Well-intended or not, anti-entrepreneur legislation and legal system-driven opportunism has destroyed most of what was electrifying about the early days of tech entrepreneurship. Those who've never milked a cow should not claim to be experts on dairy farming. False authority on the part of elected officials masks their shallow personal agendas and fogs the windshield that should be kept clear for true leaders.
Capitalism is, for sure, a flawed system. But, as a tenet of a civil society, it has something going for it that will never expire. Something quite pure: Maslow's hierarchy of need. Another word for it is greed. Yeah, humans are greedy, and we're trained by instinct and nurture to get food, safety and shelter covered above all else.
For those who have canines — dogs, not teeth — once you get yourself a pup, a little "need machine" your mission changes. You strive to be a terrific parent, the right one for the right pup. You gotta get them a roof and food and clothes and gear and some kind of education and all that other costly stuff. Of course, it goes much deeper if the pup is a homo sapien.
So you acquire some healthy habits. Those habits, it can be said, are not unlike those who train American Armed Forces and Ukrainians to protect and serve. Those habits require willpower and discipline and the avoidance of temptations like sloth, apathy, addiction, and stealing from other people who are following a similar code.
Why are the young generations so wise and stupid at the same time?
Ink has been sprayed on this by the best minds in the world, yet it remains a mystery.
So here's one theory, starting on a positive note:
Why are the youngest generations so wise?
Through privilege and strife, they view the world as a place governed by a ton of rules that make no sense. So they storm soccer fields and glue themselves to the Mona Lisa. They riot and pillage, with or without violence. In their fledgling phase, they fling themselves at injustice and challenge the silliness of our poorly run planet. Those crazy kids and their rock'n'roll. This is an inarguable and oft-repeated truth.
Here's what people don't talk about: the next bit, the Second Half. The fear of mortality that drives us close to home and family and the things that make us feel comfortable and loved.
Our lives get shorter every moment… Good segue to the next question:
Why are the youngest generations so stupid?
Youth is misspent on the young. The brilliance of imagination and rebellion and societal evolution does not guarantee systemic progress. One is a flash in the brain, and the other is a decades-long/centuries-long movement — away from racism and sexism and anti-semitism and all religious discrimination… towards the acceptance of the broad spectrum of sexuality.
For younger generations, the hierarchy of need is reversed. They kick and yell and demand to be heard. They're motivated by self-image rather than cranking through a bucket list. They don't have mouths to feed, or bills that can't go unpaid without harm to those they love.
America is still a brash teenager. Here's hoping we can accelerate the development of our frontal lobe.
America needs to figure out what it wants to be as it grows up. Meanwhile, I'll be recruiting across borders, seeking young and old people who have the benefit of more history and tradition, who still have the hunger.
Playlist For Thought:

empire state of mind (jay-z and alicia)
royals (lorde)
thousands are sailing (pogues)
lose yourself (eminem)
black boys on mopeds (sinead)
dirty boulevard (lou reed)
shipping up to boston (dropkicks)
madame george (van morrison)
body of an american (pogues)
daddy i'm fine (sinead)
wonderful world (louis armstrong)
Managing a vacation property shouldn't be complicated.Yes, owning and managing a rental involves a lot of work — you need to handle everything from the cleaning to the marketing and management, but that doesn't mean it has to be daunting.
Especially when you consider that there are so many ways to market your vacation home online. Of course, we know about Airbnb and Vrbo, but the company that handles every aspect of vacation property management has to be Vacasa.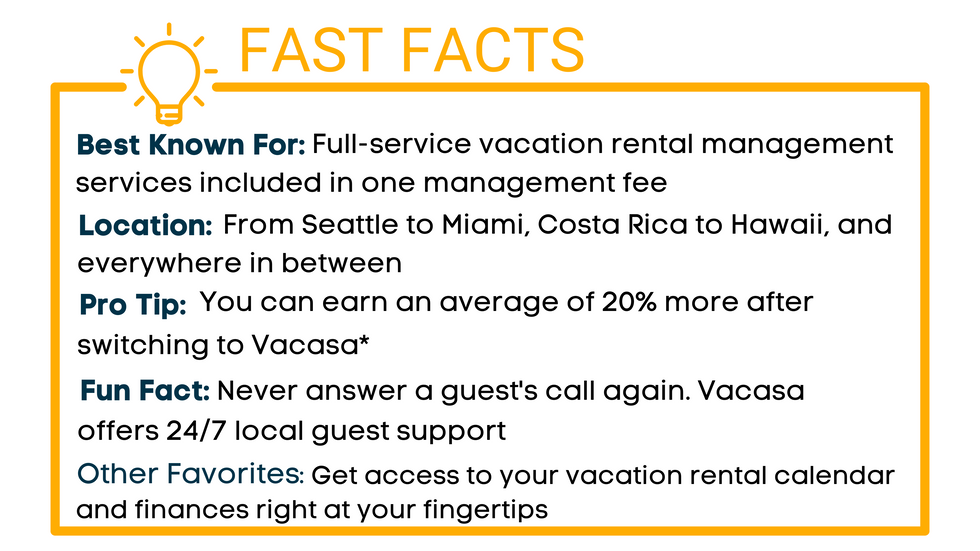 Vacasa takes care of everything from listing properties to handling bookings and even cleaning and maintenance. Even better— there are no additional charges. It's all included in your management fee.
The Vacasa team even handles all your marketing, from eye-catching listings to 3D home tours and high-resolution photography. They also take care of targeted advertising through emails, social media, and Google.
Their online dashboard allows you to view your bookings and block off your calendar for your own vacations. They adjust your home's nightly rates to meet market demands —meaning you'll make the most possible out of every stay.
It's a much easier way to manage your vacation rental property with Vacasa's dedicated team of experts. Not to mention, Vacasa's local housekeeping team goes in before every new guest arrives to re-stock toiletries and give the house an additional clean-up. Plus, their 24/7 guest support allows you to put your phone on do not disturb mode because you'll never get late-night calls worrying about WiFi logins.
Wondering how to sign up? It's incredibly easy. Once you contact them,their Homeowner Consult Team will assess whether your home is a good fit.
Vacasa has the resources to turn your second home into someone's dream vacation rental. Sit back, relax and let Vacasa take care of your vacation rental property.
*Reflects same store basis; Before Vacasa vs. After Vacasa metrics based on portfolio additions with an onboarding date from August 1, 2017 - January 1, 2019 and 12 months of history leading up to onboarding and at least 12 months of management by Vacasa after onboarding
As a kid, I adored dogs. So, the minute I moved into my own house and finally had a backyard, I adopted a pup named Ape.
It had been years since I had a dog, so I barely remembered what they needed. TBH, it was my older sister's dog anyway so all I had to do was play with him. Sure, they need attention, walks, chew toys, and romps in the park. But what about food? Should I feed Ape 3 meals a day just like me? Obviously not, right?
I went to the pet shop and picked up Blue Buffalo dog food. I had no idea what it contained, but I figured it had to have the right ingredients since Blue Buffalo is supposed to be the best.
When Ape saw me getting the bowl ready, he was all excited. But when I placed it in front of him, he covered his eyes with his paws and whined, refusing to eat one bite. If anything, he seemed scared of the bowl!
I considered cooking food for Ape but had absolutely no idea about what's healthy for dogs. How about a steak?!
Before I ended up doing something drastic - like training Ape to eat store-bought food - I remembered seeing Spot & Tango on my Instagram. It's a company that offers a personalized meal plan just for your canine.
Their UnKibble is dry food that's made with your dog's breed, weight, and activity level in mind. Vets develop it so it's super healthy for your pooch. All you need is one scoop!
Their unique method ensures that all their ingredients - meat and veg - are GMO and hormone free. Plus, Spot & Tango uses a Fresh Dry Process to maximize natural vitamins, minerals, and nutritional integrity. It seemed too good to be true… but I decided to give it a try. Anything for my Ape.
Ever since the first bag arrived, Ape can't wait for dinner time.
You can hear the patter of his paws on the wooden floor the moment the bag is opened. He lunges for the bowl even before I have time to scoop it out. It makes me laugh every single time. We recently ordered Spot & Tango's latest recipe - Cod & Salmon. It has a lot of good things for Ape, such as Sweet Potatoes, Pumpkin, Carrots, and Spinach.
My two-week trial was so outstanding that I signed up for a subscription that's tailored to Ape's portion sizes. Spot & Tango ships every month or every two weeks and allows me to make adjustments as Ape grows. The plan itself is super flexible, I can skip, pause or opt-out at any time.
Ape tries every new recipe, but the Cod & Salmon is his hands-down fave. UnKibble makes Ape happier, healthier, and more energetic.
As much as we humans need a well-balanced diet, our canine friends deserve that, too. Spot & Tango provides just that.
For Our Readers Only! Get 50% Off Your First Order Today!
When I say I love my dog, I mean I really love my dog; what owner doesn't?
So when Lottie, my energetic Russell Terrier, stopped bouncing off the walls, though I wanted to relish in the downtime, I knew something wasn't right.
At first, I honestly thought this was Lottie's way of asking for more time outside. I extended our walks and trips to the puppy park, but that led to her eating more grass than usual, leading to some not-so-great bowel movements.
Eventually, enough was enough. Lottie wasn't acting like her normal self, which meant I had to go take her in to see a vet.
Turns out, all that was wrong with my sweet dog was the food I was feeding her. My vet said Lottie needed something packed with protein and vitamins. He told me the kibble I was buying is made through a process called hot-extrusion — A process that uses high pressure and heat and strips food of its nutrients. Not to mention, even some premium brands use meat byproducts that contain a lot of chemical additives and other harmful things dogs shouldn't ingest.
I was shocked, to say the least. If anyone were to ask me before, I would have assured them premium dry food was the best of the best. But now that I knew the kibble I fed Lottie was filled with processed ingredients, I was determined to find something better.
My partner's college buddy is a certified Animal nutritionist and revealed that Spot & Tango is the go-to when it comes to dog food.
What makes Spot & Tango unique is that their food is made with each dog's individual needs in mind. Spot & Tango uses 100% whole ingredients alongside their Fresh Dry™ process, which maximizes nutritional integrity, so dogs like Lottie will have more energy and reap the benefits of a healthier diet. I loved learning that their fresh food recipes are made in small batches, while their UnKibble recipes contain zero powdered meat byproducts.
Their recipes meet or exceed the standards set by AAFCO's Dog Food Nutrient Profiles for all life stages. So, as Lottie grows, Spot & Tango will be there to adjust to her needs. A lot of people online swear it's truly the best way to guarantee you're meeting all your dog's nutritional needs.
I was a bit skeptical that all that was wrong with Lottie was her diet, but I was happy to try anything that could potentially get her back to her regular self. Plus, Spot & Tango offered a two-week trial so I could see how Lottie liked it. If not, their Happy Pup Guarantee would have helped me get my money back.
Add to that, their subscription seemed to be a life-saver for any dog parents like myself who dread lugging heavy bags of food home or having to run out and get more at the most inconvenient times. I can simply subscribe to get Spot & Tango delivered to my door and pause orders anytime.
I placed my order and almost forgot a few days later and only checked when I saw Lottie sniffing at the door as if someone had placed her favorite treats on the other side.
Lottie was all over me as I opened the bag and scooped some Spot & Tango into her bowl! She looked up at me for a second, almost as if she thought it was a trick. The new food looked different from her old stuff - you could see the vegetables. I gave her a reassuring nod, and that was all it took. Minutes later, the bowl had been licked clean.
About a week after making the switch in Lottie's diet, I noticed she was a bit more playful than in recent days, and she didn't get as tired out on our evening walks.
Thankfully, about three or four weeks later, Lottie was basically back to her usual self: barking at the kids walking home from school, exploring every inch of the backyard, and getting me to take her on extra walks (can you really say no to such an adorable puppy?).
If you're worried your current dog food is making your puppy sluggish and unmotivated, then you have to see how they like Spot & Tango! Lottie is never going back to regular or premium dry food that you find in the grocery store ever again!
Treat your furry friend to Spot & Tango today. They'll love you even harder when you do.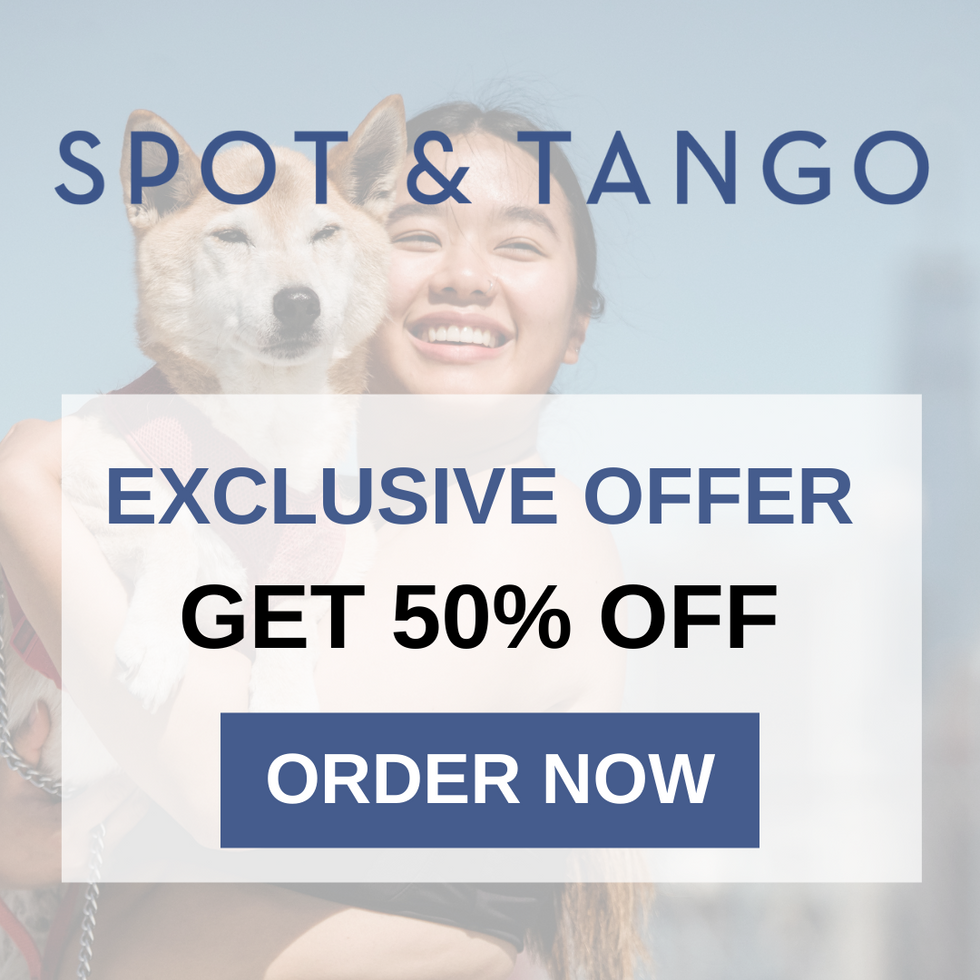 When I first brought home my dog Ape, I was sure premium dry food was the best of the best.
But in reality, the kibble I was giving him was actually filled with all sorts of harmful ingredients.
Thankfully, my friend is a certified ANIMAL nutritionist and has taught me tons about the right way to feed my dog, and her secret is Spot & Tango.
Since switching to Spot & Tango, I've actually seen the real difference healthier ingredients can make. Here's what you need to know:
Stick to high-quality ingredients.
Spot & Tango delivers food that uses 100% whole ingredients with all the benefits of fresh ingredients just gently dried using Spot & Tango's unique Fresh Dry™ process. This maximizes nutritional integrity, so your dog will have more energy and reap the benefits of a healthier diet.
Their fresh food recipes are cooked in small batches in a USDA kitchen and their UnKibble recipes are not extruded and contain no meat meals or powdered "mystery meats."
Buy human-grade only.
Many types of dog food are classified as "feed-grade" which means companies can legally use the meat from dead, dying, diseased and disabled animals to make the food. Yikes!
Spot & Tango uses only 100% fresh, human-grade ingredients and contains no artificial preservatives, fillers, or additives, and are GMO and hormone-free. No harmful ingredients like traces of euthanasia drugs or chemicals/food dyes appear in human-grade dog food.
Watch out for the ingredient listed as "meal" on the label.
"Meat meal", often called chicken meal or beef meal is just another way of saying "rendered" meat - the by-products or meat from fallen animals. Ingredients that show up in "rendered" meat might include materials like plastic, tumours, feathers, and even roadkill.
Beware of the hot-extrusion process
Most kibble is made with a process known as hot-extrusion. The process of extrusion uses high pressure, heat and a pre-mixed dough. Once it is cooled, the kibble is then sprayed with a coating of flavor and fat. This process strips the food of it's vitamins and nutrients. Spot & Tango do not use a hot-extrusion process to make their UnKibble, instead they gently dry it at a low temperature so the ingredients stay fresh and nutritious.
Understand the ideal portions for your breed and age.
It is well-known that health affects lifespan and a dog that is at a healthy weight is more likely to live a longer life than an overweight one. Many dog food brands give you a ballpark range for your dog or just classify dogs as adults or puppies. There are many more factors that constitute an ideal diet besides just weight range, and Spot & Tango understands that.
Take their quiz to tell them all about your dog from their health requirements. Traits - like age, activity level, health issues, and how much your dog eats are all considered. No matter what age your pup is, Spot & Tango takes everything into account when building your dog's personalized plan. And they can adjust your plan as your puppy grows
Beware of preservatives.
Kibble and traditional dog food are often filled with artificial preservatives and chemicals in order to stretch out its shelf life for months or even years ( real food should not last this long!). Some of these artificial preservatives are the same chemicals used in pesticides and even in the production of rubber. Spot & Tango delivers directly to consumers so there's no need for harmful chemicals that can pose a risk of toxicity to your dog. Plus, no more lugging a big sack of dog food home!
Know the foods that are safe to feed your dog.
Everyone knows you shouldn't give your dog chocolate, but do you know what foods are safe and actually healthy for your dog? Spot & Tango does!
The Beef & Barley UnKibble contains only Beef, Barley, Flax, Carrots, Green Beans, Beef Liver, Beef Heart, Beets, Cranberries, Rosemary, Kelp, Salt, Mixed Tocopherols (natural source of Vitamin E), Vitamins & Minerals. While the fresh Turkey & Red Quinoa is simply Turkey, Red Quinoa, Spinach, Carrots, Peas, Apple, Egg, and Parsley. Almost sounds like something you'd eat, right? That's the point - human-grade.
Can You Remember All That? Spot & Tango's Got You Covered!
Spot & Tango will send you fresh, all-natural meals consisting of the finest, human-grade ingredients. Spot & Tango customizes a menu for your dog backed by certified formulated veterinary nutritionists to meet the nutritional levels established by the AAFCO to provide the highest quality and safety. Spot & Tango takes your dog's health seriously, and knows that a healthy pup is a happy pup (and a happy you!).
Ape is like a new dog since I started feeding him Spot & Tango - he's so happy and energetic! Check out Spot & Tango today, you won't regret it!
Living in big Texas cities like Austin, San Antonio, Dallas, or Houston has many advantages — from excellent job opportunities and education to tons of attractions and events. Life never gets monotonous as there's so much fun stuff to do.
If you're overstressed and exhausted from the fast-paced city lifestyle, it's time to consider taking a break. Texas has majestic, natural landscapes just waiting for you. It's high time you get out there to destress and take a deep breath of fresh air.
While camping can be a wonderful way to do that, our editors went looking for a more convenient alternative. We came across Getaway and their cozy cabins that are nestled in the great outdoors but have indoor comforts. Plus, they're family and pet-friendly – for a small fee you can bring your pup.
We compared both regular camping to Getaway and this is what we discovered:
Key Similarities:
Both offer gorgeous views & tranquility in nature
Both provide opportunities to spend quality time with loved ones
Both give you the freedom to explore the local area
Key Differences:
Getaway provides you with a fully equipped cabin — Camping requires lots of preparation and equipment
Getaway cabins are at least 50- to 150-feet apart — Camping grounds lack privacy
Getaway has amazing customer service — Camping? You're on your own
A Getaway cabin comes with a private bathroom — Camping only provides shared toilet and shower facilities (if that)
Getaway, Texas Overview
Located about a two-hour drive from Austin, Dallas, Houston, and San Antonio, Getaway cabins come fully equipped with a queen-sized bed, fresh linens, AC, a kitchenette with basic cooking utensils, and a bathroom (including hot water) with towels. There's even a fire pit for outdoor cooking, so break out those s'mores fixins!
We love that Getaway provides contactless checkin and checkout. Plus, their cabins are 50 to 150 feet apart, guaranteeing privacy. This mini-escape promises to help you disconnect, relax, and recharge; since there's no wifi and a lockbox for your phone. So you won't even think of answering those pesky work emails.
You can choose between three outposts, Hill Country, Piney Woods, and Brazos Valley. Each offers various inspiring trails through forests and along rivers, as well as other adventurous activities.
For example, Texas' most-loved natural swimming hole, the Blue Hole, is only 20 minutes away from Getaway's Hill Country Outpost. In Piney Woods you can take a trip to Cedar Creek Lake, famous for its catfish fishing, or walk your pup through dog-friendly Beaver Slide Nature Park. One of Brazos Valley's top highlights is the Barrington Living History Farm, where you get to experience 19th-century rural life — a one-of-a-kind trip for the whole family!
Make sure to check out Getaway's site for more information about each Outpost's particular attractions.
Cabin rentals start at only $89 per night. Take advantage of pack offerings like their Three Weeknight Pack for some extra savings.
Camping Overview
Texas has endless opportunities for camping — you can pitch your tent basically anywhere.
But let's not forget the effort it takes to make such a trip actually happen — from buying expensive equipment to researching campgrounds and lugging cooking utensils, towels, pillows, toiletries, blankets, etc.… After a camping trip, most likely you'll need another vacation.
Not to mention, sharing a bathroom with the entire campsite and sleeping tent-to-tent with your camping neighbors isn't for everyone. The weather plays a crucial factor as well. Who wants to suffer through a thunder and lightning storm in a flimsy tent when you can be comfortably safe in a cozy Getaway cabin?
Sure, a campground's nightly rate is cheaper, but buying all the necessary equipment and essentials can burn a hole in your wallet.
Final Thoughts
Our goal was to find a way to escape the day-to-day life that's easy and affordable.
Camping is a fine way to enjoy nature to its fullest, but it can also mean inviting hassle, discomfort, and unpredictability along the way. We agree that camping is more stressful than relaxing, which is why Getaway is our winner.
From start to end, Getaway can be an integral part of your wellness routine. Simply pick your Outpost, click the number of guests, beds, and your travel dates. You can even add their Kid's Adventure Kit, which is packed with analog activities for your little ones to enjoy. Then there's the Starry Eyes Kit, which includes oil diffuser and massage oils, and will be in your cabin waiting for you to arrive.
There's no easier way to get out, recharge, and enjoy the harmonious nature of the Lonestar State — that's guaranteed! Don't wait too long to give Getaway a try.
The #1 meal kit did not disappoint.
Don't judge me, but I might be the most poorly organized person on the planet. I know everyone is busy, but the last thing I want to do during the workweek is to try and plan what I'm going to eat for dinner. I'm guilty of ordering take out most nights or eating a sad frozen pizza - anything that requires little effort or time.
My sister has been telling me for years that I need to eat more like a grown-up and cook meals at home, but I wouldn't know where to start. She said she and her boyfriend swear by HelloFresh for helping them make home-cooked meals during the week by sending them pre-portioned ingredients and recipe cards. I've obviously heard of meal kits, but I always thought they were kind of silly and overpriced.
Determined to show her how unnecessary meal kits are, I checked out HelloFresh's site. I was surprised by how good all of the meals looked. After a little more digging, I was surprised to learn a few more things about HelloFresh.

Over 22 recipes to choose from a week from cuisines like Asian, Italian, Mexican & American Style Gourmet Burgers

By sending you the exact amount of every ingredient you need, there's no food waste

Recipes take 30 minutes or less, and there are options for vegetarians, lower calorie meals, and every week has a gourmet recipe selected by one of their chefs

You can choose, 2, 3, or 4 recipes a week and tweak or pause your plan at any time. They also have delicious add-ons like Garlic bread and cookies

HelloFresh is cheaper than the grocery store - meals start from just $7.49
As much as I hate to admit this, my sister was right. I ordered HelloFresh's classic plan, and it's been a game changer. Not having to worry about grocery shopping and planning recipes during the week is such a relief, and HelloFreshhas even helped me improve my cooking skills!
You've felt it. Slumps, drags, and daily funks.
But it's time to break out! The easiest - and most direct - way to do that is by upping your Vitamin C intake.
Our bodies need Vitamin C even when we're healthy. Increasing your Vitamin C intake can build blood antioxidant levels by up to 30% and play a critical role in energy production. It also helps with brain health, tissue regeneration, the reduction of fatigue and hypertension, the absorption of iron, and the production of collagen.
The challenge is finding a brand of C that sources clean ingredients and has a high level of bioavailability so these nutrients are actually absorbed and don't just flush through your system.
Paleovalley's Essential C Complex leads the pack. Unlike regular vitamin supplements that use synthetic forms of Vitamin C, Paleovalley's are GMO-free and loaded with whole organic superfoods, and contain no synthetic ingredients or fillers. And now, Paleovalley is offering new customers their Essential C Complex for $4.99 - that's 85% off!
The Essential C Complex is driven by 3 powerfully concentrated superfoods. Acerola Cherry's Vitamin C content is 120 times higher than an orange. Amla Berry helps with circulation and detoxification which supports the heart and brain. Rich in Vitamin C, Camu Camu Berry aids your immune system and even has mood-boosting properties.
Paleovalley's Essential C Complex is the highest quality and most potent full-spectrum daily Vitamin C supplement that quickly and effectively boosts your immune system and overall health.
But don't just take our word for it. Here's what some customers' 5-Star Amazon Reviews say:
"Best whole food Vitamin C"
"Really impressed that this isn't sourced from corn and doesn't contain any synthetic ingredients. Being Organic & Non-GMO is an added plus . . . Will order this brand again!" - Paladin
"Wholesome, clean Vitamin C"
"It's important to keep our immune systems strong, especially now with the pandemic . . . this product is doing just that!" - BL
"Pure"
"It is so hard to find a Vitamin C that is sourced from fruit . . . this fits the bill!!! Will be buying again. The only one I trust." - MegsQ
"Shipped super-quick!"
"I love that I'm taking a whole vitamin - not fake ascorbic acid. They shipped super quick. I would absolutely buy again!" - MB
"Wonderful!"
"Amazing! I've taken this every day for a month and feel great." – Pmasterfunk
Give Paleovalley's Essential C Complex a try and find out what these - and many other - satisfied customers are talking about.
Paleovalley's typical subscription service saves you money - 30 capsules start at just $23.99. That's less than $1 a day. But now with their limited-time offer, you can get the Essential C Complex for $4.99! Plus, there's zero risk due to their 100% satisfaction guarantee of energy and immune boosts in 60 days or your money back.
Subscribing means next month's supply of C arrives at your doorstep with no muss, no fuss, no hassle. Nothing but healthy goodness.
Climb aboard the "C" train. With Paleovalley's Essential C Complex it's never too late to feel great!
The holidays came, and I was swimming in tasty bones, squeaking chew toys, and delicious, mouth-watering REAL food!. Every dog's dream, that is until I realized I would have to go back to eating kibble - those yucky, smelly bits in my bowl that make my tummy hurt.
Then the New Year came, and everything changed.
My owner set up strange, what she calls, 'workout' equipment throughout the apartment and won't let me join in on any of the fun! Though it doesn't look like she's having fun at all, and afterward she drinks these shakes that smell like my kibble.
I can't seem to put my paw on what's going on but it seems like she's trying to change herself. She isn't eating her favorite snacks anymore or lounging on the sofa with me, and has even started to run faster than me during our morning jogs. I keep hearing my mom saying "New Year, New Me" while she is huffing and puffing.
Doesn't she know how perfect she is already?
But then when I thought I couldn't love my mom anymore I got a whiff of something right outside our door. It smelled just like all my favorite food from the holidays. I was so excited about maybe getting some scraps as a treat.
Then, to my surprise, she opened the bag, and scooped this magic into my bowl! I looked up at her thinking it was a trick. This stuff looked a little like my old food, but the smell was amazing! My mom gave me the nod letting me know it was ok and I started gobbling it up.

My human mom then went on to tell me that Spot & Tango is a pet food company redefining the meaning of healthy pet food by offering vet-formulated, personalized meal plans that focus on each pup's individual needs in both their wet and dry foods while also using flavors dogs like me love.
Unlike the other stuff that was packed with additives my human fed me before, that made me sick, this company's pet food has never been recalled and it's not overly processed. They only use premium ingredients which is why they source food from local farms and their recipes never contain any artificial preservatives, fillers, or additives.
Not to mention that all of Spot & Tango's food meet or exceed the standards set by AAFCO's Dog Food Nutrient Profiles for all life stages.
Once I switched to Spot & Tango, my owner and I were shocked at how much energy I had and she was relieved to see me being my normal, active, dog-self again.
I have to say, despite the funny 'New year, New Me,' behavior, I'm still the luckiest dog in the world. I have a human who adores me, takes me on adventurous walks to the beachfront and my favorite parks. More importantly, she feeds me Spot & Tango!
Besides, there's nothing to lose.
I recently overheard my owner telling her friend about Spot & Tango's two-week trial. Pet owners everywhere can see how their pup likes it and if not the Happy Pup Guarantee makes it easy to get your money back.
Plus, my human-mom can always rely on their dedicated customer service that provides excellent help and support.
Needless to say, my owner has earned extra cuddles as a thank you for always getting me Spot & Tango, plus it's the best way to show her how perfect she is!
Spot & Tango is simply the best food for your dog.
Check out Spot & Tango today, and let your special pup enjoy the experience that comes with healthy, personalized food that helps them stay active and happy.