The COVID burnout is real for both grown-ups and kids alike. After a messy school year, parents all over the country are worried about keeping their kids on track throughout the summer months.
Summer is a time for kids to play, and the last thing they'll want to do is sit down for some home-schooling. If only there was a way for kids to learn through play….
Enter: HOMER.
HOMER Learn & Grow is an app that offers thousands of different activities for kids that focus on learning skills. You sign up online and download the app for a hands-on digital experience. Yep, HOMER is guilt-free screen time!
Between the ages of 2 and 8, your child is a sponge, and HOMER caters to kids of this age group to maximize potential. HOMER covers a wide range of subjects, from reading to math, and broader life skills like critical thinking, problem-solving, information processing, and emotional intelligence.
Next, you answer a few more questions to help determine what stage of learning your child is at because every child is different.
Then your child can start to learn through play! HOMER isn't just an app you use to keep your child occupied; their learning method is research-based and studies showed a 74% increase in early reading scores. This summer you won't have to choose between learning and play. HOMER includes playful learning activities that kids want to do.
Plus, all it takes is 15 minutes of learning a day to make progress with HOMER. The team behind HOMER consists of experts with degrees in developmental science and cognitive studies, along with certified teaching experience.
The HOMER app is easy for kids to play on their own and on the go. There are in-app games and stories, but also offline printables, and offline play ideas that can be done outside on sunny days!
The goal with HOMER is to not only learn but to build your child's confidence so they can turn theory to practice. If you don't want your child to fall behind over summer, try HOMER today and your child can learn through play all summer long!
Our long-time trusted hair growth gurus at Vegamour never let us down, so when it came to their GRO Revitalizing Shampoo and Conditioner we had high hopes.
Healthy hair growth takes time, so we decided to give it a long trial, like all their products, to really get the full effects. After months of use, we once again are blown away by the results from yet another amazing Vegamour product.
If you don't know, Vegamour is famous for being vegan, cruelty-free, and helping people everywhere with hair loss and regrowth. We've been fans of their products since we saw serious results with their GRO Hair Serum and have watched this amazing hair care line blossom with the cleanest and effective products.
We decided to give Vegamour's GRO Revitalizing Shampoo and Conditioner a try a few months ago, and now we're obsessed. Who knew shampoo and conditioner could be this powerful? Aside from cleansing, its natural formula takes your wash routine to another level with the use of clinically-tested phyto-actives, (mung bean, red clover, curcumin).
These are the same ingredients in their serum that promote so much growth with all their naturally occurring minerals and antioxidants. These active ingredients are delivered to the scalp through microencapsulation technology, getting deep beneath the surface and promoting visibly fuller, thicker, and stronger hair without the harmful side-effects that other growth products can cause.
However, Vegamour doesn't stop there with its amazing ingredients. This shampoo and conditioner is also packed with their proprietary Karmatin™ (the first-of-its-kind vegan keratin). It uses micro-encapsulated vegan b-SILK™ protein to repair hair and repair damage from heat, coloring, and general cuticle damage while helping to thicken strands. Their proprietary Karmatin wraps each strand giving you stronger hair that is healthier and thicker and smooth as glass.
How we wash our hair and cleanse our scalps are vital to our routine and Vegamour is making sure with their GRO Revitalizing Shampoo & Conditioner that our hair is getting everything it needs.
Healthy hair starts at the roots, and if our scalp is unhealthy, our hair is unhealthy too. The foundation of hair growth starts at the scalp and that is why Vegamour's Shampoo and Conditioners focuses on the benefits it can deliver to not only your hair, but to your scalp too.
After using it consistently, we're not only seeing results in thicker, longer-looking hair but also a calmer scalp - something we didn't even know we needed. And if we use it with Vegamours no.1 serum our results will be even fuller, longer, and luscious. We can't wait to try it!
We trust our hair with the GRO Revitalizing Shampoo & Conditioner and like all Vegamour's other products they're free of sulfates, silicones, parabens, gluten, and artificial fragrance - the kind of harmful ingredients you find in most store-bought shampoos and conditioners. It does more than just cleanse your mane and it does it in the safest way possible.
Hair growth is a process and Vegamour is helping us get the results we desire. We love their subscribe and save option available to keep us on track.
When we subscribed we saved 23% on the Shampoo and Conditioner, and it's so easy to change up your subscription or even cancel anytime. Get your hair essentials delivered to your home every few months at a discount instead of repurchasing each time you run out and paying full price.
You'll never find a hair growth brand as dedicated as Vegamour is to being clean, safe, and actually delivering real results. Take advantage of their Gro Revitalizing shampoo & conditioner as a simple and easy way to start treating your hair the way it deserves — trust us, you won't regret it!
Just For You: Our friends at Vegamour are offering our readers a SPECIAL offer for first time subscribers! Follow this link and get a free deluxe sample of their best-selling GRO Revitalizing Shampoo and Conditioner with your subscription!
Weight loss can be a tough journey and even harder to maintain for so many of us. With age, changing hormones, and menopause, your metabolism starts to slow down and it can become harder to lose weight.
Hormonal weight gain is a common occurrence that happens as we age, and it is vital that our lifestyle adapts just as our bodies do.
We have been looking for the perfect solution to help you with a healthier lifestyle program that you can stick to. That's when we found Metabolic Renewal, a program that offers a simple solution to hormonal weight gain-- hormonal weight loss.
Metabolic Renewal focuses on you and comes up with a customized plan designed to make you feel your best. Every woman has a unique hormonal signature that is influenced by her natural rhythm, and the key to combating these stubborn lbs is to work with your hormones, not against them.
Metabolic Renewal has determined that all women fall into one of 7 core Hormone Types, and their diet and exercise routine should be tailored to what group they are in. Their personalized plans are doctor-designed and based on Dr. Jade Teta's 4M framework - mindset, movement, meals, and metabolic exercises.
Here are four reasons why we think you should check out Metabolic Renewal:
1. Customized to you
Metabolic Renewal tailors your plan based on what your specific hormone type is according to a quick quiz you take on their website. The quiz helps Metabolic Renewals experts determine which of the 7 hormone groups you fall into and how to best approach your lifestyle changes. It asks you about every aspect of your life; age, monthly cycle, hormonal medications, medical history, lifestyle, body shape, and health goals, which are all used to curate your customized plan. Once your hormone type is determined, you'll receive a customized plan with the best food and activities for you to help you combat hormonal weight gain.
2. Doctor-Designed
Dr. Jade Teta is the brains behind Metabolic Renewal. He is a physician and personal trainer with 25 years of experience. He is also an expert in the unique attributes of the female metabolism, its hormonal strengths and challenges, and what we need to be at our best.
Through Dr. Teta's work, Metabolic Renewal has discovered the first vital step: focusing on rest, relaxation, and recovery. Minimizing stress weight gain sounds easy but implementing a calm mindset can be hard to do alone. Movement and exercise will then keep fat-storing insulin levels under control. While their custom meal plan will set you up with the best foods for your hormone type.
Dr. Teta has worked with over 10,000 people and has helped them with their weight loss and health goals. As a result of working with women, he learned all he could about female metabolism and developed Metabolic Renewal, a program designed specifically for you as you navigate the menopausal journey.
3. Easy to incorporate into your day - today
Metabolic Renewal is designed to be incorporated easily into your daily life and kept for the long term. Their exercises are super-efficient, just 15 minutes, and all are designed to burn the most amount of fat in the shortest time possible.
The best part? You only need to do them 3 days a week! Plus, you'll never get bored thanks to the mix of cardio and resistance training - all of which you can do at home. However you can change workouts based on your needs, whether you're injured, can't do certain moves, or prefer low-impact exercises.
The 12-week meal plans are also easy to incorporate into your eating habits as they are based on your food preferences. Their gourmet chef-designed recipes are easy to prepare and you know exactly what to eat when. Metabolic Renewal even sets you up with a shopping list - so convenient!
4. Affordable
Once you sign up, you select your plan- online access or DVD, they both cost $37 and include everything you need. Metabolic Renewal also has a 90-day, triple-promise, 100% money-back guarantee.
No matter what stage of menopause you're currently at, Metabolic Renewal is made for you. Take advantage of the best foods and exercises for your hormone type, to work with your body, not against it.
There's no more one size fits all when it comes to your health with Metabolic Renewal.
I like to think that I'm on top of my personal hygiene.
I always wash my face and brush my teeth twice a day and make sure to clean my nails whenever they get dirty. But lately, there's one problem that won't seem to go away no matter what I do.
I don't love admitting it, but so many of us deal with stubborn toenail fungus—brittle, yellow, digesting deformed toenails. Funny enough, most people aren't even aware that they have it.
Toenail fungus can actually develop in people of any age and is typically caused by the overgrowth of fungi under the nail which tend to thrive in warm, most environments (read: your feet).
At first, I thought the problem would go away on its own as long as I cleaned my nails regularly, but that wasn't the case at all. I did some research and it turns out that once fungi builds up, all you need a little bit of cream to ease the symptoms. That didn't seem too bad.
It wouldn't be too bad if not for the fact that every single over-the-counter I tried just didn't seem to do anything. I was absolutely baffled, but after talking to an online dermatologist, I found that over-the-counter medications can help ease the symptoms of fungal infection, but it doesn't really solve the problem long-term.
I thought all was lost, but while looking through a telemedicine forum online, I saw that several people were recommending PureHealth Research's Fungus Eliminator.
I'd never heard of PureHealth Research before, and after a bit of my own research, I learned they are a research company that is dedicated to improving your overall health with superior quality nutraceuticals and functional foods.
But where did that leave me and my perpetual toenail fungus? I took a look at PureHealth Research's Fungus Eliminator and the claims seemed very promising. Apparently, this supplement combines the all-natural raw strength of 9 natural ingredients with immune-restoring Turmeric.
Since your body does not easily absorb Turmeric, the Fungus Eliminator also has the added boost of Bioperine, a strong antioxidant that boosts the potency of Turmeric by 2000% (yes, you read that correctly). Fungus Eliminator also omits any immunity-destroying antibiotics to ensure that you're only getting nature's magic at its best.
I decided to order a bottle to try it out, especially since they have a 365-day money-back guarantee. And after only two weeks of consistent use, I'm already starting to notice visible results. The problem is mostly my two big toes, and I'm happy to say that both have never looked clearer. Not to mention, I don't have those gross cracks around my nail that come from the colder weather.
All it takes is two capsules a day to look and feel my best. I've even started taking advantage of PureHealth Research's generous subscription plans which not only allows me to stay on top of my personal hygiene, but also save $33 per bottle!
There has never been an easier way to take charge of your personal health. Forget those harsh antibiotics and opt for something natural instead. PureHealth Research is here for, delivering what's next and beyond.
I was raised eating meat. Dinner was always meat and veg, no matter what. Back then, nobody was questioning what was really in our meat or how it was raised--we assumed that it was high-quality and nutritious. Fast-forward a few years and we have all watched a docu-series, heard a podcast, or read an investigative article about the horrors of the meat industry.
I had no idea that the quality of the majority of the meat consumed in the US is extremely low, or how badly meat production has been affecting our environment. As much I was concerned about this, I knew I could never give up meat entirely. I needed to find a better, more ethical source of meat, especially since my partner and I are attempting the keto diet.
I remembered my friend, Sara, raving about the steaks she and her husband had the week before, so I reached out to her to see where she sources her meat. I was delighted to hear she found a high-quality meat distributor that practices ethical, sustainable farming in the US called Wild Pastures. They offer a membership that delivers 100% grass-fed and pasture-raised meats at the lowest price right to your door.
I did some research of my own and was initially struck by how open they were about their farming practices. They use a rotational grazing technique that doesn't use pesticides or herbicides, so they have healthier and happier cows. With Wild Pastures, my meat would be sourced from honest local farmers, so it felt like a great way to ensure the quality of what I was eating (I love the idea of supporting a local farmer rather than some corporate giant) Plus, Sara said it's the best meat they've ever tasted!
The idea of having 100% Grass-Fed Beef, Pasture-Raised Chicken, and Pasture-Raised Pork that would typically be hard to find in my local grocery store or butchers delivered right to my door was irresistible. Wild Pastures offers two memberships, the Standard annual membership for $59 gives you access to 25-40% savings on pasture-raised meats, flat rate shipping of $7.99, and a 365-day money-back guarantee. The Plus annual memberships offer all that with the addition of free shipping for a whole year. They also offer month-to-month boxes too if you want to try them out without a membership.
From there you have the ability to create your own custom boxes with whatever you enjoy. Depending on your needs you can choose from the 10-11 lbs for $89 box, the 20-21 lbs for $178 box, or the 30-31 lbs $267 box and fill them with your preference of the different cuts of beef, chicken, and pork.
Each month you'll receive your Wild Pastures box full of delicious, nourishing, pasture-raised meats delivered right to your doorstep in 100% recyclable and compostable packaging (or reusable packaging for local deliveries). And I can always pause or skip a month if I need to.
I read their average customer saves $864 per year. I did the maths and it turns out switching to Wild Pastures for my meat was not just a healthy and conscious move but also an economical one too. I opted for the Plus membership along with the 30-32 lb box, which gives me 60 - 8 ounce servings, which is less than $5 a serving.
When my first Wild Pastures box arrived, the first thing I noticed was how the cuts of meat were all so lean and a great size. I decided to make sirloin steaks for dinner,--our favorite restaurant is a steakhouse, and we've really been missing going in person. Not only is it safer to make dinner at home, but Wild Pastures is also way less expensive. I'm what you might call a steak connoisseur, so I was ready to put it to the taste test.
With just the classic salt and pepper and a touch of my favorite rub, I cooked them to a perfect medium-rare. Now let me tell you, we have tried meat from lots of different stores in an attempt to find the best. Everywhere from Whole Foods, Omaha Steaks to Costco. Wild Pastures blew all the rest out of the water. The meat is consistently rich in flavor, juicy, and simply great quality.
If you're looking to take your well-being, and the environment, into your own hands, Wild Pastures is a great first step in this journey!
When my coworker added a surprise same-day, two-hour Zoom call to my calendar, I screamed.
I really needed a vacation; the quiet and peaceful kind without the crowded inbox or eye strain from screens…
I didn't feel comfortable jetting off to an island, for health and financial reasons, but I wanted to see if there was anything at all in the realm of possibility.
Then, my friend Kate recommended Getaway; clusters of perfect cabins tucked away in the most beautiful places all across the country. They're about two hours outside of most major cities, and outside Nashville, there is the stunning Getaway Dale Hollow near Celina, TN. Getaway cabins offer all of the fun parts of camping but in a much more luxurious setting. Kate said it was one of the most relaxing and beautiful trips she had taken in a long time, and the pictures she sent me were truly stunning.
There happened to be an available cabin for the next weekend, and five minutes later, I booked one for my fiance and me.
Here's how our trip went:
Friday, 1PM
The car was packed, my playlist was perfected, and we were off. I'd printed out a map just in case the WiFi got spotty close to our destination. (Getaway's all about unplugging, so there's no WiFi.)
Friday, 3PM
The quietness was bliss from the minute we stepped out of the car. Check-in is completely contactless, and all the cabins are well spaced out through the site (I'd say a good 100-150 ft between each one). We easily found our cabin and I was surprised that it looked even more picturesque than it did on their website.
The first thing that caught my eye was the huge view-framing window set behind our queen-sized bed with white linens and down pillows. As we brought in our bags and started to settle in, we realized this cozy cabin packs a punch.
There's a kitchenette with plenty of counter space, a two-burner stove, mini-fridge, utensils, dishes, cups, mugs, plus a pot and pan. There's a small table for eating and writing, a Bluetooth speaker and an AC/heater. They really did mean everything you need comes with the cabin!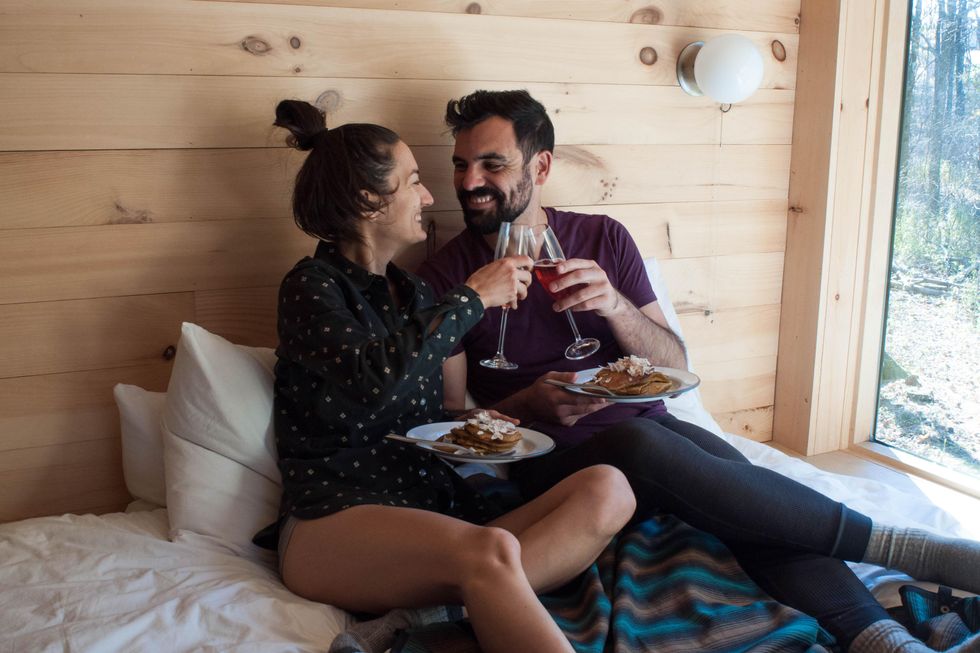 Saturday, 10AM

Waking up without an alarm was amazing. Neither of us wanted to get up; it was the best sleep we had in a longggg time.
Saturday, 1PM
After some coffee and sunny side-up eggs with toast for brunch, we got ready for a day of light exploring. The Roaring River Falls Trail is an easy-level, 4-mile walk, so we layered up and headed out.
The views were beautiful and it felt good to breathe in so much fresh, crisp air.
Saturday, 7PM
We were exhausted after our day (but, the good kind of tired, not Zoom fatigue!) so we whipped up a quick dinner with ingredients we picked up from Scott's Bestway, about 15 minutes away.
We took long, hot showers and enjoyed the quiet while reading the books we'd been trying to get through for the last few months.
Sunday, 12PM
After a much-needed lie-in, we made our way into town to window shop. There was an antique store and a museum and it happened to be absolutely perfect weather.
On the way back, we grabbed some donuts from the local bakery that were INCREDIBLE.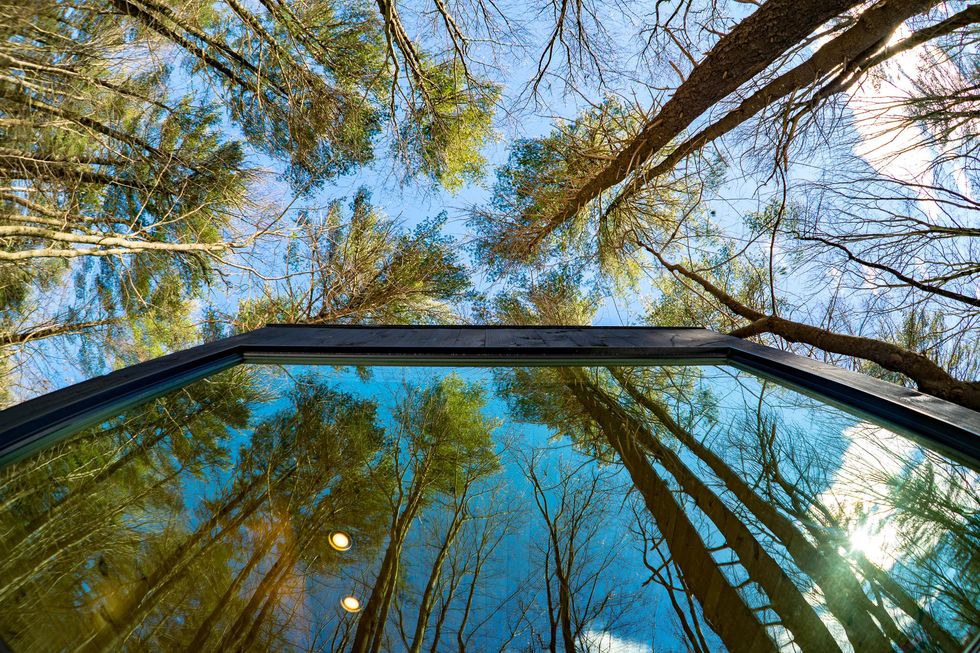 Sunday, 5PM

We went for another walk on the local trail. I felt so zen. Nothing to think or worry about, except for when to get the firepit going outside our cabin. (The cabin comes with a bin full of firewood and fire starter kits.)
Our last night consisted of s'mores, a glass or two of wine, and a night of gazing up at the stars. We were so relaxed in the Adirondack chairs beside the fire that we could have stayed there all night just chatting.
Monday, 11AM
We both felt a little sad packing up the car. We waved goodbye as we drove away and I almost thanked the cabin for the peace it had restored in me. A weekend without Instagram and Twitter and email and Zoom was exactly what we needed. Getaway really gives you the best of both worlds-- we were able to immerse ourselves in nature while still enjoying some creature comforts (the bed in our cabin was like a cloud, I haven't slept that well in years!).
Getaway, we will be back, and it might be even sooner than you think!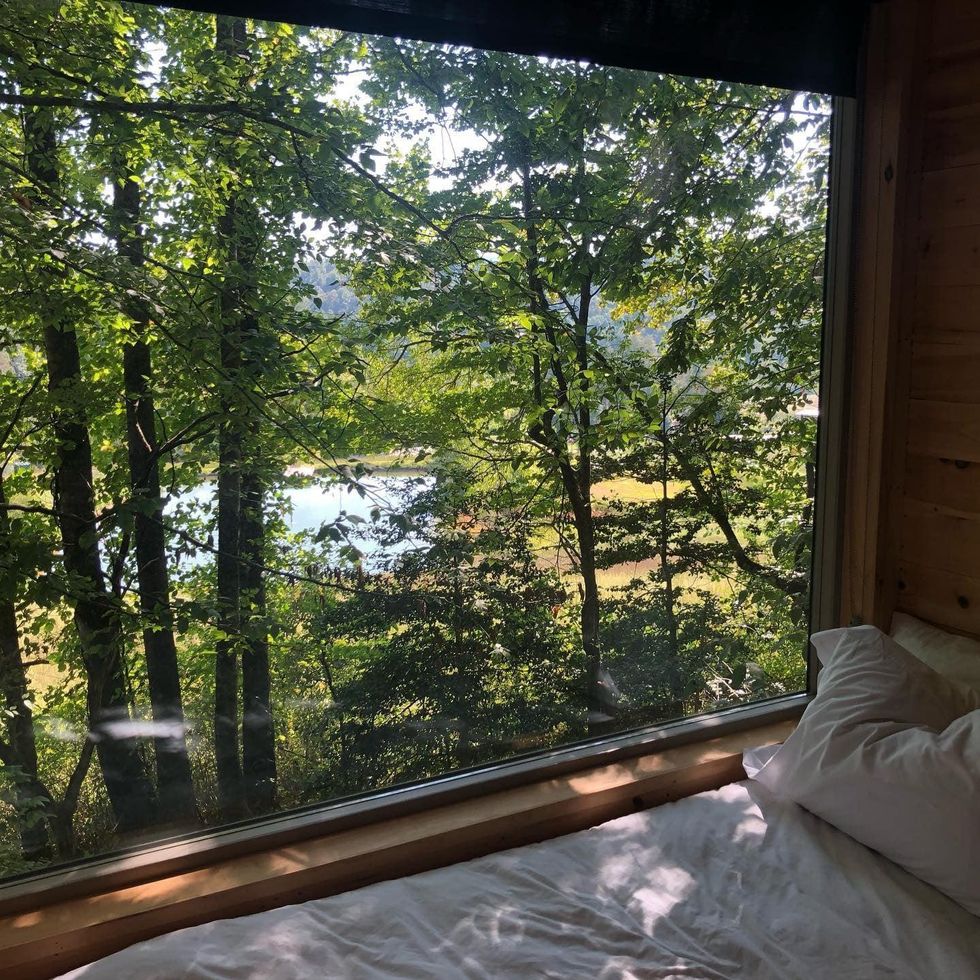 Trying to keep the kids learning and busy at home is hard! When they're done with Zoom for the day, I always wish I could find something to keep them occupied while I work and finish errands around the house.
If I could do something other than parking them in front of YouTube Kids for the afternoon, I would, but I was having trouble finding anything else that would keep them entertained.
Then, I talked to a friend who told me her daughters immediately took to HOMER. It's an early education program designed for kids 2-8 years old that focuses on fun games and videos that build confidence.
I didn't know if they'd be interested, but after trying it, my kids are loving it. Other parents need this, so I put together an FAQ.
What is HOMER?
HOMER is an app that offers thousands of different activities for kids that focus on learning skills. You sign up online and download the app for a hands-on digital experience. Their program is curated by experts with degrees in developmental science and cognitive studies.
They're also unique in that their material is meant to help kids build confidence! As they grow and make mistakes, this journey supports them all the way.
What do they offer?
The big 5 learning categories are reading, math, social + emotional learning, creativity, and thinking skills.
My 3-year-old is already recognizing letters and is obsessed with the creative features! (I think we have an artist in the family) My older daughter takes after her parents who are terrible at math, so exposing her to math now may help her gain interest or love in the subject that's going to make such a difference as she gets older.
There's everything from having fun with numbers to learning about concepts like empathy in story scenarios. In addition to their digital offerings on the app, there are also bonus hands-on activity kits you can add on.
What ages is it meant for?
HOMER is meant for ages 2-8, but 3-6 is the sweet spot for building those reading and pattern recognition skills; 85% of brain development takes place by age 5.
Why HOMER?
The company is research-based and fun.
A study concluded that HOMER increases reading scores by 74%, which is incredible. After just browsing the platform, I was shocked by how much material they offer.
A lot of it mirrors the stuff they learn in school, but there's also a great education on building emotional intelligence. Raising emotionally intelligent kids is something I'm working towards, and this really helps build valuable interpersonal skills. With all the fun graphics, I also was immediately confident my kids would see this as a fun activity rather than homework.
How much does it cost?
Start with the 30-day free trial, and if you like it, there are flexible subscription options. It's $9.99/mo., $59.99/year, or $99.99/year if you want bonus hands-on activity kits across Letters, Numbers, and Feelings. I went with the $59.99/year plan, which works out at less than $5 a month.
How long should my kids be spending on it?
Your kids only need 15 minutes a day! However, I consider it guilt-free screen time. They're actively using their brains while playing, so I would much rather they play with HOMER rather than play mindless games on my phone.
Will my child like the content?
My kids love it because you can customize it to their interests; you can choose age, and then interests they like, such as princesses or dinosaurs, or trains.
I also love it because HOMER creates a lot of new content, but I recognize some things too; they have my favorite book from when I was a kid, Where The Wild Things Are.
Can multiple kids use the same account?
Yes, you can create up to 4 profiles, so your 2-year-old daughter isn't getting the math questions for your 6-year-old son.
There's also some...questionable things on YouTube Kids, so I'm happy HOMER is more vetted for age-appropriate programming (and no ads!!).
This is such a life-saver and I love how my kids ask me for it after school. It has really transformed our weekday evenings, and with such great research from HOMER, I'm confident they're learning and growing more confident with themselves every day.

What is your biggest weakness? Tough question to some, but for me, it's easy; SNACKING!
I'm addicted to snacking. My days are long, so three meals don't suffice, and snacks are essential. My biggest challenge is finding healthy options.
When people hear the word "snack," they don't think of healthy eating or a healthy diet. But that's not true - eating smaller and more regularly can be really good to keep your metabolism going all day.
My usual snacks are fruit, yogurt, or some chopped-up veggies. But I get bored so easily and love trying new things, especially when it comes to food. Only thing is, healthy snacks that aren't loaded with salt, sugar, or loads of weird ingredients are hard to find!
Chatting to my friend, Megan, she commented on how most snack options are also so heavy on carbs and low in protein. Something that never hit me before, even though protein is usually the center of all my meals, whether it be plant or animal-sourced.
Wanting to know more, we looked up "protein snacks," and of course, all the horrible tasting protein bars and balls we tried and tested before all came up.
Then Megan showed me her phone and said, "Look at this, Paleovalley Beef Sticks". Made with 100% grass-fed beef and organic spices with no GMOs. Beef jerky? I only see that stuff in gas stations and wonder who actually buys it; clearly, it's full of crazy preservatives.
Megan clearly wasn't thinking the same because a few days later, she had a whole pack of Paleovalley Beef sticks. "You have to try these," she said as she presented the Beef stick in three different flavors in front of me. I couldn't believe she bought them.
I picked up the Jalapeno flavored one since jalapeno chips are the best ever, but I didn't have any hope of it actually tasting good.
The beef stick sat in my bag all day. When my usual 3 pm snack craving appeared, I picked it up to read the label. I was shocked by the ingredients - it really was just grass-fed beef and organic spices. No added sugar, salt, preservatives, or additives. How is this possible?
It turns out, unlike other beef sticks, Paleovalley doesn't use the same GMO corn-based citric acid encapsulated in hydrogenated oils to process their beef. They use a longer natural fermentation process with no need for GMOs or nasty preservatives. And it means that their beef sticks contain 1 billion naturally-occurring gut-friendly probiotics.
Ok, so maybe it actually was healthy, but how was it going to taste? Only one way to find out... I ripped it open and took a cautious bite.
That was good, so good I wanted another one.
That night I bought a pack of Jalapeno Paleovalley Beef sticks along with their Original flavor. It was so hard choosing between all five flavors: Original, Jalapeno, Summer Sausage, Garlic Summer Sausage, and Teriyaki.
In a few days, mine had arrived, and I've been eating them every day since. I've never had a snack that keeps me feeling so full for so long - that's the power of protein. And I love all the extra benefits of grass-fed beef my body is getting like omega-3s, conjugated linoleic acid (CLA), which burns fat, vitamins A, D, E, and K, and glutathione, a major antioxidant.
Paleovalley only uses the highest quality ingredients to produce nutrient-dense products. And they only source their beef from family farms that are passionate about cultivating grass pastures for the cows to graze on.
Paleovalley's Beef Sticks are now my new favorite snacks. They require zero prep and are so easy to carry around, (I always have one in my bag). They are a great source of protein and are packed full of so many amazing nutrients. And they taste delicious.
I'm so glad Megan made me try one!
Our friends at Paleovalley are offering a special offer to our reader! Follow this link to save up to 20% + get free shipping!
These last few months have been quite difficult. With a layoff at the beginning of the pandemic, it's taken a while to find new work. That near one-year gap in my resume stands out like a sore thumb. Considering how competitive the job market is, I'm sure this employment gap is only hurting my chances.
It's so frustrating because I know that there are tons of people in the same boat and - even worse - we're all competing for a finite number of jobs. In fact, 3 weeks ago I was ranting about my predicament to my best friend Sam.
Like me, Sam was also laid off at the beginning of the pandemic, but he found a job in 7 months. I hadn't wanted to ask him for help because I felt embarrassed, but at that point I was desperate. When I asked how he landed a new job so quickly he said he used a resume writing service.
Okay, that makes sense. Sam never was the best writer so I was surprised how quickly his search went. Turns out, Sam used TopResume, the leading resume-writing service with thousands of writers across the country who can be at my beck-and-call.
Considering these writers have HR and Recruitment backgrounds and are knowledgeable in 65+ different industries, you can be sure you're in good hands.
Apparently, TopResume will give your resume a free review. After a few days, one of their resume experts will provide tailored advice on how to enhance your resume. If you decide to move forward with the service, one-on-one assistance can be yours starting at as low as $17 a month.
Once I submitted my resume, I was matched with my resume-writing expert, Katrina. She gave me some brief tips on how to improve my resume by focusing on content, format, font, and word choice—all of which are completely free. At that point, I knew TopResume would help me reframe my employment gap so it's more positive.
Not to mention, every day I spend unemployed, I lose out on income from my job. In that sense, a resume-writing service is a wise investment in myself.
During my more in-depth review with Katrina, we tackled two of the biggest issues plaguing my resume. The first was my obvious employment gap. Katrina suggested I emphasize my achievements to make it clear that I was not let go due to my performance, but because the small company I worked for went under. What a great decision as it allows me to showcase my accomplishments while providing a fair reason for my unemployment.
The next concern was something I'd never even heard of. Most employers use an Applicant Tracking System (ATS) to parse through potential hires' resumes. If you don't incorporate appropriate keywords, your employer might not even glance at your resume!
I never realized a resume-writing service could be so constructive. Katrina was more helpful than I could have imagined She even followed up with me after I told her I secured 2 interviews - one of which is for my dream job!
Landing a new job has never been easier and TopResume makes it as simple as a click of a button (literally).
Update: Stop stressing over your resume and hand it over to the experts. Get a professionally written resume today!
When I became a realtor, I knew it was going to be challenging work. It's a job that requires a lot of patience and negotiating, but the work is very rewarding.
There is something really special about helping someone find their very first home. Buying a home for the first time can be intimidating, so first-time buyers are unique and need a different type of support from their real estate agents.
I've been working with a service called Ribbon to help me streamline the entire process. Ribbon is transforming how people buy and sell their homes to the way people want it to be, which means a seamless process for the agent and client alike.
Ribbon utilizes technology, software, and access to capital to help guarantee a home transaction.
In 2020, first-time home buyers made up 33% of the buying market - a huge amount compared to other years. The majority of these being millennials.
As a realtor, it's important to understand the unique struggles of first-time buyers. I like to do my research so I can offer my clients knowledge and great service. Ribbon's Transaction Coordination Team moves agent files through the process to closing on their behalf, making things run smoother for my clients and freeing up time for me to guide them through the process of buying their first home.
I also like to offer my clients the best financial options available to them. Millennials are entering the market later than previous generations as they need to rent longer in order to save more. They tend to have more debt due to student loans, leaving them with smaller down payments than homebuyers in the '80s - 6% compared to 12%
Using Ribbon means my clients can make an offer in all cash, thanks to their Offer Upgrade Program. This increases their chances of winning in a multiple offer scenario and can costs the client as low as 1% of the purchase price of the property.
As well as having the option to pay in cash, The Flexible Move-In Program means that Ribbon will purchase on behalf of the buyer until my client can repurchase the home back, within 6 months.
Ribbon can also help my clients buy or sell a home in a timely manner and remove any home sale contingencies. Ribbon has the fastest close time in the industry, sometimes taking as few as 14 business days.
There is no cost for an agent to use Ribbon. It gives my clients so many great benefits–like becoming cash buyers, free valuations, and the removal of home sale contingencies.
Buying your first home is both exciting and scary. Make sure your realtor is equipped with the best tools to help you. Ribbon can help you get the home of your dreams.
Let Ribbon take the hassle out of the home buying and selling process