We're all getting something wrong when we view political correctness as fundamentally opposed to free speech.
Few issues have divided the nation further than the free speech vs. political correctness debate.
In addition to deepening the gap between conservatives and liberals, the debate tends to fracture the left, leading to dissent from the inside. This stems in part from the fact that many older liberals simply can't wrap their minds around the idea of political correctness.
Political Correctness: Censorship or Part of the Fight for Equality?
Critics of political correctness equate it to censorship, which they see as a threat to the all-American ideal of unbridled freedom. For most liberal millennials and Gen-Z kids, however, political correctness is about freedom, just of a different sort. It's really about shutting down hate speech and supporting marginalized communities.
Nowhere did this divide become clearer than in one of my lectures in college, a postmodernism class with a professor who I'd always seen as uniquely brilliant (and who also happened to teach a lesbian erotica class). She lost a lot of my respect when—as a white woman—she insisted that there was nothing really wrong with a white person saying the "n" word in solitude, prompting one of the few people of color in the class to raise her hand and ask: "Why are white people so desperate to say that one word?" The professor responded with a lecture about free speech and the insubstantiality of language, a response that felt misguided and totally out of touch.
This generational divide appeared again when prominent feminist and author Margaret Atwood published an op-ed critiquing the #MeToo movement. "My fundamental position is that women are human beings, with the full range of saintly and demonic behaviours this entails, including criminal ones," she wrote. "They're not angels, incapable of wrongdoing." In short, Atwood was critiquing the #MeToo movement for the same reason that many people critique political correctness. They feel that restricting one's language, or giving the benefit of the doubt to and prioritizing the voices of certain demographics, is infantilizing or threatening to other demographics' freedoms.
On the other hand, many young liberals understand that political correctness is an important part of the process of giving respect to groups that have been and are still systematically oppressed. This political correctness can take the form of prioritizing people of color's voices, or calling out offensive speech—even, or especially, when it's the product of ignorance, or when it's conducted out of earshot of the people it might hurt.
What Toni Morrison Knew: Political Correctness and Free Speech Can Be the Same Thing
What we all need to understand is that, among other things, the left's internal war over political correctness and free speech actually presents a chance for generations to learn from each other. Defenders of political correctness might realize that sometimes, accidentally offensive language can present a valuable educational opportunity—though this is definitely not always the case, and no one should be required to educate others about why they deserve basic respect.
Older proponents of free speech, for their part, can realize that political correctness, safe spaces, and the like ultimately come from places of compassion. At their core, they are efforts to achieve a more equitable world.
Perhaps it's too starry-eyed to imagine that older allies could learn from younger people who refuse to accept middle-of-the-road policies or veiled racism, but some older people have certainly embraced progressive worldviews. "Oppressive language does more than represent violence; it is violence; does more than represent the limits of knowledge; it limits knowledge," said Toni Morrison in a 1993 address about political correctness. Morrison, whose wisdom stretched far beyond the blind spots of her generation, was a supporter of what political correctness stands for, though not of the implications of that specific term. In a later interview, she added, "I believe that powerful, sharp, incisive, critical, bloody, dramatic, theatrical language is not dependent on injurious language, on curses. Or hierarchy."
In short, freedom of speech is not contingent on the ability to use offensive language. We can be free—in fact, we can only be free—when all of us are free, which will only happen when language that demonizes or injures certain groups is purged from acceptable discourse.
Ironically, the book we were discussing that day in my postmodernism class was Morrison's Beloved.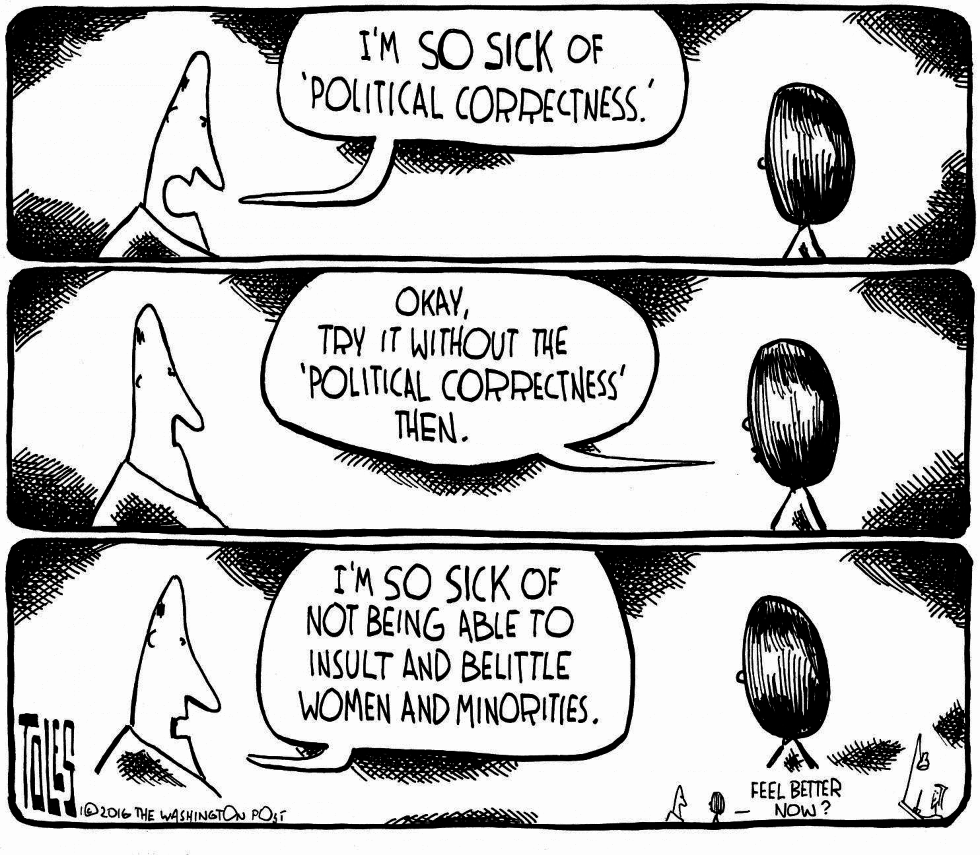 Image via the Washington Post
Epstein's lifestyle was unimaginably creepy, but it's indicative of a larger problem.
Jeffrey Epstein was found dead in his jail cell on Saturday, having been accused of sexual abuse by nearly 80 women.
He leaves behind a legacy of destructive opulence.
Epstein lived a lifestyle of unchecked consumption. The billionaire possessed a number of extravagant homes. His Manhattan townhouse allegedly cost $77 million and contained disturbing oddities—such as a hall full of fake eyes that were initially created for injured soldiers. It also contained a photorealistic mural that featured Epstein in jail, surrounded by prison guards, as well as a life-sized female mannequin that hung from a chandelier.
His private ranch was even more grandiose. At 10,000 acres, Zorro Ranch is a sprawling stretch of land, to which Epstein allegedly flew young girls, and where he abused them with the help of his supposed madam, Ghislaine Maxwell. The ranch was also a place where he attempted to impregnate hundreds of women in an effort to seed the human race with his DNA. This attempt was inspired by his distorted belief in transhumanism, a theory that the human population can be improved through artificial intelligence and genetic engineering.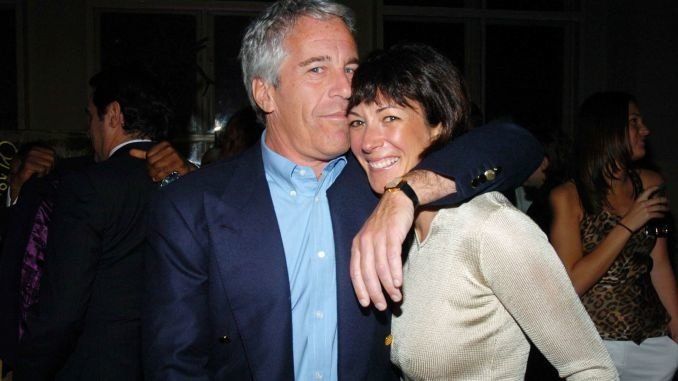 Image via BBC.com
The townhouse and the ranch paled in comparison to his primary place of residence—his private island. St. James Island is located in the U.S. Virgin Islands, and Epstein purchased it in 1998. According to a contractor, Steve Scully, Epstein possessed two private offices on the island, as well as a strange blue-and-white striped temple and a lagoon full of flamingos. The island was, allegedly, the location of a variety of heinous crimes and was casually called the "Island of Sin" and even "Pedophile Island" among some of Epstein's acquaintances.

Epstein had ties to countless businesses and money-making ventures, and he had a particularly fraught relationship with Victoria's Secret, a company that may have funneled models directly to him—and from which he may have embezzled millions. He had a circle of powerful friends that included Donald Trump, Kevin Spacey, Woody Allen, and Bill Clinton. He was also a serial liar, constantly fabricating relationships and insinuating himself into the scientific and political communities, including ingratiating himself with scientists by bankrolling their research. He is an example of the way that money can pave pathways and open doors for people with little to offer other than their purported fortunes and their charisma.
Between the bizarre decor of his homes, his interest in nefarious ideas like eugenics and cryogenics, and the suspicious circumstances of his apparent suicide in a Manhattan jail, Rolling Stone was right when it published the headline, "Conspiracy theories have gone mainstream."

Many of the conspiracy theories currently swirling around the Internet center around Epstein's relationship with Bill Clinton and Donald Trump, with #TrumpBodyCount and #ClintonBodyCount trending on Twitter and Trump himself tweeting about the Clinton conspiracy. Many others believe that Epstein faked the suicide, as the cameras in the jail cell stopped working at the time of his death.
With its tangled web of lies, the Epstein case is "the end of an information ecosystem that at least feints at asking questions before pretending to have the answers," according to Anna Merlan.
Is this the end, or just a step towards chipping away illusions and unearthing the corruption inherent to America's wealthiest class? After all, it's likely that there have been thousands of Epsteins before—billionaires in bed with politicians and scientific communities who abused women without consequence and who've funded false scientific research.
Maybe social media is, in its ugly, distorted way, finally bringing the dark money and covert alliances at the heart of America out into the light. Maybe next, the Internet could come for people like the Koch Brothers, the billionaires who paid millions to shut down climate change research.
Based on the nature of social media, though, it'll be a long time before we arrive at anything like the truth.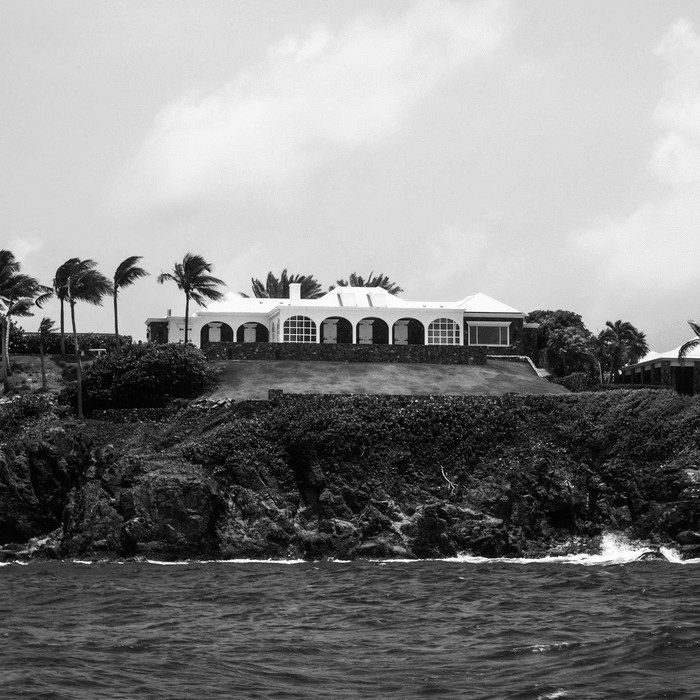 Little Saint James Island. Image via The Cut
The Immigration and Customs Enforcement agency detained 680 migrants yesterday. Here's how you can respond.
This has been an unusually horrific week for American immigrants, and that's saying something.
Yesterday, ICE staged its largest single-state immigration raid in history, sending over 600 agents to seven Mississippi food processing plants. 680 people were arrested and detained. They were ushered onto buses, where they had their hands tied with plastic bands; some tried to flee into parking lots but were captured on foot. The detained immigrants will be tried on a case-by-case basis, with no limit on how long they might be kept in ICE custody. As of now, 300 people have allegedly been released.
Many of the detained have children at home, who have been left without their parents. A local school in Scott County that started their academic year on Tuesday has gone "on standby," and bus drivers have been instructed to check whether the child is met by a parent or guardian before letting them off the bus, in order to ensure that the child is not returning to an empty house.
While the children have waited to hear from their parents, some members of the local community have stepped up, including a gym owner named Jordan Barnes, who's helped house some children until they can be connected with a family member or guardian.
Summer of Deportation
For supporters of the crackdown on illegal immigration, the raids are viewed as triumphs. In July, President Trump told reporters that "[ICE is] gonna take people out and they're going to bring them back to their countries or they're gonna take criminals out, put them in prison, or put them in prison in the countries they came from."
The raids in Mississippi came only five days after a mass shooting that was motivated by racism and anti-immigrant sentiment rocked El Paso, Texas and left 31 dead. They appear to be the climax of a summer of relentless ICE crackdown on migrants across the nation. Currently, the U.S. operates the world's largest immigration detention system, with an estimated 30,000 people in custody on any given day. The raids began in June, with ICE targeting up to 2,000 migrants in 10 U.S. cities.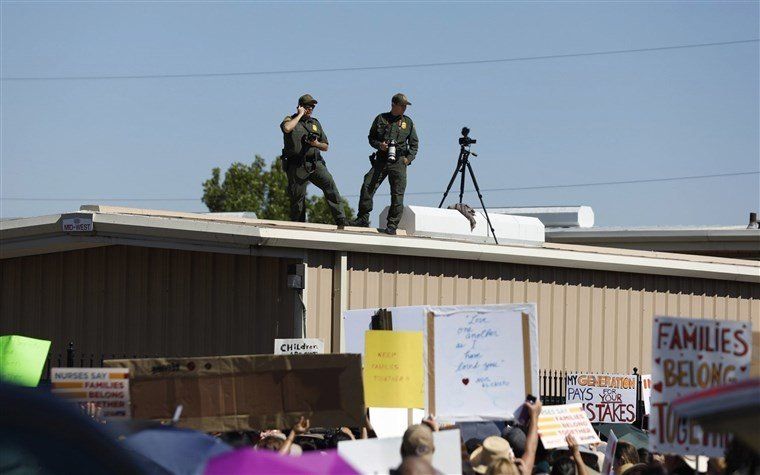 Image via NBC News
These detention centers have been loci of contention for the past few months in particular. On Tuesday, August 6, over 100 hunger-striking immigrants at a Louisiana facility were sprayed with pepper spray, shot at with rubber bullets, and blocked from contacting their families. Reports of atrocious conditions at the facilities have continued to flood in from many sources.

On Wednesday, just one day before the Mississippi raids, a man named Jimmy Aldaoud—who spent most of his life in the U.S. and had never lived in Iraq, though he was of Iraqi nationality—died in Baghdad, after he'd been left homeless and without access to insulin following his deportation. Aldaoud was detained as part of a massive crackdown on the Detroit Iraqi community. In a video filmed before he died, he appears to be sitting on a street in Iraq. "Immigration agents pulled me over and said I'm going to Iraq," he said in the clip. "I said, 'I've never been there. I've been in this country my whole life, since pretty much birth.' … They refused to listen to me."
What Can You Do?
In the wake of this news, and knowing that the raids will likely only grow worse, you might be wondering what you can do. Here are a few suggestions:
Spread and share information about immigrants' rights.
There are many guides in various formats available to the public that detail immigrants' rights. The ACLU has one, as well as the National Immigration Law Center, and the Immigration Defense Project offers a variety of flyers and pamphlets available for distribution. Essentially, the most important fact to share is that if an ICE agent shows up at your door, you are never obligated to open it unless they have a warrant, and you are never obligated to speak to an officer if they stop you in public. They cannot arrest you without a warrant, and you have permission to tell them that you are exercising your right to remain silent.
As an ally, you can also share stories on social media and among your networks, highlight migrants' voices, do your own research into issues of asylum and immigration and contact your representatives to voice your opposition, especially if you live in a state or community where the raids are taking place. You can find your local ICE community relations officer here and your representative here. You can also use the website 5calls.org to find more people to contact.
Report ICE raids when you see them.
If you see an arrest, take note of the officers' badge numbers and license plates and take videos. You can also report raids to hotlines, like United We Dream. If you're a legal U.S. citizen, use your judgment to decide when to speak up and get involved in a raid. Recently, in Nashville, a group of community members noticed that the ICE was surrounding one of their neighbors' vans, and so they formed a circle around the car until the agents left the scene.
Remember that it's unhelpful to report potentially false information about ICE raids, as they can spread unnecessary panic, so exercise caution when dealing with raids in real time.
Donate to help migrants.
A lawyer can make all the difference in a migrant's case. Many migrants qualify for legal citizenship in the U.S. and simply are unable to compile the necessary documentation. The Cornell Law School has a list of organizations seeking donors or volunteers. Just be sure to do your research and vet the charity using a site like Charity Navigator.
Get involved in advocacy groups.
Allies can participate in a variety of contexts. There are many organizations that allow allies to help migrants prepare their documents for citizenship hearings, or coordinate groups to attend these hearings, such as the New Sanctuary Coalition and Cosecha in NYC.
If you're an attorney or are fluent in translating Spanish to English, your expertise is particularly valuable to these groups. Even if not, just attending a court hearing can put enough pressure on judges to turn the tide in favor of migrants.
You can also push your local church, school, or community organization to act as a short-term sanctuary for migrants. If you want to give even more, you could look into underground networks dedicated to keeping migrants and refugees safe.
Organize for the 2020 elections.
Though protests and active allyship can be powerful, none of these small actions can replace systemic changes coming from the very top.
The rising tides of migration to the U.S. are not occurring in a vacuum. They are products of policy issues stemming from root sources like climate change, the War on Drugs, and other large, structural issues that require equally large, structural changes.
Even if you don't believe that undocumented immigrants should be allowed to stay in the country, the images of children crying as their parents are dragged away into unsanitary and dangerous prisons should be enough to stir some basic human impulse to react. There is a better way.
Marianne Williamson enrages some, makes others laugh, and inspires still others to form occult task forces. Could she be the only one who could meet Donald Trump on her own terms?
Objectively, Marianne Williamson had a fantastic night at the latest Democratic debate. She gained the largest number of Twitter followers afterwards, after all, and was the most Googled candidate of the night.
Perhaps this is because Williamson may be the most intriguing character of all the progressive Democratic candidates. With her aura of patchouli and residual dust from the astral plane, detectable even through the TV screen, she's the most memeable candidate (Elizabeth Warren and her plans are a strong second). She's also perhaps the most out-there, even compared to Elizabeth Warren and Bernie Sanders. If Warren and Sanders are marooned on the far left, Williamson has transcended direction, and she intends to bring America with her.
Regardless of how her campaign pans out, Williamson has undeniably made waves. She's the first political candidate to bring non-mainstream spirituality directly into her platform, and she's done it at the perfect time.
Four years ago and earlier, she would've seemed as absurd a candidate as Donald Trump—but we all know how that worked out. Today, qualifications for the presidential office matter less than one's star power and ability to inspire a movement, and Williamson seems to have the star power (if not the ability to commune directly with the stars).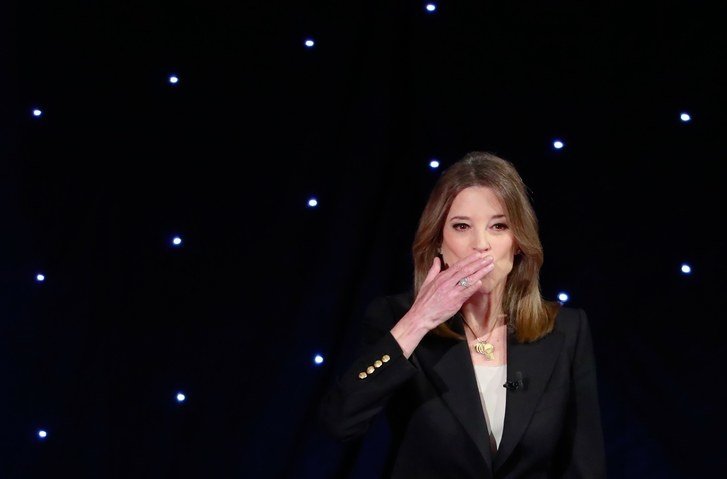 Image via NewYorker.com
In all seriousness, out of all the candidates, she may be the most similar to Donald Trump, in that she exists in the same realm of humorous implausibility as he does. Like Trump, she could be a reality TV fixture. She posts memes, is popular in fringe online forums, inspires occult task forces, and generates massive quantities of loathing and disbelief. She fits into the glitchy landscape of ironic and disillusioned online discourse and is bizarre enough to capture and hold the public's attention.

Like Trump, she's also bringing race directly into the conversation—though for the opposite reasons. Where Trump used racist ideas to win the presidency, Williamson has brought systemic reparations into the discussion. "We need to realize that when it comes to the economic gap between blacks and whites in America, it does come from a great injustice that has never been dealt with," she said. "That great injustice has to do with the fact there were 250 years of slavery followed by another 100 years of domestic terrorism." She followed this statement with some unusually cogent statistics. "If you did the math of the 40 acres and a mule, given that there were 4 to 5 million slaves at the end of the Civil War—they were all promised 40 acres and a mule for a family of four. If you did the math today it would be trillions of dollars."
Her articulate commentary about reparations was a high point in an otherwise discouraging debate that mostly revolved around the same arguments, with moderators and candidates circling around Bernie Sanders and Elizabeth Warren. While the Democratic party ate itself, Williamson—placed as far to the left as could be—stood on the outside.
None of these points are reasons to elect her. She is definitely not an experienced politician—she's a self-help guru, spiritual advisor, and occasional activist. Her platform's main points include a potential Department of Peace "as a first step to dismantling our systemically entrenched perpetuation of violence," movements towards sustainable agriculture in order to reestablish "humanity's spiritual connection to nature," and of course, fighting Donald Trump and his battalion of "dark psychic forces" with love.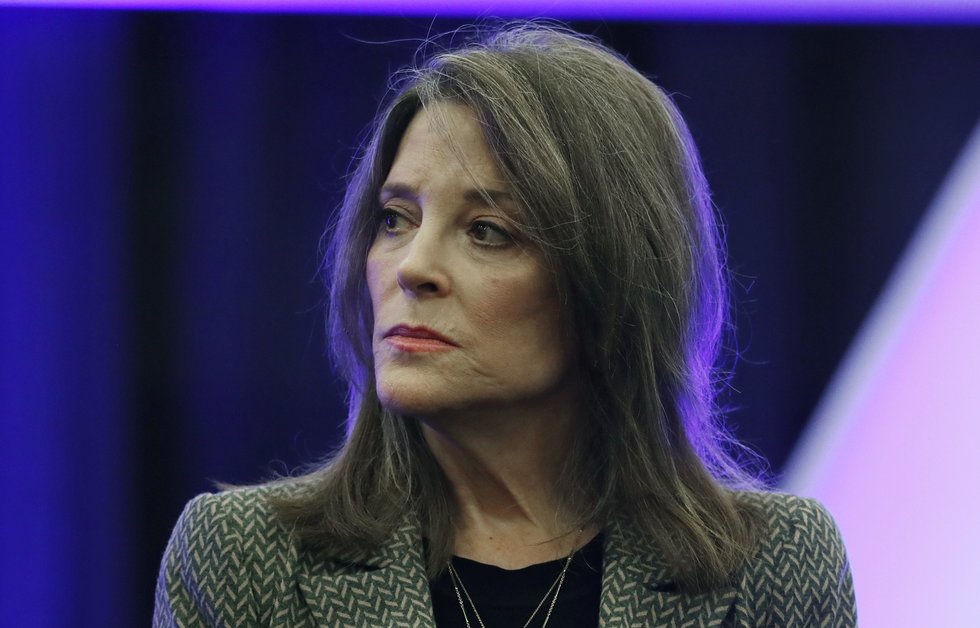 Image via USA Today
Her ideologies are absurd, and not based in (our) reality. She may be promoting an individualistic, dangerous brand of New Age spirituality that promotes an unhealthy fixation on the self. Still, she's arriving at a time when many Americans feel they are already living in an absurd, delusional world, and when they're seeking broader, more creative solutions.
Arguably, Williamson and Bernie Sanders are the only presidential candidates who have proposed changes to the sources of America's problems, not quick fixes that remain within its current, shattered structure. Where Sanders is proposing a revamp of the American economic system, Williamson is wisely proposing a different kind of recalibration—one that cuts to the sources of racial tension, the sources of pollution, the sources of neoliberalism, and the roots of the sicknesses that are costing Americans so much in health care costs.
In her distance from the here-and-now, she is undefinable, without order or direction. In her removal from the real world, she is quintessent: untouchable, and difficult to pin down. Depending on how you see it, she's absurd, enlightened, out of touch, awake, a crackpot, or a witch.
She would probably make a very poor president. But by bringing her messages of spirituality and structural healing to the table, she's changing the rules of the game.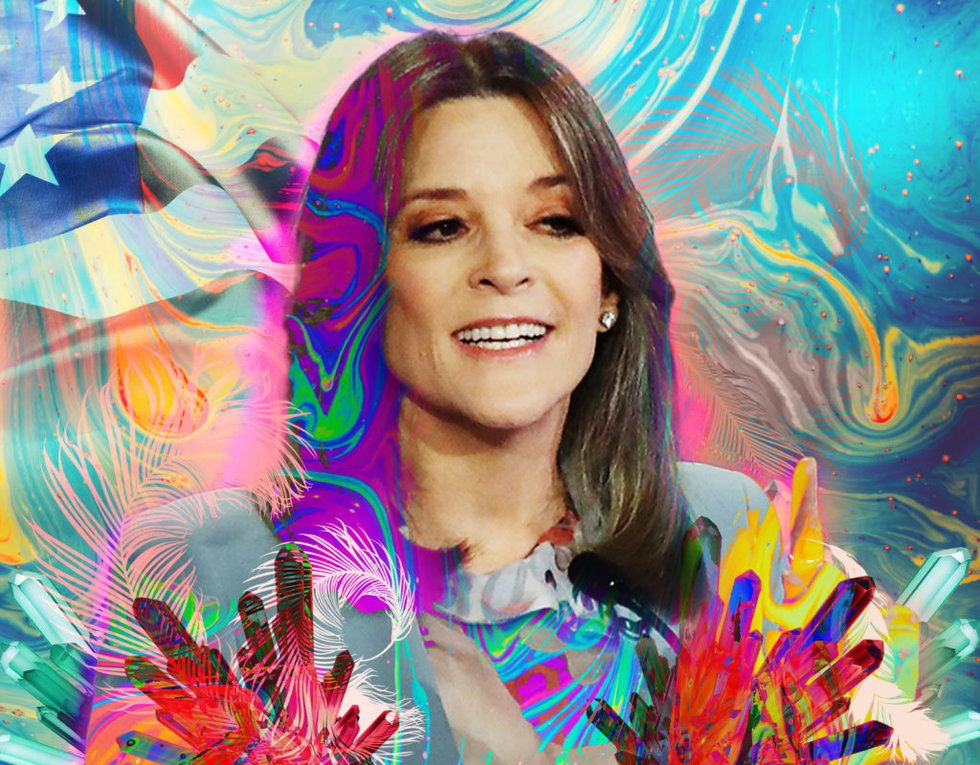 Image via The Bulwark
Together, Sanders and Warren promised radical hope—and wound up derailing the Democratic debate.
"Marooned on a desert island."
"Bonnie and Clyde."
"It's Bernie Sanders and Elizabeth Warren against the world."
These kinds of whimsical headlines, loaded with Americana folklore and reality TV surrealism, swirled across the Internet after the first installment of the second Democratic debates. They stemmed from the unlikely but oddly seamless union of Elizabeth Warren and Bernie Sanders, the second and third highest-polling and by far the most radically progressive candidates in the race to win the Democratic primary.
Standing in the dead center of the row of candidates, in between the youthful pillars of Buttegieg and Beto and far away from Marianne Williamson's mystic emanations and John Delaney's bitter combativeness, they seemed to cling to each other. By proxy, they seemed to cling to a similar collection of dreams, dreams that have been pulling a great deal of progressives towards the far reaches of socialism, or at least to the dissolution of income inequality.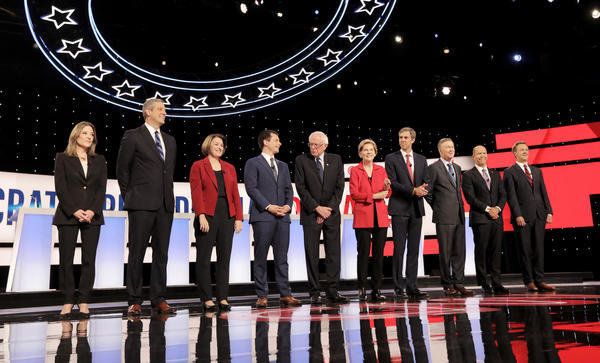 Image via WLRN
Watching Sanders vehemently defend the policies that he brought into the public eye—Medicare For All, free college, a refusal to accept superPAC donations—and watching Warren defend him (when she could get more than a few words in), the idea of a Sanders/Warren dream team entered the realm of plausibility.

Though either could lead, Sanders seems like the clear choice for the presidential candidate, with Warren as a strong VP. After all, the Warren/Sanders ethos thrives because it is buoyed by the idealism that Bernie popularized in 2016.
The fact that Sanders is a democratic socialist, while Warren is a self-proclaimed capitalist, is the primary reason why Bernie would be the most feasible leader of the duo. Sanders' campaign caught fire in 2016 because he spoke to a generation caught in the stranglehold of mind-blowing income inequality, a generation that faces the destabilizing knowledge that the world faces certain catastrophe if climate change is not addressed—and that capitalism has continuously favored the fossil fuel companies that prevent necessary environmental changes. Like most youth-led movements, Sanders supporters seek radical, totalizing change of the sort that's only be possible when the old systems are completely deconstructed.
On the whole, Sanders is more anti-establishment and seems more likely to reel in the followers of Trump's "drain the swamp" who could care less about actual policy, and she's more likely to inspire mass mobilization and excitement among those seeking radical change. As The Atlantic succinctly put it, "Sanders is fighting for a political revolution. Warren isn't."
Warren, for her part, maintains a link to solid ground with her vast collection of plans and policies—plans that, in theory, could be the perfect antidote to any accusation that Sanders' policies are implausible.
Still, last night, it seemed like Warren and Sanders were out in dreamland, reeling through a political Coney Island. This isn't necessarily a death knell, though. Together on a single ticket, their shared pull could be enough.
Torn apart, though, their campaigns might result in another 2016. Arguably, Bernie's campaign was a death knell for Hillary Clinton, as it provided the initial framework for Trump's demonization of her. In the same way, progressives are now putting up firewalls against the candidates they see as too middle-of-the-road, like Joe Biden.
In her opening statement, the ever-practical Warren reminded the audience that any candidate would be preferable to Donald Trump. While this is true, many progressives feel that the 2020 election presents an unmissable opportunity to completely change the direction of politics. In a nation that was prepared to elect someone as disruptive as Donald Trump, it seems feasible that we could handle a little more chaos, especially if it comes in tandem with the promise of a better world.
At the debate, with rampant arm-flailing and drawn-out storytelling, Warren and Sanders promised that better world. They stood for the dissolution of private health insurance companies and student debt in spite of endless criticisms from the other candidates. Against the totalizing extremity of their views, the other candidates who supported for-profit colleges and private insurance in any capacity seemed lost in the past—or lodged in reality, depending again on how willing you are to take the leap into their alternate state of mind.
But in last night's debate, the binary they created between themselves and the others didn't always work in their favor. Somehow, by the end of the night, both the Warren/Sanders island and the rest of the Democrats seemed to come out as losers.
This raises the question: Is extremism really the solution? For young progressives, it absolutely is. For this group, fighting against a rigged system that buoys the rich and throws the poor to the wolves, extreme action is the only thing that will work. Peace and love failed in the 1970s, and moderation is code for the status quo. For progressives, it's time to wake up from the dream presented at the start of the American capitalist experiment.
For other non-radical or socialism-phobic Democrats, the Sanders/Warren ticket is the stuff of nightmares, and the progressives are the ones lost in the dream. For those who merely want Trump gone and apparent order reinstated in the Oval Office, it seems that the division between the progressives and the middle-of-the-road Democrats is an unfortunate diversion.
Perhaps middle-of-the-road Democratic candidates could accrue more favor with would progressives if they could convince them (and the nation on the whole) that they actually stand for something (other than defeating Trump). In the technologically saturated mess of a modern era, one thing is certain: Policy is secondary to a candidate's ability to shape a vision of a better future.
For a long time, Sanders has been the best architect of that better future that the Democrats have. Though he and Warren presented an appealing team, seeing them cut down to size at the debate last night did nothing for the party and its motivation. Perhaps, had the debate been framed more as a discussion of specific policies rather than a black-and-white argument that pitted stagnancy against change, it wouldn't have been defined by such a strong feeling of premature defeat.
This was an act of terror, and should be widely condemned.
Emyra Wajãpi was a leader of the Wajãpi indigenous community, a group located in the north of Brazil—until he was murdered this week by a group of armed miners, who stabbed him to death and threw his body into a river.
On Saturday, Wajãpi community leaders issued a cry for help to the Brazilian government, stating that they were being invaded by troops bearing rifles and weapons and requesting the assistance of the army. Though a police force was en route, they did not arrive in time, and the community was forced to flee.
The invasion comes as a shock but not a surprise. In recent months, Brazil's far-right president, Jair Bolsonaro, has explicitly encouraged loggers, miners, and farmers to invade protected areas and land occupied by indigenous communities, arguing that the Brazilian government has the right to develop and profit off of any and all of its national territories. Under Bolsonaro, deforestation in the Amazon has skyrocketed, though he has repeatedly denied the validity of studies that reveal just how much land has been lost during his reign.
"The president is responsible for this death," said Brazilian lawmaker Rodolfe Rodrigues to the The New York Times. Bolsonaro has a history of making racist comments about indigenous people and is currently telling the public that the murder did not happen.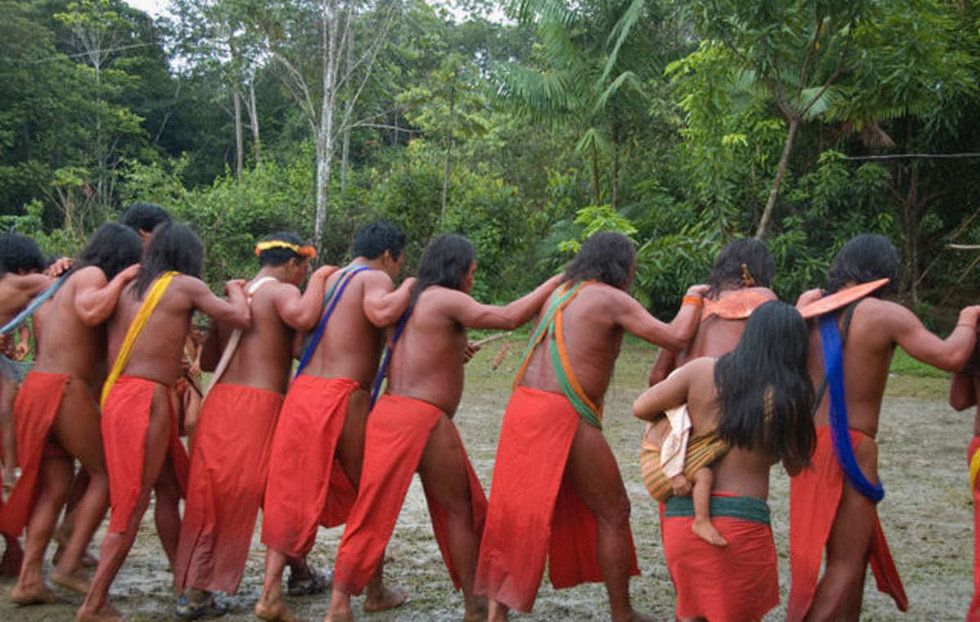 The Wajãpi people united in protest against invadersImage via survivalinternational.org
In March 2019, Bolsonaro met with U.S. President Donald Trump, and they signed a letter of intent promising the "sustainable development of the Amazon" (read: the ravaging of indigenous lands). Bolsonaro has also drafted plans that would legalize artisanal mining in protected lands, and that—to add insult to injury—would encourage indigenous communities to mine their own lands.
His priorities are crystal clear. "Brazil lives from commodities," Bolsonaro said in a recent speech. "What do we have here in addition to commodities? Do people not remember this? If the [commodities] business fails, it will be a disaster." These comments come at a time when mining and pollution present unparalleled threats to the planet's well-being and when indigenous ways of life present one of the best models of combating climate change and developing sustainable infrastructure.
The killing of Emyra Wajãpi should be viewed as a serious act of domestic terror among international communities. The U.N. human rights chief Michelle Bachelet has decried the death, calling it "a disturbing symptom of the growing problem of encroachment on indigenous land – especially forests – by miners, loggers and farmers in Brazil." World leaders should follow suit in denouncing these actions and reaffirming their commitment to conserving protected lands.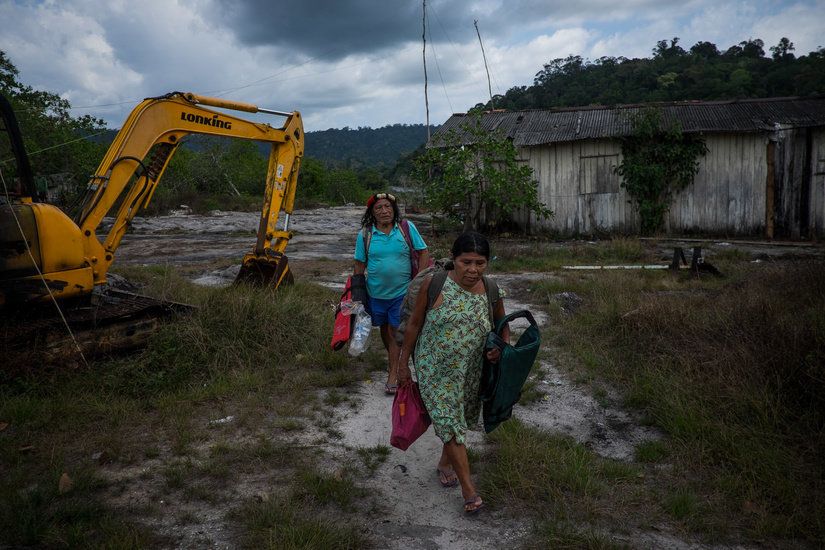 Wajãpi Indigenous Tribe Image via Victor Moriyama
If they do not, a genocide could ensue. "This government is massacring our rights and our indigenous peoples," said a Wajãpi leader to NBC News. "They are already starting, killing the indigenous peoples."
Indigenous communities of the Americas have endured relentless persecution since the arrival of Europeans in the 1400s. The Wajãpi did not receive protected land until 1996, after a 21-year period of brutal military rule. In the 1970s, their community was almost completely wiped out by disease—brought by invading gold miners.
To keep the earth's temperatures from rising, serious changes need to happen over the next year and a half.
While Robert Mueller and Donald Trump dominate the public's attention, experts have quietly come to the consensus that we have around 18 months to stop the worst effects of climate change.
Last year, a study by the Intergovernmental Panel on Climate Change found that in order to prevent catastrophic warming, we need to cut carbon emissions by 45% by 2030. Today, political theorists believe that in order to achieve that goal, we must immediately begin implementing the political structures that will allow us to reach it.
At a reception for the Commonwealth foreign ministers, Prince Charles spoke out in support of climate action. "I am firmly of the view that the next 18 months will decide our ability to keep climate change to survivable levels and to restore nature to the equilibrium we need for our survival," he said.
'It's happening, it's now,' says U.S. government report on climate changewww.youtube.com
A Critical Time
So, why are the next 18 months so vital for the future of the earth's climate? During the next year and a half, a series of important political meetings and conventions will take place. On September 23, the UN will hold a special climate summit in New York, where attending countries are expected to present their emission-cutting plans. Then the UN's annual climate change summit, known as the COP25, will be held in Santiago, Chile in December 2019. Finally, the COP26 will take place at the end of 2020, most likely in the UK.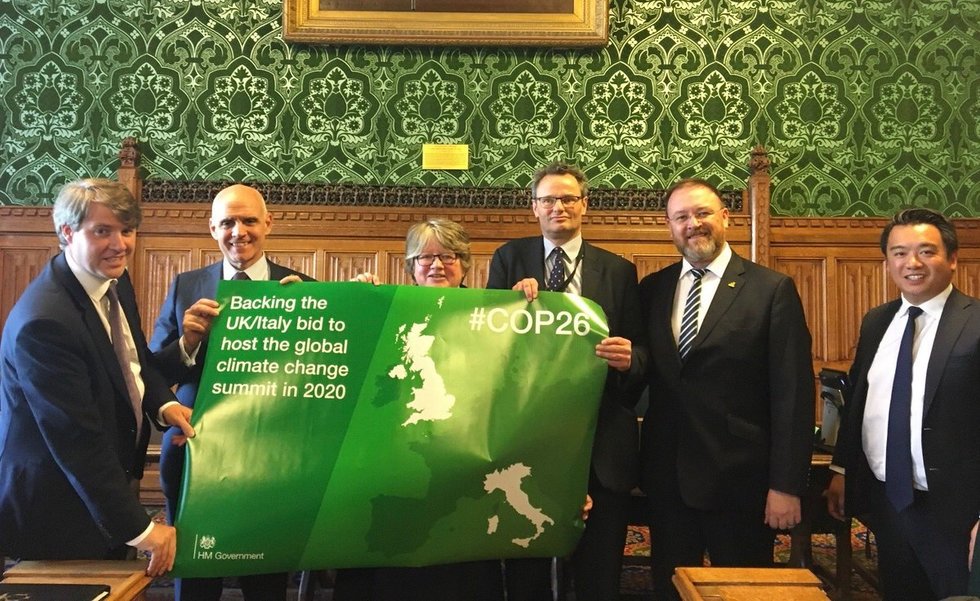 Image via Twitter
According to Environmental Secretary Micheal Gobe, the importance of these meetings cannot be understated. "We need at COP26 to ensure other countries are serious about their obligations and that means leading by example," he said. "Together we must take all the steps necessary to restrict global warming to at least 1.5C."

Depending on what happens at these meetings during the next 18 months, we could see plans like the Green New Deal set into motion. On the other hand, if a climate change denier remains in the US office, the UK summit could be the moment where the US formally withdraws from the Paris agreement (which proposed the bare minimum carbon emission cuts needed to prevent extreme consequences from climate change).
No Choice but Change
If these conferences fail to spark large-scale action, "we will have no chance of getting to a 1.5 or 2C limit," said Professor Michael Jacobs, a former climate advisor to the Prime Minister Gordon Brown.
There are several other conferences happening in the next year and a half, namely the Convention on Biological Diversity and the UN Convention on the Law of the Sea, both of which are expected to craft plans to protect our livelihoods. It's promising that all these conferences are occurring. Still, many fear that they will not push for action radical enough to meet the 1.5 degree goal.
If the goal is not met, the consequences will be unimaginable. More natural disasters (like the wildfires we're seeing right now in Alaska) would ravage coastlines and could destroy entire nations. Chronic refugee crises would ensue. Disease would flourish. One in four animal species would go extinct.
Judging by the current state of politics and carbon emissions (India is on track to overshoot its Paris Agreement goal by 60%), things are looking bleak. Fortunately, a rise in activism and protest—helmed by figures like Greta Thunberg and Alexandria Ocasio-Cortez—has drawn much needed political attention to the climate crisis. Still, it's not enough: In order to ensure a livable future for the earth, people around the world must come together and force their representatives and nations to listen to science and reason.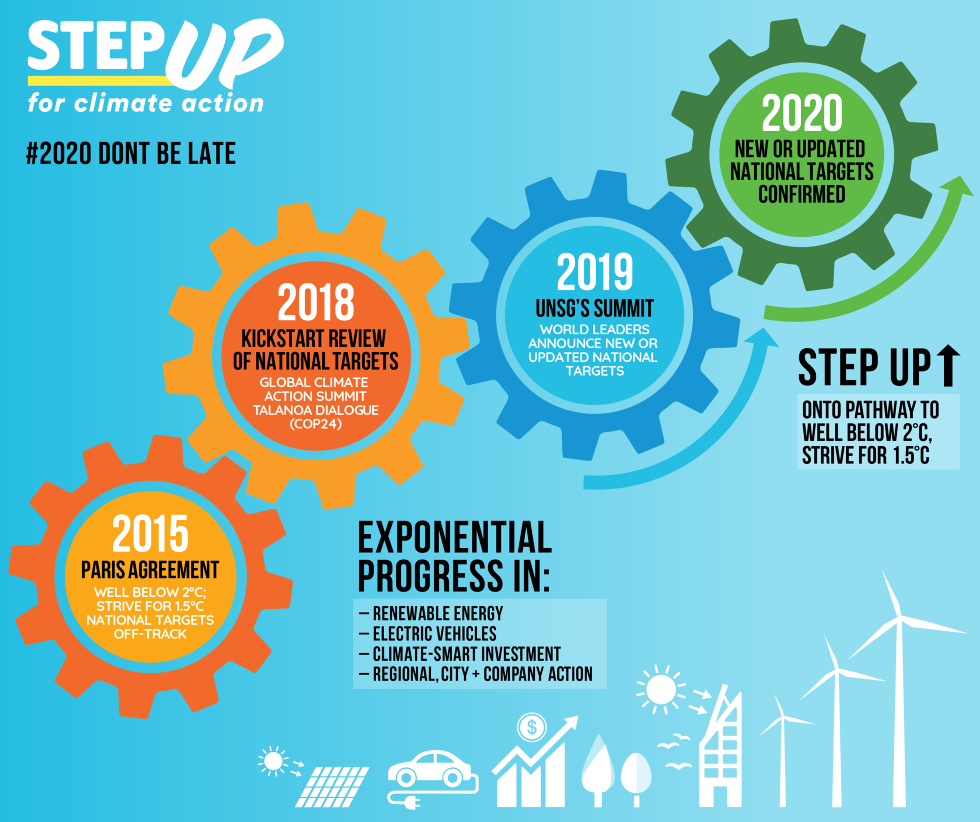 Image via World Economic Forum
The gap is growing wider and wider between Trump supporters and those who don't understand them. Here, we peer out across the gap, into the unknown shadowlands of the Trumpian psyche.
Studying the perspectives of Trump supporters can feel like researching the psychology of serial killers. Of course, Americans are naturally fascinated by serial killers—a fact that could potentially tell us something about the people who love Trump.
In today's political environment, it can feel like there are two Americas existing parallel to each other. To dwellers in both, the other side can feel as foreign and sinister as the Upside Down in Stranger Things, inhabited by ghoulish, many-armed monsters, hell-bent on mindless destruction.
This certainly rings true today, in light of recent videos of Trump supporters chanting "Send her back" in Greensboro, North Carolina.
The chant was referring to Representative Ilhan Omar, a freshman Congresswoman and Somali refugee who was the object of a Trump Twitter rant on Saturday, along with three other progressive freshmen congresswomen.
While the other three—Alexandria Ocasio-Cortez, Ayanna Pressley, and Rashida Tlaib—were all U.S.-born, Omar is not; and so she quickly became the primary subject of Trump's ire. At the North Carolina rally, he criticized her for her purported "un-Americanness," repeating the false claim that she has supported Al-Qaeda.
Trump's actions this past week have been widely criticized. Nancy Pelosi described Trump's statements as "racist." On Tuesday, the House voted to officially denounce his tweets, and everyone from the mayor of London to a variety of conservative commentators have expressed their disapproval and shock. The conservative radio commentator Guy Benson said, "I'm very tough on Omar [because] she deserves it, on the merits. I am sickened by the hate-laced 'send her back' chants. Shame on every person who participated. POTUS has a responsibility to put an end to it. He alone has the ability to do so."
Yet Trump's staunchest supporters apparently disagreed. They approved of the president's actions, so much so that they decided to chant, "Send her back."
It's tempting to try to understand what Trump supporters are thinking, if only to locate them in some context that makes them more compatible with reality. This exercise feels similar to attempting to tap into a serial killer's mind, as sometimes the mentality of Trump's followers, particularly the alt-right sect, can seem too utterly depraved to ever comprehend.
In some ways, trying to analyze the Trump supporters squeezed together at his rallies feels reminiscent of trying to understand all the women that filed in to attend Ted Bundy's final trial. There's a similar relentless ignorance of truth, a similarly toxic sense of spectacle and groupthink implicit in their love for him.
Still, it's undeniably fascinating to try to understand serial killers and the people who love them.
Always, there's that burning question: how could this happen? What were they thinking?
In terms of Trump supporters, all roads lead to one ideology in particular—but race has always played a major part along the way.
White Supremacy, Veiled by a Misunderstanding of Racism
Hiding behind illusory ideas like "reverse racism," Trump supporters tend to believe that "whiteness" is somehow under attack. Nevermind that on average, white households have 6.5 times the wealth of black households, or that black and Latino applicants are still 60% more likely to be turned down for a loan than white families, or any of the other statistics that prove that whiteness is still very much in power in America. Trump supporters tend to take measures like affirmative action and phenomenons like political correctness on campuses as proof that white liberty is under siege.
On the other hand, many Trump supporters will insist that they are "not racist" and that Trump himself is "not racist"—nevermind the fact that his comments were explicitly reminiscent of 19th century racial politics. "In many ways, this is the most insidious kind of racial demagoguery," said Douglas A. Blackmon, the author of Slavery by Another Name, a history of racial attitudes in America in the late 18th and early 19th century. "The president has moved beyond invoking the obvious racial slanders of 50 years ago — clichés like black neighborhoods 'on fire' — and is now invoking the white supremacist mentality of the early 1900s, when anyone who looked 'not white' could be labeled as unwelcome in America."
But for Trump supporters, all this talk is just overly aggressive.
Mitch McConnell, who said that the President is "onto something" with his comments against the congresswomen, added that he thinks Trump is "not a racist" and it's "about time we lowered the temperature across the board."
This statement—that it's "about time we lowered the temperature across the board"—is telling. In some ways, it's a form of gaslighting, a way of minimizing people's righteous anger at Trump's actions by framing their anger as a weakness or character flaw. Similar to the "special snowflake" diatribes thrown at online social justice warriors, this is a tactic that's worked well for Trump since the beginning of his campaign.
From many Trump supporters' perspectives, it seems that they just want America to calm down.
Of course, what they really want is for people of color to calm down, for poor people to calm down, for everyone except all-American upper and middle class white people to calm down. Gaslighting is ultimately a power play, and by its Trumpian logic, only people who have always been in power have the right to make policy and protest change.
Few will admit this, though; instead, supporters hide behind the delusion that those who dislike Trump are merely overreacting, blowing his actions out of proportion in order to facilitate a liberal agenda. This creates a loop that effectively insulates Trump supporters against any hope of hearing the other side.
Many of them do, however, hear the other side. The truth is that many simply don't care.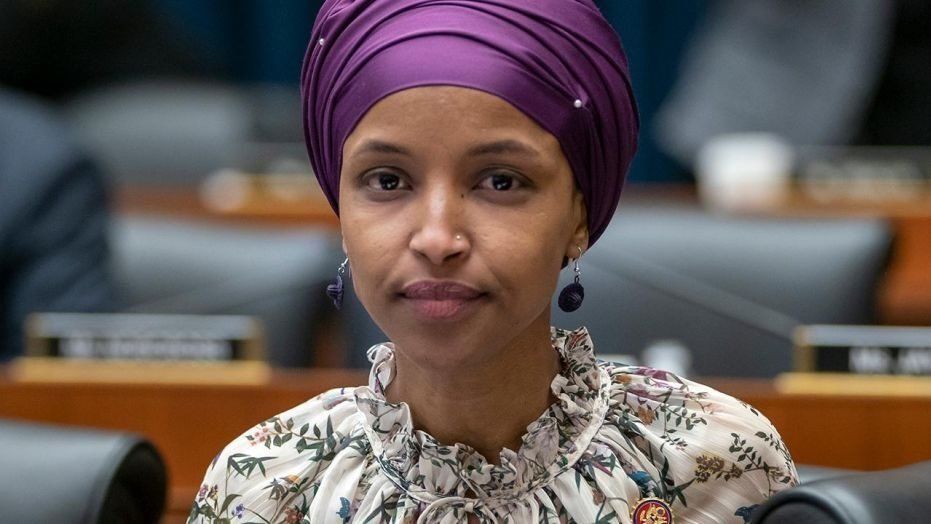 Image via Fox News
Inflammatory Rhetoric, Blatant Lies, Corruption: They Just Don't Care
Many Trump supporters see the flaws in Trump's rhetoric and policies. Many recognize that he's racist. Many of them admit that they themselves are racist. And they don't care.
They don't care that he lies constantly. One study presented Trump supporters with a false statement of his and then corrected it. Though people largely accepted the corrections, this didn't change their views about Trump. "People were willing to say Trump was wrong, but it didn't have much of an effect on what they felt about him," said one of the researchers. Apparently, sometimes fact checks can even backfire, somehow making people even more convinced of a false story; but even when the evidence is irrefutable, it seems that Trump supporters simply could care less.
They don't care about the way Trump tweets or conducts himself. They don't mind his attitudes towards women or minorities. This is the reason that summits like Women for Trump occur; this is the reason why people of color and queer people have supported Trump. Either they refuse to see who he really is, or they don't care about his conduct. Regardless, there is nothing that anyone could say or do that could change this.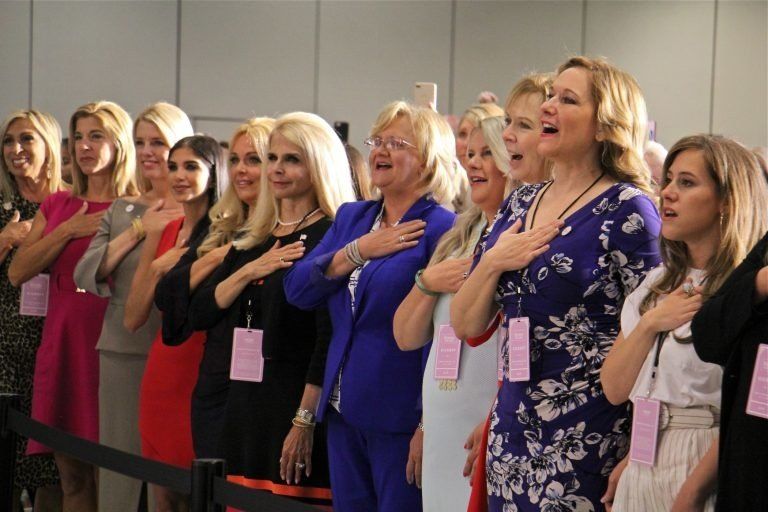 Image via WHYY.org
All this may stem from the bulletproof cult mentality Trump has built around himself. "What might look like corruption or cronyism to neutral observers is seen by the supporters of populists as doing the right thing for the right people, the "real people," said political theorist Jan-Werner Müller. "This is why the tribal appeal of populism is so crucial. Populist leaders thrive on distinctions between 'us' and 'them,' between 'the people' and 'the establishment.'"
On the other hand, some people don't even care that Trump has built a cult around himself, just like they don't care that Trump is a racist cult leader, just like they don't care that he's breeding hatred and distrust and fear.
What do they care about?
The answer is surprisingly simple.
Money, Money, Money
The number one thing that Trump has going for him, right now, is the U.S. economy. Unemployment is at its lowest in years, and this alone is the reason that many of his supporters have resolutely stuck by him. Nevermind that the seeds for this economic growth were planted by the Obama presidency—or that we are at risk of another recession—or that Trump has threatened to cut life-saving benefits, like welfare for poor people—or that climate change threatens to present the largest economic catastrophe in the history of the world—or that 2.2 million Americans are making minimum wage or less ($7.25 per hour), and only 0.1% of those 2.2 million can afford housing.
All that matters is that Americans are working their 9 to 5's, right?
Not exactly. Under Trump, the U.S.'s five largest banks earned tens of billions of dollars in the first half of 2019. Nevermind that Trump's policies led Rand Paul to block a funding bill for 9/11 victims and first responders—though Paul supported Trump's 2017 tax bill, which cut taxes drastically for mega-corporations. Nevermind that the number of corporations paying no taxes has increased from 30 to 60 percent since Trump's tax bill, which has been widely panned as a bust. Nevermind that Trump is still planning more tax cuts for the 1%.
At least he's not threatening us with socialism, right?
Why Are We So Obsessed With Money?
At the core of the division between Trump supporters and everyone else is that Trump supporters are married to a fundamental ideology of Republicanism, which recoils from any semblance of government interference. This division stems from the age-old battle between freedom and control that defines the Democratic-Republican split. This is the same divide that separates communism and capitalism and that stems from the division between collectivism and individualism.
Naturally, each side has positive points; neither is implicitly ill-intentioned. Each can be blown out of proportion, however, particularly when they're implemented by a demagogue.
And at the core of Republican free market values is an individualist mentality, one that proclaims that every person should be left alone to fend and fight for his or herself. This mentality has been so successfully drilled into the American psyche that it is successfully drowning out cries of racism, corruption, and evil. It's why Trump supporters are calling for Rep. Ilhan Omar to be shipped back home: her presence, and the rising prominence of progressive Democrats, represents a fundamental and very real threat to this ideology.
Nevermind that Trump is facilitating this ideology through cultish tactics, is warping America's legacy beyond belief, is imprisoning children, is threatening the world's future, is deepening economic divides, is spreading hatred, is an overt racist. The "right" to own guns—and what it symbolizes—overshadows all of this.
This is the truth: An archaic construct of "liberty" is more important to Trump supporters than any and everything else. It's more important than equality. It's more important than reality. It's more important than taxing the massive corporations and banks that rake in billions each month. It appears that this form of "liberty" is more important than life itself.
If you're not a Trump supporter, then looking out into this alternate reality feels like peering over the edge of another dimension. And it should remain that way. We should not try to empathize with Trump supporters, should not humanize or normalize his actions, should not ever apologize for standing up for human decency, compassion, and the true meaning of American freedom, which is supposed to mean that everyone has the right to the same opportunities.
What we can do is deepen our understanding of this construct of "liberty," so we can effectively identify the holes in it. The gaps and cracks in this terrible freedom are visible, if you know where to look—trace the tapestry of time, trace modern income inequality to slavery to Columbus's genocidal attack on indigenous Americans, and you'll see that America has never been the land of the free. Perhaps it was the land of the free for upper and middle class white people, once upon a time..Perhaps the ideology that fostered that era has been twisted out of shape by relentless corporate greed, twisted into some strange, gilded god, lording over an America where the wealthy are able to grow wealthier and the poor are kept poor, where hatred reigns supreme, where the government is a smiling mask over the ugly corporate bone structure that really runs this nation.
Perhaps the only thing that most of us can agree on is a hatred of corporations and Wall Street companies. (Of course, Trump took $72 million from superPACs during the 2016 election, against his word).
But for Trump supporters, none of this matters.
Similarly, people who love serial killers will often make excuses for their murderous beloveds until the bitter end. They'll insist on the killer's innocence, even if the confession has already been delivered and the footage of the crime scene has been discovered.
The blood has been tested; the fingerprints are there for all to see. And yet, just like hundreds of girls who showed up at Ted Bundy's trial, Trump supporters will keep on flocking to the rallies—and the polls—just to see their star.
Climate despair is becoming so widespread that some people are losing their will to live. Is this the new normal?
If you're reading this, you probably know that the earth is not doing well. A 2018 UN report declared that we have 12 years to keep the global climate from rising more than 1.5 degrees, or we'll face catastrophic warming levels. Even knowing this, our worldwide carbon emissions have only continued to rise, with atmospheric CO2 reaching a record high at 417.4 ppm in May 2019.
In essence, we know the world is ending, we know why, and yet we have done nothing to stop it. In fact, things are getting worse.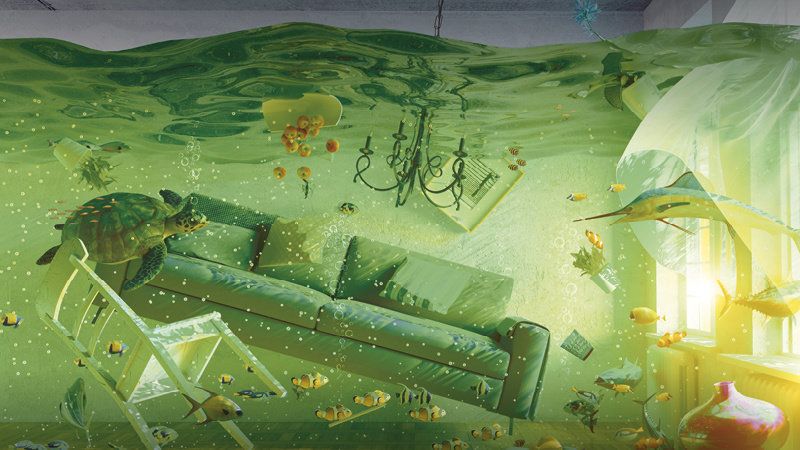 Image via blog.derby.ac.uk
The Argument for Despair
Faced with this truth, it's all too easy to slip into despair, and this is what's happening to people all over the world. A recent VICE article explored the mental health crises that many people are experiencing because of climate change. Known as "climate despair," sometimes called "eco-nihilism" or "human futilitarianism," chronic feelings of hopelessness about climate change are becoming all too common among those who have allowed themselves to fully comprehend the extent of the crisis.
For people who suffer from these feelings, it doesn't help that life appears to be continuing on as normal, while only a few of us seem to care that the world is burning down. This creates a sense of duality that can be even more painful than consciously accepting the reality of climate change, as it involves a deep suppression of pain and fear, which is then left to fester in the psyche. Living this "double life," according to Joanna Macy's essay "Working Through Environmental Despair," can be detrimental. "Awesome and unprecedented in the history of humanity, the awareness lurks there, with an anguish beyond naming," she writes.
This awareness can manifest in many ways; and often it has lead to depression or suicidal thoughts. Even therapists are having trouble knowing how to handle the looming specter of climate despair. Several people quoted in the VICE article described how their therapists attempted to trace their terror of climate change back to personal traumas, instead of acknowledging the validity of these fears.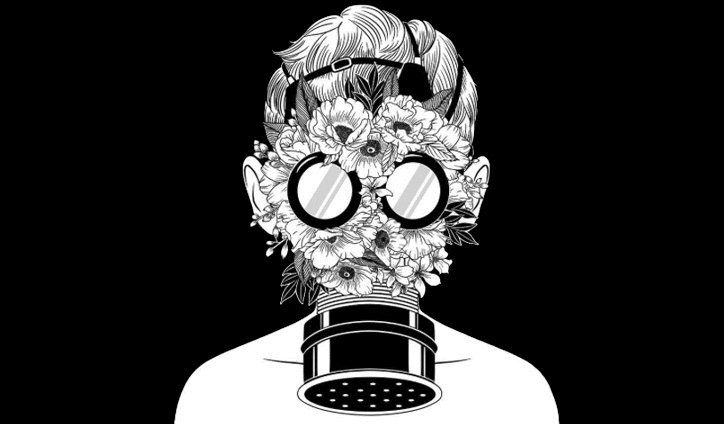 Image via Its Nice That
Children are just as vulnerable to these feelings as adults. As they watch governments refuse to act, kids are growing up in the world with little faith in the government or the adults around them, and with the knowledge that they've been born into a disaster they never asked for but have to deal with.

Greta Thunberg was one of these kids. She's spoken extensively about the feelings of despair that nearly paralyzed her as she became more and more aware of the climate crisis. "Before I started school striking, I was … so depressed and I didn't want to do anything," she once said.
But when she began to speak, as many of us know, she became one of the most outspoken and well-known climate activists in the world. According to Thunberg, this was not a choice. "I feel like dying inside if I don't protest," she said. For those suffering from climate despair, that feeling of dying inside is a familiar one. But Greta's inspiring actions contain seeds of hope, perhaps the best hope against climate despair.
The truth is that things are only hopeless if we don't take action. Conveniently, taking action might also be one of the best things we can possibly do to work through climate despair.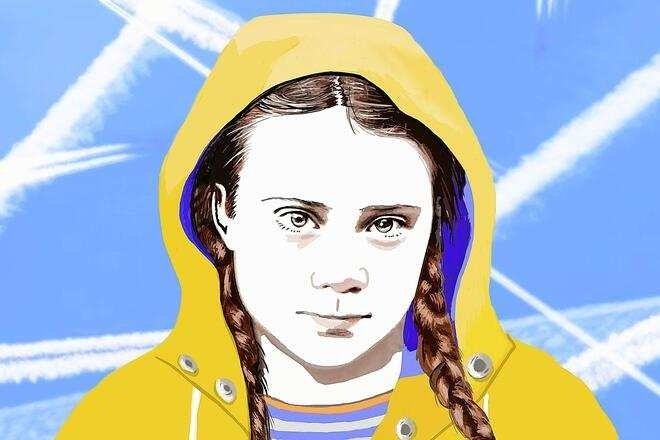 Image via Handelszeitung
Our Best Shot at Hope
Although they might be realistic responses to the threat of climate change, feelings of despair—when they aren't turned into action, or are suffered through in solitude— present a terminal danger to the climate movement, as they promote stagnation when what is truly needed is unity and protest.
This doesn't mean that we should deny the gravity of the situation. Action begins with admitting the problem, not stuffing it away under layers of performative normalcy. "Until we find ways of acknowledging and integrating that level of anguished awareness," continues Joanna Macy, "we repress it; and with that repression we are drained of the energy we need for action and clear thinking."
Still, the answer is also not necessarily to let oneself fall down a hole of hopelessness. Often, the doomsday-esque reports that are inundating the Internet and certain academic circles can be the opposite of productive. Sometimes, these reports are inaccurate, overly dramatized and apocalyptic. These alarmist articles that proclaim that we are all doomed often have the opposite effect, shaking people into complicity when the truth is that though things are really bad, there is definitely hope.
There is hope.
Though we won't be able to reverse climate change, it is possible to salvage so much of the world and to prevent the worst consequences of ecological decline. Human beings have mobilized massively before—we've split atoms and spread cell phones across the globe in less than a decade—and we can do it again. We have the technology, the money, and the capability: All we need to avert immediate crisis is the will and the public support to elect people into office who will take action.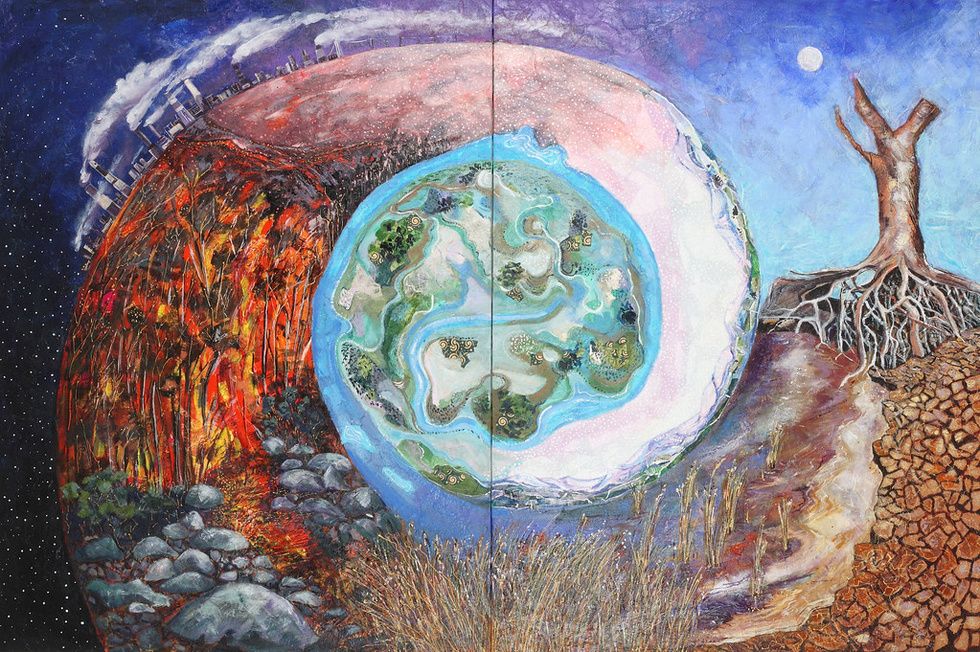 Image via Flickr
We have the resources to fight climate change. Many countries are instituting programs to reduce their carbon emissions. Small nations like Denmark and Belgium have successfully slashed their carbon emissions, and plans like the Paris Agreement are promising attempts at global change. What we need to do is fight, to spread awareness, to elect people into office who will take action, and to make it clear that we as a human race won't go down at the hands of an elite cult of carbon-worshipers determined to ruin all of our futures for the sake of their own fortunes.
Climate activism doesn't solely have to be a fight against something, though: it can be a fight for a better world. Though climate change is often painted as an entirely doom-and-gloom issue, some of the things that fighting it will combat it could actually benefit our whole society, healing some of the deep wounds that have caused our modern epidemic of mental illness, addiction, and loneliness.
According to Naomi Klein, author of This Changes Everything: Capitalism vs. The Climate, this impasse at the brink between oblivion and climate disaster presents an unprecedented opportunity for positive change. This crisis can be a beginning, not an ending, she argues: the beginning of a movement towards a more interconnected and compassionate world.
"Climate change—if treated as a true planetary emergency akin to those rising flood waters—could become a galvanizing force for humanity, leaving us all not just safer from extreme weather, but with societies that are safer and fairer in all kinds of other ways as well," she writes. "The resources required to rapidly move away from fossil fuels and prepare for the coming heavy weather could pull huge swaths of humanity out of poverty, providing services now sorely lacking, from clean water to electricity. This is a vision of the future that goes beyond just surviving or enduring climate change...It is a vision in which we collectively use the crisis to leap somewhere that seems, frankly, better than where we are right now."
This kind of future would require a paradigm shift, a complete departure from our current free-market model that glorifies isolated successes and prizes maximum consumption above all else. It would require that, among other things, we sacrifice our own desires for the good of everyone else.
We need to sacrifice the concept that the goal of life is to be able to pursue one's individual fortune to the highest level: And we have to acknowledge that we operate in an interconnected network, and must lift each other and our planet up, if we wish to continue to live on this earth.
The shift is already beginning. Organizations like Sunrise and Extinction Rebellion have emerged at the forefront of the fight against climate change; and artists are starting to wake up, too. But even if you don't have a massive platform or aren't going to protests, even just talking about the ecological crisis with others can ignite powerful chain reactions. Overall, probably the most meaningful thing you can do is work to elect officials who will make good on their promises to cut emissions and create a better world while doing it.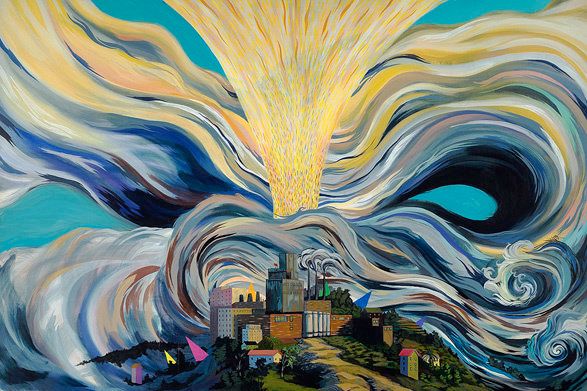 Image via Ethics and International Affairs
Where We Go From Here
Still, considering the amount of mobilization and effort that these changes require—and considering how determined major, extremely wealthy fossil fuel companies are to squander these efforts—it's extremely difficult to be hopeful all the time when it comes to the climate crisis. Plus we've already damaged some things beyond repair, and we've lost many people to the wildfires and hurricanes rooted in climate change; to name a few, the 79 people lost in California's Camp Fire, and the nearly 3,000 people who lost their lives in Hurricane Maria.
And so, as the VICE article proposes, to comprehend the full extent of the climate crisis, first we need to let ourselves grieve. We need to allow ourselves to grieve as we would in the face of any other tragedy—to comprehend the harm that we've done to our planet and to recognize and honor our feelings about it.
Once we recognize these feelings, we can begin to deal with them. As Macy continues, "To experience pain as we register what is happening to our world is a measure of our evolution as open systems. This is true not only from the perspective of systems science but from that of religion as well. How many mystics in their spiritual journey have spoken of the 'dark night of the soul'? Brave enough to let go of accustomed assurances, they let their old convictions and conformities dissolve into nothingness, and stood naked to the terror of the unknown. They let processes, which their minds could not encompass, work through them. It is in that darkness that birth takes place."

While it's important to embrace one's despair and grief regarding climate, it's equally important to view these feelings as starting points for a spiritual and political revolution, instead of hindrances that need to be suppressed. If we view climate as a consequence of evils we've always been peripherally cognizant of—like selfishness, greed, and the hypocrisy that plagues human society—then we can view the climate crisis as an opportunity to at the very least connect with other people who understand that we, collectively, cannot continue this way.
Through this lens, climate despair is far from an end point. Rather, it connects us to the world around us, and to other people who care enough to want to see a better future for everyone and everything. "As our pain for the world is rooted in our interconnectedness with all life, so surely is our power," writes Macy.
So if you're pained by climate change, good. That pain means you love something. That love means you're alive.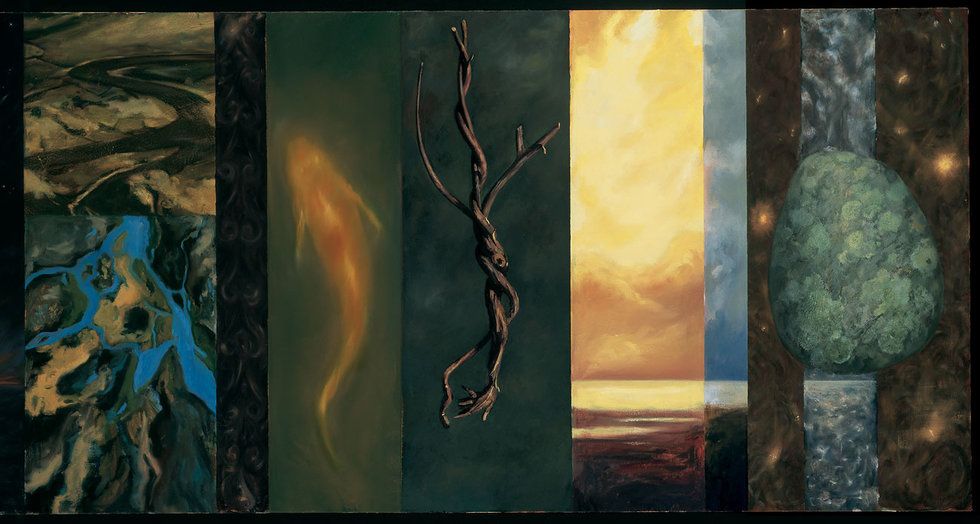 Image via Occidental Arts and Ecology Center
The world is both hotter and more overcrowded than ever before. Naturally, these things are intertwined.
World Population Day was established in 1989 by the United Nations Council in order to draw attention to population issues. Back then, the world's population stood at 5.198 billion. Thirty years later, there are 7.7 billion people in the world, with an estimated 360,000 more being born each day.
It's hard to think about overpopulation without thinking about climate change, which threatens the livelihoods of every single one of these new children.
Climate change's consequences have already begun to emerge, and needless to say, they will worsen exponentially if climate change continues at its current rate. Effects include rising sea levels, tens of thousands of heat-related deaths, polluted air, a spike in chronic illnesses, severe droughts, mass extinctions that ruin ecological systems and destroy agriculture, and many natural disasters such as hurricanes and wildfires that will devastate infrastructure and generate massive flows of refugees. We've already seen these things, in the devastating 2018 California wildfires, in hurricanes like Sandy and Maria, in the drought that was a root cause of the Syrian refugee crisis, and in so many other instances.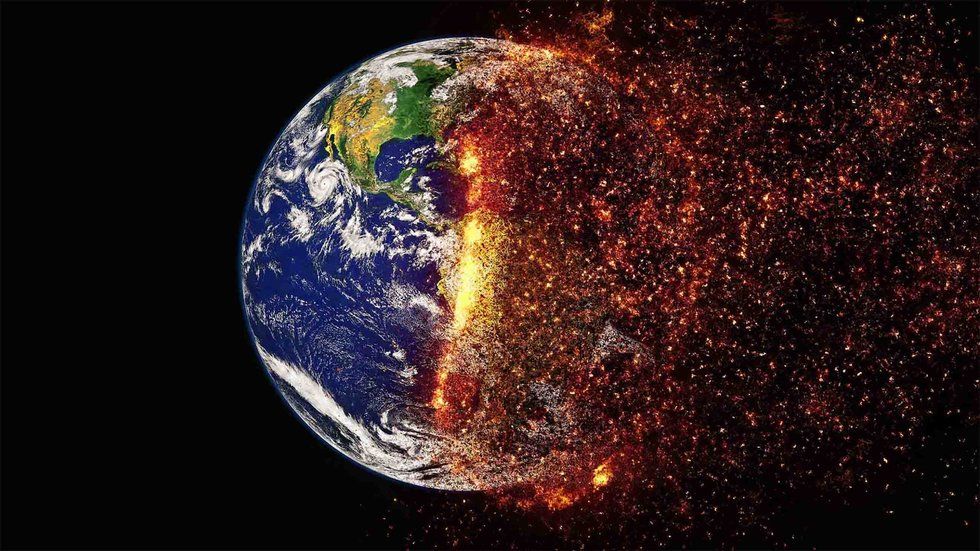 Image via Undark
These events are only the tip of the iceberg. A 2018 UN report announced that we have twelve years to reverse the worst effects of climate change; if we fail to essentially keep temperatures from rising above 1.5C, hundreds of millions of people will suffer the consequences.

Certainly, the vastness of our world's population is a root cause of this deadly warming. According to Business Today, "One of the greatest consequences of growing population, which is perhaps a great threat to our livelihood as well, is the quick depletion of natural resources." More people means more carbon burned, more resources consumed, more people falling through the cracks.
In a merely theoretical sense, it seems logical that humanity's population explosion would happen concurrently with exponential climate change and ecological disaster, because the way our population has grown is anything but natural.
Prior to the Industrial Revolution, human society followed a particular law: As populations grow, food supplies decrease, and so the population decreases, and the food supply increases. This is the same rule that keeps animal populations in check. However, since the dawn of industry, human beings have been producing more and more food and resources to support our burgeoning population, effectively placing ourselves at the top of the food chain, subsequently displacing animal populations, and decimating our natural resources.
Now, we are reaching a breaking point.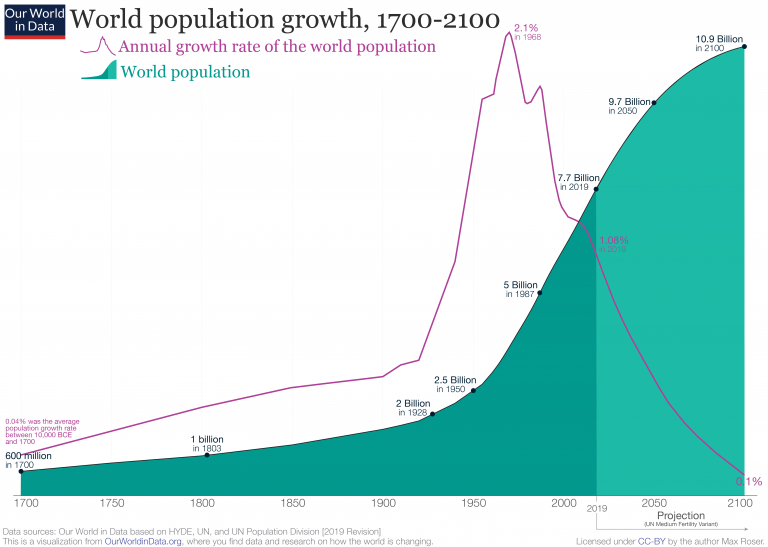 Image via MarketWatch
However, it's too simplistic to say that the amount of people in the world is directly proportional to the rate of climate change. It's true that the locations where the largest percentages of children are being born are the places that will be most severely damaged by the rising tides and hurricanes that are stemming from warming. According to Time Magazine, rapid population growth will only lock these nations into cycles of poverty, making it extremely difficult for these places to rebound from climate change's effects. However, these places are not the ones producing the majority of carbon emissions: That honor is reserved for developed countries, like the US.

The real cause of climate change is not overpopulation alone. It's the mentality that has allowed oil companies to grow into the massive corporations they are; and that has allowed Americans, who comprise 5% of the global population, to consume 25% of the world's resources, and that has allowed many childless couples in the US to consume far more resources than couples with children. That mentality has led us to accumulate endlessly without paying any heed to natural balances or equity.
Therefore, reducing the population is actually not the most important step that needs to be taken in order to combat climate change. This is because, according to Vox, it's not that the resources we have can't support a larger population: the US could successfully feed 400 million people simply by consuming locally what we are currently exporting. The problem is that we can't maintain the kinds of resource-guzzling, carbon-based lifestyles that we—and particularly, the extremely wealthy—have become accustomed to living. Simply reducing the number of people but not addressing our society's problem with carbon and consumption will have a negligible effect on the climate. In actuality, lower fertility rates can lead to higher GDP, as childless folks can accumulate more resources that they in turn spend on flights and other energy-guzzling activities.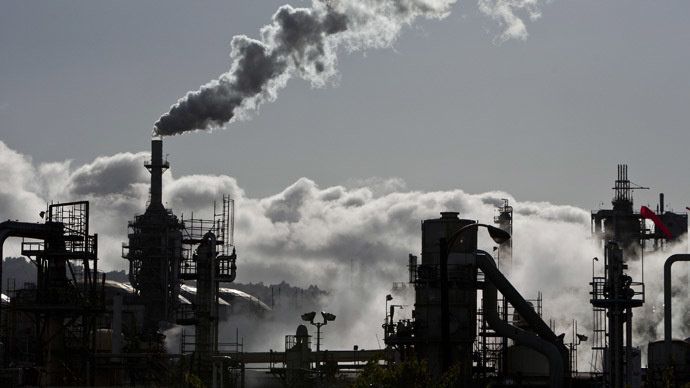 Image via RT.com
Though population control would help, it's far more important that we figure out how to re-distribute resources in a sustainable way, rather than wasting such a vast amount of resources like we do in America. In the end, slashing carbon emissions—and, concurrently, shifting our cultural obsession with accumulation and individualism to an emphasis on egalitarianism—is still by far the most important thing we can do for the climate.

Even so, having fewer children and making education and birth control more widely accessible would be hugely significant overall. Furthermore, deciding not to have a child is totally a viable, impactful way to combat climate change (and it's possibly even the ethical choice, given the ecological mess that new generations will find themselves involuntarily subjected to).
Because if we remain on the path we're on? The population will just continue to expand, hitting a projected 8 billion by 2050. Soon enough, natural disasters will result in the deaths of millions; more people will starve or die in refugee camps; and then, as water becomes undrinkable and the planet becomes too hot for any growing thing, that will be the end of this whole experiment called life.