Give us your best meme of Kamala destroying Pence at the debates: GO!
After months of deliberation, Joe Biden has picked Senator Kamala Harris as his running mate.
Harris became nationally recognized after she surged to prominence in the 2020 Democratic primary season. Notoriously, she called Biden out about racial issues during the first Democratic debate. "There was a little girl in California who was part of the second class to integrate her public school, and she bused to school every day," she said in a speech that has now become famous. "And that little girl was me."
55-year-old Harris is currently the only Black woman in the Senate. She served as California's Attorney General prior to being elected in 2016.
Harris was born in Oakland, California; her father is from Jamaica and her mother from India. She studied at Howard University and then at University of California Hastings College of the Law in San Francisco. She worked as a prosecutor in Alameda County and San Francisco before running for district attorney and then attorney general.
As a Senator, Harris was on the Intelligence Committee which interrogated Trump about Russia, and she also made waves through her interrogations of Attorney General Jeff Sessions, Attorney General William Barr and Brett Kavanaugh.
Since her 2020 presidential campaign concluded, Harris has focused on the Senate's response to the coronavirus crisis, as well as their response to systemic police brutality and racist violence. In the past, Harris worked closely with Joe Biden's late son, Beau, on challenging big banks in the wake of the housing crisis.

Biden announced the decision via email and text messages to his supporters. "You make a lot of important decisions as president. But the first one is who you select to be your Vice President," he wrote Tuesday afternoon. "I've decided that Kamala Harris is the best person to help me take this fight to Donald Trump and Mike Pence and then to lead this nation starting in January 2021. These aren't normal times. I need someone working alongside me who is smart, tough, and ready to lead. Kamala is that person."
If elected, Harris would be the first vice president to be female or a person of color. "I think that she will help bring a strong voice on issues of immigration and racial justice," said Rep. Ro Khanna, a Fremont Democrat who backed Harris' opponent Vermont Sen. Bernie Sanders in the primaries. "Given her life story, to see someone like her selected ... it will be encouraging to so many young people of different backgrounds."
Harris's mixed record as a prosecutor and her vacillation on progressive policies like Medicare for All has come under fire from many progressives' but in this scenario, even the most radical progressives seem to agree that Biden must be elected in order to oust Trump.
Immediate reactions to the Biden-Harris ticket on social media indicated how much supporters were looking forward to seeing Harris face off with Pence during the debates: The match-up seems to be made in meme-heaven.
Perhaps meme culture is the best response to the Biden-Harris ticket, as Democrats must support Biden as the only way to oust Trump–though Biden is far from ideal. "Biden is very problematic in many ways, not only in terms of his past and the role that he played in pushing toward mass incarceration, but he has indicated that he is opposed to disbanding the police, and this is definitely what we need," said civil rights activist Angela Davis.
Davis continued, "The election will not so much be about who gets to lead the country to a better future, but rather how we can support ourselves and our own ability to continue to organize and place pressure on those in power. And I don't think there's a question about which candidate would allow that process to unfold."

Students want police funding redistributed to nurses and counselors.
Since the killing of George Floyd, a massive wave of anti-police and pro-Black lives protests have erupted in America and across the world.
Many of these protests focus on the fact that police actually don't tend to keep Americans safer. Specifically, they pose threats to Black Americans, and this problem pervades every aspect of society, from courtrooms to prisons to schools.
Over the past few months, students (Black and brown students, in particular) have zeroed in on an effort to remove police from schools. Across the nation, student protestors have taken the fate of their schools and peers into their own hands, launching increasingly intense protests in efforts to remove police from their educational institutions.
A Legacy of Violence: The Problems with Policing in Schools
The roots of these protests stretch deep. The first police officers to appear in schools were part of a program pioneered in the 1950s that saw "school resource officers" (SROs) hired.
"Called a lliving symbol of law and orderl by some at the time, the presence of police in schools represented a larger, national tide of clarion calls to solder steel fangs onto America's criminal justice system," writes Alexander Zhang for Slate. But immediately there was pushback. "Students, some critics worried, might be coerced into self-incrimination and service as informants on their friends and families," Zhang continues.
Still, as late as 1975, only one percent of schools employed police officers. By the late 1990s, after the War on Drugs and other racist efforts targeted specifically poor, black and Latinx communities, the majority of urban schools began to employ cops—and today two thirds of students attend school with police, and NYC alone employs more police officers than counselors.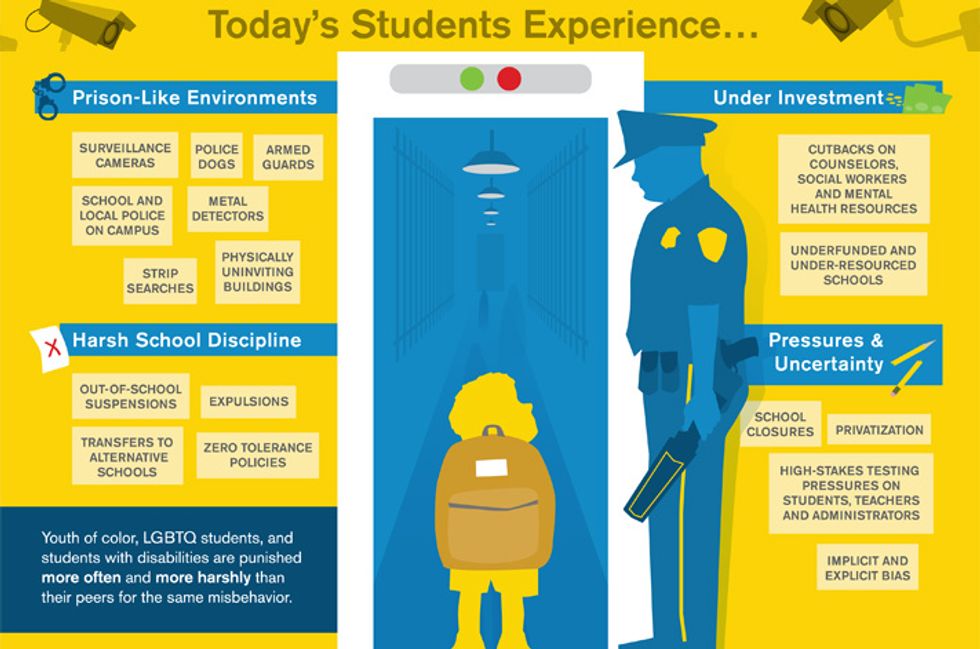 Empathy EducatesPolice in schools
The modern movement to defund and remove police from schools has been in progress for years, and many dedicated student activists have spent countless hours fighting for safer police-free schools.

"It's millions of dollars spent on police," said Denilson Garibo, a senior at Oakland High School. "We're having assistant principals being cut [from] our schools. Our teachers are not getting enough money for what they do. Why are we prioritizing school police over our education?" Garibo has been fighting police for over two years, attending school board meetings and speaking about the dangers that police officers pose to Black students.
It's not hard to see where these student protestors' anger comes from. Police—an often violent, undertrained force endowed with weapons and the power to lock people up—and underserved schools full of vulnerable, impressionable kids make an inherently ugly mix.
"When you have police in schools, you have a culture clash," said Judith Browne Dianis, executive director of the Advancement Project National Office. "And that culture clash is that their job is to protect people but also they enforce the criminal code, and they were enforcing criminal code on regular teen behavior."
The School-to-Prison Pipeline: A System Targeting Students of Color
The data reveals that these crackdowns disproportionately affect communities of color, making police in schools a racial justice issue.
"During the 2015-2016 school year, Black students accounted for 15% of total enrollment but 31% of students referred to law enforcement or arrested," a report by the Civil Rights Data Collection the U.S. Department of Education's Office for Civil Rights found.
Black students are, in essence, arrested at double the rate of their white counterparts. Why? Schools that have larger Black and Latinx populations are more likely to have larger police presences, automatically raising these students' chances of being arrested. "Students of color are also more likely to be enrolled in a school with an officer. While 42% of U.S. high schools in the 2013-2014 school year had officers, 51% of high schools with large Black and Latino populations had them," writes Astrid Galvan for wgme.com.
Schools comprised of largely poor, Black, and Latino populations are more likely to be plagued by the school-to-prison pipeline, a structure that filters students to prisons just like some schools filter (typically whiter, wealthier) students towards colleges.
This pipeline exists in part thanks to the disproportionately large police presences in schools that are part of underserved communities, and the dearth of community resources available to these schools.
The school-to-prison pipeline is "part of a national trend that criminalizes rather than educates students — and one that disproportionately targets black students — as "tough-on-crime" policy has resulted in millions of mostly black and brown people winding up behind bars," notes Mariame Kaba in Teen Vogue, adding that "nationally, since 1990, spending on prisons has increased three times as quickly as spending on education."
Police employed in schools are likely to target undocumented children and families, to arrest children for petty crimes that wealthier, whiter children are far more likely to get away with, and to criminalize people based on racist ideas baked into the framework of policing since its inception.
Policing Schools: Why Are There Cops In Schools? www.youtube.com
"The presence of police in schools, I believe, is fueled by a dehumanization of children of color, which suggests that there needs to be a constant surveillance of these children in schools," writes author Monique Morris.

The data is there every step of the way to support all this. According to NPR, "Data show that schools with cops are more likely to refer children to law enforcement, including for non-serious violent behaviors. In 43 states and the District of Columbia, Black students are more likely to be arrested than other students while at school, according to an analysis by the Education Week Research Center."
These studies stand for themselves, but they don't actually reveal the truly harmful and traumatizing effects that police in schools can have on individual students of color. Over the past few years, police have been filmed performing atrocious acts of violence towards students, revealing a deeper pattern and implying a much longer and more terrifying history of police committing crimes against the students they're assigned to protect.
In the fall of 2019, an officer was caught handcuffing a sobbing 6-year-old girl. In another school, an officer was filmed shoving an 11-year-old student against a wall. Both students were Black.
This is not a new phenomenon. In 2015, a video of a police officer throwing a 16-year-old Black girl across a room sparked outrage. The student who filmed the video received a misdemeanor charge and a suspension.
So if there are so many issues with police in schools, why are they there at all?
"There isn't much evidence indicating that police officers in schools make schools safer," says Dominique Parris of the research organization Child Trends. "What they do do is increase the likelihood that Black and brown children are going to be involved in the legal system early and often."
In America, there is a pervasive cultural myth—often most prevalent among white, powerful groups—that teaches us to associate police with safety. Police presence increased in schools in the wake of early school shootings in the 1990s, but a 2018 Washington Post analysis of over 200 incidents of gun violence found that police were only successfully able to intervene twice in armed shooter situations.
On the other hand, restorative justice programs that focus on relationships between students and the people there to protect them are far more likely to stop shootings and to reduce violence in general. Behavioral assistance programs based on relationships between students and counselors help prevent students from lashing out and can also help students identify unstable or potentially dangerous peers.
Visions of a Police-Free Future
Slowly, protests are working. The Minneapolis Public School board voted this year to end its contract with the Minneapolis Police Department after a number of protests. Still, other schools have resisted students' efforts to remove police officers.
Protestors don't plan on giving up, and they don't plan on being satisfied with only removing cops. Protestors who want the police out of schools don't simply want the police gone—and they know removing the police is not a solution to every problem.
Instead, protestors want the funds used to pay salaries of cops redistributed, specifically towards counselors, nurses, and other resources that might actually help students succeed rather than relegating them to prisons.
These programs are appealing alternatives to funneling students off to deeply traumatizing and damaging prison systems, which can haunt people well into adulthood, destroying families in the process. Protestors are asking schools to imagine a world in which funds used to police and punish students could be used to provide educational programs, health and wellness resources, psychological health, and social work avenues.
They're asking, in short, for schools to do what they're supposed to do: help students learn.
If you have questions or issues with voting, call New York's voter hotline at (866) 687-8683 or the Attorney General at 1-800-771-7755, or contact the NYC DSA at 866-700-5927.
This is a developing story. Please check back for updates.
When Paperboy Prince went to vote for himself in the Democratic primary on June 23rd, 2020, he was surprised to see that he hadn't even received the ballot that was supposed to have his name on it.
People all over New York City are reporting similar stories, saying that they only received their presidential ballots—not their state and congressional ballots. The problem started as early as 6AM, when reports thatsome poll sites weren't giving out the full ballots came to light.

"Poll workers didn't know there were 2 ballot sheets. 30 min of relentless arguing & discussion to convince them to look and find it," wrote one voter. "Oversight not deliberate rather disorganized. Unacceptable. Others denied a proper vote."
Some say they were given incorrect ballots. Bronx Assemblymember Victor Pichardo was given the wrong ballot when he went to vote in his neighborhood.
Others have reported additional disturbing incompetence on the part of the NY Board of Elections. "Voted at 6:30am, in person. very disappointed to find out hours later I wasn't given my full ballot. Only 1 of 2 pages. Didn't vote in presidential- thought courts made it clear I should," wrote a Twitter user.

"Another @BOENYC fiasco in Brooklyn. This Flatbush poll site opened 30 min late, then told dozens of voters waiting that both scanners are broken. After waiting for 2 hours, voters now leaving ballots in lockbox to get scanned later. Volunteers are taking chairs outside for seniors," reported another.
"Also just received a report, also at Russell Sage H.S., that several DEMOCRATIC voters were given REPUBLICAN ballots for the presidential candidates & the presidential delegate candidates. What is going on? Please get to the bottom of this ASAP," wrote yet another.
"Hi @BOENYC it looks like machines are down at the Bushwick Inlet Park polling site, too. Can we get someone on this?" wrote another Twitter user.
Furthermore, many people who requested absentee ballots have found themselves without them. "A vast but unknown number of voters who requested absentee ballots have not received them," write Ben Adler and Rebecca C. Lewis for City and State. "On Sunday, a volunteer for Brooklyn congressional candidate Adem Bunkeddeko told City & State that of the voters she has been calling since Friday, approximately 40% who requested absentee ballots have not received them." Even more disturbingly, the article continues, "As is typically the case with voter disenfranchisement, the failure to send ballots seems to have fallen disproportionately on marginalized communities."

Still, this disenfranchisement is definitely not reserved to any specific groups of people. For better or for worse, anyone can be disenfranchised, stripped of their right to vote by incompetence, mistakes, or—as some propose—direct efforts to challenge progressive candidates.
So why did this happen? Part of it has to do with state lawmakers like Governor Andrew Cuomo who provided little assistance to local boards of elections. "Neither Cuomo nor the state Legislature, which was largely absent following the passage of the state budget in early April, proposed plans to increase funding for boards to handle the additional requests and hire temporary election workers to bulk up small staffs not designed for elections with a large amount of absentee voting," Adler and Lewis continue.
Gothamist reports that anyone looking to complain about voting can contact (866) 687-8683 or report to NY Attorney General Laetitia Jones at 1-800-771-7755. The NYC DSA is also accepting calls and questions about voting today and can be contacted at 866-700-5927.
Progressive Challengers Like Jamaal Bowman Put in the Work—Now Can They Get the Votes?
It's a shame to see such incompetence in NYC, especially during such an important election featuring many vibrant challengers who have worked on these campaigns for years, refusing corporate donations and instead relying on thousands of phonebanks and local canvassers.
One such challenger, Jamaal Bowman, has made headlines for his groundbreaking campaign. A former middle school principal, Bowman is running to unseat Eliot Engel, who has been in Congress since 1989.
"The election on June 23 will thus be a test of whether the energy on American streets translates into votes," writes Michelle Goldberg. "Engel is a 16-term incumbent, the head of the House Foreign Affairs Committee. If he's dethroned by a political newcomer calling for defunding the police, it could be as politically earthshaking as Ocasio-Cortez's victory two years ago."

"When you look at the impact of concentrated poverty that's been created by bad policy, and the trauma that results from that, and then add on top of it stop-and-frisk policing, zero-tolerance schools, you're dealing with a population of black and Latino students that consistently feel occupied," Bowman said, his experience and energy a stark contrast to Engel's.
Other strong challengers are emerging, bringing extensive experience in community organizing along with varied backgrounds. Jabari Brisport, running for State Senate in District 25, is a queer Black socialist who is also running on a campaign to provide healthcare and housing for all.
While some of these challengers' progressive ideals may have been written off a few months ago, as Bernie Sanders' were, it's clear that we are in a new iteration of America. New forms of unrest and revolutionary sentiments are shaking the nation's streets. With unemployment skyrocketing and healthcare hanging in the balance, ideas like Medicare for All and a Homes Guarantee seem not only plausible—they seem necessary.

It's hard to know whether the tremendous energy currently in the streets for the Black Lives Matter movement will translate into votes. But on the other hand, with so much voter suppression and incompetence at polling sites in NYC, it's hard to know if any of this is fair at all.
Voter Suppression and Disenfranchisement: An American Tradition
Voter suppression is, of course, not reserved to NYC. It has a very long and deeply embedded history in America, dating back to the Jim Crow laws that suppressed poor and non-white voters (like poll taxes, literacy tests, and grandfather clauses) and continuing to today.
In Kentucky, where Charles Booker is vying to be the Democrat who takes on Mitch McConnell for Senate Majority Leader, talk of voter suppression is everywhere. "Fewer than 200 polling places will be open for voters in Kentucky's primary Tuesday, down from 3,700 in a typical election year," reported the Washington Post.
In Georgia earlier this month, Black voters had to wait up to five hours to cast ballots in some cases. The event was called a "complete meltdown."

Faith in American democracy has continued to erode (if it was ever there), and certainly all this will only add fuel to that fire. Does that mean that insurgent progressive champions have more or less of a chance? We'll have to wait and see, while keeping in mind that election results may be distorted by incompetence, lack of funding, or something as insidious as illegal tampering.
ALEC puts people in for-profit jails, prevents gun laws, and stops action against climate change—all from inside locked hotel conference rooms.
In the "corporate bill mill" where corporate leaders and politicians meet, schmooze, and decide the future of the planet, evil is at work.
Georgia Senator Nan Orrick, a former ALEC (American Legislative Exchange Council) member, describes back rooms in Vegas resorts and behind-closed-doors legislative sessions where corporations not only vote on bills—they write them.
ALEC brands itself as an educational charity, she says, but hefty donations (memberships can cost $25,000 a year) fund "education efforts" for legislators, according to a local 11 Alive broadcast—educational efforts led by multi-billion dollar corporations with specific agendas.
The Investigators: ALEC - The Backroom Where Laws Are Born www.youtube.com
In the end, Orrick left ALEC because it was just a bunch of "angry white men," she said.

But these "angry white men" have arguably guided America towards the state it's currently in, making some sort of revolution inevitable.
From the Prison Industrial Complex to Stand Your Ground: ALEC's History of Oppression and Harm
ALEC was partly responsible for the massive spike in prison populations over the last few decades—a 500% increase over the last 40 years, to be exact. In 1995, ALEC's "Truth Sentencing Act" was signed in 25 states. ALEC also pushed for mandatory minimum sentences for nonviolent drug offenders. And ALEC helped privatize the bail bond industry and has worked to pass laws to create for-profit prisons, catalyzing what we now know as the Prison Industrial Complex.
Unsurprisingly, two of ALEC's major sponsors include the Corrections Corporation of America and the Geo Group (formerly Wackenhut Corrections).
"An In These Times investigation last summer revealed that ALEC arranged secret meetings between Arizona's state legislators and CCA to draft what became SB 1070, Arizona's notorious immigration law, to keep CCA prisons flush with immigrant detainees," write Mike Elk and Bob Sloan in The Nation. "ALEC has proven expertly capable of devising endless ways to help private corporations benefit from the country's massive prison population."
In Ava DuVernay's documentary 13th, which tells the story of Black oppression in America from the ratification of the 13th Amendment in 1865 until today, she dives into ALEC and how—building on momentum from the War on Drugs—it resulted in the mass criminalization of Black people, leading to a system of punishment that Michelle Alexander calls "The New Jim Crow."
13TH | FULL FEATURE | Netflix www.youtube.com
ALEC has a long track record of creating racist policies that disenfranchise vulnerable populations. For example, they were an origin point of voter ID laws that successfully prevented many voters from participating in elections. In 2011, the civil rights organization Color of Change launched an investigation into ALEC's political actions in 2011, and reported that for years, "the right wing has been trying to stop Black people, other people of color, young people, and the elderly from voting for partisan gain—and now some of America's biggest companies are helping them do it."

ALEC was also responsible for creating the "Stand Your Ground Laws," which helped George Zimmerman go home free after he shot Trayvon Martin.
Once people began connecting the dots and investigating this law across states, they realized that the bill looked almost identical from state to state—and were able to trace its origins back to ALEC.
A Foundation Built on Disregard For Human Life
Destruction is in ALEC's lifeblood. Two of ALEC's early founders were the Koch brothers, both of whom played a significant role in destroying early government action against climate change. Over recent years, ALEC has doubled down on its efforts to defend fracking and to fight against protestors and whistleblowers, passing bills that threaten to fine and imprison anyone who attempts to vandalize pipelines, and beyond.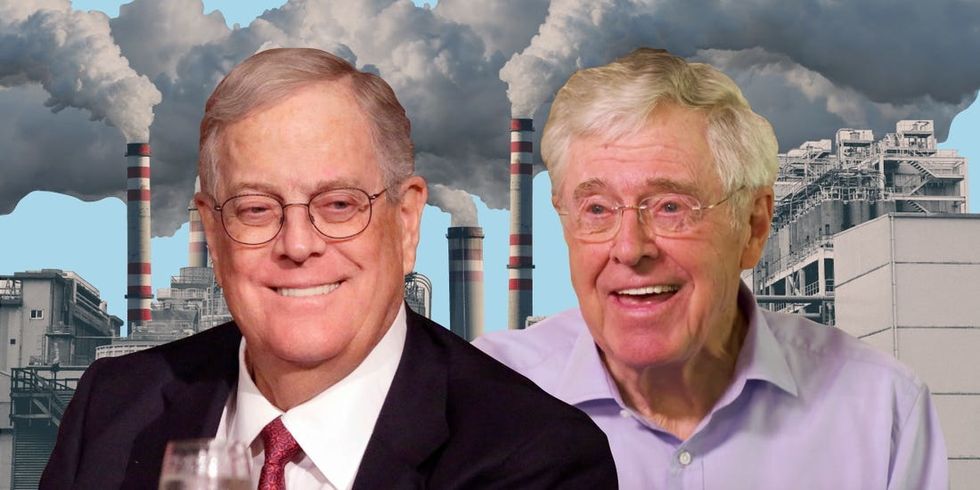 Koch Brothers
Other current corporate sponsors include the tobacco industry, the giant pharmaceutical company Pfizer, the National Rifle Association, Wal-Mart, ExxonMobil, and hundreds of other corporations. That means that these major corporations have a say in what bills are passed where.

ALEC has faced some resistance. After whistleblowers published a database called ALEC Exposed in Wikipedia, corporate sponsors began to face pressure to leave the shadowy lawmaking organization. Coca-Cola, Kraft, Intuit, the Gates Foundation, Google, and other companies pulled out. Hundreds of legislators have cut ties—but ALEC continues to meet year after year.
ALEC Is Still Alive and Well—and Was Fighting to Reopen in Mid-May
ALEC is still alive and well today, if quiet (or very good at diverting attention from it). According to the ALEC Exposed Wikipedia page, ALEC has been "Leading Right-Wing Campaign to Reopen the Economy Despite COVID-19" this May.
The suffering that some of ALEC's bills have caused is literally unimaginable–and genuinely apocalyptic in scale. The number of lives ruined from big pharma, gun violence, climate change, and mass incarceration is absolutely uncountable. Bills like the "No Sanctuary Cities for Illegal Immigrants Act," the "Consistency of Firearm Regulation" Act (which prevents local areas from restricting firearm possession), and many others have each had brutal lived consequences on people's lives—and each was created in an unjust, secretive way.
Yet ALEC still insists that it's a legal organization and that its nay-sayers are simply delusional leftists.
But if ALEC really were a legal organization, wouldn't they open their doors to the media instead of forcibly removing the reporters who try to enter at its annual policy summit?
Of course the fact that corporations are running the show nowadays isn't exactly a surprise, and ALEC is just one of the many corporate lobbyist groups that are "ghostwriting the government," as one Harvard Political Review report put it. The best of these groups are probably so secretive that no one knows exactly what they're called or where they are. Certainly, ALEC is growing alongside the times, figuring out how to further its agenda as more politicians refuse corporate donations, and who knows: It may disappear completely, reforming itself as another slick corporate group in some other identical hotel ballroom, ruining lives with the flick of a few keystrokes.
But at least the people are beginning to wise up to the fact that many of our lawmakers have pledged allegiance not to the people but to corporations.
United States of ALEC: A Follow-Up www.youtube.com
The police's violence comes as no surprise. Violence and oppression is built into the police's origin story, and violence will continue to define policing unless serious changes are made.
During the protests that are occurring all across the country in response of George Floyd's murder, the police have displayed violence, aggression, and brutality towards mostly peaceful activists exercising their rights.
Police have driven through crowds, have fired rubber bullets at peaceful journalists and crowds, and have attacked people who are not even protesting. They have destroyed medical tents, arrested medics, and trapped people before curfew, making arrests inevitable. They have pepper sprayed State senators and innocent people, have fired rubber bullets at crowds, and have independently instigated violence. Videos of protestors with blood streaming down their faces are now the norm.
This protest was entirely peaceful. There was no violence, no looting, no criminal behavior at all. The HORROR I… https://t.co/tOwBbKveAR

— jonathan (@jonathan)1591334777.0
The police's violence during a protest against police brutality merely proves the point that protestors are trying to make and that many Black and brown communities have always known: The police are a violent, confrontational, largely untrained, and highly armed battalion of people that often encourage and instigate violence.

A History of Violence
It has, in fact, always been this way.
Modern policing is a relatively new institution that was actually developed in the 1830s and 40s, with the first police force established in Boston. These very early police forces initially focused on European immigrants, but later began to heavily police African Americans fleeing the Jim Crow South. "There was a lot of one-on-one conflict between police and citizens and a lot of it was initiated by the police," writes sociologist Malcolm Holmes.
In the South, slave patrols were primary forms of policing, and after slavery was abolished these patrols continued to work to maintain preexisting structures of power. "During Reconstruction, many local sheriffs functioned in a way analogous to the earlier slave patrols, enforcing segregation and the disenfranchisement of freed slaves," writes Olivia B. Waxman for Time.
Since those early days of policing, the definition of who and what the police are supposed to defend has been determined by those in power. During the late 19th century and early 20th century, police were arms of the powerful, used to harass opposing political parties, to torment union members, and to persecute people drinking in taverns, among other uses. This only grew worse during Prohibition.
Over the past century, policing has continued to work as a tool to maintain existing structures of power while criminalizing the poor and non-white. There has been pushback: Police brutality was a main catalyst for the Civil Rights movement in the 1960s, as was the fact that police enforced racist tactics such as redlining, which kept Black communities in positions of subjugation. But the police remain a beloved institution in white society. Nixon's War on Drugs only intensified this divide, resulting in the criminalization and incarceration of thousands and thousands of Black people. Today, America has 25% of the world's prison population while being only 5% of the world's population.
So what is there to be done about all this? What can be done about America's major, centuries-old problem with police and its related systems of mass incarceration?
The answer is tied up with the goals of the protests and the Black Lives Matter movement. There isn't one concise answer, but one thing is clear: Things have to change.
Police Don't Make Us Safer
Many people—often white—think of the police and prisons as institutions that keep us safe, but statistically, this is simply not the case.
In 2011, NYC saw nearly 700,000 incidents of stop-and-frisk. When "a radical scaling back of stop-and-frisk," occurred, "Critics predicted a disastrous return to, depending on one's age and experience, the 1970s or the 1990s," writes Joe Sexton for ProPublica. But "the disaster never happened. Instead, what many scholars and police officials thought nearly unthinkable — further reductions in crime after two decades of plummeting numbers—did."
Furthermore, incarceration—a natural consequence of increased aggressive policing—does very little to actually reduce crime."There is a very weak relationship between higher incarceration rates and lower crime rates," writes the Vera Project. "Since 2000, however, the increased use of incarceration accounted for nearly zero percent of the overall reduction in crime."
So if incarceration and policing don't reduce crime, what does?
"Research has shown that the aging population, increased wages, increased employment, increased graduation rates, increased consumer confidence, increased law enforcement personnel, and changes in policing strategies were associated with lower crime rates and, collectively, explain more of the overall reduction in crime rates than does incarceration," the Vera Project report continues. "Although it may seem counterintuitive, research has shown that incarceration may actually increase crime."
Still, the police and America's prisons receive tremendous high levels of funding—the NYPD received 6 billion dollars in funding this past year—and meanwhile police keep killing and imprisoning Black and brown communities.
"The punitive impulse [the police] embody saturates nearly every facet of American life," where officers "take the place of social workers and emergency medical personnel and welfare caseworkers, and when they kill, we let them replace judges and juries, too," writes Sarah Jones in New York Magazine.
There's no end to the responsibilities with which we have charged police offers, and no end, seemingly, to the tole… https://t.co/a1m4YjQ4cy

— New York Magazine (@New York Magazine)1591138813.0
"At all levels of government, the country spends roughly double on police, prisons, and courts what it spends on food stamps, welfare, and income supplements," writes Annie Lowrey for The Atlantic.

During the onset of COVID-19, "the decision that mayors in even liberal cities like Los Angeles and New York were making as of early May was to propose deep cuts in essentially every major category except the police," writes Matthew Yglesias for Vox.
As has always been the case, policing and incarceration are often used to make money for the powerful, upholding structures of power. That's why they've avoided the cutting room.
"A Department of Justice investigation found that in Ferguson, Missouri, the town used the police and the courts as a kind of fundraising office, plugging budget holes with ginned-up traffic tickets and housing-code violations and charges for missed court dates," Lowrey continues. "America badly needs to rethink its priorities for the whole criminal-justice system."
Alternatives to Aggressive Policing
How does one actually address aggressive policing? What strategies actually work? "The problem America faces is not figuring out what to do," argue Seth W. Stoughton, Jeffrey J. Noble, and Geoffrey P. Alpert for The Atlantic. "As an industry, American policing knows how to create systems that prevent, identify, and address abuses of power. It knows how to increase transparency. It knows how to provide police services in a constitutionally lawful and morally upright way. And across the country, most officers are well intentioned, receive good training, and work at agencies that have good policies on the books. But knowledge and good intentions are not nearly sufficient… What we desperately need, but have so far lacked, is political will."
Therefore it's important to spread information about the logistics of alternatives to policing. Stoughton, Noble, and Alpert argue that in order to reform policing, we need to end qualified immunity (which prevents police from being sued unless their crimes were labeled unconstitutional at the time they committed them). Congress could also encourage better and clearer data about police's work and invest more in training.
According to a document from the organization Campaign Zero, here are five additional strategies that could help reform police:
End Broken Windows Policing
"Only 5% of all arrests made in America are for violent crimes. Meanwhile, the vast majority of arrests are for low level offenses that pose no threat to public safety. Police departments should decriminalize or de-prioritize enforcement of these issues," the document reads. Armed police who are trained to react violently but have no training in de-escalation strategies should not be tasked with dealing with nonviolent crime. Homelessness, mental health crises, and petty crime should initially be addressed by mental health workers, social workers, community intervention workers, or a task force specifically trained to deal with these issues, not cops as we know them today. Police funds should be redistributed towards community intervention initiatives and similar task forces.
2. End For-Profit Policing
Police should not rely on tickets or fines issued in order to make money. Arrests should not be sources of profit. The Supreme Court actually ruled to place limitations on for-profit policing in 2019, but these measures need to be enacted in every state.
3. Limit Use of Force
"The research is clear: police departments with more restrictive use of force policies - like banning chokeholds and requiring de-escalation - are substantially less likely to kill people," reads the document. An Early Intervention System that identifies officers who tend to use excessive force should be established.
4. Demilitarization
Cities and countries should not be allowed to use federal funds to purchase military equipment, and city council approval should be required before police can purchase this type of equipment.
5. Body Cameras
"Research shows that body cameras do not prevent police violence from happening, but they do increase the chances that officers will be disciplined or even prosecuted for these incidents."
6. Independent Investigations
"Only 1% of all killings by police lead to an officer being charged with a crime," the document reads. Independent investigations of officers charged with misconduct must be required.
7. Training
"The average police recruit spends 58 hours learning how to shoot and only 8 hours learning how to de-escalate." Police should receive de-escalation training.
8. Fair Police Union Contracts
Police union contracts are major impediments that make it difficult for police to be fired. Barriers to accountability should be removed. According to checkthepolice.org, police union contracts can block accountability by "disqualifying misconduct complaints, preventing police officers from being interrogated immediately, giving officers access to information that civilians do not get, requiring cities to pay for costs related to police misconduct, preventing information on past misconduct, and limiting disciplinary consequences."
Another Choice: Defund Police
Despite the purported efficacy of these tactics, people have been attempting to institute these police reform-based practices for years. Funds have been poured into police training, body cameras have been installed, and yet… These things have not worked, and people are still losing their lives to police violence.
"There is no evidence that better police training programs or "implicit bias" training changes police behavior," writes Samuel Sinyangwe. "More restrictive state and local policies governing police use of force are associated with significantly lower rates of police shootings/killings by police. This is backed by 30+ years of research," Sinyangwe adds.
For those who are interested in research-based solutions to stop police violence, here's what you need to know - ba… https://t.co/SoXi1hG3kA

— Samuel Sinyangwe (@Samuel Sinyangwe)1570325229.0
The only solution to actually reducing police violence might be a more radical tactic: Defund the police—and channel that money into education, community development, social work, and other tactics that stop crime before it starts instead of tamping it out through violence or making it up to reach a quota.

There is no precise consensus on what defunding the police will actually involve, though people have plenty of ideas. "I think we need to consider a divest/invest model," said Queens Senator Julia Salazar as she made her argument for defunding the police. "When we look at their resources, and how they're deploying them violently and recklessly, it makes the case even stronger for reducing their budget, and then using those funds for social services, and specifically for things that New Yorkers would want the police to do but the police are not currently doing: harm reduction, community-based public safety."
When discussions about defunding and curtailing the power of the police come up, the main question that arises is: Who will uphold our laws?
It's important to remember that people who advocate for defunding the police are not advocating for a lawless land. Instead, they're asking for the massive amount of funds that the police receive to be redistributed to investments in people-powered organizations that actually keep us safe.
Should Police Be Abolished?
Beyond defunding is the ultimate goal of police abolition, which many abolitionists argue is the only way to actually stop police violence.
"Our police is not working—we need to replace it with something new. It's more than a repair. We need something new," writes Jessica Disu in the Chicago Reader. "We need to come up with community solutions for transformative justice."
The concept of police abolition is connected to the prison abolition movement started by Black abolitionists in the 70s. As the existence of the prison industrial complex—a complicated arrangement that allows the U.S. government and corporations to profit off of prison labor—became solidified in the early 2000s, so did the idea of prison abolition.
"[The work of maintaining incarceration], which used to be the primary province of government, is now also performed by private corporations, whose links to government in the field of what is euphemistically called 'corrections' resonate dangerously with the military industrial complex," wrote Angela Davis in an article in the magazine Colorlines.
Prison and police abolition doesn't mean suddenly abolishing police and prisons. Instead, it means redesigning the entire punitive system, and developing correctional systems based in communities, in systemic change, and justice. "For me prison abolition is two things: It's the complete and utter dismantling of prison and policing and surveillance as they currently exist within our culture. And it's also the building up of new ways of intersecting and new ways of relating with each other," says Mariame Kaba, a major prison abolitionist advocate.
When many people hear about abolishing police, they immediately begin to worry: Who would I call if my house is robbed? But it's important to remember that police are not a safe option in the first place for many people, particularly Black people, and so many are left without any help at all in the case of criminal activity. It's also important to remember that this kind of violence is often connected to poverty or other forms of suffering that could be eliminated by investments in communities, healthcare and the like.
Many reforms & strategies to fight policing are circulating right now, some are AMAZING like #DefundPolice; others,… https://t.co/FJxEN4o5rV

— Critical Resistance (@Critical Resistance)1591319561.0
Seattle city council candidate Shaun Scott put it this way: America must "[disinvest] from the police state" and "build towards a world where nobody is criminalized for being poor." He went on to criticize so-called officers" for their "deep and entrenched institutional ties to racism" that created an "apparatus of overaggressive and racist policing that has emerged to steer many black and brown bodies back into, in essence, a form of slavery."

Another police abolitionist, Kristen Harris-Taley, asks: "How do you reform an institution that from its inception was made to control, maim, condemn, and kill people? Reform it back to what?"
"Oppressed people must give up the systems that harm them," writes Derecka Purnell for the Boston Review. "Police are not public, nor good. Departments arrest for profit and sell vulnerable people to jails and prisons to fill beds. Cities incentivize and reward police officers for maximizing their ticket writing and traffic stops. On college campuses, cops make drugs disappear; on the streets, cops make alleged dealers disappear. Police officers are prison–industrial complex foot soldiers, and poor people are its targets. Disadvantaged communities should not ask for law enforcement to ensure safety any more than someone should ask for poisoned water to quench thirst."
So while police abolition may sound extreme, it's worth deep study at the very least for anyone invested in racial justice. (Check out this syllabus on police abolition to learn more).
Restorative Justice: What Would a Post-Police Future Look Like?
If police were abolished, what would take their place?
The answers are surprisingly logical. "Police abolition work is not about defunding every department instantly; it's about a gradual process of strategically reallocating resources, funding, and responsibility away from police and toward community-based models of safety, support, and prevention," writes MPD 150, a police abolition organization. "The people who respond to crises in our community should be the people who are best equipped to deal with those crises."
"Where's the community resource center? Where are the supports for families, so that maybe they can fix their problems? Where are the outlets for women so that they can live independently, to get away from an abuser?" asks Alex Vitale, the author of The End of Policing.

Instead of aggressive policing, prison and police abolition advocates point to community organizations, better mental healthcare, an end to solitary confinement, and a "restorative justice" approach as viable alternatives.
In a restorative justice system, the victim and perpetrator's perspectives are both examined and discussed. "Typically, a facilitator meets separately with the accused and the victim, and if both are willing to meet face to face without animosity and the offender is deemed willing and able to complete restitution, then the case shifts out of the adversarial legal system and into a parallel restorative-justice process," writes Mark Engler for Morningside Center. "All parties — the offender, victim, facilitator and law enforcement — come together in a forum sometimes called a restorative-community conference. Each person speaks, one at a time and without interruption, about the crime and its effects, and the participants come to a consensus about how to repair the harm done." This may sound like a lot of work, but remember how much paperwork and processing one arrest requires.
"Restorative practices focus on repairing the harm that has been done, rather than simply punishing someone who has committed an offense by locking them up," writes Vanessa Hernandez in an ACLU op-ed. Restorative practices in the criminal justice system, including peacemaking circles, mediation, and family conferencing, bring people who have committed crimes together with victims of crime, their families, and other community members to identify and address the damage caused by crime." This is also particularly effective in schools and juvenile detention centers. When exposed to restorative justice practices, "Incarcerated people at San Quentin reported to the delegation that the restorative process was highly transformative in that it allowed them to be forgiven by those who they had harmed and cultivated in them an ability to forgive themselves," writes Peter Kletsan.
Seeking strength and wisdom from Angela Davis this morning. Thinking of the communities that sustain me. https://t.co/4k82jT1TXL

— Ethan Chang (@Ethan Chang)1591022533.0
Of course, restorative justice practices alone are not enough to heal America's broken criminal justice system. That will take a lot more—a lot of protests, a lot of political action, a lot of coming together. Perhaps it will take a revolution.

As we wait, we can all learn ways to mitigate the amount of harm that police cause. We can research alternatives to calling 911; we can invest in community infrastructure; we can study de-escalation and first-aid; we can join prison and police abolition groups; white people can learn how to put their bodies in between Black people and the police; and we can continue to learn and make our own decisions about the policing systems that our tax dollars are paying for.
Take action and learn more here: https://m4bl.org/week-of-action/tuesday/
Action Steps for Defunding the Police
Police and Prison Abolition 101: A Syllabus and FAQ

New studies show a correlation between COVID-19 deaths and low levels of the "sunshine vitamin."
Vitamin D has long been a useful warrior in the fight against disease, but now some studies are hinting that it might help fight COVID-19.
In this day and age, everyone is desperately looking for a cure, the Internet is rife with misinformation, and nothing is certain about vitamin D yet. But several promising studies have found that lower levels of vitamin D can put patients at increased risk of death from COVID-19, while higher levels might increase patients' chances of survival.
An April 9 study from the Philippines measured vitamin D levels in 212 coronavirus patients and found that patients with lower Vitamin D levels had relatively mild symptoms, while patients with deficiencies tended to grow much sicker. Prior to that, an Indonesian study from May said that "majority of the COVID-19 cases with insufficient and deficient vitamin D status died."
A similar study from Northwestern University explored 10 countries and also "found a correlation between low vitamin D levels and hyperactive immune systems." Most recently, a new study from Trinity in Ireland came to the same conclusions, also finding that lower levels of vitamin D are linked to a higher mortality rate for COVID patients.
Vitamin D plays an important role in the body's immune response. It may also be able to help heal compromised respiratory functions, according to Newsweek. COVID-19 is still a relatively unknown disease, but it is believed that the virus creates what's called a cytokine storm in patients. That means that the body produces a superabundance of messenger proteins called cytokines, which can lead to inflammation in the lungs. Vitamin D can help prevent the release of cytokines.
These studies are inconclusive, and clinical trials are just beginning. "If vitamin D levels are really a marker for better diet, or more access to healthcare, or any of a variety of other variables that are not statistically assessed, then it is not the vitamin D that is the cause of the better or worse outcomes but rather the other factors," said Daniel Culver, Director of the Interstitial Lung Disease Program in the Department of Pulmonary, Medicine at the Cleveland Clinic.
To be clear, vitamin D is not a miracle cure. "We found no clinical evidence on vitamin D in COVID-19," scientists from Oxford University wrote after their study. "There was no evidence related to vitamin D deficiency predisposing to COVID-19, nor were there studies of supplementation for preventing or treating COVID-19."
Still, because it's relatively harmless, some countries are now calling for widespread dissemination of vitamin D supplements and advising people to pay attention to their own levels. It's important to note that it is possible to ingest too much vitamin D, but a few supplements, some eggs, or some extra (safe) sunshine is probably as good a prescription as any during these isolated times.
There are plenty of ways to donate without sending finances.
Giving Tuesday is already a well-loved tradition for many, and this week (May 5th) is a global day of giving tailored to the scariness of the current moment.
Of course, just staying home is probably the most important thing any of us can do right now at this time, but many people are responding to an urgent call to do something more, to connect and to give. Millions of people have already given a great deal of their time and energy during COVID-19, many donating their stimulus checks, participating in mutual aid networks, fighting on the frontlines and more. This day is just another excuse to do so in whatever capacity you can.
"Giving Tuesday is always, since the beginning of it, really about human connection and strengthening communities, and that is exactly what's needed now, when there's fear and uncertainty and polarizing forces, and those things are threatening social as well as economic collapse, in addition to all the health uncertainty and fear," says Asha Curran, CEO of the Giving Tuesday movement. "It's not a fundraiser," she says. "It's a global generosity movement."
With millions of Americans out of work or dealing with financial insecurity, giving financially may not be possible. According to one survey, 42% of Americans questioned said they were having trouble paying for basic expenses like mortgage, rent, or groceries.
There are plenty of ways to donate without sending finances. The Giving Tuesday website and sites like Daily Generosity Alerts will alert you to small ways to give back. You can also text #GivingTuesday to 33777, or look into joining your local mutual aid network or using your own strengths to contribute to a social movement.
Deciding what to donate and how to give is a personal and political choice, and you don't have to donate exclusively to COVID-19-related funds. It's important to look to the people that aren't receiving what little support the government is providing. (New Sanctuary Coalition, the Partnership for Native Americans, and the Bail Project are all good options in that respect; the ACLU is also always fighting for justice). Food banks that support the most vulnerable are also valuable places to give.
It's also important to consider issues that existed before COVID-19 but that have only been exacerbated by the crisis. "The focus should be on helping the world's poorest people, not just people in the US; if you want to give in the US, you should give to effective, direct charities; if you want to maximize your impact, donating to prevent the next pandemic might be your best bet; and don't forget that the problems that plagued us before coronavirus still plague us now, and that other, non-Covid-19 charities need support, too," argues Dylan Matthews for Vox.
Plus, of course, charities often fail to endure or enact substantial change, particularly when they don't work directly with the communities they're trying to give to. Therefore, long-term community engagement is particularly important nowadays. Also, actions like voting and engaging in larger-scale campaigns to shift larger superstructures of oppression can also be very powerful. Whatever you do, make sure you're taking care of yourself too, because change starts within.
For more ideas about places to give, check out this list or this list.

Earth Week NYC saw climate activists deftly pivoting from IRL to digital actions. Here's a look at how they did it.
Earth Week NYC wasn't supposed to look this way.
Just a month ago, climate activists were planning a massive in-person rally and a three-day sequence of curated protests in honor of the 50th anniversary of the first Earth Day. Earth Week NYC was meant to recapture the spirit of the first Earth Day celebrations, which took place in 1970 and brought nearly 20 million Americans into the streets, while uplifting the movement's modern and more intersectional demands.
Instead, most of the climate movement's energetic young activists—like most of the rest of us should be—are at home in their houses. But that hasn't stopped them from organizing. Over the past few weeks, a three-day event that was supposed to pull thousands into the streets shifted almost entirely online.
"The Earth Week NYC coalition switched to a fully digital strategy almost overnight once large gatherings were banned in the city," said Ted Bogin, a member of the youth-led climate organization Sunrise NYC. "We built a website, earthweeknyc.com, that allows anyone to fight for climate justice at home with tools and scripts for calling and emailing our elected representatives, among other ways."
Events and actions moved to Instagram, Facebook Live, Slack, and Zoom. In-person office visits turned into email blasts and telephone calls. In preparation, climate activists hosted digital community care workshops, drafted emails, and crafted mutual aid resources and teach-ins.
The themes of each day remained in place as planned. Earth Week NYC consisted of three themed days, each dedicated to a different aspect of climate action. The first day's theme was "Strike," the second day's was "Divest," and the third was "Vote."
On the first day, Earth Day, young organizers took to social media to post images of themselves holding signs, calling for a Green New Deal, a People's Bailout, and other climate and social justice actions. Some activists even banded together for a socially distanced banner drop in New York City.
On the second day, activists lobbied with Stop the Money Pipeline, an organization dedicated to ending Wall Street's support of fossil fuels. Participants were encouraged to make calls to the CEOs of BlackRock, JP Morgan, Chase, and Liberty Mutual, using scripts to request fossil fuel divestment. (One terrifying statistic kept appearing: Wall Street has poured $1.9 trillion into the fossil fuel industry since 2015).
On the third day, which centered around voting, lobbying, and teach-ins, the NYC coalition sent out toolkits full of lesson plans for teachers, asked people to fill out their censuses, and called on everyone to reach out to their representatives and to encourage their friends to vote for climate champions. Championed in part by Fridays for Future, the organization first inspired by Greta Thunberg, Friday's actions (like the rest of the week's) focused on the intersections between social justice and climate change and the vital importance of local, indigenous-led, people-powered action.

All of it was supplemented by a flurry of online activities, including a three-day, all-day live broadcast hosted by the Future Coalition. Featuring politicians like Elizabeth Warren and John Kerry, musicians like Jason Mraz, and hundreds of other superstar activists and musicians, the livestream was a rousing marathon, a display of unity in the face of a brutal pandemic and the looming reality of the climate crisis.
Despite activists' best efforts, the week still suffered from a sense of inevitable disjointedness. But the climate crisis, with all its intersecting forces and causes and consequences, has never been an easy or cohesive thing to fight.
Back in the 1970s, activists were fighting against visible consequences of environmental degradation—rivers in flame, birds falling from the sky—but now we fight against a more invisible but much more insidious monster: rising global temperatures and the inequity that created and continues to perpetuate them.
Still, today's climate activists are used to shifting strategies on a dime and fighting rampant misinformation as well as apathy and inequality.
"Our demands include a people's bailout, prioritizing and funding those who have been hit first and worst by COVID-19 and the current recession, including, but not limited to, Black, Latinx, Indigenous, and low-income communities," reads an op-ed by the Youth Climate Strike Coalition, published last month in Teen Vogue. Additional demands include a Green New Deal that transitions the economy to 100% clean energy by 2030 and the return of stolen Indigenous lands.
Careful not to praise clearing skies or temporarily lowered pollution, the modern climate movement is dedicated to addressing environmental racism and large-scale problems head-on. Gone are the days of recycling and individual guilt. Instead, the modern movement is about collective action in the face of global tragedy.
The climate movement is all about the intersections that tie all things together—the land, the people, the economy, and even the digital world. In a way, perhaps the modern climate movement is uniquely well-suited to online action. "As one of the social media coordinators for the Sunrise NYC hub, I've seen our channels swell in importance and reach as people isolated in their homes connect with us digitally," said Jon Kirsch, an organizer with Sunrise NYC. "It's been tremendously exciting seeing Earth Week NYC take shape the past few months." Perhaps the digital world, which thrives on connection, is an ideal vehicle for the modern climate movement.
Regardless, the movement will not be giving up anytime soon. Populist activists have always been up against shadowy, malicious powers, winning seemingly impossible battles and fighting for justice in the short and long term. Now, more than ever, most agree that change is imperative.
"New Yorkers have made their demands for Climate Justice heard, and the fight will continue on (digitally for now) after Earth Week," said Bluedorn. "Fighting for Climate Justice is more important in this moment than ever, as we fight to reimagine what a more just and equitable world can look like."
For more information and to get involved with the movement, visit https://www.earthweeknyc.com.
What can nature teach us about responding to two massive crises?
The mycelium is a type of fungi that thrives on decomposition.
Spores germinate and multiply, forming mushrooms that absorb nutrients and swallowing dead plants, devouring toxins and fostering the growth of new life. It's essentially the earth's life support system, the embodiment of regeneration.
What we need now is life support, and a mycelium of relief—a multifaceted plan that understands and utilizes our interconnectedness, which could save us or that could drive us to extinction. But one thing's for certain: Our divisions are killing us. We need to let the systems that no longer serve us decompose so that new realities can come to light.
Today, though, many of us are facing a peculiar polarity. We're isolated because of a pandemic that threatens all of humanity. Yet we have failed to rally together to fight it, and if anything, political divisions have deepened in recent weeks.
We've also failed to rally around another existential threat, a parallel—and far more severe—crisis that's been bubbling under the surface of our reality for decades. The climate crisis will wreak far more havoc than the virus has, costing many more lives and changing our world on a much vaster scale. It's already contributing to rising sea levels that are flooding cities. You can see it manifesting in the wildfires that smeared California and Australia these past few years, in the tsunami that eviscerated Japan in 2011, in the bad air quality that's decimating the lungs of people living in crowded cities, and in the waves of refugees fleeing conflicts sparked by droughts and other disasters. If a climate-related disaster were to hit an area affected by COVID-19 or another pandemic, the results would be apocalyptic beyond measure.
Neither COVID or climate have easy, immediate solutions, which is part of what makes them such vast, slippery issues. Both could, of course, be solved by scientific miracles—a vaccine or a superbly effective fossil-fuel devourer—but since we can't count on those inventions, then we have to rely instead on solutions that are much more difficult to define.
We have to rely on each other, and on policies that support our most vulnerable populations as well as our most powerful. Be it a virus or a wildfire, climate change and coronavirus do far more harm to frontline communities than they affect people who can work from home or who can live off their savings. While half of the population rests on their couches, another half scrounges to eat or pulls themselves off to another brutal shift at a grocery store or in a hospital. The coronavirus crisis has exposed the brutal divisions of American society, which allow some people to safely isolate while others face extreme poverty and instability.
These divisions are largely consequences of neoliberal capitalism, a driving force behind climate change. "Let's not lose sight of the root cause of this crisis: rampant capitalism. Capitalism has steamrolled this planet and its organisms, gouging out mountains, overexploiting fish stocks, and burning fossil fuels to power the maniacal pursuit of growth and enrich a fraction of humanity," writes Matt Simon. "Since 1988, 100 corporations have been responsible for 70 percent of greenhouse gas emissions."
No wonder the Earth is collapsing under our weight. But the solutions to coronavirus and climate change may just be intertwined, part of the same web of regeneration and redistribution that could lift us up and off of the edge of this cliff.
One such solution is outlined in the People's Bailout, a relief and recovery package designed by over 800 activist groups. The People's Bailout demands that Congress commit to five steps during their efforts to provide COVID-19 relief:
1. Health is the top priority, for all people, with no exceptions
2. Economic relief must be provided directly to the people
3. Rescue workers and communities, not corporate executives
4. Make a downpayment on a regenerative economy while preventing future crises
5. Protect our democratic process while protecting each other
In a world where the actual stimulus package that Congress passed provided $3 trillion of relief to major corporations (a check three times the size of Joe Biden's climate plan), all this seems far away.
But this is America, and this is humanity, and this is life, which should be an impossibility in itself. Despite our many mistakes, we have always built impossible things. We have created glorious temples and magnificent skyscrapers; we criss-crossed the world with roads; we sent men to the moon. We may not always act ethically or responsibly, but we have the power to build and we have the power to grow.
Now we are being forced to change. We have the choice to build a world that can sustain itself—for the good of not only the planet, but for the good of our own world, our own economies, our own selves.
We need plans that erode poverty and pollution and disease and convert them into new, creative solutions. Plans that start from below, from inside, from underground, from the communities that need them most, and that grow up and out towards the light. An alchemy of release and rebirth, starting from the soil and the sadness of isolation, upwards and outwards and eventually back outside, towards a future truly worth fighting for.
We need to have faith, even though it all seems impossible—because what's the alternative?
We can create a future of open fields and breathable air, of wind turbines and monthly checks that land like clockwork in our bank accounts, of fewer private jets and more bullet trains. That future seems further and further away with each devastating headline and each rising degree.
That the Earth exists at all—that we broke through the darkness, that some spore broke into the shape of life—is an impossibility in itself. Within each of us there is a longing to survive, to connect, and to heal.
In her book Parable of the Sower, Octavia Butler writes, "God is change." This pandemic has shown us that everything can change on a dime. Now the question is: What kind of change do we want? What are we choosing to worship during this time? And what role can each of us play in creating it?
Bernie Sanders is no longer running for president, but he had an indelible impact on American politics.
Bernie Sanders dropped out of the presidential race on Wednesday, April 8th. The news broke at around 11AM ET, and Sanders addressed his supporters in a live-streamed press conference starting at 11:45.
Standing inside his home, flanked by framed photos of bucolic houses, the Brooklyn-born Vermont senator thanked his supporters—specifically mentioning his campaign staff, all the people who called and texted for him, and all the artists and writers who did their best to promote his unprecedented campaign for president.
"The greatest obstacle to social change is the corporate and political establishment," he told the audience as comments flickered down the side of the screen—a Trump 2020 troll, then a Biden supporter, then a disappointed fan calling for him to re-enter.
Sanders, broadcasting from Burlington, Vermont seemed calm, yet focused. He referenced the Nelson Mandela quote, "It always seems impossible until it's done." He reminded his followers that while Medicare for All was a fringe idea in 2016, now multiple democratic candidates supported it in the presidential race, and now progressive ideals have pervaded mainstream American consciousness.
What Bernie Sanders created was a clearing, an opening for ideas that had fallen out of fashion, and for expanding… https://t.co/jJii3DfYo5

— Charles P. Pierce (@Charles P. Pierce)1586376367.0
"Few would deny...our movement has won the ideological struggle," he said. "A majority of the American people now understand that we must raise the minimum wage...that we must guarantee healthcare as a right...that we must transform our energy system away from fossil fuels...and that higher education must be available to all, regardless of income."

Bernie was always a policy candidate, fixated on the issues at hand, clearly tormented by the idea that people are still sleeping on the streets in the richest nation in the world. The rest of the image surrounding him—the toxic masculinity, the Internet trolls—may have been true in part, and perhaps that played a role in his campaign's demise, but the truth is that Bernie's campaign failed for the same reason it won the support of millions of young people and working class people across the country: It was always about supporting and uplifting the working class.
"A member of Congress for nearly 30 years, Mr. Sanders has been bitingly frank about the way that money strangles American democracy," wrote Elizabeth Bruenig in a rare pro-Bernie New York Times op-ed, published conveniently after Sanders dropped out. "Rich individuals with a vested interest in defanging egalitarian politics donate to campaigns, PACs, universities and think tanks in hopes of purchasing lawmakers' loyalties and rigging the legislative process in their favor. These oligarchs — the Koch brothers, the Mercers and Michael Bloomberg, among others — exert control over our politics that far exceeds the one vote accorded to each citizen."
In a nation that worships wealth above all else, and that's truly led by massive corporations, perhaps this was a doomed endeavor. Sanders certainly invoked ire across political parties; and sometimes, Bernie supporters did exhibit somewhat cult-like behavior—though from personal experience, this cult mostly consisted people who were deeply inspired and committed to healing American society.
For some, that Sanders dropped out in the midst of the coronavirus crisis only adds insult to injury. As Keeanga-Yamahtta Taylor wrote in the brilliant New Yorker article "Reality Has Endorsed Bernie Sanders"—published a week before he dropped out—coronavirus is starkly illuminating the validity of points that Bernie has been making all along. "The class-driven hierarchy of our society will encourage the spread of this virus unless dramatic and previously unthinkable solutions are immediately put on the table," Taylor writes. "As Sanders has counseled, we must think in unprecedented ways… The Sanders campaign...has shown public appetite, even desire, for vast spending and new programs. These desires did not translate into votes because they seemed like a risky endeavor when the consequence was four more years of Trump. But the mushrooming crisis of COVID-19 is changing the calculus. As federal officials announce new trillion-dollar aid packages daily, we can never go back to banal discussions of 'How will we pay for it?' How can we not?"
Though Bernie's acquiescence to Joe Biden is a devastating loss for many of his supporters, particularly those who were never able to even cast a vote for him, in many ways Sanders' decision to drop out was a logical and even ethical choice. As Sanders himself stated in the broadcast, there was no clear path to his election—a crushing Biden victory on Super Tuesday made that clear—and in addition, holding primary elections during the coronavirus crisis poses its own unique health dangers and inevitably would distort the results.
Now, for all intents and purposes, Biden is the Democratic nominee. Though he fell short of actually endorsing Biden, Bernie called the former vice president a "very decent man" and promised to do his best to promote his progressive ideals in the forthcoming campaign.
The road ahead will be long and difficult, regardless of who wins this November. But our Vermont savior, who symbolized such a potent and promising new world, at the very least laid down some seeds. We may not see them this season, but maybe in future years, the ideas Bernie Sanders planted will be able to grow.
"Now is a moment to remake our society anew," Taylor writes. To say Bernie made an indelible impact on American politics is an understatement. In a critical and volatile moment, he inspired a new wave of young progressives to organize, and made millions of voters question the status quo. He prioritized morality in his campaign in an era that seems entirely devoid of it—not morality in terms of tolerance that disguises inaction, but morality defined by what we truly owe to each other.
These ideas will not die out after Sanders exits the primary. If anything, they'll become more local, more grassroots, more rooted in people power. After all, mainstream political parties in America have never been at the forefront of radical people-focused action. That kind of change will always have to come from the actions of everyday folks, organizing and fighting tirelessly for people they don't know.