"A tree is best measured when it is down," the poet Carl Sandburg once observed, "and so it is with people." The recent death of Harry Belafonte at the age of 96 has prompted many assessments of what this pioneering singer-actor-activist accomplished in a long and fruitful life.
Belafonte's career as a ground-breaking entertainer brought him substantial wealth and fame; according to Playbill magazine, "By 1959, he was the highest paid Black entertainer in the industry, appearing in raucously successful engagements in Las Vegas, New York, and Los Angeles." He scored on Broadway, winning a 1954 Tony for Best Featured Actor in a Musical – John Murray Anderson's Almanac. Belafonte was the first Black person to win the prestigious award. A 1960 television special, "Tonight with Belafonte," brought him an Emmy for Outstanding Performance in a Variety or Musical Program or Series, making him the first Black person to win that award. He found equal success in the recording studio, bringing Calypso music to the masses via such hits as "Day-O (The Banana Boat Song)" and "Jamaica Farewell."
Harry Belafonte - Day-O (The Banana Boat Song) (Live)www.youtube.com
Belafonte's blockbuster stardom is all the more remarkable for happening in a world plagued by virulent systemic racism. Though he never stopped performing, by the early 1960s he'd shifted his energies to the nascent Civil Right movement. He was a friend and adviser to the Reverend Doctor Martin Luther King, Jr. and, as the New York Times stated, Belafonte "put up much of the seed money to help start the Student Nonviolent Coordinating Committee and was one of the principal fund-raisers for that organization and Dr. King's Southern Christian Leadership Conference."
The Southern Poverty Law Center notes that "he helped launch one of Mississippi's first voter registration drives and provided funding for the Freedom Riders. His activism extended beyond the U.S. as he fought against apartheid alongside Nelson Mandela and Miriam Makeba, campaigned for Mandela's release from prison, and advocated for famine relief in Africa." And in 1987, he received an appointment to UNICEF as a goodwill ambassador.
Over a career spanning more than seventy years, Belafonte brought joy to millions of people. He also did something that is, perhaps, even greater: he fostered the hope that a better world for all could be created. And, by his example, demonstrated how we might go about bringing that world into existence.
Horrific heat waves across the nation, leaving hundreds dead. Wildfires tearing apart the American west. Billions of shellfish dead in the Pacific in a mass die-off. All of this within the past week. Another destructive hurricane season incoming.
Welcome to the era of the climate crisis. For a long time, activists and journalists have been yelling about it; but decades of inaction, doubt, and misinformation have stalled progress, leaving us on track to blow past worse case scenarios predicted years ago.
A new bombshell report from the IPCC, recently leaked in France, warned that global warming was happening faster than expected, and several "tipping points" — significant climate changes that cannot be reversed — have already happened. "Life on Earth can recover from a drastic climate shift by evolving into new species and creating new ecosystems," it warned. "Humans cannot."
Of course, we can still mitigate the worst consequences of the climate crisis by decarbonizing and switching to renewable energy. Every single degree that we can reduce warming by is incredibly significant; every fraction of a degree means another nation not flooded, another war caused by drought or starvation avoided.
This is common knowledge, understood by the majority of our world's leaders. So what is stopping progress? Why have we moved so unfathomably slowly towards change?
At the heart of the issue is the fossil fuel industry, which is currently fighting tooth and nail to block climate legislation and maintain the oil and gas industries. This is not a new phenomenon. Since the 1980s, when the first reports of climate change's potentially dire consequences emerged, the oil and gas industries have been launching disinformation campaigns to convince the public that climate change is a myth, while spending billions to block climate legislation on federal and global levels.
Fossil fuel companies knew as far back as the 1960s that their products could potentially be dangerous. A 1968 paper produced for the American Petroleum Institute found that carbon dioxide levels were rising in the atmosphere, potentially causing rising sea levels and significant changes in the global ecosystem.
By the early 1980s, fossil fuel companies including Exxon, Mobil, Amoco, Phillips, Texaco, Shell, Sunoco, Sohio and Standard Oil of California and Gulf Oil were meeting together in a task force to discuss climate change, showing that they were always aware of the problem long ago. A vast account of evidence that the fossil fuel industry knew about climate change can be found here: The evidence is stark, and stunning, particularly because these same fossil fuel companies would later deny that climate change was even real.
Somehow, by the 1990s, the American Petroleum Institute was organizing million-dollar plans to challenge the science of climate change; Exxon and Chevron were revealed to be participants in the plan. Exxon-funded think tanks received millions in funding to create research that "disproved" climate change, much of which was later debunked.
Over the next 20 years, fossil fuel companies would launch ever-more advanced disinformation campaigns to convince the public that climate change wasn't real. "The fossil fuel industry's denial and delay tactics come straight out of Big Tobacco's playbook," reads a report on the industry's disinformation efforts.
Fossil-fuel funded right-wing think tanks like the Heartland Institute and the Heritage Foundation — many of which were funded by the likes of the Koch Brothers and Exxon — manufactured research that appeared to "debunk" climate change.
But mysteriously, "90% of skeptical or denialist climate change papers in the United States originate from right-wing think tanks." The Washington Post reports, "In the 1990s, oil companies, fossil fuel industry trade groups and their respective PR firms began positioning contrarian scientists such as Willie Soon, William Happer, and David Legates as experts whose opinions on climate change should be considered equal and opposite to that of climate scientists."
"Think tanks, foundations, trade associations and other third-party groups that represent fossil fuel companies for promoting 'contrarian' science that misleads the public and disrupts efforts to implement climate policies needed to address the rising threats," Politico wrote last week.
"Rhetoric on climate change and the undermining of science have contributed to misperceptions of the scientific consensus, uncertainty, unduly discounted risk and urgency, dissent, and, most importantly, polarized public support delaying mitigation and adaptation action, particularly in the U.S."
This disinformation spiraled into what we have today: A world that has barely lifted a finger to respond to climate change, leaving us with disaster after disaster. Why? What was all this misinformation for?
It was to preserve the profits of fossil fuel industries. It was mostly to continue to line the pockets of wealthy fossil fuel executives.
If there is a hell, Exxon's various CEOs — like Lee Raymond and Rex Tillerson — who denied their own companies' climate research while raking in profits — will one day burn in it for what they did. Their actions, along with the leaders of various disinformation campaigns and politicians, will condemn millions — if not billions — of people to death. They should be viewed alongside the greatest villains of our history as orchestrators of mass genocide.
Fewer than 100 companies are responsible for two-thirds of climate change. The leaders of these companies should be recognized as genocidal criminals, and they should burn in hell. "What is unfolding could be, in a sense, a series of individual 'slow genocides' that, taken together, amount to a collective extermination," writes James Robbins in The New Republic.
Yet their efforts continue, even as the world grows hotter. The great irony is that even if these people burn in hell, innocent people on Earth will also burn in the fire-torn, heat-soaked world they created.
It's not too late. It will never be too late. There will always be more that we can save. There is so much to do. Emily Atkin's Heated has an excellent primer on how to take action, which can look like lobbying the government or joining a campaign or teaching or educating; the important thing is that everyone does something. However, contrary to the popular narrative that defined environmentalism for the past few decades, simply conserving water and recycling is not enough.
Ironically, the fossil fuel companies were also largely responsible for spreading the myth that individual action could stop climate change. BP, for example, was responsible for creating the myth of the "carbon footprint."

Today, fossil fuel companies are trying to pull similar tricks by greenwashing themselves, launching PR campaigns that make it seem like they are "going green" when actually, they are contributing to the problems more than ever.
The fossil fuel industry has to die. It has to stop pouring poison into our atmosphere and condemning billions to agonizing suffering. It needs to be replaced by renewable energy — which could create millions of jobs and supercharge the economy — and fast.
There is hope. There's always hope. The European Union recently unveiled an ambitious plan to achieve a carbon neutral future within the next nine years, which includes a plan to tax jet fuel and effectively ban petrol and diesel-powered cars over the next 20 years. "We're going to ask a lot of our citizens," EU climate policy chief Frans Timmermans said. "We're also going to ask a lot of our industries, but we do it for good cause. We do it to give humanity a fighting chance."
But the plan is expected to suffer through years of negotiations before implementation — years that we don't have.
And the fossil fuel executives and politicians who continue to push back against these efforts — even as the world literally burns — should have a place next to the worst genocidal madmen in our history.
Warning: This article discusses sexual and physical violence, child abuse, and cultural genocide.

From around 1823 until they were officially shut down in 1996, residential schools operated in almost every province and territory in Canada.

These residential schools, which saw over 150,000 Indigenous children pass through their doors, were owned and operated by the Catholic Church and were part of a plan based on the "aggressive assimilation" and colonization of children and the eradication of Indigenous culture. Recent tragic discoveries at some of these former residential schools have sparked a resurgence of interest in what really went on within them, as well as a reckoning about their enduring legacy.
In early June 2021, 215 unmarked graves were discovered at the Kamloops Residential School, which was operated from 1890 to 1969.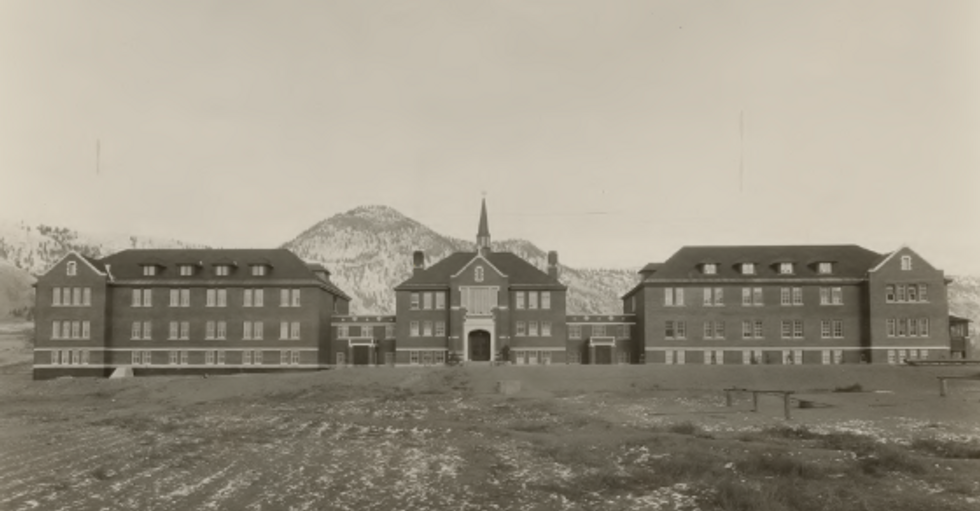 Kamloops Residential SchoolKamloops Residential School
The graves contained the bodies of children who died at the school. They were discovered by the Tk'emlúps te Secwépemc First Nation, who hired a specialist in ground-penetrating radar to examine the school grounds.
"To our knowledge, these missing children are undocumented deaths," said Tk'emlúps te Secwépemc Kukpi7 (Chief) Rosanne Casimir in a statement. "Some were as young as three years old. We sought out a way to confirm that knowing out of deepest respect and love for those lost children and their families, understanding that Tk'emlúps te Secwépemc is the final resting place of these children."
Then, on Thursday, 751 unmarked graves were discovered at the Marieval Indian Residential School in Saskatchewan.
Canada's Truth and Reconciliation Committee, established in 2008 to look deeper into the traumatic legacy of residential schools, concluded that 4,100 children may have died at the schools. However, Murry Sinclair, a judge who helped head the commission, now says that he believes the number may be over 10,000.
What happened to children at residential schools?
Residential schools were owned and operated by the Catholic Church in an effort to wipe out Indigenous culture. They forcibly removed children from their homes and banned Indigenous practices and languages on their grounds. In 2015, the Truth and Reconciliation Committee called the school system a form of "cultural genocide."
The causes of death of the children vary; but malnutrition, disease, fires, and physical and sexual abuse are among the primary causes.
Reports by a doctor found that children at Kamloops were extremely malnourished, and schools suffered deaths when disease like tuberculosis swept through them thanks to their cramped conditions and poor health regulations. Accidents such as fires also caused high numbers of deaths, and most of the schools had few safety measures in place.
Former students testified that sexual abuse was rampant, particularly among the priests and students. Some even testified that they had witnessed the infants of children impregnated by priests being thrown into furnaces. Many children also drowned or froze to death after trying to run away.
Parents of children who died at the schools were rarely even directly notified about their child's death, or allowed to bring their bodies home for burial.
Former students have been testifying and telling stories about the abuse suffered at the schools for decades. "A lot of survivors, my relatives, they've been saying this for years and years — that there was a lot of death, there's a lot of unmarked graves," said Perry Bellegarde, national chief of the Assembly of First Nations. "But nobody ever believed the survivors."
Barry Kennedy, a survivor of the Mareival residential school, said he witnessed many burials during his time at the school. He also said children were frequently slapped, kicked, and punched, and were forced to eat rancid food and even their own vomit.
"This has to be a worldwide cry of what systemic racism created," he said. "We have to try and fix it in a respectful way so that we can move forward, not only as Indigenous nations of Canada, but as a country. We have to make this right."
What should happen in the wake of these discoveries?
In response to these new findings, many have requested formal apologies from the Catholic Church, which operated the schools. Pope Francis did not provide a formal apology, but did state that "the sad discovery further raises awareness of the pains and sufferings of the past."
The statement was far too little, according to Indigenous advocates. "The Church needs to accept full responsibility, release all its Indian Residential School records, and trade in shallow placatory remarks for meaningful apologies through action," Grand Chief Stewart Phillip, president of the Union of BC Indian Chiefs, said in a statement.
Canadian Prime Minister Justin Trudeau has also requested that Pope Francis issue a formal apology. "I have spoken personally directly with His Holiness Pope Francis to press upon him how important it is not just that he makes an apology but that he makes an apology to Indigenous Canadians on Canadian soil," Trudeau said.
Across the board, advocates are calling for more sustained accountability from both the Church and the government. "There was no time to mourn, there was no time to sit with the grief, it was just an immediate spring to action and seize the moment, and try to harness the attention and the political will to push through the things that really matter, and that will really affect change in our community," Eva Jewell, associate fellow at the Yellowhead Institute, who co-authored a 2018 report on the residential schools, said of the response to the Truth and Reconciliation Committee's initial findings. "I would like to see more sustained commitment and action, and I hope Canadians will commit to that."
In response to the revelations, the Catholic Missionary Oblates of Mary Immaculate, which operated 48 schools, said it would reveal all documents in its possession and issued an apology. But many records have been changed, destroyed or lost over the years, leading many to call for an independent inquiry.
Murray Sinclair is calling for an official independent investigation into what happened at residential schools. "We need to know who died, we need to know how they died, we need to know who was responsible for their deaths or for their care at the time that they died," said Sinclair, who is a member of the Peguis First Nation. "We need to know why the families weren't informed. And we need to know where the children are buried."
Others have emphasized the importance of finding and identifying the lost children. Christine Diindiisi McCleave, chief executive of the National Native American Boarding School Healing Coalition, stated that finding the graves would be "very healing for a lot of our people."
She continued, "The thing that is the open wound for our communities right now is the fact that our children were taken, and they're lost, and we don't know where they went and we don't know what happened to them. We don't know their final resting place."
Still others have called for more education and awareness about the schools and their horrific legacy, which is not currently discussed in most history books or curriculums, with many emphasizing the nuance and care that must be taken when teaching children about these events — particularly children whose families may have been affected by them.
In the United States, which also operated hundreds of government-subsidized residential schools dedicated to wiping out Indigenous culture, Secretary of the Interior Deb Haaland — whose grandmother was loaded on a train as a child and shipped to one of the schools — has launched an investigation into the schools' records, with a deadline of April 2022. "We must uncover the truth about the loss of human life and the lasting consequences of these schools," Haaland said.
Some feel that this investigation's findings will inevitably provoke similar revelations in the United States.
"There is a reckoning happening," said Chase Iron Eyes, an influential Indigenous activist and lead counsel for the Lakota People's Law Project. "They don't teach this in schools — not in Canadian schools, not in American schools — that there are mass graves of children at church-run, government-sponsored residential schools and boarding schools. And now we're no longer able to hide from those truths."
Residential schools have enduring consequences that continue to affect Indigenous communities today. "The history of residential schools has been identified as having long lasting and intergenerational effects on the physical and mental well-being of Indigenous populations in Canada," reads a study published in Public Health Reviews.
"The findings from this scoping review highlight the importance of considering government policies and historical context as critical to understanding the contemporary health and well-being of Indigenous peoples," it concludes. "This includes other colonial policies, forms of cultural oppression, loss of autonomy, and disruption of traditional life, as well as residential schooling. Better knowledge of how the effects of these historically traumatic events continue to affect communities and individuals may help inform both population health interventions and the care and treatment of individuals."
Another study by researchers at the University of Ottawa found "empirical support for the concept of historical trauma, which takes the perspective that the consequences of numerous and sustained attacks against a group may accumulate over generations and interact with proximal stressors to undermine collective well-being."
The Enduring Violence of Generational Trauma
The idea that trauma can be passed on through generations was first identified in children whose parents had suffered in the Holocaust. Further studies have found that intergenerational trauma can lead directly to physical ailments, as well as mental health problems.
In practice, residual trauma from the residential schools has manifested in high levels of alcoholism, mental illness, and other issues that still plague First Nations peoples today.
The schools left "intractable legacies of residential schools including poverty, addictions, and domestic and sexual violence," reads a report by the Truth and Reconciliation Committee which found that the residential schools directly created many of the issues that continue to endure and tear apart First Nations communities today.
"One of the most devastating impacts of the residential school system was that it gave most students a poor education. For many, that led to chronic unemployment or underemployment, poverty, poor housing, substance abuse, family violence, and ill health."
The problems persist. "Governmental failure to meet the educational needs of Aboriginal children continues to the present day," the report continues. "Government funding is both inadequate and inequitably distributed. Educational achievement rates continue to be poor," the Committee found, citing a lack of government funding for schools on reservations as bearing "a shameful resemblance to the residential schools."
For those who suffered through the school systems and who continue to face their enduring consequences, the effects are felt viscerally.
"That anger and that resentment that I beared towards my parents, it really, really was very destructive and it led me down a road of heavy, heavy, heavy drinking and I ended up on the streets in Vancouver," said North Peigan, who was one of thousands of children taken from their parents in a sweep known as the Sixties Scoop.
For Peigan, healing only came when he began talking to his mother about her own experience at a residential school. "Once she was able to share with me her experiences and her trauma that she came home with, you know, coming out of residential school, I was able to actually work through that anger and that resentment that I had towards her," he said.
Now, he works with a group called the Legacy of Hope Foundation, which raises awareness and understanding about the residential schools. "To realize true Reconciliation requires consistent efforts by all individuals, communities, service providers, leaders and all levels of government," the organization's website reads.
Healing and reconciliation are slow and nonlinear processes, however, and the discovery of these unmarked graves — coupled with the government's Catholic Church's ongoing failure to adequately respond — has also provoked a more visceral kind of backlash. Since the most recent discovery at Marieval, four Catholic Churches on Indigenous land in Canada have burned.
Given the tragic murder of thousands of children and the ongoing legacy of horror and destruction facilitated by those churches, the response is not hard to understand. Many are calling for the Catholic church to be charged for crimes against humanity.
"What happened to Indigenous children is genocide, and the legacy of that continues through denial and inaction," said Beverly Jacobs, a University of Windsor law professor from Six Nations of the Grand River Territory. "All entities involved in residential schools...must be charged with genocide and tried at the International Criminal Court."
But reconciliation is never simple, and apologies and criminal charges only scratch the surface of what's really needed, particularly since the issues created by the residential school systems and other traumas continue to manifest today. "Dozens of First Nations do not have access to drinking water, the government is fighting a human rights tribunal order to compensate Indigenous children who suffered in foster care and a federal minister has admitted racism against Indigenous peoples is rampant within the healthcare system," writes Leyland Cecco in The Guardian. "Indigenous people are overrepresented in federal prisons and Indigenous women are killed at a rate far higher than other groups."
These realities are the result of sustained racial inequality, according to Sinclair.
"It took constant effort to maintain that relationship of Indigenous inferiority and white superiority," he said. "To reverse that, it's going to take generations of concerted effort to do the opposite."
Anyone affected by residential schools can call the free 24-hour Indian Residential School Crisis Line at 1-866-925-4419.
"Times Square," said Andrew Yang in a recent interview with Ziwe. "What's not to like?"
As a New Yorker who once walked through the hellscape that is the Times Square subway station twice a day, I find that question not only abhorrent but stunningly tone deaf. Sure, Times Square has its own kitschy appeal and the subway station is still part of the city I love so much, but also… it's Times Square. Real New Yorkers know that Times Square is a distorted tourist trap, and the subway station bears none of the charm and beauty that so many of the city's other subway stations do.
Take, for example, the Coney Island Stillwell Avenue station, my favorite subway station. Rising out of the ground to the sight of the ocean is an experience I'll never be over. There's Brooklyn's Prospect Avenue station, with its tangles of vines and its mournful yellow lamplight. There's 28th Street Station, with its cherry blossom mosaics… I could go on.
I could possibly forgive Yang's comment if I felt it came from a place of love — perhaps the man has a special adoration for chaos, souvenirs, the smell of things burning, and stations that allow transfers to almost every other part of the city.
But Andrew Yang has been making out-of-touch comments since the beginning of his mayoral candidacy. He confessed that he'd spent most of the pandemic out of the city, saying, "We've spent more time upstate than in the city over the last number of months." He misidentified a food market as a bodega. He complained about life in his two-bedroom Hell's Kitchen apartment, stating, "Can you imagine trying to have two kids in virtual school in a two-bedroom apartment, and then trying to do work yourself?" Why yes, Andrew Yang. (Why yes, many thousands of the New Yorkers you hope to represent have been doing exactly that for over a year now.)
Yang was also criticized for name-dropping LGBTQ+ spots like a tourist looking to explore the gay side of Greenwich Village for the first time. "Well, first, let me say that if I go to Cubbyhole, I think I'm going to be accompanied by at least one of my two campaign managers who are both gay," he said. "So there's like a lot of, you know, familiarity with, with the community, at the head of my campaign leading it." Later on in the same speech, he told a mostly LGBTQ+ audience that their community is "so human and beautiful."
His tweets are a mess as well. He later apologized for a tweet reading, "You know what I hear over and over again - that NYC is not enforcing rules against unlicensed street vendors. I'm for increasing licenses but we should do more for the retailers who are paying rent and trying to survive." But the damage was done. New York City's vibrance comes in large part from its street vendors, many of whom make their living selling food on the sidewalks. Many saw Yang's comments as further evidence that he had no connection to everyday New Yorkers.
He also recently apologized for a blatantly pro-Israel and anti-Arab tweet, which garnered praise from none other than Donald Trump Jr. The tweet read, "The people of NYC will always stand with our brothers and sisters in Israel who face down terrorism and persevere." Yang also said, in a Forward op-ed, that the Boycott, Divest, Sanctions movement was the result of "anti-semitic thought and history."
In another interview, Yang confessed that he has never voted in a single mayoral election in NYC. In a recent press conference, he stated, "One thing that I think would be extraordinarily helpful is to have specific shelters for victims of domestic violence, who are often fleeing from an abusive partner," Yang said during the forum. "It's a distinct population with distinct needs, and they should have separate [facilities]." Others were quick to point out that New York City does, in fact, have these types of shelters, and Yang tried to walk back his claim, but the damage was done.
In yet another fumbled press conference, Yang was asked, "Do you agree with the repeal of 50-a?" He replied, "The repeal of 50-a," prompting the interviewer to ask, "Do you know what 50-a is?" Yang fumbled the reply further by saying, "This is not the — it's not the mandatory interview of the—" prompting another candidate to clarify that 50-a is actually a bill that hides police officers' disciplinary actions from the public. The bill received widespread attention during the George Floyd protests this year.
Later on, Yang was asked about the MTA's debt, and he responded, "The MTA doesn't break its numbers out that cleanly, but you're looking at revenues around eight or nine million dollars and an operating deficit of around three-and-a-half." The MTA's debt is actually in the billions of dollars, which Yang likely meant to say, but he further flubbed the response by mentioning MTA bridges that go out of the city, which there are none of (the Port Authority controls outer-city transit).
Each one of these foibles reveals a candidate who is blatantly out of touch with the extremely complicated everyday realities of New York City. All these little mishaps are arguably easy to forgive on their own — but look at them together and it becomes easier to piece together who Andrew Yang is (and who he is not).
Look deeper at his policies and the practices he hopes to implement as the mayor of the Big Apple — a position he may very well win — and a more ominous picture starts to take shape.
Policy Flaws and a Poor Track Record
For example, Yang — who grew famous during the 2020 election cycle thanks to his promises of Universal Basic Income — has since walked back his promises and has failed to garner critical union and progressive support. He pledged, for example, to offer $1,000 to $2,000 per year to "each family of a student whose family income puts them at the poverty threshold," as well as English language learners and special education students. $1,000 or $2,000, essentially a one-time stimulus check, would, of course, not lift any student or their family out of poverty, especially in a place like New York City, nor would it be anything close to a universal basic income.
Even Yang's original Universal Basic Income proposal, the "Freedom Dividend," would have required families to choose between receiving some public benefits such as Medicare and $1,000 per month.
If you weren't already aware at this point, Yang, though allegedly a Democrat, with wide residual progressive appeal from 2020, has conservative-leaning policies. That's part of what makes him so insidious and competitive as a candidate: He can appeal to progressives who don't do their research, to Democrats looking for an acceptably centrist candidate, to independents looking for a non-establishment politician, and to Republicans who know Yang is probably the closest thing to a conservative mayor they'll find right now.
Rightly so, Yang is facing vehement opposition from many groups, particularly among the powerful coalition of progressive organizations in NYC. "Andrew Yang's pro-cop, anti-public education, anti-union, big business-centric platform is not what New Yorkers need," Senti Sojwal, cofounder of the Asian American Feminist Collective, told Teen Vogue. Sojwal, along with 790 grassroots AAPI organizers and leaders, recently signed a letter opposing Yang's mayoral bid.
Yang is apparently "in talks with Tusk Strategies, the consulting firm that worked on Mike Bloomberg's 2009 mayoral campaign." The CEO of Tusk Strategies is Bradley Tusk, a former consultant for the city's largest police union.
Yang also advocated for putting more police in subway stations and has been a vocal critic of the defund the police movements.
In general, Yang seems to glorify a capitalist free market that many fear would be damaging to NYC's already fragile housing situation. Back in 2019, Yang proclaimed his distaste for zoning laws and seemed to advocate for a kind of wild free-for-all situation based on the premise that the market would work its magic. However, New York City is in the midst of a housing crisis that free market development will certainly not help solve.
A look at Yang's record reveals that he has long been oscillating between progressivism and conservatism.
After working as a test-prep executive, he started a nonprofit called Venture for America, which promised to create 100,000 jobs. It only created around 4,000.
Running New York City is far, far more complicated than running a single nonprofit, and Yang's record is not promising. His policies are chaotic at best; he has promised to bring cryptocurrency to New York despite the potentially devastating environmental impact. He confessed to having never visited one of New York City's public housing developments prior to the mayoral race, and after living in Hell's Kitchen for 25 years, he seemed surprised after visiting Brownsville, Brooklyn, saying, "You saw things that were very, very dark and bleak." Talk about out of touch.
In general, critics say Yang lacks the expertise to address NYC's most pressing problems, including its failing subway systems, its housing crisis, and impending environmental crises such as future hurricanes.
So Why is He a Frontrunner?
In spite of all this, Yang is polling strongly. There are several reasons for this. Yang has the name-factor recognition, and he has leveraged his celebrity status to the max, promising to be a "cheerleader" for a post-COVID New York. Like Trump, his controversial tweets and gaffes tend to bring more attention to him. As The New York Times writes, "Andrew Yang Believes in New York and Himself. Is That Enough?" It may well be, though it seems strange that in a city that prides itself on its no-nonsense, no bullshit ethic, wild optimism could be a winning campaign.
Yang has amassed a coalition that includes Orthodox Jews (Yang promised to take a hands-off approach to yeshivas), some Asian American voters, and some young people still riding the high of the Yang Gang.
In addition, none of his competitors have managed to overtake him in popularity or notoriety. His opponent Scott Stringer, the current comptroller, was recently accused of sexual assault, causing key groups to withdraw their support. Candidate Dianne Morales is a strong progressive champion running on a promise to bring social housing to NYC, but she lacks the name recognition of Yang, and the same goes for fellow candidate Maya Wiley. The fact that Yang seems to be running on a platform based on unearned confidence that is eclipsing the campaigns of two qualified Black women is reason for pause in and of itself.
As of now, Yang's primary opponent seems to be Eric Adams, the Brooklyn borough president who is a former cop who promised to carry a gun if elected. Another major opponent is Kathryn Garcia, the former New York City sanitation commissioner, who came out on top in a recent poll.
So, in spite of all this, it seems that New Yorkers may be stuck with Andrew Yang. Of course, he's probably not the worst man for the job. Yang has big, optimistic visions: invest in the city's failing infrastructure and affordable housing, reinvigorate the city's arts and culture sector, develop education, a People's Bank for the city, address the homelessness crisis and more. After Bloomberg, almost any new energy will feel welcome.
Whether Yang can achieve any of his visions is to be seen. But with New York City on the brink of rebirth, change is coming fast — and it's up to voters to decide what kind of change they ultimately want to see.
On March 22nd, Senator Bernie Sanders and Elon Musk entered a debate over the fate of the world.

It began when Sanders published a very in-character tweet. "We are in a moment in American history where two guys — Elon Musk and Jeff Bezos — own more wealth than the bottom 40% of people in this country," he wrote. "That level of greed and inequality is not only immoral. It is unsustainable."
Elon Musk, the Tesla and SpaceX CEO who briefly surpassed Jeff Bezos in early 2021 to become the wealthiest man in the world, had a ready-made response. In a Tweet, he wrote, "I am accumulating resources to help make life multiplanetary & extend the light of consciousness to the stars."
@cleantechnica I am accumulating resources to help make life multiplanetary & extend the light of consciousness to the stars

— Elon Musk (@Elon Musk) 1616304691.0
Sanders's reply remained laser-focused on his lifelong mission to fight income inequality on Earth. He wrote, "Space travel is an exciting idea, but right now we need to focus on Earth and create a progressive tax system so that children don't go hungry, people are not homeless and all Americans have healthcare. The level of inequality in America is obscene and a threat to our democracy."
Musk's starry-eyed statement has since faded into the ether of Twitter, but the context of this debate raises larger questions about futuristic technologies, the present-day interests and needs of humans on Earth, and the ongoing battle between them.
Billionaires dream of flying machines
As the Earth speeds towards irreversible climate disaster, many people's minds have naturally turned towards the stars. The distant, spinning nebulae and gleaming planets above us have long been idealized as potential escape routes for the unhappily earthbound.
But as the climate crisis grows more dire on Earth and space travel ramps up, thanks to ambitious patrons, some (like Elon Musk) have proposed that space may be our best shot at collective survival.
Famously, Musk founded SpaceX because he believed that NASA was not working hard enough to bring humans to Mars, and he feared that humanity is approaching its last chance to escape Earth before our planet becomes an uninhabitable hellscape.
His fellow Bernie Sanders nemesis Jeff Bezos has expressed similarly apocalyptic concerns. Bezos, who founded a rocket and aerospace travel company called Blue Origin in 2000, recently stepped down from his position as CEO of Amazon, claiming he planned on investing more time in his work with Blue Origin and his efforts to fight climate change.
Like Musk, Bezos aims to colonize space by investing ambitiously in new technologies that could help people reach the stars. And also like Musk, he fears for the future of civilization — and sees space as the place where these problems might be solved.
"Hundreds of years into the future, we will move all the polluting industries to space and other planets, where we have infinite resources for all practical purposes and Earth will only be (used for) light industries and residential," Bezos stated in a conversation with Amazon India chief Amit Agarwal in New Delhi.
This plan, which Bezos calls the New Inversion, is a long-term vision that would effectively move all pollution to the cosmos. "I would think, kind of [a] time frame of hundreds of years," Bezos added, reiterating that "we have to preserve this planet and we can do that using the resources of space."
The "space escape" as an escape route for the super-rich
Bezos, Musk, and their future-focused peers may claim that their plans to reach the stars are efforts to ensure a future for humanity, but their own reputations and vast fortunes have raised many questions about who this interplanetary future would actually serve.
At the moment, the future of space travel appears to be reserved for the super-rich — the sort of people who are already least affected by earthly calamities like climate change, despite unleashing the vast majority of the world's carbon emissions. For example, private spaceflight companies such as Axiom reportedly charge up to $55 million to send travelers into specially designed rooms located in the International Space Station.
It is likely that even if space travel begins to evolve in step with Moore's law (the theory that computers' processing power tends to double every two years), whatever world we build in the cosmos will remain reserved for the 1% for quite a long time. In this light, the futures preached by techno-prophets like Bezos and Musk start to look like thin cloaks for a kind of moon-eyed eugenics that would leave billions of people in the literal dust.
"The space barons are shrewdly — one might say cynically — tapping into our respect for astronauts and our idealism about what space represents," Ceridwen Dovey writes in The New Yorker. "They seem to be counting on us to be awestruck by whatever it is they do in space, and to overlook the fact that their motives are not exactly pure, nor are their methods of getting us there egalitarian."
Humans are drawn to mystery and beauty, and space is such a tantalizing frontier that it's difficult to completely write off billionaires' ambitious plans to penetrate it, even though we know their earthly work typically involves hoarding vast amounts of wealth while underpaying and mistreating masses of workers.
The ongoing battle between technological innovation and human-centered reform
Similar contradictions plague a multitude of existing plans to address climate change on Earth, and they are particularly endemic to plans broadcasted by corporate entities who have nothing to gain and everything to lose from substantial climate action.
For example, Jeff Bezos recently pledged $10 billion of his $188 billion net worth to the Bezos Earth Fund, yet his overall approach to climate and philanthropy has continuously come under fire.
First, there's the fact that despite all his talk of concern about climate change, Bezos's company continues to belch out carbon emissions, releasing around 51.17 million metric tons of carbon dioxide in 2019 – up 15% from the previous year despite various green pledges. The company has also been slammed with reports about its poor treatment of workers, and prior to the Capitol riots, Bezos also reportedly donated thousands of dollars to conservative politicians such as progressive disruptor-in-chief Mitch McConnell.
Then there's the fact that Bezos failed to donate more than roughly 0.1% of his net worth prior to his 2020 donations — and the latter comprised less than 8% of his vast net worth, a sum that, along with Musk's wealth, is equivalent to the collective wealth of the United States's poorest 40% of people.
The $10 billion Bezos did donate via the Earth Fund was also met with criticism, particularly from groups invested in climate justice. The vast majority of Bezos's donations went to established environmental organizations like the Environmental Defense Fund and World Wildlife Fund, most of which already possess endowments in the millions. Critics said that many of these contributions will never reach communities already subject to the worst effects of climate-caused floods, wildfires, pollution, and destruction, and many of their ultimate goals involve conserving an existing status quo rather than addressing interconnected crises like racism and economic inequality.
In a statement released in December, a group of community-focused NGOs called the Climate Justice Alliance released a statement in protest of Bezos's donations. It found that "less than a quarter of the first-round grants will go to intermediary funds that support thousands of grassroots communities cultivating solutions on the frontlines of the climate emergency. The inequities couldn't be more striking."
This could also be said of the work of many of the "Big Green" environmental groups, particularly those historically focused on conservation rather than human-focused social change. Conservation movements have historically been bound up with white supremacy, and a look at the bigger picture reveals that white supremacy created and perpetuates the conditions for climate change, itself is an inherently racist crisis.
Other billionaires and corporations' efforts have been subject to similar critiques. For example, Elon Musk recently launched a competition offering $50 million to whomever could invent the best carbon capture techniques. Carbon capture technology has long been an alluring yet elusive potential solution to climate change, and it has also been the recipient of generous funding.
Despite all this investment, no miracle technology with the ability to stop climate change has ever emerged, and waiting for one feels more and more like waiting for a doomsday savior who will never arrive.

False promises further threaten any chance of climate action
An April 2020 study from Lancaster University argues against promises that glorify miraculous technologies, because "overreliance on promises of new technology to solve climate change is enabling delay."
Hinging the solution of climate change on miraculous technological breakthroughs like ice-restoration, nuclear fusion power, massive carbon-eating machines, and extraterrestrial offshoring can "feed systemic 'moral corruption', in which current elites are enabled to pursue self-serving pathways, while passing off risk onto vulnerable people in the future and in the global South," say researchers Duncan McLaren and Nils Markusson, who encourage "cultural, social and political transformation" over placing hopes in instant solutions.
It seems that any genuine "cultural, social and political transformation" will not come directly from billionaires and massive corporations, who naturally often benefit most from current cultural, social, and political structures and hierarchies. Recent corporate efforts to combat climate change have been hollow and hypocritical; and many corporations are being accused of greenwashing as they release statements and pledges that appear to be commitments to fighting climate change but that are really efforts to deflect opposition.
A January 2021 report from the Sierra Club entitled "The Dirty Truth About Utility Climate Pledges" graded utility companies on their plans to cut emissions and transition to clean energy solutions and issued many failing grades to companies that have released "carbon neutral" pledges and similar statements. "
The infuriating truth is that many utilities are not only protecting their coal plants from retirement, but are also actively planning to build out climate destabilizing gas plants," said Mary Anne Hitt, who is the Director of Campaigns at the Sierra Club. "The consequences of allowing utilities to continue to delay the transition to clean energy will be particularly disastrous for low-income communities and communities of color."
Learning from the people and the planet
So where will change come from, if not rockets to stars or carbon pledges or the latest addictive inventions of Silicon Valley coders? Perhaps the answer is not above us but rather below our feet. Perhaps we have everything we need already here on Earth.
"We already have a safe and natural technology for carbon capture and storage (CCS)," writes Francis Seymour in a report for the Center for Global Development. It's called 'tropical forests.'"
We already have everything we need to transition to clean energy, and we already have enough food to feed the world's population. What is needed is a redistribution of wealth and resources — something billionaires, conservative politicians, and oil companies have fought against since climate change was exposed as a dangerous reality in the '80s.
Slowly but surely, the idea of wealth redistribution as an investment in fighting climate change is seeping into reality in the form of modern politics. Joe Biden's infrastructure plan will be paid for, in part, by taxing the super-rich. Still, there's a long way to go.
As things grow more dire, environmentalists increasingly view a cross-racial, cross-class movement as the only feasible solution to climate change. This framework, long supported by environmental justice movements and knitted into intersectional plans like the Green New Deal, sees the solutions to climate change as bound up with ending capitalism, racial injustice, and other interconnected global plagues.
The new vanguard of the climate movement also acknowledges how important Indigenous knowledge of land stewardship and conservation, frontline communities' understanding of environmental racism and the stakes of the climate crisis, and ongoing working class and BIPOC struggles for justice are to any just transition away from a fossil fuel-based economy.
Clearly, billionaires' expensive efforts to colonize space would be low on the priority list of any intersectional response to climate change.
Is there any place for space in the climate fight?
All this being said, it's unlikely that humans will ever totally abandon our desire to explore distant galaxies. Our desire to know the cosmos is as innate as our childhood desires to explore the deep green mysteries of the nearby woods. Fortunately, we don't have to write space exploration out completely in the fight for Earth.
Actually, Jeff Bezos wasn't wrong when he said space could be key to helping us fight climate change. NASA, the UN, and other organizations have consistently reported that some solutions to the climate crisis might be found through space-based technology capable of deepening our understanding of the climate crisis and providing key evidence of its effects.
For example, satellites can detect changing temperature levels, rising sea levels, and other factors that could be vital in the current global effort to halt warming at 1.5°C. On a more theoretical level, thinking about how alien civilizations may have responded to climate change could help us address our own situation.
It seems that for now, space travel's greatest contribution is its ability to help humans look back at Earth — either to measure its changes or to feel awed by what Carl Sagan called our "pale blue dot," as many astronauts have been when they viewed Earth from space and experienced the famous "Overview Effect." (Upon seeing the Earth from space, astronauts report a newfound sense of compassion for and responsibility to the planet and for the interconnected webs of life that live upon it).
Plus, the sheer ambition of the space race provides an excellent blueprint for the kind of effort it will take to actually address the climate crisis. All in all, there is room for space travel within a just transition to an ethical future.
But for now, it seems that the "light of consciousness," as Elon Musk put it, would be best directed towards Earth's living, breathing beings rather than towards a few billionaires and their efforts to further puncture the edges of our already damaged, airless, eternally silent atmosphere.
Lately, a lot of conversation has been bubbling up about the Senate filibuster.
It's been called a "Jim Crow relic" by former president Obama, and Mitch McConnell threatened to launch a "nuclear winter" if the Senate attempts to end it. Increasingly, Democrats want to end it completely. So what is it, and why does it matter so much?
What Is the Filibuster?
The filibuster is a political strategy used by the Senate to delay, and often kill, votes on bills. Traditionally, a filibuster would mean that the resisting senator would stand on the floor and speak, sometimes for days, against a certain legislative effort.
When a senator utilizes the filibuster, they can delay a vote as long as they wish to — unless three fifths of senators, currently 60 out of 100, vote to move forward.
Nowadays, senators aren't even required to speak in order to deploy this tactic—they can essentially sign a note and curtail almost any legislation using the filibuster. (There's also currently an exception to this rule called budget reconciliation that fast-tracks bills related to the federal budget and only related to the federal budget).
The Constitution does not include a filibuster. Instead, our founding document states that bills should only require simple majorities to pass, not supermajorities. Exceptions to this are impeachment charges, the expulsion of members of Congress, overriding presidential vetoes, and creating constitutional amendments.
The Founding Fathers were very clear: They did not want a minority party to be able to dictate what should be majority rule —and in fact were fearful of this outcome.
In its first iteration, the U.S. Senate reconciled debates by voting on whether to end debates, thus moving a bill to an actual vote.
This changed when in 1806, Vice President Aaron Burr argued that this process of voting on whether to vote (called the previous-question motion) was redundant, as it was rarely ever used, and so it was ended. Inadvertently, Burr created a loophole that made it theoretically possible for senators to infinitely delay votes — and hence, we have the glacially slow, perpetually blocked governmental body that we know today.
First of all, we have to understand what the filibuster is. It's ANY MEASURE that stops a vote. That's it. That's… https://t.co/x2BwFCig0u

— Michael Harriot (@Michael Harriot) 1616550099.0
What Has the Filibuster Been Used for, and How Has It Evolved?
One thing that stands out about the filibuster: It has consistently been used to curtail the rights of Black Americans.
Once rarely used in policy decisions, the filibuster only came into frequent use during the Civil War era, when Southern states would often deploy it in defense of slavery and while blocking anti-slavery legislation.
John C. Calhoun, sometimes referred to as the "grandfather of the confederacy," was an important figure in developing the modern, common filibuster. "He did it for the express purpose of increasing the power of the slaveholding class," says Adam Jentleson, whose book Kill Switch details the rise of the modern Senate. "What he saw at this time — this was around the 1830s and 1840s — was that slaveholders and slave states were becoming steadily outpowered in Congress. And so, he knew that if majority rule was allowed to continue, slavery was going to end."
The filibuster was a solution to this issue and one of the reasons why the government remained incapable of simply ending slavery through democracy.
The filibuster was used throughout the 1800s and 1900s, with politicians challenging its legitimacy to various degrees without success. Woodrow Wilson edited it during WWI, after the Senate used it to stop him from arming ships against German U-Boats. With the help of public outcry, Wilson established Rule 22, which allows a two-thirds majority vote to invoke "cloture" — a rule that, essentially, limits filibustering to 30 hours.
From then on, the filibuster basically remained the same, though in 1975 the number of votes needed for a supermajority was changed to 60. Because earning a 60-vote majority is still quite difficult, the filibuster has remained an effective way for minority rule to block legislation.
Even after the Civil War, the filibuster was used to codify racial violence; for example, in 1922, the filibuster was used to defeat the Dyer Anti-Lynching Bill. Famously, the filibuster was also used to block civil rights legislation up until 1964. In protest of the Civil Rights Act, lawmakers filibustered for 57 days, until public pressure rose high enough for a supermajority to invoke cloture. Eventually, the supermajority necessary for cloture was changed to 60; but yet again, the filibuster remained firmly in place.
Since then, the filibuster has been used for various purposes on all sides of the political spectrum. It was the reason why George W. Bush couldn't overhaul immigration legislation and why Barack Obama couldn't pass climate legislation (or all that much of anything). It is the reason why bills still go to the Senate to die.
What Would Happen if the Filibuster Ended?
Without the filibuster, the Senate would be much more volatile than it is today. It's possible that massive amounts of legislation could pass — and then be reversed, should the Senate majority's political leanings change.
But Democrats have good reason to end the filibuster now (which is probably why Mitch McConnell is so scared). At the moment, Democrats want to enact a piece of voting rights legislation called the For the People Act. Among other things, the act would increase access to absentee voting, extend early voting, allow for same-day registration, and generally would make it easier for people to vote.
"In the wake of an unprecedented assault on our democracy, a never before seen effort to ignore, undermine, and undo the will of the people, and a newly aggressive attack on voting rights taking place right now all across the country, this landmark legislation is urgently needed to protect the right to vote and the integrity of our elections, and to repair and strengthen American democracy," the White House said in a statement.
Naturally, most Republicans hate the For the People Act as much as they hate the idea of getting rid of the filibuster. Their looming fear: The Democrat's proposed voting rights reforms could make it much easier for Democrats to hold onto power. As of now, the bill passed in the House but of course has no chance of passing in the Senate, thanks to the filibuster.
Without the filibuster, Democrats would also have a shot at passing significant voting rights reforms, climate legislation, stricter gun control laws, and immigration reforms. They would be able to achieve their goals of fighting student debt, taxing the super-wealthy, making healthcare more affordable, and more.
The vast majority of the American people want Washington to act to bring down gun violence. Voters elected a Democr… https://t.co/jraOwNAyGL

— Elizabeth Warren (@Elizabeth Warren) 1616613409.0
Of course, the Democrats have an extremely slim majority in the Senate, and many Democratic senators are more centrist than progressive (see: Joe Manchin), meaning that achieving these goals would still require a serious fight even if the filibuster ended.

How Could the Senate End the Filibuster?
There are two ways the Senate could end the filibuster. 60 out of 100 senators could vote to end it, which will never happen in our current version of reality.
Or, senators could use a complex series of political moves sometimes referred to as the "nuclear option," which basically involves three steps: First, a senator objects to a cloture ruling. Then the presiding officer rules this objection out of order, and a simple majority of senators could then vote to overturn that ruling, thus "blowing up" traditional Senate policies.
This "nuclear option" has already been utilized across party lines. Democrats used it to confirm some of Barack Obama's nominees, and Republicans—led by Mitch McConnell—used it to confirm Donald Trump's Supreme Court nominees. (Yes, McConnell, now the world's biggest filibuster proponent, paused it so he could ram Supreme Court nominees through the system).
Actually ending the filibuster is a long shot, but Democrats know this may be their only chance to pass any significant social and political reforms. For his part, Joe Biden has not advocated for the end of the filibuster, but rather he supports the reinstitution of the "talking filibuster" — the "good old days" version of the filibuster where senators have to actually stand up and talk in order to obstruct the passage of a bill.
"It's getting to the point where, you know, democracy is having a hard time functioning," Biden told ABC.
Democratic senators Joe Manchin and Kyrsten Sinema also said they would not vote to end the filibuster, though Manchin did say he supports making it "more difficult to use," which many centrist-leaning Democrats see as a promising option.
Still, despite the odds, those who support ending the filibuster see it as a life-or-death issue, as it's quite possibly the only way to make true progress on inequality, gun control, healthcare, and other issues.
Currently, it seems that the Senate is hurtling towards a high-stakes battle for the future of the filibuster, with both sides ramping up their efforts to intimidate each other. McConnell's threats to initiate a "scorched-earth Senate" if the filibuster is abolished has only encouraged those who want to end the filibuster, as it's clear he's genuinely afraid and believes there is a chance it could end.
Senate Majority Leader Chuck Schumer has been repeating the phrase, "Everything is on the table" in response to questions about the fate of the tactic. Indeed, everything is on the table, including the state of our present and future. The question is whether or not we can learn from the past.
Content Warning: This article contains graphic descriptions of abuse and sexual violence.
Lisa Montgomery is the first woman to be executed by the federal government since 1953.

52-year-old Montgomery was killed by lethal injection at the U.S. Penitentiary in Terre Haute today. Her time of death was 1:31 AM.
Montgomery's crime was heinous by nature: In 2004, Montgomery killed 23-year-old Bobbie Jo Stinnett and removed Stinnett's unborn child from her womb. The infant, Victoria Jo, survived and is 16 today.
No one is arguing that Montgomery doesn't deserve a life in prison for her crimes (though whether she deserves a life in a mental asylum is another discussion). But her execution — part of a string of executions that the Trump Administration is ramming in before its dissolution — cannot be extricated from politics, nor can it be extricated from Montgomery's traumatic life story.
Her death was the result of a long, hard-won battle between those who believed she deserved to die and those who believed that a lifetime of sex trafficking, torture, and mental illness merited a life in prison, not government-sanctioned death.
An Early Life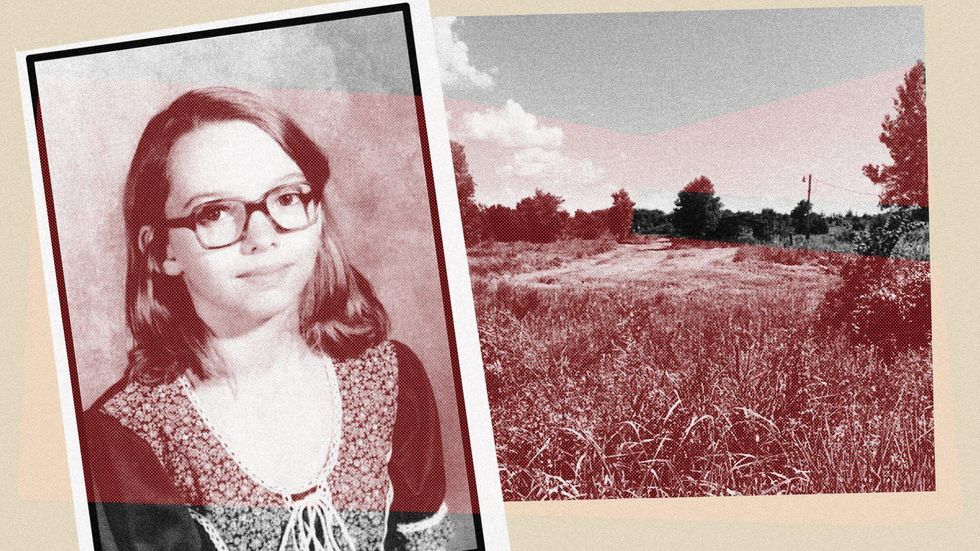 Lisa MontgomeryHuffPost
Lisa Montgomery's childhood was a nightmare in every sense. Her mother, Judy, drank during her pregnancy, and Lisa was born with brain damage. Judy would beat and psychologically torment Lisa and her sisters throughout their early years, even beating the family dog to death in front of them.
Starting at the age of 11, Lisa was raped multiple times each week by her stepfather, Jack Kleiner, who also beat her and her mother. The rapes became so frequent that Kleiner even built a makeshift shed on the side of the family's trailer where he could attack Lisa and no one could hear her screams. MRI brain scans show that Lisa suffered brain damage from his brutal retaliations to her attempts to resist.
Over the years, her stepfather began inviting friends over to violently gang rape Lisa for hours on end. Lisa's mother also participated, selling Lisa's body to plumbers and electricians in exchange for utility work and showing no empathy for what was happening to her daughter.
Teachers and doctors often suspected something was happening, but no one ever stepped up to help Lisa.
These were the formative experiences that shaped Lisa Montgomery, experiences that psychologists would later conclude amounted to torture. "This is a story about a woman who is profoundly mentally ill as a result of a lifetime of torture and sexual violence," said Sandra Babcock, a consultant to Montgomery's legal team. "Lisa is not the worst of the worst – she is the most broken of the broken."
Lisa's trials didn't end in childhood. She married her stepbrother at 18, and he continued the cycle, raping and abusing her again and again. Lisa gave birth to four children in four years before being pressured by her husband and mother into a sterilization procedure.
After that, her mental health declined and she began struggling to keep a job. She also started participating in sex work and frequently fell into trances around her children. Following the sterilization, she also often told people she was pregnant.
An Awful Crime
The crime Lisa Montgomery committed, as a journal article from the Cornell Center on the Death Penalty Worldwide writes, "reflects the depth of her mental illness and despair."
Two days before the crime, Montgomery's abusive ex-husband filed for custody of two of their children. At the time, Lisa told her new husband she was pregnant, but the abusive former husband knew this was impossible because of the sterilization and threatened to expose Lisa in court.
Desperate, and likely in the midst of a psychotic break, Lisa went to the home of Bobbie Jo Stinnett, a woman she had bonded with online over their shared love of dogs. She strangled Stinnett, then removed the infant from Stinnett's abdomen. The crime shattered the Skidmore, Missouri town where it occurred, and some family members called for death as retribution.
The Fight to Stop Lisa's Execution
Lisa's crime was horrific and unforgettable. Lisa herself felt "deep remorse" for the crime "before she lost all touch with reality in the days before her execution," according to her attorney.
But still, simply based on tradition, most murders do not result in the death penalty. Instead, prosecutors must actively make the decision to push for the death penalty. Under the Bush Justice Department, since-disgraced Attorney General Alberto Gonzales chose to break with tradition and pursue the death penalty for Lisa.
Lisa's initial defense team was led by an all-male team of lawyers that included Dave Owen, who had never defended anyone against the death penalty, let alone a woman who had a history of sexual violence and trauma. Experts recommended a more experienced lawyer be put on the team, and so experienced capital defense lawyer Judy Clarke was added. Clarke quickly built up a rapport with Lisa.
But Owen apparently could not stand having to take orders from a female lawyer, so removed her from the team. The male chief investigator on Lisa's case said that it was clear that Owen was "not going to take any orders from any damn woman."
Clarke was removed and banned from visiting Lisa in prison. Of course, Lisa's male team of attorneys failed her in the trial, failing to bring up Lisa's history of abuse and trauma. Instead they disparaged Lisa's mothering skills and the state of her home. Lisa was sentenced to death.
Near the end of her life, a new team of defenders stepped up to try to defend Lisa. They investigated her mental health, finding that Lisa suffered from bipolar disorder with psychotic features, complex post-traumatic stress disorder, temporal lobe epilepsy, and cerebellar dysfunction, according Amy Harwell, a public defender who worked on Montgomery's case.
Lisa showed "symptoms of dissociation, including confused thinking, major gaps in memory, and an inability to recognize the reality of certain events," explained Dr. Katherine Poterfield, a Bellevue clinical psychiatrist who interviewed Lisa in prison. She added that Lisa's trauma was "massive," one of the most severe cases of dissociative disorder she had ever seen.
"She would not be able to keep her train of thought, and describe strange ways of thinking to describe her reality," said Porterfield. "She lives in a state of disassociation, going in and out all the time. When I asked about her childhood, she would display an inability to connect to her emotions – with a blank facial expression, blank voice, talking about herself in the third person."
While in prison, Lisa also displayed other signs of debilitating mental dissociation, believing that God could speak with her through crossword puzzles and often expressing doubts about whether what she was seeing around her was real.
Montgomery's parents' family trees both feature psychiatric and neurological issues, including mood disorders, intellectual disability, PTSD and schizophrenia. Porterfield compared the abuse Lisa suffered to "pouring lighter fluid onto a spark."
"I have never seen a case like this. I don't know of any execution in the US or elsewhere that has been carried out on someone who has been subjected to such unrelenting sexual torture and violence," said defender Sandra Babcock.
"Talking to Lisa was like talking to Vietnam and Korean war veterans who had been held in holes and bamboo cages under the most horrible conditions," said social worker Janet Vogelsang.
Lisa's own sister and family also came to her defense, begging that Lisa be kept alive and in prison for the sake of her 14 grandchildren.
"I'm bruised, but I'm not broken," wrote Montgomery's sister Diane in an essay. "My sister, Lisa Montgomery, is broken. On December 8, the federal government plans to execute her for a crime she committed in the grip of severe mental illness after a lifetime of living hell. She does not deserve to die." Diane was adopted out of the house at the age of eight and Lisa was four.
"Retribution is one method of accountability for criminal acts," writes Rachel Louise Snyder in The New York Times. "But Ms. Montgomery's life, however much she has left of it, is already irreparably shattered. For many of us, that might seem punishment enough."
For more on the horrific abuse Lisa Montgomery suffered in her early childhood that contributed to her severe menta… https://t.co/nTJ9b7T3tR

— Scott Hechinger (@Scott Hechinger) 1610543173.0
For the Supreme Court, it wasn't.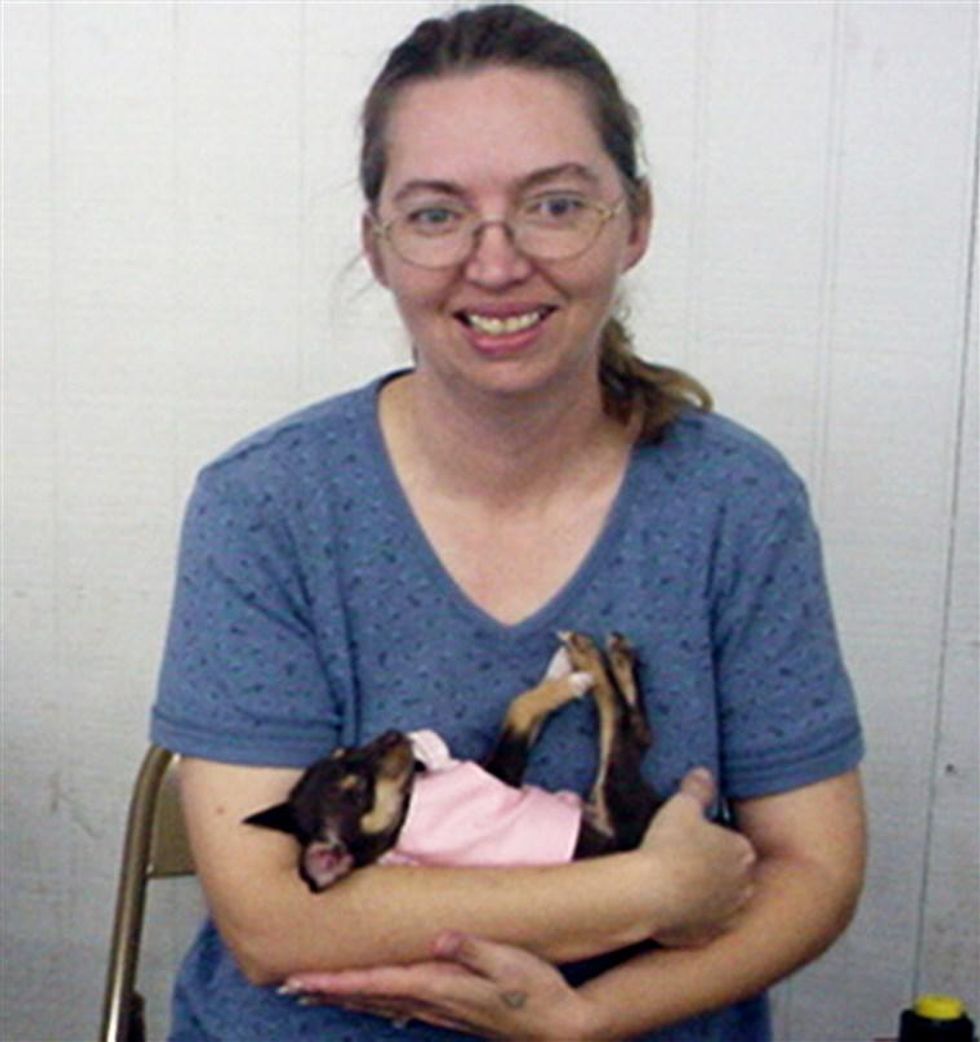 Lisa Montgomery
The Trump Administration's Bloodlust
Up until the last minute, people fought against Lisa's execution. On Monday, an Indiana judge halted the execution until a mental evaluation could be held. On Tuesday, an appeals court panel overruled the stay. Two further courts – in the district of Columbia and the eighth circuit court – issued their own separate stays.
In his ruling on a stay, Judge James Hanlon found that "the record before the court contains ample evidence that Ms Montgomery's current mental state is so divorced from reality that she cannot rationally understand the government's rationale for her execution." According to the Death Penalty Information Center, defendants who are so mentally ill they do not understand their crimes are not eligible for execution.
But still, the Supreme Court voted to uphold the execution just before midnight on Tuesday night.
The act has been widely condemned. "The craven bloodlust of a failed administration was on full display tonight. Everyone who participated in the execution of Lisa Montgomery should feel shame," said Montgomery's lawyer, Kelley Henry, in a statement to the USA TODAY Network. "Our Constitution forbids the execution of a person who is unable to rationally understand her execution," she said. "The current administration knows this. And they killed her anyway."
There is a cruel irony — if it could even be called that — to Lisa's death. Throughout her entire life, Lisa was taken advantage of and tortured by people who were supposed to protect her. She was damaged beyond comprehension by men and offered no mercy.
This tradition would extend to the end of her life, when Donald Trump's administration and the Supreme Court he stacked would vote to kill her.
That a man accused of sexual assault by 25 women has executed a woman who suffered psychologically devastating sexual abuse throughout her whole life feels like an appropriate end to a horrible story. That she died on the day of Trump's impeachment trial is another kind of twisted irony.
A Spree of Executions
Throughout 2020, the Trump Administration has rushed 10 prisoners to death in a murderous spree. Joe Biden has pledged to end the death penalty, so the Trump Administration's executions are a clear attempt to exercise and cling to power before it leaves or is forced to leave office.

In the few months since he lost the 2020 US election, Trump's administration has ordered the executions of Orlando Hall, Brandon Bernard, and Alfred Bourgeois, three Black men. The last time a sitting duck president presided over an execution was when Grover Cleveland presided over the murder of a Native American of the Choctaw Nation named Richard Smith.
Others who received the death penalty this year under Trump include Christopher Vialva and Brandon Bernard, who committed crimes when they were 18 and 19, respectively, making them the first teenage offenders sent to death by the government in 70 years. In addition, Trump came under fire for killing a Navajo man named Lezmon Mitchell, ignoring the fact that the crime was committed on tribal lands, which do not implement the death penalty.
Today, 22 states have abolished capital punishment and support for the death penalty has plummeted to its lowest in 50 years. Not only is a federal death penalty extraordinarily ethically questionable—federal executions are extravagantly expensive and a drain on government resources.
Yet the savagery of Trump's administration's string of executions is yet another affirmation of his and his administration's fundamental beliefs, another example of how easily invocations of "law and order" disintegrate to violence.
"No-one has ever attempted to carry out so many executions at the federal level," said Robert Dunham, the director of the Death Penalty Information Center. "No-one in modern American history has attempted to carry out so many executions in such a short period of time... and no-one has done so in a manner that so closely disregards the rule of law."
This year, on January 5th, Georgia voters will participate in a runoff election to select their state senators. But why is this race so important, important enough to make national news and urgent enough that celebrities and activist groups around the nation are rallying to make sure as many voters as possible get out to the polls?
What's at Stake?
The Georgia runoffs will determine Georgia's two Senate seats. This is so important because the outcome of this election will determine whether there is a Republican or Democratic Senate majority.
To win a Democratic Senate majority, both Democratic candidates — Jon Ossoff and Reverend Raphael Warnock — will have to win their seats. If either Republican candidate, Kelly Loeffler or David Perdue, wins, the Republicans will maintain their Senate majority, and Mitch McConnell will remain Senate majority leader; as currently, Republicans hold 50 of the 100 Senate seats and Democrats hold 48, and there are two independents — Angus King of Maine and Bernie Sanders of Vermont — who caucus with the Democrats.
Democrats hold the House with a razor-thin majority, and Joe Biden, a Democrat, also holds the White House. But a Republican Senate can easily negate the efforts of Democratic governing bodies. When he was Senate Majority Leader during Barack Obama's presidency, Mitch McConnell was able to block much of Obama's legislation.
In short, in order to pass a substantial coronavirus relief bill, substantial climate crisis legislation, and many of the other initiatives Biden promised in his campaign, we need a Democratic Senate majority. While Mitch McConnell remains in charge of the Senate, every Democratic-leaning bill will face tremendous roadblocks to actualization.
As Jonathan Chait explains in his Intelligencer article, Only a Democratic Senate Can Produce a Moderate Biden Presidency, "McConnell won't bring a bill to the floor unless most Republicans support it," and, "When Biden takes office, the Republican incentive will lean heavily toward demonizing any Biden-supported initiative as a fiendish socialistic plot, making broad GOP support almost impossible."
That means, to put it bluntly: No $2,000 stimulus check and probably no future thanks to unchecked climate change. The stakes are, in fact, quite high.
In 8 days, Georgia has the opportunity to deliver the U.S. Senate majority by electing @ReverendWarnock and @ossoff… https://t.co/nykdQqPBg2

— Stacey Abrams (@Stacey Abrams) 1609180553.0
What Are Runoffs, and Why Do They Exist?

A runoff occurs when there is no clear winner in an election. Georgia law proclaims that candidates must win over 50% of the total vote to win an election; if this doesn't happen, the race goes to a runoff. In the general election, Warnock won the most votes followed by Loeffler, but neither garnered the 50% needed, and all candidates went to runoffs.
Georgia's runoff elections were created in the 1960s as a way to keep white candidates in power, reports The New York Times, in a majority-white state where Black candidates had better shots at winning a plurality of the vote. Runoffs also typically benefit white candidates whose followers typically vote more frequently.
Who Is Running?
Currently, Senator Kelly Loeffler and Senator David Perdue represent Georgia in the Senate. Kelly Loeffler is a businesswoman and devotee of Donald Trump. The richest US Senator, she made headlines for selling $18 million worth of vulnerable stocks after being briefed on COVID-19, meaning she profited from the coronavirus crisis. (Lawmakers are barred from insider training, but a probe into Loeffler's activity was eventually dropped).
Loeffler's opponent, Rev. Warnock, would be Georgia's first Black senator. He is a pastor at the Atlanta church where Martin Luther King once preached, and he is a strong supporter of Black Lives Matter. For her part, Loeffler has criticized BLM for what she calls its "Marxist" origins.
David Perdue is a Senator and businessman. Similarly to Loeffler, he sold stocks prior to the 2020 stock market crash. He does not believe in climate change, opposes same-sex marriage and wants to slash the Affordable Care Act.
Perdue's opponent, Jon Ossoff, is a 33-year-old former journalist. His campaign made waves when Perdue failed to meet him in their debate, leaving him to speak to an empty room. Ossoff interned for Congressman John Lewis, who passed away earlier this summer, and has painted himself as a youthful idealist and Democratic moderate.
"Both are representing the New South," said Representative Hank Johnson of Warnock and Ossoff. "It's very symbolic. It's providential. I think Georgia and Georgians have changed quite a lot. There are people with old South ideas — but they're fewer and fewer."
What Are the Odds?
Both Democrats and Republicans are pouring millions into the race, and the Republicans have far outspent the Democrats thus far.
Georgia has not seen a Democratic Senator in 20 years. Republicans have far more money and establishment power on their side. The polls aren't looking great for Democratic candidates, though most do show a close race (though who trusts polls anymore, anyway?).
There's also a long and horrifying history of voter suppression in Georgia that is alive and well today. In addition to the racist history of runoffs themselves, Georgia has always fought to make it difficult for anyone not white to vote. After the 15th Amendment allowed Black men to vote, Georgia employed the Ku Klux Klan and other forms of violence and intimidation at the polls.
It has since closed majority-Black polling spaces, creating hours-long waits. It has required "exact match" signatures on voting records, an effort that disqualified thousands — 80% of the disqualified being people of color.
A recent seven-year investigation found that Georgia purged over 200,000 evoters from its rolls, marking them as ineligible when they actually were eligible. These methods disproportionately affected Black voters, voters living in metro areas, and voters who did not speak English. The list of Georgia's effort to suppress its voters' constitutional rights goes on and on and continues to this day.
Democratic candidates, however, are supported by organizers like those at Fair Fight who are on the ground getting people to the polls. Other organizations like New Georgia Project and Southerners on New Ground have been working tirelessly to reach people who have too long been ignored by modern politics, showing them that their vote can help make a tangible difference in their lives. And with the entire country's eyes on Georgia, it's hard to know what the outcome will be.
Either way, it's clear that there's a new organizing infrastructure in Georgia that's here to stay.
What Can We Do?
If you're from Georgia or know people there, contacting family and friends and asking them to contact their family and friends and to ask the same — a technique known as vote tripling — is definitely one of the most effective ways to get out the vote. In addition, many people are going to Georgia to do in-person ballot curing, poll-watching, canvassing, and voter aid such as keeping voters comfortable in line.
If you're not in Georgia, you can join a phonebank or text bank and make calls or send texts to Georgians all throughout the week.
Like texting? How about expanding electoral access? How about the FABULOUS @Peppermint247? Help@us get out the vote… https://t.co/ZxCfnYrkcv

— New Georgia Project (@New Georgia Project) 1609191711.0
And of course, donate to a Georgia organization like Fair Fight, and attend events like Popdust's fundraiser for Fair Fight, which occurs tomorrow night at 6PM EST.

The Justice Department is suing Walmart, alleging that the company helped fuel the opioid crisis that's been devastating America for years.

According to the Associated Press, Walmart may have unlawfully provided controlled substances to its customers, providing thousands of people with prescriptions that should not have been filled. The suit alleges that Walmart's system made it impossible for pharmacists to properly screen and vet the prescriptions they filled, ignoring warnings from pharmacists in the process.
This comes after Walmart sued the Justice Department and the DEA, arguing that hundreds of doctors who should not have been allowed to prescribe controlled substances at all were still actively registered with the DEA.
Both suits are ongoing, but one thing is clear: A lot of powerful organizations are to blame for the opioid crisis.
How the Opioid Crisis Began
The US's opioid crisis has been festering for a long time. In 1991, the first wave of the opioid crisis occurred when a sharp rise in the prescription of opioids led to multiple deaths. At this time, many pharmaceutical companies claimed the risk of addiction to opioids was very low.
In 1995, Purdue Pharma received approval for OxyContin, leading many patients to get hooked. In 2007, they paid a $634 million dollar fine for lying about the drug's addictive nature.
Prescriptions for opioids began to increase over the next few decades, tripling between 1991 and 2011. The second wave of the crisis occurred in 2010, when prescriptions to opioids became harder to obtain and more people started turning to heroin and illegal drugs. The third wave began in 2013, when drugs like fentanyl and synthetic opioids began to rise in popularity, leading to another spike in deaths.
Today, overdoses are the leading cause of death for people under 50 years old. In 2017, there were more than 70,237 deaths related to overdoses and 47,600 were related to opioids. An estimated 130 people die each day from opioid-related misuse. The opioid epidemic has claimed a total of over 400,000 lives.
Who Is to Blame?
The opioid crisis is a complicated issue that can't be neatly blamed on any one company or action. Certainly, the root of the problem lies with Big Pharma — the Purdue Pharmas and Sacklers of the world who lied about the addictive nature of their products and relentlessly sold these dangerous products. Drug company executives and opioid salesmen also have blood on their hands.
In addition, the government is to blame. Evidence continues to find that Congress was and is influenced by pharmaceutical lobbyists, and Congress has passed legislation that crippled the DEA's power.
In addition, Department of Justice-led investigations that should've burned drug corporations to the ground failed to adequately persecute the corporations. Furthermore, the FDA also failed to act when they should have; in 2001, they approved OxyContin for anyone suffering from chronic pain, despite scientists previously finding that the drug is only effective in the very short-term.
Over-prescription and doctors are to blame, as well. Many believed they were doing the right thing but prescribed far, far more than safe limits of drugs to their patients. In addition, distributors like Walmart and other pharmacies are also to blame for not taking adequate precautions.
The root of the issue, however, can't be separated from other systemic crises, like economic inequality, a broken healthcare system, and the chronic health issues that plague many Americans.
"Greed drove opioid manufacturers to oversell and overproduce the drugs, the lawsuits allege," writes Melissa Healy for the Los Angeles Times. "Greed drove companies that distribute prescription drugs to oversupply pharmacies… And greed drove pharmacies to overdispense the drugs to patients who were becoming hooked, to criminals who were diverting them to the black market, and to addicts shopping for a fix."
Arguably, greed also prevents America — one of the richest nations in the world — from offering its citizens healthcare and the ability to live safely.
How Do We Solve the Opioid Crisis?
Solving the opioid crisis won't be simple or easy.
In an immediate sense, any solution to the crisis will have to treat friends and family members of people who suffer from addiction as well as the people themselves. Treatment will have to be made broadly available, as will ongoing support.
"We need to treat opioid use disorder like we treat other chronic health disorders — managed in primary care, using specialists for exacerbations, consultations, and particularly challenging cases," says Bradley Stein of the RAND Drug Policy Research Center.
But to really solve the crisis, we'll have to take a deeper look at what's causing it. Millions of people are still suffering from chronic pain — another root of the opioid crisis — and healthcare workers will have to figure out how to treat pain without using opioids. Solutions might lie in "interventional" pain therapies or other approaches that lead to long-term relief instead of just putting a band-aid over the problem.
In addition, many people are driven to use opioids due to emotional issues or mental health issues. To treat the root causes of the opioid epidemic, we also need to treat mental health issues and treat reasons why people are suffering from such extreme emotional pain in America today.
Those solutions might lie in deepening community ties, in education, and in healing some of the economic inequality that has created so many of our issues. It might also mean making healthcare, housing, healthy food, and opportunity more affordable so people don't wind up in so much pain and distress. It might also mean reducing pollution and other issues that lead people, particularly low-income people and communities of color, to develop chronic health issues.
In short, simply cracking down on prescriptions and distributors and making Big Pharma pay up isn't the solution. It's just the beginning. The solutions of the opioid crisis are bound up with solutions to climate change and economic inequality, and until we understand the interconnectedness of it all, we'll never really treat the crisis at its source.
Christoph Carr talks art, music, and protest.
Scholar, activist, musician, event organizer, author—Christoph Carr is the personification of a visionary. As the co-founder of Brooklyn Wildlife and Black Land Ownership, Carr has long been working to break down boundaries and to create space where art and life can thrive without outside imposition.
More recently, he's been leading unique NYC-based Black Lives Matter protests that attempt to engage directly with the police. His many projects address current, pressing needs—but they also envision a world that could be, a world of connection, deep roots, and human empathy. Here, we spoke about the stories behind his groundbreaking organizations, and the grief and strange possibility buried in the depths of 2020.
How did Brooklyn Wildlife come to be? What space did you want it to fill?
I moved to New York in 2008 for a relationship, and by summer 2009 that relationship was falling apart. I was on the cusp of going back to DC or staying in New York, and I decided to stay.
A homie I knew had just gotten back to town and he was doing music, and we started recording a project together. By 2010 we finished the project and we were trying to do shows, but we ran into a huge issue while trying to book shows as a rap group without an agent or a booking company. The clubs didn't want to answer emails—they'd say talk to the booker, and the booker would say talk to the promoter. [A lot of these places] were only doing two hip hop shows a month at that time, or they wouldn't even book hip hop.
So me and my friend were like, we gotta just throw the shows ourselves. We know other musicians; let's just throw the party.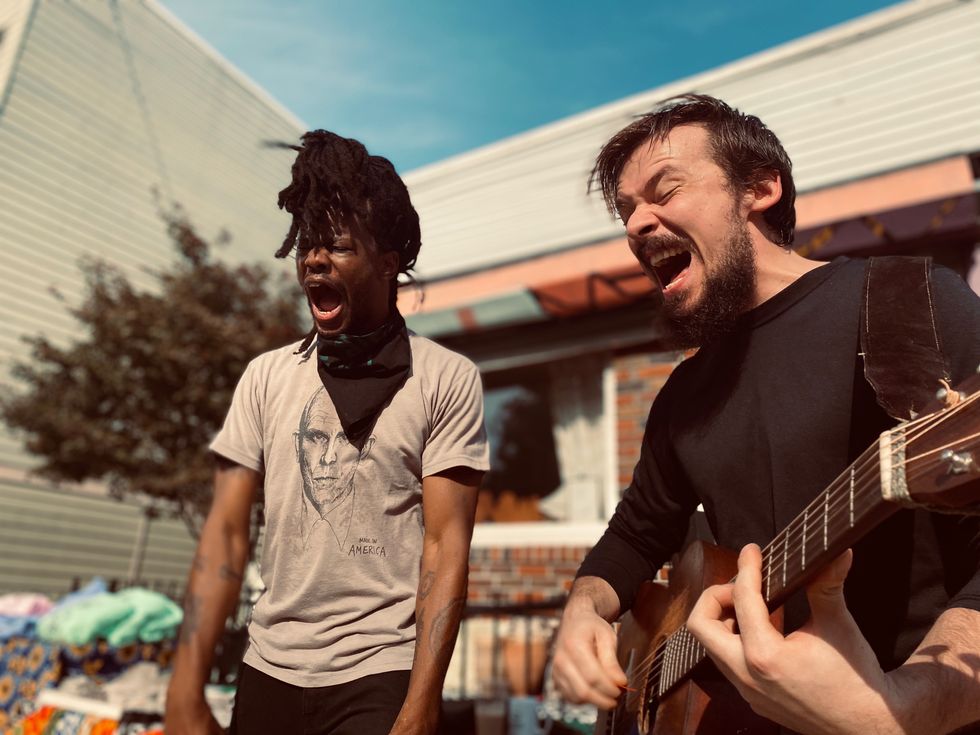 Chris Carr performing
When we first started sending out emails, we realized that a lot of the bookers and promoters didn't want to deal with artists, and we had to come up with a name or some way to be able to book the shows separately from us as performers. So we were like, let's start Brooklyn Wildlife. Let's make the events that we want to go to.

I was really inspired by the events going on when I moved to New York, but there was this partitioning and almost like segregation, where if I went to the warehouse electronic music parties, there was no hip hop. If I went to the hip hop shows, there was no folk.
And I like all of it. I like burlesque, I like comedy and music and visual art shows and filmmaking, and there wasn't really something that I saw that brought all these different elements together in a way that was authentic and aware and respectful of the traditions of those types of art forms.
I really obsess over hip hop and enjoy the cultural elements of hip hop and it being the quintessential postmodernist music form in its use of bricolage and sampling and expression, but I also really dug my friends who were DJing grime or dubstep or international music—what people might see as world music, or Afro-Soul and house music. All these things were of interest, and we weren't finding that.
So we started working with people we knew as Brooklyn Wildlife to throw as many shows as possible. Over the past few years we've done literally thousands of events, but it started out as wanting to have something for ourselves, and wanting to go to shows that we would enjoy ourselves.
Were you always involved in art and music?
I can't say always, but to a certain extent yes—my mom put me in violin lessons when I was five, and I was bad. In high school, I got into hip hop, but I was also playing sports, and hip hop wasn't an organized, structured activity at the time. When I got to college I started taking hip hop more seriously, MCing and writing and going out with my friends who wrote graffiti—and realized I wasn't good at that. Dancing, I wasn't good at that. DJing, not so much. I always like the types of music that other people didn't really "like" like—I like the B-sides, the secret album cut, the songs that are kind of reflective or might not be the party starters, by artists who may be more fringe or outside the status quo.
MCing was this great platform for me to learn about myself, society, and other people. When I was 18 or 19, in 1996-7, you could meet rappers and end up knowing people that worked on music video sets, just by being around the college environment I was in in Atlanta. You could run into Cee Lo Green outside the tabernacle.
At that point, I reattached to music in a serious way. [In Atlanta, there was this] level of professionalism and seriousness about what could be done with hip hop. I was still in school, and then I went to grad school at Columbia, but music was always a side thing—and it kept pulling at me. It wasn't until I left grad school and went back to DC that I was like, I need to make music. What would happen if I put all this time and effort and energy into making music on a full-time level?
I decided to invest whatever money I had into making my own studio and started making my own beats and throwing shows in DC. We were trying to throw more shows than everybody.
Since then, I don't really get writers' block or caught up in not being inspired. Since then it's been consistent: make a living from art.
A lot of your work seems to be about bringing people together in a way that's separate from corporate ownership. You started Brooklyn Wildlife because you wanted to have your own performance space that others didn't have to approve—and with Black Land Ownership, you're working to make space for people to own land outside of corporations. What's the connection between them?
One's an extension of the other. Some of the ideas from Black Land Ownership directly extend from what we learned doing Brooklyn Wildlife. The main thing is: If you don't own the land, you will not be able to dictate what happens on that land.
When I moved to my apartment, at the time, people were throwing mad shows at McKibben. As the building changes, the landlords start bringing in tenants and our neighbors move, and now it's people that have to wake up and go to work in the morning, and they start complaining to the landlords, and the landlords might lose money, so they tell me I have to stop making music.
We decided we'd rent DIY spaces. Still, if your neighbors don't like it, they call the cops. If the businesses nearby don't like it, they'll call the cops. Your landlord can shut you down. There's always someone that can make it difficult.
Whereas if you own a space, it's a lot harder for people to cause you problems. In New York it's too expensive to just buy a building. But when I went out to Colorado and Texas and parts of the country that are really wide open, I started thinking: There's so much space. If we had land, we could throw an outdoor festival with 100 people and no one could complain about anything. If people didn't like the noise, they wouldn't have to deal with it.
Still, you're going to have to lease farmland or county fair kinds of land. But when you do that, the owners can ask what types of events you're doing, and they can say that they only want certain things. And we can't really have that. We make sure we book artists that aren't using hate speech or being misogynistic or racist or phobic towards any marginalized groups, but people should be able to express their political ideologies, their emotional feelings and their spiritual feelings. And we shouldn't have to worry about some person who runs the fairgrounds saying: You all are anti-capitalist, that's anti-American, we don't want to have this.

So it comes to—well, you have to own the land. The only way that's possible for a group of artists is in more rural areas where the land is less expensive.
In Colorado, I was able to stay for free by working on a farm, and as I was pulling roots out of the ground—it gave me a lot of time to think. I did some shows while I was traveling, and when I came back I was like, why isn't that opportunity made more [available] for Black folks?
Denver is the most diverse city in Colorado, and it's still very homogenous in a certain way. In Grand Junction you're back towards the more conservative side, and you can tell people are like—"We don't have any Black people here, where'd you come from?"
It was shocking. [I started to ask], how come all the Black folks are crammed into cities on the East and West Coast, being pushed out, dealing with gentrification, being erased geographically—or we're in areas of the South and midwest that are economically depressed, dealing with racism and violence and stratification? There's all this space where there's plenty of land to grow food. Part of [the problem] is we only own 2% of the rural land in the country. So how are we going to get healthy food? We don't own the means of production.
In my mind, Marxism isn't a political system—it's an assessment of how capitalism works—and in the Marxist understanding, you have to own the means of production. If you want to have a place to grow your food, you need to own the land, or they'll push you out and find that it's more lucrative for Walmart to buy it.
[During] the Civil Rights movement, it was less difficult to find a common thread amongst different Black people. The idea of basic human rights could transcend layers of partitioning. Now there are certainly different opinions—on reproductive rights, on gender—but the one thing I could find that didn't cause people to have conflict is Black land ownership. It's not politicized, but no one talks about it. You have discussions about fair housing or affordable housing, but there are Black people with money who can't move where they want to due to institutional racism around land ownership, or groups of non-Black people pushing them out when they do make purchases.
Providing spaces for artists is important, but artists need an opportunity not to be stuck in the city paying $1,000 or $1,500 in rent every month. We need to get out and lay in a field, and play songs and run around, and have space in nature and grass under our feet, and be able to draw inspiration from something other than concrete and metal buildings.
How are you doing with COVID and everything?
It's been quite a year. Last spring, back in March, my partner had her appendix removed. She gets a call back, and she has to get a biopsy. And then [sic] she tests positive for appendix cancer, and they say they have to take out part of her colon. She has surgery in May and is recovering in June. She gets cleared. A week and a half to two weeks after that, I get diagnosed with melanoma in my toe and I have to get my pinky toe amputated.
I can't walk for however long. So I figure out how to pull off my summer festival and start throwing small shows, then wintertime hits. I go to California and tour, then in March I'm scheduled to go to SXSW. I had booked over 40 performers at the house we were renting down there, but COVID pops up the week we're supposed to go, and they cancel. That weekend of the 15th, lockdown started. In a weird way, I had already been on lockdown. Both [my partner and I] had been in our house a lot, working on our personal projects. I stopped drinking, so we stopped going to bars and clubs. COVID didn't change a whole lot for me.
I really miss not being able to meet new folks and engage with people and learn about their musical journeys. I've made a lot of stuff while we were trapped inside—a whole bunch of new songs, a project with my friend Annie Are You Okay—and a bunch of songs I've recorded with other people. And there are new secret projects I've been working on, and I finally put out one of my books—Thoughts of an Angry Black Man.
You've also led a few Black Lives Matter protests recently. Can you tell me about how that started?
I do a lot of Facebook Lives, and I was doing one about hip hop, recording in front of my building. I have my phone resting up on the fence. Since the camera is facing the street, I see the police pulling up. Then they walk up to me, and they're like, are you so and so, and I'm like nope, can't help you. And I'm like, by the way, I'm recording on Facebook Live. And they're like, we're concerned for you, are you on any medication? And I was like, no, what's this about—and they're like, we got a call that there's a man out here talking to himself and kicking at people.
And I was like, I've been recording this whole thing. Instead of them being like sorry, whatever, they're like, we're concerned—are you on medication? I was like, I don't have to answer any of your questions, but what do we have to do to make this the least conflictual as possible? Finally I just told them I live across the street, I volunteer at the school down the street, I run a store around the corner. They're finally like, we just had to check, someone called. And I'm like, what do you mean, someone called? Did you check if they're on medication?
When they pull off, I go upstairs. I look out the window and another cop car pulls up, so I [decide] I'm going to ask them how to file a report. Those police were like, you didn't have to answer the questions; you could've walked away. And I was like, really? You can't walk away from a police officer.
And then [I realize] the car I was leaning on—it's an undercover car. And an ambulance had been called. Two regular cop cars, an undercover car, and an ambulance came.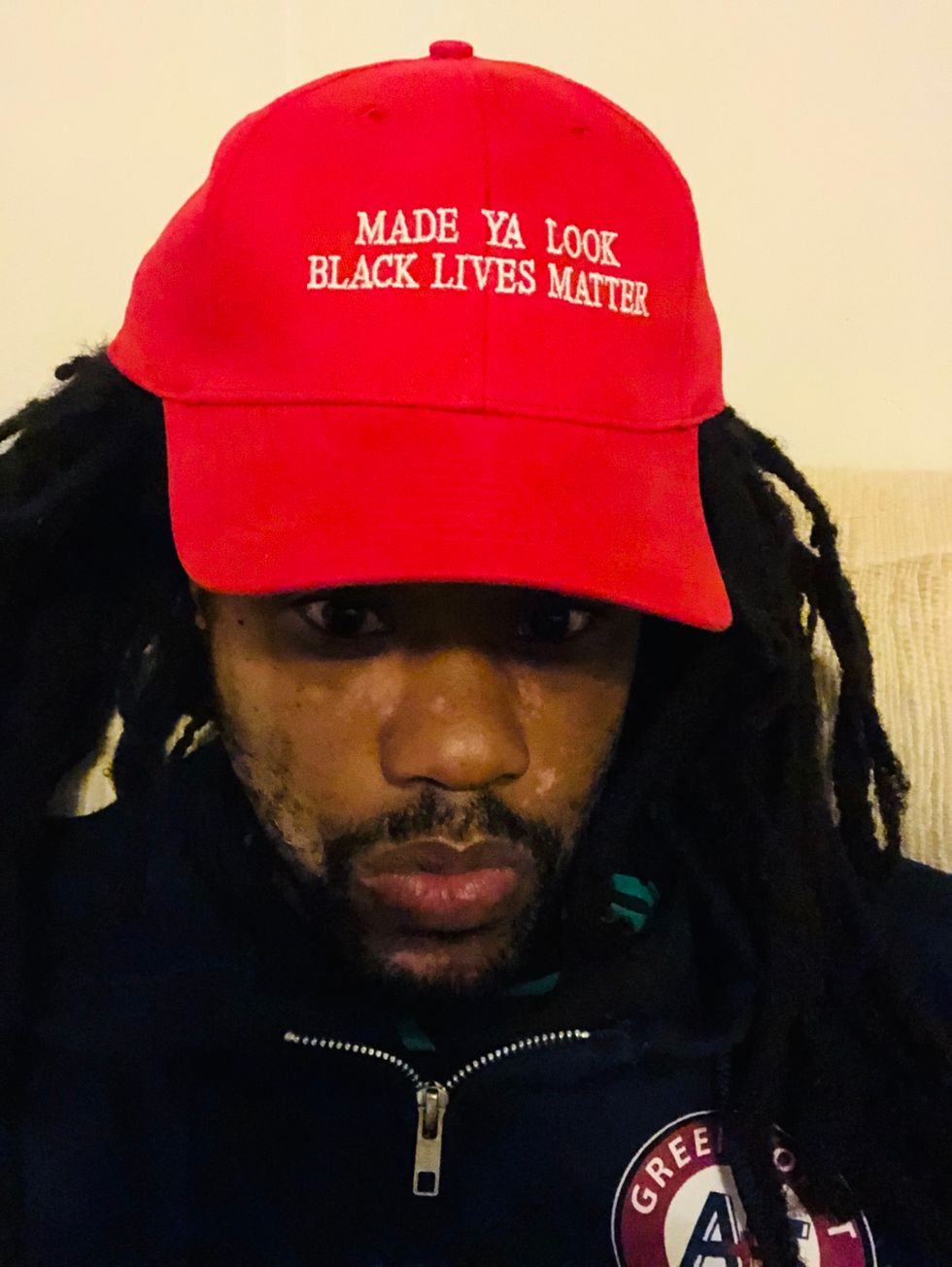 This is after Floyd stuff had happened, and I'm like, this could have gone so badly if I had a different demeanor. When I came back in I was really frustrated, and I started asking myself: what can I do to remove the standard approach to this? Who can I talk to about this?

So I walk over to the precinct, and see three cops there. And they're like: Who do you want to talk to? One cop says, "You gotta understand, people get called on emotionally disturbed people…" And finally they get the community liaison.
The liaison basically makes sure that protocol wasn't broken, and she asks if I want to file a report. One of the cops was a Black woman, and the other was a Latinx man, I think...I didn't want to get the cops in trouble. It's a policy that someone else created, that made it so they couldn't leave me alone.
After that, I was even more frustrated. When I left the precinct I was like, I gotta think of something to do that's not the same old me going back and yelling at the cops or not doing anything.
So I was like, what if I take flowers to the precinct, and talk to the guys standing in front of it and tell them about how I'd been stopped for no reason, and use the flowers as metaphors for other people who have been detailed without cause, or assaulted or brutalized by the police, or in horrible circumstances, lost their lives at the hands of the police?
[I wanted to] get the issue past politics, past the idea of Democrat/Republican or authority or anti-authority, or any of these names of organized groups. I'm a person, and the only person that ever pulled a gun on me in my life was a police officer. My friend down in Atlanta got killed by the police; my other friend in DC got shot by the police when he was unarmed. [I wanted to] root it in their humanity. Before they put on their guns and badges, they're humans, and I'm a human. Let's engage with the reality of how policing has had a negative effect on my community.
I went to the vigil at McCarren Park, and told some people about the flower thing. We ended up organizing a march from McCarren over to the 94th Precinct in Greenpoint. We took the flowers and had a line of people marching. It was wild to see that solidarity—to see how many people's lives had been touched by police brutality. It wasn't 20 people—it was over a hundred people who knew someone who had been hurt. There was no social media, no organized nonprofit entity. It was just people who had friends and heard the stories and wanted to show unity. And [they showed that] if the police harm one person in the community, 100 people might show up to support.
We organized another one that went from House of Yes over to the precinct on Knickerbocker. It's something that will continue, keeping in mind that it's about peace and love. The police aren't used to people showing up with flowers, saying, my friend got hurt by the police, and we want you to know this is personal.
This is about us as people. When we're walking on the streets, we're citizens, not criminals. You don't look at someone like me and automatically assume I'm the target of your predatory predisposition.
It's been a trip. I think it's cathartic for certain folks. They had never had the chance to present the emotions they had towards the police to the police. They may have told friends and family members, but to be able to tell the police officer in this manner that is somewhat controlled and purposeful—it kind of allowed for a valve to release pressure.
After the first march [sic], we were walking back from the precinct in Bushwick. There was a fire hydrant that was popped, and so a bunch of us danced in the fire hydrant—[it was a] cleansing experience. It was important for me, to see that solidarity, to see how all these other people have a common experience.
Find Christoph Carr's Patreon here.
Give us your best meme of Kamala destroying Pence at the debates: GO!
After months of deliberation, Joe Biden has picked Senator Kamala Harris as his running mate.
Harris became nationally recognized after she surged to prominence in the 2020 Democratic primary season. Notoriously, she called Biden out about racial issues during the first Democratic debate. "There was a little girl in California who was part of the second class to integrate her public school, and she bused to school every day," she said in a speech that has now become famous. "And that little girl was me."
55-year-old Harris is currently the only Black woman in the Senate. She served as California's Attorney General prior to being elected in 2016.
Harris was born in Oakland, California; her father is from Jamaica and her mother from India. She studied at Howard University and then at University of California Hastings College of the Law in San Francisco. She worked as a prosecutor in Alameda County and San Francisco before running for district attorney and then attorney general.
As a Senator, Harris was on the Intelligence Committee which interrogated Trump about Russia, and she also made waves through her interrogations of Attorney General Jeff Sessions, Attorney General William Barr and Brett Kavanaugh.
Since her 2020 presidential campaign concluded, Harris has focused on the Senate's response to the coronavirus crisis, as well as their response to systemic police brutality and racist violence. In the past, Harris worked closely with Joe Biden's late son, Beau, on challenging big banks in the wake of the housing crisis.

Biden announced the decision via email and text messages to his supporters. "You make a lot of important decisions as president. But the first one is who you select to be your Vice President," he wrote Tuesday afternoon. "I've decided that Kamala Harris is the best person to help me take this fight to Donald Trump and Mike Pence and then to lead this nation starting in January 2021. These aren't normal times. I need someone working alongside me who is smart, tough, and ready to lead. Kamala is that person."
If elected, Harris would be the first vice president to be female or a person of color. "I think that she will help bring a strong voice on issues of immigration and racial justice," said Rep. Ro Khanna, a Fremont Democrat who backed Harris' opponent Vermont Sen. Bernie Sanders in the primaries. "Given her life story, to see someone like her selected ... it will be encouraging to so many young people of different backgrounds."
Harris's mixed record as a prosecutor and her vacillation on progressive policies like Medicare for All has come under fire from many progressives' but in this scenario, even the most radical progressives seem to agree that Biden must be elected in order to oust Trump.
Immediate reactions to the Biden-Harris ticket on social media indicated how much supporters were looking forward to seeing Harris face off with Pence during the debates: The match-up seems to be made in meme-heaven.
Perhaps meme culture is the best response to the Biden-Harris ticket, as Democrats must support Biden as the only way to oust Trump–though Biden is far from ideal. "Biden is very problematic in many ways, not only in terms of his past and the role that he played in pushing toward mass incarceration, but he has indicated that he is opposed to disbanding the police, and this is definitely what we need," said civil rights activist Angela Davis.
Davis continued, "The election will not so much be about who gets to lead the country to a better future, but rather how we can support ourselves and our own ability to continue to organize and place pressure on those in power. And I don't think there's a question about which candidate would allow that process to unfold."