Interspiritual minister Chelsea MacMillan talks faith and healing in a time of tremendous change.
The Visionaries Project is a subsection of The Liberty Project dedicated to highlighting the lives, passions, and work of radical activists currently working towards social justice and liberation from oppression. We aim to uplift the perspectives of diverse voices working in media and activism today—and not just the faces who make headlines, but the real people on the ground every day, working towards their visions of a better world.
Rev. Chelsea MacMillan is the founder of the Brooklyn Center for Sacred Activism, the co-host of the podcast The Rising: Spirituality for Revolution, and a dedicated activist, community organizer, and "warrior for peace and change." She recently taught a course called "Reclaiming the Apocalypse," and her wisdom is invaluable in these times of crisis, and always. We spoke about the overlaps between religion and spirituality, collective healing, mutual aid during coronavirus, climate change, and more.
Find her at her Patreon and her website.
LIBERTY PROJECT: Did you grow up spiritual, or involved in activism?
CHELSEA MACMILLAN: I grew up in a really evangelical, conservative Christian family, but I rejected it pretty early on. My parents divorced when I was like ten or eleven, and that was around the time where I realized that being a Christian doesn't mean you're a perfect person. I was just woken up to a lot of hypocrisy. I started rejecting the exclusionary attitude of the churches that we went to, and I called myself an agnostic for a while. I started to question my epistemology without realizing it, wondering why I thought the way I did.
Then I started traveling the world in a performing group, and I had a lot of really intense, magical experiences that I think were mystical experiences. I remember feeling really connected to all people and all creatures everywhere, and I felt this sense of oneness. I definitely felt spiritual, though I didn't want to put it into any form.
Then I worked on staff at a place called the Omega Institute, which is a big retreat center in the Hudson Valley. I tried out different forms of Buddhist meditation and Earth-based practices and things that were vaguely pagan or shamanic, as well as more New Agey things. But I was always really impatient with the way that spiritual communities were in terms of what was happening in the world. I couldn't really accept the idea that we were all one and that we could "be the change we wish to see" while sitting on our yoga mats. The world doesn't reflect that. Yes, it's a spiritual truth, and I've experienced that feeling of oneness and connection, but I think it doesn't do any good to just sit here and believe that. We have to realize and actualize this belief.
During one of my summers at Omega, I learned about this interfaith seminary called One Spirit. I went there and was ordained as an interspiritual minister, and it was there that I learned about sacred activism. I actually took a class with Andrew Harvey, who basically coined the term "sacred activism." He was one of the only people really talking about how activists and spiritual folks needed to come together, because there's a shadow side to both of those groups.

And I realized...this is why I came here. This is what I've been looking for my whole life. Sacred activism is the idea that activism in itself is a sacred path, because all the great spiritual teachings tell us to live our lives with compassion.
I had also been going to a lot of activist meetings and circles and thinking that the people there really needed spirituality. Everybody was so caught up in blaming and shaming. No matter what your ideology is, rigid and dogmatic ideologies are harmful. That's what I had grown up with—but now I was with the liberals, and it was the same sh*t. It wasn't loving and wasn't accepting.
Along your journey to finding the place where activism meets spirituality, are there any experiences that stand out to you as particularly formative or that you feel set you on this path?
I did have a moment recently that confirmed for me why I'm on this path. This past October, Extinction Rebellion had a global week of rebellion. We started with actions at Wall Street and threw fake blood on the bull, and we did this dramatic die-in in front of the stock exchange.
We were also doing RebelFest in Washington Square Park, which felt like an example of realizing that you don't have to perform a direct action to be disruptive. Building community is disruptive, and feeding each other for free is disruptive, and doing art together is disruptive.
That week, I also took part in the Times Square takeover with XR. We shut down an intersection with this big bright green boat, and there were 13 of us who were glued and chained to it. My comrades and I were put in the tombs, which is where they take everyone who's been arrested, and there was a woman detoxing from heroin on the floor and a pregnant woman who totally should not have been in jail. It was a really intense experience, and I remember thinking—could I go to jail for longer? Would I be willing to go to prison for this cause?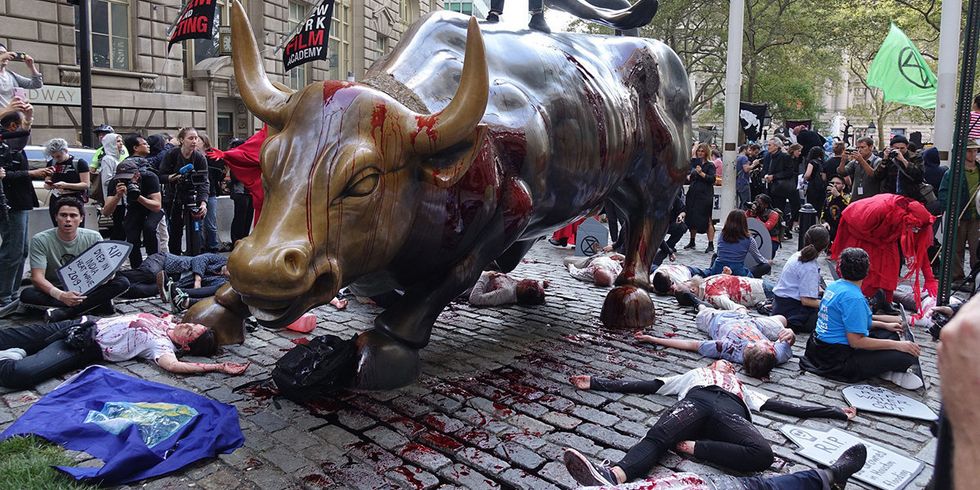 Wall Street
I was going through these ups and downs of feeling like I was losing my mind, and there was a moment where we all just were laughing at ridiculous things because...you lose all your power in there. You don't know [when] you're going to be let out; you're hungry and tired and dehydrated and dirty. And I was like… Could I do this more? Could I be here for months? Do I have it in me? I remember thinking, what am I called to do? How am I called to serve?

I thought of all the people who have inspired me like Dorothy Day and MLK and people who really followed that calling to make the world a better place. It's a spiritual calling.
I realized I do feel like I'm willing to sacrifice my life for building a more just and loving world. I was surprised to feel that in a moment of despair, but that's where I felt closest to God, spirit, or the great unknown. I felt like I was being called, and it felt very powerful.
What does your vision of a better world look like?
What excites me is thinking about the mystery, rather than coming up with the best plan for a bright new world. This requires us to be in the present and in the future and to bring the future into the present. When I think about a vision for the world, I ask questions like: How do I want it to feel? What does it look like, sound like, feel like?
I think what the future looks like is here now. I see it all the time. I see it with the current crisis, in the ways in which people have been jumping into action around creating and activating networks of mutual aid—and taking time to play with their kids, and rest and take walks in the park. I see it in places where we're really connecting with each other.
I think of a new world, or the future, as one in which we're taking care of each other, in which we're really connected. Can you imagine, if we really took care of each other? We wouldn't need housing justice. We'd already be doing it. We wouldn't let anybody not be cared for. We wouldn't have people going hungry, because we'd already be feeding each other.
It sounds a little overly simplistic to say all of that, but I think bringing things into the present and asking—what do we have that we want to grow?—actually helps us be more grateful for what we do have.
Humans have a limited capacity for understanding. We understand a lot and we're constantly innovating, and that's sort of what it means to be human—finding meaning—but we can't see the future, and we make mistakes. As soon as we have a plan for the future, it limits creativity and the emergence of something that can grow from the ways we're already connecting with each other and being with each other.
So many religions seem to boil down to this idea of compassion, and I'm definitely seeing that in responses like mutual aid. So in light of all your work, how have you been processing the current crisis? Are you seeing potential in it? I know you taught a workshop on the apocalypse—not that this is an apocalypse, but...
But we are! It's like a perfect example of the apocalypse. Apocalypse means "to lift the veil," and having this crisis is showing us how f*cked-up our medical system is and how f*cked up our whole economy is to rely on humans as capital. It's showing us how our leadership is broken, how so many people were living alone before this.
As a climate activist, we've wondered for a long time what can really change the momentum. It's so hard to make any change when there's such collective dedication towards keeping a system going, a system that is based on extraction and exploitation and corruption and domination and all of those things that are literally killing us and the planet. In XR we talk about stopping business as usual—well, here we are, and business is literally stopped.
It's my hope that it doesn't go back to normal. I don't want to go back to a world in which we're all hustling to make ends meet and we're working so hard and so long that we don't have time to connect to each other.
I do think it's showing us what's possible. All of the politicians and businesspeople have told us for a long time that it's not possible to stop the system and change it all in order to stave off the climate crisis—but we're doing it.
If the New York Times was reporting on the climate crisis as much as it's reporting on the coronavirus crisis… that could change things. If everyone was told that we have to stop using our cars and we have to stop doing this thing and taking flights and traveling for our safety and so we don't die…maybe we wouldn't have as big of a problem. The response we've been taking with coronavirus actually needs to happen with this climate crisis.
It all does seem like a wakeup call. Before this, it seemed like most of the people I know—even if they weren't plugged into the climate crisis—had the feeling that something unsustainable was going on, that something precarious was happening. And this does seem like a large planetary exhale to me.
We need to bow down and honor what's happening to us, to step back and see how enormous this shift is. It kind of takes my breath away. It's honestly the same feeling that I felt when I was sitting in jail.
It's interesting that you compare the feeling you're having in this crisis to the feeling of being in jail. Those both seem like moments of great change and shift. I keep seeing Octavia Butler's "God is change" quote everywhere and it feels like these moments could be related to that.
I love that quote. It's probably my favorite way to describe God.
I'm seeing all this in two ways: There's tragedy, but there's also growth that could be happening. It feels like if anything it's waking us up to the importance of community and the current lack of community. Even a lot of activism work doesn't seem to hone in on community or connection or rest and then there's so much burnout, and it feels like all this is kind of calling for a practice of rest and community-building.
I think it's so easy for humans to jump in and ignore all of our feelings and ignore connecting to each other, focusing on how we might fix this painful feeling, instead asking—what is this moment telling us? There's something beyond my comprehension happening right now.
It's easy for me to say that in times of crisis, people jump into action to help each other, because that's what I see in communities. But it's also true that there are people who get scared and hoard and only take care of their own.
I think every human has both responses possible in them, and this reminds me of a story that I read as part of my apocalypse research called Why the World Doesn't End by Michael Meade. He says there are three kinds of people in the world: There are the people who just only care for themselves and maybe their families, who in times of crisis will turn on their neighbor, and who are just trying to survive. Then there's a second group of people that really care about others and contribute to community and are attuned to other people's needs; but those people, under great stress, will also turn on their neighbor and contract and hoard and try to protect and defend themselves and their families.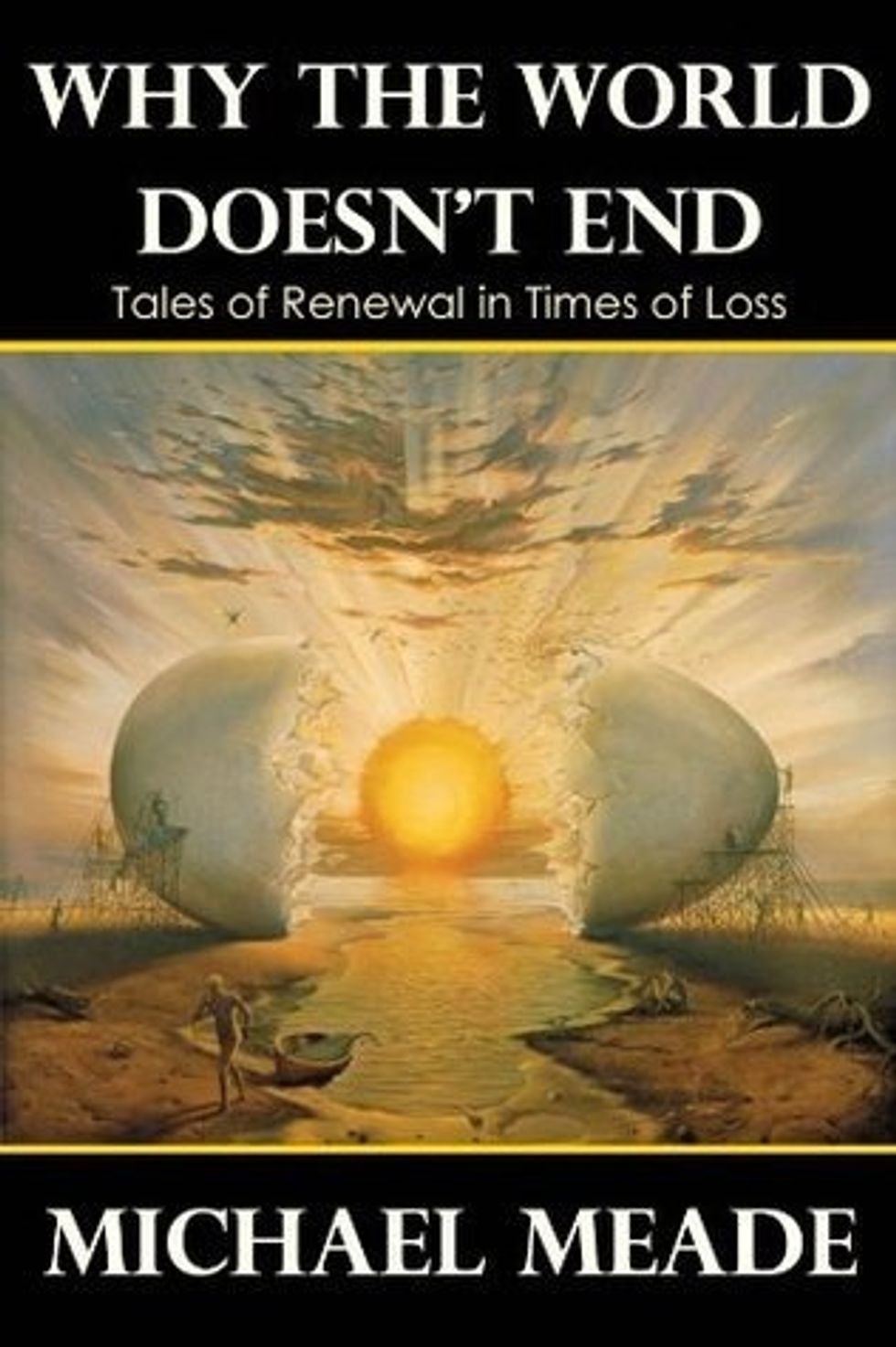 Goodreads
But then there's a third kind of person that in the midst of crisis will rise up and reach out when the impulse is to actually turn back in. I think that's what being a sacred activist is: someone who can be with the unknown and who can be with the vulnerability of reaching out in times of danger.

I think in order to be able to reach out, you have to rely on something other than yourself. You have to be able to rely on something, even if that's your community or if that's God or spirit or even the earth. You have to feel supported enough to reach out to others in a time of crisis.
I think that's been sticking with me. Who's going to be that third group of people?
Alright, I'm done on my soapbox. That's my sermon for today.
What do you suggest people dive into, if you're looking for a way to get involved at this time? I know you mentioned mutual aid.
XR has been plugging into neighborhood groups and existing networks of mutual aid. That could be taking care of your neighbors and seeing what they need or delivering meals to aging populations. Also there's something called The Leveler, a wealth redistribution tool that allows people to donate a certain amount of money to people who just lost their jobs.
But also...check in with people. Be with the feelings. XR has ramped up offerings for people to connect with each other and share their feelings and meditate. It's called "Extinction Resilience," and it'll pretty much be happening twice a week right now, and that's a great place to cultivate inner resilience.
Prisons and coronavirus is a particularly dangerous combination, one that could lead to disaster.
As the whole world slowly self-isolates and New York City shuts down completely, prison inmates remain in close quarters, making prisoners extremely vulnerable to exposure.

Prisons and coronavirus is a particularly dangerous combination, one that could lead to disaster. "Jails and prisons are often dirty and have really very little in the way of infection control," said Homer Venters, former chief medical officer at Rikers' Island. "There are lots of people using a small number of bathrooms. Many of the sinks are broken or not in use. You may have access to water, but nothing to wipe your hands off with, or no access to soap."
Inside prisons, it may be nearly impossible to successfully separate sick patients from well patients. Outbreaks are inevitable, and healthcare in prisons is often lacking to begin with.
Because of this, most public health officials are arguing that the best solution to the problem is mass release. According to the Marshall Project, Mark Stern, the former Assistant Secretary for the Washington State Department of Corrections, has suggested "downsizing" prison populations in order to ensure inmate and staff health and safety. Downsizing might involve releasing low-risk prisoners and proposing alternatives to arrest for certain crimes.

David Falthi, director of the ACLU's National Prison Project, puts it more succinctly. "The only effective response is to reduce the population density by releasing people," Fathi says, "starting with those who are most at risk of severe injury or death if they were to contract the virus." In particular, people who suffer from preexisting health conditions and other vulnerable populations like older people, ought to be sent back to their families where they can isolate and be taken care of.
"Across the U.S. we have built a system of punishment that is traumatic, and this is only increased with the coronavirus," said Becca Fealk, an organizer with the American Friends Service Committee of Arizona. "ADC must do more than just provide soap to reduce the chance of an outbreak. They need to release people, including older/aging adults who can be cared for by their loved ones."

Many prison administrations have insisted that they're complying with the CDC's guidelines with regards to their incarcerated populations, but if prisons aren't providing inmates with basic human rights and living supplies—and if even Tekashi 6ix9ine can't get to a doctor—how can we expect them to take care of people during an outbreak?
Prisons Begin Releasing Inmates—But Is It Enough?
Faced with a public health crisis that could lead to mass deaths, prisons all around the nation and the world are taking note. Alameda County plans to release 250 inmates, per NPR, and Los Angeles jails have also begun releasing nonviolent inmates. In New Jersey, up to 1,000 inmates will be released this Thursday, including those serving for parole violations and those serving municipal court convictions. In some places, prisons and law enforcement are coming together to reduce their inmate population. France has delayed or suspended short-term sentences, reducing daily prison admissions from 200 to 30.
These actions garnered support from Senator Kamala Harris, who tweeted that the Bureau of Prisons should release "all low-risk inmates, including those who are in pretrial detention because they can't afford to make bail."

Some jails are also beginning to waive copays in an effort to make sure their incarcerated populations receive healthcare.
"The state's decision to temporarily suspend the $4 copay — the equivalent of a week's worth of work at the prisoner minimum wage of 10 cents an hour — for people reporting cold and flu-like symptoms is a step in the right direction," said Prison Law Office attorney Corene Kendrick, "but it exposes how counterproductive it is to have such a barrier to seeking care. Unfortunately, prior to the COVID-19 crisis," she added, "We regularly heard from incarcerated people that there were shortages of hygiene supplies such as toilet paper and menstrual products." Many incarcerated people's families wind up paying for their hygiene and healthcare.
The coronavirus crisis is exposing the flaws in many institutions, and mass incarceration is just one of them. All these revelations beg deeper questions about why inmates weren't given these supplies or opportunities in the first place. Activists have been asking these questions for years, and the tragedy of the American carceral system has come to the fore in the case of migrants enclosed on the U.S.-Mexico border and in ICE facilities across the nation.
In three ICE detention centers in New Jersey, prisoners are currently on hunger strike in protest of poor conditions and coronavirus risks. One detainee told Vice that his fellow inmates are being kept in a small room without access to soap or even cleaning supplies.

"They say they are locking us in so we can be protected," said a current hunger striker named Olisa Uzoegwu. "But they don't do anything different. The cells stink. The toilets don't flush. There's never enough soap. They give out soap once a week. One bar of soap a week. How does that make any sense?"
This week, hundreds of doctors and thousands of activist organizations expressed this concern about these issues, flooding ICE with letters demanding that they release their overcrowded detention centers. The only crime committed by inmates in these facilities is usually non-sanctioned entry to the United States. Despite all this, ICE is still making arrests. Agents were spotted tracking down undocumented immigrants in San Francisco the day of the state's lockdown.
A Global Issue and a Gathering Storm: Colombia, France, Iran, and the US Grapple with Prison Risks
But the coronavirus pandemic is a global issue, and prisons all around the world are facing questions about how to handle incarcerated populations and prison employees. In some cases, inmates are taking things into their own hands. In Colombia, a prison riot left 23 inmates dead. Prisoners were rioting in protest of overcrowding and poor health services that they felt left them at an extreme risk. Riots have also broken out in prisons in Brazil and Italy.
The largest prison coronavirus outbreak in the nation is in New York City, with 38 inmates at the Rikers' Island prison testing positive; 20 have been released, and 200 more will be tested today. In As Mayor Bill DeBlasio considers whether to release 200 more people, 551 people serving "city sentences" for minor offenses and another 666 serving for technical parole or probation violations (like missing a drug test or a parole check-in) are trapped in Rikers alone. These are nonviolent offenders who do not deserve to be exposed to a potentially deadly virus. Still, the New York Police Chief has said that his officers will not cease making arrests, even though 70 officers have tested positive for COVID-19.
All across the nation and the world, jails are releasing inmates. Why they—especially nonviolent offenders—were there in the first place begs a different question. For now, the most important thing is to open the jails and let the people go. Short of mass release, prisons should not be arresting new inmates outside of extreme circumstances; they need to take more precautionary measures, institute comprehensive testing and quarantine, and follow protocols like those called for by the Federal Defenders of New York.
"A storm is coming," wrote Ross MacDonald, the chief physician at Rikers. "We have told you who is at risk. Please let as many out as you possibly can."
How to Help
In the meantime, anyone concerned can make a call to their state representative and inquiring about their current efforts; calling airports and prisons using this script from the New Sanctuary Coalition; participating in actions and protests like those being hosted by the Never Again Action, donating to the ACLU, the Southern Poverty Law Center, and other similar organizations.
You can turn your panic into action—from the comfort of your own home.
Coronavirus is everywhere, and it's almost impossible to avoid being affected in some way—just like it's almost impossible to avoid all the news coverage about it.

It's also easy to feel helpless as people around succumb to fear and panic. But what we really need right now is to come together—not in person, but from our computer screens, in our neighborhoods, and with whatever platforms we have.
Here are five ways to turn your fear into action and help out during the coronavirus pandemic.
1. Stay inside
There is nothing more important than self-isolation right now. Though it may feel counterintuitive, staying indoors is the absolute best way to prevent more people from acquiring the illness. If you are young and healthy, you still need to stay inside, because anyone can be a carrier of the virus without knowing it—and you could easily pass the virus along to more vulnerable populations, so going out right now is an incredibly privileged way to show that you don't care about other people.
"If you are healthy, but infected, and feeling fine, you not interacting with other people is going to slow this virus down," said Dr. Joshua White, a chief doctor at Gifford Medical Center.
Avoid bars, clubs, and even hangouts with your friends until things start to clear up. Simply having one person over could be enough to spread the virus. It's incredibly difficult, but now quarantining is the best way anyone can use their time. If you have to go out and work or if you have other responsibilities, just use every precaution you can.
It's also important to stay healthy yourself during this time. Don't overdo it with reading the news, don't spread misinformation, and take the steps you need to conserve your own mental and physical health.
2. Donate or support an organization providing emergency relief
The cancellation of school means many kids will be left without school lunches. Local food banks can really use your help right now. Meals on Wheels and the Center for Disaster Philanthropy are running major disaster response efforts. Use this website to find food banks in your area, and if you're seeking a charity to give to, check out this list of trustworthy organizations from Charity Navigator.
Support vulnerable communities like Navajo and Hopi families living in food deserts, incarcerated people, immunocompromised people, and migrant workers.
A few immediate actions you can take now that don't involve money: Text COVID19 to 747-464 or call 1-844-633-204 and ask your state senator to pass the State Coronavirus Bill, which includes the Families First Coronavirus Act. Or, per the NDWA, call 1-855-678-4150 and demand that domestic workers receive paid sick leave.
3. Support the arts, restaurants, and other affected industries
Many people have been left without a source of reliable income during this time. Restaurants are suggesting that you purchase gift cards to use in the future when they're open again, so support your local spot in this way.
You can also donate to freelance artists, either on an individual scale, by purchasing their products, or by supporting funds like the Immigrant Small Business/Freelancer Fund and the Performing Artist Emergency Micro-Lending Grants. If you're able, don't request refunds from venues or services that have been cancelled because of the virus.
There are many resources online for freelance artists. If you are an artist or know any and want to help, check out this comprehensive resource doc.
Sex workers will also be hit especially hard by this crisis. Consider supporting the Emergency COVID Relief For Sex Workers in New York or looking up ways to help in your own country or community.
4. Join a neighborhood movement organization
While isolation is important, if you're able, it's helpful to join a mutual aid fund or check in on your neighbors in whatever way you're able. Be conscious of the fact that, though the coronavirus can affect anyone, everyone has different levels of ability with which they can respond to the crisis. Some people can't afford two weeks of groceries or hand sanitizer, and some people will be left completely alone during this time. Other people already dealing with extreme effects of issues, like mass incarceration and environmental racism, will not have access to necessary precautions and safety.
You can use this flier to check in with your neighbors, check out this guide for help creating a neighborhood pod, or use this form to start your own neighborhood Slack. Check out this doc for more information about mutual aid in general. Or, just send a message to anyone you know who might need help and support to get the ball rolling. It's important to support each other now and deepen our connections, even as we become more divided from each other in terms of physical distance.
5. Stay informed
While it's important to limit your exposure to coronavirus news, it's also important to make sure you're sharing accurate information and helping others sift through the noise instead of adding to it. Understand how coronavirus discourse can play into ableist hypocrisy, racism, and xenophobia, and how other preexisting conditions created by economic inequality and systemic issues can determine who gets affected by the virus. Read perspectives from people who need help, set aside a specific time to do your own research, take action instead of constantly scrolling through panicked posts, make a donation plan or a list of five organizations to donate to, keep an open mind as circumstances change, and stay healthy, friends.
We want to hear your voice. Want to add your organization or resource doc to this article, know someone who's doing amazing work, or want to guest post on the Liberty Project? Email eden@popdust.com.

On the Greek island of Lesvos, volunteers and refugees are facing violent attacks from locals.
Each day, dozens of refugees wash up on the shores of the Greek island of Lesvos. They come at all hours and from many different shores.
These refugees will be in the midst of dangerous journeys across the ocean, having fled their homes. Some come to the shores of Greece for a shot at a better life, but most come simply to survive.
One Border Falls, Another Closes
Last week, Idlib—one of the last rebel strongholds in Syria—began to crumble as Russian-backed airstrikes eviscerated its infrastructure. Surviving residents fled in huge numbers to the neighboring nation, Turkey.
Turkey has been shouldering the vast majority of the world's refugees since the worldwide crisis coalesced in the 2010s, and they currently host over three million refugees. Following Idlib's fall, Turkish president Recep Tayyip Erdoğan declared that Turkey's borders were officially open because his nation could no longer handle the flows of refugees rushing out of Idlib.
This action was in violation of a 2016 Turkey-EU deal, in which the EU promised $6 billion to Turkey in exchange for their closed borders (though Turkey has only received roughly $3.2 million, which is perhaps the cause of Erdoğan's violation).
Many of Turkey's migrant population, aided or pushed by Turkish police, immediately attempted to flee Turkey for Greece, embarking on a journey across the Aegean Sea. Across the nation, Greek citizens and law enforcement officials have reacted violently, greeting refugees with tear gas, water cannons, and brutal attacks. Millions of refugees are now in prison-like camps on Greece's borders; others are still at sea, blocked by government ships on both sides.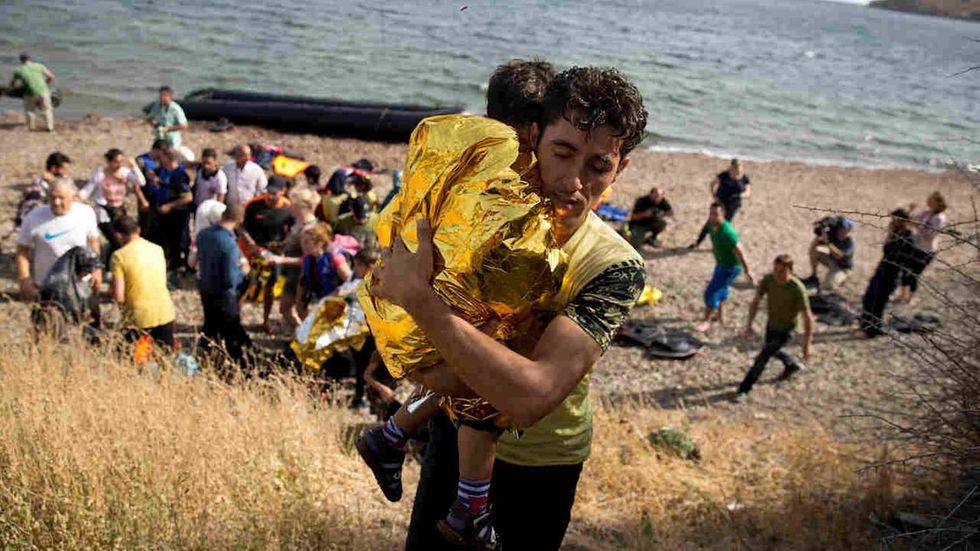 laoistoday.com
Lesvos: A Microcosm of a Macro-Disaster
The island of Lesvos has seen a particularly harsh fallout from these recent events. Since the news from Turkey broke, local islanders have launched huge protests, establishing roadblocks and patrols to prevent migrants from moving from the sea into the camps.
In February, seven Lesvos inhabitants were arrested for planning violent attacks on migrants; following Turkey's announcement, journalists and aid volunteers have been injured by locals, and warehouses containing supplies and donations have been burned. Many of the organizations providing life-saving resources to refugees have been forced to shut down, and locals have been forcing boats to turn away from the island, resulting in the death of at least one child.
A far-right neo-Nazi party known as the Golden Dawn, which may be gaining prominence on the island, may be behind some of these actions.
Crumbling Patience: Lesvos Takes Fallout from the Syrian War
Lesvos's inhabitants were once praised for the strength of their solidarity. The island is vast and full of empty stretches of land, and the makeshift camps only take up a tiny fraction of its dry mountainous areas; but lately, the influx of migrants from Turkey and the threat of new government-built migrant centers have catalyzed a new wave of xenophobic violence.
The horrors of Lesvos's one major holding camp—Moria—are difficult to describe. The camp, designed to hold 3,000, currently holds over 20,000 refugees. Many languish there even though they have family and job prospects in the EU, held in limbo and exposed to disease and traumatizing violence, both of which run rampant in the camps.
In light of the recent riots, North Aegean governor Kostas Moutzouris has called for the declaration of a national emergency. However, politicians and human rights organizations have constantly called for an end to the misery on Lesvos since the crisis began five years ago.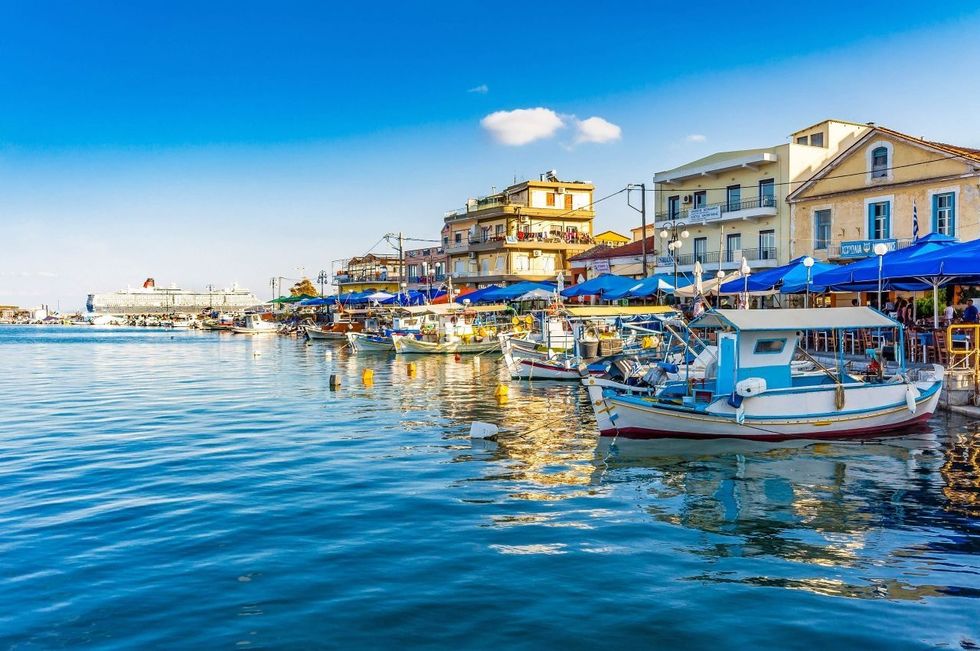 Greeka.com
Of course, all these events are tragic consequences of much bigger political movements. The EU's failure to accept more refugees—and its failure to support the people living in its nation's camps—have burdened the island with far more refugees than it can handle. "The Lesbos community has been abandoned by its own government for almost five years to deal with the consequences of a failed reception system. Like the refugee community, it is tired," said Sophie McCann, a Doctors Without Borders advocacy advisor.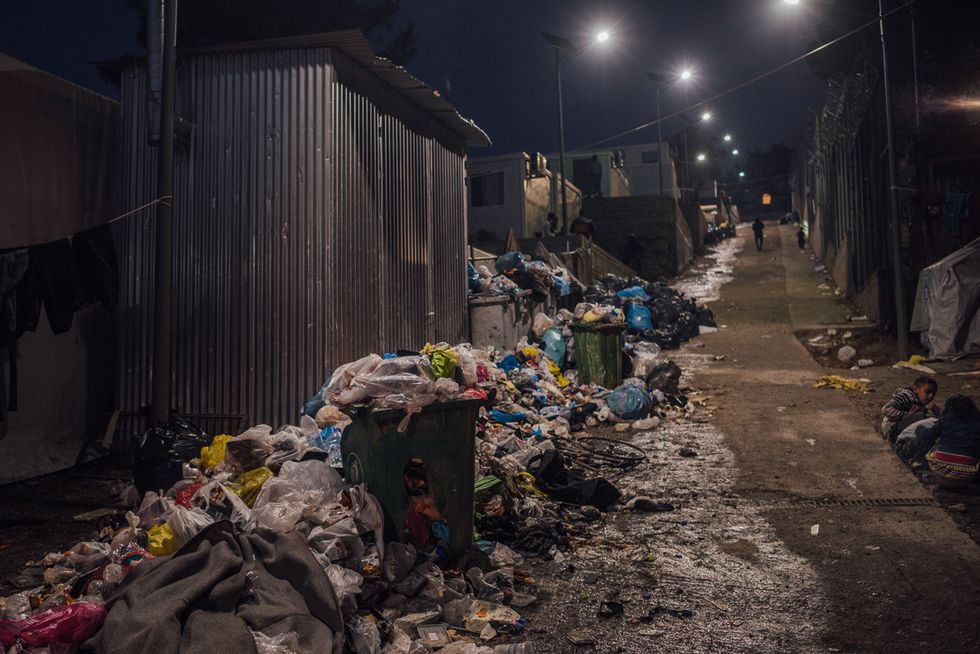 Al Jazeera
In turn, the proliferation of refugees is the result of a complex humanitarian disaster, one that often has unfortunate consequences. "Refugees are not a bargaining chip to be played with at the whims of political leaders," said EuroMed Rights President Wadir Al-Asmar. "Europeans cannot look away from what might become one of the worst humanitarian disasters the war in Syria has brought on its people. Respecting international humanitarian law as well as the human right to protection and refuge remain the sole possible answer in the face of such indiscriminate violence."
The Syrian civil war, which began in 2011, has killed 500,000 people, coming out to nearly 1 in 10 Syrians. The conflict was caused by many complex forces—including climate change, which led to a drought that resulted in congestion and economic stagnation in Syria's inner cities.
Climate change activism has a whiteness problem and a class problem.
Climate change is inextricably linked to other systems of oppression, like neoliberal capitalism and colonization. But mainstream environmental movements have historically failed to recognize the roots of the climate crisis; and partly because of this, climate change activism has a whiteness problem and a class problem.

The movement's hypocrisy has grown harder to ignore as the climate crisis has intensified. Environmental racism has left poorer communities on the frontlines of unclean air and dangerous pipelines, while largely shutting their voices out of the decision and policy-making aspects of change.
The problem is rooted in the way environmental activism has traditionally been defined. Early environmental efforts (at least the ones that received the most funding) often focused on preservation and conservation of untouched land. These efforts existed in silos, painting the Earth as a childlike entity—as if the planet was separate and somehow lower than humans. This Earth was treated like an entity that required saving, and the saving was to be done by corporate firms and guilty consumers.
Even during these early times, many groups were actively fighting systemic oppression in conjunction with environmental activism, from Latino farmworkers protesting pesticides to Black students in Harlem fighting to oppose city garbage dumps in their communities. Still, over the next several decades, the mainstream environmental movement failed to realize that the climate crisis was not merely a matter of spoiled rivers and suffering polar bears. The climate crisis was seen as something separate from human life and separate from other social issues. Large "big green" corporations focused on promoting small changes that people could make on individual scales, as if "going green" could save us. We could all take shorter showers, take the bus instead of driving, purchase expensive organic products, and shut up—nevermind that the super wealthy have always used up far more resources and energy than their fair share.
A Crisis of Understanding
"Our economic system and our planetary system are now at war," writes Naomi Klein in This Changes Everything: Capitalism Vs. the Climate. "Or, more accurately, our economy is at war with many forms of life on earth, including human life. What the climate needs to avoid collapse is a contraction in humanity's use of resources; what our economic model demands to avoid collapse is unfettered expansion. Only one of these sets of rules can be changed, and it's not the laws of nature."
The climate movement will absolutely fail if it does not recognize the importance of its relationships with other social movements. The climate movement must stand in solidarity with organizations fighting for racial and class equity, for an end to the prison industrial complex and for reparations. It must stand in solidarity with people of color and particularly with Indigenous people, who have always been leading in the fight, and all climate movements must defer to leaders who are living on the front lines of the crisis.
If the climate movement continues to prioritize "an end to the climate crisis" over an end to capitalism, if the movement continues to languish in apocalyptic fears rather than paying attention to how climate actually affects people's lives, if the movement remains disconnected from actual life and the way that the climate crisis is already here for so many people around the globe, it will fail.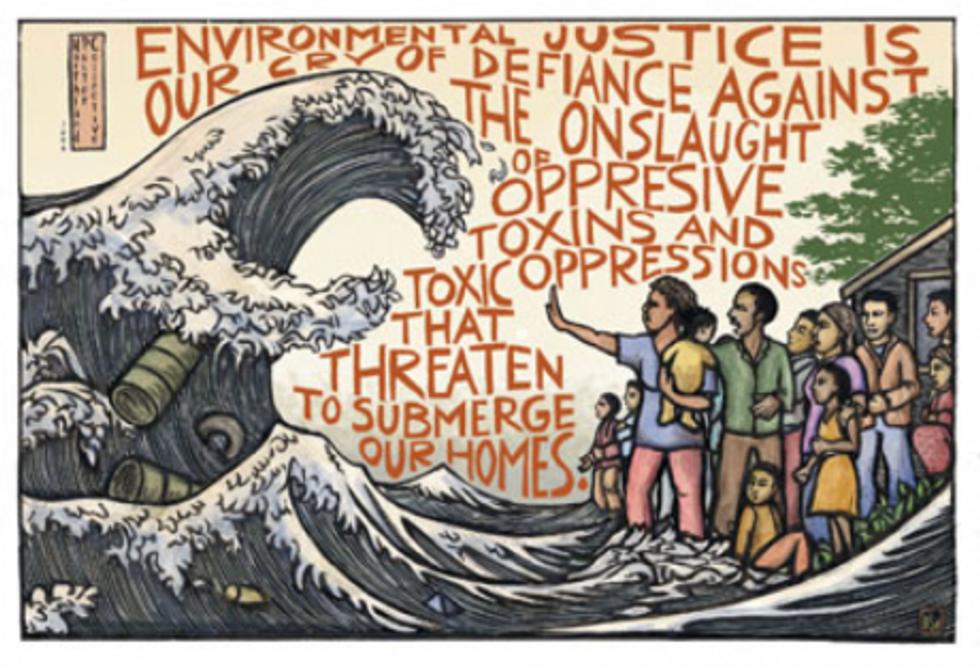 socialism.ca
Just as we humans cannot survive if we view ourselves as separate from the earth, we can't view the climate crisis as unrelated to other issues of inequality and systemic violence. We need to understand that, just as everything in nature relies on everything else—rivers flow into oceans, tree roots create an underlying network of communication that stretches through an entire forest—the movement to stop climate change is the movement to end relentless capitalism, which is also the movement to actually address the monetary inequalities that still exist because of America's legacy of colonization, slavery, and other violences.

The Future of Environmental Justice
Activist groups are waking up to this, at least theoretically. Groups like the youth organization Sunrise Movement have rallied around Alexandria Ocasio-Cortez's Green New Deal, a movement that aims to combine a massive reduction in carbon emissions with reforms that will make safe housing, affordable food, and health care available to everyone.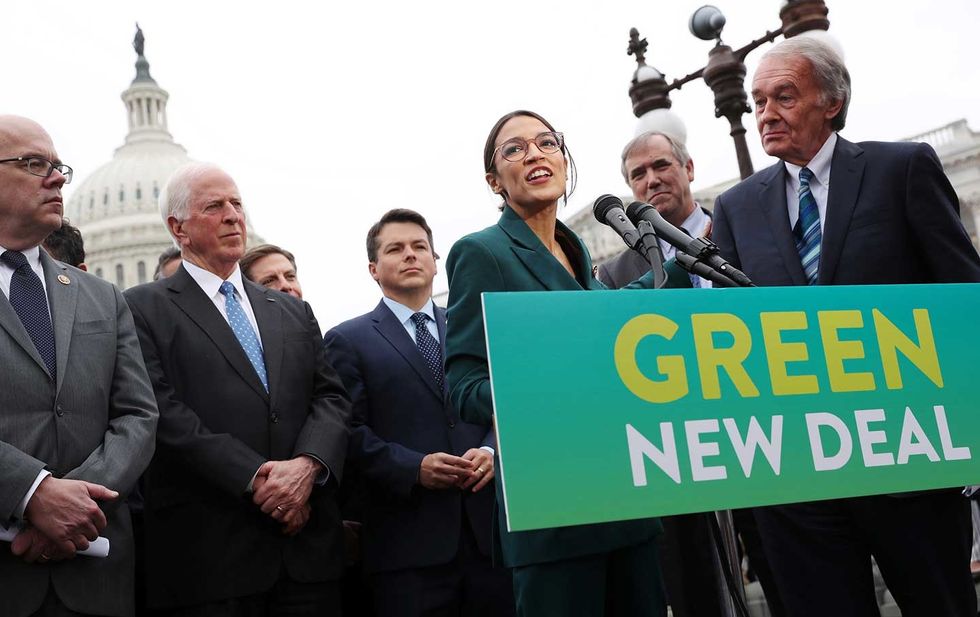 thenation
In some ways, Sunrise still suffers from the problems that have always plagued environmental groups: a pervasive level of whiteness and classism. But the movement has been discussing how to change this, initiating a hub restructure program and encouraging the development of smaller, more local groups that will facilitate local outreach. The next step is to put the voices of people who are already fighting for justice into power, people like the Indigenous climate activists who have been protecting the earth for centuries, often at great personal risk.

These are complex tasks that require deep thought and challenging conversations, but they are of the utmost importance. The environmental movement will fail unless it embraces its interconnectedness with all things–Embracing interconnectedness will only ever make us all stronger.
Climate change will inevitably result in tremendous change. If we somehow succeed in pulling the world back from the brink of climate disaster but fail to address other systems of oppression—if we merely keep the world as it is, favoring only the super-rich, allowing suffering on a massive scale despite the fact that we have the resources to address it—would the movement be a victory for anyone except those who were already winning?
And what can be done about it?
A recent document leaked by the Chinese government has proven something that many of China's detained Uighur population and the global human rights community have known for a long time: China's central government is detaining groups of people on the basis of their religion and culture.
The new data leak contains comprehensive information on over 2,000 detainees being kept in China's detention camps, which have locked away almost a million members of ethnic minority groups, mostly Muslims, since 2014. Once again, the database proves that China's authoritarian government has been locking away people not only for religious extremism, but for activities as simple as going to a mosque.
The Chinese Communist Party has vehemently denied accusations that it's imprisoning people as a method of religious persecution, but by now it's clear that's what they're doing. What's less clear is what might be done about it—and what will happen to the nation's prisoners now that the coronavirus poses a serious threat.
Who Are the Uighurs?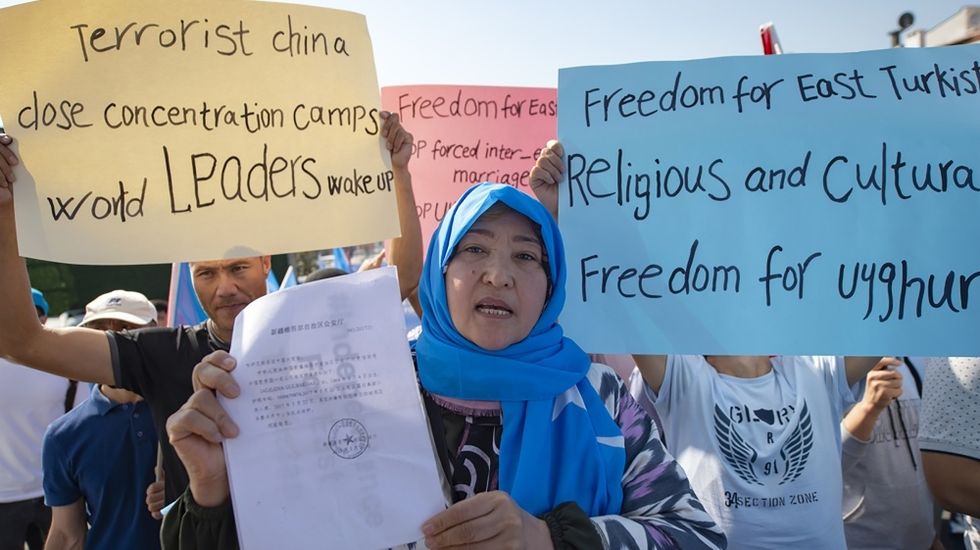 aljazeera.com
The term "Uighur" has a complex history, and its definition is largely contingent on who is defining it. In general, the term refers to a group of Muslims who are indigenous to Central and East Asian nations, according to BBC. They are usually thought of as having descended from the 8th and 9th century Turkish Khaganate empire, but many migrated from present-day Mongolia to present-day Xinjiang, where they joined with an ancient indigenous population and eventually converted to Islam en masse.
According to loose consensus, the term resurfaced in the 20th century when the group—with help from the Soviet Union—declared independence from colonial China in the first half of the 20th century. They were brought under Chinese control in 1949, when the Communist party took hold and ended the Uighur's experiments with independence. Today, like Tibet, Xinjiang is considered an autonomous nation but remains under China's authoritarian control.
According to many activists and spokespeople, Beijing authorities have persecuted the Uighur population for decades, restricting their cultural and religious activities. On the other hand, according to China's central government and its diplomats, the Uighurs are waging a violent campaign for an independent state, and by detaining them, China is acting out of necessity.
What's Happening to the Uighurs?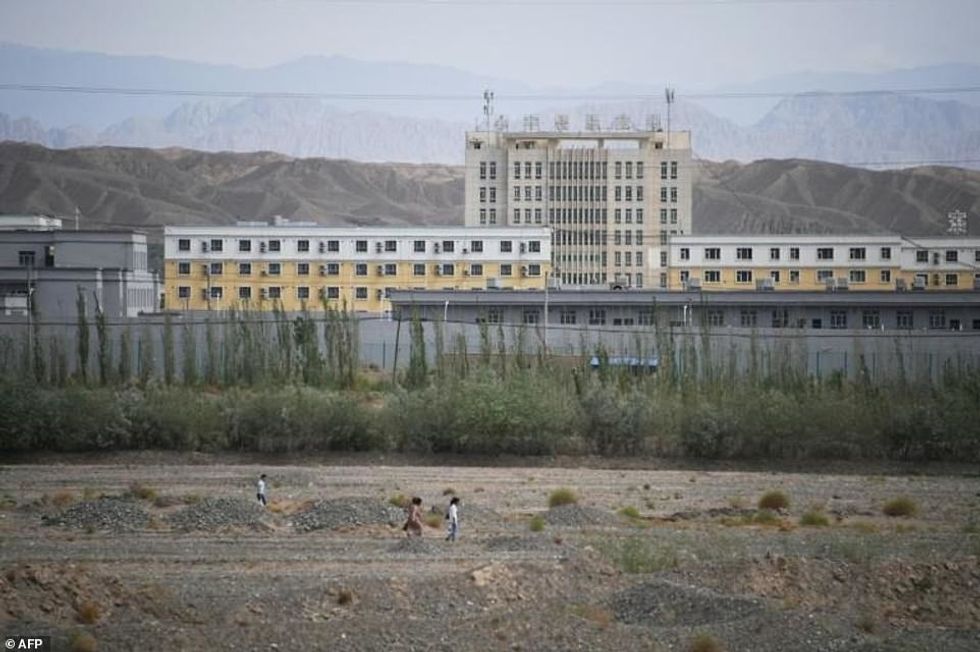 dailymail.co.uk
Today, the worldwide consensus is that the Uighurs are the subject of tremendous persecution in China, a persecution that was fastidiously hidden by the Chinese government for decades.
In November of 2019, The New York Times leaked 400 pages of documents that exposed China's efforts to detain Muslims en masse in the Xinjiang region. "Even as the government presented its efforts in Xinjiang to the public as benevolent and unexceptional, it discussed and organized a ruthless and extraordinary campaign in these internal communications," wrote Austin Ramsey and Chris Buckley for The Times. "Senior party leaders are recorded ordering drastic and urgent action against extremist violence, including the mass detentions, and discussing the consequences with cool detachment. Children saw their parents taken away, students wondered who would pay their tuition and crops could not be planted or harvested for lack of manpower, the reports noted. Yet officials were directed to tell people who complained to be grateful."
In essence, Uighur peoples were taken in massive numbers from their homes and detained in concentration camps, and the story was kept out of the global press for years. Rumors of the existence of China's Uighur prisons began to emerge in global media when Google Earth satellite software captured pictures of massive prisons in the deserts of Xinjiang in 2018. Interviewers and investigators who pressed the matter were told by Chinese diplomats that the camps were "re-education centers," and as news of the camps grew, the Chinese government began to release propaganda about its education initiatives.
Eventually, it became clear that Uighur detainees are subject to highly illegal abuses. They are forced to praise China's ruling party, to learn Mandarin, and to renounce their sins—which might include going to a mosque. People living in the camps have said they were forced to exercise and beaten when they could not follow the proper laws and regulations set by authority officials. "There was a special room to punish those who didn't run fast enough," said 29-year-old Ablet Turson Toti, who was detained in a camp in Hotan, in the south of Xinjiang. "There were two men there, one to beat with a belt, the other just to kick."
Uighur communities have been destroyed by Beijing's imprisonment and conversion initiative. "Every household, every family had three or four people taken away," said Omer Kanat, executive committee chairman of the World Uyghur Congress. "In some villages, you can't see men on the streets anymore—only women and children—all the men have been sent to the camps."
The non-detained also face persecution, forced to surrender passports to CCP government officials and prohibited from practicing Islam and wearing headscarves and subjected to "anti-extremism laws." Subsequently, many Uighurs have fled the country, living as refugees in Turkey and other nations, forced to lose contact with family members.
Why Is This Happening?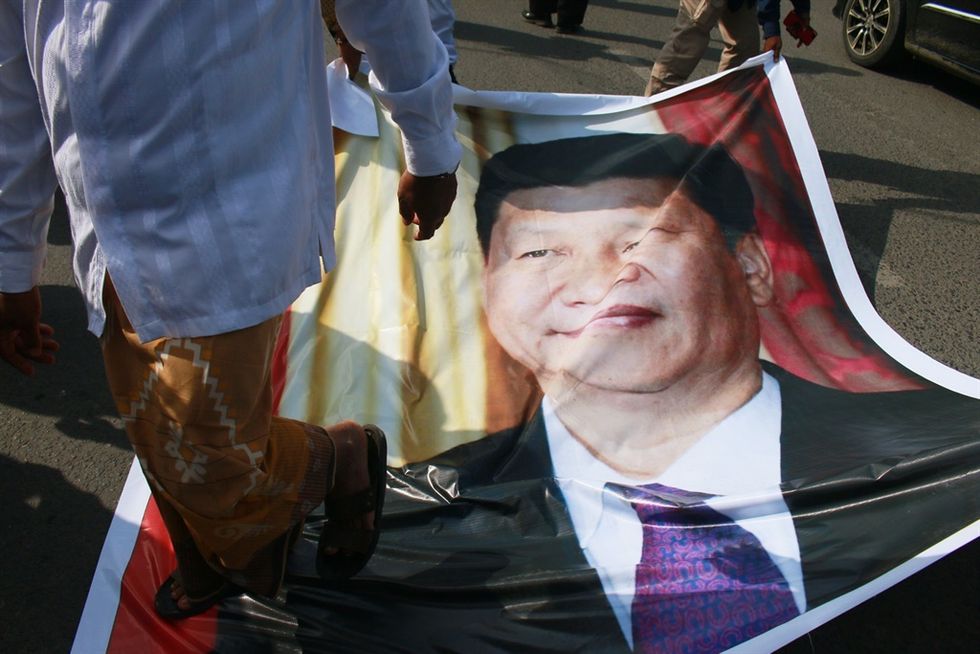 Business Insider
Ostensibly, the ethnic cleansing of the Uighurs is an effort on China's part to unify China, and to transform and deradicalize Muslims.
"Penetration of everyday life is almost really total now...You have ethnic identity, Uighur identity in particular, being singled out as this kind of pathology," said Michael Clarke, an Australian National University professor and expert on Xinjiang.
On another level, it's all about political power. In part, a rise in Islam may have led to the CCP's fears that the Xinjiang peoples could unify and rebel against the Communist government, as they had done in the first half of the 20th century."Why are Uyghur persecuted?" writes Massimo Introvigne for the World Uyghur Congress. "Although fears of 'separatism' may play a role, basically the answer is that they are persecuted because the strong revival of Islam among them scared the regime. The CCP was, and is, afraid that the Muslim revival may expand to other non-Uyghur Muslim groups in China, and join forces with a revival of religion in general that may one day overcome the CCP's rule. The logical conclusion is that, although no persecution is ever purely religious, the Uyghurs are indeed victims of a religious persecution."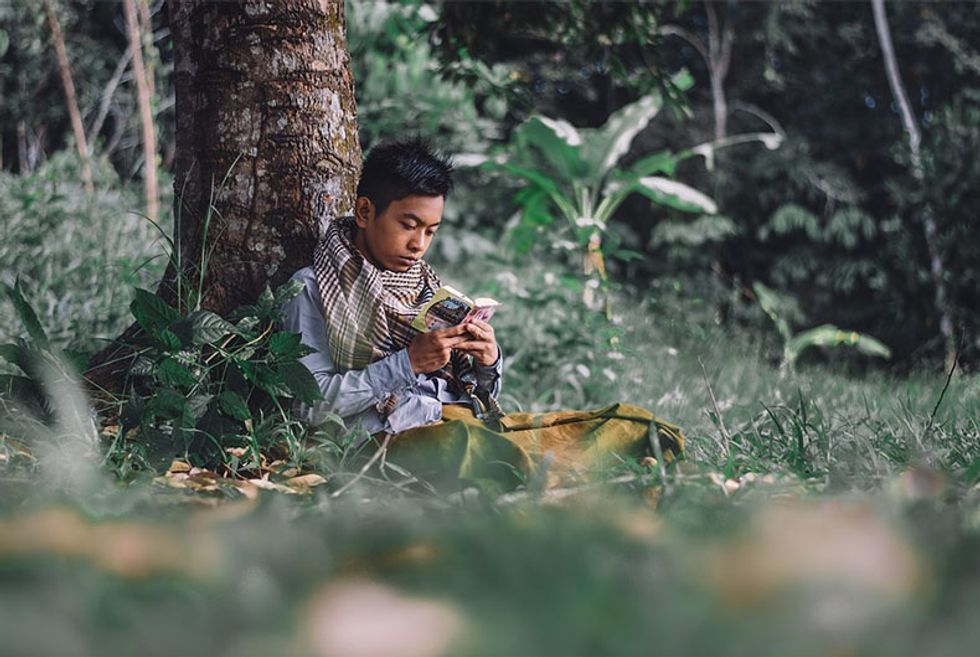 ummid.com
On an even deeper and more complex level, what's happened to the Uighur peoples is inextricably connected to capital and lines of profit, which cross oceans and connect major powers like the United States and China—and leave indigenous populations like the Uighurs in the dust. "The mineral wealth—in particular oil and gas—of a region almost five times the size of Germany has brought huge levels of Chinese investment, rapid economic growth and large waves of Han Chinese settlers," writes John Sudworth for BBC.
Despite the U.S.'s recent determination to denounce the Uighur government, no major power is inculpable. "In today's world, authoritarian politics and predatory commerce cooperate to exploit 'cultural differences.' Nowhere is this point clearer than in the symbiosis in recent decades between Western corporations and the Communist elite in China," argues Ai Weiwei in an op-ed for the Times.
That symbiosis reached a head during the post-9/11 era. In recent years, the United States has joined with the United Nations to denounce abuses of the Uighurs, but actually, the United States was instrumental in revving up early anti-Uighur and anti-Muslim sentiments. After 9/11, many members of the Uighur population were painted as potential allies of Al Qaeda, though little corroborative evidence has surfaced regarding these claims. Some 20 members were detained without charge and possibly tortured in Guantanamo Bay. "For years, the United States has been at the forefront of promoting an abusive counterterrorism architecture at the United Nations and has been allied with China on many of these efforts," says Letta Tayler, a Human Rights Watch expert on counterterrorism.
For their part, Muslim nations have also failed to protect the Uighurs. "Many risk looking like hypocrites over their own records of human rights abuses if they confront China—or risk imperiling lucrative partnerships," writes Joseph Zeballos-Roig for The New Republic. He identifies "deepening economic relationships, coziness with authoritarianism and the allure of a "Confucian-Islamic" alliance against the West" as "[outweighing] the political willingness of Muslim governments to act."
What Can Be Done About All This?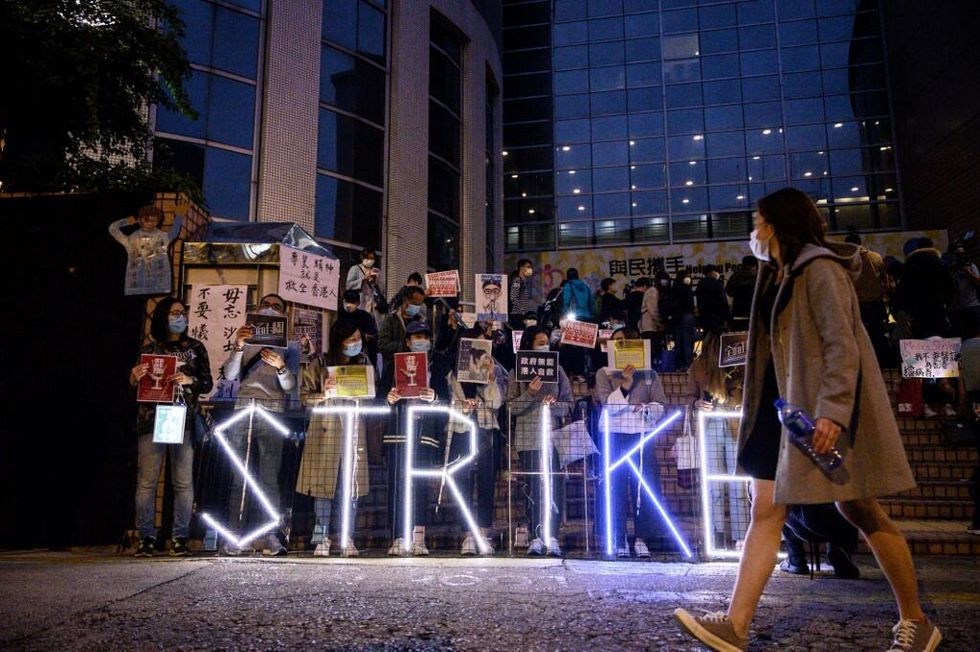 albawawa.com
What can people around the world do about the ethnic cleansing occurring in China? While it's tempting to fall back on an argument that the United States and major global powers should embroil themselves in China's affairs, this impulse has been a historically unproductive and dangerous habit rooted in a white savior mentality which usually leads to further turmoil. Instead, the United States should use its economic power to pressure China and Middle Eastern allies into changing their ways on the basis of human rights violations.
Already, lawmakers in Washington are pushing the Trump Administration to place sanctions on China, many of which enjoy bipartisan support. This is on the right track, for "the most effective resistance to the treatment of Uighurs is increasing the public-relations costs for Beijing," write Daniel Bessner and Isaac Stone Fish for The Nation. "The State Department should publicize this issue in other Muslim countries, particularly influential American allies like Saudi Arabia, and among China's neighbors, especially Pakistan and Kazakhstan, with the hopes of increasing international pressure to end the ethnic cleansing."
Activist groups, they continue, should "pressure groups like the ABA to publicly criticize China while simultaneously compelling universities to embrace their commitment to free inquiry," and specifically, "the left should encourage civil-society groups to use their connections to politicians to push for programs to resettle Uighurs—and dissent-minded Chinese—who desire to move to the United States. And," they conclude, "it goes without saying that this must be done with the active participation—and indeed, leadership—of Uighurs themselves, who understand the needs and interests of their community better than any outsider."
In 2020, due to the onset of the coronavirus, presses around the world are calling for the Beijing authorities to release prisoners. "These camps, where as many as 3 million people are detained, are at risk of becoming death chambers," writes Abdul Majakbid for USA Today. "The World Health Organization declared the coronavirus a public health emergency this month, yet China's government, the WHO and the United Nations are apparently so far silent about the potential danger to the detained Uighurs." In fact, there are rumors that China is sending Uighur citizens to Wuhan, the epicenter of the virus. In light of the Uighur population's vulnerability to the virus, there are calls for the United States to levy sanctions against Chinese authorities unless they comply with global calls to inspect Uighur prisons and protect the detained from the virus.
It's important to remember that in spite of China's undeniable human rights violations, the United States is embroiled in its own human rights abuses, specifically on the U.S. border—so it may be hypocritical to fixate on China without first healing some of the crisis in this nation. Plus, much of the critiques that exist about China and coronavirus have xenophobic aspects of their own.
Still, all of these abuses are interconnected, rooted in xenophobia and racism that stems from neoliberal capitalism and a global reliance on oil.
Ideas are indestructible, and Anonymous was always—first and foremost—an idea.
shortcode-01-02B3-go-to-responsive]
Once upon a time, the Internet was less a broken mirror of reality and more a diversion from it.
Maybe that's why prior to the era of identity monetization, blue check marks, and self-branding, anonymity was synonymous with power.
In the early 2000s, a group known as Anonymous sprung up across digital platforms, born out of a spirit of loose anarchism and disruption. "Anonymous" or "Anon" is an umbrella term, and like the Internet itself, the group was always slippery and amorphous.
Between 2003 and 2018, Anonymous's loosely interconnected network of digital hacktivists took on everything from Scientology to the Clintons to ISIS to Trump. At some point, they fractured, and it's unclear as to whether they still exist in any context, or if they ever really did. Was Anonymous an idea? A joke? A movement?
To try and answer these questions is a doomed enterprise from the start, because the group is (or was) so decentralized, so scattered, and so complex that it resists exact interpretation.
But perhaps Anonymous can also teach us something about our modern political moment—after all, the group was entwined with many of the major political forces of the past decade, from Occupy Wall Street to the Arab Spring to QAnon. Maybe it can teach us something about the art of modern rebellion, especially in a rapidly digitizing and artificial age when information is poised to become the most valuable currency of all.
Welcome to the netherworld of Anonymous, where everyone can be no one together.
Born of Trolls, Hackers Turn to Scientology
The hacktivist network known as "Anonymous" arose around 2003. Springing up on 4chan, the group began as a collective of tricksters harnessing the Internet to pull pranks and seed an ethos of trolling and general disarray.
Anonymous eventually gained global reach thanks to its appealing ethos of decentralized leadership and general anarchical spirit. With memetic virality, it spread thanks to broad, decentralized messaging techniques and an emphasis on both humor and justice.
Today, two images are usually associated with Anonymous. There's the Guy Fawkes mask from the 2006 film V for Vendetta, which follows one activist's quest to end a totalitarian fascist rule in England; and there's the "man without the head" image that symbolizes the group's commitment to decentralized, anti-authoritarian rule.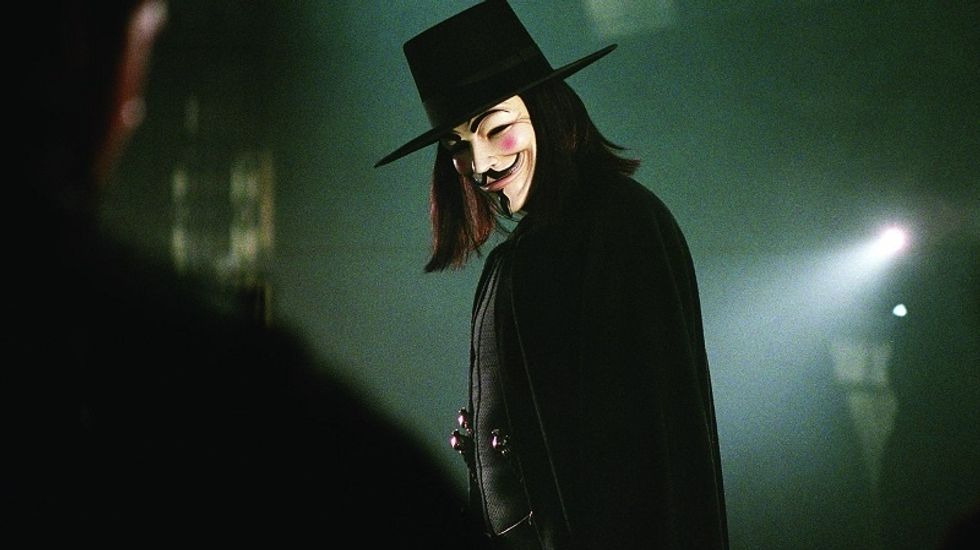 Literary Hub
Early on, the group embarked on helter-skelter actions and pranks, with mixed results. The group targeted the white nationalist figure Hal Turner in 2006, eventually exposing him as an FBI informant, and Anonymous first began to dive into high-profile political activism through an effort called "Project Chanology," a coordinated protest against the Church of Scientology. After the Church removed a video of Tom Cruise because they believed it portrayed them negatively, Anonymous hackers started a campaign to take down Scientology once and for all. They posted a video called "Message to Scientology" and launched a crusade against the church, which included a coordinated attack on the organization's website.

And so a movement was born. Thousands of people showed up in real life to protests around the country. "It was a very bizarre scene," the former hacker Gregg Housh said of the protest he attended in Los Angeles. "Here is a church created by a science-fiction author, being protested by people wearing masks created by a science-fiction author." Reality was bending; the simulation was showing its cracks.
For the next decade, Anonymous would harness the Internet in unprecedented ways, fighting for justice and destruction, for irony and distraction, and for change that would reverberate all the way to the top.
WikiLeaks and the Arab Spring: Anonymous Gets Political
Anonymous quickly shifted focus towards censorship and free speech. They used DDoS (Distributed Denial of Services) attacks to shut down websites they viewed as threatening to freedom. In 2010, they emerged to protest a censorship bill in Australia; and later that year, they collaborated to defend WikiLeaks after Amazon kicked Julian Assange's operation off its servers and Visa, Mastercard, and PayPal stopped processing donations to the group. (Anonymous later separated itself from WikiLeaks, due to Assange's influence over the organization).
Around the same time, a segment of the group decided that they'd collectively become too serious. They needed more "lulz"—LOLs, laughs, the trolling ethos that originally inspired the group. So a group called Lulz Security (or LulzSec) was born. They hacked the CIA's website. The next month, the FBI arrested fourteen Anonymous hackers for the aforementioned earlier attacks on PayPal, and Anonymous began to rise on the US government's radar.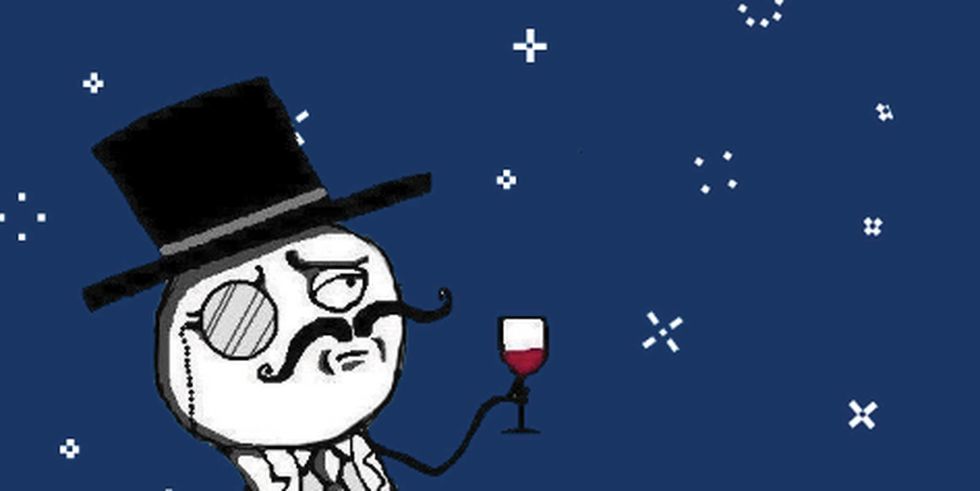 The Daily Dot
In 2011, when the Tunisian government blocked WikiLeaks, Anonymous launched a crusade to support protestors in the movement that would eventually spark the Arab Spring. One of the more infamous leaders of LulzSec, Hector Xavier Monseguer (or "Sabu")—who would later become an FBI informant—and others also allegedly helmed a DDoS attack on the Tunisian government's websites. Anonymous was also integral to the planning of 2011 Occupy Wall Street protests in New York, which were somewhat similar to the organization in that they lacked internal structure and clear leadership and set goals.
Soon, White House staff became concerned that the group could destabilize the US power grids. The group became known as cyber-terrorists and anarchists. Perhaps out of necessity, or because its major players were being taken out or growing up and leaving hacktivism behind, Anonymous fractured around 2015 and 2016, leaving behind conspiracies and a legacy of rupture and chaos.
Still, Anonymous's penchant for social action continued throughout the 2010s. In 2013, Operation Safe Winter fought to raise awareness about homelessness. In 2014, a group called "Operation Ferguson" organized cyberprotests against the police after the death of Michael Brown.
In 2015, Anonymous shifted its focus towards the Islamic State. #OpISIS was a response to the Charlie Hebdo attacks in Paris; despite being a largely uncoordinated effort, they still managed to make waves. "For more than a year, a ragtag collection of casual volunteers, seasoned coders, and professional trolls has waged an online war against the Islamic State and its virtual supporters," writes E. T. Brooking. But they never lost their irreverence.
"Taking away the free speech from a group that is advocating the end of free speech is delicious fun," a member wrote on a Reddit forum about the Hebdo operation.
"They rise up most forcefully when it comes to Internet freedoms and technology, particularly technology that is being abused in some way," says Brian Knappenberger, creator of the documentary We Are Legion. "They're sort of protectors of the Internet. This is their territory, and if it's abused, they're personally offended."
In the latter half of the 2010s, Anonymous waged war against pedophiles and the dark web. In 2018, they lashed out at QAnon, the pro-Trump conspiracy group that stole Anonymous's branding despite a complete lack of alignment with most of Anonymous's central ideologies.
Some members of Anonymous may have gone off to join QAnon; it's hard to know. Though different from Anonymous, QAnon shares some of Anonymous's hatred of the government—its "deep state" paranoia echoes Anonymous's fears of totalitarianism.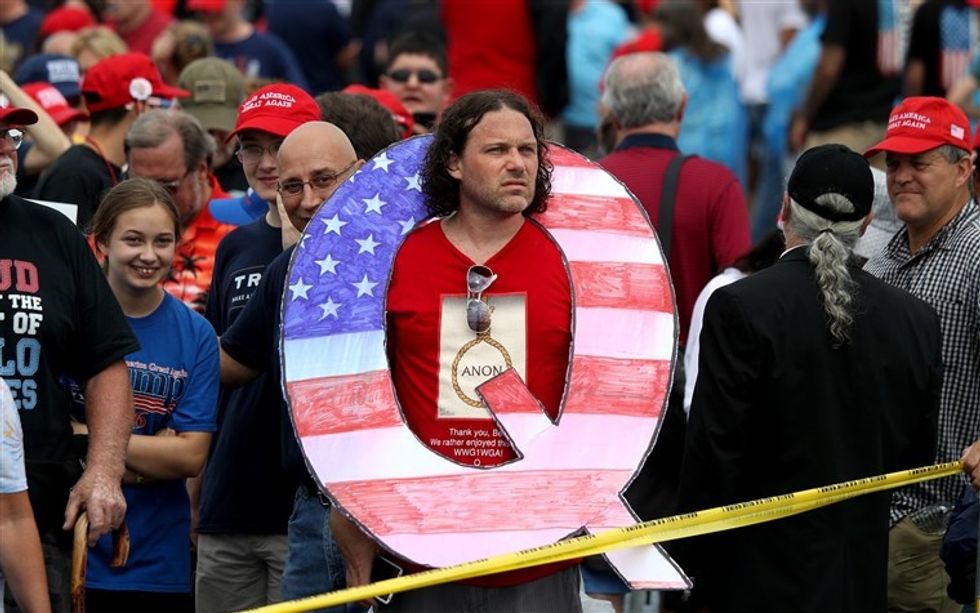 NBC News
Today, QAnon members often show up at Trump campaign rallies, and though Anonymous and QAnon have very different ideas about what constitutes freedom and free speech, it's clear they both believe they're fighting for it.

In the wilderness of the Internet, especially when so many layers of irony interlace with each other and when trolls abound, it's easy for ideologies to twist out of form. It's easy for trolls to be mistaken as criminals, too—just as it's easy for trolls to become criminals. On the Internet, at least outside the realm of corporate influence and bribes, identity is as fluid and amorphous as you want it to be. Anonymous members can become Trump supporters who can become Bernie supporters who can become QAnon supporters who can become FBI informants who can then rejuvenate Anonymous.
If the Anonymous movement shows us anything, it's that identity and ideology are not set. They're as fluid as the shifting landscape of the World Wide Web, which might just be a reflection of the shifting tides of the human spirit.
Remembering Anonymous in 2020
If you Google Anonymous, you'll see the question "is anonymous good"? pop up on the search bar.
A short search will reveal that most self-proclaimed authorities on the subject believe that Anonymous is neither good nor evil. Instead, it's a diverse group made up of people from all around the world, bound together by a shared symbol rather than a structure or hierarchy.
Because Anonymous never had a set ideology or leader, there's no one precise way to remember them. There's no way to know what's real, or if Anonymous was ever the super-group that the media made it out to be. Most likely, it was more of an idea than anything else, though it may still exist in pockets. There's also no way to tell if the group has just gone further underground or if it truly has been dead for years.
According to Gabriella Coleman, Anonymous was always about freedom and elusiveness. "They dramatize the importance of anonymity and privacy in an era when both are rapidly eroding," she writes.
In terms of ethos, Coleman argues that Anonymous embodied an ancient trickster archetype, using old ideas about freedom, hedonism, and the randomness of the universe to cope with an increasingly unbearable modernity. "Nietzsche was attuned to the vitality of sensuality, myth, and art. Music, poetry, and even the mad laughter of the trickster Dionysus, who he championed, offer an aesthetic life of pleasure," she writes in her book Hacker, Hoaxer, Whistleblower, Spy: The Many Faces of Anonymous. "They are pursuits through which humans can overcome their limits and the tragic condition of life: 'Not by wrath does one kill but by laughter. Come, let us kill the spirit of gravity!'"
Is Anonymous nothing more or less than an idea, which became a movement and an identity? Was it all just a story? Has the story ended, or has it fractured and bled into other movements and other corners of the Internet?
Someone in a Guy Fawkes mask is out there, laughing.
The Anonymous forum on Reddit is still alive and well. A month ago, one Redditor mused, "Is Anonymous just a legend to teach us that we do not need a name or an organization to use our power?" Could Anonymous have been a myth designed to reveal that 'All of us can anonymously exploit the options that we have (elections, commercial decisions, jobs we chose, freetime activities) to change the world together?'"

Recently, #AnonHasBeenDeadForYears trended on Twitter. Some agreed with the hashtag. Some warned the world that Anonymous has never been dead—instead, it's everywhere.
These are the kind of conversations that Anonymous inspires. Half-ironic, half-imbued with radical visions—zombified, always mutating—Anonymous (or whatever remains of it) persists.
Maybe it persists in part because it, ironically, offered a form of identity, of differentiation, of meaning crafted through collectivity born out of a crisis of meaning. Perhaps in anonymity, there is identity.
"On the street...I am just another person in a sea of faces," writes a (fittingly) anonymous blogger in Dazed, in a piece that may or may not be a parody or a fake—we'll never know. "But in cyberspace we are different. We helped free the people of Egypt. We helped fight against Israel as it attempted genocide. We exposed more than 50,000 paedophiles around the world. We fought the drug cartels. We have taken to the streets to fight for the rights you are letting slip through your fingers. We are Anonymous."
Are you?
In the fourth installment of the Visionaries Project, we speak to activist and community organizer Ebony Ava Harper.
The Visionaries Project is a new subsection of The Liberty Project dedicated to highlighting the lives, passions, and work of radical activists currently working towards social justice and liberation from oppression. We aim to uplift the perspectives of diverse voices working in media and activism today—and not just the faces who make headlines, but the real people on the ground every day, working towards their visions of a better world.
Ebony Ava Harper is an activist, philanthropist, writer, creator, life and world-changer, advocate for marginalized communities, and a tremendous inspiration to many. As an openly Black and trans woman and an advocate for environmental justice, prison reform, and so much more, she has done incredible work to fight for her communities, forging a path to a better world in the process. She is currently head of California TransCends, a statewide organization that works to promote the health and wellness of transgender people in California, and she's the recipient of the 2019 Stonewall Four Freedoms Award and the among other achievements (none of which could come close to adequately recognizing all of her marvelous work). We spoke about resilience, environmental justice, community organizing, and more.
1. Can you tell me a little bit about your background? Where are you from, and what were and are you passionate about?

I was born in Prince Georges County, Maryland, to a family of Jamaican immigrants. I believe I'm the first American born in my family. My parents migrated from Maryland to Los Angeles, CA when I was just a baby, so all I know is growing up in Los Angeles. I spent the first 27 years of my life mostly in Los Angeles, and then I moved to Sacramento. I've been in Sacramento for some time now, and I consider this my home city.
I'm passionate about dismantling systems of oppression and dismantling my own oppressive behaviors. I'm passionate about loving the unlovable. Flipping that negative into a positive and improving not only my quality of life but the quality of life of all living beings (plants and trees included).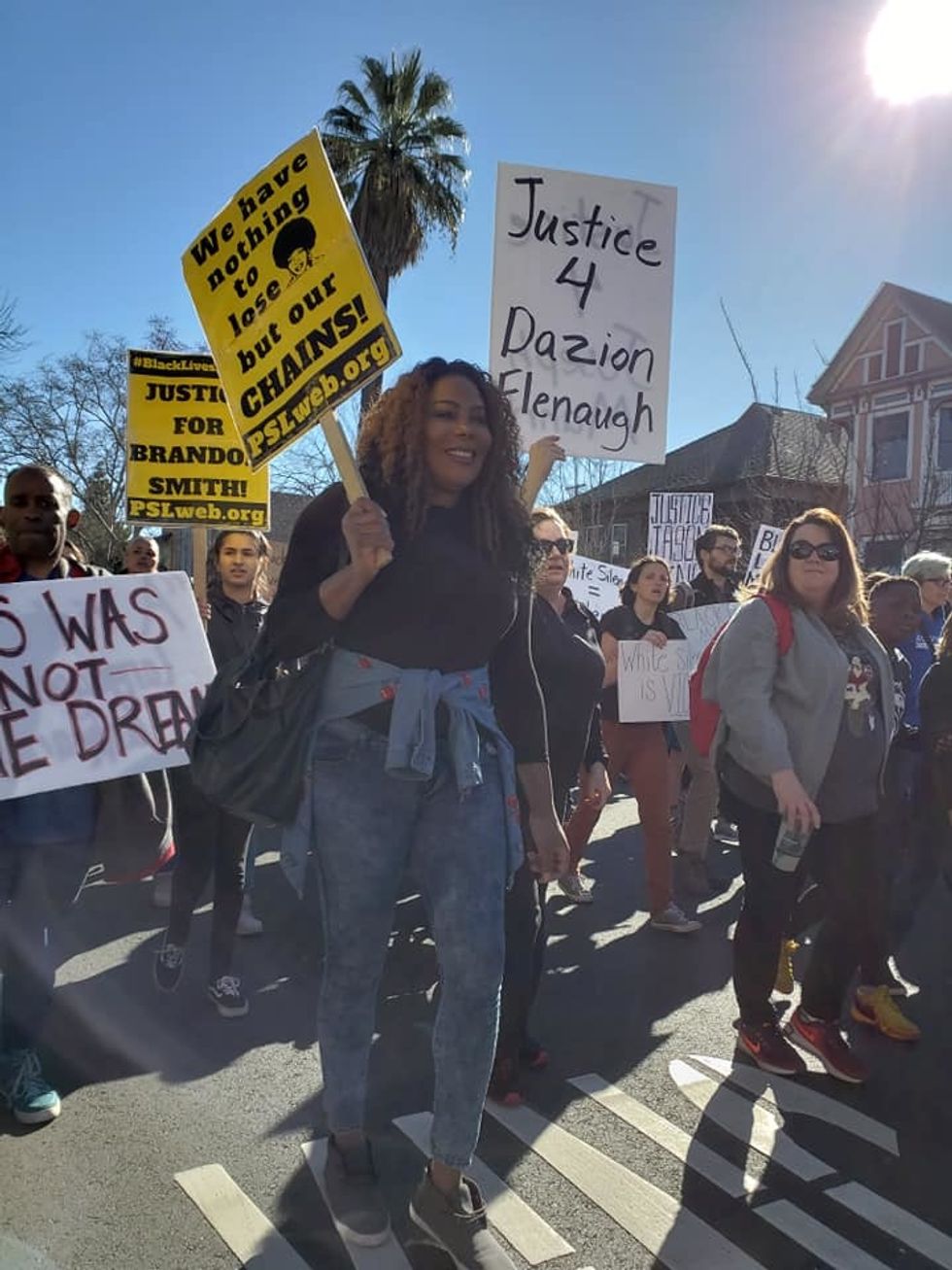 2. How did you first get started with activism, and what movements are you most involved in now?
I'm a Black trans woman that came out early in life, so I always say I came out fighting for survival from the gate (from the start). I was born an activist. I had to fight and speak up for myself to simply be... I'm a decedent of Jamaica, and if you listen to our music, you'll hear a lot about love, peace, "getting up, standing up, fighting for your rights." I would say I hit the ground fighting with all these intersections I embody. I also hit the ground loving and having empathy for others. My inner indignation against injustice and my tender Jamaican roots inform who I am today and my activism. My activism has transitioned along with me. I feel like we're all transitioning in some way. I have transitioned away from just relegating myself to being a trans activist, I'm a human rights activist. I fight for all oppressed peoples. Social oppression is even showing up through this current climate crisis.
I'm involved in Gender Justice, Climate Justice, Disability Justice, and Race Equity!! They all interconnect in my life.
3. A lot of your writing seems to focus on internal and community-wide restorative efforts and resilience, whether in terms of health, the environment, or the spirit. What does human resilience mean to you, and for you?
I love this question! It's a big question. I came from some harsh beginnings: All I know is resilience. I'm an introspective person, so as I have aged, I think about resilience on a much larger scale than the marginalized groups that produced me or my sole experience. I think about all the times life itself was on the brink of total catastrophe, and boom.... It rebounds. Resilience means to rebound from something that could've taken you out. It means hope for the future, it means another chance, another road, another shot. I'm a descendant of slaves and a descendant of those that have walked this trans path: All I know is resilience. I wish to share my struggle with others in hopes that they may be inspired not to give up. You know, "If that big ole queen can make it, so can I." That's the seed I want to plant when I'm sharing on any platform.
4. You wrote an amazing piece for Forbes in which you discuss feminism's failure to address "inequities of human injustices caused by colonial, capitalist, and social oppression." You also addressed this in your Sacramento News and Review piece in which you wrote, "Trans people, particularly our black women and femmes, were on the front lines of the Stonewall Rebellion, yet we're on the back lines of the gay and lesbian liberation." Feminism and many, or really most, social movements suffer from such a lack of intersectional and trans recognition. Where do you see that need for change manifesting itself?
I think social justice movements don't always think in terms of intersections, or they fight for things that will serve them in that particular moment, never really seeing how all this suffering intersects. They'll have all the language right, but their actions will be about that one topic. We need to remove the berries and realize an injustice to a Black trans woman is the same as an injustice to a cis woman. An injustice to a Black trans woman is an injustice to the Black community as a whole. There's no separation; Black trans issues are multidimensional and are relatable to any social justice issue today. You have to be radical and intentional about inclusivity to Black trans women.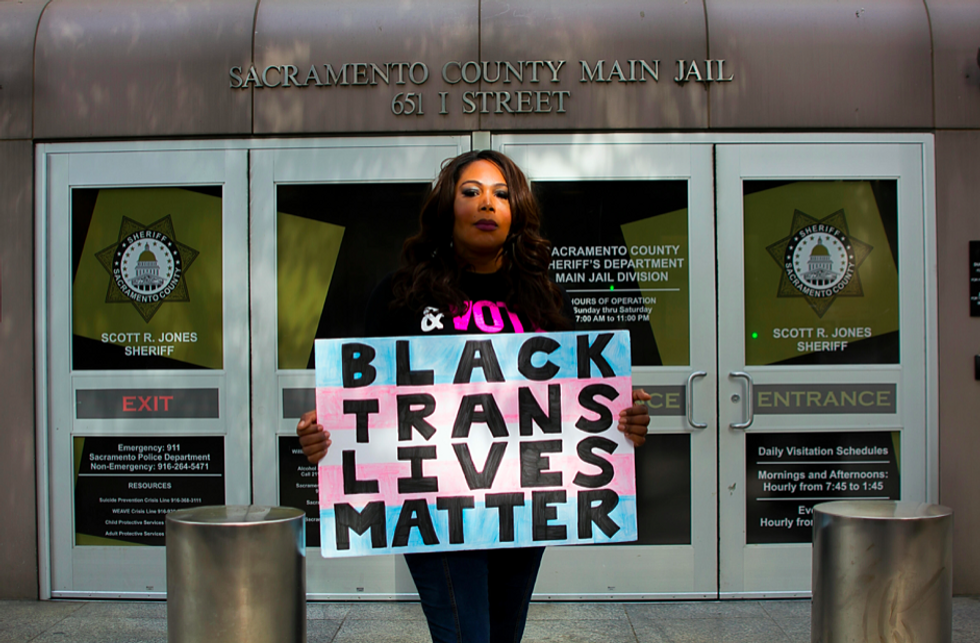 5. Are there any trans leaders, writers, or figures you're particularly inspired by at the moment?
Too many to name here, but I'll name just a few. Valerie Spencer inspired me as a young trans kid. We have Black trans philosophers, and I would say she's one of our great philosophers. Aria Sa'id is a young Black trans woman that has contributed so much to our movement at such a young age. She's Executive Director of the first Trans Cultural District in the nation, and she's smart as hell... Daroneshia Duncan-Boyd, from Alabam leading the charge for trans health equity throughout the South. Elle Hearns, one of the founding members of Black Lives Matter that just so happens to be a Black trans woman. Omega West, a Black trans man who, like me, came from some rough stuff and is out here fighting for our rights daily. Last but not least, my translatina sister, Bamby Salcedo, who's a national treasure in our community fighting for our freedoms every day.
6. You're vocal online about a lot of environmental issues. Do you see the environment as intertwined with queer, trans, and Black and Brown community issues? What does environmental justice mean to you?
It's absolutely intertwined! The factories in impoverished neighborhoods, access to clean food, clean water, information around health all are linked to poverty. Extreme poverty is linked to these marginalized groups that live on the fringe of the fringes of society. No resources, so capitalism exploits them. We have to look at what's affecting those at the bottom and work from there, while fighting these big corporations that are siphoning the life out of the planet.
7. What changes (spiritual or societal or both) would you like to see most in the near future? What does your vision of a better future look like?
Green renewable energy. No more wars. The end of capitalism! Love abounding on the earth like never before. Total freedom to just be without judgment.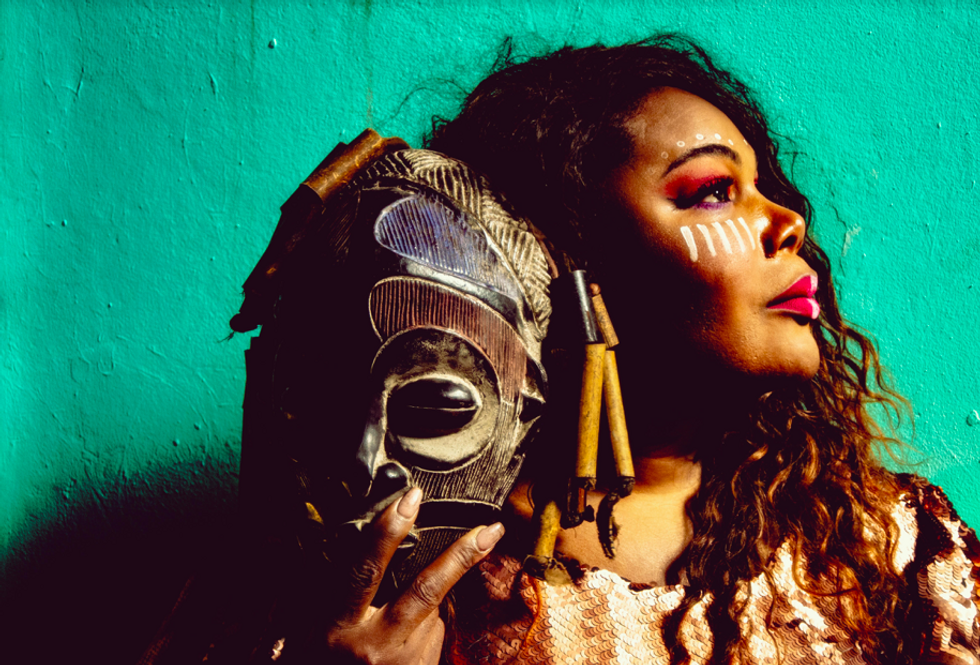 8. Are there any organizations or initiatives you'd like to promote?

I'm the leader of the new statewide initiative, California TransCends, in partnership with the California Endowment and California Public Health Advocates. California TransCends promotes the health and wellness of transgender people throughout the state of California. I'll be doing a statewide assessment of the needs of trans people living in rural communities, trans people of color, and our trans elders. We'll be working with local policymakers to see what we can do to make trans lives a bit more bearable. We're engaging other trans organizations that are leading statewide work to form a statewide and national coalition that will work in one accord on issues that need our rapid response. Lastly, we'll have micro-grants available for coalition-building conferences for trans people of color. I'm also one of the directors for the newly formed Employment Equality.
9. You're doing so much amazing work—how do you balance it all? What do you do for self-care and for fun?
I take a couple of days a week off and recharge. I have a small circle but good friends I can call when I'm going through a tough time. I have a spiritual community, The Center for Spiritual Awareness, that loves and supports me. This is my combination for staying afloat.
10. Do you have any advice for activists, or any lessons or mantras that you follow?
Don't become the same evil you're fighting! It's easy to fall into the trap of anger and vengeance. When fighting injustice, you have to make sure your approaches are balanced, or you'll perpetuate the same injustices you're fighting.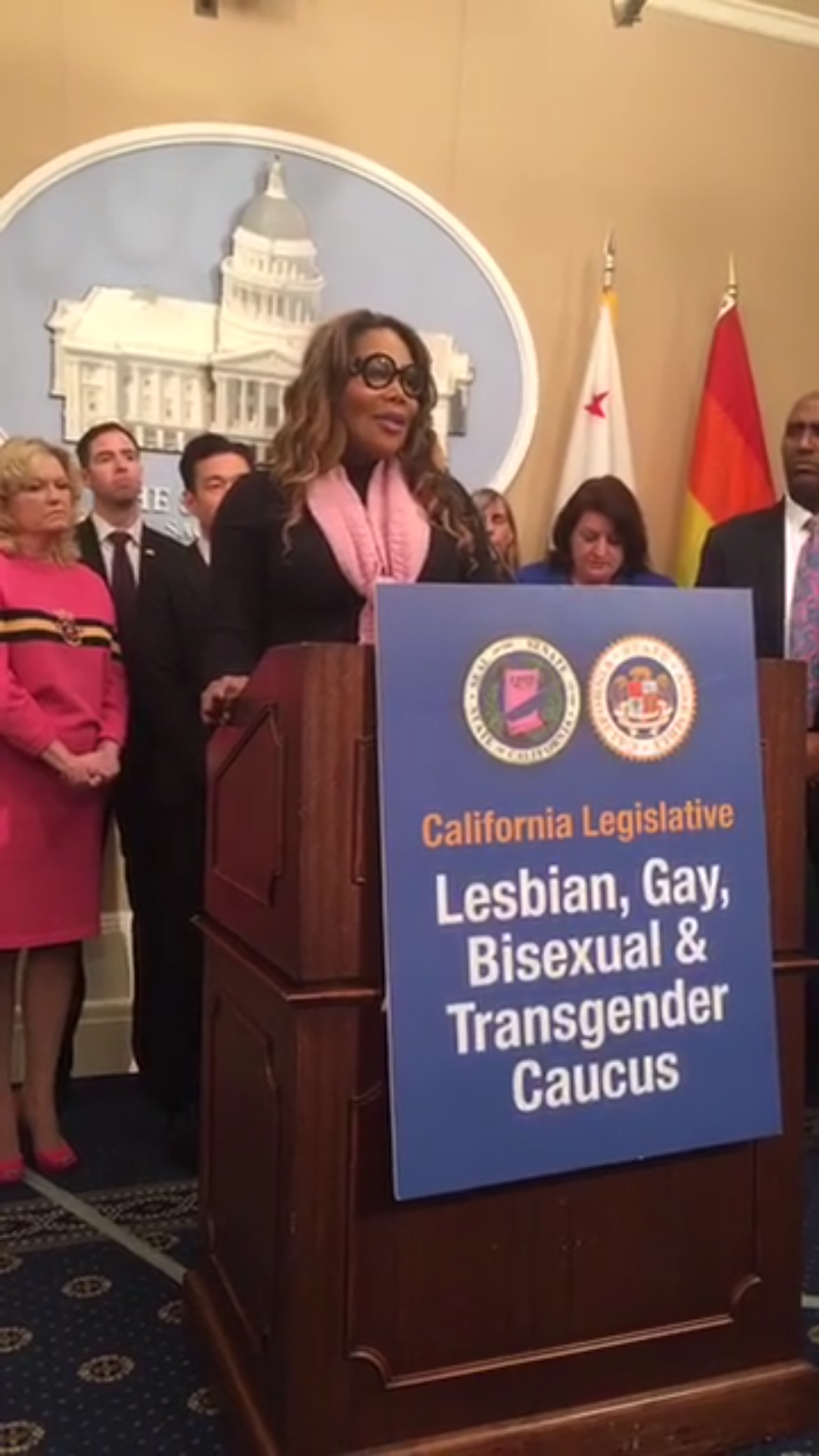 Short answer: Everything.
In a small office inside an old theatre in New Hampshire, Bernie Sanders' supporters gathered to share their highlights and challenges after a day of knocking on doors.
"I'm feeling grateful," said one, before relaying a story about a surprisingly friendly interaction with a Trump supporter.
Others said they were feeling energized and inspired, despite a low response rate after hundreds of knocks and hours out in the February drear. "Just talking to one person who thanked me for being out in the field made it all worth it," said another.
The moment one person said they were feeling cold, organizers leapt into action, tossing hand-warmers to the shivering canvasser.
The New Hampshire primary was in one week. Some organizers had been in the small office for months, others had been working steadily since 2016, and still others were canvassing for the first time, but the energy in the room was palpable and warm and beautifully chaotic and fundamentally communal, much like a lot of Bernie Sanders' campaign. That has something to do with its success.
As Sanders has steadily risen in the polls, major media outlets have been forced to examine his campaign and the massive base of supporters—many young, social media-savvy, and passionately fired-up about their 79-year-old patron saint—that have propelled them to this place. Some portray his supporters as a battalion of belligerent young white males; others insist that Bernie's base is the most diverse of all; still others view them as lazy, entitled kids.
Doubters have been forced to interrogate that last opinion, because it's clear that Sanders' campaigners are anything but lazy. Sanders' campaign has garnered the highest number of individual donors of any candidate, amassing $1.3 million after discovering that a super PAC planned to air a negative ad about him. He raised nearly $100 million in 2019, topping Pete Buttigieg by some $25 million without the help of major corporations. His supporters are fervently keyed in, texting, tweeting, and—as it became clear in that New Hampshire room—getting out into the streets, taking the time to talk to people.
So what's behind Sanders' sweeping, grassroots appeal? And who are his supporters, really?
The easiest answer to this question is that there is no single answer. Bernie Sanders' supporters are working-class Americans, disaffected progressives, starry-eyed optimists, frustrated pessimists, devil's advocates, and God-fearing moralists. They are not a monolith. In that way, they might just represent the actuality of the American people—in all their contradictions, devotion, and passion—better than any other base.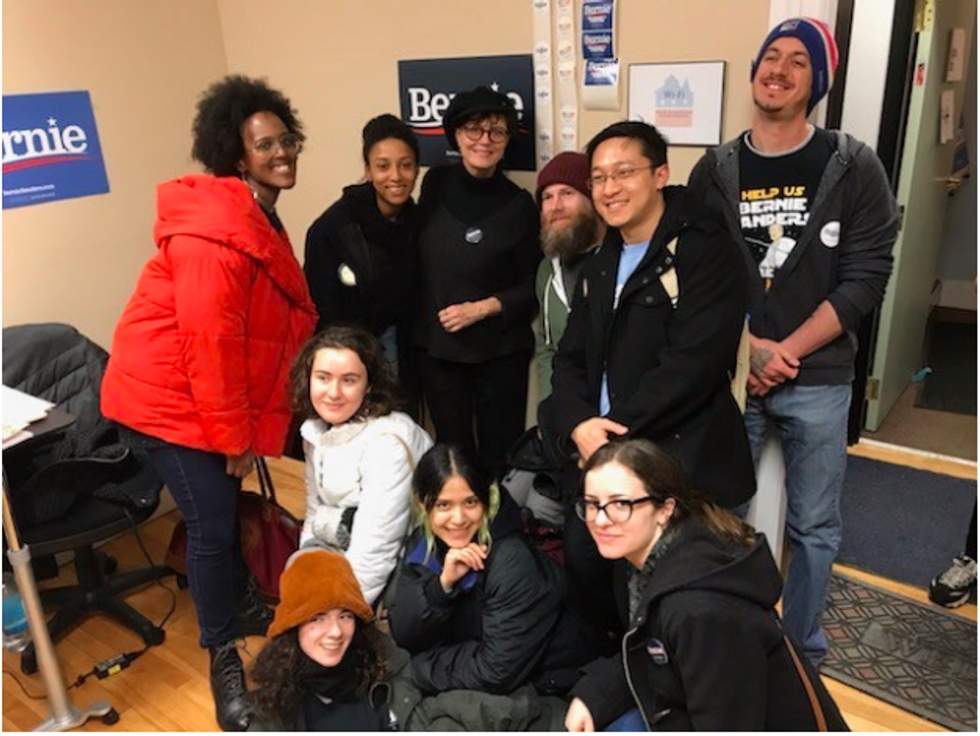 blackgirlnerds.com
"Not Me, Us" and the Fight Against American Hyper-Individualism
Miss Toni took a while to open the door. She was wearing a blue onesie covered in hearts, and her room was filled to the brim with records and posters from the 1980s. When she finally was able to open the door, a flock of birds fluttered away from her porch and took to the sky.
She told us she was already a Bernie supporter and began shakily filling out the sign-up sheet we gave her. She was registered to vote by her deadname (the male name she was given at birth), but she asked us to refer to her as Miss Tami. She had been an activist in the 1960s, she said. Bernie felt like the closest thing to bringing back the spirit of those days.
We also met a gun-owning Republican from Hawaii who, after hearing about Bernie's support for ending student debt and his dedication to ending the spirit of xenophobia in America, pledged to lend his support for Sanders on Tuesday.
Among the Trump supporters we met, their number one reason for supporting him was always the economy. "Me and my daughters are doing well."
"It would be nice if everyone could do as well as you and your family," we said. He shrugged. By the end of the conversation, he was genuinely smiling when he said, "I'm still voting for Trump. But I hope you guys keep going."
If Sanders does win the Democratic nomination, the economy will be paramount to the ensuing debates. While the currently strong American economy mostly exists thanks to Obama-era policies, and while many economists project that we are headed for a recession, it is true that Trump protects the Wall Street interests that continue to ensure cutthroat capitalism's success in America and around the world. These very successes are what have led America's income inequality levels to approach Depression-era extremities.
Sanders represents a synthesis of radicalism, anticapitalism, and a realistic understanding of the threats that America and the world are facing. To many, he also—contrary to the entire Bernie Bro narrative—represents human compassion. His campaign slogan, "Not Me, Us," is a refreshing antidote to the egotistical and self-absorbed nature of politics and neoliberalism in America. It's a reminder that—like the best stories, or the best policies—Sanders is just a vessel for something much greater, a catalyst for a dream.
Sanders' Internet Army and the Limits of Tolerance

It's unfortunate that Bernie's campaign has been plagued by cruelty and disunity—and that these aspects of his base have been so heavily emphasized by the media. It's also true that some of Bernie Sanders' supporters can be cruel, and many need to learn to listen. If Bernie's supporters are serious about his campaign, they need to understand that shutting down discourse and rejecting all contention isn't the way to go about winning support.
But it's also true that in this America, people are dying thanks to medical bills they cannot pay, and students graduate into a world where they pay exorbitant amounts of money each month for years at a time in order to combat their student debt.
In light of this, the rage that many of Sanders' supporters feel at so-called centrists is born out of a deep-rooted desire to see real change instead of more of the same. It's a realization that trusting in the system and tolerating hatred is essentially the same thing as allowing them to continue.
It's also true that we're embroiled in a climate crisis, and kids are being born into a world of increasingly rampant natural disasters and apocalyptic scenarios playing out in real time, all while watching their politicians and parents do nothing. Bernie's Green New Deal is the most ambitious plan to address climate change of any candidate's; it also promises to renew the American economy, refurbishing our crumbling infrastructure by providing millions of new jobs in green, clean manufacturing. The strength of his plan has caused Sanders to gain the support of major environmental organizations across the country.
In a world where families can easily be crushed by a medical bill or a college admissions fee, Sanders' policies read like gospel for the disaffected. The Green New Deal, Medicare for All, free college, immigration reform, and an end to endless wars are plans that promise actual change, packaged in a promise that can be paid for with the money that the United States spends on wars and allows to burn holes in Jeff Bezos's pockets.
The gospel-like, lyrical, and consistent nature of Sanders' policies are at the center of his movement. Like "Make America Great Again," Sanders' policies appeal to the idea that politics is theatre, that the best politicians present a show and offer a vision, a possibility, a roadmap for a movement that will get people out of their homes and into the field.
Lighting the Fire
There's a video of Bernie Sanders in Vermont, teaching his campaign manager, Faiz Shakir, how to use a wood-burning furnace. Sanders is wrapped in a coat, bent over a cast-iron stove. "You want the flames from the small guys—are you recording me?" he says, stopping and then clarifying, "You want the small wood to be able to catch onto the big logs."
With his thick Brooklyn accent and his dedication to the task at hand, Sanders has intensely grandfatherly energy—but his statement also seems like it could suffice as his campaign slogan. He's a small flame, and when he began as a Vermont senator in 2016, he seemed to face impossible odds.

But every fire starts with a single spark. As the infamous poster that's a fixture in many dorm rooms reads, "Thousands of candles can be lit from a single candle, and the life of the candle will not be shortened. Happiness never decreases from being shared." It's a quote from the Buddha, but it could also apply to the ripple effect that Sanders' campaign has launched.
Change is catching and intoxicating. The spirit of hope and unity and fire that lights Sanders' campaign is a balm against apathy and hopelessness, against racism and xenophobia and economic inequality. It's about what human society can achieve—what we should achieve—what we are morally obligated to achieve.
Still, many of Sanders' supporters are realistic. We are well-aware that even if Sanders is elected, it will still only be the beginning of a long, hard fight against deep-rooted economic inequality, corporate greed, and dangerous capitalism-driven climate disaster in America and around the world. We know that visions and dreams mean nothing if the work isn't put into achieving them—the long, endless nights and the decades spent carving out policies.
But it's impossible to even begin the work if the dream isn't there in the first place, and if the people who believe in the dreams aren't allowed in the rooms where the work is done.
Regardless of what happens in Iowa and on the campaign trail, even the most fervent Bernie Sanders supporters believe that cruel attacks are not the answer. Even Alexandria Ocasio-Cortez—one of Sanders' biggest supporters—has stated that Democrats need to support whoever is elected in order to beat Donald Trump. If anything, we will need more unity and love and compassion for each other in the coming months than ever before.
We shouldn't have to compromise our values and allow people to die while others languish in the shade of the wealth and power they did nothing to earn, save being born in the right place.
Voting in Iowa closes at 7:00 PM CST in Iowa today, February 3rd. Find your caucus site here.

The opportunity to change your party affiliation in New York State closes February 14th.
Find out how to vote for Bernie in the primary in your state here.
For the third installment of the Visionaries Project, we spoke to Sara Gozalo about capitalism, fighting ICE and the prison industrial complex, combating burnout as an activist, and her vision of a better world.
The Visionaries Project is a subsection of The Liberty Project dedicated to highlighting the lives, passions, and work of radical activists currently working towards social justice and liberation from oppression. We aim to uplift the perspectives of diverse voices working in media and activism today—and not just the faces who make headlines, but the real people on the ground every day, working towards their visions of a better world.
Sara Gozalo is an organizer currently based in New Orleans. Originally from Madrid, she describes herself as a "queer immigrant who believes in a world without borders and without jails, where everyone has the right to live in dignity." She currently works as a Unanimous Jury Specialist at the Promise of Justice Initiative, co-founded Students for Peace and Justice, and was formerly the Supervising Coordinator of the New Sanctuary Coalition and a member of the Worcester Global Action Network. We spoke with her about the insidiousness of capitalism, her work fighting ICE and the prison industrial complex, combating burnout as an activist, and her vision of a better world.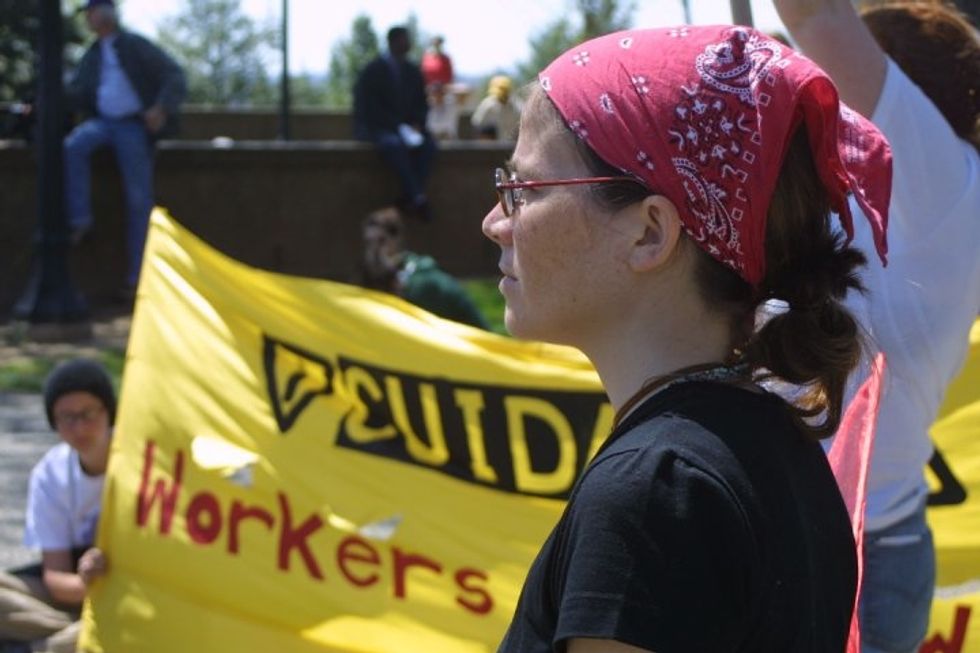 LIBERTY PROJECT: I was wondering if you could give an overview of your experience in activism and organizing.
SARA GOZALO: I have been organizing for a long time. I've only been organizing professionally for the past three and a half to four years, but I organized when I was at UMass against the war in Iraq. We did a lot of workshopping and teachings about free trade agreements, and how capitalism was destroying the planet.
It seems like that was such a long time ago, and we're still dealing with the same issues. I think that a lot of organizing is understanding that you're running a marathon, and it's never going to be a sprint. It's going to be a lot of small victories along the way, but you're going to fight the same issues constantly. That can be pretty demoralizing, but it also means you can never stop.
I come from a family that's very political. My dad is an attorney in Spain, and when he was a student he got arrested and kicked out of school for organizing against Franco during the dictatorship. My mom was always very political, and I remember hating that when I was a little kid.
While I was going through my own immigration case, I realized how hard it is for someone with a ton of privilege, and I started to look into what it was like for people who aren't as privileged. I got very involved in the immigration issue. Since I moved to New Orleans, I've seen the same patterns in the criminal justice system.
I think New Orleans brings these issues together. It has been very impacted in terms of climate change. Louisiana has the highest numbers per capita of incarcerated people [in the US], and one of the highest numbers of migrants in detention. The city brings everything together, and ties in all the different aspects that I have organized around in my life. In the end, it is important to remember that they're all related to each other.
Where are you at now?
I moved to New Orleans this summer. My wife was born and raised here. I'm working at the Promise of Justice Initiative, which is an organization that does a lot of criminal justice work.
It's clear that all these issues are very interconnected. Lately it seems that there's been a particular resurgence of anticapitalist sentiment, though that was always there…Is that affecting your organizing at all?
I have been organizing with these anti-capitalists since the late '90s. It feels like the "resurgence" has been a long time coming.
When we were organizing around the Iraq war in 2002 and 2003, we were very much organizing under the capitalist lens. Grassroots movements like Occupy and the movement for Medicare for All have ignited something even bigger now. It's become more mainstream.
The fight against capitalism is decades long, and its roots are in the people who are directly impacted, especially indigenous people all around the world. They have led that fight, because they know in their bodies what capitalism is doing to the world. I think it's important that now that conversation is part of western countries, especially the United States, which in many ways is the belly of the beast in terms of capitalism. Anti-capitalist organizing has been there forever; it just now feels like you can talk about it and people won't immediately discard you as someone crazy.
I want to make sure that [in spite of all the] now-mainstream groups that are taking this fight on—which is super important and necessary—we recognize how many people have been fighting this fight for so long and leading the efforts.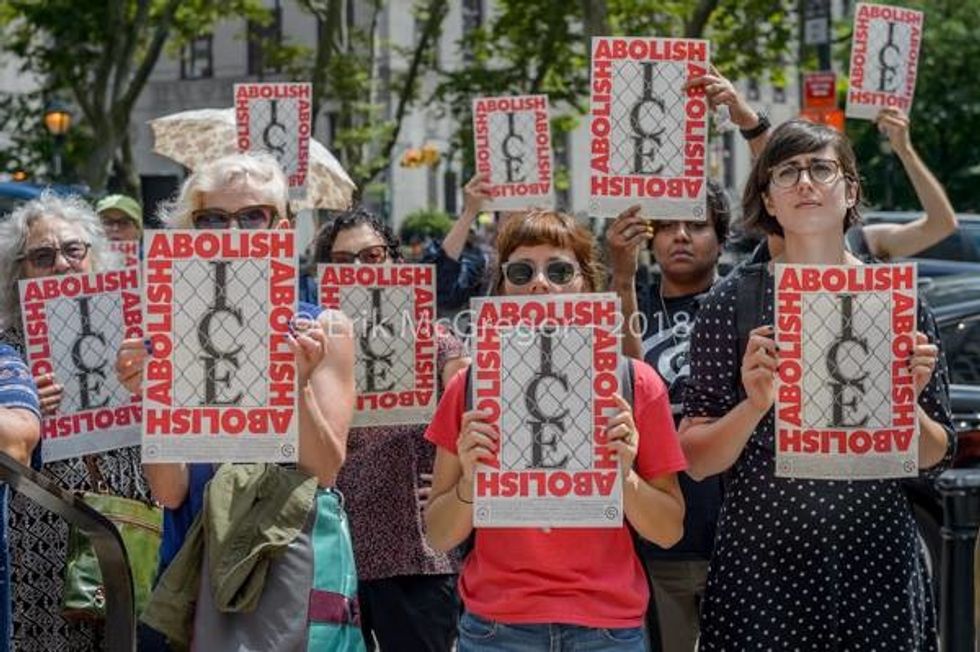 I first met you through New Sanctuary Coalition (an organization that provides legal support to immigrants in New York City). You were doing so much for them at once, and I was wondering what your reflections on that experience are.
NSC is one of the most powerful organizing groups that I have ever known, in terms of the numbers of people who are involved. Post-election, after Trump took power, it became very obvious that immigration was going to become one of the issues that he was going to attack the most. NSC grew because there are very concrete ways that people could get involved, and I think that is incredibly powerful. It's led by people who are directly impacted, but it really utilizes the number of people who want to fight alongside people who are directly impacted. That was a beautiful thing to see.
I've worked with other groups where there isn't a clear way for volunteers to get involved, and I think NSC recognizes that people can fight against the system with the support of others with more privilege. It's a great way to utilize the privilege that US citizens have. The [idea] that the people who are impacted lead, and you're showing up for solidarity—not to help or save anyone—is really important.
The accompaniment work, in particular, was hard for volunteers in that it was so boring, but it's such a good example of how much privilege US citizens have, and how important it is to show up and not feel like they're saving or leading. They're just standing in solidarity, which is an incredible exercise for everyone.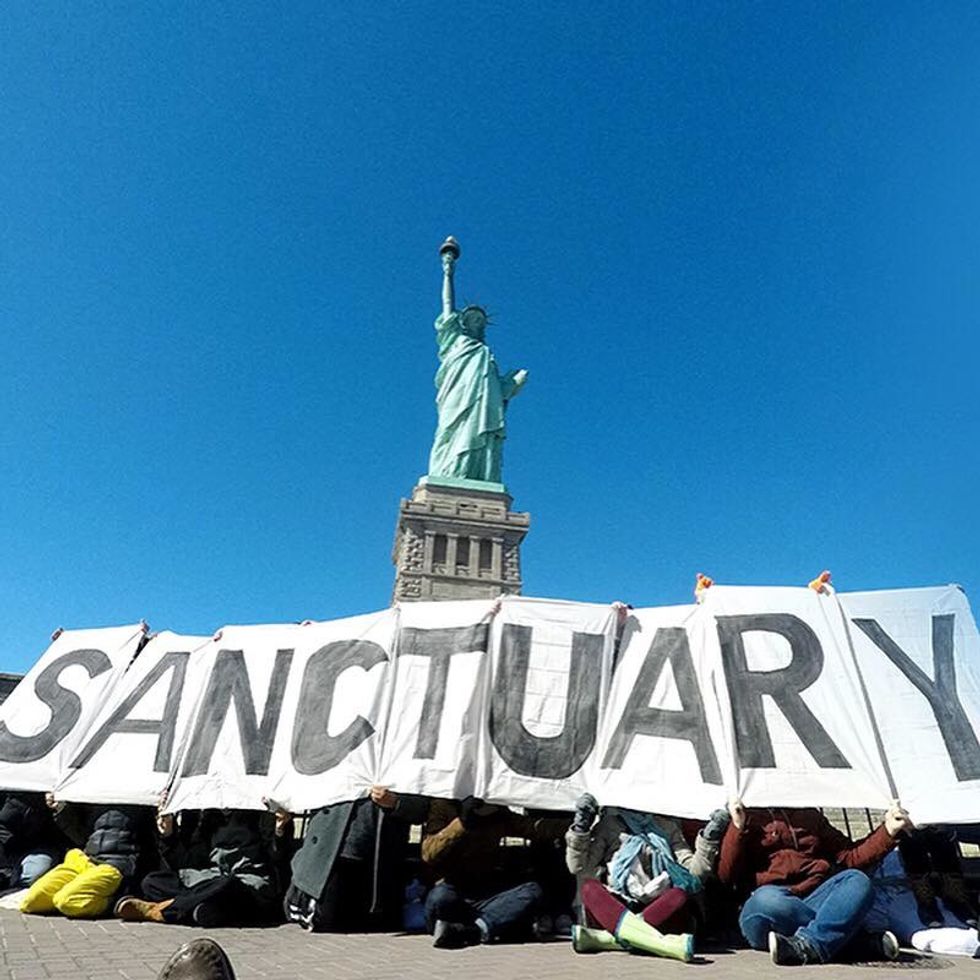 ignationsolidarity.net
It did feel at times overwhelming, which obviously leads to a lot of burnout and the sense of, oh my God, I am never doing enough, because everything is an emergency.
It felt at times that I was just pouring oil on the machine as opposed to throwing a wrench in it. For instance, if a judge said, I need an asylum application in three months as opposed to the year, we became so good at meeting those demands that it felt like in some way we were contributing to them.
I think that's a constant in organizing. There's a big difference between asking, what can you today to help a person who's going to be deported unless they show up with an asylum application, and what can you do to dismantle the system? Of course you're gonna support the person who's dealing with something today and not think in bigger terms, and so those were some difficult moments.
I don't have the answer. Maybe we need organizations that do more direct impact service work, and other organizations that only do the disruptive work; maybe that's the balance that we could work towards.
When I was leaving this summer, a lot of people finally went out on the streets, and people got arrested by the hundreds. I think that's the energy we need in the streets, while organizations like NSC do the day-to-day work that's helping people stay in the country and not be deported.
Speaking of those larger systemic changes, are there any visions you have of changes that you would like to see happen on a large scale?
Yeah, so many.
First of all, we need to realign our belief system. Our bones, our insides, are so ingrained with this capitalist system of oppression. We make decisions on a daily basis that are informed by that upbringing. I admire Decolonize This Place and other groups that are really going to the roots of the problem, recognizing that unless we deal with those root problems, we're never going to affect systemic change.
For instance, we can't deal with climate change from a capitalist perspective. My friend was just fired for his job—which was to install solar panels—because they tried to unionize. We can't keep moving forward from the perspective of putting capital before humans and before the planet.
I really would like to see us having very honest conversations in which we start seeing, within ourselves and within our communities, how colonized we really are. We need to look at the root causes of the problem, if we really want to achieve any change that's going to make a difference, for our planet and for the survival of our communities everywhere in the world.
For instance, in Chile, I love to see the women who are protesting with everyone else and also bringing up the fact that the patriarchy is one of the biggest problems we have. Everything we see as an injustice has a root problem that's attached to racism and capitalism, and we need to address those, otherwise we're really not going to achieve the change that we want to achieve. Having these issues come into the light is an important step.
Women in South America sing against gender violence www.youtube.com
I think I would like to see more compassion in our organizing. I think we're all very angry. We're all very quick to attack each other while not understanding that organizing is hard. Organizing is the hardest thing you can ever do, because there are no models for the world that we want. We have to reinvent the world.

Because we don't have those models, even nonprofits and some of the most progressive groups continue to replicate the systems of oppression that we are fighting against. [We need to ask], what does the world that we want look like, as opposed to fighting against something with means we learned from something we're fighting against.
I've read a lot about how organizations can replicate the systems they're trying to take down—people will be like, let's change ICE, but it really needs to be abolished, and I feel like that's symbolic.
I also really admire abolitionists; their clarity about what they're fighting for could be used by all nonprofits and all other organizing groups.
Do you have any advice as to how to keep going in this long fight?
In your struggle, you have to allow yourself to be led by the people who are directly impacted, because in a way, people who are directly impacted don't have the privilege of giving up. When you surround yourself with people who have to keep fighting, it helps you keep fighting.
I would say surround yourself with a supportive community, with people that you trust and people you can confide in and talk with when things get hard. And I would say be compassionate with yourself. You're going to make a lot of mistakes. That doesn't mean you're a terrible person. Everybody makes mistakes, and learning from those mistakes is the only thing you can do; don't beat yourself up so much that it paralyzes you.
And take breaks. I have been planting trees, I started a compost bin in my backyard, and I am learning how to plant vegetables. Putting your hands on the earth is actually incredibly therapeutic, and it brings everything back to what matters the most, which is life and sustainability and love for each other and our planet. When you bring it back to those core values of what really truly matters, then it allows you to breathe a little bit easier.