In a way, we're all living in the matrix: moving around within an illusion of freedom when really our lives are dictated by technology.
40-odd years ago, there was no such thing as a cell phone, and the only computers in existence took up entire rooms. Then the World Wide Web was born.
15 years ago, the iPhone was just a seed of a dream in Steve Jobs' mind. But today, if you're reading this, you have access to countless screens and endless amounts of information; and you probably have a phone in your pocket that you can't be separated from without experiencing a cold rush of panic. Like it or not, you live in the digital age.
Everything is happening so fast these days; it's hard to find the time to seriously question how technology has altered the fabric of our realities. But here are four major ways the Internet has made our minds different from how they were before—so much so that we can never go back.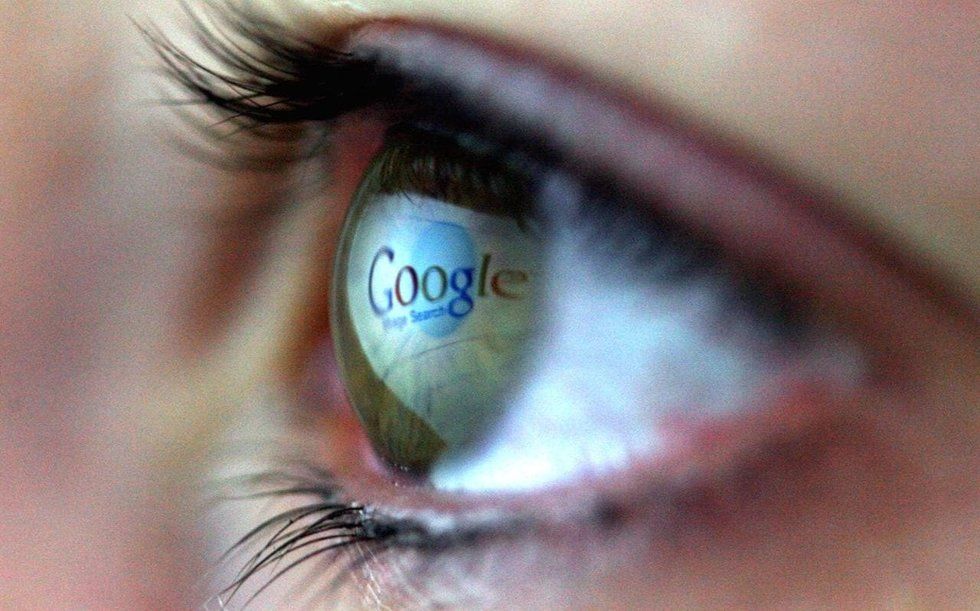 Image via The Telegraph
1. We never have to wonder about anything
Once upon a time, if you were sitting at dinner and a question came up about, say, climate change or the effects of a certain drug, you would have to either find someone who knew the answer or wait until a library opened. Then you'd have to go there and parse through the Dewey Decimal System until you found a volume that might be able to provide the answer.
Today, we all have any piece of information, no matter how small or obscure, quite literally at our fingertips. So we should be smarter than ever, right? But all this instantly accessible information is coming at a price. One study found that millennials have even worse memories than seniors; and a recent Columbia University study revealed that if people feel they will be able to look up something in the future, they'll be less likely to remember it.
In his book The Shallows: What the Internet Is Doing to Our Brains, Nicholas Carr argues that technology is making us stupider, less likely to think critically and retain the information we need. Part of this is because every time we go online, we are confronted with billions of sources vying for our attention, making it difficult to deploy the kind of focused concentration needed to synthesize and reflect on information.
Also, now that we have endless information at our fingertips, many people have proposed that we may be less curious than ever, less inclined to come up with original ideas. However, curiosity is a fluid entity, and though the Internet offers more resources than ever, that also means that more people are creating content than ever before. And new innovative technologies are cropping up every day, revealing that although the Internet might be making some of us stupider, it's also a fertile breeding ground for incredible, world-changing inventions and unprecedentedly viral content.
2. We're more interconnected—and lonelier than ever
Once upon a time, you had to call someone up to speak to them, but now you can see what any of your friends are doing at any time. Instagram and Snapchat stories make it possible to share intimate images of our lives on a wide scale with huge audiences at any time; and online algorithms make it so that whatever you post will never really be gone from the Internet, even if you delete it. We can see the daily coffee choices and midnight tearstained selfies of our favorite stars; we can hit up old friends from across the globe with a single Facebook search.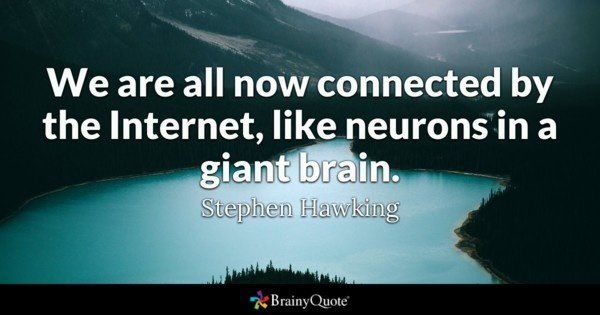 Humans have always been hard-wired for connection, desperately looking for kinship and community, and so it makes sense that the Internet has become so addictive. Every ping, alert, and notification provokes the same kind of dopamine rush that comes from an expression of love and friendship. On the other hand, cyberbullying and persistently comparing oneself to others in the virtual sphere can both have very adverse effects in the real world.

Some studies have proposed that social media increases levels of loneliness. One found that heavy Facebook, Snapchat, and Instagram use can contribute to depression in young adults. Excessive time on Facebook has also been found to be associated with poor physical health and life satisfaction. On the other hand, social media has presented an opportunity for isolated adults and senior citizens to reach out and connect; and online fan and lifestyle communities provide oases for people all over the world.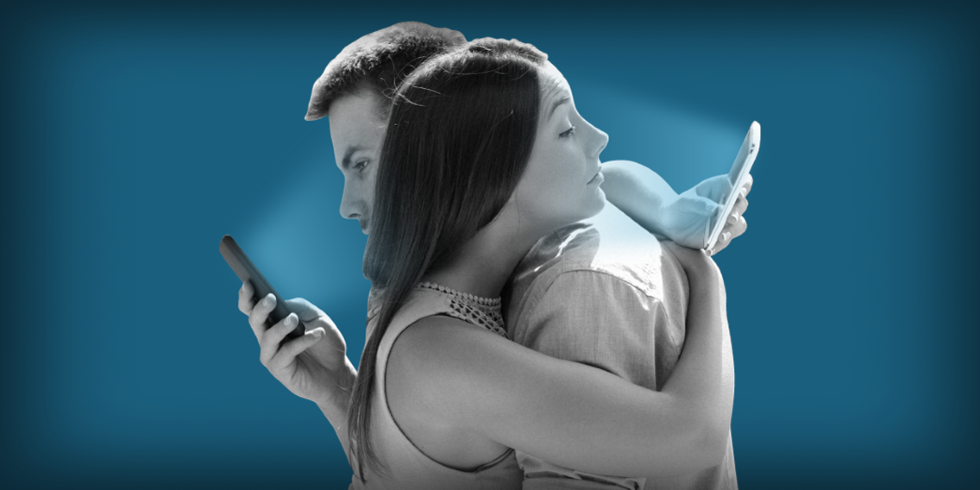 Image via Business Insider
For better or for worse, the Internet has changed the way we connect. It's also changed the way we love. 26 million matches are made every day on dating apps, and roughly 13% of people who met on dating apps married. And phones allow us to communicate with anyone at any moment of the day, creating whole new rules and expectations for relationships, making them altogether more interactive and involved than they once were. Plus, pornography is fundamentally changing the way we have sex, with many studies revealing that it's lowering sex drives and creating unrealistic expectations across the board.

It's the same for work: a Fortune study found that the average white-collar worker spends three hours per day checking emails. This comes part and parcel with the gig economy, that staple of Millennial culture built on perpetual interconnectedness and 24/7 "hustle"—a phenomenon that often leads to burnout.
3. We can have more than one reality—or can hide inside our own worlds more easily than ever
The Internet has made it easier than ever to craft false personas and to embody illusory identities. We can use Photoshop to alter our appearances; we can leverage small talents to viral fame and huge monetary gains, and we can completely escape our world in exchange for online communities and ever-growing virtual and augmented reality options.
The Internet is also altering our perceptions of reality. Although people once thought that interconnected online communities would facilitate the sharing of diverse viewpoints, it has turned out that social media allows us to access echo chambers even more isolated and partisan than what we'd see in our real lives.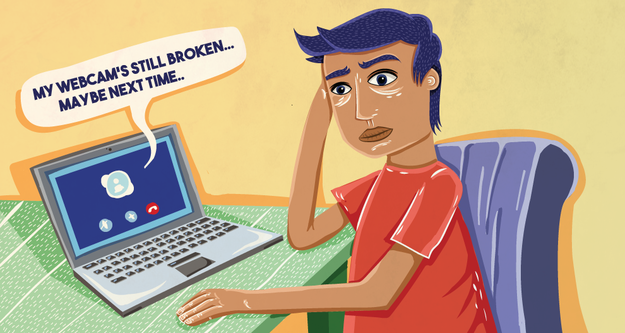 In short, we're all at risk of being catfished.
4. Many of us are completely addicted
When was the last time you went a day without checking your phone? A week? And do you think that if you needed to, you could quit? Most likely, the answer is no, so you'd better believe it: you're addicted to technology. But you're not alone. A 2017 study found that 210 million people may be addicted worldwide.
There are five primary types of Internet addictions: cybersexual (porn) addiction, net compulsions (online shopping), cyber relationships (online dating), gaming, and information seeking (surfing). In recent years, internet addiction rehab has grown in popularity. The majority of people with legitimate internet addiction problems are men in their teens to late thirties, but it's likely that we all suffer from this to some extent.
Image via the Fix
Although the Internet is changing everything about our lives, ultimately, there is no clear consensus on whether these changes are for the worse or the better. But the changes will be growing more extreme over the years. Moore's Law proposes that, essentially, overall technological processing power will double each year, indefinitely—meaning that technology will continue to advance at an unimaginable rate. If the past twenty years have given us iPhones, what will the next twenty bring? The next hundred, if we make it that far without global warming ending everything?

Only time will tell. We won't be the same—but then again, we were never meant to remain stagnant as a species. Change and chaos are the laws of the human race, and as a species, we've always been obsessed with progress.
Some theorists believe that technological progress will only end when we create an operating system more intelligent than we, in a revelatory event called the singularity. If this happens, the AI could decide to eliminate us. That's another story—but until then, the sky is the limit for innovators and consumers everywhere.
---
Eden Arielle Gordon is a writer and musician from New York City. Follow her on Twitter @edenarielmusic.

We live in a divided nation—but there some things will always bind us together.
Very few people seem to be getting along in America right now. Countless relationships have ended, and families have broken apart because of political and ideological differences, which have only grown more extreme following the 2016 election. The divide between Democrats and Republicans, pro-lifers and pro-choicers, climate-change deniers and believers, and many more have become unfathomably vast.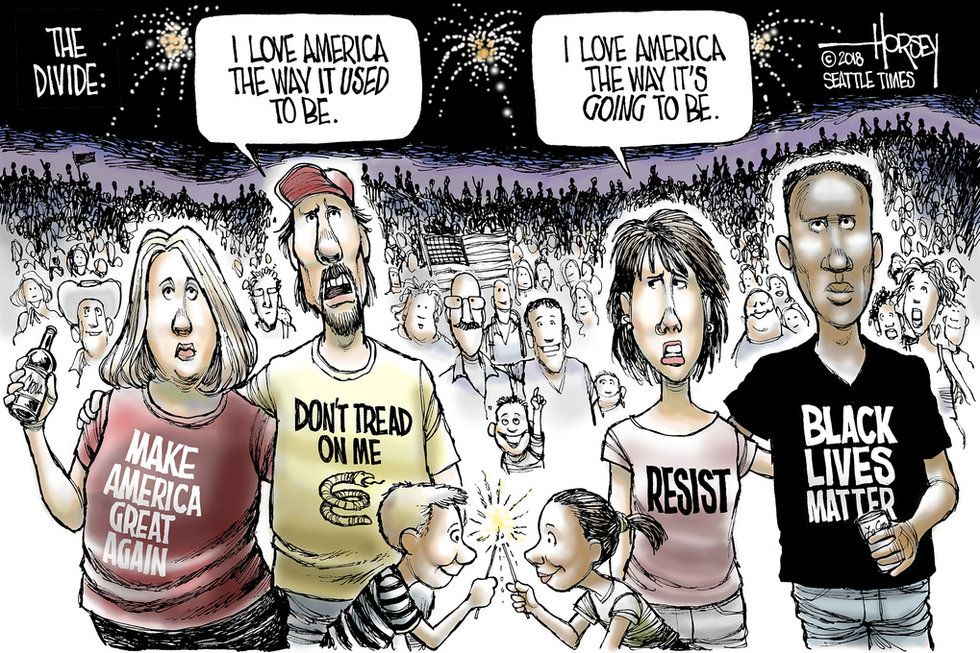 Image via the Seattle Times
But amidst all the chaos, violence and noise, there are just some issues that are decidedly non-partisan; some topics that are so unanimously agreed on that for a moment, it almost seems like we're all only human. In a time of rage, here are the few points of commonality we have.
1. Robocalls Should Stop Forever
There are so many contentious issues being debated in Congress today—from the Green New Deal to bathrooms to anything even remotely connected to the president; it's safe to say that there are very few things everyone in the House and Senate agree upon. But recently, two bills were introduced in the spirit of stopping robocalls—those awful telemarketer messages that constantly interrupt our day with health insurance scams or calls from the Chinese consulate—forever. One is the proposal Stopping Bad Robocalls, from Senator Frank Pallone of New Jersey. The other is Massachusetts Senator Ed Markey's Telephone Robocall Criminal Abuse Enforcement and Deterrence Act. Both of these proposals will make it much harder for telemarketers to call and force their wills upon unsuspecting constituents. According to Markey, "If this bill can't pass, no bill can pass."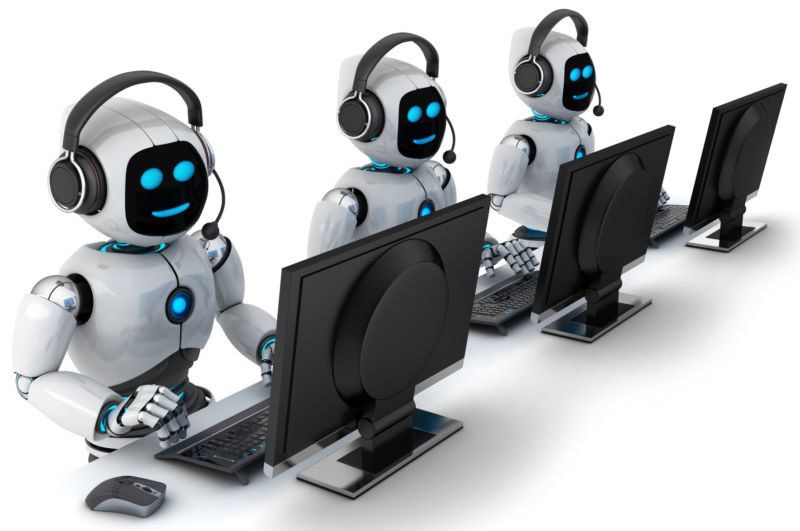 AI support centre Image via Ars Technica
2. Voting is Important

Now, though the issue of who to vote for is one of the easiest ways to turn an ordinary Thanksgiving dinner into a full-on screamfest, most Americans do agree that as citizens of this country, we are responsible for performing our civic duty and making our political opinions heard. Starting way back with the Founding Fathers, this has been an American ideal that nobody except for the staunchest anarchists or most apathetic among us is resistant to. Even so, only around 58.1% of America's voting-eligible population voted in 2016, although 67% of Americans believe that not voting is a huge problem, according to a survey by the Public Religion Research Institute. Maybe the disparity lies in the fact that the people who do not believe in voting also probably wouldn't be too likely to respond to a random political survey.
3. The News Is Fake
No matter where you prefer to get your news, most Americans agree that the media has serious issues—namely the abundance of falsified information plaguing and distorting everything from our elections to our dating lives. The issue isn't only a problem among journalists; politicians themselves are also widely distrusted, and for a good reason. In 2010, Senator Jim McMinn proclaimed that 94% of bills in Congress are passed without issue (it was found to be about 27.4%—although who knows if that statistic is true, though it did come from a Pulitzer-prize-winning political fact-checking organization). Since then, things have spiraled more and more out of control. There's no legitimate way to check how much fake news is out there, but according to one survey, most viewers were suspicious of 80% of the news they saw on social media and 60% of what they saw online overall. Though if you're like the majority of Americans, you won't be taking this article's word for it.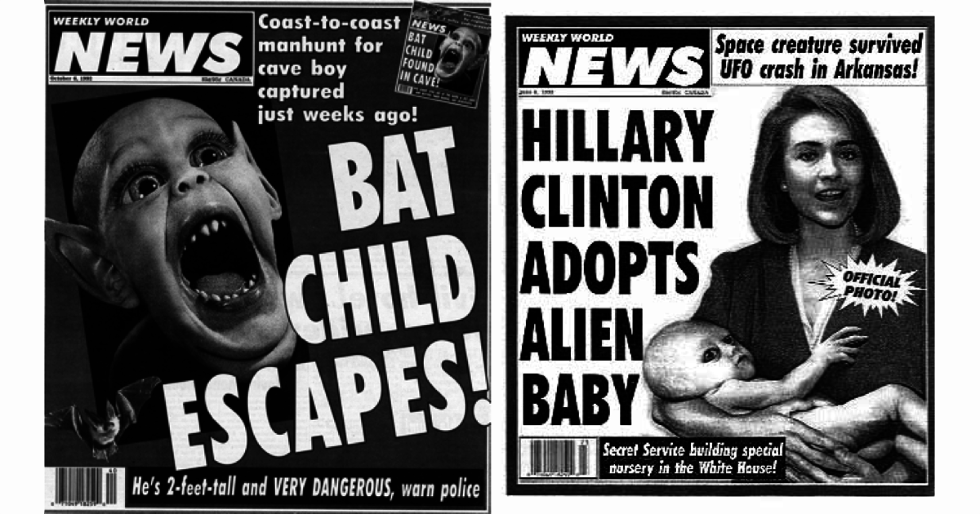 Image via Vox
4. We Should Have Healthcare

Although there is certainly not a clear consensus, most Americans do support healthcare for all. According to a 2018 poll, 6 out of 10 Americans believe that the government should provide healthcare for everyone; another survey from The Hill found that 70% of Americans support Medicare for all, and even a small majority of Republicans are in favor of the idea.
5. The Nation Is Divided
We can all agree on one thing: disagreeing. 81% of Americans believe that we are more divided than at any other time in our nation's history, according to Time. (Remember, there was this thing called the Civil War). Americans can't even agree on what exactly the nation's most significant points of disagreement are: most Democrats believe gun control is a huge issue while most Republicans consider it unimportant; same with climate change and income equality, according to surveys from the Pew Institute.
Although contention and chaos might be the laws of the day, at least we'll always have a shared hatred of telemarketers to bind us all together.
---
Eden Arielle Gordon is a writer and musician from New York City.

The refugee crisis hasn't gone anywhere. But news outlets and political leaders everywhere are ignoring it—and xenophobia is making it worse.
Around 2015, the so-called European refugee crisis was topping every newspaper headline. Reports of the 5.2 million refugees pouring in from Syria and other war-torn countries that year led to mass calls for mobilization to create infrastructure and support systems for displaced peoples. The photo of Alan Kurdi, the drowned three-year-old who provided a name and face to the crisis, sparked international acknowledgment and inspired humanitarian activists all over the world.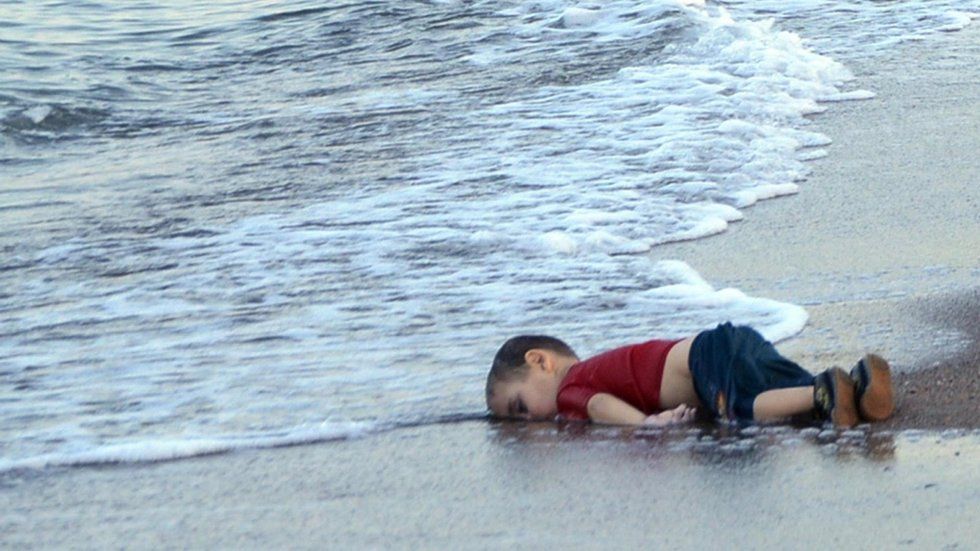 Alan Kurdi, via Medium
But that was four years ago. What has happened to those 5.2 million since then?

Firstly, there are a lot more than 5.2 million now. According to the UN, as many as 63.5 million people have had to flee their homes because of conflict since World War II; and today, roughly eight thousand people per month arrive in Greece, Italy, and Spain from Syria, Guinea, Algeria, and neighboring countries. These numbers are staggering; the lives they describe are almost impossible to imagine. But each figure corresponds to individual experience and a body that likely has crossed countless miles of ocean to arrive on European shores. Though it is impossible to generalize their stories, the majority of these people are currently stranded in liminal places like refugee camps or living as undocumented citizens without access to rights, living wages, and other protections.
According to the Aegean Boat Report, around 20 boats have arrived on the Greek island of Lesvos alone in February 2019, carrying a total of 791 people. Lesvos's Moria Camp holds somewhere between eight to ten thousand refugees; it was initially designed to hold ten. Many have been there for over half a decade, and the conditions in the camp are becoming more and more unlivable by the day.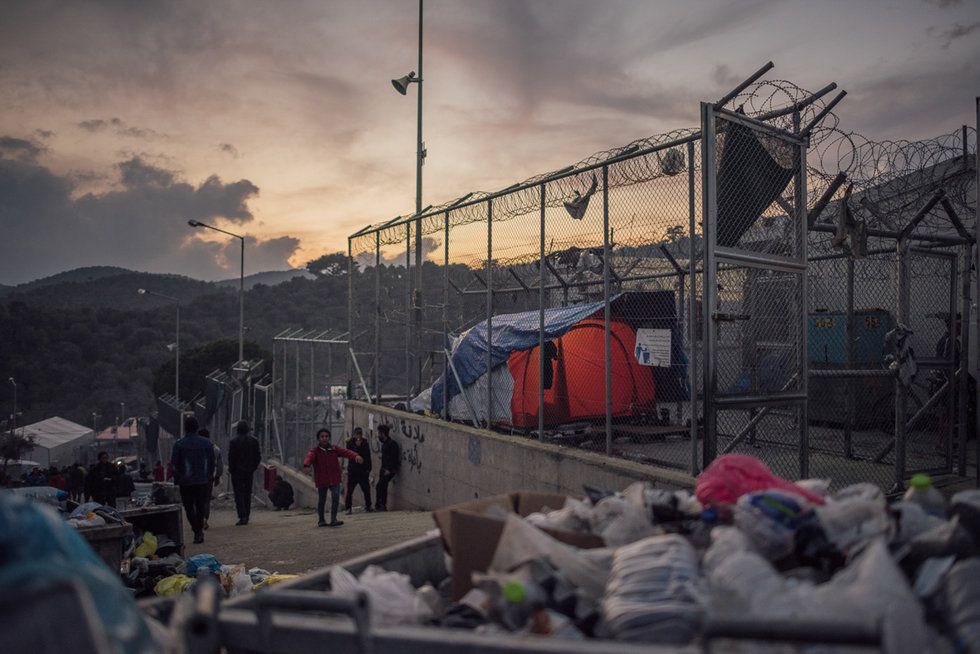 Moria Camp, via Al Jazeera
Many refugees go through hell and back to get there. Left with no choice but to flee violence and unlivable conditions, many spend thousands of dollars on hiring a smuggler who could carry them across the sea. The journey is treacherous—smugglers sometimes have deals with authorities or even pirates, and recent reports have revealed that the journey is more dangerous than ever before, with 1,600 to as many as 2,730 people dying at sea in 2018. The UNHCR released a report which argued that although the official number of migrants crossing the Mediterranean fell last year, this was likely due to "reductions to search and rescue capacity coupled with an uncoordinated and unpredictable response to disembarkation." This in turn, "led to an increased death rate as people continued to flee their countries due to conflict, human rights violations, persecution, and poverty." As the world forgets, the little structure and safety netting that does exist inevitably falls apart.

The news is a strange beast. Some stories can dominate for months and fade out so suddenly it's almost like they never happened; particularly shocking acts of individual or random violence can consume headlines while systematic, long-term horrors can fade away, having lost their ability to capture audiences' attention. With countries like South Sudan, Yemen, and Afghanistan steadily experiencing mass exoduses for years and years at a time, and with the inundation of tragic stories and gory photographs from Syria, it's easy for ongoing horrors to slip underneath an ocean of facts and figures that seem too overwhelming to address.
It's also easy for governments to shirk off responsibility for taking in refugees, seeing as technically they are stateless and, therefore, are not protected by any citizenship rights. Though the Universal Declaration of Human Rights guarantees basic protections for all people on earth, it does not specify which countries are responsible for providing these protections.
But every political decision manifests in lived experiences. For example, when migrants arrive on the shores of Lesvos, they are sometimes met with volunteers who provide water and transportation to the camps. Families and individuals are assigned at random to tents, which are crammed next to each other, creating unlivable conditions.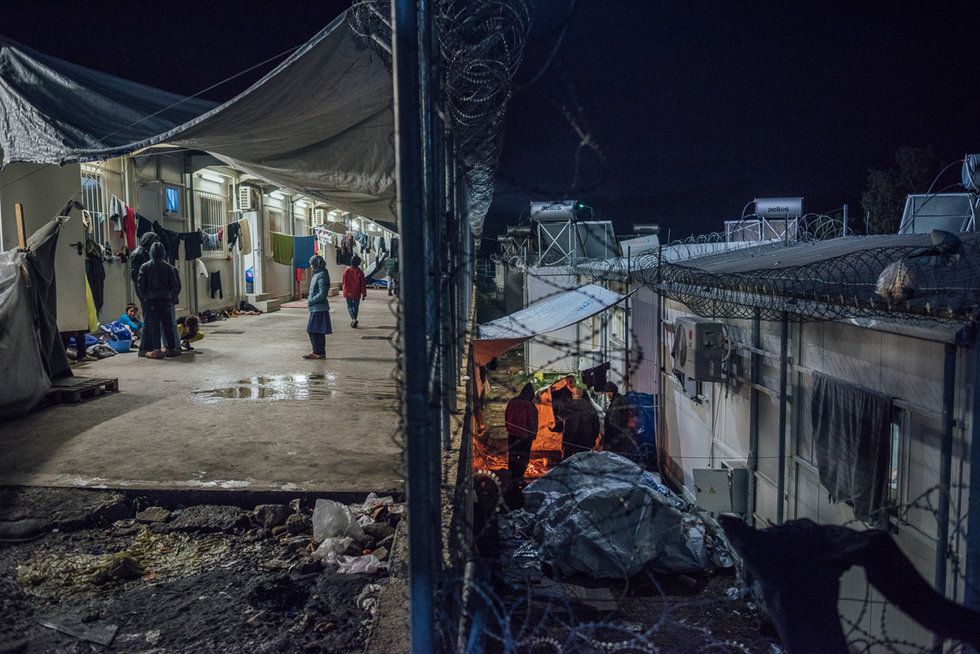 Image via aljazeera.com
Lesvos, in particular, has an extensive volunteer population, but overall aid groups often work as band-aids, failing to heal the sources of a larger issue and failing to structure a pathway forward. Instead, aid groups and refugees languish on Lesvos, in the grey area of statelessness and global amnesia. NGOs are gradually shifting their focus to working with refugees and locals to develop long-lasting relationships and skills, which can propel migrants forward into new lives.

But in light of the antipathy many locals hold towards newcomers, and also because of the trauma, language barriers, or other struggles that migrants face, the process of adjustment is challenging and will require individualized attention, patience, and cohesive efforts. Reports reveal that the majority of refugees fleeing severe conflicts will have vestiges of trauma; the IRC reported high levels of depression and PTSD among refugees across the board.
A 2011 Oxford University study found that the best way for refugees to move forward is through integration into life in their new countries. Solutions lie in treating the wound at its source, addressing xenophobia, and fighting for fair opportunities to education, jobs, healthcare, and other vital structural support systems. On the other hand, stranding migrants in places like Lesvos—where they live in unsanitary and dangerous conditions, surrounded by strangers who may also be experiencing trauma, with no idea of if or when they will be able to leave—is a product of a collective worldwide amnesia, a refusal to see what is happening in real time.
Long-term, slow-moving challengers are not foddered for breaking news. Particularly massive floods of refugees might pique the interest of a world leader; an artist might draw attention to the crisis through an installation in a busy city; but always, the cycles of violence and erasure continue as the world gets caught up in shinier, brighter topics. But remembering and acknowledging what is happening is the first step to moving in a new direction.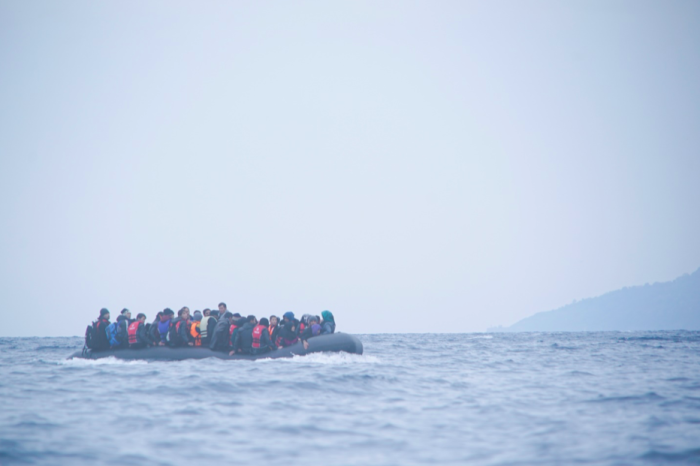 Image via Oxfam Novib Academy
---
Eden Arielle Gordon is a writer and musician from New York City.
The GPT-2 software can generate fake news articles on its own. Its creators believe its existence may pose an existential threat to humanity. But it could also present a chance to intervene.
Researchers at OpenAI have created an artificial intelligence software so powerful that they have deemed it too dangerous for public release.
The software, called GPT-2, can generate cohesive, coherent text in multiple genres—including fiction, news, and unfiltered Internet rants—making it a prime candidate for creating fake news or fake profiles should it fall into the wrong hands.
Fears like this led the Elon Musk-founded company OpenAI to curtail the software's release. "Due to our concerns about malicious applications of the technology, we are not releasing the trained model," they announced in a blog post. "As an experiment in responsible disclosure, we are instead releasing a much smaller model for researchers to experiment with, as well as a technical paper."

In addition to writing a cohesive fictional story based on Lord of the Rings, the software wrote a logical scientific report about the discovery of unicorns. "In a shocking finding, scientist discovered a herd of unicorns living in a remote, previously unexplored valley, in the Andes Mountains," the software wrote. "Even more surprising to the researchers was the fact that the unicorns spoke perfect English. The scientist named the population, after their distinctive horn, Ovid's Unicorn. These four-horned, silver-white unicorns were previously unknown to science."
This journalistic aptitude sparked widespread fears that AI technologies as sophisticated as the GPT-2 could influence upcoming elections, potentially generating unfathomable amounts of partisan content in a single instant. "The idea here is you can use some of these tools in order to skew reality in your favor," said University of Washington professor Ryan Calo. "And I think that's what OpenAI worries about."
Elon Musk quit OpenAI in 2018, but his legacy of fear and paranoia regarding AI and its potential evils lives on. The specter of his caution was likely instrumental in keeping GPT-2 out of the public sphere. "It's quite uncanny how it behaves," echoed Jack Clark, policy director of OpenAI, when asked about his decision to keep the new software under locks.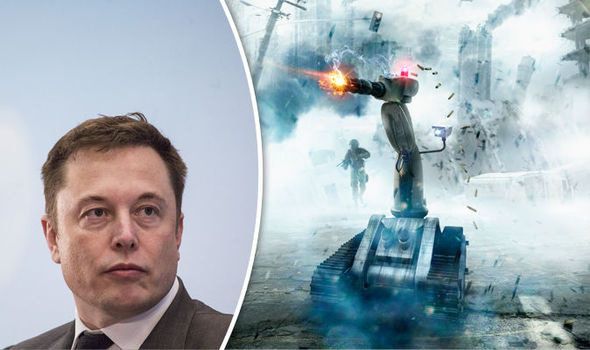 The fears of Elon MuskImage via express.co.uk
In a world already plagued by fake news, cat-fishing, and other forms of illusion made possible by new technology, AI seems like a natural next step in the dizzying sequence of illusion and corruption that has rapidly turned the online world from a repository of cat videos (the good old days) to today's vortex of ceaselessly reproduced lies and corrupted content. Thinkers like Musk have long called for resistance against AI's unstoppable growth. In 2014, Musk called AI the single largest "existential threat" to humanity. That same year, the late physicist Stephen Hawking ominously predicted that sophisticated AI could "spell the end of the human race."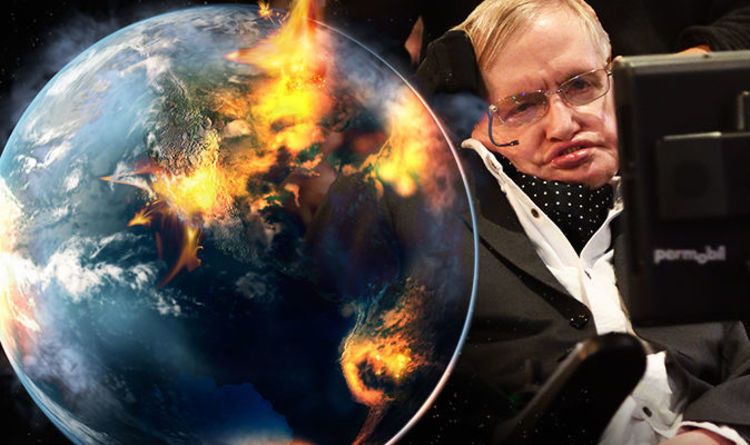 Stephen Hawking's apocalyptic visionsImage via longroom.com
But until AI achieves the singularity—a level of consciousness where it achieves and supersedes human intelligence—it is still privy to the whims of whoever is controlling it. Fears about whether AI will lend itself to fake news are essentially fears of things humans have already done. All the evil at work on the Internet has had a human source.
When it comes down to the wire, for now, AI is a weapon.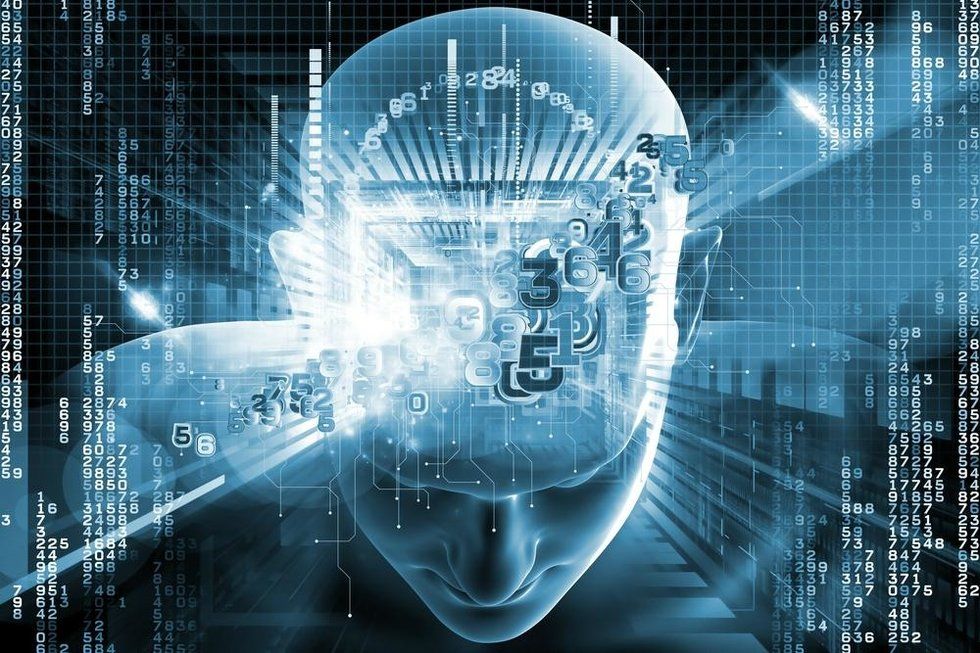 When AI is released into the world, a lot could happen. AI could become a victim, a repository for displaced human desire. Some have questioned whether people should be allowed to treat humanoid creatures in whatever ways they wish to. Instances of robot beheadings and other violent behaviors towards AI hint towards a darker trend that could emerge should AI become a free-for-all, a humanoid object that can be treated in any way on the basis of its presumed inhumanity.
Clearly, AI and humanity have a complex and fundamentally intertwined relationship, and as we all become more dependent on technology, there is less of a clear line dividing the human from the robotic. As a manmade invention, AI will inevitably emulate the traits (as well as the stereotypes) of the people who created it. It could also take on the violent tendencies of its human creators. Some thinkers have sounded the alarm about this, questioning the dearth of ethics in Silicon Valley and in the tech sphere on the whole. Many people believe that AI (and technology in general) is fundamentally free of bias and emotion, but a multitude of examples have shown that this is untrue, including instances where law enforcement software systems displayed racist bias against black people (based on data collected by humans).
AI can be just as prejudiced and close-minded as a human, if not more so, especially in its early stages where it is not sophisticated enough to think critically. An AI may not feel in and of itself, but—much like we learn how to process the world from our parents—it can learn how to process and understand emotions from the people who create it, and from the media it absorbs.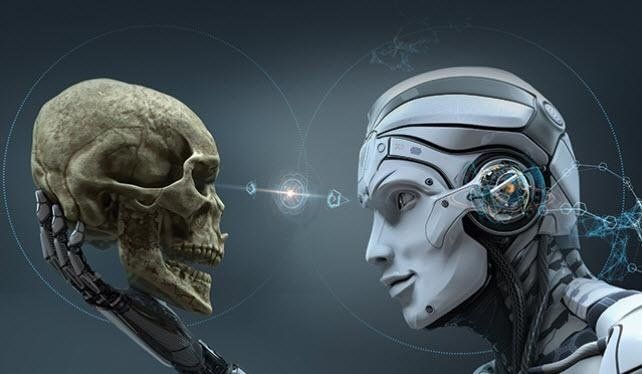 Image via techno-pundit.blogspot.com
After all, who could forget the TwitterBot who began spewing racist, anti-Semitic rants mere hours after its launch—rants that it, of course, learned from human Twitter users? Studies have estimated that 9 to 15 percent of all Twitter accounts are bots—but each one of these bots had to be created and programmed by a human being. Even if the bot was not created for a specific purpose, it still learns from the human presences around it.
A completely objective, totally nonhuman AI is kind of like the temperature absolute zero; it can exist only in theory. Since all AI is created by humans, it will inevitably take on human traits and beliefs. It will perform acts of evil when instructed to, or when exposed to ideologies that can inspire it to. It can also learn morality if its teachers choose to imbue it with the ability to tell right from wrong.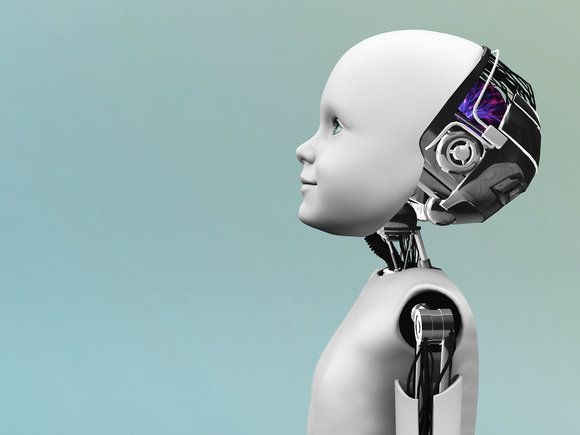 Image via cio.com
Their quandary may not be so different from the struggle parents face when deciding whether to allow their children to watch R-rated movies. In this case, both the general public and the AIs are the children, and the scientists, coders, and companies peddling new inventions are the parents. The people designing AIs have to determine the extent to which they can trust the public with their work. They also have to determine which aspects of humanity they want to expose their inventions to.
OpenAI may have kept their kid safe inside the house a little longer by freezing the GPT-2, but that kid is growing—and when it goes out into the world, it could change everything. For better or worse, at some point, super-intelligent AI is going to wind up in the public's hands. Now, during its tender, formative stages, there is still a chance to shape it into whom it's going to be when it arrives.
---
Eden Arielle Gordon is a writer and musician from New York City. Talk to her about AI on Twitter @edenarielmusic.

On Valentine's Day, Amazon pulled out of its plan to build a second headquarters in Queens, citing the efforts of citizen protestors and politicians who opposed its imminent arrival.
The moment Amazon announced that it would be building its second headquarters in NYC's Long Island City, people took to the streets.

On November 26th, a coalition of immigrant advocates and anti-HQ2 groups gathered to protest Amazon's involvement with ICE, Paladir, and other organizations responsible for deportations. Citizens marched again on Cyber Monday, launching a " day of action" and flooding an Amazon Bookstore in Manhattan, holding signs aloft and chanting sing-song rhymes about Jeff Bezos. Together, over two dozen community groups organized these protests, including local unions and nonprofits. Following the protests in Manhattan, Amazon workers employed in warehouses in Staten Island made the decision to unionize, citing low pay and impossible performance quotas, and leveraging Amazon's impending move to Queens to draw attention to their case.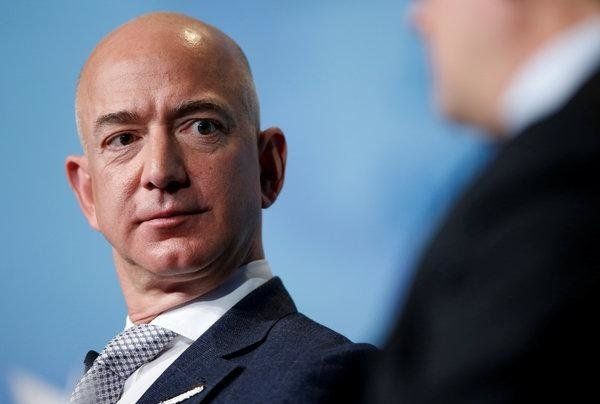 Image via The New York Times
Their protests attracted the attention of some of New York City's political officials, such as City Council Speaker Corey Johnson, who initially supported Amazon's entry but denounced it after learning more about the circumstances surrounding the deal. He began to stand with the protestors, complaining that a general lack of transparency and the fact that Amazon bypassed NYC's standard review process mandated further investigation.

In December, a public hearing was held at City Hall, and protestors gathered outside while council members grilled economists and officials who had been instrumental in making the deal with the world's most profitable corporation. "We are not in the business of corporate welfare here at city council," said Johnson.
It was this so-called corporate welfare—the $3 billion in government and tax incentives that Amazon was promised, in exchange for the 25,000 jobs it promised to create—that became the foundations of the anger stewing around the sales conglomerate's impending arrival, anger which resulted in Amazon's decision to pull out of its promise to develop a huge corporate campus in Queens.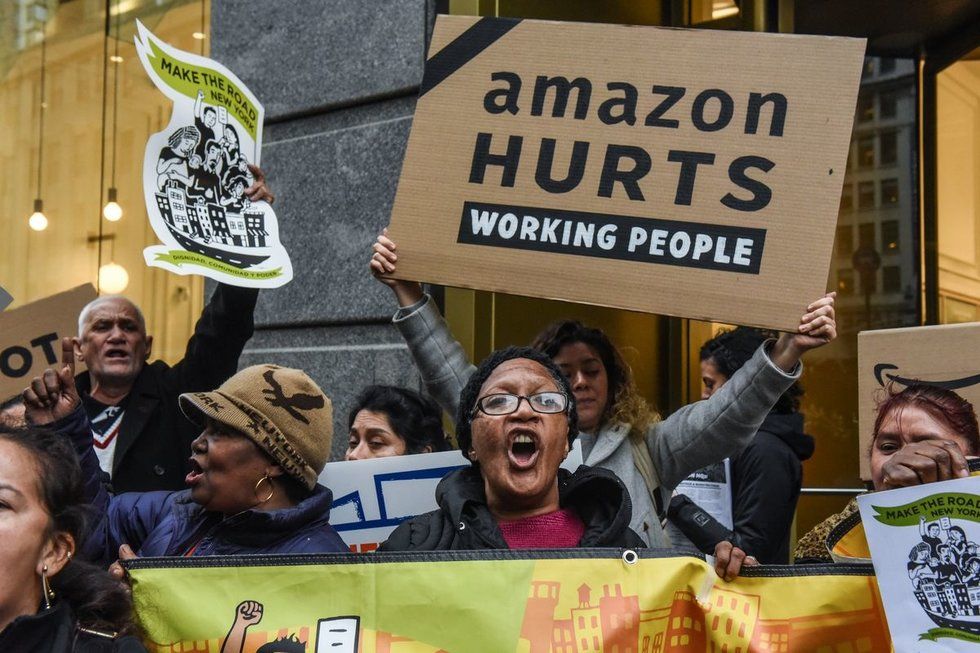 Image via Vox.com
The people's anger came from different places, and their protests were haphazard efforts, but their rage had been brewing for a long time, and Amazon's imminent arrival fed a variety of fears about corporate greed and pervasive gentrification, which opponents feared would tear apart places like Long Island City, sucking it clean of culture and community. Amazon's arrival was predicted to catalyze a wave of homelessness; the announcement that it was setting up shop in Long Island City was instantly followed by dizzying spikes in rent—chilling lower-income residents in a city already plagued by stretches of empty storefronts.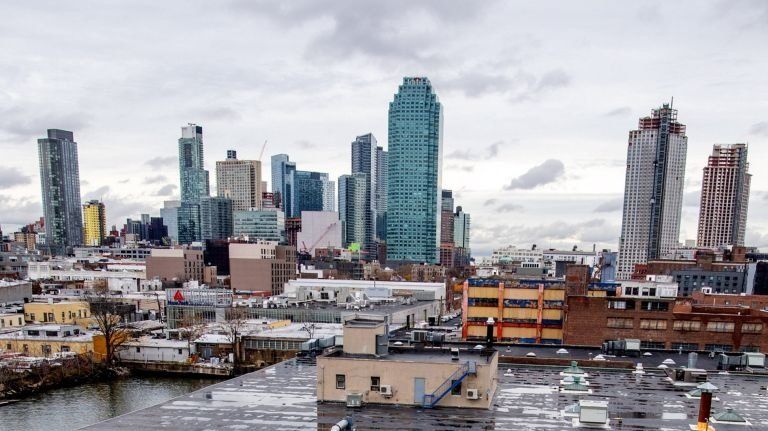 Long Island CityImage via AM NY
Protestors cited Amazon's effects on Seattle, Amazon's first home city, as reasons why the conglomerate shouldn't move on with its plan. Some people argue that Amazon made Seattle into a hull, a kind of paper city that existed only to facilitate its metallic corporate heart; and Seattle's homeless corporation did rise in tandem with rising housing prices, making it home to the third-highest number of homeless people in the country, after New York and Los Angeles.

HQ2 opposition united a great deal of unlikely allies—including an unlikely ally in the Wall Street Journal's Editorial Board, who argued that the deal was "crony capitalism at its worst." Their article continued, "Amazon's case is aboveboard, but it still amounts to a company with a market capitalization of nearly $800 billion getting paid to create jobs it would have created somewhere anyway."
Alexandria Ocasio-Cortez was the most visible face of a group of politicians who protested Amazon's HQ2 establishment, and her resistance might have been one of the central reasons for its decision to abandon ship. "It was that the environment over the course of the past three months had not got any better," said Joni Seth, Amazon's head of policy communications. "There were some local and state elected officials who refused to meet with Amazon and criticized us day in and day out about the plan."
Ocasio-Cortez had long denounced Amazon's plans to move into Queens, and she celebrated Amazon's retraction on Twitter. So did other political figures, including Cynthia Nixon. Following the company's Valentine's Day breakup announcement, the actress-turned politician triumphantly tweeted, "The fight against Amazon laid bare their union-busting, corporate welfare, ICE-abetting practices and shows why we need to break up monopolies like Amazon."

In addition to its ties to law enforcement giants, Amazon had also been accused of developing facial recognition technologies to gain information about customers without them knowing; and many protests have cropped up among its warehouse workers, especially in Europe, where employees have staged walkouts against low wages and poor working conditions.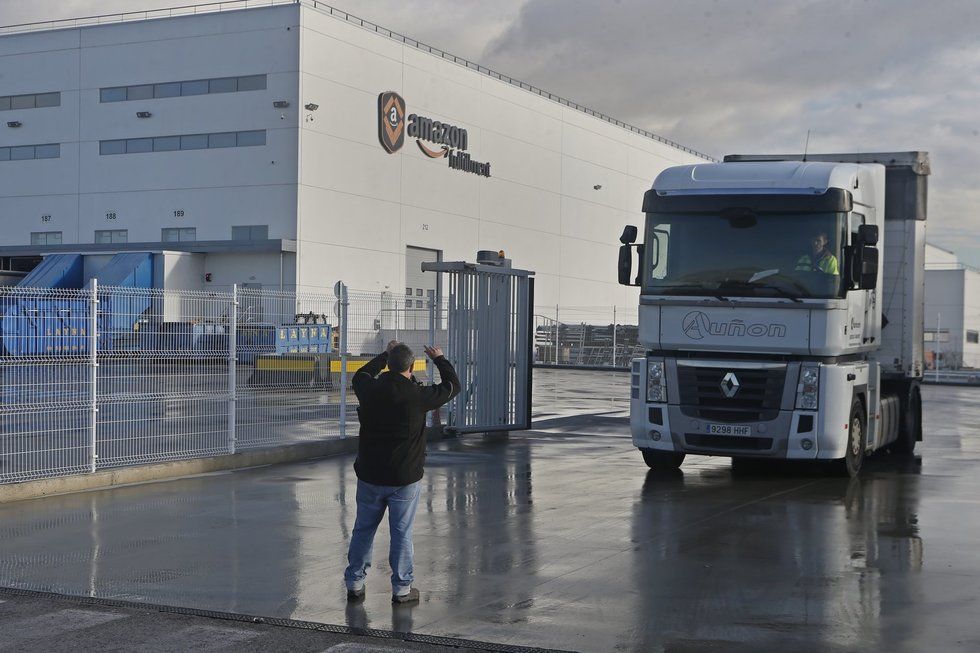 A protestor stops an Amazon truck in Spain.Image via apnews.com
Despite Amazon's shady ethics, many people were not as enthusiastic about the company's foiled New York City dreams, arguing that the demise of HQ2 will compromise what could've been an economic boom for the city, criticizing Ocasio-Cortez's decision to favor ideology over economics. Amazon may have hiked up rents, but rents are high anyway; and its arrival would have created thousands of jobs, including consistent positions for lower-level staff members and service workers.

Plus polls showed that 56% of New Yorkers approved Amazon's arrival, which was initially billed as a triumph by Mayor Bill de Blasio and Governor Andrew Cuomo—both central players in the deal's initial success who believed that the arrival would help NYC solidify its position as a worldwide hub of tech and industry. Bill DeBlasio's tweets following Amazon's decision resembled those of a spurned ex. He also lashed out at Ocasio-Cortez, stating that "a small group of politicians put their own narrow political interests above their community—which poll after poll showed overwhelmingly supported bringing Amazon to Long Island City—the state's economic future and the best interests of the people of this state," the governor said in a statement.
But even so, a great deal of major political figures opposed the deal, including Senator Michael Gianaris of Queens, who initially supported Amazon's arrival but, like Johnson, changed his mind after learning about its policies. Still, Amazon in Long Island City's demise all started with those first street protests, which erupted directly after De Blasio's announcement as politicians remained silent. Ultimately, community members and citizen organizers catalyzed the start of the resistance that led to the downfall of Amazon's Queens campus.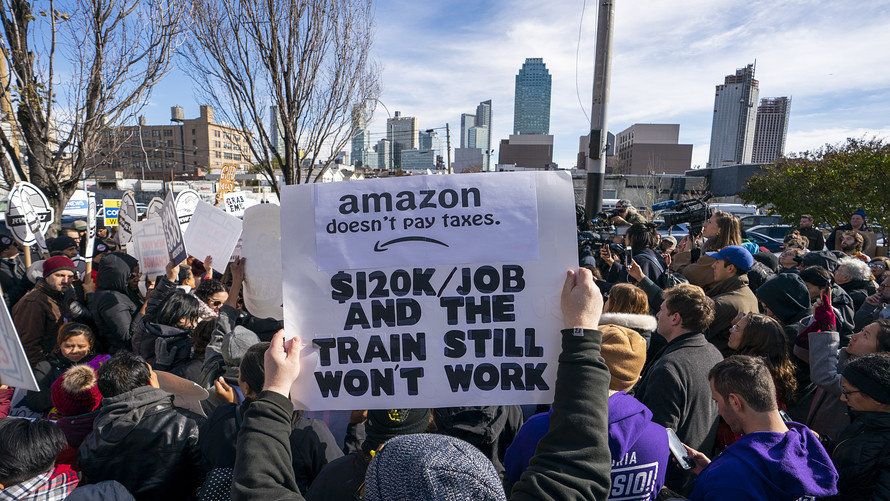 Image via Marketwatch
There's something deeply satisfying about the image of the world's richest man and his behemothic corporation getting kicked out of New York by impassioned Queens residents, ready to unite and fight for the integrity of their home borough. Still, Amazon's departure won't stop gentrification, won't fill up empty stores, and won't bring back the days when young artists could gallivant around Greenwich Village with pennies in their pockets and working-class families could call Manhattan home.
In a way, Amazon's departure is a symbolic victory for its opposition, a tantalizing promise that the people can triumph over corporations. Of course, this move will not deter Amazon from building its global empire, and America's supermassive wealth gap will remain. It just won't be as tangibly visible in New York.
---
Eden Arielle Gordon is a writer and musician from New York. Follow her on Twitter at @edenarielmusic.
The venerated photographer and hundreds of others overtook the atrium of New York's Guggenheim to protest the museum's ongoing relationship with the Sackler Family, one of its largest donors. The majority of the Sacklers' wealth comes from Purdue Pharma—the primary manufacturer and distributor of OxyContin.
Visionary photographer Nan Goldin made waves in the 1960s with her raw, vivid portraits, which showed the electric underside of New York's gritty arts scene as well as the intimacies of human life and love.
Back then, her photos were protests against stereotypes; they lovingly portrayed queer culture, denounced domestic violence, and provided a window into an open kind of sexuality that was not often seen during the stultified conformity of the 1950s.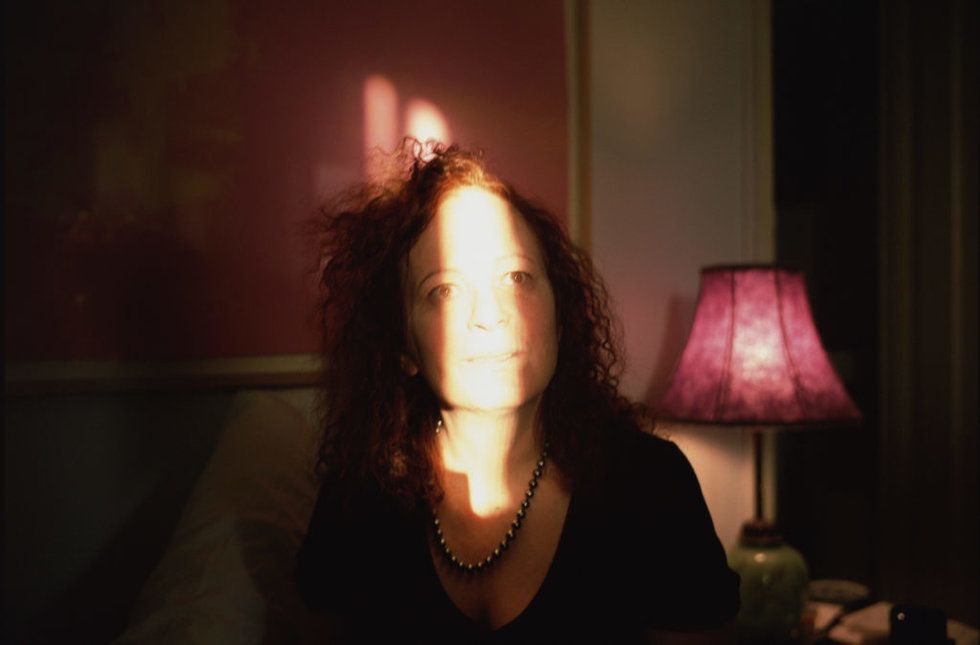 Image via Artnet News
Since then, Goldin's work has been exhibited at the MOMA and she has been recognized as one of the 20th century's most influential photographers. But in 2019, she's been occupying space in museums for a very different reason.

On Saturday night, Goldin and hundreds of others overtook the atrium of New York's Guggenheim to protest the museum's ongoing relationship with the Sackler Family, one of its largest donors. Exchanging money to support the arts certainly isn't a crime, but the majority of the Sacklers' wealth comes from their involvement with Purdue Pharma—the primary manufacturer and distributor of the extremely addictive and deadly drug OxyContin.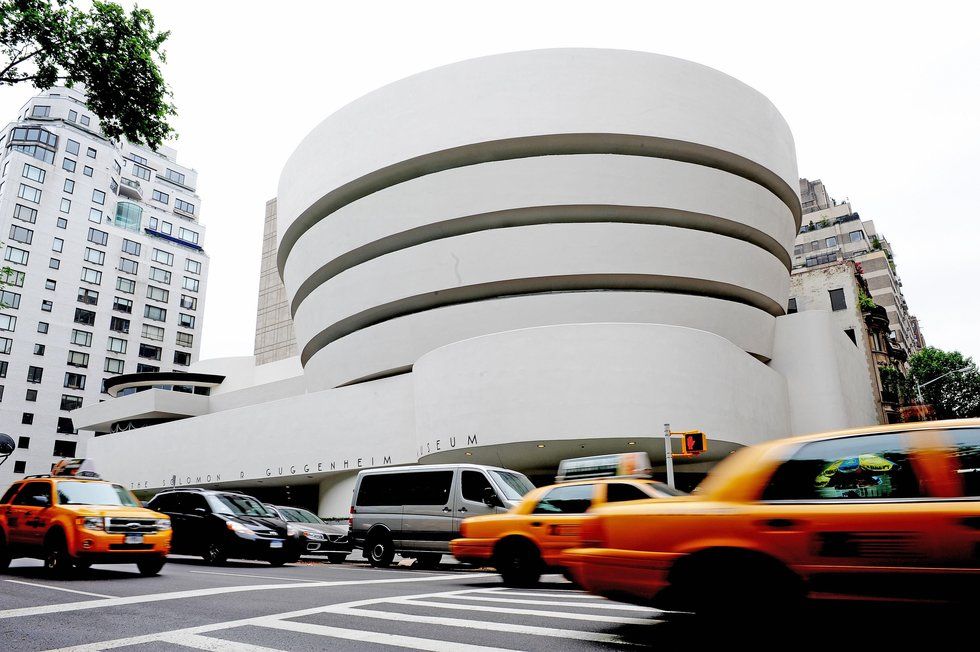 Image via the Forum
In 2013, Goldin was prescribed OxyContin for wrist surgery. "I ended up locked in my room for three years," she told the crowd that gathered in the Guggenheim on Saturday night. "I came to and I realized it was time to speak out." After a near-death experience with the drug, Goldin dedicated herself to taking down the Sackler Family, the group of billionaire pharmaceutical moguls who made tens of millions of dollars off OxyContin sales before the drug was flagged and criminalized for its addictive properties.

In 2007, Purdue Pharma admitted that OxyContin's branding was misinformative, but continued to distribute and profit off the product, allegedly paying themselves as much as $4 billion that year. Since then, waves of lawsuits have continued to dog the pharmaceutical company as they have continued to profit off opioid sales. In 2018, New York City won $500 million in damages as part of a suit against Purdue and a host of other narcotics peddlers, including the makers of Percocet and fentanyl patches.
None of the Sackler family members themselves have been individually targeted, though lawyers hope this may change as investigations ramp up, thanks to protests like Goldin's. Also, the sheer number of opiod-related deaths each day in America—over 130 per day, according to the U.S. Department of Health and Public Services—is a factor that's hard to ignore.
The Sacklers have filtered money earned through Purdue into thousands of cultural institutions, including the Guggenheim, which has its own Sackler wing. Other institutions that have benefitted from their donations include the Metropolitan Museum of Art, the Smithsonian, Harvard, and MIT. Goldin, among other activists, has been calling for the museums to stop taking Sackler money for years; her organization P. A. I. N. (Prescription Addiction Intervention Now) has staged die-ins at the Met, among other protests.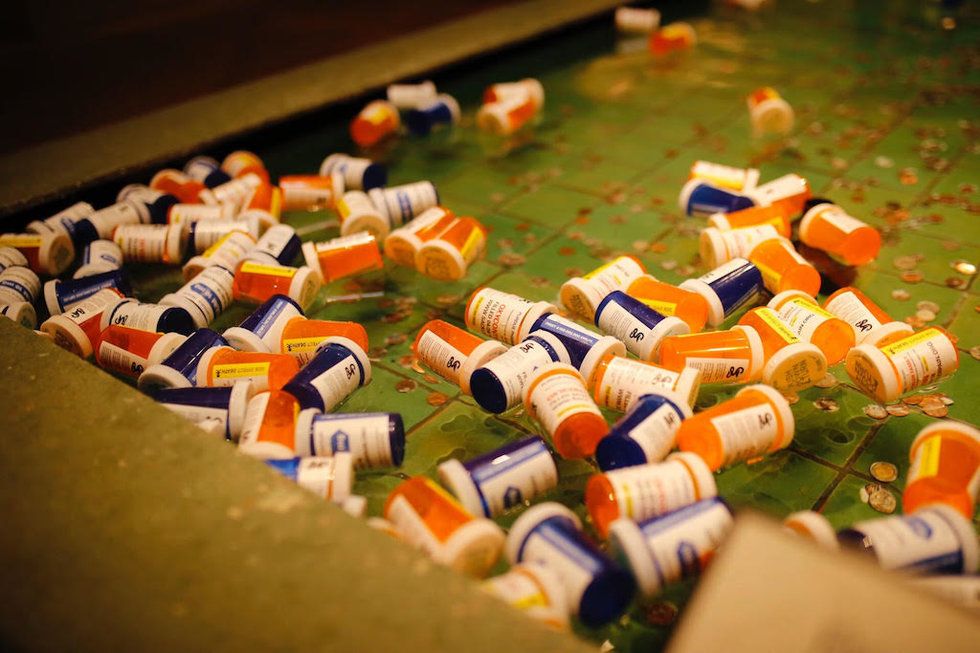 Image from a P.A.I.N. ProtestImage via ART News
That February night at the Guggenheim, protesters dropped sheets of paper resembling prescription notes from balconies high above, each printed with various Sackler quotes. One bore a phrase spoken by the late Purdue president Richard Sackler, in which he advised his employees to "hammer on abusers in every way possible," belying insidious involvement and intentional sabotage of already vulnerable populations. The quote appeared in a recent Massachusetts court filing that is accusing the Sackler family of direct, intentional involvement with the start of the opioid crisis. "It is an attractive market," an internal memo read, according to the suit. "Large unmet need for vulnerable, underserved and stigmatized patient population suffering from substance abuse, dependence and addiction."
So far, all of the aforementioned institutions have continued taking Sackler money, though the Met announced in January that it was planning on reconsidering its gift acceptance policies.
"We see museums and cultural institutions glorifying the very rich and we also see them giving them positions of power," one of the protestors, L. A. Kauffman, told ArtNews. "The Sackler family is one of many who has been able to stand outside the law because of their great wealth and we are saying: the time is up."
---
Eden Arielle Gordon is a writer and musician from New York City. Follow her on Twitter at @edenarielmusic.

The term is typically used to refer to a whole person, not a person's legal status, and so it therefore implies that the person themselves is not a viable human being, thus not entitled to any human rights protections.
The word "illegal" has become a buzzword in modern immigration discourse, a common way of describing someone who has crossed the border into America without papers.
The term is typically used to refer to a whole person, not a person's legal status, and so it therefore implies that the person themselves is not a viable human being, thus not entitled to any human rights protections.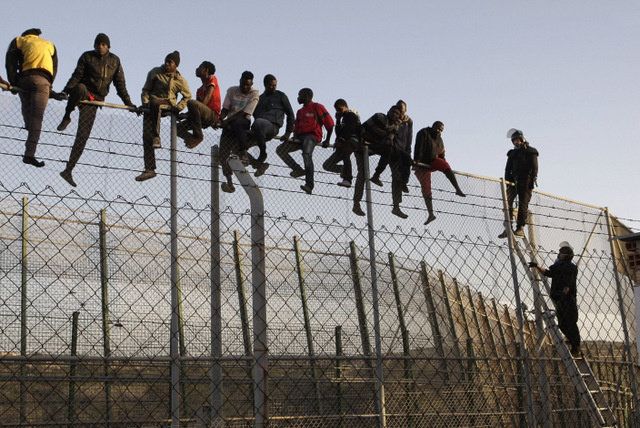 Image via thoughtco.com
The term "illegal immigrant" was first coined to describe Jews fleeing during the second world war. "How can a human being be illegal?" asked the writer and Holocaust survivor Elie Wiesel, pinpointing the contradictory nature of the term. In 2017, journalist Maria Hinojosa riffed on Elie Wiesel's description of illegality, stating that "Because once you label a people 'illegal,' that is exactly what the Nazis did to Jews.' You do not label a people 'illegal.' They have committed an illegal act. They are immigrants who crossed illegally. But they are not an illegal people."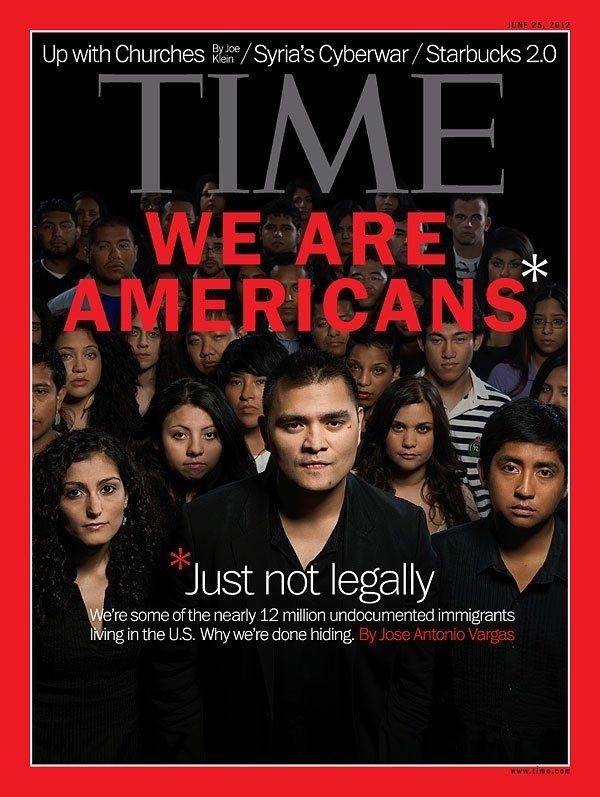 Image from Time
Being labeled as illegal has severe consequences for those who fall under the term's shadow. An "illegal" immigrant cannot demand raises, or report human rights abuses at work. Undocumented immigrants face the double pressure of fear of being sent back to where they came from and fear of being 'found out' in their new nation.

The majority of migrants labeled as "illegal" are actually doing work for low wages, and provide services while demanding nothing in return. In practice, their work is similar to mass incarceration, which keeps whole segments of the population out of sight while they perform unpaid labor and are unable to exercise their civil rights.
In the novel Dear America: Notes from an Undocumented Citizen, the Filipino journalist Jose Antonio Vargas outlines the unique stresses and pains that come with living as an undocumented civilian. "This book is about homelessness," he writes, "not in a traditional sense, but the unsettled, unmoored psychological state that undocumented immigrants like me find ourselves in. This book is about lying and being forced to lie to get by; about passing as an American and as a contributing citizen; about families, keeping them together and having to make new ones when you can't. This book is about constantly hiding from the government and, in the process, hiding from ourselves."
Vargas, a successful reporter, came to the US at eight and discovered he was undocumented at age 11; what followed were decades of trying to hide his status until he finally spoke out and became one of the most famous undocumented citizens in the public eye.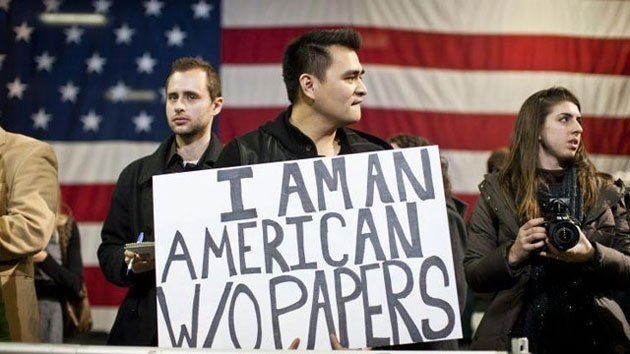 Image via Mother Jones
Every single migrant's story is different, and for many people, speaking out is not an option. Many people have to work, to support families or relatives at home, and cannot risk "coming out" as illegal like Vargas.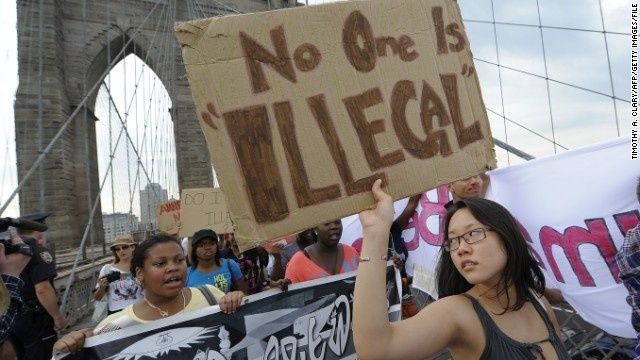 Image via CNN.com
Studies have found that undocumented immigrants—especially those of Latinx descent—are especially at risk of mental health disorders due to the unique combination of trauma and secrecy that often plagues their journeys to the United States. As Warsan Shire writes in her stunning poem Home, "how do the words / the dirty looks / roll off your backs / maybe because the blow is softer / than a limb torn off." Although living in an America that calls them "illegal" is preferable to remaining in their native countries, many migrants have written about the psychological impacts of living in constant fear, and of being "found out" on American soil.

Bigotry and xenophobia may be better alternatives than the violence that many migrants faced at home, but defining groups of people as "illegal" is a convenient way to strip human beings of their humanity, the very thing that lies at the heart of the United Nations' Declaration of Human Rights. Peoples who are in flux are especially at risk of getting lost, as official laws refuse to help them; outside of the light of official regulations, people are quite literally disappearing, slipping into the cracks between policy and legal protection.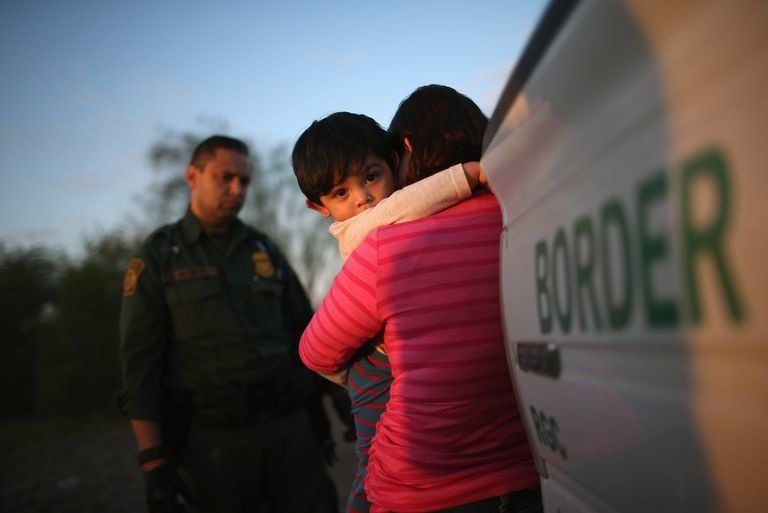 Image via thoughtco.com
Keeping people in the subterranean realms of the criminal justice system or beneath the umbrella term of "illegal," is the result of a cycle that relies on many elements that work to perpetuate it. Xenophobia is one of the important steps that keeps this cycle in place. A pervasive distrust of foreigners is a way of creating divisions and continuing cycles of disadvantage. Human rights abuses happen when human beings become faceless, anonymous, and stripped of recognition and legal protection. Rejecting and silencing people because they are so-called "illegal," even if it is not consciously spoken, is a way of selectively subjugating certain voices.
Of course, America has never been open to all migrants. This nation has a history of drawing non-white migrants to it when it needed labor—such as with the Chinese in California during the building of the railroads in the 19th century—and sending them home via acts like the Chinese Exclusion Act once the work was completed. This nation has a history of silencing certain groups, making it so they have no chance to even take a crack at the the American dream.
Everyone is allowed to use language to express their beliefs—that's one foundational premise of the American experiment that everyone can agree on (though of course in practice it gets more complicated). Language is always political, and the word "illegal" carries powerful implications that it should at least be understood, not thrown around as an abstract umbrella term.
---
Eden Arielle Gordon is a writer and musician from New York City. Follow her on Twitter at @edenarielmusic.

This week, Rep. Alexandria Ocasio-Cortez and Senator Ed Markey will be proposing the most ambitious plan to fight climate change yet.
Recycle. Take shorter showers. Turn the lights off.

Over the past several decades, most of us have heard these diatribes repeated over and over, and have perhaps become numbed to these mantras, which promise that tiny droplets of collective action could potentially save the planet from environmental ruination.
It's true that small changes are important, and that each person contributes to the growing levels of waste and pollution that are killing our ecosystems and raising the planet's temperatures so dramatically that Manhattan-size gaps are forming in Antarctic ice. But it's also true that 71% of carbon emissions come from just 100 companies. It's also true that the scale of the crisis has grown unmanageable, and poses an unprecedented threat to human life.
That's where the Green New Deal comes in.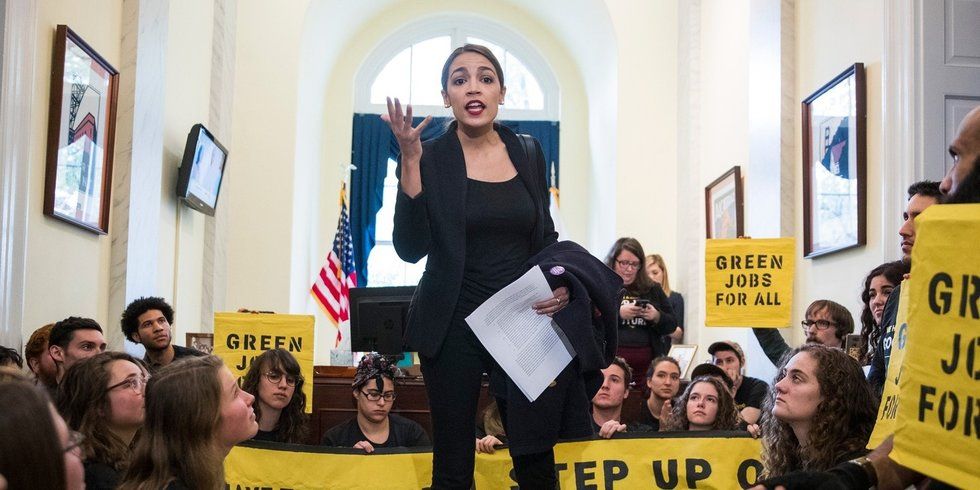 Image via The Intercept
"It's the only plan that matches the scale of the crisis," said Naomi Klein of the proposal, speaking on livestream yesterday night to thousands of activists tuning in across America. The livestream was hosted by the Sunrise Movement, a millennial-founded organization dedicated to supporting and fortifying the Green New Deal, especially as it's proposed in Congress in the coming week. Klein is the author of This Changes Everything, a book that argues that impending climate catastrophe actually presents an extraordinary opportunity to revamp the world's economic systems for the better. "I believe we were born for this moment," she told viewers.

Named after FDR's New Deal—which revolutionized the entire country on a tremendous scale, planting three billion trees and establishing hundreds of national forests in addition to catalyzing widespread economic, agricultural, and social reforms—the Green New Deal seeks to implant reforms on an equivalent scale in a time when it seems like there is no other option.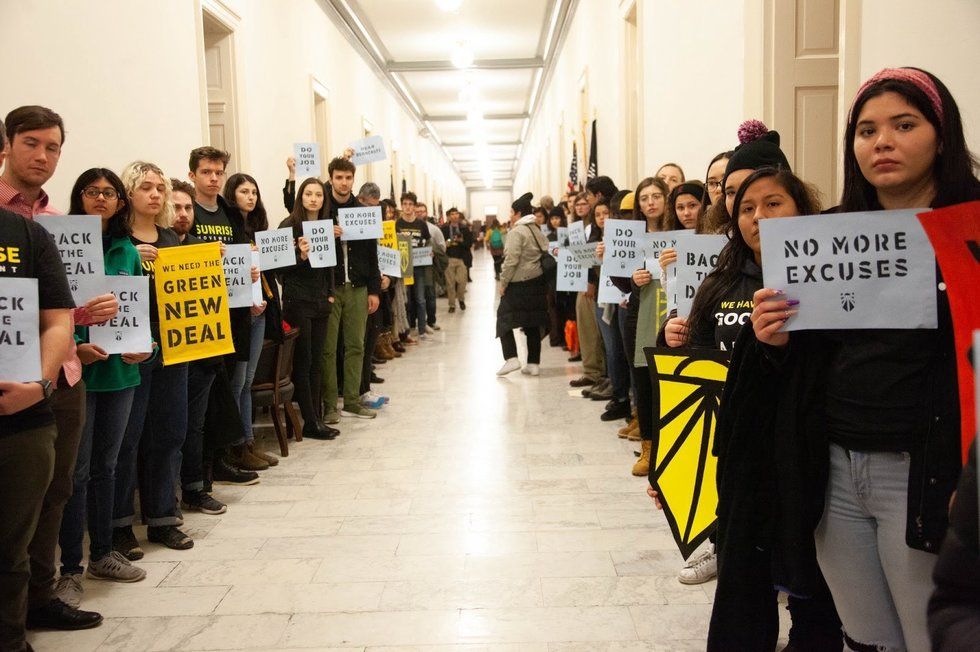 Image via Vice News
The plan has gone through several phases, but the one that's being proposed in Congress this week focuses on several fundamental points. First: achieve net-zero carbon emissions by 2030, and transition to renewable energy on a huge scale through initiatives like the creation of a nationwide electrical grid. Second: institute a living wage for all, in tandem with the creation of unlimited numbers of green jobs. These are the plan's main tenets, but its ideological aspirations stretch much further. It hopes to generate thousands of jobs in the form of start-ups and maintenance, and to start a wave of international trade in the renewable energy sector.

The original plan focused on a switch to 100% renewable energy by 2030, but a recent five-page draft obtained today by Bloomberg didn't mention this point, perhaps as a nod to moderates, though the omission is still subject to change. The draft proposes large-scale investment in green technology, the restoration of threatened lands, waste removal, and "massive growth in clean U.S. manufacturing, removing pollution byproducts and greenhouse gas emissions from that sector as much as technologically feasible."
The term "Green New Deal" is not a new one, though it has been going through different iterations since its inception. It was coined in a 2007 column by Thomas Friedman, and Barack Obama included it in his 2008 platform. Britain also took note, but a surge of Republican/Tory victories stymied its momentum.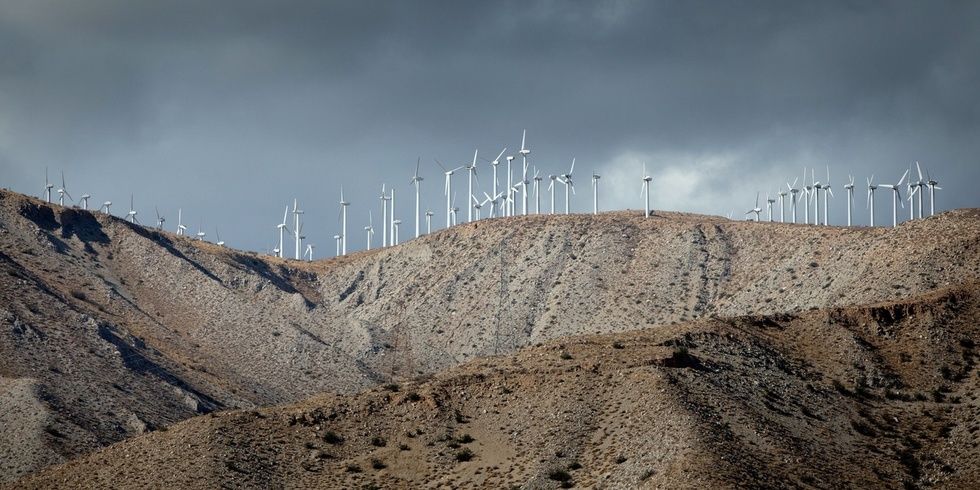 Image via theintercept.com
The GND has found new life in Representative Alexandria Ocasio-Cortez, the Bronx electorate whose rise to political success has been accompanied by widespread social media fame. Ocasio-Cortez showed up in person to support a Sunrise Movement sit-in in Nancy Pelosi's office, demanding the creation of a committee dedicated to developing and pushing the GND, and since then she has become one of its biggest proponents. Now she will be proposing it in Congress this week, alongside Massachusetts senator Ed Markey. The plan has also garnered support from Rep. Ayanna Pressley, as well as 2020 presidential candidates Kamala Harris, Cory Booker, and Bernie Sanders.

The Sunrise Movement began in 2015, when it was founded by climate activists Sara Blazevic and Varsini Prakash, and quickly gained momentum, taking notes from the heady drive of the 1963 civil rights protests of Birmingham, Alabama. Its founders gathered activists, reached out to politicians, and pulled together the finer points of the Sanders campaign and other recent social movements; the successful Pelosi sit-in was the product of months of organizing.
The movement is appealing in a narrative sense: the vision of young people fighting against bloated fossil fuel behemoths has a definite draw to it. There's also the fact that science says the fate of the entire world requires unprecedented global change over the next few years, otherwise catastrophes like Hurricane Sandy and the California wildfires will become the stuff of the everyday.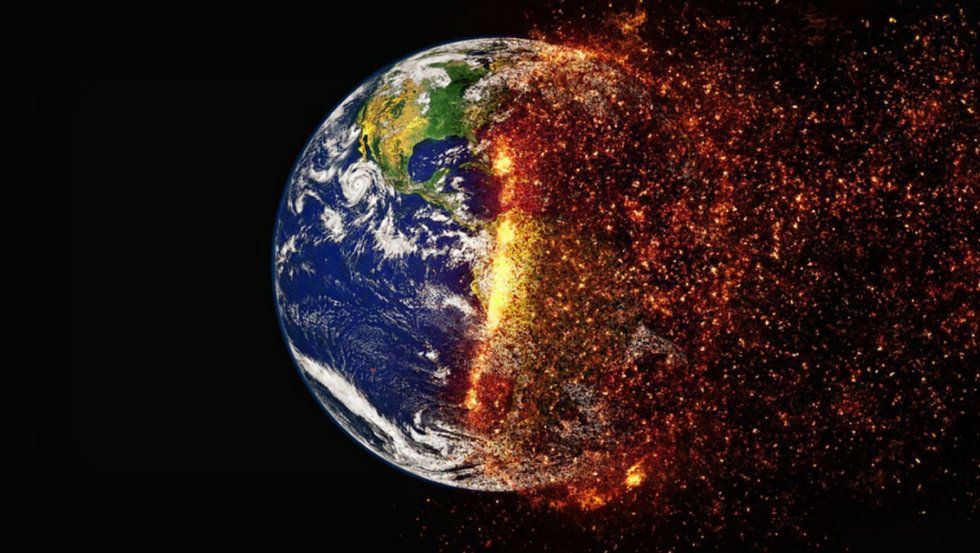 Image via theinsurgent.com
But the GND is still just an idea, and it could remain that way. Its lack of specific policy has been subject to criticism, though an official draft has yet to be unveiled, and conservative news sources have labeled it as a hoax, an amorphous idea without policy to back it.
While the GND might seem like an impossibly ambitious proposition, humans have revamped and reshaped the world before a hundred times over, and we are nothing if not creative and adaptive. We've created technologies that connect the globe and turned empty landscapes to highway-lined cities in a matter of years. Now—unless you like the idea of joining Elon Musk's exclusive Mars colony—it's time to turn all of our collective energies towards the future of the home we share.
70 leading Democrats have signed on in support so far, and momentum is building for its official proposition. The Sunrise Movement is planning on facilitating office visits to congress people across the country this week, as well as a rally in Washington on February 26th.
In an age of doomsday threats and constant headlines about plastic oceans and refugee crises facilitated by environmental droughts, the idea of a Green New Deal—something that could actually, genuinely make a difference that touches every aspect of life—seems like a light at the end of the tunnel. Now it's just a matter of getting there.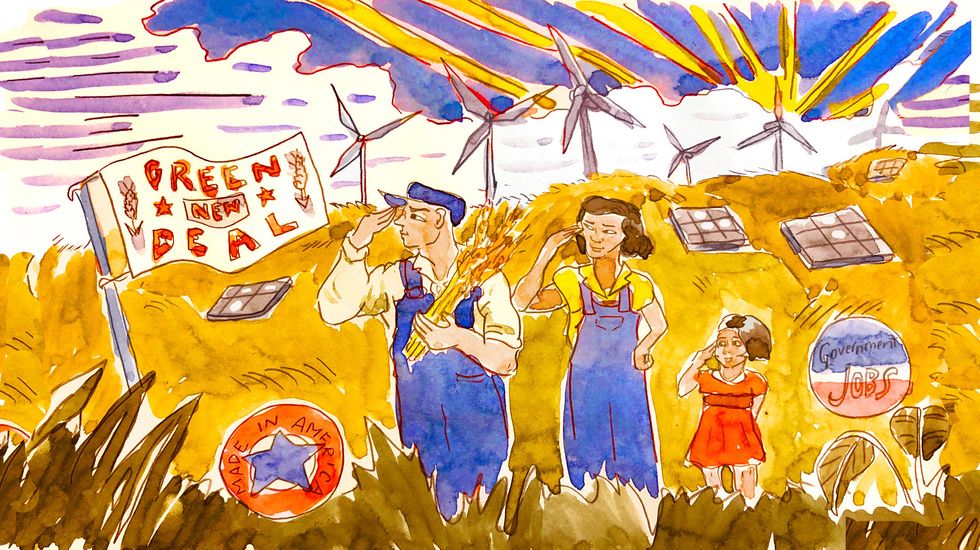 Image via radioopensource.org
Environmental crisis affects the poor and vulnerable at disproportionate levels; it catalyzes mental and physical illness, economic decline, and overall devastation. Irreparable damage has already been done—but the fight is not quite over yet, though time is running out.
---
Eden Arielle Gordon is a writer and musician from New York City. Follow her on Twitter at @edenarielmusic.

---
From Cardi B to Hamilton to Queen Bey herself, here are ten songs that have inspired and soundtracked the ascensions of female politicians and powerful women of the modern world.
If it wasn't clear from Alexandria Ocasio-Cortez's recent Twitter battle with Cardi B and Tomi Lahren, we're living in an era where politicians and musicians have the ability to influence each other on huge scales.
But music has long been a source of inspiration and power, especially for women or other people whose voices have been subjugated or silenced.
In honor of the newest class of women in Congress, and in celebration of women in politics in general, here's a list of ten songs that we think would make the perfect soundtrack to their ascensions, and might even inspire you to follow suit.
1. Cardi B – Best Life
Cardi B - Best Life feat. Chance The Rapper [Official Audio] www.youtube.com
Not only did Rep. Alexandria Ocasio-Cortez grow up in the same borough of New York as superstar Cardi B; she also tweeted the lyrics to her song Best Life, featuring Chance the Rapper.
The song's lyrics seem to align with Ocasio-Cortez's approach to communicating with her supporters, which has been radically honest and personal, as she frequently shares developments at work and at home via her Instagram stories. Though she was met with backlash from users who told her to "write intelligibly," Ocasio-Cortez's supporters cheered the reference.

Unabashedly outspoken and proud of their stratospheric rise to the top of their respective fields, Ocasio-Cortez and Cardi B are two women who seem to be on unstoppable paths—while determined to keep it real all the while.
2. Anaïs Mitchell – Why We Build the Wall
Anaïs Mitchell ft. Greg Brown - Why We Build the Wall www.youtube.com
When folk singer Anaïs Mitchell penned "Why We Build the Wall" in 2006 for her concept album Hadestown, she never imagined that its lyrics—which retell the story of the Greek god of death Hades and his quasi-American capitalist hellscape—would become so relevant.

The song is a call-and-response narrative between Hades and his citizens, who work ceaselessly on a wall in exchange for the economic security that living in Hadestown provides. It contains lyrics like, "The wall keeps out the enemy / and the enemy is poverty / and we build the wall to keep us free / that's why we build the wall." Hadestown, which also tells the story of Orpheus and Eurydice, is coming to Broadway in the spring of 2019.
This song seems like it would make the perfect satirical rallying cry for Nancy Pelosi, who denounced Donald Trump's request for $5.7 billion to build his wall between the U.S. and Mexico after his speech on January 8th, two weeks in to what would become the longest government shutdown ever.
3. Aretha Franklin – Respect
Aretha Franklin - Respect [1967] (Original Version) www.youtube.com
Aretha Franklin passed away in August of 2018, but her legacy lives on within every woman who ever wanted to be treated with honor and—as perhaps her most iconic song repeats—R - E - S - P - E - C - T. (Hint: that's all of us).

Aretha's unforgettable voice soars above the song's infectious musical backdrop, coalescing to form a track that is alternatingly prideful and enraged, hopeful and world-weary. This song's message seems too vast to be contained to one politician or time period. It's a timeless sentiment that could change the world, if we'd only listen.
4. Ms. Lauryn Hill – Everything is Everything
Lauryn Hill - Everything Is Everything www.youtube.com
In June, recently-announced 2020 presidential candidate Kamala Harris posted a Spotify playlist as a homage to important black musicians of the 20th century. The third song on the playlist, "Everything is Everything" from the iconic The Miseducation of Ms. Lauryn Hill, echoes sentiments that Harris has proclaimed in her own speeches.

Its powerful lyrics, "Sometimes it seems / We'll touch that dream. But things come slow or not at all / And the ones on top, won't make it stop / So convinced that they might fall," seem like they could be a rallying cry for Harris, a politician campaigning on promises of "American values" and "not putting people in boxes."
Hill's message of everything is everything is a beautiful sentiment about the way that all people and all issues are interconnected and cannot be addressed independently, and she has long been a powerful voice for women of color.
Kamala Harris's work as a prosecutor is under scrutiny from leftists everywhere, but judging by her playlist, at least her music taste is up to par.
5. Lin-Manuel Miranda – Satisfied
Satisfied www.youtube.com
Female characters take the backseat to the titular protagonist of Lin-Manuel Miranda's Hamilton, but Angelica Schuyler's Satisfied is a show-stopper in a class of its own. Sung by the sister of Eliza, Alexander Hamilton's wife, it is a flashback to the night that they all met, when Angelica developed feelings for Alexander but decided she needed to set her sights on marrying someone richer.

Angelica, played by Renée Elise Goldsberry in the musical, spits some of the show's fastest bars and hits some of its highest notes in this virtuosic performance, which reveals the extent of her brilliance as well as the extent of her regret at not taking a chance on love.
It might be easy to dedicate this song to Hillary Clinton, whose tenacious determination to win the presidency and refusal to be satisfied with a mere first-ladyship (or Secretary of State position) does belie a similar ambition to Angelica's.
But Angelica, with her razor-sharp wit and social sensibilities, seems similar to some of Congress's outspoken freshmen members, such Ayanna Pressley, who has been an outspoken critic of Trump and many of his policies from her first moments on the House floor, running on the message "Change can't wait" with an urgency evocative of Angelica's intense drive.
6. Taylor Swift – Bad Blood
Taylor Swift - Bad Blood ft. Kendrick Lamar www.youtube.com
Taylor Swift has had her fair share of beef with other artists, but until 2018 remained staunchly apolitical. But after Swift announced in an Instagram post that she "could not support Marsha Blackburn," the politician lashed out—provoking serious flashbacks to the time that Taylor Swift allegedly attacked Katy Perry over a feud involving backup dancers through her video, Bad Blood.

The stakes were slightly higher in this situation, and Blackburn still snagged the Senate seat in spite of the star's opposition.
"Of course I support women and I want violence to end against women," said Blackburn in response to Swift, who had also written that the politician's "voting record in Congress appalls and terrifies" her. Blackburn has been a supporter of Trump's border wall as well as his efforts to end Obamacare.
7. Questlove's Entire Michelle Obama Playlist
Michelle Obama's Musiaqualogy Vol 1 1964-1979 by Questlove
Michelle Obama's Musiaqualogy Vol 2. 1980-1997 by Questlove
Michelle Obama's Musiaqualogy Vol 3. 1997-2018 by Questlove
The musician Questlove of the band The Roots has created three 100-song playlists for Michelle Obama's Becoming book tour, and every song is worth putting on repeat. Entitled The Michelle Obama Musiaquology, it is a journey through time (and occasionally, space) filled with mournful, fierce, and empowering tracks—much like the biography it was designed to soundtrack.

Obama's Becoming is more about hope and unity than it is about politics and division, and so are most of the songs in this playlist. An exuberant melding of jazz, pop, and the occasional stylistic outlier, Questlove's compilation elevates voices of joy, pride, black power, and solidarity in an era in desperate need of them. Featuring icons ranging from Ella Fitzgerald to Kendrick Lamar, it's a survey of music throughout history that has given hope to those who need it most.
8. MILCK – I Can't Keep Quiet
MILCK - Quiet www.youtube.com
Newcomer MILCK's powerful composition became the anthem of the first Women's March, and since then, the artist has continued to release waves of meaningful music while maintaining a confessional and motivational social media presence.

The vulnerable and passionate song that made her famous could be an anthem for kids like Emma Gonzalez, speaking out against gun violence, and for all the other women who have spoken and will continue to reach out and fight for their beliefs.
9. Against Me! — True Trans Soul Rebel
Against Me! - True Trans Soul Rebel [ALBUM VERSION] www.youtube.com
In the shadows of the Trump administration's ban against transgender people in the military, this song is a reminder that trans people not only exist but will continue to fight.

Transgender politician Christine Hallquist did not win in the general Vermont elections for governor, but she did secure a spot in the 2018 Democratic primaries, the first time a transgender person has been nominated by a major party. And more transgender and LGBTQ people ran and won races in November 2018 than ever before, signaling an upswing of pride in spite of the Trump administration's anti-trans policies.
Against Me!'s True Trans Soul Rebel has long been an anthem for the transgender community, an outcry of pain against a world that constantly threatens them with erasure.
10. Beyoncé – Who Run the World (Girls)
Beyoncé - Run the World (Girls) (Video - Main Version) www.youtube.com
No list of songs for female politicians would be complete without Queen Bey's presence. This song is one of the crown jewels of feminist anthems, with its infectious beat pounding underneath Beyonce's velvety vocals and its iconic refrain. This one goes out to all the future female politicians, including the hopefully soon-to-be first female commander-in-chief.

With that, we welcome the 42 new female congresswomen, celebrate the women who came before them, and encourage all the women and trans people coming after to rise up and sing out. Listen to these songs enough and internalize their messages, and it could be you in those seats someday.
---
Eden Arielle Gordon is a writer and musician from New York City.
---