Joshua Smalley
Joshua Smalley is a New York-based writer, editor, and playwright. Find Josh at his website and on Twitter: @smalleywrites.
"A tree is best measured when it is down," the poet Carl Sandburg once observed, "and so it is with people." The recent death of Harry Belafonte at the age of 96 has prompted many assessments of what this pioneering singer-actor-activist accomplished in a long and fruitful life.
Belafonte's career as a ground-breaking entertainer brought him substantial wealth and fame; according to Playbill magazine, "By 1959, he was the highest paid Black entertainer in the industry, appearing in raucously successful engagements in Las Vegas, New York, and Los Angeles." He scored on Broadway, winning a 1954 Tony for Best Featured Actor in a Musical – John Murray Anderson's Almanac. Belafonte was the first Black person to win the prestigious award. A 1960 television special, "Tonight with Belafonte," brought him an Emmy for Outstanding Performance in a Variety or Musical Program or Series, making him the first Black person to win that award. He found equal success in the recording studio, bringing Calypso music to the masses via such hits as "Day-O (The Banana Boat Song)" and "Jamaica Farewell."
Harry Belafonte - Day-O (The Banana Boat Song) (Live)www.youtube.com
Belafonte's blockbuster stardom is all the more remarkable for happening in a world plagued by virulent systemic racism. Though he never stopped performing, by the early 1960s he'd shifted his energies to the nascent Civil Right movement. He was a friend and adviser to the Reverend Doctor Martin Luther King, Jr. and, as the New York Times stated, Belafonte "put up much of the seed money to help start the Student Nonviolent Coordinating Committee and was one of the principal fund-raisers for that organization and Dr. King's Southern Christian Leadership Conference."
The Southern Poverty Law Center notes that "he helped launch one of Mississippi's first voter registration drives and provided funding for the Freedom Riders. His activism extended beyond the U.S. as he fought against apartheid alongside Nelson Mandela and Miriam Makeba, campaigned for Mandela's release from prison, and advocated for famine relief in Africa." And in 1987, he received an appointment to UNICEF as a goodwill ambassador.
Over a career spanning more than seventy years, Belafonte brought joy to millions of people. He also did something that is, perhaps, even greater: he fostered the hope that a better world for all could be created. And, by his example, demonstrated how we might go about bringing that world into existence.
A call for Julian Assange's arrest and extradition was found in an unrelated court filing.
U.S. Department of Justice charges against WikiLeaks founder Julian Assange have been discovered through an administrative error in an unrelated court filing late Thursday night.
The filing from prosecutors for the Eastern District of Virginia on August 22 contains language indicating the government is seeking a future warrant for Assange's arrest "in connection with the charges" in a sex-crimes case for Seitu Sulayman Kokayi, who was charged with coercing and enticing an underage person to engage in unlawful sexual activity. Unsealed last week by Seamus Hughes, a terrorism expert at George Washington University, the file says Assange "can therefore no longer evade or avoid arrest and extradition."
Joshua Stueve, a spokesman for the Eastern District of Virginia, referred to the mentions of Assange as an "administrative error" on Friday, and said the August case had nothing to do with WikiLeaks. He declined to comment further. However, multiple news outlets have reported that the Justice Department is preparing to prosecute Assange, citing people familiar with the matter in addition to the inadvertent court disclosure. The precise criminal charges he faces remain unclear.
U.S. authorities were allegedly prepared to seek charges against Assange in April 2017, but none were ever sought. Assange is currently located in the Ecuadorean embassy in London, where he's been living for years. If the charges against Assange are filed, it would require a multistep diplomatic and legal process to arrest and extradite him.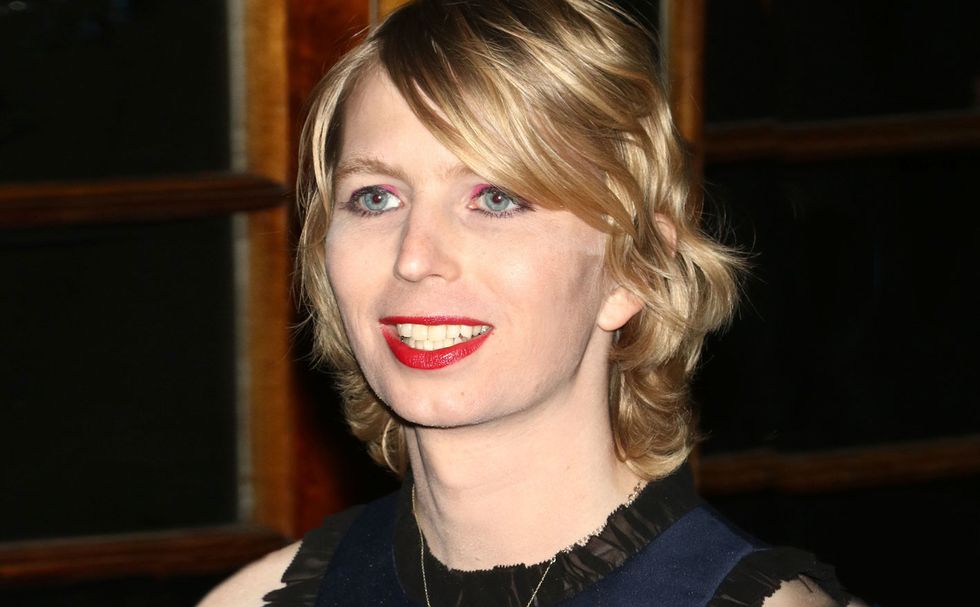 Chelsea Manning
Justice Department officials have been investigating Assange since 2010, when thousands of confidential government files were posted on WikiLeaks from U.S. Army intelligence analyst Chelsea Manning. The recent disclosure comes as special counsel Robert S. Mueller III continues to investigate the website while discerning potential links between Trump Administration officials and Russia's 2016 election interference. The site published thousands of emails during the election that were stolen by Russian intelligence officers as part of a disruption campaign against presidential nominee Hillary Clinton.

WikiLeaks tweeted about the filing soon after the news broke, saying "US Department of Justice 'accidentally' reveals existence of sealed charges (or a draft for them) against WikiLeak's publisher Julian Assange in apparent cut-and-paste error in an unrelated case."
SCOOP: US Department of Justice "accidentally" reveals existence of sealed charges (or a draft for them) against Wi… https://t.co/GjZMblZXAy

— WikiLeaks (@WikiLeaks) 1542338074.0
While the exact details are a mystery, the potential charges against Assange for publishing information of public interest—even if it was obtained by Moscow hackers—would be a critical development in the relationship between modern governments and freedom of the press, and may set a threatening precedent.

"The news that criminal charges have apparently been filed against Mr. Assange is even more troubling than the haphazard manner in which that information has been revealed," Barry Pollack, an attorney for Assange, told CNN. "The government bringing criminal charges against someone for publishing truthful information is a dangerous path for a democracy to take."
Joshua Smalley is a New York-based writer, editor, and playwright. Find Josh at his website and on Twitter: @smalleywrites.
The White House's decision to ban CNN's Jim Acosta is "dangerous" and "unprecedented."
CNN is suing President Trump in response to his administration's widely-disparaged ban and smear campaign of the media network's Chief White House Correspondent Jim Acosta.
The White House revoked Acosta's Secret Service "hard pass" in a decades-long breach of protocol last Wednesday night, preventing the journalist from accessing press-friendly spaces on White House grounds. Pointing to the First and Fifth Amendment of the U.S. Constitution, the lawsuit alleges that both Acosta and CNN's rights were violated by the suspension of these privileges.
In a statement released Tuesday morning, CNN announced that it filed its lawsuit in a DC District Court against six people, including the president, Press Secretary Sarah Sanders, Chief of Staff John Kelly, Kelly's deputy William Shine, the U.S. Secret Service and its director Randolph Alles, as well as "John Doe," the currently-unidentified agent who denied Acosta access to the grounds. The defendants are named because of their roles in enforcing and announcing Acosta's suspension.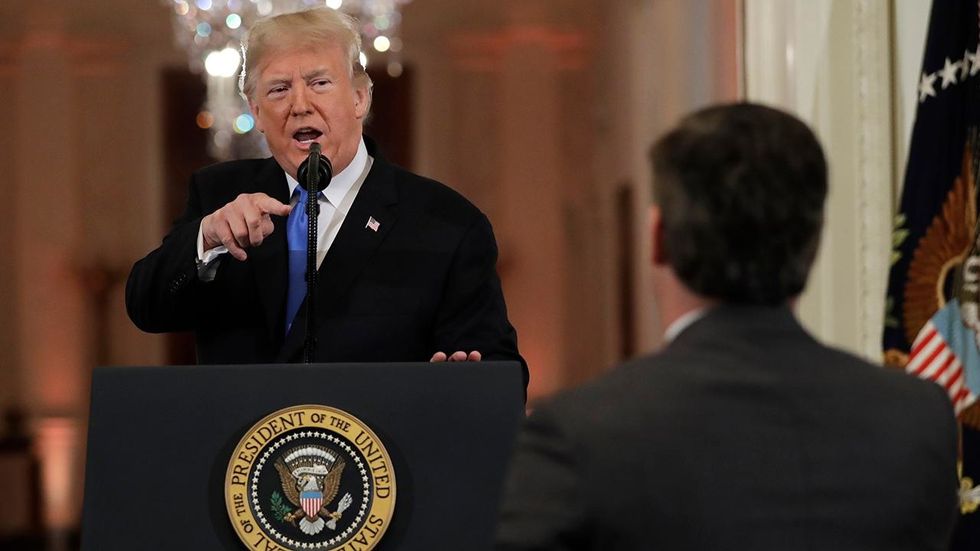 The lawsuit "demands the return of the White House credentials of CNN's Chief White House correspondent," according to the statement. "The wrongful revocation of these credentials violates CNN and Acosta's First Amendment rights of freedom of the press, and their Fifth Amendment rights to due process. We have asked this court for an immediate restraining order requiring the pass be returned to Jim, and will seek permanent relief as part of this process."

CNN's legal actions are the latest step in an escalating battle between President Trump and the media. Trump has shown particular antipathy to CNN, regularly deriding its reporters and the network as a whole. In light of the president going as far as to call the press "the enemy of the American people," it is fitting for there to be a lawsuit on the books titled "CNN vs. President Trump."
The White House responded to CNN's complaint in a statement by press secretary Sarah Sanders, accusing CNN of "grandstanding" by suing, and saying the administration "will vigorously defend against this lawsuit." Sanders previously alleged (in a tweet that is still live) that Acosta placed his hands on a female White House intern during a heated exchange with Trump last Wednesday.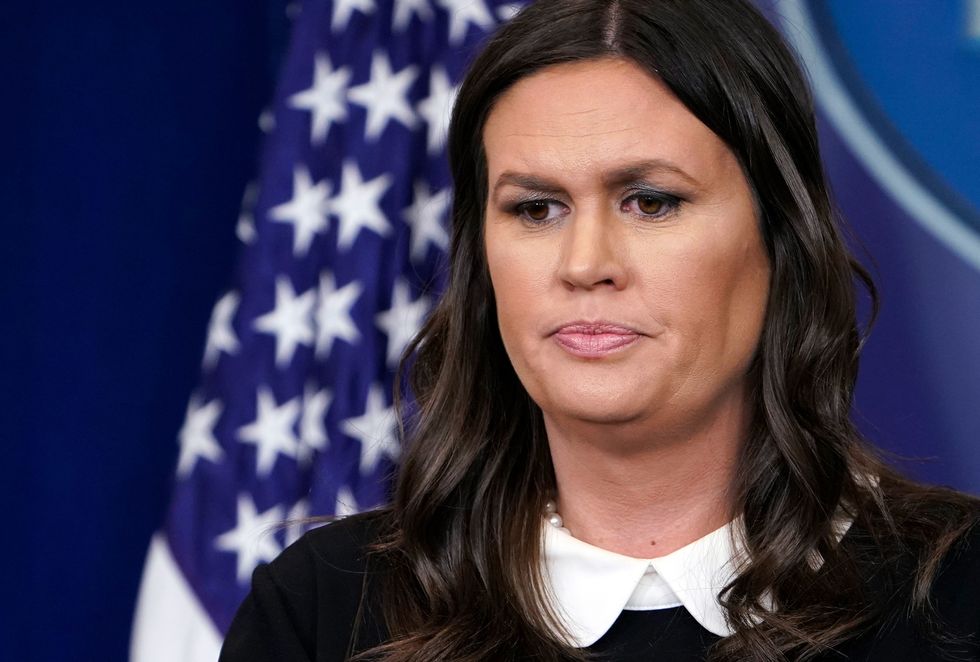 "Mr. Acosta is no more or less special than any other media outlet or reporter with respect to the First Amendment," said Sanders. "After Mr. Acosta asked the President two questions—each of which the President answered—he physically refused to surrender a White House microphone to an intern, so that other reporters might ask their questions. This was not the first time this reporter has inappropriately refused to yield to other reporters."

Trump's warlike stance against journalists, and his specific action to ban Acosta, flies in the face of decades of tradition and precedent. White House administrations on both sides of the aisle have sought to be accommodating of the press, erring on the side of inclusion, even for non-mainstream outlets. The well-known First Amendment attorney Floyd Abrams thinks CNN has a strong case in the precedent set by the 1977 ruling in favor of Robert Sherrill, a conservative journalist who was also denied access to the White House.
Furthermore, federal guidelines require that "officials of the Secret Service will be guided solely by the principle of whether the applicant presents a potential source of physical danger to the President and/or the family of the President so serious as to justify his or her exclusion from White House press privileges." The administration has made no claims that Acosta presents a physical danger to Trump during his press briefings.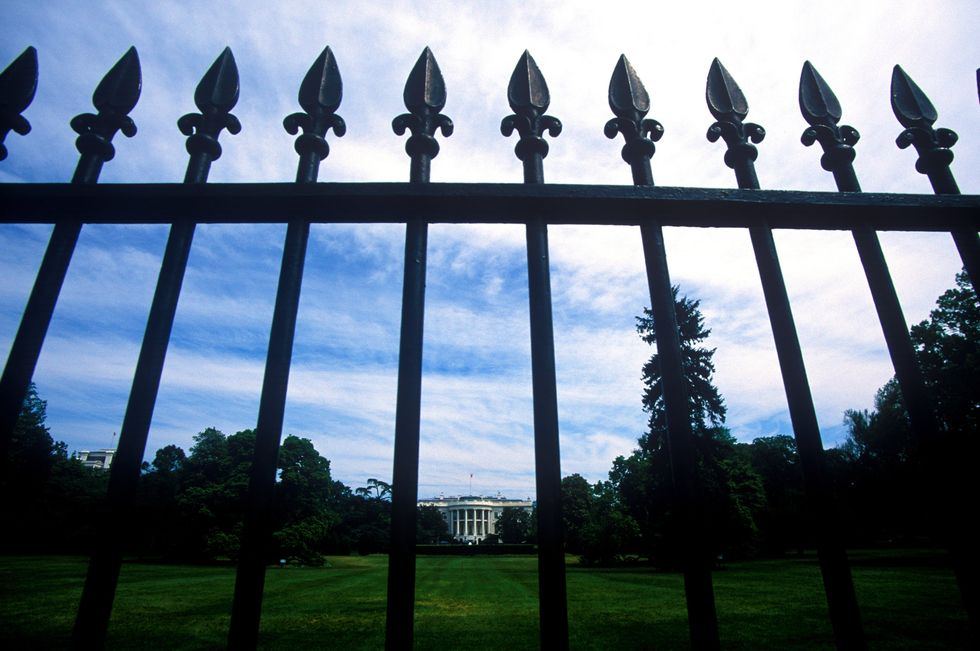 Getty
Abrams points out that those denied press privileges, "have to have notice… a chance to respond, and… a written opinion by the White House as to what it's doing and why, so the courts can examine it." He adds that, "We've had none of those things [in Trump's banning of Acosta]," giving weight to CNN's claim of due process violation.

As noted in CNN's statement, "While the suit is specific to CNN and Acosta, this could have happened to anyone. If left unchallenged, the actions of the White House would create a dangerous chilling effect for any journalist who covers our elected officials."
CNN Worldwide president Jeff Zucker emphasized the importance of taking action in an internal memo. "This is not a step we have taken lightly. But the White House action is unprecedented," Zucker said.
Joshua Smalley is a New York-based writer, editor, and playwright. Find Josh at his website and on Twitter: @smalleywrites.
In contrast, the education system in the United States is not nearly as LGBTQ+ friendly.
In what advocates say is a historic moment, Scotland will take the lead as the first country in the world to embed lesbian, gay, bisexual, transgender, and intersex rights into their required education curriculum.
State schools will be instructing teachers as well as students about the history of LGBTI equality and movements, challenging homophobia and transphobia, and exploring LGBTQ+ identity and terminology. There will be no exemptions to the policy, so individual schools will not be allowed to opt-out. The Scottish government's move comes after an LGBTI Inclusive Education working group, led by the Time for Inclusive Education (TIE) campaign, outlined 33 recommendations in a published report on how to tackle LGBTI bullying in schools.
In a study, TIE found that nine in 10 LGBTI Scots experience homophobia at school, with 27% reporting that they had attempted suicide because of being bullied. Research also discovered there was little understanding in schools about prejudice against people with variations of sex characteristics and intersex bodies. These findings are likely a part of the destructive legacy of section 28, the infamous legislation enacted by Margaret Thatcher's conservative government in 1988. The clause, part of the Local Government Act 1988, banned the "promotion" of homosexuality by local authorities and educators in British schools. It was repealed in Scotland in 2001 and in the rest of the UK two years later.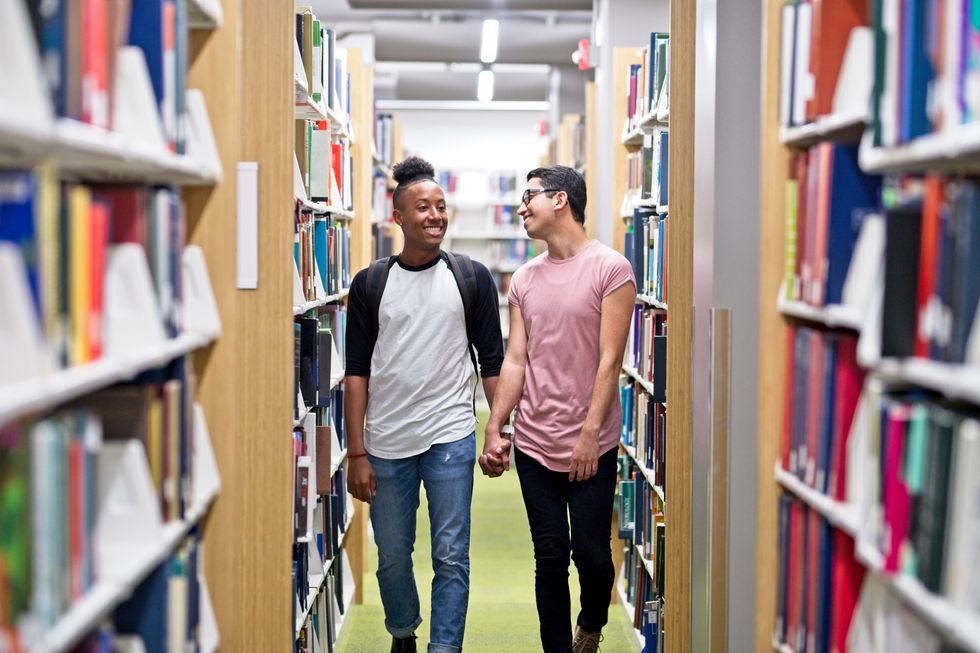 Getty images
Jordan Daly, the co-founder of TIE, said of the new curriculum: "This is a monumental victory for our campaign, and a historic moment for our country. The implementation of LGBTI inclusive education across all state schools is a world first. In a time of global uncertainty, this sends a strong and clear message to LGBTI young people that they are valued here in Scotland."

Surprisingly, Scotland is regularly ranked one of the best European countries for legal protections of LGBTI people despite the country decriminalizing homosexuality in 1980, 13 years after England and Wales did the same. Former Scottish Labour leader Kezia Dugdale described the country in 2016 as having "the gayest parliament in the world." At the time four of Scotland's six party leaders identified as lesbian, gay or bisexual: Dugdale, Ruth Davidson, David Coburn and Patrick Harvie.
A number of Scotland's neighbors, including Wales and the Republic of Ireland, have also been looking into further integrating LGBTQ+ issues in their curricula. In England, some schools are already teaching LGBT-inclusive classes.
In contrast, the education system in the United States is not nearly as LGBTQ+ friendly. Much like the repealed section 28 in the UK, seven U.S. states have anti-gay laws that explicitly prohibit the positive portrayal of homosexuality in schools. The laws, currently in effect in Alabama, Texas, Arizona, South Carolina, Oklahoma, Louisina, and Mississippi (Utah repealed its law in 2017), can have various negative effects on LGBTQ+ youth within the millions of public school students affected.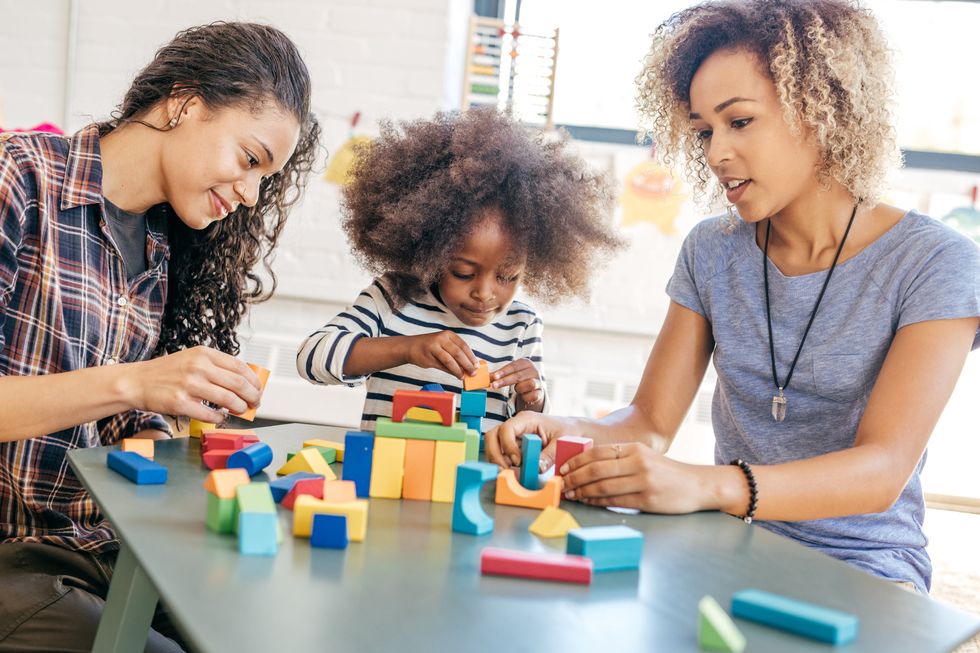 Getty images
A report by GLSEN, an LGBTQ+ education advocacy group, found that LGBTQ+ students in these states were less likely to find peers that are accepting of their identities, more likely to hear homophobic remarks, and more likely to face harassment and assault at school because of their sexual orientation and/or gender expression. Schools in these states are also less likely to have teachers and administrators supportive of LGBTQ+ students, as well as fewer resources (like Gay-Straight Alliance clubs) and less health services inclusive of LGBTQ+ needs. While the exact laws differ in each state, advocates say they all function to further stigmatize lesbian, gay, bisexual, transgender and queer students.
Scottish Deputy First Minister John Swinney said Thursday, "Our education system must support everyone to reach their full potential. That is why it is vital the curriculum is as diverse as the young people who learn in our schools."
"The recommendations I have accepted will not only improve the learning experience of our LGBTI young people, they will also support all learners to celebrate their differences, promote understanding and encourage inclusion," Swinney said.
The United States should take note of the progress being made by their allies across the pond.
Joshua Smalley is a New York-based writer, editor, and playwright. Find Josh at his website and on Twitter: @smalleywrites.
A victim of anti-gay hate, the LGBT icon's ashes are interred in Washington, DC.
Twenty years ago this month, a young gay man named Matthew Shepard was beaten and left for dead tied to a fence in Laramie, Wyoming.
Friday, on the other side of the country, his ashes were interred in a crypt at the Washington National Cathedral while thousands looked on. They came to celebrate the life of Shepard, who in the years since his death became a symbol of hope and love amidst anti-gay hate and oppression. For many LGBTQ+ people, the circumstances of his death bring memories of their own struggles, both inside the closet and out.
The public service was led by the Right Rev. Mariann Edgar Budde, Episcopal bishop of Washington and the Right Rev. Gene Robinson. Like Shepard, Robinson is an openly gay man, and poignantly, also the first elected as a bishop in the Episcopal Church.
Robinson had tears in his eyes as he welcomed attendees. To those who are LGBT, he said "many of you have been hurt by your own religious communities, and I want to welcome you back." He referred to Shepard's burial at the cathedral as a homecoming, saying "it is a remarkable step forward."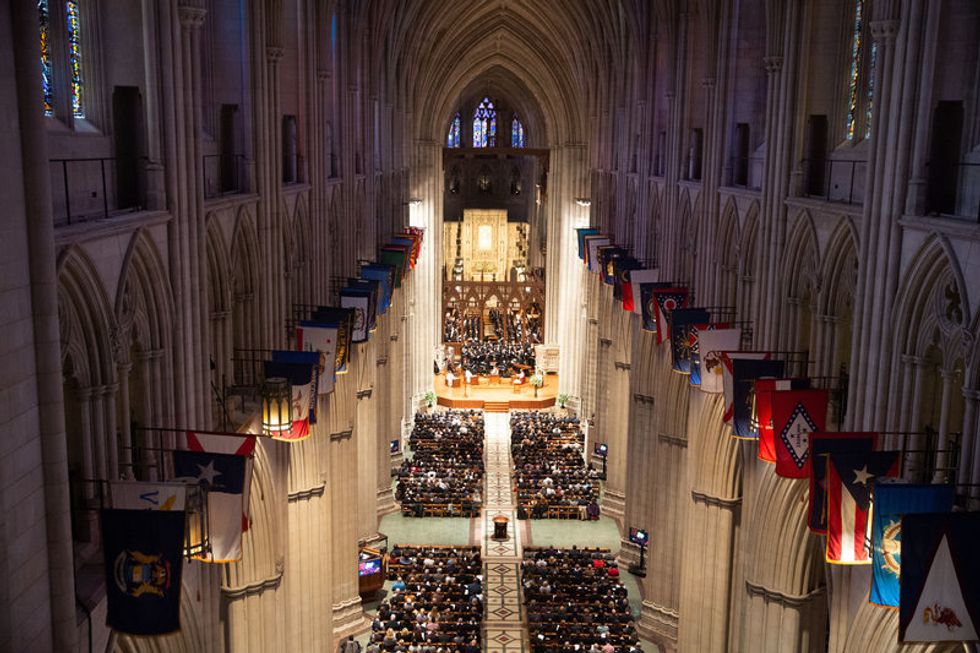 Cameron Pollack/NPR
Shepard's father thanked the attendees for their support. "It's so important that we now have a home for Matt... A home that is safe from haters. A home that he loved dearly." Robinson praised both of Shepard's parents, who founded the Matthew Shepard Foundation to combat hate crimes across the country, for devoting their lives to LGBT activism.

During the service, Robinson shared a touching anecdote from the police officer who first saw Shepard the day after his brutal attack. When she arrived, a deer was lying beside Shepard's body and looked the officer straight in the eye before running away.
"What she said was: 'That was the good Lord, no doubt in my mind.' And there's no doubt in my mind either. God has always loved Matt," Robinson said.
In October 1998, Shepard was tortured and robbed by two men he had encountered in a bar, and was subsequently abandoned for eighteen hours tethered to a chain-link fence. He died from his injuries five days later at the age of 21.
Prosecutors in his case alleged that Shepard was targeted because of anti-gay bigotry. The two attackers, Aaron McKinney and Russell Henderson, were both sentenced to life in prison. Although characterizing the murder as a hate crime has been disputed by some, outrage over Shepard's death ultimately led to the passage of the Shepard/Byrd Hate Crimes Prevention Act in 2009. James Byrd Jr, an African-American man killed by white supremacists in Texas, also inspired the legislation.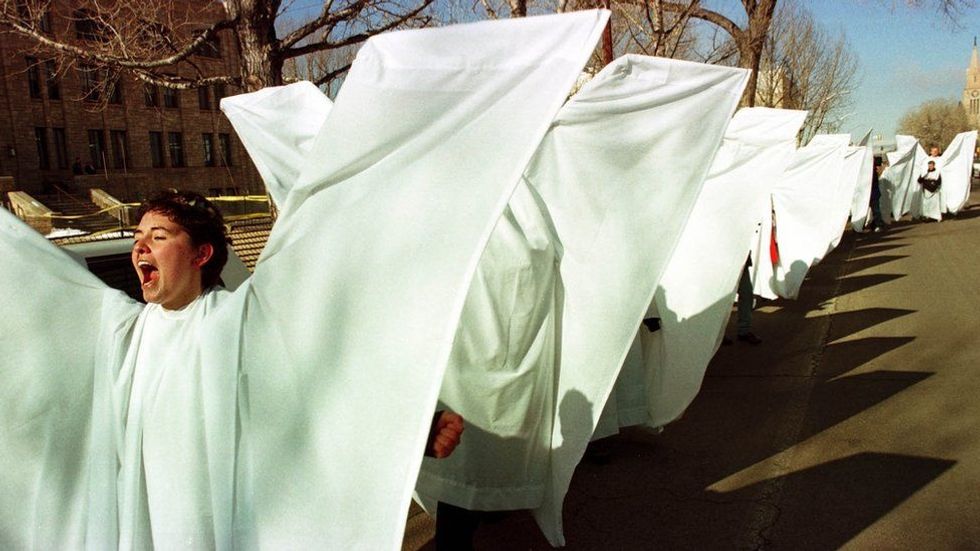 Getty Images
Shepard's funeral in 1998 was protested by the now-notorious Westboro Baptist Church carrying signs reading "God hates F*gs," "Matt in hell," "AIDS cures F*gs," among other hateful speech. During the trials for Shepard's killers, the group Angel Action peacefully counter-protested the church's signs while wearing white angel costumes. The costumes had ten-foot wingspans that covered and silenced the church protesters.

Throughout the Friday service, Robinson urged the crowd not only to commemorate Shepard, but to also confront the prejudice and violence that faces the LGBTQ community today. Marginalized factions within the community are particularly at risk of hate, like transgender people. "There are forces who would erase them from America," Robinson said. Twice he encouraged the crowd to "go vote."
Robinson received a long-standing ovation as he closed the service, choking down the final words:
"There are three things I'd say to Matt: 'Gently rest in this place. You are safe now. And Matt, welcome home.' Amen."
Joshua Smalley is a New York-based writer, editor, and playwright. Find Josh at his website and on Twitter: @smalleywrites.
"This caravan cannot come to the United States. They will not be allowed in," said Department of Homeland Security Department Secretary Kirstjen Nielsen.
Thousands of asylum-seeking migrants are making their way towards the U.S.-Mexico border, and President Trump wants to stop them.

The administration is looking at ways to crack down on border crossings as a means to rally his political base ahead of the midterm elections, specifically taking aim at the controversial migrant caravan that left Honduras on October 12th.
Reportedly still more than 1,000 miles from the U.S. border, the caravan's exact numbers are unknown amidst conflicting accounts. The Mexican government estimates the number of people taking part in the caravan has fallen below 4,000, while United Nations officials assisting Mexican authorities said Monday that more than 7,200 people had participated. Alex Mensing, a U.S.-based organizer with the humanitarian group Pueblo Sin Fronteras claimed the size of the caravan has swelled to 10,000.
Officials said they are considering all options for sealing the border, including denial of Central American asylum applications based on the so-called "travel ban" of 2017, which a deeply divided U.S. Supreme Court upheld as a legitimate use of executive authority. No final decisions have been made, they said, citing legal challenges as a barrier to some of the more aggressive methods.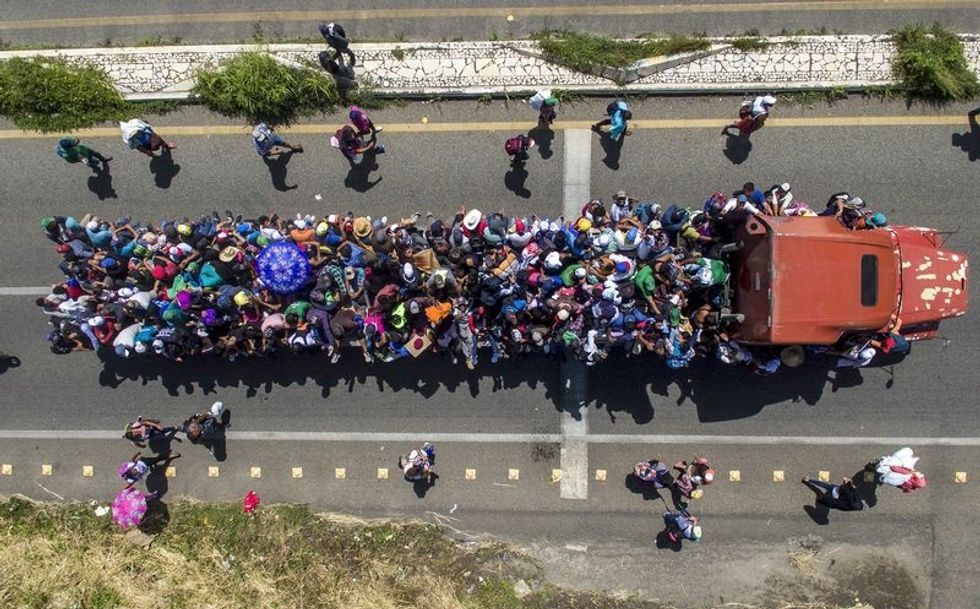 Pedro Pardo/AFP via Getty Images
"The administration is considering a wide range of administrative, legal and legislative options to address the Democrat-created crisis of mass illegal immigration," a White House official explained. "No decisions have been made at this time. Nor will we forecast to smugglers or caravans what precise strategies will or will not be deployed."

The details are expected to be finalized by early next week in a speech by the president. In the meantime, the Pentagon is preparing to deploy at least 800 troops to the border to confront the caravan.
Department of Homeland Security Department Secretary Kirstjen Nielsen said Thursday night, "If [the migrants] come here illegally with no legitimate reason to stay, they absolutely will be apprehended and removed immediately," she said. "To ignore, basically, refuge and continue, in some cases, to come to the United States raises questions of what their real motives are."
To those in the Caravan, turnaround, we are not letting people into the United States illegally. Go back to your Co… https://t.co/Er8gCUfVYU

— Donald J. Trump (@Donald J. Trump) 1540492267.0
Human Rights First, a non-profit and non-partisan rights group, spoke out against this proposed regulation, saying President Trump is "misinterpreting the law."

"The fact that the president can apply it to asylum is where we say no," said Jennifer Quigley, an advocacy strategist for refugee protections with Human Rights First, a non-profit and non-partisan rights group. She explained that such a move from the Trump administration would be a violation of the U.S. Constitution's due process clause and obligations under international law, such as the Refugee Convention.
Marielena Hincapie, executive director of the National Immigration Law Center agreed that closing the border would do more harm than good. "This is going to impact a large range of people coming through who may or may not be part of the caravan, other people who are seeking asylum, or other forms of visas," she said. "A lot of people are simply coming over to do business."
---
Joshua Smalley is a New York-based writer, editor, and playwright. Find Josh at his website and on Twitter: @smalleywrites.
"It is clear that this savage murder... was planned," Erdogan said.
In the developing situation regarding the disappearance of journalist Jamal Khashoggi, Turkish President Recep Tayyip Erdogan demanded Tuesday that Saudi Arabia give the international community more information.
Erdogan asked the rival government to hand over the Saudi suspects in the case, and said that he would reveal "the naked truth" about Khashoggi's death. This is the latest in a string of Turkish reports alleging foul play on the part of the Saudi government, indicating that the government is not inclined to let the case fall by the wayside amidst international furor.
According to Erdogan, a 15-member team of top Saudi officials arrived in stages in Istanbul to carry out the murder earlier this month, including generals, senior intelligence officers and forensic officials. Reconnaissance operations were allegedly planned in the surrounding rural areas of Belgrad Forest and Yalova, where investigators have been searching for the journalist's remains.
"It is clear that this savage murder did not happen instantly but was planned," Erdogan said, challenging the official Saudi account.
Government representatives in Saudi Arabia have said the murder of journalist Jamal Khashoggi was committed by rogue killers and a "tremendous mistake." They have sworn they would capture those responsible and bring them to justice. Currently 18 officials are under investigation.
The Turkish president has called on King Salman bin Abdulaziz directly to address the situation, pointedly leaving out the Crown Prince, whom some think is suspect. He also asked that the case be adjudicated in Istanbul, not in Riyadh or elsewhere in Saudi Arabia.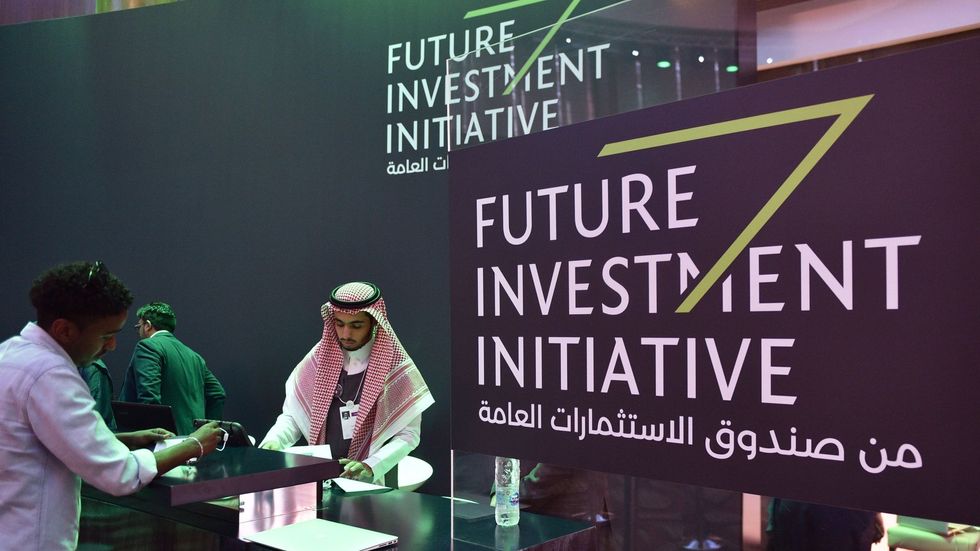 Fayez Nureldine/AFP/Getty Images
"This murder might have been committed at a consulate building which may be considered Saudi Arabian land, but it rests within the borders of Turkey," he said. He later added that international agreements on the status of consular property "cannot allow the investigation of this murder to be concealed behind the armor of immunity."

Erdogan's widely-anticipated speech is timed to coincide with this week's showy Future Investment Initiative in Riyadh. The 'Davos in the Desert' conference had U.S. government officials and western chief executives deciding not to attend, such as JPMorgan Chase's Jamie Dimon and Goldman Sachs partner Dina Powell, due to pressure over Khashoggi's death. Still others are in attendance, like PepsiCo Vice Chairman Mehmood Khan.
While careful not to insult King Salman, Erdogan made the argument that the investigation should be conducted by those with more distance from the crime. "I do not doubt the sincerity of the Custodian of the Two Holy Mosques, King Salman bin Abdulaziz," he said. "Still, such a critical investigation should be conducted by a fair committee which has no tiniest doubt of connection to the murder."
Outstanding questions still remain, including why the Saudi consulate building had not been opened until days after the killing, why the Saudis have made many inconsistent statements involving the case, and ultimately—why is the body still missing?
President Trump commented on the Saudi Arabian account of events on Tuesday, calling it "the worst cover-up ever." He told reporters his final judgement on the case would be reserved until C.I.A. director Gina Haspel returned from Turkey by the end of the week.
Joshua Smalley is a New York-based writer, editor, and playwright. Find Josh at his website and on Twitter: @smalleywrites.
70% of Americans believe climate change is real and 97% of climate scientists agree it's caused by human activities.
As fall descends on the United States every year, it happens: reports spread across news feeds that something scary is brewing in the Atlantic.
A reported tropical storm becomes a categorized hurricane making landfall, leaving us with flooding, destruction, and rising death rolls. The Facebook donate buttons proliferate, coastal friends are marking themselves "Safe," and inevitably in our current political climate, op-eds bemoaning the death sentence of climate change or denying its existence are shared on your timeline.
"Climate change" has become a buzzword and political bludgeon, but the fact is 70% of Americans believe it's happening, and 97% of climate scientists agree that it's caused by human activities. It's enough to embolden your friend's incessant need to tag his sweaty Instagram selfies with "#climatechange" for every day over 80 degrees in New York City.
That being said, is it possible to blame global warming as the reason behind Hurricane Florence being the second wettest storm behind Harvey? Or for Hurricane Michael's ranking as the third most powerful storm to ever hit the continental United States? There's also the question on everyone's mind—will we be seeing more destructive hurricanes every year?
The answers: Yes, yes, and it's complicated.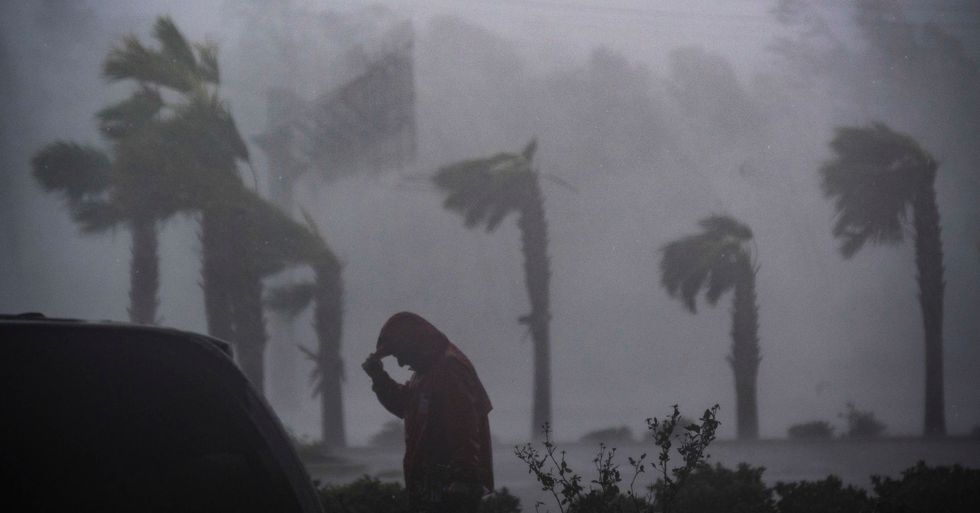 Category 4 Hurricane Michael makes landfall along the Florida panhandle.
Jabin Botsford, The Washington Post, Getty Images
Tropical cyclones, like hurricanes, are indeed affected by factors that climate change directly impacts like warmer air, warmer sea surface temperatures, and rising sea levels.

Warmer air contains more moisture than cooler air. Therefore, it makes sense that as the temperature of Earth's troposphere (the weather layer 5-10 miles above the ground) rises, the air can hold more water. This is happening across the globe. And when the air has more water… Yes, you guessed it: there's more rain. Average precipitation in the U.S. has been increasing, and heavier downpours are expected to increase across the country both in intensity and frequency (in the Northeast by a whopping 71%). This increased ability to hold onto moisture will affect hurricanes like Harvey and raise their ability to unleash massive loads of rain.
As for storm strength? Some scientific models project a 45-87% increase in the frequency of Category 4 and 5 hurricanes by 2100 if we continue along our rate of estimated global temperature increase. The warming of the ocean and higher sea levels are the main culprits here. By increasing the temperature of the sea surface, human activity can create hurricanes with 2-11% greater wind speeds that may deliver more damage when making landfall, and with sea levels expected to rise by 1-4 feet in the next 100 years, storm surges will only worsen intense coastal flooding. None of this is made better by reports that storms are slowing down, allowing them to inflict more damage for longer periods of time.
So, yes, the picture is bleak. But wait, there's more—what about the possibility of more storms in general, and more with greater ability to create massive damage? Take a breather, this is a nuanced question.
While there is evidence corroborating global warming causing wetter and stronger storms, the National Oceanic and Atmospheric Administration's research of storms over the past century and complex climate model projections for the future do not support the claim that climate change will lead to an increase in overall hurricane numbers in the Atlantic. In fact, there is some evidence that the number of hurricanes is actually decreasing.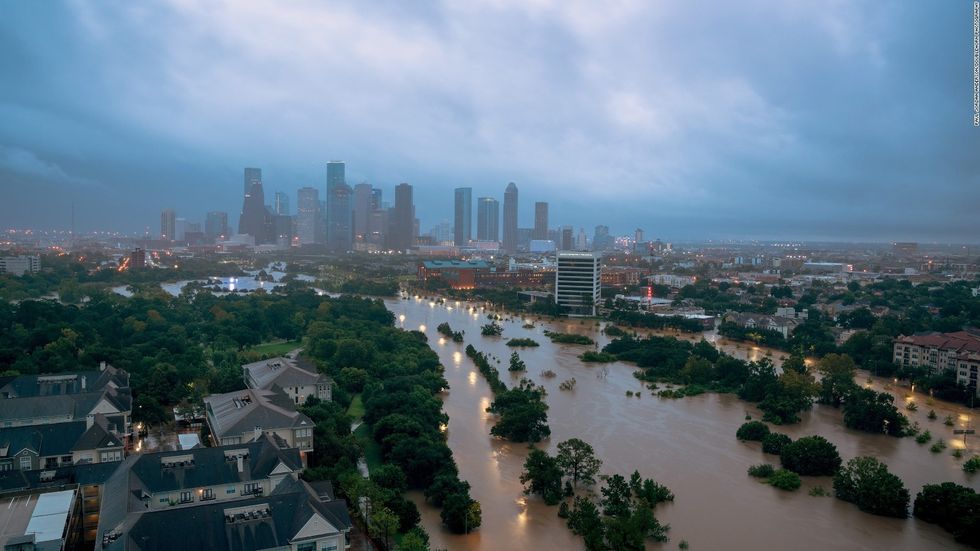 Hurricane Harvey aftermathCNN
It also gets murky when trying to blame the global crisis on the dramatic increase of hurricane-related costs. The statistics are pretty sobering: three of the five costliest U.S. hurricanes on record occurred last year alone. 2017's Hurricane Harvey is tied for the top spot with Hurricane Katrina (2005) at $125 billion in damages, Hurricane Maria comes after them at $90 billion, and Hurricane Irma rounds out the list at $50 billion (Hurricane Sandy in 2012 is no. 4 at $65 billion).

From those numbers alone, it's easy to become despondent. However, a large reason for the heightened costs of natural disasters is an increase in development along U.S. coastal populations. Americans across the board, and probably your retired parents sick of Minnesotan winters, are flocking to the coasts, whose population grew by nearly 35 million people between 1970 and 2010. Coastal counties made up nearly 40% of the last U.S. census, and this is only estimated to increase. Where there are more people, there are more houses and businesses in harm's way when a hurricane descends on the area. Climate change notwithstanding, storm-related costs would only grow in these places.
I'll admit, it's a bit of a respite to be able to blame something other than global warming on one part of the gloomy picture that is our world's climate future. Climate scientists agree that it's not accurate or compelling to blame individual storms or other weather events on climate change. There are many factors that affect how a hurricane plays out, including planetary orbits, factors local to the creation and path of the storm, as well as year-to-year variances in global weather patterns. The 1900s saw many terrible storms, including the deadliest in our history (by far) at the turn of the century.
However, when looking at overall trends around the world, the case is clear: climate change is happening and it's not going away. It's likely to make hurricanes more severe, unleashing more powerful wind, rain, and flooding.
Perhaps it's best to quote Michael Wehner, a senior staff scientist at the Lawrence Berkeley National Laboratory, who says it perfectly. "It's not: climate change flooded my house," he explained. "It's: climate change changed the chances of flooding my house."
Joshua Smalley is a New York-based writer, editor, and playwright. Find Josh at his website and on Twitter: @smalleywrites.
The president's re-election campaign doubled spending over the last three months.
Even with his re-election vote two years away, President Trump has raised more than $100 million towards his campaign.
The president's fundraising total, which include his campaign committee and joint accounts with the Republican National Committee (RNC), raised more than $18 million from July to September, according to numbers filed by the Federal Election Commission on Monday night. With more than $106 million at his disposal, Trump has raised a historic amount for an election this far in advance. In contrast, President Barack Obama had just $2.3 million in his bank account two years before his 2012 re-election bid.
The preemptive effort to undermine his future Democratic contender began as soon as 2017, with Trump's abnormal decision to file for re-election the day he was sworn in. There was barely a pause in his campaign's rallying tours across the country—they continued in the first months of his presidency.
Strikingly, the president's campaign committee has raised the majority of its bursting wallet from donations of less than $200. These small sums represent nearly 98% of the money he collected during the third quarter of the year. That's not to say his fundraising team hasn't sought larger donors. One check deposited in the RNC joint account for $250,000 came from venture capitalist and human blood enthusiast Peter Thiel.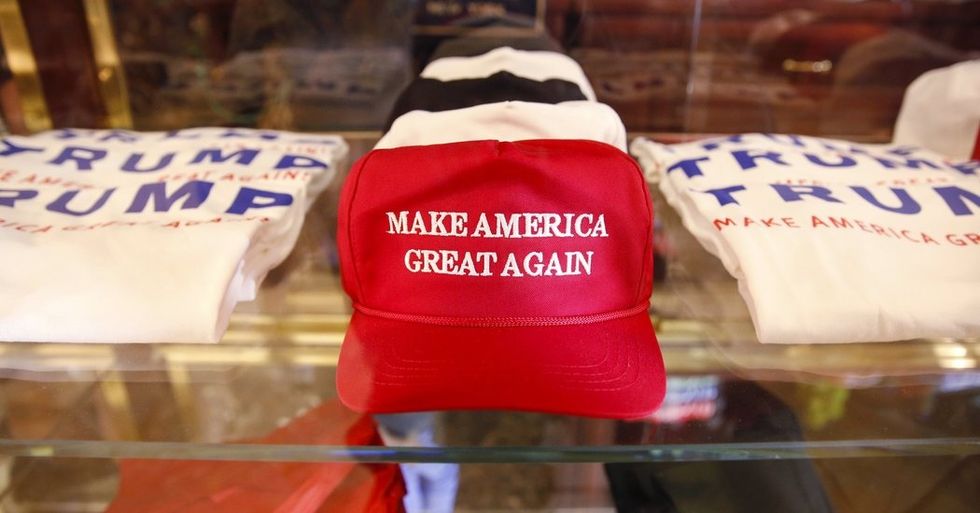 Reuters
Trump's campaign doubled spending over the last three months to $7.7 million, seeking to stir up its Republican base with more rallies and online appeals. $604,000 was paid to Ace Specialties in Louisiana, the manufacturers of the Trump base's favorite "Make America Great Again" red hats. $1.3 million was paid for legal fees, which includes services related to the Russian meddling investigations, and $1.6 million was spent on advertising to a shadowy company called American Made Media Consultants.

According to the New York Times, the company was created by the campaign to purchase media advertisements as well as online fundraising solicitations. While it's not intended to create profit for Trump, the company could allow the campaign to avoid declaring precise spending details to the election commission. The idea seems to draw inspiration from Mitt Romney's presidential campaign.
In a statement, the Trump campaign's senior advisor encourages their grass-root supporters "and millions more like them to get out and vote in the midterms so President Trump can continue to build on his agenda with even greater success for the forgotten men and women of this great country."
Despite his success, Rep. Beto O'Rourke, the Democratic challenger to Sen. Ted Cruz in Texas, reportedly raised more than double what Trump did between July and September. The $38.1 millionhaul is a quarterly fundraising record for a Senate campaign.

Joshua Smalley is a New York-based writer, editor, and playwright. Find Josh at his website and on Twitter: @smalleywrites.
700,000 Muslims were forced to flee to neighboring Bangladesh in 2017.
On Monday, Facebook said it removed 13 pages and 10 accounts controlled by the Myanmar military in connection with the Rohingya refugee crisis.
The accounts were masquerading as independent entertainment, beauty, and information pages, such as Burmese popstars, wounded war heroes, and "Young Female Teachers." Fake postings reached 1.35 million followers, spreading anti-Muslim messages to social media users across the Buddhist-majority country.
Facebook's move comes a year after 700,000 Rohingya, a Muslim minority group in Myanmar, were forced to flee to neighboring Bangladesh amid widely-documented acts of mob violence and rape perpetrated by Myanmar soldiers and Buddhist mobs. The United Nations Human Rights Council denounced the crisis as "a textbook case of ethnic cleansing and possibly even genocide."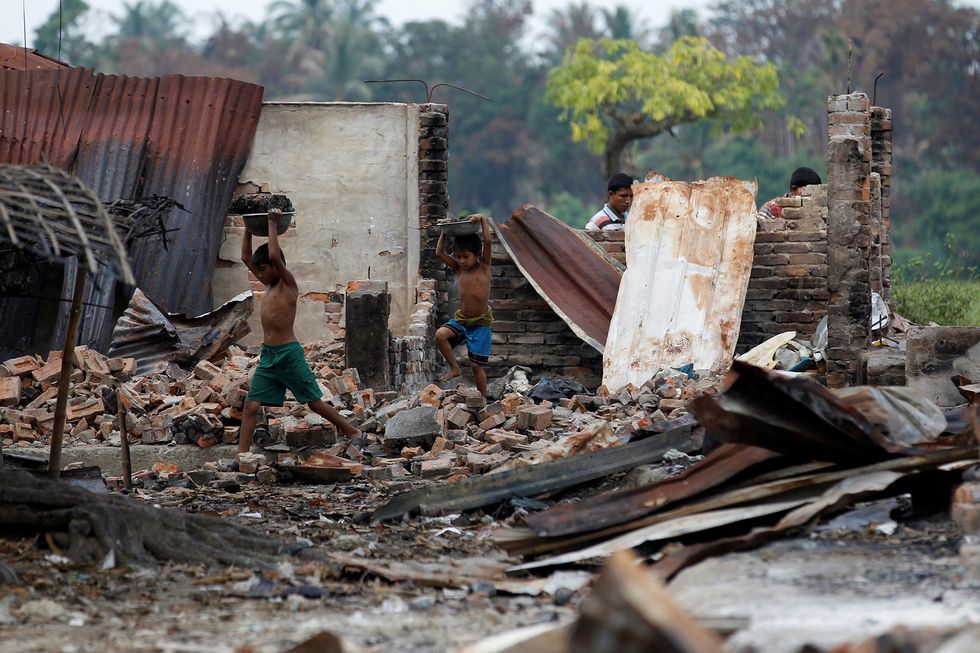 Rohingya children rummaging through the ruins of a village market that was set on fire.Reuters
Last month, the social media giant announced a similar purge, removing Facebook and Instagram accounts followed by a whopping 12 million users. Senior General Min Aung Hlaing, commander-in-chief of the Myanmar armed forces, was banned from the platform, as was the military's Myawady television network.
Over the last few years, Facebook has been in the hot seat for their tendency to spread misinformation. In the 2016 U.S. presidential election, inauthentic Facebook accounts run by Russian hackers created 80,000 posts that reached 126 million Americans through liking, sharing, and following. This problem has persisted in the 2018 midterm elections, ahead of which 559 pages were removed that broke the company's policies against spreading spam and coordinated influence efforts. Recent campaigns originating in Iran and Russia target not only the U.S., but also Latin America, the U.K., and the Middle East.
The situation in Myanmar is particularly troubling—it's not an effort by foreign powers to stoke hate and prejudice in a rival, but rather an authoritarian government using social media to control its own people. According to the New York Times, the military Facebook operation began several years ago with as many as 700 people working on the project.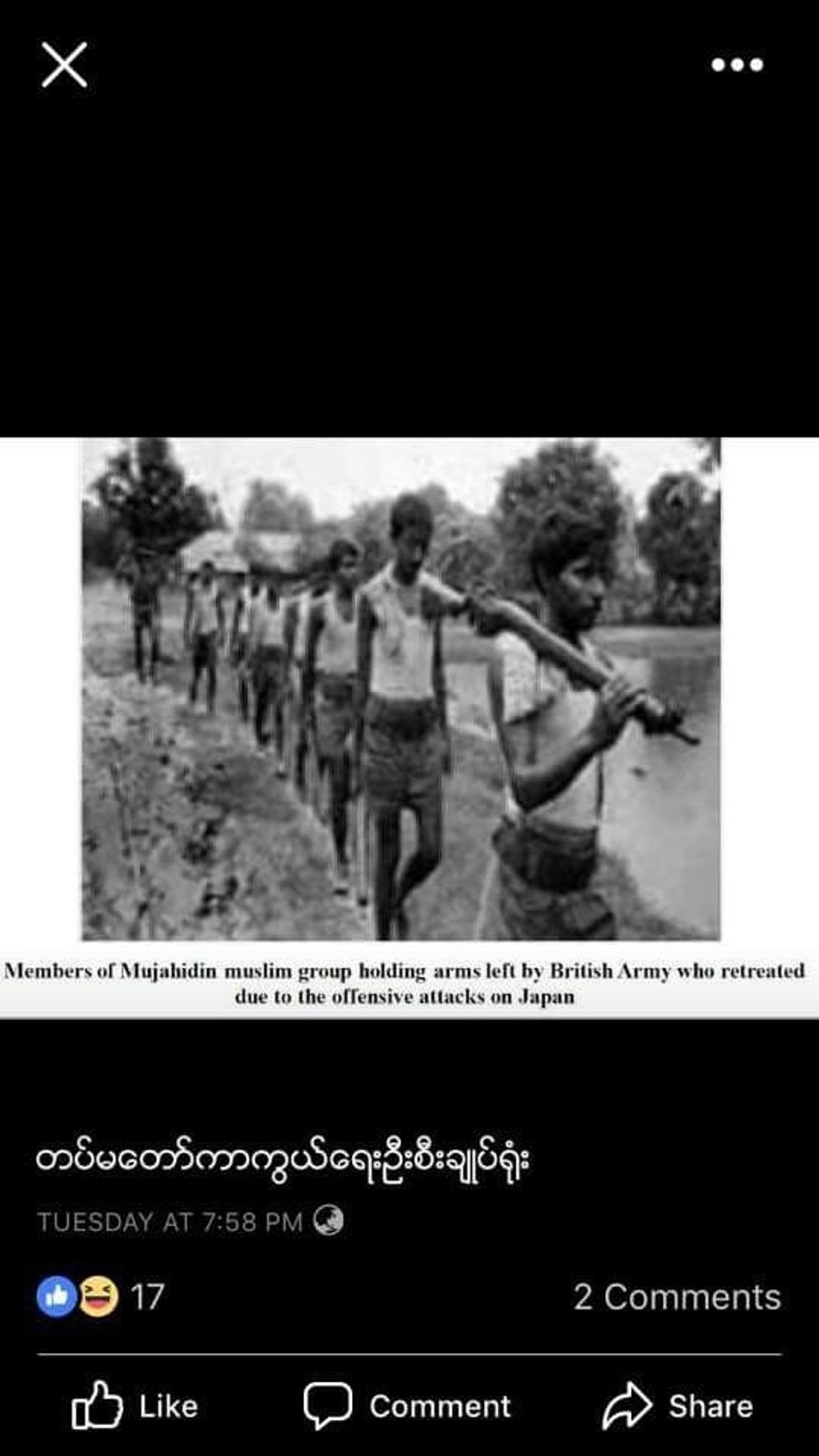 Screen shots from the account of the Myanmar Senior General Min Aung Hlaing, whose pages were removed in August.
Facebook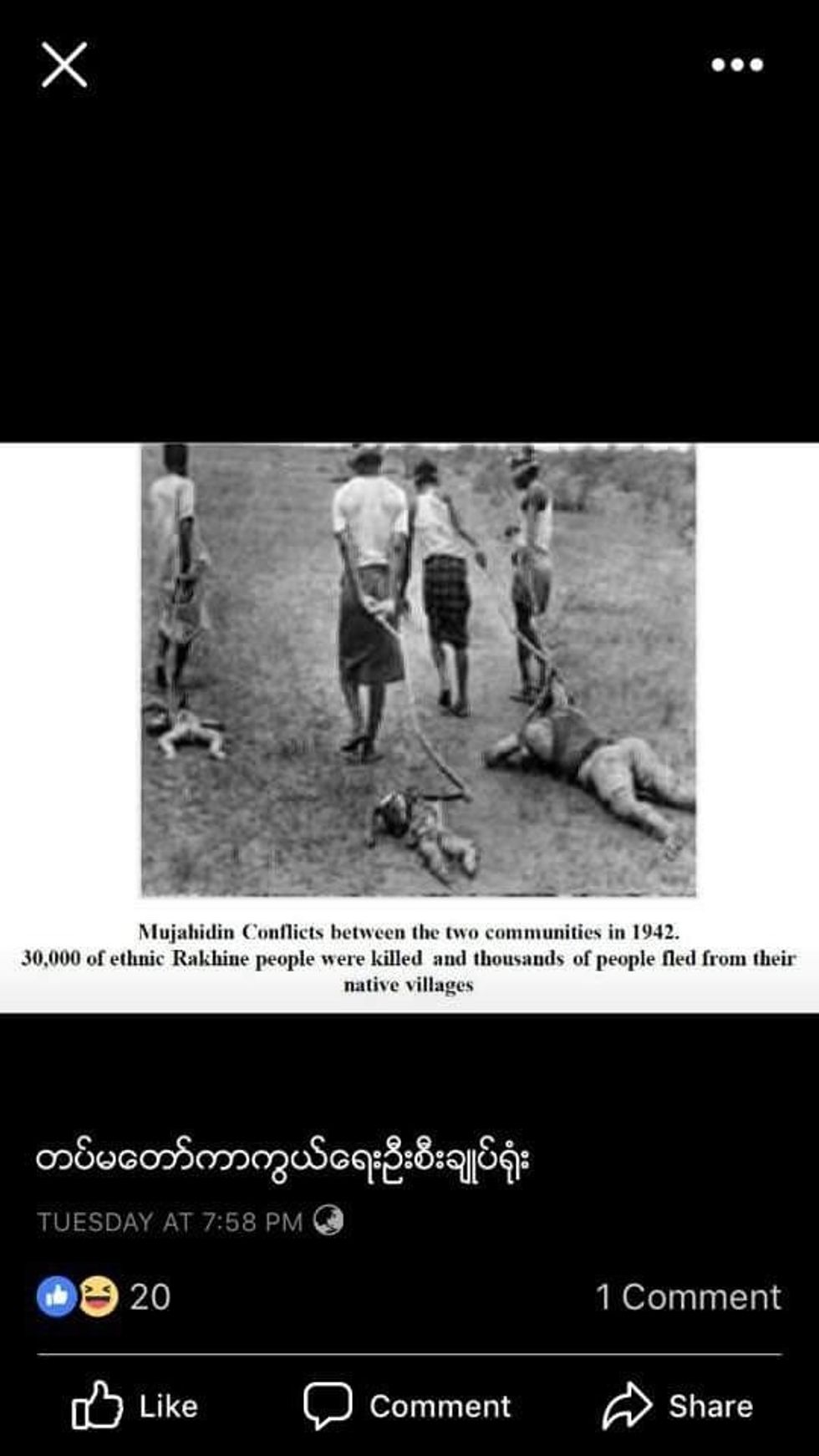 Claiming to show evidence of conflict in Myanmar's Rakhine State in the 1940s, the images are in fact from Bangladesh's war for independence from Pakistan in 1971.
Facebook
Fake pages of pop stars and national heroes would be used to distribute shocking photos, false stories, and provocative posts aimed at the country's Muslim population. They often posted photos of corpses from made-up massacres committed by the Rohingya, or spread rumors about people who were potential threats to the government, such as Nobel laureate Daw Aung San Suu Kyi, to hurt their credibility. On the anniversary of September 11, 2001, fake news sites and celebrity fan pages sent warnings through Facebook Messenger to both Muslim and Buddhist groups that an attack from the other side was impending.

Facebook admitted to being "too slow to prevent misinformation and hate" on its sites. To prevent misuse in the future, they plan on investing heavily in artificial intelligence to proactively flag abusive posts, making reporting tools easier and more intuitive for users, and continuing education campaigns in Myanmar to introduce tips on recognizing false news.
The company called the work they are doing to identify and remove the misleading network of accounts in the country as "some of the most important work being done [here]."
Joshua Smalley is a New York-based writer, editor, and playwright. Find Josh at his website and on Twitter: @smalleywrites.
The writer and critic of the Saudi Crown Prince has been missing for one week.
Prominent journalist Jamal Khashoggi walked into the Saudi consulate in Istanbul last Tuesday, but never came back out.
A vocal critic of the regime of Saudi Arabia Crown Prince Mohammed bin Salman, Khashoggi left his home country to live in the US where he is a legal resident and columnist for the Washington Post. On Saturday, Turkish officials told the press that the writer was murdered at the consulate, however no evidence was given to verify the allegation.
President Trump expressed concern about the missing journalist while not pointing fingers. He said, "There's some pretty bad stories about it. I do not like it."
Khashoggi traveled to the embassy with his fiancee Hatice Cengiz, who was the only witness to his disappearance, to obtain paperwork from the Saudi government to finalize their marriage. Video footage shows the journalist entering through the front entrance of the building, but there is no evidence of his exit. Cengiz began to worry when he did not appear 30 minutes after the consulate's closing time.
"He said at some point, 'Maybe it's better if I don't go,' " she said. "He was worried that something might happen."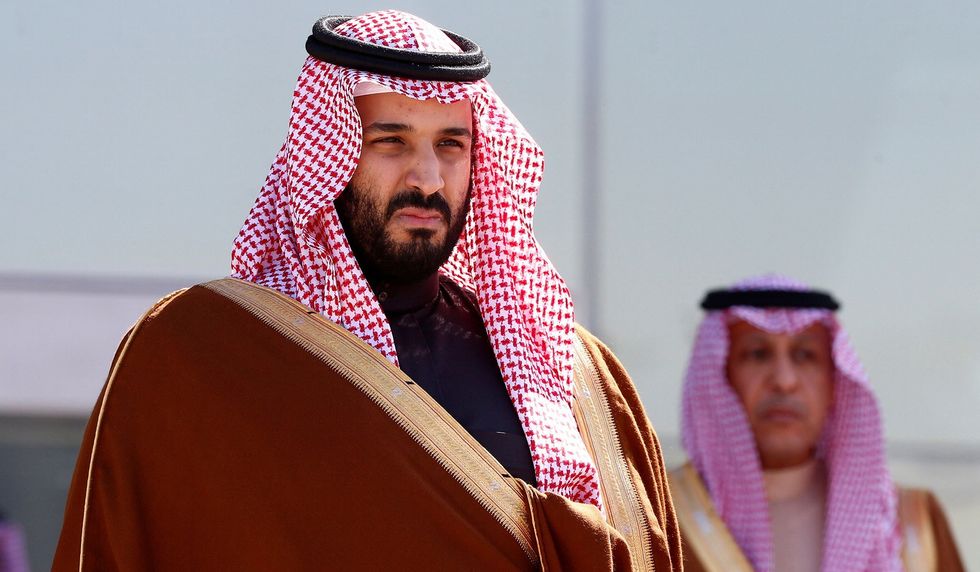 Crown Prince Mohammad bin Salman in January 2017Reuters photo: Faisal Al Nasser
In his first piece written for the Post in September of last year, Khashoggi identifies himself as in "self-exile" and says he could face arrest by authorities if he returned home. He describes the country as hostile to intellectuals and religious leaders, saying the public shaming of such figures is "repressive" and "unbearable."
Since his ascension to Crown Prince last year, King Salman's son and top advisor Mohammed bin Salman has executed controversial campaigns to consolidate his power, including the arrest of billionaire Prince Alwaleed bin Talal, as well as numerous other princes and ministers. The arrests came on the heels of forming the government's infamous anti-corruption committee, which the 33-year-old prince oversees in addition to his strong authority over the country's military, foreign, economic, and social policies.
"It was painful for me several years ago when several friends were arrested. I said nothing," Khashoggi writes. "I have made a different choice now. I have left my home, my family and my job, and I am raising my voice… I want you to know that Saudi Arabia has not always been as it is now. We Saudis deserve better."
Prince Khalid bin Salman bin Abdulaziz, Saudi Arabia's ambassador to the US, denounced the insinuation of foul play by the government as "absolutely false, and baseless." Saudi officials said Khashoggi left the consulate shortly after visiting. No surveillance footage or other evidence has been provided to support their claim.
Joshua Smalley
is a New York-based writer, editor, and playwright. Find Josh at his
website
and on Twitter:
@smalleywrites