Dall-E Mini, the AI-powered text-to-image generator has taken over the internet. With its ability to render nearly anything your meme-loving heart desires, anyone can make their dreams come true.
DALL-E 2, a portmanteau of Salvador Dali, the surrealist and Wall-E, the Pixar robot, was created by OpenAI and is not widely available; it creates far cleaner imagery and was recently used to launch Cosmpolitan's first AI-generated cover. The art world has been one of the first industries to truly embrace AI.
The open-sourced miniature version is what's responsible for the memes. Programmer Boris Dayma wants to make AI more accessible; he built the Dall-E Mini program as part of a competition held by Google and an AI community called Hugging Face.
And with great technology, comes great memes. Typing a short phrase into Dall-E Mini will manifest 9 different amalgamations, theoretically shaping into reality the strange images you've conjured. Its popularity leads to too much traffic, often resulting in an error that can be fixed by refreshing the page or trying again later.
If you want to be a part of the creation of AI-powered engines, it all starts with code. CodeAcademy explains that Dall-E Mini is a seq2seq model, "typically used in natural language processing (NLP) for things like translation and conversational modeling." CodeAcademy's Text Generation course will teach you how to utilize seq2seq, but they also offer opportunities to learn 14+ coding languages at your own pace.
You can choose the Machine Learning Specialist career path if you want to become a Data Scientist who develops these types of programs, but you can also choose courses by language, subject (what is cybersecurity?) or even skill - build a website with HTML, CSS, and more.
CodeAcademy offers many classes for free as well as a free trial; it's an invaluable resource for giving people of all experience levels the fundamentals they need to build the world they want to see.
As for Dall-E Mini, while some have opted to create beauty, most have opted for memes. Here are some of the internet's favorites:
There's no looking back now, not once you've seen Pugachu; artificial intelligence is here to stay.
POLITICS
Kavanaugh's Confirmation Moves Forward
The Senate will hold the final vote as early as Saturday
Judge Brett M. Kavanaugh's chances of landing his Supreme Court nomination reached new heights Friday as the Senate narrowly voted to limit debate and move to a final vote.
The procedure, known as cloture, resulted in a 51-49 vote that saw the majority of senators following party allegiances. Two surprising exceptions were Republican Lisa Murkowski from Alaska who voted 'No,' and Democrat Joe Manchin III from West Virginia who voted 'Yes.' Murkowski's vote is surprising given her FiveThirtyEight "Trump score" of nearly 83%, which is the percentage of how often she votes in line with the president's position on any given issue. Manchin's position is less surprising when you consider his 61% score.
The vote comes one day after the conclusion of the FBI's investigation into the alleged sexual misconduct of Kavanaugh by Christine Blasey Ford and second accuser Deborah Ramirez. Senators vehemently disagreed over the integrity of the report and were bitterly divided along party lines.
Judiciary Committee chairman Charles E. Grassley (R-Iowa) called Kavanaugh "the most qualified nominee in our nation's history" and accused Democrats of waging a smear campaign against the judge. Swing-vote senators Jeff Flake (R-Ariz.) and Susan Collins (R-Maine) seemed to be satisfied with the FBI's findings, while Senator Dianne Feinstein (D-Calif.) was more critical, concluding, "The most notable part of this report is what's not in it."
Today's vote is the penultimate step in one of the most contentious Supreme Court nomination processes in national memory. If confirmed, Judge Kavanaugh will be President Trump's second successful nominee to the high court and will tip its ideological scale to the right for decades. Kavanaugh would replace retired Justice Anthony M. Kennedy, who was the court's swing vote and wrote the majority opinion in landmark cases such as Citizens United v. FEC, Planned Parenthood v. Casey, and Obergefell v. Hodges.
President Trump tweeted that he was "very proud" of the Senate for saying "Yes" to the procedural vote.
Very proud of the U.S. Senate for voting "YES" to advance the nomination of Judge Brett Kavanaugh!
— Donald J. Trump (@realDonaldTrump) October 5, 2018
The final vote is planned to take place on Saturday after 30 hours of last-minute debate. Scheduling complications include the absence of GOP Sen. Steve Daines of Montana because of his daughter's wedding, as well as Monday's Columbus Day holiday. Republicans cannot afford to lose a vote if all Democrats vote against the nominee.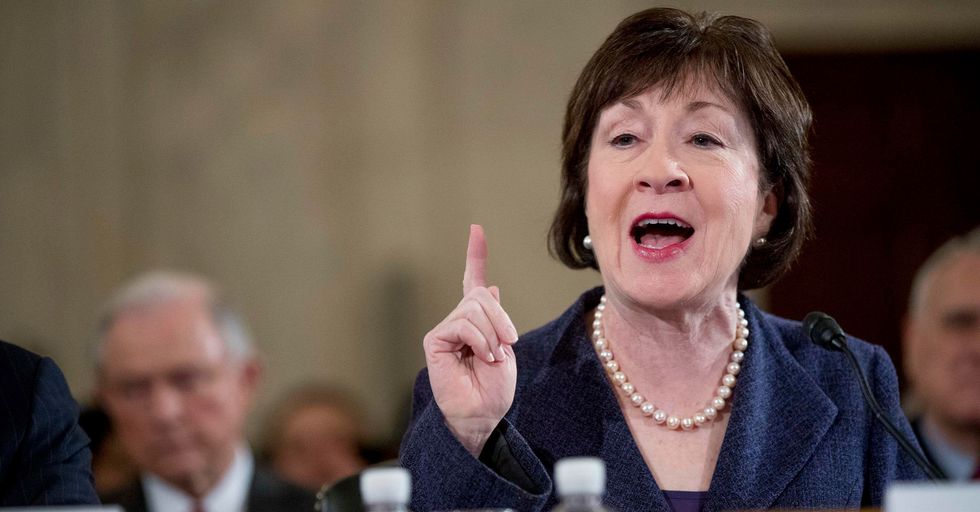 Susan Collins (R-Maine) will reveal her final vote for the SCOTUS nominee Friday at 3:00pm ET.Andrew Harnik, AP
Swing vote Susan Collins, who voted 'Yes' on moving the nomination process along, has stated publicly that this vote did not necessarily correlate with her final vote on Judge Kavanaugh. Her decision will be revealed Friday afternoon. Other undecided senators to watch include Joe Manchin, Lisa Murkowski, and Jeff Flake.
Earlier this week, former Supreme Court justice John Paul Stevens, 98, said Kavanaugh's testimony proved him unfit to sit on the nation's highest court. Speaking to a group of retirees in Florida, Stevens suggested the nominee lacked the appropriate temperament and showed potential for political bias.

On Thursday, Kavanaugh said he's an "independent, impartial" judge in an op-ed he published in the Wall Street Journal. The results of a recent public opinion poll concludes more Americans believe Ford than the Supreme Court nominee.
Joshua Smalley
is a New York-based writer, editor, and playwright. Find Josh at his
website
and on Twitter:
@smalleywrites