Dall-E Mini, the AI-powered text-to-image generator has taken over the internet. With its ability to render nearly anything your meme-loving heart desires, anyone can make their dreams come true.
DALL-E 2, a portmanteau of Salvador Dali, the surrealist and Wall-E, the Pixar robot, was created by OpenAI and is not widely available; it creates far cleaner imagery and was recently used to launch Cosmpolitan's first AI-generated cover. The art world has been one of the first industries to truly embrace AI.
The open-sourced miniature version is what's responsible for the memes. Programmer Boris Dayma wants to make AI more accessible; he built the Dall-E Mini program as part of a competition held by Google and an AI community called Hugging Face.
And with great technology, comes great memes. Typing a short phrase into Dall-E Mini will manifest 9 different amalgamations, theoretically shaping into reality the strange images you've conjured. Its popularity leads to too much traffic, often resulting in an error that can be fixed by refreshing the page or trying again later.
If you want to be a part of the creation of AI-powered engines, it all starts with code. CodeAcademy explains that Dall-E Mini is a seq2seq model, "typically used in natural language processing (NLP) for things like translation and conversational modeling." CodeAcademy's Text Generation course will teach you how to utilize seq2seq, but they also offer opportunities to learn 14+ coding languages at your own pace.
You can choose the Machine Learning Specialist career path if you want to become a Data Scientist who develops these types of programs, but you can also choose courses by language, subject (what is cybersecurity?) or even skill - build a website with HTML, CSS, and more.
CodeAcademy offers many classes for free as well as a free trial; it's an invaluable resource for giving people of all experience levels the fundamentals they need to build the world they want to see.
As for Dall-E Mini, while some have opted to create beauty, most have opted for memes. Here are some of the internet's favorites:
There's no looking back now, not once you've seen Pugachu; artificial intelligence is here to stay.
POLITICS
FBI Report on Kavanaugh Leaves More Questions Than Answers
The Blaze
Democrats and Republicans disagree on the integrity of the FBI's investigation.
The FBI's completed report on the alleged sexual misconduct of Supreme Court nominee Brett Kavanaugh have Democrat and Republican Senators debating over the integrity of the investigation.The full report was delivered to Capitol Hill early Thursday morning.
Contentious points are rooted in major criticisms of how the White House limited the investigation's scope. Namely, people integral to corroborating the allegations were not interviewed by the FBI, including Christine Blasey Ford, who accused Kavanaugh of sexual assault at a high school party and testified before the Senate Judiciary Committee last week.
After an official inquiry into the allegations was approved by the Senate last week, the White House requested interviews with Mark Judge and P.J. Smyth, high school friends of Kavanaugh, a reported attendee of the party where the alleged assault took place, Leland Keyser, and Deborah Ramirez, the second accuser to come forward with allegations of sexual misconduct by Kavanaugh. Ford herself and multiple other witnesses claimed to have firsthand knowledge of the alleged events were not interviewed.
Rep. Senator Jeff Flake, whose swing vote helped instigate the FBI's investigation, declared there's "no additional corroborating information" in the report, while Rep. Senator Susan Collins calls the investigation "very thorough." Rep. Senator and Senate Judiciary Committee Chairman Charles Grassley is more vehement in his endorsement: "This investigation found no hint of misconduct and the same is true of the six prior FBI background investigations conducted during Judge Kavanaugh's 25 years of public service." He implored the committee to "wipe away the muck" from the public controversy and "look at this nomination with clear eyes."
In utter disagreement, Dem. Senator Dianne Feinstein criticized, "The most notable part of this report is what's not in it. It looks to be the product of an incomplete investigation that was limited, perhaps by the White House, I don't know." Dem. Senator Cory Booker also expressed frustration with the investigation's limitations: "I heard the chairman of the Committee say there's no hint of misconduct. In plain English what I just read, there are hints of misconduct. So, it's very frustrating that they didn't do a thorough investigation that they didn't interview all the relevant witnesses."
Dem. Senator Chuck Schumer added a protest over the report's secrecy from the American public, stating, "The fact that there's only one document in there for 100 senators is another example of constraining the ability of all senators and the American public to see the whole truth and nothing but."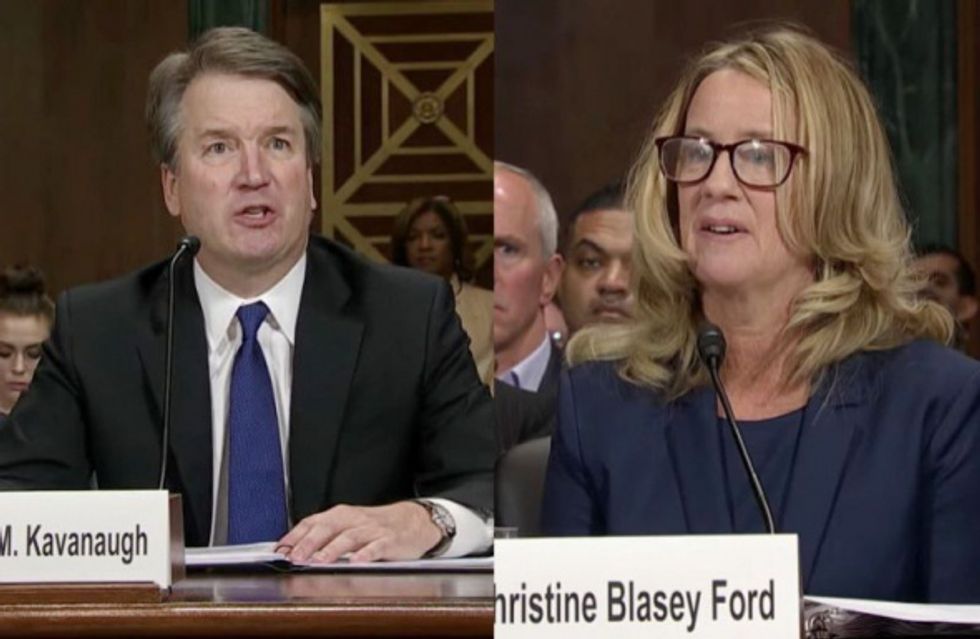 The Christian Post
Blasey Ford and her attorneys released an open letter on Thursday condemning the shortcomings of the investigation, citing the exclusion of Ford and their eight suggested witnesses seeking to either confirm Ford's testimony or refute Kavanaugh's at last week's judiciary hearing: "None were contacted nor, to our knowledge, were more than a dozen other names we provided to the FBI whose interviews would have challenged the credibility of Judge Kavanaugh's testimony before the Senate Committee on the Judiciary on September 27, 2018." The letter laments, "The 'investigation' conducted over the past five days is a stain on the process, on the FBI and on our American ideal of justice."

On Twitter, Donald Trump shared his continued endorsement of the investigation and Kavanaugh, whose "great life" has been subjected to "harsh and unfair treatment" by "mean & despicable Democrats and totally uncorroborated allegations."
The harsh and unfair treatment of Judge Brett Kavanaugh is having an incredible upward impact on voters. The PEOPLE… https://t.co/tz7uynzT5p

— Donald J. Trump (@Donald J. Trump) 1538655401.0
Senators are scheduled to move forward with Kavanaugh's nomination, with Senate Majority Leader Mitch McConnell filing for a cloture vote, which sets in motion an expedited voting process that would see an initial vote on Friday and a final vote by the full Senate on Saturday.