Better meat options exist.
Every year, humans eat 70 billion animals around the globe, and 9 billion of them are killed in the U.S.
According to a recent article in The Guardian, the most significant way to lower your impact on the environment is cut out meat and dairy from your diet: "The new analysis shows that while meat and dairy provide just 18% of calories and 37% of protein, it uses the vast majority – 83% – of farmland and produces 60% of agriculture's greenhouse gas emissions."
This presents environmentally-conscious animal eaters with a stark choice: Give up eating animals, or give up on your beliefs. But there is a middle ground, which involves choosing options that have, if not a zero-impact, perhaps a lower one. Here is a list of choices, going from best to worst.
Chicken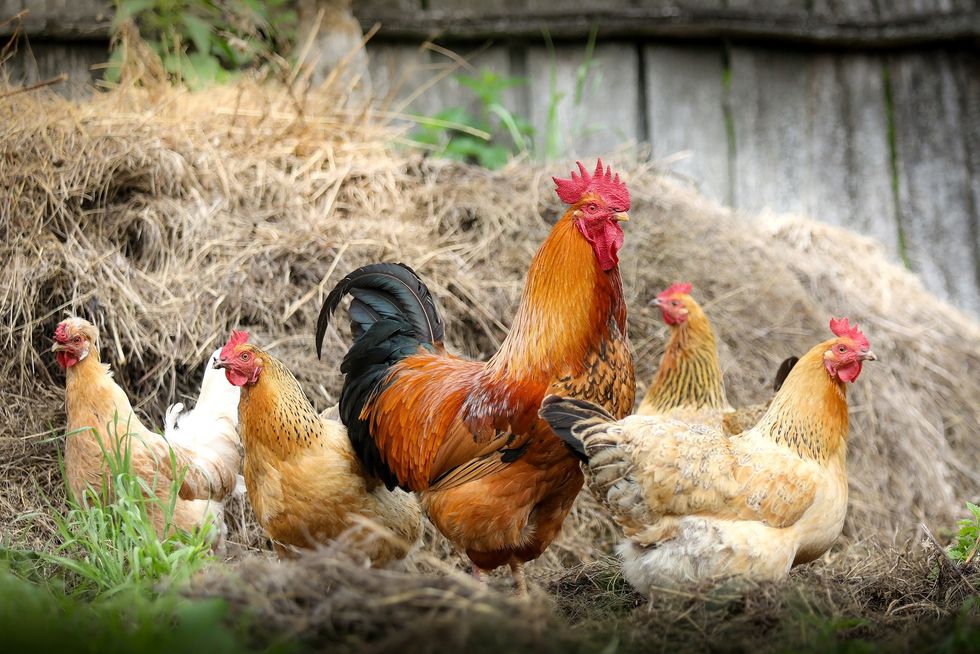 For those who aren't ready to give up meat but want a more environmentally-friendly option, switching to chicken is one of the best choices. Slate explains that chickens produce a much lower amount of carbon dioxide than cows. Cows generate about four times more greenhouse gases than chickens. In addition, chickens only create two to four pounds of manure per pound of weight, which is less than the 35 to 65 pounds cows make per pound of beef, according to Slate. Experts recommend looking for free-range chickens raised without antibiotics.

Pork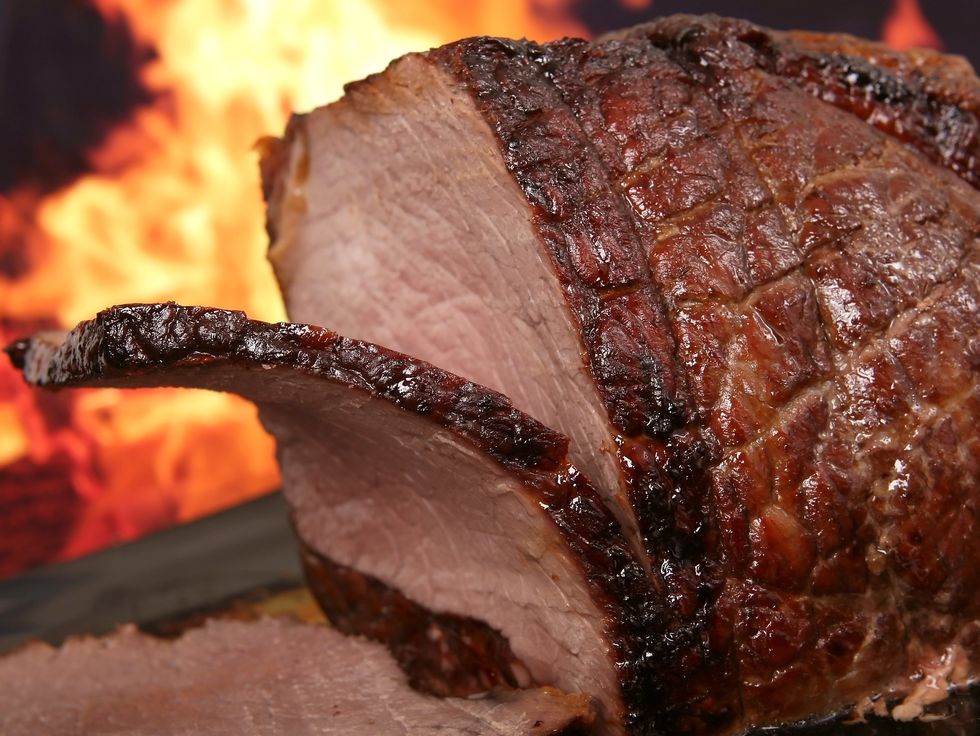 Pork is a better environmental choice than beef because pigs produce about 50% less carbon dioxide than cows, according to the BBC. Pigs are also omnivores (they'll eat anything), and this is actually better for the environment than cows that require grass or grains. A hog can help reduce food waste by consuming vegetable scraps and other food that would have been discarded. Another positive is that pigs need less feed overall compared to cows.

Mussels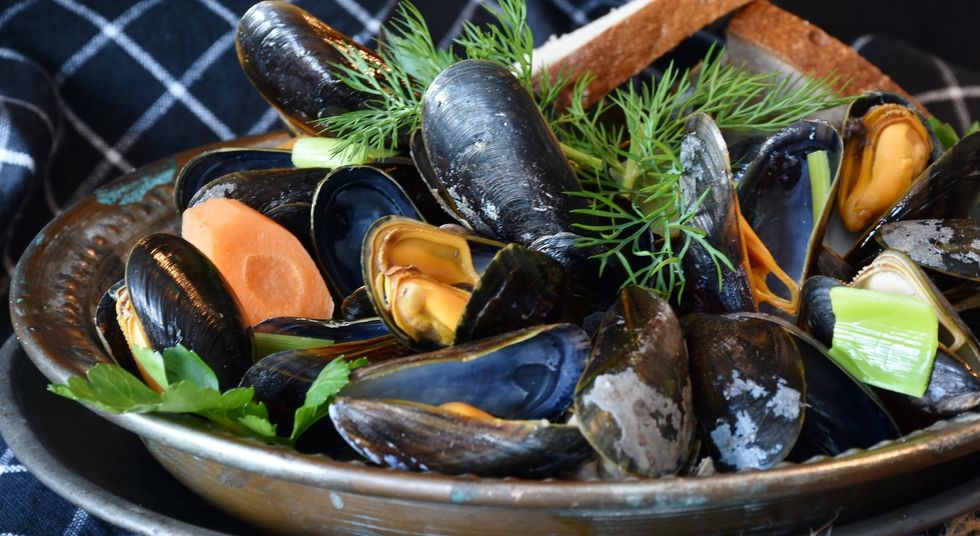 Technically, mussels aren't meat because they're categorized as seafood. However, they're an option for people who don't want to go vegan and still want a good source of protein. The BBC explains that mussels actually capture carbon dioxide, so they're an environmentally-responsible alternative and a better choice than farm-raised fish. They don't need to eat other food sources to grow because they filter nutrients from the water, so their impact is lower. Moreover, they don't contribute to pollution.
Meat-Buying Tips
Shoppers who are worried about the environmental impact of their meat purchases should consider the following tips. First, try to reduce the number of days per week that you eat meat. You can switch to meatless Mondays or make the weekends meat-free. Another option is to use meat alternatives like tofu more often when you cook. Look for free-range and organic meat products. Some other label names to watch for include cage-free or barn-roaming.
There are meat options that are more environmentally-friendly. Consider making chicken, pork, and mussels more frequently for dinner.
A U.N. panel recommends "rapid, far-reaching" overhauls to prevent global catastrophe by 2030.
When responding to a disaster, the last phase is containment. The latest report from the world's leading experts on global warming is urging world leaders and policy-makers that that time is now. In order to prevent the earth's temperature from rising any more than another .5 ˚Celsius over the next 12 years, "rapid, far-reaching and unprecedented changes in all aspects of society" are necessary.
The report is the latest from the UN's Intergovernmental Panel on Climate Change (IPCC), which draws from thousands of publications and reviews of data on climate changes to assess and measure "increases in global average air and ocean temperatures, widespread melting of snow and ice, and rising global average sea level." In the past five reports, the IPCC has gone from investigating if and to what degree global warming was taking place to finding it "unequivocal" that global warming was an ongoing disaster with a 5% chance of being caused by natural climate change and a 90% probability that society's emissions of greenhouse gases were perpetuating the damage.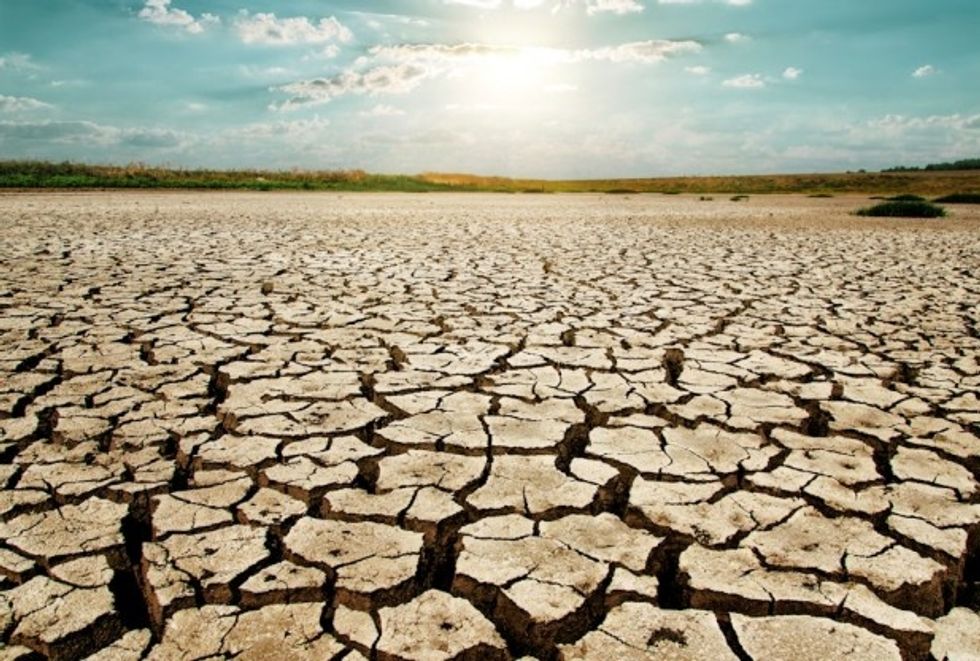 Environment and Human Being
Now, the IPCC is no longer concerned with spreading awareness or recommending practices to prevent damage from global warming, but to contain the coming destruction. The latest report cites that global temperatures are already 1 ˚C higher than in pre-industrial times; if temperatures rise more than 1.5 ˚C, environmental damages will put hundreds of millions of human lives at risk.

Furthermore, Earth's temperatures are expected to rise to the catastrophic 1.5 ˚C as early as 2030, unless "unprecedented changes" in transportation, agriculture, and energy are implemented. The IPCC's report verifies that carbon dioxide emissions have not been hampered by existing environmental policies, or lack thereof, recommending "rapid and far-reaching transitions" in society that leave some doubtful of its feasibility.
Skeptics include Glen Peters, research director of the Center for International Climate Research in Oslo, who stated, "Even if it is technically possible, without aligning the technical, political and social aspects of feasibility, it is not going to happen. To limit warming below 1.5 ˚C, or 2 ˚C for that matter, requires all countries and all sectors to act."
The rhetoric of environmentalism has been deemed alarmist and even fear-mongering in the past, but one reason skeptics remain unmoved could be due to a history of sanitized language. Phil Duffy, president of the Woods Hole Research Center, doubts not only the IPCC's radical changes but their words: "If you're expecting IPCC to jump up and down and wave red flags, you're going to be disappointed. They're going to do what they always do, which is to release very cautious reports in extremely dispassionate language."
Scientists involved in the IPCC hope that the newest report will counteract that history of apathetic fatalism, urging that the present risk should merit the global, united response it will take to scale back potential disaster. "It's a line in the sand and what it says to our species is that this is the moment and we must act now," affirmed Dr. Debra Roberts, co-chair of the IPCC's working group on climate impacts. "This is the largest clarion bell from the science community and I hope it mobilizes people and dents the mood of complacency."
---
Meg Hanson is a Brooklyn-based writer, teacher, and jaywalker. Find Meg at her website and on Twitter @megsoyung.
---
But plan to enact environmentally destructive policies anyway.
Amid the media frenzy surrounding Supreme Court nominee Brett Kavanaugh, you may have missed another recent development in the world of politics: the Trump administration's admission that climate change is real.
According to the Washington Post, "In public, President Trump and his deputies have downplayed or outright dismissed rising sea levels, more frequent droughts, and other effects of man-made global warming." Contrastingly, in a 500-page environmental impact statement released last week, the Trump administration projected that on its current course, the planet will warm seven degrees by 2100. According to scientists, that kind of increase in temperature would be disastrous; resulting in extreme heat waves, acidic oceans, and high sea levels.
But, shockingly, the report was not intended as evidence to support funding to combat climate change, but instead meant to defend President Trump's decision to freeze federal fuel efficiency standards for light trucks and cars built after 2020. The report asserts that though this policy would increase greenhouse gas emissions, the fate of the planet is already sealed and fuel efficiency standards make too small of an impact to be consequential.
Michael MacCracken, who was the senior scientist at the U.S. Global Change Research Program from 1993 to 2002, said, "The amazing thing they're saying is human activities are going to lead to this rise of carbon dioxide that is disastrous for the environment and society. And then they're saying they're not going to do anything about it."

The report states that the world would have to make massive cuts in carbon emissions to avoid this warming and that, "would require substantial increases in technology innovation and adoption compared to today's levels and would require the economy and the vehicle fleet to move away from the use of fossil fuels, which is not currently technologically feasible or economically feasible."
A rise of seven degrees Fahrenheit, or about four degrees Celsius, would exceed the goal set in the 2015 Paris Climate Agreement, from which Trump is withdrawing the United States. According to the Washington Post, "At those temperatures, scientists describe nothing short of catastrophe." The Guardian sums up the administration's argument well with, "You might as well argue that because you're going to die eventually, there's no reason not to smoke a carton of cigarettes a day."
Brooke Ivey Johnson is a Brooklyn based writer, playwright, and human woman. To read more of her work visit her blog or follow her twitter @BrookeIJohnson.

Stay away from these lunch containers and packing items.
Once you've conquered the temptation of eating out for lunch every day, packing your own food seems like the perfect alternative. However, if you're packing certain items, then that brown bag lunch could be doing more harm than good. Before you start stuffing a lunchbox with cut vegetables and sandwiches, consider the following packing items you should avoid.
Keep reading...
Show less
What are some easy ways to help the environment?
As scientists argue about the best ways to preserve the environment and politicians disagree on climate change, you can take control by changing small habits. You don't have to make drastic or expensive changes to have a big impact on the environment. Consider the following five small things you can do to help save the planet.
Keep reading...
Show less
Scientists have accidentally boosted the enzyme that's breaking down ocean plastic—and that's a huge step.
In the Pacific Ocean, at least 79,000 metric tons of plastic waste are floating across an area exceeding 1.5 million square kilometers. The latest measurements of the Great Pacific Garbage Patch revealed that it's constantly growing and that its accumulation of plastic is accelerating. Also increasing is the world's plastic consumption. We use over 320 million metric tons annually, the majority of which ends up in our oceans. This decade saw more plastic produced than any other in history. Since 1992, China has been importing nearly half of the planet's plastic waste for recycling. But starting this year, the country is refusing all nonindustrial plastics and limiting imports of paper waste. Suddenly, this recyclable material is falling into landfills because recycling plants can't keep up.
Keep reading...
Show less
Farmers and scientists want to use the dirt beneath our feet to save the air above our heads
The headlining culprit in climate change warnings is the collection of greenhouse gases entering the atmosphere that come burning fossil fuels. You might be surprised, then, to learn that agriculture's effect on the health of the Earth's safety blanket is nearly as large as that of greenhouse gases. Clearing forests for farmland, tilling fields, raising livestock and spraying herbicides and pesticides—all of these practices contribute to the rising CO2 levels in the air. Now, new studies have started to point to compost as a tool for improving farming practices and reducing agriculture's effects on the environment.
Keep reading...
Show less
Is there truth behind going green and can it really help save the planet?
So many campaigns want you to recycle, avoid creating trash and reduce your carbon footprint. There are many, many tips online to living a green lifestyle. And many people are attempting to reduce waste and conserve energy — but is this enough to really make an impact?

Sure, if every single person (or at least most people) in developed societies lived an eco-friendly lifestyle, there would be a significant impact on the environment. But right now, about 75 percent of Americans don't do more than turn off the lights and recycle even though about 79% consider themselves environmentally conscious.
...fossil fuels are intertwined with pretty much everything we do.
If you live in an urban area, it might be a little easier to make more green lifestyle choices. Your city probably has the ability to recycle more than in other areas. You have access to public transportation and many more options when it comes time to shop or get groceries. These options just aren't as widely available in suburban and rural areas. Some municipalities don't even have any kind of recycling plant. Everything (including plastic, paper, bottles and cans) goes to the dump. Beside the fact that going through the effort to change your lifestyle to become more green takes time and money that some just can't spare.
But let's take a step back. Even if a lot of people do everything right and live an incredibly environmentally conscious lifestyle, nothing will really change. Why? Because fossil fuels are intertwined with pretty much everything we do. The solution to global warming isn't rooted in going paperless (using paper is more eco-friendly than smartphones anyway). The solution is in fundamentally changing the very fabric of our economy. That's not something individuals can do on their own.
Almost everything you buy and consume has to be transported to the store (for you to purchase. Within the country, this is done with trucks. Overseas, it's usually done with ships or planes. Every single one of those vehicles burns some type of fossil fuels to get going. You probably burn them when you're going to the store too. (You can't really get around this by ordering online either.)
In the end, using an electric car can actually put more carbon in the atmosphere than your average gas-powered car.
Electric cars are often seen as a solution for this. It's better to use electricity than gas, right? Definitely — if most of the power didn't come from burning fossil fuels. America's power grid is powered by about 40 percent coal, 25 percent natural gas, 20 percent nuclear power and about 10 percent renewable sources (mostly hydroelectricity). If you own or are considering an electric car, you would most likely still be burning fossil fuels. And that's not even taking into account everything that goes into making a new car. Just like a regular car electric vehicles require precious metals and minerals to be manufactured. What's more is all of the materials and parts are transported using fossil fuels as well as the final product itself. In the end, using an electric car can actually put more carbon in the atmosphere than your average gas-powered car.
Just about every facet of our modern economy depends on burning fossil fuels. That isn't something one person can change. To really live a sustainable and eco-friendly lifestyle, we need to change everything about how we live. That just isn't an easy process.
Of course, it still helps to reduce, reuse and recycle — but that only makes a relatively small impact compared to the overall economy. But it isn't all doom and gloom. The Paris Agreement was an encouraging step toward reducing carbon emissions around the world. If you really care about reducing your carbon footprint, the best solution is to organize and lobby companies and the government to change procedures and regulations. Ultimately, individuals independently choosing to live a greener lifestyle only makes a small impact in reducing our global carbon footprint.
We may forget that water is not an infinite source on the planet so what happens when we run out?
While seventy percent of the Earth is covered in water, only about two percent of it is drinkable. On top of this, most freshwater is inaccessible, either frozen in glacial ice or buried deep beneath the Earth's surface. According to several sources, there are currently one billion people in developing nations who lack access to clean drinking water and by 2025, up to two thirds of the world's population could living under water stressed conditions. When looking at the increasing scarcity of usable water, rising populations, and today's volatile political climate,many experts have come to the conclusion that we are on the verge of widespread conflict and many are saying that the next major war will be fought over water.

Keep reading...
Show less