Meg Hanson
Meg Hanson is a Brooklyn-based writer, teacher, and jaywalker. Find Meg at her website and on Twitter @megsoyung.
Amy Klobuchar ate salad with her comb and then made her aide clean it.
Prior to their official half-endorsement of Amy Klobuchar as the "Democrats' Best Choice For President," The New York Times covered another side of the Minnesota senator. "Senator Amy Klobuchar was hungry, forkless and losing patience," wrote political reporters Matt Flefenheimer and Sydney Ember.
"An aide, joining her on a trip to South Carolina in 2008, had procured a salad for his boss while hauling their bags through an airport terminal. But once onboard, he delivered the grim news: He had fumbled the plastic eating utensils before reaching the gate, and the crew did not have any forks on such a short flight.
What happened next was typical: Ms. Klobuchar berated her aide instantly for the slip-up. What happened after that was not: She pulled a comb from her bag and began eating the salad with it, according to four people familiar with the episode.
Then she handed the comb to her staff member with a directive: Clean it."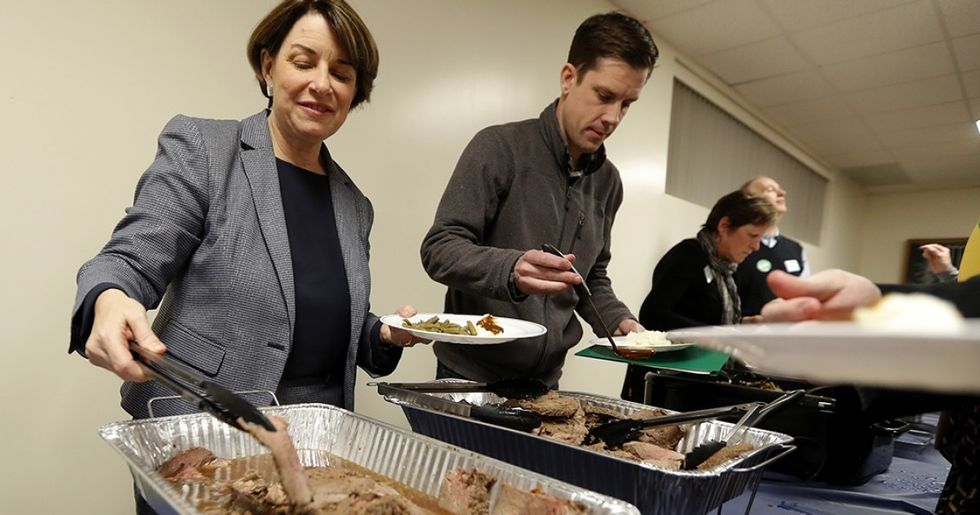 Washington Examiner
Flefenheimer and Ember's deep dive into Klobuchar's campaign team reads more like a copypasta than an account of real events; but alas, Klobuchar herself even seemed to lowkey brag about her history of mistreating her staff. "Am I a tough boss sometimes? Yes," Klobuchar said during a CNN Town Hall in February 2019. "Have I pushed people too hard? Yes. But I have kept expectations for myself that are very high. I've asked my staff to meet those same expectations. The big point for me is that I want the country to meet high expectations."

The CNN Town Hall audience may have cheered for that line, but voters don't seem to be "eating the salad," proverbially speaking. Klobuchar has consistently polled near the very bottom of people's choices for Democratic primary candidate, with recent polls placing her just over 3%. In other words, The New York Times' endorsement of Amy Klobuchar is strange considering the fact that she's basically unelectable.
But while, statistically speaking, pretty much nobody actually likes Amy Klobuchar, her behavior has struck a chord with a specific demographic on Reddit.
For context, while the overall Reddit community leans white, male, and liberal, many political figures' most ardent supporters use Reddit as a gathering space for promoting their candidate of choice. From the quarantined r/The_Donald with its 785k members (Russian bots included) to r/SandersForPresident with 380k, almost anyone can find their favorite presidential pick on Reddit. Even r/Tulsi has over 17k people who want Tulsi Gabbard to be president for some reason.
And then we have r/AmyKlobuchar. With 147 total members, roughly seven of whom seem to be online at any given time, the truly incredible thing about Amy Klobuchar's subreddit isn't its minimal user base. It's the fact that pretty much everything posted there is ironic.
The most upvoted post on the entire sub is titled "Amy Klobberchar" and contains a meme recounting a fictional incident wherein Amy Klobuchar threw a stapler at a staffer. In fact, many of the posts in r/AmyKlobuchar hone in on Klobuchar's history of staffer abuse, depicting Klobuchar firing unpaid interns and stepping on people's necks.In another top post on the sub titled "Why I am voting for Amy," a user lists off reasons including, "She is abusive towards her staff. We need a fighter, not a wimp," and, "I like the taste of boot."
The same New York Times article that covered the salad incident included a leaked email that Klobuchar has sent to her staffers regarding the things people said about her on Twitter: "We are becoming a joke and it is making me a joke."
As it turns out, Klobuchar's prophecy was self-fulfilling. By continually treating her staff like garbage, Klobuchar invoked the attention of a small but vocal demographic of roughly 147 people who don't like seeing low-paid interns treated like garbage.
Perhaps much more importantly, though, to most of the American electorate, Amy Klobuchar still doesn't matter.
The revolution will not be Tweeted, but its agenda can be.
Can a tweet save the world? No. Is it a public record of your intolerance of unjust systems in the world? Sure, if anybody reads it among the white noise of Twitter rage. Protest movements in the digital age are tricky; hacktivism, or hashtag activism, has been critiqued as an ineffective and tokenizing way to virtue signal in the name of social justice while actually being armchair activists. Meanwhile, nonviolent protests like marches, boycotts, and strikes are critiqued for being too passive to ever enact real change. On the other end of the spectrum are volatile reactionaries who want to tear down the system and begin from scratch–even if they have no actionable plans to create a viable replacement.
So what are we supposed to do? More to the point, what are we supposed to believe? A patient and open-minded look at both sides of any issue is guaranteed to point out one commonality: Everybody has the wrong idea about the opposing side. When it comes to social movements that create a better future, there are some basic, prevailing myths that only distract people from the real problems at hand. Ask activists, historians, and political science analysts, and they agree that you shouldn't fall for the following misconceptions when fighting for a better world:
1. Myth: Nonviolence Is Ineffective
Historically speaking, this simply isn't true. When two researchers from the United States Institute of Peace conducted a study of nearly 330 major violent and nonviolent campaigns "targeting incumbent regimes and foreign military occupations," they concluded that "nonviolent efforts were twice as likely to achieve their goals." They wrote, "The majority succeeded against authoritarian governments, when even peaceful protests could have fatal consequences. The ousters of Augusto Pinochet in Chile, Ferdinand Marcos in the Philippines, Zine el-Abidine Ben Ali in Tunisia, Yahya Jammeh in Gambia, Bashir in Sudan and Abdelaziz Bouteflika in Algeria are only a handful of cases in which mass nonviolent force stripped power from despots." Furthermore, another study in 2011 looked at 323 civil resistance campaigns around the world between 1900 and 2006, concluding that nonviolent campaigns were successful in 53% of cases, compared to violent ones' success rate of 26%. Additionally, only 4% of violent revolutions ended up in a "functioning democracy," compared to 42% of non-violent regime changes.
So radical violent action, whether that be in the form of paramilitary groups or self-appointed vigilantes who want to burn down the Establishment, is statistically not as likely to produce change as collective nonviolent protest.
2. Social Media Makes Protests More Effective
With that being said, there is a degree of truth to the allegation that social media creates lazy activists. More specifically, however, social media encourages engagement in social issues (i.e. sharing an article, liking a tweet, and maybe hurling insults at the opposing side), which is different from collective action. While Facebook, Twitter, and Instagram allow people to express their displeasure at existing policies, the most social media can do is mobilize people to agree on a unified agenda and a set of actions.
The problem, of course, is that many online participants don't end up following through with in-person plans, thus there's no unity where it counts: on the ground, at the march, or holding up signs. Furthermore, analysts Maria J. Stephan and Adam Gallagher emphasize the importance of "durable organizations" and "long-term planning," and in the fast-paced, immediate gratification of social media platforms like Twitter, responses can often be reactionary and short-term, which doesn't even begin the work of effective protest.
3. Myth: You Need to Have a Massive Amount of People
This is half-true, but it's mostly misunderstood. Effective nonviolent protests gain traction and grow into massive movements when their tactics get them noticed–even if that doesn't involve a large amount of people. As evidenced by the progression of the Egyptian occupation of Tahrir Square and the Serbian student protest group, Otpor (translated as "Resistance!"), a large following of people don't mark the beginning of a movement but rather it's a sign that a movement's worked. Srdja Popovic, leader of Otpor, reflected on the overthrow of war criminal Slobodan Milošević, "All successful movements come with a very low entry bar. You need to offer people the chance to do something meaningful, and – crucially – to get away with it. In Chile, against Pinochet, they drove at half speed: not illegal, very low risk, pretty funny, nothing the cops can do. It's about doing something neat, and living to tell everyone." He added, "We had to go out and listen. Get the real people, rural people, not so clever-clever people, behind us. Build a movement. We did, but it took us five years." Resistance from within a system is more effective to create change than external opposition.
4. Myth: It's a Business
Popovic coins one of their best tactics "laughtivism." Making people laugh not only gets attention, but it alleviates tension from living within fraught social realities. From graffitiing pictures of the corrupt men in charge to spreading the movement's message through public pranks, nonviolent movements have gained global traction through being human and showing a sense of humor.
Let's enlighten ourselves before we engage in class warfare.
Looking out onto the landscape of 2020, we see the makings of a historic year–but not in the best ways. Natural disasters like bushfires, earthquakes, and hurricanes are becoming more common and worsening in intensity, and the divide between the rich and the poor keeps growing. In fact, over 38 million Americans live in poverty. But before we can discuss how to rectify the problem (let alone who's to blame for the institutional failures), we as a culture have a weak understanding of what poverty entails. Some critics mock millennials for not being able to afford iced coffee and avocado toast, while in actuality they're the poorest generation since World War II, having felt the financial strains of a recession and inflation. Meanwhile, elderly boomers are facing dire circumstances as they're looking to retire amidst an economy that can't sustain them.
The problem, of course, is that unless you've been young and coming-of-age under the weight of the economy's institutional failures and also entered the twilight of your life to find your savings unsustainable for modern living, you don't know what those experiences are like.
So before we engage in our next argument about the state of the world, let's enlighten ourselves with these books that illuminate the truth about poverty.
Betty Smith's "A Tree Grows in Brooklyn" (1943)
Betty Smith based her iconic coming-of-age novel on her own experiences growing up in a poor Williamsburg neighborhood. The protagonist's struggles are punctuated with alternating tenderness and bitterness, turning Smith's novel into an American classic.
Why are we overlooking the brightest hope for America's future?
With 17 Democratic candidates vying for the chance to oust Trump in the 2020 presidential election, we're witnessing divides within the party that hammer home the fact that politics are infinitely nuanced, complicated, petty, and—forgettable? For some reason, Michael Bennet, the 54-year-old Colorado Senator whose face is as symmetrical and innocent as Mrs. Potts in Beauty and the Beast, is often overlooked in the race for the White House. But you are doing yourself a disservice—nay, an offense—if you haven't familiarized yourself with his campaign platform, his experiences as a Senator and as superintendent of Denver's school system, and his initiatives as a member on the Committee on Agriculture, Nutrition and Forestry; as well as the Committee on Finance and the Subcommittee on Energy, Natural Resources, and Infrastructure.
Basically, Michael Bennet might covertly be the sh*t. Consider the evidence: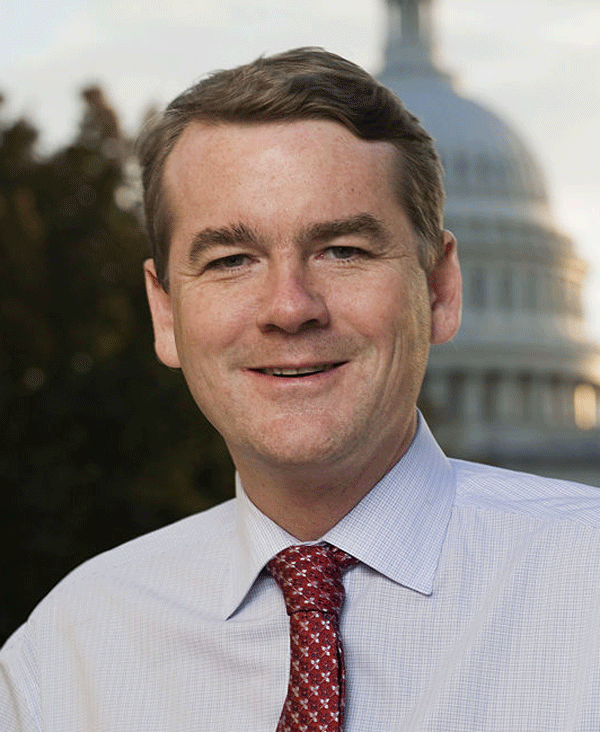 Look at that face! He looks like the Brave Little Toaster!
He's Good with His Hands
Listen: Bennet's home state of Colorado has a lot of land to farm. In fact, agriculture contributes up to $40 billion to the state's economy each year and accounts for over 173,000 jobs. As state Senator, Michael isn't afraid of dirty work. In 2019, he penned an op-ed in The Wall Street Journal calling out the ways that "Trump Has Been Bad for Farmers." What's the farmer's equivalent to throwing down a gauntlet? Throwing down a...hoe? Anyway, Michael's pushed for legislation to create jobs and protect dairy farmers, as market instability has endangered their livelihood, and he openly "believes a resilient agricultural sector is vital to a strong economy. This is certainly true in Colorado, where farming and ranching are a proud tradition and generate more than $40 billion in economic output each year. As a member of the Senate Committee on Agriculture, Nutrition, and Forestry, Michael is working to bring the diverse voices of Colorado to the debate in Washington."
Additionally, Michael's family owns a 1,500 acre farm in Arkansas; and sure, he rents it out to contribute to his notable wealth, but he probably owns at least one pair of overalls. Picture it: Michael Bennet in denim overalls. Wouldn't he look like such a happy little farmer? Hot.
He's Down-to-Earth and Down to Save the Earth
When it comes to land conservation, Michael doesn't mess around. Partly to advocate for America's 2 million farmers and partly because he's adorable and probably has a favorite species of flower, "Michael believes protecting public lands and wild places is an integral part of Colorado's heritage. It's why he brought together a diverse group of stakeholders to protect the Hermosa Creek watershed, and why he has stood up for sacred places and critical wildlife habitat across the country. From hiking to hunting, Michael also recognizes that outdoor recreation is vital to Colorado's economy."
Similarly, he's serious about converting American industry over to clean energy. In the last two years alone, he's cosigned or cosponsored multiple letters and legislation calling for improvements to the Environmental Protection Agency, the Land and Water Conservation Act, and proactive government action to combat climate change (like providing incentives to produce more solar panels in the U.S.). Always the good farmer, he wants to cut down hazardous emissions from farming and ranching with clean energy initiatives, and he supports plans that could conserve nearly one-third of U.S. lands.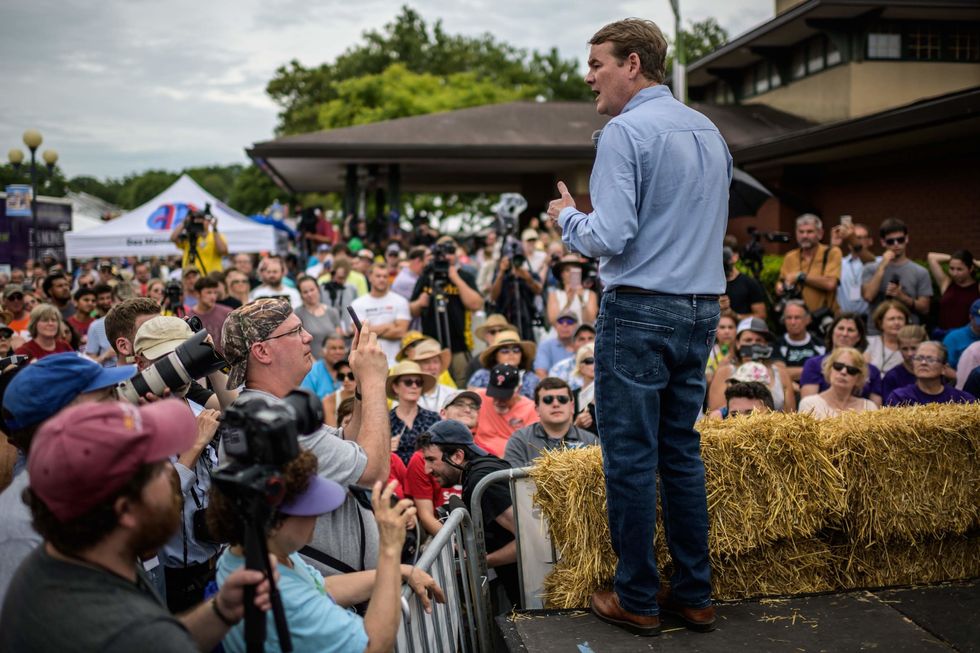 We're DEFINITELY not looking at his butt...We're DEFINITELY not looking at his butt...DEFINITELY not.The Gazette
Per his campaign team, "He recognizes this moment in our country as an opportunity to modernize our energy system, transition to low-cost renewable sources of energy, increase energy independence, and provide reliable and affordable energy for every American. Michael knows climate change is not a problem we can push off to the next generation. He believes in a comprehensive approach to combat climate change that includes commonsense actions to reduce carbon pollution and increase the resiliency of our communities, all while growing the economy."

Do you see? He's a happy and environmentally conscious farmer! (So screw you, Jay Inslee, you look like Bruce from Finding Nemo. We don't need you when we have Mike).
He's Almost Definitely into Weed
Speaking of loving plants, as the Colorado Senator, of course Mike is down with 4/20. Specifically, he's an advocate for legalizing marijuana for the sake of job creation, more health care options, and a fairer justice system. In fact, he's one of many supporters of the Affordable Care Act and supporting rural communities with less access to health care; but he's also a member of the U.S. Senate Committees on Finance and Agriculture. Through the committee, "Bennet championed the legalization of hemp in the 2018 Farm Bill and is a cosponsor of the SAFE Banking Act and Marijuana Justice Act, which would end the federal prohibition on cannabis and reverse decades of drug policies that have disproportionately affected low-income communities and communities of color."

In short, we're confident that Mike loves more than one type of grass.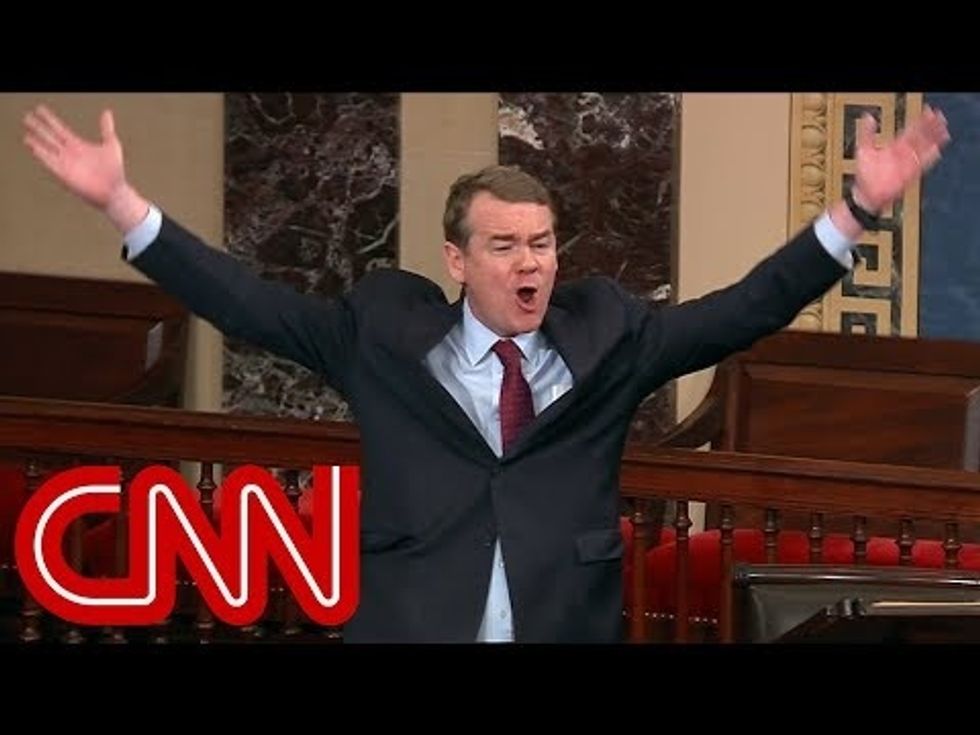 CNN
He Hates Washington

Who doesn't love the passion of a man who's running for the nation's highest office while publicly calling that office "broken." When it comes to government reform, "Michael knows that Washington is broken, and he has worked since 2009 to make Congress more functional. Michael has fought to hold lawmakers accountable to their promises and the rule of law. He supports overturning the Supreme Court's Citizens United decision and placing commonsense limits on campaign spending. Michael also believes that democracy depends on transparency and public access to information, and has lobbied federal agencies to swiftly comply with the Freedom of Information Act."
Michael's also called out the failures of America's immigration policies and our education system. Remember that he was Denver's superintendent for four years, during which time enrollment grew, dropout rates decreased, graduation rates increased, and college enrollment rose, leading The Denver Post to praise, "Bennet has been a force—pushing reforms and steering the state's second-largest district to a culture of success."
So he's proven his ability to helm a broken system and turn it around. He also managed to run a public school system to the public's satisfaction. If that's not a testament to the charm of his boyish freckles and a face that belongs on the label of some hipster's artisanal butter, we don't know what is.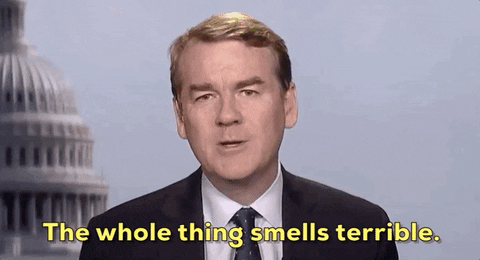 He's a Sagittarius
Obviously, you're not going to exercise your civic duty based on something as whimsical as a candidate's astrology sign. But to peer into the unassuming genius of Michael Bennet's brain, you must know his origins. Born on November 28, 1964, Michael is a through-and-through Sagittarius. Just ask Buzzfeed; they point out his "particularly Sagittarius trait: Bennet overcame dyslexia as a child and went on to graduate from Wesleyan University and Yale Law School, where he served as the Editor In Chief of the Yale Law Journal. That's some big Sagittarius energy!"
More tellingly, very credible and not at all bogus horoscopes for Sagittarius in 2020 foretell a year of professional strides and great success! Those born under the sign of the Archer are expected "to make more progress at work this year. You will work more this year than usual. But it will also help you to become more successful as the year goes on. If anything drains your energy this year, it will be your job!" Thanks, SunSigns.org, our gut's telling us that Michael's in for a future of glory, too!
No Scandals and No Game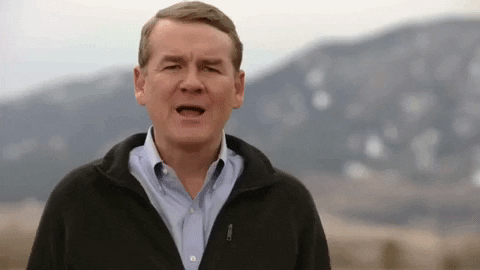 Let's face it: We love that he looks like George H. W. Bush was genetically spliced with our childhood hamster. He's the kind of boomer who just wants to drive you home from soccer practice and remind you to call your mother more often, without trying to smell your hair or mouth-breathing heavily with some rancid breath (JOE!). He's not creepy or even slick. In fact, he has zero moves that could remotely seem suspicious. Think about it: Obama danced like he knew he was hot. Everyone knows Trump has the most delicate, fluttery hands. Bennet? He has no distracting characteristics, no deceptive grace, and no smooth-talking rhetoric that raise any of our suspicions. Bill Clinton may have won over voters by pushing some "cool" image by playing saxophone on the Arsenio Hall Show, but that's not what we want in 2020.
We want a wholesome, dad's-golf-buddy type with a face that laughs even when he's trying to cry and who boldly tries new things. We want Bennet. After all, how could we be duped or betrayed as a nation by a man who dances this purely—as if a camera has never captured his quiet-uncle energy before, as if time and space were just illusions and he is that little boy beside him—as if he's never lost a race in his life and never will?
Donald Trump once again confused all of Twitter on Tuesday when he ended a Tweet with "Impeach the Pres." After seeming to all-caps brag that "MEDIAN HOUSEHOLD INCOME IS AT THE HIGHEST POINT EVER, EVER, EVER!," he claimed there are "MORE PEOPLE WORKING TODAY IN THE USA THAN AT ANY TIME IN HISTORY!" Despite these putative wins for his administration, he did not use the popular hashtag #ImpeachthePres; rather he wrote out the full sentiment, begging the question: What did he mean?

1. He's mocking the Left without the literacy to do so effectively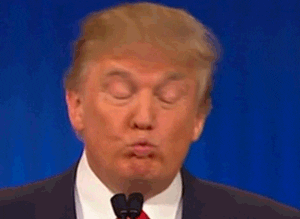 2. It's his unconscious desire to be free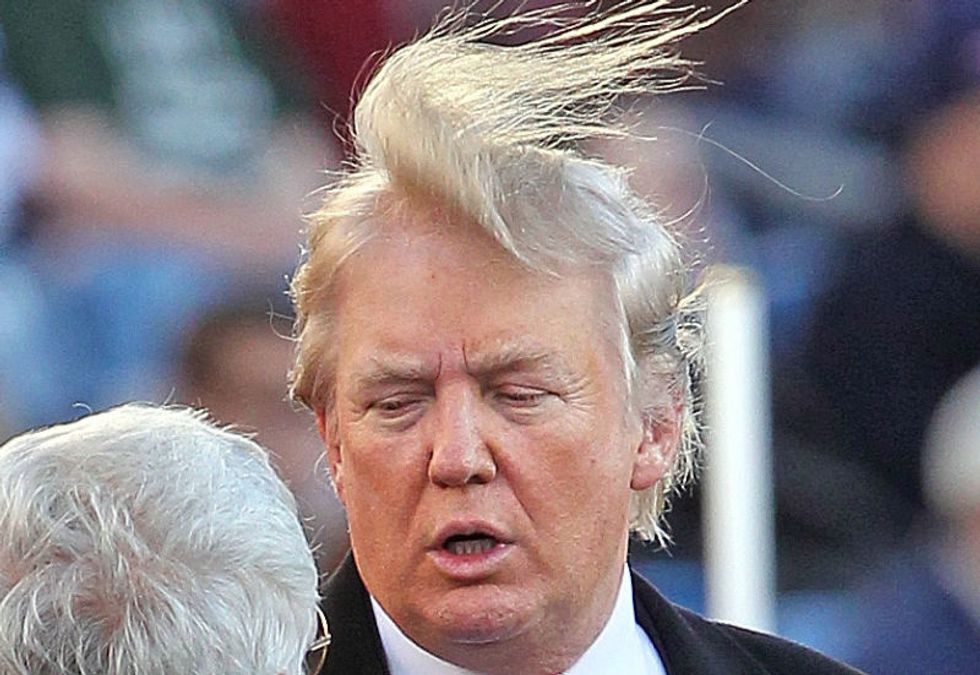 3. He believes Barack Obama is still president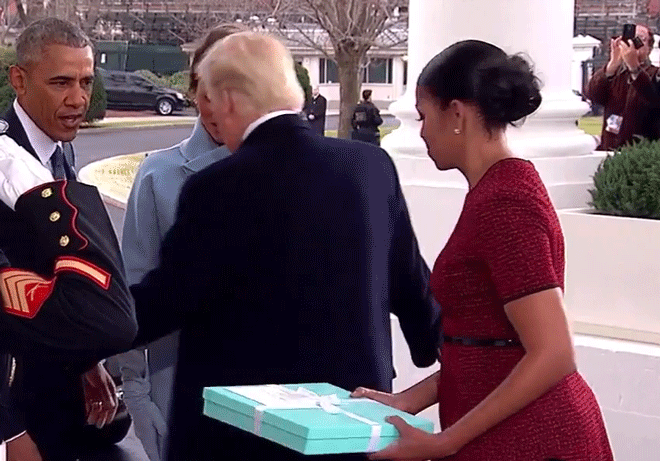 4. He meant "Impeach the Press" but his little thumbs made a typo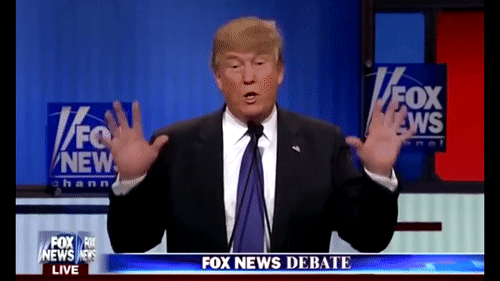 5. He means, "I'm Peach, the Pres," perhaps in response to "Orange man bad"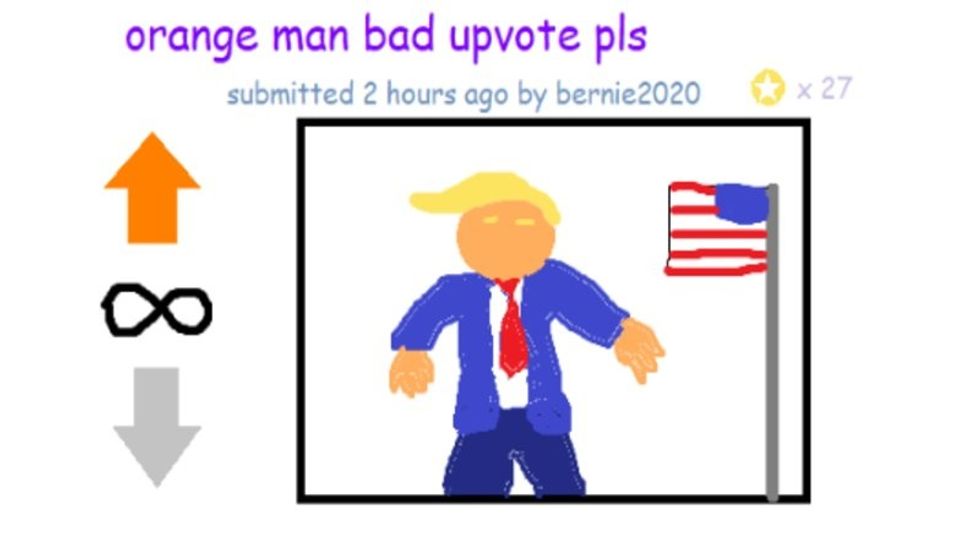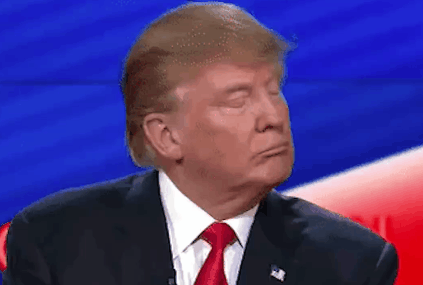 6. He wanted to end with a question mark but ran out of characters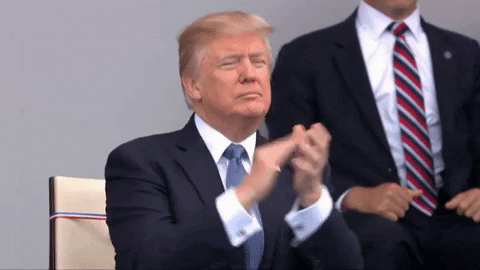 7. Seriously, maybe he just wants to go home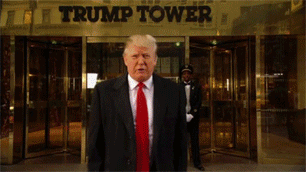 This past weekend, registered sex offender #JeffreyEpstein was once again arrested under new charges of sex trafficking dozens of minors as young as 14 years old.
On Monday morning, Jeffrey Epstein, the 66-year-old financier and reported friend of Donald Trump and Bill Clinton, was arraigned in federal court for luring underage young girls to his homes in Manhattan and Palm Beach, Florida and soliciting them for sex.
The billionaire was first arrested in 2005 for engaging in sex with minors. The hedge fund manager pleaded guilty to soliciting an underage prostitute and served only a year in prison—with a condition of work release that permitted him to leave the facility six days a week to continue employment.
This past weekend, the registered sex offender was once again arrested under new charges of sex trafficking dozens of minors as young as 14 years old. In a public statement, the U.S. Attorney's office said that between 2002 and 2005 Epstein lured young girls to his homes under the guise of paying for a "massage": "In this way, Epstein created a vast network of underage victims for him to sexually exploit, often on a daily basis." Indeed, of the nearly 80 young girls thought to be molested by the billionaire, most were from low-income households and particularly vulnerable to his cash-exchange ploy.

If found guilty, Epstein faces up to 45 years in prison for one count of sex trafficking and an additional count of sex trafficking conspiracy. But the prominent figure has been under investigation since last year. When authorities searched the man's Manhattan townhouse, nude photographs of underage girls were seized as evidence of Epstein's exploitation of minors. According to the indictment, which was unsealed on Monday, he not only assaulted young girls in his mansion but recruited them to return for repeated abuse and asked them to bring their friends.
Geoffrey S. Berman, the United States attorney in Manhattan, appealed to any other young women who have been abused by Epstein to come forward. "They deserve their day in court and we are proud to stand up for them by bringing this indictment," he told The New York Times. He said Epstein's "alleged behavior shocks the conscience."
On Monday afternoon, Epstein pleaded not guilty to all charges. Prosecutors are requesting that Epstein be held without bail until his trial.

Historically, fewer than 10% of all presidential vetoes have been overturned, or 106 in total.
On Tuesday, the House of Representatives voted 245-182 to overrule Donald Trump's declaration of national emergency regarding immigration at the U.S.-Mexico border. Trump declared a national emergency on February 15 in hopes to redirect up to $8 billion from military funds and the Treasury to fund a border wall. While unprecedented, the tactic could theoretically manipulate the Constitution's funding laws to successfully bypass Congress and allow a sitting president to reallocate funds without congressional permission. Even though the House passed the resolution to terminate the declaration of emergency, Trump has vowed to veto the resolution if it should make it to his desk. So how can Congress overrule a veto, and how rarely is it done?
When a president vetoes a bill, Congress can only override the veto by taking a second vote in both chambers and passing the bill with a two-third majority in both houses. Historically, fewer than 10% of all presidential vetoes have been overturned, or 106 in total. The last time Congress over-ruled a veto was October 11, 2000, when Bill Clinton's bill Energy and Water Development Appropriations.
The rarity of a veto override is attributed to the bipartisan conflict of each chamber of Congress. For example, in 2000, the Republicans held a majority in both the Senate and the house when they overruled the sitting Democrat president. The current Congress is divided between a Democrat-lead House (235-199) and a Republican-led Senate (53-45). Achieving a two-thirds majority in both chambers of Congress is simply unlikely when they are led by separate parties.
As for the resolution to overrule Trump's national emergency, the Senate is set to vote on the resolution before March 18. Since it's a privileged measure, no filibustering is allowed; only a majority will pass or defeat the resolution. The crux of the matter is whether enough Republican Senators can be swayed to vote with the Democrats. As of Friday, three Republican Senators have vowed to to do so: Susan Collins of Maine, Lisa Murkowski of Alaska, and Thom Tillis of North Carolina. Only four more would be needed to send the resolution to Trump, assuming all Democrat Senator voted with their party. According to Five Thirty Eight, if Trump vetoes the measure, then both chambers of Congress are short of the votes needed to override (50 short in the House and 20 short in the Senate).
Thom Tillis wrote an op-ed for The Washington Post explaining his position to vote against party: "As a U.S. senator, I cannot justify providing the executive with more ways to bypass Congress," Tillis explained. "As a conservative, I cannot endorse a precedent that I know future left-wing presidents will exploit to advance radical policies that will erode economic and individual freedoms."
Prior to the House vote, Speaker Nancy Pelosi addressed House Republicans, "Is your oath of office to Donald Trump or is it to the Constitution of the United States? You cannot let him undermine your pledge to the Constitution."
Meg Hanson is a Brooklyn-based writer, teacher, and jaywalker. Find Meg at her website and on Twitter @megsoyung.
While U.S. policies block many refugees from entering the country based on arbitrary or prejudicial criteria, Asylum remains a federal protection from persecution or fear from persecution.
When Joe Biden spoke at the 2019 Munich Conference in Germany, he spoke highly of America's participation in the global community. He told the European leaders, "The America I see…does not wish to turn our back on the world or our allies." This stands opposed to the policies Donald Trump's administration has enacted. As Biden added, "The America I see values basic human decency, not snatching children from their parents or turning our back on refugees at our border," he said. "The American people understand…because it makes us an embarrassment. The American people know, overwhelmingly that it is not right. That it is not who we are."
While U.S. policies block many refugees from entering the country based on arbitrary or prejudicial criteria, Asylum remains a federal protection from persecution or fear from persecution. Individuals may file on the basis of race, religion, nationality, membership in a particular social group, or political opinion. Asylum has actually saved the lives of multiple high profile figures.
Here are seven famous asylum seekers:
1. Albert Einstein (physicist)
The Nobel Prize-winning scientist fled Germany in 1933 in order to escape persecution from the Nazis. After his safe arrival in the. U.S., Einstein notably said, "I shall live in a land where political freedom, tolerance, and equality of all citizens reign."
2. Mila Kunis (actress)
Kunis and her family fled Soviet Ukraine during the Cold War. That 70s Show actress was seven years old when she was granted a refugee visa.
3. Gloria Estefan (singer)
Born in Havana, Cuba, the "Queen of Latin Pop" fled the country with her family when she was just two years old. After Fidel Castro led the Communist revolution in 1959, her family moved to Miami.
4. Madeleine Albright (former Secretary of State)
Born in 1937 in what was then Czechoslovakia, her family fled Nazi persecution during World War II. Although they attempted to return, they had to leave permanently in 1948. She later became the first female Secretary of State.
5. Henry Kissinger (former Secretary of State)
After spending the first 15 years of his life in Germany, his family fled in 1938 during the early years of the Holocaust.
6. Marlene Dietrich (actress)
The Hollywood beauty started her film career in Germany in the 1920s. When the Nazis gained power, she fled to Hollywood, where she became an American citizen and made a point to perform for troops during World War II. Later, she said, "America took me into her bosom when I no longer had a native country worthy of the name."
7. Regina Spektor (singer)
After being raised in Moscow, the singer's family fled the Soviet Union when she was nine years old in fear of religious persecution. They settled in New York, where Spektor would later begin her singing career
This week, immigrant advocacy groups lobbied to block an order under the Trump administration that would force asylum seekers to stay in Mexico until their case files were seen in immigration courts. Based on the fact that lives could be endangered if the order were executed, the group stated that asylum seekers "are being returned to Mexico without any meaningful consideration of the dangers they face there, including the very real threat that Mexican authorities will return them to the countries they fled to escape persecution and torture." The federal courts have yet to make a decision on overturning the order.
Meg Hanson is a Brooklyn-based writer, teacher, and jaywalker. Find Meg at her website and on Twitter @megsoyung.
Food labels boasting "organic" ingredients don't guarantee protection from unwholesome ingredients, preservatives, or manufacturing processes.
With food blogs and news outlets continually reporting conflicting information about the safety of GMOs, organic and raw foods, and even infected lettuce, it's all to easy to become confused as to what's healthful and what's harmful. While some food producers find it within their best interest to provide healthier options, many companies unwilling to change their product methods have resorted to changing their marketing. As a result, misleading labels regarding "organic" foods are meant to confuse consumers.
To be clear, truly organic foods in the U.S. have been certified as such by the U.S. Department of Agriculture. Their requirements are as follows:
Produced without excluded methods, (e.g., genetic engineering, ionizing radiation, or sewage sludge).
Produced using allowed substances.
Overseen by a USDA National Organic Program-authorized certifying agent, following all USDA organic regulations.
Thus, any food can technically be "organic," from produce and milk to deli meats and seasoning. However, the limitations of the definition lead some companies to advertise their products as "organic" while still using unwholesome ingredients, preservatives, or manufacturing processes.
Here are five tips to decode organic labeling jargon:
1. "All natural" doesn't mean it's organic
In truth, many products are technically "natural," due to government regulations that forbid food producers from adding hormones or steroids to many animals. In terms of poultry and their eggs, for instance, "natural" only means that the birds are are not given hormones or steroids. In contrast, "organic" poultry denotes that birds are raised with more space than in traditional poultry farms, they only consume on organic (vegetarian) food, and no animal byproducts are allowed.
Thus, "organic" eggs are from uncaged birds who haven't been fed any chemicals. It's important to note that even an "organic" certification doesn't guarantee that the animals were raised in cruelty-free environments. Even "organic" birds are raised on factory farms, and they're still subject to beak cutting and forced molting through starvation.
2. There are different degrees of "organic"
If a label says it's "made with organic ingredients," then the product is composed of 70% organic ingredients. The remaining, non-organic ingredients may still be closely monitored (for example, GMOs aren't allowed), but they don't qualify for certification. Likewise, an "organic" label still gives leeway, as only 95% of the ingredients must be organic to qualify. In reality, only a label that says "100% Organic" can guarantee that a food product is comprised of completely organic ingredients.
3. Are there still nitrites?
Sodium nitrite is a preservative often used in meats. You can sometimes recognize the use of nitrites in deli meat that has a distinctly pink coloration. However, some studies suggest that too many nitrites can damage cells or cause cancer. As The New York Times reports, "Some products that claim to be 'natural' or 'organic' may say they are processed without nitrites or nitrates, and the label may say the item has 'no artificial preservatives' or is 'uncured.' But nutritionists warn that food manufacturers may still add vegetable powders or juices such as celery juice or beetroot juice that contain naturally occurring nitrates, which are converted to nitrites either in the food itself or when they interact with bacteria in our bodies."
4. Look for other certifications
The healthiest animal products come from the healthiest animals. As such, look for certifications from animal wellness groups. For example, Animal Welfare Approved is a credible label considered to be "the gold standard." The United Egg Producers' label certifies egg-laying hens have been treated well, and the Fair-Trade label indicates that workers' rights were seen to during the production process.
5. Larger companies are more likely to be organic
Unfortunately, some companies will not only label their products misleadingly, but forge the Organic certification. Larger companies cannot commit such fraud without quickly being noticed, but smaller companies, like those that earn less than $5,000 a year, are often too insignificant to be noticed. As The Washington Post describes, "The official USDA certificates guaranteeing that a product is organic are relatively easy to forge. And because the organic rules are designed for larger-scale commercial operations, mom-and-pop farmstands may be exempt from inspections if they yield no more than $5,000 a year in sales. So, whether food really meets organic standards is more a matter of trusting purveyors than trusting the organic label."
Mark Kastel is co-founder of the organic watchdog group The Cornucopia Institute. He notes, "There's a higher authority on these issues than the USDA. And that's the consumer." Demand is everything; the more consumers choose "organic" and hold companies accountable for inaccurate labeling, the tighter regulations can become.
Meg Hanson is a Brooklyn-based writer, teacher, and jaywalker. Find Meg at her website and on Twitter @megsoyung.
While the Fifth Amendment is a crucial marker of individual rights, the lack of clear definitions and changing political landscapes make its application dangerously subjective.
Your right to "plead the fifth" is a constitutional protection against self-incrimination, but it's only one component of the legal provision that safeguards your rights from unjust criminal prosecution.
The Fifth Amendment protects against double jeopardy, being forced to incriminate oneself, prosecution without a jury of one's peers, and eminent domain. The legal precedents establishing due process protect more than just criminals; everyday citizens are protected from abuse of the justice system.
The provision, in full, dictates: "No person shall be held to answer for a capital, or otherwise infamous crime, unless on a presentment or indictment of a Grand Jury, except in cases arising in the land or naval forces, or in the Militia, when in actual service in time of War or public danger; nor shall any person be subject for the same offence to be twice put in jeopardy of life or limb; nor shall be compelled in any criminal case to be a witness against himself, nor be deprived of life, liberty, or property, without due process of law; nor shall private property be taken for public use, without just compensation."
In 2019, what are the limitations of these protections? Are there exceptions? What situations would require you to invoke them? What should you say to activate these rights?
While some may see "pleading the fifth" as tantamount to admitting guilt, it symbolizes your protection from self-incrimination. Cornell Law School defines the term to mean, "The act of implicating oneself in a crime or exposing oneself to criminal prosecution." When questioned by law enforcement during an investigation or during a criminal trial, an individual may refrain from answering questions or submitting requested materials to officials if it's believed that doing so may result in new criminal charges.
However, issues unrelated to criminal matters are not always protected from self-incrimination rights. For example, tax issues are not covered under the law so as to prevent individuals from withholding materials from the IRS. Furthermore, the law becomes murky when external circumstances could easily influence a person's ability to remain silent. Egregious examples of this right being circumvented include forced confessions and unjust interrogations.
As to due process, it's well known that before you can be found guilty of a crime, a grand jury of 16 to 23 people must be presented the case in private and deem that criminal charges justified. While a grand jury acts as "a kind of buffer or referee between the government and the people," an individual has a right to trial by jury. However, the Constitution's vital dictum against citizens being "deprived of life, liberty or property without due process of law" is only defined through a series of court rulings and provisions.
Of note is that due process protections are designed for individuals and application "in each case upon individual grounds." Sadly, this means that whole groups or communities are not, strictly speaking, as entitled to due process. For example, entire student bodies, teachers, or consolidated groups like protesters can be given treatment outside of lawful protections.
Lastly, eminent domain is the restricted power of the government to take private property and convert it into public use. Under the Fifth Amendment, the government can only use this power if they provide the private owners with fair compensation. However, abuse of eminent domain is fairly common.
For example, in 2019, Donald Trump defended his demand for a border wall separating the United States and Mexico under the right of eminent domain. While it was originally meant to be an economic benefit, there are no codified measurements of what constitutes "just compensation." The seizure of land by the government quickly becomes exploitative and a violation of privacy that's paramount to government theft.
While the Fifth Amendment is a crucial marker of individual rights, the lack of clear definitions and changing political landscapes make its application dangerously subjective. From due process to eminent domain, there are more exceptions than clear definitions of "justice."
Meg Hanson is a Brooklyn-based writer, teacher, and jaywalker. Find Meg at her website and on Twitter @megsoyung.