Brooke Ivey Johnson
Brooke Ivey Johnson is a Brooklyn based writer, playwright, and human woman. To read more of her work visit her blog or follow her twitter @BrookeIJohnson.
Choose to give where your money will go the farthest.
Everyone can agree that giving to charity is a worthwhile way to use one's money. But it's not as simple as just writing a check. You want to make sure your money is going somewhere where it'll be put to good use. With so many options out there, how can you make sure you're putting your money into worthy causes? To help you on your quest, we've compiled a list of the top 5 aid organizations to give to in 2019.
Children International is an organization who has the broad mission of ending childhood poverty across the globe. Their primary means of doing this is by allowing donors to sponsor a child, regularly donating to provide the child with healthcare, education, food, shelter, etc. Charity watchdog gives this foundation an A rating, as they offer 84% of their earnings to children in need, with only 16% going to overhead costs.
American Civil Liberties Union (ACLU)
This organization aims to "maintain and advance civil liberties, including, without limitation, the freedoms of association, press, religion, and speech, and the rights to the franchise, to due process of law, and to equal protection of the laws for all people throughout the United States and its jurisdictions." The ACLU is one of the most powerful groups fighting to protect American citizens today, and decidedly a very worthy cause to donate to.
The National Wildlife Federation aims to protect American wildlife and wilderness by educating Americans about the importance of nature and fundraising money for environmentalist programs. They only spend 13% of their income on overhead, meaning you can be sure your donation isn't going towards some rich person's personal fortune, but is actually going towards protecting America's quickly dwindling natural beauty.
National Alliance to End Homelessness
This organization's mission is simple: end homelessness in America. They focus primarily on issues of policy and education, empowering legislators and communities to take steps to support disenfranchised Americans without housing. They give an incredible 92% of their proceeds to their cause, making them one of the most responsible charities on this list.
American Foundation for Suicide Prevention (AFSP)
Suicide is an ever-growing crisis in the United States, but thanks to organizations like the AFSP, people are becoming more and more educated about the truth of mental illness. They raise awareness, fund scientific research, and provide important resources and aid to those affected by suicide.
What would Democratic Socialism mean for the economy?
Democratic Socialism, a subset of the democrat party, has been thrust into the spotlight recently with the shocking victory of Alexandria Ocasio-Cortez over a 10-term incumbent. Ocasio-Cortez often referred to in the media as AOC, is a self identified Democratic Socialist, as was 2016 presidential hopeful Bernie Sanders. Despite this newfound prominence, the political affiliation is still widely misunderstood, often confused with communism or European style socialism. So what exactly is Democratic Socialism? And how would a Democratic Socialist platform affect your life?
According to the biggest socialist organization in the US, the Democratic Socialists of America (DSA), "Democratic socialists believe that both the economy and society should be run democratically—to meet public needs, not to make profits for a few. To achieve a more just society, many structures of our government and economy must be radically transformed through greater economic and social democracy so that ordinary Americans can participate in the many decisions that affect our lives." This polished and condensed definition sounds good, but it's difficult to grasp what it actually means in practice. To help you understand, we've broken down the four pillars of Democratic Socialism to explore how their implementation in the American government could affect your life.

Workers Control Means of Production/The Importance of Unions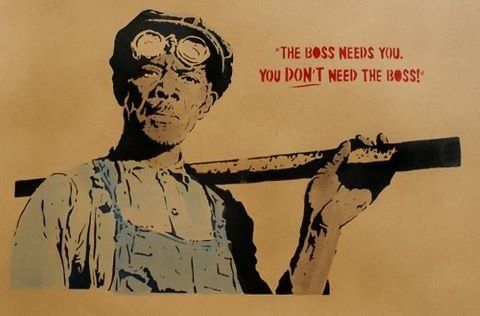 Perhaps most central to Democratic Socialism is the belief that American industry should be controlled by the workers who run it and the consumers who gain from it. Generally, they believe in a decentralized economy, though they think some indispensable portions of industry, like energy and steel, should be government controlled. As the DSA puts it, "We believe that social and economic decisions should be made by those whom they most affect."

In practice, this decentralization would likely mean the fruition of things like workers cooperatives and publicly owned ventures. Essentially, this economic model would mean that it would be much more difficult for a few people to get obscenely wealthy while those on the bottom of the economic ladder remain impoverished. Instead, everyone would have fairly equal opportunity to profit off the success of a business, creating a more widespread sense of ownership over the success of the economy, therefore stabilizing it. Unions are an important part of this pillar, as Democratic Socialists believe unions are essential in order to hold companies accountable to their workers and to empower workers to challenge capitalism as a concept.
Capitalism Promotes Greed and Must be Regulated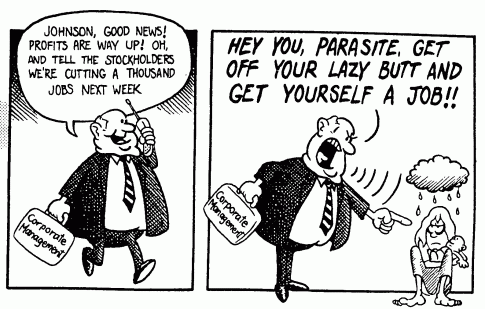 Democratic Socialists believe that capitalism has the inherent tendency to keep the rich rich and the poor poor and that capitalist corporations will always act in the interest of maximum profit at the expense of all else. Therefore, private corporations must be regulated by the government in order to ensure that they look out for the wellbeing of workers and lower rung employees. With this kind of philosophy implemented, there would likely be a strengthening of labor laws, a higher minimum wage, expanded parental leave, the prevention of foreign outsourcing to low wage countries, and the prevention of environmentally harmful activities.

A Minimum Quality of Life for All Citizens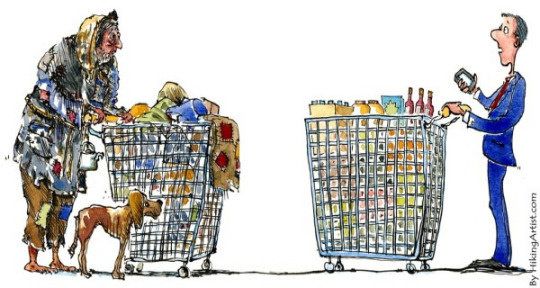 This is perhaps the simplest pillar of Democratic Socialism though likely would prove to be the most difficult to fulfill. Essentially, Democratic Socialists believe that all human beings have the right to sustenance, housing, clean water, healthcare, education, and child care, and that the government should ensure these things are accessible to all US citizens. This would likely mean significantly more spending on social welfare programs and expansion of government housing, which would inevitably require higher taxes. Of course, with the implementation of the other pillars of Democratic Socialism, more people would have a better chance of reaching this minimum quality of life even without an expansion of welfare programs.

Importantly, healthcare is an essential part of this equation in the eyes of Democratic Socialists. They don't merely believe in "medicare for all" health care system, but also that medical facilities should be publicly run and doctors publicly employed.
Grass Roots Means of Achieving Power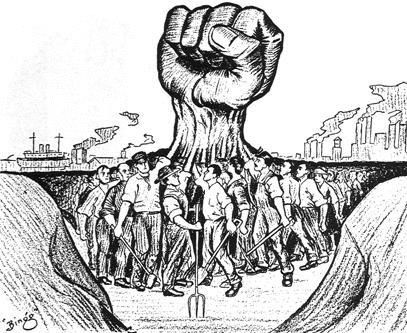 As mentioned before, the welfare of the community is important to Democratic Socialists, meaning that the election of the individual is also seen as having the tendency to play into the patterns of the centralization of power. A traditional Democratic Socialist would likely reject the concept of election altogether, instead opting for grass roots organization and mass mobilization. But as shown by AOC and all the other Democratic Socialist candidates elected this year, most who ascribe to these beliefs recognize that it's necessary to participate in the democracy in order to insight change, but still maintain that true change and empowerment comes from the mass mobilization of the people.
There has been a lot of recent buzz about the idea of a "wealth tax" in the United States, particularly since Rep. Alexandria Ocasio-Cortez of New York appeared on "60 Minutes" and laid out a plan that would tax the richest Americans at a rate as high as 70%, nearly doubling the current 37% top rate. Additionally, 2020 Democratic Presidental candidate and Massachusetts senator, Elizabeth Warren, is reportedly working with UC Berkeley economists Emmanuel Saez and Gabriel Zucman to design a proposal to levy a wealth tax on Americans with fortunes over $50 million. While these numbers may seem difficult to grasp, the kinds of wealth taxes democrats are proposing are not only not as extreme as they sound, but already practiced successfully in other parts of the world.
Firstly, it's important to keep in mind that America operates on a progressive tax system, meaning, as Business Insider puts it, "as a person earns more and progresses through tax brackets, their tax rate increases for each level of income." So while many people balked at the idea of a 70% flat tax rate, Ocasio-Cortez clarified "Once you get to the tippy-tops, on your 10 millionth dollar, sometimes you see tax rates as high as 60% or 70%," she said. "That doesn't mean all $10 million are taxed at an extremely high rate. But it means that as you climb up this ladder, you should be contributing more." Essentially, the rich would not suddenly be destitute under this proposed plan; they would merely have to contribute an increasing amount as their fortune grew. So it wouldn't be the entirety of their $10 million fortune that would be taxed at 70%, but their 10 millionth dollar. While under Warren's proposal, the US would adopt a progressive wealth tax that would levy a 2 percent tax on fortunes worth more than $50 million, and a 3 percent tax on fortunes worth more than $1 billion, meaning billionaires would contribute amounts that are negligible in the context of their total fortune.

This would be similar to France's wealth tax policy, which is triggered at €1.3 million, but only the first €800,000 of this amount is tax free, and taxpayers pay between 0.5% and 1.5% on anything over this each year. This tax has worked successfully in France, despite it being applied to significantly lower amounts of wealth than Elizabeth Warren is proposing. Meanwhile, in Denmark, the highest tax bracket sees about 15% taxation, and citizens report great satisfaction in terms of quality of life and government services. In summary, wealth taxes are a simple and effective way to ensure that wealth does not become too heavily monopolized by a few people, while also ensuring that the poorest people are taken care of by the state.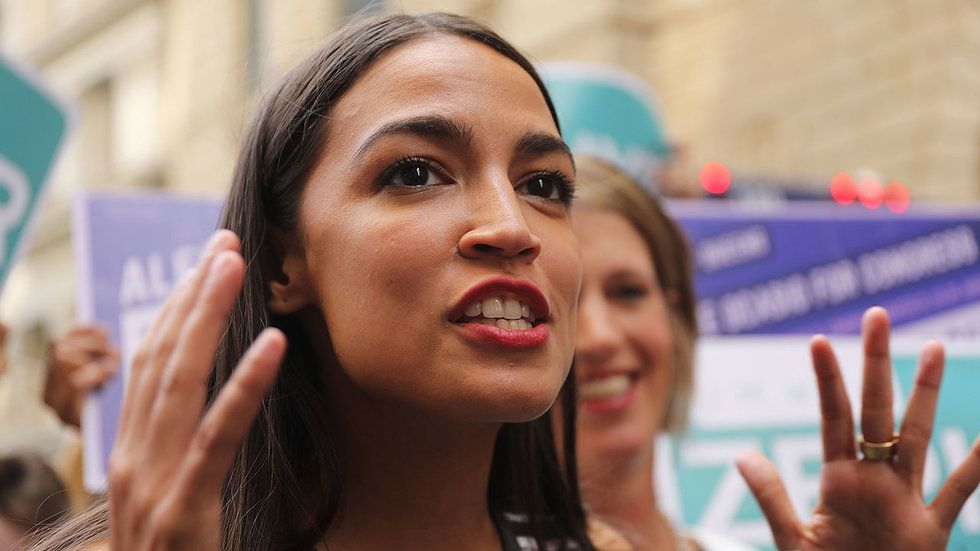 But some don't see it that way, with many on the right reacting strongly to suggestions of an American wealth tax. House Republican whip Steve Scalise called Ocasio-Cortez's idea a "leftist fantasy program," while more moderate voices didn't react quite as strongly, but still suggested that while income tax laws definitely need to be reformed, a wealth tax is not the way to do it.

But to truly understand the argument, one has to compare what a wealth tax would mean to a real life billionaire, vs. what it would mean for the country. For example, with Warren's plan, only an approximate 75,000 families would be minorly affected, but the United States would earn an additional $2.75 trillion over a 10-year period. If you take the $57 billion fortune of Mark Zuckerberg, and apply this tax idea, he would only be taxed $1.7 billion, and then close to $0 in the following years if his fortune didn't continue to accumulate. For him, $1.7 billion is a small number that would in no way affect his quality of life. But if you think of the social services that would benefit from that $1.7 billion, you would undoubtedly see widespread effects improving the lives of the poorest Americans, making it difficult to argue that an American wealth tax would do anything but help the state of the nation.
Federal land is diminishing at a frightening pace under Trump.
Much of Alaska has long been protected from oil drilling by laws intended to preserve the natural beauty of one of America's least populous states. But for as long as people have fought to keep parts of Alaska free from human interference, others have fought to profit from the land. Now, the Arctic National Wildlife Refuge is under threat of oil drilling. Unfortunately for the protected land, a GOP tax law passed by Congress a year ago and introduced by Sen. Lisa Murkowski (R-Alaska) requires the Secretary of the Interior "to approve at least two lease sales for drilling — each covering no less than 400,000 acres."
Ryan Zinke, the outgoing interior secretary, has openly lauded the development, saying, "An energy-dominant America starts with an energy-dominant Alaska, and among the scores of accomplishments we have had at Interior under President Donald J. Trump, taking these steps toward opening the 1002 section of Alaska's North Slope stands out among the most impactful toward bolstering America's economic strength and security."

This move is in line with other initiatives by the Trump administration to alter Obama era regulations and expand fossil-fuel acquisition all over the country. According to The Chicago Tribune, the interior is also "trying to scrap wildlife management plans for the Mojave Desert in California and for sagebrush habitat through much of the rest of the western United States."

Mark Salvo, vice president of landscape conservation at the Defenders of Wildlife, emphasized how reckless these decisions are. "These are examples of the Trump administration stealing defeat from the jaws of victory," he said. "These plans took years to produce and tens of millions of dollars of taxpayer resources to arrive at these carefully crafted compromises to conserve public lands."
Trump is far and away the US President who has most significantly shrunk the size of protected land, notably reducing Bear Ears National Monument by 85% — a loss of 1.1 million acres. This was a part of a major push in 2017 by interior secretary Ryan Zinke to shrink the size of 10 different areas of federal land or open them up to things like oil drilling, lumber farming, and commercial fishing.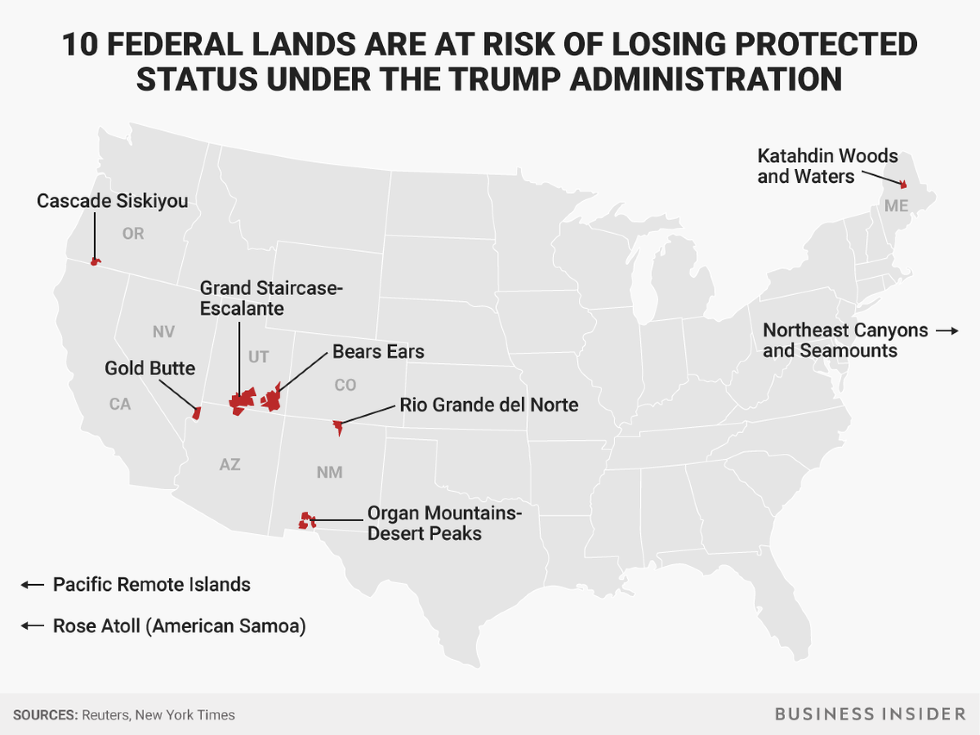 So just how much protected land have we lost under Trump? According to a study conducted by the Wilderness Society — a not-for-profit organization advocating for the protection of public lands — shared with The Guardian, the tally is as follows:

"13.6m acres onshore have been made available for leasing by the Trump administration, far more than in any two-year period under the Obama administration."
"More than 153m acres of ecologically sensitive habitats – from the California desert to the Arctic national wildlife refuge – have seen conservation protections rolled back in some form."
"More than 280m acres have been made available for offshore leasing in the Gulf of Mexico and along nearly 90% of the US coastline."
Cumulatively, that is approximately 433 million acres of land that is no longer protected under US law. What this will mean for the ecosystems and tourism that exists in these places remains to be seen.
Trump threatens to close the border completely, despite having no authority to do so.
On Sunday, a group of Mexican migrants reportedly rushed the San Ysidro border crossing near San Diego, drawing tear gas from Border Patrollers. Consequently, the crossing was closed for several hours. Homeland Security Secretary Kirstjen Nielsen later said the closing of the border was "to ensure public safety in response to large numbers of migrants seeking to enter the U.S. illegally." According to the Washington Post, "At least two dozen tear gas canisters could be seen on the Mexican side of the border after the migrants eventually turned back."
Images from the incident, shot by Reuters photographer Kim Kyung-Hoon and showing young children fleeing the tear gas in obvious distress, have elicited outrage across the country. The photos also appear to contradict Republican propaganda claiming the migrant caravan was full of criminals.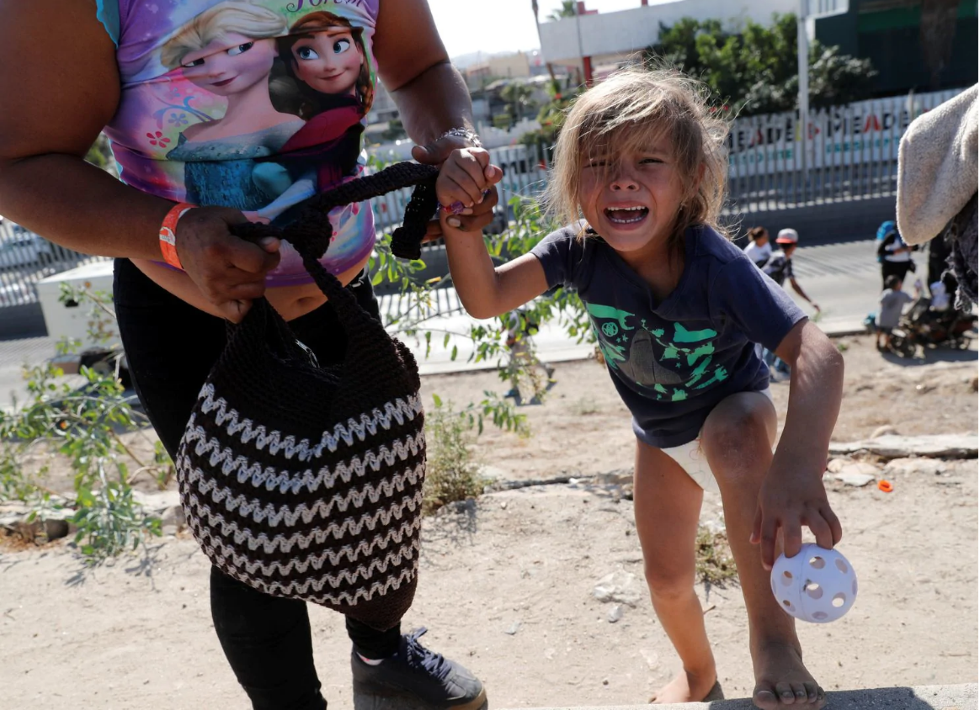 Kim Kyung-Hoon/Reuters
Senator Brian Schatz, D-Hawaii, condemned the extreme measures taken by border patrol, tweeting:

Gavin Newsom, the Democratic governor-elect from California, echoed this sentiment, saying:
On Monday, President Trump addressed the border closing by threatening to close the border permanently and calling for the deportation of the tear gassed migrants.
Despite this inflammatory claim, there are no legal provisions that would allow Trump to close the border in its entirety. Additionally, by law, asylum seekers must be allowed to present their case to a U.S. judge if they're able to cross the border. This means that the migrants who were tear-gassed on Sunday were not there illegally at all, and U.S. officials are required by law to consider their claim before deporting them back to Mexico. Yale Law School's Harold Hongju Koh, former legal adviser to the State Department, said that what Trump does not understand "is that everyone crossing our Southern border is not illegally present. Those with valid asylum claims have a legal right to assert those claims and remain."

But as the number of migrants waiting at the border grows and as Trump's anti-immigration policies and rhetoric cause longer and longer delays in the hearing of these cases, illegal immigration actually becomes more likely, not less. Wayne Cornelius, professor at the University of California, San Diego and expert on the border, told the New York Times, "The longer the caravaners stay in Tijuana, the more likely they are to succumb to the temptation to cross illegally into the U.S." So the Trump administration's anti-immigration stance is not only perpetuating a false impression that immigrants at the border are breaking the law, but also making the illegal immigration they're supposedly so opposed to more likely than ever.
Now, Trump is reportedly working with the Mexican government to add further peril and hardship to the journeys of these migrants. Trump tweeted on Saturday:
This provision, which the new Mexican government is reportedly agreeable to, would further violate asylum laws, which state that the United States must ensure that individuals waiting for asylum are safe not only from a hostile government, but from gangs and other threats. It would be nearly impossible for America to ensure asylum seekers this kind of protection while they're still in Mexico, and it would undoubtedly require a massive allocation of resources to do so. The American Civil Liberties Union immigration attorney Lee Gelernt told the Washington Post on Sunday night, "We believe it would be impossible for the U.S." to ensure asylum seekers safety while still in Mexico.
The truth of the matter is that these migrants are not the villains Trump has made them out to be, as they're merely seeking a better life for themselves and their families. Andrés Medina, 22, who left Honduras to escape gang recruitment and was a part of the group that rushed the crossing, said, "We've got to try one more time, we don't even have weapons." He added, "We just wanted to cross."
Brooke Ivey Johnson is a Brooklyn based writer, playwright, and human woman. To read more of her work visit her blog or follow her twitter @BrookeIJohnson.
Many British politicians are calling for vote of no confidence.
Yesterday, Prime Minister Theresa May announced that her administration has come up with a 585-page draft agreement that will form the basis for the UK's exit from the EU. She is now facing backlash in response to the draft. Among the objections are concerns over the apparent lack of clear guidelines as to whether UK citizens will be able to work and live in the EU, the state of the Irish border under the new deal, and that the UK will pay at least £39bn to the EU to cover all its financial obligations once the deal is agreed upon. May has critics on both sides of the aisle, and those who think the UK needs to make a hard Brexit fear "an agreement on the EU-UK land border will tie the country to the EU's customs union and parts of the single trade market."
In response to the deal, big name ministers have resigned from the cabinet, including Brexit Secretary Dominic Raab, who says he quit over "fatal flaws" in the agreement. Work and Pensions Secretary Esther McVey has also resigned, saying the Brexit deal "does not honor" the result of the referendum where a majority of Brits voted to leave the EU. Junior ministers Suella Braverman and Shailesh Vara quit the cabinet in protestation as well.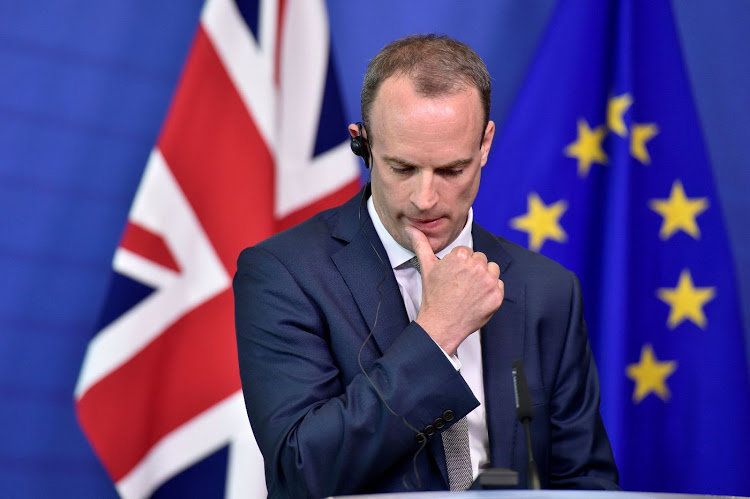 Dominic RaabBusiness Day
Now, May might face a vote of no confidence from the House of Commons, a measure that, if successful, would remove her from power. For the motion to proceed, 48 Conservative MPs—that's 15% of May's own party—must write letters of no confidence. May would then be replaced by someone of her party's choosing. However, if a new MP is not chosen within a period of 14 days after the vote, parliament would be dissolved and a General Election is triggered.

The leader of the labor party, Jeremy Corbyn, is also hoping for a vote of no confidence. In a party-wide email, he wrote, "After two years of bungled negotiations, the government has produced a botched deal that breaches the prime minister's own red lines, does not meet our six tests, and will leave the country in an indefinite halfway house without a real say." He went on to say, "If parliament votes down this shambolic Tory deal—as seems likely—this will represent a loss of confidence in the government. In those circumstances, the best outcome for the country is an immediate general election that can sweep the Tories from power and deliver the Labour government this country desperately needs."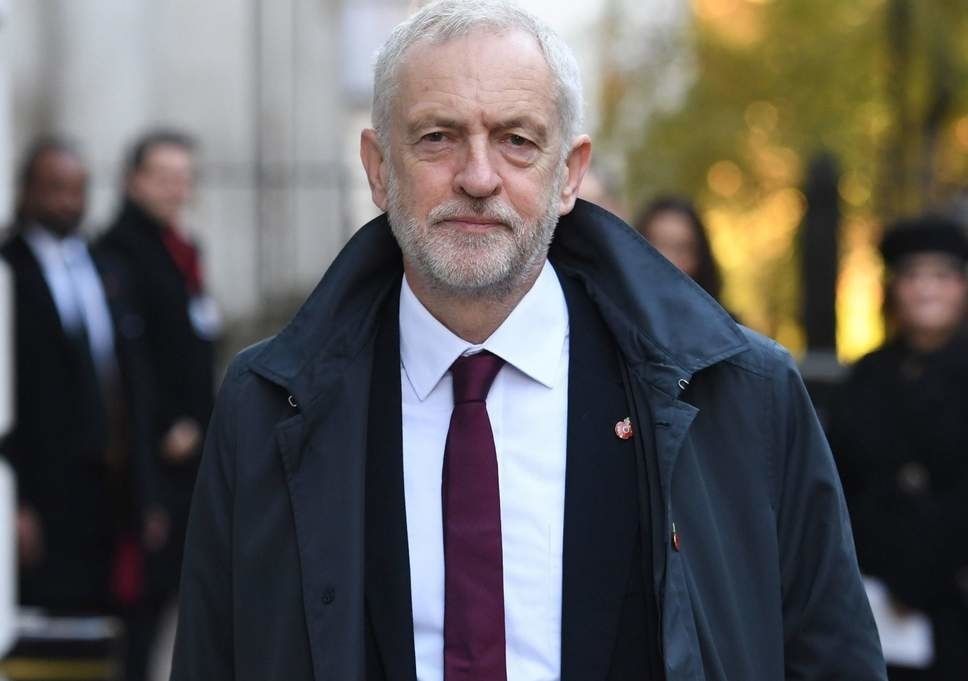 Jeremy CorbynThe Independent
At a press conference on Thursday, May stood by the deal, saying she "believes with every fiber of my being" that the Brexit deal is the right choice. She went on to say that, "Leadership is about taking the right decisions, not the easy ones. As Prime Minister, my job is to bring back a deal that delivers on the vote of the British people. Do I believe this is a deal which does deliver that, which is in the national interest and am I going to see this through? Yes."

The Senator tweeted an awkward sports analogy about the Florida election recounts.
Like a dorky but enthusiastic Dad trying to connect with a teenage son he doesn't understand, Marco Rubio made an epicly bad sports analogy in a tweet about the vote recount in Florida.
He was consequently mocked by twitter users for calling a field goal "a three point kick," earning a number of responses that questioned the Senator's sports knowledge and the logic of the intended metaphor.

In response, Rubio whined about the ridicule, somehow managing to go even further into the hole of lameness he dug for himself, essentially saying, "Haha no guys seriously I know about sport I love sport let's toss the ole pigskin haha go Dolphins!"

Of course, this is not the first time Rubio has embarrassed himself in the realm of sports. How can any of us forget the iconic moment in his 2016 presidential campaign when he nailed a child in the face with a football?

Maybe if you stop trying so hard be athletic, Marco, you won't need to be so disciplined about hydration.
Marco Rubio Pauses Speech for Water Break www.youtube.com
Brooke Ivey Johnson is a Brooklyn based writer, playwright, and human woman. To read more of her work visit her blog or follow her twitter @BrookeIJohnson.
Rick Scott and President Trump baselessly claim a conspiracy by Hillary Clinton's lawyers.
Tensions are rising in Florida as Sen. Bill Nelson's re-election bid is likely headed for a hand recount. The incumbent Democrat now trails Florida Gov. Rick Scott by just 17,000 votes, easily within the .25% margin required for a hand recount. On November 6th, it looked as though Scott had won a narrow victory over Nelson, but untallied ballots have since trickled in from traditionally blue Broward and Palm Beach counties and called the election results into question.
Of course, Republicans have found a way to blame this new development on Hillary Clinton, claiming that her lawyers are involved in a far reaching conspiracy to claim Florida's senate seat for the Democrats. Rick Scott held a news conference Thursday evening calling for the Florida Department of Law Enforcement to investigate the validity of the ballots in Broward and Palm Beach counties, and claimed he filed a lawsuit against top election officials in each county.
"I will not sit idly by while unethical liberals try to steal this election from the great people of Florida," Scott said. "Their goal is to keep mysteriously finding votes until the election turns out the way they want... left-wing activists have been coming up with more and more ballots out of nowhere."
Despite this strong rhetoric, Scott presented no evidence that anything unlawful actually occurred. Characteristically, President Trump soon weighed in with a tweet:

Then, Trump's personal attorney, Rudy Giulliani contributed his thoughts on the matter:
On Friday, Trump told reporters during a news conference that Fusion GPS plotted to steal the election in Florida. "Then you see the people, and they were involved with that fraud of the fake dossier, the phony dossier, and I guess I hear they were somehow involved or worked with the GPS Fusion [sic] people, who have committed — I mean you look at what they done, you look at the dishonesty," Trump went on to say, "Look, look — there's bad things have gone on in Broward County, really bad things ... I say this — [Scott] easily won, but every hour it seems to be going down. I think people have to look at it very very cautiously."

A member of Bill Nelson's team, Dan McLaughlin, said in an official statement that "the goal here is to see that all the votes in Florida are counted and counted accurately," going on to say that Scott's call for a criminal investigation "appears to be politically motivated and borne out of desperation."
Indeed, there's no valid legal claim that votes cast in a county that counts votes more slowly shouldn't be counted, and no evidence whatsoever that the issues with vote tabulation in Broward and Palm Beach counties are in any way due to Democrat interference.
Brooke Ivey Johnson is a Brooklyn based writer, playwright, and human woman. To read more of her work visit her blog or follow her twitter @BrookeIJohnson.
The 85-year-old Supreme Court Justice fell in her office on Wednesday night.
According to a statement from the Supreme Court, Justice Ruth Bader Ginsburg fell in her office Wednesday night and fractured three ribs. Initially, the Justice thought all was well following the fall and went home. After experiencing pain throughout Wednesday night, however, she was admitted to George Washington University Hospital Thursday morning.
Her stay at the hospital meant that Ginsburg was not present for Thursday's investiture of Trump-appointed Justice Brett Kavanaugh, an event that reportedly drew crowds in protest.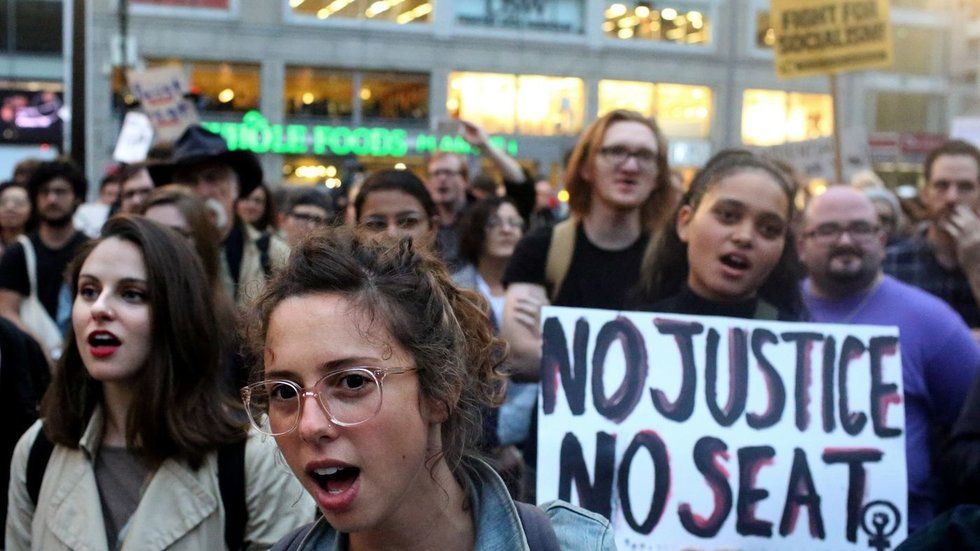 LA Times
Since her appointment to the court in 1993, Ginsburg has become a pop culture icon, praised by progressives for her liberal influence. In particular, Ginsburg is seen as an opponent of President Trump, whom she called "a faker" in 2016. Since the replacement of Justice Anthony M. Kennedy by conservative Justice Brett Kavanaugh, progressives have been particularly concerned as to the state of Ginsburg's health, fearing that her age may force her to retire before Trump's tenure ends, allowing him to put another conservative Justice on the bench.
The next sitting of the Supreme Court begins Nov. 26, and given Justice Ginsburg's history of attending work despite health issues, her fractured ribs are unlikely to hinder her participation. She broke two ribs in 2012 and returned to work the next day. In November 2014, she underwent a heart procedure; in 2009, she was treated for early stages of pancreatic cancer and returned to work three weeks later.
In July, the Justice stated that she hopes to stay on the bench for the duration of Trump's term. "I'm now 85," Ginsburg said. "My senior colleague, Justice John Paul Stevens, he stepped down when he was 90, so think I have about at least five more years."

Brooke Ivey Johnson is a Brooklyn based writer, playwright, and human woman. To read more of her work visit her
blog
or follow her twitter
@BrookeIJohnson
.
It was an election night of firsts.
While the midterm elections didn't bring the overwhelming blue wave Democrats had hoped for, they managed to win an important moral victory, electing several representatives from demographics that had never before been represented in Congress.
In the 2018 midterms, the U.S. elected its first Muslim congresswomen, Ilhan Omar of Minnesota and Rashida Tlaib of Michigan, both Democrats. Kansas and New Mexico elected the nation's first Native American women to join congress, Democrats Deb Haaland (KS) and Sharice Davids (NM). South Dakota and Maine elected their first female governors, Tennessee and Arizona sent women to the Senate for the first time, and Massachusetts and Connecticut elected their first-ever black women to the House. These milestones are joined by America's first lesbian mom in congress (Angie Craig, Minnesota), the first openly gay man elected as a state's governor (Jared Polis, Colorado), and the youngest woman ever elected to Congress, twenty-nine-year-old Democrat Alexandria Ocasio-Cortez (NY).
As NPR reports, "record numbers of Native Americans, Muslim Americans and women, including many women of color, ran for office in 2018. A 'rainbow wave' of LGBTQ candidates also sought office. And after the ballots were cast, all those groups notched notable firsts."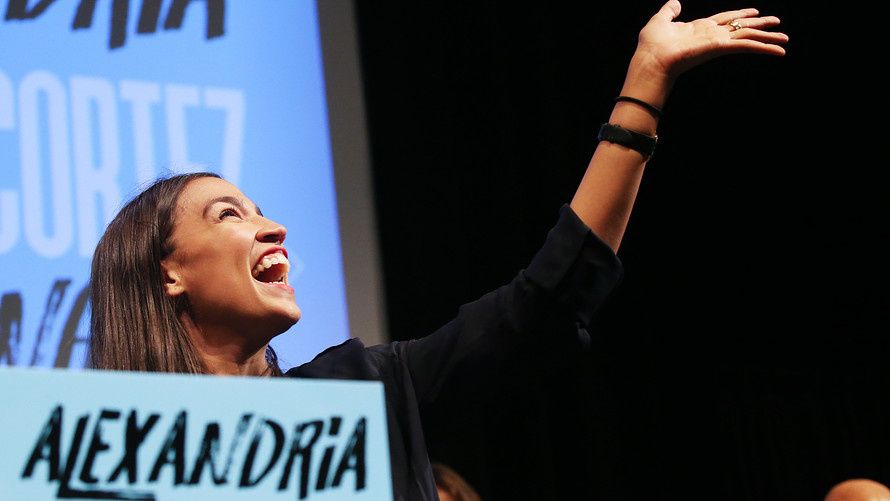 Alexandria Ocasio-CortezMarketWatch
These candidates can likely thank a record turnout by women and young people for their victories. The polls found that voters under 30 favored Democrats by a 35-point margin over Republicans, compared with an 11-point margin in 2014, and women chose the Democratic Party by 19 points — the largest margin in the history of US midterms — compared with their margin of four points in 2014, according to network exit surveys from CNN.
Despite these Democratic victories, Trump can take comfort in the fact that Republicans managed to retain control of the Senate, exposing an America deeply divided. As CNN points out, the midterm results "underscored a political and cultural gulf among diverse and affluent liberals living in big cities and their suburbs and the mostly, white, working class and rural conservative bloc of voters for whom Trump remains an iconic figure." The midterm elections proved that the extreme polarization of political leanings, to which many attribute Trump's 2016 election, are still alive and well in America.
But even with consistent support from his base, this new influx of progressives to Washington spells bad news for the Trump administration, as Democrats are prepared to closely scrutinize Trump's policies on immigration, education, and healthcare. But progressive leaders have also made it clear that they don't plan to immediately pursue impeachment, as former House Majority leader Nancy Pelosi said that a call for impeachment "would have to be bipartisan, and the evidence would have to be so conclusive."
Despite this, Trump has already begun threatening Democrats with retaliation if they move to investigate him, tweeting:
If the Democrats think they are going to waste Taxpayer Money investigating us at the House level, then we will likewise be forced to consider investigating them for all of the leaks of Classified Information, and much else, at the Senate level. Two can play that game!
— Donald J. Trump (@realDonaldTrump) November 7, 2018
Senate Majority Leader Mitch McConnell (R-Ky.) has also picked up this defensive tune, telling reporters Wednesday morning that he cautioned Democrats against engaging in "presidential harassment."

In response, Democratic Rep. Jerrold Nadler, the likely leader of the House Judiciary Committee, cautioned Republicans that the election was about accountability for Trump. "He's going to learn that he's not above the law," Nadler said.
Brooke Ivey Johnson is a Brooklyn based writer, playwright, and human woman. To read more of her work visit her blog or follow her twitter @BrookeIJohnson.