"A tree is best measured when it is down," the poet Carl Sandburg once observed, "and so it is with people." The recent death of Harry Belafonte at the age of 96 has prompted many assessments of what this pioneering singer-actor-activist accomplished in a long and fruitful life.
Belafonte's career as a ground-breaking entertainer brought him substantial wealth and fame; according to Playbill magazine, "By 1959, he was the highest paid Black entertainer in the industry, appearing in raucously successful engagements in Las Vegas, New York, and Los Angeles." He scored on Broadway, winning a 1954 Tony for Best Featured Actor in a Musical – John Murray Anderson's Almanac. Belafonte was the first Black person to win the prestigious award. A 1960 television special, "Tonight with Belafonte," brought him an Emmy for Outstanding Performance in a Variety or Musical Program or Series, making him the first Black person to win that award. He found equal success in the recording studio, bringing Calypso music to the masses via such hits as "Day-O (The Banana Boat Song)" and "Jamaica Farewell."
Harry Belafonte - Day-O (The Banana Boat Song) (Live)www.youtube.com
Belafonte's blockbuster stardom is all the more remarkable for happening in a world plagued by virulent systemic racism. Though he never stopped performing, by the early 1960s he'd shifted his energies to the nascent Civil Right movement. He was a friend and adviser to the Reverend Doctor Martin Luther King, Jr. and, as the New York Times stated, Belafonte "put up much of the seed money to help start the Student Nonviolent Coordinating Committee and was one of the principal fund-raisers for that organization and Dr. King's Southern Christian Leadership Conference."
The Southern Poverty Law Center notes that "he helped launch one of Mississippi's first voter registration drives and provided funding for the Freedom Riders. His activism extended beyond the U.S. as he fought against apartheid alongside Nelson Mandela and Miriam Makeba, campaigned for Mandela's release from prison, and advocated for famine relief in Africa." And in 1987, he received an appointment to UNICEF as a goodwill ambassador.
Over a career spanning more than seventy years, Belafonte brought joy to millions of people. He also did something that is, perhaps, even greater: he fostered the hope that a better world for all could be created. And, by his example, demonstrated how we might go about bringing that world into existence.
ENVIRONMENT
Surprise Discovery: Bacteria Has Evolved to Eat Plastic
Scientists have accidentally boosted the enzyme that's breaking down ocean plastic—and that's a huge step.
In the Pacific Ocean, at least 79,000 metric tons of plastic waste are floating across an area exceeding 1.5 million square kilometers. The latest measurements of the Great Pacific Garbage Patch revealed that it's constantly growing and that its accumulation of plastic is accelerating. Also increasing is the world's plastic consumption. We use over 320 million metric tons annually, the majority of which ends up in our oceans. This decade saw more plastic produced than any other in history. Since 1992, China has been importing nearly half of the planet's plastic waste for recycling. But starting this year, the country is refusing all nonindustrial plastics and limiting imports of paper waste. Suddenly, this recyclable material is falling into landfills because recycling plants can't keep up.
Researchers estimate that after China's ban, 111 million metric tons of plastic waste will have to find room elsewhere. Too much of that plastic (as much as a third) will likely end up in our oceans.

Good news came in February, when Japanese scientists announced that they had discovered the first species of bacteria that break down polyethylene terephthalate (PET). Commonly called polyester, PET is one of the most commonly used plastics and makes up a significant amount of the pollution in rivers, lakes and oceans. The bacteria, called Ideonella Sakaiensis 201-F6, contains enzymes that can break down the molecular bonds of PET in under six weeks.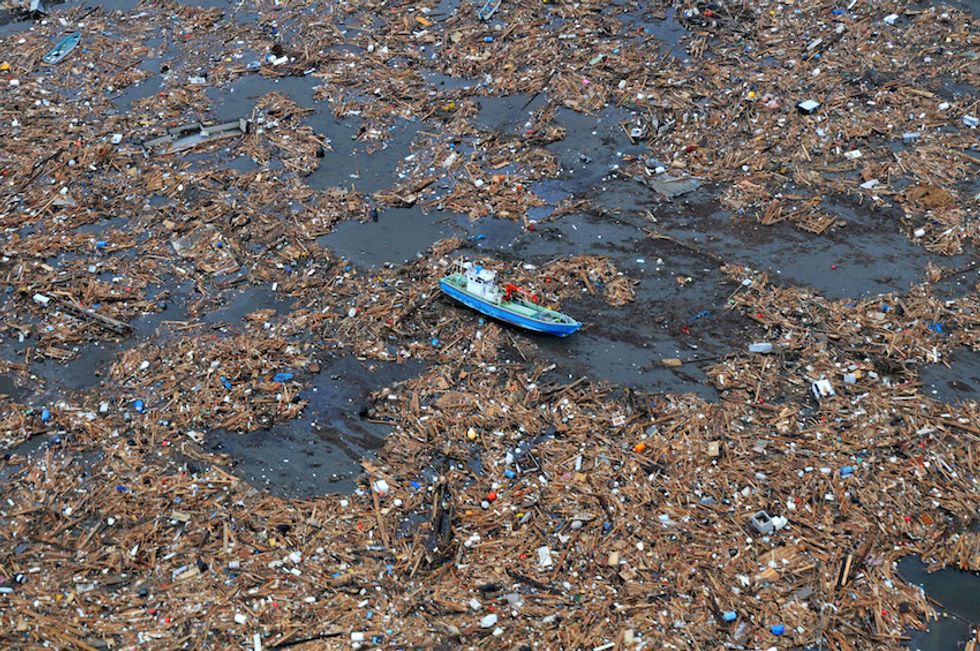 The Great Pacific Garbage Patch
It appears that the bacteria evolved their "appetite" for PET as global pollution increased over the past century. But, as the scientists investigated the bacteria's biological processes, a lucky accident unveiled the organisms' greater potential.

They had experimented on the plastic-eating enzyme to study its evolution. Subsequent testing showed the surprising result of their adjustments: they had made the enzyme even better at breaking PET's molecular bonds.
This astonishing discovery points directly to large-scale uses of this enzyme in reducing plastic pollution around the world. When the modified enzyme breaks down the PET, it reverts the plastic to its base components. Unlike standard recycling, which can only reuse the plastic in limited ways, such as clothing or bags, the enzyme's process could allow broken down PET to become new PET, turning plastic waste back into new plastic.
Plastics are made from feedstocks derived from natural gas processing and crude oil refining. If the enzyme can successfully break down plastic into its original parts on a large scale, it will simultaneously reduce the amount of plastic polluting the oceans and reduce the amount of fossil fuels used to produce new plastic. It would be a step toward true recycling, where the recycled material contributes no waste to landfills.
The researchers only made a 20% improvement to the efficiency of the enzyme but the "only," in this measurement, is optimistic. Their goal is to optimize its performance even further, until its widespread use is practical and effective. They have even considered inserting this enzyme into other super-resilient bacteria that can survive in extremely harsh conditions.
Scientists continue to search for other strains of bacteria and fungi that have evolved similar skills. Enzymes are an ideal agent for plastic breakdown because they have no environmental side effects. This discovery opens another source of hope to a world facing increasingly dire warnings and little help from its governments. Perhaps nature has, once again, found its own solution in the absence of human innovation. And, perhaps, this bacteria offers exactly the creative spark that human scientists need to design their own long-term solutions.