"A tree is best measured when it is down," the poet Carl Sandburg once observed, "and so it is with people." The recent death of Harry Belafonte at the age of 96 has prompted many assessments of what this pioneering singer-actor-activist accomplished in a long and fruitful life.
Belafonte's career as a ground-breaking entertainer brought him substantial wealth and fame; according to Playbill magazine, "By 1959, he was the highest paid Black entertainer in the industry, appearing in raucously successful engagements in Las Vegas, New York, and Los Angeles." He scored on Broadway, winning a 1954 Tony for Best Featured Actor in a Musical – John Murray Anderson's Almanac. Belafonte was the first Black person to win the prestigious award. A 1960 television special, "Tonight with Belafonte," brought him an Emmy for Outstanding Performance in a Variety or Musical Program or Series, making him the first Black person to win that award. He found equal success in the recording studio, bringing Calypso music to the masses via such hits as "Day-O (The Banana Boat Song)" and "Jamaica Farewell."
Harry Belafonte - Day-O (The Banana Boat Song) (Live)www.youtube.com
Belafonte's blockbuster stardom is all the more remarkable for happening in a world plagued by virulent systemic racism. Though he never stopped performing, by the early 1960s he'd shifted his energies to the nascent Civil Right movement. He was a friend and adviser to the Reverend Doctor Martin Luther King, Jr. and, as the New York Times stated, Belafonte "put up much of the seed money to help start the Student Nonviolent Coordinating Committee and was one of the principal fund-raisers for that organization and Dr. King's Southern Christian Leadership Conference."
The Southern Poverty Law Center notes that "he helped launch one of Mississippi's first voter registration drives and provided funding for the Freedom Riders. His activism extended beyond the U.S. as he fought against apartheid alongside Nelson Mandela and Miriam Makeba, campaigned for Mandela's release from prison, and advocated for famine relief in Africa." And in 1987, he received an appointment to UNICEF as a goodwill ambassador.
Over a career spanning more than seventy years, Belafonte brought joy to millions of people. He also did something that is, perhaps, even greater: he fostered the hope that a better world for all could be created. And, by his example, demonstrated how we might go about bringing that world into existence.
Scientists have accidentally boosted the enzyme that's breaking down ocean plastic—and that's a huge step.
In the Pacific Ocean, at least 79,000 metric tons of plastic waste are floating across an area exceeding 1.5 million square kilometers. The latest measurements of the Great Pacific Garbage Patch revealed that it's constantly growing and that its accumulation of plastic is accelerating. Also increasing is the world's plastic consumption. We use over 320 million metric tons annually, the majority of which ends up in our oceans. This decade saw more plastic produced than any other in history. Since 1992, China has been importing nearly half of the planet's plastic waste for recycling. But starting this year, the country is refusing all nonindustrial plastics and limiting imports of paper waste. Suddenly, this recyclable material is falling into landfills because recycling plants can't keep up.
Researchers estimate that after China's ban, 111 million metric tons of plastic waste will have to find room elsewhere. Too much of that plastic (as much as a third) will likely end up in our oceans.

Good news came in February, when Japanese scientists announced that they had discovered the first species of bacteria that break down polyethylene terephthalate (PET). Commonly called polyester, PET is one of the most commonly used plastics and makes up a significant amount of the pollution in rivers, lakes and oceans. The bacteria, called Ideonella Sakaiensis 201-F6, contains enzymes that can break down the molecular bonds of PET in under six weeks.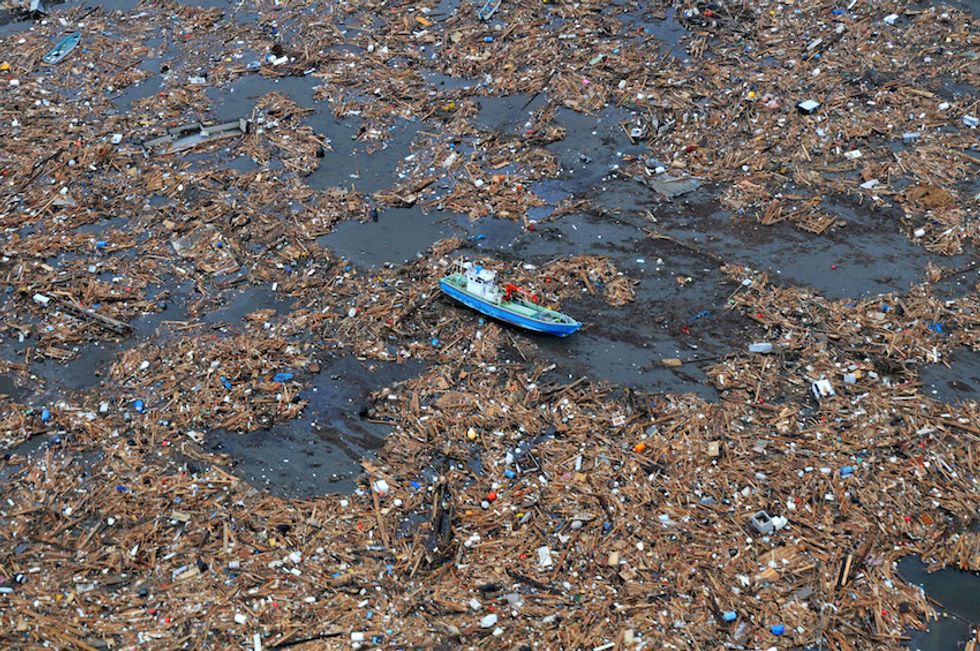 The Great Pacific Garbage Patch
It appears that the bacteria evolved their "appetite" for PET as global pollution increased over the past century. But, as the scientists investigated the bacteria's biological processes, a lucky accident unveiled the organisms' greater potential.

They had experimented on the plastic-eating enzyme to study its evolution. Subsequent testing showed the surprising result of their adjustments: they had made the enzyme even better at breaking PET's molecular bonds.
This astonishing discovery points directly to large-scale uses of this enzyme in reducing plastic pollution around the world. When the modified enzyme breaks down the PET, it reverts the plastic to its base components. Unlike standard recycling, which can only reuse the plastic in limited ways, such as clothing or bags, the enzyme's process could allow broken down PET to become new PET, turning plastic waste back into new plastic.
Plastics are made from feedstocks derived from natural gas processing and crude oil refining. If the enzyme can successfully break down plastic into its original parts on a large scale, it will simultaneously reduce the amount of plastic polluting the oceans and reduce the amount of fossil fuels used to produce new plastic. It would be a step toward true recycling, where the recycled material contributes no waste to landfills.
The researchers only made a 20% improvement to the efficiency of the enzyme but the "only," in this measurement, is optimistic. Their goal is to optimize its performance even further, until its widespread use is practical and effective. They have even considered inserting this enzyme into other super-resilient bacteria that can survive in extremely harsh conditions.
Scientists continue to search for other strains of bacteria and fungi that have evolved similar skills. Enzymes are an ideal agent for plastic breakdown because they have no environmental side effects. This discovery opens another source of hope to a world facing increasingly dire warnings and little help from its governments. Perhaps nature has, once again, found its own solution in the absence of human innovation. And, perhaps, this bacteria offers exactly the creative spark that human scientists need to design their own long-term solutions.
Farmers and scientists want to use the dirt beneath our feet to save the air above our heads
The headlining culprit in climate change warnings is the collection of greenhouse gases entering the atmosphere that come burning fossil fuels. You might be surprised, then, to learn that agriculture's effect on the health of the Earth's safety blanket is nearly as large as that of greenhouse gases. Clearing forests for farmland, tilling fields, raising livestock and spraying herbicides and pesticides—all of these practices contribute to the rising CO2 levels in the air. Now, new studies have started to point to compost as a tool for improving farming practices and reducing agriculture's effects on the environment.
Photosynthesis is the basis of agriculture and all of the plant life on Earth. Through this process, plants pull carbon from the atmosphere, combine it with hydrogen atoms from water and create energy, releasing oxygen as a byproduct. This elementary-school concept—plants subtract carbon from the air and add oxygen—created the human-friendly atmosphere that we breathe and grows the food supply for every herbivore and omnivore on the planet. But the focus of some scientists is shifting from the way plants remove carbon from the air to how they store it.
While governments around the world struggle to regulate the creation of new greenhouse gases, researchers and farmers hope to bury the carbon that already exists deep in the ground. The pedosphere is the layer of soil on top of the Earth's crust. Soil naturally absorbs carbon through the roots of plants but popular farming practices reduce its ability to do this by removing naturally occurring species of grasses and altering the state of the soil. The question arising is: can a change in farming techniques to focus on soil health help soil store more carbon and store it longer?
The destruction of forests and wetlands (for farmland and livestock) and the careless use of soil has released 135 billion metric tons of carbon into the atmosphere since the beginning of the industrial revolution. The future extraction of carbon from the atmosphere will be expensive and difficult. Keeping carbon in the soil instead of letting it escape into the air is an immediate solution to the greenhouse problem.
Compost might be the key to doing this.
The New York Times Magazine recently profiled two farmers who are helping to spearhead the practice and offer their ranch to researchers. Peggy Rathmann and John Wick grow 2,000+ acres of crops on their ranch in Marin County, California. Originally, Wick worked to keep out the neighbor's cows who had been eating his grass. But soon, the land and plant life where they'd formerly grazed suffered and smothered itself. He brought back cows—but this time with supplies to keep them on his land—and, by the end of their spring and summer on the ranch, the cows weighed, collectively, 50,000 pounds more than when they'd come. The symbiotic relationship between the cows and grass renewed, the plant life rebounded and the cows became healthier. This extremely positive result cannot be assumed to be typical at this early stage in the research but it is a telling example of the power of soil in agriculture and climate science.
Scientists, encouraged by this result, tested the carbon content of soil from a variety of places and uses. They found that the soil that best stored carbon was beneath dairy farms—even former ones—where the farmers sprayed manure onto the fields. Manure, however, releases gases such as methane and nitrous oxide, which are more powerful greenhouse gases than CO2. So the positive effects on the soil would be canceled out by the gases coming from the manure. The solution is compost.
Compost—which is, mostly, decayed organic matter—absorbs the nitrogen atoms into complex molecules, preventing them from escaping in gases. It turns out, treating soil with compost has benefits directly resulting from the added carbon.
Carbon farming is the term used to describe scientists' efforts to better store carbon in the soil. Carbon farming could improve fertility, increase the soil's water retention and make crops more resilient. There are financial benefits, too: by moving the focus away from herbicides, tilling and expensive, fortified seeds and toward the health of the soil, farmers can lower their costs of operation and increase profit on the same quantity of produce.
This monetary incentive is exactly what is necessary to incite real action on climate change. The world needs to place a price on the future damage of climate change and clearly lay out the savings that are possible by changing to greener habits to spur people to act. A report in Nature estimates the global cost to be $60 trillion. A solution that can help reduce that cost while increasing immediate profits for those involved (the farmers) seems like the perfect start.
It is still too early to know or predict the effectiveness of compost treatments on places outside of California. And the cows that are part of Wick's and other farmers' healthy-soil systems produce methane, a gas better kept out of the atmosphere. Nevertheless, this new focus on the power of photosynthesis to heal the atmosphere it created offers hope to a warming world.
Do the benefits of knowing a child's location outweigh the risks of giving that information to hackers?
For busy, working parents, parents of children who take public transportation to school, parents of children with special needs and parents who simply want to know where their children are in case of emergencies, more and more GPS devices promise to track a child's location and broadcast it to the parents' phones. These watches, wristbands and phone-sized devices are immediately attractive to a worried parent. Many offer features beyond tracking, including communication, distress signals, augmented reality, water sensing and more. What parent doesn't want to better protect the children by keeping them away from dangerous places and situations?
But any electronic device is susceptible to hackers and a GPS-enabled communication device attached to a child is dangerous in the wrong hands. How can a parent weigh the benefits of knowing their child's location with the risks of exposing that location to hackers?
It starts with considering the situation: is a GPS tracker really the solution to a concerned parent's worries? Of course, there are unquestionably situations that call for better surveillance of a child's location, like parents who work and children who travel to school by themselves. Communication and awareness are essential to a child's safety. If used responsibly, this monitoring-from-a-distance could even give a child of a certain age more freedom without sacrificing protection.
It is already becoming common for pre-teens to have their own smartphones. A parent can use the phone's built-in features to track the child's location. Cell carriers also offer tracking features, such as AT&T's FamilyMap and Verizon's Family Locator.
But for a younger child without a GPS-enabled phone, a GPS tracker designed for kids might be a quick way to better peace of mind. A parent who's shopping for these trackers (or who's already using one) needs to understand the risks, where they come from and how to defend against them.
Norwegian researches tested four kids' smartwatches last year and were surprised at the lack of security of the devices. They were able to hack into them relatively easily, collect private information, view the user's location and even send false location info to the parent's phone. One watch's SOS function didn't work. Some of the watches' data was transmitted without encryption.
A serious point of danger in some watches is their communication ability. Watches that allow the parent and child to communicate via voice or text can also allow hackers to communicate with the child, pretending to be someone they know.
Last year, the European Consumer Organization's (BEUC) published a warningagainst smartwatches designed for children. The German telecom agency, Bundesnetzagentur, banned the watches and asked parents to destroy any they'd already purchased. And the FBI issued a general warning against internet-connected devices and the privacy risks that come with them.
It is important to choose a device from a reliable or expert-endorsed company that focuses on security and privacy.
Verizon sells its GizmoGadget for $150. It displays up to ten contacts for one-touch voice calling or sending short text messages. It's waterproof, comes in different colors and even features mini games and fitness challenges, all while tracking a child's GPS location. AngelSense is a GPS and voice monitoring device designed specifically for children with special needs. It is packed with features beyond GPS tracking, including noise monitoring, voice calling, a timeline view of the child's day, "runner mode" for a wandering child, an alarm, indoor location and more.
The truth is, smartwatches are internet devices that are vulnerable to skilled hackers and that store GPS data that could lead a dangerous person to a child. There are obvious benefits to using a device to track and locate a child at any time. But, at this early point in the devices' development, parents should research carefully and choose security and reliability over features or price.
A history of stalled construction, deferred maintenance and funding problems have left the subway with a seemingly hopeless future
The subway system, winding beneath, through and over the streets of New York City, moves almost six million people every day. The system stretches over 665 miles of track from Manhattan to Brooklyn, Queens, the Bronx, and Staten Island. The subway opened in 1904 with 28 stations in Manhattan, and though it now connects the five boroughs through 472 stations, many regular riders complain that not much else has changed in the last 114 years. Some trains are more often delayed than not. And while the city's population is, again, rising and overcrowding on subway platforms continues to cause problems, the city has basically stopped building new subways. Why? And why can't the MTA keep its trains running smoothly and on-time?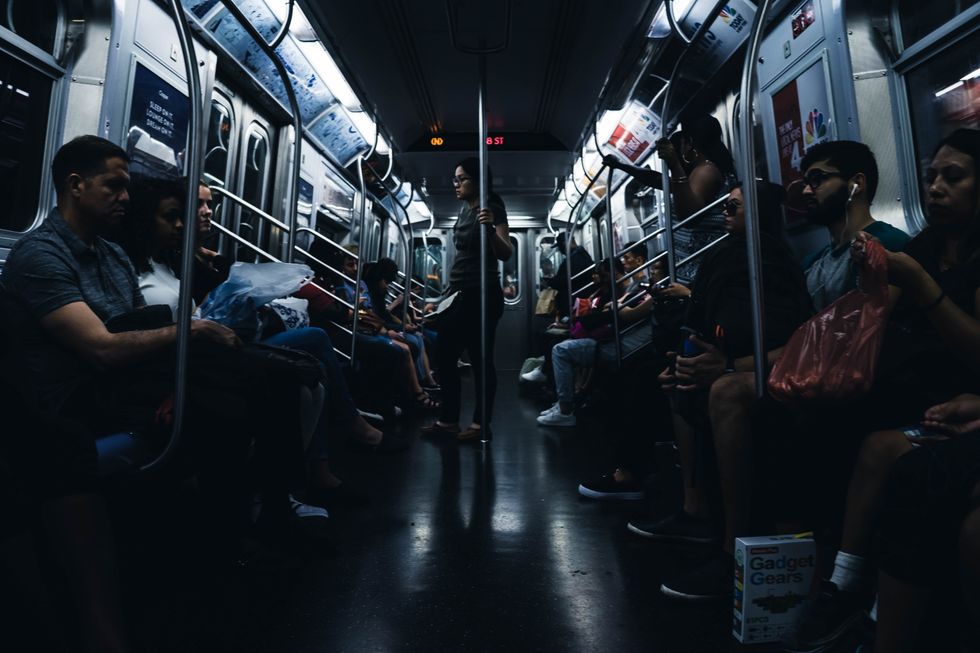 Photo: Raymond Francisco
The New York City subway opened in October 1904, but it was privately built and managed until 1940 when Mayor Fiorello LaGuardia bought and consolidated the two private companies who'd owned it for over $300 million. Yet, ridership was already peaking as the country saw a future of personal automobiles on the horizon. After decades of refusing to raise fares, the city finally doubled the price to a dime per ride. Soon, a statewide referendum approved an exemption from the state's tax limit for the city to continue its subway expansion. Instead, the administration used the money to reduce what had already become a giant deferred maintenance problem. The MTA New Yorkers know today wasn't formed until 1965, by Governor Nelson Rockefeller. Though the subway system was finally under its present state-controlled organization, its problems continued to grow as the city neared bankruptcy.
A history of large problems and inadequate or emergency solutions has defined the aging but essential subway system of today. The cheap and accessible movement of those six million daily riders around New York's boroughs drives the city's economic, innovative and artistic engines. New York City and its surrounding areas create over $1.5 trillion in gross metropolitan product: close to 9% of the country's GDP in 2016. Researchers have estimated that losing the subway for a month due to a Hurricane Sandy-sized storm would cost New York City $60 billion in "lost economic output."
The city's economy—and a large chunk of the U.S. economy—depend on an out-of-date, complex public transportation network that doesn't have enough money to repair itself or to continue expanding. The city's inability to catch up on the long list of repairs only increases the number and severity of the system's problems.
Only 3% of the subway's tracks meet the cleanliness standards required by their own governing body, the MTA. Meanwhile, parts of the signal system that controls train movements are so old and obsolete that they have to be built in-house by the MTA because no company manufactures them today. And almost half of the 6,400 cars running on tracks daily were built between 1960-1989, with half of those due for repairs or replacement. The subway's problems are as old as its parts.
Governor Cuomo introduced an $800 million "NYC Subway Action Plan" to help fix the struggling system. He wants the state to pay for half of the plan and the city to cover the rest, but Mayor De Blasio refuses to add to the huge amount the city already pays in taxes to maintain its subway. Why the governor of a state—in which a significant portion of the population does not live in the city or use its subway—controls the MTA and appoints its chairman is another question.
The New York Times Magazine estimates that the needed repairs to the subway would cost at least $111 billion. This doesn't include the increased flooding and unforeseen damage caused by more powerful storms and rising sea levels. Subway tunnels snake below sea level beneath a city surrounded by water. Alan Weisman's book, The World Without Us, highlights the role workers play in keeping the subways dry. Over 750 electric pumps work ceaselessly to pump 13 million gallons of groundwater (the water already in the ground) uphill every day. At one station in Brooklyn, 650 gallons of water per minute must be pumped out. Half an hour without the pump makes the station impassable. When it rains, the water rushes below ground even more quickly, and when a hurricane floats up the coast, the amount of water is incalculable.
The subway is always under construction because the list of repairs is impossibly backlogged. The city cannot fix the subway's problems quickly enough without great, preventative changes to the way the system operates in the future. That is exactly what the president of New York City Transit, Andy Byford, has proposed. His ambitious 10-year plan, called Fast Forward, promises a modern NYC subway within the decade. The agency will begin installing a modern switching system, replace subway cars, improve stations, and make dozens of them wheelchair accessible. By changing the way the MTA spends money, the plan could complete the most important parts of that $111 billion renovation for about $40 billion.
Why has the city stopped building new lines? That is a simpler question to answer. Too much money must be directed toward repairs to undertake any significant, new building projects. And New York City has become the most expensive tunneling area in the world. The city spent between $100 million and $250 million (in 2017 dollars) per mile, building the original tunnels and tracks in the 1900s and '10s. Last year's long-awaited 2nd Avenue extension cost $2 billion per mile.
If the city and state can agree to fund Byford's plan, the subway might soon receive the upgrades it needs. Any future expansion of the subway will depend on the success of Fast Forward's changes to the MTA's operation and its spending on maintenance, repairs, and construction. The subway is the heart of New York City. How do you perform open-heart surgery on something that doesn't sleep?
A guide to the naturalization process, what comes before and what happens after
With all the talk surrounding immigration, we thought it would be useful to break down the actual process of becoming a U.S. citizen.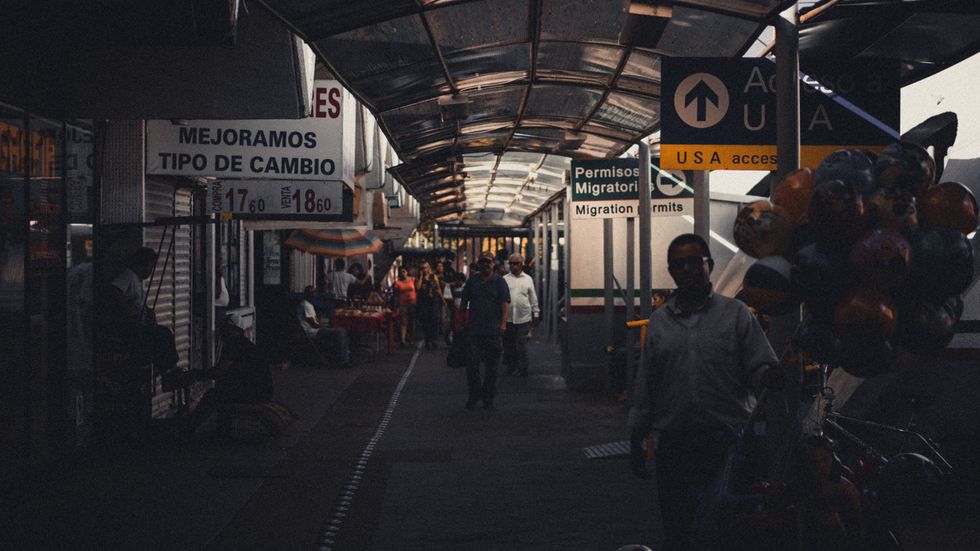 Photo: Andrew Schultz
Pre-naturalization
The first step on the road to U.S. citizenship is applying for an immigrant visa. A sponsor (such as a family member or employer) can file a petition on the applicant's behalf. Eligible applicants can also file on their own behalf. This first application could be for conditional legal residency, a temporary permit to live in the country (and work if the visa allows it). For potential students, an F1 visa allows a nonresident to attend school in the U.S. It's worth noting that, although they are not permanent residents and might not be allowed to work off-campus, international students must still pay federal and local taxes. An F1 visa costs up to $400.
A person with a sponsor can apply for permanent residency and the ability to live and work in the U.S.—their green card. Permanent residents are protected by the law but do not have the rights to vote or hold a U.S. passport and can be subjected to deportation hearings. Permanent residence is a requirement for naturalization: after five years of residence, a person can apply for citizenship. If the person has a spouse who is a U.S. citizen, the necessary length of time drops to three years. An application for permanent residence can cost over $1,000.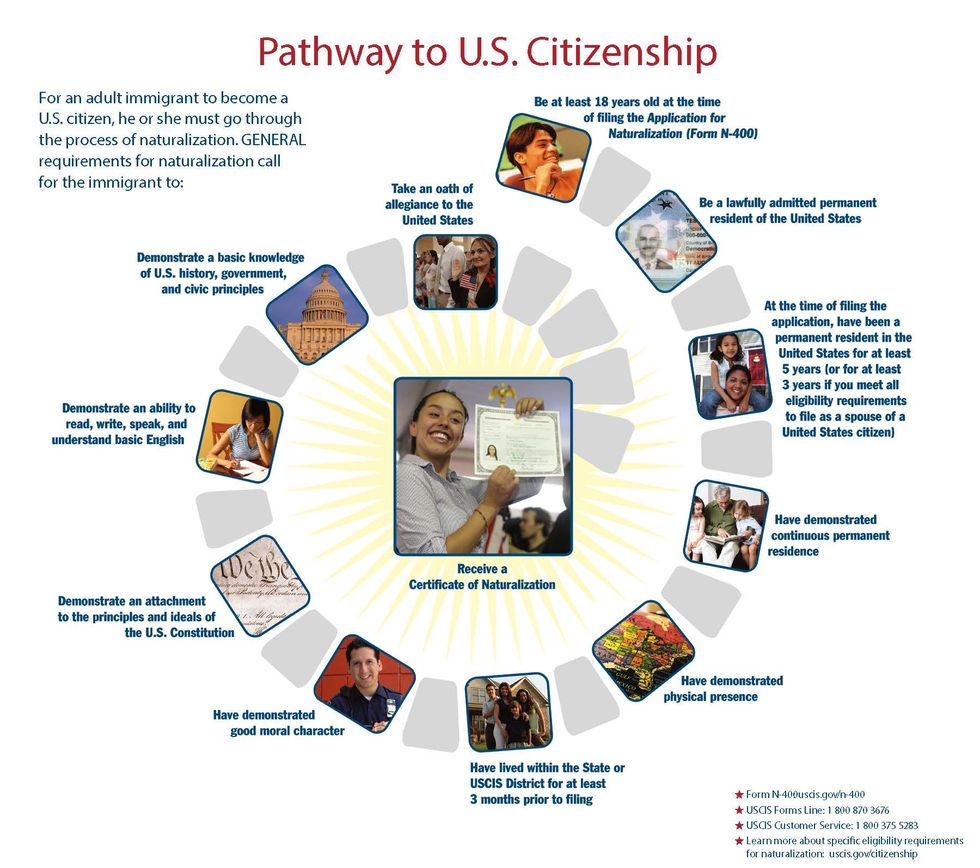 Photo: U.S. Government
The naturalization process
To begin the naturalization process, a person has to demonstrate their five (or three) years of "continuous" permanent residence as well as physical presence in the U.S. during that time. If they are married to a U.S. citizen, they must, basically, prove their love through bank statements, proof of shared residence and other official documents that show the U.S. Citizenship and Immigration Services (USCIS) that their relationship is real.
In addition to proving the proper term of residence, an applicant must be at least eighteen years old to fill out the N-400, the application for naturalization. The applicant must then live continuously within the U.S. from the date of their application until the time of their naturalization. By that time, they must also be able to read, write and speak English and be knowledgeable in U.S. civics: history and government. Qualifying service in the U.S. armed forces might also accelerate the process. Finally, the applicant must "be a person of good moral character, attached to the principles of the Constitution of the United States, and well disposed to the good order and happiness of the United States during all relevant periods under the law."
The Form N-400 asks for pretty much all of the information concerning who the applicant is, where they're from, where they've lived and traveled and how they've acted as a person. It asks: "Have you EVER been a member of, or in any way associated (either directly or indirectly) with: A. The Communist Party? B. Any other totalitarian party? C. A terrorist organization?" Also: "Have you EVER advocated (either directly or indirectly) the overthrow of any government by force or violence?" And: have you ever worked for the Nazi government? An applicant should answer no to these questions on the form and in the interview; no amount of comedic skill will earn a laugh from USCIS officials.
Following the application and its filing fee of $725, the U.S. requires a biometrics appointment to take fingerprints. The applicant will also need to have their vaccinations up to date or administered by an approved doctor. A person should expect delays and errors in the complex network of forms and appointments but should not lose hope: the system is thorough but that does not mean it is efficient. Altogether, the minimum price of naturalized citizenship will be no less than $2,100; it will likely be more, especially if lawyers are necessary.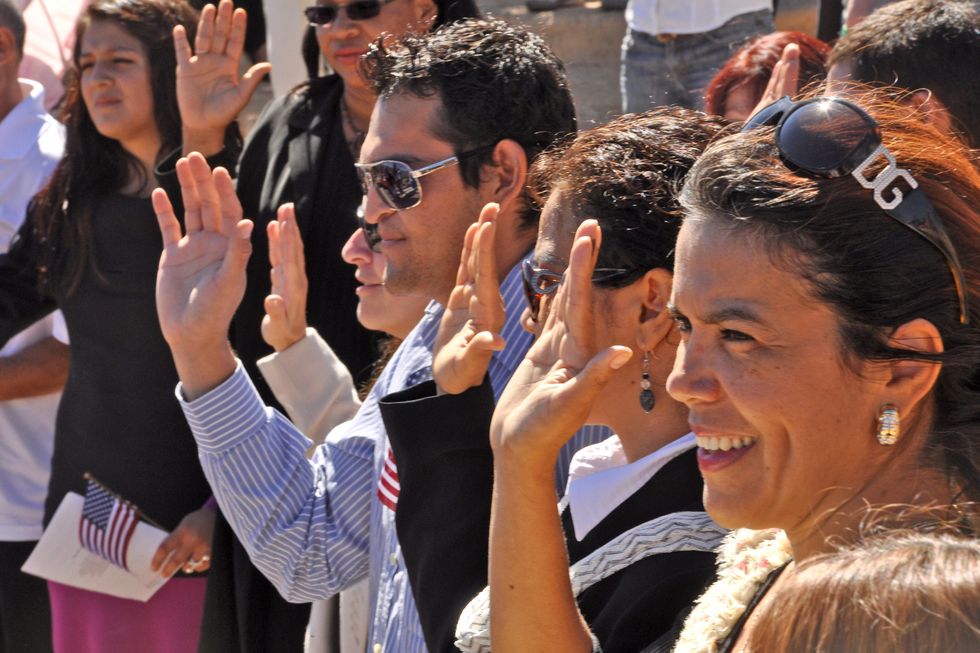 Photo: Grand Canyon National Park
Now what?
Finally, a decision will be made. If the application is accepted, the new U.S. citizen will have to surrender all previous visas and pledge an ominously-titled Oath of Allegiance to the United States. At a naturalization ceremony, they will receive their naturalization certificate and officially become a citizen of the U.S. This makes them eligible to hold a U.S. passport, vote in elections and serve on juries.
Jury duty might not be the top selling point for the long and expensive naturalization process but sharing equal rights and privileges with the citizens of the country in which a person wishes to spend their life is certainly worth it.
In the 2017-2018 term, the Justices of the U.S. Supreme Court will hear several major cases with national implications
Topics in this term's major cases include technological privacy, religious freedom, anti-discrimination laws, immigration and the President, sports gambling and political gerrymandering, among many others. The Court's deliberation on these cases will begin in the coming months but the discussions surrounding them have been going on for years, and will continue long after the decisions are made. Before the end of this term, the Court will have heard something close to 70 cases, chosen from an average of 7,000 petitions. Here are five of the most important cases to follow.
Carpenter v. United States
There's a good chance you're reading this article on your mobile phone. That smartphone is smart enough to track your location and tell you the weather, the best restaurants within a mile and movie times in the area. Now,
the Court will decide
if the government is allowed to retrieve your phone's location data from service providers without a search warrant. Timothy Carpenter, convicted of aiding and abetting a series of robberies in 2011, argues that the government's seizure of his cell phone's location records without a search warrant violates the Fourth Amendment. In
United States v. Jones
, the Court decided that tracking a car with its GPS falls under the
Fourth Amendment
. And 2014's
Riley v. California
case concluded that searching a cell phone taken during an arrest requires a search warrant.
Based on these decisions, it follows that Carpenter's case will also fall under the Fourth Amendment. It is an important decision to watch, nonetheless. Though it specifically concerns the 127 days of location data used in the case, it has implications for the future of data privacy and government surveillance.
Masterpiece Cakeshop v. Colorado Civil Rights Commission
Already one of the most-covered upcoming cases, Masterpiece Cakeshop v. Colorado Civil Rights Commission pits religious freedom laws against anti-discrimination laws. Colorado's civil rights law protects citizens from discrimination based on sexual orientation. The baker at Masterpiece Cakeshop argues that the Colorado government cannot force him to say something on his cakes that disagrees with his personal beliefs. He calls his cakes forms of artistic expression and, therefore, extensions of the free speech protected by that always-tricky First Amendment. The opposing lawyers think the anti-discrimination laws outweigh the First Amendment in this case and prohibit the business from refusing its customers based on their sexual orientation. Duke University law professor Walter Dellinger writes, "Petitioners have a First Amendment right to pick their message but not to choose their customers based on sexual orientation." The Court faces a difficult task in merging the jurisdictions of separate laws.
Gill v. Whitford
The Court looks to answer several questions in this case about the possibility and legality of political gerrymandering in Wisconsin following a redistricting plan introduced in 2011. A federal court rejected the plan on the grounds that it allows Republicans to unfairly benefit their party in future elections. Often, federal courts had to draw the state's maps after the legislature could not agree on one. The challengers to the plan, led by Whitford, argue that, when Republicans won control of the state under a Republican governor in 2010, they deliberately boosted their own party's chances in future elections by hampering Democratic voter districts. Lower courts admitted that politics inevitably play into the redistricting process but that, in this case, the plan was unquestionably and intentionally biased. The Supreme Court must decide whether to allow political gerrymandering as a precedent for other states or to side with the challengers in opposing a state legislature.
Christie v. NCAA
Former New Jersey Governor Chris Christie's name remains on
this case
in which New Jersey seeks to allow sports gambling which opponents argue must remain illegal under the
Professional and Amateur Sports Protection Act (PASPA)
of 1992. Cunningly, this act doesn't prohibit states from legalizing sports betting (which would violate the anti-commandeering doctrine of
New York v. United States
) but merely prohibits
repealing
the ban on sports betting that has been in effect in New Jersey and most states for decades. Congress is not allowed to override state jurisdiction over the activities of its citizens. The NCAA argues that PASPA does not do this. But New Jersey believes that, if Congress were allowed to prohibit sports gambling in this way, they would also be allowed to override states' decisions on other, more dangerous issues.
Epic Systems Corp. v. Lewis, National Labor Relations Board v. Murphy Oil USA, Inc. & Ernst & Young LLP v. Morris
These three cases have been
consolidated into one case
that asks for a Supreme Court decision on the constitutionality of mandatory arbitration clauses for new employees. As much as 50% of the country's worker contracts now include
mandatory arbitration clauses
, forcing workers to give up their right to participate in class action lawsuits against their companies. The Court's decision will also affect the range of protections of the
National Labor Relations Act
(1935), which says, "…protection by law of the right of employees to organize and bargain collectively safeguards commerce from injury, impairment, or interruption . . . by restoring equality of bargaining power between employers and employees." Pushing against this is the
Federal Arbitration Act
that maintains the validity of signed arbitration clauses. Though these cases began as lawsuits for unpaid overtime, they will have implications for employer-employee contracts, the enforceability of arbitration clauses and employees' right to engage in concerted activities related to the workplace.
What the campaign against sexual harassment has revealed about past allegations against the Supreme Court justice.
Since 1991, Clarence Thomas has served as a justice of the U.S. Supreme Court with a lifetime term.
Yet shortly before his nomination to the post, Anita Hill testified before a Senate committee that Thomas had sexually harassed her for three years at two different government organizations where they had worked together. Nearly three decades before #MeToo, Hill's testimony was the first major public allegation and investigation into sexual harassment in the workplace. It sparked a divisive discussion about harassment, power, trust and culpability across the country.
After detailing her experiences to the committee, Hill nonetheless watched Thomas win his nomination to the Supreme Court that same year. It was a position where he would have, among other responsibilities, authority over the rights and privileges of women under the Constitution for decades to come.
In February of this year, as part of the mighty wave of women's voices rising against sexual harassment and toppling the men who used it as a tool of power against them, several women brought Clarence Thomas back into the discussion and under the fierce light of the #MeToo movement. With the renewed attention also came calls for impeachment and evidence to support the push.
During the 1991 hearings, it was Anita Hill's word against that of soon-to-be-Justice Thomas.
In 1981, Hill was working for Thomas at the Department of Education when the harassment began. She described to the committee Thomas's attempts to ask her out and the numerous times he talked explicitly about sex acts at work. He later convinced her to move with him to the Equal Opportunity Employment Commission.
The harassment continued at the EEOC. Thomas described to Hill the pornographic videos he watched and disclosed to her his preferences for specific parts of female bodies. In 1983, Hill escaped the harassment by moving to Oklahoma to teach law. Finally, in 1991, she brought her experiences to the attention of a Senate prepared to nominate Thomas to the Supreme Court.
Anita Hill stepped in front of an audience of hundreds of millions and described what she suffered working for Thomas. And Thomas took his Supreme Court seat later that year. "I was disappointed but not surprised," Hill said.
Hill was alone on the stand during the 1991 hearings though others had been willing to testify alongside her.
"Four African-American women, including me, were willing to join professor Hill and testify about Thomas' behavior," wrote Angela Wright-Shannon in February. "We all were denied a voice." Without social media, these testimonies were simply never heard. Wright-Shannon recently described for the Huffington Post her own similar experiences with Thomas: he repeatedly asked her to date him and asked about her breast size.
Another belated testimony came from Lillian McEwen, Thomas's ex-girlfriend. "The Clarence I know was certainly capable not only of doing the things that Anita Hill said he did, but it would be totally consistent with the way he lived his personal life then," she said in an interview in 2010. The #MeToo environment of 2018 has allowed women to come forward together, in force, against the men who harassed them. Jill Abramson believes #MeToo might have allowed others to join Hill on the stand against Thomas and shifted the balance of credibility toward the victims.
After the recent months of accusations, resignations and lettings-go achieved by #MeToo, Thomas's ascension following his hearing and the existence of any subsequent career for him seem ridiculous. How could he have been appointed and how is he still a Justice? Yet, the President of the United States won his election and continues to hold power despite the infamous circumstances of his own history of harassment.
"How do you remove sexual predators from office when all attempts to prevent their ascension in the first place failed?" asks Wright-Shannon. The answer, according to Abramson, is perjury.
Since 1989, three federal judges have been impeached for charges including lying. Among the leaked documents of Hillary Clinton in 2016 was a "Memo on Impeaching Clarence Thomas," written in 2010, that assembles evidence of his perjury. Abramson's article details some of the lies he told, under oath, in front of the Senate Committee and Anita Hill, about the harassment—lies that can now be confirmed as such by the testimony of other victims. The #MeToo movement offers the possibility of strength in numbers that was lacking during the original hearings but that could now present significant corroboration to the perjury claim.
Wright-Shannon, Rose Jourdain and Sukari Hardnett were all victims willing to offer their stories to the Senate committee but didn't get the chance. Now, they and others can fight back.
In the fall of 2016, Moira Smith, an attorney, wrote a Facebook post about the night Clarence Thomas groped her at a dinner party in 1999. He squeezed her butt several times while she was setting the table and asked her to sit next to him. After finally making the incident public on Facebook, it also became the subject of an article in the National Law Journal.
The case for the impeachment of Thomas centers, currently, on his perjury during the 1991 hearings.
But Moira's account of his sexual misconduct at the dinner occurred when he was already a Supreme Court Justice, a detail that could add fuel to the impeachment push.
The current U.S. President secured his victory over the accusations of sexual misconduct by nineteen women, an event that is startlingly similar to Thomas's nomination after Anita Hill's testimony twenty-seven years ago. But since the election, the #MeToo movement has risen up in fury against men guilty of harassing women and has begun to secure justice for the victims. Now, more than ever, the circumstances seem to be prime for the impeachment of a justice guilty of sexual misconduct and perjury.
The arc of the moral universe is long, but it bends toward justice might be a cliche, but sometimes cliches are true.
Volunteers look to change the world but the agency's practices have been debated for decades
In February 2013, 23-year-old Peace Corps volunteer Nick Castle died in a hospital at West China Hospital of Sichuan University of a gastrointestinal illness. He had fallen into a coma after feeling sick for months, losing weight and, finally, collapsing in Chengdu, the capital of the Sichuan province. Carrie Hessler-Radelet, the director of the Peace Corps in 2013, told the New York Times that the agency had been examining and revising its entire practice since the death of another volunteer in Morocco in 2009.
Deaths in the Peace Corps are not frequent, but they rightly call into question the program's training processes, medical resources, and the security of volunteers.
The physician who treated Castle, Dr. Jin Gao, became the center of a report by the Corps' inspector general about miscommunication and delayed reactions in the agency's healthcare system that might have led to the volunteer's death. Though the report didn't blame the Peace Corps for the man's death, it revealed inefficiencies and errors made by the doctor and others (including the ambulance getting lost on the way to pick up Castle) that added to concerns about volunteer welfare.
Many testimonies—positive and negative—reached reporters following the death. Chance Dorland, a volunteer in Columbia, said, "I was forced to leave my site . . . early because I was made sick by the inadequate and unprofessional medical care the Peace Corps offered its volunteers." Nancy Tongue, founder and director of Health Justice for Peace Corps Volunteers, wrote that a sick volunteer carries the "burden of proof." She expects volunteers who maintain a successful claim to be left "living slightly above poverty level regardless of prior earnings," waiting months or years for proper treatment or attention.
The Peace Corps has also been criticized for failing to keep its volunteers safe. In 2007, Juan Duntugan, a Filipino woodcarver, confessed to killing Julia Campbell because she had bumped into him while he was enraged by a fight with a neighbor. The organization cannot possibly guarantee the safety of its thousands of volunteers in hundreds of countries around the world but it can better prepare them and be more transparent about the dangers they might face.
It can also offer better mental health services. During the application process, the Peace Corps might require, from a person who has a mental illness, letters from mental health professionals, clearance from a psychologist, and participation in a sort of exam. "Transition can often be one of the biggest triggers for mental health issues," writes Ross Szabo, a former volunteer. Even in people not diagnosed with a specific mental illness, adjusting to life among strangers in another country can be massively stressful. And the pressure to succeed can make a difficult situation unmanageable. Another former volunteer, Emily Best, ended her stay in Senegal in 2012 after a year of frustration. She writes, "The onus of success seemed to be placed solely on the volunteer. If the volunteer struggles, it's because she isn't trying hard enough to adapt."
Some volunteers have struggled with a lack of education after being handed a project in an unfamiliar field or with too little training. Kelli Donley returned home from her agricultural posting after only five months because, she realized, "the audacity of my arrogance in assuming that this time abroad would do Cameroon any good was apparent on Day 1." Benjamin Clark was sent to Senegal as a 23-year-old with a graduate school degree. "I taught them a little about accounting and some basic math," he writes, "but my real value was being one extra person to hold a shovel." He thinks of the Peace Corps as a cultural exchange program more than an international aid group.
The loudest controversy for the Peace Corps in recent years has been their alleged mishandling of rape and sexual assault. On average, twenty-two female volunteers reported being raped or being victims of attempts between 2000 and 2009. In 2016, the percentage of women who said they've been sexually assaulted rose to 38%.
Danae Smith was attacked in the Dominican Republic and reported it to the Peace Corps in 2015. The Corps responded by blaming her for not doing enough to prevent it from happening. They sent her home immediately afterward. The U.S. Office of Special Counsel wants better training for host families and other in-country workers, including fellow teachers and priests, who represent a significant percentage of the attackers.
The agency is also being asked to provide much better access to victim care, including medical treatment and counseling.
The Peace Corps has drawn criticism since its inception in 1961 for its actions and intentions as an international development organization. Some think that its goal is mainly to create a positive image of the U.S. despite the country's imperialistic military engagements. Others think of the Peace Corps, itself, as an imperialistic strategy, developing Western culture and planting American influence in impoverished regions around the world. Hayley White, a volunteer in Uganda, wrote that the Corps should work more closely with in-country social entrepreneurs than with nongovernmental organizations that are "often too indoctrinated in Western ideas of how things must be done."
It is difficult to separate imperialism from a foreign aid program such as the Peace Corps or WorldTeach. After all, how can a U.S. citizen, perhaps only recently graduated from college, and maybe on their first trip outside of the country, provide meaningful help to a foreign community based on any other system than the American one in which they grew up? Instead of ending the imperialism argument outright, this is a question that is worth answering as a step toward a solution.
This article has focused on the controversies that surround the Peace Corps not to debase the organization's mission, but because without the constant discussion of weaknesses and the incessant push to do better, these dangers will remain. Many volunteers who write about their unsatisfactory experiences maintain that the organization needs revision to do its work better, not to cease working altogether. The mission of the Peace Corps is important; therefore, it is important to ensure that its mission is carried out correctly and with care.