"A tree is best measured when it is down," the poet Carl Sandburg once observed, "and so it is with people." The recent death of Harry Belafonte at the age of 96 has prompted many assessments of what this pioneering singer-actor-activist accomplished in a long and fruitful life.
Belafonte's career as a ground-breaking entertainer brought him substantial wealth and fame; according to Playbill magazine, "By 1959, he was the highest paid Black entertainer in the industry, appearing in raucously successful engagements in Las Vegas, New York, and Los Angeles." He scored on Broadway, winning a 1954 Tony for Best Featured Actor in a Musical – John Murray Anderson's Almanac. Belafonte was the first Black person to win the prestigious award. A 1960 television special, "Tonight with Belafonte," brought him an Emmy for Outstanding Performance in a Variety or Musical Program or Series, making him the first Black person to win that award. He found equal success in the recording studio, bringing Calypso music to the masses via such hits as "Day-O (The Banana Boat Song)" and "Jamaica Farewell."
Harry Belafonte - Day-O (The Banana Boat Song) (Live)www.youtube.com
Belafonte's blockbuster stardom is all the more remarkable for happening in a world plagued by virulent systemic racism. Though he never stopped performing, by the early 1960s he'd shifted his energies to the nascent Civil Right movement. He was a friend and adviser to the Reverend Doctor Martin Luther King, Jr. and, as the New York Times stated, Belafonte "put up much of the seed money to help start the Student Nonviolent Coordinating Committee and was one of the principal fund-raisers for that organization and Dr. King's Southern Christian Leadership Conference."
The Southern Poverty Law Center notes that "he helped launch one of Mississippi's first voter registration drives and provided funding for the Freedom Riders. His activism extended beyond the U.S. as he fought against apartheid alongside Nelson Mandela and Miriam Makeba, campaigned for Mandela's release from prison, and advocated for famine relief in Africa." And in 1987, he received an appointment to UNICEF as a goodwill ambassador.
Over a career spanning more than seventy years, Belafonte brought joy to millions of people. He also did something that is, perhaps, even greater: he fostered the hope that a better world for all could be created. And, by his example, demonstrated how we might go about bringing that world into existence.
Biden, Obama, Bush, and Clinton were the four horsemen of the 2021 Inauguration.
Though the physical event was small — due to the enhanced security measures enacted in fear of violence or resistance against the transition of power, and the persisting pandemic — and more than 191,500 flags stood in place of the people that usually crowd the surrounding area, the event was filled with prominent guests and high profile performances, both in person and virtual.
The virtual portion of the day was a mixture of performances, speeches, and video compilations 'hosted' by Tom Hanks.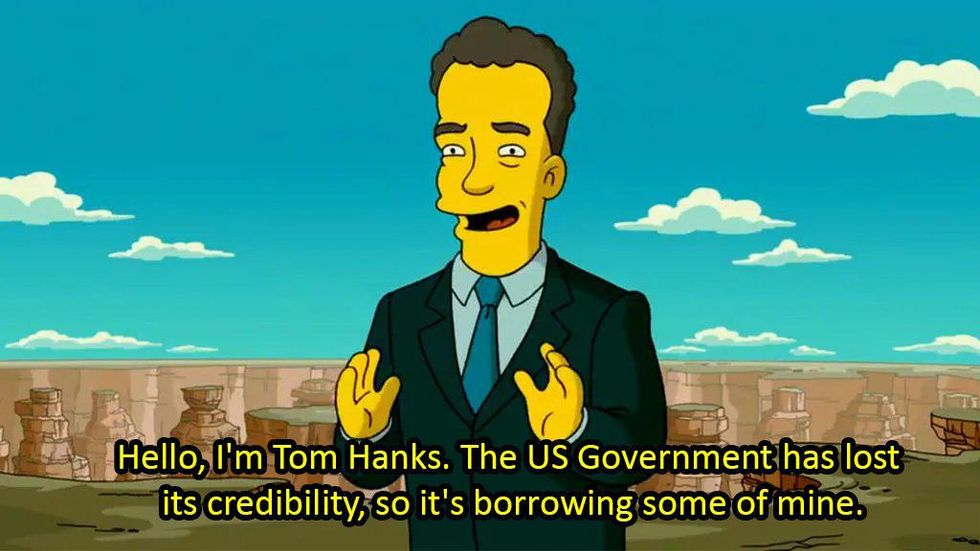 Just as the Simpsons predictedvia FOX
As part of the proceedings, former Presidents Barack Obama, George W. Bush, and Bill Clinton appeared in a video giving a joint speech, which had the vibe of a group project where you didn't get to choose your partners and you got stuck with some kids you neither knew or liked.

The three most recently joined forces to volunteer to take the COVID-19 vaccine when it was first approved, and like an aged boyband, they came back for one night only, streamed live across America.
In their video, the three ex-presidents congratulated President Joe Biden and stressed the importance of peaceful transitions of power, ostensibly trying to lead by example in a show of bipartisan unity while making a point about the noticeably absent President Trump (who was on his way to Mar-a-Lago with his crying conspirators/children).
The message of the former presidents came alongside Biden urging for "unity" in his Inaugural address.
But what does this mean?
From the beginning of his Inauguration speech, Biden declared his presidency one of "history and hope. Of renewal and resolve." Referring to the historic nature of his cabinet and Kamala Harris's historic position as Vice President, Biden's self-congratulatory remarks also stir up questions.
The intentionally indefinite rhetoric asks: "hope" of what, and for whom? "Renewal" of what? Leaving an era defined by the slogan "Make America Great Again," it feels dangerous to tie a Presidency to the idea of some vague longing.
The politics of nostalgia allow the romanticization of a past which has always had as many problems as the present, if not more. Biden's emphasis on having a Presidency inspired by his predecessors refers to the presidency of Obama, but also to the other two horsemen of the inauguration apocalypse and the Founding Fathers … who we all know were flawed at best.
The desire to appeal to the American mythos reduces the oppression inculcated into US democracy to a footnote in the story — despite the fact that those institutions of inequality are prominent today.
Biden proclaimed that "the American story depends not on any one of us, not on some of us, but on all of us. On 'We the People' who seek a more perfect Union. This is a great nation and we are a good people."
… is that true?
While I would like to believe it, and perhaps there is room for more optimism and benefit of the doubt in an inaugural address than I'm accustomed to in life, moralizing the United States as a good nation filled with good people perpetuates the myth of American exceptionalism and allows for complacency.
We could be good people in a great nation, but the overpowering institutions of oppression and violence that we are socialized into make it easier to not be.
Biden did acknowledge that there is work still to be done, but it is dangerous to position the work of progress as a choice, rather than an imperative.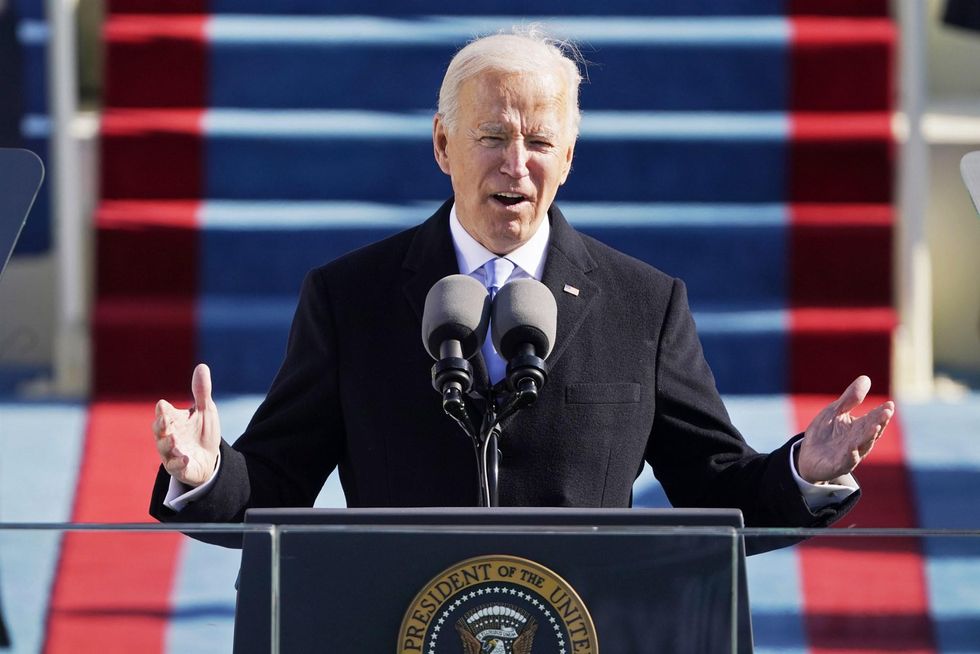 We did it, Joevia CNBC
Biden's Path to Progress:

Biden's path to progress is simple: unity.
In one of the most pivotal passages of his speech, he said: "Speaking of unity can sound to some like a foolish fantasy. I know the forces that divide us are deep and they are real. But I also know they are not new. Our history has been a constant struggle between the American ideal that we are all created equal and the harsh, ugly reality that racism, nativism, fear and demonization have long torn us apart. The battle is perennial. Victory is never assured."
In this moment, Biden acknowledged the history of oppression in the United States and the deep-rooted divisions in its present. However, the proverbial good vs. evil dichotomy that he uses is a convenient scapegoat. It is easy to say that there are two sides of people, torn apart by outside forces, that just need to meet each other in the middle. But this is not how division in America has played out.
Progress in America cannot be a meeting in the middle of two forces with equal power, because that's not what the political and social landscapes look like. The forces of "racism, nativism, fear and demonization" have not "torn us apart" — those forces have separated and othered marginalized communities and excluded them from the American ideal.
Therefore, it is not the collective acceptance of the idea of "unity" that will heal the country, it is a commitment by the privileged to root out the divisive forces within themselves.
Unity and healing must happen as a result of progress, not at the expense of it. Biden's rhetoric leaves too much room for regression. But we must not pause to soothe the egos of white supremacists — their goals are not our goals. Biden's path to unity needs to look like accountability, not acquiescence.
In a recent tweet, activist Bree Newsome stated that "The only path toward 'unity' is one that dismantles white supremacy." Anything else would be a continuation of the same structures that "resulted in the Civil War, Jim Crow, the Trump era & the insurrection that occurred two weeks ago. "
There is no way forward without confronting whiteness— how it came to be a sociopolitical construct here, how it re… https://t.co/CAULWCruwH

— Bree Newsome Bass (@Bree Newsome Bass) 1611189052
Many are feeling the gaps in Biden's rhetoric that could allow for placid and ultimately unsatisfying "progress" and citing the urgent importance of moving forward, rather than back to some fabled better days of a pre-Trump era.
...but what if he said "I cannot be a president for all. I will not serve white supremacy. I will not serve hatred.… https://t.co/1H0JTIPZqV

— adriennemareebrown (@adriennemareebrown) 1611163169
The pre-Trump era created conditions for the Trump era. The current violence is not some aberration or some strange glitch in the matrix. It is a direct consequence of previous failures to root out the insidiousness of whiteness at the root of the United States.
The Problem With Moderation:
The shifting nature of Biden's address — his willingness to talk about the fact of American institutionalized oppression and speak out against white supremacy, but inability to articulate the deep internal work that we all have to do for progress — does not present a progressive pillar to build the next four years on.
It builds one that reflects his whole career: willing to inch towards "slow progress," but more concerned with moderation than radical change.
But moderation is not the way to establish real change. Moderation allows for complacency and, as Newsome articulated, "the 'return to normalcy' narrative is a call to settle for surface-level displays of civility diversity in the aftermath of Trump's brutish behavior without any real push for systemic change."
Even in the highest offices of the two-party government lie dangerous white supremacists who incited the riots alongside Trump and remain loyal to the MAGA following — so if bipartisanship looks like coalescing into an agreeable union that includes and validates those beliefs, I don't want it.
Instead, change has to look like examining the conditions within ourselves and our society which gave those people their platforms and amend those with an eye towards accountability.
The idea of "accountability" has been thrown around so much this election that it has become diluted. Accountability has to be active. It has to not just acknowledge the past, but use those acknowledgments to work diligently towards a new future.
While it's hard to predict how much Biden's speech was well-crafted rhetoric and how much was commitment to action, the prominent performativity of the ex-President's club does not bode well for radical change.
Rather, it signals a clinging onto old ideas of respectability and camaraderie between the powerful and a persistence of the same structures that allowed for the past violence to carry themselves into the future. It confirms that Trump's most egregious act was disrupting the illusion American exceptionalism, which has been long held up by mythology and militarism.
But that disruption was necessary. And it is with those new eyes that we are more critical of Bush, Clinton, Obama, and the entire systems that elected them We have to be.
For too long we've been told that "Black" politics would scare away moderates
First thing's first: I need white people to stop treating Stacey Abrams like their savior.
Deification, a form of dehumanization, strips a person of their humanity and turns them into a symbol. By overhyping Stacey Abrams, white people assert their goodness on the back of a Black woman, trying to be woke by association.
While Abrams deserves much praise, we cannot continue to place superhuman expectations upon her. We also cannot act like she was solely responsible for discovering a secret to turning Georgia blue. The reality is that Stacey Abrams worked tirelessly alongside other dedicated organizers to address the voter suppression Black people have been fighting in Georgia for decades.
So why haven't democratic politicians done this before? Obama did, campaigning at a grass roots level and counting on disenfranchised voters. But he was Obama, people might say, of course Black people will vote for him. The "Black vote" in political discourse is treated as an ineffable mystery and often discarded as impossible to count on. Black people just don't vote, politicians say, then focus their attention elsewhere.
So when the Black vote (alongside other BIPOC demographics such as the historic voter turnout of Indigenous populations in Arizona) undoubtedly delivered the 2020 election to the Democrats, then did the same for the House in the Georgia run-offs, everyone was talking about Stacey Abrams in a way a little too reminiscent of how the dad talked in Get Out.
But the election results revealed that Black voters are in fact the key to the Democratic Party's success. When is the Party going to start acting like it?
All through the election year, Democrats were convinced that playing it safe was the key to defeating Trump.
By electing Biden as the nominee instead of more "radical" Democratic candidates like Bernie Sanders or Elizabeth Warren, the DNC were adamant that the game plan was to appeal to white moderates — which meant not scaring them away.
So while Biden picked Harris, a biracial Black and Indian woman, as his Vice President, their campaign strategy was to hover around the center and appeal to white voters who somehow just weren't sure who to vote for yet.
Meanwhile, the country was going through a period of major racial protest. Black Lives Matter protesters spent the summer appealing for an end to police brutality, for legislative protection, for defunding the police and reexamining the carceral system in light of its racist roots.
And though there were some tweets and statements from major Democratic politicians in response to the murder of George Floyd, as well as that super embarrassing thing with the Kinte cloths, the sentiment remained that actually addressing the demands of protestors would be too risky and scare away the nice white voters.
Well, the nice white voters went for Trump.

Exit polls showed that 58% of white voters voted for Trump — an increase from the 2016 election. And while Trump made percentage gains with Black men, Black people overwhelmingly voted for Biden. And in key cities in key states, Black voters having the agency to vote in the presidential election and in the Georgia Senate races was instrumental in the Democratic wins.
The numbers speak for themselves. In his election speech, Biden even thanked Black voters for being instrumental to his victory. But Biden's main message was one of healing — not for marginalized groups who suffered most under the Trump presidency, but for … "the soul of America"?

Biden's speech seemed to focus on restoring party communication, going back to his comfortable place in the center and telling us (while invoking Langston Hughes in his references to "dreams deferred") to join him.
For many Black voters, moving to the center looks like regression. Again, the Democratic rhetoric was one that appealed to white moderates, to appease their concerns and placate their nerves after a year of proverbially "difficult" conversations and "reckoning."
But for Black Americans, the most difficult thing is being constantly gaslit — being told by a party which claims to care about us that fighting for our concerns (read: our lives) is too much, too difficult, too frightening.
In response to the calls to defund the police, many major Democrats were quick to dismiss the movement. Biden himself said that he did not want to defund the police. "I support conditioning federal aid to police based on whether or not they meet certain basic standards of decency and honorableness," he said instead, again appealing to vague notions of morality rather than actionable policy.
Even Black politicians took up this rhetoric. South Carolina Representative and major Civil Rights activist James Clyburn said that "nobody is going to defund the police," and that "police have a role to play." His plea was against "sloganeering," claiming that pleas like "Defund the Police'' would undermine the movement and lose the election.
Barack Obama said something similar (thanks, Obama): "If you believe, as I do, that we should be able to reform the criminal justice system so that it's not biased and treats everybody fairly, I guess you can use a snappy slogan, like Defund the Police, but, you know, you lost a big audience the minute you say it."
These sentiments are the work of years of conditioning that expects Black people to acquiesce to white audiences, to settle for banal "reform" and "slow, steady change" instead of radical action. They are examples of respectability politics and tone policing that reinforce the idea that Black folks are a liability, harming our own progress by scaring away potential allies.
But we're tired of it.
In the wake of the dismissal of BLM slogans, many major progressives also spoke out. Representative Ilhan Omar responded to Obama's comment in a tweet, saying: "We lose people in the hands of police. It's not a slogan but a policy demand. And centering the demand for equitable investments and budgets for communities across the country gets us progress and safety."
We lose people in the hands of police. It's not a slogan but a policy demand. And centering the demand for equitabl… https://t.co/fh8ftnTR7t

— Ilhan Omar (@Ilhan Omar) 1606872699
Her response points out the danger in the quick dismissal by these politicians: too focused on how the slogan sounds, they fail to address the policy changes it calls to action and continue to support a system of policing which currently exists in a fundamentally oppressive structure. Reform is not enough, complete restructuring and radical change is the only answer.

Most Black Americans do not have the privilege of not understanding this. And, after delivering the election to Biden and the Senate, we want recognition.
We want to no longer be the big scary thing that Democrats are afraid of. We want to be taken seriously, and we want our demands to be met, our communities to be prioritized, and our people to stop dying at the hands of the state.
Black voters do not appear magically to deliver democracy if white people click their heels, repost an infographic, and say, "Stacey Abrams" in the mirror three times. The Black Vote is a collection of diverse, real people who are tired of being treated like a liability, a threat to the party they have always been loyal to.
It's time the party returned the favor — pointing out the obvious transgressions of the (soon) past administration will not be enough. With a blue senate, Biden has the opportunity to be bold, to enact real change for the communities who showed up for him, despite his own flaws and a year spent turning his back to us for the sake of white voters who did not.
Here's everything you need to know about Election Day 2020.
For many of us, it's been a very long, divisive four years. Finally, the end (for better or for worse) is in sight.
Today, November 3rd 2020, all remaining votes for the president of the United States of America will be cast. Most years we know who will be the next president by the end of election night, but like many things in 2020, this election will likely be different.
In fact, it's highly likely that we won't know whether Joe Biden or Donald Trump won the presidency tonight.
Here's why:
Mail-In Ballots
Most significantly, results will likely take longer than normal because more people than ever are voting by mail this year due to the global health crisis. It takes longer to count mailed in ballots because states have to verify signatures and other safeguards against voter fraud. Additionally, some states don't allow mail ballots to be processed until election day, and some states still count mail ballots received after election day as long as they're postmarked by election day.
More Votes
Say what you will about this administration, but it has certainly mobilized voters. Prior to today, over 91 million Americans had already voted, a number that represents around 67% of the total ballots cast in the 2016 presidential election. By the end of today, experts believe we will see record-setting voter turn out.
Early Tallies Will Likely Be Misleading
Some states count the ballots cast on election day first, and experts believe these counts are likely to favor Trump, as his supporters are more likely to vote on election day. In contrast, other states count mail-in ballots cast prior to election day first, and these results are likely to favor Biden, as polls show that his supporters are more likely to vote by mail this year. Essentially, we are unlikely to get a clear picture of who won the presidency until all ballots are counted.
US Postal Service Delays
Due to delays in deliveries by the U.S. Postal Service, many are fearful that ballots won't arrive in time to be counted. To add to the injustice of this, Republicans, including Trump's camp, have been filing lawsuits to keep ballots delivered after election day from being counted.
To illustrate the magnitude of this problem, one can look to Michigan, where an appeals court has struck down a 14-day ballot-counting extension, meaning that voters are now being urged to drop off their mail in ballots in person. Courts have also ruled that extensions aren't allowed in Wisconsin and Indiana.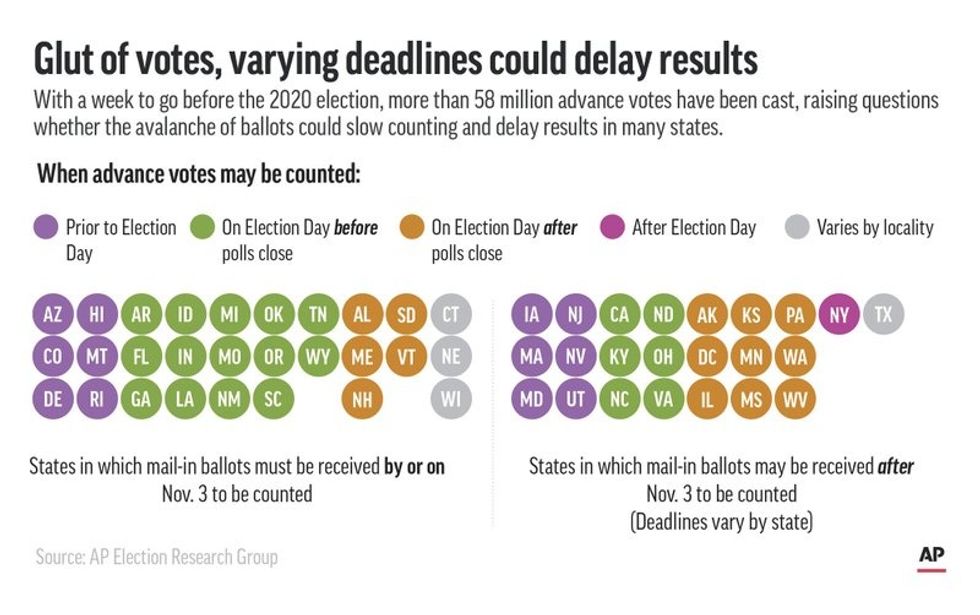 AP News
So when will we know who won?
We won't have a clear picture of who won until the swing states have been tallied. Here's when we can expect that to happen for each state.
Florida
Mail-in ballots can legally be counted in advance of election night in Florida, so we're likely to have an accurate picture of results tonight, which officials can release around 7:30 pm ET. However, if the election is close they may not call the state until Wednesday or Thursday.
Arizona
State law in Arizona allows mail-in ballots to be counted up to two weeks before election day, so it's likely election officials in Arizona have a clear picture of mail-in ballot results already. Arizona early vote results and and mail-in vote results can both legally be released about 10 p.m. ET tonight, and election day votes will soon follow. We may know Arizona's results on election night, but if the race is tight they may not call it for several days.
Michigan
We are unlikely to know Michigan's results on election night. According to NPR, "In Michigan, election officials in cities with more than 25,000 residents can start processing mail ballots on Monday at 10 a.m., sorting ballots and removing outer envelopes. They can't be counted, though, until Election Day."
"It could takeuntil Friday, Nov. 6 for all ballots to be counted," the office of Michigan Secretary of State Jocelyn Benson wrote on Thursday.
North Carolina
North Carolina has a very similar system to Arizona, so while we may know results on election night, its also possible it will take several days if the race is tight. 80% of voters already cast their ballots either through the mail or via early voting, but that remaining 20% who will vote on election day are more likely to be Trump voters.
"For the 20% or so of North Carolinians who vote on Election Day, we will be receiving those from the precinct and uploading those, as well," executive director of the North Carolina State Board of Elections Karen Brinson-Bell said on Thursday. "So, if there are really close races, those Election Day votes will tremendously matter in the outcomes of these elections."
Pennsylvania
We're unlikely to know the results of Pennsylvania on election night. Some counties may not even begin tallying absentee ballots until Wednesday. "We're sure it will take more time than it used to," Gov. Tom Wolf said Thursday. "We probably won't know results on election night." Luckily, Pennsylvania can accept mail-in ballots up to three days after the election as long as they are postmarked by election day.
Wisconsin
We should know the results for Wisconsin by Wednesday morning (Nov 4) at the latest. They aren't allowed to pause election counting once its begun according to state law, so its likely election officials will work through the night in some counties to offer results by Wednesday morning.
So...
In summary, it's likely we will not know election results for several days, unless it is such an enormous blow out (unlikely) that results become evident early. This could happen if Biden takes a key Republican state like Texas, but more than likely we'll just have to wait and see.
And it could mean one of the candidates ends up in jail.
Important Editor's Note:

What follows is an interview with a person who purports to "see" what others cannot - the paranormal truth that crosses the divide between mind and matter, between past and present and future things. We will call this person "L." She asked that we keep her identity secret, since she is actively working on multiple criminal investigations in the heartland of our country, many of which are "cold cases" that were abandoned as "unsolvable" before her involvement.
We at Trueself did our homework, and it's worth noting that L checks out - she is a trusted ally to our nation's most sophisticated forensic crime fighters. She doesn't earn a living from her so-called 'gift' (she has a real-life job) but instead tries to 'utilize her gift for good.' For clarity: We disclaim any comments of L that appear in this interview, but we do assert that the 'visions' described within this interview with L are true.
That said, we believe that her track record for helping our nation's top law enforcement officials solve cold cases means that this transcribed interview about her empath visions as recounted in this transcribed interview are worthy of publication.

Screenshot of the definition
Trueself: We understand that you watched the Trump-Biden debate tonight and felt compelled to reach out to a senior member of our editorial staff about a "vision" you had about Trump. Is that right?

L: Well, yes. I watched the debate, but I could not focus on the TV noise because I felt something coming through me.
Trueself: What do you mean - 'coming through [you]'?
L: [laughs nervously] Well, this is where it gets weird. And I just want to say that I am not only not political. I am anti-political. I don't consume news and have no love or hate for any politician. That stuff breaks my brain. The lies and posturing, the narcissism and lack of spirituality led me to ditch media and all things political at a very young age.
Trueself: I'm confused. If you shun media and politics, how did you get this 'vision' of yours?
L: That's the funny thing. My friend - the person on your staff who connected me with you - roped me into a Covid lockdown soire to watch last night's debate. I did so reluctantly, knowing that the mindless banter would make me drink too much to quiet my head. But, sure enough, the voices came. I needed to listen.
Trueself: At what point during the debate did that happen?
L: This is tough for me to say... [PAUSES, EMOTIONAL] ....I don't want to talk badly about anyone. And I don't have a real opinion on anything political. But the quickening happened. I couldn't help it while I watched the debate. It might have been the first time Chris Wallace challenged Trump and got run over by his interruptions... or the first time Biden looked like he might not remember the names of his grandkids. I just started seeing things... lol. I got worried and afraid, even. I worried about what might happen to us.
Trueself: Hang on... Seeing things? What do you mean?
L: I saw a collage of our national history strobe through my brain. I saw Lincoln and Kennedy and John Wilkes Booth and Lee Harvey Oswald. I saw Malcolm X and Martin Luther King. I saw James Baldwin and Bob Marley. I saw Frederick Douglas and Toni Morrison and James Joyce. Then... I saw President Trump in an orange jumpsuit. I saw him being taken away in shackles. Could have been a signal of something different, but I do know that it's true. Something true that will happen related to what I saw.
Trueself: Wait. I need to ask - you're saying the President of the United States will be carted off to jail?
L: Yes, that will happen.
Trueself: You really believe that is possible or you KNOW that it WILL happen?
L: It will happen, I believe.
Trueself: Err... okay. How does that make you feel?
L: Well... it makes me feel at peace, I guess. It will make us better. It will make America great again... [laughs]
And Their Jobs Owe Them Money for It.
Election day is here.
Not the big one that the whole county is obsessed with—that's still a year away. This is the little one in which your voice can actually make a difference.
All across the country, on Tuesday November 5th, local elections and special elections give a voice to the tiny fraction of voters who will actually show up. Historically speaking, these are likely to be aging voters who no longer work or have the luxury to set their own schedules. Historically speaking, young people have allowed the local government to be ruled by this privileged and aberrant minority of voters, even as their interests and agendas have drifted further from the cultural center. Historically speaking, we've thrown our power away—and not just our power, we've been throwing away paid time off work!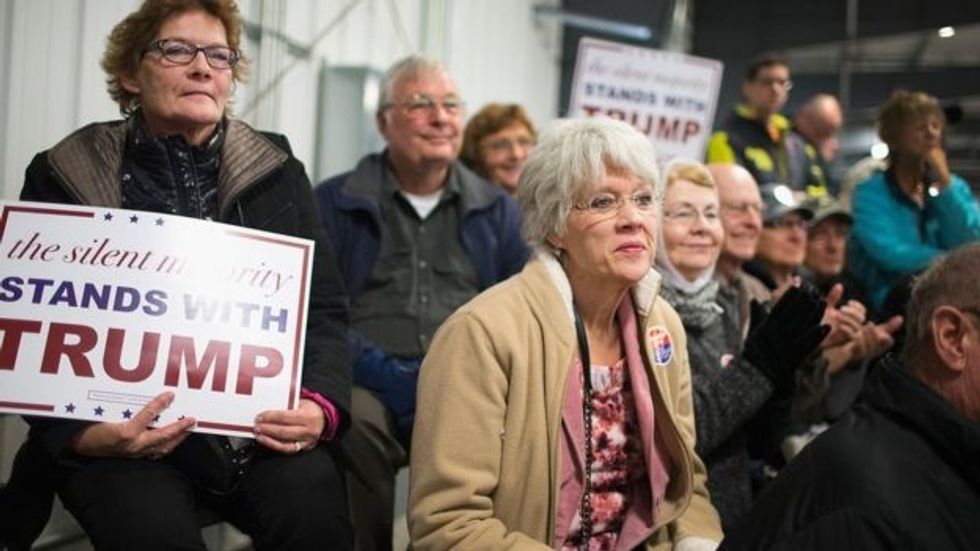 Getty
This is not like us. Aren't we the generation of entitled slackers who use any excuse to skip work? Is that just a myth created by baby boomers to make us sound way cooler—and therefore more threatening—than we actually are? In almost every state in the US, your boss is legally required to give you time off on election day to go vote! And in most states, that time off is paid!
In New York, any employee scheduled to work on Election Day is allowed three hours paid time off. In California, it's two hours. So why would you give away your labor? Find out where your polling place is, and figure out how long it takes to get there. If it's less than the time you're getting paid for, have you considered walking? If there's one thing better than a lovely Autumn stroll in the afternoon sun, it's getting your boss to pay for it.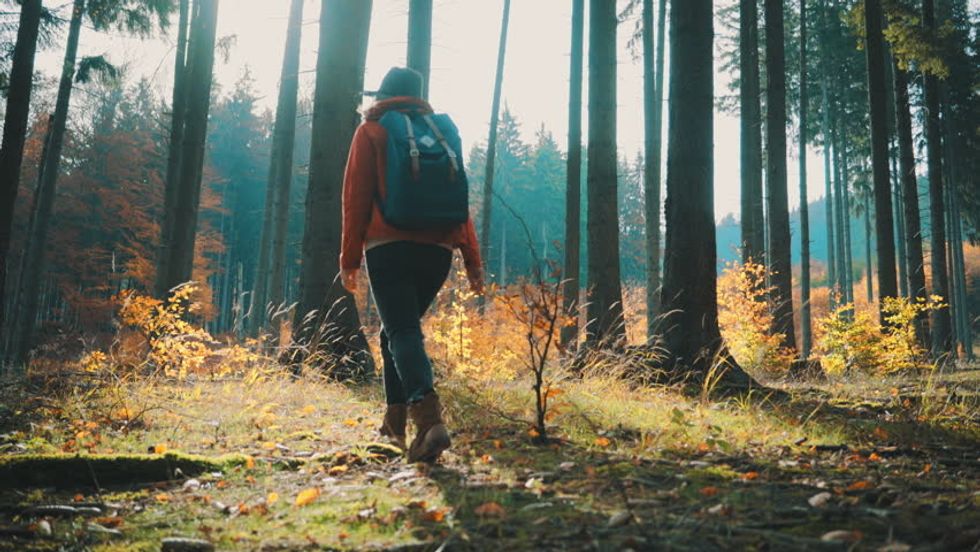 What getting paid could look like on TuesdayShutterstock
Along with the countless municipal elections that will otherwise be decided by retirees, there are a number of state-level races worth watching, from the Virginia state legislature elections, which could flip both houses, to the effort to reinstate affirmative action measures in Washington state. In New York, several ballot measures have been getting attention, in particular the issue of ranked-choice voting, which will go into effect in 2021 if the voters choose it tomorrow.
Would you rather that decision be made by people who might not live to see it take effect? Or would you rather you and all your friends get a half-day to go vote? Remember how much you love half-days? So, take one! Spend ten minutes on ballotpedia, then take three hours off work.
Even if you think electoralism is a joke, and you devote your life to activism that will tear down the state and rebuild it from scratch, elections can build enthusiasm and political engagement. If anything, show up and write in "voting is for chumps." Maybe a surprising turnout of young people will get some more people to start the long process of waking up to to political realities. Maybe some candidates will notice the demographics and start shifting their politics to appeal to people like you. It could happen!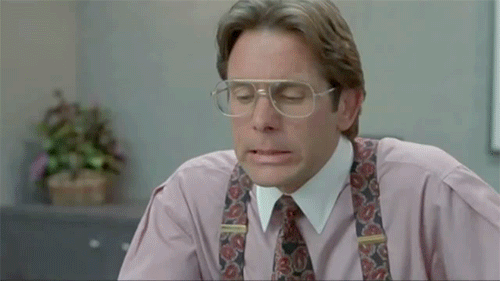 Office Space
Or maybe you'll just get a paid afternoon off, and watch your boss try—and fail—to argue with the law. Win-win.
Can the Democratic establishment get it right this time?
With the first Democratic primary still about eight months away, the Democratic party establishment appears prepared to throw all of their weight behind Joe Biden.

To hear MSNBC or CNN tell the story, Joe Biden has been the Democratic party's frontrunner since before he even declared his candidacy. Whether or not this is entirely true, however, is debatable. Misleading polls are being conducted and then misrepresented by many liberal news outlets as a means of solidifying Uncle Joe's frontrunner status early on in hopes of swaying voters toward the "more electable" candidate in the primaries. If Joe Biden can be made to look like he actually has the best chance of clinching the nomination or winning against Trump in a general election, then, voters will be more likely to vote for him as the safe bet.
IVN, or the Independent Voters Network, self-described as "a platform for unfiltered political news and policy analysis from independent-minded authors," has highlighted the biased nature of many political polls. IVN writer, Rudolpho Cortes Barragan reports:
"FiveThirtyEight, which is owned by ABC/Disney, functions as a sort of gatekeeper for polling, and polls are extremely important for candidacies. The public is told that polls judged as A+ by FiveThirtyEight are to be seen as real bellwethers of popular opinion. In reality, 'the polls' are manufactured to produce the results that the pollsters (and their corporate funders) want to see."
Barragan goes on to cite a recent Mammoth University poll as evidence. "The results showed Biden 9 percentage points ahead of Sanders," he writes, "but if you look closely you will see that more than 70% of the people polled are over the age of 50. Any honest person would be able to tell you that the 2020 electorate will be far younger than 50." The data is seldom presented within its full context on mainstream news outlets like MSNBC or CNN, and instills in voters a false sense of Biden's electability and props him up as the "safe" vote.
If this sounds eerily familiar, it's because the same thing happened in 2016. Hillary Clinton, like Biden, was prematurely propped up as the most electable candidate, even though an anti-establishment candidate like Bernie Sanders may have stood a better chance against Trump's "outsider" persona, which resonated with many voters (particularly across the midwest). This was proven in the wake of Trump's victory when analyses showed that many Bernie supporters either did not vote in the general election or jumped on the Trump ticket, preferring the radical change suggested by Trump's "drain the swamp" narrative over Clinton's years of experience as a politician.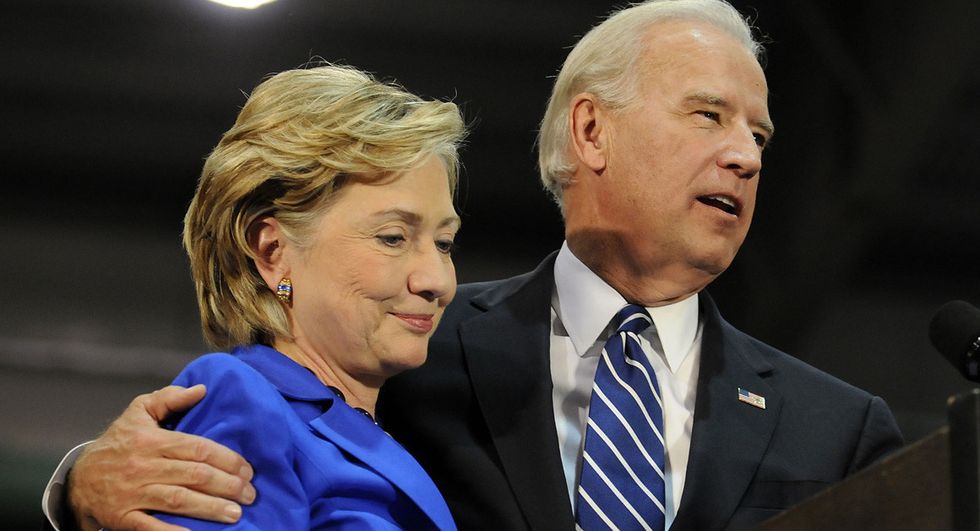 Joe Biden, like Clinton, is firmly rooted in the Democratic establishment. While Trump's approval rating has wavered over the last few years, hitting its low at 35% in 2017, it has remained around 40 to 45% — a number that should be alarming for Democrats going into 2020, as there have been only three single-term presidents since World War II.

Either way, the Democratic party and its voters must avoid making the same mistakes if there is any hope of preventing a Trump reelection. Poll manipulation was not the only issue in the 2016 election. The Democratic National Committee (DNC) was also exposed for unfairly tipping the scales toward Clinton in 2016, effectively rigging the primary against Bernie Sanders.
Donna Brazile, former interim chair of the DNC, revealed in her book, Hacks: The Inside Story of the Break-ins and Breakdowns that Put Donald Trump in the White House, the nefarious– although not technically illegal, according to US District Judge William J. Zloch, who dismissed a class action lawsuit against the DNC – actions of the Committee.
"Hillary would control the party's finances, strategy, and all the money raised," writes Brazile. "Her campaign had the right of refusal of who would be the party communications director, and it would make final decisions on all the other staff. The DNC also was required to consult with the campaign about all other staffing, budgeting, data, analytics, and mailings."
It's unclear whether the DNC's current chair, Tom Perez, will run an honest and fair ship as we approach the 2020 election cycle. Perez held the position of labor secretary during the Obama administration, and Biden publicly threw his support behind Perez during his campaign for DNC chair; whereas Sanders preferred Keith Ellison, who lost by a narrow margin. Only time will tell if Perez will tip the scales in Biden's favor due to their favorable history together, but the Democratic party is no stranger to nepotism, so Perez – especially in light of 2016 – should be watched carefully in the months to come.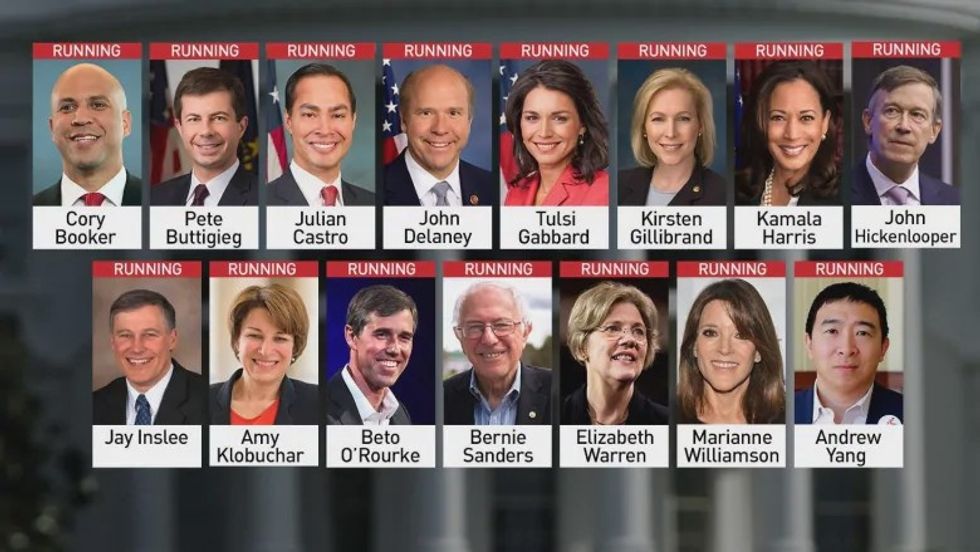 Even if the DNC does run a fair election this time around, electing Joe Biden would be a grave mistake. A mistake that the party already made last time around in the form of gifting the primary to Hillary Clinton. This election will not be one for tepid, center-of-the-road policies. We've already seen how an establishment centrist performs against Donald Trump. The Democratic party must embrace and adopt the progressive push to the left provided by candidates like Sanders and others if they have any hope of winning in 2020. Playing politics as usual will cost the Democratic party, and the nation, another four years of a Donald Trump White House.

Over the course of the evening, it became apparent the two frontrunners, Joe Biden and Bernie Sanders, aren't old dogs with new tricks.
Last night, the second round of Democratic debates came and went. Ten out of the twenty candidates who qualified for the debates were chosen at random to participate in the second half of NBC's nationally televised event. Of course, the goal for the Democratic Party is to take the Oval Office and hopefully the Senate.
Over the course of the evening, it became apparent the two frontrunners, Joe Biden and Bernie Sanders, are old dogs without any new tricks. Honestly, it'd be difficult to tell the difference between a clip of Senator Sanders debating in 2016 and 2019—maybe this time around, he's a little more tired. Joe Biden was alarming on the stage: He was ill-prepared, stumbled over his words, and leaned heavily on his smile. It's not that Biden had a terrible night' it's that he only had an okay night— which, for a frontrunner, is not a good sign. There were only three people anyone should be excited to hear from: Kamala Harris, Pete Buttigieg, and Marianne Williamson.
#LetYangSpeak
Between the two debates, candidate Andrew Yang spoke the least by a two-minute margin. During the three minutes he did speak, Yang introduced his Freedom Dividend policy. The Freedom Dividend Policy is a Universal Basic Income plan. All people over the age of eighteen would be eligible to obtain a basic income of a thousand dollars a month. Yang's policy is one of the few proposed that addresses an imminent threat: technology. If corporations like Amazon were heavily taxed, that'd free a lot more money for workers who are displaced due to automated jobs accomplished by AI.
If you look into Yang, he's a contender thanks to his reasonably successful grassroots campaign. Last night, Yang turned his campaign into the trending hashtag #LetYangSpeak. According to the candidate, his mic had been turned off multiple times throughout the evening. The only evidence available is footage of Yang attempting to get a word in but to no avail.
#LetYangSpeak Here's proof that @AndrewYang was attempting to speak, but his mic was cut off. Coincidences don't ex… https://t.co/cRhdujENfD

— AVWilhite20 (@AVWilhite20) 1561733609.0
In the video, he's speaking, loud enough for Joe Biden to hear him. Beyond that clip, there is no other evidence. If that were, in fact, true, then NBC would have a lot to answer for ah regarding their meddling in a primary debate.

Marianne Williamson, Be Still My Heart
Marianne Williamson sure made a name for herself last night. Her dramatic and chaotic delivery was a delight for many. Yet, she did not come to play games; she came to bring up points of contention and big ideas we need to tackle. According to her, "It's really nice if we've got all these plans, but if you think we're going to beat Donald Trump by just having all these plans, you've got another thing coming. He didn't win by saying he had a plan. He won by simply saying 'Make America Great Again.'" She's right, like she was right about a lot of things: Williamson thoughtfully addressed the need for reparations, slammed ageist rhetoric, and exclaimed of love over hate.
Although her delivery was off-kilter to many, Williamson should not be underestimated for her flowery language; she explained:
"I have had a career not making the political plans, but I have had a career harnessing the inspiration and the motivation and the excitement of people. Masses of people. When we know that when we say we are going to turn from a dirty economy to a clean economy, we're going to have a Green New Deal, we're going to create millions of jobs, we're going to do this within the next 12 years, because I'm not interested in just winning the next election, we are interested in our grandchildren. Then it will happen."
Many Americans never imagined Donald Trump would be our president, but here we are. Williamson's bold statements and captivating delivery about her hopes and dreams for this country have the potential to capture the American imagination. Sure, she may give off the spiritual energy of a wine mom who likes crystals, but why does that discredit her abilities? Remember, the hippies of our nation began revolutions.
Marianne Williamson: I Will 'Harness Love' To Defeat President Donald Trump | NBC Newswww.youtube.com
Yes, We Just Witnessed a Murder

Kamala Harris came prepared last night. Over all the ruckus, Harris reprimanded her fellow candidates with her rehearsed one-liner: "America does not want to witness a food fight; they want to know how we're going to put food on their table."
She continued to command the evening by confronting Joe Biden on his record. Harris challenged the former VP, asserting:
"I'm going to now direct this at Vice President Biden, I do not believe you are a racist, and I agree with you when you commit yourself to the importance of finding common ground. But I also believe, and it's personal— and I was actually very—it was hurtful to hear you talk about the reputations of two United States senators who built their reputations and career on the segregation of race in this country. And it was not only that, but you also worked with them to oppose busing.
"And, you know, there was a little girl in California who was part of the second class to integrate her public schools, and she was bused to school every day. And that little girl was me."
Kamala Harris Confronts Joe Biden On Race | TIMEwww.youtube.com
Biden, who was once a spirited debater, floundered in his response. He clarified that he supported busing, but on the state level. Harris clapped back, recounting how in her hometown of Berkeley, California, busing was not enforced. She utilized the anecdote to explain why The Civil Rights Act of 1964 and the Voting Rights Act of 1965 were crucial to this country, which is why we need to ratify the Equal Rights Amendment.

Biden was given thirty seconds to respond. He vouched for his record, reasserting that he always supported Civil Rights, before cutting himself off, saying, "— anyway, my time is up. I'm sorry." Biden caused the most damage to himself, as he failed to successfully defend himself.
Sometimes, You Just Can't Get it Done
Pete Buttigieg was another candidate with a breakout performance. The South Bend, Indiana Mayor may be young, but he's had skin in the game for seventeen years. Buttigieg is a veteran, a politician, a polyglot, and a gifted orator. He also made history last night as the first openly gay candidate to participate in a primary debate.
On the topic of immigration, he broke down the hypocrisy of the Christian-aligning Republican Party. Buttigieg did not hold back, proclaiming:
"The Republican Party likes to cloak itself in the language of religion. We should call hypocrisy, and for a party that associates with Christianity to say it is okay to suggest that God would smile on the division of families at the hands of federal agents, that God would condone putting children in cages has lost all claim to ever use religion language again."
The South Bend native also candidly addressed his failure to diversify his city's police force, noting, "I couldn't get it done." He went on to explain the pain his city is experiencing due to the devastating death of a local black man, Eric Logan. Logan was shot and killed by a white police officer. The officer did not have his body camera on at the time of the incident. Buttigieg unpacked how he could not take a position on the matter until the investigation is complete.
The mayor's transparency was received favorably and for a good reason. We need a president who doesn't spread fake news.
Stop Name Dropping
Joe Biden name-dropped Obama almost as frequently as he did Trump. Biden's attempts to piggy-back off the former President's accomplishments highlighted the reason Biden why was only able to make it into the Oval Office as a running mate instead of president: He is not our future. While Biden is a respected Washington staple, his vision for our country is dated and boring. It doesn't capture the America we live in today. After Harris' takedown, it's apparent that Biden cannot justify his unfavorable past.
Maybe California Senator Eric Swalwell was right when he told Biden to finally "pass the torch" to the next generation. Biden slyly smiled and said, "Not yet." However, if last night proved anything, it's that he should've let go of it a long time ago.
Donald Trump's 2020 campaign created a hotline that makes leaving a message for the sitting U.S. President as easy as voting for your favorite contestant on America's Got Talent.
If reports that Trump is expressing concerns to close associates that impeachment is "a real possibility" are true, there's now a hotline to provide him reassurance and support. But the 1-800 number isn't for him to call; it's for his supporters to leave him personal messages ending with "thank you, President Trump!"

The first re-election ad for 2020 aired on CNN this week, and it oddly features Trump's campaign manager, Brad Parscale. Dead-eyed, Parscale recites, "President Trump has achieved more during his time in office than any president in history." Of course, the timing of the ad begs a few questions about this assessment, as the Washington Post notes that every organization led by Trump over the last 10 years is currently under investigation.
Parscale continues, "We have a booming economy, historically low unemployment, including the lowest unemployment rate for minorities in history." At least this is a more grounded statement, considering unemployment rates reached a 50-year low in October due to the fact fewer people are participating in the workforce—due to lack of skills, opioid addiction, high college enrollment, and lower rates of female employment. To evince the viewers of this accomplishment, the 1-minute-long ad flashes some B-roll of smiling laborers at assembly lines.
"We need to let President Trump know that we appreciate what he's doing for America," Parscale says later in the ad. "That is why I need every Trump supporter to pick up a phone right now and deliver a personal thank you to your president." Closing the segment with a waving American flag, the instructions to "call 1-800-684-3043 and press 1" make leaving a message for the sitting U.S. President as easy as voting for your favorite contestant on America's Got Talent.
After the ad's first run, journalist Yashar Ali shared the video on Twitter, pointing out that calling the hotline leads to a brief recording service asking for your name and adoration for Trump's administration–promptly followed by an appeal for a campaign donation.
First 2020 ad? This Trump ad, featuring his campaign manager @parscale, just aired on CNN. It's a minute long and a… https://t.co/zq4WTQoyRF

— Yashar Ali 🐘 (@Yashar Ali 🐘) 1545098251.0
If callers are unsure if they want to contribute, Parscale's voice reminds them how much Trump needs their support. His crackling recording says, "But President Trump is under vicious, daily attacks from the fake news media and far-left Democrats who want to implement the radical socialist agenda." His appeals ends, "They will stop at nothing to overturn the election and remove your president from office."

So who's calling the hotline? Jimmy Kimmel called a mock number on his show Tuesday night, thanking Trump for "making it okay to use casual racism on Facebook." Twitter users shared the cutting messages they'd like the president to hear, including CNN analyst Renato Mariotti, who responded to the claim that "President Trump has achieved more in his time in office than any president in history" with sounder examples, "Lincoln freed the slaves. FDR led us to victory in World War II."
"President Trump has achieved more in his time in office than any president in history." - @parscale Lincoln free… https://t.co/E3KBoHiVLd

— Renato Mariotti (@Renato Mariotti) 1545109311.0
At the very least, thank you, President Trump, for creating an excellent service to drunk dial.

Meg Hanson is a Brooklyn-based writer, teacher, and jaywalker. Find Meg at her website and on Twitter @megsoyung.
The conservative Republican made history when she won a seat in Congress, despite backlash over recent racially-charged comments.
In the last Senate race to be called, Mississippi has elected its first female Senator. Cindy Hyde-Smith will hold one of the Republicans' 53 seats to Democrats' 47 seats, setting a new record of 24 women in the Senate next year. However, the victory as a mark of social progress is tainted due to Hyde-Smith's history of racially-charged comments and sheltered background.
Leading up to the election, Hyde-Smith received backlash over a video of her joking with a supporter that if she were invited to a "public hanging," she'd be in "the front row." Following public outcry, she released an apology, stating, "For anyone who was offended by my comment, I certainly apologize."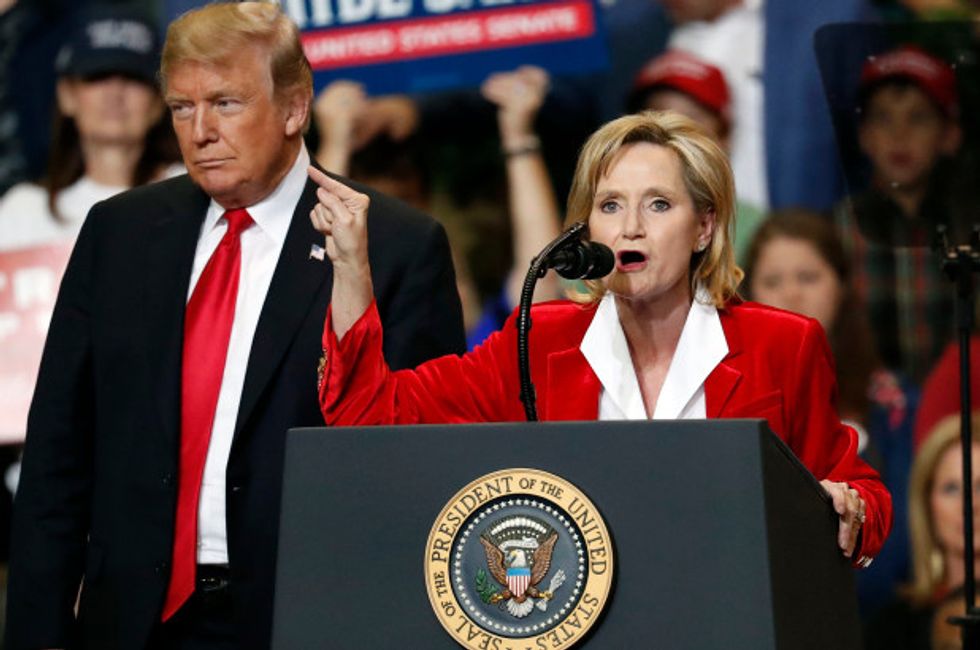 New York Post
At the same time, however, she dismissed the criticism as "ridiculous." Claiming that she possessed no ill intentions, she framed the comment as nothing more than banter with a supporter, stating, "In referencing the one who invited me, I used an exaggerated expression of regard, and any attempt to turn this into a negative connotation is ridiculous."

The conservative Senator has the public divided over whether Mississippi is heading towards a more inclusive future or embracing a troubled past. Hyde-Smith's "public hanging" comments evoke the state's ignominious history of mob lynchings, Jim Crow, and legally-enforced segregation. On Friday, the Jackson Free-Press uncovered that the 59-year-old graduated from a southern private school established in the '70s to eschew desegregation orders after the ruling of Brown v. Board of Education.
Mississippi has been criticized for allowing segregated private schools as recently as 2017. Hyde-Smith's alma mater, Lawrence County Academy, hosted a mascot dressed as a Confederate general and displayed a Confederate flag. The Senator elected to send her daughter to a similar "segregation academy."
CNN also looked into Hyde-Smith's past and reported that she's advocated a revisionist view of the Civil War and backed a measure to honor a Confederate soldier's efforts to "defend his homeland." Additionally, the Senator's Facebook page displays pictures from 2014 in which she's posing with Confederate artifacts during a visit to Beauvoir, the hometown of Confederate President Jefferson Davis. The photo's caption reads, "Mississippi history at its best!"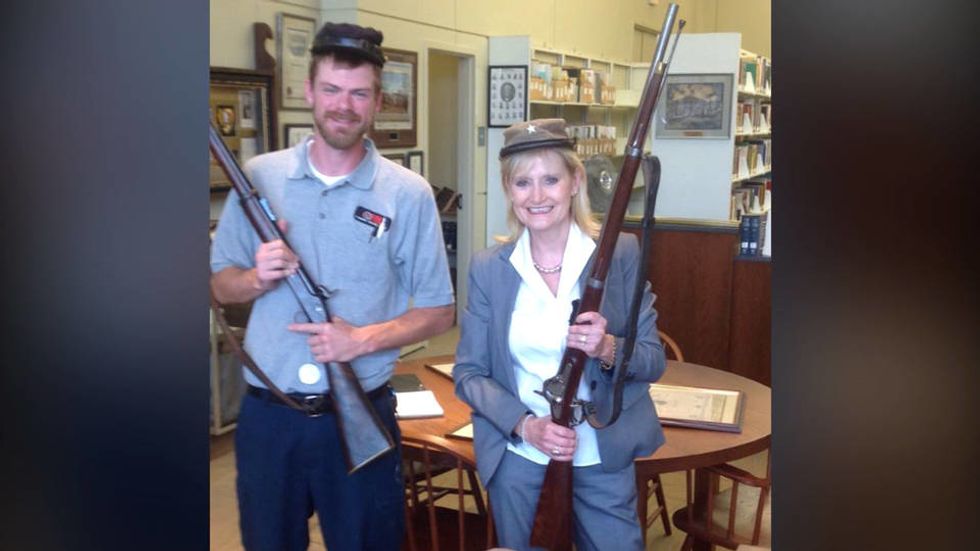 Democracy Now!
On Tuesday, Hyde-Smith credited her win to the state's dedication to "conservative values." In her victory speech, she said, "The reason we won is because Mississippians know me and they know my heart. This win tonight, this victory, it's about our conservative values, it's about the things that mean the most to all of us Mississippians: our faith, our family."

Hyde-Smith received her strongest support from Mississippi's rural and predominantly white counties, according to The New York Times. CNN also attributed the win to Donald Trump's last-minute trips to the state. During a Monday night rally in Biloxi, Trump told the crowd, "She is respected by all. Some long-term senators, they've been down there, they told me, this is a woman that gets it. She's smart, she's tough, and she loves you." He went on, "She produces like few produce. This is a very, very special person."
After a race that was closer than anticipated, Democrat Mike Espy conceded to Hyde-Smith on Tuesday. He offered hopeful regards to the new Senator, stating, "[She] has my prayers as she goes to Washington to unite a very divided Mississippi."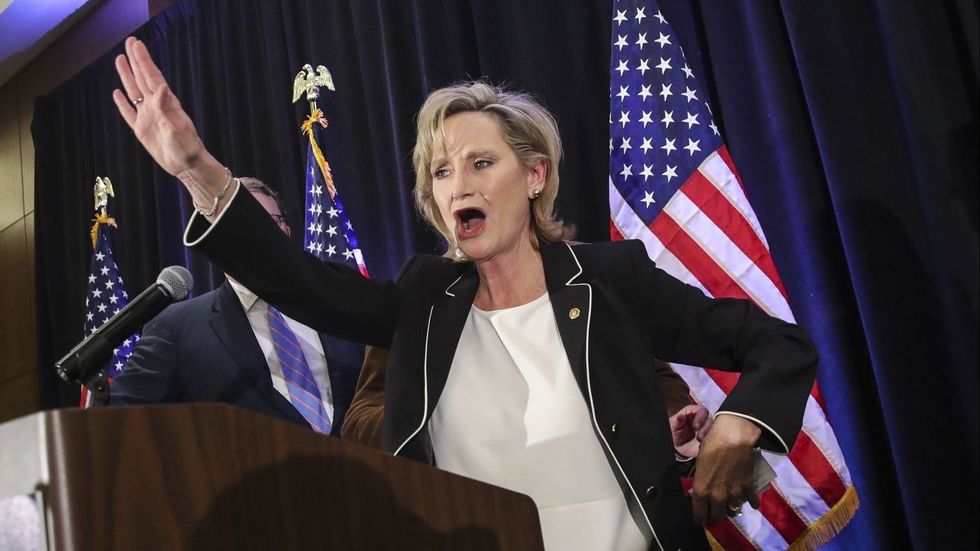 Los Angeles Times
Meg Hanson is a Brooklyn-based writer, teacher, and jaywalker. Find Meg at her website and on Twitter @megsoyung.

Dennis Hof won his bid for Nevada Assembly District 36 last night, despite having died three weeks ago.
Midterm elections are often considered a referendum on a sitting administration's progress—a collective report card graded by the people. Early numbers from this year's elections suggest a substantial and possibly record increase in voter turnout, which has been historically low in non-presidential voting years. It's not surprising, given the turbulent political climate, that candidates from both parties continued to campaign at full speed up until the final hours. Yet despite an election cycle that saw blatantly racist attack ads, felony accusations, and threats of violence, the one surefire road to victory has been apparent for years: death.
Outlandish as it may seem, at least nine dead people have been elected to public office since 1962—six in the last 20 years alone. The latest, Dennis Hof, whose body was discovered last month after the legal brothel owner had celebrated at a campaign-and-birthday party, claimed victory in Nevada last night. Prior to his death, the 72-year-old had been celebrating with friends Heidi Fleiss, Ron Jeremy, and Joe Arpaio.
Ballots Beyond the Grave: Deceased People Who Have Won Elections
Rep. Clement Miller (CA, 1962; airplane accident)

Reps. Nick Begich (AK) and Hale Boggs (LA, 1972; airplane accident)

Gov. Mel Carnahan (MO, 2000; plane crash)

Rep. Patsy Mink (HI, 2002; viral pneumonia)

Sen. James Rhoades (PENN, 2008; car accident)

Sen. Jenny Oropeza (CA, 2010; cancer)

Sen. Mario Gallegos (TX, 2012; liver disease)

Dennis Hof (NV, 2018; cause of death not yet reported)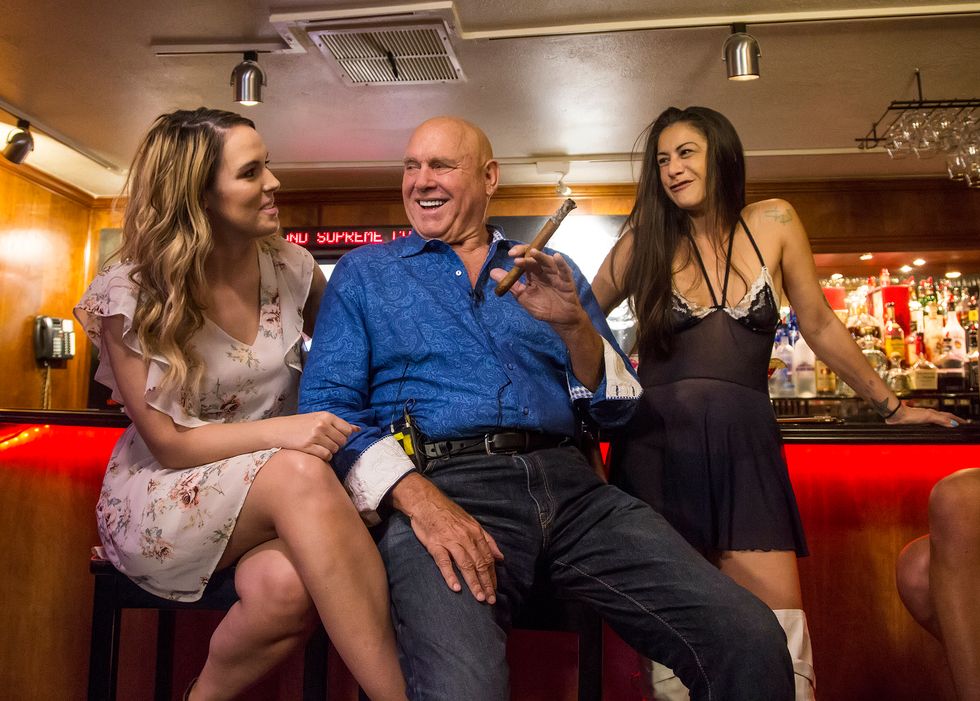 The Nevada Independent
Hof ran for office as a self-proclaimed "Trump Republican" and stated that the president's 2016 win ignited his own desire for a career in politics. Similarities between the two run deep. Hof gained fame as a reality star on the long-running HBO documentary series Cathouse, which captured life at the Moonlite Bunny Ranch, one of several legal brothels owned and operated by Hof. In 2015, he published a memoir titled "The Art of the Pimp," a clear homage to Trump's "The Art of the Deal." In it, Hof included a psychological profile by psychotherapist Dr. Sheenah Hankin, which categorizes Hof as a narcissist who abused the sex workers he employed.
Among the issues he championed were immigration reform, a repeal of Nevada's 2015 Commerce Tax, and a campus carry law that would allow concealed-carry permit holders to bring their weapons onto Nevada college and university campuses. He was endorsed by Roger Stone and Grover Norquist. In the 2018 primary elections, Hof beat incumbent James Oscarson by a mere 432 votes. Because he died within 60 days of the upcoming election, Hof remained on the ballot, though signs were posted at polling sites notifying voters of his death.
It seems as though these issues matter more than electing a living person to citizens of the 36th Assembly District. In fact, a 2013 study by Vanderbilt University found that, in lower-level elections, voters are most likely to elect the candidate with the highest name recognition.
The 36th Assembly District, which spans Clark, Lincoln, and Nye counties, has long been a GOP stronghold. Hof defeated Democrat Lesia Romanov, a first-time (living, breathing) candidate and lifetime educator who works as assistant principal of an elementary school for at-risk children. Romanov was impelled to run for office by a desire for common-sense gun reform following the mass shooting in Parkland, Florida. Yet, too many of her constituents, upon discovering she was running against Hof, she became a de facto advocate for women, including "survivors of sex trafficking and exploited and abused brothel workers," according to NBC News. Romanov was among many women running for office in hopes of making Nevada's legislature the first to hold a female majority in the country.
As The Washington Post reported in 2014, there hasn't been an election with a dead person on the ballot in which the dead person lost. It's hard to determine what's more damning for American democracy: that voters are so divided that they're more likely to vote for a dead person than cross party lines or that they've been voting that way for years. At the same time, one might argue that giving Hof's seat to a living Republican (as appointed by county officials, according to state law) is a better outcome than if it'd gone to Hof himself, considering his history of sexual abuse allegations. The most preposterous indictment of the American political system is that although deceased candidates have been elected before, now the electorate could seemingly ask itself—in all seriousness—whether a dead serial abuser makes a better candidate than a living one. And no one seems to know the answer.