"A tree is best measured when it is down," the poet Carl Sandburg once observed, "and so it is with people." The recent death of Harry Belafonte at the age of 96 has prompted many assessments of what this pioneering singer-actor-activist accomplished in a long and fruitful life.
Belafonte's career as a ground-breaking entertainer brought him substantial wealth and fame; according to Playbill magazine, "By 1959, he was the highest paid Black entertainer in the industry, appearing in raucously successful engagements in Las Vegas, New York, and Los Angeles." He scored on Broadway, winning a 1954 Tony for Best Featured Actor in a Musical – John Murray Anderson's Almanac. Belafonte was the first Black person to win the prestigious award. A 1960 television special, "Tonight with Belafonte," brought him an Emmy for Outstanding Performance in a Variety or Musical Program or Series, making him the first Black person to win that award. He found equal success in the recording studio, bringing Calypso music to the masses via such hits as "Day-O (The Banana Boat Song)" and "Jamaica Farewell."
Harry Belafonte - Day-O (The Banana Boat Song) (Live)www.youtube.com
Belafonte's blockbuster stardom is all the more remarkable for happening in a world plagued by virulent systemic racism. Though he never stopped performing, by the early 1960s he'd shifted his energies to the nascent Civil Right movement. He was a friend and adviser to the Reverend Doctor Martin Luther King, Jr. and, as the New York Times stated, Belafonte "put up much of the seed money to help start the Student Nonviolent Coordinating Committee and was one of the principal fund-raisers for that organization and Dr. King's Southern Christian Leadership Conference."
The Southern Poverty Law Center notes that "he helped launch one of Mississippi's first voter registration drives and provided funding for the Freedom Riders. His activism extended beyond the U.S. as he fought against apartheid alongside Nelson Mandela and Miriam Makeba, campaigned for Mandela's release from prison, and advocated for famine relief in Africa." And in 1987, he received an appointment to UNICEF as a goodwill ambassador.
Over a career spanning more than seventy years, Belafonte brought joy to millions of people. He also did something that is, perhaps, even greater: he fostered the hope that a better world for all could be created. And, by his example, demonstrated how we might go about bringing that world into existence.
We need more Black films that aren't about pain
Sometime in the middle of June, seemingly overnight, bookmarks and highlights with titles like "Sharing Black stories" and "Celebrating Black Voices" emerged on streaming platforms.

While such branding efforts are usually reserved for Black History Month, these categories appeared as a response to the Black Lives Matter protests, which rippled through the industry in demands for more representation and recognition of Black people.
Streaming platforms responded by acquiring more Black content to feature prominently on their homepages, emphasizing their commitment to sharing and amplifying what they categorize as "Black Voices."
This seems like a good thing, a sign of progress. However, scrolling through the Black categories revealed more about Hollywood's gaze than about Black people — most of the showcased films could be separated into two categories: movies about slavery and movies about Civil Rights.
From Harriet and 12 Years a Slave to Selma or any other Martin Luther King biopic, most of the critically acclaimed films about "Blackness" seem to sensationalize Black suffering in order to offer a false sense of resolution and closure — as if racism began in slavery and ended with the March on Washington.
This false representation of Blackness in Hollywood perpetuates the idea that racism is a Black issue for Black people to deal with. It shows the horrors of slavery and Jim Crow eras as experiences of Black suffering, rather than white violence and complicity — all while cementing them in the past, where they can be ignored rather than confronted.
All this is at odds with the recent pushes for Americans to acknowledge how they are implicated in the country's deep-seated racist history.
Though film has the potential to excavate deep emotional truths about the current lives of Black folks, or imagine multiplicitous and dynamic futures, Hollywood is too obsessed with cataloguing Black trauma to realize that potential.
For film to truly be a resource for antiracism and an artform where everyone is represented, the powers that be in the academy need to reach beyond historical narratives and stereotypical caricatures and instead give their money and energy to new stories.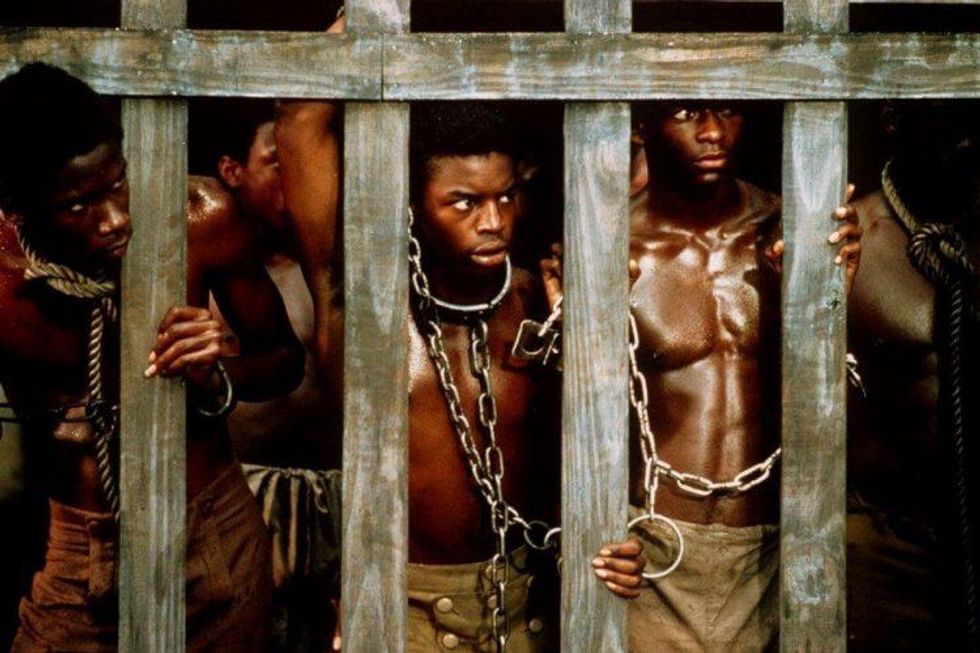 Roots
Voyeurism of Black Trauma

Sometimes I think there shouldn't have been any film about slavery after Roots.
The six-part, nine-hour mini series, based on Alex Haley's giant novel of the same name, premiered in 1977 and catalogued the cruelty endured by one slave, Kunta-Kinte, who refused to give up his name.
Though the story is iconic and a canonized part of the lexicon (often referenced in Black art and popular culture like multiple Kendrick Lamar songs), what is most famous about the movie adaptation are the scenes of violence — the whipping, the blood, the lacerations left on the skin.
In most film representations of enslaved people, there is a focus on the violence and cruelty experienced — from physical to sexual assault. While it is important to remember the intensity of the cruelty suffered under slavery, the Hollywood gaze often sensationalizes this violence, using it as plot or character development or to establish tropes. This creates a voyeuristic dynamic which is more objectifying than empowering.
Too often, this violence serves as a catalyst for some self-determined act of escape. Capitalizing on their anger, the enslaved person finally finds the strength to run away and free themselves. Not only is this narrative incredibly reductive of the psychological horrors of captivity (insinuating a kind of Kanye West-like philosophy), but it draws on actual pain and trauma in service of a contrived redemption story.
There is no worse offender than Quentin Tarantino'sDjango Unchained — a film which I firmly believe Tarantino wrote and directed just to cast himself vicariously saying the N-word even more times than he did in Pulp Fiction. A classic Tarantino revenge fantasy, the fact of slavery becomes the background and backstory to Tarantino's spectacle of blood, gore, and farce.
But there is no healing in this, no real redemption found in the execution of single characters without the confrontation of the institution. And yet, it's categorized as a "Black story" … not likely.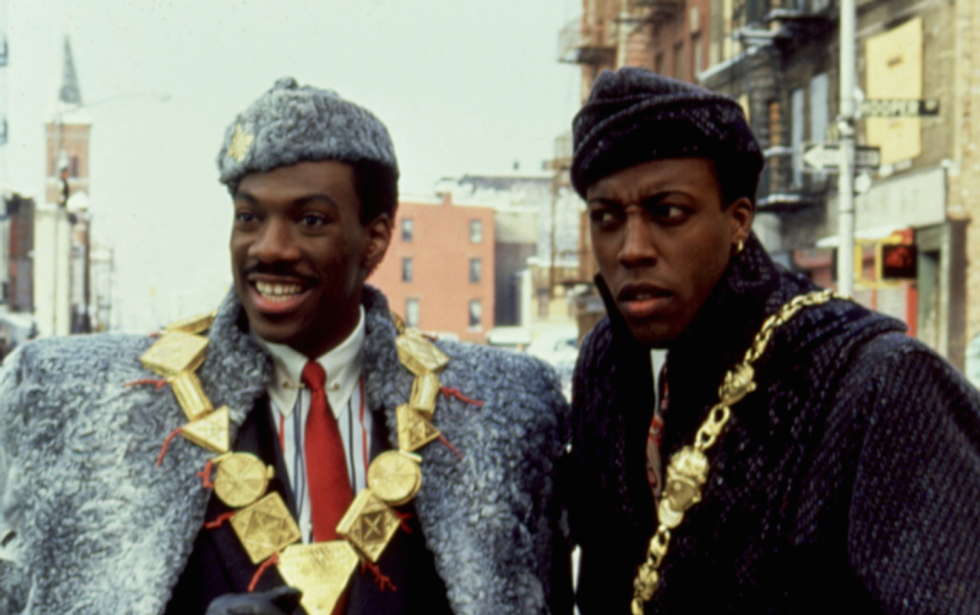 The Reign of Black Caricature

Most of the movies which fall outside of the slavery and civil rights categories still leave much to be desired: from biopics on famous athletes and musicians to outrageous slapstick comedies (like, White Chicks … really?), the leading roles Black people can play rest in pretty defined tropes.
For a while, in the late '80s to early-2000s, there was a high demand for Black, male comedians — largely attributed to the success of Eddie Murphy on SNL from 1980-1984, which paved the way for Chris Rock, the Wayans Brothers, and Keenan and Kel, amongst others.
However, while white male comedians could exist in a range of styles and did not all follow the same formula, the same was not true for Black comedians. When it comes to Black actors, often what works once is all that networks will invest in — so everybody had to be Eddie Murphy.
What ensued was a generation of comedy movies built on over-the-top caricatures of Blackness which now find themselves in these "Black Voices" categories; meanwhile, the creative vision behind the reductive characters are likely the work of white Hollywood executives, pumping out repetitive content they knew would sell.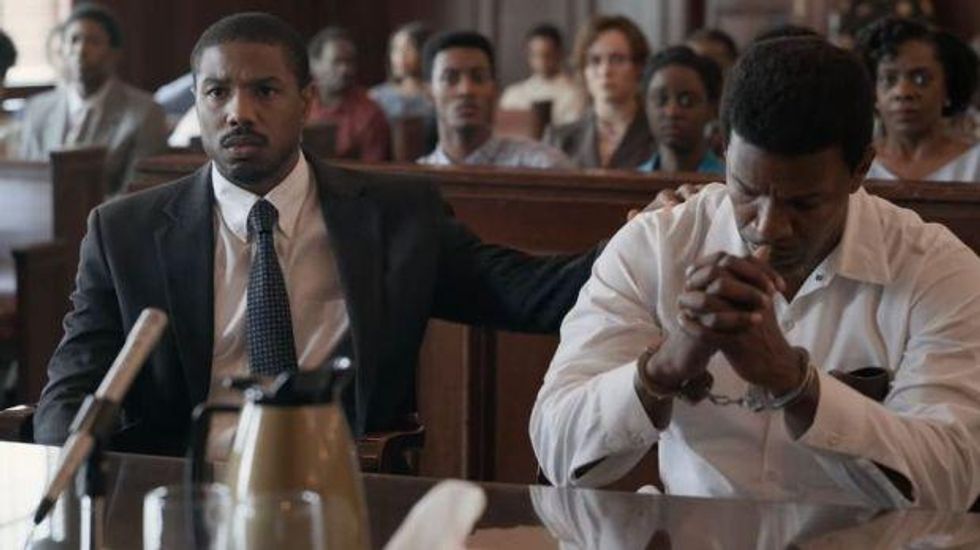 The New Age: Prison Movies

The recent attention to the atrocity of the prison industrial complex, especially after the success of the book The New Jim Crow and Ava DuVernay's documentary 13th, has spawned a new genre of Black trauma film: wrongful incarceration films.
In the last few years alone, there have been multiple adaptations of true-story accounts of Black men who were wrongfully imprisoned, then fought to prove their innocence.
From Just Mercy, starring Michael B. Jordan as Bryan Stevenson, the prominent lawyer and prison activist at the Equal Justice Initiative, to Brian Banks about the story of the former football player who was freed by the Innocence Project, these accounts are powerful, but they feel reiterative of the same tropes: Black man who finds his freedom through self-determination.
They also hinge too heavily on carceral tropes of guilty-versus-innocent instead of interrogating the project of prisons at large. Hollywood, in this way, likes to claim the label of righteousness and activism, while not really moving towards radical change.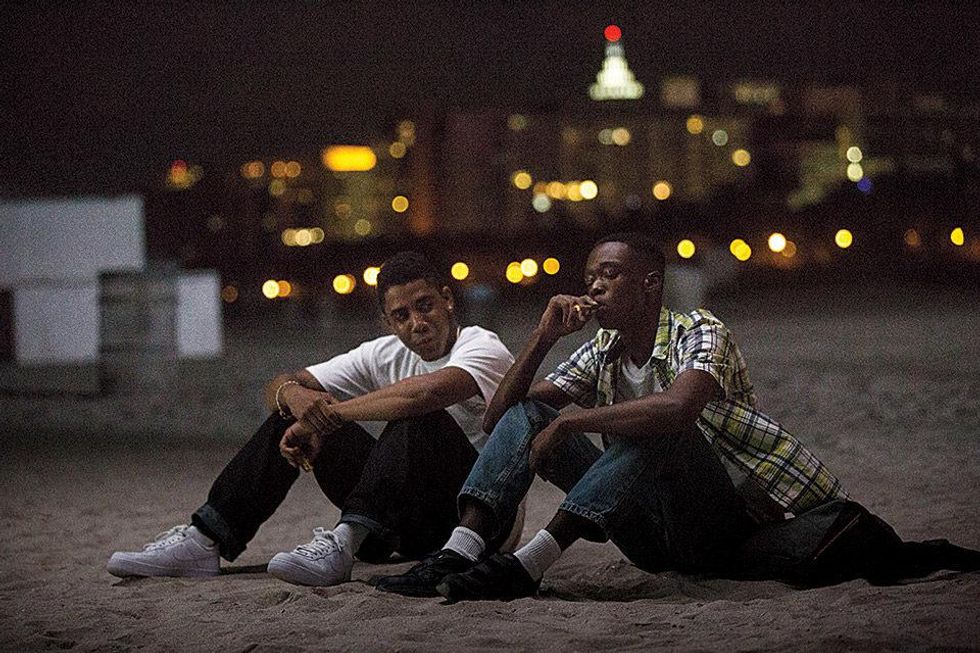 Academy Award winner, Moonlight, ushered in a new era in avant garde Black cinema
A Black Renaissance

The past few years, however, have been a sort of renaissance of Black storytelling in Hollywood.
The rise of Black-run production agencies like Lena Waithe's Hillman Grad Productions and Issa Rae's Hoorae Production Company has shown what a difference it makes when Black creatives are empowered both in front of and behind the camera.
With more Black people behind the camera, Black artists with unique viewpoints and more nuanced stories are now more likely to work with executives who understand them, and know how to support them.
In the past few years, the fruits of this renaissance have made big moves in the box office and at award shows. Films like Barry Jenkins's Moonlight and Jordan Peele's Get Out have become cultural staples, and major blockbusters like Black Panther have shown the buying power of Black audiences.
No more do Black stories have to fall into restrictive categories. No more are Denzel Washington and Will Smith the only ones who get cast in challenging, complex roles. New Black movies are more exploratory and expansive than ever — whether it's Beyonce's afrofuturist take on the Lion King in Black Is King or the upcoming intimacy of Malcom & Marie.
For true representation, Black movies cannot depend on the same canned narratives any longer, and Black people can't be the only ones watching them. Hollywood just needs to put faith in different narratives and trust that our stories are worth hearing.
So much of Angela Davis's work is still relevant and urgent now
When you think of the Black Panther Party or Black women revolutionaries, one of the images that likely comes to mind is of Angela Davis and her giant, unapologetic afro, fist raised to the sky.

One of the foremost activists and revolutionaries of the time, Angela Davis is a blueprint for race theory and radical politics. Long before Kimberlé Crenshaw coined the term "intersectionality," Angela Davis was living it.
An activist during the concurrent Civil Rights Movement and the second-wave feminism of the 1960s and '70s, Davis made no compromises in her rhetoric for gender or racial equality. Her ideologies were also informed by Marxist analysis and fervent belief in the interlinked oppression of race, gender, and class as a product of capitalism.
Almost 60 years later, the same fight remains and Davis is still at the forefront. Her work, from her speeches to her books, are similarly potent sources of theory and inspiration. It's safe to say that Angela Davis should be required reading — not just as a resource for anti racism work, but just as a model of how to live.
Since so much of her work is still relevant and urgent now, here are some of the most resonant quotes for our current age and why they still matter today.
Biden, Obama, Bush, and Clinton were the four horsemen of the 2021 Inauguration.
Though the physical event was small — due to the enhanced security measures enacted in fear of violence or resistance against the transition of power, and the persisting pandemic — and more than 191,500 flags stood in place of the people that usually crowd the surrounding area, the event was filled with prominent guests and high profile performances, both in person and virtual.
The virtual portion of the day was a mixture of performances, speeches, and video compilations 'hosted' by Tom Hanks.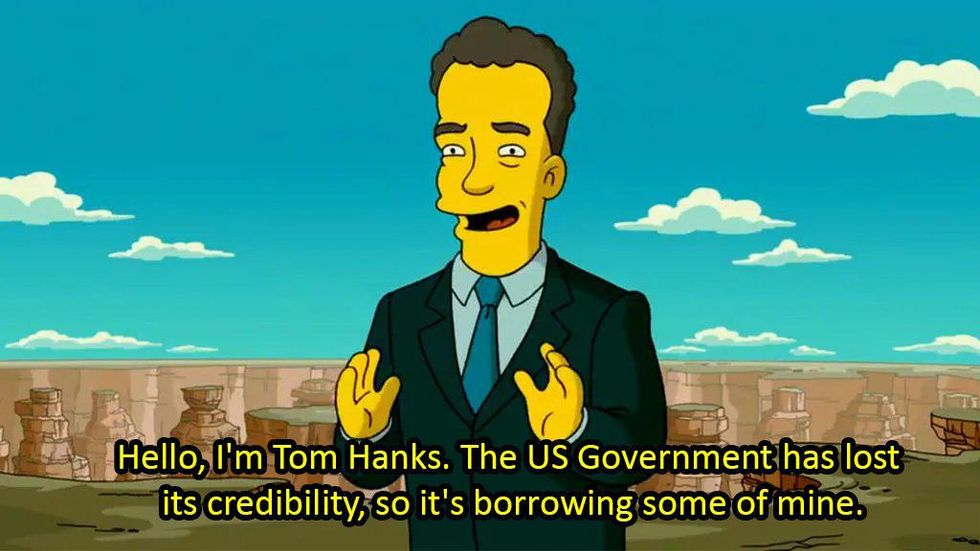 Just as the Simpsons predictedvia FOX
As part of the proceedings, former Presidents Barack Obama, George W. Bush, and Bill Clinton appeared in a video giving a joint speech, which had the vibe of a group project where you didn't get to choose your partners and you got stuck with some kids you neither knew or liked.

The three most recently joined forces to volunteer to take the COVID-19 vaccine when it was first approved, and like an aged boyband, they came back for one night only, streamed live across America.
In their video, the three ex-presidents congratulated President Joe Biden and stressed the importance of peaceful transitions of power, ostensibly trying to lead by example in a show of bipartisan unity while making a point about the noticeably absent President Trump (who was on his way to Mar-a-Lago with his crying conspirators/children).
The message of the former presidents came alongside Biden urging for "unity" in his Inaugural address.
But what does this mean?
From the beginning of his Inauguration speech, Biden declared his presidency one of "history and hope. Of renewal and resolve." Referring to the historic nature of his cabinet and Kamala Harris's historic position as Vice President, Biden's self-congratulatory remarks also stir up questions.
The intentionally indefinite rhetoric asks: "hope" of what, and for whom? "Renewal" of what? Leaving an era defined by the slogan "Make America Great Again," it feels dangerous to tie a Presidency to the idea of some vague longing.
The politics of nostalgia allow the romanticization of a past which has always had as many problems as the present, if not more. Biden's emphasis on having a Presidency inspired by his predecessors refers to the presidency of Obama, but also to the other two horsemen of the inauguration apocalypse and the Founding Fathers … who we all know were flawed at best.
The desire to appeal to the American mythos reduces the oppression inculcated into US democracy to a footnote in the story — despite the fact that those institutions of inequality are prominent today.
Biden proclaimed that "the American story depends not on any one of us, not on some of us, but on all of us. On 'We the People' who seek a more perfect Union. This is a great nation and we are a good people."
… is that true?
While I would like to believe it, and perhaps there is room for more optimism and benefit of the doubt in an inaugural address than I'm accustomed to in life, moralizing the United States as a good nation filled with good people perpetuates the myth of American exceptionalism and allows for complacency.
We could be good people in a great nation, but the overpowering institutions of oppression and violence that we are socialized into make it easier to not be.
Biden did acknowledge that there is work still to be done, but it is dangerous to position the work of progress as a choice, rather than an imperative.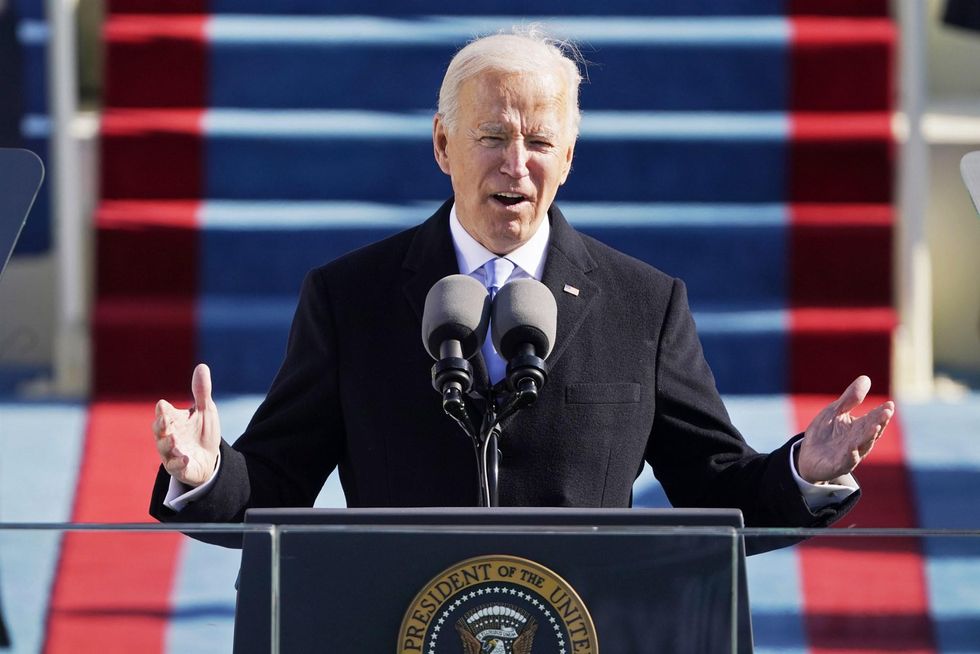 We did it, Joevia CNBC
Biden's Path to Progress:

Biden's path to progress is simple: unity.
In one of the most pivotal passages of his speech, he said: "Speaking of unity can sound to some like a foolish fantasy. I know the forces that divide us are deep and they are real. But I also know they are not new. Our history has been a constant struggle between the American ideal that we are all created equal and the harsh, ugly reality that racism, nativism, fear and demonization have long torn us apart. The battle is perennial. Victory is never assured."
In this moment, Biden acknowledged the history of oppression in the United States and the deep-rooted divisions in its present. However, the proverbial good vs. evil dichotomy that he uses is a convenient scapegoat. It is easy to say that there are two sides of people, torn apart by outside forces, that just need to meet each other in the middle. But this is not how division in America has played out.
Progress in America cannot be a meeting in the middle of two forces with equal power, because that's not what the political and social landscapes look like. The forces of "racism, nativism, fear and demonization" have not "torn us apart" — those forces have separated and othered marginalized communities and excluded them from the American ideal.
Therefore, it is not the collective acceptance of the idea of "unity" that will heal the country, it is a commitment by the privileged to root out the divisive forces within themselves.
Unity and healing must happen as a result of progress, not at the expense of it. Biden's rhetoric leaves too much room for regression. But we must not pause to soothe the egos of white supremacists — their goals are not our goals. Biden's path to unity needs to look like accountability, not acquiescence.
In a recent tweet, activist Bree Newsome stated that "The only path toward 'unity' is one that dismantles white supremacy." Anything else would be a continuation of the same structures that "resulted in the Civil War, Jim Crow, the Trump era & the insurrection that occurred two weeks ago. "
There is no way forward without confronting whiteness— how it came to be a sociopolitical construct here, how it re… https://t.co/CAULWCruwH

— Bree Newsome Bass (@Bree Newsome Bass) 1611189052
Many are feeling the gaps in Biden's rhetoric that could allow for placid and ultimately unsatisfying "progress" and citing the urgent importance of moving forward, rather than back to some fabled better days of a pre-Trump era.
...but what if he said "I cannot be a president for all. I will not serve white supremacy. I will not serve hatred.… https://t.co/1H0JTIPZqV

— adriennemareebrown (@adriennemareebrown) 1611163169
The pre-Trump era created conditions for the Trump era. The current violence is not some aberration or some strange glitch in the matrix. It is a direct consequence of previous failures to root out the insidiousness of whiteness at the root of the United States.
The Problem With Moderation:
The shifting nature of Biden's address — his willingness to talk about the fact of American institutionalized oppression and speak out against white supremacy, but inability to articulate the deep internal work that we all have to do for progress — does not present a progressive pillar to build the next four years on.
It builds one that reflects his whole career: willing to inch towards "slow progress," but more concerned with moderation than radical change.
But moderation is not the way to establish real change. Moderation allows for complacency and, as Newsome articulated, "the 'return to normalcy' narrative is a call to settle for surface-level displays of civility diversity in the aftermath of Trump's brutish behavior without any real push for systemic change."
Even in the highest offices of the two-party government lie dangerous white supremacists who incited the riots alongside Trump and remain loyal to the MAGA following — so if bipartisanship looks like coalescing into an agreeable union that includes and validates those beliefs, I don't want it.
Instead, change has to look like examining the conditions within ourselves and our society which gave those people their platforms and amend those with an eye towards accountability.
The idea of "accountability" has been thrown around so much this election that it has become diluted. Accountability has to be active. It has to not just acknowledge the past, but use those acknowledgments to work diligently towards a new future.
While it's hard to predict how much Biden's speech was well-crafted rhetoric and how much was commitment to action, the prominent performativity of the ex-President's club does not bode well for radical change.
Rather, it signals a clinging onto old ideas of respectability and camaraderie between the powerful and a persistence of the same structures that allowed for the past violence to carry themselves into the future. It confirms that Trump's most egregious act was disrupting the illusion American exceptionalism, which has been long held up by mythology and militarism.
But that disruption was necessary. And it is with those new eyes that we are more critical of Bush, Clinton, Obama, and the entire systems that elected them We have to be.
The future looks pretty grim.
It seems fitting that the Trump administration would go out with a bang. It also seems fitting that the bang would be unbridled white supremacy and blatant racism.

After the white supremacist insurrection at the Capitol, tensions have been high in anticipation of the January 20th Inauguration, with the whole country waiting on edge to see what how the transfer of power will go.
For a while, it looked like they'd have to drag Donald Trump out of the White House by his platinum wig. For a moment, it looked like there would be a coup. But the reality is much less dramatic but more insidious. Trump loyalists, it seems, are spending their last days seeping as much vitriolic rhetoric into the country (and presumably the White House floors judging by the news of a pre-Biden deep clean) as they possibly can.
Outgoing Secretary of State, Mike Pompeo, took to Twitter on his last full day in office to say, "Woke-ism, multiculturalism, all the -isms — they're not who America is. They distort our glorious founding and what this country is all about. Our enemies stoke these divisions because they know they make us weaker."
Woke-ism, multiculturalism, all the -isms — they're not who America is. They distort our glorious founding and what… https://t.co/aKWpDCy5iT

— Secretary Pompeo (@Secretary Pompeo) 1611066600
The image attached to the tweet reads: "Censorship, wokeness, political correctness, it all points in one direction — authoritarianism, cloaked as moral righteousness."

There's so much to unpack here.
The basic logic of his argument is hard to parse. From the tweet it seems that he believes that multiculturalism is a divisive tool used by "our enemies" to "distort our glorious founding" — though who he refers to and what our founding entails he does not specify.
The ensuing logic, however, makes claims that denounce authoritarianism and moral righteousness. In Pompeo's mind, multiculturalism somehow does not align with the individualism he thinks will save us from authoritarianism.
To pick apart the nonsense of his argument would be redundant, so it is instead easier to call it what it is: racist.
The tenuous thread of his logic rests on the shoulders of white supremacy. The narrative is familiar but no less frightening. Pompeo tells a short story of how our country was, and could be, so great if not for the threat of the encroaching "other" contaminating the nation's proverbial purity.
The ensuing language may be vague, but the purist sentiments of his rhetoric are clear. His focus on "multiculturalism" is a signpost that signals his issue is not just with the left, but with BIPOC communities.
Beneath his cacophony of buzzwords, the dangerous, fascist sentiments of the past four years are all encapsulated into a reminder that the Trump administration and the people who perpetrated the harm and violence of it does not stop with Trump.
In truth, the barely concealed violence of Pompeo's rhetoric is engrained so deeply into the fabric of the United States that he might be right: Despite its insistence to the contrary, the US has purported to be a multicultural nation but has always been ruled by white supremacy.

Though this country claims to be about diversity and inclusion, so much of its history points to the opposite. But this is not the argument Pompeo is making.
There are valid claims about how, occasionally throughout US history, multiculturalism and the famous "melting pot" end up diluting people's cultures into a vague shadow of what they used to be. Pompeo, as a descendant of Italian immigrants, is a direct result of the dilution of Italian culture for the mantle of whiteness that he is so secure inside.
However, Pompeo is not calling for a more nuanced understanding of race, culture, and ethnicity.
He's calling for the same thing Donald Trump called for that brought on the Capitol siege, the same thing that has allowed racism, xenophobia, and white supremacy to persist as ruling bodies of this country — a scapegoat.
His vague language is intentional. It invites dissatisfied, disaffeced white people to substitute their ideals and their issues for the distortions and divisions he mentions, while uniting them against "multiculturalism."
While similar rhetoric has been spouted by this administration in various forms, its usual targets are the general left, or progressives and democrats. The focus on "multiculturalism" bypasses the white liberals he could be appealing to for unity against the "divisions" in our country.
The invocation of "woke-ism," a convenient neologism he makes up to orchestrate this tweet, fabricates another giant to distract from the actual "isms" most people would turn to … like, racism.
In fact, just deleting the first two words of the tweet makes a different argument altogether. Yes, I do agree that "all the -isms" distort the ideal vision of the country, but we have different "isms" and different ideals.
What's most frightening about this sentiment is that Mike Pompeo reportedly has ambitions to run for President in 2024. His key to winning: taking over the MAGA mantle.
Pompeo's sentiments coupled with his ambitions serve as a reminder that Trump's legacy is not going away with a Biden Presidency.
Despite Biden's calls for "unity," Trump loyalists do not want unity between all Americans. They want the vitriolic energy that put them in power to persist so that they can stay in power.
I implore Biden then, to pull back his hands, to waste less time appealing to white supremacists and more time reaching towards the communities who (somewhat reluctantly for most) ensured his win.
So far, Biden has elected a historically diverse cabinet, one which seems to exemplify multiculturalism at its best. But to make it its best, it's important that we do not take multiculturalism to mean tokenization, but rather the active process of representation, celebration, and learning that it should be.
Lukewarm activism by white women, what's new?
This summer she was met with severe backlash to an Instagram rant in which she claimed she, a white woman, had been unfairly criticized in the music industry for how she claimed her femininity. In one of the most cognitively dissonant statements of the year, Lana claimed that "there has to be a place in feminism for women who look and act like me."
Because almost all the women she was comparing herself to in the rant — whose record breaking places on the charts served as the impetus for her misguided manifesto — were Black women, it seemed like "women who look like" Lana meant white women. Yikes.

However, Lana was quick to come to her own defense. Instead of issuing any semblance of apology or recognizing the nuance in the criticism her letter received, she took to the comment section to dismiss any criticism that came her way.
After that, she made another post (that kind of made it worse) announcing her upcoming album and then kind of disappeared. Until now.
When announcing the release of her first single from her new album, Chemtrails over the Country Club, Lana did not take the opportunity to clear the air — but we didn't expect that. She didn't even take the opportunity to shut up, pivot, and never speak of her typewriter series again (they're still up on Instagram, albeit buried under months worth of pictures by now, though if I were her publicist I would have wrestled the phone from her hands to delete it by now).
Instead, she took the time to parade her "diverse" and "inclusive" friend group on her cover and write another nonsensical caption that pretty much amounts to: see? I'm not racist, I have Black friends.
"Yes there are people of color on this records picture and that's all I'll say about that," Lana says near the beginning of the comment, but, unfortunately, continues to say more. "I have always been extremely inclusive without even trying to. My best friends are rappers, my boyfriends have been rappers."

Lana's tokenization of the people of color in her life is … uncomfortable, at best. Beyond tastelessly parading her friend's life histories in front of the internet for the sake of her reputation, by mentioning "rappers," she equates Blackness with a genre of music and also engages in the fetishistic notion that romantic desire is proximal to inclusion.
And if you think it couldn't get worse, the caption continued. In reference to the comments she had received on her initial post, Lana thought to respond preemptively, saying, "Before you make comments again about a WOC/POC issue, I'm not the one storming the capital [sic]."
The invocation of the attempted coup in comparison to her own racism is a blatant attempt to decenter the conversation and dismiss the voices of those she claims to be so inclusive of.
Lana's convoluted caption is an example of the flimsy arguments white women dredge up to affirm their own innocence when criticized. Unfortunately, we've already seen so much of this in 2021, especially in response to the display of domestic terrorism at the Capitol (which was partly sponsored by a group named Women For America First).
Unsurprisingly, much of the peak white feminism that occurred in the aftermath of the Capitol riots came from self-proclaimed allies. It seems that a key proponent of white feminism is the desire to help … but only if it doesn't require any actual evaluation of the self or the systems that perpetuate oppression.

Karlie Kloss recently (read: finally) came under criticism for her hypocritical comments about the riots and the current administration over all.
Though often we conveniently forget, Karlie Kloss is married to Josh Kushner. Yes, of that Kushner family. Her in-laws are Jared Kushner and Ivanka Trump, who sit at the proverbial right hand of the President.
Yet, despite these very close ties to the current administration, Karlie has managed to remain largely unscathed in the public eye. But this is not a romantic comedy where a likable blonde woman has to navigate her husband's crazy family — this is not The Family Stone. This is real life. And the actions of her in-laws have consequences that she, due to her wealth, race, and proximity, is mostly exempt from actually feeling.
Yet, Karlie Kloss has built her whole brand around activism. So how does this work?
From founding an organization to teach girls STEM, being a vocal #girlboss and #feminist, and yes, posting that black tile on Instagram, Karlie makes sure to remind us that she quit being a Victoria's Secret angel to go to NYU because she's just so, like, passionate about women's empowerment.
But despite all this, the furthest she has gone to speak out against the current administration have been bland social media posts and hashtags. When she made a more direct statement after the Capitol riots, many were quick to point out her hypocrisy.
After being called out for tweeting, "Accepting the results of a legitimate democratic election is patriotic. Refusing to do so and inciting violence is anti-American," and promptly being told, "Tell your sister in law and brother law," Karlie responded with a self satisfied: "I've tried."
But her response did not satisfy anyone else.
karlie kloss has TRIED talking to her in-laws and she will NEVER GIVE UP. that's why she & josh bought a $23.5 mill… https://t.co/4VRayLgTi6

— #3 sisterwife but #1 in his heart (@#3 sisterwife but #1 in his heart) 1609991219
@karliekloss @overdressjen Guess ya didn't try hard enough bb https://t.co/PNplCPKW7y

— ✨ (@✨) 1610143645
Page Six reported that Ivanka Trump was "surprised" by Karlie's claims, going so far as to say that Karlie is political in public, but not so much in private, and one tweet said that Kloss was choosing to "enjoy the privilege that comes from being close to them and feign moral superiority while not even acknowledging the privilege."

People were also quick to point out that Kloss is not just willing to tolerate her in-laws, but has purchased a multi-million dollar home in Florida to live just blocks away from where they, and the current President, will be relocating after the inauguration (and impeachment?).
One of the more prominent people to call out Karlie for her purported attempts was Tavi Gevinson, founder of Rookie Magazine and actress soon to be starring in the Gossip Girl reboot (which I will now be watching).
In an Instagram story, Tavi called out Karlie for having "no real interest in using [her] political power so much as maintaining [her] watery 'feminist' liberal brand while protecting [her] liberal brand." She identified Kloss's actions as more than just the bad decisions of an individual, inconsequential celebrity but part of a culture that minimizes the harm of the current administration and the latent oppressive structures that it reveals.
By her relative silence against the Trump family and administration, Gevinson said Kloss has "help[ed] legitimize their bigotry by branding [them] as simply having different 'political views," dubbing Kloss a "Resistance Barbie" archetype.
In her takedown, Gevinson went deeper than Kloss's shallow white feminism into a critique of not just Kloss herself, but the systems which she helps perpetuate. "Thank you for showing that you can vote blue and still be a white supremacist sympathizer," Gevinson finished.

Tavi, who at the beginning of her career had her own share of criticism about earlier iterations of Rookie's white feminism, used those valid criticisms to transform her platform into a diverse resource for learning, growing, and accountability.
Kloss, despite the direct confrontations about her hypocrisy, has remained silent — both on the internet, and probably to her in-laws, except maybe to plan the interiors of their Mar-a-Lago homes.
The self aggrandizing brand of white feminism has only increased in cultural capital this year as white women applaud themselves for being allies, while doing very little except calling themselves allies. While BIPOC Americans risk being alienated or gaslighted by declaring their politics, white women get to benefit by using them as a virtue signal, a personality trait, or a brand.
Twitter had enough of this when Demi Lovato tweeted that her response to the Capitol riots was … to write a song.
THIS IS WHY I POST AS MUCH AS I DO. THIS IS WHY I CARE. THIS CANNOT HAPPEN ANY FUCKING MORE. I'm angry, embarrassed… https://t.co/WWAtVwVo83

— Demi Lovato (@Demi Lovato) 1609989247
While well-intentioned, there are more nuanced ways for musicians to go about political music and Demi's last effort, "Commander in Chief," proved maybe that's not her genre.

With lyrics like "If I did the things you do I couldn't sleep," the song wasn't just bad — filled with easy rhymes and surface level lyricism — but it felt more like an indulgence of the ego rather than an attempt to make a change. Demi was reassuring us, herself, and other lukewarm allies that feeling bad about injustice is enough.
Unfortunately, it's not.
In her recent tweet, she magnanimously inflated the effects of her social media activism, saying, "THIS IS WHY I POST AS MUCH AS I DO..." While Demi has famously used her platform to advocate for social causes, the immediate pivot to saying: "I'm in the studio working on something special after today's assault on democracy," centers her own status as an artist and activist over the larger issues of violence.
White feminism is most guilty of this: diluting down political movements to their personal impacts rather than societal effects. By centering not just white women, but the individual white woman, white feminism ignores the nuances of oppression and the context in which it happens.
Even while claiming to be "woke" or socially conscious, the need to center themselves often derails well-meaning white women into perpetuating the acts of oppression they claim to be against. This compulsion in itself is a symptom of a system which values and protects the innocence and feelings of white women, while using that protective mantle as a form of oppression.
Yet, white women benefit from that innocence in their daily lives — from Lana's misguided conception of herself as a victim of bad feminism while enacting it, or even the "daddy-hat girl/SoHo Karen" calling herself an "innocent child" after assaulting … an innocent Black child.
It's only been two weeks of 2021, and I'm already tired of it. But I'm sure there will be more to come. But until white women address the ways they benefit from the systems they purport to be allies against, I see no end in sight.
For too long we've been told that "Black" politics would scare away moderates
First thing's first: I need white people to stop treating Stacey Abrams like their savior.
Deification, a form of dehumanization, strips a person of their humanity and turns them into a symbol. By overhyping Stacey Abrams, white people assert their goodness on the back of a Black woman, trying to be woke by association.
While Abrams deserves much praise, we cannot continue to place superhuman expectations upon her. We also cannot act like she was solely responsible for discovering a secret to turning Georgia blue. The reality is that Stacey Abrams worked tirelessly alongside other dedicated organizers to address the voter suppression Black people have been fighting in Georgia for decades.
So why haven't democratic politicians done this before? Obama did, campaigning at a grass roots level and counting on disenfranchised voters. But he was Obama, people might say, of course Black people will vote for him. The "Black vote" in political discourse is treated as an ineffable mystery and often discarded as impossible to count on. Black people just don't vote, politicians say, then focus their attention elsewhere.
So when the Black vote (alongside other BIPOC demographics such as the historic voter turnout of Indigenous populations in Arizona) undoubtedly delivered the 2020 election to the Democrats, then did the same for the House in the Georgia run-offs, everyone was talking about Stacey Abrams in a way a little too reminiscent of how the dad talked in Get Out.
But the election results revealed that Black voters are in fact the key to the Democratic Party's success. When is the Party going to start acting like it?
All through the election year, Democrats were convinced that playing it safe was the key to defeating Trump.
By electing Biden as the nominee instead of more "radical" Democratic candidates like Bernie Sanders or Elizabeth Warren, the DNC were adamant that the game plan was to appeal to white moderates — which meant not scaring them away.
So while Biden picked Harris, a biracial Black and Indian woman, as his Vice President, their campaign strategy was to hover around the center and appeal to white voters who somehow just weren't sure who to vote for yet.
Meanwhile, the country was going through a period of major racial protest. Black Lives Matter protesters spent the summer appealing for an end to police brutality, for legislative protection, for defunding the police and reexamining the carceral system in light of its racist roots.
And though there were some tweets and statements from major Democratic politicians in response to the murder of George Floyd, as well as that super embarrassing thing with the Kinte cloths, the sentiment remained that actually addressing the demands of protestors would be too risky and scare away the nice white voters.
Well, the nice white voters went for Trump.

Exit polls showed that 58% of white voters voted for Trump — an increase from the 2016 election. And while Trump made percentage gains with Black men, Black people overwhelmingly voted for Biden. And in key cities in key states, Black voters having the agency to vote in the presidential election and in the Georgia Senate races was instrumental in the Democratic wins.
The numbers speak for themselves. In his election speech, Biden even thanked Black voters for being instrumental to his victory. But Biden's main message was one of healing — not for marginalized groups who suffered most under the Trump presidency, but for … "the soul of America"?

Biden's speech seemed to focus on restoring party communication, going back to his comfortable place in the center and telling us (while invoking Langston Hughes in his references to "dreams deferred") to join him.
For many Black voters, moving to the center looks like regression. Again, the Democratic rhetoric was one that appealed to white moderates, to appease their concerns and placate their nerves after a year of proverbially "difficult" conversations and "reckoning."
But for Black Americans, the most difficult thing is being constantly gaslit — being told by a party which claims to care about us that fighting for our concerns (read: our lives) is too much, too difficult, too frightening.
In response to the calls to defund the police, many major Democrats were quick to dismiss the movement. Biden himself said that he did not want to defund the police. "I support conditioning federal aid to police based on whether or not they meet certain basic standards of decency and honorableness," he said instead, again appealing to vague notions of morality rather than actionable policy.
Even Black politicians took up this rhetoric. South Carolina Representative and major Civil Rights activist James Clyburn said that "nobody is going to defund the police," and that "police have a role to play." His plea was against "sloganeering," claiming that pleas like "Defund the Police'' would undermine the movement and lose the election.
Barack Obama said something similar (thanks, Obama): "If you believe, as I do, that we should be able to reform the criminal justice system so that it's not biased and treats everybody fairly, I guess you can use a snappy slogan, like Defund the Police, but, you know, you lost a big audience the minute you say it."
These sentiments are the work of years of conditioning that expects Black people to acquiesce to white audiences, to settle for banal "reform" and "slow, steady change" instead of radical action. They are examples of respectability politics and tone policing that reinforce the idea that Black folks are a liability, harming our own progress by scaring away potential allies.
But we're tired of it.
In the wake of the dismissal of BLM slogans, many major progressives also spoke out. Representative Ilhan Omar responded to Obama's comment in a tweet, saying: "We lose people in the hands of police. It's not a slogan but a policy demand. And centering the demand for equitable investments and budgets for communities across the country gets us progress and safety."
We lose people in the hands of police. It's not a slogan but a policy demand. And centering the demand for equitabl… https://t.co/fh8ftnTR7t

— Ilhan Omar (@Ilhan Omar) 1606872699
Her response points out the danger in the quick dismissal by these politicians: too focused on how the slogan sounds, they fail to address the policy changes it calls to action and continue to support a system of policing which currently exists in a fundamentally oppressive structure. Reform is not enough, complete restructuring and radical change is the only answer.

Most Black Americans do not have the privilege of not understanding this. And, after delivering the election to Biden and the Senate, we want recognition.
We want to no longer be the big scary thing that Democrats are afraid of. We want to be taken seriously, and we want our demands to be met, our communities to be prioritized, and our people to stop dying at the hands of the state.
Black voters do not appear magically to deliver democracy if white people click their heels, repost an infographic, and say, "Stacey Abrams" in the mirror three times. The Black Vote is a collection of diverse, real people who are tired of being treated like a liability, a threat to the party they have always been loyal to.
It's time the party returned the favor — pointing out the obvious transgressions of the (soon) past administration will not be enough. With a blue senate, Biden has the opportunity to be bold, to enact real change for the communities who showed up for him, despite his own flaws and a year spent turning his back to us for the sake of white voters who did not.