Dall-E Mini, the AI-powered text-to-image generator has taken over the internet. With its ability to render nearly anything your meme-loving heart desires, anyone can make their dreams come true.
DALL-E 2, a portmanteau of Salvador Dali, the surrealist and Wall-E, the Pixar robot, was created by OpenAI and is not widely available; it creates far cleaner imagery and was recently used to launch Cosmpolitan's first AI-generated cover. The art world has been one of the first industries to truly embrace AI.
The open-sourced miniature version is what's responsible for the memes. Programmer Boris Dayma wants to make AI more accessible; he built the Dall-E Mini program as part of a competition held by Google and an AI community called Hugging Face.
And with great technology, comes great memes. Typing a short phrase into Dall-E Mini will manifest 9 different amalgamations, theoretically shaping into reality the strange images you've conjured. Its popularity leads to too much traffic, often resulting in an error that can be fixed by refreshing the page or trying again later.
If you want to be a part of the creation of AI-powered engines, it all starts with code. CodeAcademy explains that Dall-E Mini is a seq2seq model, "typically used in natural language processing (NLP) for things like translation and conversational modeling." CodeAcademy's Text Generation course will teach you how to utilize seq2seq, but they also offer opportunities to learn 14+ coding languages at your own pace.
You can choose the Machine Learning Specialist career path if you want to become a Data Scientist who develops these types of programs, but you can also choose courses by language, subject (what is cybersecurity?) or even skill - build a website with HTML, CSS, and more.
CodeAcademy offers many classes for free as well as a free trial; it's an invaluable resource for giving people of all experience levels the fundamentals they need to build the world they want to see.
As for Dall-E Mini, while some have opted to create beauty, most have opted for memes. Here are some of the internet's favorites:
There's no looking back now, not once you've seen Pugachu; artificial intelligence is here to stay.
POLITICS
When Will We Know the Results of the 2020 Presidential Election?
Here's everything you need to know about Election Day 2020.
For many of us, it's been a very long, divisive four years. Finally, the end (for better or for worse) is in sight.
Today, November 3rd 2020, all remaining votes for the president of the United States of America will be cast. Most years we know who will be the next president by the end of election night, but like many things in 2020, this election will likely be different.
In fact, it's highly likely that we won't know whether Joe Biden or Donald Trump won the presidency tonight.
Here's why:
Mail-In Ballots
Most significantly, results will likely take longer than normal because more people than ever are voting by mail this year due to the global health crisis. It takes longer to count mailed in ballots because states have to verify signatures and other safeguards against voter fraud. Additionally, some states don't allow mail ballots to be processed until election day, and some states still count mail ballots received after election day as long as they're postmarked by election day.
More Votes
Say what you will about this administration, but it has certainly mobilized voters. Prior to today, over 91 million Americans had already voted, a number that represents around 67% of the total ballots cast in the 2016 presidential election. By the end of today, experts believe we will see record-setting voter turn out.
Early Tallies Will Likely Be Misleading
Some states count the ballots cast on election day first, and experts believe these counts are likely to favor Trump, as his supporters are more likely to vote on election day. In contrast, other states count mail-in ballots cast prior to election day first, and these results are likely to favor Biden, as polls show that his supporters are more likely to vote by mail this year. Essentially, we are unlikely to get a clear picture of who won the presidency until all ballots are counted.
US Postal Service Delays
Due to delays in deliveries by the U.S. Postal Service, many are fearful that ballots won't arrive in time to be counted. To add to the injustice of this, Republicans, including Trump's camp, have been filing lawsuits to keep ballots delivered after election day from being counted.
To illustrate the magnitude of this problem, one can look to Michigan, where an appeals court has struck down a 14-day ballot-counting extension, meaning that voters are now being urged to drop off their mail in ballots in person. Courts have also ruled that extensions aren't allowed in Wisconsin and Indiana.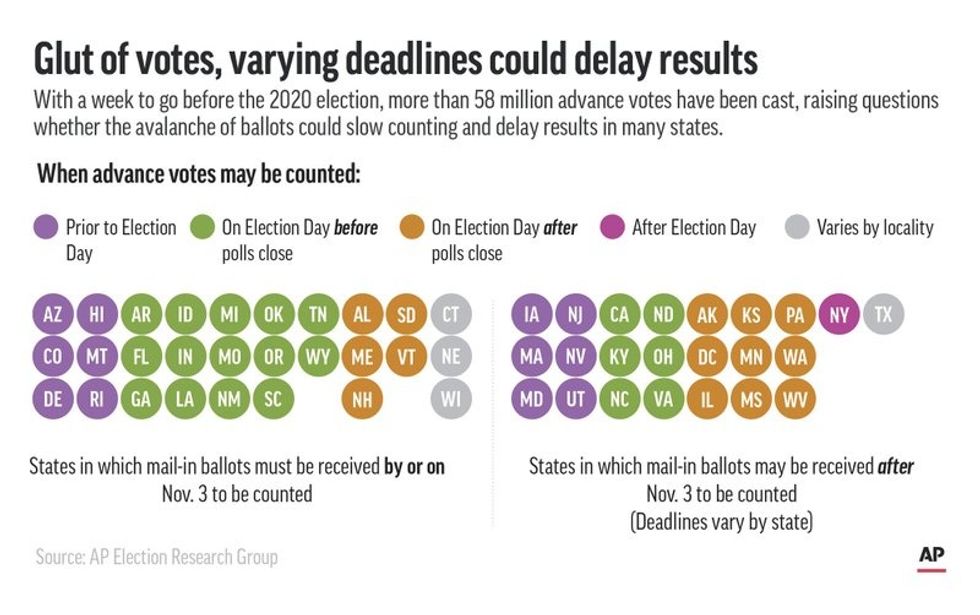 AP News
So when will we know who won?
We won't have a clear picture of who won until the swing states have been tallied. Here's when we can expect that to happen for each state.
Florida
Mail-in ballots can legally be counted in advance of election night in Florida, so we're likely to have an accurate picture of results tonight, which officials can release around 7:30 pm ET. However, if the election is close they may not call the state until Wednesday or Thursday.
Arizona
State law in Arizona allows mail-in ballots to be counted up to two weeks before election day, so it's likely election officials in Arizona have a clear picture of mail-in ballot results already. Arizona early vote results and and mail-in vote results can both legally be released about 10 p.m. ET tonight, and election day votes will soon follow. We may know Arizona's results on election night, but if the race is tight they may not call it for several days.
Michigan
We are unlikely to know Michigan's results on election night. According to NPR, "In Michigan, election officials in cities with more than 25,000 residents can start processing mail ballots on Monday at 10 a.m., sorting ballots and removing outer envelopes. They can't be counted, though, until Election Day."
"It could takeuntil Friday, Nov. 6 for all ballots to be counted," the office of Michigan Secretary of State Jocelyn Benson wrote on Thursday.
North Carolina
North Carolina has a very similar system to Arizona, so while we may know results on election night, its also possible it will take several days if the race is tight. 80% of voters already cast their ballots either through the mail or via early voting, but that remaining 20% who will vote on election day are more likely to be Trump voters.
"For the 20% or so of North Carolinians who vote on Election Day, we will be receiving those from the precinct and uploading those, as well," executive director of the North Carolina State Board of Elections Karen Brinson-Bell said on Thursday. "So, if there are really close races, those Election Day votes will tremendously matter in the outcomes of these elections."
Pennsylvania
We're unlikely to know the results of Pennsylvania on election night. Some counties may not even begin tallying absentee ballots until Wednesday. "We're sure it will take more time than it used to," Gov. Tom Wolf said Thursday. "We probably won't know results on election night." Luckily, Pennsylvania can accept mail-in ballots up to three days after the election as long as they are postmarked by election day.
Wisconsin
We should know the results for Wisconsin by Wednesday morning (Nov 4) at the latest. They aren't allowed to pause election counting once its begun according to state law, so its likely election officials will work through the night in some counties to offer results by Wednesday morning.
So...
In summary, it's likely we will not know election results for several days, unless it is such an enormous blow out (unlikely) that results become evident early. This could happen if Biden takes a key Republican state like Texas, but more than likely we'll just have to wait and see.