The view was actually...interesting?
Donald Trump Jr. appeared on this morning's episode of The View with his partner Kimberly Guilfoyle as part of the promotional tour for Trump Jr.'s new book, Triggered: How the Left Thrives on Hate and Wants to Silence Us.

Meghan McCain Confronts Donald Trump Jr. on His Father's 'Character' | The View www.youtube.com
If the purpose of the interview was to provoke as much drama and incoherent cross-talk as possible, it was a wild success. The insanity opened with Meghan McCain at her passive-aggressive best, insisting that people "miss the soul" of America, and asking if Trump Jr. felt good about his father insulting the gold star Khan family. From there things devolved into defensive accusations of blackface and rape-minimizing, rehashing of the Trump-McCain feud, and Whoopi Goldberg loudly pleading for an unspecified someone to apologize. Meanwhile, whoever runs Trump Jr.'s Twitter account was already on the offensive, digging up the video of Joy Behar discussing her "beautiful African woman" costume from 50 years ago.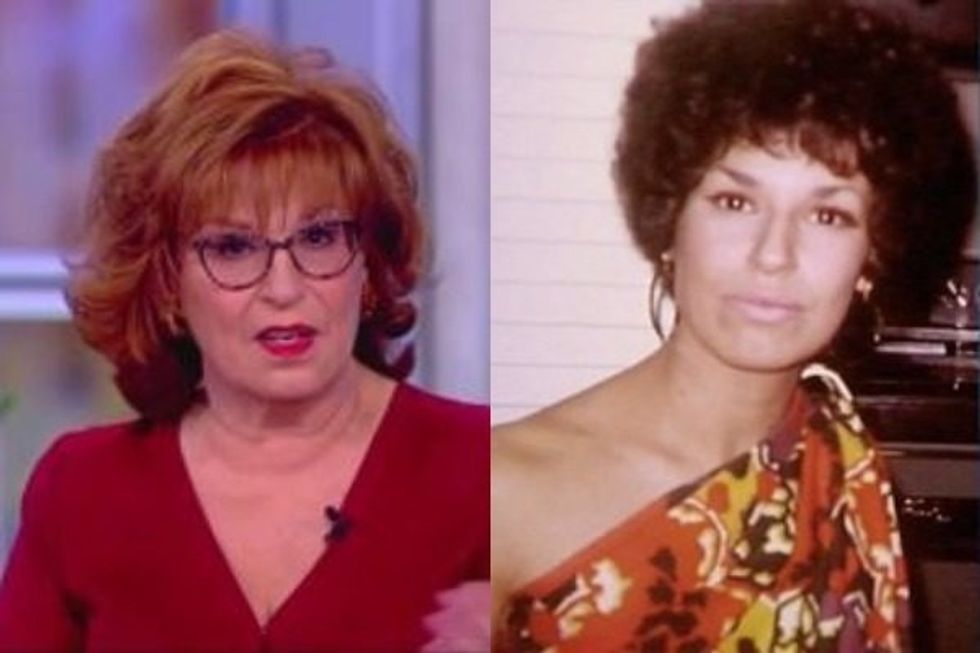 How is it not blackface?
As the interview continued, Trump Jr. deflected questions about Ukraine—and his tweet containing the name of an alleged whistle-blower—by calling out ABC and CBS for cooperating in the reported firing of an employee who recently leaked footage of anchor Amy Robach. The footage in question exposed an apparent top-down effort to bury the Jeffrey Epstein story. Jeffrey Epstein, of course, was the wealthy financier at the center of an elite pedophile ring who didn't kill himself in his cell in the Metropolitan Correctional Center in August.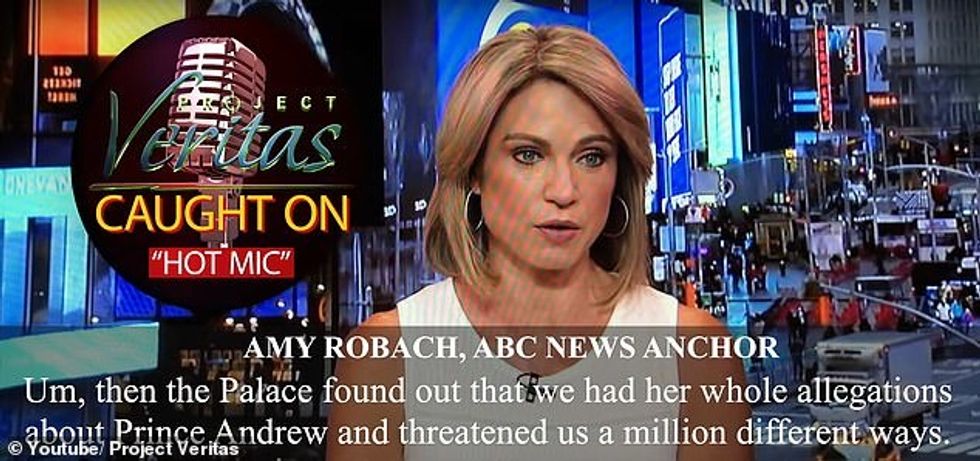 Try to ignore the fact that this was leaked by Project Veritas...
Apart from this public service, the whole interview was a mess. It should have been obvious to anyone watching that it was not going to go well. Along with the extensive history of vitriol passing between the Trump family and the hosts of The View, Trump Jr.'s appearance was a dead giveaway. He looked gaunt and waxen, his forehead slick with a sheen of cold sweat, eyes wild, red, and swollen with exhaustion. It was hard not to be reminded of Kendall Roy in the season two premiere of Succession. The haggard interview where his sister says he's "like a sweaty corpse," and his brother-in-law compares him to "an unshaven candle."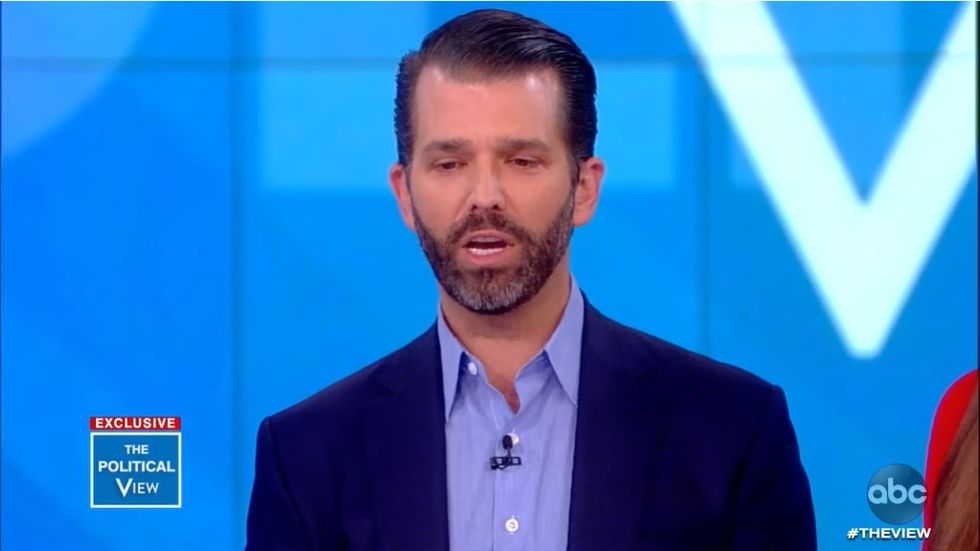 Of course Kendall Roy's rough appearance in that interview is tied closely to his cocaine addiction. While it would be inappropriate to suggest that Donald Trump Jr. has any relationship with stimulants, it would explain his frenzied cadence as he declared that "it is worth it, when I go around the country, and I see people who are affected by these policies, who are getting to live their American dream again," his words tripping over each other in the race to slip past his bleached-white teeth.
Triggered was published on Tuesday and has received rave reviews for containing delightful stories, like the time Donald Trump let Trump Jr. play video games with Michael Jackson and how that means he's not racist. It's available now, wherever awful ghostwritten books are sold.
And Their Jobs Owe Them Money for It.
Election day is here.
Not the big one that the whole county is obsessed with—that's still a year away. This is the little one in which your voice can actually make a difference.
All across the country, on Tuesday November 5th, local elections and special elections give a voice to the tiny fraction of voters who will actually show up. Historically speaking, these are likely to be aging voters who no longer work or have the luxury to set their own schedules. Historically speaking, young people have allowed the local government to be ruled by this privileged and aberrant minority of voters, even as their interests and agendas have drifted further from the cultural center. Historically speaking, we've thrown our power away—and not just our power, we've been throwing away paid time off work!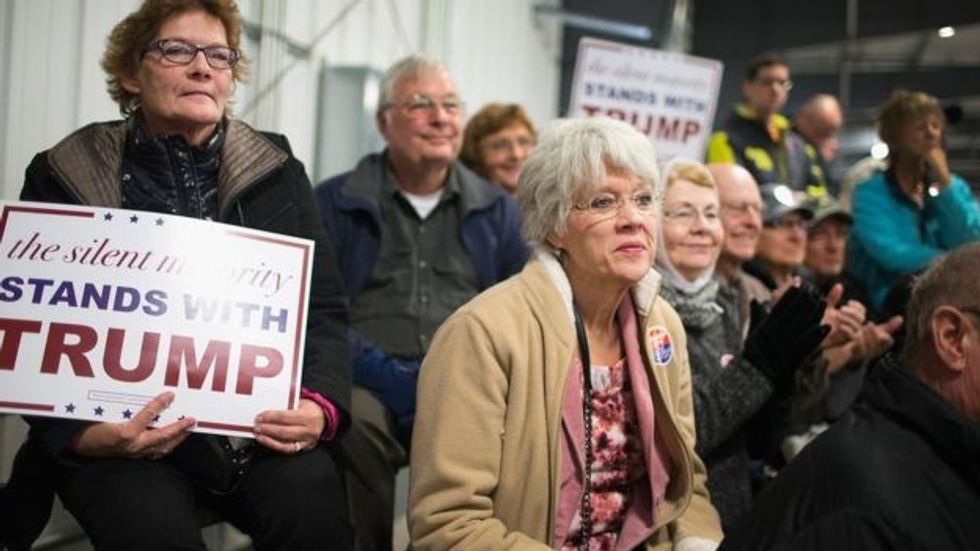 Getty
This is not like us. Aren't we the generation of entitled slackers who use any excuse to skip work? Is that just a myth created by baby boomers to make us sound way cooler—and therefore more threatening—than we actually are? In almost every state in the US, your boss is legally required to give you time off on election day to go vote! And in most states, that time off is paid!
In New York, any employee scheduled to work on Election Day is allowed three hours paid time off. In California, it's two hours. So why would you give away your labor? Find out where your polling place is, and figure out how long it takes to get there. If it's less than the time you're getting paid for, have you considered walking? If there's one thing better than a lovely Autumn stroll in the afternoon sun, it's getting your boss to pay for it.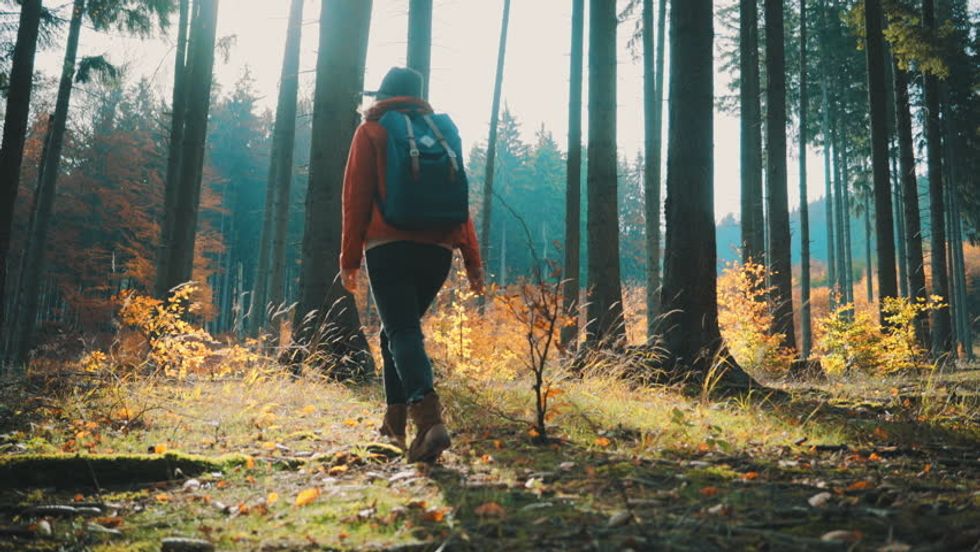 What getting paid could look like on TuesdayShutterstock
Along with the countless municipal elections that will otherwise be decided by retirees, there are a number of state-level races worth watching, from the Virginia state legislature elections, which could flip both houses, to the effort to reinstate affirmative action measures in Washington state. In New York, several ballot measures have been getting attention, in particular the issue of ranked-choice voting, which will go into effect in 2021 if the voters choose it tomorrow.
Would you rather that decision be made by people who might not live to see it take effect? Or would you rather you and all your friends get a half-day to go vote? Remember how much you love half-days? So, take one! Spend ten minutes on ballotpedia, then take three hours off work.
Even if you think electoralism is a joke, and you devote your life to activism that will tear down the state and rebuild it from scratch, elections can build enthusiasm and political engagement. If anything, show up and write in "voting is for chumps." Maybe a surprising turnout of young people will get some more people to start the long process of waking up to to political realities. Maybe some candidates will notice the demographics and start shifting their politics to appeal to people like you. It could happen!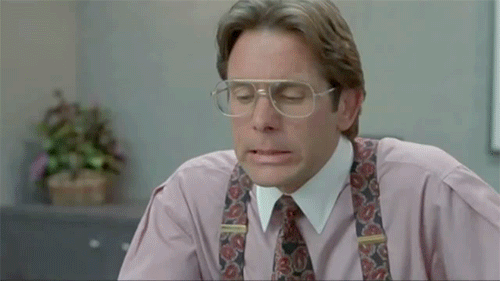 Office Space
Or maybe you'll just get a paid afternoon off, and watch your boss try—and fail—to argue with the law. Win-win.
We must look at the mass actions that are making life difficult for the powerful in Chile and Lebanon and Hong Kong, and prepare ourselves to make the same kind of trouble at home.
With all the global significance connected to the 2001 attack on the World Trade Center, many people don't realize that September 11th has a very different set of meanings in Chile.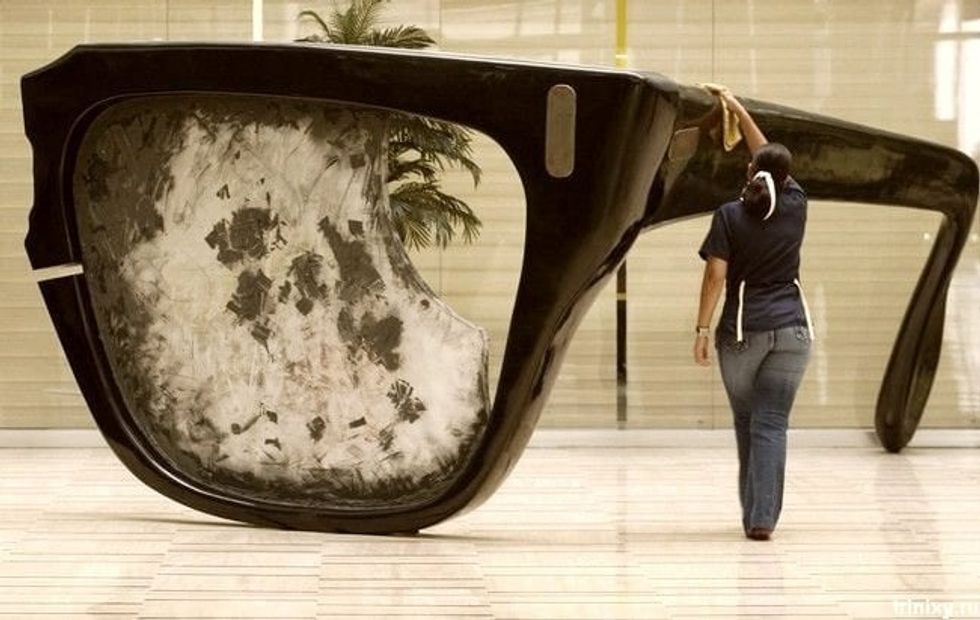 A memorial depicting Allende's broken glasses in the aftermath of the coup
On that day in 1973, the United States backed a coup that killed Chile's democratic socialist president, Salvador Allende, ushering in the brutal era of Pinochet. Chile has never fully recovered from the violence of that period, nor the sudden shift in economic policy that followed. For many Chileans, it has been hard to imagine a world in which the leadership could work for them, rather than the global elite. But now the streets of Santiago and Valparaiso are being taken over by thousands of protesters who've been unwilling to accept piecemeal concessions from President Sebastian Pinera.

In Chile, a billionaire president pushes austerity while the military represses protesters. Thousands have been arrested. Knowing Chile's history, this is very dangerous.

The solution here and across the world is obvious. Put power where it belongs: with working people. https://t.co/s6J7kOtDXs
— Bernie Sanders (@SenSanders) October 30, 2019
So far many of these protests have been peaceful, but there have been instances of arson and of violent clashes between protesters and security forces. At least 20 have already died, but the activists there are not giving up. They are relentless, and they are only interested in substantive change—a fundamental restructuring of the Chilean Government to serve the working people. They want Pinera to resign, and they are calling for changes to the Chilean constitution.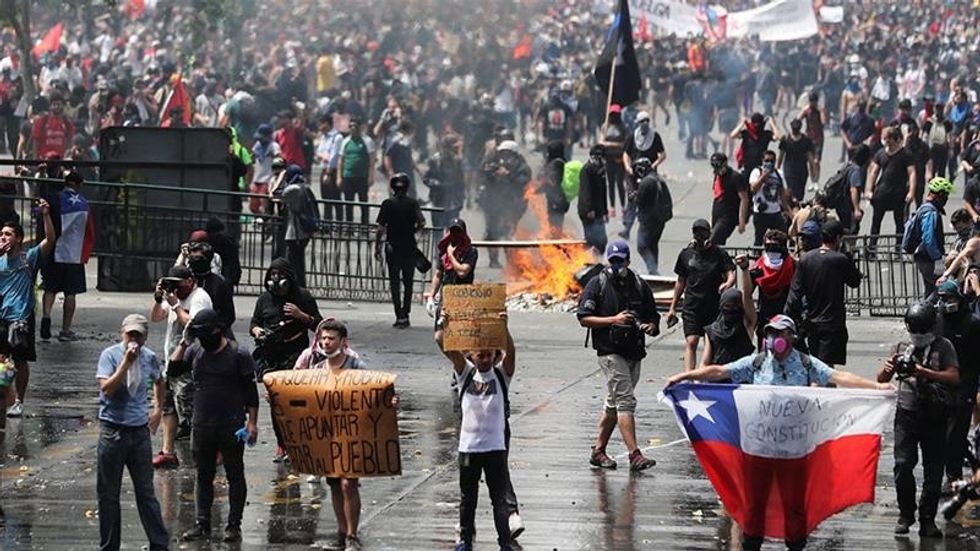 Al Jazeera
For Americans, this kind of protest remains out of the question. Protest in America does not exist to be disruptive or to force action. It only serves as a salve for our powerlessness.
American protest is sanctioned by the system and restricted to its proper time and place. It makes the protesters feel better for a time—makes them feel seen, like they're a part of something—and maybe it raises some awareness for a cause or inspires some phone calls to congress. And if it attempts to do more, it is met with swift and violent crackdowns. It does not—cannot—break down the country's normal functions.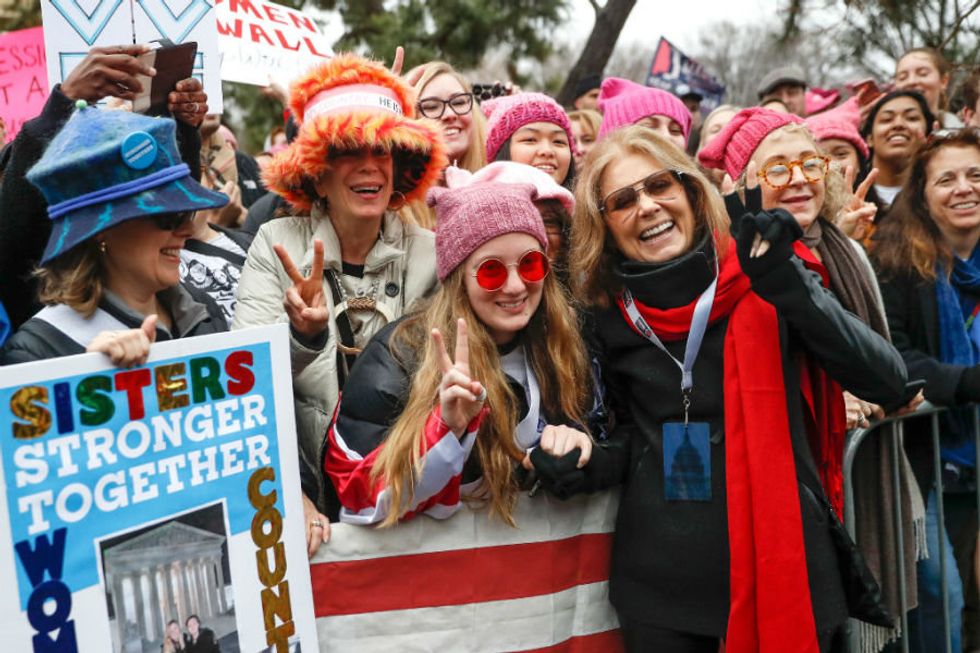 Christian Science Monitor
But what if the normal functions no longer work for the people? What if the interests that led the United States to back coups against Socialist leaders are also fueling mass propaganda campaigns against grass roots movements at home? What if they're defending those in power from the normal avenues of accountability?
The American media has a tight focus right now on the rapidly developing impeachment proceedings, and that makes sense. There is new information coming out of those efforts on a near daily basis, and there is a significant precedent for this kind of procedure to effect change. But it remains to be seen whether all this new evidence will survive the spin and propaganda from the likes of Fox News and One America News. We should not place our faith purely in the institutions of power to regulate power. To achieve anything for the people, the institutions of power must be afraid of the alternative.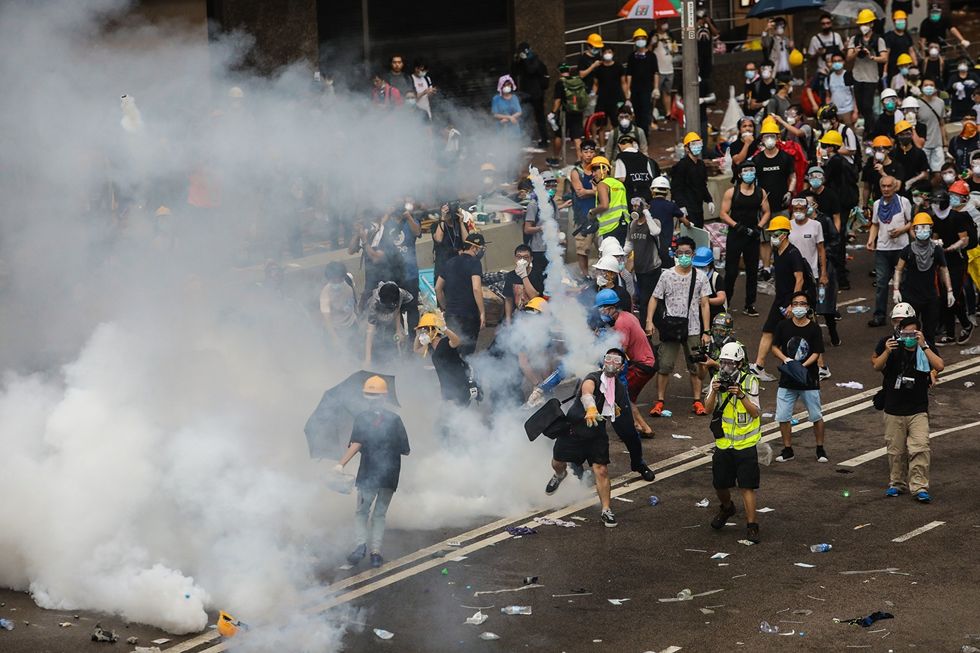 AFP/Getty Images
We must look at the mass actions that are making life difficult for the powerful in Chile and Lebanon and Hong Kong, and prepare ourselves to make the same kind of trouble at home. Even if Trump is forced out of office and the Democrats choose a progressive nominee and the 2020 election fully flips control to the Democrats, the fight will only be getting started. The interests and forces that killed Salvador Allende in Chile will still be doing everything in their power to protect the status quo. We must be willing to upend the normal order if we want to produce real change.

This Could Actually Work...
Petition for the Establishment of the Ronald Reagan Super-Presidency
I think every Rational Person can agree that half of this country has lost its damn mind—and I'm not talking about the Good Half! It's time we forced the Elites in this country—again, not the good ones—to pay their fair share! If they really think that we should raise the top marginal tax rate—which affects everyone equally!—they should prove it by putting their unearned billions of dollars to good use.
By establishing the official, fully-funded position of RONALD REAGAN SUPER PRESIDENCY, Jeff Bezos, Bill Gates, George Soros, and Warren Buffett will be demonstrating a commitment to start being patriotic and working to MATA—Make America Truly Amazing. For only a quarter of a billion dollars each, they can create a new Executive Position that would have some Real, Actual Power in this country—unlike the regular presidency that, a lot of people don't realize, was basically RUINED by Obama, and doesn't let you do anything without a bunch of Very Partisan, Very Crooked judges getting in the way.
With that in mind, the following are the enumerated powers and privileges that the Super-President would wield:
1)The Super-Presidency, Super-President and all Derivatives are always Capitalized, and should actually be in ALL-CAPS as often as possible, because He—not to be sexist, but who are we kidding?—deserves our respect.
2)Upon unanimous selection by everyone on Cable News and the Met Gala guest list—who are generally Snooty Jerks, but will make the right call on this one, because it's Important—the Super-President shall be awarded A BILLION DOLLARS, up-front, no questions asked. Not that he needs it. I mean, even being qualified for this kind of position probably means He's already a Billionaire (but there's obviously no need to look too closely into His finances).
3)He will have his own social-media platform that's like Twitter, but with more Free Speech and fewer Haters. It will be called the Super-President's, Listen Up, Time To E-learn Respectfully—or SPLUTTER for short.
4)Everyone on cable news has to say one flattering thing about the Super-President every day, unless they want to be officially CANCELED, and de-platformed from SPLUTTER, or possibly executed—we'll work out the details later.
5)Once a week, He gets to force someone who's been rude to Him to APOLOGIZE or, again, be de-platformed/executed.
6)Once a month he gets a full Military Parade, with real Hollywood military weapons and vehicles like you see in the movies, and a lot of really Handsome Generals straight from central casting. And also a free tour of Universal Studios.
7)Once a year, His official title will be amended to reflect his achievements. Like, say that Billion Dollar bonus gives him the momentum he needs to quickly become the richest man in the world—as long as a Close Associate vouches over the phone and has a different name (though some overlap in the names is no big deal), we won't need to check too closely—then His official title will be lengthened to THE RONALD REAGAN SUPER-PRESIDENT, _ _ _ _ _ _ _. _ _ _ _ _, THE RICHEST AND THEREFORE SMARTEST MAN IN THE WORLD. And if he wants to replace the part about Reagan with his own name, that's also allowed—it's really just a place-holder.
8)He can have a Second Wife if he wants to, because He's EARNED it—unlike the regular president, who only gets one.
9)Free McDonald's for life, including if he wants to feed like a whole sports team, as long as they aren't Anthem-Kneelers.
10)His own version of the American flag with His name on it, and extra padding for flag-hugs.
11)It's a Lifetime Appointment, so He doesn't need to waste his time on re-elections, and He can never be IMPEACHED OR WITCH-HUNTED OR LYNCHED.
12)Rallies whenever He wants, and also Meetings for very High-Level, Important deals with very Handsome and Important Men, straight out of central casting.
Obviously this is way too much POWER to give to just anyone, so we better talk about the Requirements For Qualification, which are pretty tough, let me tell you, but should be no big deal as long as you're not a loser.
1)He should already be RICH, like really loaded, and not embarrassed to show it off, because that makes Him smart.
2)He should have gone to a really good school, like the Wharton School of Business, and any really established Jesuit School should be fine for undergrad. He also needs to have gotten really good grades, as verified by another call from a Close Associate with a BELIEVABLE name.
3)He has to resign from any Political Office He is currently holding, and can never hold another office, but there's obviously no Shame in it, because this is basically a PROMOTION, and we wouldn't want a politician-type having this much power in the first place—this is a job for a Real Man.
4)He has to pledge to Make America Truly Amazing
5)He should have made his Fortune in something Real and Important, like Real Estate or Branded Marketing.
6)He should definitely be tall, like at least 6'2"—not that we're getting out a tape measure.
7)He should be a truly great golfer, since most DEALS happen out on the links these days. Any plaque that lists Him as a Champion at a prestigious Club/Resort should be proof enough.
8)Must be a Real American, and no I will not explain.
9)He should be able to provide a Classy Venue for a really lavish Inauguration Party with just an amazing Chocolate Cake, and a bigger TV and Internet Audience than anyone ever.
10)He will probably already be very important and respected, as measured by how many times He's been on the cover of TIME magazine—at least 20.
11)Everyone should LOVE this guy, and he should be on record as loving them, too—the Blacks, Hispanics, the Jews, and especially the poorly educated (college these days is Ruining Kids anyway).
So, please sign here if you want these rich, Lefty Elites to pony up and give someone a REAL chance to fix this country. And if you don't sign, that means you hate America and you hate Trump. Oh, and feel free to nominate anyone you think might Qualify.