"A tree is best measured when it is down," the poet Carl Sandburg once observed, "and so it is with people." The recent death of Harry Belafonte at the age of 96 has prompted many assessments of what this pioneering singer-actor-activist accomplished in a long and fruitful life.
Belafonte's career as a ground-breaking entertainer brought him substantial wealth and fame; according to Playbill magazine, "By 1959, he was the highest paid Black entertainer in the industry, appearing in raucously successful engagements in Las Vegas, New York, and Los Angeles." He scored on Broadway, winning a 1954 Tony for Best Featured Actor in a Musical – John Murray Anderson's Almanac. Belafonte was the first Black person to win the prestigious award. A 1960 television special, "Tonight with Belafonte," brought him an Emmy for Outstanding Performance in a Variety or Musical Program or Series, making him the first Black person to win that award. He found equal success in the recording studio, bringing Calypso music to the masses via such hits as "Day-O (The Banana Boat Song)" and "Jamaica Farewell."
Harry Belafonte - Day-O (The Banana Boat Song) (Live)www.youtube.com
Belafonte's blockbuster stardom is all the more remarkable for happening in a world plagued by virulent systemic racism. Though he never stopped performing, by the early 1960s he'd shifted his energies to the nascent Civil Right movement. He was a friend and adviser to the Reverend Doctor Martin Luther King, Jr. and, as the New York Times stated, Belafonte "put up much of the seed money to help start the Student Nonviolent Coordinating Committee and was one of the principal fund-raisers for that organization and Dr. King's Southern Christian Leadership Conference."
The Southern Poverty Law Center notes that "he helped launch one of Mississippi's first voter registration drives and provided funding for the Freedom Riders. His activism extended beyond the U.S. as he fought against apartheid alongside Nelson Mandela and Miriam Makeba, campaigned for Mandela's release from prison, and advocated for famine relief in Africa." And in 1987, he received an appointment to UNICEF as a goodwill ambassador.
Over a career spanning more than seventy years, Belafonte brought joy to millions of people. He also did something that is, perhaps, even greater: he fostered the hope that a better world for all could be created. And, by his example, demonstrated how we might go about bringing that world into existence.
Loomer claimed that she had been "silenced in America" after her account was permanently removed from the social media site.
Just in time for Hanukkah, in what was definitely not a stunt specifically orchestrated to get attention, conservative personality and self-proclaimed "citizen journalist" Laura Loomer donned a Holocaust-era Star of David and handcuffed herself to Twitter's NYC headquarters in protest this afternoon. "You can still subscribe to my website," Loomer told reporters while claiming that she had been "silenced in America" after her account was permanently removed from the social media site.
Loomer's account was removed last week for violating Twitter's terms against hateful conduct. The removal was in response to tweets by Loomer in which she accused newly-elected congresswoman Ilhan Omar, who is Muslim, of being "anti-Jew," homophobic, and "pro-Sharia" because of her faith. The tweet itself was Loomer's way of criticizing the use of Omar's picture in a Twitter feature celebrating "women, LGBTQ, and minorities" because apparently, as a Somali refugee who just became one of the first Muslim women elected to Congress, Omar is not an appropriate person to be associated with such celebrations.
"Twitter is upholding Sharia by banning me for stating facts about Sharia law," Loomer said as she stood outside of the building with a bullhorn and enlarged prints of her own tweets. What she conveniently neglected to tell reporters, however, was that she falsely attributed the "facts" of Sharia law to Omar's beliefs. By that logic, Loomer, herself Jewish, surely spends her Friday nights sitting quietly by candlelight, definitely not plowing, and avoiding the urge to shear any animal at all costs.
Earlier in the day, Loomer announced that she was joining a class action lawsuit against Twitter, Facebook, Google, Apple, Instagram, and YouTube for "discrimination against conservatives."
Police arrived at Loomer's protest and urged her to move, citing a fire hazard. However, because she had only cuffed herself to one of the building's double doors, people were able to enter and exit the building with only the slight inconvenience of the crowd and the grating, false equivalencies of the protester.
Rebecca Linde is a writer and cultural critic in NYC. She tweets about pop culture and television @rklinde
Last night's deadly incident is only the latest in a year of mass shootings
In the final hours of November 7, 2018, a 28-year-old white male entered the Borderline Bar and Grill in Thousand Oaks, California and opened fire. Twelve people were killed as a result.
There is no broadly-accepted definition of a mass shooting. A 2013 federal mandate defines a mass shooting as a single incident that results in the death of three individuals. The Gun Violence Archive uses the barometer of four or more people shot and/or killed during a single incident.* By this measure, there have been 307 such incidents in 2018 alone. The longest span of time between mass shootings this year has been five days. This is 2018 in mass shooting casualties:**
Date

Location

Add'l Injured

Killed

January 1

Huntsville, AL

3

Adrian Jashawn Porter, 21

January 4

Brinkley, AK

3

Xavier Parker, 33

January 7

Union Springs, AL

5

Unknown Victim

January 11

St Robert, MO

2

Jonathan Graham, 24

Sherry Gann, 53

January 12

Nashville, TN

2

Samaii Daniel, 5

Sammarre Daniel, 8

Robert Payne, 70

January 14

Eutaw, AL

4

Mandel L. Pearson, 36

January 17

Washington, DC

3

Jasmine Lashai Light, 23

January 23

Benton, KY

14

Preston Ryan Cope, 15

Bailey Nicole Holt, 15

January 28

Indianapolis, IN

3

James Ratcliffe, 50

Deron Gray, 24

January 28

Reading, PA

0

Jarlyn Lantigua-Tejada, 20

Joshua Santos, 20

Juan Rodriguez, 23

Nelson Onofre, 23

January 28

Melcroft, PA

1

William Scott Porterfield, 29

Seth William Cline, 21

Chelsia Lou Cline, 25

Courtney Sue Snyder, 23

February 3

Cleveland, OH

5

Michael Jones, Jr., 22

February 5

Colorado Springs, CO

4

Deputy Micah Flick, 34

February 7

Lake Worth, FL

3

Edvin Milkevic, 29

Nicole Novak, 27

February 10

Paintsville, KY

0

James Wayne Nickell, 75

Arlene Nickell, 70

Lindsay Vanhoose, 41

Patricia Vanhoose, 57

February 11

Detroit, MI

3

Patricia Williams Wilson, 62

Barbara Williams

Cynthia Williams

February 13

New Orleans, LA

3

Byron Jackson, 21

Jamar Robinson, 26

February 14

Parkland, FL

17

Scott Biegel, 35

Martin Duque Anguiano, 14

Nicholas Dworet, 17

Aaron Feis, 37

Jaime Guttenberg, 14

Alyssa Alhadeff, 15

Christopher Hixon, 49

Luke Hoyer, 15

Cara Loughran, 14

Gina Montalto, 14

Joaquin Oliver, 17

Alaina Petty, 14

Alexander Schachter, 14

Carmen Schentrup, 16

Meadow Pollack, 18

Peter Wang, 15

Helena Ramsay, 17

February 16

Oklahoma City, OK

3

Aubry Johnson, 66

February 17

Kansas City, KS

7

Kevin Forman, 28

February 23

Palm Beach, FL

3

William Burgess II, 28

February 26

Detroit, MI

0

Cierra Bargineer, 26

Raphael Hall, 60

Kristen Thomas, 21

Jaymon Thomas, 22

March 3

Brooklyn, NY

3

Unidentified Adult Male, 20s

March 4

Rockford, IL

3

Theodore Daniel, 31

March 7

Hurtsboro, AL

2

Donald Hughes

John Williams, 74

March 9

Wadesboro, NC

1

Jacques McBride, 22

Mareco McNair, 33

Unidentified Adult Male

March 11

Champaign, IL

3

Montrex Vonner, 34

March 29

Plano, TX

3

Quintarius Young, 29

April 1

Mobile, AL

4

Anesa Baker, 15

April 2

Houston, TX

3

Unidentified Adult Male

April 4

New Orleans, LA

2

Ryan Massey, 25

Carlos Rodrique, 33

April 6

Virginia Beach, VA

3

Rakel Ramel Mason, 41

April 8

Miami, FL

2

Rickey Dixon, 18

Kimson Green, 16

April 8

Hickory, NC

3

Antonio Knoshjun Watts, 20

April 18

Asheville, NC

3

Erica Nichelle Smith, 32

Keithan Whitmire, 15

Harmony Smith, 13

April 20

San Francisco, CA

5

Unidentified Adult Male

April 21

Philadelphia, PA

2

Viktoriya Manasyan, 20

Rashawn Tahir Miller, 21

April 22

Antioch, TN

3

Taurean C. Sanderlin, 29

Joe R. Perez, 20

DeEbony Groves, 21

Akilah Dasilva, 23

April 22

New Orleans, LA

5

Lil' Ricky Goins, 38

April 25

St Louis, MO

1

Timothy Solano, 20

Brandon Stephenson, 36

Melissa Tierney, 40

April 29

West Palm Beach, FL

3

Kassandra Yamileth Morales, 24

April 29

Monroe, NC

3

David Duncan, Jr., 22

April 29

Seattle, WA

2

Deondre Cabine, 24

Charles Ray Justice, 35

May 2

Brooklyn, NY

4

Unidentified Adult Male, 18

May 2

Chicago, IL

4

Nakia Bailey, 21

May 6

Memphis, TN

4

Dejuan Hill, 18

Deandre Doyle Rogers, 18

May 13

Los Angeles, CA

2

Lamarion Upchurch, 15

Unidentified Adult Male, 25

Unidentified Adult Male, 25

May 13

Stockton, CA

2

Joe C. Lor, 22

Gina Xiong, 22

Kayleen Lor, 5

May 16

Ponder, TX

1

Seth Richardson, 29

Drake Alexander Painter, 4

Caydence Nicole Painter, 6

Odin Tyler Painter, 8

May 18

Santa Fe, TX

13

Glenda Ann Perkins, 64

Sabika Sheikh, 18

Cynthia Tisdale, 67

Christopher Jake Stone, 17

Shana Fisher, 16

Angelique Ramierz, 15

Jared Conrad Black, 17

Aaron Kyle McLeod, 15

Kimberly Jessica Vaughan

Christian Riley Garcia, 15

May 20

Hazelhurst, MI

7

Jonathan Miller, 26

May 27

Aurora, CO

3

Dejon Andre Leon Williams, 37

May 31

Timmonsville, SC

2

Cheresse Lutricia Jackson, 39

Breyanna Priscilla Jackson, 11

Nykerria Shanyia Jackson, 14

June 2

Omaha, NE

6

Jasmine Harris, 20

June 3

Chicago, IL

3

Ari Armour, 35

June 5

Jacksonville, FL

1

Trevon Bullard, 18

Jercoby Groover, 19

Royale D'Von Smith, Jr., 18

June 9

Philadelphia, PA

4

Kameron Gilfillian, 21

June 10

Chicago, IL

5

Tyrone White, 39

June 10

Bloomington, IL

2

Steven Alexander, Jr., 18

Taneshiea Brown, 20

June 10

Indianapolis, IN

4

Daron 'Manny' Johnson, 14

June 10

Bradenton, FL

5

Gabriel Conde, 39

June 11

Orlando, FL

1

Dove Lindsey, 1

Aidan Lindsey, 6

Lillia Lopez, 10

Irayan Lopez, 12

June 14

Westminster, CO

3

Vaughn Bigelow, 13

June 14

Buffalo, NY

4

Unidentified Adult Male, 38

June 14

Tracy, CA

4

Emilio Gerardo Enriquez Almanza, 15

June 17

Macon, GA

3

Calvin Bernard Harvey, 16

June 18

Chicago, IL

3

Shalonza E. McToy, 22

Erin Casey, 17

June 18

Bloomington, IL

1

Corey D. Jackson, 22

Nathaniel A. Pena, 22

Juan C. Perez-Macedo, 33

June 21

San Bernadino, CA

3

Alize Ross, 20

June 22

Homestead, PA

3

Jazmere Brianna Custis, 19

June 23

Chicago, IL

4

Michael Sutton, Jr., 50

June 24

Gary, Indiana

3

Jazaniel Davis, 19

June 24

Palm Beach Gardens, FL

3

Timothy James Frederick, 19

June 24

Sanford, NC

6

Travis Jamarian Mclean, 27

June 27

Oakland, CA

3

Derick Alexander, 18

June 28

Annapolis, MD

0

Wendi Winters, 65

Rebecca Smith, 34

Robert Hiaasen, 59

Gerald Fischman, 61

John McNamara, 56

June 30

Ashburn, GA

6

Za'quavia Smith, 21

July 2

Buffalo, NY

2

Yvette Johnson, 54

Kyrie Johnson, 1

July 3

St Louis, MO

5

Stanley Sparking, 40

July 4

Atlanta, GA

3

Curtis Lamar Wright, 25

July 4

Gary, IN

3

Jessie Brown, 29

July 5

Lima, OH

5

Carrington Lott, 23

July 5

Los Angeles, CA

3

Unidentified Adult Male

Unidentified Adult Male

Unidentified Adult Female

July 7

Wetumpka, AL

2

Charlene Ann Orsi, 44

Cadence Rose Orsi, 12

July 9

Orlando, FL

4

Edgar Rivera, 20

July 9

Wilmington, DE

0

Julie Burton Edwards, 41

Jacob Edwards, 6

Brinley Edwards, 4

Paxton Edwards, 3

July 13

Richmond, VA

3

Terrance C. Peters, 46

July 16

Philadelphia, PA

4

Tyree Bates, 14

July 16

Washington, DC

4

Mikiyah Wilson, 10

July 16

Palm Beach Gardens, FL

4

Norriesha L. Hills, 22

Jamal Forrest, 21

July 20

Sunnyside, WA

4

Unidentified Adult Male, 23

July 21

Chicago, IL

5

Tavish Harris, 30

Kevontay Montgomery, 22

July 26

Oakland, CA

2

Unidentified Adult Female, 21

Unidentified Adult Male, 19

July 26

Cleveland, OH

6

Cortez Ruffin, 27

July 27

Robstown, TX

0

Thelma Montalvo

Ernest Starry, 85

Isaiah Starry, 13

Roel Mireles, 41

July 28

Los Angeles, CA

4

Juan Lopez, 23

Unidentified Adult Female, 19

July 28

New Orleans, LA

7

Kurshaw "Twin" Jackson, 38

Jeremiah "Zippa" Lee, 28

Taiesha Watkins, 27

July 29

Phoenix, AZ

4

Jessuh Williams, 37

July 31

Gardena, CA

3

Delores Sanchez, 28

Francisco Rafael Montes, 28

August 4

Chicago, IL

3

Donald Norris, 19

August 5

Chicago, IL

5

Jahnae Patterson, 17

August 5

Chicago, IL

4

Charles Green, 32

August 8

Philadelphia, PA

4

Averill "General Reezy" Davenport, 34

Niesha Cooper, 32

August 11

Thornton, CO

3

Brenda Martinez, 37

August 11

San Francisco, CA

4

Gerson Romero, 19

August 12

Clearlake, CA

1

Unidentified Child, 2

Unidentified Child, 4

Unidentified Child, <1

August 20

Cleveland, OH

3

Jaylin Glanton, 26

August 20

Jackson, TN

4

Braxton Watkins, 20

August 25

Nashville, TN

4

Mansfield Rutherford, 22

August 26

Wichita Falls, TX

3

Davonta Jason Combs, 26

August 26

Jacksonville, FL

9

Taylore Robertson, 27

Eli Clayton, 22

August 27

Pine Bluff, AK

3

Antonio Brown, 36

August 31

Aurora, CO

3

Anthoni Readus, 26

Wayne Carter, 19

September 1

Ft Lauderdale, FL

3

Dwayne Smith, 34

September 1

Cleveland, OH

7

Theresa Goldwin, 29

September 2

Paterson, NJ

2

Daryl Tann, 48

Nykeema Kersey, 33

September 6

Cincinnati, OH

2

Richard Newcomer, 64

Pruthvi Raj Kandepi, 25

Luis Felipe Calderon, 48

September 7

Minneapolis, MN

3

Steven L. Fields, 42

September 9

Auburn, AL

4

Evan Mikale Wilson, 20

September 9

Elgin, IL

4

Sharpie Smith-Tate, 25

September 12

Bakersfield, CA

0

Eliseo Garcia, 57

Laura Garcia, 31

Antonio Valdez, 50

Emanuel Contreras, 50

Petra Maribel Bellanos Casarez, 45

September 17

Silver Spring, MD

0

Sang Yeon Kim, 48

Unidentified Adult Female, 22

Mina Kim, 11

Andy Kim, 10

September 20

Aberdeen, MD

3

Sunday Aguda, 45

Bromdra Giri, 41

Hayleen Reyes, 41

September 23

Bakersfield, CA

4

Jeremy Charles Littlejohn, 20

September 24

Memphis, TN

2

Calitri Boone, 17

Jessie Williams, 30

Unidentified Adult Male, 37

September 28

Philadelphia, PA

2

Unidentified Adult Male, 24

September 29

Orlando, FL

4

Ruby Steplight, 83

September 30

Compton, CA

3

Chloe Hunter, 17

October 1

Chicago, IL

2

Steve Nixon, 31

Bruce Y. Miller, 29

October 3

Philadelphia, PA

4

Unidentified Adult Male, 20

October 3

Florence, SC

6

Investigator Farrah Turner, 36

Officer Terrence Carraway, 52

October 4

Espanola, NM

3

Cameron Martinez, 18

October 6

Houston, TX

3

Decarlo Washington

October 13

Taft, TX

1

Juan Espinoza, Sr., 62

Juan Sandoval III, 20

Jeremy Sandoval, 22

Nicky Sandoval, 20

October 14

Las Vegas, NV

1

Susan Nash, 52

Dejona'e Nash, 20

Deonte' Nash, 31

October 14

Palo Alto, CA

2

Eduardo Sandoval, 22

Mario Vidales Mendez, 23

October 15

Columbia, TN

0

Kaileigh Lin, 17

Bo Li, 14

Meigan Lin, 14

Lia Li, 15

October 21

Lakewood, WA

3

Terrence King, 28

October 21

Jacksonville, FL

5

Robert Lee Williams, 76

October 26

Jersey City, NJ

3

Jade Saunders, 17

October 27

Pittsburgh, PA

7

Richard Gottfried, 65

Jerry Rabinowitz, 66

Cecil Rosenthal, 59

David Rosenthal, 54

Sylvan Simon, 87

Daniel Stein, 71

Melvin Wax, 88

Irving Younger, 69

Joyce Fienberg, 75

Rose Mallinger, 97

Bernice Simon, 84

October 28

El Dorado, AK

2

Darrischica Rogers, 30

Aric Hall, 28

October 30

Vallejo, CA

3

Bobby Beasley, 32

De'Angelo Quinn, 26

October 31

Detroit, MI

3

Unidentified Male Child, 15

November 1

Springfield, MO

2

Aaron Hampton, 23

Steven Marler, 38

November 2

Tallahassee, FL

5

Maura Binkley, 21

Nancy Van Vessem, 61

November 8

Thousand Oaks, CA

10

Deputy Sgt Ron Helus, 54

Cody Coffman, 22

Tim Munson, 19

Authorities have not yet released the names of the 10 additional victims
*Because the number of injuries caused by gun violence has increased consistently in the last four years, and because a human life should not be the lowest bar necessary to surpass for the public to take notice, we will be using the GVA definition in this report.
**As the Gun Violence Archive excludes perpetrators from their definition of mass shootings, so too have we excluded the names of those responsible.
Rebecca Linde is a writer and cultural critic in NYC. She tweets about pop culture and television @rklinde.
Sessions submitted a letter of resignation "at the request" of the president earlier on Wednesday.
Administrative changes were expected following yesterday's midterm elections, but perhaps none with implications as big as the ousting of Attorney General Jeff Sessions. Sessions, who submitted a letter of resignation at the request of the president, has been the target of criticism from his boss for more than a year after recusing himself from special counsel Robert Mueller's investigation into Russian interference in the 2016 presidential election and possible collusion from the Trump campaign.
Sessions's chief of staff, Matthew Whitaker, will assume the role of acting attorney general until a permanent replacement is named. Whitaker will oversee the Mueller investigation, which has so far led to the convictions and guilty pleas of Trump allies including campaign chairman Paul Manafort and former personal lawyer, Michael Cohen. Though the former Alabama senator was one of the president's earliest and loudest supporters, he has been on the receiving end of Trump's consistent and public grievances.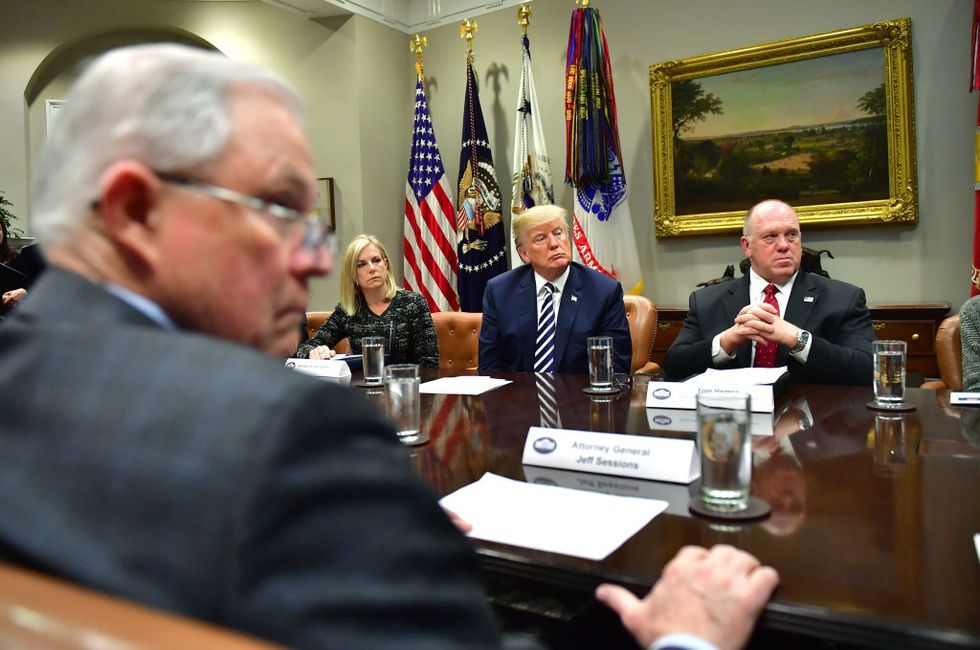 President Trump holds a law enforcement roundtable on sanctuary cities at the White HouseGetty Images North America
"Sessions should have never recused himself, and if he was going to recuse himself, he should have told me before he took the job and I would have picked somebody else," the president told the New York Times in a July interview.
The president has also lambasted Sessions for his management of the Justice Department, though Sessions has largely worked to make good on Trump's campaign promises by shifting legal focus away from protection of civil rights in favor of measures of "law and order" in the name of immigration reform and national security.
Reaction from Democratic leadership has been swift. Ranking House Judiciary member Jerry Nadler took to Twitter demanding answers about the timing of the announcement, and Minority Leader Chuck Schumer told reporters that any resulting interference with the special investigation would be considered a "constitutional crisis."
Americans must have answers immediately as to the reasoning behind @realDonaldTrump removing Jeff Sessions from… https://t.co/3bdwlxu9jB

— (((Rep. Nadler))) (@(((Rep. Nadler)))) 1541620492.0
Whitaker, a former US attorney from Iowa who serves as director of the conservative ethics watchdog group Foundation for Accountability and Civic Trust, published an opinion piece for CNN in 2017, before he had joined the Justice Department, which was titled "Mueller's Investigation into Trump has Gone too Far."
Rebecca Linde is a writer and cultural critic in NYC. She tweets about pop culture and television @rklinde.
Dennis Hof won his bid for Nevada Assembly District 36 last night, despite having died three weeks ago.
Midterm elections are often considered a referendum on a sitting administration's progress—a collective report card graded by the people. Early numbers from this year's elections suggest a substantial and possibly record increase in voter turnout, which has been historically low in non-presidential voting years. It's not surprising, given the turbulent political climate, that candidates from both parties continued to campaign at full speed up until the final hours. Yet despite an election cycle that saw blatantly racist attack ads, felony accusations, and threats of violence, the one surefire road to victory has been apparent for years: death.
Outlandish as it may seem, at least nine dead people have been elected to public office since 1962—six in the last 20 years alone. The latest, Dennis Hof, whose body was discovered last month after the legal brothel owner had celebrated at a campaign-and-birthday party, claimed victory in Nevada last night. Prior to his death, the 72-year-old had been celebrating with friends Heidi Fleiss, Ron Jeremy, and Joe Arpaio.
Ballots Beyond the Grave: Deceased People Who Have Won Elections
Rep. Clement Miller (CA, 1962; airplane accident)

Reps. Nick Begich (AK) and Hale Boggs (LA, 1972; airplane accident)

Gov. Mel Carnahan (MO, 2000; plane crash)

Rep. Patsy Mink (HI, 2002; viral pneumonia)

Sen. James Rhoades (PENN, 2008; car accident)

Sen. Jenny Oropeza (CA, 2010; cancer)

Sen. Mario Gallegos (TX, 2012; liver disease)

Dennis Hof (NV, 2018; cause of death not yet reported)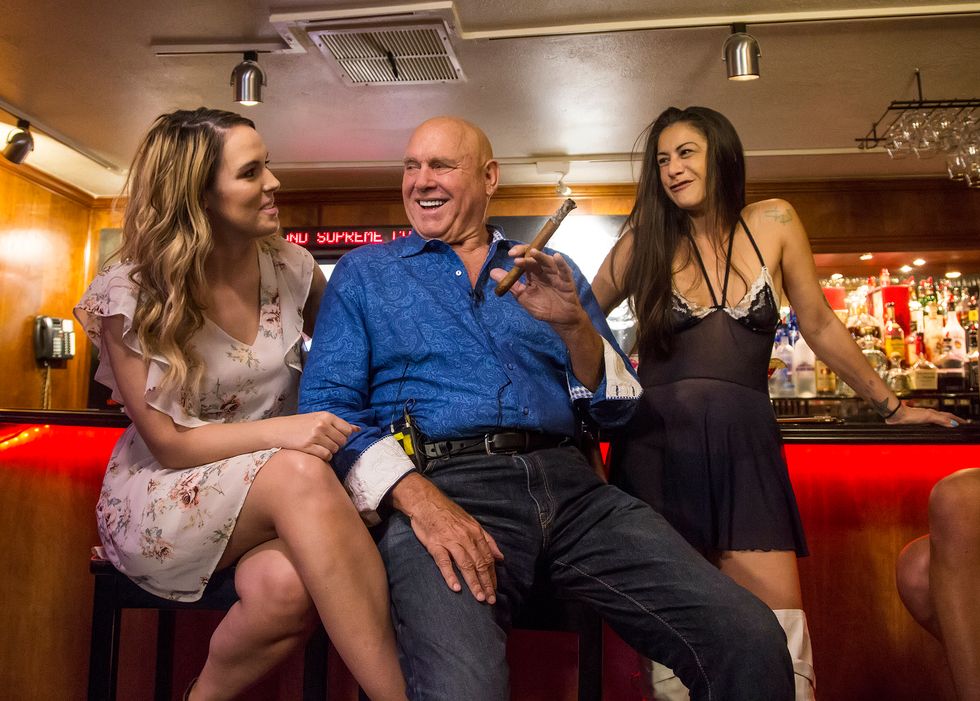 The Nevada Independent
Hof ran for office as a self-proclaimed "Trump Republican" and stated that the president's 2016 win ignited his own desire for a career in politics. Similarities between the two run deep. Hof gained fame as a reality star on the long-running HBO documentary series Cathouse, which captured life at the Moonlite Bunny Ranch, one of several legal brothels owned and operated by Hof. In 2015, he published a memoir titled "The Art of the Pimp," a clear homage to Trump's "The Art of the Deal." In it, Hof included a psychological profile by psychotherapist Dr. Sheenah Hankin, which categorizes Hof as a narcissist who abused the sex workers he employed.
Among the issues he championed were immigration reform, a repeal of Nevada's 2015 Commerce Tax, and a campus carry law that would allow concealed-carry permit holders to bring their weapons onto Nevada college and university campuses. He was endorsed by Roger Stone and Grover Norquist. In the 2018 primary elections, Hof beat incumbent James Oscarson by a mere 432 votes. Because he died within 60 days of the upcoming election, Hof remained on the ballot, though signs were posted at polling sites notifying voters of his death.
It seems as though these issues matter more than electing a living person to citizens of the 36th Assembly District. In fact, a 2013 study by Vanderbilt University found that, in lower-level elections, voters are most likely to elect the candidate with the highest name recognition.
The 36th Assembly District, which spans Clark, Lincoln, and Nye counties, has long been a GOP stronghold. Hof defeated Democrat Lesia Romanov, a first-time (living, breathing) candidate and lifetime educator who works as assistant principal of an elementary school for at-risk children. Romanov was impelled to run for office by a desire for common-sense gun reform following the mass shooting in Parkland, Florida. Yet, too many of her constituents, upon discovering she was running against Hof, she became a de facto advocate for women, including "survivors of sex trafficking and exploited and abused brothel workers," according to NBC News. Romanov was among many women running for office in hopes of making Nevada's legislature the first to hold a female majority in the country.
As The Washington Post reported in 2014, there hasn't been an election with a dead person on the ballot in which the dead person lost. It's hard to determine what's more damning for American democracy: that voters are so divided that they're more likely to vote for a dead person than cross party lines or that they've been voting that way for years. At the same time, one might argue that giving Hof's seat to a living Republican (as appointed by county officials, according to state law) is a better outcome than if it'd gone to Hof himself, considering his history of sexual abuse allegations. The most preposterous indictment of the American political system is that although deceased candidates have been elected before, now the electorate could seemingly ask itself—in all seriousness—whether a dead serial abuser makes a better candidate than a living one. And no one seems to know the answer.
In addition to nationwide legalization, Canadian officials also announced plans to eliminate the waiting time and fees required to apply for criminal possession pardons.
Canada's legalization of recreational marijuana went into effect on Wednesday morning, making it the largest such legislation to date.
The move comes months after the Canadian House of Commons passed the Cannabis Act, a measure to curtail both underage marijuana use and the high profits earned through organized crime. The first retailers opened their doors at midnight in Newfoundland to long lines of eager customers who can now legally possess up to 30 grams in public and can cultivate up to four plants in their homes. Previously, possession of 30 grams was punishable by up to six months in prison.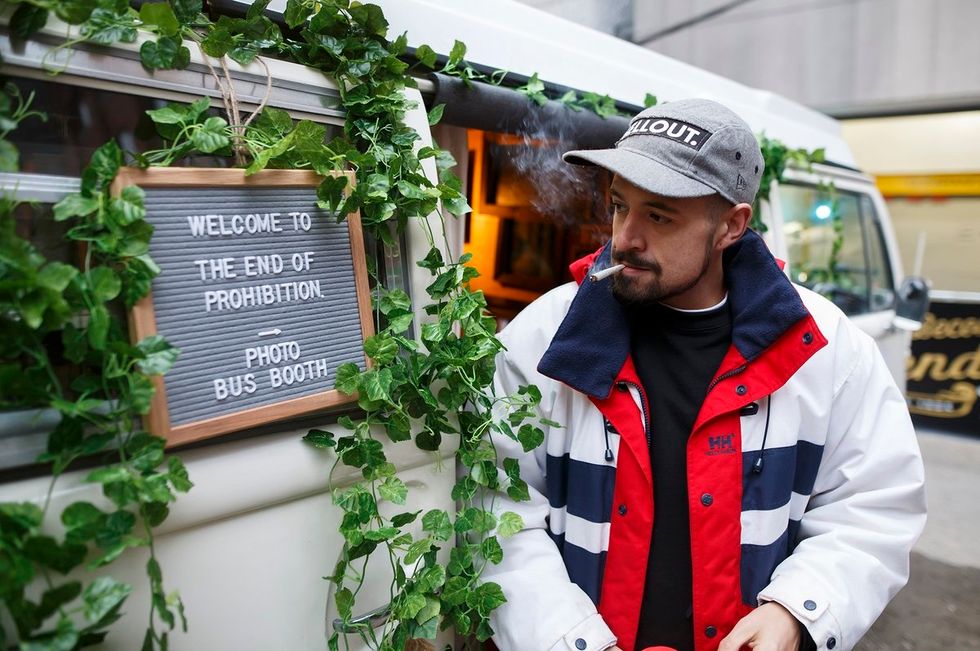 Christopher Katsarov/AP
In addition to nationwide legalization, Canadian officials also announced plans to eliminate the waiting time and fees required to apply for criminal possession pardons. At a news conference in Ottawa, public safety minister Ralph Goodale called the decision "a matter of basic fairness."
Retailers and dispensaries must be federally licensed, but regulations will be implemented and enforced on a provincial level. Newfoundland and Montreal, for example, will allow operation of dispensaries. Toronto will not. Cannabis will be available for purchase online in all provinces, though the legal age varies from 18 to 19 in different locations.
The news is considered a big victory for Prime Minister Justin Trudeau, who campaigned on the promise of marijuana legalization three years ago and has been working on the legislation since 2016. It's the latest in the notoriously progressive politician's track record: he's championed the Paris environmental accord, welcomed 40,000 Syrian refugees, and has been outspoken about his pro-choice views. According to Trudeau, cannabis legalization is the next natural step to reflect the country's liberal-mindedness and evolving views on a substance already widely used by its populace.
It's been too easy for our kids to get marijuana - and for criminals to reap the profits. Today, we change that. Ou… https://t.co/MKNLGgoX8r

— Justin Trudeau (@Justin Trudeau) 1529453515.0
Trudeau tweeted about "promises kept" shortly after legislation was passed in June
twitter.com
Canadians celebrated the new legislation from coast to coast, cheering as early sales were made and throwing New Year's Eve-like parties to welcome the new laws. Not everyone was riding the high, however. An op-ed published in the Canadian Medical Association Journal warned against "the known and unknown health hazards" of cannabis use, and expressed concern about how large companies, now able to legally market their products, might target younger audiences.
The op-ed reflected a general suspicion of Big Bud similar to that of Big Pharma, Alcohol, and Tobacco. Legalization is also expected to have a strong impact on the Canadian economy, drawing money from tourists seeking a legal smoking experience on top of an industry already projected to reach an estimated $5 billion by 2020.
Rebecca Linde is a writer and cultural critic in NYC. She tweets about pop culture and television @rklinde.

"To discuss something this sensitive at a political rally is just not right," said Arizona senator Jeff Flake.
Lisa Murkowski (AK), called the president's remarks "wholly inappropriate, and, in my view, unacceptable."

The three Senate Republicans holding key swing votes on Brett Kavanaugh's Supreme Court nomination spoke out on Wednesday against comments the president made at a political rally in Mississippi the night before. "The president's comments are just plain wrong," said Susan Collins (ME).

"To discuss something this sensitive at a political rally is just not right," said Jeff Flake (AZ).

At the rally, Trump questioned the credibility of Dr. Christine Blasey Ford, who testified in front of the Committee last week that Kavanaugh forced himself on her, groped her, and attempted to silence her cries for help when they were teenagers. Mockingly reenacting the questioning, he said, "How did you get home? 'I don't remember.' How did you get there? 'I don't remember.' Where was the place? 'I don't remember.'"
The president's comments are a far cry from the days immediately after Ford's testimony, during which he called her "a very credible witness," and her testimony "very compelling." When asked by the Committee how sure she was that her assailant was Kavanaugh, Ford answered, "100%." Kavanaugh has denied all allegations.

The president then turned his attention to Kavanaugh, echoing the judge's own testimony that the accusations have "destroyed [his] family and good name," claiming, "A man's life is in tatters" and calling the Democratic party's attempts to investigate Ford's claims a smear campaign. President Trump has been vocal about the need for due process, lamenting that the criminal justice system has become one in which someone is "guilty until proven innocent." Rally attendees were enthusiastic about the president's remarks, despite having repeated their 2016 campaign battle cry, "Lock her up," hours earlier.
Ford isn't the only woman who's accused Kavanaugh of sexual misconduct. Julie Swetnick alleged that Kavanaugh and his friend Mark Judge, who Ford claims to have been present during her assault, were among a group of friends who would target and drug girls at parties and take turns having sex with them. While Swetnick does not accuse Kavanaugh of participating in her own gang rape, she claims that he was at the party where it happened. Deborah Ramirez, in an interview with The New Yorker, said that Kavanaugh exposed himself to her at a party when they both attended Yale.
In her opening statement, Ford noted that she was " terrified" to testify before the committee, despite having passed a polygraph test administered by the FBI. Still, both the president, Judge Kavanaugh, and many members of the GOP have dismissed Ford's accusations as false, despite the fact that false rape allegations are very rare.
Collins, Murkowski, and Flake have remained publicly undecided on whether they will vote to confirm Kavanaugh, though Flake called for an expanded background investigation of the nominee and the allegations against him. Controlled closely by the White House, the investigation was closed on Wednesday evening. A single copy of the investigation report was made available to Senate Judiciary Committee members on Thursday morning, and Collins and Flake have said that they were satisfied with the result. However, the FBI never contacted a number of potential sources and character witnesses who may have been able to corroborate such claims. While the agency did speak with Ramirez, they did not follow up with the roughly 20 people whom she said could provide more information. Over 40 people have contacted the agency to offer testimony, including Swetnick and Kerry Bercham, a former roommate of Ramirez's, but federal investigators never responded.
After the investigation was closed, majority leader Mitch McConnell filed a motion to cloture Kavanaugh's nomination, restricting the amount of time to debate before a floor vote to 30 hours and ensuring that a vote will take place this week.
---
Rebecca Linde is a writer and cultural critic in NYC. She tweets about pop culture and television @rklinde.