The Brooklyn Liberation March, a protest for Black Trans Lives, was truer to the original spirit and point of Pride than any corporatized Pride march.
This year's truest Pride event so far had no corporate floats and no rainbow flag logos.
It was brought together in a spirit of rage and defiance. It was the Brooklyn Liberation March, which began at the Brooklyn Museum and wound its way through Brooklyn for hours.
15,000 people, most clad in white, walked in the hot sunshine on June 12th. The march was organized by several Black trans-led organizations.
Keep reading...
Show less
Salau is one of multiple Black people killed following the murder of George Floyd.
In the wake of protests following the death of George Floyd in Minnesota, the list of lost demonstrators is growing.
This weekend, Black Lives Matter activist Oluwatoyin Salau was found dead in her hometown of Tallahassee, Fl. at just 19 years old. This follows the recent loss of Black transgender man named Tony McDade, who was murdered by Tallahassee police. A suspect has been taken into custody surrounding the death, but friends of Salau say there's much more to the story.
Sources close to Salau say she was a victim of sex trafficking near Florida A&M University. The afternoon she went missing, she tweeted that a man assaulted her, having offered to take her to a church.
"He came disguised as a man of God and ended up picking me up from nearby Saxon Street," Salau tweeted, according to the Tallahassee Democrat. "I trusted the holy spirit to keep me safe."
Salau said she had also been sexually assaulted a few days before she'd gone missing and contacted police. Ashley Laurent, a friend of Salau's, said a police officer told them more evidence was needed to pursue an investigation. This has prompted people online to condemn the Tallahassee police for their mistreatment of both McDade and Salau.

Sign a petition to demand justice for Salau here.
RIP to 19 year old activist Oluwatoyin "Toyin" Salau. 🙏🏾 She was found dead after detailing a sexual assault and b… https://t.co/mA38X85nal

— 247 Live Culture (@247 Live Culture)1592199343.0
Three months later with no justice in sight, Beyoncé calls out the Kentucky authorities for their lack of action.
On Sunday, Beyoncé posted an open letter to Kentucky's Attorney General Daniel Cameron imploring him to press criminal charges against three police officers involved in the fatal shooting of 26-year-old EMT Breonna Taylor in Louisville.
In the three months since Taylor's death, no actions have been taken. "LMPD's investigations have created more questions than answers," the singer writes. She demands that Cameron create more transparency in the investigation of the incident and prosecute the officers' misconduct, as well as the police force's "pervasive practices that result in the repeated deaths of unarmed Black citizens."
Keep reading...
Show less
After nine days of standoffs between Seattle Black Lives Matter protesters and the police, at last the cops ceded the area to the revolution.
What is Chaz? Depends on who you ask.
Technically Chaz is the "Capitol Hill Autonomous Zone," an area of Seattle that has become a quasi-experiment in what a completely police-free state might look like. After nine days of standoffs between Seattle Black Lives Matter protesters and the police, at last the cops ceded the area to the revolution.
Keep reading...
Show less
Social media is full of resources for protestors, and many are linked below. Stay safe out there.
The Black Lives Matter movement is bringing many people into the world of active protest for the first time. It's also putting people in the face of dangers they may not be prepared for.
The police are using pepper spray, tear gas, and—most of all—fear to intimidate and corral protestors, but the revolution will not be deterred. It's important to prepare as best you can before heading out, so here are a bunch of resources and guides to read before hitting the streets, many of which come from this helpful drive on protestor safety. Read them, memorize them, write the numbers on your arms—and then join the fight.
1. What to Bring
You should bring a bag/backpack, water, a face mask and hand sanitizer, snacks, signs, walking shoes, your ID, and proper clothing to protests. If you think you might be tear gassed, bring an extra pair of clothes in a sealed bag. Consider also bringing earplugs, a pen and paper, and a sharpie to write down important numbers. If you plan on getting arrested, bring a sealed bag with any medication you need. Bring cash and quarters. Make sure your phone is locked with a passcode and that locations and notifications are turned off.
2. What to Wear
Wear clothing that you can run in. Be aware that it may be cold or hot, and you may be stuck in a freezing jail cell or in the hot sun. Layer if possible. Wear comfortable shoes. For women, avoid tampons. Avoid wearing contacts, which tear gas can irritate. Be sure to write numbers of local emergency contacts and lawyers in sharpie on your arm.
3. Don't Go Alone
Choose a partner strategically. Groups should defer to the needs of the most vulnerable members. Be aware of your partners' health conditions beforehand, and have a plan. White people should be prepared to put their bodies on the line between Black and brown allies and the cops.
Respect other protestors' privacy and don't share photos of others' faces.
4. If You Are Pepper Sprayed
Don't panic, and don't rub your face. Leave the area, find some fresh air and pour some water over the affected area.
5. If You Are Tear Gassed
If you are teargassed, the CDC recommends that you remove any clothing with the gas on it. Use soap and water to wash it off your skin.
Some sources recommend bringing a bandana soaked in water, lemon juice or vinegar, which you can hold over your mouth if you are tear gassed.
How to Stay Safe During a Tear Gas Attack - From a US Marine www.youtube.com
READ, DOWNLOAD, AND SHARE this zine on chemical weapons: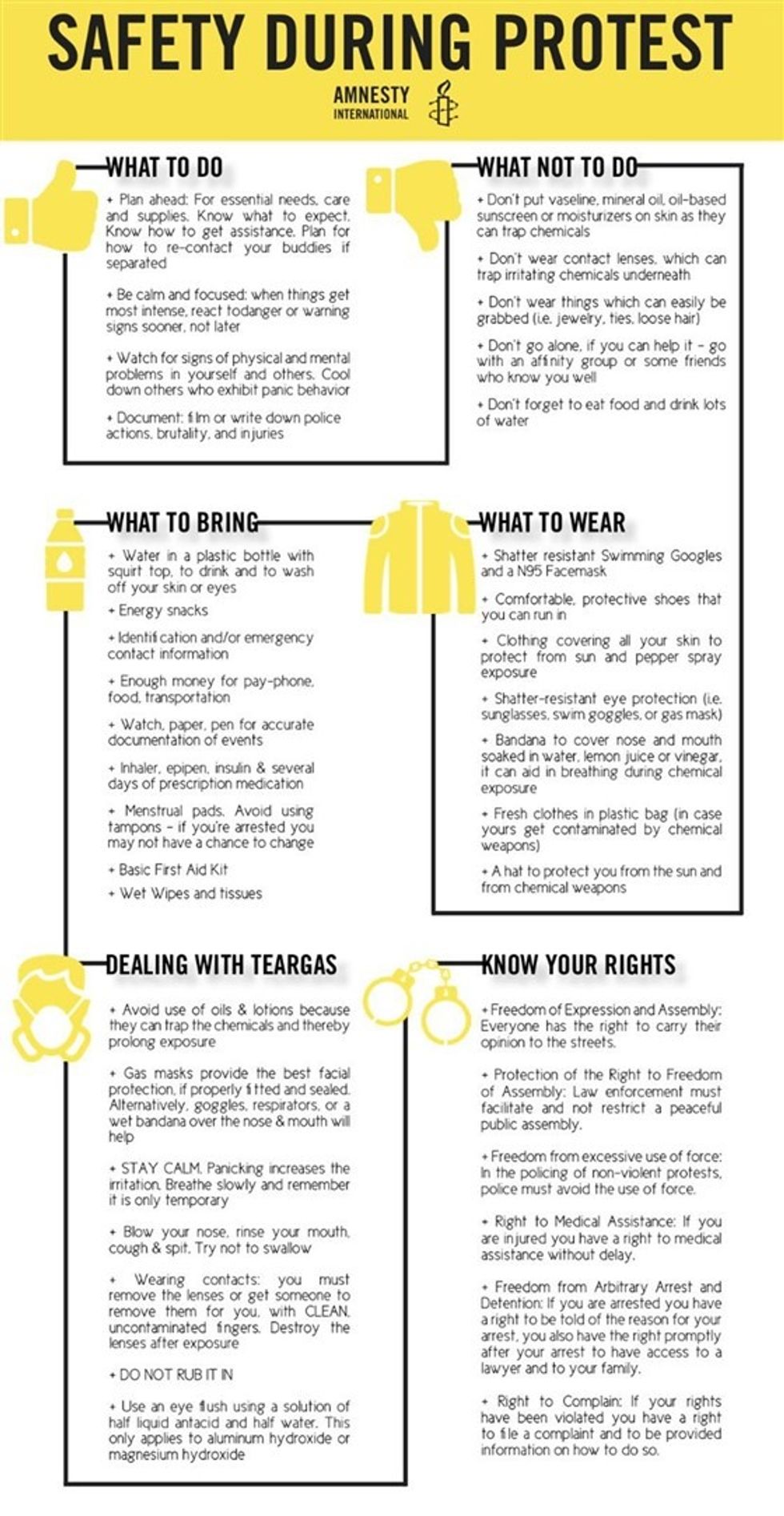 via Amnesty International
6. Know Your Rights
The ACLU offers detailed information on protestors' rights. Remember, you have the right to protest and assemble. You have the right to film police officers' actions. You have the right to medical assistance.
7. For White Allies at Protests
White allies at protests should be deferring to Black organizers. Avoid starting chants, instigating violence, or engaging with police. Continue doing research and supporting the cause outside of protests.
Read SURJ Sacramento's guide to protest etiquette for white people:
8. If You Are Arrested

If you are arrested, don't resist. Ask for a lawyer right away and demand your right to remain silent. Protect others.
9. For COVID-19 Protection
Carry hand sanitizer and always wear a mask. Try to stay distanced as best you can. Stay home if you have symptoms. Quarantine and get tested after marching if possible.
10. Take care of others
If you have medical training, your expertise is much needed. Here are some definitely-not-comprehensive guides.
10. For aftercare
Protests can be traumatic. Here are some resources on debriefing and healing after actions:
Here are some more comprehensive resources:
You could resign if you want to, but then who will keep America so GD great?
With Donald Trump making a visit to Bangor, Maine today, the editorial board of the Portland Press Herald issued an op-ed calling for President Trump to resign.
The harshly critical piece entitled "To President Trump: You Should Resign Now" was framed as an open letter to the president and got straight to the point with this opening plea, "We're sorry that you decided to come to Maine, but since you are here, could you do us a favor? Resign."
In recent days even George W. Bush has been critical of President Trump's response to protests, so this new piece quickly became a trending topic on Twitter. Obviously this is another baseless attack from the lying news media—AKA lügenpresse. Considering how delicate our president's ego is—he's our special little guy—we can only hope that Donald Trump didn't see the letter; but just in case he did, it's worth writing another one to lift his spirits. So here's our best attempt—with lots of pictures and flattery to keep him reading:
Keep reading...
Show less