Chicago Tribune
Jason Van Dyke shot the black youth 16 times in 2014
A jury has convicted Jason Van Dyke of second-degree murder and 16 counts of aggravated battery in the fatal shooting of 17-year-old Laquan McDonald in 2014.
The Chicago police officer originally faced two counts of first-degree murder and was acquitted of one count of official misconduct. Second-degree murder carries a more lenient sentence than first-degree, and Van Dyke could face as long as 20 years in prison or as little as probation. Each aggravated battery conviction carries prison time from six to 30 years.
With jury deliberations starting Thursday afternoon, the verdict was reached midday Friday after approximately 7½ hours. In closing arguments, jury members heard a prosecutor claim that Van Dyke had no regard for the black teenager's life, while the defense framed the situation as tragic, but not a murder.
Assistant special prosecutor Jody Gleason told the jury that according to testimony by his partner, Van Dyke was already considering shooting the youth on the drive to the scene.
"Laquan McDonald was never going to walk home that night," Gleason said. "You heard what it was that he said, 'I guess we'll have to shoot him.'"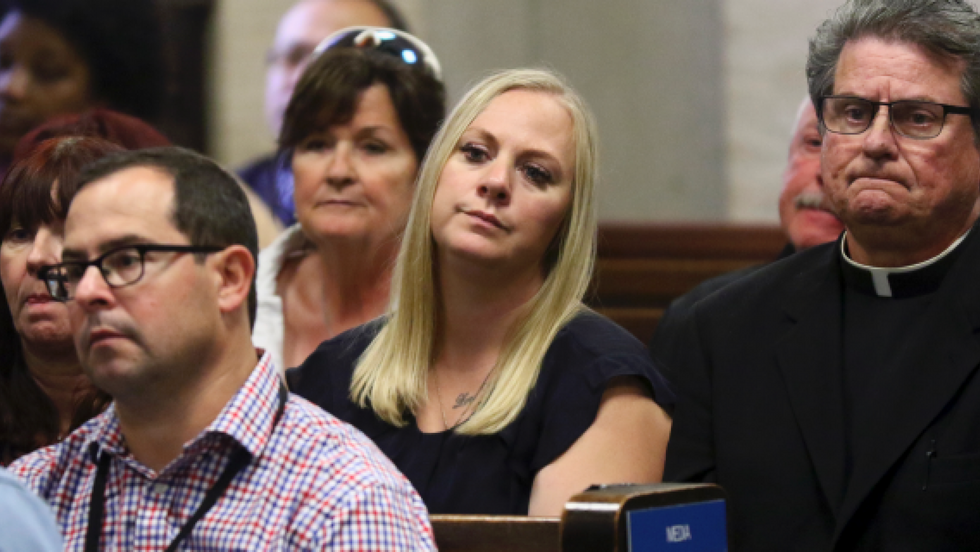 Tiffany Van Dyke, the wife of Chicago police Officer Jason Van Dyke, listens during the trial.
John J. Kim/Chicago Tribune via AP, Pool
Van Dyke is the first Chicago officer to be charged with first-degree murder since 1980. While police reports originally did not find the shooting an incriminating offense, dash-cam videos released by the city in 2015 sparked protests, and the courts ordered Van Dyke be held without bond on murder charges.

The video was approximately six minutes long and appeared to show the 17-year-old McDonald running down the middle of the road while Van Dyke, standing next to his SUV, opens fire, striking the teen sixteen times and killing him.
Chicago officials had been preparing for potential demonstrations following the release of the verdict Friday afternoon. Police said they had plans in place to "ensure public safety" while at the same time "protecting the rights of peaceful demonstrations."
Family members of McDonald in the courtroom included Rev. Martin Hunter, the victim's great uncle who acts as a family spokesperson, among others. Tina Hunter, McDonald's mother, was not in court for the verdict.
Demonstrators gathered outside the courthouse erupted into cheers after the reading of the verdict. "Thank you, Jesus!" one woman shouted. Others chanted, "Justice! Justice! Justice!"
Joshua Smalley is a New York-based writer, editor, and playwright. Find Josh at his website and on Twitter: @smalleywrites.