Dall-E Mini, the AI-powered text-to-image generator has taken over the internet. With its ability to render nearly anything your meme-loving heart desires, anyone can make their dreams come true.
DALL-E 2, a portmanteau of Salvador Dali, the surrealist and Wall-E, the Pixar robot, was created by OpenAI and is not widely available; it creates far cleaner imagery and was recently used to launch Cosmpolitan's first AI-generated cover. The art world has been one of the first industries to truly embrace AI.
The open-sourced miniature version is what's responsible for the memes. Programmer Boris Dayma wants to make AI more accessible; he built the Dall-E Mini program as part of a competition held by Google and an AI community called Hugging Face.
And with great technology, comes great memes. Typing a short phrase into Dall-E Mini will manifest 9 different amalgamations, theoretically shaping into reality the strange images you've conjured. Its popularity leads to too much traffic, often resulting in an error that can be fixed by refreshing the page or trying again later.
If you want to be a part of the creation of AI-powered engines, it all starts with code. CodeAcademy explains that Dall-E Mini is a seq2seq model, "typically used in natural language processing (NLP) for things like translation and conversational modeling." CodeAcademy's Text Generation course will teach you how to utilize seq2seq, but they also offer opportunities to learn 14+ coding languages at your own pace.
You can choose the Machine Learning Specialist career path if you want to become a Data Scientist who develops these types of programs, but you can also choose courses by language, subject (what is cybersecurity?) or even skill - build a website with HTML, CSS, and more.
CodeAcademy offers many classes for free as well as a free trial; it's an invaluable resource for giving people of all experience levels the fundamentals they need to build the world they want to see.
As for Dall-E Mini, while some have opted to create beauty, most have opted for memes. Here are some of the internet's favorites:
There's no looking back now, not once you've seen Pugachu; artificial intelligence is here to stay.
Critical race theory is one of the most controversial topics of 2021. It's also one of the most misunderstood.
If you have been paying attention to conservative media, you will have certainly heard the term critical race theory. In fact, Fox News has mentioned "critical race theory" over 1,900 times in the past 3.5 months alone. Yet, most Americans can't define it.

What Critical Race Theory Is
Critical race theory is an academic legal concept that is more than 40 years old. The core idea is that no race is inherently inferior to another and that racism is not just the product of individual bias or prejudice, but also something embedded in legal systems and policies in the US.
Critical race theory originated in the 1970s as a result of the civil rights movement. The father of the movement was Harvard Law School professor Derrick Bell, who voiced frustration at the limited impact of landmark civil rights laws and U.S. Supreme Court rulings of the previous decade. Bell argued that if racial inequality persisted in a post-civil rights era, then the law was central to explaining that persistence.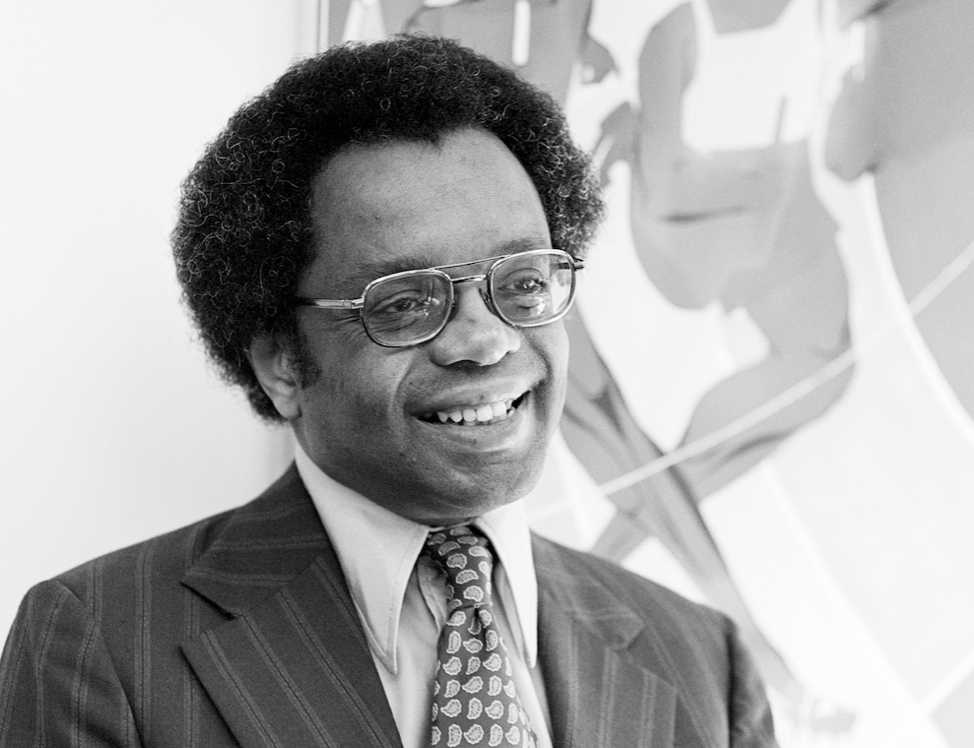 Derrick Bell, Founder of CRTJohn Chapin
Legal scholars, such as Kimberlé Crenshaw, Neil Gotanda, Gary Peller and Kendall Thomas, developed Bell's ideas further. In a 1995 book, they curated the writings that formed the movement, and their theories began to be explored in law schools all over the country. Critical race theory became a framework for looking at how racism in the law could still exist even when the judiciary claimed to be "color-blind."
In the words of legal scholar Angela Harris, "Critical race theory not only dares to treat race as central to the law and policy of the United States, it dares to look beyond the popular belief that getting rid of racism means simply getting rid of ignorance, or encouraging everyone to 'get along.'"
What Critical Race Theory is Not
Critical race theory is not taught in the K-12 curriculum across the US and or in workplace diversity training. Critical race theory is primarily taught in college, particularly in law school, as a theory for understanding how race and racism have impacted America's legal and social systems. There is little to no evidence that critical race theory itself is being taught to K-12 public school students, though some ideas related to it, such as lingering consequences of slavery and Jim Crow laws, have been.
Critical race theory does not teach that all white people are inherently racist. The theory says that racism is an "ordinary" part of everyday life, so people — white or nonwhite — who don't intend to be racist can nevertheless make choices that fuel racism. Critical race theorists actually say that there are no traits that are "inherent" to any race.
Critical race theory insists that race is socially constructed and maintained to enforce a specific hierarchy, but individuals are not bound to any specific behaviors or skills because of their race. People with common origins share certain physical traits, of course, such as skin color, physique, and hair texture. But these constitute only an extremely small portion of their genes, are dwarfed by that which we have in common, and have little or nothing to do with traits such as personality, intelligence, and moral behavior. So no, white people are not inherently racist, nor are they inherently smarter or better.
Critical race theory also is not supposed to teach people to hate America. One of the CRT founders, Kimberlé Crenshaw, says, "Critical race theory just says, let's pay attention to what has happened in this country and how what has happened in this country is continuing to create differential outcomes so we can become that country that we say we are. So critical race theory is not anti-patriotic. In fact, it is more patriotic than those who are opposed to it because we believe in the 13th and the 14th and the 15th Amendment. We believe in the promises of equality, and we know we can't get there if we can't confront and talk honestly about inequality."
Critical race theory is also not a Marxist theory. No matter how many times Ted Cruz tweets that it is.
#CriticalRaceTheory is a Marxist ideology that sees the world as a battle, not between the classes - as classical M… https://t.co/FJyA9gJEBV

— Senator Ted Cruz (@Senator Ted Cruz) 1625158184.0
Karl Marx never offered fully developed critiques of law, let alone theories of jurisprudence or legal history. However, CRT is similar to critical legal studies, which claims that laws are used to maintain the status quo of society's power structures. Critical legal studies is an offshoot of Critical Theory, which was a school of thought made up of German philosophers and social theorists in the Western European Marxist tradition known as the Frankfurt School. So while you could draw a line back to Marxism, it's a pretty long walk.
Additionally, critical race theory doesn't really have any similarities to Marxism, or at least not any that would actually upset Ted Cruz. CRT does not advocate for communism, it doesn't advocate for giving up property rights, and it doesn't encourage a worker revolution to overthrow capitalism. It is a framework for looking at our legal system, and at its most radical, it advocates for the end of color-blindness in law and the institution of a more race-conscious judiciary.
Why are we arguing about it?
So what does a somewhat obscure legal theory have to do with current politics? Well, it started with the death of George Floyd at the hands of a police officer in 2020. Floyd's death created a nationwide resurgence of the ideals of the civil rights era as Americans of all races and backgrounds began to educate themselves on issues of race and books about race relations selling out across the country.
This emphasis on learning about Black history and racial inequality spread to classrooms. Teachers began expanding their classroom libraries and including more Black history lessons in their curriculums. This outraged Trump Republicans who argued that learning about these dark parts of American history was designed to make people hate America.
The term "critical race theory" became part of the zeitgeist due to a Fox News interview and a Trump tweet. Christopher Rufo, director of the Center on Wealth and Poverty at the conservative Discovery Institute, argued on Fox News in early September 2020 that Trump should end "radical" diversity training programs in the federal government immediately. He claimed that the reason the programs were bad is that they used critical race theory.
Trump tweeted his opposition to the theory a few days later. By the end of September, former President Trump had issued a memo and an executive order ending racial sensitivity training in the federal government.
According to the memo, all agencies were asked to suspend "any training on 'critical race theory' or 'white privilege,' or any other training or propaganda effort that teaches or suggests either (1) that the United States is an inherently racist or evil country or (2) that any race or ethnicity is inherently racist or evil."
Suddenly, Trump has made critical race theory his enemy, so his supporters started looking for a way to "defeat it." Legislatures in 28 states used Trump's executive order as a template to draw up their own "critical race theory bills." These bills aim to outlaw the teaching of critical race theory specifically, or to prohibit contentious talks about racism, discrimination or privilege in general.
As of July 15, legislators in 26 states have introduced bills that would restrict teaching critical race theory or limit how teachers can discuss racism and sexism, according to an Education Week analysis. 11 states have enacted these restrictions.
America's teachers have decried the laws as "censorship" and the president of the nation's second-largest teachers union vowed to take legal action to protect any member who "gets in trouble for teaching honest history."
There are perhaps valid discussions to be had about how much race should be discussed in classrooms, but critical race theory is simply a distraction from that conversation.
Republicans have deliberately turned critical race theory into a catch-all term for anything they dislike about the discussion of race. Cristopher Rufo explained it best. He
tweeted
that conservative activists hoped to brand the phrase as a "toxic" catch-all for a broad range of cultural issues: "The goal is to have the public read something crazy in the newspaper and immediately think 'critical race theory.'"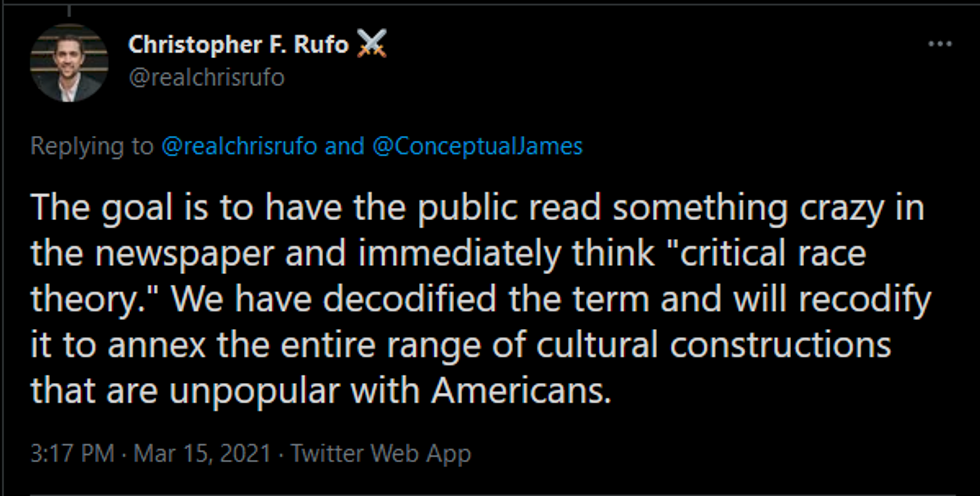 Critical race theory has become a scapegoat for conservative punditsTwitter screenshot
And it could mean one of the candidates ends up in jail.
Important Editor's Note:

What follows is an interview with a person who purports to "see" what others cannot - the paranormal truth that crosses the divide between mind and matter, between past and present and future things. We will call this person "L." She asked that we keep her identity secret, since she is actively working on multiple criminal investigations in the heartland of our country, many of which are "cold cases" that were abandoned as "unsolvable" before her involvement.
We at Trueself did our homework, and it's worth noting that L checks out - she is a trusted ally to our nation's most sophisticated forensic crime fighters. She doesn't earn a living from her so-called 'gift' (she has a real-life job) but instead tries to 'utilize her gift for good.' For clarity: We disclaim any comments of L that appear in this interview, but we do assert that the 'visions' described within this interview with L are true.
That said, we believe that her track record for helping our nation's top law enforcement officials solve cold cases means that this transcribed interview about her empath visions as recounted in this transcribed interview are worthy of publication.

Trueself: We understand that you watched the Trump-Biden debate tonight and felt compelled to reach out to a senior member of our editorial staff about a "vision" you had about Trump. Is that right?

L: Well, yes. I watched the debate, but I could not focus on the TV noise because I felt something coming through me.
Trueself: What do you mean - 'coming through [you]'?
L: [laughs nervously] Well, this is where it gets weird. And I just want to say that I am not only not political. I am anti-political. I don't consume news and have no love or hate for any politician. That stuff breaks my brain. The lies and posturing, the narcissism and lack of spirituality led me to ditch media and all things political at a very young age.
Trueself: I'm confused. If you shun media and politics, how did you get this 'vision' of yours?
L: That's the funny thing. My friend - the person on your staff who connected me with you - roped me into a Covid lockdown soire to watch last night's debate. I did so reluctantly, knowing that the mindless banter would make me drink too much to quiet my head. But, sure enough, the voices came. I needed to listen.
Trueself: At what point during the debate did that happen?
L: This is tough for me to say... [PAUSES, EMOTIONAL] ....I don't want to talk badly about anyone. And I don't have a real opinion on anything political. But the quickening happened. I couldn't help it while I watched the debate. It might have been the first time Chris Wallace challenged Trump and got run over by his interruptions... or the first time Biden looked like he might not remember the names of his grandkids. I just started seeing things... lol. I got worried and afraid, even. I worried about what might happen to us.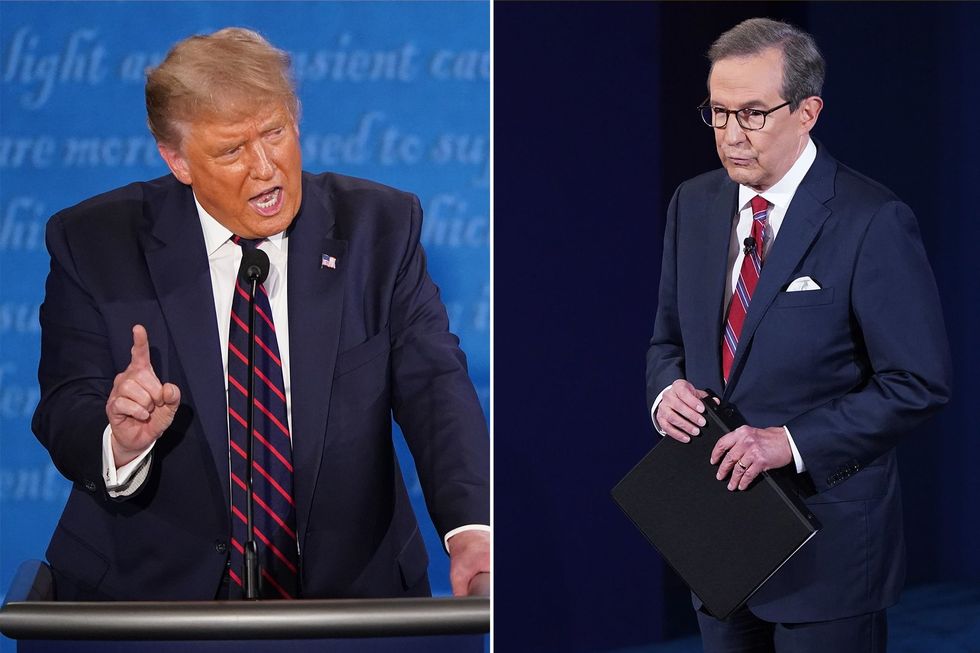 Trueself: Hang on... Seeing things? What do you mean?
L: I saw a collage of our national history strobe through my brain. I saw Lincoln and Kennedy and John Wilkes Booth and Lee Harvey Oswald. I saw Malcolm X and Martin Luther King. I saw James Baldwin and Bob Marley. I saw Frederick Douglas and Toni Morrison and James Joyce. Then... I saw President Trump in an orange jumpsuit. I saw him being taken away in shackles. Could have been a signal of something different, but I do know that it's true. Something true that will happen related to what I saw.
Trueself: Wait. I need to ask - you're saying the President of the United States will be carted off to jail?
L: Yes, that will happen.
Trueself: You really believe that is possible or you KNOW that it WILL happen?
L: It will happen, I believe.
Trueself: Err... okay. How does that make you feel?
L: Well... it makes me feel at peace, I guess. It will make us better. It will make America great again... [laughs]