Politics is the ongoing debate over who and what gets to thrive and survive, and it is always personal.
Abortion. Gun control. Immigration. Police violence. The MeToo movement.
A dozen political issues, a dozen debates that we seem trapped in, condemned to repeat. It's been four decades since Roe v. Wade, and women's access to abortion seems as fragile as ever. Since the Sandy Hook massacre, there have been 2,402 mass shootings in the United States, and yet we don't feel any closer to passing common sense gun legislation than we were eight years ago. The American federal government has come to a complete standstill, but the poison runs deeper than that; at every level of human existence—political, cultural, artistic—we have lost the ability to meaningfully alter the status quo. We have the same arguments that we did eight years ago, we listen to the same types of music, and all the movies are sequels or franchises or reboots. We are a stopped culture.

It's a concept cultural theorist Mark Fisher referred to as the "slow cancellation of the future," part of his broader theory of Capitalist Realism—the notion that, as neoliberal hegemony continues, the people living under it will increasingly lose the ability to imagine a future different from the present. A mood has settled over America, a sense that things simply are the way they are. Massacres are common, police brutality happens regularly, abortion is difficult and precarious, healthcare costs are insane, and the government has no power (or will) to stop any of it from happening. The whole world is telling us, consciously or not, that nothing can be done. So what does all this have to do with the modern phenomenon recognized as "grievance politics?"
Simple. When we feel our politics have lost the ability to affect our lives, the only issues that seem to matter are personal ones.
If society is stuck, if we lack the power to change it and make it the way we want it to be, the only thing we can do is own each other—on Twitter, on stage, or in the voting booth. No politician can actually pass any legislation, but if the right ones win then the people on the other side will get upset. In turn, you might feel good for a little while, and maybe even convince yourself that your interests are being represented even though they're not. In modern mainstream political discourse every issue is disguised by one question: Who is "triggering" who? The whole world is telling you that nothing will be done about mass shootings or police violence or rape culture, but you can own the "Bernie Bros," and feel like you're owning all of the people in your life that you don't like.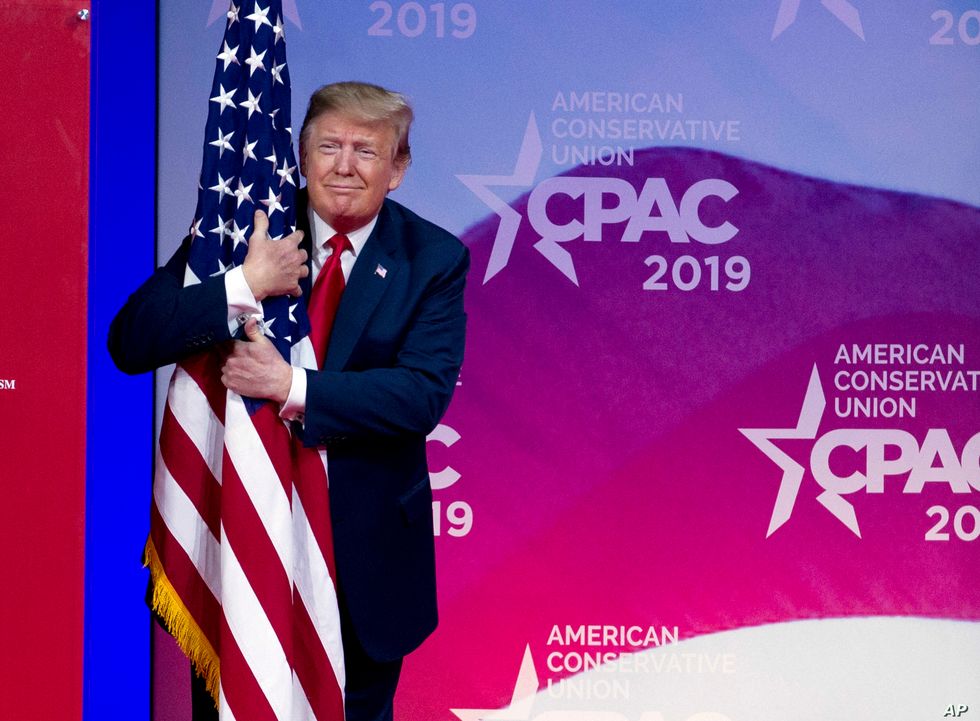 AP
That's how we got Trump. Whether or not they'll admit it, very few people really believed, in the logical parts of their minds, that Trump was ever gonna build his stupid wall. How could he? That would involve something happening, and nothing ever happens. The MAGA crowd, in a real sense, have as little power to bring about their ideal world as we do (thank god), because they can't stop us from agitating about inequality or gun control or kneeling for the national anthem. But when Donald Trump wins, college kids cry. And triggering the libs is as close as they can get to a victory.

If there's one good thing about the COVID-19 pandemic that is gripping the nation, it's this: We can no longer deny that our politics have a very real, very material impact on our lives. However, and this is important to stress: Politics is the ongoing debate over who and what gets to thrive and survive, and it is always personal. The pandemic has brought it home to the most privileged and insulated among us, but if you are vulnerable, if you are poor, if you are a racial or sexual minority, if you are a victim of gun violence or assault or our rapacious healthcare system, you have felt the effect of our politics in your life every single day. It's more important than the feeling it gives you, and it's more important than who's triggering who, and that's going to become more and more clear as we continue to suffer the consequences of a civil infrastructure that has spent the past forty years being ransacked.
Mainstream politics has always operated under the delusion that nothing was ever going to really happen. It would threaten to happen, it would almost happen, but it never actually would. Well, something has happened. Maybe now something can be done about it.
Probably not, though.
The president attended the annual anti-abortion event in Washington, D.C.
Today, Donald Trump became the first-ever president to attend the March for Life.
The March for Life—not to be confused with the very different March for our Lives—is an annual gathering with an ultimate mission to end abortion in the United States. At the national march in Washington, D.C. this morning, Trump expressed that he was honored to be the first president in attendance.
Trump delivered his speech in a very characteristic manner, claiming the venue had maxed capacity, bragging about his contributions to the anti-abortion movement, and describing himself and his presidency with hyperbolic statements: "Unborn children have never had a stronger defender in the White House," he assured the crowd.
"When it comes to abortion...Democrats have embraced the most radical and extreme positions," Trump added.
March for Life's official website says they "celebrate life from the moment of conception to the moment of natural death, and every moment in between," a sentiment underlined in Trump's speech. "We are fighting for those who have no voice," he added. "[The women at the march] just make it your life's mission to spread God's grace." But of course, Trump's words and his actions haven't always aligned: just last November, the Associated Press reported that nearly 70,000 migrant children were held in U.S. government custody over the past year. While Trump may care about the fate of unborn children (or at least pretend to to gain the support of evangelical christians) he has made it extremely clear how little he cares about living children.
The most powerful people in the world need to go to the bathroom, too! (You won't BELIEVE the last on our list)
World leaders might seem larger than life, but even the most powerful people in society are actually just like us!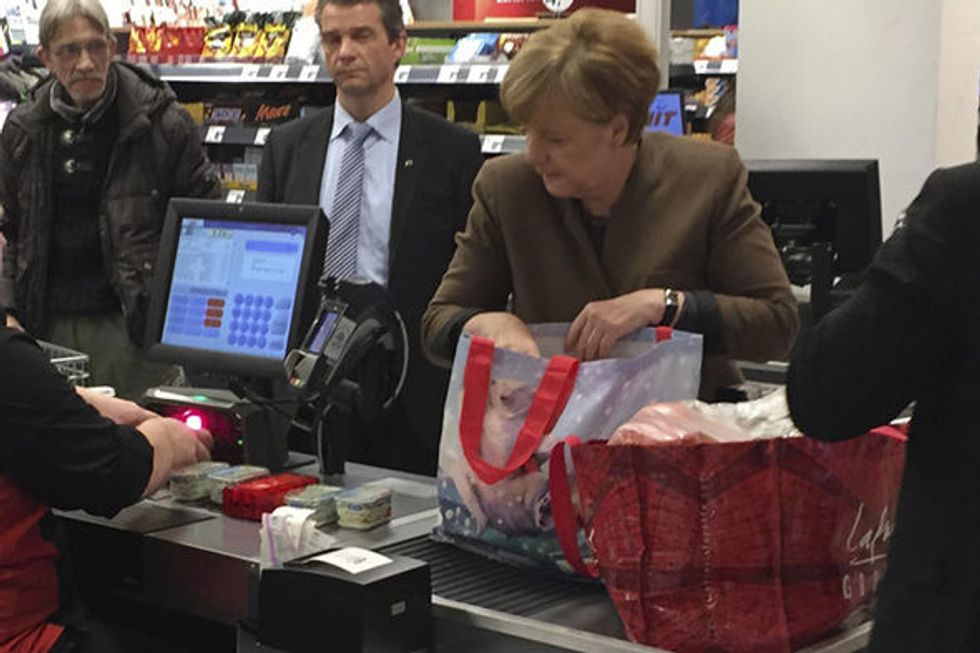 SPLASH
They Shop at the Supermarket!

German chancellor Angela Merkel digs through her bag at the supermarket checkout while flanked by security.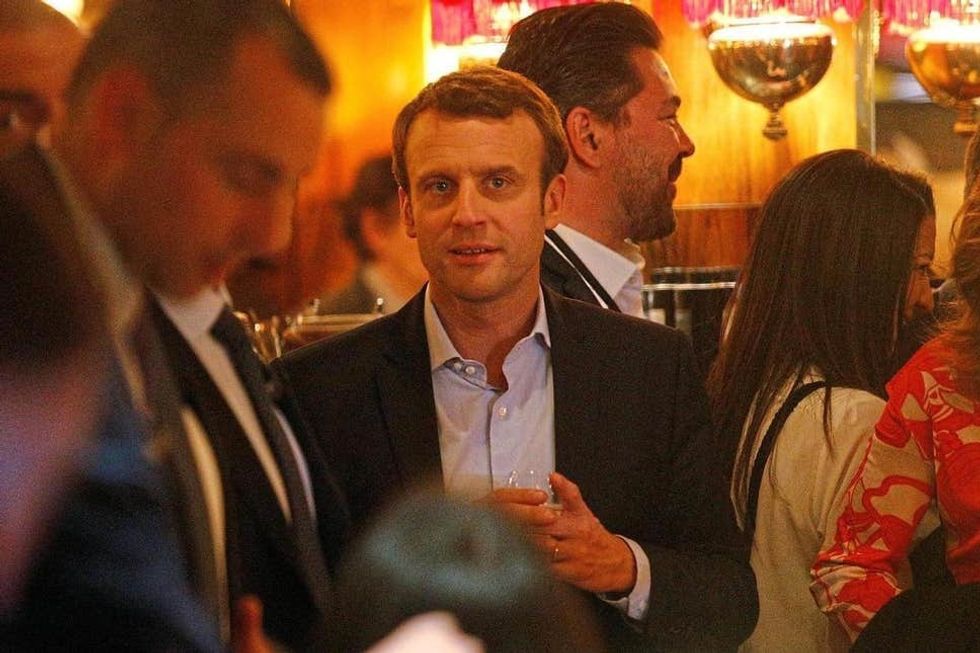 GEOFFROY VAN DER HASSELT/GETTY
They Go to Restaurants!
French president Emmanuel Macron enjoys a tasty beverage at La Rotonde.
Must See: Trudeau Caught on Camera Joking About Trump www.youtube.com
They Make Fun of Stupid People!

Canadian prime minister Justin Trudeau laughs it up with other world leaders at the expense of the most stupid guy they all know. Even weak UK prime minister Boris Johnson joins in to avoid being on the bottom of the world leader totem pole!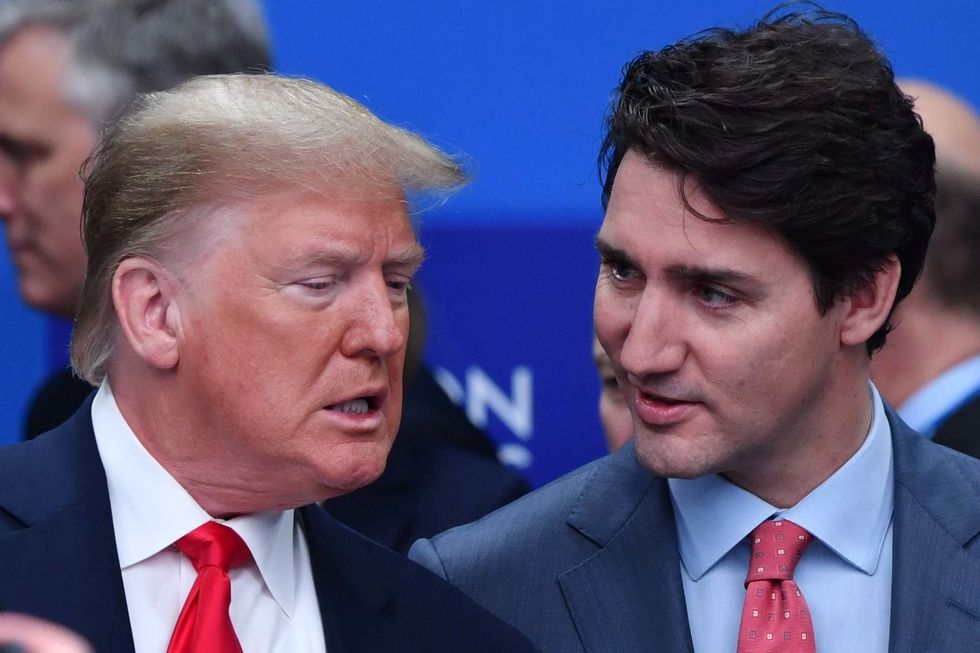 https://www.standard.co.uk/news/world/donald-trump-justin-trudeau-twofaced-nato-a4304571.html
They Don't Respect Stupid People So Much That They Openly Admit to Trash Talking Them!

Canadian prime minister Justin Trudeau gets covertly taped goofing on US president Donald Trump ("You just watched his team's jaws drop to the floor," he said in regards to Trump holding an impromptu press conference that derailed the NATO schedule). Then, after being asked about it by the media, Trudeau is pretty much just like, "Yeah, that guy's a f*cking moron." Okay, he's a little more eloquent than that: "I was happy to be part of it but it was certainly notable," Trudeau said.
They Whine and Attempt to Call Their More Powerful Rivals Names When Their Feelings Get Hurt!
US president Donald Trump tries his best to insult Canadian prime minister Justin Trudeau, calling him "two-faced" in response to the surfaced video of Trudeau roasting him.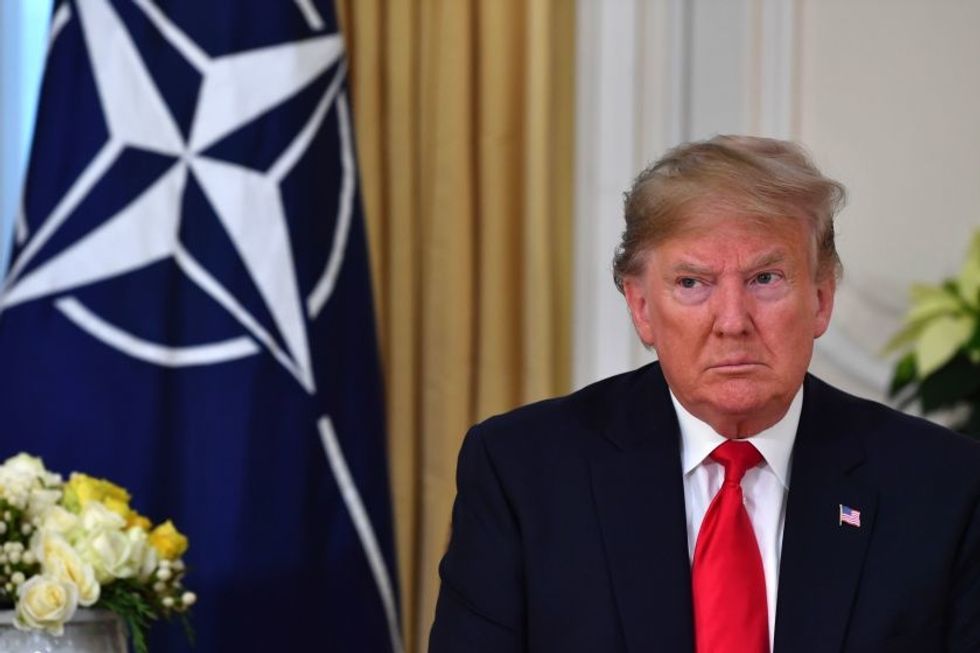 https://www.latimes.com/politics/story/2019-12-03/trump-blasts-macron-nato-unity-meeting
They Give Up and Run Back to Their Safe Spaces!

US president Donald Trump ultimately can't handle the big leagues, so after a pathetic attempt at calling Canadian prime minister Justin Trudeau names, Trump quits NATO and runs back home to his safe space in America.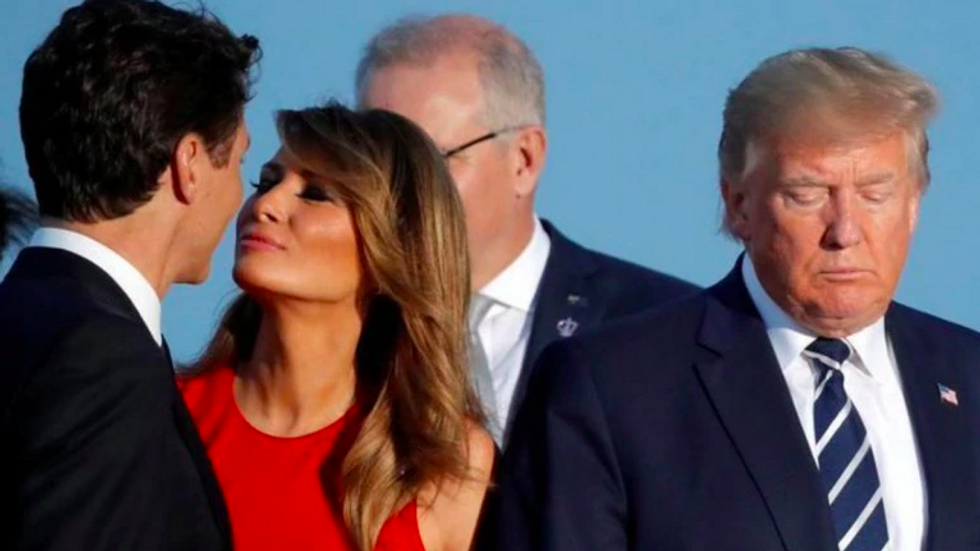 Reuters
They Ultimately Succumb to Their Stronger, More Handsome Rivals!

US President Donald Trump sulks as his wife Melania, who allegedly sleeps in a separate bedroom from him, gets extra friendly with his biggest rival, Canadian prime minister Justin Trudeau. Trump loves to prove that his supporters who constantly shout about "cucks" are, as always, projecting.
At the end of the day, maybe we're not so different from world leaders after all!
We must look at the mass actions that are making life difficult for the powerful in Chile and Lebanon and Hong Kong, and prepare ourselves to make the same kind of trouble at home.
With all the global significance connected to the 2001 attack on the World Trade Center, many people don't realize that September 11th has a very different set of meanings in Chile.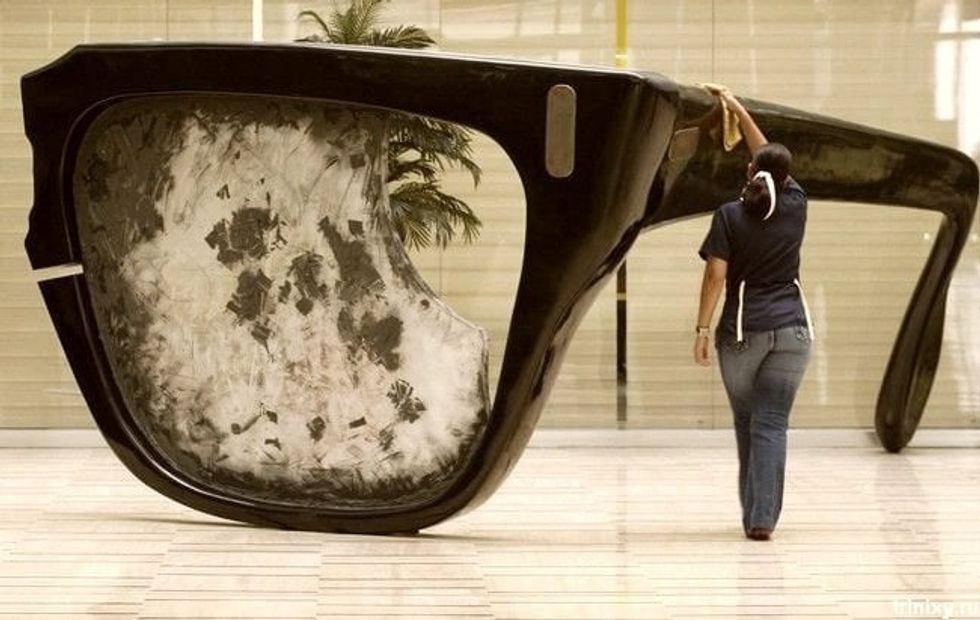 A memorial depicting Allende's broken glasses in the aftermath of the coup
On that day in 1973, the United States backed a coup that killed Chile's democratic socialist president, Salvador Allende, ushering in the brutal era of Pinochet. Chile has never fully recovered from the violence of that period, nor the sudden shift in economic policy that followed. For many Chileans, it has been hard to imagine a world in which the leadership could work for them, rather than the global elite. But now the streets of Santiago and Valparaiso are being taken over by thousands of protesters who've been unwilling to accept piecemeal concessions from President Sebastian Pinera.

In Chile, a billionaire president pushes austerity while the military represses protesters. Thousands have been arrested. Knowing Chile's history, this is very dangerous.

The solution here and across the world is obvious. Put power where it belongs: with working people. https://t.co/s6J7kOtDXs
— Bernie Sanders (@SenSanders) October 30, 2019
So far many of these protests have been peaceful, but there have been instances of arson and of violent clashes between protesters and security forces. At least 20 have already died, but the activists there are not giving up. They are relentless, and they are only interested in substantive change—a fundamental restructuring of the Chilean Government to serve the working people. They want Pinera to resign, and they are calling for changes to the Chilean constitution.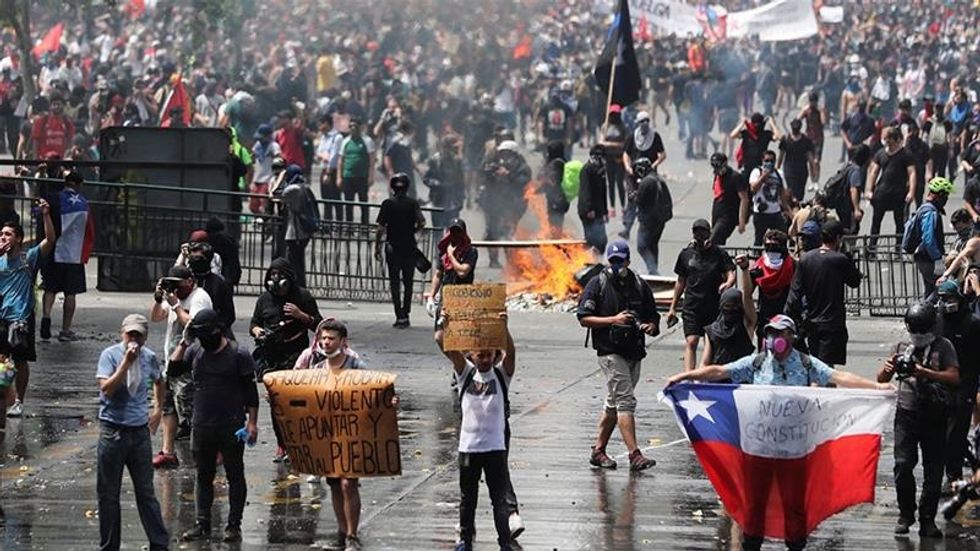 Al Jazeera
For Americans, this kind of protest remains out of the question. Protest in America does not exist to be disruptive or to force action. It only serves as a salve for our powerlessness.
American protest is sanctioned by the system and restricted to its proper time and place. It makes the protesters feel better for a time—makes them feel seen, like they're a part of something—and maybe it raises some awareness for a cause or inspires some phone calls to congress. And if it attempts to do more, it is met with swift and violent crackdowns. It does not—cannot—break down the country's normal functions.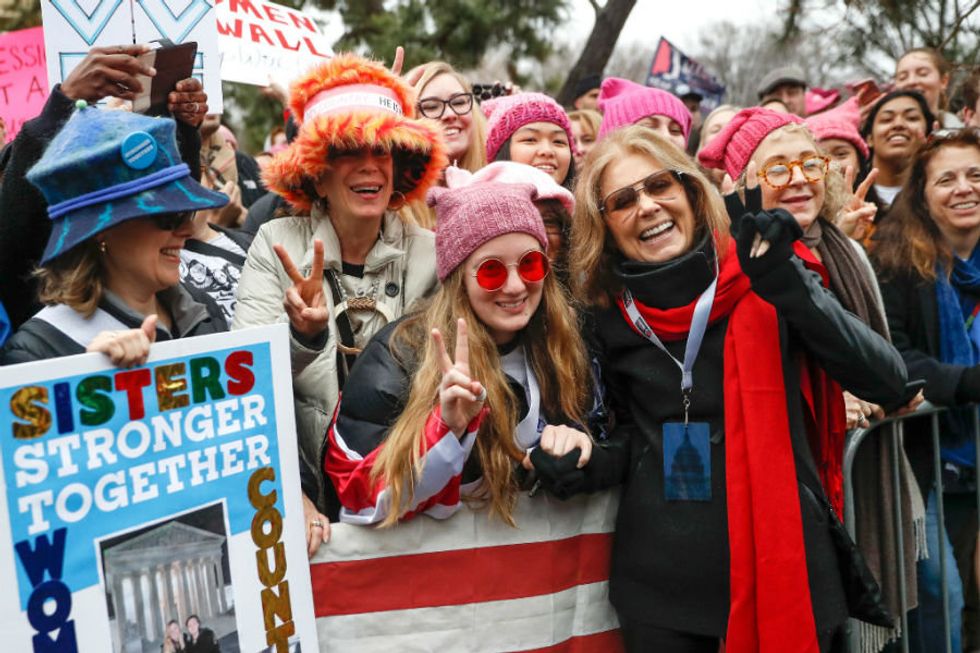 Christian Science Monitor
But what if the normal functions no longer work for the people? What if the interests that led the United States to back coups against Socialist leaders are also fueling mass propaganda campaigns against grass roots movements at home? What if they're defending those in power from the normal avenues of accountability?
The American media has a tight focus right now on the rapidly developing impeachment proceedings, and that makes sense. There is new information coming out of those efforts on a near daily basis, and there is a significant precedent for this kind of procedure to effect change. But it remains to be seen whether all this new evidence will survive the spin and propaganda from the likes of Fox News and One America News. We should not place our faith purely in the institutions of power to regulate power. To achieve anything for the people, the institutions of power must be afraid of the alternative.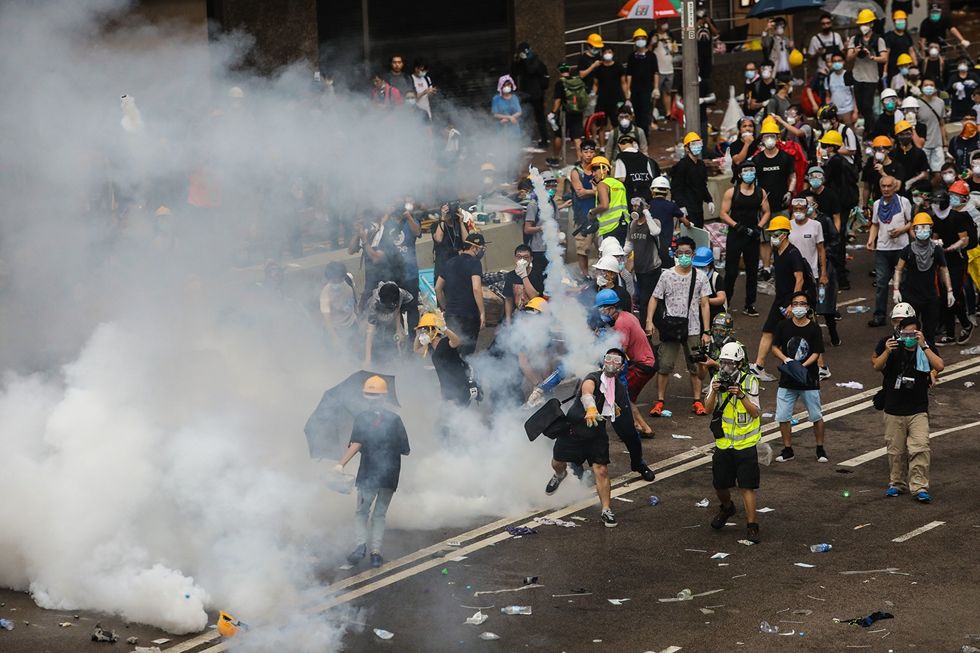 AFP/Getty Images
We must look at the mass actions that are making life difficult for the powerful in Chile and Lebanon and Hong Kong, and prepare ourselves to make the same kind of trouble at home. Even if Trump is forced out of office and the Democrats choose a progressive nominee and the 2020 election fully flips control to the Democrats, the fight will only be getting started. The interests and forces that killed Salvador Allende in Chile will still be doing everything in their power to protect the status quo. We must be willing to upend the normal order if we want to produce real change.

Trump's words and actions have led our country into a terrifying state, a state in which the president has put people of color in severe danger.
This week the Republican party has only helped to fuel Donald Trump's racist fire. For many, this isn't surprising. Trump began his attacks during his first campaign, targeting Mexican-Americans and generalizing them as "drug dealers, criminals, and rapists." Once he was elected, Trump enforced a xenophobic Muslim ban and continued to fuel the fire of white supremacy. Now, immigrants seeking asylum are dying in American custody. Overall, Trump's words and actions have led our country to a terrifying state, a state in which the president has put minorities and POC immigrants in severe danger.
A lot has happened within the last seven days: It's harder than usual to keep up with Trump and his minions' actions. Here's a timeline to help get you up to speed.
July 12th
Vice President Mike Pence and Republican Senators Lindsey Graham, John Cornyn, and Mike Lee visited a detention center in McAllen, Texas. The government officials observed around 400 men crammed in cages with no mats, no pillows, and barely room to sit down. The four men did not speak to any of the 400 immigrants and stayed in the detention center for only 90 seconds.
Vice President Mike Pence Visits Texas Migrant Detention Center | TODAY www.youtube.com
July 14th

Only two days later, President Donald Trump took to Twitter to advise "progressive" congresswomen that, instead of participating in American politics, they should "go back and help fix the totally broken and crime infested places from which they came." The tweets were sent in the midst of ICE raids occurring across the nation. The tweets' purpose was clear: Create hysteria targeting people of color in hopes of eradicating the immigrant population.
July 15th

A day after Trump's tweets, Senator Lindsey Graham, who once called the President a "race-baiting, xenophobic, religious bigot," defended him, proclaiming, "AOC and this crowd are a bunch of communists… they're Anti-Semitic. They're anti-America."
Lindsey Graham's Fox News MELTDOWN www.youtube.com
July 16th

On Tuesday, the House voted to condemn the President for his racist rhetoric. A President of the United States has not been formally rebuked a president in over a century. While the House voted in favor of the symbolic motion, the numbers included 240 Democrats in favor and 187 Republicans against. It's noteworthy that only four Republicans voted in favor of condemning the president's racist tweets.
That same night, Louisiana Senator John Kennedy referred to Rep. Alexandria Ocasio-Cortez (New York), Ayanna Pressley (Massachusetts), Ilhan Omar (Minnesota), and Rashida Tlaib (Michigan) as the "four horsewomen of the apocalypse."
John Kennedy Blasts The Squad www.youtube.com
July 17th

On Wednesday, during President Trump's rally in North Carolina, he again attacked the group of freshmen congresswomen, explicitly targeting the Minnesotan representative, a Muslim, and Somalian refugee, Ilhan Omar. His supporters began chanting, "Send her back." The president stood silently for a mighty thirteen-second pause, head held high, as he proudly looked upon his supporters.
'Send her back': Trump batters Ilhan Omar on campaign trail www.youtube.com
July 18th

The morning after, two of Twitter's top trending hashtags were #IStandWithPresTrump and #IStandWithIlhan. A few hours later, a few GOP members finally spoke out about the chants. Senator Marco Rubio called the targeting of Representative Omar "grotesque." A few other Republican Congressmen also spoke out on Twitter:
Trump later said he was "not happy" with the chants. When asked why he didn't stop the crowd, he answered, "I think I did—I started speaking very quickly."
Trump disavows supporters chant of 'Send her back!' at rally www.youtube.com
The same day, John McCain was also trending on Twitter. Former Representative of Florida, David Jolly, tweeted about how he missed the moment when John McCain cut off a woman claiming Barack Obama was an "Arab."
Senator Chuck Schumer also referred to the moment while addressing his colleagues.
Finally, to end this appalling timeline on a high note, here's a video of Minnesotan Representative Ilhan Omar returning home to the Twin Cities. Watch as she's celebrated below:
The gap is growing wider and wider between Trump supporters and those who don't understand them. Here, we peer out across the gap, into the unknown shadowlands of the Trumpian psyche.
Studying the perspectives of Trump supporters can feel like researching the psychology of serial killers. Of course, Americans are naturally fascinated by serial killers—a fact that could potentially tell us something about the people who love Trump.
In today's political environment, it can feel like there are two Americas existing parallel to each other. To dwellers in both, the other side can feel as foreign and sinister as the Upside Down in Stranger Things, inhabited by ghoulish, many-armed monsters, hell-bent on mindless destruction.
This certainly rings true today, in light of recent videos of Trump supporters chanting "Send her back" in Greensboro, North Carolina.
The chant was referring to Representative Ilhan Omar, a freshman Congresswoman and Somali refugee who was the object of a Trump Twitter rant on Saturday, along with three other progressive freshmen congresswomen.
While the other three—Alexandria Ocasio-Cortez, Ayanna Pressley, and Rashida Tlaib—were all U.S.-born, Omar is not; and so she quickly became the primary subject of Trump's ire. At the North Carolina rally, he criticized her for her purported "un-Americanness," repeating the false claim that she has supported Al-Qaeda.
Trump's actions this past week have been widely criticized. Nancy Pelosi described Trump's statements as "racist." On Tuesday, the House voted to officially denounce his tweets, and everyone from the mayor of London to a variety of conservative commentators have expressed their disapproval and shock. The conservative radio commentator Guy Benson said, "I'm very tough on Omar [because] she deserves it, on the merits. I am sickened by the hate-laced 'send her back' chants. Shame on every person who participated. POTUS has a responsibility to put an end to it. He alone has the ability to do so."
Yet Trump's staunchest supporters apparently disagreed. They approved of the president's actions, so much so that they decided to chant, "Send her back."
It's tempting to try to understand what Trump supporters are thinking, if only to locate them in some context that makes them more compatible with reality. This exercise feels similar to attempting to tap into a serial killer's mind, as sometimes the mentality of Trump's followers, particularly the alt-right sect, can seem too utterly depraved to ever comprehend.
In some ways, trying to analyze the Trump supporters squeezed together at his rallies feels reminiscent of trying to understand all the women that filed in to attend Ted Bundy's final trial. There's a similar relentless ignorance of truth, a similarly toxic sense of spectacle and groupthink implicit in their love for him.
Still, it's undeniably fascinating to try to understand serial killers and the people who love them.
Always, there's that burning question: how could this happen? What were they thinking?
In terms of Trump supporters, all roads lead to one ideology in particular—but race has always played a major part along the way.
White Supremacy, Veiled by a Misunderstanding of Racism
Hiding behind illusory ideas like "reverse racism," Trump supporters tend to believe that "whiteness" is somehow under attack. Nevermind that on average, white households have 6.5 times the wealth of black households, or that black and Latino applicants are still 60% more likely to be turned down for a loan than white families, or any of the other statistics that prove that whiteness is still very much in power in America. Trump supporters tend to take measures like affirmative action and phenomenons like political correctness on campuses as proof that white liberty is under siege.
On the other hand, many Trump supporters will insist that they are "not racist" and that Trump himself is "not racist"—nevermind the fact that his comments were explicitly reminiscent of 19th century racial politics. "In many ways, this is the most insidious kind of racial demagoguery," said Douglas A. Blackmon, the author of Slavery by Another Name, a history of racial attitudes in America in the late 18th and early 19th century. "The president has moved beyond invoking the obvious racial slanders of 50 years ago — clichés like black neighborhoods 'on fire' — and is now invoking the white supremacist mentality of the early 1900s, when anyone who looked 'not white' could be labeled as unwelcome in America."
But for Trump supporters, all this talk is just overly aggressive.
Mitch McConnell, who said that the President is "onto something" with his comments against the congresswomen, added that he thinks Trump is "not a racist" and it's "about time we lowered the temperature across the board."
This statement—that it's "about time we lowered the temperature across the board"—is telling. In some ways, it's a form of gaslighting, a way of minimizing people's righteous anger at Trump's actions by framing their anger as a weakness or character flaw. Similar to the "special snowflake" diatribes thrown at online social justice warriors, this is a tactic that's worked well for Trump since the beginning of his campaign.
From many Trump supporters' perspectives, it seems that they just want America to calm down.
Of course, what they really want is for people of color to calm down, for poor people to calm down, for everyone except all-American upper and middle class white people to calm down. Gaslighting is ultimately a power play, and by its Trumpian logic, only people who have always been in power have the right to make policy and protest change.
Few will admit this, though; instead, supporters hide behind the delusion that those who dislike Trump are merely overreacting, blowing his actions out of proportion in order to facilitate a liberal agenda. This creates a loop that effectively insulates Trump supporters against any hope of hearing the other side.
Many of them do, however, hear the other side. The truth is that many simply don't care.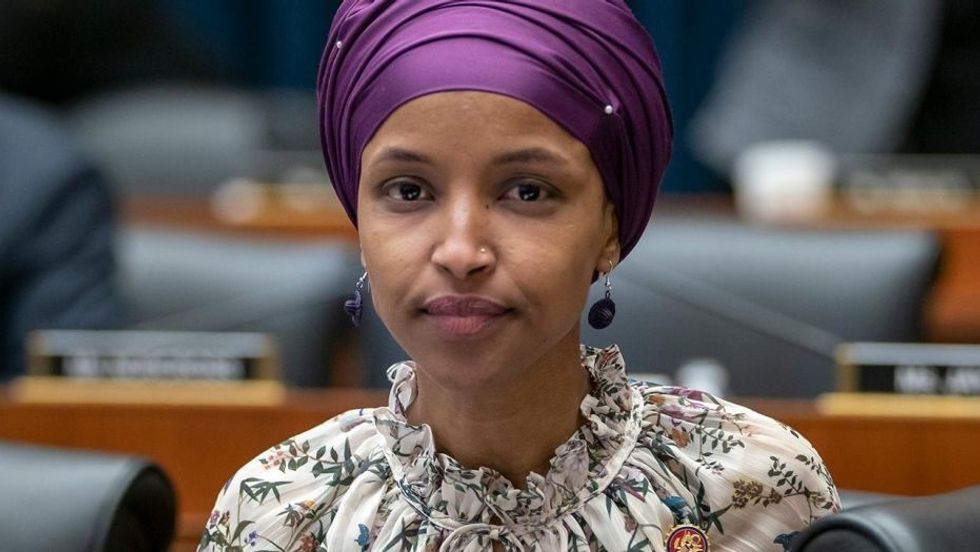 Image via Fox News
Inflammatory Rhetoric, Blatant Lies, Corruption: They Just Don't Care
Many Trump supporters see the flaws in Trump's rhetoric and policies. Many recognize that he's racist. Many of them admit that they themselves are racist. And they don't care.
They don't care that he lies constantly. One study presented Trump supporters with a false statement of his and then corrected it. Though people largely accepted the corrections, this didn't change their views about Trump. "People were willing to say Trump was wrong, but it didn't have much of an effect on what they felt about him," said one of the researchers. Apparently, sometimes fact checks can even backfire, somehow making people even more convinced of a false story; but even when the evidence is irrefutable, it seems that Trump supporters simply could care less.
They don't care about the way Trump tweets or conducts himself. They don't mind his attitudes towards women or minorities. This is the reason that summits like Women for Trump occur; this is the reason why people of color and queer people have supported Trump. Either they refuse to see who he really is, or they don't care about his conduct. Regardless, there is nothing that anyone could say or do that could change this.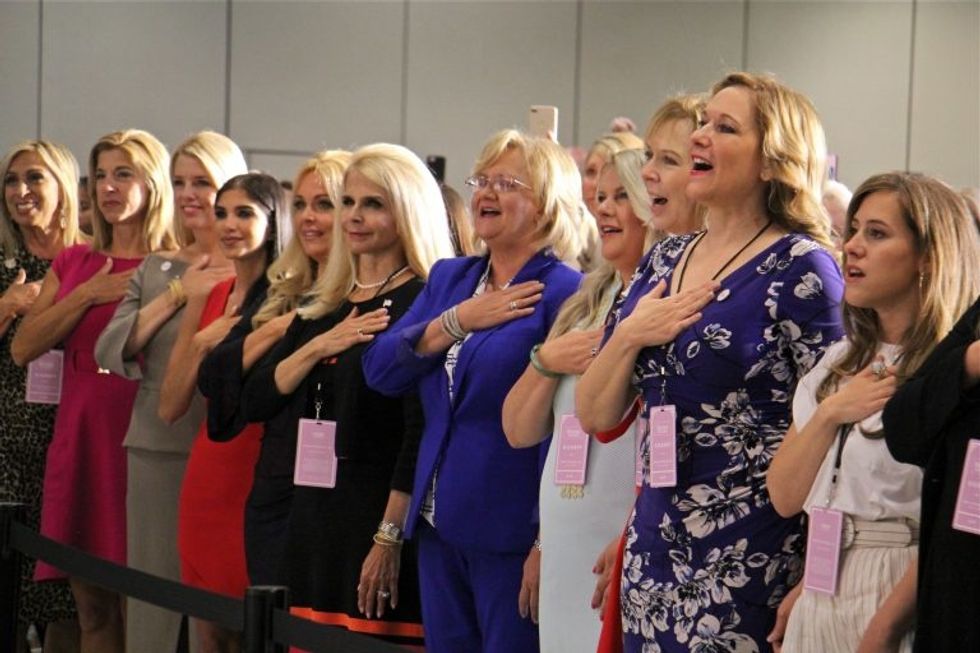 Image via WHYY.org
All this may stem from the bulletproof cult mentality Trump has built around himself. "What might look like corruption or cronyism to neutral observers is seen by the supporters of populists as doing the right thing for the right people, the "real people," said political theorist Jan-Werner Müller. "This is why the tribal appeal of populism is so crucial. Populist leaders thrive on distinctions between 'us' and 'them,' between 'the people' and 'the establishment.'"
On the other hand, some people don't even care that Trump has built a cult around himself, just like they don't care that Trump is a racist cult leader, just like they don't care that he's breeding hatred and distrust and fear.
What do they care about?
The answer is surprisingly simple.
Money, Money, Money
The number one thing that Trump has going for him, right now, is the U.S. economy. Unemployment is at its lowest in years, and this alone is the reason that many of his supporters have resolutely stuck by him. Nevermind that the seeds for this economic growth were planted by the Obama presidency—or that we are at risk of another recession—or that Trump has threatened to cut life-saving benefits, like welfare for poor people—or that climate change threatens to present the largest economic catastrophe in the history of the world—or that 2.2 million Americans are making minimum wage or less ($7.25 per hour), and only 0.1% of those 2.2 million can afford housing.
All that matters is that Americans are working their 9 to 5's, right?
Not exactly. Under Trump, the U.S.'s five largest banks earned tens of billions of dollars in the first half of 2019. Nevermind that Trump's policies led Rand Paul to block a funding bill for 9/11 victims and first responders—though Paul supported Trump's 2017 tax bill, which cut taxes drastically for mega-corporations. Nevermind that the number of corporations paying no taxes has increased from 30 to 60 percent since Trump's tax bill, which has been widely panned as a bust. Nevermind that Trump is still planning more tax cuts for the 1%.
At least he's not threatening us with socialism, right?
Why Are We So Obsessed With Money?
At the core of the division between Trump supporters and everyone else is that Trump supporters are married to a fundamental ideology of Republicanism, which recoils from any semblance of government interference. This division stems from the age-old battle between freedom and control that defines the Democratic-Republican split. This is the same divide that separates communism and capitalism and that stems from the division between collectivism and individualism.
Naturally, each side has positive points; neither is implicitly ill-intentioned. Each can be blown out of proportion, however, particularly when they're implemented by a demagogue.
And at the core of Republican free market values is an individualist mentality, one that proclaims that every person should be left alone to fend and fight for his or herself. This mentality has been so successfully drilled into the American psyche that it is successfully drowning out cries of racism, corruption, and evil. It's why Trump supporters are calling for Rep. Ilhan Omar to be shipped back home: her presence, and the rising prominence of progressive Democrats, represents a fundamental and very real threat to this ideology.
Nevermind that Trump is facilitating this ideology through cultish tactics, is warping America's legacy beyond belief, is imprisoning children, is threatening the world's future, is deepening economic divides, is spreading hatred, is an overt racist. The "right" to own guns—and what it symbolizes—overshadows all of this.
This is the truth: An archaic construct of "liberty" is more important to Trump supporters than any and everything else. It's more important than equality. It's more important than reality. It's more important than taxing the massive corporations and banks that rake in billions each month. It appears that this form of "liberty" is more important than life itself.
If you're not a Trump supporter, then looking out into this alternate reality feels like peering over the edge of another dimension. And it should remain that way. We should not try to empathize with Trump supporters, should not humanize or normalize his actions, should not ever apologize for standing up for human decency, compassion, and the true meaning of American freedom, which is supposed to mean that everyone has the right to the same opportunities.
What we can do is deepen our understanding of this construct of "liberty," so we can effectively identify the holes in it. The gaps and cracks in this terrible freedom are visible, if you know where to look—trace the tapestry of time, trace modern income inequality to slavery to Columbus's genocidal attack on indigenous Americans, and you'll see that America has never been the land of the free. Perhaps it was the land of the free for upper and middle class white people, once upon a time..Perhaps the ideology that fostered that era has been twisted out of shape by relentless corporate greed, twisted into some strange, gilded god, lording over an America where the wealthy are able to grow wealthier and the poor are kept poor, where hatred reigns supreme, where the government is a smiling mask over the ugly corporate bone structure that really runs this nation.
Perhaps the only thing that most of us can agree on is a hatred of corporations and Wall Street companies. (Of course, Trump took $72 million from superPACs during the 2016 election, against his word).
But for Trump supporters, none of this matters.
Similarly, people who love serial killers will often make excuses for their murderous beloveds until the bitter end. They'll insist on the killer's innocence, even if the confession has already been delivered and the footage of the crime scene has been discovered.
The blood has been tested; the fingerprints are there for all to see. And yet, just like hundreds of girls who showed up at Ted Bundy's trial, Trump supporters will keep on flocking to the rallies—and the polls—just to see their star.
In our era of apocalyptic headlines, it's normal to feel overwhelmed.
We are living in an era of unfathomable news.
Every week, disturbing headlines run parallel in the media landscape. From the plight of migrants at the U.S.-Mexico border who, as Alexandria Ocasio-Cortez put it, are being held in concentration camps to the world's most powerful men abusing their power, we become numb to bad news. When E. Jean Carroll published her essay titled "Hideous Men," in which she recounted how Donald Trump raped her in a Bergdorf Goodman dressing room, that claim didn't even make the front page of the New York Times.
In her recent New Yorker essay, Jia Tolentino writes that after Trump was elected, her vision of the future looked something like this week: relentless persecution of immigrants and endless bad news met with no nationwide resistance, no mass protests in the streets. "Specifically, I feared that the Trump era would bring a surfeit of bad news, and that I would compartmentalize this bad news in order to remain functional, and that this attempt to remain functional would itself be so demoralizing that it would contribute to the despair and distraction that allowed all this bad news to occur," she wrote. But she hadn't counted on the E. Jean Carroll's accusations, or the fact that "I would be so sad and numb, after years of writing about Trump's many accusers, after watching Brett Kavanaugh get confirmed to the Supreme Court in the face of credible sexual-assault allegations, that I would not even have the courage to read the story for days."
Like Tolentino, I also didn't read the Carroll story for several days. My eyes glossed over the headline, and it barely even had an affect on me, partly because I've lost faith in the possibility that Trump will ever be taken down by the word of any woman. But I also chose not to see it; as I later realized, I have grown comfortable with stories like this. I have learned to compartmentalize media stories like it, separating them from reality so I don't have to think about their implications. In other words, I'm suffering from bad news burnout.
Growing Numb: Signs of Burnout
I find myself skimming over the news quite often, particularly news about climate change, which is perhaps the most ominous and urgent story of them all. And yet, like the E. Jean Carroll piece, unless I specifically open my mind to thinking about it, climate change headlines appear strangely theoretical when they flash across my screen, almost holographic in their surreality.
I don't think I am alone in this. Though many of us are glued to the news and are actively protesting and engaging with politics, I believe that just as many of us have fallen into a deep hole of pessimism, which often cools to quiet numbness. We grow complacent in our oblivion, and we use it as an excuse to do nothing. And so we go about our lives never really reacting to the news but followed around by a creeping cloud that sometimes manifests itself as anxiety and depression, which often simply echoes in our ears like the whine of a small mosquito.
This whining easily turns into white noise. After a while, we get used to feeling numb and lose all desire to engage. We're exhausted, unable to go on participating and reacting to everything, and so we do nothing.
This is bad news burnout, and it may be one of the defining characteristics of the millennial generation.
Burnout is a very real affliction. Studies have shown that burnout actually affects the brain, with one study finding that an overworked group seemed to have less activity between the amygdala and prefrontal cortex than a control group, meaning that the overworked group had less control over executive functions. Burnout can be detrimental to physical and mental health, and it often starts a vicious cycle: People suffering from burnout often don't seek help and are less open to learning new information.
Though normally associated with work, media burnout also exists. News media is known to trigger bursts of the hormone cortisol, which can affect concentration and digestion; it can also affect sleep, having an all-around detrimental effect on one's life and health.
Fortunately, there is research-based advice on how to combat media burnout. As with many afflictions, we can't simply wake up one day and decide that we're not going to be burned out anymore. To combat burnout, we need to develop consistent strategies. We can start by placing limitations on our empathy.
The Issue with Empathy
According to the psychologist Paul Bloom, excessive empathy makes us more prone to burnout. If we feel every injury we read about in the media as if it were our own, we'll inevitably get overwhelmed.
Even if does manage to spur us to action, empathy can even have a negative effect on the way we respond to natural disasters, violence, and bad news at large. An excess of empathy can make us overly attached to the struggles of people similar to us, causing us to ignore larger turmoil in the rest of the world (hence the fact that the media barely blinks at another bombing in the Middle East, but a Paris shooting makes the front page of every paper). It can also make us focus on individual stories, like the plight of a single suffering child, while ignoring the larger issues that cause that suffering in the first place.
Instead of prioritizing empathy, Bloom advises that we practice "rational compassion," which means that we should focus on doing the maximum good for the most number of people, rather than getting too hung up on individual stories.
Put the Phone Away
Even with limitations on our empathy levels, it's incredibly difficult not to grow burned out if we're plugged into the 24/7 news cycle. Obsessing over headlines doesn't actually help anyone, and the importance of limiting your engagement with news and social media cannot be overstated.
That doesn't mean that we shouldn't keep up with the times and do as much as we are able to combat injustices in the world. Actually, staying perpetually keyed to the fluctuations of world events may be detrimental to our ability to think critically about news stories and engage productively with issues. "Understanding anything, including politics, involves longer term investigation and contemplation than we are affording ourselves when we buy into being news addicts," writes Megan Nolan.
In order to do the maximum amount of good and to maintain our own sanity, we need to be careful where we focus our energy and attention. The behavioral scientist Kristen Lee writes that in order to avoid burnout, we need to take care of ourselves by staying grounded, setting boundaries, practicing a healthy, balanced lifestyle, and doing what we must in order to ensure that we have the strength to keep up and take action when we can. Putting down the phone is one of the most important things we can do to shield ourselves from falling into despair, along with focusing on practicing gratitude for what we have.
Ultimately, the point is that we need to learn how to pace ourselves. We need to spend more time off our screens, so that when we do plug in, we can be fully present to digest information.
Self-Care as Conscious Action
Sometimes, self-care can take the form of direct action. With issues like climate change and the camps at the U.S.-Mexico border, direct actions—whether that's political protest, lobbying, donating, or something else—can be the most effective ways to assuage our own feelings of uselessness and guilt, and it can hopefully help heal some of the problems at their core Plus, joining communities that are engaged in active resistance can help us feel less alone in our fear and anger, allowing us to face and process it, rather than letting it control us. As Robert Frost said, "The best way out is always through."
For a long time, I avoided thinking about climate change, because I knew if I looked at it head-on, I'd have to do something about it. Since I allowed myself to fully realize the extent of the situation, I've actually felt much more free, able to dive in and learn about the situation, instead of feeling overpowered by a vague sense of hopelessness. Obviously, none of us can engage with every world issue, but sometimes focusing on one or two and taking action is the best form of self-care.
After all, despite our selfish human natures, there's something in each one of us—though sometimes it lies very deep below the surface—that feels we have a moral responsibility to work for a better world for all, that believes it's possible. Sometimes, having the optimism and courage to make small changes is the best way to move forward. According to Angela Davis, "You have to act as if it were possible to radically transform the world. And you have to do it all the time." Instead of passively accepting the news, we can focus on combating it by creating a better world—or at least we can go down fighting for one.
Toughen Up
According to Richard A. Friedman, we can avoid burnout not by withdrawing from the world, but rather by lowering our expectations and embracing the negative feelings that accompany the news cycle. He writes, "I suspect my generation suffered less burnout than the current students for the simple reason that we expected to have a rough ride, and our expectations often turned out to be worse than the real stresses we confronted."
Though this advice may seem harsh, especially because the news today is far more apocalyptic than it was when Friedman's generation was coming of age, there may be a seed of wisdom within it. Today's American millennials face a particularly jarring contrast: In keeping with the American dream, many of us were brought up to think that the world was our oyster, and we had little to challenge our self-centered perspectives. We quickly learned to obsess over success, wealth, and personal happiness. Now that we're being told that the world is on the brink of collapse, we face a completely different reality than the one we were born into.
Many of us have also never been taught how to process emotions in a healthy way. We get hung-up on small injustices without working to understand the larger systems behind them, and that quickly becomes too overwhelming for anyone to bear. Perhaps, if we focus less on our own unhappiness and realize that the world will never be a perfect place, we can focus on making things a little better by doing our small part for the whole.
We're All in This Together
When apocalyptic headlines announce unbearable injustices or threaten our ways of life, and when we realize that not only are humans not the center of the world but that we have almost certainly destroyed it, something glitches in our minds. We can't process what it all means.
But we don't have to rationalize or make sense of all the bad news. Since we are not the center of the world, it is not our responsibility to single-handedly change everything. Understanding this can liberate us to take small actions that will actually benefit ourselves and others if it's echoed by a thousand or a billion other small actions.
It also helps to process what's happening with others. When it comes down to it, there's no way to really comprehend the news as it is today, and almost all of us are feeling lost, confused, and helpless in some way—but we're far from alone in that, and we'll have to help each other develop the skills and techniques to make it through this. By maintaining our connections to our communities, both locally and globally, we can develop networks of support that can help us survive and thrive in these strange times.
How can one commemorate all that D-Day represents while cheering on the nationalist Trump administration as it attempts to dismantle the very alliances America solidified during WWII?
75 years ago today, on June 6, 1944, the Allied forces landed on the Nazi-occupied beaches of Normandy, liberating France and laying the foundation for Allied victory on the Western Front; this operation came to be known as D-Day.
But while many Americans are using the anniversary to commemorate the Greatest Generation's historic valor, it's important to recognize that anyone doing so while continuing to support Donald Trump and the current far-right agenda are blatant hypocrites. After all, D-Day was an international effort against fascism. So how could one possibly justify commemorating all that D-Day represents while cheering on a hyper-nationalist, identitarian administration attempting to dismantle the very alliances America solidified during WWII?
D-Day was a collaborative effort involving the United States, the British Empire, Canada, Australia, Czechoslovakia, France, Norway, and Poland. One might even categorize such an effort as globalist. The allied forces were fighting against an oppressive regime based around white nationalist superiority and discrimination against ethnic and LGBTQ minorities. The Nazis were also notorious for killing non-white children. All of these factors echo actions committed by the Trump administration—but it's different when America does it, right? Or maybe we just need to wait until our atrocities reach the level of the Nazis.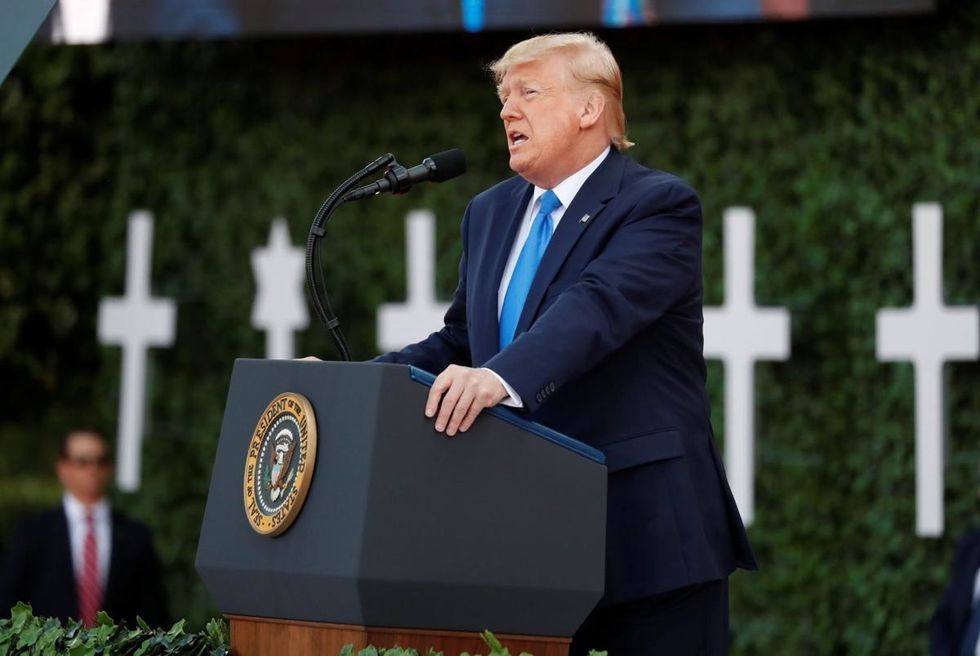 Trump speech on D-DayREUTERS
Meanwhile, the Trump administration is working tirelessly to soil every good relationship America has around the globe, alienating Canada, France––the whole EU, really––and multiple other trading partners. Australia just barely dodged the bullet. Make no mistake, Trump is dictatorially-minded with a penchant for obstructing established government oversight at every turn. The fact that he hasn't done more damage yet is a testament to the tentative functionality of our checks and balances, which he's challenged at every turn. To continue supporting Donald Trump is to support the same ideological basis we fought against during World War II.

The question, then, is how are so many Americans capable of both publicly memorializing D-Day and also supporting Donald Trump? For some, like Senator Lindsey Graham, the answer is likely that they have embraced their own hypocrisy.
But for many, the reasoning is probably far less intentional. Cognitive dissonance is a psychological phenomenon characterized by the discomfort caused by holding two conflicting beliefs at the same time. It's possibly the reason why many Trump supporters double-down when confronted with evidence contradictory to their views. Digging one's heels into the ground and refusing to acknowledge hypocrisy is a much more soothing solution than addressing one's own ideological inconsistencies. This explains how Trump supporters can both love the idea of Americans fighting fascist regimes while supporting a fascist regime themselves. They tell themselves that the Nazis were "real" fascists and then excuse away all of Trump's fascist actions. They further solidify this belief by pretending that left-leaning people are the "real" fascists, because how dare they call Trump fascist in the first place and demonetize hate speech on YouTube.and...women in video games, or whatever.
So what's the best way to really commemorate D-Day, a day when Americans banded together with our global allies to kick fascism's ass? By praising our divisive, nationalist president for reading something off a teleprompter? Somehow, that doesn't seem right. After all, D-Day is about fighting Nazis, not fellating them. Perhaps one could think it over at Wendy's––milkshakes are especially nice this time of year.
The term is typically used to refer to a whole person, not a person's legal status, and so it therefore implies that the person themselves is not a viable human being, thus not entitled to any human rights protections.
The word "illegal" has become a buzzword in modern immigration discourse, a common way of describing someone who has crossed the border into America without papers.
The term is typically used to refer to a whole person, not a person's legal status, and so it therefore implies that the person themselves is not a viable human being, thus not entitled to any human rights protections.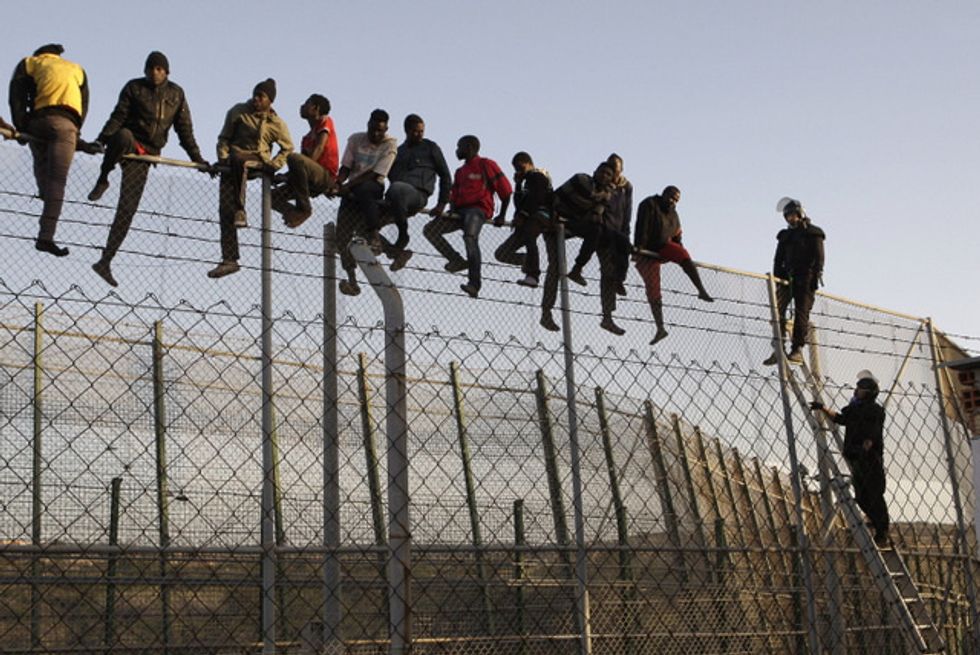 Image via thoughtco.com
The term "illegal immigrant" was first coined to describe Jews fleeing during the second world war. "How can a human being be illegal?" asked the writer and Holocaust survivor Elie Wiesel, pinpointing the contradictory nature of the term. In 2017, journalist Maria Hinojosa riffed on Elie Wiesel's description of illegality, stating that "Because once you label a people 'illegal,' that is exactly what the Nazis did to Jews.' You do not label a people 'illegal.' They have committed an illegal act. They are immigrants who crossed illegally. But they are not an illegal people."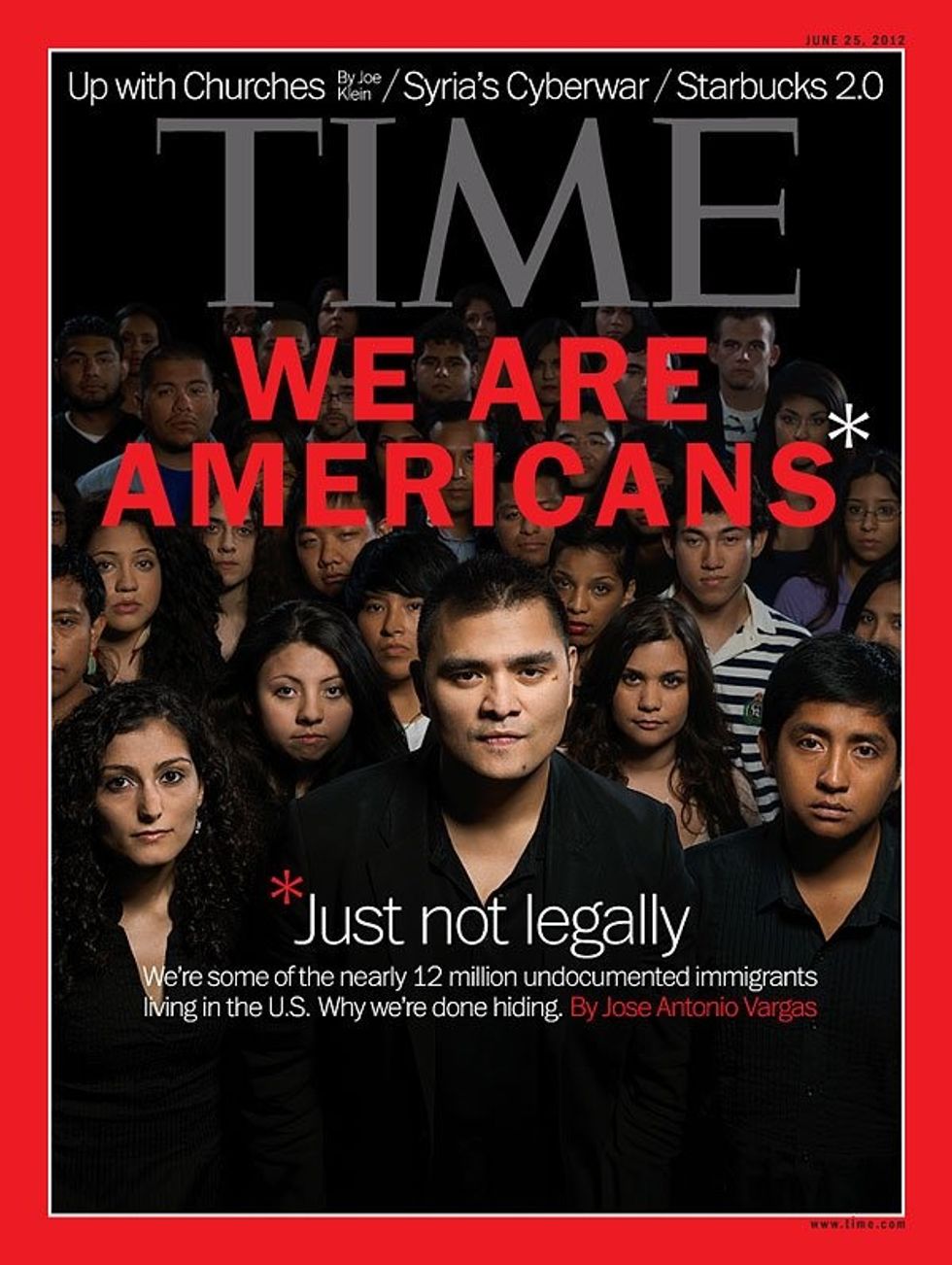 Image from Time
Being labeled as illegal has severe consequences for those who fall under the term's shadow. An "illegal" immigrant cannot demand raises or report human rights abuses at work. Undocumented immigrants face the double pressure of fear of being sent back to where they came from and fear of being 'found out' in their new nation.

The majority of migrants labeled as "illegal" are actually doing work for low wages, and provide services while demanding nothing in return. In practice, their work is similar to mass incarceration, which keeps whole segments of the population out of sight while they perform unpaid labor and are unable to exercise their civil rights.
In the novel Dear America: Notes from an Undocumented Citizen, the Filipino journalist Jose Antonio Vargas outlines the unique stresses and pains that come with living as an undocumented civilian. "This book is about homelessness," he writes, "not in a traditional sense, but the unsettled, unmoored psychological state that undocumented immigrants like me find ourselves in. This book is about lying and being forced to lie to get by; about passing as an American and as a contributing citizen; about families, keeping them together and having to make new ones when you can't. This book is about constantly hiding from the government and, in the process, hiding from ourselves."
Vargas, a successful reporter, came to the US at eight and discovered he was undocumented at age 11; what followed were decades of trying to hide his status until he finally spoke out and became one of the most famous undocumented citizens in the public eye.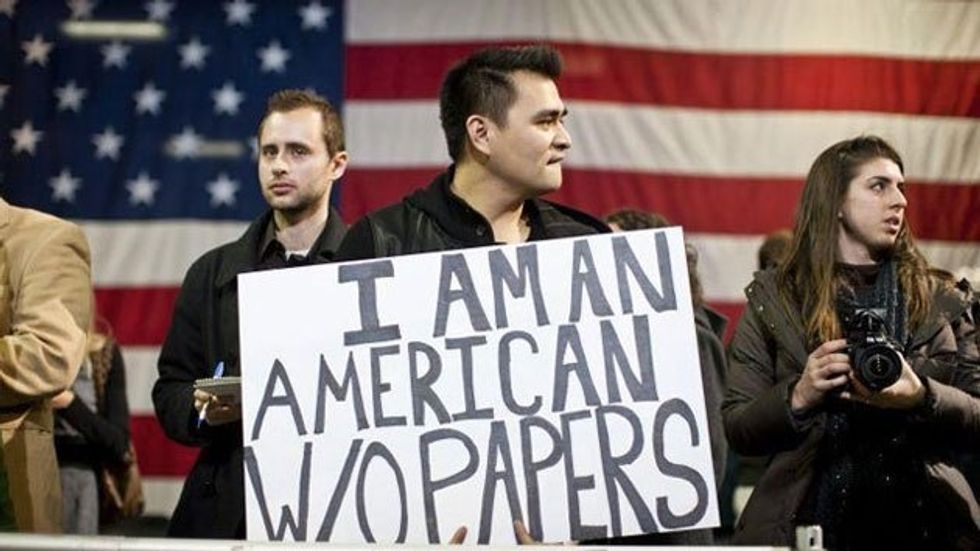 Image via Mother Jones
Every single migrant's story is different, and for many people, speaking out is not an option. Many people have to work, to support families or relatives at home, and cannot risk "coming out" as illegal like Vargas.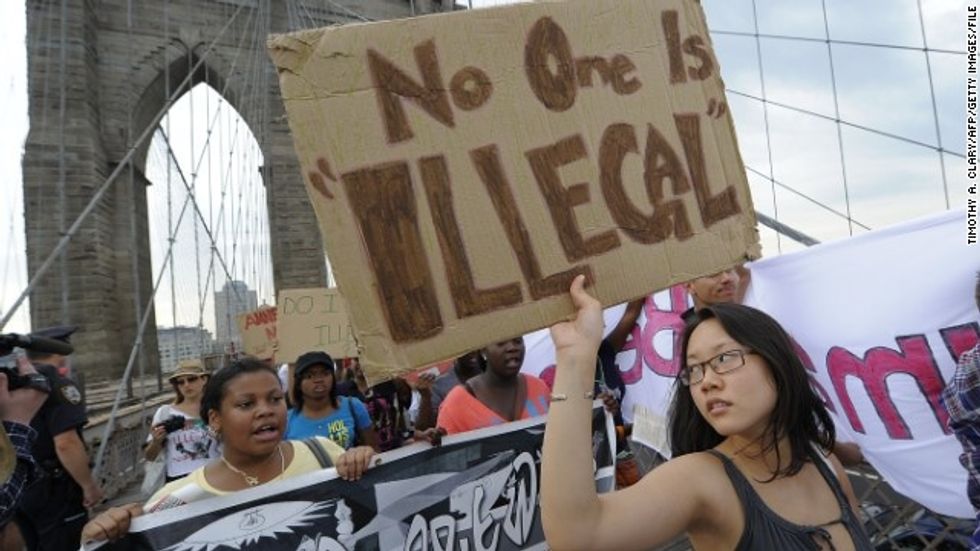 Image via CNN.com
Studies have found that undocumented immigrants—especially those of Latinx descent—are especially at risk of mental health disorders due to the unique combination of trauma and secrecy that often plagues their journeys to the United States. As Warsan Shire writes in her stunning poem Home, "how do the words / the dirty looks / roll off your backs / maybe because the blow is softer / than a limb torn off." Although living in an America that calls them "illegal" is preferable to remaining in their native countries, many migrants have written about the psychological impacts of living in constant fear, and of being "found out" on American soil.

Bigotry and xenophobia may be better alternatives than the violence that many migrants faced at home, but defining groups of people as "illegal" is a convenient way to strip human beings of their humanity, the very thing that lies at the heart of the United Nations' Declaration of Human Rights. Peoples who are in flux are especially at risk of getting lost, as official laws refuse to help them; outside of the light of official regulations, people are quite literally disappearing, slipping into the cracks between policy and legal protection.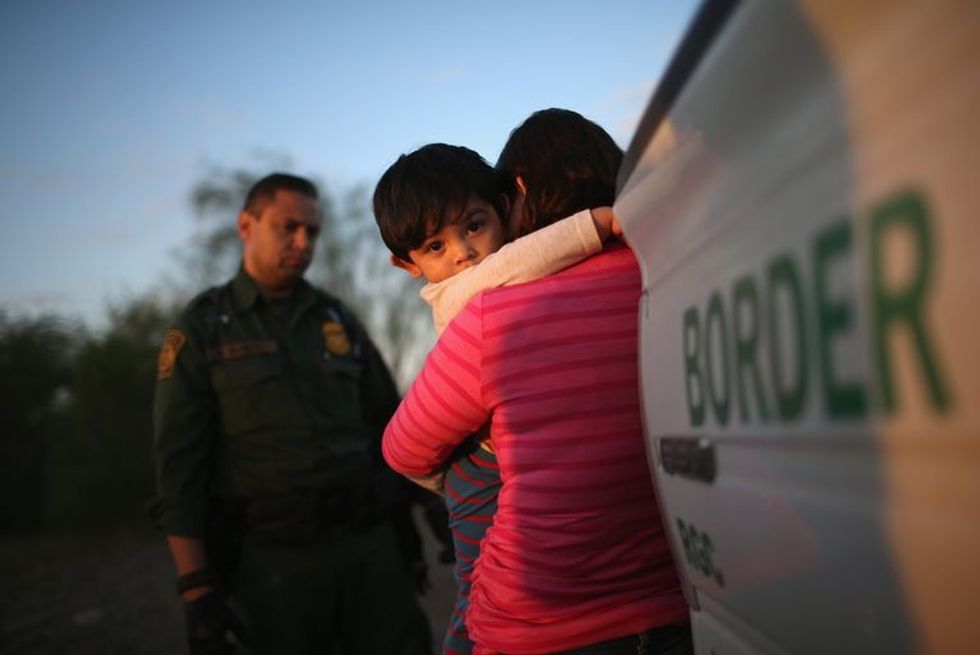 Image via thoughtco.com
Keeping people in the subterranean realms of the criminal justice system or beneath the umbrella term of "illegal," is the result of a cycle that relies on many elements that work to perpetuate it. Xenophobia is one of the important steps that keep this cycle in place. A pervasive distrust of foreigners is a way of creating divisions and continuing cycles of disadvantage. Human rights abuses happen when human beings become faceless, anonymous, and stripped of recognition and legal protection. Rejecting and silencing people because they are so-called "illegal" even if it is not consciously spoken, is a way of selectively subjugating certain voices.
Of course, America has never been open to all migrants. This nation has a history of drawing non-white migrants to it when it needed labor—such as with the Chinese in California during the building of the railroads in the 19th century—and sending them home via acts like the Chinese Exclusion Act once the work was completed. This nation has a history of silencing certain groups, making it so they have no chance to even take a crack at the American dream.
Everyone is allowed to use language to express their beliefs—that's one foundational premise of the American experiment that everyone can agree on (though of course in practice it gets more complicated). Language is always political, and the word "illegal" carries powerful implications that it should at least be understood, not thrown around as an abstract umbrella term.
---
Eden Arielle Gordon is a writer and musician from New York City. Follow her on Twitter at @edenarielmusic.

It turns out national emergencies are very subjective.
The Trump administration has laid bare many of the failings of our government.
All three government branches are privy to partisanship. Our checks and balances may not necessarily work as intended. But most alarmingly, American presidential power might be far less defined than most people realized.
Historically, dictatorial regimes have utilized "national emergencies" as excuses to consolidate and reinforce power. We've seen this playbook employed by Erdogan in Turkey and by Duterte in the Philippines. But could this happen in America? The answer is murky. In fact, national emergencies are murky territory in general, the main problem being that most of the terminology involved is broad and ill-defined.
In a video posted by The Atlantic, Elizabeth Goitein, co-director of the Liberty and National Security Program at the Brennan Center for Justice, explains, "There's no legal definition of emergency, no requirement that congress ratify the decision, and no judicial review." In other words, the decision to declare a national emergency are almost entirely up to a president's personal discretion. Normally, we assume that our elected officials have the best interest of the people in mind, and would not declare a national emergency for personal or partisan political gain. But considering Donald Trump's noted praise of dictators like Erdogan, coupled with his extreme penchant for partisanship, we can no longer simply rely on the president's best judgment.
The question then becomes, "If the president declares a national emergency now, what powers can he abuse?"
1. The Power to Take Over Wire Communication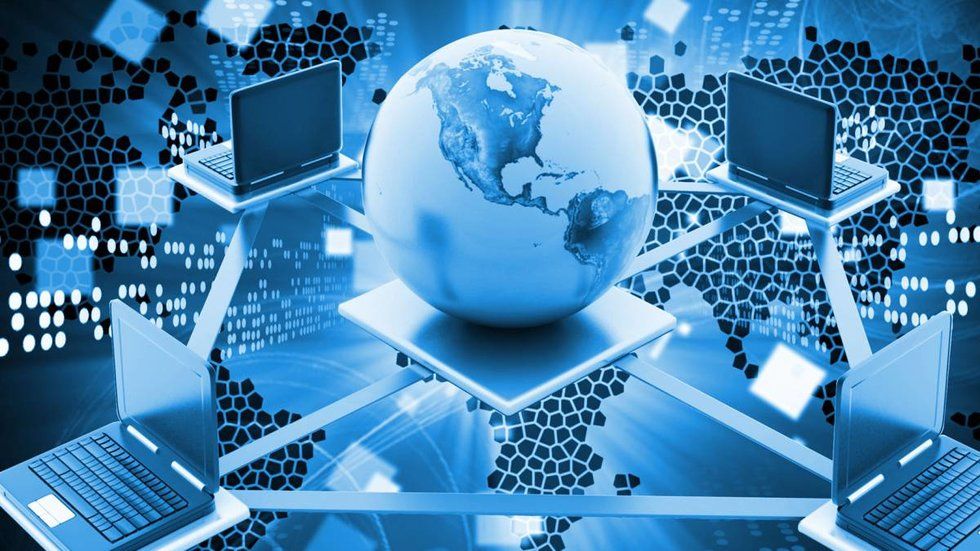 as01.epimg.net
During a national emergency, the president has the power to shut down or take over radio stations. Assuming there's a threat of war (which, again, can be determined at the president's own discretion), that power expands to any and all wire communications. This executive power was last used during WWII, before most people utilized daily wire communication in any meaningful way beyond the occasional phone call.

Today, given the vagueness and broad applications of "wire communications," declaring a national emergency could allow the president to control Internet traffic in the US. This could include shutting down websites he didn't like, blocking emails to and from dissidents, and altering search results to only display pre-approved propaganda. Doing so would be akin to removing free speech from the Internet, and during a national emergency that would be completely within the president's power.
2. Sanctioning American Citizens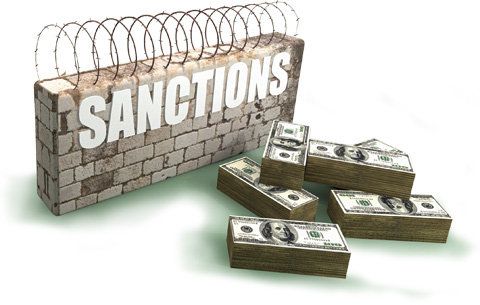 static1.squarespace.com
Imagine going to work, only to discover you've been fired because you can no longer legally be employed. You go back to your apartment and find out you're being evicted. So you go to the bank to take out cash for a hotel, but your funds are frozen. Turns out you're on a list of US citizens suspected of providing support to foreign threats. That's the potential reality of the International Emergency Economic Powers Act (IEEPA).

This act allows the president to declare a national emergency to "deal with any unusual extraordinary threat" that "has its source in whole or substantial part outside the United States." It gives the president the power to freeze assets and block transactions where a foreign nation or foreign national might have a vested interest. George W. Bush used this after 9/11 to sanction those being investigated (sometimes wrongly) of helping terrorists. Were a president to declare "illegal immigrants" a national emergency, the implications could be disastrous.
3. Deploying the Military Within the US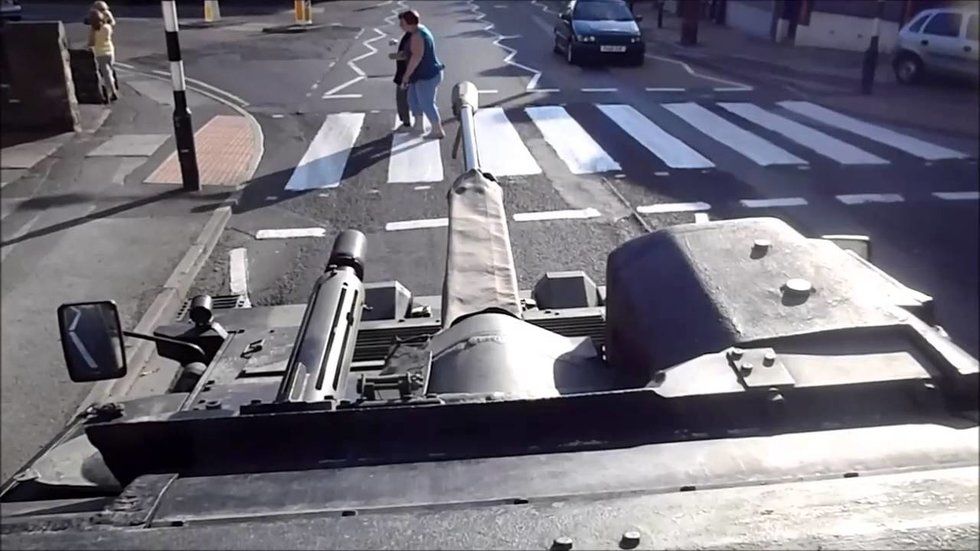 i.ytimg.com
The idea of armed soldiers marching down your city street to hunt down civilians might sound like something out of a dystopian novel. But during a national emergency, it could be an American reality. The Insurrection Act states that during a national emergency, the president can deploy military troops inside the US to suppress any "unlawful combinations" or "conspiracies" that "obstructs or hinders the execution of the law." The problem, again, is that the terms are so vaguely defined.

President Eisenhower once used this law to enforce desegregation in schools. But a president with different sentiments could just as easily use it against protestors or undocumented migrants. For instance, if Trump were to decide Black Lives Matter constituted an "unlawful combination" during a state of emergency, sending the army to suppress them would be fully within his power. Alternatively, a sanctuary city harboring illegal immigrants might be interpreted as a "conspiracy" and therefore subject to military rule.
In many ways, the limits of an American president's power during a national emergency have not been tested. On one hand, theoretical checks and balances do exist which could allow Congress to end a national emergency that was being abused. On the other hand, this would require a majority that a largely partisan Senate would likely not have. There also might be opportunities for the courts to block various moves made during a national emergency but, again, the legality here is largely untested.
Ultimately, as citizens, we must keep a watchful eye on our president's actions should he declare a national emergency. And if things go south, we must keep this in mind the next time we vote. After all, when one person who is supposed to represent all of us holds so much power, we must make sure it is a person of strong enough character and mental capability to understand the repercussions of his or her actions.