"A tree is best measured when it is down," the poet Carl Sandburg once observed, "and so it is with people." The recent death of Harry Belafonte at the age of 96 has prompted many assessments of what this pioneering singer-actor-activist accomplished in a long and fruitful life.
Belafonte's career as a ground-breaking entertainer brought him substantial wealth and fame; according to Playbill magazine, "By 1959, he was the highest paid Black entertainer in the industry, appearing in raucously successful engagements in Las Vegas, New York, and Los Angeles." He scored on Broadway, winning a 1954 Tony for Best Featured Actor in a Musical – John Murray Anderson's Almanac. Belafonte was the first Black person to win the prestigious award. A 1960 television special, "Tonight with Belafonte," brought him an Emmy for Outstanding Performance in a Variety or Musical Program or Series, making him the first Black person to win that award. He found equal success in the recording studio, bringing Calypso music to the masses via such hits as "Day-O (The Banana Boat Song)" and "Jamaica Farewell."
Harry Belafonte - Day-O (The Banana Boat Song) (Live)www.youtube.com
Belafonte's blockbuster stardom is all the more remarkable for happening in a world plagued by virulent systemic racism. Though he never stopped performing, by the early 1960s he'd shifted his energies to the nascent Civil Right movement. He was a friend and adviser to the Reverend Doctor Martin Luther King, Jr. and, as the New York Times stated, Belafonte "put up much of the seed money to help start the Student Nonviolent Coordinating Committee and was one of the principal fund-raisers for that organization and Dr. King's Southern Christian Leadership Conference."
The Southern Poverty Law Center notes that "he helped launch one of Mississippi's first voter registration drives and provided funding for the Freedom Riders. His activism extended beyond the U.S. as he fought against apartheid alongside Nelson Mandela and Miriam Makeba, campaigned for Mandela's release from prison, and advocated for famine relief in Africa." And in 1987, he received an appointment to UNICEF as a goodwill ambassador.
Over a career spanning more than seventy years, Belafonte brought joy to millions of people. He also did something that is, perhaps, even greater: he fostered the hope that a better world for all could be created. And, by his example, demonstrated how we might go about bringing that world into existence.
Critical race theory is one of the most controversial topics of 2021. It's also one of the most misunderstood.
If you have been paying attention to conservative media, you will have certainly heard the term critical race theory. In fact, Fox News has mentioned "critical race theory" over 1,900 times in the past 3.5 months alone. Yet, most Americans can't define it.

What Critical Race Theory Is
Critical race theory is an academic legal concept that is more than 40 years old. The core idea is that no race is inherently inferior to another and that racism is not just the product of individual bias or prejudice, but also something embedded in legal systems and policies in the US.
Critical race theory originated in the 1970s as a result of the civil rights movement. The father of the movement was Harvard Law School professor Derrick Bell, who voiced frustration at the limited impact of landmark civil rights laws and U.S. Supreme Court rulings of the previous decade. Bell argued that if racial inequality persisted in a post-civil rights era, then the law was central to explaining that persistence.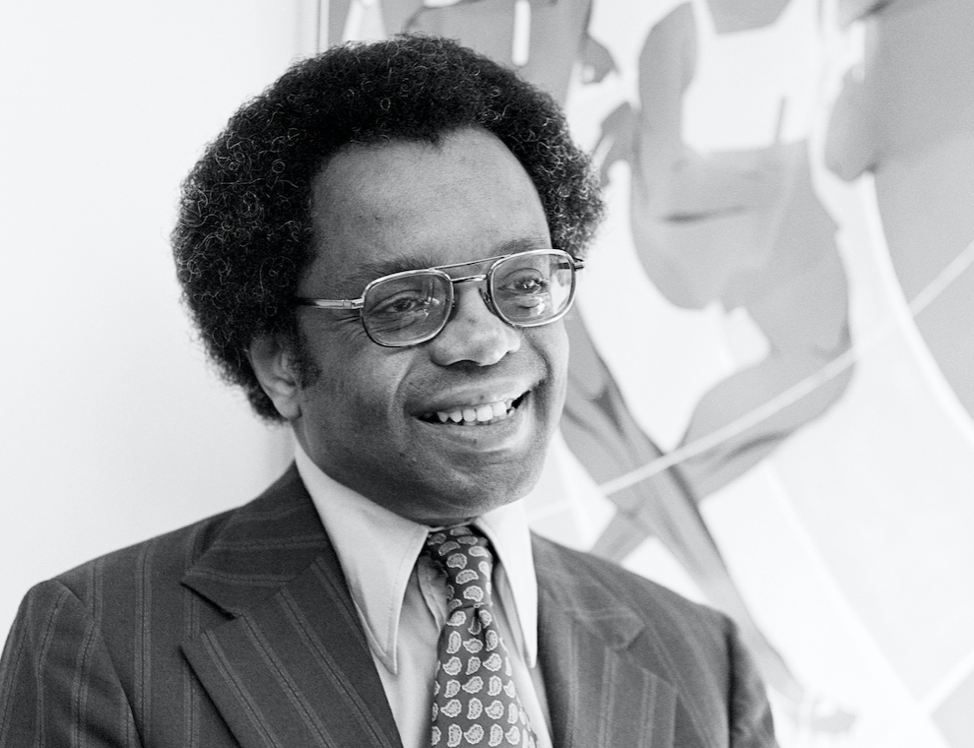 Derrick Bell, Founder of CRTJohn Chapin
Legal scholars, such as Kimberlé Crenshaw, Neil Gotanda, Gary Peller and Kendall Thomas, developed Bell's ideas further. In a 1995 book, they curated the writings that formed the movement, and their theories began to be explored in law schools all over the country. Critical race theory became a framework for looking at how racism in the law could still exist even when the judiciary claimed to be "color-blind."
In the words of legal scholar Angela Harris, "Critical race theory not only dares to treat race as central to the law and policy of the United States, it dares to look beyond the popular belief that getting rid of racism means simply getting rid of ignorance, or encouraging everyone to 'get along.'"
What Critical Race Theory is Not
Critical race theory is not taught in the K-12 curriculum across the US and or in workplace diversity training. Critical race theory is primarily taught in college, particularly in law school, as a theory for understanding how race and racism have impacted America's legal and social systems. There is little to no evidence that critical race theory itself is being taught to K-12 public school students, though some ideas related to it, such as lingering consequences of slavery and Jim Crow laws, have been.
Critical race theory does not teach that all white people are inherently racist. The theory says that racism is an "ordinary" part of everyday life, so people — white or nonwhite — who don't intend to be racist can nevertheless make choices that fuel racism. Critical race theorists actually say that there are no traits that are "inherent" to any race.
Critical race theory insists that race is socially constructed and maintained to enforce a specific hierarchy, but individuals are not bound to any specific behaviors or skills because of their race. People with common origins share certain physical traits, of course, such as skin color, physique, and hair texture. But these constitute only an extremely small portion of their genes, are dwarfed by that which we have in common, and have little or nothing to do with traits such as personality, intelligence, and moral behavior. So no, white people are not inherently racist, nor are they inherently smarter or better.
Critical race theory also is not supposed to teach people to hate America. One of the CRT founders, Kimberlé Crenshaw, says, "Critical race theory just says, let's pay attention to what has happened in this country and how what has happened in this country is continuing to create differential outcomes so we can become that country that we say we are. So critical race theory is not anti-patriotic. In fact, it is more patriotic than those who are opposed to it because we believe in the 13th and the 14th and the 15th Amendment. We believe in the promises of equality, and we know we can't get there if we can't confront and talk honestly about inequality."
Critical race theory is also not a Marxist theory. No matter how many times Ted Cruz tweets that it is.
#CriticalRaceTheory is a Marxist ideology that sees the world as a battle, not between the classes - as classical M… https://t.co/FJyA9gJEBV

— Senator Ted Cruz (@Senator Ted Cruz) 1625158184.0
Karl Marx never offered fully developed critiques of law, let alone theories of jurisprudence or legal history. However, CRT is similar to critical legal studies, which claims that laws are used to maintain the status quo of society's power structures. Critical legal studies is an offshoot of Critical Theory, which was a school of thought made up of German philosophers and social theorists in the Western European Marxist tradition known as the Frankfurt School. So while you could draw a line back to Marxism, it's a pretty long walk.
Additionally, critical race theory doesn't really have any similarities to Marxism, or at least not any that would actually upset Ted Cruz. CRT does not advocate for communism, it doesn't advocate for giving up property rights, and it doesn't encourage a worker revolution to overthrow capitalism. It is a framework for looking at our legal system, and at its most radical, it advocates for the end of color-blindness in law and the institution of a more race-conscious judiciary.
Why are we arguing about it?
So what does a somewhat obscure legal theory have to do with current politics? Well, it started with the death of George Floyd at the hands of a police officer in 2020. Floyd's death created a nationwide resurgence of the ideals of the civil rights era as Americans of all races and backgrounds began to educate themselves on issues of race and books about race relations selling out across the country.
This emphasis on learning about Black history and racial inequality spread to classrooms. Teachers began expanding their classroom libraries and including more Black history lessons in their curriculums. This outraged Trump Republicans who argued that learning about these dark parts of American history was designed to make people hate America.
The term "critical race theory" became part of the zeitgeist due to a Fox News interview and a Trump tweet. Christopher Rufo, director of the Center on Wealth and Poverty at the conservative Discovery Institute, argued on Fox News in early September 2020 that Trump should end "radical" diversity training programs in the federal government immediately. He claimed that the reason the programs were bad is that they used critical race theory.
Trump tweeted his opposition to the theory a few days later. By the end of September, former President Trump had issued a memo and an executive order ending racial sensitivity training in the federal government.
According to the memo, all agencies were asked to suspend "any training on 'critical race theory' or 'white privilege,' or any other training or propaganda effort that teaches or suggests either (1) that the United States is an inherently racist or evil country or (2) that any race or ethnicity is inherently racist or evil."
Suddenly, Trump has made critical race theory his enemy, so his supporters started looking for a way to "defeat it." Legislatures in 28 states used Trump's executive order as a template to draw up their own "critical race theory bills." These bills aim to outlaw the teaching of critical race theory specifically, or to prohibit contentious talks about racism, discrimination or privilege in general.
As of July 15, legislators in 26 states have introduced bills that would restrict teaching critical race theory or limit how teachers can discuss racism and sexism, according to an Education Week analysis. 11 states have enacted these restrictions.
America's teachers have decried the laws as "censorship" and the president of the nation's second-largest teachers union vowed to take legal action to protect any member who "gets in trouble for teaching honest history."
There are perhaps valid discussions to be had about how much race should be discussed in classrooms, but critical race theory is simply a distraction from that conversation.
Republicans have deliberately turned critical race theory into a catch-all term for anything they dislike about the discussion of race. Cristopher Rufo explained it best. He
tweeted
that conservative activists hoped to brand the phrase as a "toxic" catch-all for a broad range of cultural issues: "The goal is to have the public read something crazy in the newspaper and immediately think 'critical race theory.'"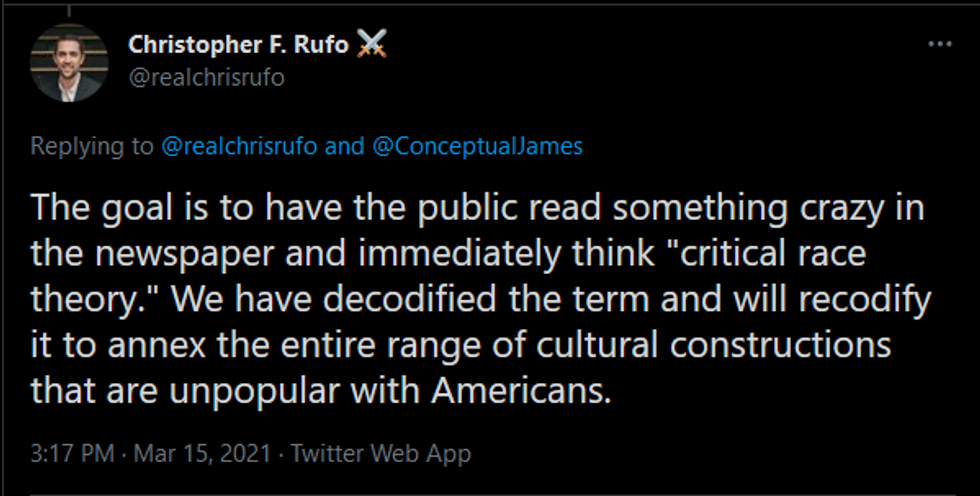 Critical race theory has become a scapegoat for conservative punditsTwitter screenshot
An unprecedented inauguration for unprecedented times.
After a mob attacked the Capitol on January 6th and over 400,000 U.S. deaths as a result of the pandemic, this year's inauguration is going to look a little different.
Crowds will be small or nonexistent, events will be moved online, and security will be tougher than ever. It will be a day of historic firsts, both good and bad.Some things will change, but the important things will stay the same. The Vice President and President will take the oath of office, and it will be the same oath it always is: An oath to "preserve, protect and defend the Constitution of the United States."
1. Minimal attendance
The actual swearing-in ceremony is the most important part of Inauguration Day. And for the most part, it will proceed normally. As dictated by the Constitution, President Biden will be sworn in at noon on January 20th. He will continue the tradition of being sworn in on the Capitol steps.
It'll be no less star-studded than usual, with Lady Gaga, Jennifer Lopez and Garth Brooks, among others, expected to perform. There will be the normal recitation of poems and prayers, all concluding with a speech from the newly inaugurated president.
However, instead of giving this speech to the crowd of hundreds of thousands that usually populate the National Mall on Inauguration Day, Biden will give his speech to around 1,000 people and more than 191,500 flags.
Instead of the usual 200,000 tickets distributed to members of Congress and passed out to their constituents, organizers released just over 1,000 tickets — one for each of the 535 members of Congress and one guest each.
To make up for the minimal attendance, the Presidential Inaugural Committee planted more than 191,500 American flags on the National Mall, meant to represent the American people who can't attend Biden's inauguration.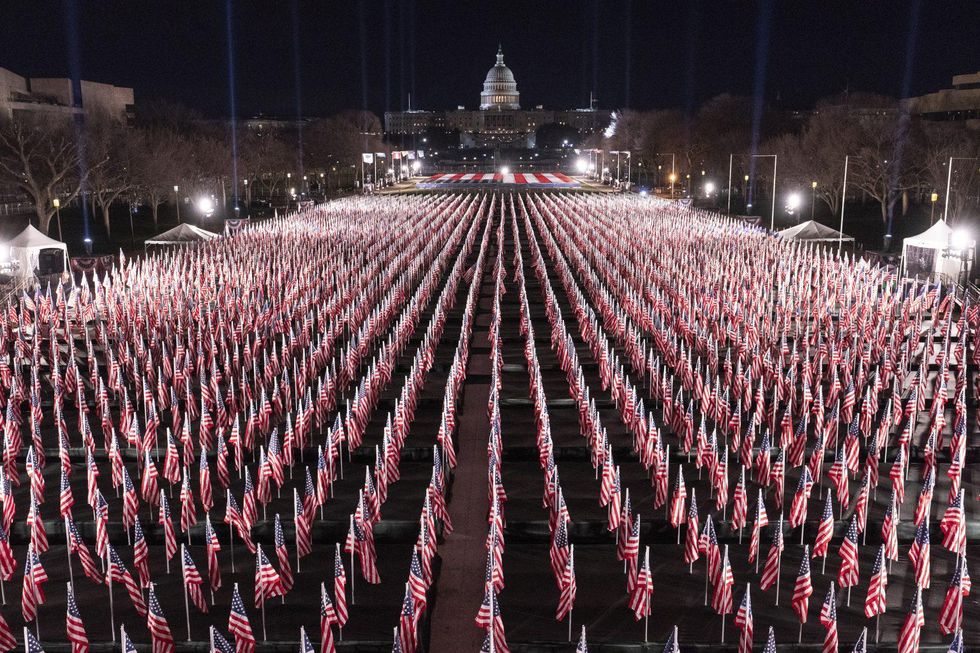 Flags are placed on the National Mall, with the U.S. Capitol behind them, ahead of the inauguration of President-elect Joe Biden and Vice President-elect Kamala Harris, Monday, Jan. 18, 2021, in Washington.AP Photo/Alex Brandon
2. Virtual inaugural events
Inauguration Day is usually packed with events, all of which are usually packed with people. On a normal inauguration day there is not only the swearing-in ceremony but also a luncheon with lawmakers, a parade through DC, and finally the inaugural ball held at the White House. In a year where so many Americans have died of the novel coronavirus, the inaugural committee has decided to change how these events will be held.
The Inaugural Luncheon is usually a grand affair where all the members of Congress gather in the capitol for a three course meal immediately after the swearing-in ceremony. The tradition began in 1953, but this year it has been cancelled entirely.
The next event is the inaugural parade where marching bands, first responders, military units, and other proud Americans accompany the new president in his historic march from the Capitol to the White House. There has been some sort of formal inaugural parade since 1809, when James Madison was inaugurated.
This year, the parade will go virtual. Joe Biden will still make the trip from the Capitol to the White House, but there will be no cheering crowds. Biden will get a presidential escort there, which will include representatives from every branch of the military, as well as the drumlines for the University of Delaware and Howard University — Biden's and Harris' alma maters. But the main event will be the virtual "Parade Across America," featuring performances from all 56 states and territories.
The final events of the day are usually the swanky inaugural balls. The city is usually taken over by both "official" and "unofficial" balls. Official ones are sponsored by the Presidential Inaugural Committee, and guarantee that the president and his spouse will show up. Normally the whole city is taken over by donors, supporters, and celebrities celebrating the new president.
This year, instead of an inaugural ball, there will be a primetime television event. The "Celebrating America Primetime Special" will be hosted by Tom Hanks and feature an impressive celebrity lineup. Demi Lovato, Justin Timberlake, Jon Bon Jovi, Ant Clemons, Bruce Springsteen, John Legend and Foo Fighters will all perform. And Kerry Washington, Eva Longoria, Kareem Abdul-Jabbar, José Andrés, Lin-Manuel Miranda and other big names will also be featured in some way.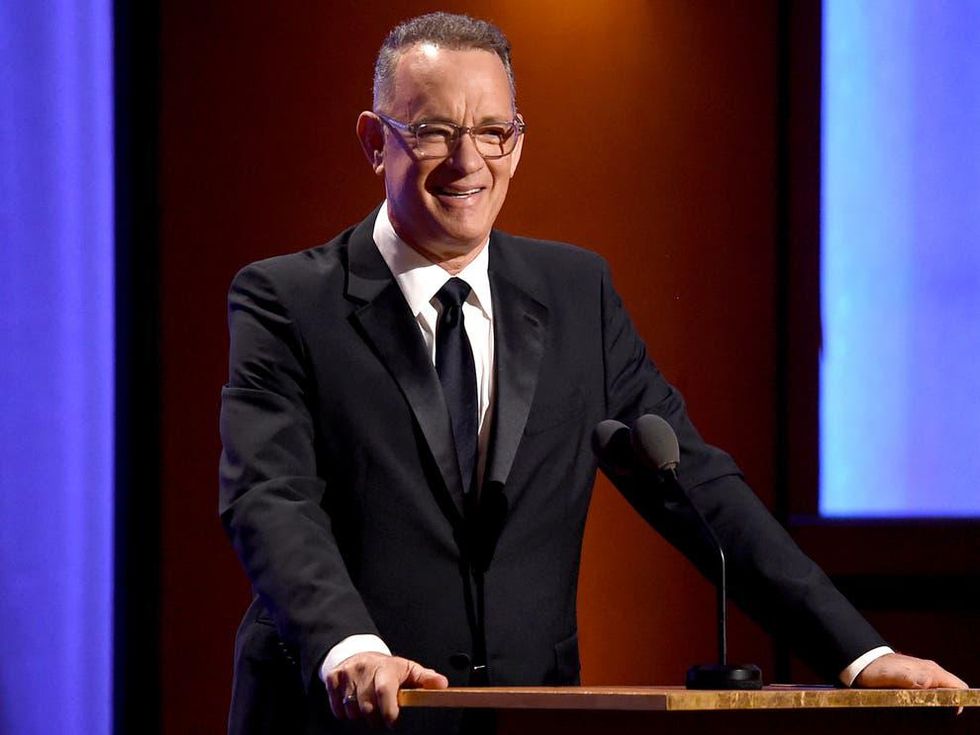 Tom Hanks to host televised inauguration special featuring Justin Timberlake and Demi Lovato.Getty Images
3. Historic moments
This inauguration will be particularly notable because of its historic firsts. Kamala Harris will be sworn in as the first woman, first woman of color, first Black American and first Asian American to be vice president. Harris' husband, attorney Doug Emhoff, will also make history as both the first male and first Jewish spouse of a vice president or president.
Joe Biden comes with his own first: He will be the oldest person ever sworn in as president at the age of 78. He will also be only the second Catholic President in our country's history.
Donald Trump is also making history on Inauguration Day–by not attending. Trump plans to fly to Mar-A-Lago the morning of the inauguration and will not attend the ceremony or welcome the Biden family to the White House. It has been 152 years since a President refused to attend his successor's inauguration.
The last president to refuse to attend was Andrew Johnson in 1869, and he was also an impeached, one-term president. Vice President Mike Pence will be in attendance for the inauguration, as will former presidents George W. Bush, Bill Clinton, and Barack Obama.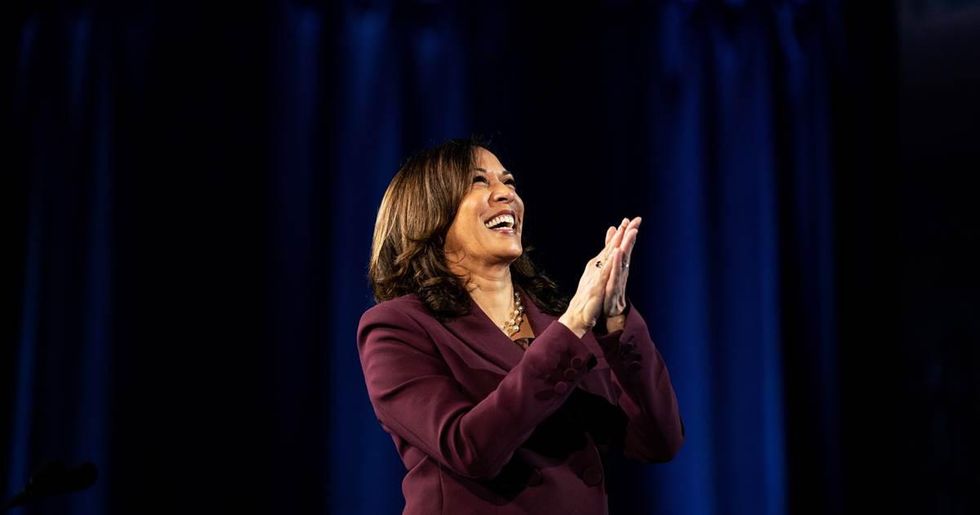 Kamala Harris accepts the Democratic nomination for as first Black female vice presidential candidate in Wilmington, Del., on Aug. 19.Erin Schaff / NYT via Redux file
4. Higher security
Inauguration security is always taken very seriously by the secret service, but after the riot that breached the capitol and delayed the election certification on January 6th, this inauguration will have unprecedented levels of security. The FBI has warned of threats to D.C., including to lawmakers and federal monuments, and all of Washington is well aware of the possibility of armed groups demonstrating in the District on Inauguration Day.
Inauguration viewers should expect a visible military presence, since a total of 25,000 National Guard troops are authorized to help secure the inauguration. There is also a seven-foot-high, unscalable, razor-wire fence encircling the Capitol.
Unlike usual inaugurations, several Metro stations are closed, a large portion of the city will be restricted for drivers, and a number of bridges that cross the Potomac River and Anacostia River will be closed.
There are also security checkpoints throughout the city. Those checkpoints have already resulted in several arrests, including a Virginia man who had fake inauguration credentials, a loaded gun, and more than 500 rounds of ammunition.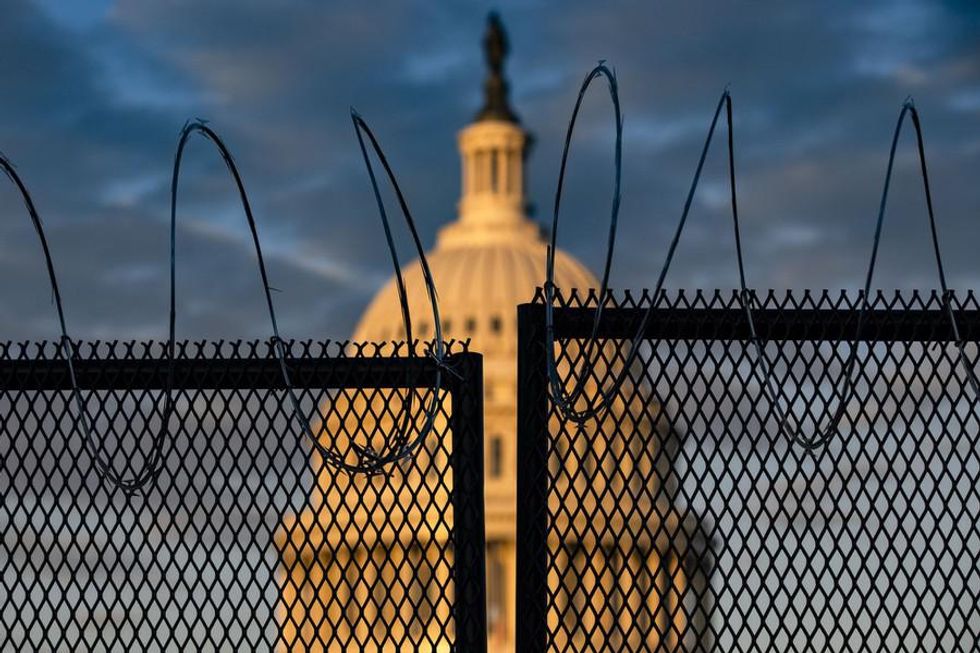 The U.S. Capitol is seen behind a fence with razor wire during sunrise on January 16, 2021.Samuel Corum / Getty
This will be an unprecedented Inauguration Day, but after seemingly countless months of "unprecedented times," what else could we possibly expect?
The future looks pretty grim.
It seems fitting that the Trump administration would go out with a bang. It also seems fitting that the bang would be unbridled white supremacy and blatant racism.

After the white supremacist insurrection at the Capitol, tensions have been high in anticipation of the January 20th Inauguration, with the whole country waiting on edge to see what how the transfer of power will go.
For a while, it looked like they'd have to drag Donald Trump out of the White House by his platinum wig. For a moment, it looked like there would be a coup. But the reality is much less dramatic but more insidious. Trump loyalists, it seems, are spending their last days seeping as much vitriolic rhetoric into the country (and presumably the White House floors judging by the news of a pre-Biden deep clean) as they possibly can.
Outgoing Secretary of State, Mike Pompeo, took to Twitter on his last full day in office to say, "Woke-ism, multiculturalism, all the -isms — they're not who America is. They distort our glorious founding and what this country is all about. Our enemies stoke these divisions because they know they make us weaker."
Woke-ism, multiculturalism, all the -isms — they're not who America is. They distort our glorious founding and what… https://t.co/aKWpDCy5iT

— Secretary Pompeo (@Secretary Pompeo) 1611066600
The image attached to the tweet reads: "Censorship, wokeness, political correctness, it all points in one direction — authoritarianism, cloaked as moral righteousness."

There's so much to unpack here.
The basic logic of his argument is hard to parse. From the tweet it seems that he believes that multiculturalism is a divisive tool used by "our enemies" to "distort our glorious founding" — though who he refers to and what our founding entails he does not specify.
The ensuing logic, however, makes claims that denounce authoritarianism and moral righteousness. In Pompeo's mind, multiculturalism somehow does not align with the individualism he thinks will save us from authoritarianism.
To pick apart the nonsense of his argument would be redundant, so it is instead easier to call it what it is: racist.
The tenuous thread of his logic rests on the shoulders of white supremacy. The narrative is familiar but no less frightening. Pompeo tells a short story of how our country was, and could be, so great if not for the threat of the encroaching "other" contaminating the nation's proverbial purity.
The ensuing language may be vague, but the purist sentiments of his rhetoric are clear. His focus on "multiculturalism" is a signpost that signals his issue is not just with the left, but with BIPOC communities.
Beneath his cacophony of buzzwords, the dangerous, fascist sentiments of the past four years are all encapsulated into a reminder that the Trump administration and the people who perpetrated the harm and violence of it does not stop with Trump.
In truth, the barely concealed violence of Pompeo's rhetoric is engrained so deeply into the fabric of the United States that he might be right: Despite its insistence to the contrary, the US has purported to be a multicultural nation but has always been ruled by white supremacy.

Though this country claims to be about diversity and inclusion, so much of its history points to the opposite. But this is not the argument Pompeo is making.
There are valid claims about how, occasionally throughout US history, multiculturalism and the famous "melting pot" end up diluting people's cultures into a vague shadow of what they used to be. Pompeo, as a descendant of Italian immigrants, is a direct result of the dilution of Italian culture for the mantle of whiteness that he is so secure inside.
However, Pompeo is not calling for a more nuanced understanding of race, culture, and ethnicity.
He's calling for the same thing Donald Trump called for that brought on the Capitol siege, the same thing that has allowed racism, xenophobia, and white supremacy to persist as ruling bodies of this country — a scapegoat.
His vague language is intentional. It invites dissatisfied, disaffeced white people to substitute their ideals and their issues for the distortions and divisions he mentions, while uniting them against "multiculturalism."
While similar rhetoric has been spouted by this administration in various forms, its usual targets are the general left, or progressives and democrats. The focus on "multiculturalism" bypasses the white liberals he could be appealing to for unity against the "divisions" in our country.
The invocation of "woke-ism," a convenient neologism he makes up to orchestrate this tweet, fabricates another giant to distract from the actual "isms" most people would turn to … like, racism.
In fact, just deleting the first two words of the tweet makes a different argument altogether. Yes, I do agree that "all the -isms" distort the ideal vision of the country, but we have different "isms" and different ideals.
What's most frightening about this sentiment is that Mike Pompeo reportedly has ambitions to run for President in 2024. His key to winning: taking over the MAGA mantle.
Pompeo's sentiments coupled with his ambitions serve as a reminder that Trump's legacy is not going away with a Biden Presidency.
Despite Biden's calls for "unity," Trump loyalists do not want unity between all Americans. They want the vitriolic energy that put them in power to persist so that they can stay in power.
I implore Biden then, to pull back his hands, to waste less time appealing to white supremacists and more time reaching towards the communities who (somewhat reluctantly for most) ensured his win.
So far, Biden has elected a historically diverse cabinet, one which seems to exemplify multiculturalism at its best. But to make it its best, it's important that we do not take multiculturalism to mean tokenization, but rather the active process of representation, celebration, and learning that it should be.
What's happening in Washington D.C. is beyond comprehension. And yet we should have seen this coming. Many of us did.

Our elected leaders, our democracy, and the very fabric of our nation are being threatened by the current attempted coup in Washington. MAGA protestors have invaded the Capitol Building and threatened the lives of our elected representatives. They are carrying guns, and disrupting democracy. They are terrorists, and they are not being stopped.
January 6 started as a triumphant morning for Democrats. Jon Ossoff and Raphael Warnock won their races in Georgia. U.S. representatives gathered in the Capitol to count Electoral College votes. Even Mitch McConnell and Mike Pence renounced Trump's continued attempts to take over democracy. It seemed like a transition of power was going to happen smoothly.
But President Trump's supporters weren't going to let that happen. Their protest started peacefully outside the Capitol, and seemed like another group of Trump supporters making their last stand.
But somehow, MAGA protestors, Proud Boys, and attendees of this so-called "Save America Rally" broke through barricades and forced their way into the Capitol Building.
Somehow, improbably, the police and security allowed some to break into the building where our government officials — the people carefully and fairly elected to represent us all — were attempting to confirm the election of the next president.

The response to these protestors, and the inaction of the police and the National Guard, is almost unimaginably hypocritical. At Black Lives Matter protests throughout the summer, we saw teeming rows of cops circling protestors, shooting them with rubber bullets and arresting them in droves, often simply for marching.
Today, after destroying government property to break their way in, protestors appear to be walking peacefully around the Capitol, walking on the Senate floor, invading Nancy Pelosi's office, destroying property, striding over the marble floors, carrying machine guns. Members of Congress have been evacuated to secure locations.
If these had been Leftist protestors, if these had been Black and brown protestors, they would be in jail at best, or more likely shot by police.
Republicans constantly claim that the Department of Homeland Security and ICE are necessary to preserve the safety of Americans and that the military requires billions to protect America. But where are these people now, as American extremists storm the Capitol?
What about when our own president goes against the prevailing logic of almost everyone else in positions of power and quite literally incites violence against the government? Where is the military, which is supposed to protect America, today? Where is the National Guard? Where is America?

Lost, certainly. Dead, possibly. It will take an act of magic or a miracle to revive us from this.
What we are witnessing is a collapse of massive proportions, an attempted coup that reveals the fragility of our democracy and the way Donald Trump has torn us all apart.
Currently, protestors are on the Senate floor. Members of Congress are cowering inside, calling their family members and assuring them they're alright.
A woman has been carried out on a stretcher, drenched in blood.
People are calling on the president — that insecure, unstable man — but his only responses have included tweets that demand the protestors to stay peaceful and respect the cops.
Perhaps some of Trump's supporters' delusions that he is remotely competent or sane are finally collapsing, but it is too little too late.

Let us never forget that the President urged protestors to fight. There is no logic here except the logic of a coup, except the logic of violence, except the logic of extreme greed and insanity that has always defined Trump but that has now exploded out of the woodwork and infected the minds of thousands of Americans.
There is no logic here, just the abstract soundscape of collapse. Yet no one should really be surprised. We knew that the Proud Boys were planning a boogaloo, a Civil War. The threads and the comments and the threats were all there. Time and time again, we ignored them.
We know that Trump supporters subsist on lies own media outlets. We know that they are being inundated with lies — disproven by countless lawsuits — that our election was fraudulent. We know that many of our own Republican leaders sowed these seeds, continuing to support Donald Trump as he built up his firestorm of lies and insanity.
We know that there are so many factors to blame here, a buildup in tensions from the pandemic to Black Lives Matter to Democratic victories that has exploded here today. We know that Americans are suffering and afraid, all of us.
And yet never — not in the whole summer of protests, not ever in recent American history — have we seen an unobstructed invasion like this.
On the news, the scene is horrifyingly mellow. White supremacists are walking around the Capitol, guns flying, without opposition, without election, without fact to sustain them. Everyone else is absent or cowering in fear. These people are, unforgivably, not being punished; they are being allowed to walk free.
How do we even comprehend this? For now, some of us can at the very least hold fast to the fact that when Republicans criticize the "radical Left" for "violent" protests (AKA looting and damaging of empty buildings, at the most extreme), we will be able to remind them of the time when the more radical sect of their party — led by their beloved president — quite literally committed terrorism and infiltrated the Capitol and threatened our elected representatives' lives.

If we get through this, we know that we have a Democratic Congress. We must hope that in addition to addressing the pandemic, these bodies of government somehow figure out how to stop this from happening ever again.
It's getting dark soon. Stay safe, stay strong, Americans. Realize that this is white supremacy knowing that it is losing power and lashing out in the way it always has — with violence, intrusion, and destruction.

Realize that this is in America's blood and we are in the process of draining it out, but it won't go quietly.

Realize this is the spirit of American violence — colonialism and racism and all of their aftereffects — rearing its many ugly heads and, like a hydra, refusing to die, just growing back.
Realize that there are terrorists in America, wearing familiar faces — faces we have been taught to respect but also faces that are willing to corner our democratically elected representatives, faces that are allowed to do so and, as I write this, are still doing so.

We are somehow closer and further than ever before from actualizing the dream of America, a world where everyone can be equal.
We are on the edge of Rome burning. We are both a promise of the best of humanity and a collage of the very worst of it. We can only hope that the truth will prevail in the end.
And it could mean one of the candidates ends up in jail.
Important Editor's Note:

What follows is an interview with a person who purports to "see" what others cannot - the paranormal truth that crosses the divide between mind and matter, between past and present and future things. We will call this person "L." She asked that we keep her identity secret, since she is actively working on multiple criminal investigations in the heartland of our country, many of which are "cold cases" that were abandoned as "unsolvable" before her involvement.
We at Trueself did our homework, and it's worth noting that L checks out - she is a trusted ally to our nation's most sophisticated forensic crime fighters. She doesn't earn a living from her so-called 'gift' (she has a real-life job) but instead tries to 'utilize her gift for good.' For clarity: We disclaim any comments of L that appear in this interview, but we do assert that the 'visions' described within this interview with L are true.
That said, we believe that her track record for helping our nation's top law enforcement officials solve cold cases means that this transcribed interview about her empath visions as recounted in this transcribed interview are worthy of publication.

Screenshot of the definition
Trueself: We understand that you watched the Trump-Biden debate tonight and felt compelled to reach out to a senior member of our editorial staff about a "vision" you had about Trump. Is that right?

L: Well, yes. I watched the debate, but I could not focus on the TV noise because I felt something coming through me.
Trueself: What do you mean - 'coming through [you]'?
L: [laughs nervously] Well, this is where it gets weird. And I just want to say that I am not only not political. I am anti-political. I don't consume news and have no love or hate for any politician. That stuff breaks my brain. The lies and posturing, the narcissism and lack of spirituality led me to ditch media and all things political at a very young age.
Trueself: I'm confused. If you shun media and politics, how did you get this 'vision' of yours?
L: That's the funny thing. My friend - the person on your staff who connected me with you - roped me into a Covid lockdown soire to watch last night's debate. I did so reluctantly, knowing that the mindless banter would make me drink too much to quiet my head. But, sure enough, the voices came. I needed to listen.
Trueself: At what point during the debate did that happen?
L: This is tough for me to say... [PAUSES, EMOTIONAL] ....I don't want to talk badly about anyone. And I don't have a real opinion on anything political. But the quickening happened. I couldn't help it while I watched the debate. It might have been the first time Chris Wallace challenged Trump and got run over by his interruptions... or the first time Biden looked like he might not remember the names of his grandkids. I just started seeing things... lol. I got worried and afraid, even. I worried about what might happen to us.
Trueself: Hang on... Seeing things? What do you mean?
L: I saw a collage of our national history strobe through my brain. I saw Lincoln and Kennedy and John Wilkes Booth and Lee Harvey Oswald. I saw Malcolm X and Martin Luther King. I saw James Baldwin and Bob Marley. I saw Frederick Douglas and Toni Morrison and James Joyce. Then... I saw President Trump in an orange jumpsuit. I saw him being taken away in shackles. Could have been a signal of something different, but I do know that it's true. Something true that will happen related to what I saw.
Trueself: Wait. I need to ask - you're saying the President of the United States will be carted off to jail?
L: Yes, that will happen.
Trueself: You really believe that is possible or you KNOW that it WILL happen?
L: It will happen, I believe.
Trueself: Err... okay. How does that make you feel?
L: Well... it makes me feel at peace, I guess. It will make us better. It will make America great again... [laughs]
Donald Trump clearly hates antifa. But what actually is antifa and why does it matter?
If you've watched Fox News recently, you have almost certainly heard the term "antifa" uttered with an air of sinister mystery and more than a hint of contempt, but what actually is it?
Antifa, pronounced "AN-tee-fuh," is short for antifascists. Antifa is not really an organization, as they have no leader, no hierarchy, and no regular meetings or gatherings. It is instead a left-wing political ideology that aims to eradicate fascism and white nationalism through the use of both nonviolent and violent direct action rather than policy reform. Essentially, they are a group characterized entirely by opposition to one thing: fascism.
Webster's Dictionary defines fascism as "a political philosophy, movement, or regime that exalts a nation and often a race above the individual and that stands for a centralized autocratic government headed by a dictatorial leader, severe economic and social regimentation, and forcible suppression of opposition." Most American's agree that fascism is a bad thing. It's regularly associated with bigotry and authoritarian dictators like Hitler. So why are we mad about anti-fascists? To understand that, we have to look at their history.
The History of antifa
The history of anti-fascism begins around the same time as the history of fascism. In 1932 Germany, a group called "Antifaschistische Aktion" formed in opposition to the rising Nazi party. It was a militant anti-fascist organization in the Weimar Republic started by members of the Communist Party of Germany (KPD), and it only existed from 1932 to 1933. Antifaschistische Aktion used their militant approach to develop a self-defense network for communities targeted by the Nazis. The group engaged in a series of direct actions meant to challenge the Nazis, including street brawls, but they were forcibly dissolved after Hitler's rise to power.
Around the same time, the British Union of Fascists (BUF), a Nazi-like political party, was gaining political power in the UK. But when the BUF attempted to lead a march through London in 1936, thousands of Jews and left-wing activists attacked the fascists and their police escorts, raining homemade bombs and rocks down on the parade. The BUF forces retreated and the anti-fascists celebrated victory in "the Battle of Cable Street." The event is still cited by antifa activists today.
The modern antifa movement finds its roots in London's Anti-Fascist Action (AFA). Founded in the UK in 1985 by a wide range of anti-racist and anti-fascist organizations, the AFA was a militant anti-fascist group. It was active in fighting far-right organizations, particularly the National Front and British National Party. They were particularly active in the punk scene, where they would often violently throw neo-Nazis out of punk shows.
A similar organization called Anti-Racist Action (ARA), also connected to the punk music scene, formed in America in the 80's. In the late 1980s and 1990s, ARA activists toured with popular punk rock bands in order to prevent white supremacists from recruiting at their shows. They would remove any neo-Nazi materials and forcibly remove anyone espousing neo-Nazi philosophies.
What does antifa look like today?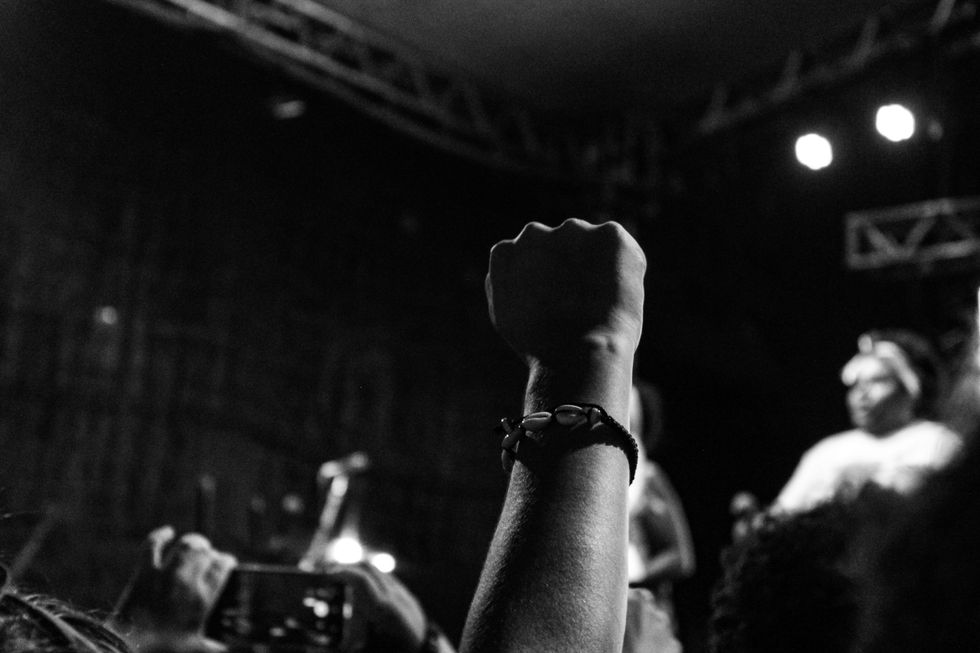 Photo by: Nayani Teixeira / Unsplash
Antifa is not an organization; it's an ideology, and as such, it is highly decentralized and localized. There are some specific local organizations, like Portland's Rose City Antifa, which was founded in 2007, but there's no national umbrella leadership or hierarchy. There is no uniform course of action for antifa, but they do tend to operate on one principle: Stopping fascism by any means necessary.

In The Antifascist Handbook, antifa historian Mark Bray writes, "The job of the anti-fascist is to make [fascists] too afraid to act publicly and to act as volunteer targets for their hate and attacks which might keep them from thinking about burning down the mosque in their neighborhood."
In order to intimidate "fascists," antifa uses a variety of tactics. Online, they use a technique called doxxing. They identify white supremacists and fascists and expose them online in an attempt to get them fired from their jobs and evicted from their apartments. Antifa also uses no-platforming or deplatforming, which involves denying fascists the opportunity to speak out in public by obstructing their events.
The tactic that makes most people nervous about antifa is their use of violence. Antifa generally seeks out fascists and racists and disrupts any and all rallies through violent confrontations. Antifa has been known to use sticks, fists, and projectiles, though they are almost never associated with guns.
In general, Antifa appear as counter-protesters, not protesters themselves. They look to events in history like the Battle of Cable Street, and claim that fascism can only be stopped by using violence. You can recognize antifa at a protest either from their logo—a red flag over a black flag—or sometimes from their use of black bloc strategy. The black bloc is where people dress in black and cover their faces in order to thwart surveillance and create a sense of equality among participants. Sometimes antifa members using this method try to operate as a "security force" for protesters.
Since Trump was elected in 2016, anti-fascist counter-protesters have become much more mainstream. Thousands of people protested at Donald Trump's inauguration, including some self-proclaimed anti-fascists. Memorably, after the inauguration, white-supremacist Richard Spencer was punched in the face by a black-clad protestor—and after the incident went viral on social media, Richard Spencer blamed it on antifa.
A few months later in August 2017, Antifa counter-protesters showed up at the "Unite the Right" rally in Charlottesville, Virginia and violently clashed with alt-right protesters. During the rally a neo-Nazi plowed into a crowd of counter protester, injuring dozens and killing one woman, Heather Heyer.
In March 2018, Richard Spencer canceled the remaining stops on his college speaking tour, releasing a tearful video in which he declared that "antifa is winning."
Coverage of antifa has gone up significantly during the recent racial justice protests. This summer, between May 24th and August 22nd, ACLED recorded more than 10,600 protests in all 50 states and Washington, DC. Most of the protests were about police brutality, and around 10,130 of them were peaceful. However the media has spent a lot of time on the approximately 570 protests that involved some form of violence. Donald Trump has repeatedly blamed the violence at protests on antifa, which has given the movement significant media attention.
Trump and his supporters have designated antifa as public enemy #1. He has mentioned antifa in 41 tweets and has credited antifa with all of the violence and looting of the Black Lives Matter protests, and even accused the 75-year-old man who was pushed over on camera by the police in Buffalo of being an "antifa provocateur."
Trump also declared via Twitter that he would designate antifa as a terrorist organization, despite the fact that he legally cannot declare any domestic group as a terrorist organization. Overall, he has given antifa a lot of attention without presenting any actual evidence of antifa involvement.
Are antifa responsible for protest violence?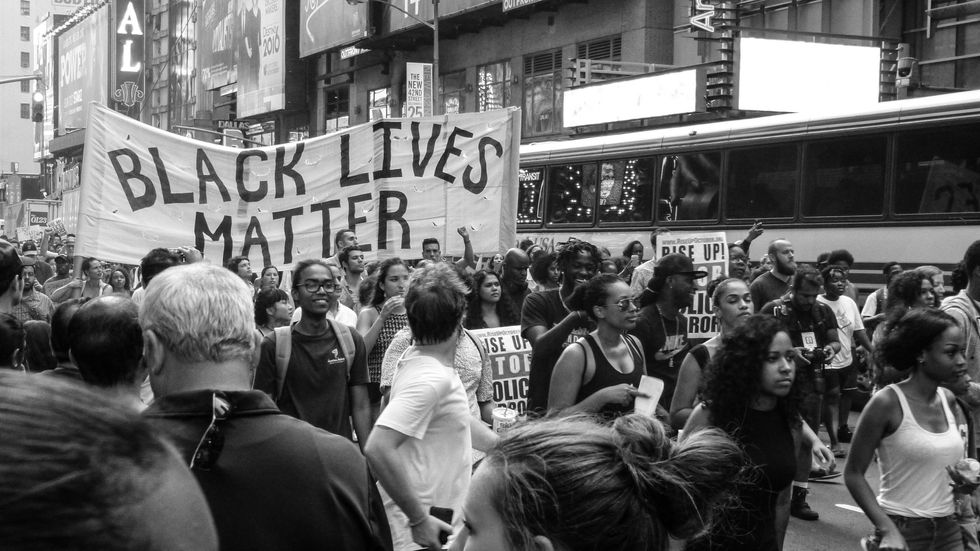 Photo by: Nicole Baster / Unsplash
Any group that believes that the ends justify the means should be viewed as a threat. That being said, so far there is no evidence that the violence at the racial justice protests is caused by antifa or even that it has been coordinated at all. Thousands have been arrested at the protests, but most are for misdemeanor charges such as breaking curfew. The few more serious offenses, including murder and throwing molotov cocktails at police vehicles, have resulted in federal charges. According to the Washington Post, there are roughly 80 federal charges stemming from the protests, but thus far there are no mentions of antifa in any of the court documents. However, the far-right "boogaloo" movement is tied to 4 of the offenders.

Seth Jones, an expert on terrorism at the Center for Strategic and International Studies, writes, "My conversations with law enforcement and intelligence officials in multiple US cities suggest that [though] antifa played a minor role in violence, the vast majority of looting appeared to come from local opportunists with no affiliation and no political objectives. Most were common criminals."
A May 31 memo from the FBI's Washington field office reported "no intelligence indicating Antifa involvement/presence" in DC protests. The Associated Press analyzed court records, employment histories, social media posts and other sources of information concerning the 217 people arrested May 29-31 in Minneapolis and DC, and found that almost all were local residents, and very few had any connection to any extremist organizations.
Even the Department of Homeland Security admits that most of the violence seems to be caused by local "violent opportunists" rather than extremists, despite the fact that a recent whistleblower claimed that DHS officials were directed to play up the threat presented by antifa to match the president's rhetoric.
Antifa has existed in some form in the United States since the 1980s, and they have never posed much of a domestic terror threat. In fact, the only known death caused by an antifa supporter happened a week ago, by a man who stated on Instagram that he was "100% antifa" but was not actually affiliated with any antifa group.
According to the Center for Strategic & International Studies (CSIS), between 1994 and 2020, there were 893 terrorist attacks and plots in the United States. Right-wing terrorist (Boogaloo, Sovereign Citizens, white supremacists, incels, etc.) attacks caused 335 deaths, while left-wing (extreme environmentalists, animal rights extremists, anti-capitalists, anarchists, etc.) attacks caused 22 deaths. Most importantly, antifa caused no known deaths.
Why Trump's antifa rhetoric should scare you.
Antifa is not responsible for the level of violence Trump claims, but it is a real extremist ideology that does use violence as a tactic. This fact has led Trump and his supporters to use it as a catch-all term for leftists in order to scare people on the right.
This is concerning for a number of reasons, and is somewhat—dare I say it—fascist. A defining feature of fascism is forcible suppression of the opposition and Trump is trying to use antifa to do exactly that.
Antifa doesn't have official membership, which gives Trump and his supporters a lot of leeway to dictate who is in "antifa" and who it isn't. If antifa includes anyone who is against fascism, it would likely include most Americans.
Trump's misapplication of the label "antifa" to include all left-leaning activists rather than limiting it to those who proactively seek physical confrontations has resulted in dangerous generalizations. He continues to paint a picture of this summer's protesters as a monolithic leftist group who desire nothing more than chaos.
In reality, racial justice protesters are very diverse. According to Pew Research, 59% are over 30, 42% live in the suburbs, and 17% lean Republican. The protesters are people from every walk of life who genuinely feel that police brutality and racial injustice are serious problems.
As long as antifa is a shadowy, amorphous group, it will continue to be used as a punching bag for the right. The lack of information about antifa has already given rise to various conspiracy theories regarding it. Some claim it is being funded by George Soros, who is somehow also a Nazi. Some even claim that Soros is sending out buses marked "Soros riot Dance Squad" full of antifa members intending to start riots.
Others falsely claim that the Democratic party is funding antifa and hiring paid agitators. These claims are quite obviously false, yet they spread like wildfire. One of the most concerning disinformation campaigns about antifa in recent memory was the twitter account @antifa_us, which encouraged violence at protests. The account was removed by twitter after it turned out to actually be operated by Identity Evropa, a white supremacist group.
By playing up the scale of the antifa threat, Trump has made antifa seem just as bad, if not worse, than other extremist groups. However, the statistics show us that this is simply not the case.
The anti-defamation league warns that "it is important to reject attempts to claim equivalence between the antifa and the white supremacist groups they oppose." They add that, "Right-wing extremists have been one of the largest and most consistent sources of domestic terror incidents in the United States for many years; they have murdered hundreds of people in this country over the last ten years alone. To date, there have not been any known antifa-related murders."
Antifa is extreme, and we should all condemn their use of violence—however rare it may be. But perhaps their cause is a worthy one. After all, it does seem awfully fascist to declare anti-fascists terrorists.
For more well-researched, unbiased information on today's biggest issues, follow Alexandra's Instagram account The Factivists.
Everything you need to know about the Trump administration's latest controversy.
The Hatch Act is in the news this week due to uproar about potential violations at the Republican National Convention.
The accusations involve three critical RNC moments: Secretary of State Pompeo's speech from Jerusalem, Trump and Melania using the White House as a backdrop, and the inclusion of a naturalization ceremony conducted by acting Homeland Security Secretary, Chad Wolf. However, most Americans have never heard of the Hatch Act, and Trump's Chief of Staff believes that "Nobody outside of the Beltway really cares." So what actually is the Hatch Act, did the Trump administration violate it, and should we care?
What Is the Hatch Act?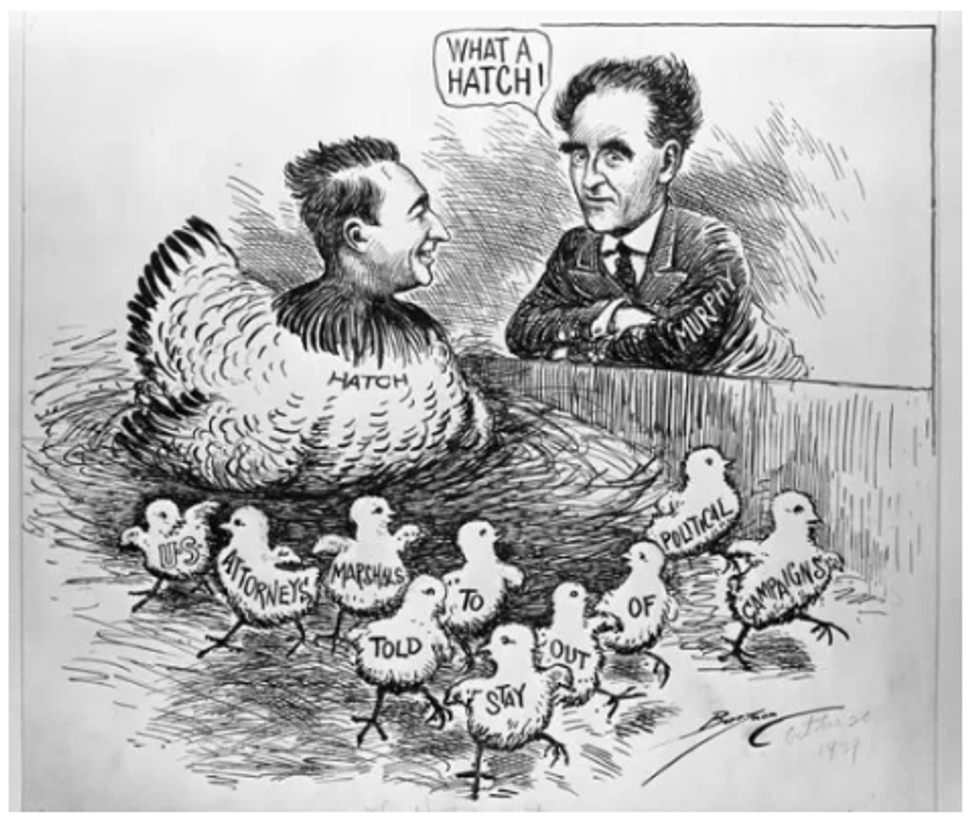 By ART CHANCE
The Hatch Act of 1939, "An Act to Prevent Pernicious Political Activities," limits certain political activities of federal employees, as well as some state, D.C., and local government employees who work in connection with federally funded programs. Specifically, those in the executive branch, with the exception of the President and Vice President, must abstain from taking "any active part" in political campaigns while on duty. They may not use their official titles or positions while engaged in political activity or participate in any activity directed at the success or failure of a political party, candidate for partisan political office, or partisan political group while on duty, in any federal room or building, or wearing a uniform or official insignia.

Summarily, the Hatch Act was created to ensure that government resources don't subsidize re-election campaigns, that government aides aren't pressured into campaigning for their superiors, and that government officials don't use the influence of their position to affect election outcomes. It ensures that campaigning and governing remain separate activities.
The Trump administration has a history of violating the Hatch Act. The Office of Special Council, which is responsible for evaluating Hatch Act complaints, has issued members of the Trump administration 13 official citations, and 12 more investigations are underway, not including the potential violations during the Republican National Convention. This is despite the fact that Henry Kerner, the head of the Office of Special Council, is a Trump appointee and model conservative.
The most notable offender is Kellyanne Conway, counselor to the president, who has been accused of violating the Hatch Act over 60 times by Citizens for Responsibility and Ethics in Washington (CREW). She's violated the Hatch Act so many times that even the Trump-friendly OSC recommended she be fired, referring to her actions as "egregious, notorious and ongoing." Her response to the recommendation? "blah blah blah...let me know when the jail sentence starts."
Conway is not the only one.The New York Times reported that Trump officials "privately scoff" at the Hatch Act and "take pride" in violating it, and the Daily Beast reported that staffers flaunt violations because they "love the anger it produces." In contrast, during Obama's eight years as president, only two cabinet officials received official citations, and both publicly apologized for their misconduct.
So now that we understand what the Hatch Act is, let's talk about the specific violations that took place during the RNC.
Secretary of State Mike Pompeo's Speech
Watch Mike Pompeo's Full Speech At The 2020 RNC | NBC Newswww.youtube.com
Secretary of State Mike Pompeo delivered his Republican National Convention speech from a rooftop in Israel. Pompeo filmed the speech on an official overseas trip, but the State Department said he delivered it "in his personal capacity." He never mentioned his position as Secretary of State, but he did speak to foreign policy in general and Trump's "America First" vision.
Does it break tradition? Yes, Secretary of State Mike Pompeo is the first acting Secretary of State in living memory to give a speech at a partisan convention. Other cabinet members have made speeches to national conventions in the past, but the Secretary of State's role in foreign policy has deemed their participation inappropriate. As Susan Hennessey and Scott R. Anderson wrote in a Washington Post op-ed, "Diplomats are supposed to represent all Americans to the rest of the world, and limiting their political activities ensures that they are able to serve this role effectively."
So does Pompeo's speech break department policy? Yes, According to a 2019 memorandum from the department's Legal Adviser, "Senate-confirmed Presidential appointees may not even attend a political party convention or convention-related event." The memorandum explains that the State Department specifically has a "long-standing policy of limiting participation in partisan campaigns by its political appointees in recognition of the need for the U.S. Government to speak with one voice on foreign policy matters."
Does it violate the Hatch Act? Maybe. The State Department has stated that he delivered the speech "in his personal capacity," which, under the Hatch Act, he is allowed to do. However, because the speech was delivered from Israel on a diplomatic visit, it can be argued that he was on duty, and it is impossible to separate him from his official capacity; therefore, he was violating the Hatch Act.
The Use of the White House Grounds for Campaign Speeches
Melania Trump delivers speech at 2020 RNCwww.youtube.com
Melania Trump delivered her speech on the second night of the convention from an unconventional location: the White House Rose Garden. And as his grand finale, Donald Trump delivered his speech accepting his nomination from the south lawn of the White House. Trump has stated that the choice to do the speeches from the White House is simply a matter of convenience since it would be "easiest from the standpoint of security." However, many officials have criticized this action for being a Hatch Act violation waiting to happen.

Does it break tradition? Yes, use of the White House grounds as a platform for a re-election speech is highly unusual and represents a blurred line between taxpayer-supported government activity and political campaigning. The "Rose Garden strategy," a term used by political strategists for an incumbent president's use of official events to gain publicity in an election year, is fairly common. But, using the official events to get media attention is not the same as literally using the Rose Garden for televised campaign events.
Does it violate the Hatch Act? Maybe. The President himself is exempt from the Hatch Act. But any other White House employees assisting in the setup/preparation for RNC speeches are in violation. The OSC has stated that federal employees attending the event are not in violation because the Rose Garden and the South Lawn are not considered part of the White House.
Use of Naturalization Ceremony Footage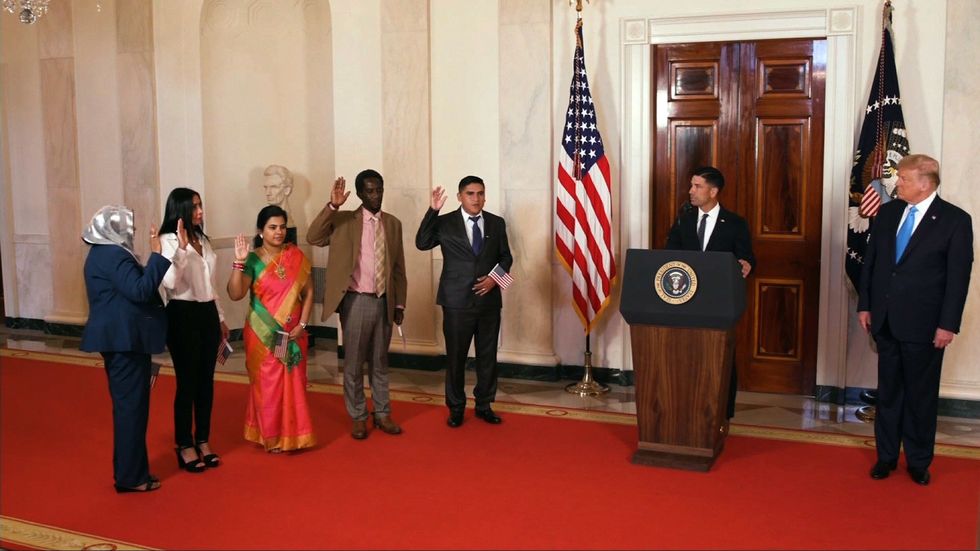 Naturalization Ceremony shown at RNC
During the second night of the Republican National Convention, Donald Trump presided over a pre-recorded naturalization ceremony for five new American citizens. The ceremony was performed by acting Secretary of Homeland Security, Chad Wolf, and was filmed inside the White House. The video began with Trump striding up to the lectern while "Hail to the Chief" played in the background.

Does it break tradition? Yes. Using a legally binding ceremony as part of a partisan campaign event has never been done before.
Does it violate the Hatch Act? Probably. Acting Secretary of Homeland Security, Chad Wolf, was acting in his official capacity, clearly on-duty, performing a legally binding ceremony in the White House. Because this was used during a political convention in support of the re-election of Donald Trump, it is a seemingly clear violation of the Hatch Act. White House officials have defended the action in a statement, "The White House publicized the content of the event on a public website this afternoon and the campaign decided to use the publicly available content for campaign purposes." The argument seems to be that because the original intent of the ceremony was not to use it for the campaign, it was not a violation.
All three of the questionable actions mentioned above effectively blur the line between the Executive Branch's role in governing and their role in getting Trump reelected. Even though it is unclear whether these actions were technically violations of the Hatch Act, they certainly violate the spirit of the act. Free and fair elections are the foundational principle of Democracy, but Trump and his administration don't seem to care about the rules in place to keep things fair. Americans deserve a federal government that works for everyone, not one that can't seem to tell the difference between campaigning and governing.
For more well-researched, unbiased information on today's biggest issues, follow Alexandra's Instagram account The Factivists.
Give us your best meme of Kamala destroying Pence at the debates: GO!
After months of deliberation, Joe Biden has picked Senator Kamala Harris as his running mate.
Harris became nationally recognized after she surged to prominence in the 2020 Democratic primary season. Notoriously, she called Biden out about racial issues during the first Democratic debate. "There was a little girl in California who was part of the second class to integrate her public school, and she bused to school every day," she said in a speech that has now become famous. "And that little girl was me."
55-year-old Harris is currently the only Black woman in the Senate. She served as California's Attorney General prior to being elected in 2016.
Harris was born in Oakland, California; her father is from Jamaica and her mother from India. She studied at Howard University and then at University of California Hastings College of the Law in San Francisco. She worked as a prosecutor in Alameda County and San Francisco before running for district attorney and then attorney general.
As a Senator, Harris was on the Intelligence Committee which interrogated Trump about Russia, and she also made waves through her interrogations of Attorney General Jeff Sessions, Attorney General William Barr and Brett Kavanaugh.
Since her 2020 presidential campaign concluded, Harris has focused on the Senate's response to the coronavirus crisis, as well as their response to systemic police brutality and racist violence. In the past, Harris worked closely with Joe Biden's late son, Beau, on challenging big banks in the wake of the housing crisis.

Biden announced the decision via email and text messages to his supporters. "You make a lot of important decisions as president. But the first one is who you select to be your Vice President," he wrote Tuesday afternoon. "I've decided that Kamala Harris is the best person to help me take this fight to Donald Trump and Mike Pence and then to lead this nation starting in January 2021. These aren't normal times. I need someone working alongside me who is smart, tough, and ready to lead. Kamala is that person."
If elected, Harris would be the first vice president to be female or a person of color. "I think that she will help bring a strong voice on issues of immigration and racial justice," said Rep. Ro Khanna, a Fremont Democrat who backed Harris' opponent Vermont Sen. Bernie Sanders in the primaries. "Given her life story, to see someone like her selected ... it will be encouraging to so many young people of different backgrounds."
Harris's mixed record as a prosecutor and her vacillation on progressive policies like Medicare for All has come under fire from many progressives' but in this scenario, even the most radical progressives seem to agree that Biden must be elected in order to oust Trump.
Immediate reactions to the Biden-Harris ticket on social media indicated how much supporters were looking forward to seeing Harris face off with Pence during the debates: The match-up seems to be made in meme-heaven.
Perhaps meme culture is the best response to the Biden-Harris ticket, as Democrats must support Biden as the only way to oust Trump–though Biden is far from ideal. "Biden is very problematic in many ways, not only in terms of his past and the role that he played in pushing toward mass incarceration, but he has indicated that he is opposed to disbanding the police, and this is definitely what we need," said civil rights activist Angela Davis.
Davis continued, "The election will not so much be about who gets to lead the country to a better future, but rather how we can support ourselves and our own ability to continue to organize and place pressure on those in power. And I don't think there's a question about which candidate would allow that process to unfold."

Mike Pence once spent over $240,000 to walk out of a football game as a snub to Colin Kaepernick.
It's easy to forget that the presidency of the United States is a government job just like any other–in that it comes with a stipulated salary and benefits.
But regardless of their bombastic rhetoric or self-serious public image, politicians are like all other government employees. The president, vice president, and legislators earn an annual income from the government in exchange for their duties, which include: executing/circumventing the law, upholding/withholding the civil liberties of American citizens, and legislating/sabotaging how societal institutions meet the needs of citizens, from healthcare to education.
If you've ever wondered what American politicians earn for all their hard work arguing across the aisle and starting Twitter feuds, look no further:
President (Donald Trump): $400,000 with non-taxable perks including a $50,000 expense account, a $100,000 travel account, and $19,000 for entertainment (all annually).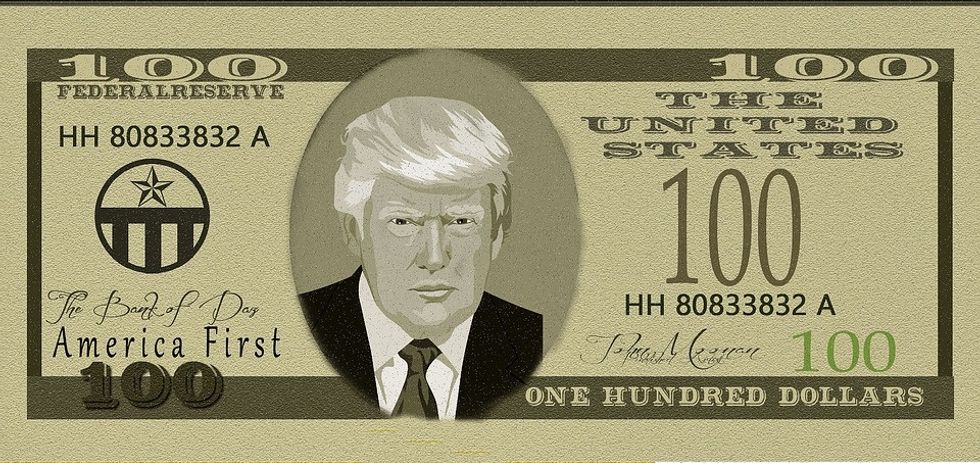 Pixelbay
Technically, Donald Trump donates his presidential salary, but as an independently wealthy private citizen, Trump still earns income from his real estate investments. As USA Today points out, this has been challenged by lawsuits arguing that Trump is violating the Constitution's foreign emoluments clause.

Simply put, the emolument clause prohibits the sitting president of the United States from accepting money from foreign states–in any way, since doing so could influence his judgment on foreign or domestic affairs. Trump, of course, holds over $100 million of investments in foreign business interests. That's why he's been fighting emolument lawsuits since 2017.
But yes, technically, Trump writes a check for around $400,000 once a year in order to "donate" his salary. As for his travel expenses, that $100,000 travel "budget" seems to be irrelevant, since the government covers way more than that amount each year.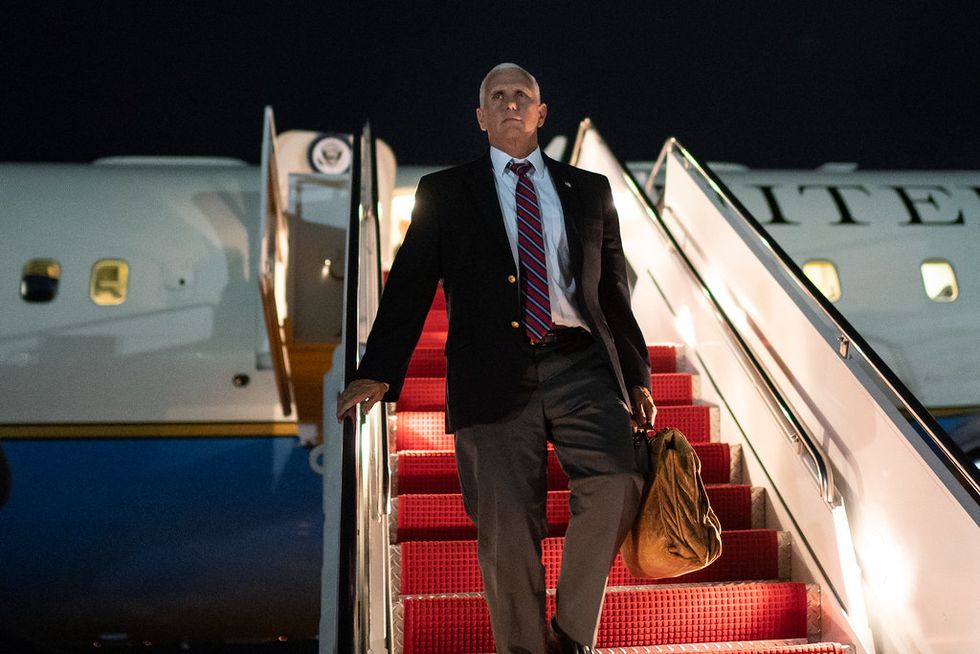 Let's remember that Mike Pence once spent over $240,000 to fly to a 49ers game just so he could dramatically walk out of the stadium when the national anthem played as a snub to Colin Kaepernick kneeling in protest of police brutality against Black citizens.
So Pence is payed over $230,000 a year to pull stunts like that as Vice President of the United States. (We won't be too hard on him, though; reportedly, Donald Trump ordered him to do it).
Speaker of the House (Nancy Pelosi): $223,500
On Friday, @SpeakerPelosi said she was opposed to a temporary extension of unemployment benefits because she would… https://t.co/fRyqAT7Dpg

— Movement for a People's Party (@Movement for a People's Party) 1595627579.0
Amidst a global crisis that has put nearly half of all Americans out of work, Nancy Pelosi doesn't believe in extending unemployment benefits because she would "lose leverage" when arguing with Republican representatives.

As a venture capitalist who's in business with her husband, Paul Pelosi, Nancy has a net worth of about $97 million (despite a popular meme that claims she's worth more than twice that). Yet, she's paid over $220,000 a year to do things like dismissing life-saving unemployment benefits as nothing but "leverage."
As for the rest of the house leadership, Steny Hoyer and Kevin McCarthy (the House Majority and Minority leaders respectively) earn $193,400 each year, while the rest of the standard salary for a congressperson is the same as a senator: $174,000.
Senate Majority and Minority Leaders (Mitch McConnell and Chuck Schumer): $193,400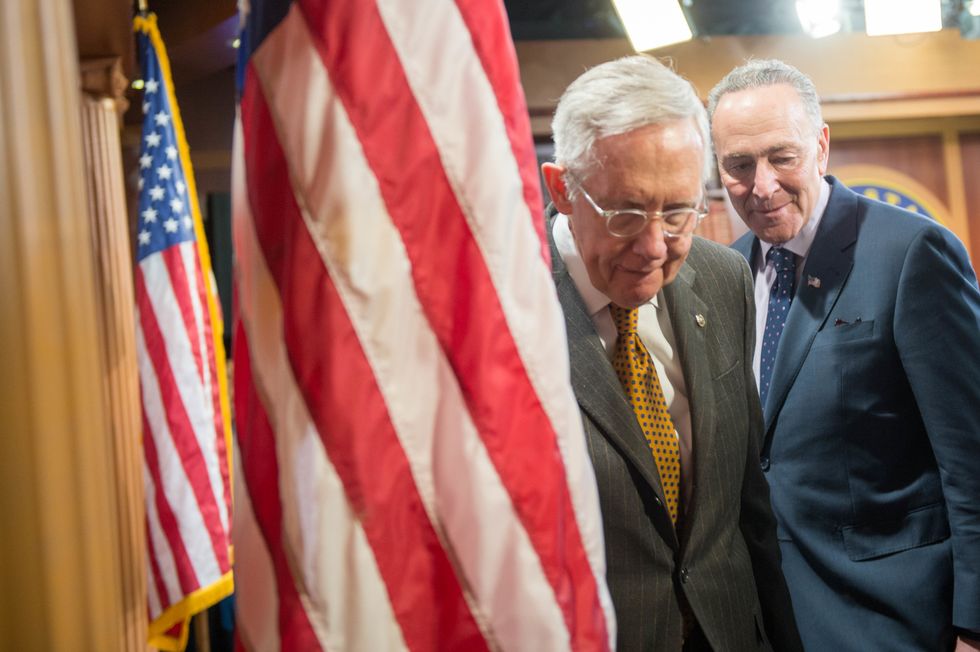 US Senate
Mitch McConnell has an estimated net worth of $30 million (including a windfall from an inheritance his wife received after a relative passed away). He earns nearly $200,000 a year protecting his wealthy friends' special interests and blocking bills from the Senate floor that don't have "liability protections" for said rich friends.
Supreme Court Associate Judges: $246,800

Prayers Up for our beloved Justice Ruth Bader Ginsburg. Warm healing wishes #NotoriousRBG! https://t.co/iQczE6SYlu

— Christine Pelosi (@Christine Pelosi) 1594762677.0
As one of eight current Supreme Court Associate Judges, Ruth Bader Ginsburg is a priceless treasure who deserves to be paid in immortality and hugs. She's been an advocate for women's rights and racial justice throughout her career, including her 27 years on the Supreme Court.
It's unfortunate that she only earns about $250,000 a year, but Ginsburg's total net worth is about $4 million plus the hopes and dreams of an entire nation.

Workers at Amazon, Target, Instacart, and other companies were planning to strike May 1.
In just the most recent example of his utter uselessness and misdirected energy, President Trump has declared May 1, 2020, as Law Day in the United States.
"We know that our Republic can continue to shine as a beacon of liberty only if Americans diligently defend our Constitution and ensure that its limits are strongly enforced," reads a statement signed by Trump on the official White House website. "On this Law Day, I urge all Americans to honor our shared inheritance of respect for the principles of the rule of law, limited government, and individual liberty. Let us rededicate ourselves to remaining ever vigilant in defending our rights secured by the Constitution so that our experiment in self‑government continues in perpetuity."
This coincides with the massive strike scheduled to occur May 1 by essential employees at Amazon, Whole Foods, Target, Walmart, Instacart, and other companies in demand of better protections and benefits in the wake of the health crisis. Over the past few weeks, organizers have called for shoppers to boycott such companies and participate in the strike in support of essential workers.
Trump's unanticipated declaration of Law Day, then, scans as a deliberate effort to suppress workplace strikes. Many of his supporters have been protesting stay at home orders and mask mandates, despite evidence suggesting that reopening the country this early could pose greater risk. Those who dismiss these preventative measures often claim to do so on the basis of protecting the country's economy, seemingly without taking into account the health care workers who have been serving on the front lines of the virus.
Trump's statement continues: "I urge all Americans, including government officials, to observe this day by reflecting upon the importance of the rule of law in our Nation and displaying the flag of the United States in support of this national observance; and I especially urge the legal profession, the press, and the radio, television, and media industries to promote and to participate in the observance of this day."
Instead of sanctifying a 200-year-old document, Trump must focus his energy on undoing the damage he's done as the crisis takes over. The Americans who have died of the virus have him to blame.