"A tree is best measured when it is down," the poet Carl Sandburg once observed, "and so it is with people." The recent death of Harry Belafonte at the age of 96 has prompted many assessments of what this pioneering singer-actor-activist accomplished in a long and fruitful life.
Belafonte's career as a ground-breaking entertainer brought him substantial wealth and fame; according to Playbill magazine, "By 1959, he was the highest paid Black entertainer in the industry, appearing in raucously successful engagements in Las Vegas, New York, and Los Angeles." He scored on Broadway, winning a 1954 Tony for Best Featured Actor in a Musical – John Murray Anderson's Almanac. Belafonte was the first Black person to win the prestigious award. A 1960 television special, "Tonight with Belafonte," brought him an Emmy for Outstanding Performance in a Variety or Musical Program or Series, making him the first Black person to win that award. He found equal success in the recording studio, bringing Calypso music to the masses via such hits as "Day-O (The Banana Boat Song)" and "Jamaica Farewell."
Harry Belafonte - Day-O (The Banana Boat Song) (Live)www.youtube.com
Belafonte's blockbuster stardom is all the more remarkable for happening in a world plagued by virulent systemic racism. Though he never stopped performing, by the early 1960s he'd shifted his energies to the nascent Civil Right movement. He was a friend and adviser to the Reverend Doctor Martin Luther King, Jr. and, as the New York Times stated, Belafonte "put up much of the seed money to help start the Student Nonviolent Coordinating Committee and was one of the principal fund-raisers for that organization and Dr. King's Southern Christian Leadership Conference."
The Southern Poverty Law Center notes that "he helped launch one of Mississippi's first voter registration drives and provided funding for the Freedom Riders. His activism extended beyond the U.S. as he fought against apartheid alongside Nelson Mandela and Miriam Makeba, campaigned for Mandela's release from prison, and advocated for famine relief in Africa." And in 1987, he received an appointment to UNICEF as a goodwill ambassador.
Over a career spanning more than seventy years, Belafonte brought joy to millions of people. He also did something that is, perhaps, even greater: he fostered the hope that a better world for all could be created. And, by his example, demonstrated how we might go about bringing that world into existence.
Brett Kavanaugh is now a Supreme Court Justice.
Brett Kavanaugh has been confirmed by a margin of 50-48.
If you're like me and thought Brett Kavanaugh's alleged presence at a gang rape back in the 80s was going be the final nail in the coffin regarding his nomination, sorry, you were wrong. As of this afternoon, Kavanaugh has been nominated to the Supreme Court, replacing retiring Justice Anthony Kennedy, with a final vote of 50-48. Key swing voters, like Joe Manchin III, Susan Collins, and Jeff Flake all voted yes, with the rest of the Senate, save for Lisa Murkowski, voting along party lines.
With this confirmation, the American people can put the myth of the "principled" Republican to bed. Liberals tend to fetishize Susan Collins' bipartisan record because she's pro-choice, but during the votes that have shaped American history *cough* Iraq War *cough* she's always voted with her party. Her decision on Kavanaugh was par for the course. Joe Manchin III and Jeff Flake's votes weren't particularly surprising either. The former, while technically a Democrat, votes with Trump over 60% of the time. The latter, who asked for an FBI investigation but didn't seem to care that the alleged victim was never questioned, was just pleased he got to pretend he had integrity for a few minutes before voting yes. Rather than go on a lengthy diatribe however, I've decide to publish a list of all 50 Senators who voted to confirm the newest member of the Supreme Court. The midterms are on November 6th.
Joe Manchin III D-W.Va
Lamar Alexander R-Tenn.
John Barrasso R-Wyo.
Roy Blunt R-Mo.
John Boozman R-Ark.
Richard M. Burr R-N.C.
Shelley Moore Capito R-W.Va.
Bill Cassidy R-La.
Susan Collins R-Me.
Bob Corker R-Tenn.
John Cornyn R-Tex.
Tom Cotton R-Ark.
Michael D. Crapo R-Idaho
Ted Cruz R-Tex.
Steve Daines R-Mont.
Michael B. Enzi R-Wyo.
Joni Ernst R-Iowa
Deb Fischer R-Neb.
Jeff Flake R-Ariz.
Cory Gardner R-Colo.
Lindsey Graham R-S.C.
Chuck Grassley R-Iowa
Orrin Hatch R-Utah
Dean Heller R-Nev.
John Hoeven R-N.D.
Cindy Hyde-Smith R-Miss.
James M. Inhofe R-Okla.
Johnny Isakson R-Ga.
Ron Johnson R-WIs.
John Kennedy R-La.
Jon Kyl R-Ariz.
James Lankford R-Okla.
Mike Lee R-Utah
Mitch McConnell R-Ky.
Jerry Moran R-Kan.
Rand Paul R-Ky.
David Perdue R-Ga.
Rob Portman R-Ohio
Jim Risch R-Idaho
Pat Roberts R-Kan.
Michael Rounds R-S.D.
Marco Rubio R-Fla.
Ben Sasse R-Neb.
Tim Scott R-S.C.
Richard C. Shelby R-Ala.
Dan Sullivan R-Alaska
John Thune R-S.D.
Thom Tills R-N.C.
Pat Toomey R-PA
Roger Wicker R-Miss.
Todd Young R-Ind.
Matt Clibanoff is a writer and editor based in New York City who covers music, politics, sports and pop culture. He currently serves as Lead Editor for Gramercy Media. His editorial work can be found in Inked Magazine, Pop Dust, The Liberty Project, and All Things Go. His fiction has been published in Forth Magazine. -- Find Matt at his website and on Twitter: @mattclibanoff
The Senate will hold the final vote as early as Saturday
Judge Brett M. Kavanaugh's chances of landing his Supreme Court nomination reached new heights Friday as the Senate narrowly voted to limit debate and move to a final vote.
The procedure, known as cloture, resulted in a 51-49 vote that saw the majority of senators following party allegiances. Two surprising exceptions were Republican Lisa Murkowski from Alaska who voted 'No,' and Democrat Joe Manchin III from West Virginia who voted 'Yes.' Murkowski's vote is surprising given her FiveThirtyEight "Trump score" of nearly 83%, which is the percentage of how often she votes in line with the president's position on any given issue. Manchin's position is less surprising when you consider his 61% score.
The vote comes one day after the conclusion of the FBI's investigation into the alleged sexual misconduct of Kavanaugh by Christine Blasey Ford and second accuser Deborah Ramirez. Senators vehemently disagreed over the integrity of the report and were bitterly divided along party lines.
Judiciary Committee chairman Charles E. Grassley (R-Iowa) called Kavanaugh "the most qualified nominee in our nation's history" and accused Democrats of waging a smear campaign against the judge. Swing-vote senators Jeff Flake (R-Ariz.) and Susan Collins (R-Maine) seemed to be satisfied with the FBI's findings, while Senator Dianne Feinstein (D-Calif.) was more critical, concluding, "The most notable part of this report is what's not in it."
Today's vote is the penultimate step in one of the most contentious Supreme Court nomination processes in national memory. If confirmed, Judge Kavanaugh will be President Trump's second successful nominee to the high court and will tip its ideological scale to the right for decades. Kavanaugh would replace retired Justice Anthony M. Kennedy, who was the court's swing vote and wrote the majority opinion in landmark cases such as Citizens United v. FEC, Planned Parenthood v. Casey, and Obergefell v. Hodges.
President Trump tweeted that he was "very proud" of the Senate for saying "Yes" to the procedural vote.
Very proud of the U.S. Senate for voting "YES" to advance the nomination of Judge Brett Kavanaugh!
— Donald J. Trump (@realDonaldTrump) October 5, 2018
The final vote is planned to take place on Saturday after 30 hours of last-minute debate. Scheduling complications include the absence of GOP Sen. Steve Daines of Montana because of his daughter's wedding, as well as Monday's Columbus Day holiday. Republicans cannot afford to lose a vote if all Democrats vote against the nominee.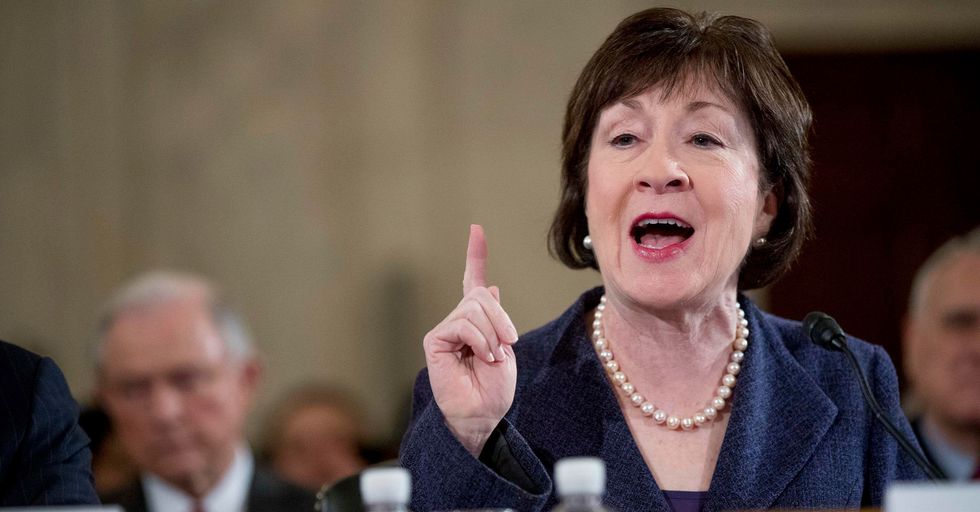 Susan Collins (R-Maine) will reveal her final vote for the SCOTUS nominee Friday at 3:00pm ET.Andrew Harnik, AP
Swing vote Susan Collins, who voted 'Yes' on moving the nomination process along, has stated publicly that this vote did not necessarily correlate with her final vote on Judge Kavanaugh. Her decision will be revealed Friday afternoon. Other undecided senators to watch include Joe Manchin, Lisa Murkowski, and Jeff Flake.
Earlier this week, former Supreme Court justice John Paul Stevens, 98, said Kavanaugh's testimony proved him unfit to sit on the nation's highest court. Speaking to a group of retirees in Florida, Stevens suggested the nominee lacked the appropriate temperament and showed potential for political bias.

On Thursday, Kavanaugh said he's an "independent, impartial" judge in an op-ed he published in the Wall Street Journal. The results of a recent public opinion poll concludes more Americans believe Ford than the Supreme Court nominee.
Joshua Smalley
is a New York-based writer, editor, and playwright. Find Josh at his
website
and on Twitter:
@smalleywrites
"To discuss something this sensitive at a political rally is just not right," said Arizona senator Jeff Flake.
Lisa Murkowski (AK), called the president's remarks "wholly inappropriate, and, in my view, unacceptable."

The three Senate Republicans holding key swing votes on Brett Kavanaugh's Supreme Court nomination spoke out on Wednesday against comments the president made at a political rally in Mississippi the night before. "The president's comments are just plain wrong," said Susan Collins (ME).

"To discuss something this sensitive at a political rally is just not right," said Jeff Flake (AZ).

At the rally, Trump questioned the credibility of Dr. Christine Blasey Ford, who testified in front of the Committee last week that Kavanaugh forced himself on her, groped her, and attempted to silence her cries for help when they were teenagers. Mockingly reenacting the questioning, he said, "How did you get home? 'I don't remember.' How did you get there? 'I don't remember.' Where was the place? 'I don't remember.'"
The president's comments are a far cry from the days immediately after Ford's testimony, during which he called her "a very credible witness," and her testimony "very compelling." When asked by the Committee how sure she was that her assailant was Kavanaugh, Ford answered, "100%." Kavanaugh has denied all allegations.

The president then turned his attention to Kavanaugh, echoing the judge's own testimony that the accusations have "destroyed [his] family and good name," claiming, "A man's life is in tatters" and calling the Democratic party's attempts to investigate Ford's claims a smear campaign. President Trump has been vocal about the need for due process, lamenting that the criminal justice system has become one in which someone is "guilty until proven innocent." Rally attendees were enthusiastic about the president's remarks, despite having repeated their 2016 campaign battle cry, "Lock her up," hours earlier.
Ford isn't the only woman who's accused Kavanaugh of sexual misconduct. Julie Swetnick alleged that Kavanaugh and his friend Mark Judge, who Ford claims to have been present during her assault, were among a group of friends who would target and drug girls at parties and take turns having sex with them. While Swetnick does not accuse Kavanaugh of participating in her own gang rape, she claims that he was at the party where it happened. Deborah Ramirez, in an interview with The New Yorker, said that Kavanaugh exposed himself to her at a party when they both attended Yale.
In her opening statement, Ford noted that she was " terrified" to testify before the committee, despite having passed a polygraph test administered by the FBI. Still, both the president, Judge Kavanaugh, and many members of the GOP have dismissed Ford's accusations as false, despite the fact that false rape allegations are very rare.
Collins, Murkowski, and Flake have remained publicly undecided on whether they will vote to confirm Kavanaugh, though Flake called for an expanded background investigation of the nominee and the allegations against him. Controlled closely by the White House, the investigation was closed on Wednesday evening. A single copy of the investigation report was made available to Senate Judiciary Committee members on Thursday morning, and Collins and Flake have said that they were satisfied with the result. However, the FBI never contacted a number of potential sources and character witnesses who may have been able to corroborate such claims. While the agency did speak with Ramirez, they did not follow up with the roughly 20 people whom she said could provide more information. Over 40 people have contacted the agency to offer testimony, including Swetnick and Kerry Bercham, a former roommate of Ramirez's, but federal investigators never responded.
After the investigation was closed, majority leader Mitch McConnell filed a motion to cloture Kavanaugh's nomination, restricting the amount of time to debate before a floor vote to 30 hours and ensuring that a vote will take place this week.
---
Rebecca Linde is a writer and cultural critic in NYC. She tweets about pop culture and television @rklinde.