His announcement that he will not be voting to allow witnesses in the impeachment trial has lasting implications for the country and the world.
Behold the arbiter of your future.
This is the Senator who has decided that there is no need to call witnesses in the impeachment trial of Donald Trump—a man who used his powers as president in a deliberate attempt to subvert the electoral process with the assistance of a foreign government. Lamar Alexander, a 79-year-old white man from Tennessee, has unilaterally determined that Donald Trump's crimes are not worthy of punishment from the only body with the capacity to hold him accountable. As a result, by the time you read this, Donald Trump will likely have already been acquitted and the impeachment will be over.
Alexander's claim—according to the statement released Thursday night—is that Trump's misdeeds have already been proven, and there's no need for the public spectacle of witnesses attesting to those misdeeds on national TV. He asserts that, while withholding military aide from Ukraine until they publicly announce an investigation into your political opponent may be a bad look, it doesn't rise to the "Constitution's high bar for an impeachable offense." And it is not the Senate's role "to remove the president from office and ban him from this year's ballot simply for actions that are inappropriate."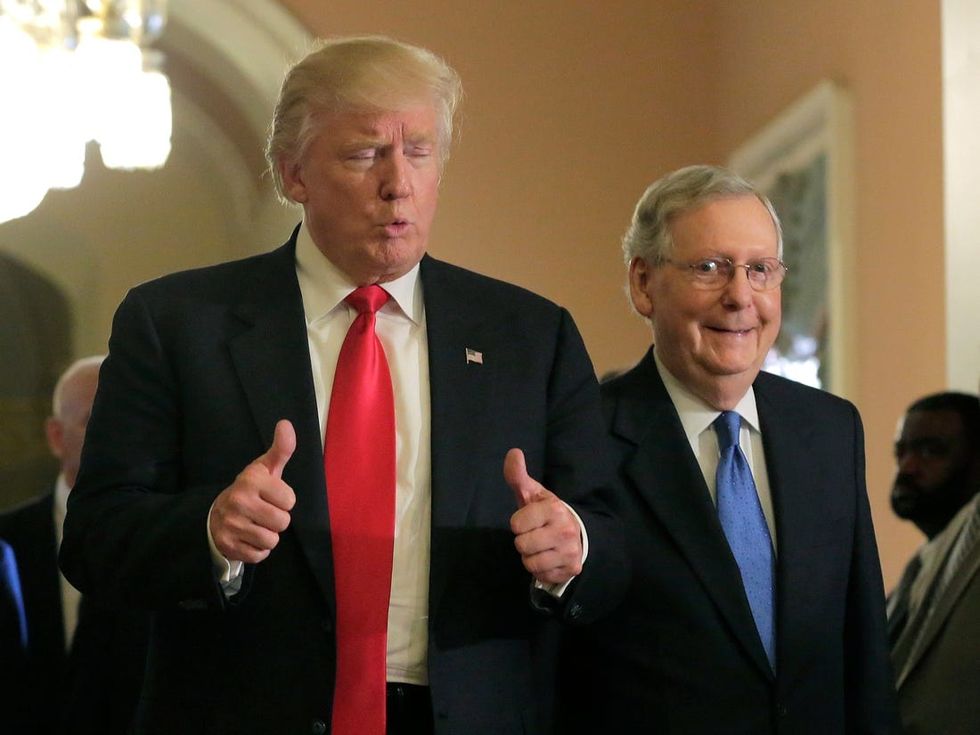 Joshua Roberts/Reuters
There is some truth to this statement, but it's a small truth that helps to conceal a much bigger lie. Granted, there are varying legal opinions on what constitutes "high crimes and misdemeanors," and there was essentially zero chance that the Senate's Republican majority was ever going to vote to remove Donald Trump from office. So why bother going through the motions of a legitimate impeachment trial—allowing new evidence and witness testimony? The answer lies in another portion of Alexander's statement: "Our founding documents provide for duly elected presidents who serve with 'the consent of the governed,' not at the pleasure of the United States Congress. Let the people decide." This, despite the fact that more than 70% of Americans wanted the impeachment trial to include witnesses.

And how should the people decide if there are facts and perspectives being deliberately withheld? That has been the explicit goal in Mitch McConnell's handling of the impeachment trial. Presumably, he knows what the Watergate hearings did to Richard Nixon's approval rating. Nixon resigned because the American people were exposed to who he truly was, and they turned against him. If not for those hearings, he would have remained popular. Likewise, according to a recent poll, 65% of Republicans consider Trump's interactions with Ukraine "normal presidential behavior." Consent is not truly consent if it is not informed.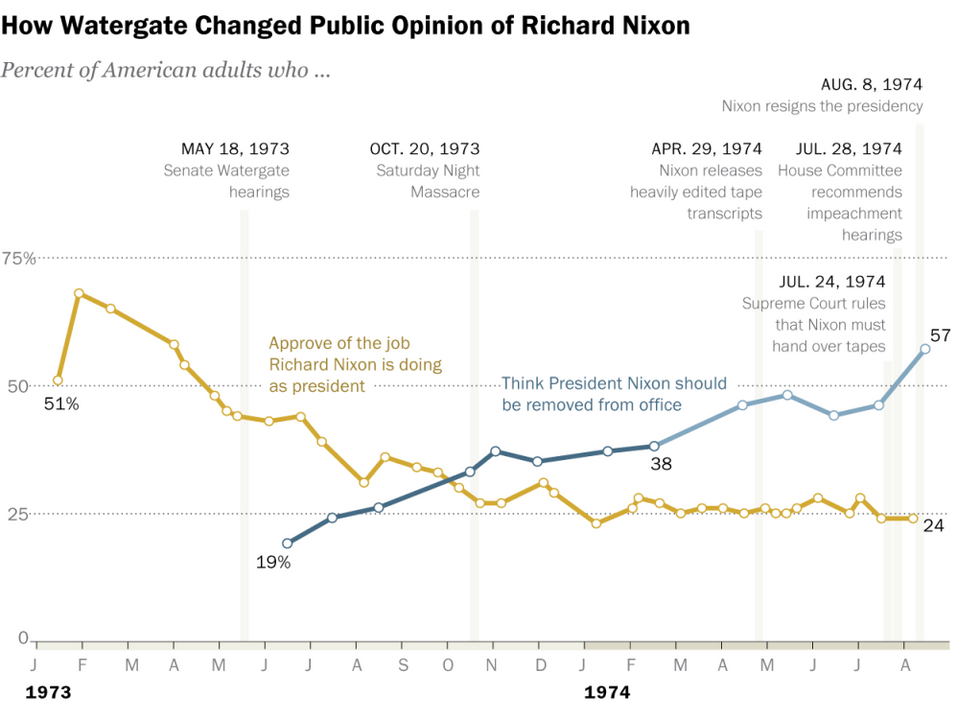 Pew Research Center
So while Lamar Alexander may be convinced that Trump acted inappropriately, without the spectacle of witness testimony, that is not the message many Americans are going to receive. They will hear that Trump has been exonerated. That impeachment was a nothing-burger and a distraction. And they probably won't read John Bolton's damning book. And Lamar Alexander knows that.

On Tuesday, Donald Trump will give his State of the Union address and will have ample opportunity to move the national conversation past his multiple deliberate attempt to interfere with the democratic process and to obstruct the various efforts to expose him—including instructions to "take out" a troublesome diplomat. Normal presidential behavior? He was trying to cheat in the election, and apparently—as long as your political party controls the majority in the senate—that's allowed.
Senator Alexander has cleared the way for the American people to carry on with normal life without truly confronting the corruption that defines Donald Trump's interactions with the world and everyone around him. He has made it increasingly likely that Donald Trump will continue to use the immense powers of the presidency to pursue personal and political ends at the expense of global stability, our democratic institutions, and a sustainable future. Lamar Alexander—along with 50 of his colleagues—will soon have effectively rubber-stamped election rigging.
But in his statement there is no indication that this choice has any significant ramifications. He is willingly obscuring the real stakes, partly out of party loyalty, and partly because his age makes those stakes abstract. He will be dead soon. Maybe not this year or the next, or even twenty years from now, but in comparison to the young membership of the Sunrise Movement—for instance—his thinking is fundamentally and frighteningly short-term.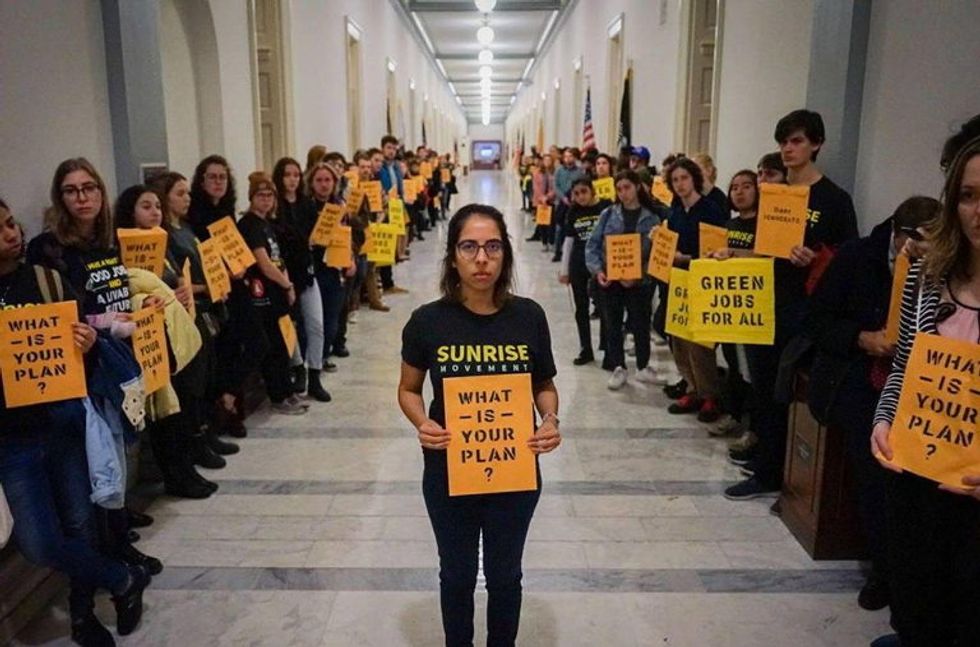 Lissy Romanow
If Donald Trump wins re-election in November, it will likely be the outcome of various efforts to leave Americans misinformed and disenfranchised and will almost certainly result in the United States fully abdicating our duty to address climate change—the "Chinese hoax"—with the urgent and intensive action it requires. And there will be many people to blame, but few who were as well-positioned to alter this horrific course of events as Senator Lamar Alexander.

So congratulations, sir. In your waning years you managed to ensure that American democracy and a livable climate are on their way out too. Way to go.
We live in a divided nation—but there some things will always bind us together.
Very few people seem to be getting along in America right now. Countless relationships have ended, and families have broken apart because of political and ideological differences, which have only grown more extreme following the 2016 election. The divide between Democrats and Republicans, pro-lifers and pro-choicers, climate-change deniers and believers, and many more have become unfathomably vast.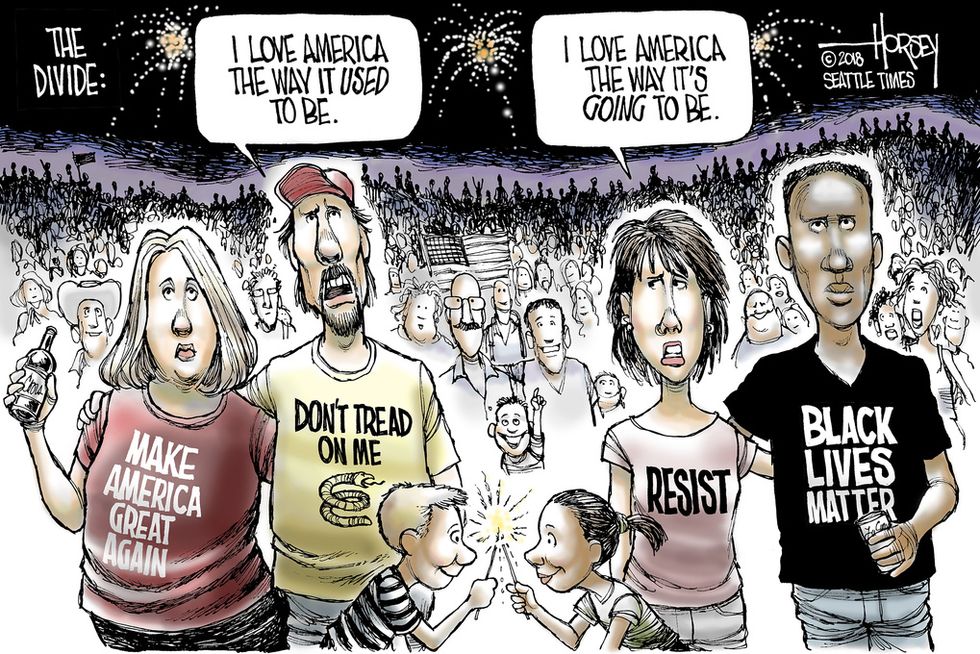 Image via the Seattle Times
But amidst all the chaos, violence and noise, there are just some issues that are decidedly non-partisan; some topics that are so unanimously agreed on that for a moment, it almost seems like we're all only human. In a time of rage, here are the few points of commonality we have.
1. Robocalls Should Stop Forever
There are so many contentious issues being debated in Congress today—from the Green New Deal to bathrooms to anything even remotely connected to the president; it's safe to say that there are very few things everyone in the House and Senate agree upon. But recently, two bills were introduced in the spirit of stopping robocalls—those awful telemarketer messages that constantly interrupt our day with health insurance scams or calls from the Chinese consulate—forever. One is the proposal Stopping Bad Robocalls, from Senator Frank Pallone of New Jersey. The other is Massachusetts Senator Ed Markey's Telephone Robocall Criminal Abuse Enforcement and Deterrence Act. Both of these proposals will make it much harder for telemarketers to call and force their wills upon unsuspecting constituents. According to Markey, "If this bill can't pass, no bill can pass."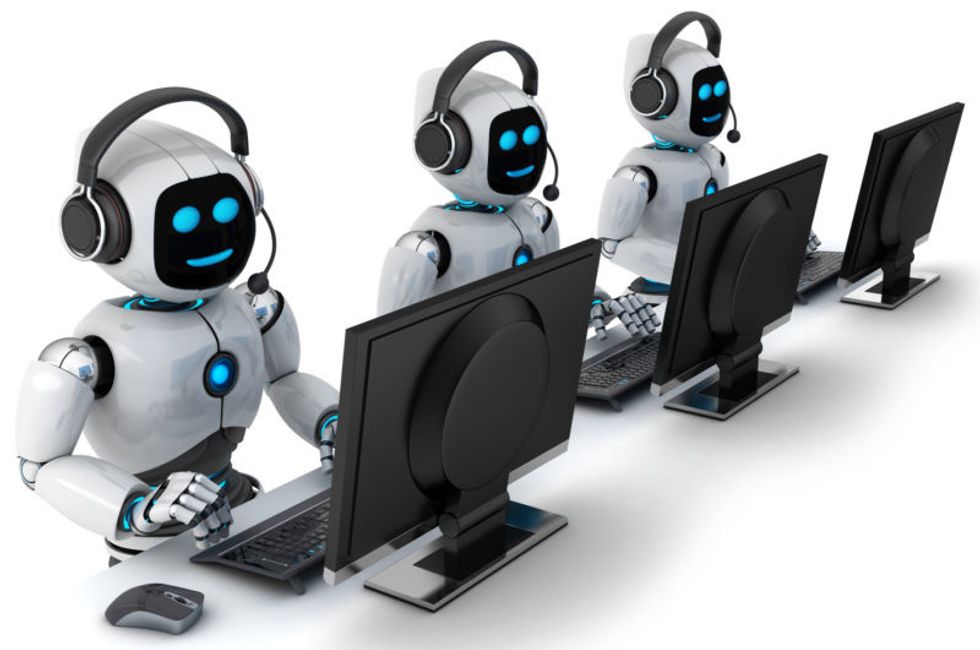 AI support centre Image via Ars Technica
2. Voting is Important

Now, though the issue of who to vote for is one of the easiest ways to turn an ordinary Thanksgiving dinner into a full-on screamfest, most Americans do agree that as citizens of this country, we are responsible for performing our civic duty and making our political opinions heard. Starting way back with the Founding Fathers, this has been an American ideal that nobody except for the staunchest anarchists or most apathetic among us is resistant to. Even so, only around 58.1% of America's voting-eligible population voted in 2016, although 67% of Americans believe that not voting is a huge problem, according to a survey by the Public Religion Research Institute. Maybe the disparity lies in the fact that the people who do not believe in voting also probably wouldn't be too likely to respond to a random political survey.
3. The News Is Fake
No matter where you prefer to get your news, most Americans agree that the media has serious issues—namely the abundance of falsified information plaguing and distorting everything from our elections to our dating lives. The issue isn't only a problem among journalists; politicians themselves are also widely distrusted, and for a good reason. In 2010, Senator Jim McMinn proclaimed that 94% of bills in Congress are passed without issue (it was found to be about 27.4%—although who knows if that statistic is true, though it did come from a Pulitzer-prize-winning political fact-checking organization). Since then, things have spiraled more and more out of control. There's no legitimate way to check how much fake news is out there, but according to one survey, most viewers were suspicious of 80% of the news they saw on social media and 60% of what they saw online overall. Though if you're like the majority of Americans, you won't be taking this article's word for it.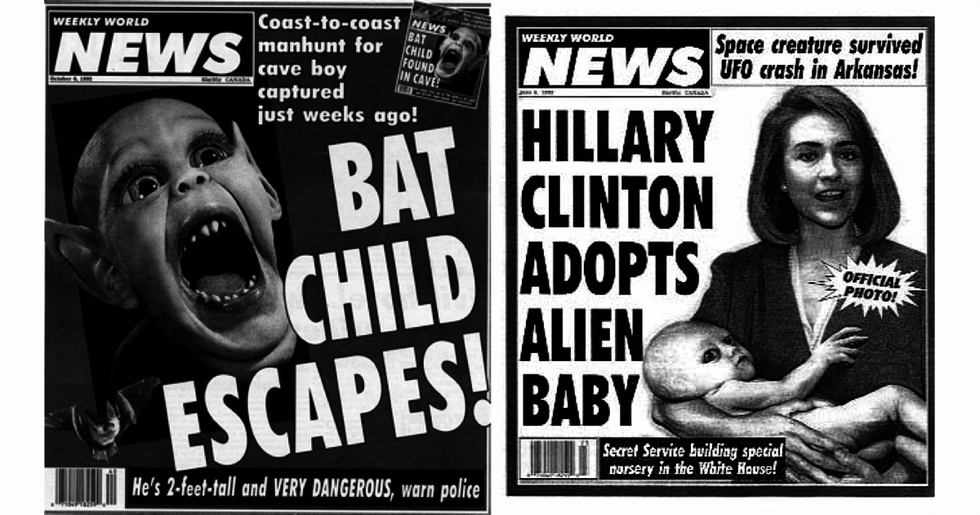 Image via Vox
4. We Should Have Healthcare

Although there is certainly not a clear consensus, most Americans do support healthcare for all. According to a 2018 poll, 6 out of 10 Americans believe that the government should provide healthcare for everyone; another survey from The Hill found that 70% of Americans support Medicare for all, and even a small majority of Republicans are in favor of the idea.
5. The Nation Is Divided
We can all agree on one thing: disagreeing. 81% of Americans believe that we are more divided than at any other time in our nation's history, according to Time. (Remember, there was this thing called the Civil War). Americans can't even agree on what exactly the nation's most significant points of disagreement are: most Democrats believe gun control is a huge issue while most Republicans consider it unimportant; same with climate change and income equality, according to surveys from the Pew Institute.
Although contention and chaos might be the laws of the day, at least we'll always have a shared hatred of telemarketers to bind us all together.
---
Eden Arielle Gordon is a writer and musician from New York City.

Historically, fewer than 10% of all presidential vetoes have been overturned, or 106 in total.
On Tuesday, the House of Representatives voted 245-182 to overrule Donald Trump's declaration of national emergency regarding immigration at the U.S.-Mexico border. Trump declared a national emergency on February 15 in hopes to redirect up to $8 billion from military funds and the Treasury to fund a border wall. While unprecedented, the tactic could theoretically manipulate the Constitution's funding laws to successfully bypass Congress and allow a sitting president to reallocate funds without congressional permission. Even though the House passed the resolution to terminate the declaration of emergency, Trump has vowed to veto the resolution if it should make it to his desk. So how can Congress overrule a veto, and how rarely is it done?
When a president vetoes a bill, Congress can only override the veto by taking a second vote in both chambers and passing the bill with a two-third majority in both houses. Historically, fewer than 10% of all presidential vetoes have been overturned, or 106 in total. The last time Congress over-ruled a veto was October 11, 2000, when Bill Clinton's bill Energy and Water Development Appropriations.
The rarity of a veto override is attributed to the bipartisan conflict of each chamber of Congress. For example, in 2000, the Republicans held a majority in both the Senate and the house when they overruled the sitting Democrat president. The current Congress is divided between a Democrat-lead House (235-199) and a Republican-led Senate (53-45). Achieving a two-thirds majority in both chambers of Congress is simply unlikely when they are led by separate parties.
As for the resolution to overrule Trump's national emergency, the Senate is set to vote on the resolution before March 18. Since it's a privileged measure, no filibustering is allowed; only a majority will pass or defeat the resolution. The crux of the matter is whether enough Republican Senators can be swayed to vote with the Democrats. As of Friday, three Republican Senators have vowed to to do so: Susan Collins of Maine, Lisa Murkowski of Alaska, and Thom Tillis of North Carolina. Only four more would be needed to send the resolution to Trump, assuming all Democrat Senator voted with their party. According to Five Thirty Eight, if Trump vetoes the measure, then both chambers of Congress are short of the votes needed to override (50 short in the House and 20 short in the Senate).
Thom Tillis wrote an op-ed for The Washington Post explaining his position to vote against party: "As a U.S. senator, I cannot justify providing the executive with more ways to bypass Congress," Tillis explained. "As a conservative, I cannot endorse a precedent that I know future left-wing presidents will exploit to advance radical policies that will erode economic and individual freedoms."
Prior to the House vote, Speaker Nancy Pelosi addressed House Republicans, "Is your oath of office to Donald Trump or is it to the Constitution of the United States? You cannot let him undermine your pledge to the Constitution."
Meg Hanson is a Brooklyn-based writer, teacher, and jaywalker. Find Meg at her website and on Twitter @megsoyung.
The conservative Republican made history when she won a seat in Congress, despite backlash over recent racially-charged comments.
In the last Senate race to be called, Mississippi has elected its first female Senator. Cindy Hyde-Smith will hold one of the Republicans' 53 seats to Democrats' 47 seats, setting a new record of 24 women in the Senate next year. However, the victory as a mark of social progress is tainted due to Hyde-Smith's history of racially-charged comments and sheltered background.
Leading up to the election, Hyde-Smith received backlash over a video of her joking with a supporter that if she were invited to a "public hanging," she'd be in "the front row." Following public outcry, she released an apology, stating, "For anyone who was offended by my comment, I certainly apologize."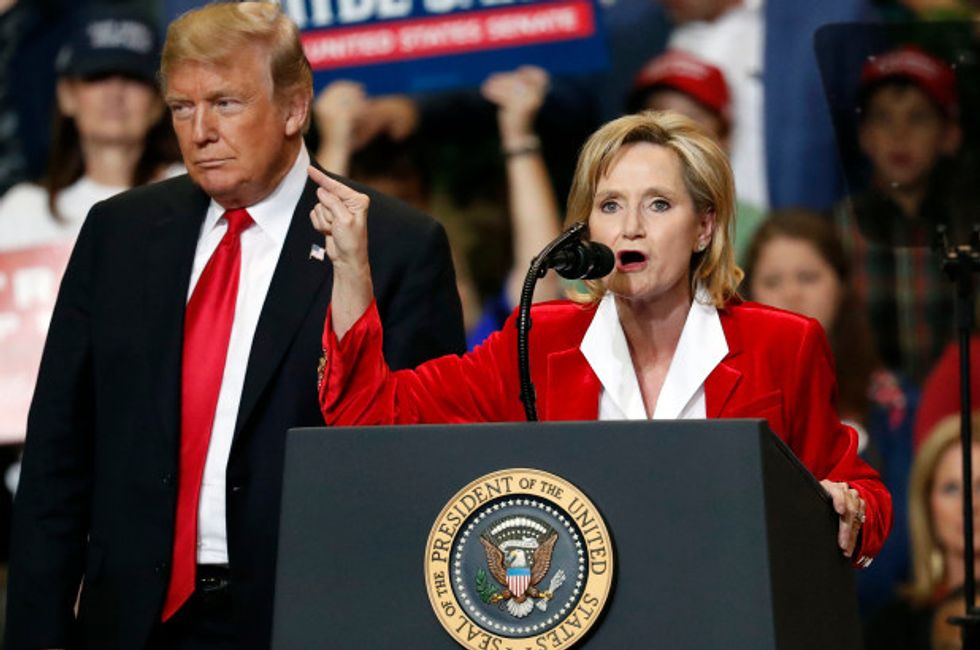 New York Post
At the same time, however, she dismissed the criticism as "ridiculous." Claiming that she possessed no ill intentions, she framed the comment as nothing more than banter with a supporter, stating, "In referencing the one who invited me, I used an exaggerated expression of regard, and any attempt to turn this into a negative connotation is ridiculous."

The conservative Senator has the public divided over whether Mississippi is heading towards a more inclusive future or embracing a troubled past. Hyde-Smith's "public hanging" comments evoke the state's ignominious history of mob lynchings, Jim Crow, and legally-enforced segregation. On Friday, the Jackson Free-Press uncovered that the 59-year-old graduated from a southern private school established in the '70s to eschew desegregation orders after the ruling of Brown v. Board of Education.
Mississippi has been criticized for allowing segregated private schools as recently as 2017. Hyde-Smith's alma mater, Lawrence County Academy, hosted a mascot dressed as a Confederate general and displayed a Confederate flag. The Senator elected to send her daughter to a similar "segregation academy."
CNN also looked into Hyde-Smith's past and reported that she's advocated a revisionist view of the Civil War and backed a measure to honor a Confederate soldier's efforts to "defend his homeland." Additionally, the Senator's Facebook page displays pictures from 2014 in which she's posing with Confederate artifacts during a visit to Beauvoir, the hometown of Confederate President Jefferson Davis. The photo's caption reads, "Mississippi history at its best!"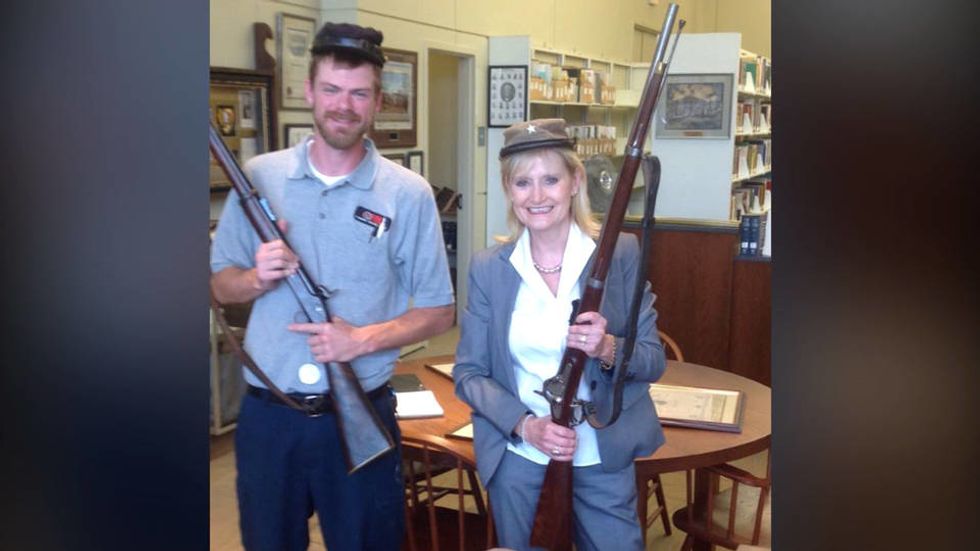 Democracy Now!
On Tuesday, Hyde-Smith credited her win to the state's dedication to "conservative values." In her victory speech, she said, "The reason we won is because Mississippians know me and they know my heart. This win tonight, this victory, it's about our conservative values, it's about the things that mean the most to all of us Mississippians: our faith, our family."

Hyde-Smith received her strongest support from Mississippi's rural and predominantly white counties, according to The New York Times. CNN also attributed the win to Donald Trump's last-minute trips to the state. During a Monday night rally in Biloxi, Trump told the crowd, "She is respected by all. Some long-term senators, they've been down there, they told me, this is a woman that gets it. She's smart, she's tough, and she loves you." He went on, "She produces like few produce. This is a very, very special person."
After a race that was closer than anticipated, Democrat Mike Espy conceded to Hyde-Smith on Tuesday. He offered hopeful regards to the new Senator, stating, "[She] has my prayers as she goes to Washington to unite a very divided Mississippi."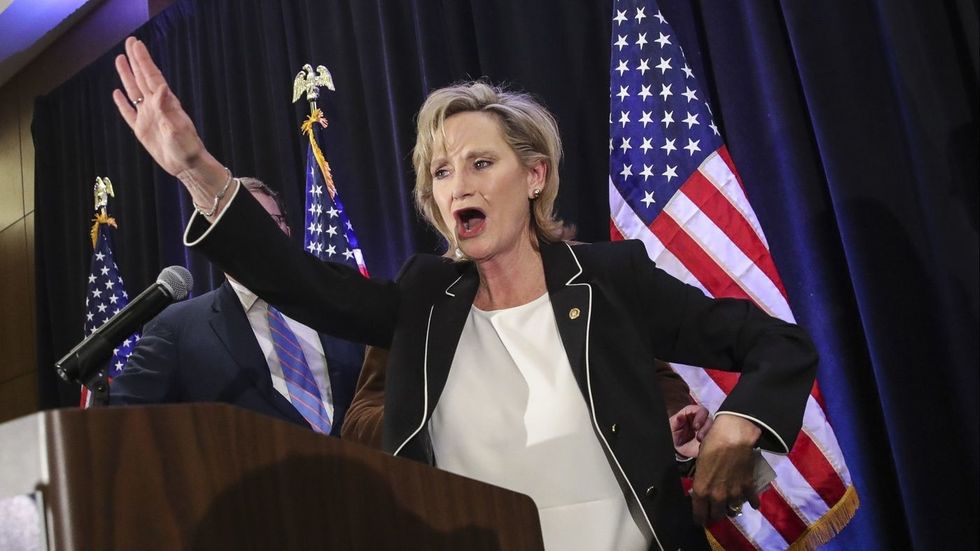 Los Angeles Times
Meg Hanson is a Brooklyn-based writer, teacher, and jaywalker. Find Meg at her website and on Twitter @megsoyung.

Democrats have control of the House for the first time in eight years. Now, they have a mandate to push for a bold agenda on infrastructure, healthcare, immigration, and voting rights.
After months of warnings, the "Blue Wave" finally came to shore. Democrats took back control of the House, gaining 32 seats, a number that could increase to 38 or 39, depending on the results of the uncalled races. With the party back in charge of the lower chamber, much of the discussion around what their priorities should be has revolved around investigating the president and his myriad of financial and political scandals. House Democrats have a clear mandate to fulfill their constitutional duty to provide oversight of the White House, but Democrats also have a mandate to address a number of major legislative issues. Though it's unlikely Democrats that will get any of these priorities pushed before the president and a Republican Senate, it's crucial that they signal to their voters what they want to done should they win the presidency and the Senate in the future.
Infrastructure
As a candidate and in the beginning of his presidency, Donald Trump promised to tackle the nation's crumbling infrastructure. That, of course, has gone nowhere and every "Infrastructure Week" ended in some scandal, quickly becoming an ongoing joke. But the state of America's infrastructure is nothing to joke about. Infrastructure spending has long been a Democratic Party priority before Trump attempted to co-opt it. Democrats should push that issue once again, proposing a bold infrastructure plan to repair crumbling roads and bridges, modernize public transportation systems, expand access to high-speed, fiber-optic Internet, and invest in green energy projects like wind, solar, and hydroelectric power.
Such an infrastructure plan would signal the party's commitment to investing in neglected communities and funding renewable energy projects such as a broader plan to combat climate change—not to mention open the door to the many economic benefits of infrastructure spending. It would also establish a clear contrast with Trump's previous infrastructure plan that's been criticized as a giveaway to private contractors. The president has said he is willing to work with Democrats, so why not press him to keep his word? Democrats would be wise to pressure the president and his Republican supporters to prioritize infrastructure, or face political consequences.
Healthcare
No other issue played a bigger role in the Democrats' midterm success than healthcare. Their electoral message on healthcare was simple: Protect people with pre-existing conditions, expand coverage and stop proposed cuts to Medicare and Medicaid. Now they must deliver on these promises. House Democrats can immediately pass legislation to protect coverage for people with pre-existing conditions, pressuring Trump and other Republicans who have vowed to do the same to keep their word. With a full repeal of the Affordable Care act now temporarily off the table, Democrats should push to expand coverage and address the limitations of the ACA. These can range from introducing incremental policies that get support from more moderate Democrats, like legislation to stabilize insurance markets, to bolder policies that attract the progressive wing of the party, like allowing Medicare more power to negotiate drug prices and proposing a Medicare buy-in for 55 to 64-year-olds.
While the long-term goal for the party should be to push for a Medicare for All system, these are positive steps toward a goal that still has a lot of opposition from within the party. Finally, any budget proposed by House Democrats should reverse any funding cuts to Medicare and Medicaid. Democrats have an ideal opportunity to push for a positive vision on healthcare and continue to have the upper hand on the issue heading into 2020.
Immigration
Bitter political battles over immigration, especially over funding for the border wall and the fate of DACA, will be a prominent feature of politics the next two years. Democrats are right to be alarmed over the administration's immigration policies like family separation and ending DACA, but now it's crucial they advocate for an immigration agenda in contrast to the Republican agenda. With the fate of DACA likely in the hands of the Supreme Court, Democrats must push for a long-term legislative solution. The most stable solution is the passage of the Dream Act. It would also be politically beneficial for the Democrats to bring it to the floor cleanly, without a compromise on funding for the wall. Furthermore, Democrats should schedule hearings about the family separation policy and Trump's pre-election decision to bring troops to the southern border in response to the migrant caravan. Democratic voters have become more liberal on immigration, and it's important the party signal to its base that they are willing to find solutions on the issue without compromising its core values.
Voting Rights
Much of the post-election analysis has focused on the effects of voter suppression, notably in Georgia, North Dakota, and Florida. These voter suppression efforts have only increased since the Supreme Court struck down the section of the Voting Rights Act, which required states with a history of racial discrimination to get permission from the Department of Justice when enacting any changes in voting laws. In response, states around the country immediately passed strict voter ID laws. Fortunately, the Supreme Court decision left the door open for future legislative action. House Democrats can immediately take action and strengthen the Voting Rights Act. They would also be wise to propose legislation to make Election Day a federal holiday, or move Election Day to a Sunday, as it is in most places around the world. While Republicans are busy spreading conspiracy theories about voter fraud, Democrats should take the opposite path and make it clear they will fight continuing discrimination in voting. For strategic and moral purposes, the party has an obligation to extend democracy in every way when voting rights are under tremendous pressure.
Dan is a writer, thinker and occasional optimist in this random, chaotic world. You can follow him on Twitter @danescalona77.
The Senate will hold the final vote as early as Saturday
Judge Brett M. Kavanaugh's chances of landing his Supreme Court nomination reached new heights Friday as the Senate narrowly voted to limit debate and move to a final vote.
The procedure, known as cloture, resulted in a 51-49 vote that saw the majority of senators following party allegiances. Two surprising exceptions were Republican Lisa Murkowski from Alaska who voted 'No,' and Democrat Joe Manchin III from West Virginia who voted 'Yes.' Murkowski's vote is surprising given her FiveThirtyEight "Trump score" of nearly 83%, which is the percentage of how often she votes in line with the president's position on any given issue. Manchin's position is less surprising when you consider his 61% score.