The Senate will hold the final vote as early as Saturday
Judge Brett M. Kavanaugh's chances of landing his Supreme Court nomination reached new heights Friday as the Senate narrowly voted to limit debate and move to a final vote.
The procedure, known as cloture, resulted in a 51-49 vote that saw the majority of senators following party allegiances. Two surprising exceptions were Republican Lisa Murkowski from Alaska who voted 'No,' and Democrat Joe Manchin III from West Virginia who voted 'Yes.' Murkowski's vote is surprising given her FiveThirtyEight "Trump score" of nearly 83%, which is the percentage of how often she votes in line with the president's position on any given issue. Manchin's position is less surprising when you consider his 61% score.
The vote comes one day after the conclusion of the FBI's investigation into the alleged sexual misconduct of Kavanaugh by Christine Blasey Ford and second accuser Deborah Ramirez. Senators vehemently disagreed over the integrity of the report and were bitterly divided along party lines.
Judiciary Committee chairman Charles E. Grassley (R-Iowa) called Kavanaugh "the most qualified nominee in our nation's history" and accused Democrats of waging a smear campaign against the judge. Swing-vote senators Jeff Flake (R-Ariz.) and Susan Collins (R-Maine) seemed to be satisfied with the FBI's findings, while Senator Dianne Feinstein (D-Calif.) was more critical, concluding, "The most notable part of this report is what's not in it."
Today's vote is the penultimate step in one of the most contentious Supreme Court nomination processes in national memory. If confirmed, Judge Kavanaugh will be President Trump's second successful nominee to the high court and will tip its ideological scale to the right for decades. Kavanaugh would replace retired Justice Anthony M. Kennedy, who was the court's swing vote and wrote the majority opinion in landmark cases such as Citizens United v. FEC, Planned Parenthood v. Casey, and Obergefell v. Hodges.
President Trump tweeted that he was "very proud" of the Senate for saying "Yes" to the procedural vote.
Very proud of the U.S. Senate for voting "YES" to advance the nomination of Judge Brett Kavanaugh!
— Donald J. Trump (@realDonaldTrump) October 5, 2018
The final vote is planned to take place on Saturday after 30 hours of last-minute debate. Scheduling complications include the absence of GOP Sen. Steve Daines of Montana because of his daughter's wedding, as well as Monday's Columbus Day holiday. Republicans cannot afford to lose a vote if all Democrats vote against the nominee.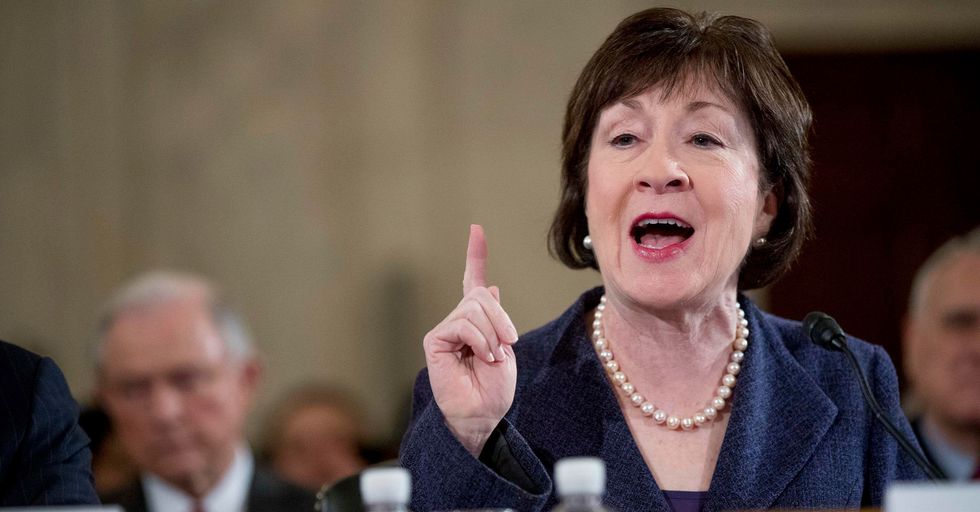 Susan Collins (R-Maine) will reveal her final vote for the SCOTUS nominee Friday at 3:00pm ET. Andrew Harnik, AP
Swing vote Susan Collins, who voted 'Yes' on moving the nomination process along, has stated publicly that this vote did not necessarily correlate with her final vote on Judge Kavanaugh. Her decision will be revealed Friday afternoon. Other undecided senators to watch include Joe Manchin, Lisa Murkowski, and Jeff Flake.
Earlier this week, former Supreme Court justice John Paul Stevens, 98, said Kavanaugh's testimony proved him unfit to sit on the nation's highest court. Speaking to a group of retirees in Florida, Stevens suggested the nominee lacked the appropriate temperament and showed potential for political bias.

On Thursday, Kavanaugh said he's an "independent, impartial" judge in an op-ed he published in the Wall Street Journal. The results of a recent public opinion poll concludes more Americans believe Ford than the Supreme Court nominee.
Joshua Smalley
is a New York-based writer, editor, and playwright. Find Josh at his
website
and on Twitter:
@smalleywrites
Keep reading...
Show less
Democrats and Republicans disagree on the integrity of the FBI's investigation.
The FBI's completed report on the alleged sexual misconduct of Supreme Court nominee Brett Kavanaugh have Democrat and Republican Senators debating over the integrity of the investigation.The full report was delivered to Capitol Hill early Thursday morning.
Contentious points are rooted in major criticisms of how the White House limited the investigation's scope. Namely, people integral to corroborating the allegations were not interviewed by the FBI, including Christine Blasey Ford, who accused Kavanaugh of sexual assault at a high school party and testified before the Senate Judiciary Committee last week.
After an official inquiry into the allegations was approved by the Senate last week, the White House requested interviews with Mark Judge and P.J. Smyth, high school friends of Kavanaugh, a reported attendee of the party where the alleged assault took place, Leland Keyser, and Deborah Ramirez, the second accuser to come forward with allegations of sexual misconduct by Kavanaugh. Ford herself and multiple other witnesses claimed to have firsthand knowledge of the alleged events were not interviewed.
Rep. Senator Jeff Flake, whose swing vote helped instigate the FBI's investigation, declared there's "no additional corroborating information" in the report, while Rep. Senator Susan Collins calls the investigation "very thorough." Rep. Senator and Senate Judiciary Committee Chairman Charles Grassley is more vehement in his endorsement: "This investigation found no hint of misconduct and the same is true of the six prior FBI background investigations conducted during Judge Kavanaugh's 25 years of public service." He implored the committee to "wipe away the muck" from the public controversy and "look at this nomination with clear eyes."
In utter disagreement, Dem. Senator Dianne Feinstein criticized, "The most notable part of this report is what's not in it. It looks to be the product of an incomplete investigation that was limited, perhaps by the White House, I don't know." Dem. Senator Cory Booker also expressed frustration with the investigation's limitations: "I heard the chairman of the Committee say there's no hint of misconduct. In plain English what I just read, there are hints of misconduct. So, it's very frustrating that they didn't do a thorough investigation that they didn't interview all the relevant witnesses."
Dem. Senator Chuck Schumer added a protest over the report's secrecy from the American public, stating, "The fact that there's only one document in there for 100 senators is another example of constraining the ability of all senators and the American public to see the whole truth and nothing but."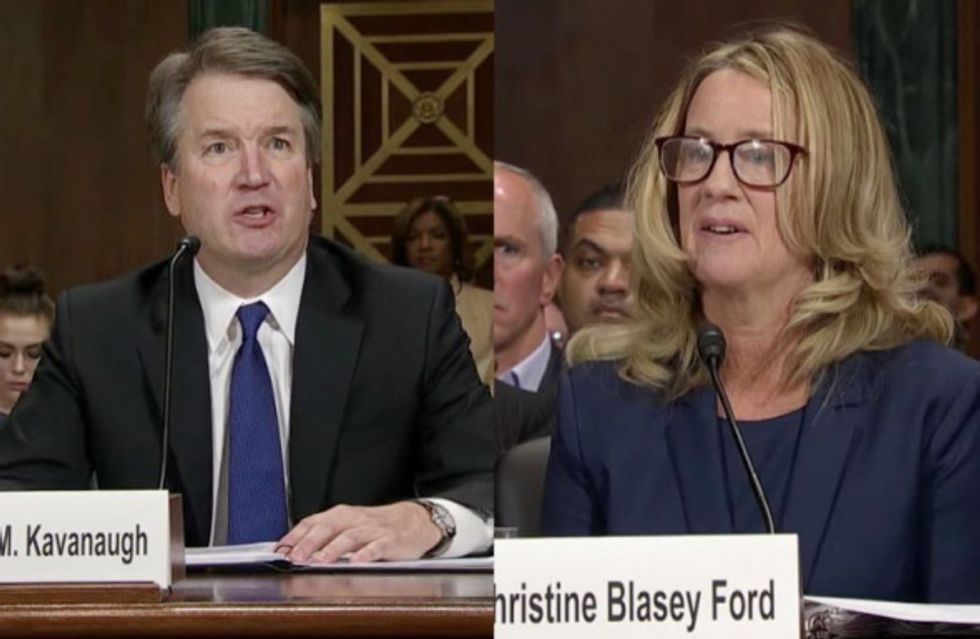 The Christian Post
Blasey Ford and her attorneys released an open letter on Thursday condemning the shortcomings of the investigation, citing the exclusion of Ford and their eight suggested witnesses seeking to either confirm Ford's testimony or refute Kavanaugh's at last week's judiciary hearing: "None were contacted nor, to our knowledge, were more than a dozen other names we provided to the FBI whose interviews would have challenged the credibility of Judge Kavanaugh's testimony before the Senate Committee on the Judiciary on September 27, 2018." The letter laments, "The 'investigation' conducted over the past five days is a stain on the process, on the FBI and on our American ideal of justice."

On Twitter, Donald Trump shared his continued endorsement of the investigation and Kavanaugh, whose "great life" has been subjected to "harsh and unfair treatment" by "mean & despicable Democrats and totally uncorroborated allegations."
The harsh and unfair treatment of Judge Brett Kavanaugh is having an incredible upward impact on voters. The PEOPLE… https://t.co/tz7uynzT5p

— Donald J. Trump (@Donald J. Trump) 1538655401.0
Senators are scheduled to move forward with Kavanaugh's nomination, with Senate Majority Leader Mitch McConnell filing for a cloture vote, which sets in motion an expedited voting process that would see an initial vote on Friday and a final vote by the full Senate on Saturday.

This incident reportedly took place during Kavanaugh's Freshman year at Yale University.
Brett Kavanaugh and The White House have publicly denied a second woman's claims of sexual misconduct by the Supreme Court nominee. This allegation comes in the wake of negotiators reaching a decision to hold a hearing to investigate the claims of Kavanaugh's first accuser, Christine Blasey Ford. In light of the new accusation, the top Democrat on the senate judiciary committee, California Sen. Dianne Feinstein, called for immediate postponement of Kavanaugh's confirmation process. In a letter to Iowa Republican Sen. Chuck Grassley., Sen. Feinstein asked that the matter be referred to the FBI for investigation.
The new allegation dates back to the 1983-84 school year, when Kavanaugh was a freshman at Yale University. Deborah Ramirez, Kavanaugh's classmate at Yale at the time, was contacted by The New Yorker after the allegation was relayed to Democratic senators by a civil-rights lawyer. She was originally reluctant to share the story, in part because she had been drinking at the party in question and felt she had some gaps in her memory of the night. After several days of assessing her recollection with her attorney, she said she felt certain enough of the memory to describe it in an interview with The New Yorker.
The New Yorker reports, "Kavanaugh had exposed himself at a drunken dormitory party, thrust his penis in her face, and caused her to touch it without her consent as she pushed him away."
Ramirez recalled being shaken by the event. "I wasn't going to touch a penis until I was married," she said. "I was embarrassed and ashamed and humiliated." The New Yorker reported that Ramirez "...remembers Kavanaugh standing to her right and laughing, pulling up his pants. 'Brett was laughing.' she said. 'I can still see his face, and his hips coming forward, like when you pull up your pants.'" She also stated that another student "yelled down the hall, 'Brett Kavanaugh just put his penis in Debbie's face.'" She remarked, "It was his full name. I don't think it was just 'Brett.' And I remember hearing and being mortified that this was out there."
Regarding the incident, Ramirez said, "I would think an FBI investigation would be warranted."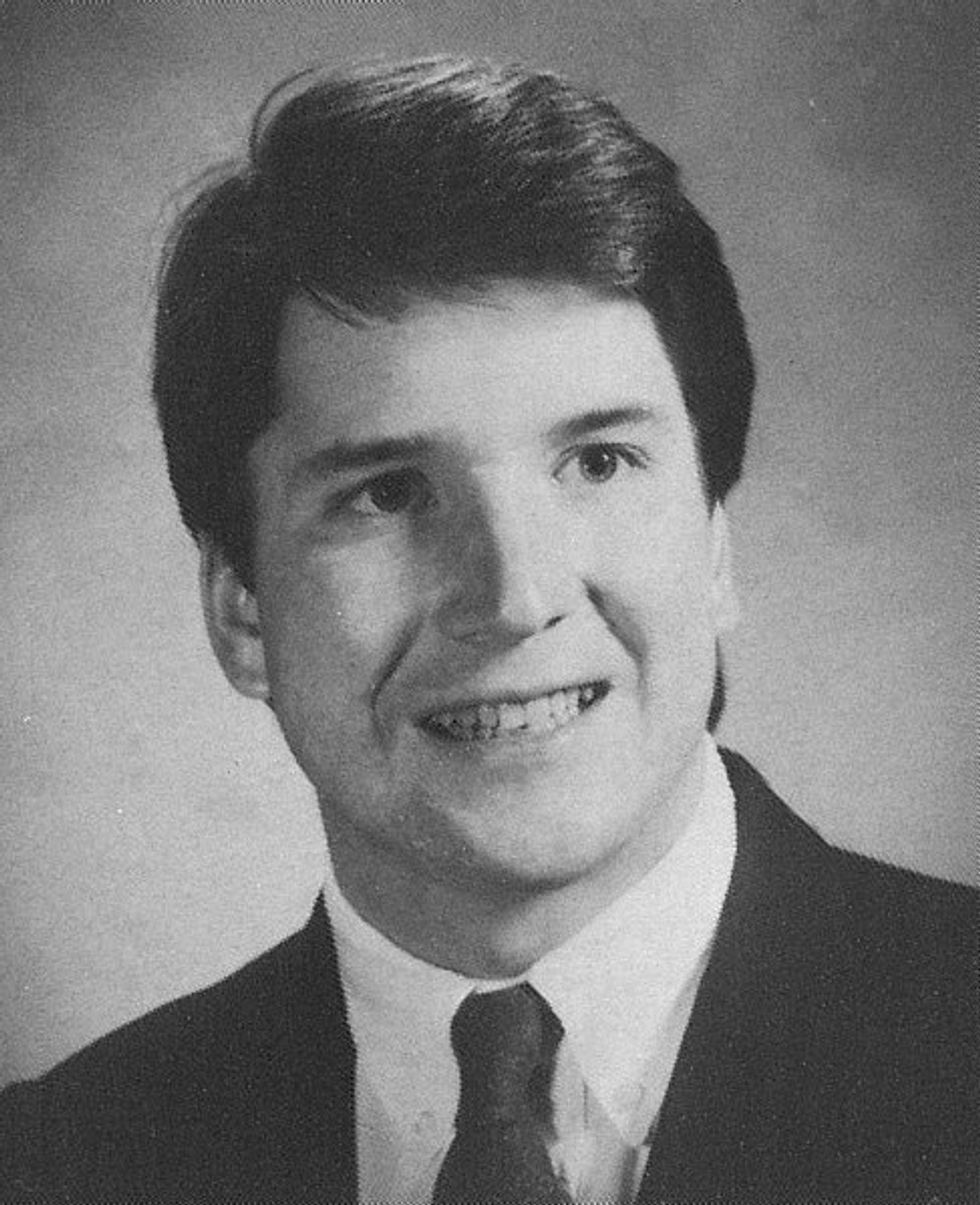 Brett Kavanaugh in the Yale Yearbookwhitehouse.gov
In response to Ramirez's allegation, the White House spokesperson Kerri Kupec stated, "This 35-year-old, uncorroborated claim is the latest in a coordinated smear campaign by the Democrats designed to tear down a good man. This claim is denied by all who were said to be present and is wholly inconsistent with what many women and men who knew Judge Kavanaugh at the time in college say. The White House stands firmly behind Judge Kavanaugh."

It has been confirmed that four Democratic senators have received information about Ramirez's allegation, and at least two are investigating the matter further. Ramirez will not be appearing at Kavanaugh's hearing on Thursday.
---
Brooke Ivey Johnson is a Brooklyn based writer, playwright, and human woman. To read more of her work visit her blog or follow her twitter @BrookeIJohnson.