Dall-E Mini, the AI-powered text-to-image generator has taken over the internet. With its ability to render nearly anything your meme-loving heart desires, anyone can make their dreams come true.
DALL-E 2, a portmanteau of Salvador Dali, the surrealist and Wall-E, the Pixar robot, was created by OpenAI and is not widely available; it creates far cleaner imagery and was recently used to launch Cosmpolitan's first AI-generated cover. The art world has been one of the first industries to truly embrace AI.
The open-sourced miniature version is what's responsible for the memes. Programmer Boris Dayma wants to make AI more accessible; he built the Dall-E Mini program as part of a competition held by Google and an AI community called Hugging Face.
And with great technology, comes great memes. Typing a short phrase into Dall-E Mini will manifest 9 different amalgamations, theoretically shaping into reality the strange images you've conjured. Its popularity leads to too much traffic, often resulting in an error that can be fixed by refreshing the page or trying again later.
If you want to be a part of the creation of AI-powered engines, it all starts with code. CodeAcademy explains that Dall-E Mini is a seq2seq model, "typically used in natural language processing (NLP) for things like translation and conversational modeling." CodeAcademy's Text Generation course will teach you how to utilize seq2seq, but they also offer opportunities to learn 14+ coding languages at your own pace.
You can choose the Machine Learning Specialist career path if you want to become a Data Scientist who develops these types of programs, but you can also choose courses by language, subject (what is cybersecurity?) or even skill - build a website with HTML, CSS, and more.
CodeAcademy offers many classes for free as well as a free trial; it's an invaluable resource for giving people of all experience levels the fundamentals they need to build the world they want to see.
As for Dall-E Mini, while some have opted to create beauty, most have opted for memes. Here are some of the internet's favorites:
There's no looking back now, not once you've seen Pugachu; artificial intelligence is here to stay.
POLITICS
Brett Kavanaugh and Christine Blasey Ford Trade Emotional Testimonies
Brett Kavanaugh lacks restraint before the Senate Judiciary Committee.
Brett Kavanaugh's open hearing before the Senate Judiciary Committee commenced on Thursday.
Christine Blasey Ford, the first of three women to lodge allegations of sexual assault and/or misconduct against Kavanaugh, began testifying at 10 a.m. Republican Senators called upon prosecutor Rachel Mitchell to lead the questioning, hoping to eschew what would have been an imbalanced dynamic if 11 male Senators were to freely question Ford, a female alleging sexual assault by a man. All senators retained the right to interject their own questioning.
During a testimony that lasted nearly four hours, Ford's answers were consistent with the graphic account she has previously released. Despite being "terrified" to testify, Ford's opening statement contained a detailed description of the assault, for which Mark Judge was allegedly present. "Brett's assault on me drastically altered my life," Ford avowed. In her opening statement, she tearfully recalled the incident at the source of the charges, detailing how Kavanaugh cornered her during a house party that the two attended in their high school years.

"The stairwell, the living room, the bedroom, the bed on the right side of the room — as you walk into the room, there was a bed to the right — the bathroom in close proximity, the laughter, the uproarious laughter, and the multiple attempts to escape and the final ability to do so."
Kavanaugh began testifying late Thursday afternoon. He gave an emotionally charged denial of all allegations, often answering a short, vehement, "No" in response to questioning. Kavanaugh also directed attention to the damaging effects these allegations have had on his life:
He lamented: "I love teaching law, but thanks to what some of you on this side of the committee have unleashed, I may never be able to teach again...I love coaching more than anything I've ever done in my whole life, but thanks to what some of you on this side of the committee have unleashed, I may never be able to coach again."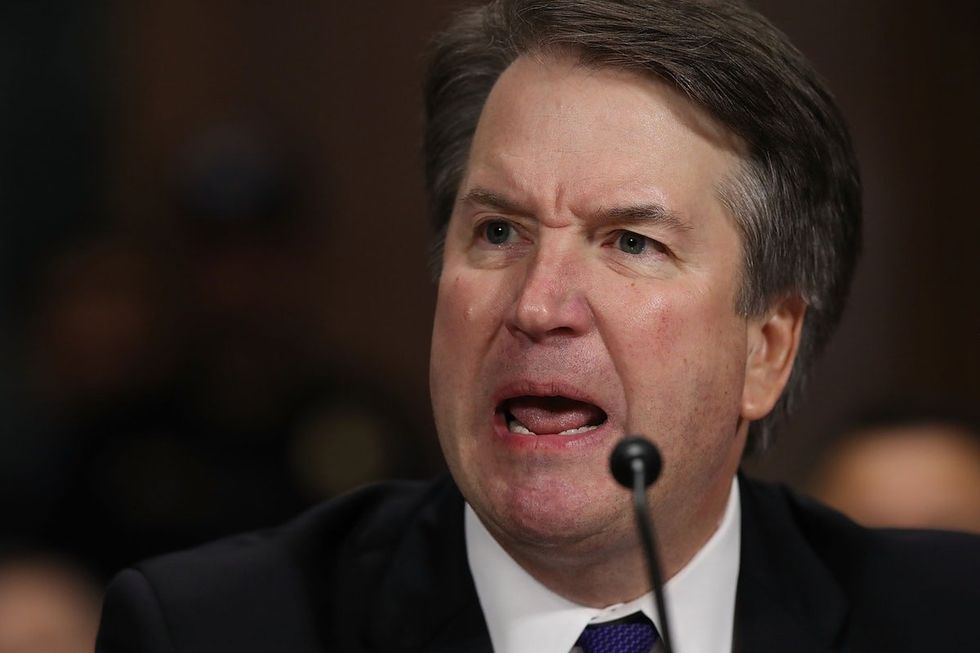 A resolute answer was given on the issue of how the committee plans to interfere with Judge Kavanaugh's appointment as the next Supreme Court Judge. Chuck Grassley, Senate Judiciary Committee Chairman, asserted to Kavanaugh that the hearing's purpose is not to suspend the confirmation process, as "This committee is running this hearing, not the White House, not Don McGahn, not even you as a nominee."
Questioning continued late into Thursday evening, with tensions running high as the GOP-appointed prosecutor fell silent as Kavanaugh parried with the GOP and Democratic Senators questioning him.
---
Meg Hanson is a Brooklyn-based writer, teacher and jaywalker. Find Meg at her website and on Twitter @megsoyung.