Interspiritual minister Chelsea MacMillan talks faith and healing in a time of tremendous change.
The Visionaries Project is a subsection of The Liberty Project dedicated to highlighting the lives, passions, and work of radical activists currently working towards social justice and liberation from oppression. We aim to uplift the perspectives of diverse voices working in media and activism today—and not just the faces who make headlines, but the real people on the ground every day, working towards their visions of a better world.
Rev. Chelsea MacMillan is the founder of the Brooklyn Center for Sacred Activism, the co-host of the podcast The Rising: Spirituality for Revolution, and a dedicated activist, community organizer, and "warrior for peace and change." She recently taught a course called "Reclaiming the Apocalypse," and her wisdom is invaluable in these times of crisis, and always. We spoke about the overlaps between religion and spirituality, collective healing, mutual aid during coronavirus, climate change, and more.
Find her at her Patreon and her website.
LIBERTY PROJECT: Did you grow up spiritual, or involved in activism?
CHELSEA MACMILLAN: I grew up in a really evangelical, conservative Christian family, but I rejected it pretty early on. My parents divorced when I was like ten or eleven, and that was around the time where I realized that being a Christian doesn't mean you're a perfect person. I was just woken up to a lot of hypocrisy. I started rejecting the exclusionary attitude of the churches that we went to, and I called myself an agnostic for a while. I started to question my epistemology without realizing it, wondering why I thought the way I did.
Then I started traveling the world in a performing group, and I had a lot of really intense, magical experiences that I think were mystical experiences. I remember feeling really connected to all people and all creatures everywhere, and I felt this sense of oneness. I definitely felt spiritual, though I didn't want to put it into any form.
Then I worked on staff at a place called the Omega Institute, which is a big retreat center in the Hudson Valley. I tried out different forms of Buddhist meditation and Earth-based practices and things that were vaguely pagan or shamanic, as well as more New Agey things. But I was always really impatient with the way that spiritual communities were in terms of what was happening in the world. I couldn't really accept the idea that we were all one and that we could "be the change we wish to see" while sitting on our yoga mats. The world doesn't reflect that. Yes, it's a spiritual truth, and I've experienced that feeling of oneness and connection, but I think it doesn't do any good to just sit here and believe that. We have to realize and actualize this belief.
During one of my summers at Omega, I learned about this interfaith seminary called One Spirit. I went there and was ordained as an interspiritual minister, and it was there that I learned about sacred activism. I actually took a class with Andrew Harvey, who basically coined the term "sacred activism." He was one of the only people really talking about how activists and spiritual folks needed to come together, because there's a shadow side to both of those groups.

And I realized...this is why I came here. This is what I've been looking for my whole life. Sacred activism is the idea that activism in itself is a sacred path, because all the great spiritual teachings tell us to live our lives with compassion.
I had also been going to a lot of activist meetings and circles and thinking that the people there really needed spirituality. Everybody was so caught up in blaming and shaming. No matter what your ideology is, rigid and dogmatic ideologies are harmful. That's what I had grown up with—but now I was with the liberals, and it was the same sh*t. It wasn't loving and wasn't accepting.
Along your journey to finding the place where activism meets spirituality, are there any experiences that stand out to you as particularly formative or that you feel set you on this path?
I did have a moment recently that confirmed for me why I'm on this path. This past October, Extinction Rebellion had a global week of rebellion. We started with actions at Wall Street and threw fake blood on the bull, and we did this dramatic die-in in front of the stock exchange.
We were also doing RebelFest in Washington Square Park, which felt like an example of realizing that you don't have to perform a direct action to be disruptive. Building community is disruptive, and feeding each other for free is disruptive, and doing art together is disruptive.
That week, I also took part in the Times Square takeover with XR. We shut down an intersection with this big bright green boat, and there were 13 of us who were glued and chained to it. My comrades and I were put in the tombs, which is where they take everyone who's been arrested, and there was a woman detoxing from heroin on the floor and a pregnant woman who totally should not have been in jail. It was a really intense experience, and I remember thinking—could I go to jail for longer? Would I be willing to go to prison for this cause?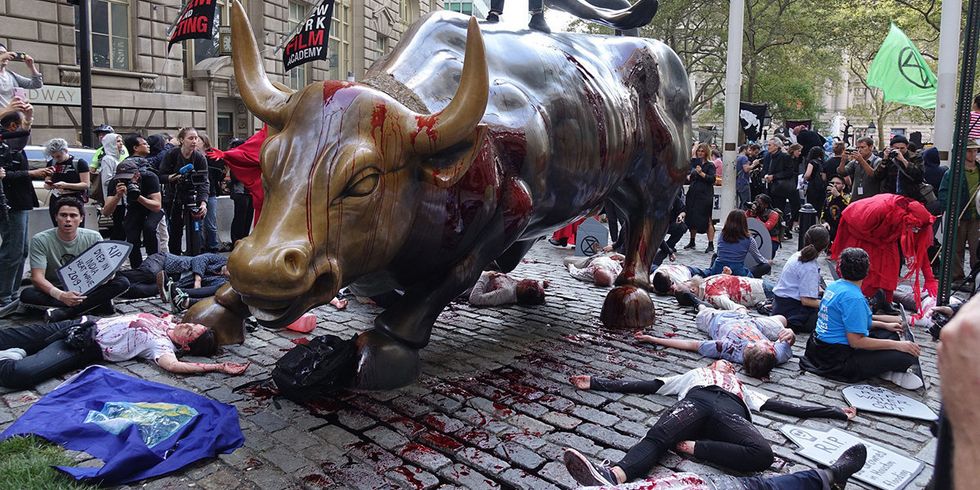 Wall Street
I was going through these ups and downs of feeling like I was losing my mind, and there was a moment where we all just were laughing at ridiculous things because...you lose all your power in there. You don't know [when] you're going to be let out; you're hungry and tired and dehydrated and dirty. And I was like… Could I do this more? Could I be here for months? Do I have it in me? I remember thinking, what am I called to do? How am I called to serve?

I thought of all the people who have inspired me like Dorothy Day and MLK and people who really followed that calling to make the world a better place. It's a spiritual calling.
I realized I do feel like I'm willing to sacrifice my life for building a more just and loving world. I was surprised to feel that in a moment of despair, but that's where I felt closest to God, spirit, or the great unknown. I felt like I was being called, and it felt very powerful.
What does your vision of a better world look like?
What excites me is thinking about the mystery, rather than coming up with the best plan for a bright new world. This requires us to be in the present and in the future and to bring the future into the present. When I think about a vision for the world, I ask questions like: How do I want it to feel? What does it look like, sound like, feel like?
I think what the future looks like is here now. I see it all the time. I see it with the current crisis, in the ways in which people have been jumping into action around creating and activating networks of mutual aid—and taking time to play with their kids, and rest and take walks in the park. I see it in places where we're really connecting with each other.
I think of a new world, or the future, as one in which we're taking care of each other, in which we're really connected. Can you imagine, if we really took care of each other? We wouldn't need housing justice. We'd already be doing it. We wouldn't let anybody not be cared for. We wouldn't have people going hungry, because we'd already be feeding each other.
It sounds a little overly simplistic to say all of that, but I think bringing things into the present and asking—what do we have that we want to grow?—actually helps us be more grateful for what we do have.
Humans have a limited capacity for understanding. We understand a lot and we're constantly innovating, and that's sort of what it means to be human—finding meaning—but we can't see the future, and we make mistakes. As soon as we have a plan for the future, it limits creativity and the emergence of something that can grow from the ways we're already connecting with each other and being with each other.
So many religions seem to boil down to this idea of compassion, and I'm definitely seeing that in responses like mutual aid. So in light of all your work, how have you been processing the current crisis? Are you seeing potential in it? I know you taught a workshop on the apocalypse—not that this is an apocalypse, but...
But we are! It's like a perfect example of the apocalypse. Apocalypse means "to lift the veil," and having this crisis is showing us how f*cked-up our medical system is and how f*cked up our whole economy is to rely on humans as capital. It's showing us how our leadership is broken, how so many people were living alone before this.
As a climate activist, we've wondered for a long time what can really change the momentum. It's so hard to make any change when there's such collective dedication towards keeping a system going, a system that is based on extraction and exploitation and corruption and domination and all of those things that are literally killing us and the planet. In XR we talk about stopping business as usual—well, here we are, and business is literally stopped.
It's my hope that it doesn't go back to normal. I don't want to go back to a world in which we're all hustling to make ends meet and we're working so hard and so long that we don't have time to connect to each other.
I do think it's showing us what's possible. All of the politicians and businesspeople have told us for a long time that it's not possible to stop the system and change it all in order to stave off the climate crisis—but we're doing it.
If the New York Times was reporting on the climate crisis as much as it's reporting on the coronavirus crisis… that could change things. If everyone was told that we have to stop using our cars and we have to stop doing this thing and taking flights and traveling for our safety and so we don't die…maybe we wouldn't have as big of a problem. The response we've been taking with coronavirus actually needs to happen with this climate crisis.
It all does seem like a wakeup call. Before this, it seemed like most of the people I know—even if they weren't plugged into the climate crisis—had the feeling that something unsustainable was going on, that something precarious was happening. And this does seem like a large planetary exhale to me.
We need to bow down and honor what's happening to us, to step back and see how enormous this shift is. It kind of takes my breath away. It's honestly the same feeling that I felt when I was sitting in jail.
It's interesting that you compare the feeling you're having in this crisis to the feeling of being in jail. Those both seem like moments of great change and shift. I keep seeing Octavia Butler's "God is change" quote everywhere and it feels like these moments could be related to that.
I love that quote. It's probably my favorite way to describe God.
I'm seeing all this in two ways: There's tragedy, but there's also growth that could be happening. It feels like if anything it's waking us up to the importance of community and the current lack of community. Even a lot of activism work doesn't seem to hone in on community or connection or rest and then there's so much burnout, and it feels like all this is kind of calling for a practice of rest and community-building.
I think it's so easy for humans to jump in and ignore all of our feelings and ignore connecting to each other, focusing on how we might fix this painful feeling, instead asking—what is this moment telling us? There's something beyond my comprehension happening right now.
It's easy for me to say that in times of crisis, people jump into action to help each other, because that's what I see in communities. But it's also true that there are people who get scared and hoard and only take care of their own.
I think every human has both responses possible in them, and this reminds me of a story that I read as part of my apocalypse research called Why the World Doesn't End by Michael Meade. He says there are three kinds of people in the world: There are the people who just only care for themselves and maybe their families, who in times of crisis will turn on their neighbor, and who are just trying to survive. Then there's a second group of people that really care about others and contribute to community and are attuned to other people's needs; but those people, under great stress, will also turn on their neighbor and contract and hoard and try to protect and defend themselves and their families.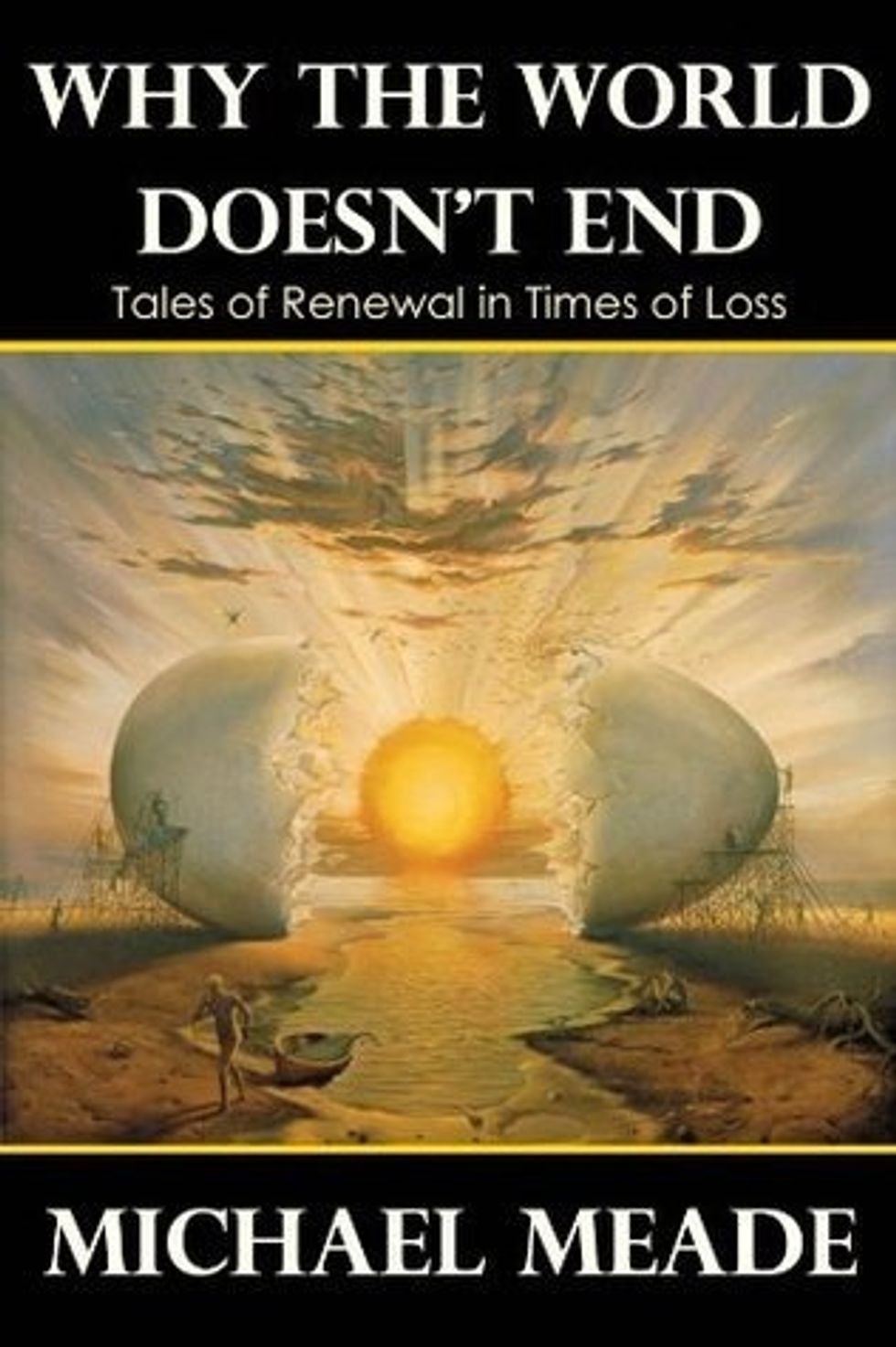 Goodreads
But then there's a third kind of person that in the midst of crisis will rise up and reach out when the impulse is to actually turn back in. I think that's what being a sacred activist is: someone who can be with the unknown and who can be with the vulnerability of reaching out in times of danger.

I think in order to be able to reach out, you have to rely on something other than yourself. You have to be able to rely on something, even if that's your community or if that's God or spirit or even the earth. You have to feel supported enough to reach out to others in a time of crisis.
I think that's been sticking with me. Who's going to be that third group of people?
Alright, I'm done on my soapbox. That's my sermon for today.
What do you suggest people dive into, if you're looking for a way to get involved at this time? I know you mentioned mutual aid.
XR has been plugging into neighborhood groups and existing networks of mutual aid. That could be taking care of your neighbors and seeing what they need or delivering meals to aging populations. Also there's something called The Leveler, a wealth redistribution tool that allows people to donate a certain amount of money to people who just lost their jobs.
But also...check in with people. Be with the feelings. XR has ramped up offerings for people to connect with each other and share their feelings and meditate. It's called "Extinction Resilience," and it'll pretty much be happening twice a week right now, and that's a great place to cultivate inner resilience.
Time's Up, one of the largest organizations fighting against sexual assault, says they can't help the alleged victim.
Content warning: the following article contains a brief depiction of sexual assault.

For the entirety of his run in the 2020 presidential race (and much of his decades-long career), Joe Biden hasn't had the best track record regarding his treatment of women.
The former vice president, who's earned a shocking lead in the Democratic primaries thus far, has racked up multiple accusations from women who say he was inappropriate towards them. Many of these recounts involve a disregard for personal space, improper comments about appearance, and even some condescending finger-wagging, but none of them explicitly depicted a sexual assault. Until now.
Tara Reade didn't initially go public with her sexual assault story about Joe Biden when it allegedly occurred in 1993. A staff assistant of Biden's at the time, Reade told her brother and close friend but otherwise kept her story silent. But, in an episode recently aired of Katie Halper's podcast, Reade has finally let her story out in the world.
Reade says that she was called to bring a gym bag to Biden, who was Chair of the Senate Judiciary Committee at the time, near the Capitol. Nobody else was around. "We were alone, and it was the strangest thing," Reade said. "There was no exchange, really. He just had me up against the wall." In what seemed like one swift motion, she added, Biden had his hands under her clothes and then began penetrating her digitally. "I pulled back, and he said, 'Come on, man, I heard you liked me'...It's like he implied that I had done this."
Reade tried to come forward with her story in April 2019, but she was halted after her claims of sexual harassment got her doxxed and smeared as a Russian agent. In January of this year, Reade tried again telling her story to Time's Up, the organization that rose as Hollywood's initial #MeToo movement unfolded. However, as Ryan Grim reports in The Intercept, Time's Up couldn't provide assistance "because Biden was a candidate for federal office, and assisting a case against him, Time's Up said, could jeopardize the organization's nonprofit status."
Reade told Grim she was conflicted about coming forward with her sexual assault allegation as the 2020 election carried on because she feared she'd be "help[ing] Trump" win over Biden. But, if our two presidential front-runners are both men accused of sexual assault, and one of the largest organizations intended to help survivors can't help at all, there's a much larger issue than simply defeating Trump: It's how we handle assault at the hands of the world's most powerful men.
Look on our works, ye mighty, and despair!
There is a saying that it is easier to imagine the end of the world than to imagine the end of capitalism.
Entrenched systems of power have established bulwarks against the kind of institutional reform that younger Americans have recently been pushing for. By controlling the political conversation through lobbying, control of mass media, regulatory capture, and authoring of legislation, the ultra-wealthy maintain the status quo in a way that makes changing it seem impossible. The problem is that change is desperately needed if we are going to maintain any semblance of civilization.
While political dynamics have become so rigid that the boundaries of what we can achieve begin to feel impenetrable, the COVID-19 pandemic has revealed that the vital structures of our society—a society that is superficially so robust—have been so weakened that a collapse in one form or another is inevitable. We are the world's superpower, yet faced with a slightly more contagious, slightly more lethal virus than the flu, we are powerless. How did it get to be this bad? How were we so blind to it?
To clarify, depending on the part of the country you live in, it could seem like I'm exaggerating. It may not seem "so bad," or like we're on the verge of collapse. Not long ago the president and many of his loyalists on Fox News and AM radio were still calling dire forecasts around the coronavirus a hoax. At the time it seemed reckless but not unhinged from current events—which were still largely unaffected. In much of the country there is little cause for alarm, so few people are doing much to change their behavior. That's about to change, and the areas hit worst will soon be making the dire choices that Italian hospitals were recently faced with—which patients are we going to hook up to ventilators, and which are we going to allow to die. We are already started on a path that leads to overflowing hospitals in every major city.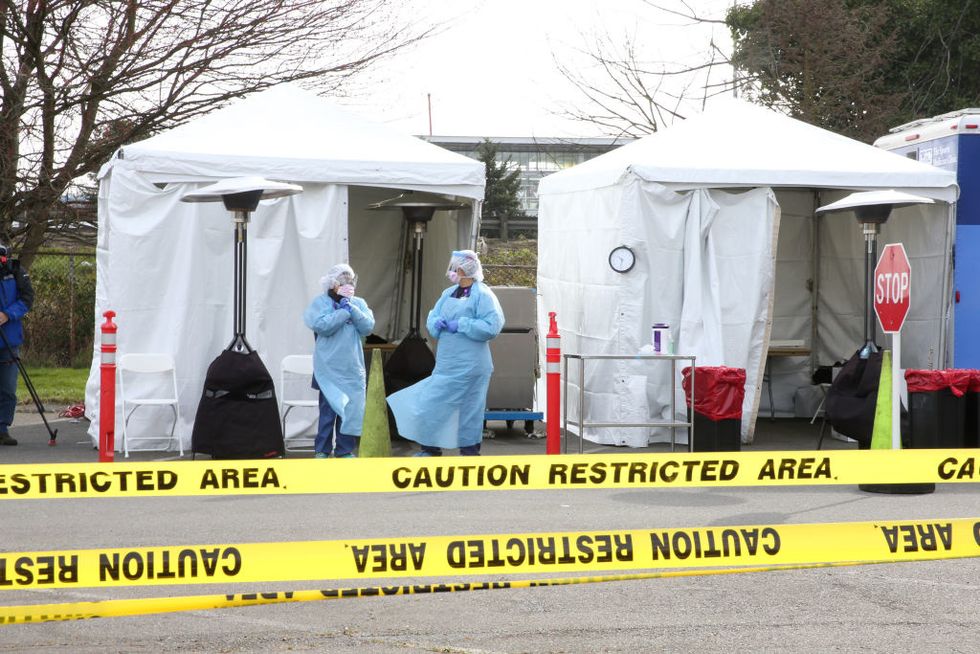 A makeshift testing facility in Seattle, Washington Getty Images
The problem is that our entire economy is set up around the same kind of short-term thinking that drive publicly traded corporations. The mentality that "government should be run like a business," leads to cost-cutting measures that only look to the current budget, with minimal consideration given to the kind of intermittent crises that we are bound to face—like a viral pandemic. If it's not particularly likely to happen before the next election cycle, it's better not to even worry about it. This is the kind of thinking that led Donald Trump's administration to push for cuts to the CDC and to disband their global health security team in 2018.

But the systemic issues go much deeper than that and started long before Trump took office. Trump and his ilk can't be blamed for the fact that the US has two hospital beds for every 1,000 citizens. Nor are they responsible for the fact that almost every aspect of America's critical infrastructure receives a near-failing grade from the American Society of Civil Engineers. This includes airport congestion—which has already become an issue with the current pandemic—and important shipping routes that we will rely on to maintain the movement of necessary goods as conditions around the country worsen.
Add to those issues the fact that we have a massive population of prisoners sharing tight quarters with poor sanitation, a substantial homeless population with no way to quarantine, a dearth of worker protections like paid sick leave, and it becomes hard to imagine how we'll get through this unscathed. And, of course, this is still ignoring the elephant in the room—a for-profit healthcare system that discourages millions of uninsured and underinsured Americans from seeking medical advice or treatment until it's too late.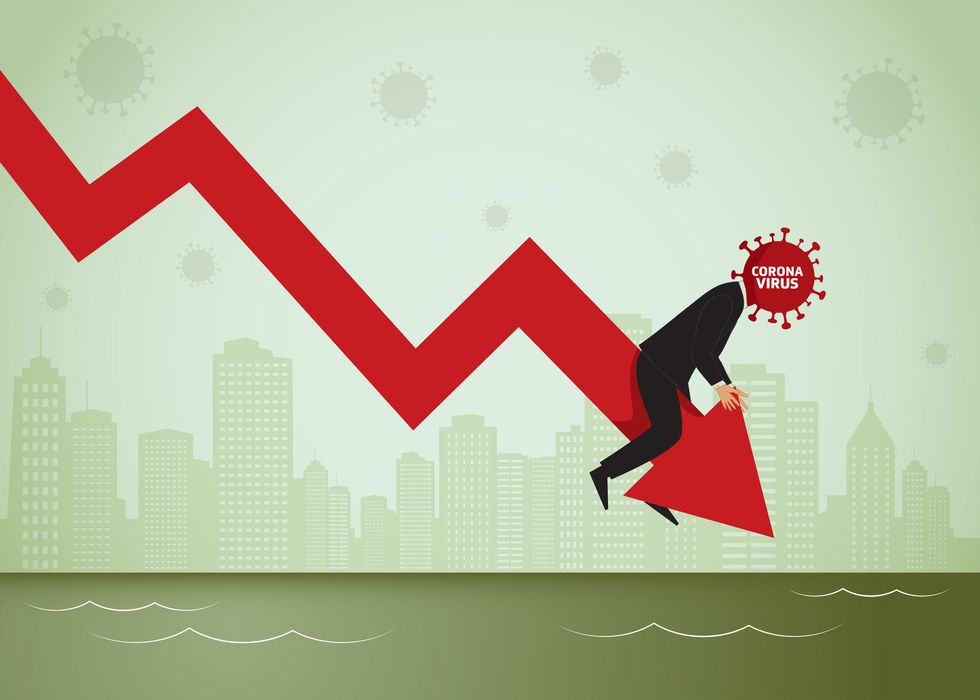 Getty Images
Meanwhile, the economic hardships imposed by the necessity of social distancing are being exacerbated by an economy that is heavily reliant on the whims of financial speculators who create an echo chamber of divestment that heightens every crisis. The stock market, in other words, is going crazy in the worst possible way. It's too soon to say how thoroughly the weaknesses in our system will be tested by the developing pandemic, but even in the best case scenario they are going to be strained to a terrifying extent.

Fortunately, there are efforts underway to shore up some of the most obvious breaking points so we can avoid complete societal collapse. They may turn out to be too little too late, but even if they get us through this current disaster, how long will it be before the next one hits? The best models of climate change predict that we are nearing an era that will be ruled by powerful natural disasters and refugee crises that will threaten economic stability and critical infrastructure and may heighten the threat of infectious diseases. Temporary, reactive measures cannot save us if the next crisis hits a little harder or when multiple crises overlap.
A strong social safety net like the one the US tried to develop under FDR would serve to mitigate the damage from this kind of crisis. But modern American politics has worked for decades—in an effort that became an object of worship under Ronald Reagan—to whittle the welfare state of the New Deal and the Great Society down to a fragile bare minimum.
We need to take seriously the voices of politicians like Bernie Sanders and Alexandria Ocasio-Cortez who have called for the kind of broad, sweeping legislation that stands a chance of upending the rigid political dynamics that maintain the status quo. The Green New Deal would be a good start. The alternative, one way or another, is the end of our civilization and the world as we know it.
His latest insanity involved claiming that the coronavirus is both "the common cold," and a bio-weapon designed by China.
There are few people in American media as reliably unhinged and distasteful as Rush Limbaugh.
But to many in his audience of more than 15 million weekly listeners, Limbaugh is a bastion of straight talk. Since the late 1980s, his brand of antisocial advocacy has twisted and infected the nation's political conversations.
What makes Limbaugh so compelling is that he never pulls punches or offers any deference to basic human decency. He will fight for the rights of smokers to choke a restaurant with clouds of thick smoke, will happily claim that Planned Parenthood is committing genocide against black Americans, and will never shrink from accusing Michael J. Fox of "exaggerating the effects" of Parkinson's disease with no evidence beyond the fact that Limbaugh himself can do a morbid pantomime of wild muscle spasms. To regular listeners, these unequivocal stances reflect Rush's willingness to stand up to the leftist authoritarians and the woke scolds of the world. He speaks truth to power… Unless of course Republicans control the levers of power, in which case Rush will speak in power's defense.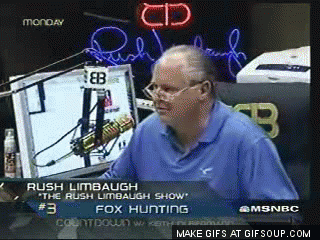 That was the case on Monday, when Rush managed to argue—in the span of a few minutes—that COVID-19 (colloquially known as the coronavirus) is both "the common cold," and "a Chicom laboratory experiment that is in the process of being weaponized." Chicom is a reference to China's ruling Communist party, whom Rush is accusing of deliberately manufacturing this new strain of virus as a form of biological warfare. But due to their incompetence or some nefarious ulterior motive that involves getting everyone only mildly ill, their biological weapon is—according to Rush—"the common cold."

As evidence of its mildness, Rush cites the low mortality rate—"98% of people who get the coronavirus survive." Of course, this would seem to undermine the sinister plot that Rush has espied through his omniscience, if not for his clever discovery of Chicom's co-conspirators: the mainstream media. "The drive-by media hype of this thing as a pandemic, as the Andromeda strain, as, 'Oh, my God, if you get it, you're dead.'"
There's no doubt that the media has a history of exaggerating the potential danger of emerging epidemics—ask anyone who had the Swine flu and shrugged it off. It makes for a gripping story to tell viewers that a new disease that's spreading is coming to kill them and their loved ones, but the famously pro-communist "drive-by" media is legitimately too distractible to really focus on overblowing a health crisis while also covering election drama, Megxit, Trump's pardons, and Harvey Weinstein. So if they are giving the coronavirus too much hype, it can only be part of an elaborate conspiracy with Xi Jinping and the Chinese government…but to what end?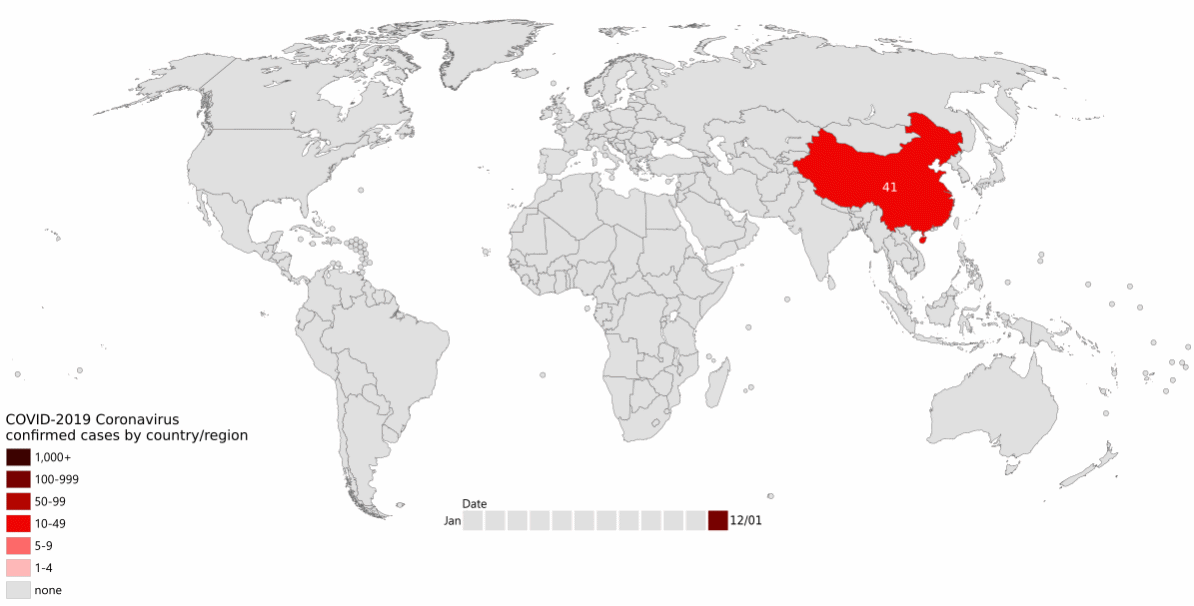 Wikimedia
As always, in times of uncertainty, we turn to Rush Limbaugh for the answer: "The way it is being weaponized is by virtue of the media, and I think that it is an effort to bring down Trump, and one of the ways it's being used to do this is to scare the investors, to scare people in business. It's to scare people into not buying Treasury bills at auctions. It's to scare people into leaving, cashing out of the stock market—and sure enough, as the show began today, the stock market—the Dow Jones Industrial Average—was down about 900 points, supposedly because of the latest news about the spread of the coronavirus."

Fascinating. Meanwhile the fact that nearly 3,000 deaths have occurred—with more than 80,000 confirmed cases and outbreaks spreading in Italy, Iran, South Korea, and Japan—must all be part of the hype. The fact that the virus is wildly contagious and not well understood is part of the hype. The facts that the entire city of Wuhan—with a population of over 11 million—is under strict quarantine and that containment measures throughout China are disrupting office work, manufacturing, and transportation is all part of a clever, convoluted plan to hurt the presidency of Donald Trump. The fact that tourism and travel have dropped off around the world, and that various companies have reported losses as a result of the virus and the measures taken to combat it, it's all just calculated to undermine President Trump's singular metric of success—the surging "economy" embodied in the stock market.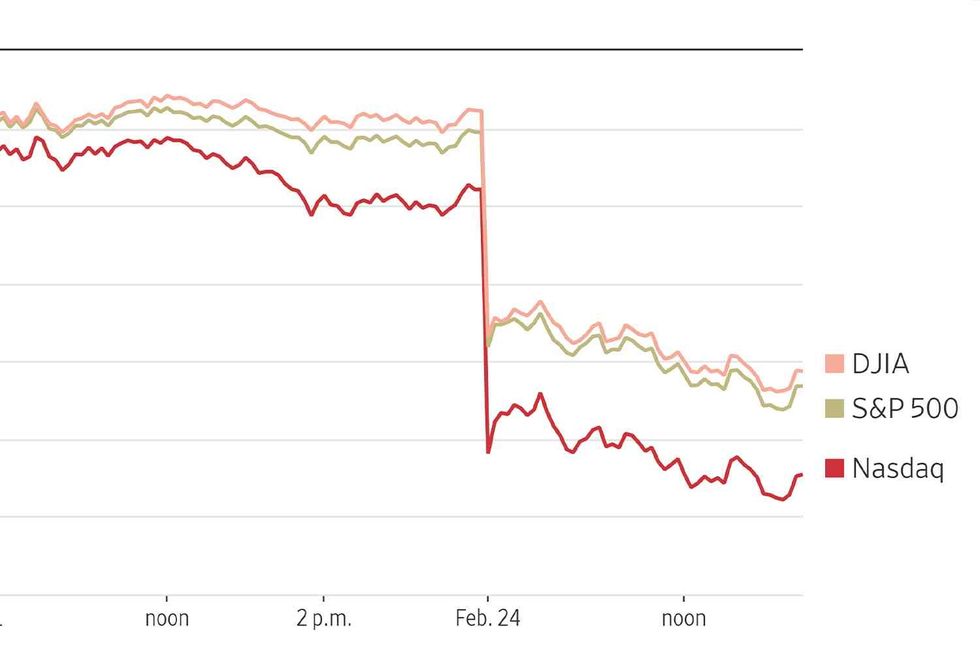 Because there can't possibly be anything wrong with structuring economic policy entirely around a foundation of volatile investor speculation and a faith in limitless corporate growth. No, the strategy would be perfect if it weren't for the forces of evil aligning against Donald Trump to control global events in a way that hurts his political chances. In that sense, it's only reasonable for President Trump to dangle military aid in front of foreign leaders in exchange for dirt and propaganda against his political rivals. It's the only way he can fight back!

This latest drama comes on the heels of Limbaugh's receipt of the Presidential Medal of Freedom during President Trump's State of the Union Address—an honor which Limbaugh pretended to be surprised by. Some people have criticized the decision to give such a prestigious award to the kind of man who would glibly invent conspiracies about Chinese bio-weapons and downplay the severity of a little-understood contagion. On the other hand, if anyone should know about the dangers of viral respiratory infections—and the deadly pneumonia that can result in people with compromised systems—it's surely Rush Limbaugh. He is, after all, currently being treated for stage four lung cancer and is unlikely to recover.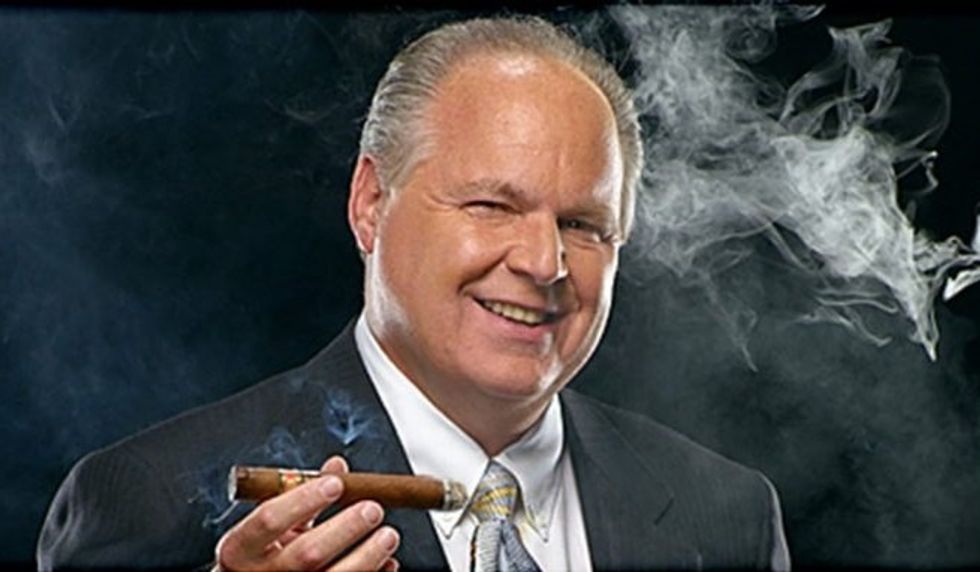 That last point is worth restating: Rush Limbaugh most likely will not be with us for much longer. It's an important thought to keep in mind when things seem bleak.

Statistical anomalies in previous elections point to frightening vulnerabilities in how votes are tallied
In 2012, Mitt Romney was declared the winner of the GOP's Iowa caucus by a margin of just eight votes.
That result was announced at 1:30 AM on Caucus night, but two weeks later there was a different result. The Republican Party of Iowa had performed a recount of the votes and Rick Santorum—a candidate broadly considered too far outside the mainstream to stand a chance in the general election—was revealed as the actual winner. By that point of course it was far too late. Romney had already gotten the media attention that comes with winning, and had capitalized on that sense of momentum to achieve a solid victory in the New Hampshire primary.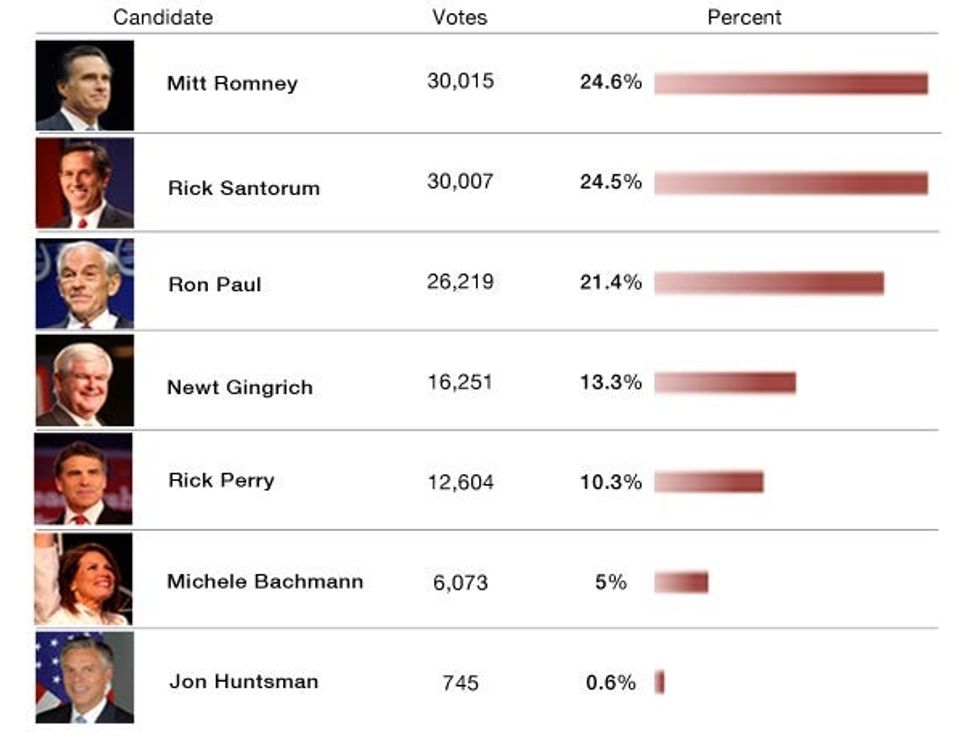 Business Insider
If that sounds familiar, that's because there is currently a "recanvassing" under way in Iowa to reassess the results of a contest that will once again be decided by a very slim margin. Though Bernie Sanders managed a clear victory in the popular vote, Iowa's elaborate system for awarding "State Delegate Equivalents" at each caucus location (to then be converted to the actual delegate count that determines the Democratic party's nominee), has resulted in a near-tie between Senator Sanders and former South Bend Mayor Pete Buttigieg.

The official winner may not be announced for days or weeks—or it may never be known at all. In the mean time, Pete Buttigieg declared himself the winner on Caucus night, and has been treated as such by much of the media. With Sanders looking more and more like the frontrunner, Buttigieg is seen as much more palatable to moderate general election voters, and many powerful donors and party insiders would much rather he get the nomination. With that in mind, the chaos in Iowa—particularly the faulty app and the release of partial results that seemed to favor Buttigieg—has already sparked speculation of party corruption and election rigging for Sanders voters holding on to memories of the DNC's favoritism toward Hillary Clinton in 2016, but it may be more instructive to consider the model of the 2012 Republican primaries.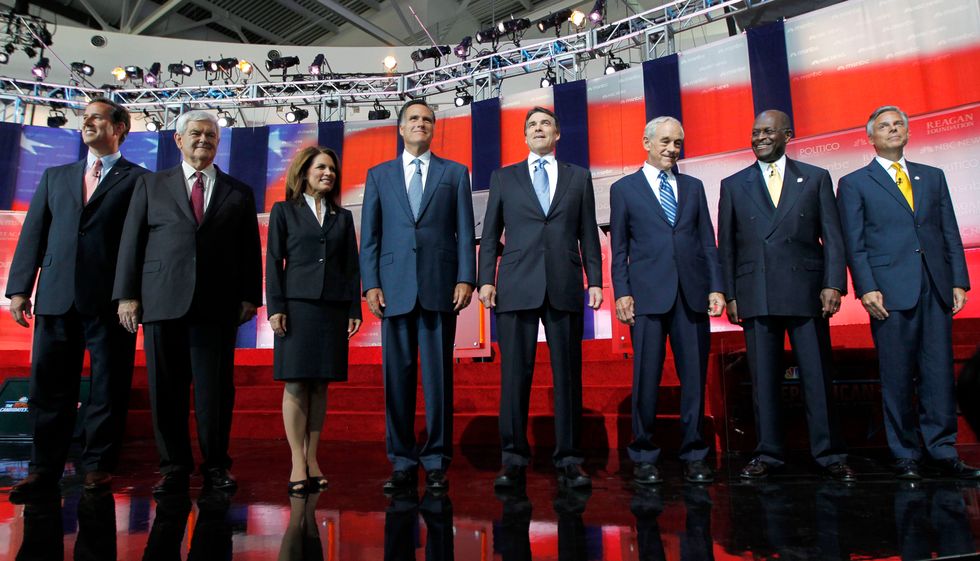 AP
2012 was not a simple year for Republicans in the way 2016 was for Democrats. Much like the 2020 field of Democratic candidates, there was not a presumptive nominee, but rather a wide field of contenders with centrists—Mitt Romney and Jon Huntsman—struggling against the enthusiastic support for more extreme candidates like Rick Santorum, Newt Gingrich, and Ron Paul. Polling seemed to swing wildly, from one candidate to the next until—according to some accounts—the RNC tipped the scales toward the man considered the most electable (read: bland and inoffensive) candidate.

The case of bias for Romney is as elaborate and detailed as every budding conspiracy theory about Acronym, Shadow Inc., and the new "Voter Protection Director" for the Nevada State Democratic Party—especially considering the contentious events of the Nevada Democratic Party state convention in 2016. Likewise, the overwhelming variety of those details is evidence—depending on your perspective—of either how insidious the whole plot was, or of the depths of its adherents' delusion.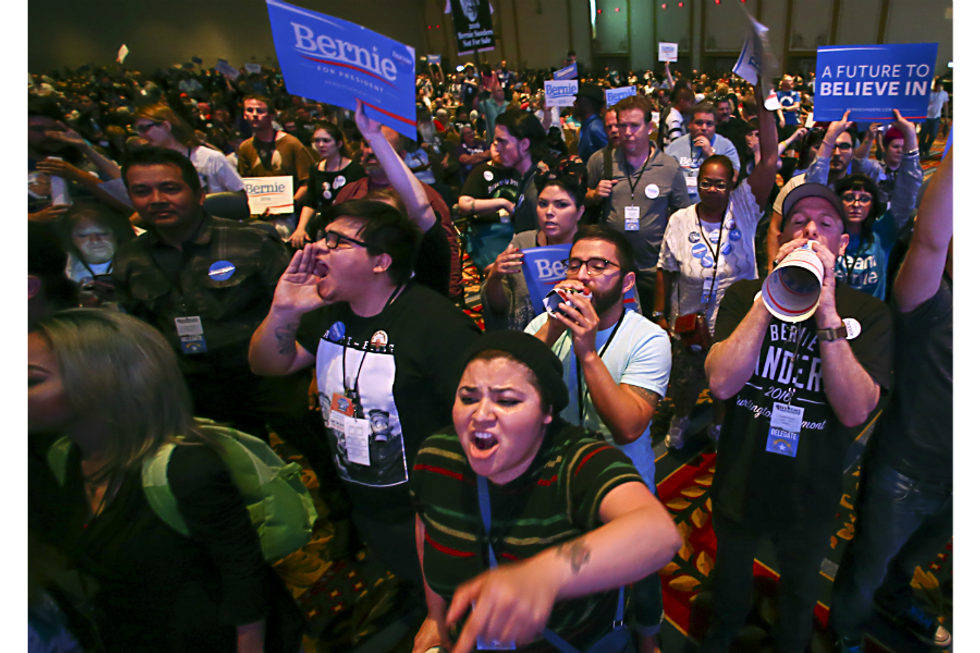 Chase Stevens/AP
For a start, there were a variety of issues in that year involving states attempting to increase their influence on the process by ignoring the traditional schedule for primaries and caucuses, skipping ahead of other states. The RNC was conflicted about how to handle that tactic, but many voters felt that the resulting schedule favored Romney's candidacy by allowing states where he polled well to vote earlier, further emphasizing the sense of building momentum. That much was acknowledged as a problem even at the time, but there are other issues that remain murkier. Was the miscount in Iowa intentional? Did the RNC combine fundraising with Romney's campaign too early? Did they pad Romney's delegate count to prevent a brokered convention? Most worryingly of all, were votes flipped to Romney in state primaries that lacked a paper trail?
Whatever the confusion in Iowa, the caucus system is at least public and relatively easy to monitor. But primaries that are carried out with all electronic voting machines are a black box, and the state parties run the show with little oversight. Unlike a federal election, primaries are fundamentally under the purview of political parties. They can choose their nominees however they like. They have chosen a roughly democratic system for a variety of reasons (to build enthusiasm, test candidates' campaign skills, and avoid voter alienation) but if they wanted to undermine the integrity of that process in order to ordain the candidate they see as standing the best chance in the general election, there would be little to stop them. According to two statisticians, Francois Choquette and James Johnson, that is exactly what happened in 2012.

Choquette and Johnson, 2012
When Choquette and Johnson analyzed vote totals out of hundreds of precincts, they discovered a strong tendency for voters in larger precincts to favor Mitt Romney more than did voters in smaller precincts. These results have been criticized as attributable to demographic differences between precincts, but when researchers looked at results out of precincts that kept paper records of voting, that tendency disappeared. Likewise in Utah—where Romney was always expected to win by a wide margin—the results showed no shift in preference toward Romney based on the size of the precinct. The trend was so distinct in competitive precincts with no paper trail that Choquette and Johnson were unable to account for it as a result of chance or any factor other than deliberate fraud. According to their work, Romney received approximately a 7% bump in the most populous precincts in multiple states as a result of votes flipped from other candidates—allowing him to secure the nomination handily.
Choquette and Johnson's evidence was brought to court in a lawsuit filed by a third statistician at Witchita State University. Beth Clarkson works in the university's National Center for Advanced Materials Performance, and was inspired by Choquette and Johnson's research to investigate similar anomalies in Kansas's 2014 general election—larger precincts trending toward Republican candidates. She sued to gain access to more detailed records in order to build a statistical model that could shed light on the question of fraudulent vote flipping. Unfortunately Clarkson's efforts were stymied by Kansas Secretary of State Kris Kobach, who argued that releasing the time-stamped records could somehow violate voter anonymity.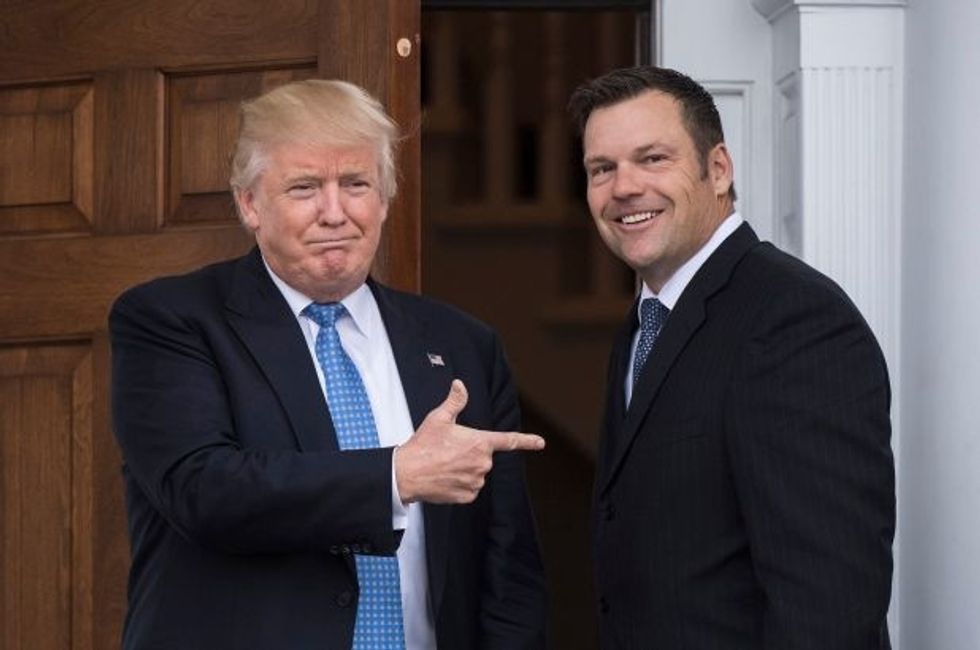 Kris Kobach with Donald Trump
You may recognize Kris Kobach as perhaps the greatest enemy of unbiased elections in recent American history. Kobach is the man whose voter fraud commission pushed the false narrative of millions of fake voters in support of discriminatory voter ID laws, and whose apparent political and white-supremacist motivation for adding a citizenship question to the national census resulted in the Supreme Court rejecting the change—which would have led to dramatic under-counts of immigrant populations, and a shift in congressional districts that would disproportionately benefit the Republican party. While he was able to halt Clarkson investigation, many have credited her lawsuit as being instrumental in the push for recently enacted legislation which now requires post-election audits in Kansas. Reached for Comment, Clarkson admitted that this was a step in the right direction, though she was "not impressed" with the audit techniques being utilized.
Overall, Clarkson seems pessimistic about the fidelity and security of our elections, saying that there is still a lot of potential for fraudulent vote counts, "anytime there's no way to check a paper record." This does include several races in the Democratic primaries, though the New Hampshire primary taking place today is utilizing paper ballots, which leave less room for tampering. Nationally, there has been a push to move toward that model, but for those of us who will be casting votes on electronic machines, Clarkson advocated that, where possible, voters check their electronic vote against the paper record to ensure their vote was recorded correctly. And for all voters, Clarkson had a reminder to check your voter registration online in advance of every election. With recent voter purges Clarkson says there have been many cases "of people being surprised when they arrive at the polls to vote and find out, 'Oh, they don't have me down as a registered voter.'"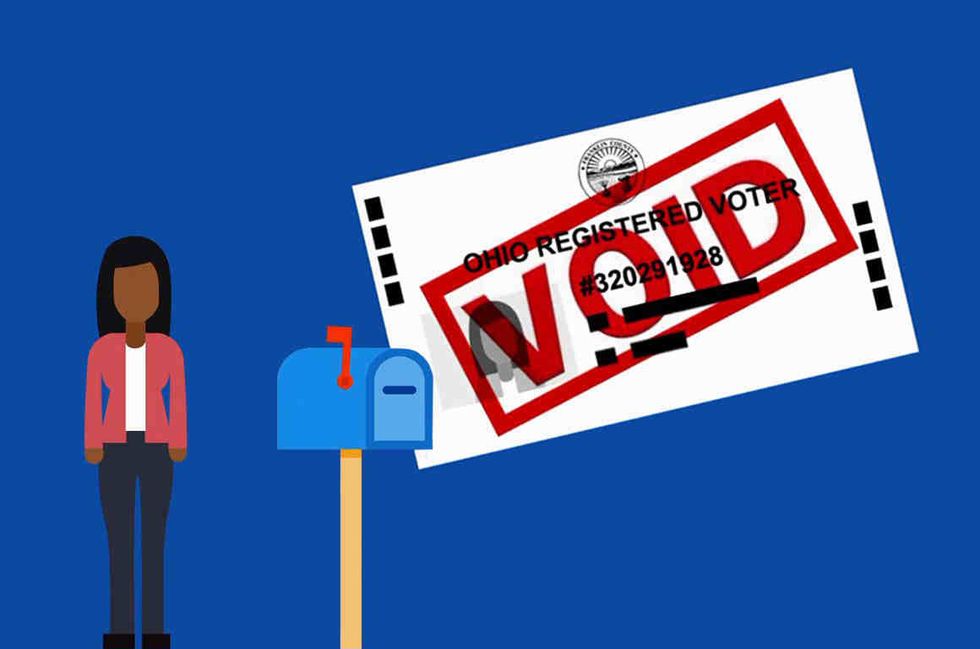 ACLU
Beyond that, electronic voting remains so opaque and vulnerable, all we can do is continue pushing for paper-based voting systems and remind our nation's political institutions—as the primary process continues through New Hampshire and beyond—that we are watching them; that we will not take any irregularities lightly.
We have his public explanation, but it's worth considering his underlying motivation
On Wednesday afternoon Mitt Romney announced that he would be voting to convict President Donald Trump in the Senate's impeachment trial.
Romney became the only Republican to join in the Democrats vote to convict Donald Trump for abuses of power and remove him from office—a vote that failed, 48-52, resulting in President Trump's acquittal. The move also immediately inspired mass calls to remove Romney from the senate with #RecallRomney trending across Twitter almost immediately after the announcement was made public. Romney explained his reasoning in a statement on the senate floor, saying of Trump's crimes that "Corrupting an election to keep oneself in office is perhaps the most abusive and destructive violation of one's oath of office that I can imagine." But that only tells us what he wants us to know. There remains a question of his underlying motivation, and there are four basic theories that cover the full gamut of possibilities.
Theory 1: He Did it Because He's Brave
According to this theory, Romney is essentially telling the truth. He believed Trump was guilty, and he was too principled to vote for acquittal for reasons of political expediency. Trump and his fellow Republicans would not be jumping down his throat if he had gone along with the rest of the party, but it would also have given Donald Trump a stronger case to claim that the whole impeachment was a sham. Romney's vote wasn't enough to secure a conviction, but if every Republican had voted in lockstep against conviction, then the whole enterprise would could easily have been written off by Trump and his allies as a witch hunt by the wacky Democrats, and Trump would have leapt immediately to claiming exoneration. Romney basically sacrificed himself for the cause of democracy and justice. This is the theory behind another trending hashtag #MittRomneyIsMyHero.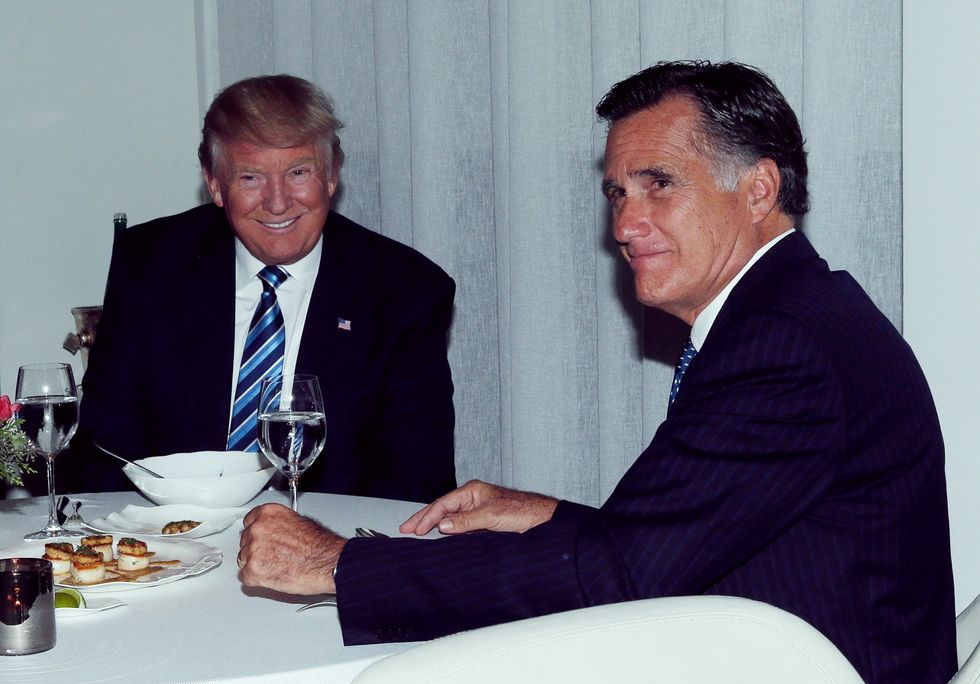 John Angelillo
Theory 2: He Did it Because He's Stupid
Did he really think a nice speech and a surprise vote was going to turn the tides? Trump and his loyalists (i.e. most of the Republican party) have no problem abandoning a former ally and throwing him under the bus. They've turned against John Bolton, Steve Bannon, Jim Mattis, Michael Cohen and countless others from Trump's inner circle. They feel no qualms about declaring a Trump-critic like Romney a traitor—which is why #RomneyIsADemocrat is also trending. But it's not as though the Democrats will actually welcome Romney to their side. They still disagree with him on basically everything. All he managed to do, according to this theory, is to isolate himself and doom his political future.
Theory 3: He Did it Because He's Jealous

Mitt Romney ran for president against Barack Obama in 2012. When he was pressured to release his tax returns he gave in, and it likely contributed to him losing the election. Donald Trump has never given in to any sense of duty, dignity, or decorum, and that's why he was elected president in 2016. Mitt Romney was a vocal critic at the time and has remained a critic because, according to a tweet from Donald Trump Jr., "Mitt Romney is forever bitter that he will never be POTUS."
Theory 4: He Did it Because He Can

This is the theory that takes all the other theories into consideration, and adds some more logistics. Romney may be brave, stupid, and jealous, but the major reason he felt free to vote for Trump's removal is that he had no reason not to. Romney serves as Senator for the state of Utah, where the Mormon church and Mormon values still reign. Unlike many other Christian groups in America, the Church of Latter Day Saints has had a hard time getting behind a crass, philandering, biblically illiterate man. In 2016 Utah gave Evan McMullin more than 21% of the vote—the highest proportion a third-party candidate received in any state—largely on the basis of his #NeverTrump campaign. Utah is the one Republican stronghold where that tactic plays reasonably well. On top of that, Romney won't be up for reelection until 2024. He may be playing a long game, hoping that Trump will have lost popularity by then.
Regardless of your opinion, it's worth checking out Romney's statement before jumping on one of these hashtag trends.
Short answer: Everything.
In a small office inside an old theatre in New Hampshire, Bernie Sanders' supporters gathered to share their highlights and challenges after a day of knocking on doors.
"I'm feeling grateful," said one, before relaying a story about a surprisingly friendly interaction with a Trump supporter.
Others said they were feeling energized and inspired, despite a low response rate after hundreds of knocks and hours out in the February drear. "Just talking to one person who thanked me for being out in the field made it all worth it," said another.
The moment one person said they were feeling cold, organizers leapt into action, tossing hand-warmers to the shivering canvasser.
The New Hampshire primary was in one week. Some organizers had been in the small office for months, others had been working steadily since 2016, and still others were canvassing for the first time, but the energy in the room was palpable and warm and beautifully chaotic and fundamentally communal, much like a lot of Bernie Sanders' campaign. That has something to do with its success.
As Sanders has steadily risen in the polls, major media outlets have been forced to examine his campaign and the massive base of supporters—many young, social media-savvy, and passionately fired-up about their 79-year-old patron saint—that have propelled them to this place. Some portray his supporters as a battalion of belligerent young white males; others insist that Bernie's base is the most diverse of all; still others view them as lazy, entitled kids.
Doubters have been forced to interrogate that last opinion, because it's clear that Sanders' campaigners are anything but lazy. Sanders' campaign has garnered the highest number of individual donors of any candidate, amassing $1.3 million after discovering that a super PAC planned to air a negative ad about him. He raised nearly $100 million in 2019, topping Pete Buttigieg by some $25 million without the help of major corporations. His supporters are fervently keyed in, texting, tweeting, and—as it became clear in that New Hampshire room—getting out into the streets, taking the time to talk to people.
So what's behind Sanders' sweeping, grassroots appeal? And who are his supporters, really?
The easiest answer to this question is that there is no single answer. Bernie Sanders' supporters are working-class Americans, disaffected progressives, starry-eyed optimists, frustrated pessimists, devil's advocates, and God-fearing moralists. They are not a monolith. In that way, they might just represent the actuality of the American people—in all their contradictions, devotion, and passion—better than any other base.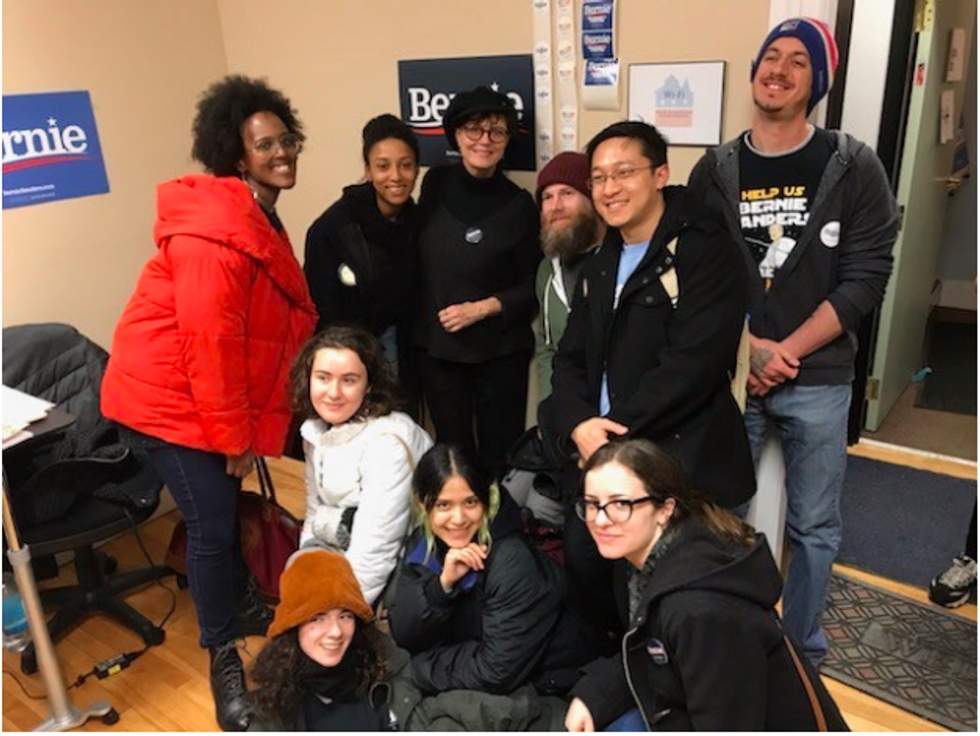 blackgirlnerds.com
"Not Me, Us" and the Fight Against American Hyper-Individualism
Miss Toni took a while to open the door. She was wearing a blue onesie covered in hearts, and her room was filled to the brim with records and posters from the 1980s. When she finally was able to open the door, a flock of birds fluttered away from her porch and took to the sky.
She told us she was already a Bernie supporter and began shakily filling out the sign-up sheet we gave her. She was registered to vote by her deadname (the male name she was given at birth), but she asked us to refer to her as Miss Tami. She had been an activist in the 1960s, she said. Bernie felt like the closest thing to bringing back the spirit of those days.
We also met a gun-owning Republican from Hawaii who, after hearing about Bernie's support for ending student debt and his dedication to ending the spirit of xenophobia in America, pledged to lend his support for Sanders on Tuesday.
Among the Trump supporters we met, their number one reason for supporting him was always the economy. "Me and my daughters are doing well."
"It would be nice if everyone could do as well as you and your family," we said. He shrugged. By the end of the conversation, he was genuinely smiling when he said, "I'm still voting for Trump. But I hope you guys keep going."
If Sanders does win the Democratic nomination, the economy will be paramount to the ensuing debates. While the currently strong American economy mostly exists thanks to Obama-era policies, and while many economists project that we are headed for a recession, it is true that Trump protects the Wall Street interests that continue to ensure cutthroat capitalism's success in America and around the world. These very successes are what have led America's income inequality levels to approach Depression-era extremities.
Sanders represents a synthesis of radicalism, anticapitalism, and a realistic understanding of the threats that America and the world are facing. To many, he also—contrary to the entire Bernie Bro narrative—represents human compassion. His campaign slogan, "Not Me, Us," is a refreshing antidote to the egotistical and self-absorbed nature of politics and neoliberalism in America. It's a reminder that—like the best stories, or the best policies—Sanders is just a vessel for something much greater, a catalyst for a dream.
Sanders' Internet Army and the Limits of Tolerance

It's unfortunate that Bernie's campaign has been plagued by cruelty and disunity—and that these aspects of his base have been so heavily emphasized by the media. It's also true that some of Bernie Sanders' supporters can be cruel, and many need to learn to listen. If Bernie's supporters are serious about his campaign, they need to understand that shutting down discourse and rejecting all contention isn't the way to go about winning support.
But it's also true that in this America, people are dying thanks to medical bills they cannot pay, and students graduate into a world where they pay exorbitant amounts of money each month for years at a time in order to combat their student debt.
In light of this, the rage that many of Sanders' supporters feel at so-called centrists is born out of a deep-rooted desire to see real change instead of more of the same. It's a realization that trusting in the system and tolerating hatred is essentially the same thing as allowing them to continue.
It's also true that we're embroiled in a climate crisis, and kids are being born into a world of increasingly rampant natural disasters and apocalyptic scenarios playing out in real time, all while watching their politicians and parents do nothing. Bernie's Green New Deal is the most ambitious plan to address climate change of any candidate's; it also promises to renew the American economy, refurbishing our crumbling infrastructure by providing millions of new jobs in green, clean manufacturing. The strength of his plan has caused Sanders to gain the support of major environmental organizations across the country.
In a world where families can easily be crushed by a medical bill or a college admissions fee, Sanders' policies read like gospel for the disaffected. The Green New Deal, Medicare for All, free college, immigration reform, and an end to endless wars are plans that promise actual change, packaged in a promise that can be paid for with the money that the United States spends on wars and allows to burn holes in Jeff Bezos's pockets.
The gospel-like, lyrical, and consistent nature of Sanders' policies are at the center of his movement. Like "Make America Great Again," Sanders' policies appeal to the idea that politics is theatre, that the best politicians present a show and offer a vision, a possibility, a roadmap for a movement that will get people out of their homes and into the field.
Lighting the Fire
There's a video of Bernie Sanders in Vermont, teaching his campaign manager, Faiz Shakir, how to use a wood-burning furnace. Sanders is wrapped in a coat, bent over a cast-iron stove. "You want the flames from the small guys—are you recording me?" he says, stopping and then clarifying, "You want the small wood to be able to catch onto the big logs."
With his thick Brooklyn accent and his dedication to the task at hand, Sanders has intensely grandfatherly energy—but his statement also seems like it could suffice as his campaign slogan. He's a small flame, and when he began as a Vermont senator in 2016, he seemed to face impossible odds.

But every fire starts with a single spark. As the infamous poster that's a fixture in many dorm rooms reads, "Thousands of candles can be lit from a single candle, and the life of the candle will not be shortened. Happiness never decreases from being shared." It's a quote from the Buddha, but it could also apply to the ripple effect that Sanders' campaign has launched.
Change is catching and intoxicating. The spirit of hope and unity and fire that lights Sanders' campaign is a balm against apathy and hopelessness, against racism and xenophobia and economic inequality. It's about what human society can achieve—what we should achieve—what we are morally obligated to achieve.
Still, many of Sanders' supporters are realistic. We are well-aware that even if Sanders is elected, it will still only be the beginning of a long, hard fight against deep-rooted economic inequality, corporate greed, and dangerous capitalism-driven climate disaster in America and around the world. We know that visions and dreams mean nothing if the work isn't put into achieving them—the long, endless nights and the decades spent carving out policies.
But it's impossible to even begin the work if the dream isn't there in the first place, and if the people who believe in the dreams aren't allowed in the rooms where the work is done.
Regardless of what happens in Iowa and on the campaign trail, even the most fervent Bernie Sanders supporters believe that cruel attacks are not the answer. Even Alexandria Ocasio-Cortez—one of Sanders' biggest supporters—has stated that Democrats need to support whoever is elected in order to beat Donald Trump. If anything, we will need more unity and love and compassion for each other in the coming months than ever before.
We shouldn't have to compromise our values and allow people to die while others languish in the shade of the wealth and power they did nothing to earn, save being born in the right place.
Voting in Iowa closes at 7:00 PM CST in Iowa today, February 3rd. Find your caucus site here.

The opportunity to change your party affiliation in New York State closes February 14th.
Find out how to vote for Bernie in the primary in your state here.
His announcement that he will not be voting to allow witnesses in the impeachment trial has lasting implications for the country and the world.
Behold the arbiter of your future.
This is the Senator who has decided that there is no need to call witnesses in the impeachment trial of Donald Trump—a man who used his powers as president in a deliberate attempt to subvert the electoral process with the assistance of a foreign government. Lamar Alexander, a 79-year-old white man from Tennessee, has unilaterally determined that Donald Trump's crimes are not worthy of punishment from the only body with the capacity to hold him accountable. As a result, by the time you read this, Donald Trump will likely have already been acquitted and the impeachment will be over.
Alexander's claim—according to the statement released Thursday night—is that Trump's misdeeds have already been proven, and there's no need for the public spectacle of witnesses attesting to those misdeeds on national TV. He asserts that, while withholding military aide from Ukraine until they publicly announce an investigation into your political opponent may be a bad look, it doesn't rise to the "Constitution's high bar for an impeachable offense." And it is not the Senate's role "to remove the president from office and ban him from this year's ballot simply for actions that are inappropriate."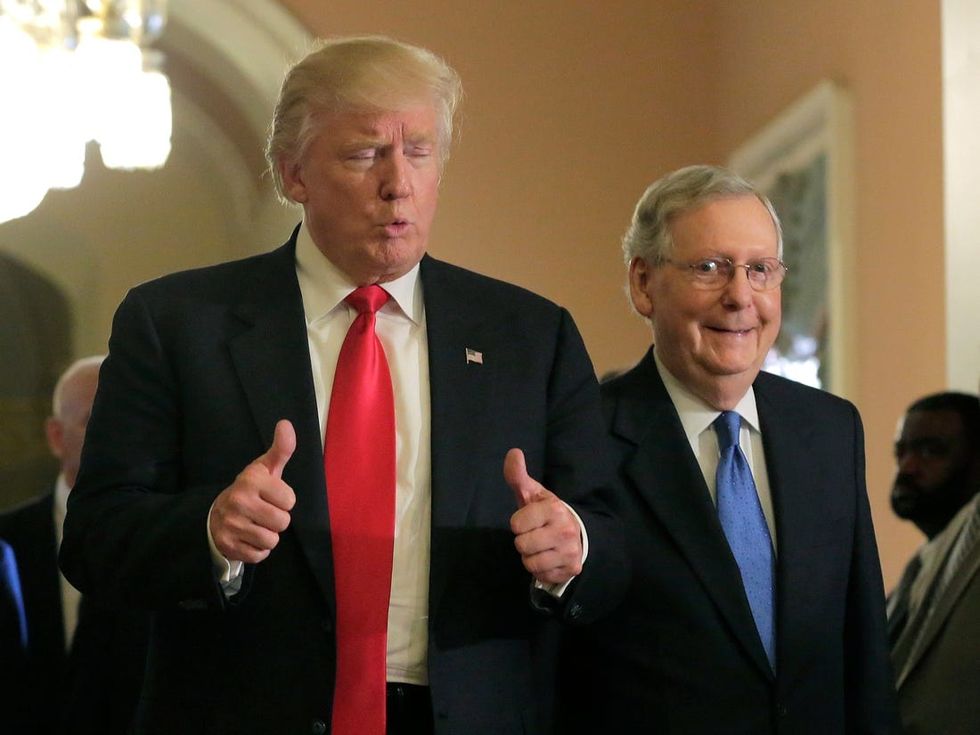 Joshua Roberts/Reuters
There is some truth to this statement, but it's a small truth that helps to conceal a much bigger lie. Granted, there are varying legal opinions on what constitutes "high crimes and misdemeanors," and there was essentially zero chance that the Senate's Republican majority was ever going to vote to remove Donald Trump from office. So why bother going through the motions of a legitimate impeachment trial—allowing new evidence and witness testimony? The answer lies in another portion of Alexander's statement: "Our founding documents provide for duly elected presidents who serve with 'the consent of the governed,' not at the pleasure of the United States Congress. Let the people decide." This, despite the fact that more than 70% of Americans wanted the impeachment trial to include witnesses.

And how should the people decide if there are facts and perspectives being deliberately withheld? That has been the explicit goal in Mitch McConnell's handling of the impeachment trial. Presumably, he knows what the Watergate hearings did to Richard Nixon's approval rating. Nixon resigned because the American people were exposed to who he truly was, and they turned against him. If not for those hearings, he would have remained popular. Likewise, according to a recent poll, 65% of Republicans consider Trump's interactions with Ukraine "normal presidential behavior." Consent is not truly consent if it is not informed.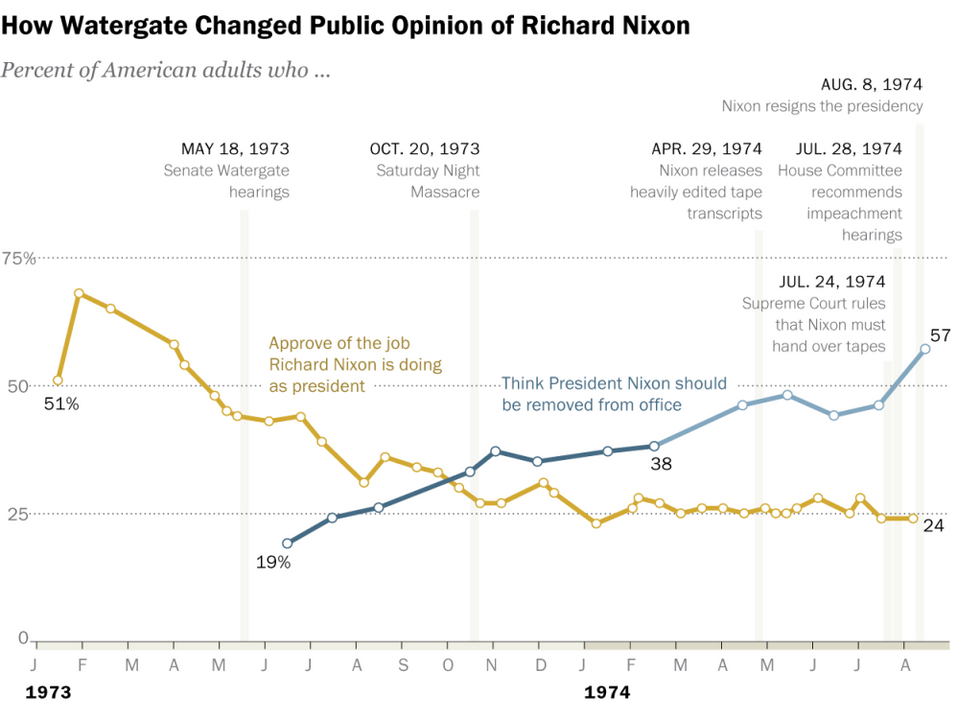 Pew Research Center
So while Lamar Alexander may be convinced that Trump acted inappropriately, without the spectacle of witness testimony, that is not the message many Americans are going to receive. They will hear that Trump has been exonerated. That impeachment was a nothing-burger and a distraction. And they probably won't read John Bolton's damning book. And Lamar Alexander knows that.

On Tuesday, Donald Trump will give his State of the Union address and will have ample opportunity to move the national conversation past his multiple deliberate attempt to interfere with the democratic process and to obstruct the various efforts to expose him—including instructions to "take out" a troublesome diplomat. Normal presidential behavior? He was trying to cheat in the election, and apparently—as long as your political party controls the majority in the senate—that's allowed.
Senator Alexander has cleared the way for the American people to carry on with normal life without truly confronting the corruption that defines Donald Trump's interactions with the world and everyone around him. He has made it increasingly likely that Donald Trump will continue to use the immense powers of the presidency to pursue personal and political ends at the expense of global stability, our democratic institutions, and a sustainable future. Lamar Alexander—along with 50 of his colleagues—will soon have effectively rubber-stamped election rigging.
But in his statement there is no indication that this choice has any significant ramifications. He is willingly obscuring the real stakes, partly out of party loyalty, and partly because his age makes those stakes abstract. He will be dead soon. Maybe not this year or the next, or even twenty years from now, but in comparison to the young membership of the Sunrise Movement—for instance—his thinking is fundamentally and frighteningly short-term.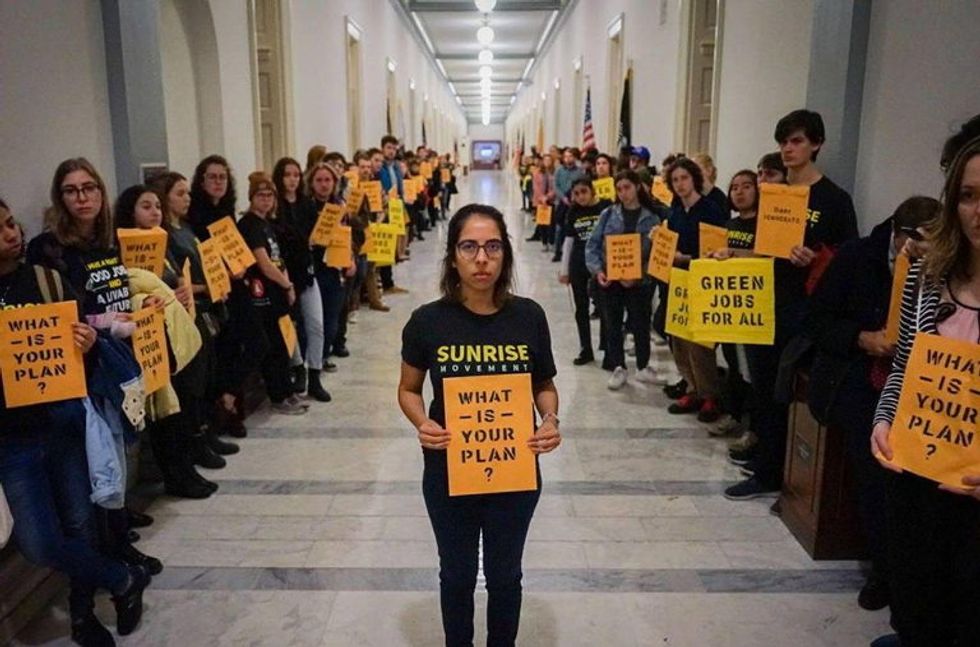 Lissy Romanow
If Donald Trump wins re-election in November, it will likely be the outcome of various efforts to leave Americans misinformed and disenfranchised and will almost certainly result in the United States fully abdicating our duty to address climate change—the "Chinese hoax"—with the urgent and intensive action it requires. And there will be many people to blame, but few who were as well-positioned to alter this horrific course of events as Senator Lamar Alexander.

So congratulations, sir. In your waning years you managed to ensure that American democracy and a livable climate are on their way out too. Way to go.
The president attended the annual anti-abortion event in Washington, D.C.
Today, Donald Trump became the first-ever president to attend the March for Life.
The March for Life—not to be confused with the very different March for our Lives—is an annual gathering with an ultimate mission to end abortion in the United States. At the national march in Washington, D.C. this morning, Trump expressed that he was honored to be the first president in attendance.
Trump delivered his speech in a very characteristic manner, claiming the venue had maxed capacity, bragging about his contributions to the anti-abortion movement, and describing himself and his presidency with hyperbolic statements: "Unborn children have never had a stronger defender in the White House," he assured the crowd.
"When it comes to abortion...Democrats have embraced the most radical and extreme positions," Trump added.
March for Life's official website says they "celebrate life from the moment of conception to the moment of natural death, and every moment in between," a sentiment underlined in Trump's speech. "We are fighting for those who have no voice," he added. "[The women at the march] just make it your life's mission to spread God's grace." But of course, Trump's words and his actions haven't always aligned: just last November, the Associated Press reported that nearly 70,000 migrant children were held in U.S. government custody over the past year. While Trump may care about the fate of unborn children (or at least pretend to to gain the support of evangelical christians) he has made it extremely clear how little he cares about living children.
Amy Klobuchar ate salad with her comb and then made her aide clean it.
Prior to their official half-endorsement of Amy Klobuchar as the "Democrats' Best Choice For President," The New York Times covered another side of the Minnesota senator. "Senator Amy Klobuchar was hungry, forkless and losing patience," wrote political reporters Matt Flefenheimer and Sydney Ember.
"An aide, joining her on a trip to South Carolina in 2008, had procured a salad for his boss while hauling their bags through an airport terminal. But once onboard, he delivered the grim news: He had fumbled the plastic eating utensils before reaching the gate, and the crew did not have any forks on such a short flight.
What happened next was typical: Ms. Klobuchar berated her aide instantly for the slip-up. What happened after that was not: She pulled a comb from her bag and began eating the salad with it, according to four people familiar with the episode.
Then she handed the comb to her staff member with a directive: Clean it."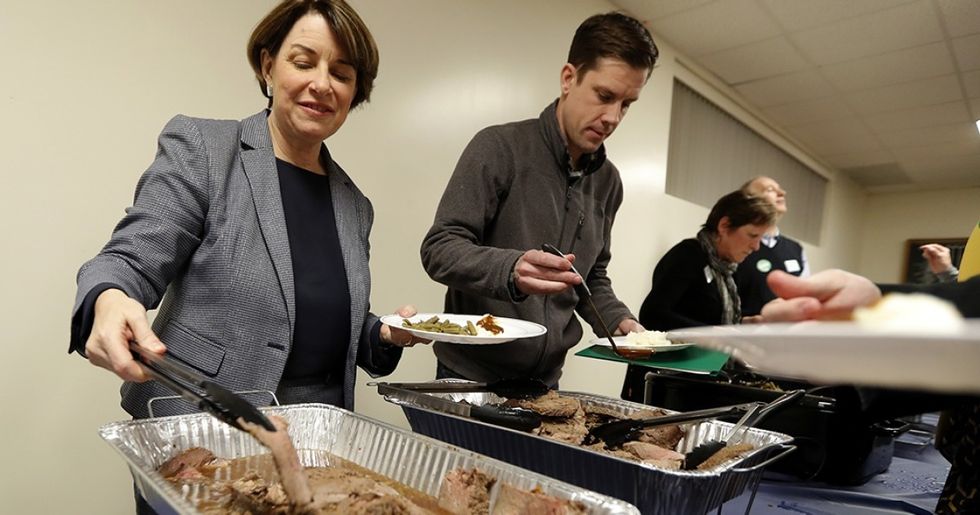 Washington Examiner
Flefenheimer and Ember's deep dive into Klobuchar's campaign team reads more like a copypasta than an account of real events; but alas, Klobuchar herself even seemed to lowkey brag about her history of mistreating her staff. "Am I a tough boss sometimes? Yes," Klobuchar said during a CNN Town Hall in February 2019. "Have I pushed people too hard? Yes. But I have kept expectations for myself that are very high. I've asked my staff to meet those same expectations. The big point for me is that I want the country to meet high expectations."

The CNN Town Hall audience may have cheered for that line, but voters don't seem to be "eating the salad," proverbially speaking. Klobuchar has consistently polled near the very bottom of people's choices for Democratic primary candidate, with recent polls placing her just over 3%. In other words, The New York Times' endorsement of Amy Klobuchar is strange considering the fact that she's basically unelectable.
But while, statistically speaking, pretty much nobody actually likes Amy Klobuchar, her behavior has struck a chord with a specific demographic on Reddit.
For context, while the overall Reddit community leans white, male, and liberal, many political figures' most ardent supporters use Reddit as a gathering space for promoting their candidate of choice. From the quarantined r/The_Donald with its 785k members (Russian bots included) to r/SandersForPresident with 380k, almost anyone can find their favorite presidential pick on Reddit. Even r/Tulsi has over 17k people who want Tulsi Gabbard to be president for some reason.
And then we have r/AmyKlobuchar. With 147 total members, roughly seven of whom seem to be online at any given time, the truly incredible thing about Amy Klobuchar's subreddit isn't its minimal user base. It's the fact that pretty much everything posted there is ironic.
The most upvoted post on the entire sub is titled "Amy Klobberchar" and contains a meme recounting a fictional incident wherein Amy Klobuchar threw a stapler at a staffer. In fact, many of the posts in r/AmyKlobuchar hone in on Klobuchar's history of staffer abuse, depicting Klobuchar firing unpaid interns and stepping on people's necks.In another top post on the sub titled "Why I am voting for Amy," a user lists off reasons including, "She is abusive towards her staff. We need a fighter, not a wimp," and, "I like the taste of boot."
The same New York Times article that covered the salad incident included a leaked email that Klobuchar has sent to her staffers regarding the things people said about her on Twitter: "We are becoming a joke and it is making me a joke."
As it turns out, Klobuchar's prophecy was self-fulfilling. By continually treating her staff like garbage, Klobuchar invoked the attention of a small but vocal demographic of roughly 147 people who don't like seeing low-paid interns treated like garbage.
Perhaps much more importantly, though, to most of the American electorate, Amy Klobuchar still doesn't matter.