Trump continues to alienate the U.S. from the global community by panning diplomacy for his own agendas.
Donald Trump singled out the United States before the entire international community at the G20 summit over the weekend. He was the only leader in attendance to refuse to sign a joint statement pledging a non-binding commitment to continue combating climate change.
After a strenuous, all-night negotiation in Buenos Aires, the world leaders issued a communiqué re-affirming that the Paris climate agreement "is irreversible" and vowing "full implementation" of its policies to "continue to tackle climate change, while promoting sustainable development and economic growth."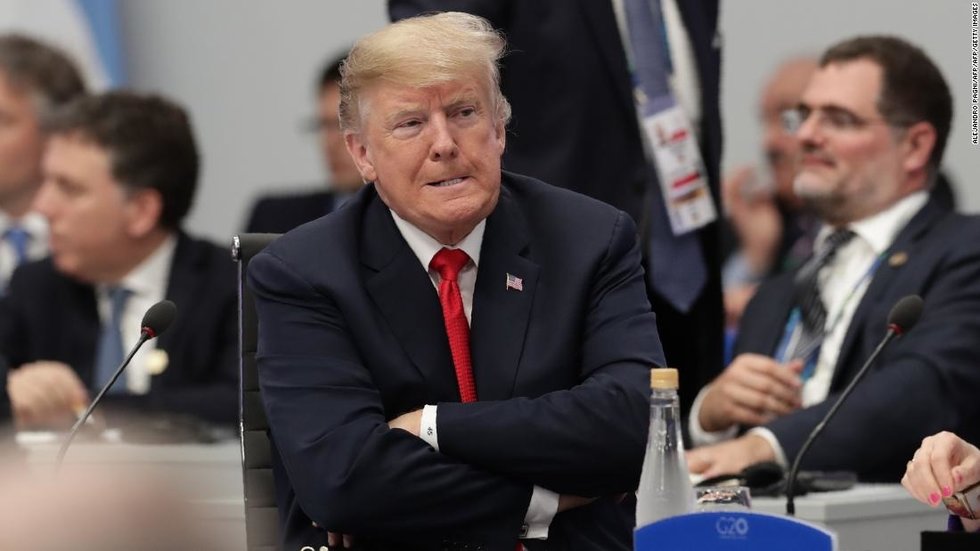 CNN
However, the summit was fraught with tensions over various countries' objections and demands, including Trump's refusal to budge on climate change or trade agreements. As such, world leaders struggled to pen a separate clause to account for Trump's "America First" stance. The communiqué reads: "The United States reiterates its decision to withdraw from the Paris Agreement, and affirms its strong commitment to economic growth and energy access and security, utilizing all energy sources and technologies, while protecting the environment."

In another compromise forced by Trump's intransigence, this year's G20 statement also shirked its usual promises to fight protectionism and uphold multilateral trading rules. The summit weakly acknowledged the "contribution" of the "multilateral trading system," despite the fact that it's "falling short" of its goals in trade growth and job creation. One European official present at the weekend's negotiations told NBC News, "There were moments when we thought all was lost."
At last year's summit, Trump shocked world leaders with his first refusal to join the consensus on climate and trade issues. He continued to alienate the U.S. from the international community over the summer. In June, the president refused to sign a joint statement on global economic policies from the G7 summit, even taking to Twitter to deride Canadian Prime Minister Justin Trudeau over the policies.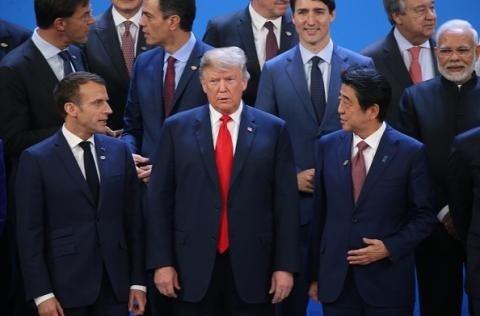 Newsweek - Getty Images
As a final act of belligerence, Trump stormed off the stage as the rest of the world leaders gathered for a photo to commemorate the end of a two-day effort in global solidarity. After shaking hands with Argentine President Mauricio Macri, Trump left Macri visibly confused on stage as he hastily left. Trump was audibly recorded telling an aide, "Get me out of here."

Reluctantly, he returned to the stage moments later to pose for group photos.
Hilarious moment Trump caught saying "get me out of here" at G20 Summit www.youtube.com
Meg Hanson is a Brooklyn-based writer, teacher, and jaywalker. Find Meg at her website and on Twitter @megsoyung.

Trump's demands for $5 billion to build a border wall stymies Congress' ability to fund government in 2019.
Just nine days ahead of the December 7 deadline, Congress has made no progress towards passing the seven appropriations bills needed to avoid government shutdown. At the center of the deadlock are President Trump's demands for $5 billion to fund his border wall. In an Oval Office interview with Politico on Tuesday, Trump affirmed he'd "totally be willing" to shut down the government if Congress doesn't allocate the funds.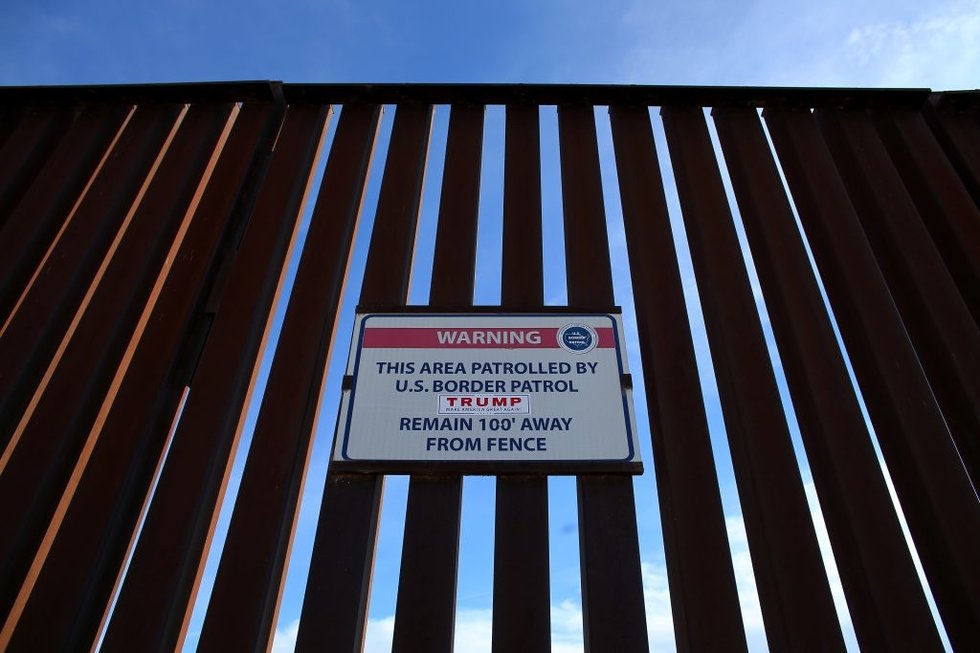 PBS
In September Democrats and Republicans agreed on a long-term funding package for the departments of Defense, Labor, Health and Human Services, and Education for 2019. However, they only reached short-term compromises for the remaining agencies, including the Department of Homeland Security, Justice Department, and the State Department. Even then, Trump was threatening to shut down the federal government if he didn't receive multi-billion dollar funding for his wall, but Republican leaders expressed doubt over his conviction.

Now, with those short-term deals expiring next Friday, Congress is more wary than ever of losing government function. Senator Joni Ernst (R-Iowa) spoke against the prospect in an interview on Sunday, "I hope that we can avoid shutting down the government. We have a lot of departments that do a lot of good for our citizens, so we need to make sure that we're funding them properly through Congress."
That's not to say Trump doesn't have Republican support, with House Majority Whip Steve Scalise (R-Louisiana) stating from the White House on Tuesday, "I'm glad that President Trump is following through on his commitment to keep this country safe. He needs $5 billion to make sure he can follow through on that promise and we need to be there for him and see that this gets done."
Resistance from Democrats is the main obstacle to appeasing Trump, with Scalise even posing the deadlock as a failure of the party's values. He asked if Democrats are "going to shut down the government because they don't want to keep America safe?"
The closest piece of compromise is the Democrats' concession of $1.6 billion in funding for border security. They've showed no sign of budging towards Trump's demands for triple that figure. Senate Democratic leader Chuck Schumer spoke for the party on Tuesday, affirming, "If there is any shutdown, it's on President Trump's back. Stick to the $1.6 billion."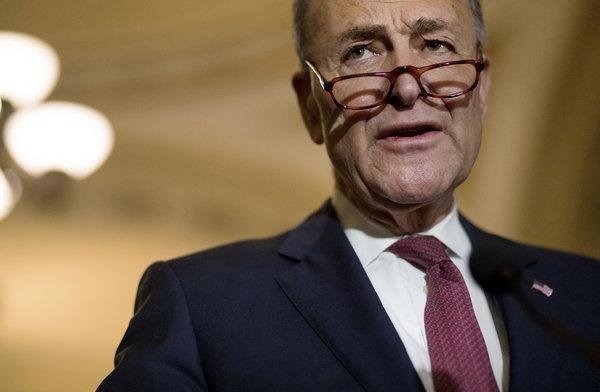 The New York Times
As for Trump, he told Politico he "was in no mood" to compromise on using federal funds to construct a border wall (despite initial and unfeasible claims it was to be funded by Mexico). He told Politico, "I will tell you, politically speaking, that issue is a total winner. People look at the border, they look at the rush to the police, they look at the rock throwers and really hurting three people, three very brave border patrol folks – I think that it's a tremendous issue, but much more importantly, is really needed. So we have to have border security."

Trump was referring to a confrontation at the border on Sunday in which he claimed three border patrol agents were "very badly hurt." While multiple migrants were harmed by tear-gas unleashed by border officials on Sunday, Trump's claim remains unsubstantiated.
Negotiations between Democrats and Republicans continue to take place this week, as a possible funding package is still in nascent planning stages. The odds of avoiding government shutdown are grim, with only nine days to draft a deal, gain sign off from House and Senate leadership, and win over a president who is "in no mood" to compromise his own agenda.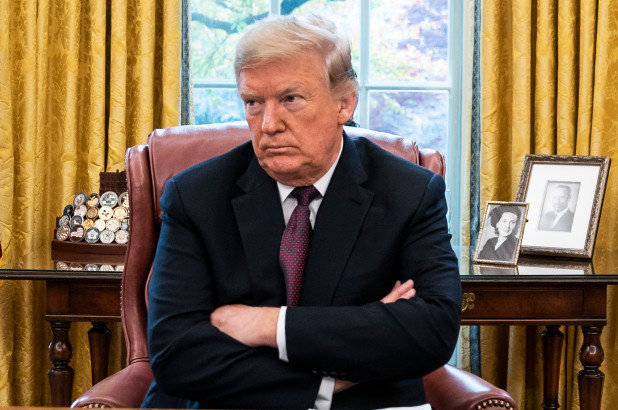 Getty Images - New York Post
Meg Hanson is a Brooklyn-based writer, teacher, and jaywalker. Find Meg at her website and on Twitter @megsoyung.

Democrats have control of the House for the first time in eight years. Now, they have a mandate to push for a bold agenda on infrastructure, healthcare, immigration, and voting rights.
After months of warnings, the "Blue Wave" finally came to shore. Democrats took back control of the House, gaining 32 seats, a number that could increase to 38 or 39, depending on the results of the uncalled races. With the party back in charge of the lower chamber, much of the discussion around what their priorities should be has revolved around investigating the president and his myriad of financial and political scandals. House Democrats have a clear mandate to fulfill their constitutional duty to provide oversight of the White House, but Democrats also have a mandate to address a number of major legislative issues. Though it's unlikely Democrats that will get any of these priorities pushed before the president and a Republican Senate, it's crucial that they signal to their voters what they want to done should they win the presidency and the Senate in the future.
Infrastructure
As a candidate and in the beginning of his presidency, Donald Trump promised to tackle the nation's crumbling infrastructure. That, of course, has gone nowhere and every "Infrastructure Week" ended in some scandal, quickly becoming an ongoing joke. But the state of America's infrastructure is nothing to joke about. Infrastructure spending has long been a Democratic Party priority before Trump attempted to co-opt it. Democrats should push that issue once again, proposing a bold infrastructure plan to repair crumbling roads and bridges, modernize public transportation systems, expand access to high-speed, fiber-optic Internet, and invest in green energy projects like wind, solar, and hydroelectric power.
Such an infrastructure plan would signal the party's commitment to investing in neglected communities and funding renewable energy projects such as a broader plan to combat climate change—not to mention open the door to the many economic benefits of infrastructure spending. It would also establish a clear contrast with Trump's previous infrastructure plan that's been criticized as a giveaway to private contractors. The president has said he is willing to work with Democrats, so why not press him to keep his word? Democrats would be wise to pressure the president and his Republican supporters to prioritize infrastructure, or face political consequences.
Healthcare
No other issue played a bigger role in the Democrats' midterm success than healthcare. Their electoral message on healthcare was simple: Protect people with pre-existing conditions, expand coverage and stop proposed cuts to Medicare and Medicaid. Now they must deliver on these promises. House Democrats can immediately pass legislation to protect coverage for people with pre-existing conditions, pressuring Trump and other Republicans who have vowed to do the same to keep their word. With a full repeal of the Affordable Care act now temporarily off the table, Democrats should push to expand coverage and address the limitations of the ACA. These can range from introducing incremental policies that get support from more moderate Democrats, like legislation to stabilize insurance markets, to bolder policies that attract the progressive wing of the party, like allowing Medicare more power to negotiate drug prices and proposing a Medicare buy-in for 55 to 64-year-olds.
While the long-term goal for the party should be to push for a Medicare for All system, these are positive steps toward a goal that still has a lot of opposition from within the party. Finally, any budget proposed by House Democrats should reverse any funding cuts to Medicare and Medicaid. Democrats have an ideal opportunity to push for a positive vision on healthcare and continue to have the upper hand on the issue heading into 2020.
Immigration
Bitter political battles over immigration, especially over funding for the border wall and the fate of DACA, will be a prominent feature of politics the next two years. Democrats are right to be alarmed over the administration's immigration policies like family separation and ending DACA, but now it's crucial they advocate for an immigration agenda in contrast to the Republican agenda. With the fate of DACA likely in the hands of the Supreme Court, Democrats must push for a long-term legislative solution. The most stable solution is the passage of the Dream Act. It would also be politically beneficial for the Democrats to bring it to the floor cleanly, without a compromise on funding for the wall. Furthermore, Democrats should schedule hearings about the family separation policy and Trump's pre-election decision to bring troops to the southern border in response to the migrant caravan. Democratic voters have become more liberal on immigration, and it's important the party signal to its base that they are willing to find solutions on the issue without compromising its core values.
Voting Rights
Much of the post-election analysis has focused on the effects of voter suppression, notably in Georgia, North Dakota, and Florida. These voter suppression efforts have only increased since the Supreme Court struck down the section of the Voting Rights Act, which required states with a history of racial discrimination to get permission from the Department of Justice when enacting any changes in voting laws. In response, states around the country immediately passed strict voter ID laws. Fortunately, the Supreme Court decision left the door open for future legislative action. House Democrats can immediately take action and strengthen the Voting Rights Act. They would also be wise to propose legislation to make Election Day a federal holiday, or move Election Day to a Sunday, as it is in most places around the world. While Republicans are busy spreading conspiracy theories about voter fraud, Democrats should take the opposite path and make it clear they will fight continuing discrimination in voting. For strategic and moral purposes, the party has an obligation to extend democracy in every way when voting rights are under tremendous pressure.
Dan is a writer, thinker and occasional optimist in this random, chaotic world. You can follow him on Twitter @danescalona77.
The outspoken anti-Trump lawyer is in custody for Domestic Violence against an unidentified woman.
Anti-Trump lawyer Michael Avenatti, best known for representing Stormy Daniels and Brett Kavanaugh-accuser Julie Swetnick, was arrested Wednesday after a felony report of Domestic Violence was filed by an unknown woman.
The incident
allegedly
took place Tuesday night, with another altercation occurring on Wednesday at a Century City apartment in the L.A. area. The woman in question was reported to be visibly upset and declaring, "I'm going to get a restraining order against you." Her face was "swollen and bruised" with "red marks" when building security escorted her to another area of the building and denied Avenatti access. TMZ reports that a source in law enforcement revealed that the lawyer "kicked her out of the apartment" on Tuesday, and the altercation in the building occurred on Wednesday when she attempted to retrieve her belongings.
After the police intervened, they arrested him over his protests, "She hit me first." He said angrily, "This is bullshit, this is fucking bullshit." As of Wednesday night, Avenatti is still in custody.
In the wake of the Tree of Life shooting we're left wondering: how did we get here?
Is Robert Bowers a Fascist?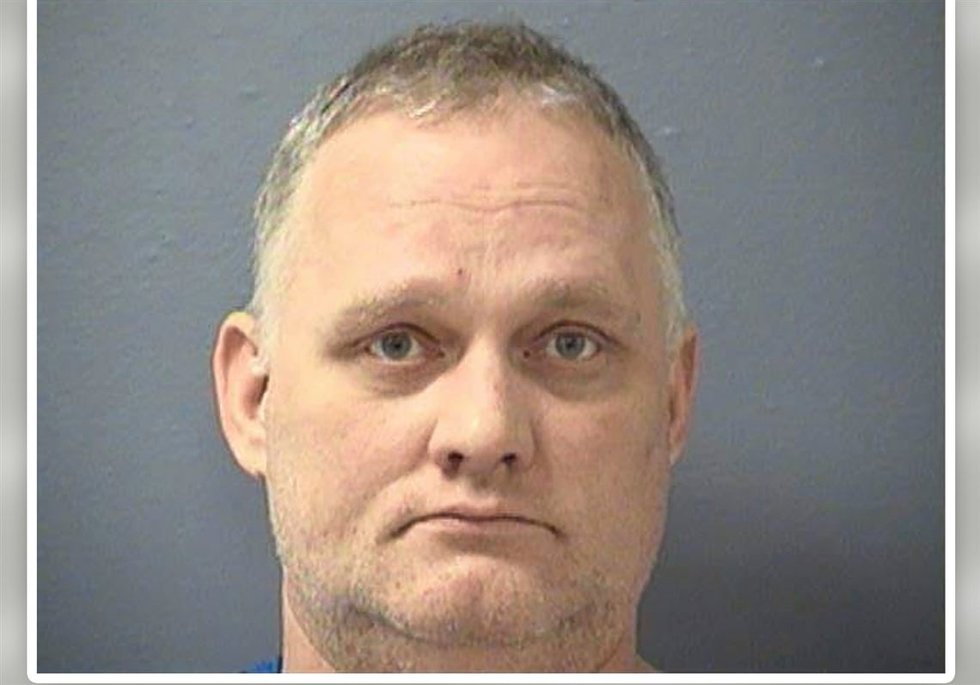 Pittsburgh Gazette
If Umberto Eco is to be taken at face value when he describes his Ur-fascist as "impatient for death,"¹ the question we're left with in the wake of the Tree of Life Synagogue shooting is this: Why now, in 21st century America, has this distinctly 20th century urge, this death drive, suddenly rematerialized? The other questions–ones concerning motive, logistics, and cultural response–while meaningful in their own right, only explain the symptoms, not the disease.

Fascism in its truest sense is a type of suicide, one committed not by an individual but by an entire society. Still, the important conversation (as with an individual suicide) doesn't concern method. When a man takes his own life, the why is a far more incisive question than the how. If we're to extrapolate this metaphor, to argue about gun control, anti-semitism, and President Trump's brusque response to this tragedy is tantamount to debating the meaning of using rope over a straight razor. In the interest of being thorough, however, let's briefly explore these symptoms:
Immediately following the attack, Robert Bowers' social media posts went loud, his comments regarding Jewish conspiracies sitting somewhere between Alex Jones' InfoWars and the Protocols of the Elders of Zion. "Jews are the children of satan," he shouted into the Internet void. What the public was given were echoes, reverberations after the fact. The shooter's motive was never in question.
The issue then splintered, its fragments taking familiar trajectories. Pragmatists argued for tighter gun control, in this case perhaps an antihistamine, but one that could at least theoretically prevent another maniac from gunning down a room full of unarmed civilians. Others blamed the increasingly volatile rhetoric of the Trump regime for galvanizing a new generation of angry white men. When looking at the recent rise of extremist provocateurs,² this second point can feel the more crucial (though it goes without saying that these views are far from mutually exclusive), but in reality, it's closer to a half truth. Barack Obama's assessment of Trump (and by extension his rhetoric and the hate it inspires) as the "symptom not cause" of our present spiritual crisis mirrors this opinion, whether he meant it to or not. Still, we're left wondering: if Trump, Bowers, Cesar Sayoc, Richard Spencer, the alt-right, et al. are symptoms, what's the cause?

Contextless Nostalgia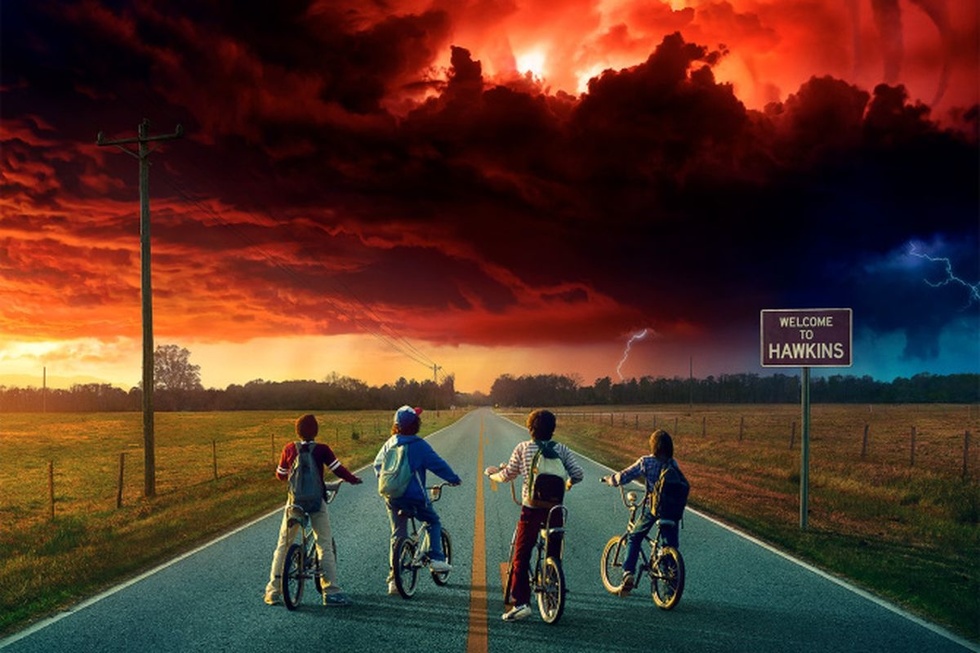 It's been stated time and time again that we're becoming increasingly obsessed with nostalgia, cripplingly so. Whether or not it's true, again, is not so important. The why, however, remains.
Nostalgia, in the classic sense, is a wistful remembrance, a pained recalling of a time where things were better. It's a belief, however erroneous, that the past contains more happiness than the present. A fitting example of nostalgic art is Richard Linklater's Dazed and Confused, a film so nostalgic it feels documental, produced for the former rebels/present yuppies of Gen X as a glimmering look at their past, a reassurance that they were indeed once cool. Saccharine or not (depends on who you ask), the film certainly comports to this traditional definition.
Today's televisual/cinematic nostalgia, if one can really call it that, has a distinctly different flavor. Instead of being a monument to the past, a shared generational experience, nostalgia has been co-opted as an aesthetic, a mood. Stranger Things, a show decidedly millennial in both content and attitude, is a perfect example of this. The outfits, the lingo, the references, and the sets all feel nostalgic, but a look at the show's viewership demographics quickly reveal this feeling doesn't fit nostalgia's true definition. 18-39 year-olds aren't old enough to have memories from the early 80s.
The television producer's argument that Stranger Things and other period dramas give a younger audience access to the past (which is new to them) while also capturing an older demographic who experienced the events on the show first hand doesn't hold water, especially when you consider that the Duffer Brothers are only 34-years-old. The nostalgia they're capturing isn't genuine. It's a fractal cobbling of present day ideals and past aesthetics–not nostalgia, but mutation, a rehashing and reliving of history with no frame of reference. It's time travel to a non-existent past.
One look around–bell bottom jeans, Mad Men, 90s-inspired music videos, Rolling Stones and Led Zeppelin songs playing on truck commercials–and it's impossible not to see this frantic pawing as the defining mark of our culture. It's not the end of history; it's a fraught and dizzying attempt to reimagine it and a cultural impetus to live in the mangled architecture of this imagined past.
Nostalgia for Stakes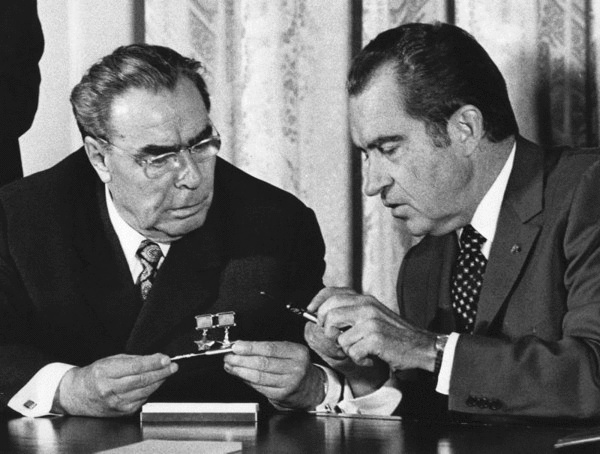 To return to Eco for a moment, the Ur-Fascist is also marked by the fact that he's "deprived of a clear social identity." Eco goes on to say that fascism takes this lack of identity and fills the void with nationalism. While this is certainly true, from average Trump supporters all the way down to Cesar Sayoc and Robert Bowers, Eco never identifies the cause of this deprivation.³ The contextless nostalgia of our present offers an entrée into diagnosis–Bowers and others like him, while certainly insane, aren't so far removed from society as to be immune to its mores.
This new form of nostalgia, this amalgam of distorted realities, functions as both an escape hatch from our present existential void–a void of unmeaning, a loss of stakes–and one of its root causes. This new, fundamentally false, cultural memory is a product of our present zeitgeist. It's born of an influx of information and static confusion, one created by a society so materially comfortable that it's primarily concerned with artistic and aesthetic trends, with manufacturing meaning. The loss of stakes, however, can be traced back to the 1970s.
Following the Vietnam War and the Strategic Arms Limitation Talks (SALT), the U.S. found itself in a peculiar position. After nearly 40 years of perpetual war, we lacked an enemy to align ourselves against. A malaise set in, one that would typify the 1970s. Then, in 1983, Ronald Reagan offered the American people a respite from having to define themselves by anything other than what they are not. He declared the Soviet Union an "evil empire," rekindling Cold War rhetoric which had long since burnt out. Announcing this a few years after signing a non-proliferation treaty with the Soviets probably felt strange to anyone paying attention, but it didn't matter. We had an enemy again.
But was the Soviet Union truly our enemy or one recreated by spiritual necessity? Manufactured animosity and organic threats converged at a single point. For Reagan's part, all he did was stir up past resentments, but his demagoguery wasn't feeding some Weimar-esque yearning for a return to greatness, but a nostalgia for dire consequences. Because the method and end result are similar—a monolith enemy is created onto which a society can project its fears—this distinction can feel unimportant. But, this marked a significant change.
America's enemies were no longer an existential threat. They were created as convenient scapegoats for economic and political turmoil. The recession of 1973, the OPEC oil embargo, and the 1979 energy crisis, while not unserious, paled in comparison to the socio-economic climates that spawned the original iterations of fascism. The U.S. economy was down, sure, but there was no question as to where the seat of global power resided. Still, at the quotidian level, lines at the pump and the rapid decrease in factory jobs were panic-inducing. If we take this moment to be the birth of American fascism, the moment in which we became "constitutionally incapable of objectively evaluating the force of [our enemies],"⁴ then it represents a reversal of what happened in the Weimar Republic. Instead of a fascism born out of economic powerlessness and spiritual fervor, ours is the result of a spiritual drought created by material excess.
Convergence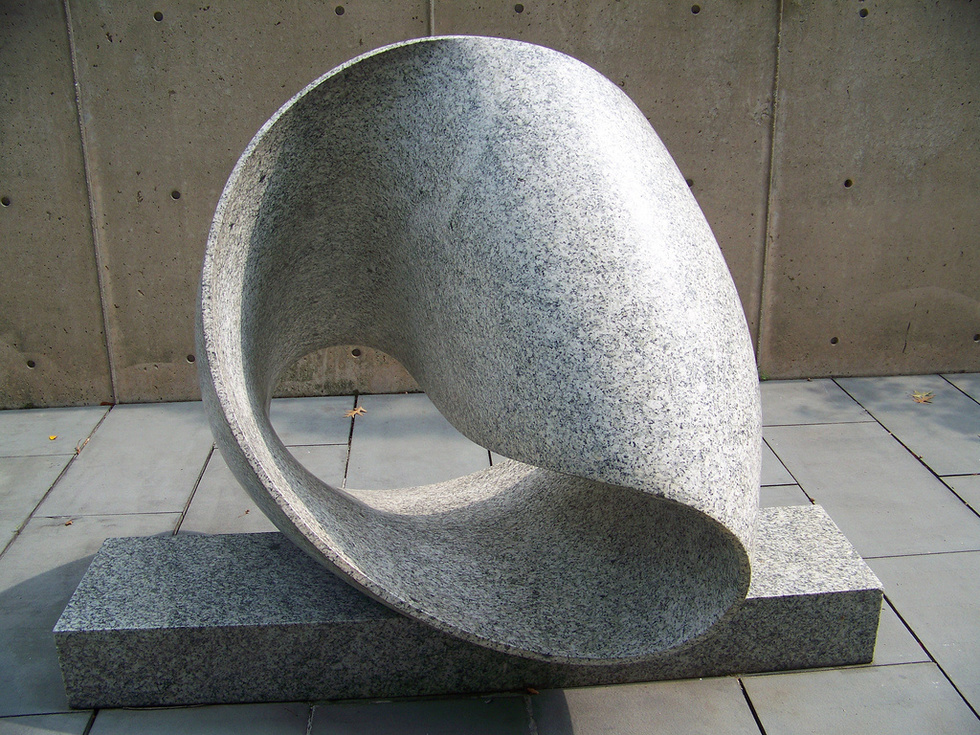 On an individual level, it's hard to even differentiate Robert Bowers from the likes of Steven Paddock. Sure, Bowers is racist and anti-Semitic, but this is just a variation on the theme of the deranged lone gunman. If one steps back and looks at the furor in the stands at Donald Trump's rallies or at the violence in Charlottesville last year, however, it becomes impossible to miss this creeping trend, conservatism fading in the rearview as our society pushes ever rightward. But why?

If an individual suicide is an escape from life, an assertion that death is preferable to the anguish of everyday existence, then fascism, the societal suicide, must be an escape of the same order. At this point, it's clear that our sprint towards authoritarianism comes from our society's collective yearning for stakes, for meaning. There's no great existential threat, so we look to our leaders to manufacture one. But fascism is European. Its great figures have been dead for nearly a century. It's foreign, an anachronism. It doesn't make sense until one considers our present infatuation with nostalgia. Not nostalgia as feeling but as concept, as aesthetic. American neo-fascism is the point at which nostalgia for stakes and loss of context converge. Today's fascist is one who rifles through an ephemeral past, one he never really experienced, searching for an enemy that he's not only ill-equipped to assess, but that doesn't exist in any meaningful sense.
For those who feel disenfranchised by the end of history (or late capitalism or neoliberalism, whichever buzzword one assigns it), the options are limited. For reasonable people, it's a choice between participating in society or being forced to its margins. The neo-fascist avoids both options entirely, shirking nihilism and resignation. Instead, he dives head first into the shallow pool of contextless nostalgia, attempting to plumb the depths of history without realizing he's splashing around in a puddle. It's a frenetic and palsied search for a transgressive idea with which to define his world and by extension, himself. Robert Bowers is insane, yes. But the massacre he committed is simply a fringe response to a mainstream problem.
Donald Trump and the Fascist Urge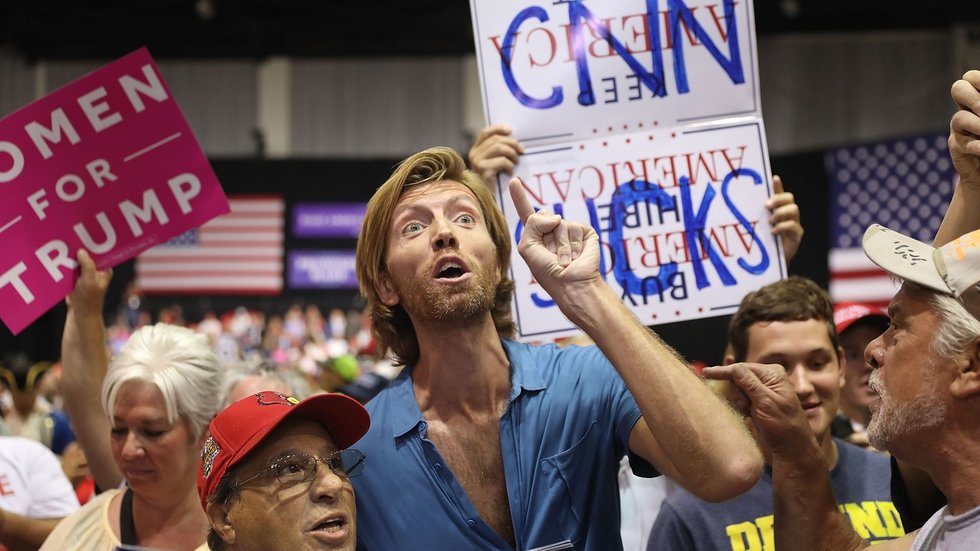 Axios
If Robert Bowers is a fascist, then what do we make of Donald Trump, whose rallies and policies embolden Bowers and those like him? This question has been on the tip of the media's tongue for three years, a veritable op-ed monsoon raging on both sides of the political aisle. It's here where Jean Baudrillard's idea of media as Möbius strip⁵ becomes relevant. Is Donald Trump a fascist? In this age of constant transmission, of signs and symbols ad infinitum, the answer and question morph into one. The answer is yes because we're asking. The harder pill to swallow is that we're asking because we want it to be true.

If a contextless nostalgia for stakes is the spiritual issue of our time, then it's preposterous to assume that it only affects the 42% of Americans who support Donald Trump. The other 58%, (liberals, socialists, some civility-obsessed conservatives) just manifest their yearning in a different way. The media frenzy surrounding Trump's campaign–the comparisons to Hitler, the endless, dizzying video coverage of his rallies and speeches–serves this latent desire. The mainstream media's posturing against Trump, their denouncing him as fascist, served only to legitimize him as such.
The #Resistance, the anti-fascists, the op-eds from supposed Trump staffers quietly opposing him from inside the White House, all work in service of the neo-fascistic lunge. The liberal outrage at Trump simply fulfills the desire for stakes in reverse. Instead of supporting Trump and accepting a manufactured enemy (immigrants, Jews, whomever), the anti-fascist (even linguistically the term anti-fascist, by virtue of its existence, seeks to build Trump into that enemy) wills him into being that thing by virtue of the anti-fascist's constitutional need for something to define himself against. Thus, simultaneity is achieved. Trump is a fascist not because of his racism or demonstrative hand gestures, but because both his supporters and detractors alike have willed him into the role.
Unfortunately, we're rapidly approaching a time in which the hows and whys lose their importance. Acts of terror, like Robert Bowers' attack, cut through the mediated blur and give us an honest glimpse at the stakes we're clamoring for, that we claim, by virtue of our actions, to need. In those moments the romance of crisis fades. With the rise of a Neo-American Bund, the regularity of racist and xenophobic sentiments and policy decisions, and the attempted suppression of the press, this once contextless urge is transformed into a frightening reality. Still, considering the The Tree of Life massacre already feels old, tired, like a relic of the past, it seems unlikely that this, or any one moment, will be enough to snap us from our nostalgic impulse and back into the present. It feels as though we're stuck in circumlocution, doomed to grasp for stakes until we conjure them in some perverse alchemical procedure.
Footnotes:

1. While a more accurate representation of Eco's point would include in it the idea of "heroic death," it feels safe to call this a death drive nonetheless. Suicidal ideation, however sublimated, is still suicidal ideation.
2. One that immediately comes to mind is Gavin McInnes, the leader of the Proud Boys, a far right group that was recently videotaped mercilessly beating protesters on the Upper East Side of Manhattan.
3. He also never attempts to. His piece on Ur fascism was written in 1995 and would have had to have been incredibly prescient to stay entirely relevant today.
4. Ur-Fascism, Umberto Eco, 1995
5. The Möbius strip, while constantly turning over itself, only has one side. In Baudrillard's view it's a perfect metaphor for binary or dichotomy (of ideals, information what have you), of which he believes(ed) no longer exist in modern society. It's a means of illustrating how information is constantly conflated.
Matt Clibanoff is a writer and editor based in New York City who covers music, politics, sports and pop culture. He currently serves as Lead Editor for Gramercy Media. His editorial work can be found in Inked Magazine, Pop Dust, The Liberty Project, and All Things Go. His fiction has been published in Forth Magazine. -- Find Matt at his website and on Twitter: @mattclibanoff
Rick Scott and President Trump baselessly claim a conspiracy by Hillary Clinton's lawyers.
Tensions are rising in Florida as Sen. Bill Nelson's re-election bid is likely headed for a hand recount. The incumbent Democrat now trails Florida Gov. Rick Scott by just 17,000 votes, easily within the .25% margin required for a hand recount. On November 6th, it looked as though Scott had won a narrow victory over Nelson, but untallied ballots have since trickled in from traditionally blue Broward and Palm Beach counties and called the election results into question.
Of course, Republicans have found a way to blame this new development on Hillary Clinton, claiming that her lawyers are involved in a far reaching conspiracy to claim Florida's senate seat for the Democrats. Rick Scott held a news conference Thursday evening calling for the Florida Department of Law Enforcement to investigate the validity of the ballots in Broward and Palm Beach counties, and claimed he filed a lawsuit against top election officials in each county.
"I will not sit idly by while unethical liberals try to steal this election from the great people of Florida," Scott said. "Their goal is to keep mysteriously finding votes until the election turns out the way they want... left-wing activists have been coming up with more and more ballots out of nowhere."
Despite this strong rhetoric, Scott presented no evidence that anything unlawful actually occurred. Characteristically, President Trump soon weighed in with a tweet:

Then, Trump's personal attorney, Rudy Giulliani contributed his thoughts on the matter:
On Friday, Trump told reporters during a news conference that Fusion GPS plotted to steal the election in Florida. "Then you see the people, and they were involved with that fraud of the fake dossier, the phony dossier, and I guess I hear they were somehow involved or worked with the GPS Fusion [sic] people, who have committed — I mean you look at what they done, you look at the dishonesty," Trump went on to say, "Look, look — there's bad things have gone on in Broward County, really bad things ... I say this — [Scott] easily won, but every hour it seems to be going down. I think people have to look at it very very cautiously."

A member of Bill Nelson's team, Dan McLaughlin, said in an official statement that "the goal here is to see that all the votes in Florida are counted and counted accurately," going on to say that Scott's call for a criminal investigation "appears to be politically motivated and borne out of desperation."
Indeed, there's no valid legal claim that votes cast in a county that counts votes more slowly shouldn't be counted, and no evidence whatsoever that the issues with vote tabulation in Broward and Palm Beach counties are in any way due to Democrat interference.
Brooke Ivey Johnson is a Brooklyn based writer, playwright, and human woman. To read more of her work visit her blog or follow her twitter @BrookeIJohnson.
The White House revokes CNN reporter Jim Acosta's press pass with "fraudulent accusations" of assault.
Trump's vilification of the press as "an enemy of the people" reached a crescendo on Wednesday when CNN's chief White House Correspondent Jim Acosta was banned from the property "until further notice." The dismissal followed a heated exchange between him and Trump during a press conference.
Acosta first shared on Twitter that he'd been barred from the White House grounds.
During a press conference earlier that day, Acosta questioned Trump's description of the migrant caravan approaching the US border from Central America as an "invasion." He then baldly asked about Russia's involvement in the 2016 presidential election, to which the president opted to lob insults at Acosta and CNN, including calling Acosta a "rude, terrible person."

Trump prevented the reporter from asking follow up questions, declaring, "That's enough" and, "Put down the mic!" A female aide approached and attempted to physically wrestle the microphone away from Acosta. This was the contentious point that Press Secretary Sarah Huckerbee Sanders referred to on Twitter after confirming that Acosta's press access had been revoked. Sanders claimed the decision was the result of him putting "his hands on a young woman just trying to do her job as a White House intern."
Shamefully, Sanders followed up by posting a clip of doctored footage from the incident. Paul Joseph Watson, editor of the infamously fallacious Infowars website, edited and shared the video on Twitter before Sanders posted it, stating, "We will not tolerate the inappropriate behavior clearly documented in this video."

Acosta simply posted his response to the accusation as "a lie," as accurate footage of the press conference clearly shows his lack of aggression towards the intern. CNN has responded on Twitter by condemning Trump's "disturbingly un-American" attacks on the press and asserting that they "stand behind Jim Acosta and his fellow journalists everywhere." They've also posted undoctored footage of the exchange "for the world to see."
In addition, CNN denounced the White House's decision and Sanders' "fraudulent accusations." In a statement, they asserted that Acosta's ban "was done in retaliation for his challenging questions at today's press conference. In an explanation, Press Secretary Sarah Sanders lied. She provided fraudulent accusations and cited an incident that never happened. This unprecedented decision is a threat to our democracy and the country deserves better."

While Fox News reporter Chris Wallace agreed that Acosta's actions were "shameful," the White House Correspondents' Association finds Acosta's ban "unacceptable." In a statement, they urge the White House to "immediately reverse this weak and misguided action."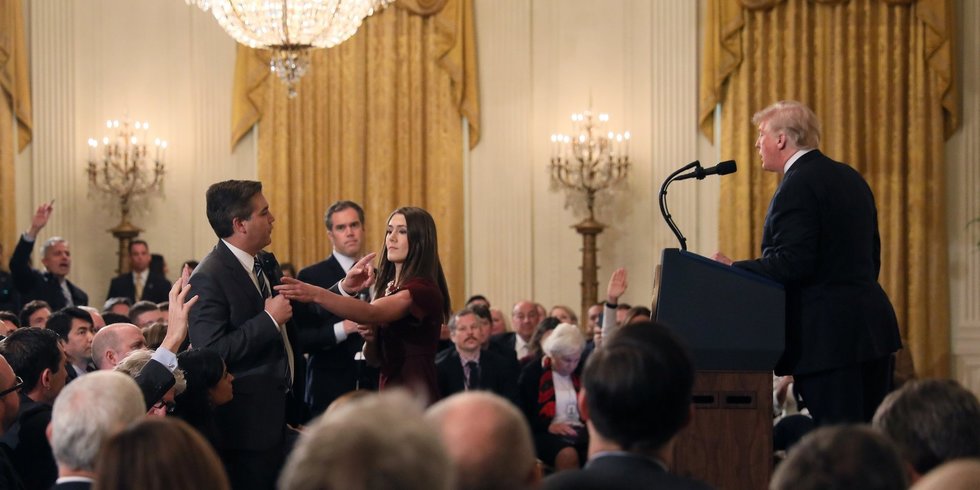 Business Insider
Trump and his administration have an infamous history of combating the press. In October, the writers organization and free speech advocacy group PEN America filed to sue President Trump in federal court "to stop President Trump from using the machinery of government to retaliate or threaten reprisals against journalists and media outlets for coverage he dislikes."

Neither Sarah Sanders nor the White House has made further comment on Acosta's press credentials since Wednesday.
Meg Hanson is a Brooklyn-based writer, teacher and jaywalker. Find Meg at her website and on Twitter @megsoyung.
Genetics expert tells Warren, "The facts suggest that you absolutely have a Native American ancestor in your pedigree."
Like a schoolyard bully who can make even the most uncreative insult sting through pure repetition, Trump manages to provoke his political opponents with his uninspired — but doggedly consistent — nicknames.
From "lyin' Ted" to "little rocket man," Trump's derisive monikers tend to become widely used in the media and draw angry reactions from those they're bestowed upon. Just as your sixth grade bully didn't seem to care that calling you "brace face" was neither clever nor funny, the only apparent criteria Trump has for his nicknames is the ability to easily tweet them...over and over again.
Trump's infamous nickname for Elizabeth Warren is perhaps the best known insult in Trump's arsenal. Calling the Senator "Pocahontas" began because of Warren's claims that she has distant native American ancestors. The label is staggeringly offensive, vaguely nonsensical, and frequently repeated with pride by the Commander-in-Chief. When Trump first used the epithet, he was criticized for the obviously racist implications of the name; but, always one to say, "hold my beer" when accused of racism, Trump then went on to reference the nickname at an event honoring Navajo veterans in November 2017, once and for all proving this presidency has made South Park obsolete.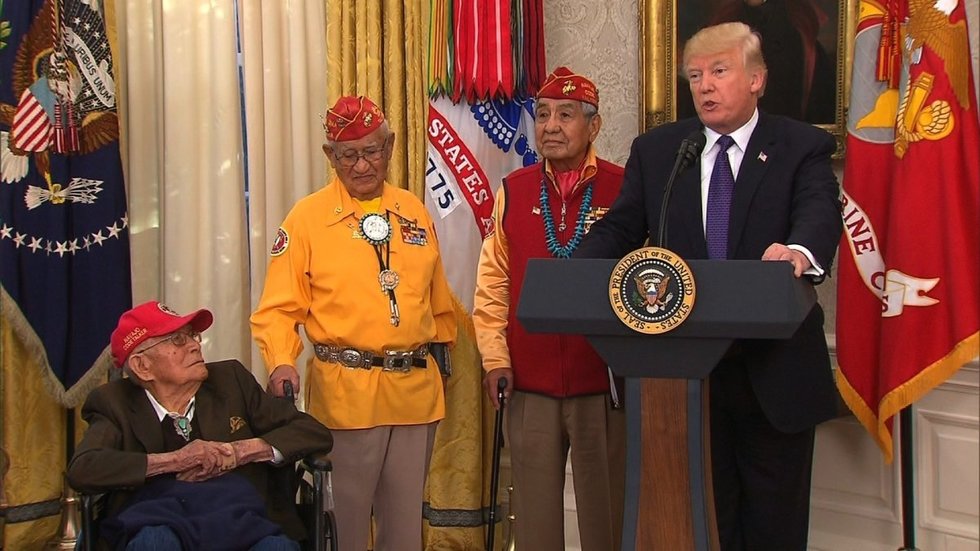 Fox43
But the Pocahontas taunting didn't stop there. During a July rally, Trump said that he would give $1 million to Warren's "favorite charity" if she took a DNA test and it showed she is "an Indian." Now, Warren has documentation to back up her claim of Native American heritage: an analysis of her genetic data performed by Carlos Bustamante, a professor of genetics at Stanford. Bustamante told the Senator, "The facts suggest that you absolutely have a Native American ancestor in your pedigree."
Just as you were naively sure the "brace face" teasing would cease as soon as you showed up to school braces-free, Warren seemed to think Trump would cease his mocking when presented with facts. But, proving that his nickname for Warren never had anything to do with her ancestry claim, Trump shrugged off Warren's DNA test results on Monday, telling reporters, "Who cares?" when asked to comment on the results.
Trump went on to say, "I didn't say that. You'd better read it again," when asked about the video footage that clearly shows the President saying, "I will give you a million dollars, to your favorite charity, paid for by Trump, if you take the test and it shows you're an Indian, I have a feeling she will say 'no.'"
Now, apparently unaware that he only spends money on golf and ugly hotels, Warren is calling for Trump to make good on his promise of $1 million. She tweeted Monday morning that Trump could "send the check to the National Indigenous Women's Resource Center."
Warren said in a video released Monday that the issue "isn't just about casual racism" but part of a pattern of "discrimination, neglect and violence" that Native communities have faced "for generations." She adds, "Trump can say whatever he wants about me, but mocking Native Americans or any group in order to try to get at me, that's not what America stands for."

Many speculate that the DNA test is further evidence that Elizabeth Warren is planning to run for president in 2020, a possibility that Trump responded to this morning by saying, "I hope she's running for president because I think she'd be very easy... I do not think she'd be very difficult at all." To which Elizabeth Warren likely responded with a long, hollow laugh.
---
Brooke Ivey Johnson is a Brooklyn based writer, playwright, and human woman. To read more of her work visit her blog or follow her twitter @BrookeIJohnson.
"To discuss something this sensitive at a political rally is just not right," said Arizona senator Jeff Flake.
Lisa Murkowski (AK), called the president's remarks "wholly inappropriate, and, in my view, unacceptable."

The three Senate Republicans holding key swing votes on Brett Kavanaugh's Supreme Court nomination spoke out on Wednesday against comments the president made at a political rally in Mississippi the night before. "The president's comments are just plain wrong," said Susan Collins (ME).

"To discuss something this sensitive at a political rally is just not right," said Jeff Flake (AZ).

At the rally, Trump questioned the credibility of Dr. Christine Blasey Ford, who testified in front of the Committee last week that Kavanaugh forced himself on her, groped her, and attempted to silence her cries for help when they were teenagers. Mockingly reenacting the questioning, he said, "How did you get home? 'I don't remember.' How did you get there? 'I don't remember.' Where was the place? 'I don't remember.'"
The president's comments are a far cry from the days immediately after Ford's testimony, during which he called her "a very credible witness," and her testimony "very compelling." When asked by the Committee how sure she was that her assailant was Kavanaugh, Ford answered, "100%." Kavanaugh has denied all allegations.

The president then turned his attention to Kavanaugh, echoing the judge's own testimony that the accusations have "destroyed [his] family and good name," claiming, "A man's life is in tatters" and calling the Democratic party's attempts to investigate Ford's claims a smear campaign. President Trump has been vocal about the need for due process, lamenting that the criminal justice system has become one in which someone is "guilty until proven innocent." Rally attendees were enthusiastic about the president's remarks, despite having repeated their 2016 campaign battle cry, "Lock her up," hours earlier.
Ford isn't the only woman who's accused Kavanaugh of sexual misconduct. Julie Swetnick alleged that Kavanaugh and his friend Mark Judge, who Ford claims to have been present during her assault, were among a group of friends who would target and drug girls at parties and take turns having sex with them. While Swetnick does not accuse Kavanaugh of participating in her own gang rape, she claims that he was at the party where it happened. Deborah Ramirez, in an interview with The New Yorker, said that Kavanaugh exposed himself to her at a party when they both attended Yale.
In her opening statement, Ford noted that she was " terrified" to testify before the committee, despite having passed a polygraph test administered by the FBI. Still, both the president, Judge Kavanaugh, and many members of the GOP have dismissed Ford's accusations as false, despite the fact that false rape allegations are very rare.
Collins, Murkowski, and Flake have remained publicly undecided on whether they will vote to confirm Kavanaugh, though Flake called for an expanded background investigation of the nominee and the allegations against him. Controlled closely by the White House, the investigation was closed on Wednesday evening. A single copy of the investigation report was made available to Senate Judiciary Committee members on Thursday morning, and Collins and Flake have said that they were satisfied with the result. However, the FBI never contacted a number of potential sources and character witnesses who may have been able to corroborate such claims. While the agency did speak with Ramirez, they did not follow up with the roughly 20 people whom she said could provide more information. Over 40 people have contacted the agency to offer testimony, including Swetnick and Kerry Bercham, a former roommate of Ramirez's, but federal investigators never responded.
After the investigation was closed, majority leader Mitch McConnell filed a motion to cloture Kavanaugh's nomination, restricting the amount of time to debate before a floor vote to 30 hours and ensuring that a vote will take place this week.
---
Rebecca Linde is a writer and cultural critic in NYC. She tweets about pop culture and television @rklinde.
Amidst the chaos of confirmation, the real force behind right-wing policy is going unnoticed
When a storm hits, it can be difficult to remember everything that came before. After the revelations of the past week regarding allegations of sexual assault against Supreme Court nominee Brett M. Kavanaugh, the relative calm that was the previous months of the confirmation process seem like hazy half-memories. Yet, in light of where the political gaze of the nation now finds itself directed, perhaps it's time to ask, in the spirit of The Talking Heads, "How did we get here?" How did a man accused of sexual assault end up receiving a lifetime nomination to one of the most powerful institutions in America? Answering that question will require traversing the interconnected and exclusive ranges of the right-wing political machinery, where dark money and faceless groups lay their hands on the scales of our civic life. Yet, in the end, the question of how we got here is one with a relatively simple answer and one that strikes at the heart of a vast range of the illnesses that seem to be ravaging the body politic. We are here, and we are here with Brett Kavanaugh because a small group of wealthy people wanted us to be.
Keep reading...
Show less