Pogues frontman Shane McGowan was an ancient 65 when he died on November 30. Television producer Norman Lear was a youthful 101 when he left this realm on December 5. No doubt his zest for life kept him going for so long – and his zest for controversy.
Norman Lear's work was an integral part of American life in the second half of the 20th Century. Television programs like Maude, Sanford and Son, and The Jeffersons dragged television out of the 1950s and into the real world. As Variety states: "Lear's shows were the first to address the serious political, cultural and social flashpoints of the day – racism, abortion, feminism, homosexuality, the Vietnam war – by working pointed new wrinkles into the standard domestic comedy formula. No subject was taboo: Two 1977 episodes of All in the Family revolved around the attempted rape of lead character Archie Bunker's wife Edith."
All in the Family, which ran on CBS from 1971 to 1979, typified the clash of generations. Middle-aged bigot Archie Bunker – played by Carrol O'Connor – was a right-wing King Lear in Queens, raging at the radical changes in society. Archie didn't let ignorance get in the way of his opinions; once he argued that people who lived in communes were communists. The thing is, the old dog was actually capable of learning new tricks. Archie never evolved into any kind of saint. But over the nine seasons "Family" aired, experience taught Archie the benefits of listening to (and respecting) viewpoints far different from his own.
All in the Family was the jewel in Lear's crown, but don't forget the highly popular shows One Day at a Time (which featured Bonnie Franklin as a divorcee raising two daughters in the Midwest) and Mary Hartman, Mary Hartman (with Louise Lasser as the titular figure in a parody of soap opera conventions). Good or bad, Lear's work was never indifferent.
More recently, you may have heard about Lear's lively activism. His TV shows were themselves arguments for free and unfettered speech, and Lear supported a slate of liberal causes. In 1981 he founded People for the American Way. The organization's website describes the ways that PFAW has "engaged cultural and community leaders and individual activists in campaigns promoting freedom of expression, civic engagement, fair courts, and legal and lived equality for LGBTQ people."
Lear's life was a long and fulfilling one. In 1978 he was given the first of two Peabody Awards, the most prestigious award in television. "To Norman Lear," it reads, "...for giving us comedy with a social conscience. He uses humor to give us a better understanding of social issues. He lets us laugh at our own shortcomings and prejudices, and while doing this, maintains the highest entertainment standards."
A pioneer, a gadfly of the state, a mensch. To paraphrase a lyric from All in the Family's theme song, "Mister, we could use a guy like Norman Lear again."
Critical race theory is one of the most controversial topics of 2021. It's also one of the most misunderstood.
If you have been paying attention to conservative media, you will have certainly heard the term critical race theory. In fact, Fox News has mentioned "critical race theory" over 1,900 times in the past 3.5 months alone. Yet, most Americans can't define it.

What Critical Race Theory Is
Critical race theory is an academic legal concept that is more than 40 years old. The core idea is that no race is inherently inferior to another and that racism is not just the product of individual bias or prejudice, but also something embedded in legal systems and policies in the US.
Critical race theory originated in the 1970s as a result of the civil rights movement. The father of the movement was Harvard Law School professor Derrick Bell, who voiced frustration at the limited impact of landmark civil rights laws and U.S. Supreme Court rulings of the previous decade. Bell argued that if racial inequality persisted in a post-civil rights era, then the law was central to explaining that persistence.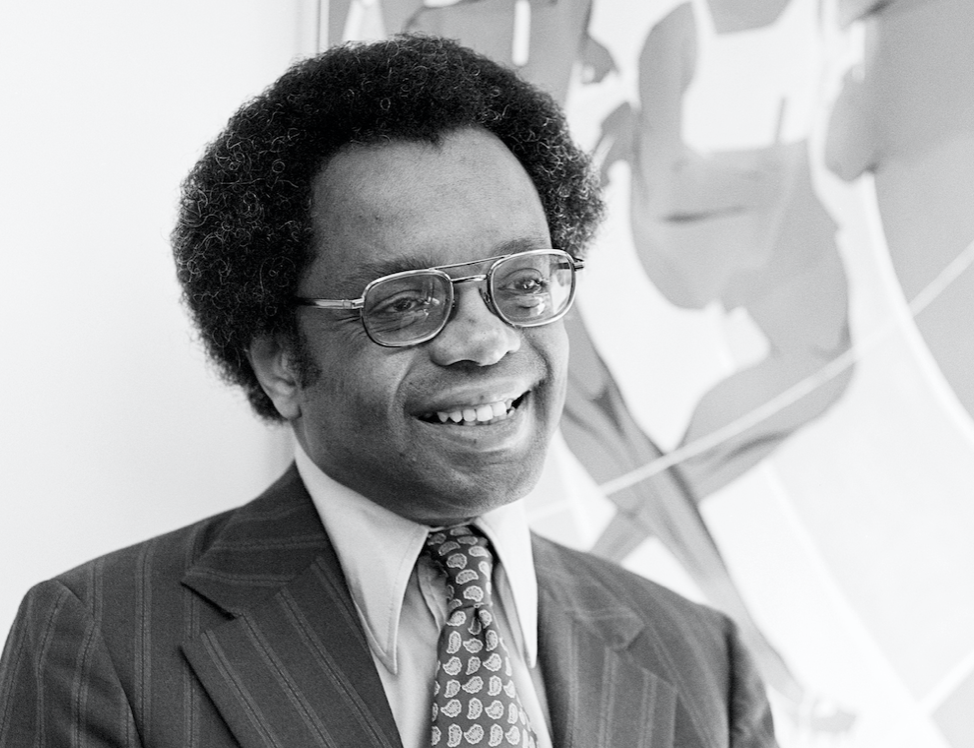 Derrick Bell, Founder of CRTJohn Chapin
Legal scholars, such as Kimberlé Crenshaw, Neil Gotanda, Gary Peller and Kendall Thomas, developed Bell's ideas further. In a 1995 book, they curated the writings that formed the movement, and their theories began to be explored in law schools all over the country. Critical race theory became a framework for looking at how racism in the law could still exist even when the judiciary claimed to be "color-blind."
In the words of legal scholar Angela Harris, "Critical race theory not only dares to treat race as central to the law and policy of the United States, it dares to look beyond the popular belief that getting rid of racism means simply getting rid of ignorance, or encouraging everyone to 'get along.'"
What Critical Race Theory is Not
Critical race theory is not taught in the K-12 curriculum across the US and or in workplace diversity training. Critical race theory is primarily taught in college, particularly in law school, as a theory for understanding how race and racism have impacted America's legal and social systems. There is little to no evidence that critical race theory itself is being taught to K-12 public school students, though some ideas related to it, such as lingering consequences of slavery and Jim Crow laws, have been.
Critical race theory does not teach that all white people are inherently racist. The theory says that racism is an "ordinary" part of everyday life, so people — white or nonwhite — who don't intend to be racist can nevertheless make choices that fuel racism. Critical race theorists actually say that there are no traits that are "inherent" to any race.
Critical race theory insists that race is socially constructed and maintained to enforce a specific hierarchy, but individuals are not bound to any specific behaviors or skills because of their race. People with common origins share certain physical traits, of course, such as skin color, physique, and hair texture. But these constitute only an extremely small portion of their genes, are dwarfed by that which we have in common, and have little or nothing to do with traits such as personality, intelligence, and moral behavior. So no, white people are not inherently racist, nor are they inherently smarter or better.
Critical race theory also is not supposed to teach people to hate America. One of the CRT founders, Kimberlé Crenshaw, says, "Critical race theory just says, let's pay attention to what has happened in this country and how what has happened in this country is continuing to create differential outcomes so we can become that country that we say we are. So critical race theory is not anti-patriotic. In fact, it is more patriotic than those who are opposed to it because we believe in the 13th and the 14th and the 15th Amendment. We believe in the promises of equality, and we know we can't get there if we can't confront and talk honestly about inequality."
Critical race theory is also not a Marxist theory. No matter how many times Ted Cruz tweets that it is.
#CriticalRaceTheory is a Marxist ideology that sees the world as a battle, not between the classes - as classical M… https://t.co/FJyA9gJEBV

— Senator Ted Cruz (@Senator Ted Cruz) 1625158184.0
Karl Marx never offered fully developed critiques of law, let alone theories of jurisprudence or legal history. However, CRT is similar to critical legal studies, which claims that laws are used to maintain the status quo of society's power structures. Critical legal studies is an offshoot of Critical Theory, which was a school of thought made up of German philosophers and social theorists in the Western European Marxist tradition known as the Frankfurt School. So while you could draw a line back to Marxism, it's a pretty long walk.
Additionally, critical race theory doesn't really have any similarities to Marxism, or at least not any that would actually upset Ted Cruz. CRT does not advocate for communism, it doesn't advocate for giving up property rights, and it doesn't encourage a worker revolution to overthrow capitalism. It is a framework for looking at our legal system, and at its most radical, it advocates for the end of color-blindness in law and the institution of a more race-conscious judiciary.
Why are we arguing about it?
So what does a somewhat obscure legal theory have to do with current politics? Well, it started with the death of George Floyd at the hands of a police officer in 2020. Floyd's death created a nationwide resurgence of the ideals of the civil rights era as Americans of all races and backgrounds began to educate themselves on issues of race and books about race relations selling out across the country.
This emphasis on learning about Black history and racial inequality spread to classrooms. Teachers began expanding their classroom libraries and including more Black history lessons in their curriculums. This outraged Trump Republicans who argued that learning about these dark parts of American history was designed to make people hate America.
The term "critical race theory" became part of the zeitgeist due to a Fox News interview and a Trump tweet. Christopher Rufo, director of the Center on Wealth and Poverty at the conservative Discovery Institute, argued on Fox News in early September 2020 that Trump should end "radical" diversity training programs in the federal government immediately. He claimed that the reason the programs were bad is that they used critical race theory.
Trump tweeted his opposition to the theory a few days later. By the end of September, former President Trump had issued a memo and an executive order ending racial sensitivity training in the federal government.
According to the memo, all agencies were asked to suspend "any training on 'critical race theory' or 'white privilege,' or any other training or propaganda effort that teaches or suggests either (1) that the United States is an inherently racist or evil country or (2) that any race or ethnicity is inherently racist or evil."
Suddenly, Trump has made critical race theory his enemy, so his supporters started looking for a way to "defeat it." Legislatures in 28 states used Trump's executive order as a template to draw up their own "critical race theory bills." These bills aim to outlaw the teaching of critical race theory specifically, or to prohibit contentious talks about racism, discrimination or privilege in general.
As of July 15, legislators in 26 states have introduced bills that would restrict teaching critical race theory or limit how teachers can discuss racism and sexism, according to an Education Week analysis. 11 states have enacted these restrictions.
America's teachers have decried the laws as "censorship" and the president of the nation's second-largest teachers union vowed to take legal action to protect any member who "gets in trouble for teaching honest history."
There are perhaps valid discussions to be had about how much race should be discussed in classrooms, but critical race theory is simply a distraction from that conversation.
Republicans have deliberately turned critical race theory into a catch-all term for anything they dislike about the discussion of race. Cristopher Rufo explained it best. He
tweeted
that conservative activists hoped to brand the phrase as a "toxic" catch-all for a broad range of cultural issues: "The goal is to have the public read something crazy in the newspaper and immediately think 'critical race theory.'"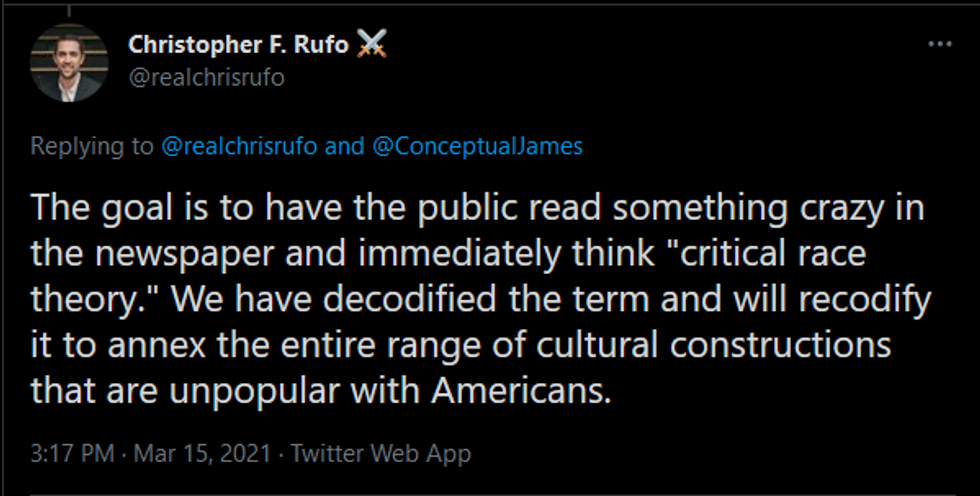 Critical race theory has become a scapegoat for conservative punditsTwitter screenshot
This is an extraordinary scientific achievement, but is it safe?
The average vaccine takes approximately 10 years to develop. There are currently two COVID-19 vaccines (Pfizer/BioNTech and Moderna) that will likely be authorized and released to the public within a year of the discovery of the virus. How can a safe vaccine possibly be developed so fast?
These will be the fastest vaccines ever developed, by a margin of years. The next fastest vaccine ever approved for public use was the mumps vaccine, and that took 4 years.
Unfortunately, that speed has made a lot of people nervous. Will the vaccine be safe? Are they skipping steps? How is this process moving so fast?
According to Pew Research, 77% of Americans think it's very or somewhat likely a COVID-19 vaccine will be approved in the United States before its safety and effectiveness are fully understood.
But regardless of the fear and doubt, we need a vaccine. We are now losing over 2,000 American lives per day to COVID-19. Numerous health experts have warned that this pandemic will not truly be over until we have a vaccinated population.
Part of the fear is related to the mystery surrounding the process of vaccine creation. Almost no one who isn't integrally involved in vaccine development understands how long it takes to create a vaccine or why it takes so long. So to most Americans speed doesn't seem like a feat of modern science, it seems like cutting corners. Here are all the (genuinely not scary) reasons why this vaccine is being developed so much faster than any in history.
Operation Warp Speed
Operation Warp Speed (OWS) is a coordinated government effort to defeat this virus as quickly as possible. It is a partnership between the Department of Defense and the Department of Health and Human services to make resources available to the private companies involved in creating vaccines, testing, and therapeutics for COVID-19. In practice, OWS has focused primarily on the creation of vaccines and has already spent billions ensuring that the vaccine development, manufacturing, and distribution process can move as efficiently as possible.
The US program is bankrolling the development and production of six promising coronavirus vaccine candidates. This has already sped up the process significantly and will likely play an even larger role in the manufacturing process. Medical research of any kind often moves slowly because it's expensive and risky.
Funding is hard to secure, because in order to prove a vaccine is successful (and therefore profitable) you have to have tests, and to do tests, you need money. It's sort of a catch-22 that is only ended when someone decides to make a risky bet.
Betting on vaccines is risky, because if it ends up being unsuccessful (the majority of vaccines never make it to market), that money is just gone. The US government chose to take the gamble.
The US has spent $10 billion through OWS on the most promising vaccine candidates, ensuring they don't have to wait for private funding to move through each phase of the process.
Combining Steps
Many people are concerned that these drug companies are skipping steps in the race to create a vaccine, but what's actually happening is that multiple steps in the process are being done simultaneously.
Steps that are usually done sequentially are being done at the same time. For example, some labs are running combined Phase 1 and Phase 2 human trials or having vaccine development manufacturing facilities ready even before a vaccine is finalized. This increases the financial risk, but not the product risk.
Typically, clinical trials set up their own independent panels of scientists, known as a data safety monitoring board or DSMB, to watch out for safety concerns or early signs of success. But all of the vaccine trials in Operation Warp Speed are sharing a common DSMB. This allows the DSMB to review the data from all the trials from the various vaccines concurrently. That shared data expedites the process and quickly identifies which vaccines are effective and which aren't without wasting time and resources.
Saad Omer, director of the Yale Institute of Global Health, explains that this is not a huge difference. "There's really just a subtle difference in how the trials are run. If the trials were separate, you would publish the full data, and then recruit a new set of participants. For a combined trial, the data and safety monitoring board would look at the interim data and determine whether it's still worth continuing the trial." This continuous monitoring cuts the inefficiencies out of the process without changing the safety standards.
Years of Prior Research
The research stage of vaccine development is often one of the longest. The College of Physicians of Philadelphia states that this exploratory phase "often lasts 2-4 years." Thankfully, much of the research needed for the COVID-19 vaccine had already been done before the novel coronavirus even appeared.
The term "coronavirus" includes a family of several known viruses that cause respiratory tract illnesses that range from the common cold to such potentially deadly illnesses as severe acute respiratory syndrome (SARS), which killed almost 800 people during an epidemic that occurred in 2002 and 2003. After the SARS outbreak, research on coronaviruses increased significantly. So when SARS-Cov-2 or COVID-19 appeared, vaccine work on some of its relatives had already been underway. This gave scientists a significant head start.
Another way in which scientists weren't exactly starting from scratch on this vaccine is thanks to the messenger RNA or mRNA technology. mRNA technology is a completely new vaccine technology that is being used in both the Pfizer/BioNTech vaccine and the Moderna vaccine. Both the Pfizer/BioNTech and Moderna vaccine use mRNA to trigger the immune system to produce protective antibodies without using actual samples of the virus.
While this mRNA science hasn't created a successful vaccine before now, the ideas behind an mRNA vaccine have been studied and tested extensively for over 30 years.
In the natural world, the body relies on millions of tiny proteins to keep itself alive and healthy, and it uses mRNA to tell cells which proteins to make. The concept behind an mRNA vaccine is simple: If you can design your own synthetic mRNA, you could tell the body to create whatever proteins you want, including antibodies to vaccinate against infection.
Messenger RNA vaccines are a game-changer in terms of speed. The mRNA vaccines produced by Pfizer/BioNTech and Moderna are faster to develop as they don't require companies to produce protein or weakened pathogens for the vaccine.
Traditional vaccines typically use a weakened version of the disease or a protein piece of it, but because these are grown in eggs or cells, developing and manufacturing vaccines takes a long time. In contrast, the genetic material mRNA is efficient to make, and highly customizable.
Short but Large Phase 3
When a new vaccine is tested on humans, it is tested in three phases. Each phase increases in size and scope. The length of study for phase 3 clinical trials is usually 1 to 4 years and normally involves 300 to 3,000 patients.
COVID-19 is killing over 2,000 Americans a day, so we don't have time to wait for a lengthy trial. To resolve this issue, they have increased the trial size significantly. Pfizer's phase 3 trial had 43,000 volunteers, and Moderna's had 30,000.
These are what are called "event-driven trials." Basically an event in this case is when one of the volunteers gets sick with COVID-19. Once a trial reaches a previously decided on number of events, they check how many of the people that got sick were given the real vaccine and how many were given the placebo. This shows how effective the vaccine actually was.
The incredibly large trial size and the prevalence of the disease has allowed the "events" to occur quickly, making it easy to test the efficacy of the vaccine. Normally clinical trials can be held back by low volunteer numbers and low disease prevalence. However, COVID-19 spreads rapidly and pretty much all adults seem to be susceptible, which makes these problems irrelevant.
The only downside of a shorter but larger trial is that you don't get to see what long-term effects the vaccine will have. But scientists agree that the chances of long-term complications are extremely unlikely because of how vaccines work. Deborah Fuller, Ph.D, who is a vaccine scientist with UW Medicine, explains, "Most of their job is done in the first few days, then the vaccine is gone from your body. So what's left is that immune response to the vaccine."
Emergency Use Authorization
At the end of the vaccine making process, when the trials are finished and the research is done, companies submit a Biologics License Application (BLA) to the FDA. The BLA usually takes about a year to gain approval. To speed up the process, COVID-19 vaccines are seeking an Emergency Use Authorization (EUA) before they are even done collecting data.
Under an EUA, a company can produce and distribute a vaccine that hasn't officially been approved. This is a process meant for one purpose: to save lives. The FDA will only grant an EUA if they believe that the expected benefits outweigh the possible risks of the vaccine.
Early in the pandemic, the FDA issued a list of requirements they would need from a company before they would consider issuing an EUA for a vaccine. Those guidelines included information about how many people had to be involved in trials, how long the follow up with them had to be, and what information had to be included in their reports.
To ensure that this EUA isn't about cutting corners, the FDA has appointed an independent advisory board to aid them in their decision about the vaccine. On Thursday this week the FDA is scheduled to convene a meeting of that advisory board, known as VRBPAC, to review Pfizer's Covid-19 vaccine for emergency use authorization.
This vaccine is coming, and it's coming quickly. At first that might seem scary, but in reality it's just a perfect confluence of events that have allowed scientific minds to do the impossible. Operation Warp Speed, years of usable research, combining steps, a differently designed phase 3, and emergency use authorizations have all come together to create the perfect situation to make a safe and effective vaccine—in record time.
For more well-researched, unbiased information on today's biggest issues, follow Alexandra's Instagram account The Factivists.
While most of America teeters on the edge of a fascist abyss, Maine has given democracy a much needed upgrade with the switch to ranked choice voting.
Maine will officially become the first-ever state to use ranked-choice voting for a presidential election, the state's Supreme Court ruled this September.
This will allow voters to rank each presidential candidate in order of preference for the November election. Voters will now be able to rank all five presidential candidates that will appear on the ballot, which include Republican President Donald Trump, Democrat Joe Biden, Libertarian Jo Jorgensen, Green Party candidate Howard Hawkins, and Rocky De La Fuente of the Alliance Party. But why is ranked choice voting such a big deal?
How Does It Work?
Ranked Choice Voting is also known as instant-runoff voting (IRV), the alternative vote (AV), or preferential voting. In ranked choice voting, instead of only voting for one candidate, voters can rank the candidates in order of preference. You can rank as many or as few of the candidates as you like and leave the rest blank. If any candidate has more than half of the vote based on first-choices, that candidate wins. If not, then the candidate with the fewest votes is eliminated and their votes are redistributed to their second-choices. The process repeats until one candidate has a majority.
Former Massachusetts gubernatorial candidate, Evan Falchuk, explains that ranked choice voting is essentially the same idea as runoff elections. "You hold an election one day, and then you see how the votes come out, and then you eliminate the candidates that didn't meet whatever the threshold is, and then you hold another election. With ranked choice voting, you do that instantaneously," he stated. Maine's new policy is essentially a more efficient way to hold multiple rounds of elections at the same time.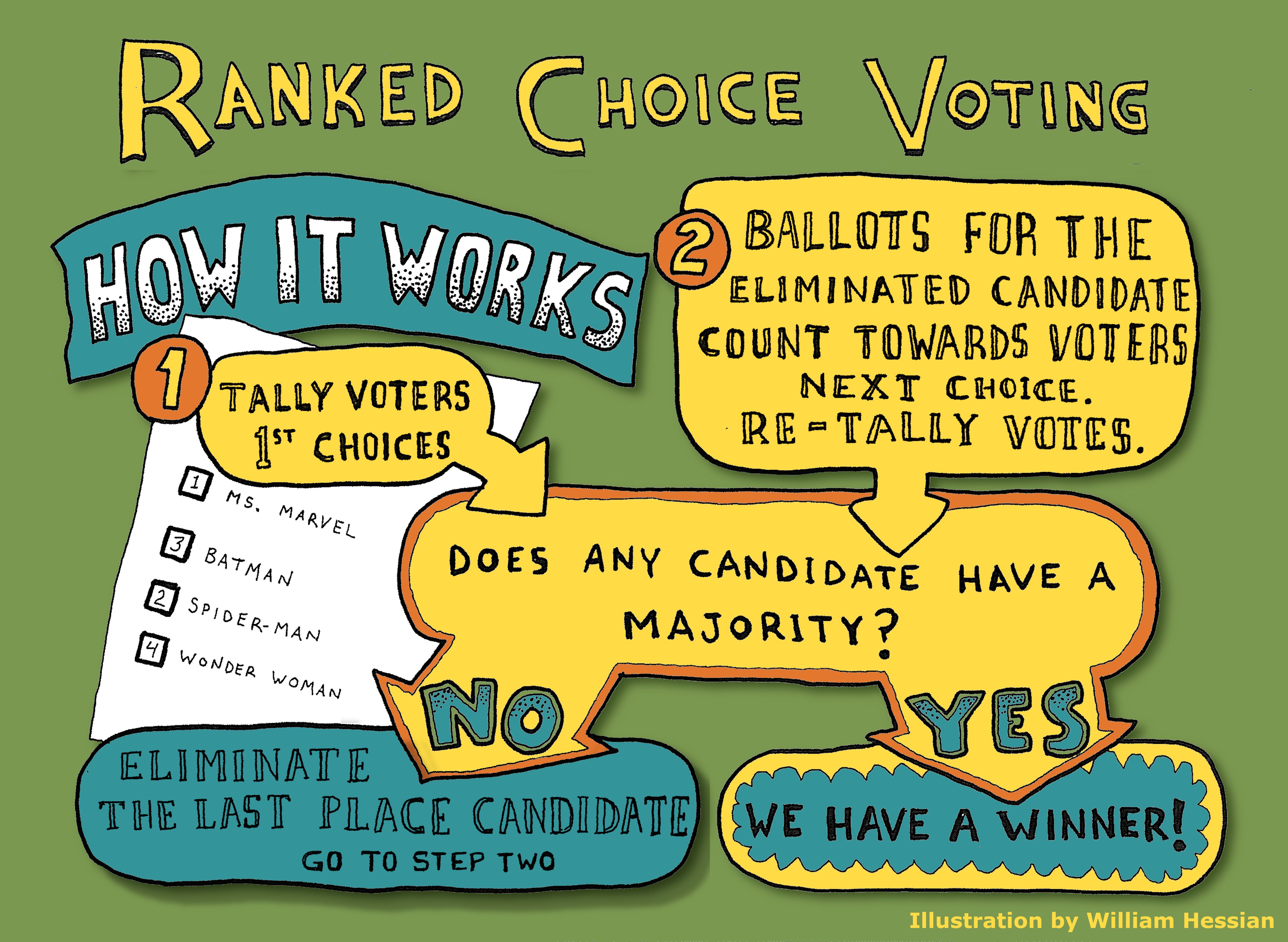 Ranked Choice VotingWilliam Hessian
This system was successfully used by all voters in four states in the 2020 Democratic Party presidential primaries, and is used for local elections in more than 15 US cities and the state of Maine. Even some of the biggest critics of RCV agree it's better than our current system.

But what does this actually mean for elections? Elections have become increasingly unreliable at selecting policymakers who are representative of and supported by their constituents. But RCV eliminates a few of the common problems that exist in our current system. It makes third parties viable, it enables winners that actually have majority support, and it reduces polarization and negative campaigning.
Benefit # 1: RCV Makes 3rd Parties Viable
The majority of the country uses a system called winner-take-all voting or first-past-the-post voting. In this system, voters each have a single vote which they can cast for a single candidate. Whoever gets a plurality of the votes wins all of the representation. Winner-take-all voting systems naturally trend towards two parties. This is mainly because voters feel that they have to strategically vote for candidates who have the best chance of winning so that they don't "waste their vote."
Yet third parties still run for president every four years, and every four years they lose. Sometimes they gain a fair amount of votes, but even then, they are accused of being spoilers.
The spoiler effect is when a third party candidate's presence in the election draws votes from a major-party candidate similar to them, thereby causing a candidate dissimilar to them to win the election. The more popular a third party candidate, the less likely someone who has similar beliefs is to win.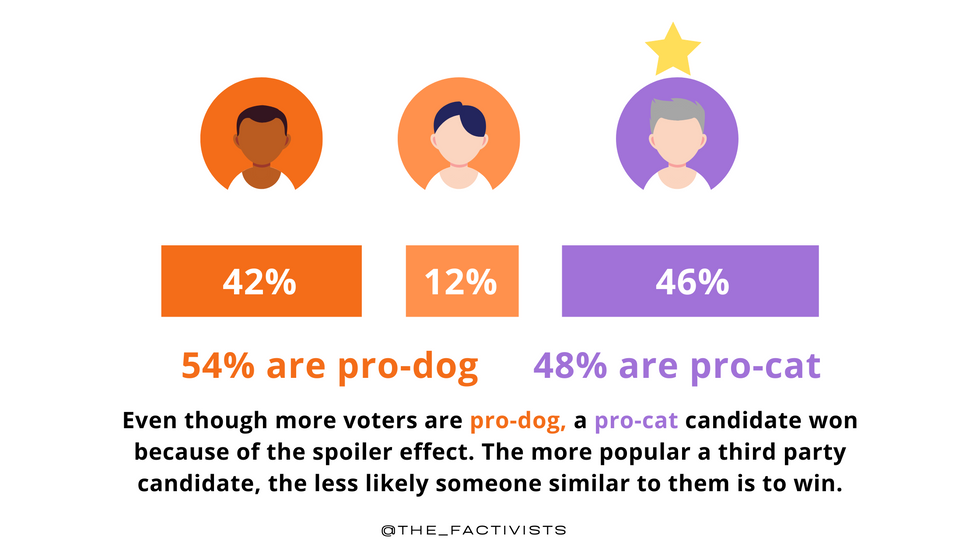 The Spoiler Effect@The_Factivists
The spoiler effect is particularly relevant in close elections like the 2000 presidential race. Many people think that Democrat Al Gore lost the 2000 Presidential Election to Republican George W. Bush because some voters on the left voted for Ralph Nader of the Green Party. If even 1% of Nader's Floridian supporters had chosen to vote for environmentalist Gore over Texas oilman Bush, Gore would have been elected president.
RCV eliminates this issue. Voters can feel confident voting for a third party candidate, even one they think is unlikely to win, without fear of being a spoiler. Say you live in Maine and you think Green Party candidate Howard Hawkins is awesome, you think Joe Biden is just okay, but most of all you want Donald Trump to lose. Normally, most people would tell you to just suck it up and vote for Biden, because Howard Hawkins is never going to win and it's more important to prevent Trump from winning. With RCV you can confidently rank Hawkins as your first choice and Biden as your second, and you can know that if Hawkins loses, your vote will still be put to good use.
This allows third parties to form and grow because voters can vote for the candidate they like the most without worrying that they will help elect the candidate they like least. If it were implemented across America, RCV may not lead to many third party wins in the first few years, because America is firmly entrenched in a two party system. However, RCV allows third parties to gain real footholds and eventually even majority support.
Benefit #2: RCV Enables Majority Support
One of the biggest problems with our current election system is that in order to win candidates only need a plurality of the vote, not a majority. A plurality just means that a candidate received more votes than everyone else, whereas a majority is 51%. This is not a problem when there are only two candidates, but any time there are more than two this becomes a concern.
Too often, candidates win elections despite being opposed by the majority of voters. In elections with more than two candidates, candidates can and do win even when less than half of voters support them.
This lack of majority support is part of what pushed voters in Maine towards adopting a new system. For example, in Maine, nine of the eleven gubernatorial elections between 1994 and 2014 were won with less than 50% of voters' support. Maine governors with low winning percentages include Angus King, who won the governorship in 1994 with just 35% of the vote; John Baldacci, who won in 2006 with just 38.1% of the vote; and Paul LePage, who won in 2010 with 37.6% of the vote.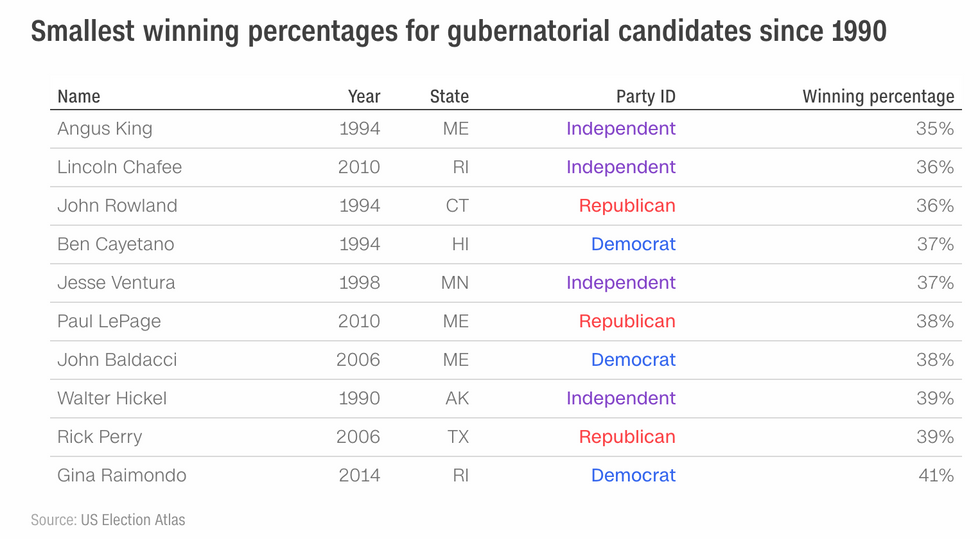 Smallest Winning Percentages for Gubernatorial Candidates Since 1990US Election Atlas
These low percentage wins are not unique to Maine. A recent win in the Massachusetts Fourth Congressional District Democratic primary made headlines when Jake Auchincloss won with only 22.5% of the vote.

RCV has the potential to resolve these issues. With RCV, a candidate can only be declared a winner if they have received 51% of the vote. It's true that not every voter will get to see their first choice candidates win, but a majority of voters will see a candidate they at least somewhat agree with in office. If a voter's first choice is eliminated, their vote instantly goes to their second choice. That way, we can find out which of the top candidates actually has the most support.
All that being said, RCV will elect a majority winner—so long as that majority winner actually exists in the election. In RCV you only have to rank as many candidates as you like. This can result in something called exhausted ballots. Ballot exhaustion occurs as part of RCV when a voter has ranked only candidates that have been eliminated even though other candidates remain in the contest. For instance if your ballot just ranks the Green Party and Libertarian Party candidates, but you decided not to rank any of the major party candidates, it's very possible that both of the candidates you voted for will be eliminated therefore your vote won't end up counting in the final round. RCV makes a majority more likely but no single-winner voting method can guarantee a majority in every election, including RCV.
Benefit #3: Decreased Political Polarization
Americans are more polarized today than ever before. A 2019 Pew poll asked partisan voters to rate their feelings towards the opposite party on a thermometer-style scale. The results showed that Americans feel increasingly negative toward the party they oppose. In March 2016, before the election, 61% of Democrats gave Republicans a cold rating and 69% of Republicans gave Democrats a cold rating (a thermometer rating of 0-49). By 2019, those numbers had significantly increased, 79% of Democrats and 83% of Republicans rated the other party coldly.
Yet the results from the bipartisan Battleground Poll from October 2019 reported that 8 in 10 Americans say that "compromise and common ground should be the goal for political leaders."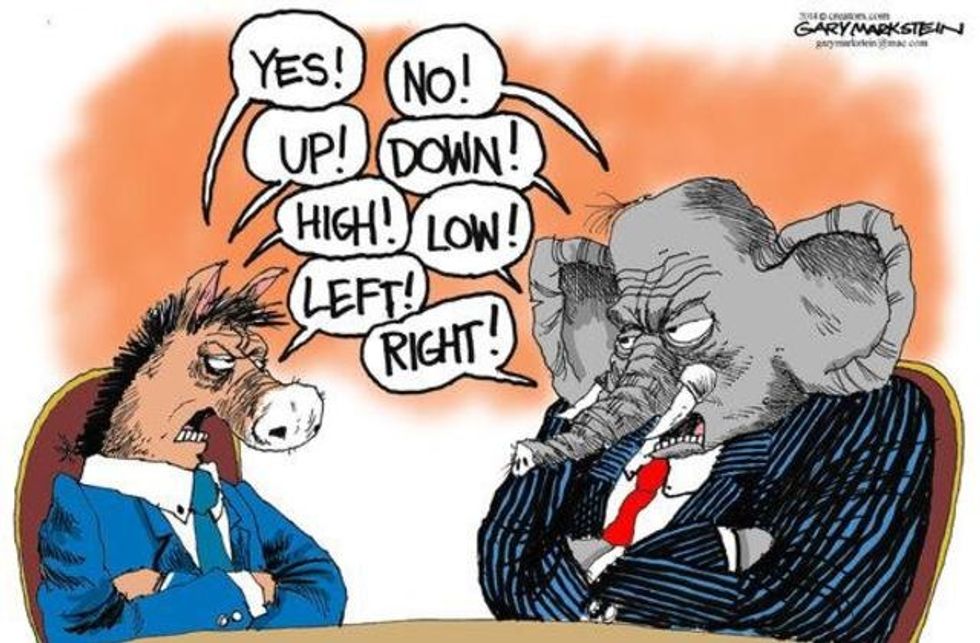 Democrats and Republicans agree only to disagreeGary Markstein
Ranked choice voting could help bridge America's widening political divide by changing how elections work. This is partly because RCV decreases negative campaigning and partisan politicking. When a politician needs second-choice votes to win, they're incentivized to promote their own policies rather than tear down their opponents. And they are incentivized to focus on the beliefs they have in common with other candidates rather than the small policy difference s.

In RCV contests, candidates do best when they reach out and positively influence as many voters as possible–including those who support their opponents. This gives constituents more power and major parties less power. With RCV, candidates can't write off any voter as "unreachable"; they must genuinely try to appeal to voters who are openly voting third party. This means that in order to gain those second choice votes, major parties will have to look at the third parties close to them and adjust their platforms accordingly.
A 2016 study on campaign civility in local RCV elections found that voters viewed campaigns as more civil than they did in cities without RCV. The study concluded that "people in cities using preferential voting were significantly more satisfied with the conduct of local campaigns than people in similar cities with plurality elections." They added, "People in cities with preferential voting were also less likely to view campaigns as negative, and less likely to respond that candidates were frequently criticizing each other."
Our current voting system really only does one thing really well: fuel America's two-party system, a system that is divisive, outdated, and makes voters feel like their votes don't count. When voters feel like their votes count, they show up and they participate. In the words of Elizabeth Warren, RCV's latest champion, "That's a stronger democracy."
Congratulations, Maine; this is a huge step in the right direction. Now let's hope we see similar changes across America—before it's too late.
Donald Trump clearly hates antifa. But what actually is antifa and why does it matter?
If you've watched Fox News recently, you have almost certainly heard the term "antifa" uttered with an air of sinister mystery and more than a hint of contempt, but what actually is it?
Antifa, pronounced "AN-tee-fuh," is short for antifascists. Antifa is not really an organization, as they have no leader, no hierarchy, and no regular meetings or gatherings. It is instead a left-wing political ideology that aims to eradicate fascism and white nationalism through the use of both nonviolent and violent direct action rather than policy reform. Essentially, they are a group characterized entirely by opposition to one thing: fascism.
Webster's Dictionary defines fascism as "a political philosophy, movement, or regime that exalts a nation and often a race above the individual and that stands for a centralized autocratic government headed by a dictatorial leader, severe economic and social regimentation, and forcible suppression of opposition." Most American's agree that fascism is a bad thing. It's regularly associated with bigotry and authoritarian dictators like Hitler. So why are we mad about anti-fascists? To understand that, we have to look at their history.
The History of antifa
The history of anti-fascism begins around the same time as the history of fascism. In 1932 Germany, a group called "Antifaschistische Aktion" formed in opposition to the rising Nazi party. It was a militant anti-fascist organization in the Weimar Republic started by members of the Communist Party of Germany (KPD), and it only existed from 1932 to 1933. Antifaschistische Aktion used their militant approach to develop a self-defense network for communities targeted by the Nazis. The group engaged in a series of direct actions meant to challenge the Nazis, including street brawls, but they were forcibly dissolved after Hitler's rise to power.
Around the same time, the British Union of Fascists (BUF), a Nazi-like political party, was gaining political power in the UK. But when the BUF attempted to lead a march through London in 1936, thousands of Jews and left-wing activists attacked the fascists and their police escorts, raining homemade bombs and rocks down on the parade. The BUF forces retreated and the anti-fascists celebrated victory in "the Battle of Cable Street." The event is still cited by antifa activists today.
The modern antifa movement finds its roots in London's Anti-Fascist Action (AFA). Founded in the UK in 1985 by a wide range of anti-racist and anti-fascist organizations, the AFA was a militant anti-fascist group. It was active in fighting far-right organizations, particularly the National Front and British National Party. They were particularly active in the punk scene, where they would often violently throw neo-Nazis out of punk shows.
A similar organization called Anti-Racist Action (ARA), also connected to the punk music scene, formed in America in the 80's. In the late 1980s and 1990s, ARA activists toured with popular punk rock bands in order to prevent white supremacists from recruiting at their shows. They would remove any neo-Nazi materials and forcibly remove anyone espousing neo-Nazi philosophies.
What does antifa look like today?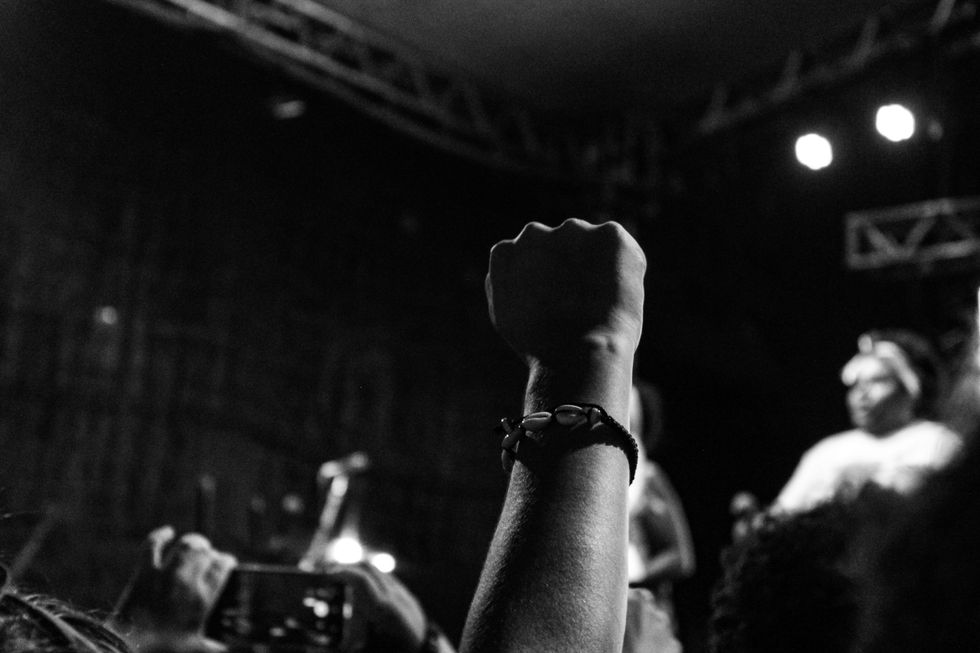 Photo by: Nayani Teixeira / Unsplash
Antifa is not an organization; it's an ideology, and as such, it is highly decentralized and localized. There are some specific local organizations, like Portland's Rose City Antifa, which was founded in 2007, but there's no national umbrella leadership or hierarchy. There is no uniform course of action for antifa, but they do tend to operate on one principle: Stopping fascism by any means necessary.

In The Antifascist Handbook, antifa historian Mark Bray writes, "The job of the anti-fascist is to make [fascists] too afraid to act publicly and to act as volunteer targets for their hate and attacks which might keep them from thinking about burning down the mosque in their neighborhood."
In order to intimidate "fascists," antifa uses a variety of tactics. Online, they use a technique called doxxing. They identify white supremacists and fascists and expose them online in an attempt to get them fired from their jobs and evicted from their apartments. Antifa also uses no-platforming or deplatforming, which involves denying fascists the opportunity to speak out in public by obstructing their events.
The tactic that makes most people nervous about antifa is their use of violence. Antifa generally seeks out fascists and racists and disrupts any and all rallies through violent confrontations. Antifa has been known to use sticks, fists, and projectiles, though they are almost never associated with guns.
In general, Antifa appear as counter-protesters, not protesters themselves. They look to events in history like the Battle of Cable Street, and claim that fascism can only be stopped by using violence. You can recognize antifa at a protest either from their logo—a red flag over a black flag—or sometimes from their use of black bloc strategy. The black bloc is where people dress in black and cover their faces in order to thwart surveillance and create a sense of equality among participants. Sometimes antifa members using this method try to operate as a "security force" for protesters.
Since Trump was elected in 2016, anti-fascist counter-protesters have become much more mainstream. Thousands of people protested at Donald Trump's inauguration, including some self-proclaimed anti-fascists. Memorably, after the inauguration, white-supremacist Richard Spencer was punched in the face by a black-clad protestor—and after the incident went viral on social media, Richard Spencer blamed it on antifa.
A few months later in August 2017, Antifa counter-protesters showed up at the "Unite the Right" rally in Charlottesville, Virginia and violently clashed with alt-right protesters. During the rally a neo-Nazi plowed into a crowd of counter protester, injuring dozens and killing one woman, Heather Heyer.
In March 2018, Richard Spencer canceled the remaining stops on his college speaking tour, releasing a tearful video in which he declared that "antifa is winning."
Coverage of antifa has gone up significantly during the recent racial justice protests. This summer, between May 24th and August 22nd, ACLED recorded more than 10,600 protests in all 50 states and Washington, DC. Most of the protests were about police brutality, and around 10,130 of them were peaceful. However the media has spent a lot of time on the approximately 570 protests that involved some form of violence. Donald Trump has repeatedly blamed the violence at protests on antifa, which has given the movement significant media attention.
Trump and his supporters have designated antifa as public enemy #1. He has mentioned antifa in 41 tweets and has credited antifa with all of the violence and looting of the Black Lives Matter protests, and even accused the 75-year-old man who was pushed over on camera by the police in Buffalo of being an "antifa provocateur."
Trump also declared via Twitter that he would designate antifa as a terrorist organization, despite the fact that he legally cannot declare any domestic group as a terrorist organization. Overall, he has given antifa a lot of attention without presenting any actual evidence of antifa involvement.
Are antifa responsible for protest violence?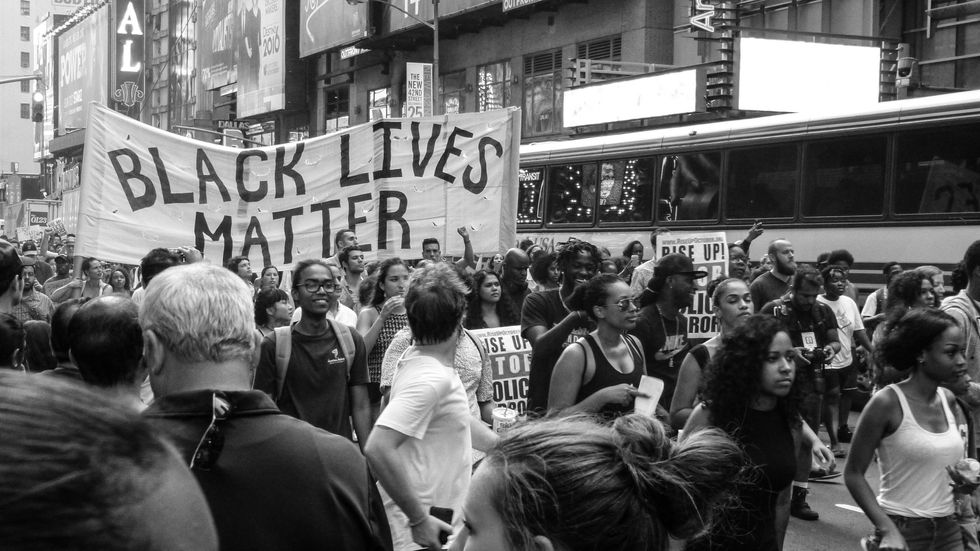 Photo by: Nicole Baster / Unsplash
Any group that believes that the ends justify the means should be viewed as a threat. That being said, so far there is no evidence that the violence at the racial justice protests is caused by antifa or even that it has been coordinated at all. Thousands have been arrested at the protests, but most are for misdemeanor charges such as breaking curfew. The few more serious offenses, including murder and throwing molotov cocktails at police vehicles, have resulted in federal charges. According to the Washington Post, there are roughly 80 federal charges stemming from the protests, but thus far there are no mentions of antifa in any of the court documents. However, the far-right "boogaloo" movement is tied to 4 of the offenders.

Seth Jones, an expert on terrorism at the Center for Strategic and International Studies, writes, "My conversations with law enforcement and intelligence officials in multiple US cities suggest that [though] antifa played a minor role in violence, the vast majority of looting appeared to come from local opportunists with no affiliation and no political objectives. Most were common criminals."
A May 31 memo from the FBI's Washington field office reported "no intelligence indicating Antifa involvement/presence" in DC protests. The Associated Press analyzed court records, employment histories, social media posts and other sources of information concerning the 217 people arrested May 29-31 in Minneapolis and DC, and found that almost all were local residents, and very few had any connection to any extremist organizations.
Even the Department of Homeland Security admits that most of the violence seems to be caused by local "violent opportunists" rather than extremists, despite the fact that a recent whistleblower claimed that DHS officials were directed to play up the threat presented by antifa to match the president's rhetoric.
Antifa has existed in some form in the United States since the 1980s, and they have never posed much of a domestic terror threat. In fact, the only known death caused by an antifa supporter happened a week ago, by a man who stated on Instagram that he was "100% antifa" but was not actually affiliated with any antifa group.
According to the Center for Strategic & International Studies (CSIS), between 1994 and 2020, there were 893 terrorist attacks and plots in the United States. Right-wing terrorist (Boogaloo, Sovereign Citizens, white supremacists, incels, etc.) attacks caused 335 deaths, while left-wing (extreme environmentalists, animal rights extremists, anti-capitalists, anarchists, etc.) attacks caused 22 deaths. Most importantly, antifa caused no known deaths.
Why Trump's antifa rhetoric should scare you.
Antifa is not responsible for the level of violence Trump claims, but it is a real extremist ideology that does use violence as a tactic. This fact has led Trump and his supporters to use it as a catch-all term for leftists in order to scare people on the right.
This is concerning for a number of reasons, and is somewhat—dare I say it—fascist. A defining feature of fascism is forcible suppression of the opposition and Trump is trying to use antifa to do exactly that.
Antifa doesn't have official membership, which gives Trump and his supporters a lot of leeway to dictate who is in "antifa" and who it isn't. If antifa includes anyone who is against fascism, it would likely include most Americans.
Trump's misapplication of the label "antifa" to include all left-leaning activists rather than limiting it to those who proactively seek physical confrontations has resulted in dangerous generalizations. He continues to paint a picture of this summer's protesters as a monolithic leftist group who desire nothing more than chaos.
In reality, racial justice protesters are very diverse. According to Pew Research, 59% are over 30, 42% live in the suburbs, and 17% lean Republican. The protesters are people from every walk of life who genuinely feel that police brutality and racial injustice are serious problems.
As long as antifa is a shadowy, amorphous group, it will continue to be used as a punching bag for the right. The lack of information about antifa has already given rise to various conspiracy theories regarding it. Some claim it is being funded by George Soros, who is somehow also a Nazi. Some even claim that Soros is sending out buses marked "Soros riot Dance Squad" full of antifa members intending to start riots.
Others falsely claim that the Democratic party is funding antifa and hiring paid agitators. These claims are quite obviously false, yet they spread like wildfire. One of the most concerning disinformation campaigns about antifa in recent memory was the twitter account @antifa_us, which encouraged violence at protests. The account was removed by twitter after it turned out to actually be operated by Identity Evropa, a white supremacist group.
By playing up the scale of the antifa threat, Trump has made antifa seem just as bad, if not worse, than other extremist groups. However, the statistics show us that this is simply not the case.
The anti-defamation league warns that "it is important to reject attempts to claim equivalence between the antifa and the white supremacist groups they oppose." They add that, "Right-wing extremists have been one of the largest and most consistent sources of domestic terror incidents in the United States for many years; they have murdered hundreds of people in this country over the last ten years alone. To date, there have not been any known antifa-related murders."
Antifa is extreme, and we should all condemn their use of violence—however rare it may be. But perhaps their cause is a worthy one. After all, it does seem awfully fascist to declare anti-fascists terrorists.
For more well-researched, unbiased information on today's biggest issues, follow Alexandra's Instagram account The Factivists.
The Census has one goal: "Counting everyone once, only once and in the right place." Every 10 years, the US Census Bureau conducts a survey of every single person living in the United States.

The United States has been conducting census surveys since the 1790's because when the founding fathers were building their fledgling democracy they decided that population would be the basis of political power.
The 2020 Census asks a few simple questions about you and everyone who was living with you as of April 1, 2020. The survey asks about the number of people living in your household, and each persons age, sex, and race.
The September 30th deadline is rapidly approaching, but some American's still haven't filled out their census. Not filling it out, has some very real consequences. Here are six reasons why you should definitely fill out your census immediately.
1. It's illegal not to.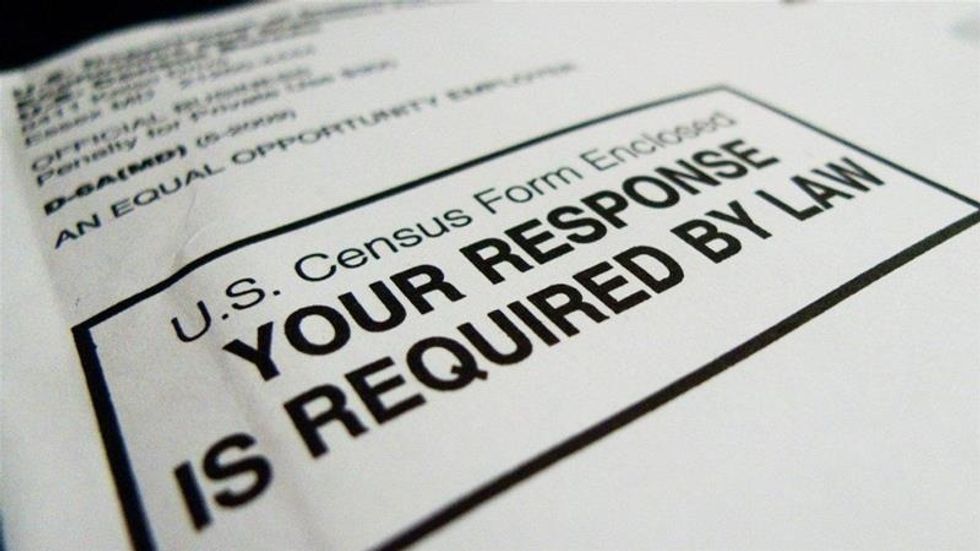 Your response is required by law.Getty Images
Filling out the census is mandatory, and everyone living in the U.S. and its five territories as of April 1, 2020, is supposed to be counted. This includes children, babies, people without homes, college students, and immigrants regardless of their legal status.
According to United States Code, Title 13 (Census), Chapter 7 (Offenses and Penalties), SubChapter II, if you're over 18 and refuse to answer all or part of the census, you can be fined up to $100. If you give false answers, you're subject to a fine of up to $500. If you offer suggestions or information with the "intent to cause inaccurate enumeration of population," you are subject to a fine of up to $1,000, up to a year in prison, or both.
2. If you don't, someone will show up at your house.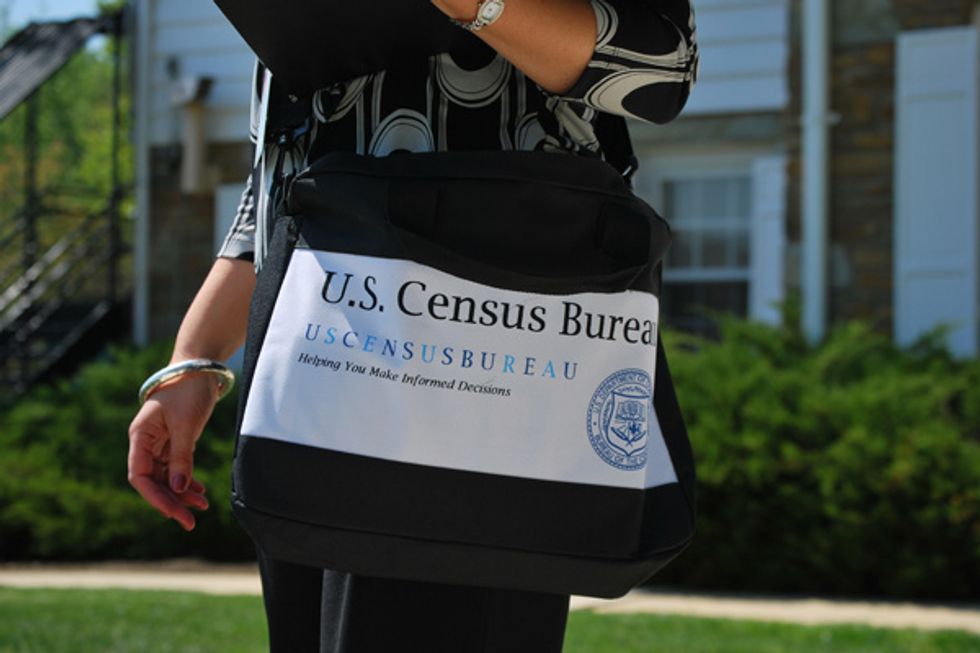 Census Bureau EnumeratorU.S. Census Bureau
If you haven't already filled out the census, you can expect a visit from a US Census taker as part of NRFU. The Nonresponse Followup operation (NRFU) is when census takers visit nonresponding households to survey their inhabitants in-person and enter their answers on their secure Census Bureau smartphone.
If no one is home when the census taker visits, they will leave a notice of their visit with information about how to respond online or by phone. As necessary, they will make additional visits to collect responses from the household.
NRFU is a huge operation, this year they are expected to send enumerators to approximately 56.4 million households that have not responded to the 2020 Census.
3. It affects your representation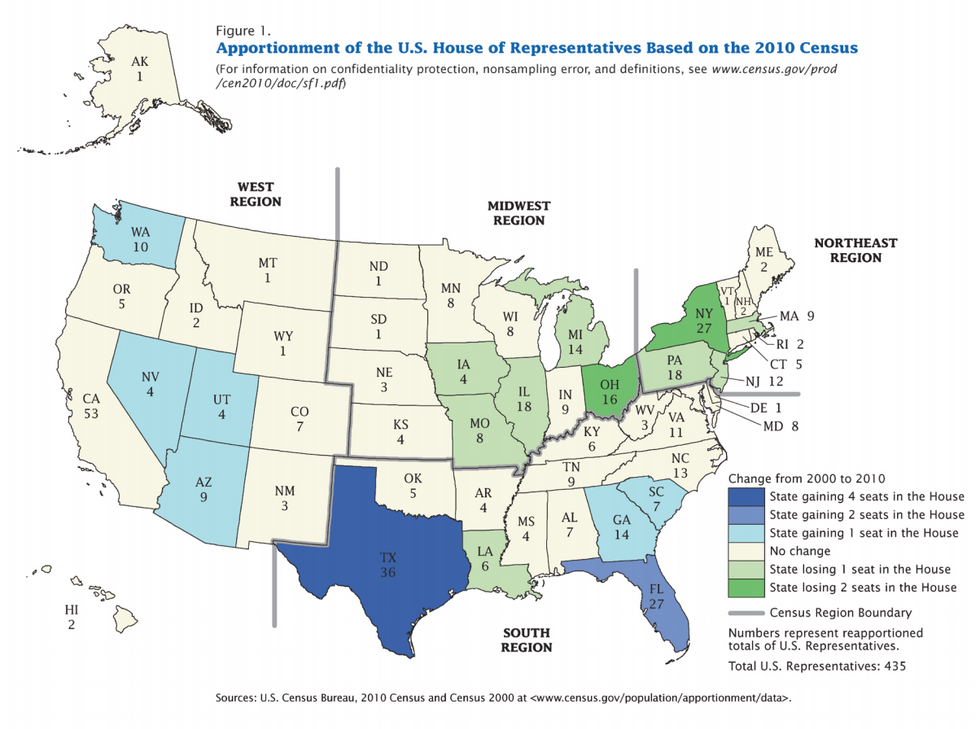 Apportionment map of 2010 CensusU.S. Census Bureau
The census determines how many representatives each state will have in Congress for the next 10 years. The US House of representatives has 435 seats, each of which is allocated based on population. For instance, Texas gained four seats after the last Census, while New York and Ohio lost two seats each. State and local officials also use census results to help redraw congressional, state, and local district boundaries.
4. It affects your community's funding.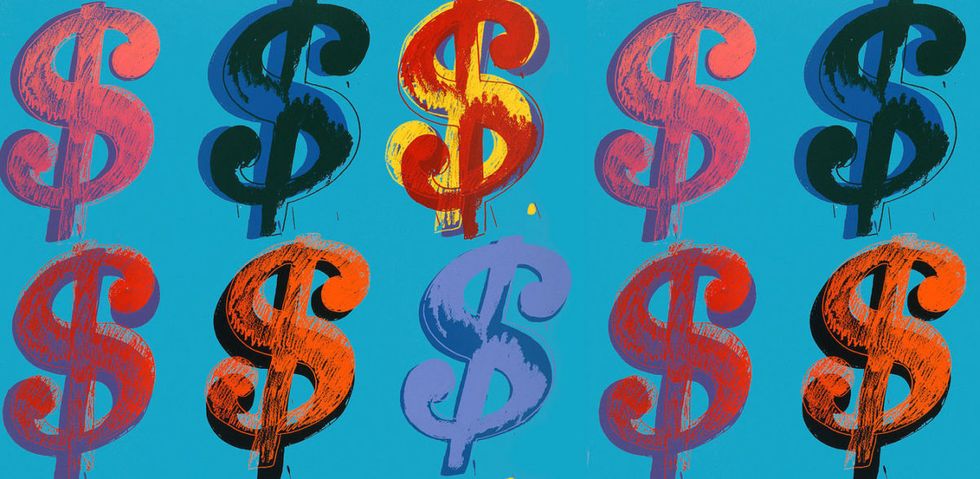 Billions in government funding are allocated through census data every year. Andy Warhol
The Census also affects funding. Each year, approximately $675 billion in federal funds is spent on schools, hospitals, roads, public works and other vital programs, and this money is divided up largely based on population. Responding to the census helps your community receive its fair share of that funding.

Census data isn't only used by the public sector. It is also used by many businesses in the private sector to decide where to build factories, offices, and stores, and developers use the census to decide where to build new homes.
Local governments use the census so they can plan for every emergency from riots to fires to hurricanes, and advocacy groups use the census to support community initiatives involving legislation, quality-of-life and consumer rights.
5. It's so easy and safe!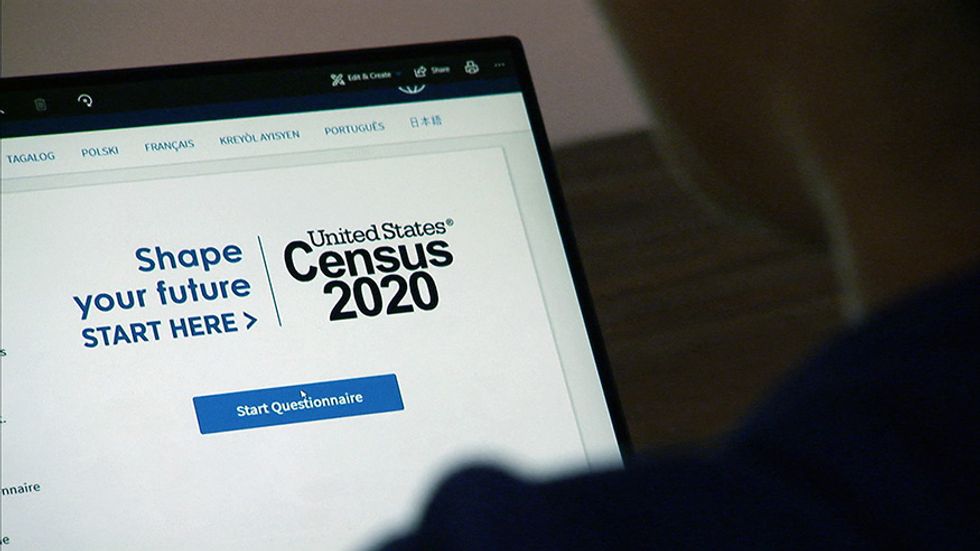 This is the first year you can fill out your census online!U.S. Census Bureau
This year, there are three different easy ways to fill out your census.
By mail. You should have received a paper survey in the mail in April, which can still be mailed back to the U.S. Census Bureau.
Online. This is the first time the census can be completed online! Visit www.2020census.gov to fill out the survey. The online survey has 13 available language options.
By phone. Respondents can call the Census Bureau at 844-330-2020, and can be provided with answers over the phone in 13 languages.
You may be thinking that you don't care how easy it is, and no matter what, you don't want to share your information with the government. But the census really is a safe and secure way to participate in democracy. It is strictly against the law for the Census Bureau to disclose or publish any census information that identifies an individual. Title 13 makes it very clear that the data collected can only be used for statistical purposes—and it is not allowed to be used for anything else, including law enforcement. No law enforcement agency can access or use your personal information at any time, including the Department of Homeland Security, ICE, the FBI, and the CIA.
6. COVID-19 might lead to an undercount, which hurts vulnerable populations.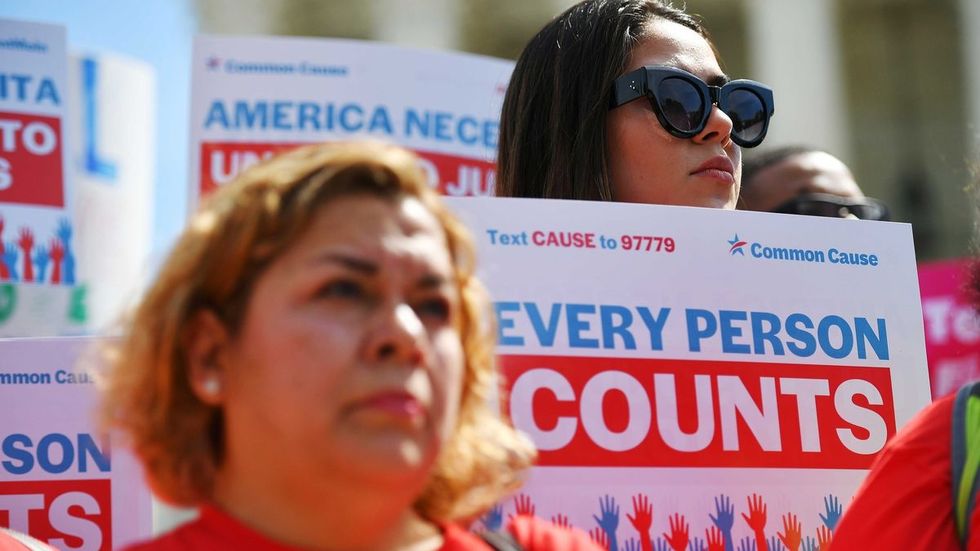 Undercounts hurt everyone, but they hurt vulnerable populations the most.Getty Images
The coronavirus has changed a lot about how the Census operates. In-person efforts to reach census respondents have been significantly reduced and delayed, the Census office had to undergo a month long hiring freeze right as they began sending out survey, and the deadline for filling it out has shifted twice.
The NRFU operation was originally scheduled for May 13 through July 31, 2020, but these dates have been adjusted due to the COVID-19 pandemic and are now set to take place between August 11 and September 30, 2020. This reduction from two and a half months to one and a half months has caused some concern.
The Census Bureau is also having trouble hiring and keeping employees during the pandemic. They say they require 435,000 census-takers to complete their accelerated count, but as of Aug. 18 they had onboarded just 309,000. A report from the Government Accountability Office explains this discrepancy may be due to high attrition rates. The Census Bureau expected that about 10% of employees that started training would not show up for field work, but surprisingly the rate was closer to 35%.
The Bureau's original COVID-19 plan was to extend the census count's follow-up period from July 31 to October 31. Given this extension,the Bureau also requested that Congress delay the mandated reporting of census results to the president from December 31, 2020 to April 30, 2021. However, the extension was never approved and on August 3, the Bureau announced its intention to end all follow-up activities by September 30 and report the results to the president by December 31.
The Census Bureau says they are on track to meet this goal, but many have criticized the decision and blamed it on pressure from the White House. Four former Census Bureau directors who served under nine presidents have made a statement saying that without the full deadline extension, "The Census Bureau will not be able to carry out the NRFU fully and will be forced to take steps such as fewer in-person visits and rely instead on the use of administrative records and statistical techniques on a much larger scale than in previous census." This could result in a serious undercount of hard-to-count populations.
Hard-to-count populations have always taken extra efforts to reach. These populations include the homeless, residents of dormitories or group homes, racial minorities, immigrants, rural residents, and residents on Native American reservations. Some groups are hard to count simply because they are hard to locate, like homeless people or people in remote locations, but others don't respond on purpose because they don't trust the government.
Unfortunately, the populations that are most likely to go uncounted are also those who need funding and representation the most. These populations are often already underserved by the government and an undercount could affect the next 10 years of resources available to them. Homeless people, minorities, immigrants, and rural communities are all at risk of being underrepresented in legislative bodies, and they also risk receiving less funding for desperately needed social programs, hospitals, and schools.
September 30 is the last day to be counted in the United States Census.
As of September 1st, approximately
64.9%
of the country has already self-responded, and another 17.9% have been counted through follow-up efforts by the bureau. Unfortunately, that still leaves approximately 17.6% of the population to locate and count in the next 30 days. Make sure your community gets the resources and representation it deserves by filling out the Census today
For more well-researched, unbiased information on today's biggest issues, follow Alexandra's Instagram account The Factivists.
Everything you need to know about the Trump administration's latest controversy.
The Hatch Act is in the news this week due to uproar about potential violations at the Republican National Convention.
The accusations involve three critical RNC moments: Secretary of State Pompeo's speech from Jerusalem, Trump and Melania using the White House as a backdrop, and the inclusion of a naturalization ceremony conducted by acting Homeland Security Secretary, Chad Wolf. However, most Americans have never heard of the Hatch Act, and Trump's Chief of Staff believes that "Nobody outside of the Beltway really cares." So what actually is the Hatch Act, did the Trump administration violate it, and should we care?
What Is the Hatch Act?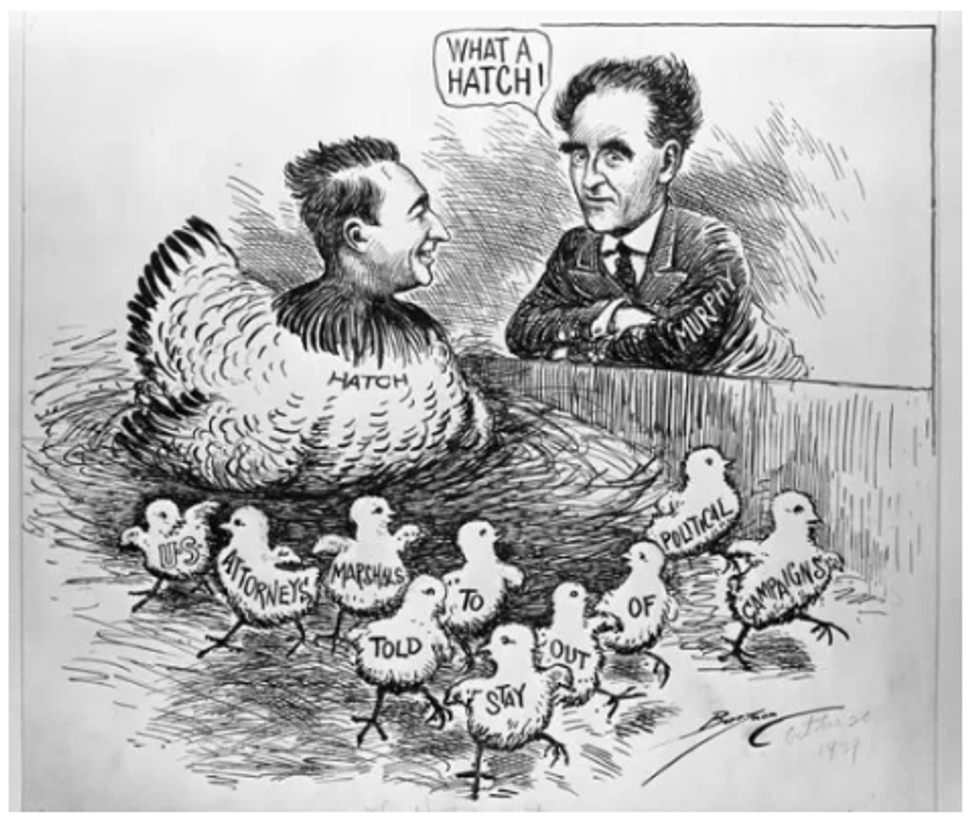 By ART CHANCE
The Hatch Act of 1939, "An Act to Prevent Pernicious Political Activities," limits certain political activities of federal employees, as well as some state, D.C., and local government employees who work in connection with federally funded programs. Specifically, those in the executive branch, with the exception of the President and Vice President, must abstain from taking "any active part" in political campaigns while on duty. They may not use their official titles or positions while engaged in political activity or participate in any activity directed at the success or failure of a political party, candidate for partisan political office, or partisan political group while on duty, in any federal room or building, or wearing a uniform or official insignia.

Summarily, the Hatch Act was created to ensure that government resources don't subsidize re-election campaigns, that government aides aren't pressured into campaigning for their superiors, and that government officials don't use the influence of their position to affect election outcomes. It ensures that campaigning and governing remain separate activities.
The Trump administration has a history of violating the Hatch Act. The Office of Special Council, which is responsible for evaluating Hatch Act complaints, has issued members of the Trump administration 13 official citations, and 12 more investigations are underway, not including the potential violations during the Republican National Convention. This is despite the fact that Henry Kerner, the head of the Office of Special Council, is a Trump appointee and model conservative.
The most notable offender is Kellyanne Conway, counselor to the president, who has been accused of violating the Hatch Act over 60 times by Citizens for Responsibility and Ethics in Washington (CREW). She's violated the Hatch Act so many times that even the Trump-friendly OSC recommended she be fired, referring to her actions as "egregious, notorious and ongoing." Her response to the recommendation? "blah blah blah...let me know when the jail sentence starts."
Conway is not the only one.The New York Times reported that Trump officials "privately scoff" at the Hatch Act and "take pride" in violating it, and the Daily Beast reported that staffers flaunt violations because they "love the anger it produces." In contrast, during Obama's eight years as president, only two cabinet officials received official citations, and both publicly apologized for their misconduct.
So now that we understand what the Hatch Act is, let's talk about the specific violations that took place during the RNC.
Secretary of State Mike Pompeo's Speech
Watch Mike Pompeo's Full Speech At The 2020 RNC | NBC Newswww.youtube.com
Secretary of State Mike Pompeo delivered his Republican National Convention speech from a rooftop in Israel. Pompeo filmed the speech on an official overseas trip, but the State Department said he delivered it "in his personal capacity." He never mentioned his position as Secretary of State, but he did speak to foreign policy in general and Trump's "America First" vision.
Does it break tradition? Yes, Secretary of State Mike Pompeo is the first acting Secretary of State in living memory to give a speech at a partisan convention. Other cabinet members have made speeches to national conventions in the past, but the Secretary of State's role in foreign policy has deemed their participation inappropriate. As Susan Hennessey and Scott R. Anderson wrote in a Washington Post op-ed, "Diplomats are supposed to represent all Americans to the rest of the world, and limiting their political activities ensures that they are able to serve this role effectively."
So does Pompeo's speech break department policy? Yes, According to a 2019 memorandum from the department's Legal Adviser, "Senate-confirmed Presidential appointees may not even attend a political party convention or convention-related event." The memorandum explains that the State Department specifically has a "long-standing policy of limiting participation in partisan campaigns by its political appointees in recognition of the need for the U.S. Government to speak with one voice on foreign policy matters."
Does it violate the Hatch Act? Maybe. The State Department has stated that he delivered the speech "in his personal capacity," which, under the Hatch Act, he is allowed to do. However, because the speech was delivered from Israel on a diplomatic visit, it can be argued that he was on duty, and it is impossible to separate him from his official capacity; therefore, he was violating the Hatch Act.
The Use of the White House Grounds for Campaign Speeches
Melania Trump delivers speech at 2020 RNCwww.youtube.com
Melania Trump delivered her speech on the second night of the convention from an unconventional location: the White House Rose Garden. And as his grand finale, Donald Trump delivered his speech accepting his nomination from the south lawn of the White House. Trump has stated that the choice to do the speeches from the White House is simply a matter of convenience since it would be "easiest from the standpoint of security." However, many officials have criticized this action for being a Hatch Act violation waiting to happen.

Does it break tradition? Yes, use of the White House grounds as a platform for a re-election speech is highly unusual and represents a blurred line between taxpayer-supported government activity and political campaigning. The "Rose Garden strategy," a term used by political strategists for an incumbent president's use of official events to gain publicity in an election year, is fairly common. But, using the official events to get media attention is not the same as literally using the Rose Garden for televised campaign events.
Does it violate the Hatch Act? Maybe. The President himself is exempt from the Hatch Act. But any other White House employees assisting in the setup/preparation for RNC speeches are in violation. The OSC has stated that federal employees attending the event are not in violation because the Rose Garden and the South Lawn are not considered part of the White House.
Use of Naturalization Ceremony Footage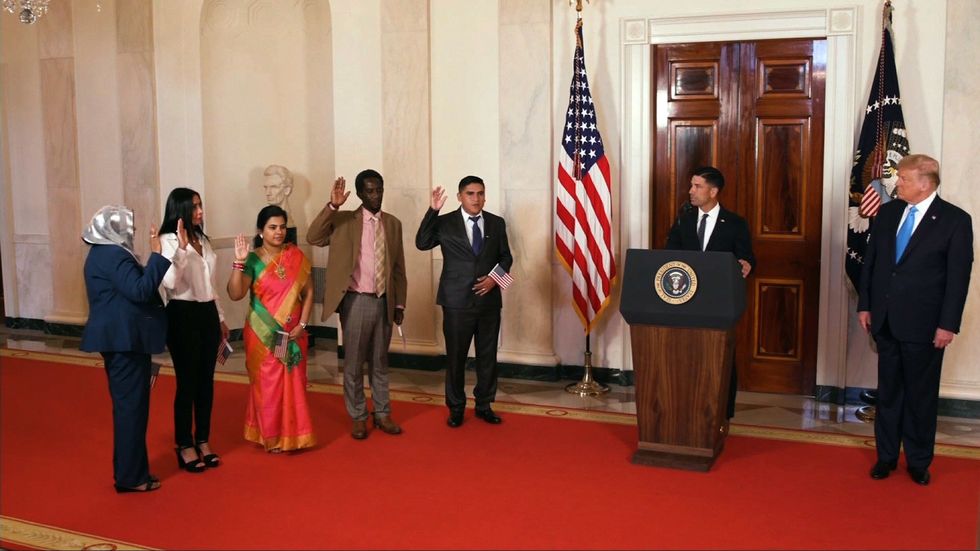 Naturalization Ceremony shown at RNC
During the second night of the Republican National Convention, Donald Trump presided over a pre-recorded naturalization ceremony for five new American citizens. The ceremony was performed by acting Secretary of Homeland Security, Chad Wolf, and was filmed inside the White House. The video began with Trump striding up to the lectern while "Hail to the Chief" played in the background.

Does it break tradition? Yes. Using a legally binding ceremony as part of a partisan campaign event has never been done before.
Does it violate the Hatch Act? Probably. Acting Secretary of Homeland Security, Chad Wolf, was acting in his official capacity, clearly on-duty, performing a legally binding ceremony in the White House. Because this was used during a political convention in support of the re-election of Donald Trump, it is a seemingly clear violation of the Hatch Act. White House officials have defended the action in a statement, "The White House publicized the content of the event on a public website this afternoon and the campaign decided to use the publicly available content for campaign purposes." The argument seems to be that because the original intent of the ceremony was not to use it for the campaign, it was not a violation.
All three of the questionable actions mentioned above effectively blur the line between the Executive Branch's role in governing and their role in getting Trump reelected. Even though it is unclear whether these actions were technically violations of the Hatch Act, they certainly violate the spirit of the act. Free and fair elections are the foundational principle of Democracy, but Trump and his administration don't seem to care about the rules in place to keep things fair. Americans deserve a federal government that works for everyone, not one that can't seem to tell the difference between campaigning and governing.
For more well-researched, unbiased information on today's biggest issues, follow Alexandra's Instagram account The Factivists.