"A tree is best measured when it is down," the poet Carl Sandburg once observed, "and so it is with people." The recent death of Harry Belafonte at the age of 96 has prompted many assessments of what this pioneering singer-actor-activist accomplished in a long and fruitful life.
Belafonte's career as a ground-breaking entertainer brought him substantial wealth and fame; according to Playbill magazine, "By 1959, he was the highest paid Black entertainer in the industry, appearing in raucously successful engagements in Las Vegas, New York, and Los Angeles." He scored on Broadway, winning a 1954 Tony for Best Featured Actor in a Musical – John Murray Anderson's Almanac. Belafonte was the first Black person to win the prestigious award. A 1960 television special, "Tonight with Belafonte," brought him an Emmy for Outstanding Performance in a Variety or Musical Program or Series, making him the first Black person to win that award. He found equal success in the recording studio, bringing Calypso music to the masses via such hits as "Day-O (The Banana Boat Song)" and "Jamaica Farewell."
Harry Belafonte - Day-O (The Banana Boat Song) (Live)www.youtube.com
Belafonte's blockbuster stardom is all the more remarkable for happening in a world plagued by virulent systemic racism. Though he never stopped performing, by the early 1960s he'd shifted his energies to the nascent Civil Right movement. He was a friend and adviser to the Reverend Doctor Martin Luther King, Jr. and, as the New York Times stated, Belafonte "put up much of the seed money to help start the Student Nonviolent Coordinating Committee and was one of the principal fund-raisers for that organization and Dr. King's Southern Christian Leadership Conference."
The Southern Poverty Law Center notes that "he helped launch one of Mississippi's first voter registration drives and provided funding for the Freedom Riders. His activism extended beyond the U.S. as he fought against apartheid alongside Nelson Mandela and Miriam Makeba, campaigned for Mandela's release from prison, and advocated for famine relief in Africa." And in 1987, he received an appointment to UNICEF as a goodwill ambassador.
Over a career spanning more than seventy years, Belafonte brought joy to millions of people. He also did something that is, perhaps, even greater: he fostered the hope that a better world for all could be created. And, by his example, demonstrated how we might go about bringing that world into existence.
We need more Black films that aren't about pain
Sometime in the middle of June, seemingly overnight, bookmarks and highlights with titles like "Sharing Black stories" and "Celebrating Black Voices" emerged on streaming platforms.

While such branding efforts are usually reserved for Black History Month, these categories appeared as a response to the Black Lives Matter protests, which rippled through the industry in demands for more representation and recognition of Black people.
Streaming platforms responded by acquiring more Black content to feature prominently on their homepages, emphasizing their commitment to sharing and amplifying what they categorize as "Black Voices."
This seems like a good thing, a sign of progress. However, scrolling through the Black categories revealed more about Hollywood's gaze than about Black people — most of the showcased films could be separated into two categories: movies about slavery and movies about Civil Rights.
From Harriet and 12 Years a Slave to Selma or any other Martin Luther King biopic, most of the critically acclaimed films about "Blackness" seem to sensationalize Black suffering in order to offer a false sense of resolution and closure — as if racism began in slavery and ended with the March on Washington.
This false representation of Blackness in Hollywood perpetuates the idea that racism is a Black issue for Black people to deal with. It shows the horrors of slavery and Jim Crow eras as experiences of Black suffering, rather than white violence and complicity — all while cementing them in the past, where they can be ignored rather than confronted.
All this is at odds with the recent pushes for Americans to acknowledge how they are implicated in the country's deep-seated racist history.
Though film has the potential to excavate deep emotional truths about the current lives of Black folks, or imagine multiplicitous and dynamic futures, Hollywood is too obsessed with cataloguing Black trauma to realize that potential.
For film to truly be a resource for antiracism and an artform where everyone is represented, the powers that be in the academy need to reach beyond historical narratives and stereotypical caricatures and instead give their money and energy to new stories.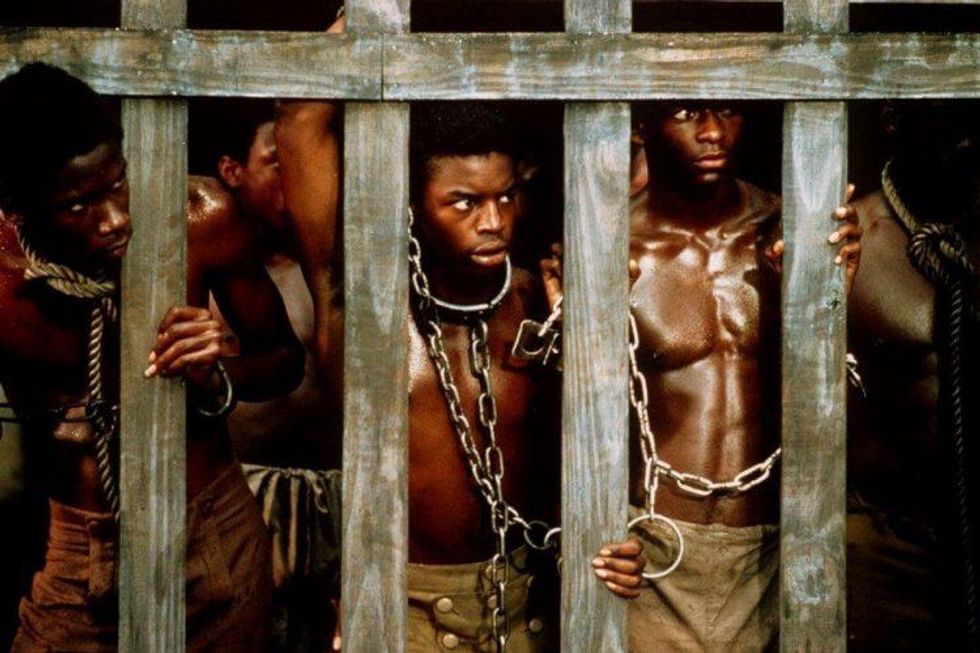 Roots
Voyeurism of Black Trauma

Sometimes I think there shouldn't have been any film about slavery after Roots.
The six-part, nine-hour mini series, based on Alex Haley's giant novel of the same name, premiered in 1977 and catalogued the cruelty endured by one slave, Kunta-Kinte, who refused to give up his name.
Though the story is iconic and a canonized part of the lexicon (often referenced in Black art and popular culture like multiple Kendrick Lamar songs), what is most famous about the movie adaptation are the scenes of violence — the whipping, the blood, the lacerations left on the skin.
In most film representations of enslaved people, there is a focus on the violence and cruelty experienced — from physical to sexual assault. While it is important to remember the intensity of the cruelty suffered under slavery, the Hollywood gaze often sensationalizes this violence, using it as plot or character development or to establish tropes. This creates a voyeuristic dynamic which is more objectifying than empowering.
Too often, this violence serves as a catalyst for some self-determined act of escape. Capitalizing on their anger, the enslaved person finally finds the strength to run away and free themselves. Not only is this narrative incredibly reductive of the psychological horrors of captivity (insinuating a kind of Kanye West-like philosophy), but it draws on actual pain and trauma in service of a contrived redemption story.
There is no worse offender than Quentin Tarantino's Django Unchained — a film which I firmly believe Tarantino wrote and directed just to cast himself vicariously saying the N-word even more times than he did in Pulp Fiction. A classic Tarantino revenge fantasy, the fact of slavery becomes the background and backstory to Tarantino's spectacle of blood, gore, and farce.
But there is no healing in this, no real redemption found in the execution of single characters without the confrontation of the institution. And yet, it's categorized as a "Black story" … not likely.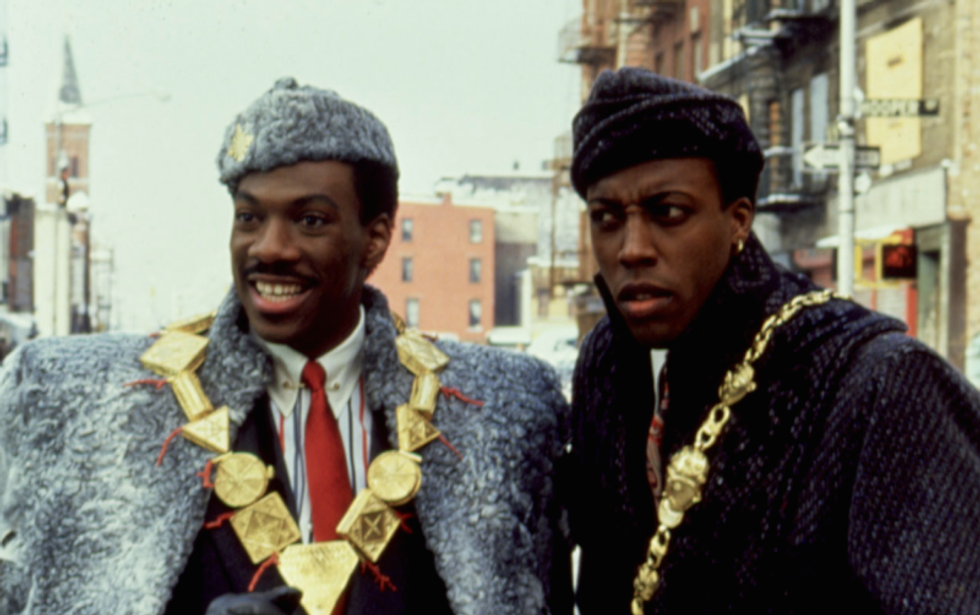 The Reign of Black Caricature

Most of the movies which fall outside of the slavery and civil rights categories still leave much to be desired: from biopics on famous athletes and musicians to outrageous slapstick comedies (like, White Chicks … really?), the leading roles Black people can play rest in pretty defined tropes.
For a while, in the late '80s to early-2000s, there was a high demand for Black, male comedians — largely attributed to the success of Eddie Murphy on SNL from 1980-1984, which paved the way for Chris Rock, the Wayans Brothers, and Keenan and Kel, amongst others.
However, while white male comedians could exist in a range of styles and did not all follow the same formula, the same was not true for Black comedians. When it comes to Black actors, often what works once is all that networks will invest in — so everybody had to be Eddie Murphy.
What ensued was a generation of comedy movies built on over-the-top caricatures of Blackness which now find themselves in these "Black Voices" categories; meanwhile, the creative vision behind the reductive characters are likely the work of white Hollywood executives, pumping out repetitive content they knew would sell.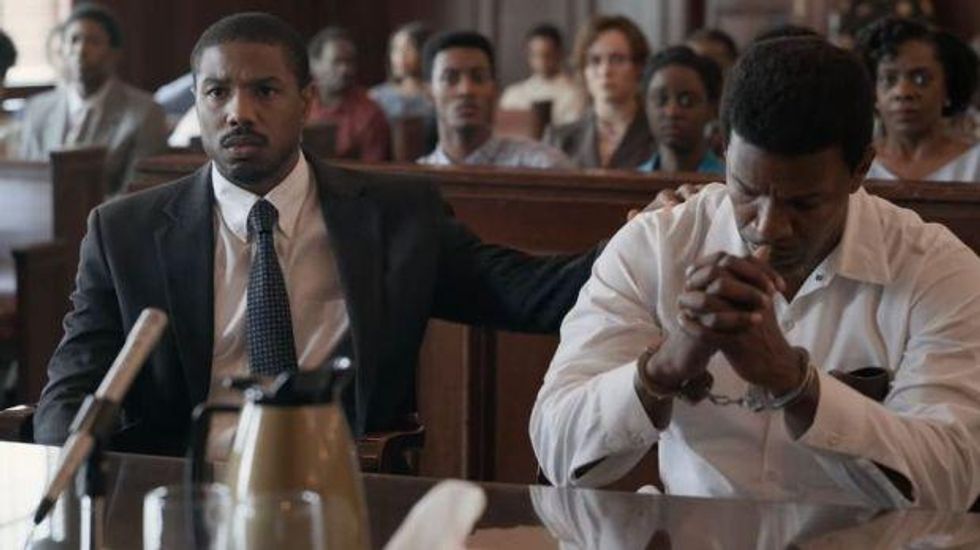 The New Age: Prison Movies

The recent attention to the atrocity of the prison industrial complex, especially after the success of the book The New Jim Crow and Ava DuVernay's documentary 13th, has spawned a new genre of Black trauma film: wrongful incarceration films.
In the last few years alone, there have been multiple adaptations of true-story accounts of Black men who were wrongfully imprisoned, then fought to prove their innocence.
From Just Mercy, starring Michael B. Jordan as Bryan Stevenson, the prominent lawyer and prison activist at the Equal Justice Initiative, to Brian Banks about the story of the former football player who was freed by the Innocence Project, these accounts are powerful, but they feel reiterative of the same tropes: Black man who finds his freedom through self-determination.
They also hinge too heavily on carceral tropes of guilty-versus-innocent instead of interrogating the project of prisons at large. Hollywood, in this way, likes to claim the label of righteousness and activism, while not really moving towards radical change.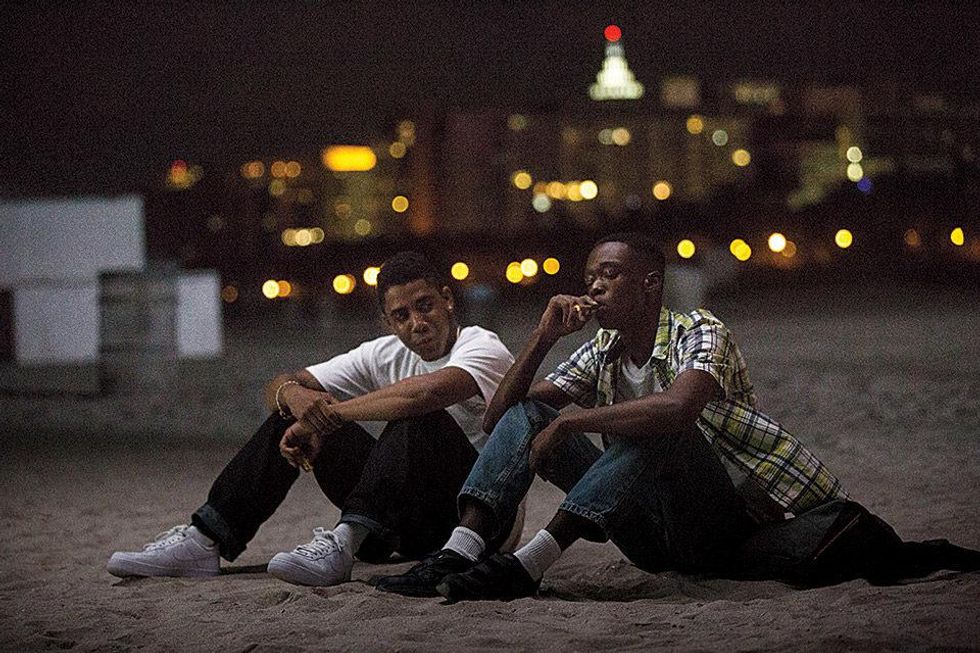 Academy Award winner, Moonlight, ushered in a new era in avant garde Black cinema
A Black Renaissance

The past few years, however, have been a sort of renaissance of Black storytelling in Hollywood.
The rise of Black-run production agencies like Lena Waithe's Hillman Grad Productions and Issa Rae's Hoorae Production Company has shown what a difference it makes when Black creatives are empowered both in front of and behind the camera.
With more Black people behind the camera, Black artists with unique viewpoints and more nuanced stories are now more likely to work with executives who understand them, and know how to support them.
In the past few years, the fruits of this renaissance have made big moves in the box office and at award shows. Films like Barry Jenkins's Moonlight and Jordan Peele's Get Out have become cultural staples, and major blockbusters like Black Panther have shown the buying power of Black audiences.
No more do Black stories have to fall into restrictive categories. No more are Denzel Washington and Will Smith the only ones who get cast in challenging, complex roles. New Black movies are more exploratory and expansive than ever — whether it's Beyonce's afrofuturist take on the Lion King in Black Is King or the upcoming intimacy of Malcom & Marie.
For true representation, Black movies cannot depend on the same canned narratives any longer, and Black people can't be the only ones watching them. Hollywood just needs to put faith in different narratives and trust that our stories are worth hearing.
Biden, Obama, Bush, and Clinton were the four horsemen of the 2021 Inauguration.
Though the physical event was small — due to the enhanced security measures enacted in fear of violence or resistance against the transition of power, and the persisting pandemic — and more than 191,500 flags stood in place of the people that usually crowd the surrounding area, the event was filled with prominent guests and high profile performances, both in person and virtual.
The virtual portion of the day was a mixture of performances, speeches, and video compilations 'hosted' by Tom Hanks.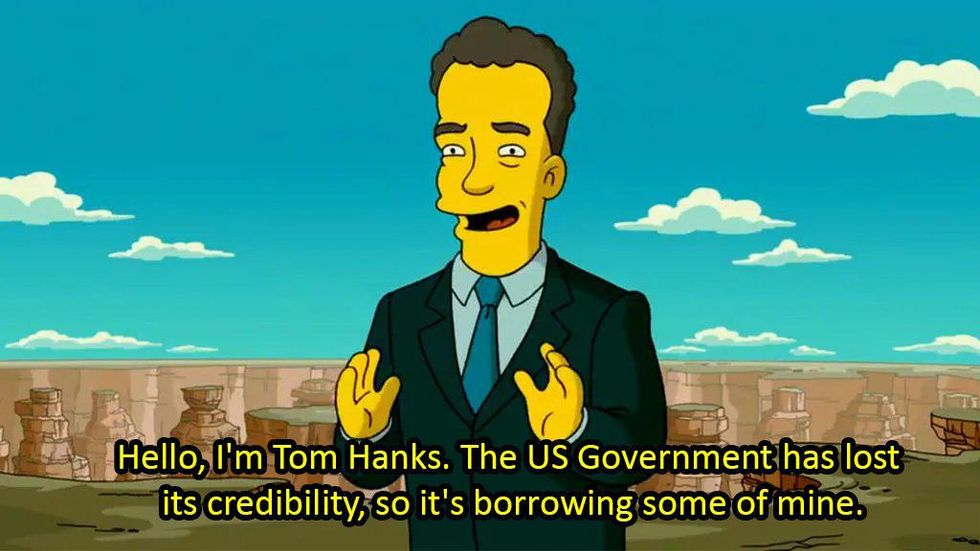 Just as the Simpsons predictedvia FOX
As part of the proceedings, former Presidents Barack Obama, George W. Bush, and Bill Clinton appeared in a video giving a joint speech, which had the vibe of a group project where you didn't get to choose your partners and you got stuck with some kids you neither knew or liked.

The three most recently joined forces to volunteer to take the COVID-19 vaccine when it was first approved, and like an aged boyband, they came back for one night only, streamed live across America.
In their video, the three ex-presidents congratulated President Joe Biden and stressed the importance of peaceful transitions of power, ostensibly trying to lead by example in a show of bipartisan unity while making a point about the noticeably absent President Trump (who was on his way to Mar-a-Lago with his crying conspirators/children).
The message of the former presidents came alongside Biden urging for "unity" in his Inaugural address.
But what does this mean?
From the beginning of his Inauguration speech, Biden declared his presidency one of "history and hope. Of renewal and resolve." Referring to the historic nature of his cabinet and Kamala Harris's historic position as Vice President, Biden's self-congratulatory remarks also stir up questions.
The intentionally indefinite rhetoric asks: "hope" of what, and for whom? "Renewal" of what? Leaving an era defined by the slogan "Make America Great Again," it feels dangerous to tie a Presidency to the idea of some vague longing.
The politics of nostalgia allow the romanticization of a past which has always had as many problems as the present, if not more. Biden's emphasis on having a Presidency inspired by his predecessors refers to the presidency of Obama, but also to the other two horsemen of the inauguration apocalypse and the Founding Fathers … who we all know were flawed at best.
The desire to appeal to the American mythos reduces the oppression inculcated into US democracy to a footnote in the story — despite the fact that those institutions of inequality are prominent today.
Biden proclaimed that "the American story depends not on any one of us, not on some of us, but on all of us. On 'We the People' who seek a more perfect Union. This is a great nation and we are a good people."
… is that true?
While I would like to believe it, and perhaps there is room for more optimism and benefit of the doubt in an inaugural address than I'm accustomed to in life, moralizing the United States as a good nation filled with good people perpetuates the myth of American exceptionalism and allows for complacency.
We could be good people in a great nation, but the overpowering institutions of oppression and violence that we are socialized into make it easier to not be.
Biden did acknowledge that there is work still to be done, but it is dangerous to position the work of progress as a choice, rather than an imperative.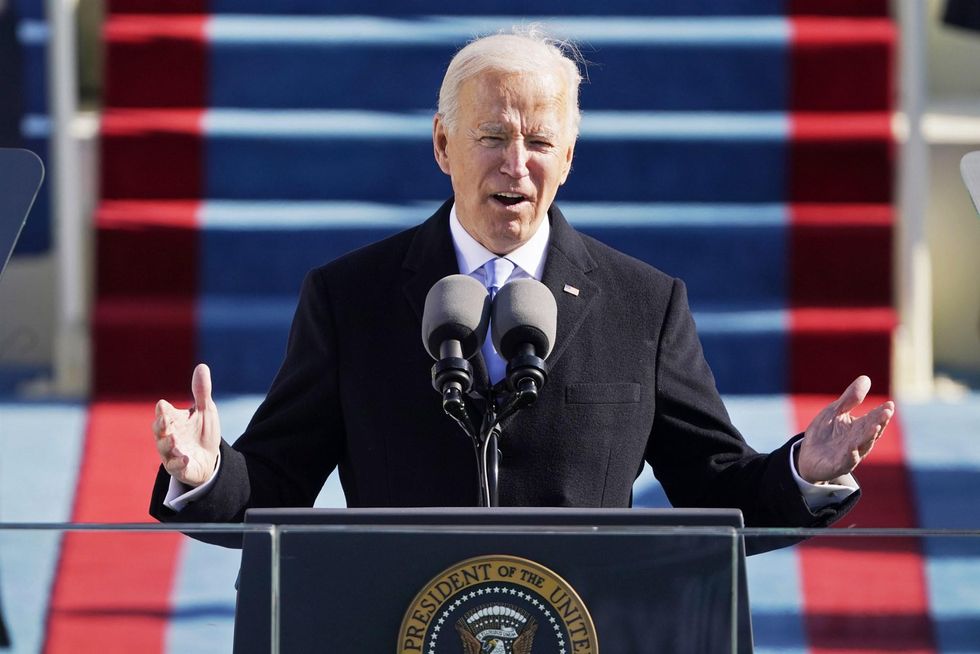 We did it, Joevia CNBC
Biden's Path to Progress:

Biden's path to progress is simple: unity.
In one of the most pivotal passages of his speech, he said: "Speaking of unity can sound to some like a foolish fantasy. I know the forces that divide us are deep and they are real. But I also know they are not new. Our history has been a constant struggle between the American ideal that we are all created equal and the harsh, ugly reality that racism, nativism, fear and demonization have long torn us apart. The battle is perennial. Victory is never assured."
In this moment, Biden acknowledged the history of oppression in the United States and the deep-rooted divisions in its present. However, the proverbial good vs. evil dichotomy that he uses is a convenient scapegoat. It is easy to say that there are two sides of people, torn apart by outside forces, that just need to meet each other in the middle. But this is not how division in America has played out.
Progress in America cannot be a meeting in the middle of two forces with equal power, because that's not what the political and social landscapes look like. The forces of "racism, nativism, fear and demonization" have not "torn us apart" — those forces have separated and othered marginalized communities and excluded them from the American ideal.
Therefore, it is not the collective acceptance of the idea of "unity" that will heal the country, it is a commitment by the privileged to root out the divisive forces within themselves.
Unity and healing must happen as a result of progress, not at the expense of it. Biden's rhetoric leaves too much room for regression. But we must not pause to soothe the egos of white supremacists — their goals are not our goals. Biden's path to unity needs to look like accountability, not acquiescence.
In a recent tweet, activist Bree Newsome stated that "The only path toward 'unity' is one that dismantles white supremacy." Anything else would be a continuation of the same structures that "resulted in the Civil War, Jim Crow, the Trump era & the insurrection that occurred two weeks ago. "
There is no way forward without confronting whiteness— how it came to be a sociopolitical construct here, how it re… https://t.co/CAULWCruwH

— Bree Newsome Bass (@Bree Newsome Bass) 1611189052
Many are feeling the gaps in Biden's rhetoric that could allow for placid and ultimately unsatisfying "progress" and citing the urgent importance of moving forward, rather than back to some fabled better days of a pre-Trump era.
...but what if he said "I cannot be a president for all. I will not serve white supremacy. I will not serve hatred.… https://t.co/1H0JTIPZqV

— adriennemareebrown (@adriennemareebrown) 1611163169
The pre-Trump era created conditions for the Trump era. The current violence is not some aberration or some strange glitch in the matrix. It is a direct consequence of previous failures to root out the insidiousness of whiteness at the root of the United States.
The Problem With Moderation:
The shifting nature of Biden's address — his willingness to talk about the fact of American institutionalized oppression and speak out against white supremacy, but inability to articulate the deep internal work that we all have to do for progress — does not present a progressive pillar to build the next four years on.
It builds one that reflects his whole career: willing to inch towards "slow progress," but more concerned with moderation than radical change.
But moderation is not the way to establish real change. Moderation allows for complacency and, as Newsome articulated, "the 'return to normalcy' narrative is a call to settle for surface-level displays of civility diversity in the aftermath of Trump's brutish behavior without any real push for systemic change."
Even in the highest offices of the two-party government lie dangerous white supremacists who incited the riots alongside Trump and remain loyal to the MAGA following — so if bipartisanship looks like coalescing into an agreeable union that includes and validates those beliefs, I don't want it.
Instead, change has to look like examining the conditions within ourselves and our society which gave those people their platforms and amend those with an eye towards accountability.
The idea of "accountability" has been thrown around so much this election that it has become diluted. Accountability has to be active. It has to not just acknowledge the past, but use those acknowledgments to work diligently towards a new future.
While it's hard to predict how much Biden's speech was well-crafted rhetoric and how much was commitment to action, the prominent performativity of the ex-President's club does not bode well for radical change.
Rather, it signals a clinging onto old ideas of respectability and camaraderie between the powerful and a persistence of the same structures that allowed for the past violence to carry themselves into the future. It confirms that Trump's most egregious act was disrupting the illusion American exceptionalism, which has been long held up by mythology and militarism.
But that disruption was necessary. And it is with those new eyes that we are more critical of Bush, Clinton, Obama, and the entire systems that elected them We have to be.
Lukewarm activism by white women, what's new?
This summer she was met with severe backlash to an Instagram rant in which she claimed she, a white woman, had been unfairly criticized in the music industry for how she claimed her femininity. In one of the most cognitively dissonant statements of the year, Lana claimed that "there has to be a place in feminism for women who look and act like me."
Because almost all the women she was comparing herself to in the rant — whose record breaking places on the charts served as the impetus for her misguided manifesto — were Black women, it seemed like "women who look like" Lana meant white women. Yikes.

However, Lana was quick to come to her own defense. Instead of issuing any semblance of apology or recognizing the nuance in the criticism her letter received, she took to the comment section to dismiss any criticism that came her way.
After that, she made another post (that kind of made it worse) announcing her upcoming album and then kind of disappeared. Until now.
When announcing the release of her first single from her new album, Chemtrails over the Country Club, Lana did not take the opportunity to clear the air — but we didn't expect that. She didn't even take the opportunity to shut up, pivot, and never speak of her typewriter series again (they're still up on Instagram, albeit buried under months worth of pictures by now, though if I were her publicist I would have wrestled the phone from her hands to delete it by now).
Instead, she took the time to parade her "diverse" and "inclusive" friend group on her cover and write another nonsensical caption that pretty much amounts to: see? I'm not racist, I have Black friends.
"Yes there are people of color on this records picture and that's all I'll say about that," Lana says near the beginning of the comment, but, unfortunately, continues to say more. "I have always been extremely inclusive without even trying to. My best friends are rappers, my boyfriends have been rappers."

Lana's tokenization of the people of color in her life is … uncomfortable, at best. Beyond tastelessly parading her friend's life histories in front of the internet for the sake of her reputation, by mentioning "rappers," she equates Blackness with a genre of music and also engages in the fetishistic notion that romantic desire is proximal to inclusion.
And if you think it couldn't get worse, the caption continued. In reference to the comments she had received on her initial post, Lana thought to respond preemptively, saying, "Before you make comments again about a WOC/POC issue, I'm not the one storming the capital [sic]."
The invocation of the attempted coup in comparison to her own racism is a blatant attempt to decenter the conversation and dismiss the voices of those she claims to be so inclusive of.
Lana's convoluted caption is an example of the flimsy arguments white women dredge up to affirm their own innocence when criticized. Unfortunately, we've already seen so much of this in 2021, especially in response to the display of domestic terrorism at the Capitol (which was partly sponsored by a group named Women For America First).
Unsurprisingly, much of the peak white feminism that occurred in the aftermath of the Capitol riots came from self-proclaimed allies. It seems that a key proponent of white feminism is the desire to help … but only if it doesn't require any actual evaluation of the self or the systems that perpetuate oppression.

Karlie Kloss recently (read: finally) came under criticism for her hypocritical comments about the riots and the current administration over all.
Though often we conveniently forget, Karlie Kloss is married to Josh Kushner. Yes, of that Kushner family. Her in-laws are Jared Kushner and Ivanka Trump, who sit at the proverbial right hand of the President.
Yet, despite these very close ties to the current administration, Karlie has managed to remain largely unscathed in the public eye. But this is not a romantic comedy where a likable blonde woman has to navigate her husband's crazy family — this is not The Family Stone. This is real life. And the actions of her in-laws have consequences that she, due to her wealth, race, and proximity, is mostly exempt from actually feeling.
Yet, Karlie Kloss has built her whole brand around activism. So how does this work?
From founding an organization to teach girls STEM, being a vocal #girlboss and #feminist, and yes, posting that black tile on Instagram, Karlie makes sure to remind us that she quit being a Victoria's Secret angel to go to NYU because she's just so, like, passionate about women's empowerment.
But despite all this, the furthest she has gone to speak out against the current administration have been bland social media posts and hashtags. When she made a more direct statement after the Capitol riots, many were quick to point out her hypocrisy.
After being called out for tweeting, "Accepting the results of a legitimate democratic election is patriotic. Refusing to do so and inciting violence is anti-American," and promptly being told, "Tell your sister in law and brother law," Karlie responded with a self satisfied: "I've tried."
But her response did not satisfy anyone else.
karlie kloss has TRIED talking to her in-laws and she will NEVER GIVE UP. that's why she & josh bought a $23.5 mill… https://t.co/4VRayLgTi6

— #3 sisterwife but #1 in his heart (@#3 sisterwife but #1 in his heart) 1609991219
@karliekloss @overdressjen Guess ya didn't try hard enough bb https://t.co/PNplCPKW7y

— ✨ (@✨) 1610143645
Page Six reported that Ivanka Trump was "surprised" by Karlie's claims, going so far as to say that Karlie is political in public, but not so much in private, and one tweet said that Kloss was choosing to "enjoy the privilege that comes from being close to them and feign moral superiority while not even acknowledging the privilege."

People were also quick to point out that Kloss is not just willing to tolerate her in-laws, but has purchased a multi-million dollar home in Florida to live just blocks away from where they, and the current President, will be relocating after the inauguration (and impeachment?).
One of the more prominent people to call out Karlie for her purported attempts was Tavi Gevinson, founder of Rookie Magazine and actress soon to be starring in the Gossip Girl reboot (which I will now be watching).
In an Instagram story, Tavi called out Karlie for having "no real interest in using [her] political power so much as maintaining [her] watery 'feminist' liberal brand while protecting [her] liberal brand." She identified Kloss's actions as more than just the bad decisions of an individual, inconsequential celebrity but part of a culture that minimizes the harm of the current administration and the latent oppressive structures that it reveals.
By her relative silence against the Trump family and administration, Gevinson said Kloss has "help[ed] legitimize their bigotry by branding [them] as simply having different 'political views," dubbing Kloss a "Resistance Barbie" archetype.
In her takedown, Gevinson went deeper than Kloss's shallow white feminism into a critique of not just Kloss herself, but the systems which she helps perpetuate. "Thank you for showing that you can vote blue and still be a white supremacist sympathizer," Gevinson finished.

Tavi, who at the beginning of her career had her own share of criticism about earlier iterations of Rookie's white feminism, used those valid criticisms to transform her platform into a diverse resource for learning, growing, and accountability.
Kloss, despite the direct confrontations about her hypocrisy, has remained silent — both on the internet, and probably to her in-laws, except maybe to plan the interiors of their Mar-a-Lago homes.
The self aggrandizing brand of white feminism has only increased in cultural capital this year as white women applaud themselves for being allies, while doing very little except calling themselves allies. While BIPOC Americans risk being alienated or gaslighted by declaring their politics, white women get to benefit by using them as a virtue signal, a personality trait, or a brand.
Twitter had enough of this when Demi Lovato tweeted that her response to the Capitol riots was … to write a song.
THIS IS WHY I POST AS MUCH AS I DO. THIS IS WHY I CARE. THIS CANNOT HAPPEN ANY FUCKING MORE. I'm angry, embarrassed… https://t.co/WWAtVwVo83

— Demi Lovato (@Demi Lovato) 1609989247
While well-intentioned, there are more nuanced ways for musicians to go about political music and Demi's last effort, "Commander in Chief," proved maybe that's not her genre.

With lyrics like "If I did the things you do I couldn't sleep," the song wasn't just bad — filled with easy rhymes and surface level lyricism — but it felt more like an indulgence of the ego rather than an attempt to make a change. Demi was reassuring us, herself, and other lukewarm allies that feeling bad about injustice is enough.
Unfortunately, it's not.
In her recent tweet, she magnanimously inflated the effects of her social media activism, saying, "THIS IS WHY I POST AS MUCH AS I DO..." While Demi has famously used her platform to advocate for social causes, the immediate pivot to saying: "I'm in the studio working on something special after today's assault on democracy," centers her own status as an artist and activist over the larger issues of violence.
White feminism is most guilty of this: diluting down political movements to their personal impacts rather than societal effects. By centering not just white women, but the individual white woman, white feminism ignores the nuances of oppression and the context in which it happens.
Even while claiming to be "woke" or socially conscious, the need to center themselves often derails well-meaning white women into perpetuating the acts of oppression they claim to be against. This compulsion in itself is a symptom of a system which values and protects the innocence and feelings of white women, while using that protective mantle as a form of oppression.
Yet, white women benefit from that innocence in their daily lives — from Lana's misguided conception of herself as a victim of bad feminism while enacting it, or even the "daddy-hat girl/SoHo Karen" calling herself an "innocent child" after assaulting … an innocent Black child.
It's only been two weeks of 2021, and I'm already tired of it. But I'm sure there will be more to come. But until white women address the ways they benefit from the systems they purport to be allies against, I see no end in sight.
In 2019, the equivalency of knowledge and power is not just an adage, but a warning. However, an American public that stays defiantly informed can also turn knowledge into hope.
Author Isaac Asimov once said, "There is a cult of ignorance in the United States, and there has always been.
The strain of anti-intellectualism has been a constant thread winding its way through our political and cultural life, nurtured by the false notion that democracy means that my ignorance is just as good as your knowledge." In 2019, the equivalency of knowledge and power is not just an adage, but a warning. However, an American public that stays defiantly informed can also turn knowledge into hope.
Here are 10 books every (informed) American should read:
Travels with Charley: In Search of America by John Steinbeck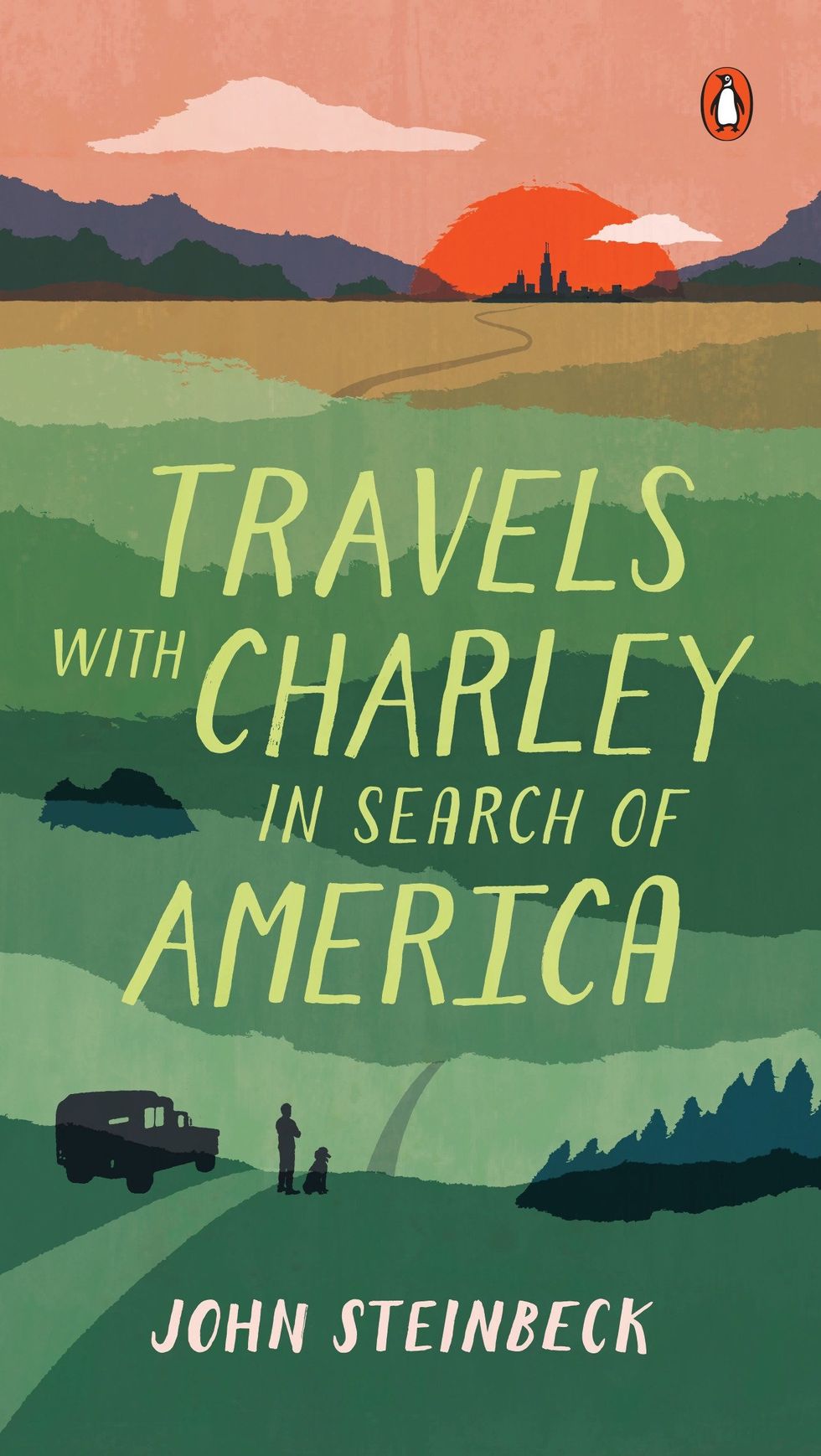 If you don't read the Steinbeck classics, The Grapes of Wrath and Of Mice and Men, you're doing yourself a disservice. But, if there's only one Steinbeck book you do make time for, make sure it's his autobiographical travel memoir of taking his lumbering RV and charismatic dog across America. He makes due with whatever conversation and company he finds, not driven by any great American ambition other than finding moments of connection in a diverse landscape.
Catch-22 by Joseph Heller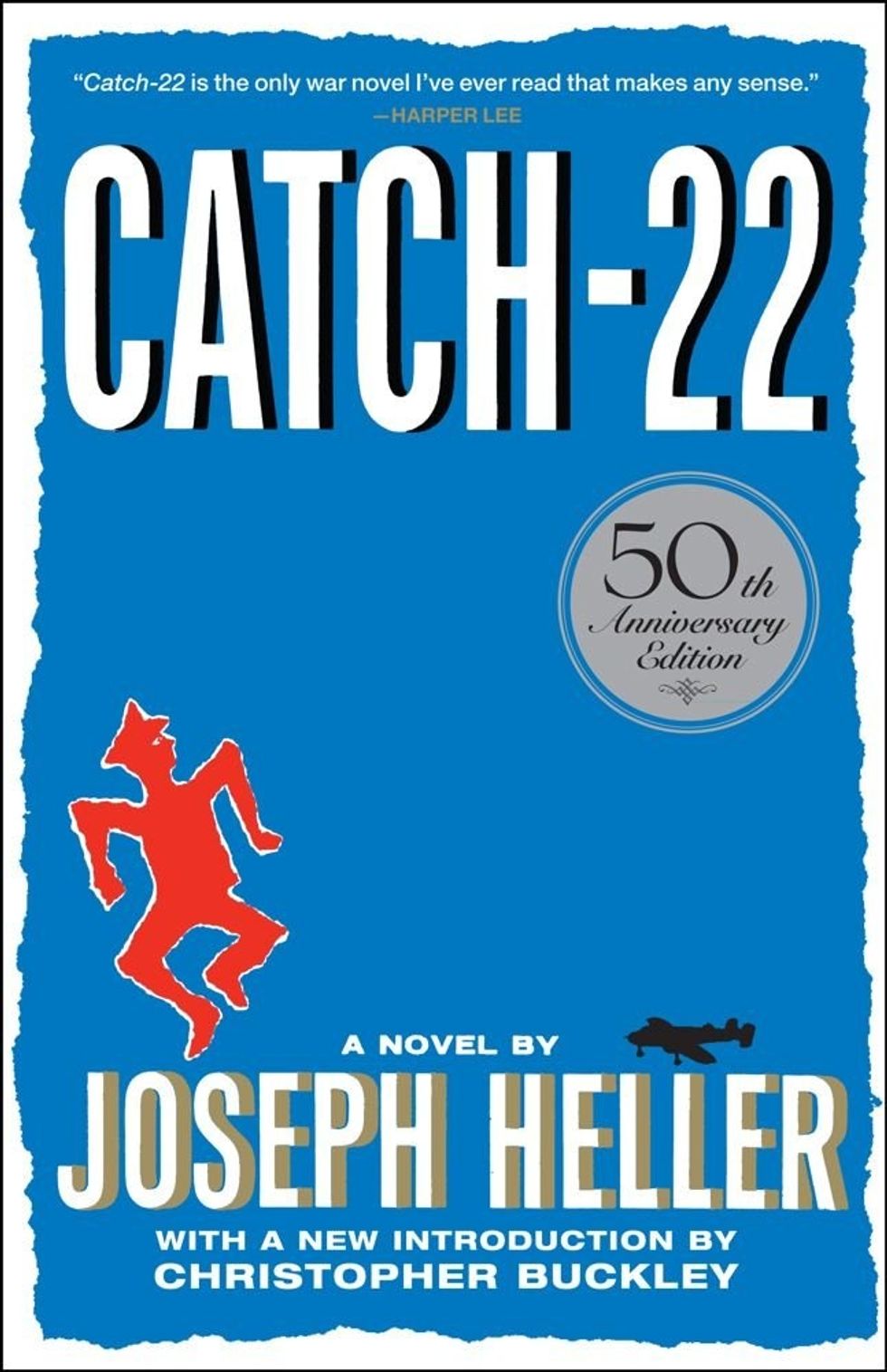 One of America's most loved authors, Heller's humor and biting observations capture the precarity of individualism in the face of war. The foundations of American cynicism and anti-war sentiment are encapsulated in the eponymous bureaucratic rule of Catch-22: "a man is considered insane if he willingly continues to fly dangerous combat missions, but if he makes a formal request to be removed from duty, he is proven sane and therefore ineligible to be relieved."
Frankenstein by Mary Shelley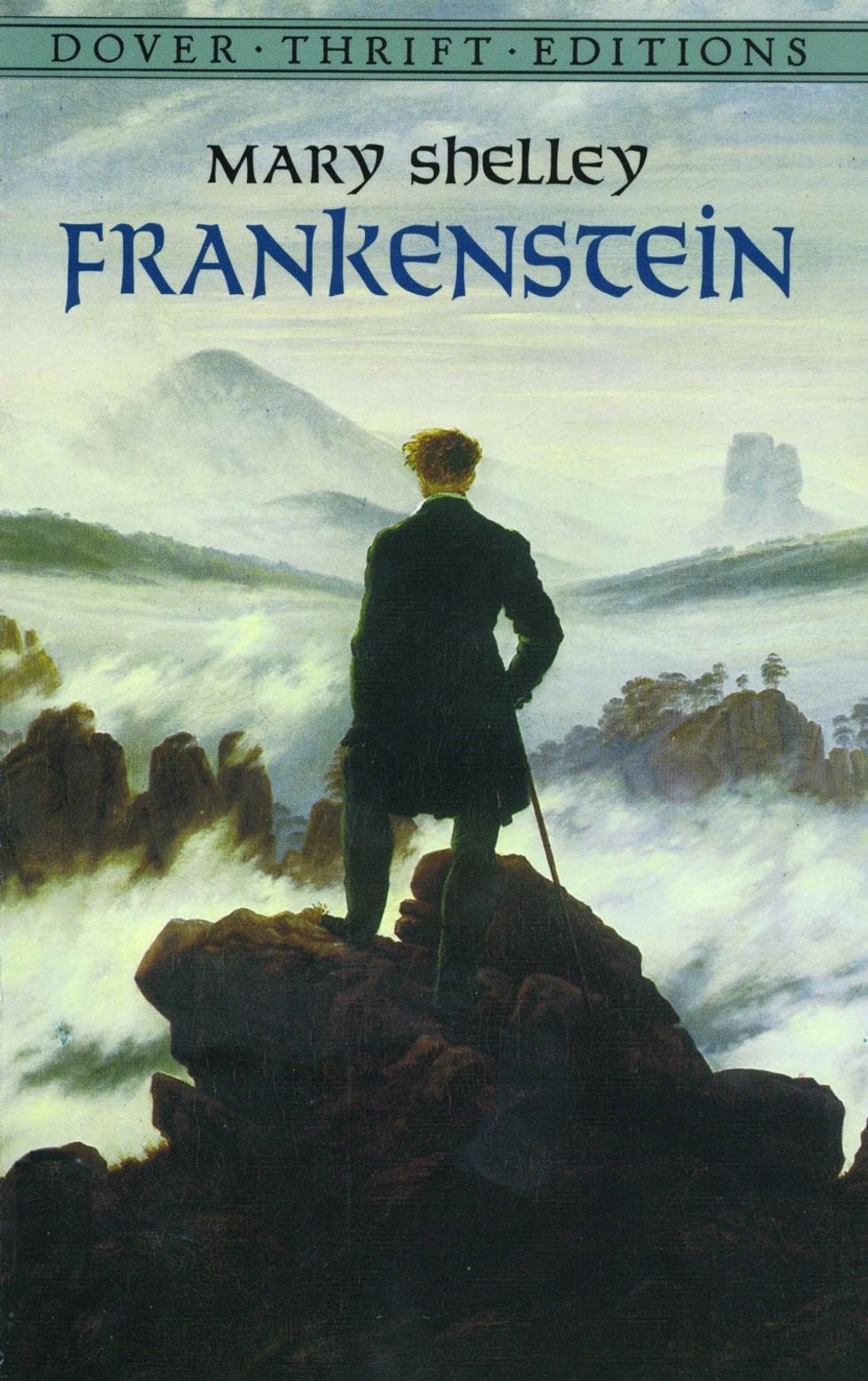 As much as the movie adaptations of Frankenstein's monster are icons in America cinema, the philosophical depths of the novel are sadly lost. Individuality and personal responsibility are two major burdens that neither creator nor creation are capable of managing well. There's also something to be said about the element of spectatorship that Shelley frames the novel with, as the story unfolds through a series of letters and switches narration like a mind-bending Black Mirror episode.
Between the World and Me by Ta-Nehisi Coates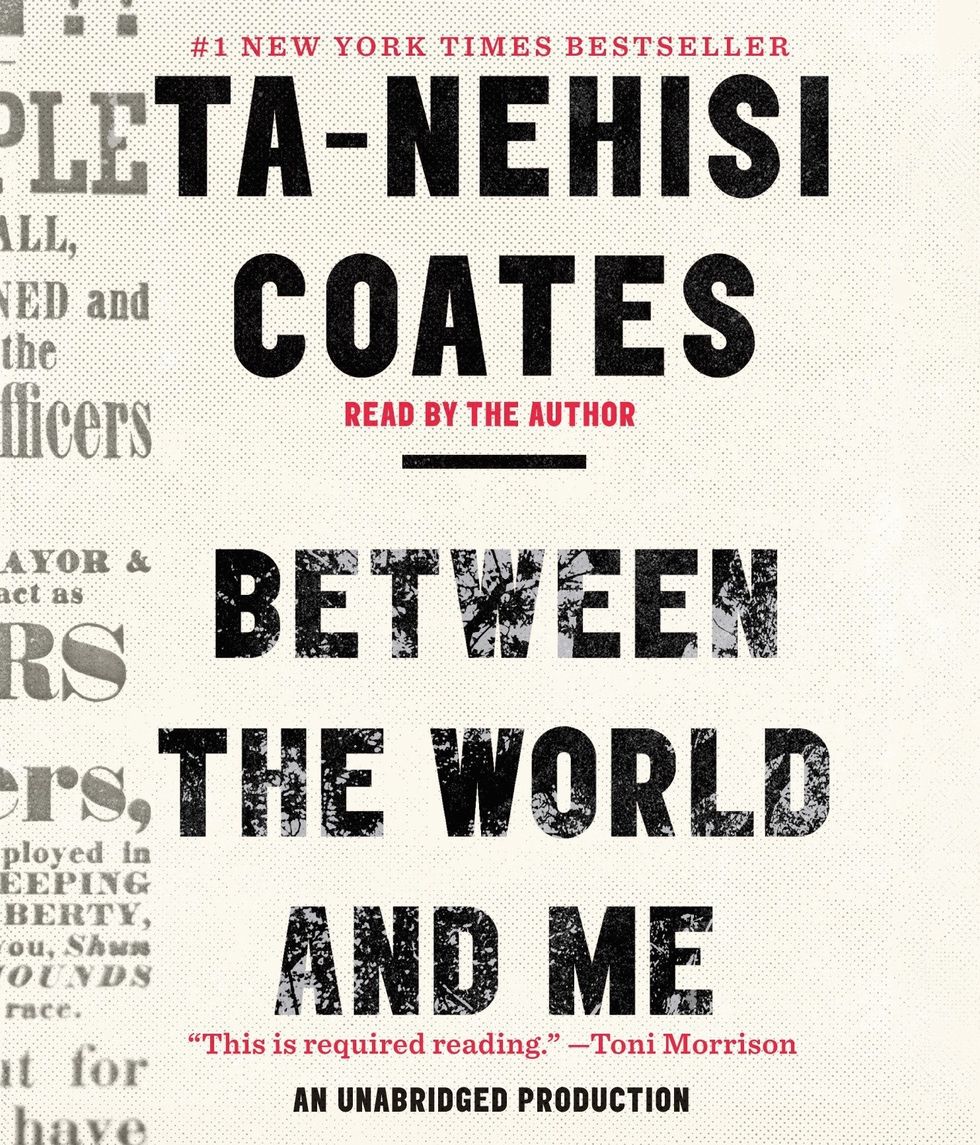 Coates manages to capture both the history and enduring tension of race relations in modern America in what Toni Morrison calls "required reading." Written as a letter to his son, Coates' writing is an alchemy of memoir, oral history, and calls to action. He aims to explore how "Americans have built an empire on the idea of 'Rae,' a falsehood that damages us all but falls most heavily on the bodies of black women and men...What is it like to inhabit a black body and find a way to live in it?"
The Hitchhiker's Guide to the Galaxy by Douglas Adams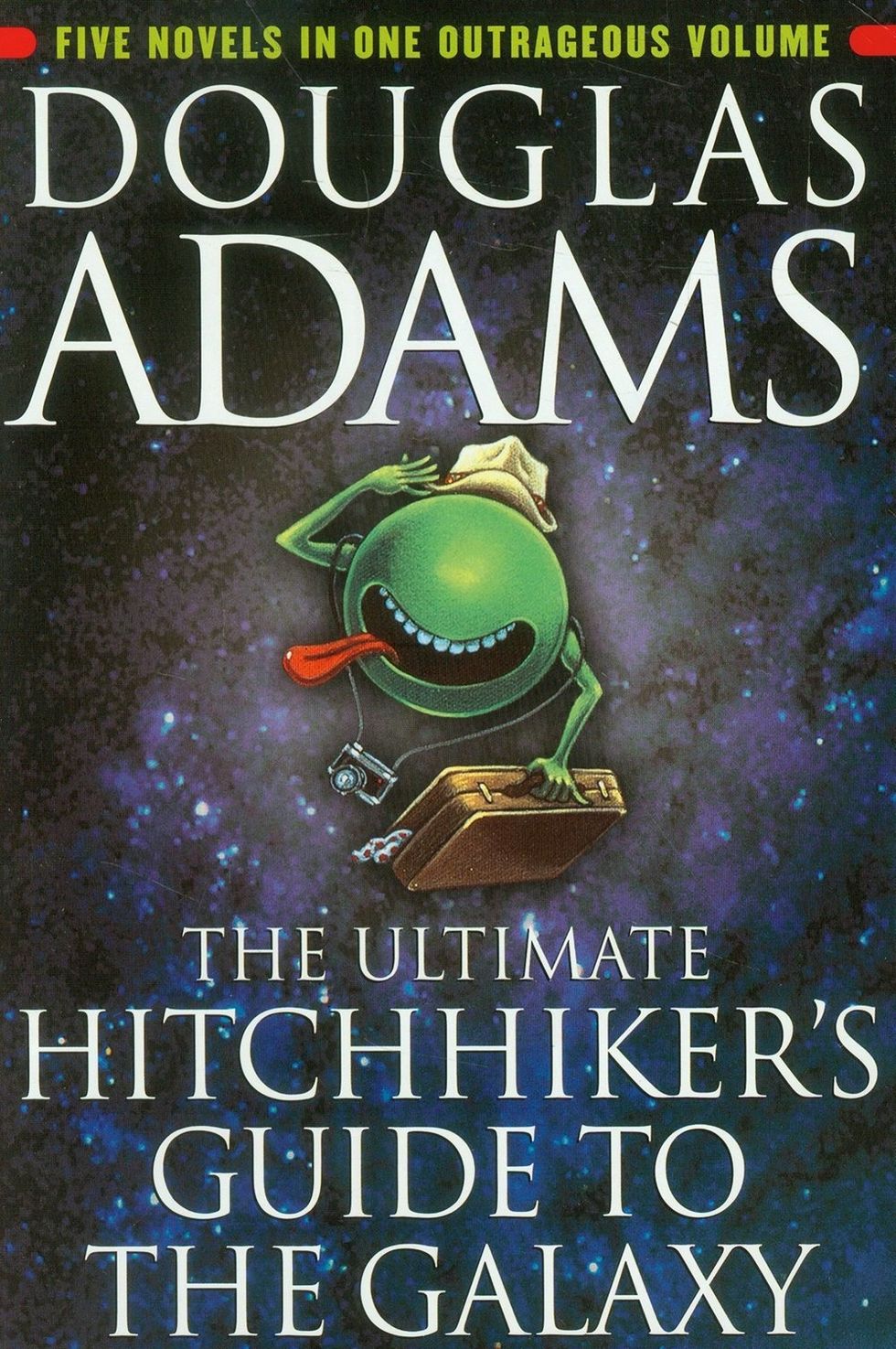 This classic fantasy adventure isn't a political science essay or a philosophical treatise, but the payoff is just as strong–if not stronger. Alienation, otherness, nihilism, and, above all, personal resilience take Arthur Dent through the galaxy after his home (along with the rest of earth) is destroyed one casual morning.
Ender's Game by Orson Scott Card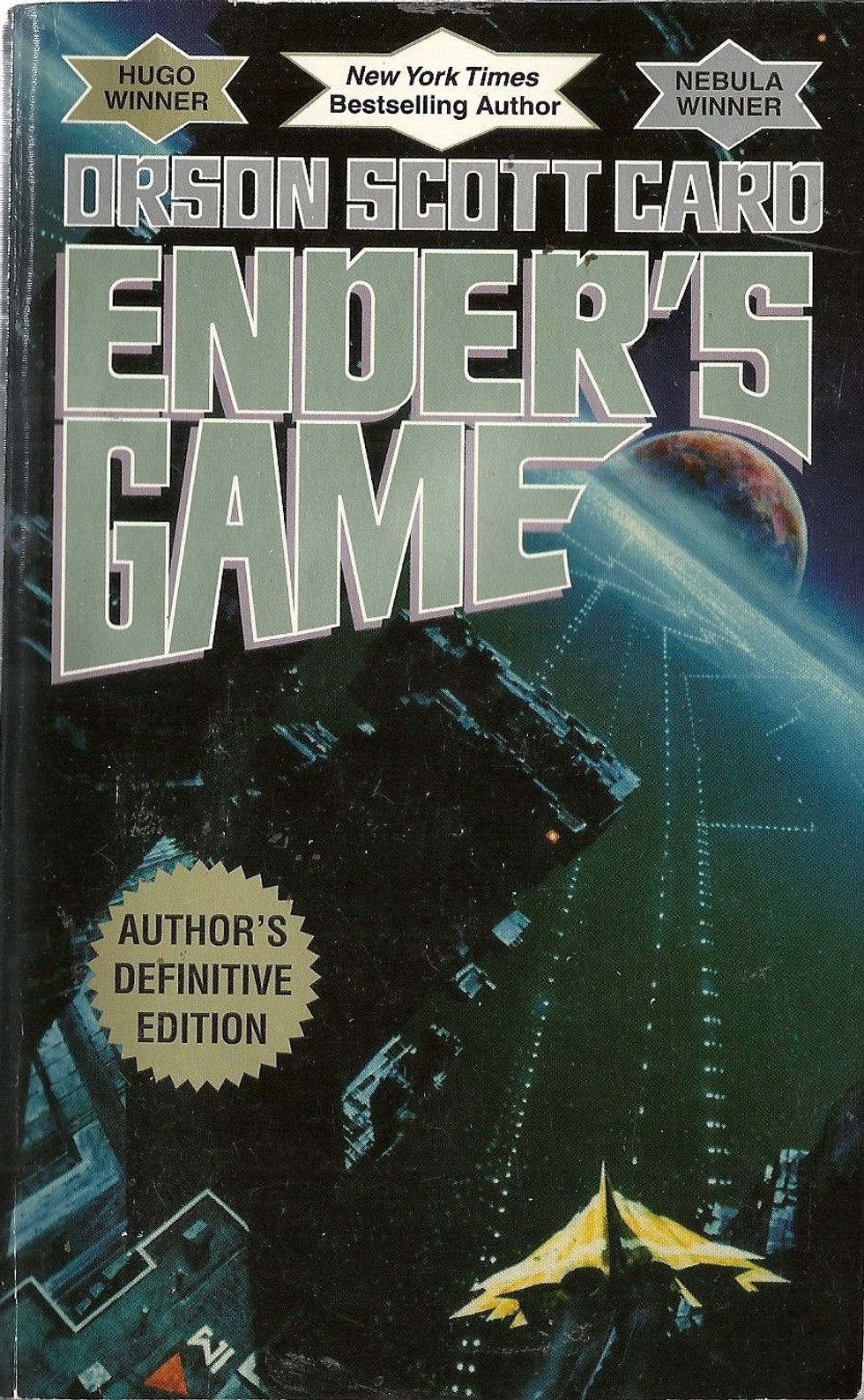 In the same vein, this sci-fi novel is like Machiavelli's The Prince retold as a dystopian space saga. The value of individual innocence in the face of the greater good is challenged. The series explores the moral boundaries of powerful men using innocents as weapons in a war they can't understand.
Bad Feminist by Roxane Gay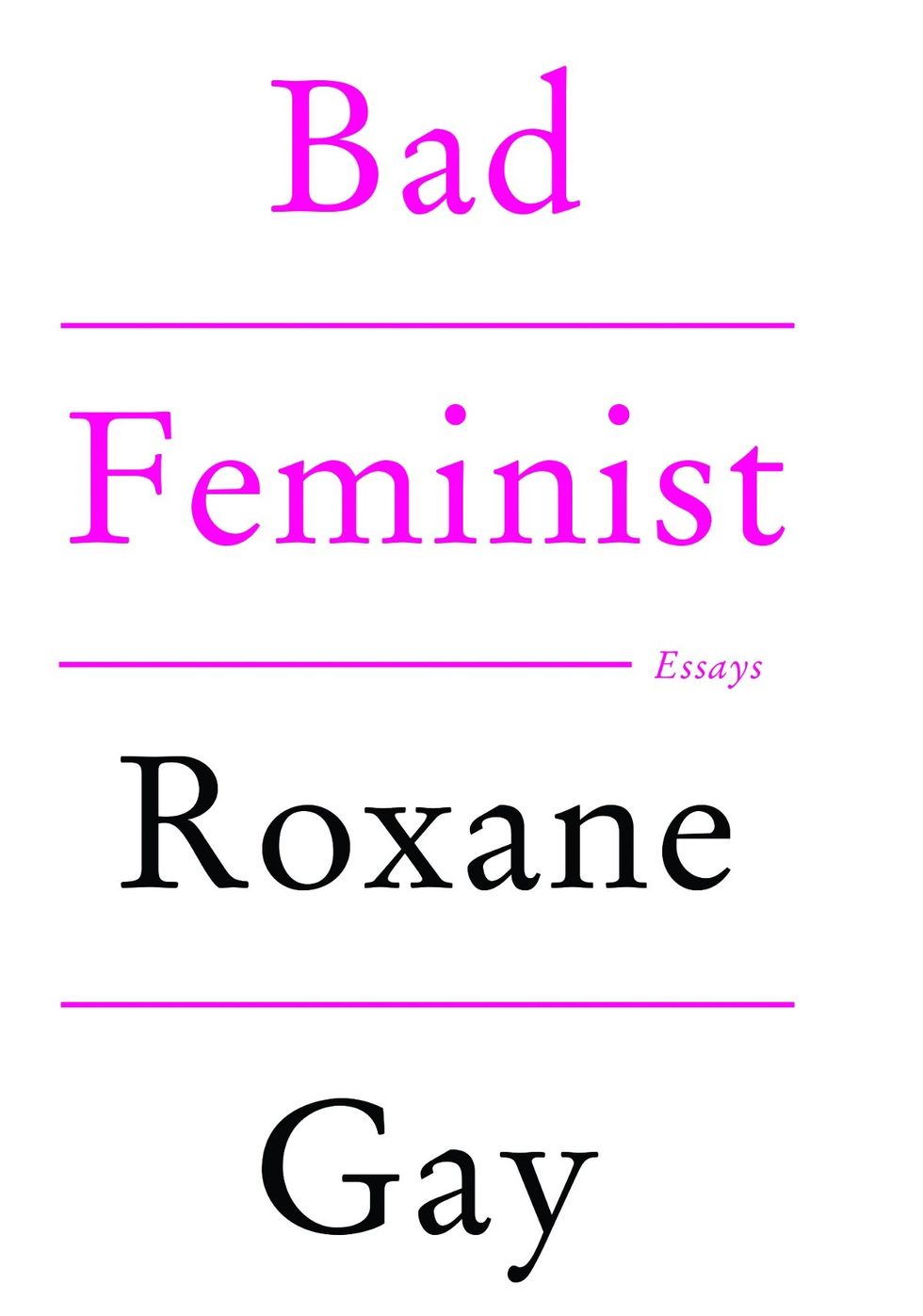 Gray's book of essays explores the contradictions inherent in what we understand modern "feminism" to mean. Mixing humor with sharp observation, Gay targets issues as banal as choosing pink as her favorite color as well as timelessly complex matters such as domestic abuse and abortion.
Fahrenheit 451 by Ray Bradbury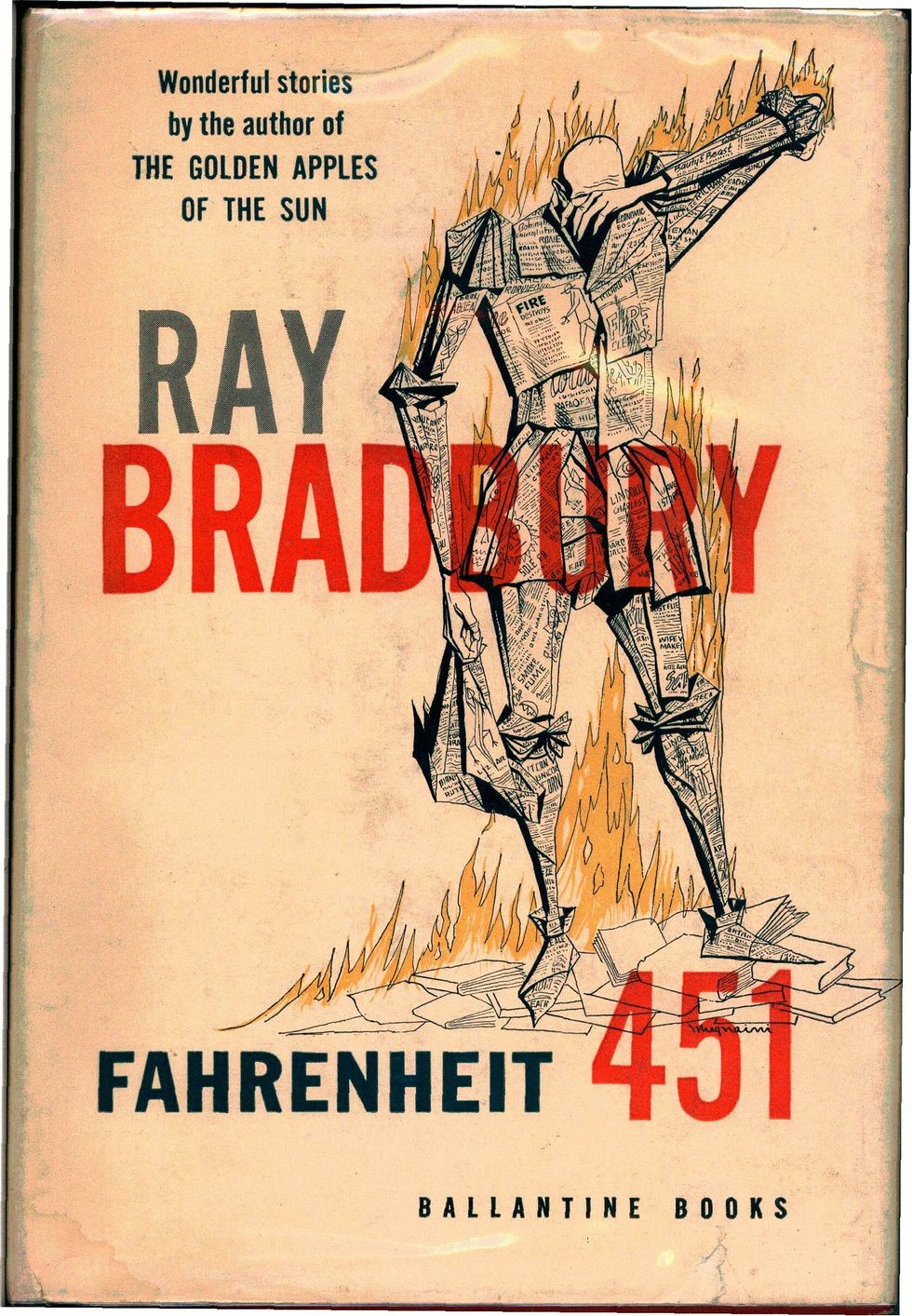 This one also gets named on every list of "books you need to read" because of its plain and eerie predictions of how dependent society will become on media for its opinions and worldview, as well as entertainment.
The Little Prince by Antoine de Saint-Exupéry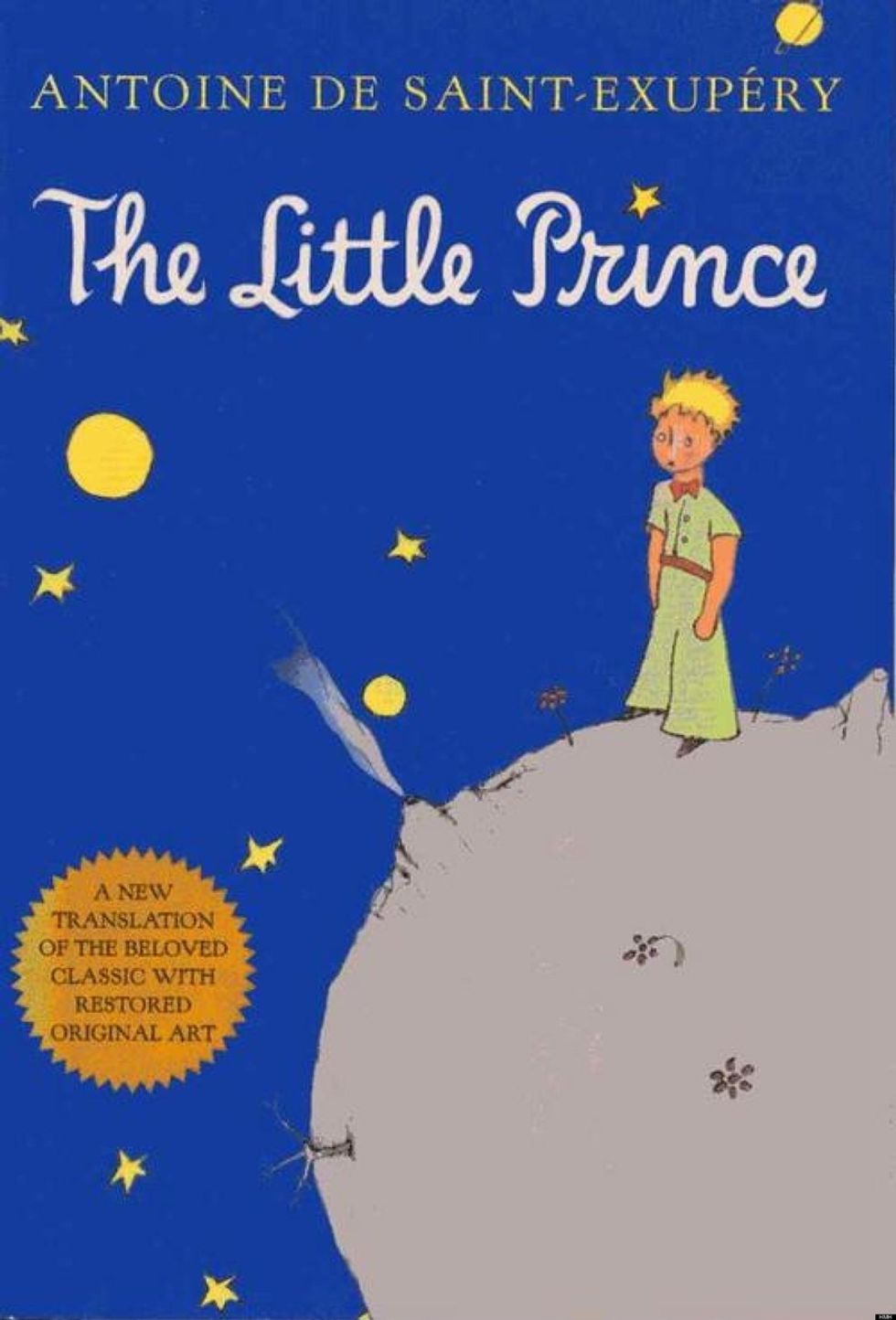 If you can't read the entire canons of solipsism, emotional psychology, and the art of satire, you can absorb the whimsical explorations of The Little Prince. Put simply, a boy prince journeys from planet to planet, each populated by a single adult. His conversations with each one create "a heartfelt exposition of sadness and solitude." Originally written in French, it's universally poetic.
1984 by George Orwell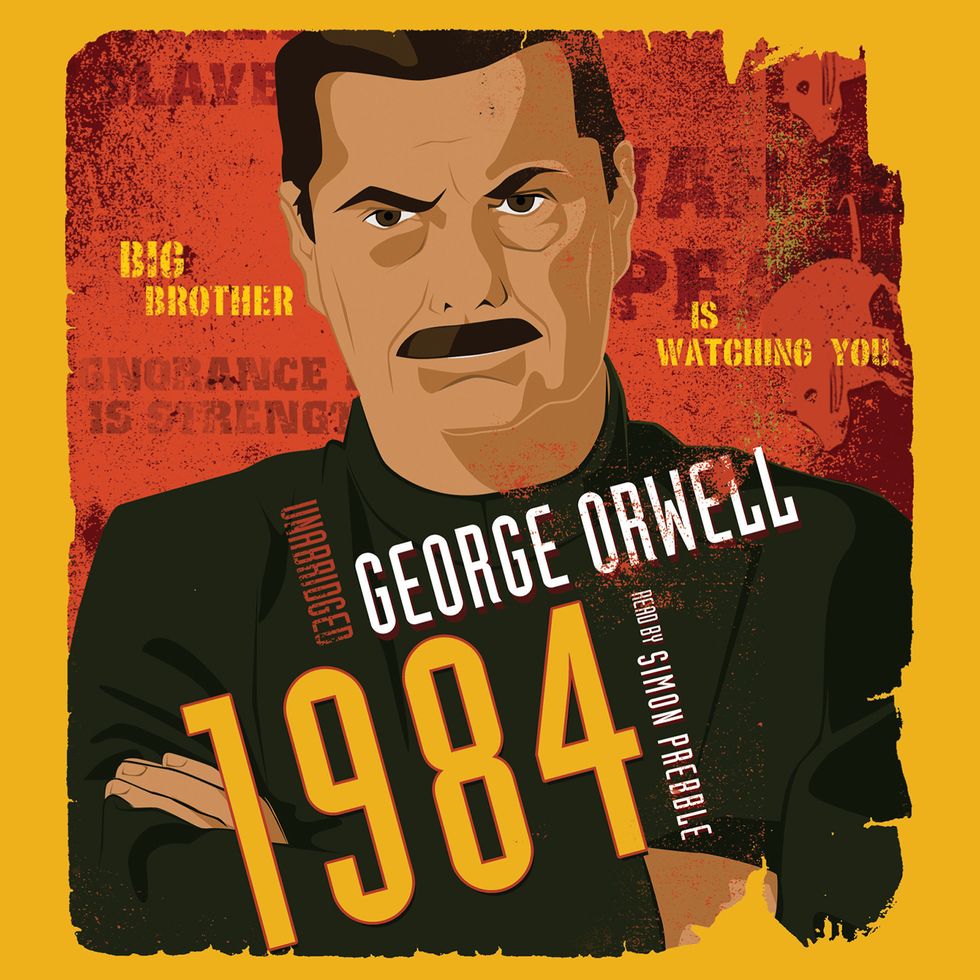 Knowing the references isn't enough with this classic; again, you have to read it for yourself in order to see dystopian America in your mind's eye. From the cognitive dissonance of war crimes to the contradictions of government propaganda, you need to come to your own conclusions about what an Orwellian future looks like.
Tali Sharot's new novel explores the science behind changing people's minds.
With her new book, The Influential Mind, cognitive neuroscientist Tali Sharot has set out to map the psychological mechanisms that control how people react to information. The thesis of the book is simple: once beliefs are formed, people become very stubborn and it can be difficult to change their minds. That said, according to Sharot, by using specific techniques that better align with our natural tendencies, we can change people's minds much more easily. At first glance, this idea feels like a pop psychology platitude, something from Malcolm Gladwell or Dale Carnegie. Still, unlike many of her contemporaries, Sharot conducted many of the experiments discussed in the book herself, with many of her studies based on Peter Wason's theories on confirmation bias.
Confirmation bias is the idea that people are more likely to look for and readily believe information that confirms their worldview. In a talk conducted with Google, Sharot showed the power of confirmation bias by playing a game with the audience. She wrote down the numbers two, four, and six. She then asked two questions. The first, was to come up with a set of three numbers. She would then tell the person whether or not those numbers fit the rule. After this, the person was asked what the rule is. The majority of people guessed trios like eight, ten, and twelve, and when asked what the rule was, said something about even numbers. In reality, any series of escalating numbers would have fit Sharot's rule. This exercise illustrated our tendency to formulate strong beliefs based off of limited data, and the immediacy with which we look for confirming evidence. The purpose in this exercise was to demonstrate how easily we pick evidence that comports with our beliefs, and how rarely we challenge those beliefs once we have them. Nowadays, with information so readily available, it's easy to go online and find evidence to backup any belief under the sun. With this in mind, it's easy to see how America became so socially and politically polarized.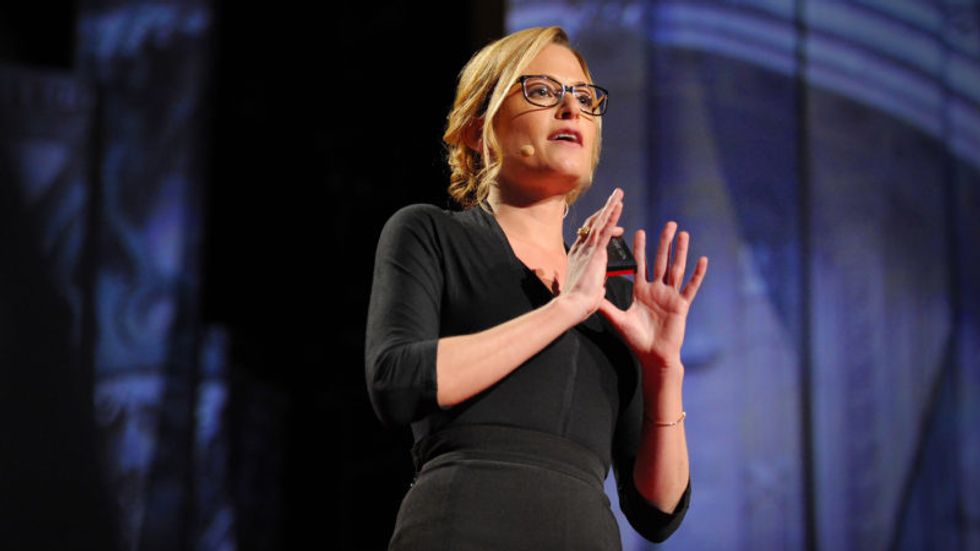 Tali Sharot discussing her theories
Sharot goes on to explain even further, and discusses a few experiments she conducted regarding the way we reckon with data. According to her, beliefs can directly interfere with our ability to understand information. This phenomenon isn't exclusive to people with cognitive impairments either. It would seem, according to Sharot, that most people aren't hardwired for doubt. This behavior also extends to the world of debate. By using MRI machines, Sharot was able to measure the brainwaves of people in conversation, and was able to show that when two people agree, confidence in an opinion rises. On the flipside, brainwaves more or less shut down when people disagree. While this isn't surprising to anyone who spends Thanksgiving with their family, it's always worth noting when idiomatic beliefs, through careful study and observation, bleed into the world of cognitive psychology.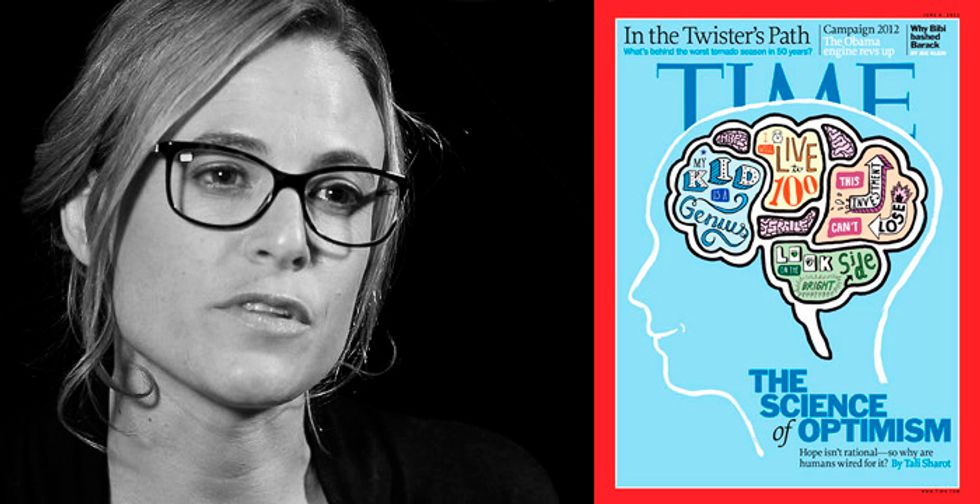 Tali Sharot with her Time cover
The real question is, now that we have scientific proof that these phenomenons govern our behavior, how do we use this information to our advantage? According to Sharot, we react to positive information similarly to the way in which we react to tangible rewards. When it comes to bad news however, our brain tends to prefer ignorance and "frantically distorts" information that a person doesn't agree with. The way to successfully discuss our differences is by framing them in ways the brain will naturally understand. For example, people learn more from good news than they do from bad. People also tend to believe positive statistics more than negative ones. By approaching a conversation from the positive, a person is more likely to be successful in convincing others of their point of view.
It'd be easy for an uninformed or casual reader to walk away thinking that
The Influential Mind
is about the power of positivity, and that Sharot's experiments are anecdotes designed to support this idea. This is the problem with pop psychology writ large. It forces brilliant scientists to condense their research. While the book is good for readers looking for a working knowledge of Sharot's theories, it necessarily eschews certain details in favor of readability. It's a good primer, but after finishing the book, more curious readers will probably want to dig into Sharot's academic papers in order to gain a stronger understanding of her work.
This may surprise you, but train wrecks are actually more common than many people realize.
In late January, an Amtrak train ferrying a large group of Republican lawmakers, staff, and family - including House Speaker Paul Ryan - from Washington to White Sulphur Springs collided with a garbage truck in Crozet, Virginia. The train was traveling at roughly 60 mph when the engineer pulled the emergency brake, but it was too late. The driver was ejected from the truck and killed. The crash came on the heels of deadly Amtrak crashes in North Carolina, Washington, and South Carolina. In 2017, there were more than 2,100 crashes at public and private U.S. railroad crossings, killing 274 and injuring 807.
Train wrecks tend to get a lot of media attention, in part because the images are terrifying. The December pictures of a train falling off the tracks and onto Interstate 5 fifty miles south of Seattle are the stuff of nightmares. Three people were killed, more than 80 were injured, and the damage topped $40-million. The photos of the carnage will live on in infamy. Would-be passengers may be asking themselves, is train travel safe?
In a word, yes.
"The Federal Railroad Association safety statics show that train travel remains safe," says Allan M. Zarembski, Professor of Practice and Director of University of Delaware's Railroad Engineering and Safety Program. "The ten-year trends remains down, and the number of fatalities remains very low for both Amtrak and commuter railroads."
The numbers don't lie. The last year there were more than 300 fatalities was in 2007 and two decades ago the number of collisions was nearly double. Dr. Zarembski expects the downward trend in accidents and the increases in train safety to continue. So train travel is safe, but could it be safer?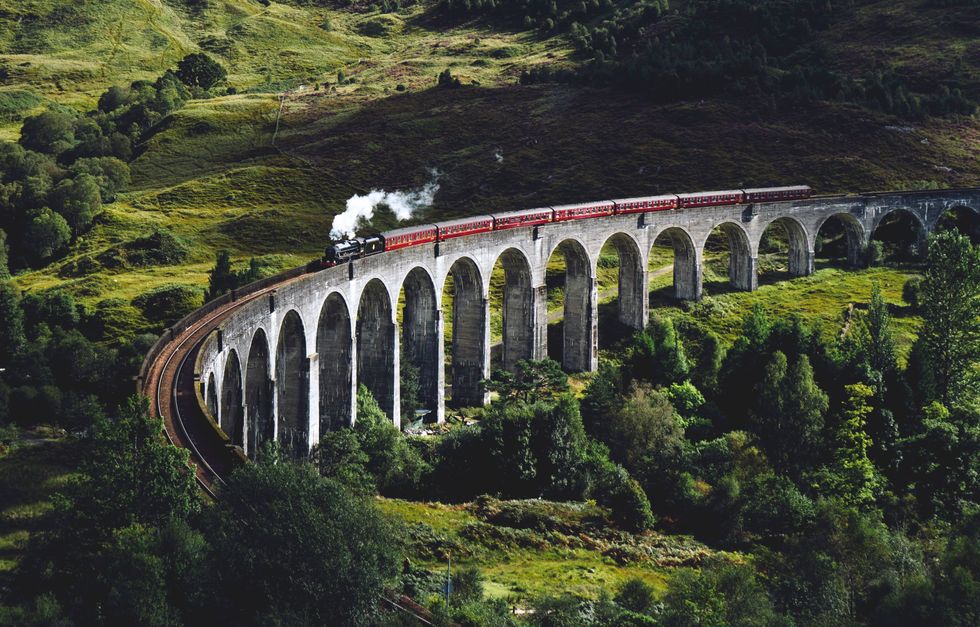 Train travel is being revamped - it's a beautiful way to see the country Photo by Michał Parzuchowski on Unsplash
In another word, yes. And it soon will be.
Positive Train Control (PTC) is an advanced system to automatically stop a train and prevent certain types of accidents. Upon full implementation, PTC will avert train-to-train collisions, derailments due to excessive speeds, unauthorized entry in work zones, and train movements through misaligned track switches. PTC is scheduled to be fully implemented in all Class 1 railroads, which includes Amtrak, by the end of 2018. In the Washington crash, the train was traveling 80 mph in a 30 mph zone, which might have been overridden had PTC been in effect. PTC technology was installed on the track where the derailment occurred, but it was still in the testing phase. (It was originally mandated by Congress in 2008.)
"PTC will be implemented by the end of this year for 'most' passenger operations," says Dr. Zarembski. "There are some commuter lines that do not have the funding necessary for full implementation, but most are on their way."
One thing PTC doesn't prevent, however, is "improper vehicular movement through a grade crossing." Yes, our national railroad system is in need of major infrastructure upgrades, and Amtrak is always in the budgetary cross hairs--the Trump administration called for cuts of 50%--but there are fatalities that are entirely preventable. Those that are the result of drivers playing chicken with oncoming trains and pedestrians ambling too close to the tracks.
"That is where the biggest safety issues remain," says Dr. Zarembski.
In Virginia, the garbage truck was on the tracks. The crossing was equipped with crossbars and warning lights.
Volunteers look to change the world but the agency's practices have been debated for decades
In February 2013, 23-year-old Peace Corps volunteer Nick Castle died in a hospital at West China Hospital of Sichuan University of a gastrointestinal illness. He had fallen into a coma after feeling sick for months, losing weight and, finally, collapsing in Chengdu, the capital of the Sichuan province. Carrie Hessler-Radelet, the director of the Peace Corps in 2013, told the New York Times that the agency had been examining and revising its entire practice since the death of another volunteer in Morocco in 2009.
Deaths in the Peace Corps are not frequent, but they rightly call into question the program's training processes, medical resources, and the security of volunteers.
The physician who treated Castle, Dr. Jin Gao, became the center of a report by the Corps' inspector general about miscommunication and delayed reactions in the agency's healthcare system that might have led to the volunteer's death. Though the report didn't blame the Peace Corps for the man's death, it revealed inefficiencies and errors made by the doctor and others (including the ambulance getting lost on the way to pick up Castle) that added to concerns about volunteer welfare.
Many testimonies—positive and negative—reached reporters following the death. Chance Dorland, a volunteer in Columbia, said, "I was forced to leave my site . . . early because I was made sick by the inadequate and unprofessional medical care the Peace Corps offered its volunteers." Nancy Tongue, founder and director of Health Justice for Peace Corps Volunteers, wrote that a sick volunteer carries the "burden of proof." She expects volunteers who maintain a successful claim to be left "living slightly above poverty level regardless of prior earnings," waiting months or years for proper treatment or attention.
The Peace Corps has also been criticized for failing to keep its volunteers safe. In 2007, Juan Duntugan, a Filipino woodcarver, confessed to killing Julia Campbell because she had bumped into him while he was enraged by a fight with a neighbor. The organization cannot possibly guarantee the safety of its thousands of volunteers in hundreds of countries around the world but it can better prepare them and be more transparent about the dangers they might face.
It can also offer better mental health services. During the application process, the Peace Corps might require, from a person who has a mental illness, letters from mental health professionals, clearance from a psychologist, and participation in a sort of exam. "Transition can often be one of the biggest triggers for mental health issues," writes Ross Szabo, a former volunteer. Even in people not diagnosed with a specific mental illness, adjusting to life among strangers in another country can be massively stressful. And the pressure to succeed can make a difficult situation unmanageable. Another former volunteer, Emily Best, ended her stay in Senegal in 2012 after a year of frustration. She writes, "The onus of success seemed to be placed solely on the volunteer. If the volunteer struggles, it's because she isn't trying hard enough to adapt."
Some volunteers have struggled with a lack of education after being handed a project in an unfamiliar field or with too little training. Kelli Donley returned home from her agricultural posting after only five months because, she realized, "the audacity of my arrogance in assuming that this time abroad would do Cameroon any good was apparent on Day 1." Benjamin Clark was sent to Senegal as a 23-year-old with a graduate school degree. "I taught them a little about accounting and some basic math," he writes, "but my real value was being one extra person to hold a shovel." He thinks of the Peace Corps as a cultural exchange program more than an international aid group.
The loudest controversy for the Peace Corps in recent years has been their alleged mishandling of rape and sexual assault. On average, twenty-two female volunteers reported being raped or being victims of attempts between 2000 and 2009. In 2016, the percentage of women who said they've been sexually assaulted rose to 38%.
Danae Smith was attacked in the Dominican Republic and reported it to the Peace Corps in 2015. The Corps responded by blaming her for not doing enough to prevent it from happening. They sent her home immediately afterward. The U.S. Office of Special Counsel wants better training for host families and other in-country workers, including fellow teachers and priests, who represent a significant percentage of the attackers.
The agency is also being asked to provide much better access to victim care, including medical treatment and counseling.
The Peace Corps has drawn criticism since its inception in 1961 for its actions and intentions as an international development organization. Some think that its goal is mainly to create a positive image of the U.S. despite the country's imperialistic military engagements. Others think of the Peace Corps, itself, as an imperialistic strategy, developing Western culture and planting American influence in impoverished regions around the world. Hayley White, a volunteer in Uganda, wrote that the Corps should work more closely with in-country social entrepreneurs than with nongovernmental organizations that are "often too indoctrinated in Western ideas of how things must be done."
It is difficult to separate imperialism from a foreign aid program such as the Peace Corps or WorldTeach. After all, how can a U.S. citizen, perhaps only recently graduated from college, and maybe on their first trip outside of the country, provide meaningful help to a foreign community based on any other system than the American one in which they grew up? Instead of ending the imperialism argument outright, this is a question that is worth answering as a step toward a solution.
This article has focused on the controversies that surround the Peace Corps not to debase the organization's mission, but because without the constant discussion of weaknesses and the incessant push to do better, these dangers will remain. Many volunteers who write about their unsatisfactory experiences maintain that the organization needs revision to do its work better, not to cease working altogether. The mission of the Peace Corps is important; therefore, it is important to ensure that its mission is carried out correctly and with care.
Tech is changing the way we use maps and get to our destination. Are we better off?
The first time I was part of a cross-country drive was in a '78 Oldsmobile station wagon, often from the rear-seat vantage point looking backward out on the open road. It was 1980, the family trekking from our Billings, Montana home to sunny Southern California. I still remember so many anachronistic details: Billy Joel's The Stranger on 8-track, ashtrays in the armrests, and a glove box stuffed with fold-out gas station maps. The very maps that, once unsheathed, would never return to their original rectangular origin, and were known to drive anally-retentive drivers to the brink of madness.
Throughout my younger days, I criss-crossed the United States multiple times. I eschewed the fold-outs for the handy-dandy Rand McNally Road Atlas, the first of which, known as the "Auto Chum," was published in 1924, when a Model T could be had for $290. As cars became commonplace, the road trips soon followed. Getting the motor running and heading out on the highway became a staple in pop culture be it Nat King Cole, Jack Kerouac, or Clark W. Griswold. Going out looking for adventure is an American rite of passage, and it used to mean always having a map at the ready.
In 21st-century America, road atlases have been replaced by the smartphone. It's useful, but it isn't a map. Typing in an unknown address for Siri's soothing guidance on a quick A-to-B trip can be a godsend, but unfurl a bigger picture view, and it's plain as an Interstate how much is lost without the cartographic complexity of a map. There's the obvious reason maps are superior, nobody ever says, "My atlas is about to die." Maps don't require batteries, plugs, roaming charges, Wi-Fi, or any level of "g" connectivity, and they aren't ruined if dropped on the blacktop, or in a toilet.
There are also deeper reasons, both intellectual and spiritual, for putting the technology where the fold-outs used to be. For one, maps are literally making us smarter humans. "Spatial Orientation" is the brain's ability to help its owner "move around in an environment using an innate sense of direction." It's an essential skill for navigating through unfamiliar territories - as well as the literal dark - so we, as a species, can keep moving forward. Learning to read and understand maps is a primary way to build spatial orientation. Neural pathways are formed as more mental maps are created, so the brain is actually getting bigger. Map reading is a hugely important but underutilized skill for kids as well. A 2013 National Geographicreport concluded, "A student who has acquired robust spatial thinking skills is at an advantage in our increasingly global and technical society."
Kids recognize something else grown-up drivers tend to forget: maps are fun. An atlas contains endless possibilities, whereas a GPS is strictly a means to an endpoint. Maps open up the world and give the sense of vastness, screens shrink it down to a route that only matters to the driver. As Guardian writer Thomas McMullan notes in this astute essay on maps giving way to GPS, is that now, "we are by default the center of the world." It's yet another example of the collective being lost to the individual. Scale is reduced to only the path of the blinking blue dot, which means people will only get where they need to go. Wanderlust, the strong desire to travel, will still exist, but to wander lost may not.
One of the innate joys of maps are opening them up and eyeballing alternate routes. Not for efficiency, for beauty. The roads less traveled offer the wonderment of having no particular place to go, and maps will help get you there. The chance to tool around aimlessly, free of the omnipresent technology shackles, among this country's pastures, forests, deserts, mountains, plains, shores, and cities is one of life's greatest pleasures.
Today I live in Brooklyn, haven't owned a car in nearly two decades. When I feel a bit of wanderlust, even if it's only in a daydream, I pull out my tattered dog-eared cover-falling-off Rand McNally Road Atlas. GPS is the destination; Maps are the journey.
What does an intern provide to a company and should they be paid for their work?
If you've ever searched for an internship, you know how rare it is to find one that's paid. Usually, the associated advertisements focus on how potential interns will benefit by working as part of the team at a top company, learning skills they'll use for the rest of their lives and networking with notable people.

However, some question the legitimacy of the gains from unpaid internships. Are students getting enough out of their internships if their bosses just choose to use them as secretaries and coffee runners? And how do unpaid internships contribute to income inequality? Let's examine a few aspects to keep in mind when considering whether or not interns should be paid.
Unpaid internships tolerated in ultra-competitive industries
A person who is trying to get his or her foot in the door and break into the entertainment industry or another extremely competitive field may reason that unpaid internships are not only common but also expected. That individual might think, "If I can just learn how things work at X Company, I'll have something great to put on my resume, and I might even get a job out of the experience. Considering those advantages, I'll figure out a way to get by without pay."
There's also the problematic reality that if a potential intern is unwilling to work for no pay, he or she can feel certain that dozens or even hundreds of other hopefuls would surely work hard without getting paid. Then, there's the assumption that if a person doesn't seize the chance to grab an unpaid internship, he or she might be completely out of luck since internships are so scarce and people are always willing to work for free.
Legal specifications to keep in mind
The stereotypical intern is someone dashing around from dawn until dusk, eagerly making copies and filling empty coffee cups for superiors. Although that dedicated individual might be making a strong impression regarding personal work ethic, those types of activities don't transfer to become future job skills. Some companies have taken bold stances and chosen to pay their interns, recognizing that they are assets to the team.
However, there have been instances where interns fulfilled duties that ended up being integral to a project's success, and they didn't receive a dime for their efforts. Many people do not realize that unpaid internships can result in lawsuits related to the Fair Labor Standards Act. There were two prolific cases associated with interns at Gawker and Fox Searchlight Pictures. Both argued because their duties were so integral to operations, they deserved payment.
According to legal rulings, unpaid internships have to occur in a primarily educational environment that benefits the intern. Also, the employer cannot take advantage of an intern and make that person do things that would necessitate a paid staff member receiving income for the work.
Unpaid internships highlight income inequality
People have also argued strongly that unpaid internships are luxuries for the economically fortunate. That line of thought makes sense, especially considering that many internships occur during the summer. That's a time when people who are not financially stable can't even consider applying for internships because they have to use that coursework-free season to make money that'll sustain them through upcoming semesters.
It raises the question of whether employers might be unintentionally preventing ideal candidates from applying for an internship because an unpaid option isn't financially realistic. Employers who offer paid internships bring a welcome element of equal opportunity to the internship candidate pool.
What must happen to help interns who take unpaid internships?
Indeed, paying interns or making them work for free is a decision that's up to employers. If they choose the latter, they must break the stereotype and reward worthy interns by letting them do things that'll genuinely benefit them in their future careers.
Of course, it would be feasible to assign interesting activities based on a person's prior performance. If someone characteristically shows up late and displays an obviously bored attitude while interning at a company, he or she would arguably not be a prime candidate for exciting and demanding responsibilities. On the other hand, when an intern manages time well, is inquisitive and otherwise meets or exceeds expectations, then the stage is set for bigger and greater things.
Also, employers need to consider that payment could be an incentive that helps them find the best, most highly motivated interns. If that happens, they might reduce hiring costs down the line because they can bring proven interns on board instead of having to dive blindly into the job market.
Hopefully, the influx of legal cases taken against companies that didn't pay interns for doing valuable work might inspire a change. Until then, it's up to interns to be assertive if they're continually only given menial duties during an internship. As long as they're performing well at a level that is at least as good as their peers, they can build a strong case that if payment is out of the question, they need to get educational ways to spend their time.
With Trump as president, the term 'impeachment' is always thrown around, but what does it mean?
Discussion of the possible impeachment of President Donald Trump has been following news regarding his administration and business practices for several months. Most recently, a Democratic congressman has announced plans to file articles of impeachment in the House of Representatives. However, not many people truly understand what impeachment means and how it really works. Impeachment is a process laid out in the Constitution as a check on presidential power, but it has only really been put to use twice in all of American history.

First, it's important to note that impeachment does not automatically equal removal from office. When Congress votes to impeach a president, it begins a process that may or may not end in the president being forced to leave. Only two presidents have ever been impeached: Andrew Johnson and Bill Clinton. Richard Nixon was never impeached. However, he was the only president to ever resign from office.
First, it's important to note that impeachment does not automatically equal removal from office.
That said, what does impeachment really mean? According to the Constitution, a vote in the House of Representatives is required to formally impeach a president. If the vote passes, then the president has been formally charged. He will then be tried in the Senate to determine whether or not he is guilty. The Chief Justice of the Supreme Court is constitutionally required to preside over the trial.
The president can be convicted only by a two-thirds majority vote in the Senate. Once that happens, he will be removed from office and banned from ever holding any another elected office in the United States. He can also be held liable and "subject to indictment, trial, judgement, and punishment, according to the law" for his actions that resulted in his removal. After the president is removed, the vice president would be sworn into office in his place, according to the line of succession.
If the president is not convicted, then things essentially return to normal — at least in process. However, there would probably be many political implications for a present who was impeached.
Clinton was impeached, but not convicted or removed from office. After the trial, his administration faced a few hurdles. He struggled with a low approval rating, which gave him much less leverage with Congress. However, it wasn't really devastating to his administration. Many on the left viewed the entire proceeding as a political move. (Clinton's impeachment had come about after a famous stained dress was uncovered, after all.) The vote to impeach passed under the pretense that the president lying about an affair to the public was morally corrupt.
But could President Trump be impeached? He could. All it takes is a vote in the House of Representatives. Still, with Republicans in the majority, it's unlikely a vote would pass. Unless Trump's response to the events in Charlottesville changed a lot of minds on the conservative side. Impeachment might become more of a possibility if Republicans end up losing their majority in Congress.
However, impeachment isn't really taken lightly. There would likely have to be definitive proof of wrongdoing before a vote would even be considered. That said, allegations of colluding with Russia to win an election or using the federal government to increase profits for his businesses are much more serious accusations than lying publicly about an affair. These are uncharted waters and no one really knows what's going to happen.