Dall-E Mini, the AI-powered text-to-image generator has taken over the internet. With its ability to render nearly anything your meme-loving heart desires, anyone can make their dreams come true.
DALL-E 2, a portmanteau of Salvador Dali, the surrealist and Wall-E, the Pixar robot, was created by OpenAI and is not widely available; it creates far cleaner imagery and was recently used to launch Cosmpolitan's first AI-generated cover. The art world has been one of the first industries to truly embrace AI.
The open-sourced miniature version is what's responsible for the memes. Programmer Boris Dayma wants to make AI more accessible; he built the Dall-E Mini program as part of a competition held by Google and an AI community called Hugging Face.
And with great technology, comes great memes. Typing a short phrase into Dall-E Mini will manifest 9 different amalgamations, theoretically shaping into reality the strange images you've conjured. Its popularity leads to too much traffic, often resulting in an error that can be fixed by refreshing the page or trying again later.
If you want to be a part of the creation of AI-powered engines, it all starts with code. CodeAcademy explains that Dall-E Mini is a seq2seq model, "typically used in natural language processing (NLP) for things like translation and conversational modeling." CodeAcademy's Text Generation course will teach you how to utilize seq2seq, but they also offer opportunities to learn 14+ coding languages at your own pace.
You can choose the Machine Learning Specialist career path if you want to become a Data Scientist who develops these types of programs, but you can also choose courses by language, subject (what is cybersecurity?) or even skill - build a website with HTML, CSS, and more.
CodeAcademy offers many classes for free as well as a free trial; it's an invaluable resource for giving people of all experience levels the fundamentals they need to build the world they want to see.
As for Dall-E Mini, while some have opted to create beauty, most have opted for memes. Here are some of the internet's favorites:
There's no looking back now, not once you've seen Pugachu; artificial intelligence is here to stay.
CULTURE
How to Change Peoples' Minds​ (Hint: it's not with the truth)
Tali Sharot's new novel explores the science behind changing people's minds.
With her new book, The Influential Mind, cognitive neuroscientist Tali Sharot has set out to map the psychological mechanisms that control how people react to information. The thesis of the book is simple: once beliefs are formed, people become very stubborn and it can be difficult to change their minds. That said, according to Sharot, by using specific techniques that better align with our natural tendencies, we can change people's minds much more easily. At first glance, this idea feels like a pop psychology platitude, something from Malcolm Gladwell or Dale Carnegie. Still, unlike many of her contemporaries, Sharot conducted many of the experiments discussed in the book herself, with many of her studies based on Peter Wason's theories on confirmation bias.
Confirmation bias is the idea that people are more likely to look for and readily believe information that confirms their worldview. In a talk conducted with Google, Sharot showed the power of confirmation bias by playing a game with the audience. She wrote down the numbers two, four, and six. She then asked two questions. The first, was to come up with a set of three numbers. She would then tell the person whether or not those numbers fit the rule. After this, the person was asked what the rule is. The majority of people guessed trios like eight, ten, and twelve, and when asked what the rule was, said something about even numbers. In reality, any series of escalating numbers would have fit Sharot's rule. This exercise illustrated our tendency to formulate strong beliefs based off of limited data, and the immediacy with which we look for confirming evidence. The purpose in this exercise was to demonstrate how easily we pick evidence that comports with our beliefs, and how rarely we challenge those beliefs once we have them. Nowadays, with information so readily available, it's easy to go online and find evidence to backup any belief under the sun. With this in mind, it's easy to see how America became so socially and politically polarized.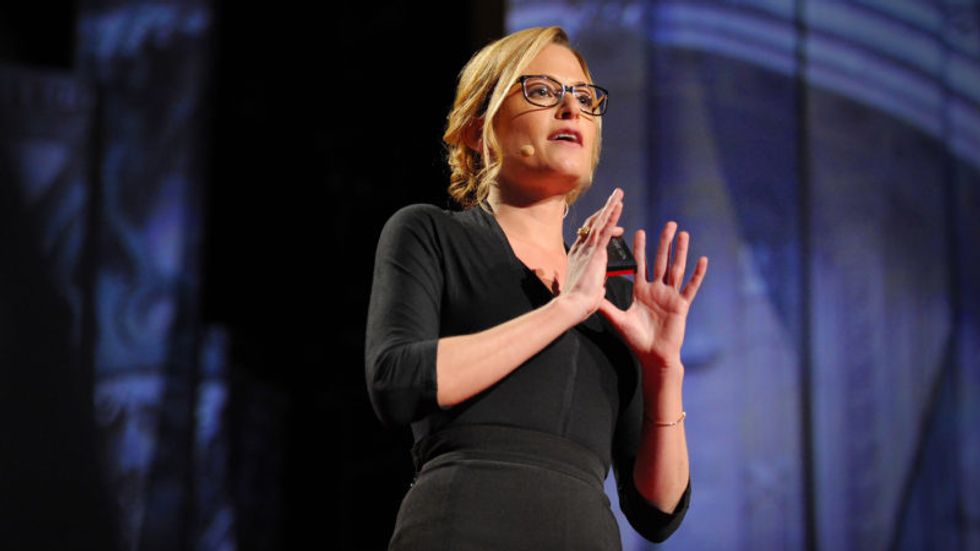 Tali Sharot discussing her theories
Sharot goes on to explain even further, and discusses a few experiments she conducted regarding the way we reckon with data. According to her, beliefs can directly interfere with our ability to understand information. This phenomenon isn't exclusive to people with cognitive impairments either. It would seem, according to Sharot, that most people aren't hardwired for doubt. This behavior also extends to the world of debate. By using MRI machines, Sharot was able to measure the brainwaves of people in conversation, and was able to show that when two people agree, confidence in an opinion rises. On the flipside, brainwaves more or less shut down when people disagree. While this isn't surprising to anyone who spends Thanksgiving with their family, it's always worth noting when idiomatic beliefs, through careful study and observation, bleed into the world of cognitive psychology.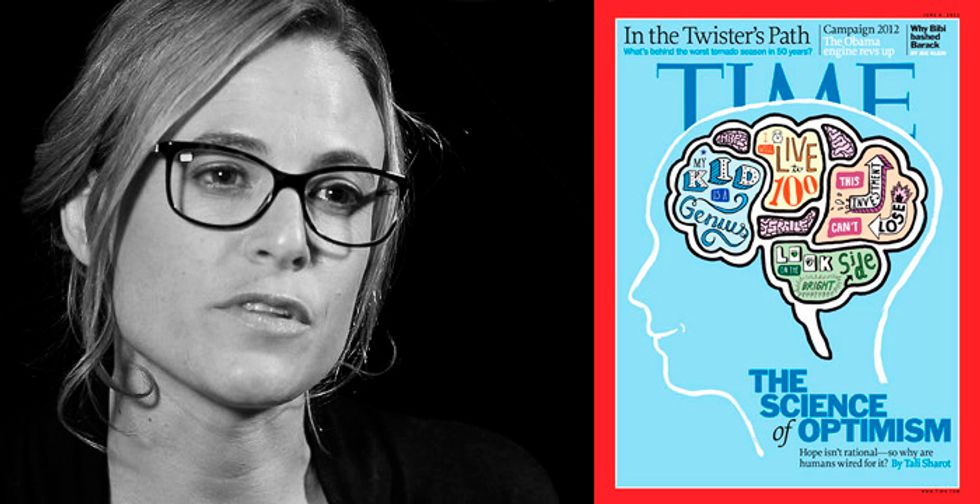 Tali Sharot with her Time cover
The real question is, now that we have scientific proof that these phenomenons govern our behavior, how do we use this information to our advantage? According to Sharot, we react to positive information similarly to the way in which we react to tangible rewards. When it comes to bad news however, our brain tends to prefer ignorance and "frantically distorts" information that a person doesn't agree with. The way to successfully discuss our differences is by framing them in ways the brain will naturally understand. For example, people learn more from good news than they do from bad. People also tend to believe positive statistics more than negative ones. By approaching a conversation from the positive, a person is more likely to be successful in convincing others of their point of view.
It'd be easy for an uninformed or casual reader to walk away thinking that
The Influential Mind
is about the power of positivity, and that Sharot's experiments are anecdotes designed to support this idea. This is the problem with pop psychology writ large. It forces brilliant scientists to condense their research. While the book is good for readers looking for a working knowledge of Sharot's theories, it necessarily eschews certain details in favor of readability. It's a good primer, but after finishing the book, more curious readers will probably want to dig into Sharot's academic papers in order to gain a stronger understanding of her work.