Dall-E Mini, the AI-powered text-to-image generator has taken over the internet. With its ability to render nearly anything your meme-loving heart desires, anyone can make their dreams come true.
DALL-E 2, a portmanteau of Salvador Dali, the surrealist and Wall-E, the Pixar robot, was created by OpenAI and is not widely available; it creates far cleaner imagery and was recently used to launch Cosmpolitan's first AI-generated cover. The art world has been one of the first industries to truly embrace AI.
The open-sourced miniature version is what's responsible for the memes. Programmer Boris Dayma wants to make AI more accessible; he built the Dall-E Mini program as part of a competition held by Google and an AI community called Hugging Face.
And with great technology, comes great memes. Typing a short phrase into Dall-E Mini will manifest 9 different amalgamations, theoretically shaping into reality the strange images you've conjured. Its popularity leads to too much traffic, often resulting in an error that can be fixed by refreshing the page or trying again later.
If you want to be a part of the creation of AI-powered engines, it all starts with code. CodeAcademy explains that Dall-E Mini is a seq2seq model, "typically used in natural language processing (NLP) for things like translation and conversational modeling." CodeAcademy's Text Generation course will teach you how to utilize seq2seq, but they also offer opportunities to learn 14+ coding languages at your own pace.
You can choose the Machine Learning Specialist career path if you want to become a Data Scientist who develops these types of programs, but you can also choose courses by language, subject (what is cybersecurity?) or even skill - build a website with HTML, CSS, and more.
CodeAcademy offers many classes for free as well as a free trial; it's an invaluable resource for giving people of all experience levels the fundamentals they need to build the world they want to see.
As for Dall-E Mini, while some have opted to create beauty, most have opted for memes. Here are some of the internet's favorites:
There's no looking back now, not once you've seen Pugachu; artificial intelligence is here to stay.
ISSUES
Why Politics Feel Personal in 2020
common Dreams
Politics is the ongoing debate over who and what gets to thrive and survive, and it is always personal.
Abortion. Gun control. Immigration. Police violence. The MeToo movement.
A dozen political issues, a dozen debates that we seem trapped in, condemned to repeat. It's been four decades since Roe v. Wade, and women's access to abortion seems as fragile as ever. Since the Sandy Hook massacre, there have been 2,402 mass shootings in the United States, and yet we don't feel any closer to passing common sense gun legislation than we were eight years ago. The American federal government has come to a complete standstill, but the poison runs deeper than that; at every level of human existence—political, cultural, artistic—we have lost the ability to meaningfully alter the status quo. We have the same arguments that we did eight years ago, we listen to the same types of music, and all the movies are sequels or franchises or reboots. We are a stopped culture.

It's a concept cultural theorist Mark Fisher referred to as the "slow cancellation of the future," part of his broader theory of Capitalist Realism—the notion that, as neoliberal hegemony continues, the people living under it will increasingly lose the ability to imagine a future different from the present. A mood has settled over America, a sense that things simply are the way they are. Massacres are common, police brutality happens regularly, abortion is difficult and precarious, healthcare costs are insane, and the government has no power (or will) to stop any of it from happening. The whole world is telling us, consciously or not, that nothing can be done. So what does all this have to do with the modern phenomenon recognized as "grievance politics?"
Simple. When we feel our politics have lost the ability to affect our lives, the only issues that seem to matter are personal ones.
If society is stuck, if we lack the power to change it and make it the way we want it to be, the only thing we can do is own each other—on Twitter, on stage, or in the voting booth. No politician can actually pass any legislation, but if the right ones win then the people on the other side will get upset. In turn, you might feel good for a little while, and maybe even convince yourself that your interests are being represented even though they're not. In modern mainstream political discourse every issue is disguised by one question: Who is "triggering" who? The whole world is telling you that nothing will be done about mass shootings or police violence or rape culture, but you can own the "Bernie Bros," and feel like you're owning all of the people in your life that you don't like.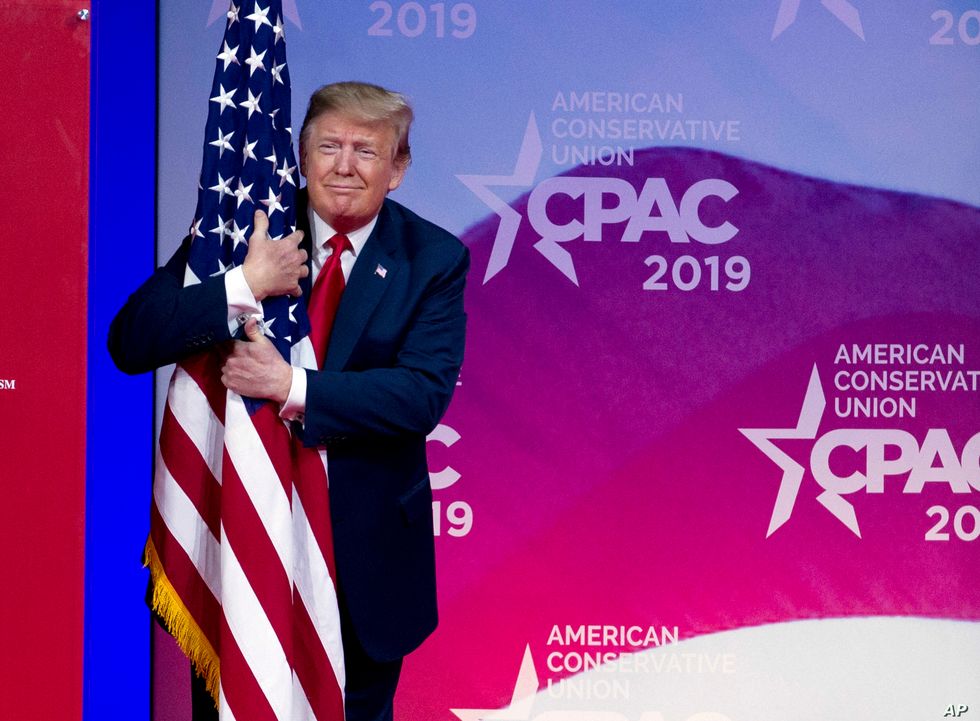 AP
That's how we got Trump. Whether or not they'll admit it, very few people really believed, in the logical parts of their minds, that Trump was ever gonna build his stupid wall. How could he? That would involve something happening, and nothing ever happens. The MAGA crowd, in a real sense, have as little power to bring about their ideal world as we do (thank god), because they can't stop us from agitating about inequality or gun control or kneeling for the national anthem. But when Donald Trump wins, college kids cry. And triggering the libs is as close as they can get to a victory.

If there's one good thing about the COVID-19 pandemic that is gripping the nation, it's this: We can no longer deny that our politics have a very real, very material impact on our lives. However, and this is important to stress: Politics is the ongoing debate over who and what gets to thrive and survive, and it is always personal. The pandemic has brought it home to the most privileged and insulated among us, but if you are vulnerable, if you are poor, if you are a racial or sexual minority, if you are a victim of gun violence or assault or our rapacious healthcare system, you have felt the effect of our politics in your life every single day. It's more important than the feeling it gives you, and it's more important than who's triggering who, and that's going to become more and more clear as we continue to suffer the consequences of a civil infrastructure that has spent the past forty years being ransacked.
Mainstream politics has always operated under the delusion that nothing was ever going to really happen. It would threaten to happen, it would almost happen, but it never actually would. Well, something has happened. Maybe now something can be done about it.
Probably not, though.