We look at the disease and how it's consumed the world
By Anthony Lee, MD
Faculty, Harvard Medical School
As we make our way through this pandemic, many of us are wondering about its scale and what's in store for the future. Objectivity is lost in the swamp of catastrophic thinking, conflicting opinions, and political agendas. To regain our objectivity, we must examine the numbers.

Many different sources supply us with numbers describing past, present, and future trends in various places around the globe. These numbers tend be focused regionally and are often used in conjunction with info relating to Italy as the de facto standard.
This makes sense, given that data should be relevant to local needs and that Italy has been through the worst of it. Hospitals are using this information to predict how this pandemic will affect their areas locally and allocate resources accordingly. Public policy should also be driven by this data.
Like most authors, I have included Italy in the mix, and I've highlighted the effects of its lockdown on March 9th in terms of cases and deaths. I've added Belgium because it locked down 9 days after Italy, and it would be useful to see if their results resemble Italy's.
The UK's situation is an interesting one; initially it just let things happen so that herd immunity would develop, then later mandated social distancing followed by a relative lockdown. Ireland and Northern Ireland were added separately to represent progressively smaller scale versions of the UK only in terms of when they started social distancing (March 23-24) and eventual relative lockdowns (March 26-27).
New York State was included because it carries approximately 36% of all cases in the US and roughly 10% of all cases in the world. Finally, Sweden is noteworthy because it enacted measures very late (March 29). But when it did, the measures were significantly less restrictive than those of other countries.
The charts used below present data as cases vs. time, or deaths vs. time. With this presentation, it appears that the US has the most cases, and that things must be terrible here. In places such as NY State, it is.
But keep this in mind: the population of the entirety of the US is 331 Million, while the population of NY State and NYC is 19.5 Million and 8.6 Million, respectively. While the US has about 422,800 cases in total as of today, NYC has roughly 78,000 cases.
If these numbers were expressed on a per 100,000 population basis, you'd get a clearer picture of specific geographic severity. For example, the US situation is better expressed as 128 cases per 100,000, and NYC's very concerning 903 cases per 100,000.
By comparison, Italy, a known hot spot for the COVID pandemic, has 139,442 cases today with a population of 60.48 Million. That's 230 cases per 100,000 people. Therefore, for charting both the number of cases and deaths with respect to time, the values will be expressed as per a 100,000 population basis.
Due to time differences, US data reports lag behind the UK and European countries. Therefore, US plots are likely to be limited to the day before a report is published. In some cases, late reporting from European countries and the UK may also limit plots to the day before.
Cases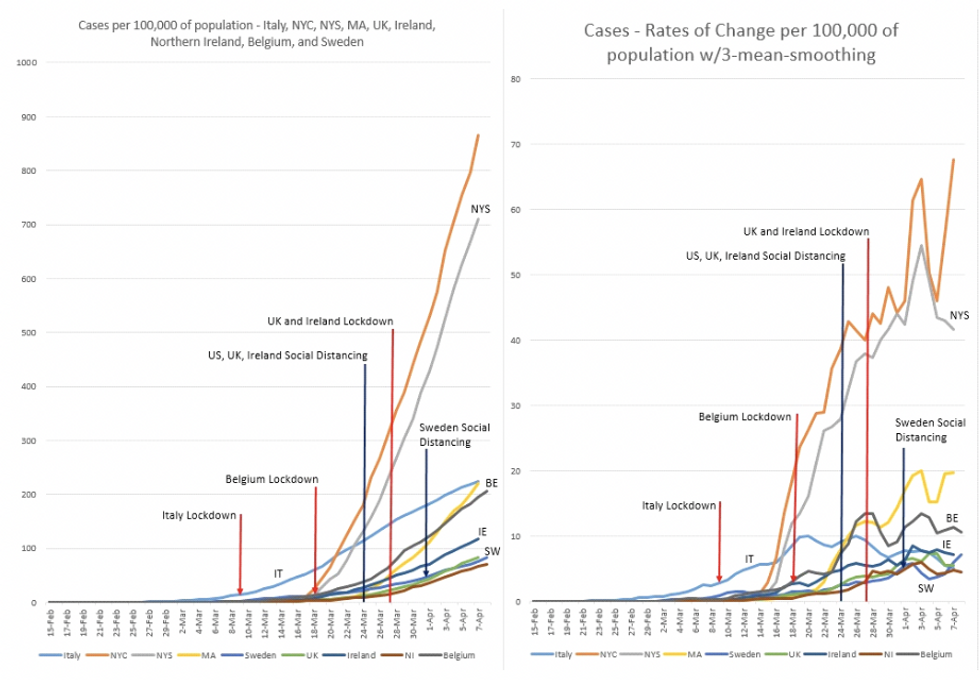 Figure 1. Cases per 100,000 population by location and correlated rate of change.

Looking at Figure 1, we can see the effects of lockdowns and social distancing. It took Italy 10 days to finally reduce the number of daily new cases (basically, the rate of change curve has flattened). This trend has continued for the last 20 days, producing the trailing edge of Italy's pandemic.
Within 9 days Belgium reduced the number of daily new cases and continued on a downward trend for the last 12 days. It took Ireland 6 days of lockdown to reduce their daily new cases, and this trend has continued over the last 6 days. Northern Ireland took 7 days of lockdown to reduce their daily new cases, and this trend has continued over the last 5 days.


Despite loose social distancing, Sweden continues on a low and flat trajectory. Perhaps this can be accounted for by lack of testing.

Due to the setting of social distancing policies, the UK remains on a low and flat trajectory.
Despite a shortage of testing NY State and NYC cases are rising dramatically. Testing has increased in Massachusetts over the last 2 weeks, and this is reflected in the figure. While NY has been about 5-8 days behind Italy over the last several weeks, Massachusetts has been roughly 21-23 days behind.
Although both NY and Massachusetts started their social distancing advisories at the same point in time. Relative to Italy's social distancing, Massachusetts had a roughly 2-week head start on NY. This may have caused the relative flattening of new cases in Massachusetts over the last 6 days. This may change, however.
Rates-of-change plots appear in surges or waves. In locations that are improving, each subsequent wave is smaller than the previous one. This forms the trailing edge of the pandemic in a given location. In locations that are worsening, each subsequent wave is larger than the previous one, forming the leading edge of a worsening pandemic.

Deaths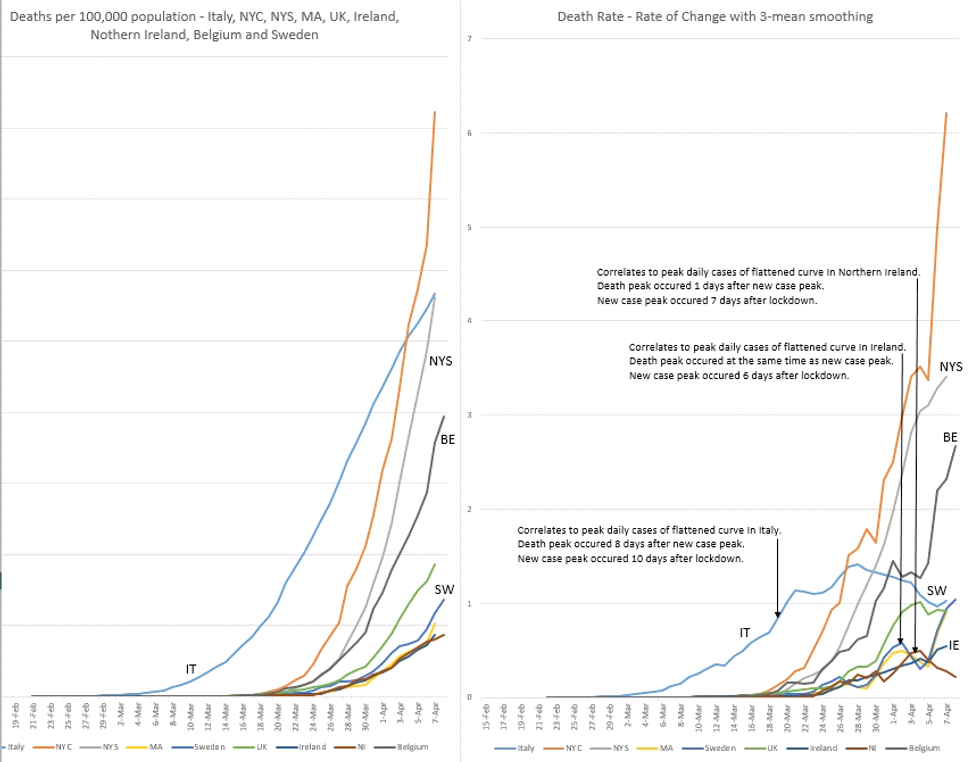 Figure 2. Deaths per 100,000 population by location and correlating rate of change.

In Figure 2, we can see the rising deaths by location.
In the rates-of-change chart, the number of daily new cases flattened are delineated by date.
From the point of delineation rightward, we can see when daily deaths begin to decrease. This lag time varies with locations. For Italy, this lag time was 8 days. For Ireland, these reversals were basically at the same time. For Northern Ireland, the lag time was 1 day.
For these countries, the time between lockdown/social distancing and reduction of daily deaths was 18 days for Italy, 6 days for Ireland, and 8 days for Northern Ireland.
I will update and discuss these charts in future installments of this series.
Sources of data: Worldometer.com, Spectrum News NY1, Massachusetts Department of Public Health, HSC Public Health Agency
Politics is the ongoing debate over who and what gets to thrive and survive, and it is always personal.
Abortion. Gun control. Immigration. Police violence. The MeToo movement.
A dozen political issues, a dozen debates that we seem trapped in, condemned to repeat. It's been four decades since Roe v. Wade, and women's access to abortion seems as fragile as ever. Since the Sandy Hook massacre, there have been 2,402 mass shootings in the United States, and yet we don't feel any closer to passing common sense gun legislation than we were eight years ago. The American federal government has come to a complete standstill, but the poison runs deeper than that; at every level of human existence—political, cultural, artistic—we have lost the ability to meaningfully alter the status quo. We have the same arguments that we did eight years ago, we listen to the same types of music, and all the movies are sequels or franchises or reboots. We are a stopped culture.

It's a concept cultural theorist Mark Fisher referred to as the "slow cancellation of the future," part of his broader theory of Capitalist Realism—the notion that, as neoliberal hegemony continues, the people living under it will increasingly lose the ability to imagine a future different from the present. A mood has settled over America, a sense that things simply are the way they are. Massacres are common, police brutality happens regularly, abortion is difficult and precarious, healthcare costs are insane, and the government has no power (or will) to stop any of it from happening. The whole world is telling us, consciously or not, that nothing can be done. So what does all this have to do with the modern phenomenon recognized as "grievance politics?"
Simple. When we feel our politics have lost the ability to affect our lives, the only issues that seem to matter are personal ones.
If society is stuck, if we lack the power to change it and make it the way we want it to be, the only thing we can do is own each other—on Twitter, on stage, or in the voting booth. No politician can actually pass any legislation, but if the right ones win then the people on the other side will get upset. In turn, you might feel good for a little while, and maybe even convince yourself that your interests are being represented even though they're not. In modern mainstream political discourse every issue is disguised by one question: Who is "triggering" who? The whole world is telling you that nothing will be done about mass shootings or police violence or rape culture, but you can own the "Bernie Bros," and feel like you're owning all of the people in your life that you don't like.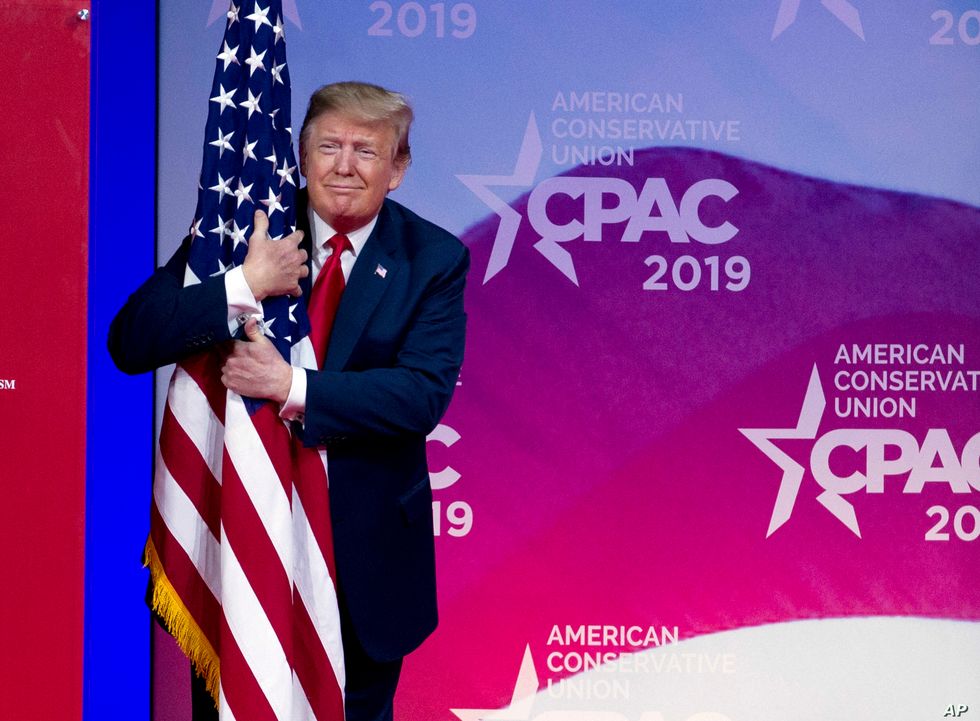 AP
That's how we got Trump. Whether or not they'll admit it, very few people really believed, in the logical parts of their minds, that Trump was ever gonna build his stupid wall. How could he? That would involve something happening, and nothing ever happens. The MAGA crowd, in a real sense, have as little power to bring about their ideal world as we do (thank god), because they can't stop us from agitating about inequality or gun control or kneeling for the national anthem. But when Donald Trump wins, college kids cry. And triggering the libs is as close as they can get to a victory.

If there's one good thing about the COVID-19 pandemic that is gripping the nation, it's this: We can no longer deny that our politics have a very real, very material impact on our lives. However, and this is important to stress: Politics is the ongoing debate over who and what gets to thrive and survive, and it is always personal. The pandemic has brought it home to the most privileged and insulated among us, but if you are vulnerable, if you are poor, if you are a racial or sexual minority, if you are a victim of gun violence or assault or our rapacious healthcare system, you have felt the effect of our politics in your life every single day. It's more important than the feeling it gives you, and it's more important than who's triggering who, and that's going to become more and more clear as we continue to suffer the consequences of a civil infrastructure that has spent the past forty years being ransacked.
Mainstream politics has always operated under the delusion that nothing was ever going to really happen. It would threaten to happen, it would almost happen, but it never actually would. Well, something has happened. Maybe now something can be done about it.
Probably not, though.