We're looking at you, ExxonMobil.
Gucci has announced that it wants to go carbon neutral.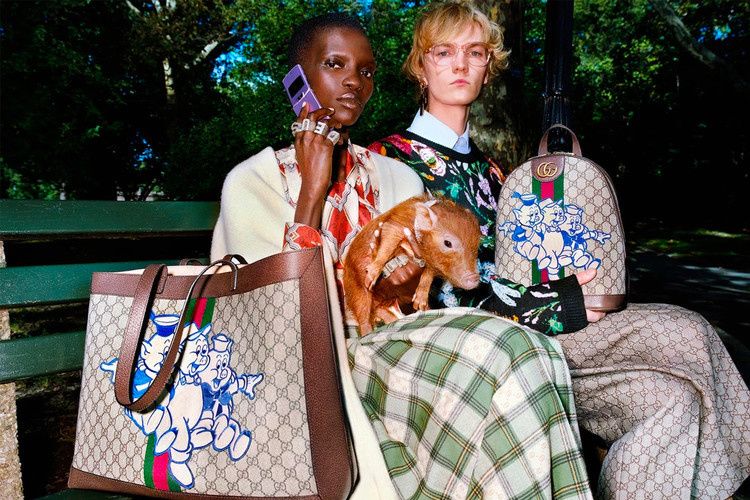 hypebeast.com
The company's CEO, Marco Bizzarri, just confirmed that the company will be purchasing carbon credits that cancel out the emissions of all the people who attend its upcoming Milan fashion show.

The high fashion brand has been working on their eco-friendliness for a while, launching a ten-year sustainability plan in 2018 and swearing off fur products the year prior.
Next up, the 100 fossil fuel companies that are responsible for 71% of the world's global emissions should go carbon neutral, shutting down or changing their product from fossil fuels to reusable energy.
Particularly, the 25 companies that are responsible for half of global emissions in the past three decades should consider offsetting their toxic effects (from selling a deadly substance that will kill us all, slowly and painfully) by paying a few trillion dollars in carbon credits and reparations to the communities they have destroyed.
It's great that eco-friendliness is fashionable now. It's awesome that high fashion companies are trying to go carbon neutral by buying carbon credits, even though carbon offsets are definitely not going to be enough to stop the climate crisis.
It would be even greater if ExxonMobil, Shell, BP, ConocoPhillips, Suncor, Saudi Aramco—and all the other companies bankrolling politicians that deny climate change, obfuscating decades of scientific research, and making it virtually impossible to stop climate change no matter how many models strut around in faux fur—would do the same.
The Immigration and Customs Enforcement agency detained 680 migrants yesterday. Here's how you can respond.
This has been an unusually horrific week for American immigrants, and that's saying something.
Yesterday, ICE staged its largest single-state immigration raid in history, sending over 600 agents to seven Mississippi food processing plants. 680 people were arrested and detained. They were ushered onto buses, where they had their hands tied with plastic bands; some tried to flee into parking lots but were captured on foot. The detained immigrants will be tried on a case-by-case basis, with no limit on how long they might be kept in ICE custody. As of now, 300 people have allegedly been released.
Many of the detained have children at home, who have been left without their parents. A local school in Scott County that started their academic year on Tuesday has gone "on standby," and bus drivers have been instructed to check whether the child is met by a parent or guardian before letting them off the bus, in order to ensure that the child is not returning to an empty house.
While the children have waited to hear from their parents, some members of the local community have stepped up, including a gym owner named Jordan Barnes, who's helped house some children until they can be connected with a family member or guardian.
Summer of Deportation
For supporters of the crackdown on illegal immigration, the raids are viewed as triumphs. In July, President Trump told reporters that "[ICE is] gonna take people out and they're going to bring them back to their countries or they're gonna take criminals out, put them in prison, or put them in prison in the countries they came from."
The raids in Mississippi came only five days after a mass shooting that was motivated by racism and anti-immigrant sentiment rocked El Paso, Texas and left 31 dead. They appear to be the climax of a summer of relentless ICE crackdown on migrants across the nation. Currently, the U.S. operates the world's largest immigration detention system, with an estimated 30,000 people in custody on any given day. The raids began in June, with ICE targeting up to 2,000 migrants in 10 U.S. cities.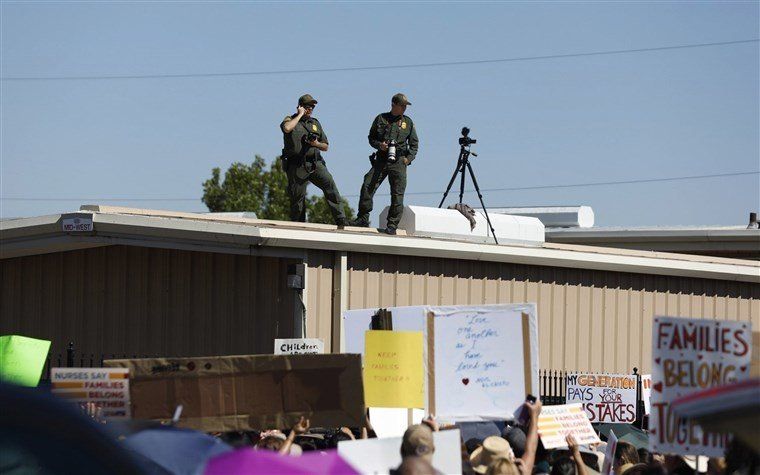 Image via NBC News
These detention centers have been loci of contention for the past few months in particular. On Tuesday, August 6, over 100 hunger-striking immigrants at a Louisiana facility were sprayed with pepper spray, shot at with rubber bullets, and blocked from contacting their families. Reports of atrocious conditions at the facilities have continued to flood in from many sources.

On Wednesday, just one day before the Mississippi raids, a man named Jimmy Aldaoud—who spent most of his life in the U.S. and had never lived in Iraq, though he was of Iraqi nationality—died in Baghdad, after he'd been left homeless and without access to insulin following his deportation. Aldaoud was detained as part of a massive crackdown on the Detroit Iraqi community. In a video filmed before he died, he appears to be sitting on a street in Iraq. "Immigration agents pulled me over and said I'm going to Iraq," he said in the clip. "I said, 'I've never been there. I've been in this country my whole life, since pretty much birth.' … They refused to listen to me."
What Can You Do?
In the wake of this news, and knowing that the raids will likely only grow worse, you might be wondering what you can do. Here are a few suggestions:
Spread and share information about immigrants' rights.
There are many guides in various formats available to the public that detail immigrants' rights. The ACLU has one, as well as the National Immigration Law Center, and the Immigration Defense Project offers a variety of flyers and pamphlets available for distribution. Essentially, the most important fact to share is that if an ICE agent shows up at your door, you are never obligated to open it unless they have a warrant, and you are never obligated to speak to an officer if they stop you in public. They cannot arrest you without a warrant, and you have permission to tell them that you are exercising your right to remain silent.
As an ally, you can also share stories on social media and among your networks, highlight migrants' voices, do your own research into issues of asylum and immigration and contact your representatives to voice your opposition, especially if you live in a state or community where the raids are taking place. You can find your local ICE community relations officer here and your representative here. You can also use the website 5calls.org to find more people to contact.
Report ICE raids when you see them.
If you see an arrest, take note of the officers' badge numbers and license plates and take videos. You can also report raids to hotlines, like United We Dream. If you're a legal U.S. citizen, use your judgment to decide when to speak up and get involved in a raid. Recently, in Nashville, a group of community members noticed that the ICE was surrounding one of their neighbors' vans, and so they formed a circle around the car until the agents left the scene.
Remember that it's unhelpful to report potentially false information about ICE raids, as they can spread unnecessary panic, so exercise caution when dealing with raids in real time.
Donate to help migrants.
A lawyer can make all the difference in a migrant's case. Many migrants qualify for legal citizenship in the U.S. and simply are unable to compile the necessary documentation. The Cornell Law School has a list of organizations seeking donors or volunteers. Just be sure to do your research and vet the charity using a site like Charity Navigator.
Get involved in advocacy groups.
Allies can participate in a variety of contexts. There are many organizations that allow allies to help migrants prepare their documents for citizenship hearings, or coordinate groups to attend these hearings, such as the New Sanctuary Coalition and Cosecha in NYC.
If you're an attorney or are fluent in translating Spanish to English, your expertise is particularly valuable to these groups. Even if not, just attending a court hearing can put enough pressure on judges to turn the tide in favor of migrants.
You can also push your local church, school, or community organization to act as a short-term sanctuary for migrants. If you want to give even more, you could look into underground networks dedicated to keeping migrants and refugees safe.
Organize for the 2020 elections.
Though protests and active allyship can be powerful, none of these small actions can replace systemic changes coming from the very top.
The rising tides of migration to the U.S. are not occurring in a vacuum. They are products of policy issues stemming from root sources like climate change, the War on Drugs, and other large, structural issues that require equally large, structural changes.
Even if you don't believe that undocumented immigrants should be allowed to stay in the country, the images of children crying as their parents are dragged away into unsanitary and dangerous prisons should be enough to stir some basic human impulse to react. There is a better way.
Could her Democratic Debate win unseat frontrunner Biden?
The second night of the 2020 Democratic primary debates gave American voters a glimpse into the policies, platforms, histories, and personalities of 10 more candidates, all vying to stand out in a crowded 25-person race to challenge Donald Trump in the next presidential election. Following up a spirited debate the night before, during which Elizabeth Warren ran much of the show, the second showdown featured the party's two frontrunners, Joe Biden and Bernie Sanders. Biden and Sanders, however, were not the brightest shining stars on the stage by the end of the night. For many Americans, Thursday's debate served as a formal introduction to many of the other candidates in the race, some of whom made quite a name for themselves.
The general consensus, at least according to liberal-leaning media outlets, is that California Senator Kamala Harris won the debate. Harris was exceptionally poised and confident throughout the entire night, answering questions directly and succinctly—a refreshing break from the single-note catchphrasing, discursive meandering, and sometimes chaotic squabbling of many of her opponents.
At one point of heightened bickering (of which there were several), while nearly every other candidate was trying to yell over one another, Harris addressed her colleagues and competitors, reminding them that "Americans don't want to witness a food fight, they want to know how we're going to put food on their tables." She then seamlessly shifted the discussion back to the matter at hand: jobs. Although quick-witted and clever, sure, I would posit that this was not merely a quippy soundbite. It demonstrates a seemingly natural proclivity for leadership, as well as an ability to behave with cool diplomacy in the face of contentious disarray—all of which are traits one might call "presidential."
That, however, was not even the most defining moment of the night for Harris. About halfway through the debate, she aired her grievances with Joe Biden's sordid political relationship with civil rights. Harris addressed Biden directly and with candor. Instead of trying to smear the former vice president, she simply informed him that she was personally hurt by recent comments he made regarding his positive working relationships with now-deceased segregationists in the Senate.
"It was hurtful," Harris said to Biden, "to hear you talk about the reputations of two United States senators who built their reputations and career on the segregation of race in this country. And it was not only that—you also worked with them to oppose busing."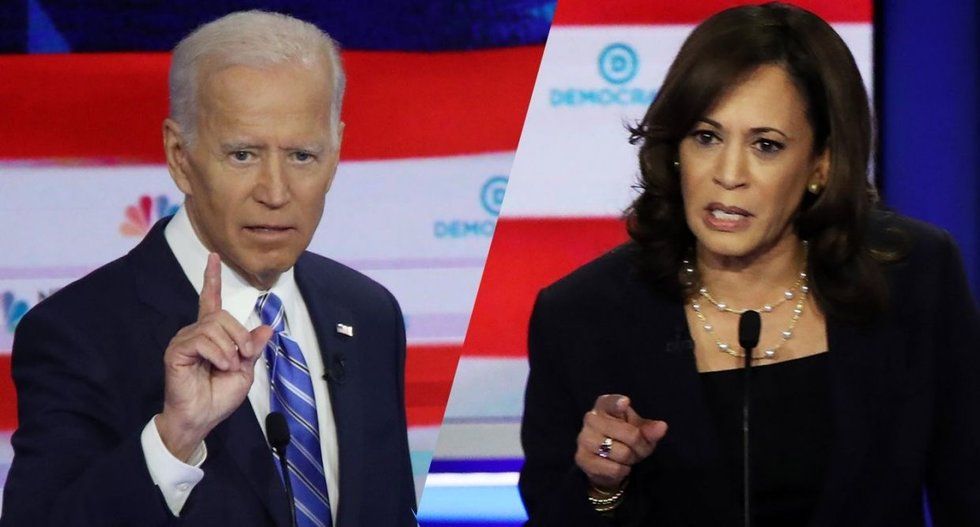 Yahoo News
She then went on to relay the story of a young girl in California being bused in order to integrate into public schools. "And that little girl was me," Harris concluded, "So I will tell you that on this subject, it cannot be an intellectual debate among Democrats. We have to take it seriously. We have to act swiftly,"

Even though he probably should have seen this coming, given the public outcry and a call from fellow Democratic primary hopeful, Senator Cory Booker, for an apology, Biden was clearly rattled by Harris' statements.
In short, he fumbled it. Instead of wielding an opportunity to mirror Harris' sincerity and take her concerns seriously, using the debate platform to finally make an apology, he doubled-down and condescendingly lectured (actually, his tone seemed, at least to this writer, to be teetering on the brink of scolding) Harris, stating that his stance on Civil Rights-era busing was about states' rights, not a tepid attitude towards racial equality.
"I did not praise racists," Biden retorted, "That is not true, number one. Number two, if we want to have this campaign litigated on who supports civil rights and whether I did or not, I'm happy to do that." The former vice president, however, still refuses to issue an apology.
In fact, upon hearing Cory Booker's initial call for an apology, he issued a statement outside of a fundraising event in Washington on June 19th, saying, "Apologize for what? Cory should apologize [...] He knows better. There's not a racist bone in my body. I've been involved in civil rights my whole career. Period."
Joe Biden, who has been the primary frontrunner for the Democratic primary nomination thus far, appears to be largely impenetrable in the face of criticism and scandal, despite being comparatively conservative among a pool of majority-progressive candidates. Only time will tell whether or not Harris has, indeed, finally found Biden's political Achilles Heel.
Either way, though, the first Democratic debate was all about Kamala Harris and the underdogs. In addition to Harris' impressive performance, Mayor Pete Buttigieg of South Bend, Indiana also stood out as intelligent, composed, and unflinching. And Andrew Yang, best known for his somewhat controversial platform of Universal Basic Income (giving every American citizen a monthly stipend of $1,000), also held his own—offering straightforward, no-nonsense, and logically sound answers, even if seldom few questions were directed at him.
A lot can happen between now and February 3rd when the first Democratic primary caucus is scheduled to take place in Iowa. And there will be plenty of chances for candidates to rise and fall in the meantime. If Thursday's debate is any indication of what's to come, however, it appears as if a paradigm shift may be on the horizon, with Senator Kamala Harris leading the charge.
Can the Democratic establishment get it right this time?
With the first Democratic primary still about eight months away, the Democratic party establishment appears prepared to throw all of their weight behind Joe Biden.

To hear MSNBC or CNN tell the story, Joe Biden has been the Democratic party's frontrunner since before he even declared his candidacy. Whether or not this is entirely true, however, is debatable. Misleading polls are being conducted and then misrepresented by many liberal news outlets as a means of solidifying Uncle Joe's frontrunner status early on in hopes of swaying voters toward the "more electable" candidate in the primaries. If Joe Biden can be made to look like he actually has the best chance of clinching the nomination or winning against Trump in a general election, then, voters will be more likely to vote for him as the safe bet.
IVN, or the Independent Voters Network, self-described as "a platform for unfiltered political news and policy analysis from independent-minded authors," has highlighted the biased nature of many political polls. IVN writer, Rudolpho Cortes Barragan reports:
"FiveThirtyEight, which is owned by ABC/Disney, functions as a sort of gatekeeper for polling, and polls are extremely important for candidacies. The public is told that polls judged as A+ by FiveThirtyEight are to be seen as real bellwethers of popular opinion. In reality, 'the polls' are manufactured to produce the results that the pollsters (and their corporate funders) want to see."
Barragan goes on to cite a recent Mammoth University poll as evidence. "The results showed Biden 9 percentage points ahead of Sanders," he writes, "but if you look closely you will see that more than 70% of the people polled are over the age of 50. Any honest person would be able to tell you that the 2020 electorate will be far younger than 50." The data is seldom presented within its full context on mainstream news outlets like MSNBC or CNN, and instills in voters a false sense of Biden's electability and props him up as the "safe" vote.
If this sounds eerily familiar, it's because the same thing happened in 2016. Hillary Clinton, like Biden, was prematurely propped up as the most electable candidate, even though an anti-establishment candidate like Bernie Sanders may have stood a better chance against Trump's "outsider" persona, which resonated with many voters (particularly across the midwest). This was proven in the wake of Trump's victory when analyses showed that many Bernie supporters either did not vote in the general election or jumped on the Trump ticket, preferring the radical change suggested by Trump's "drain the swamp" narrative over Clinton's years of experience as a politician.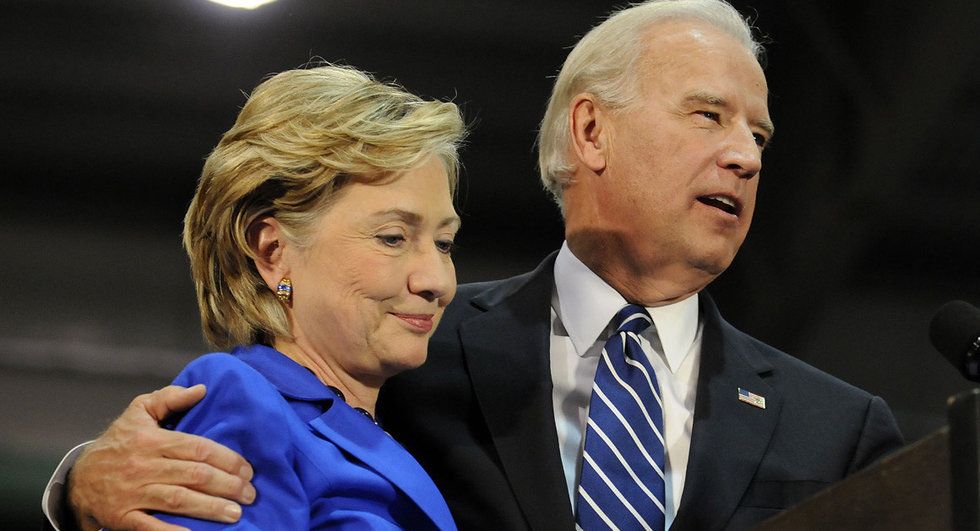 Joe Biden, like Clinton, is firmly rooted in the Democratic establishment. While Trump's approval rating has wavered over the last few years, hitting its low at 35% in 2017, it has remained around 40 to 45% — a number that should be alarming for Democrats going into 2020, as there have been only three single-term presidents since World War II.

Either way, the Democratic party and its voters must avoid making the same mistakes if there is any hope of preventing a Trump reelection. Poll manipulation was not the only issue in the 2016 election. The Democratic National Committee (DNC) was also exposed for unfairly tipping the scales toward Clinton in 2016, effectively rigging the primary against Bernie Sanders.
Donna Brazile, former interim chair of the DNC, revealed in her book, Hacks: The Inside Story of the Break-ins and Breakdowns that Put Donald Trump in the White House, the nefarious– although not technically illegal, according to US District Judge William J. Zloch, who dismissed a class action lawsuit against the DNC – actions of the Committee.
"Hillary would control the party's finances, strategy, and all the money raised," writes Brazile. "Her campaign had the right of refusal of who would be the party communications director, and it would make final decisions on all the other staff. The DNC also was required to consult with the campaign about all other staffing, budgeting, data, analytics, and mailings."
It's unclear whether the DNC's current chair, Tom Perez, will run an honest and fair ship as we approach the 2020 election cycle. Perez held the position of labor secretary during the Obama administration, and Biden publicly threw his support behind Perez during his campaign for DNC chair; whereas Sanders preferred Keith Ellison, who lost by a narrow margin. Only time will tell if Perez will tip the scales in Biden's favor due to their favorable history together, but the Democratic party is no stranger to nepotism, so Perez – especially in light of 2016 – should be watched carefully in the months to come.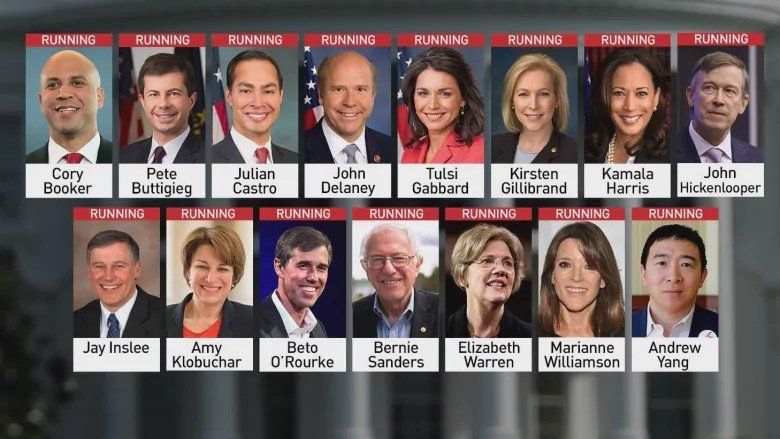 Even if the DNC does run a fair election this time around, electing Joe Biden would be a grave mistake. A mistake that the party already made last time around in the form of gifting the primary to Hillary Clinton. This election will not be one for tepid, center-of-the-road policies. We've already seen how an establishment centrist performs against Donald Trump. The Democratic party must embrace and adopt the progressive push to the left provided by candidates like Sanders and others if they have any hope of winning in 2020. Playing politics as usual will cost the Democratic party, and the nation, another four years of a Donald Trump White House.

We live in a divided nation—but there some things will always bind us together.
Very few people seem to be getting along in America right now. Countless relationships have ended, and families have broken apart because of political and ideological differences, which have only grown more extreme following the 2016 election. The divide between Democrats and Republicans, pro-lifers and pro-choicers, climate-change deniers and believers, and many more have become unfathomably vast.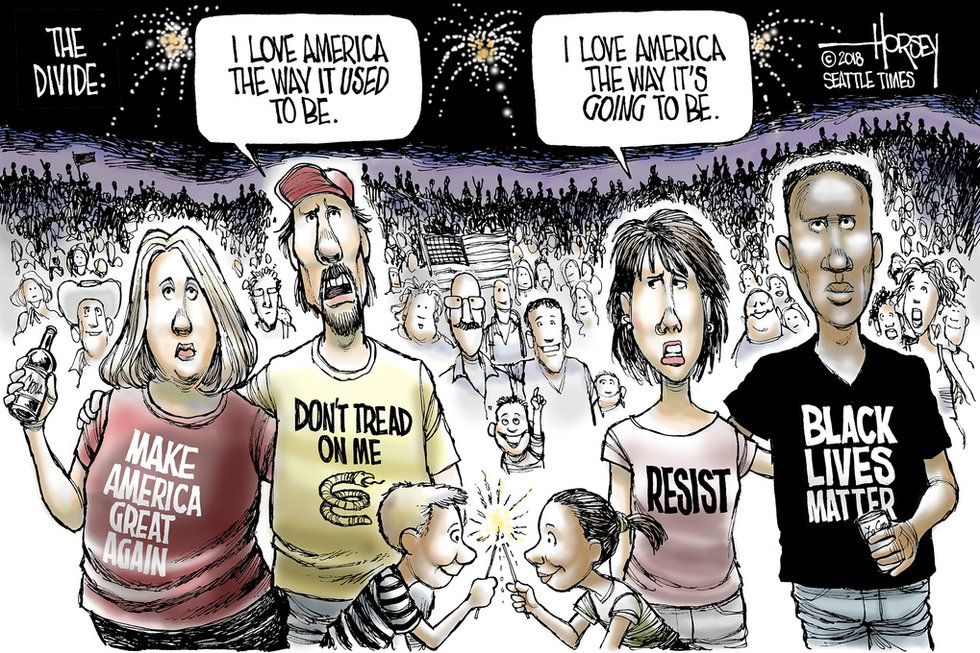 Image via the Seattle Times
But amidst all the chaos, violence and noise, there are just some issues that are decidedly non-partisan; some topics that are so unanimously agreed on that for a moment, it almost seems like we're all only human. In a time of rage, here are the few points of commonality we have.
1. Robocalls Should Stop Forever
There are so many contentious issues being debated in Congress today—from the Green New Deal to bathrooms to anything even remotely connected to the president; it's safe to say that there are very few things everyone in the House and Senate agree upon. But recently, two bills were introduced in the spirit of stopping robocalls—those awful telemarketer messages that constantly interrupt our day with health insurance scams or calls from the Chinese consulate—forever. One is the proposal Stopping Bad Robocalls, from Senator Frank Pallone of New Jersey. The other is Massachusetts Senator Ed Markey's Telephone Robocall Criminal Abuse Enforcement and Deterrence Act. Both of these proposals will make it much harder for telemarketers to call and force their wills upon unsuspecting constituents. According to Markey, "If this bill can't pass, no bill can pass."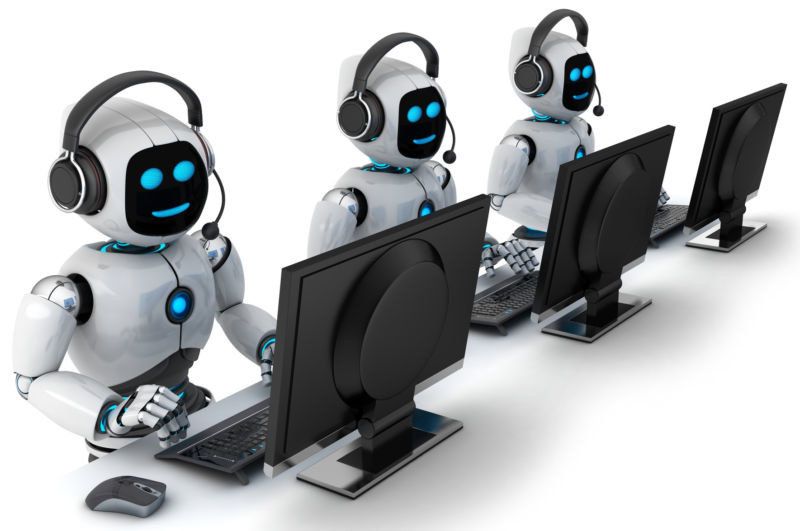 AI support centre Image via Ars Technica
2. Voting is Important

Now, though the issue of who to vote for is one of the easiest ways to turn an ordinary Thanksgiving dinner into a full-on screamfest, most Americans do agree that as citizens of this country, we are responsible for performing our civic duty and making our political opinions heard. Starting way back with the Founding Fathers, this has been an American ideal that nobody except for the staunchest anarchists or most apathetic among us is resistant to. Even so, only around 58.1% of America's voting-eligible population voted in 2016, although 67% of Americans believe that not voting is a huge problem, according to a survey by the Public Religion Research Institute. Maybe the disparity lies in the fact that the people who do not believe in voting also probably wouldn't be too likely to respond to a random political survey.
3. The News Is Fake
No matter where you prefer to get your news, most Americans agree that the media has serious issues—namely the abundance of falsified information plaguing and distorting everything from our elections to our dating lives. The issue isn't only a problem among journalists; politicians themselves are also widely distrusted, and for a good reason. In 2010, Senator Jim McMinn proclaimed that 94% of bills in Congress are passed without issue (it was found to be about 27.4%—although who knows if that statistic is true, though it did come from a Pulitzer-prize-winning political fact-checking organization). Since then, things have spiraled more and more out of control. There's no legitimate way to check how much fake news is out there, but according to one survey, most viewers were suspicious of 80% of the news they saw on social media and 60% of what they saw online overall. Though if you're like the majority of Americans, you won't be taking this article's word for it.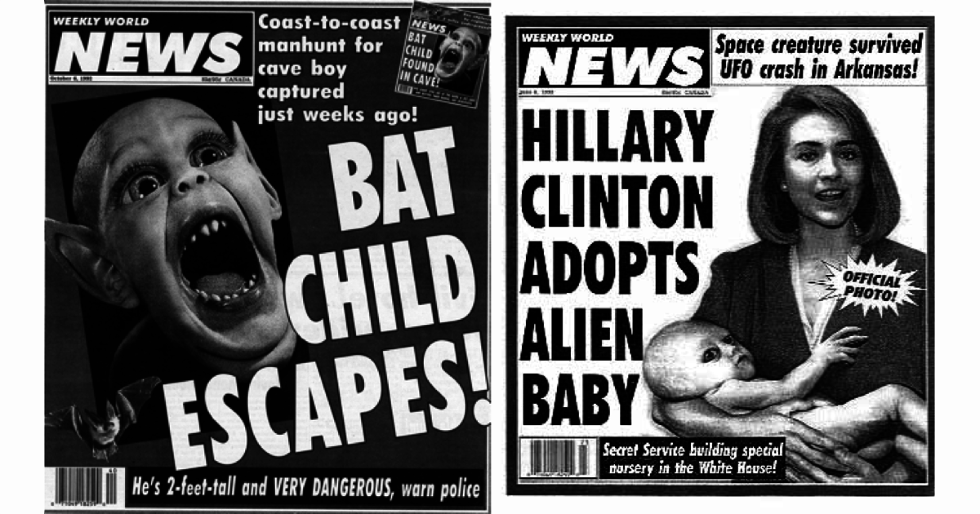 Image via Vox
4. We Should Have Healthcare

Although there is certainly not a clear consensus, most Americans do support healthcare for all. According to a 2018 poll, 6 out of 10 Americans believe that the government should provide healthcare for everyone; another survey from The Hill found that 70% of Americans support Medicare for all, and even a small majority of Republicans are in favor of the idea.
5. The Nation Is Divided
We can all agree on one thing: disagreeing. 81% of Americans believe that we are more divided than at any other time in our nation's history, according to Time. (Remember, there was this thing called the Civil War). Americans can't even agree on what exactly the nation's most significant points of disagreement are: most Democrats believe gun control is a huge issue while most Republicans consider it unimportant; same with climate change and income equality, according to surveys from the Pew Institute.
Although contention and chaos might be the laws of the day, at least we'll always have a shared hatred of telemarketers to bind us all together.
---
Eden Arielle Gordon is a writer and musician from New York City.

Historically, fewer than 10% of all presidential vetoes have been overturned, or 106 in total.
On Tuesday, the House of Representatives voted 245-182 to overrule Donald Trump's declaration of national emergency regarding immigration at the U.S.-Mexico border. Trump declared a national emergency on February 15 in hopes to redirect up to $8 billion from military funds and the Treasury to fund a border wall. While unprecedented, the tactic could theoretically manipulate the Constitution's funding laws to successfully bypass Congress and allow a sitting president to reallocate funds without congressional permission. Even though the House passed the resolution to terminate the declaration of emergency, Trump has vowed to veto the resolution if it should make it to his desk. So how can Congress overrule a veto, and how rarely is it done?
When a president vetoes a bill, Congress can only override the veto by taking a second vote in both chambers and passing the bill with a two-third majority in both houses. Historically, fewer than 10% of all presidential vetoes have been overturned, or 106 in total. The last time Congress over-ruled a veto was October 11, 2000, when Bill Clinton's bill Energy and Water Development Appropriations.
The rarity of a veto override is attributed to the bipartisan conflict of each chamber of Congress. For example, in 2000, the Republicans held a majority in both the Senate and the house when they overruled the sitting Democrat president. The current Congress is divided between a Democrat-lead House (235-199) and a Republican-led Senate (53-45). Achieving a two-thirds majority in both chambers of Congress is simply unlikely when they are led by separate parties.
As for the resolution to overrule Trump's national emergency, the Senate is set to vote on the resolution before March 18. Since it's a privileged measure, no filibustering is allowed; only a majority will pass or defeat the resolution. The crux of the matter is whether enough Republican Senators can be swayed to vote with the Democrats. As of Friday, three Republican Senators have vowed to to do so: Susan Collins of Maine, Lisa Murkowski of Alaska, and Thom Tillis of North Carolina. Only four more would be needed to send the resolution to Trump, assuming all Democrat Senator voted with their party. According to Five Thirty Eight, if Trump vetoes the measure, then both chambers of Congress are short of the votes needed to override (50 short in the House and 20 short in the Senate).
Thom Tillis wrote an op-ed for The Washington Post explaining his position to vote against party: "As a U.S. senator, I cannot justify providing the executive with more ways to bypass Congress," Tillis explained. "As a conservative, I cannot endorse a precedent that I know future left-wing presidents will exploit to advance radical policies that will erode economic and individual freedoms."
Prior to the House vote, Speaker Nancy Pelosi addressed House Republicans, "Is your oath of office to Donald Trump or is it to the Constitution of the United States? You cannot let him undermine your pledge to the Constitution."
Meg Hanson is a Brooklyn-based writer, teacher, and jaywalker. Find Meg at her website and on Twitter @megsoyung.
The refugee crisis hasn't gone anywhere. But news outlets and political leaders everywhere are ignoring it—and xenophobia is making it worse.
Around 2015, the so-called European refugee crisis was topping every newspaper headline. Reports of the 5.2 million refugees pouring in from Syria and other war-torn countries that year led to mass calls for mobilization to create infrastructure and support systems for displaced peoples. The photo of Alan Kurdi, the drowned three-year-old who provided a name and face to the crisis, sparked international acknowledgment and inspired humanitarian activists all over the world.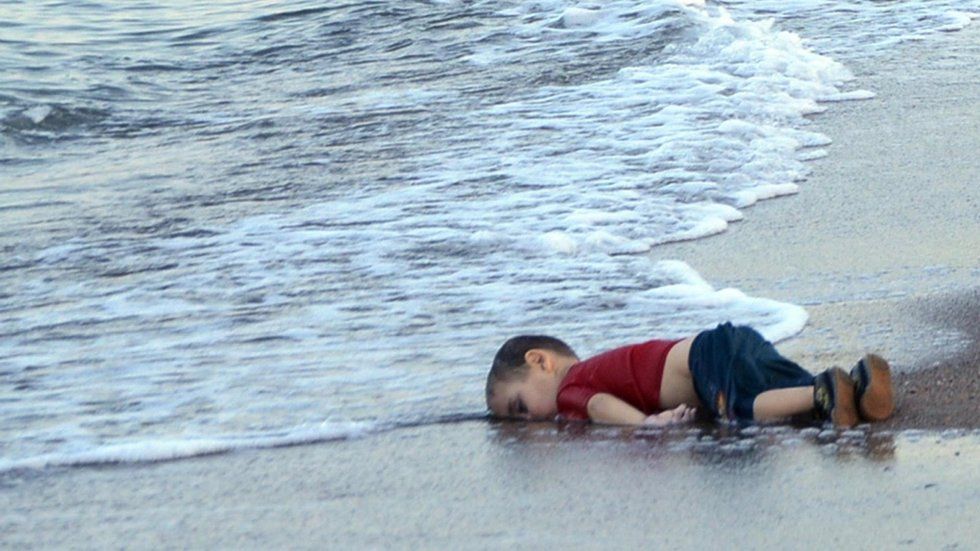 Alan Kurdi, via Medium
But that was four years ago. What has happened to those 5.2 million since then?

Firstly, there are a lot more than 5.2 million now. According to the UN, as many as 63.5 million people have had to flee their homes because of conflict since World War II; and today, roughly eight thousand people per month arrive in Greece, Italy, and Spain from Syria, Guinea, Algeria, and neighboring countries. These numbers are staggering; the lives they describe are almost impossible to imagine. But each figure corresponds to individual experience and a body that likely has crossed countless miles of ocean to arrive on European shores. Though it is impossible to generalize their stories, the majority of these people are currently stranded in liminal places like refugee camps or living as undocumented citizens without access to rights, living wages, and other protections.
According to the Aegean Boat Report, around 20 boats have arrived on the Greek island of Lesvos alone in February 2019, carrying a total of 791 people. Lesvos's Moria Camp holds somewhere between eight to ten thousand refugees; it was initially designed to hold ten. Many have been there for over half a decade, and the conditions in the camp are becoming more and more unlivable by the day.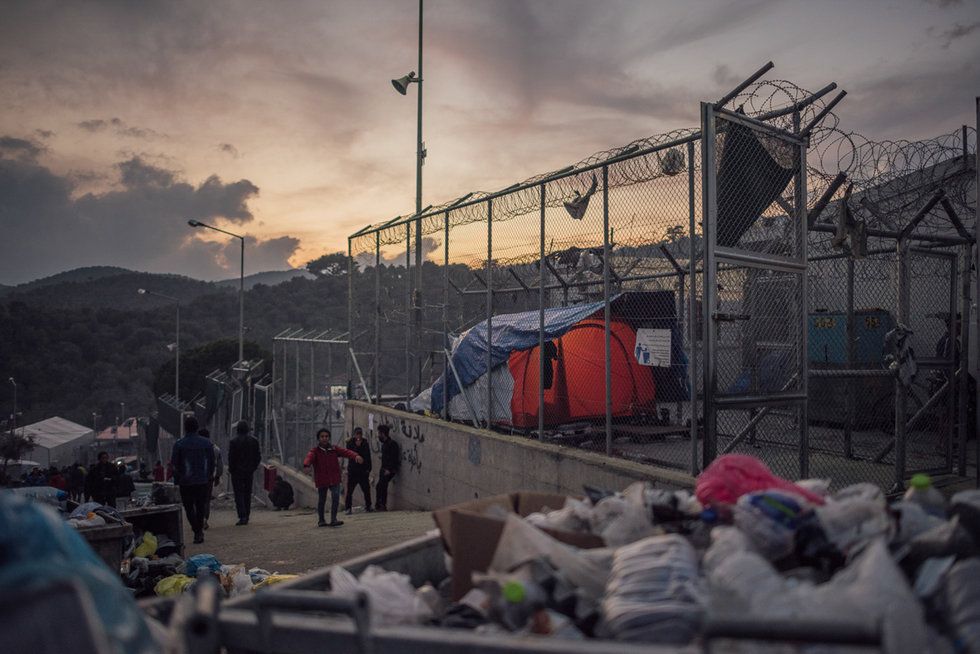 Moria Camp, via Al Jazeera
Many refugees go through hell and back to get there. Left with no choice but to flee violence and unlivable conditions, many spend thousands of dollars on hiring a smuggler who could carry them across the sea. The journey is treacherous—smugglers sometimes have deals with authorities or even pirates, and recent reports have revealed that the journey is more dangerous than ever before, with 1,600 to as many as 2,730 people dying at sea in 2018. The UNHCR released a report which argued that although the official number of migrants crossing the Mediterranean fell last year, this was likely due to "reductions to search and rescue capacity coupled with an uncoordinated and unpredictable response to disembarkation." This in turn, "led to an increased death rate as people continued to flee their countries due to conflict, human rights violations, persecution, and poverty." As the world forgets, the little structure and safety netting that does exist inevitably falls apart.

The news is a strange beast. Some stories can dominate for months and fade out so suddenly it's almost like they never happened; particularly shocking acts of individual or random violence can consume headlines while systematic, long-term horrors can fade away, having lost their ability to capture audiences' attention. With countries like South Sudan, Yemen, and Afghanistan steadily experiencing mass exoduses for years and years at a time, and with the inundation of tragic stories and gory photographs from Syria, it's easy for ongoing horrors to slip underneath an ocean of facts and figures that seem too overwhelming to address.
It's also easy for governments to shirk off responsibility for taking in refugees, seeing as technically they are stateless and, therefore, are not protected by any citizenship rights. Though the Universal Declaration of Human Rights guarantees basic protections for all people on earth, it does not specify which countries are responsible for providing these protections.
But every political decision manifests in lived experiences. For example, when migrants arrive on the shores of Lesvos, they are sometimes met with volunteers who provide water and transportation to the camps. Families and individuals are assigned at random to tents, which are crammed next to each other, creating unlivable conditions.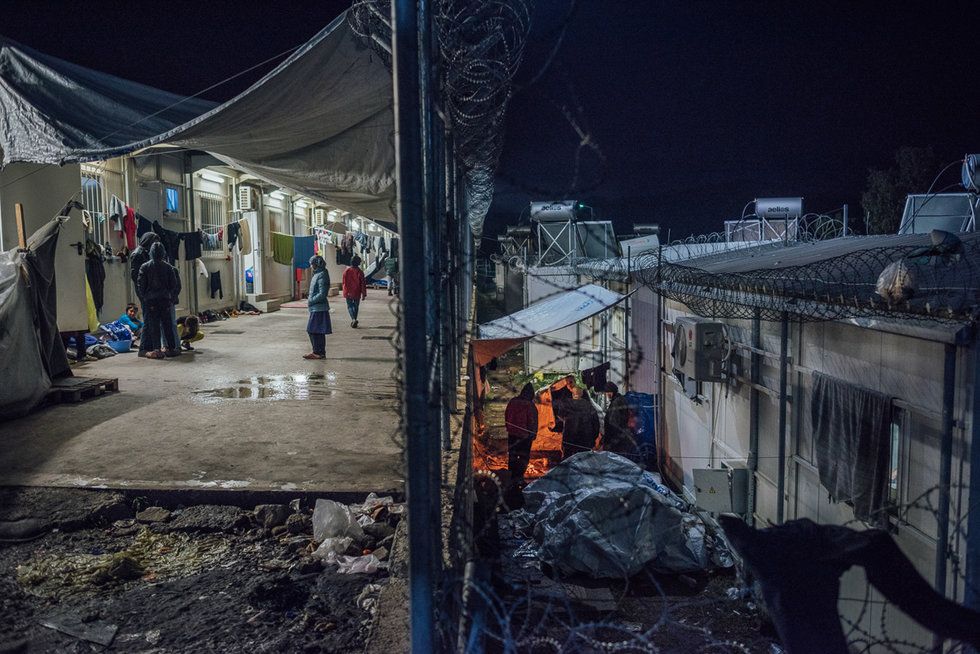 Image via aljazeera.com
Lesvos, in particular, has an extensive volunteer population, but overall aid groups often work as band-aids, failing to heal the sources of a larger issue and failing to structure a pathway forward. Instead, aid groups and refugees languish on Lesvos, in the grey area of statelessness and global amnesia. NGOs are gradually shifting their focus to working with refugees and locals to develop long-lasting relationships and skills, which can propel migrants forward into new lives.

But in light of the antipathy many locals hold towards newcomers, and also because of the trauma, language barriers, or other struggles that migrants face, the process of adjustment is challenging and will require individualized attention, patience, and cohesive efforts. Reports reveal that the majority of refugees fleeing severe conflicts will have vestiges of trauma; the IRC reported high levels of depression and PTSD among refugees across the board.
A 2011 Oxford University study found that the best way for refugees to move forward is through integration into life in their new countries. Solutions lie in treating the wound at its source, addressing xenophobia, and fighting for fair opportunities to education, jobs, healthcare, and other vital structural support systems. On the other hand, stranding migrants in places like Lesvos—where they live in unsanitary and dangerous conditions, surrounded by strangers who may also be experiencing trauma, with no idea of if or when they will be able to leave—is a product of a collective worldwide amnesia, a refusal to see what is happening in real time.
Long-term, slow-moving challengers are not foddered for breaking news. Particularly massive floods of refugees might pique the interest of a world leader; an artist might draw attention to the crisis through an installation in a busy city; but always, the cycles of violence and erasure continue as the world gets caught up in shinier, brighter topics. But remembering and acknowledging what is happening is the first step to moving in a new direction.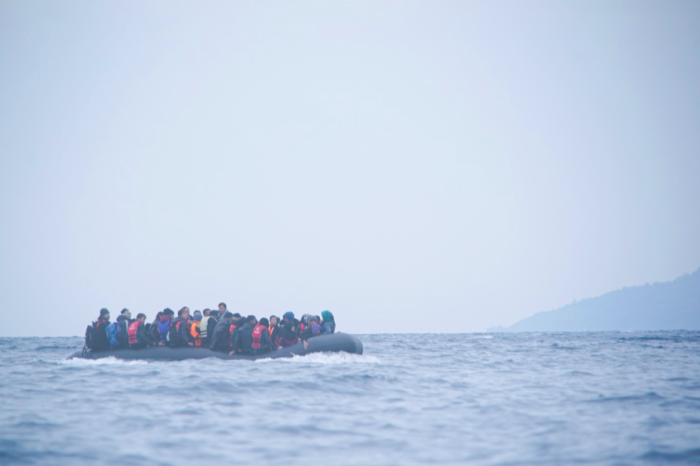 Image via Oxfam Novib Academy
---
Eden Arielle Gordon is a writer and musician from New York City.
What would Democratic Socialism mean for the economy?
Democratic Socialism, a subset of the democrat party, has been thrust into the spotlight recently with the shocking victory of Alexandria Ocasio-Cortez over a 10-term incumbent. Ocasio-Cortez often referred to in the media as AOC, is a self identified Democratic Socialist, as was 2016 presidential hopeful Bernie Sanders. Despite this newfound prominence, the political affiliation is still widely misunderstood, often confused with communism or European style socialism. So what exactly is Democratic Socialism? And how would a Democratic Socialist platform affect your life?
According to the biggest socialist organization in the US, the Democratic Socialists of America (DSA), "Democratic socialists believe that both the economy and society should be run democratically—to meet public needs, not to make profits for a few. To achieve a more just society, many structures of our government and economy must be radically transformed through greater economic and social democracy so that ordinary Americans can participate in the many decisions that affect our lives." This polished and condensed definition sounds good, but it's difficult to grasp what it actually means in practice. To help you understand, we've broken down the four pillars of Democratic Socialism to explore how their implementation in the American government could affect your life.

Workers Control Means of Production/The Importance of Unions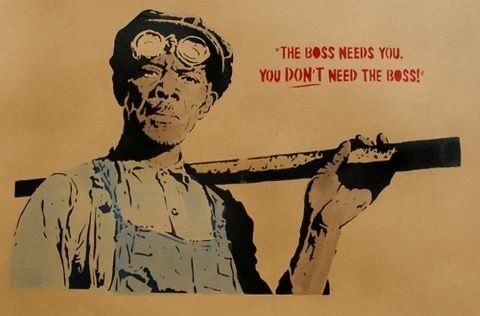 Perhaps most central to Democratic Socialism is the belief that American industry should be controlled by the workers who run it and the consumers who gain from it. Generally, they believe in a decentralized economy, though they think some indispensable portions of industry, like energy and steel, should be government controlled. As the DSA puts it, "We believe that social and economic decisions should be made by those whom they most affect."

In practice, this decentralization would likely mean the fruition of things like workers cooperatives and publicly owned ventures. Essentially, this economic model would mean that it would be much more difficult for a few people to get obscenely wealthy while those on the bottom of the economic ladder remain impoverished. Instead, everyone would have fairly equal opportunity to profit off the success of a business, creating a more widespread sense of ownership over the success of the economy, therefore stabilizing it. Unions are an important part of this pillar, as Democratic Socialists believe unions are essential in order to hold companies accountable to their workers and to empower workers to challenge capitalism as a concept.
Capitalism Promotes Greed and Must be Regulated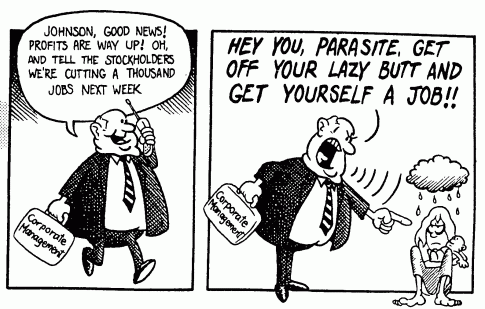 Democratic Socialists believe that capitalism has the inherent tendency to keep the rich rich and the poor poor and that capitalist corporations will always act in the interest of maximum profit at the expense of all else. Therefore, private corporations must be regulated by the government in order to ensure that they look out for the wellbeing of workers and lower rung employees. With this kind of philosophy implemented, there would likely be a strengthening of labor laws, a higher minimum wage, expanded parental leave, the prevention of foreign outsourcing to low wage countries, and the prevention of environmentally harmful activities.

A Minimum Quality of Life for All Citizens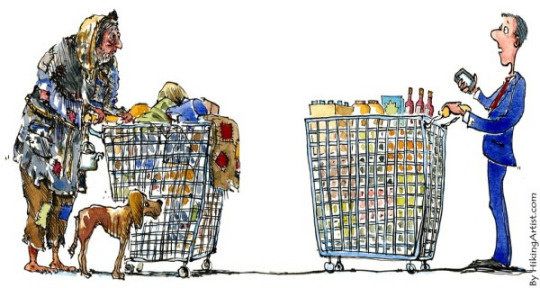 This is perhaps the simplest pillar of Democratic Socialism though likely would prove to be the most difficult to fulfill. Essentially, Democratic Socialists believe that all human beings have the right to sustenance, housing, clean water, healthcare, education, and child care, and that the government should ensure these things are accessible to all US citizens. This would likely mean significantly more spending on social welfare programs and expansion of government housing, which would inevitably require higher taxes. Of course, with the implementation of the other pillars of Democratic Socialism, more people would have a better chance of reaching this minimum quality of life even without an expansion of welfare programs.

Importantly, healthcare is an essential part of this equation in the eyes of Democratic Socialists. They don't merely believe in "medicare for all" health care system, but also that medical facilities should be publicly run and doctors publicly employed.
Grass Roots Means of Achieving Power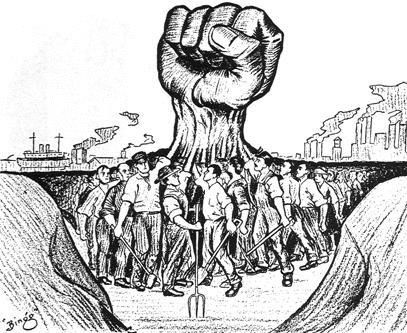 As mentioned before, the welfare of the community is important to Democratic Socialists, meaning that the election of the individual is also seen as having the tendency to play into the patterns of the centralization of power. A traditional Democratic Socialist would likely reject the concept of election altogether, instead opting for grass roots organization and mass mobilization. But as shown by AOC and all the other Democratic Socialist candidates elected this year, most who ascribe to these beliefs recognize that it's necessary to participate in the democracy in order to insight change, but still maintain that true change and empowerment comes from the mass mobilization of the people.
The sordid history of Trump's NatSec advisor.
Picture the most gung-ho Warhawk in modern history, a man who's made a career out of calling for military invasions of foreign countries, forced regime changes, ends to peace treaties.
Do you imagine a hardened war veteran with military accolades who's seen the cost of war and knows its price? Or a nationalist who's fine throwing human life away from the safety of his armchair, despite doing everything in his power to avoid going off to war himself as a youth? If you picture the latter, you've got Trump's national security advisor John Bolton.
John Bolton did serve in the National Guard and Army Reserve. But he did so in order to avoid being drafted for the Vietnam War, essentially biding his time stateside out of fear of real battle. "I confess I had no desire to die in a Southeast Asian rice paddy. I considered the war in Vietnam already lost," wrote John Bolton in his 25th college reunion book.
Speaking from a position of privilege might be Bolton's greatest asset, though. Those who have seen war generally speak about it in more tempered measures, while Bolton reached his position through pushing extremes.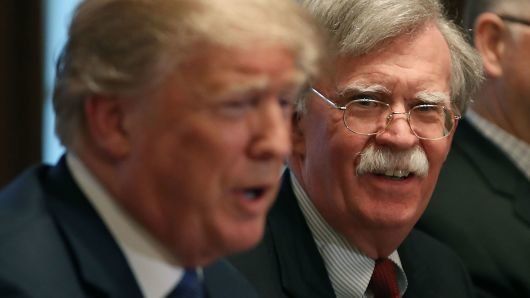 fm.cnbc.com
Throughout his long career, Bolton has worked under multiple right-wing administrations, from Reagan to W. Bush to Trump. During this time, he's advocated again and again for war, pushing for a U.S. invasion of Iraq dating back to shortly after the first Gulf War, calling for the "end of North Korea," and advocating to terminate the Iran Nuclear Deal. He has also expressed strong nationalistic views against the concept of the United Nations, stating, "There is no United Nations. There is an international community that occasionally can be led by the only real power left in the world, and that's the United States, when it suits our interests and when we can get others to go along."

John Bolton's greatest supporters tend to be similarly-minded radicals like Dick Cheney and Donald Trump, while his detractors tend to be anyone more moderate. Even fellow Republicans denounce Bolton. Condoleezza Rice resisted Cheney's efforts to make Bolton her deputy when she was secretary of state, instead passing him off as a UN ambassador. During the nomination hearing for that job, conservative Republican intelligence official Carl Ford described him as a "kiss-up, kick-down sort of guy" who "abuses his authority with little people." Even George W. Bush would later say he regretted Bolton's appointment, allegedly saying he didn't "consider Bolton credible."
And yet now, Bolton is the national security advisor to Donald Trump, a fellow draft dodger with a known disregard for human life. To Trump, it doesn't matter that Bolton is reviled by the international community. It doesn't matter that Bolton is considered radical, largely disrespected even within his own party. For Trump, Bolton is the right man for the job.

---
Dan Kahan is a writer & screenwriter from Brooklyn, usually rocking a man bun. Find more at dankahanwriter.com
---
It turns out national emergencies are very subjective.
The Trump administration has laid bare many of the failings of our government.
All three government branches are privy to partisanship. Our checks and balances may not necessarily work as intended. But most alarmingly, American presidential power might be far less defined than most people realized.
Historically, dictatorial regimes have utilized "national emergencies" as excuses to consolidate and reinforce power. We've seen this playbook employed by Erdogan in Turkey and by Duterte in the Philippines. But could this happen in America? The answer is murky. In fact, national emergencies are murky territory in general, the main problem being that most of the terminology involved is broad and ill-defined.
In a video posted by The Atlantic, Elizabeth Goitein, co-director of the Liberty and National Security Program at the Brennan Center for Justice, explains, "There's no legal definition of emergency, no requirement that congress ratify the decision, and no judicial review." In other words, the decision to declare a national emergency are almost entirely up to a president's personal discretion. Normally, we assume that our elected officials have the best interest of the people in mind, and would not declare a national emergency for personal or partisan political gain. But considering Donald Trump's noted praise of dictators like Erdogan, coupled with his extreme penchant for partisanship, we can no longer simply rely on the president's best judgment.
The question then becomes, "If the president declares a national emergency now, what powers can he abuse?"
1. The Power to Take Over Wire Communication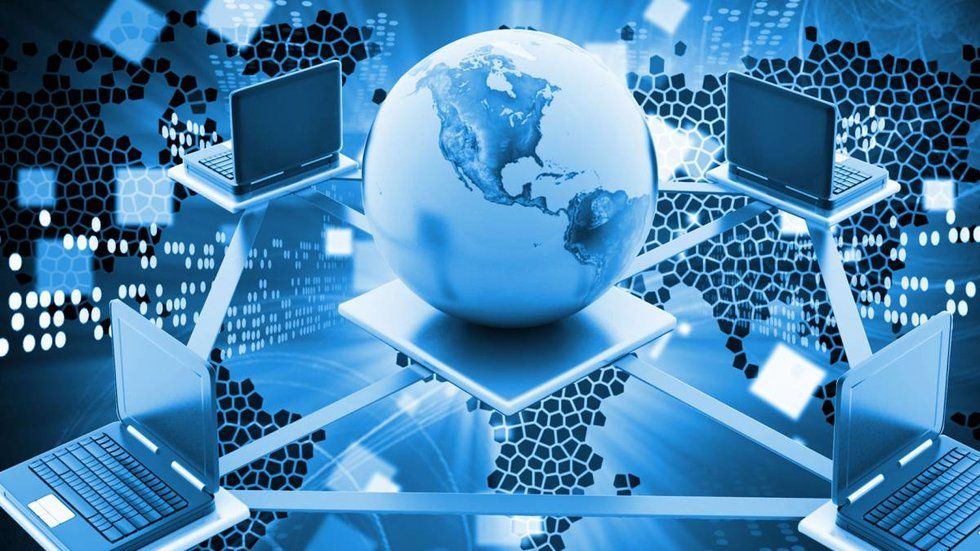 as01.epimg.net
During a national emergency, the president has the power to shut down or take over radio stations. Assuming there's a threat of war (which, again, can be determined at the president's own discretion), that power expands to any and all wire communications. This executive power was last used during WWII, before most people utilized daily wire communication in any meaningful way beyond the occasional phone call.

Today, given the vagueness and broad applications of "wire communications," declaring a national emergency could allow the president to control Internet traffic in the US. This could include shutting down websites he didn't like, blocking emails to and from dissidents, and altering search results to only display pre-approved propaganda. Doing so would be akin to removing free speech from the Internet, and during a national emergency that would be completely within the president's power.
2. Sanctioning American Citizens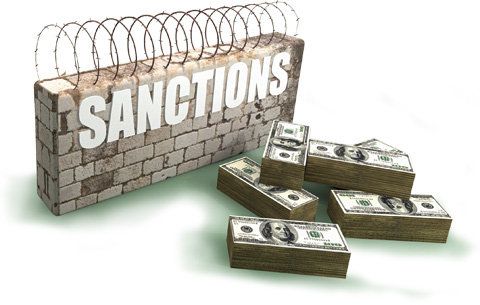 static1.squarespace.com
Imagine going to work, only to discover you've been fired because you can no longer legally be employed. You go back to your apartment and find out you're being evicted. So you go to the bank to take out cash for a hotel, but your funds are frozen. Turns out you're on a list of US citizens suspected of providing support to foreign threats. That's the potential reality of the International Emergency Economic Powers Act (IEEPA).

This act allows the president to declare a national emergency to "deal with any unusual extraordinary threat" that "has its source in whole or substantial part outside the United States." It gives the president the power to freeze assets and block transactions where a foreign nation or foreign national might have a vested interest. George W. Bush used this after 9/11 to sanction those being investigated (sometimes wrongly) of helping terrorists. Were a president to declare "illegal immigrants" a national emergency, the implications could be disastrous.
3. Deploying the Military Within the US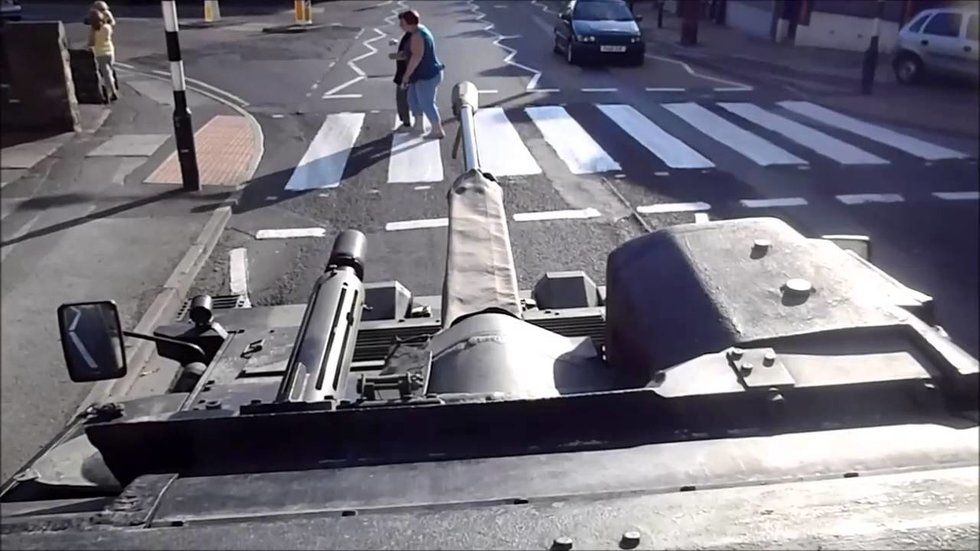 i.ytimg.com
The idea of armed soldiers marching down your city street to hunt down civilians might sound like something out of a dystopian novel. But during a national emergency, it could be an American reality. The Insurrection Act states that during a national emergency, the president can deploy military troops inside the US to suppress any "unlawful combinations" or "conspiracies" that "obstructs or hinders the execution of the law." The problem, again, is that the terms are so vaguely defined.

President Eisenhower once used this law to enforce desegregation in schools. But a president with different sentiments could just as easily use it against protestors or undocumented migrants. For instance, if Trump were to decide Black Lives Matter constituted an "unlawful combination" during a state of emergency, sending the army to suppress them would be fully within his power. Alternatively, a sanctuary city harboring illegal immigrants might be interpreted as a "conspiracy" and therefore subject to military rule.
In many ways, the limits of an American president's power during a national emergency have not been tested. On one hand, theoretical checks and balances do exist which could allow Congress to end a national emergency that was being abused. On the other hand, this would require a majority that a largely partisan Senate would likely not have. There also might be opportunities for the courts to block various moves made during a national emergency but, again, the legality here is largely untested.
Ultimately, as citizens, we must keep a watchful eye on our president's actions should he declare a national emergency. And if things go south, we must keep this in mind the next time we vote. After all, when one person who is supposed to represent all of us holds so much power, we must make sure it is a person of strong enough character and mental capability to understand the repercussions of his or her actions.