We live in a divided nation—but there some things will always bind us together.
Very few people seem to be getting along in America right now. Countless relationships have ended, and families have broken apart because of political and ideological differences, which have only grown more extreme following the 2016 election. The divide between Democrats and Republicans, pro-lifers and pro-choicers, climate-change deniers and believers, and many more have become unfathomably vast.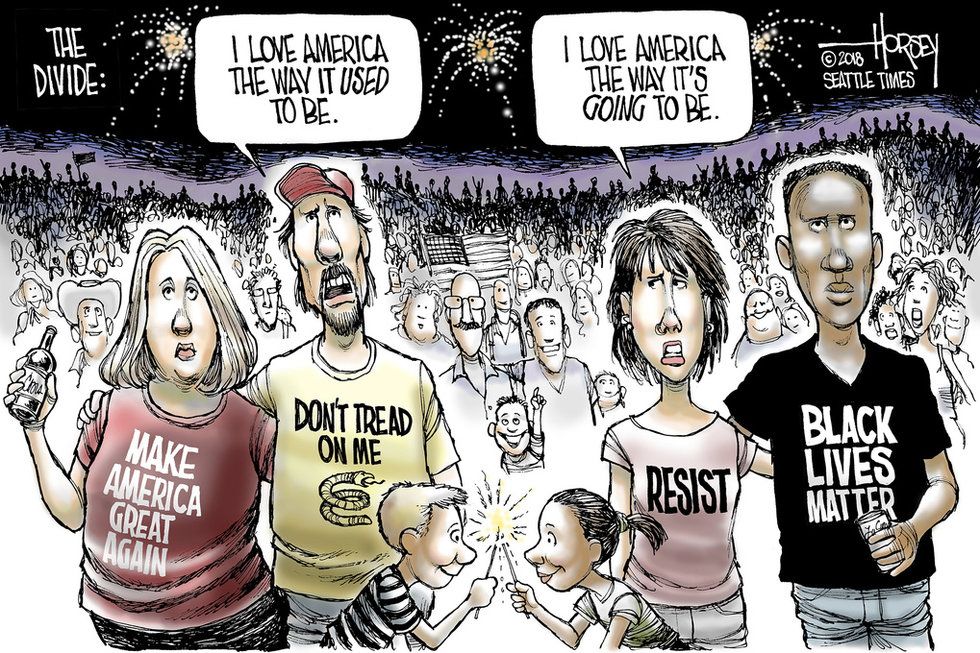 Image via the Seattle Times
But amidst all the chaos, violence and noise, there are just some issues that are decidedly non-partisan; some topics that are so unanimously agreed on that for a moment, it almost seems like we're all only human. In a time of rage, here are the few points of commonality we have.
1. Robocalls Should Stop Forever
There are so many contentious issues being debated in Congress today—from the Green New Deal to bathrooms to anything even remotely connected to the president; it's safe to say that there are very few things everyone in the House and Senate agree upon. But recently, two bills were introduced in the spirit of stopping robocalls—those awful telemarketer messages that constantly interrupt our day with health insurance scams or calls from the Chinese consulate—forever. One is the proposal Stopping Bad Robocalls, from Senator Frank Pallone of New Jersey. The other is Massachusetts Senator Ed Markey's Telephone Robocall Criminal Abuse Enforcement and Deterrence Act. Both of these proposals will make it much harder for telemarketers to call and force their wills upon unsuspecting constituents. According to Markey, "If this bill can't pass, no bill can pass."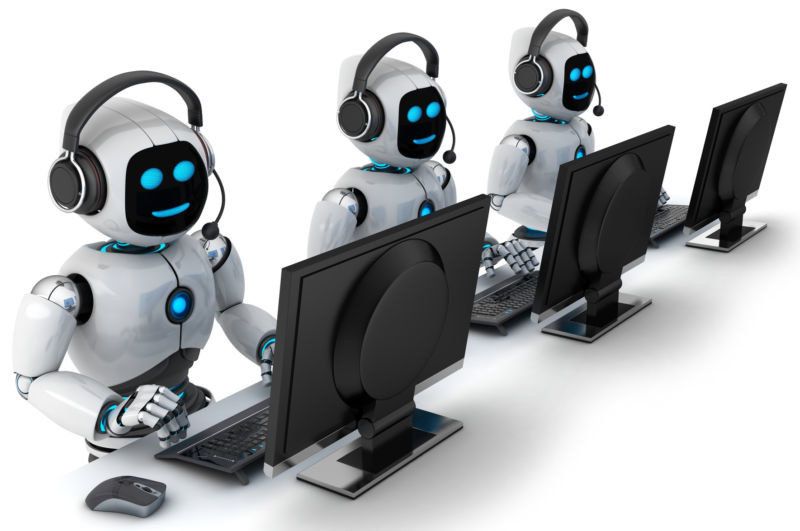 AI support centre Image via Ars Technica
2. Voting is Important

Now, though the issue of who to vote for is one of the easiest ways to turn an ordinary Thanksgiving dinner into a full-on screamfest, most Americans do agree that as citizens of this country, we are responsible for performing our civic duty and making our political opinions heard. Starting way back with the Founding Fathers, this has been an American ideal that nobody except for the staunchest anarchists or most apathetic among us is resistant to. Even so, only around 58.1% of America's voting-eligible population voted in 2016, although 67% of Americans believe that not voting is a huge problem, according to a survey by the Public Religion Research Institute. Maybe the disparity lies in the fact that the people who do not believe in voting also probably wouldn't be too likely to respond to a random political survey.
3. The News Is Fake
No matter where you prefer to get your news, most Americans agree that the media has serious issues—namely the abundance of falsified information plaguing and distorting everything from our elections to our dating lives. The issue isn't only a problem among journalists; politicians themselves are also widely distrusted, and for a good reason. In 2010, Senator Jim McMinn proclaimed that 94% of bills in Congress are passed without issue (it was found to be about 27.4%—although who knows if that statistic is true, though it did come from a Pulitzer-prize-winning political fact-checking organization). Since then, things have spiraled more and more out of control. There's no legitimate way to check how much fake news is out there, but according to one survey, most viewers were suspicious of 80% of the news they saw on social media and 60% of what they saw online overall. Though if you're like the majority of Americans, you won't be taking this article's word for it.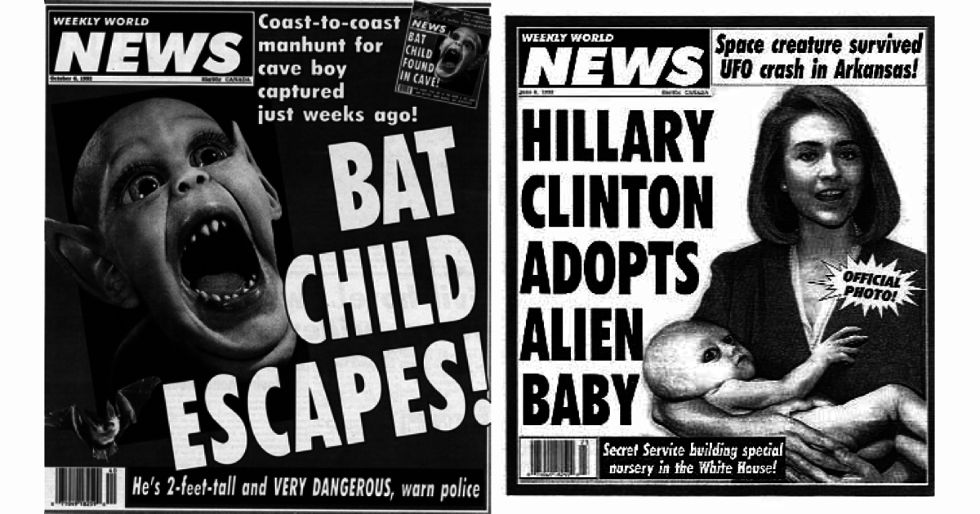 Image via Vox
4. We Should Have Healthcare

Although there is certainly not a clear consensus, most Americans do support healthcare for all. According to a 2018 poll, 6 out of 10 Americans believe that the government should provide healthcare for everyone; another survey from The Hill found that 70% of Americans support Medicare for all, and even a small majority of Republicans are in favor of the idea.
5. The Nation Is Divided
We can all agree on one thing: disagreeing. 81% of Americans believe that we are more divided than at any other time in our nation's history, according to Time. (Remember, there was this thing called the Civil War). Americans can't even agree on what exactly the nation's most significant points of disagreement are: most Democrats believe gun control is a huge issue while most Republicans consider it unimportant; same with climate change and income equality, according to surveys from the Pew Institute.
Although contention and chaos might be the laws of the day, at least we'll always have a shared hatred of telemarketers to bind us all together.
---
Eden Arielle Gordon is a writer and musician from New York City.

The refugee crisis hasn't gone anywhere. But news outlets and political leaders everywhere are ignoring it—and xenophobia is making it worse.
Around 2015, the so-called European refugee crisis was topping every newspaper headline. Reports of the 5.2 million refugees pouring in from Syria and other war-torn countries that year led to mass calls for mobilization to create infrastructure and support systems for displaced peoples. The photo of Alan Kurdi, the drowned three-year-old who provided a name and face to the crisis, sparked international acknowledgment and inspired humanitarian activists all over the world.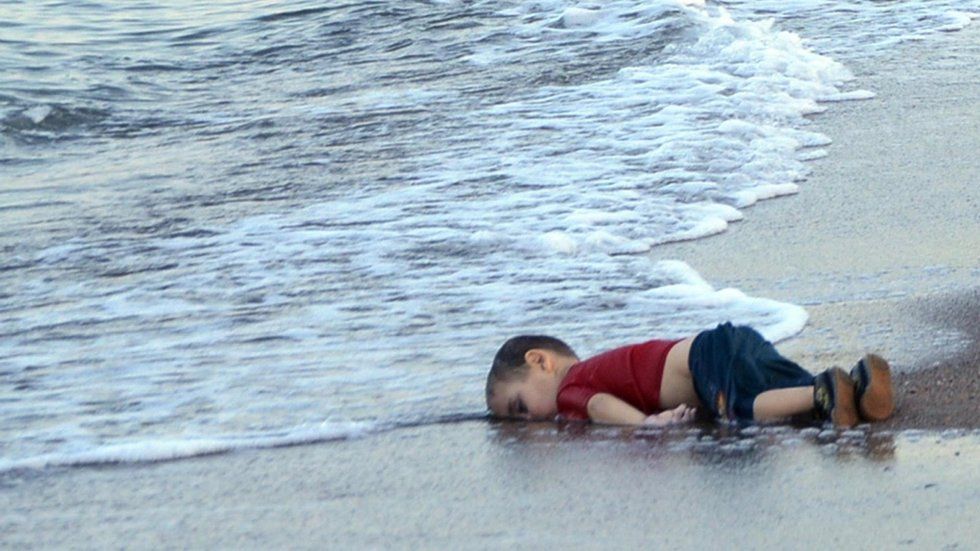 Alan Kurdi, via Medium
But that was four years ago. What has happened to those 5.2 million since then?

Firstly, there are a lot more than 5.2 million now. According to the UN, as many as 63.5 million people have had to flee their homes because of conflict since World War II; and today, roughly eight thousand people per month arrive in Greece, Italy, and Spain from Syria, Guinea, Algeria, and neighboring countries. These numbers are staggering; the lives they describe are almost impossible to imagine. But each figure corresponds to individual experience and a body that likely has crossed countless miles of ocean to arrive on European shores. Though it is impossible to generalize their stories, the majority of these people are currently stranded in liminal places like refugee camps or living as undocumented citizens without access to rights, living wages, and other protections.
According to the Aegean Boat Report, around 20 boats have arrived on the Greek island of Lesvos alone in February 2019, carrying a total of 791 people. Lesvos's Moria Camp holds somewhere between eight to ten thousand refugees; it was initially designed to hold ten. Many have been there for over half a decade, and the conditions in the camp are becoming more and more unlivable by the day.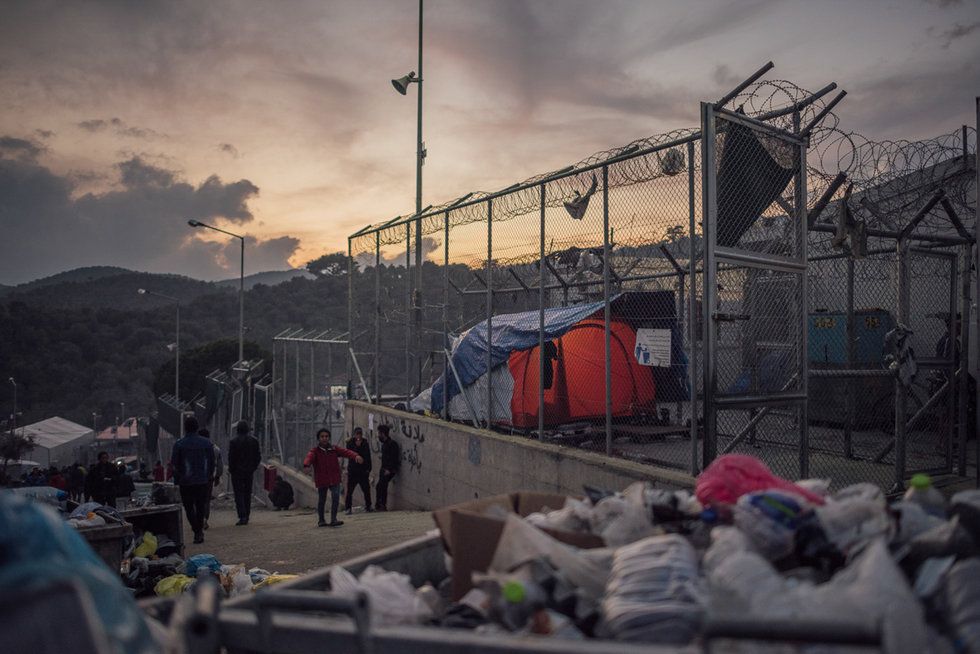 Moria Camp, via Al Jazeera
Many refugees go through hell and back to get there. Left with no choice but to flee violence and unlivable conditions, many spend thousands of dollars on hiring a smuggler who could carry them across the sea. The journey is treacherous—smugglers sometimes have deals with authorities or even pirates, and recent reports have revealed that the journey is more dangerous than ever before, with 1,600 to as many as 2,730 people dying at sea in 2018. The UNHCR released a report which argued that although the official number of migrants crossing the Mediterranean fell last year, this was likely due to "reductions to search and rescue capacity coupled with an uncoordinated and unpredictable response to disembarkation." This in turn, "led to an increased death rate as people continued to flee their countries due to conflict, human rights violations, persecution, and poverty." As the world forgets, the little structure and safety netting that does exist inevitably falls apart.

The news is a strange beast. Some stories can dominate for months and fade out so suddenly it's almost like they never happened; particularly shocking acts of individual or random violence can consume headlines while systematic, long-term horrors can fade away, having lost their ability to capture audiences' attention. With countries like South Sudan, Yemen, and Afghanistan steadily experiencing mass exoduses for years and years at a time, and with the inundation of tragic stories and gory photographs from Syria, it's easy for ongoing horrors to slip underneath an ocean of facts and figures that seem too overwhelming to address.
It's also easy for governments to shirk off responsibility for taking in refugees, seeing as technically they are stateless and, therefore, are not protected by any citizenship rights. Though the Universal Declaration of Human Rights guarantees basic protections for all people on earth, it does not specify which countries are responsible for providing these protections.
But every political decision manifests in lived experiences. For example, when migrants arrive on the shores of Lesvos, they are sometimes met with volunteers who provide water and transportation to the camps. Families and individuals are assigned at random to tents, which are crammed next to each other, creating unlivable conditions.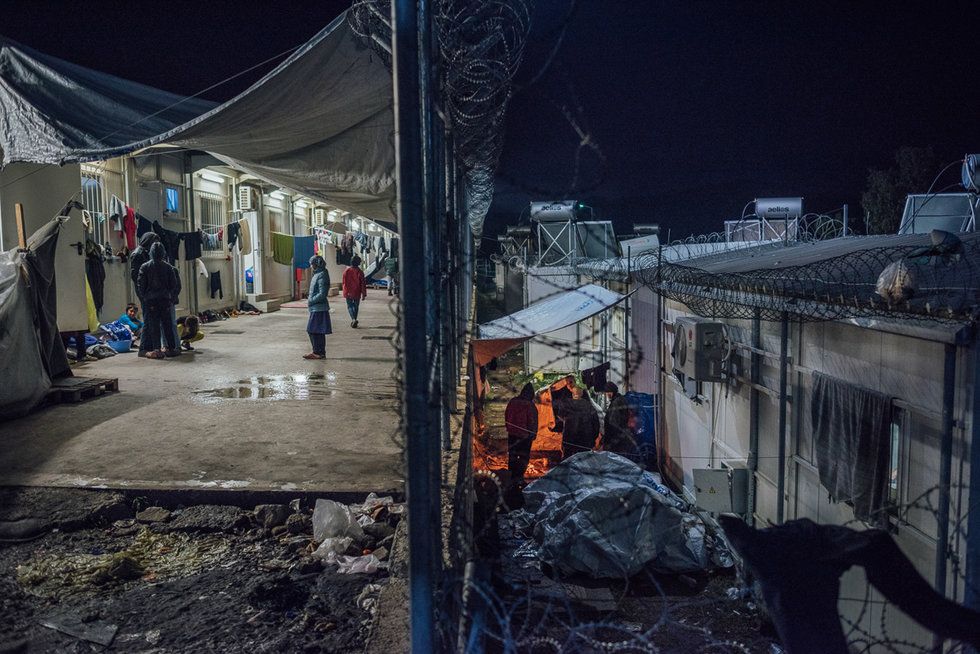 Image via aljazeera.com
Lesvos, in particular, has an extensive volunteer population, but overall aid groups often work as band-aids, failing to heal the sources of a larger issue and failing to structure a pathway forward. Instead, aid groups and refugees languish on Lesvos, in the grey area of statelessness and global amnesia. NGOs are gradually shifting their focus to working with refugees and locals to develop long-lasting relationships and skills, which can propel migrants forward into new lives.

But in light of the antipathy many locals hold towards newcomers, and also because of the trauma, language barriers, or other struggles that migrants face, the process of adjustment is challenging and will require individualized attention, patience, and cohesive efforts. Reports reveal that the majority of refugees fleeing severe conflicts will have vestiges of trauma; the IRC reported high levels of depression and PTSD among refugees across the board.
A 2011 Oxford University study found that the best way for refugees to move forward is through integration into life in their new countries. Solutions lie in treating the wound at its source, addressing xenophobia, and fighting for fair opportunities to education, jobs, healthcare, and other vital structural support systems. On the other hand, stranding migrants in places like Lesvos—where they live in unsanitary and dangerous conditions, surrounded by strangers who may also be experiencing trauma, with no idea of if or when they will be able to leave—is a product of a collective worldwide amnesia, a refusal to see what is happening in real time.
Long-term, slow-moving challengers are not foddered for breaking news. Particularly massive floods of refugees might pique the interest of a world leader; an artist might draw attention to the crisis through an installation in a busy city; but always, the cycles of violence and erasure continue as the world gets caught up in shinier, brighter topics. But remembering and acknowledging what is happening is the first step to moving in a new direction.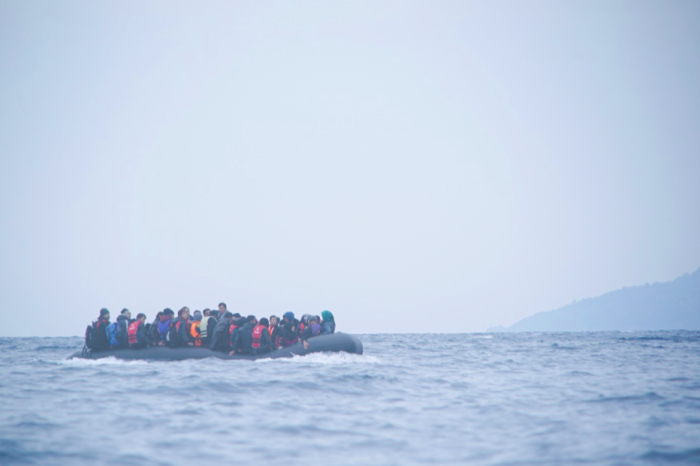 Image via Oxfam Novib Academy
---
Eden Arielle Gordon is a writer and musician from New York City.
"This caravan cannot come to the United States. They will not be allowed in," said Department of Homeland Security Department Secretary Kirstjen Nielsen.
Thousands of asylum-seeking migrants are making their way towards the U.S.-Mexico border, and President Trump wants to stop them.

The administration is looking at ways to crack down on border crossings as a means to rally his political base ahead of the midterm elections, specifically taking aim at the controversial migrant caravan that left Honduras on October 12th.
Reportedly still more than 1,000 miles from the U.S. border, the caravan's exact numbers are unknown amidst conflicting accounts. The Mexican government estimates the number of people taking part in the caravan has fallen below 4,000, while United Nations officials assisting Mexican authorities said Monday that more than 7,200 people had participated. Alex Mensing, a U.S.-based organizer with the humanitarian group Pueblo Sin Fronteras claimed the size of the caravan has swelled to 10,000.
Officials said they are considering all options for sealing the border, including denial of Central American asylum applications based on the so-called "travel ban" of 2017, which a deeply divided U.S. Supreme Court upheld as a legitimate use of executive authority. No final decisions have been made, they said, citing legal challenges as a barrier to some of the more aggressive methods.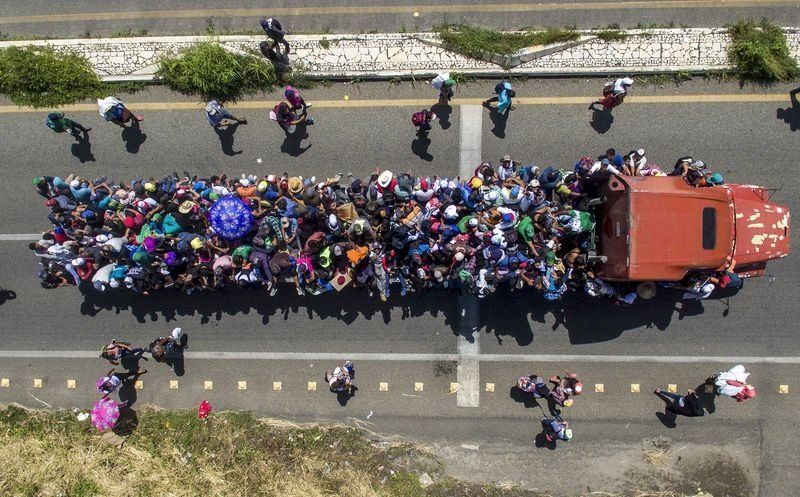 Pedro Pardo/AFP via Getty Images
"The administration is considering a wide range of administrative, legal and legislative options to address the Democrat-created crisis of mass illegal immigration," a White House official explained. "No decisions have been made at this time. Nor will we forecast to smugglers or caravans what precise strategies will or will not be deployed."

The details are expected to be finalized by early next week in a speech by the president. In the meantime, the Pentagon is preparing to deploy at least 800 troops to the border to confront the caravan.
Department of Homeland Security Department Secretary Kirstjen Nielsen said Thursday night, "If [the migrants] come here illegally with no legitimate reason to stay, they absolutely will be apprehended and removed immediately," she said. "To ignore, basically, refuge and continue, in some cases, to come to the United States raises questions of what their real motives are."
Human Rights First, a non-profit and non-partisan rights group, spoke out against this proposed regulation, saying President Trump is "misinterpreting the law."

"The fact that the president can apply it to asylum is where we say no," said Jennifer Quigley, an advocacy strategist for refugee protections with Human Rights First, a non-profit and non-partisan rights group. She explained that such a move from the Trump administration would be a violation of the U.S. Constitution's due process clause and obligations under international law, such as the Refugee Convention.
Marielena Hincapie, executive director of the National Immigration Law Center agreed that closing the border would do more harm than good. "This is going to impact a large range of people coming through who may or may not be part of the caravan, other people who are seeking asylum, or other forms of visas," she said. "A lot of people are simply coming over to do business."
---
Joshua Smalley is a New York-based writer, editor, and playwright. Find Josh at his website and on Twitter: @smalleywrites.
The president's re-election campaign doubled spending over the last three months.
Even with his re-election vote two years away, President Trump has raised more than $100 million towards his campaign.
The president's fundraising total, which include his campaign committee and joint accounts with the Republican National Committee (RNC), raised more than $18 million from July to September, according to numbers filed by the Federal Election Commission on Monday night. With more than $106 million at his disposal, Trump has raised a historic amount for an election this far in advance. In contrast, President Barack Obama had just $2.3 million in his bank account two years before his 2012 re-election bid.
The preemptive effort to undermine his future Democratic contender began as soon as 2017, with Trump's abnormal decision to file for re-election the day he was sworn in. There was barely a pause in his campaign's rallying tours across the country—they continued in the first months of his presidency.
Strikingly, the president's campaign committee has raised the majority of its bursting wallet from donations of less than $200. These small sums represent nearly 98% of the money he collected during the third quarter of the year. That's not to say his fundraising team hasn't sought larger donors. One check deposited in the RNC joint account for $250,000 came from venture capitalist and human blood enthusiast Peter Thiel.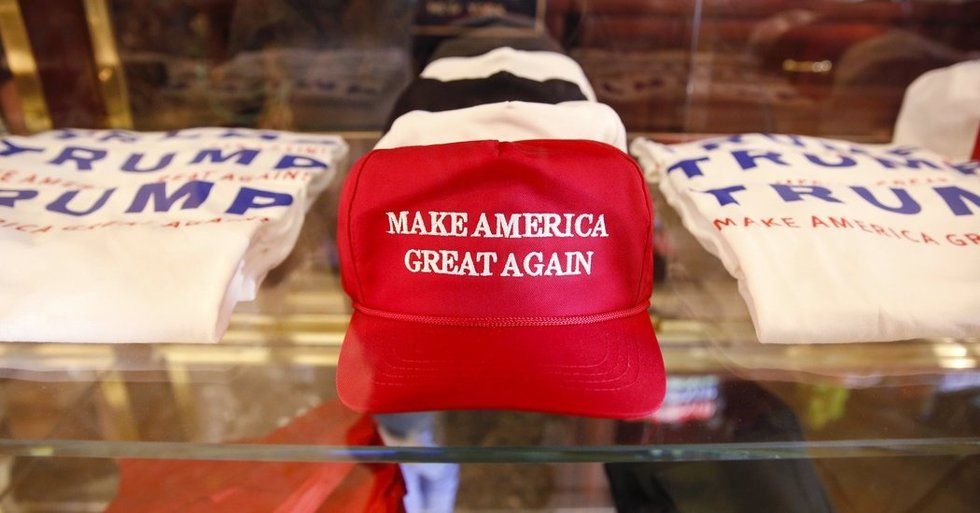 Reuters
Trump's campaign doubled spending over the last three months to $7.7 million, seeking to stir up its Republican base with more rallies and online appeals. $604,000 was paid to Ace Specialties in Louisiana, the manufacturers of the Trump base's favorite "Make America Great Again" red hats. $1.3 million was paid for legal fees, which includes services related to the Russian meddling investigations, and $1.6 million was spent on advertising to a shadowy company called American Made Media Consultants.

According to the New York Times, the company was created by the campaign to purchase media advertisements as well as online fundraising solicitations. While it's not intended to create profit for Trump, the company could allow the campaign to avoid declaring precise spending details to the election commission. The idea seems to draw inspiration from Mitt Romney's presidential campaign.
In a statement, the Trump campaign's senior advisor encourages their grass-root supporters "and millions more like them to get out and vote in the midterms so President Trump can continue to build on his agenda with even greater success for the forgotten men and women of this great country."
Despite his success, Rep. Beto O'Rourke, the Democratic challenger to Sen. Ted Cruz in Texas, reportedly raised more than double what Trump did between July and September. The $38.1 million haul is a quarterly fundraising record for a Senate campaign.

Joshua Smalley is a New York-based writer, editor, and playwright. Find Josh at his website and on Twitter: @smalleywrites.
Genetics expert tells Warren, "The facts suggest that you absolutely have a Native American ancestor in your pedigree."
Like a schoolyard bully who can make even the most uncreative insult sting through pure repetition, Trump manages to provoke his political opponents with his uninspired — but doggedly consistent — nicknames.
From "lyin' Ted" to "little rocket man," Trump's derisive monikers tend to become widely used in the media and draw angry reactions from those they're bestowed upon. Just as your sixth grade bully didn't seem to care that calling you "brace face" was neither clever nor funny, the only apparent criteria Trump has for his nicknames is the ability to easily tweet them...over and over again.
Trump's infamous nickname for Elizabeth Warren is perhaps the best known insult in Trump's arsenal. Calling the Senator "Pocahontas" began because of Warren's claims that she has distant native American ancestors. The label is staggeringly offensive, vaguely nonsensical, and frequently repeated with pride by the Commander-in-Chief. When Trump first used the epithet, he was criticized for the obviously racist implications of the name; but, always one to say, "hold my beer" when accused of racism, Trump then went on to reference the nickname at an event honoring Navajo veterans in November 2017, once and for all proving this presidency has made South Park obsolete.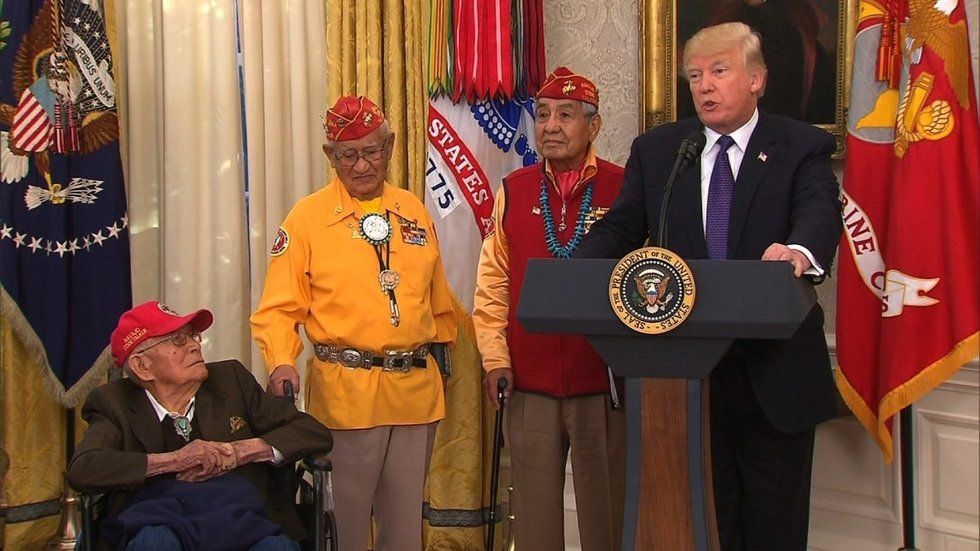 Fox43
But the Pocahontas taunting didn't stop there. During a July rally, Trump said that he would give $1 million to Warren's "favorite charity" if she took a DNA test and it showed she is "an Indian." Now, Warren has documentation to back up her claim of Native American heritage: an analysis of her genetic data performed by Carlos Bustamante, a professor of genetics at Stanford. Bustamante told the Senator, "The facts suggest that you absolutely have a Native American ancestor in your pedigree."
Just as you were naively sure the "brace face" teasing would cease as soon as you showed up to school braces-free, Warren seemed to think Trump would cease his mocking when presented with facts. But, proving that his nickname for Warren never had anything to do with her ancestry claim, Trump shrugged off Warren's DNA test results on Monday, telling reporters, "Who cares?" when asked to comment on the results.
Trump went on to say, "I didn't say that. You'd better read it again," when asked about the video footage that clearly shows the President saying, "I will give you a million dollars, to your favorite charity, paid for by Trump, if you take the test and it shows you're an Indian, I have a feeling she will say 'no.'"
Now, apparently unaware that he only spends money on golf and ugly hotels, Warren is calling for Trump to make good on his promise of $1 million. She tweeted Monday morning that Trump could "send the check to the National Indigenous Women's Resource Center."
Warren said in a video released Monday that the issue "isn't just about casual racism" but part of a pattern of "discrimination, neglect and violence" that Native communities have faced "for generations." She adds, "Trump can say whatever he wants about me, but mocking Native Americans or any group in order to try to get at me, that's not what America stands for."

Many speculate that the DNA test is further evidence that Elizabeth Warren is planning to run for president in 2020, a possibility that Trump responded to this morning by saying, "I hope she's running for president because I think she'd be very easy... I do not think she'd be very difficult at all." To which Elizabeth Warren likely responded with a long, hollow laugh.
---
Brooke Ivey Johnson is a Brooklyn based writer, playwright, and human woman. To read more of her work visit her blog or follow her twitter @BrookeIJohnson.
Those already in the U.S. required to marry by end of year or leave the country
The Trump administration began enforcing a new policy on Monday that denies visas to same-sex domestic partners of foreign diplomats.
The restrictions affect staff of U.S.-based international organizations such as the United Nations, the World Bank, and the International Monetary Fund, requiring those currently residing in the country to get married by December 31st or leave within 30 days. Announced earlier this year, the policy is framed by the administration as an effort to equalize visa requirements between straight and gay diplomats.
Officials say they are building off of rules implemented in 2009 by the Obama administration that asks other countries to treat same-sex partners of U.S. Foreign Service employees on a "reciprocal basis" to receive diplomatic visas.
In an August follow-up email to the Washington Blade, a State Department official explained, "This is based on changes to U.S. law recognizing same-sex marriages. Therefore, the Department will likewise require that, as a general matter, officials from other governments and international organizations be married to enjoy the rights and benefits of spouses for purposes of visa issuance and privileges and immunities."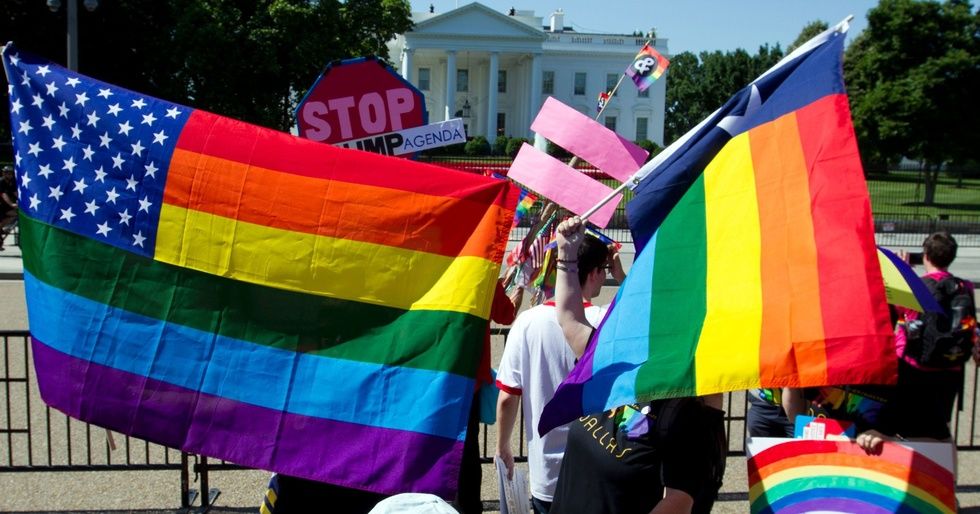 Jose Luis Magana, AFP/Getty Images
LGBT advocates are quick to point out that same-sex marriage is illegal in most countries, and cannot be compared to the rights given to heterosexual couples. Gay people face the death penalty in eight countries including U.N. members Saudi Arabia and Nigeria. Critics say the administration's rules will force LGBT diplomats to choose between breaking up their relationship for a career, or facing potentially life-threatening repercussions at home for entering into an illegal marriage.

Former U.S. Ambassador to the United Nations Samantha Power described the policy as "needlessly cruel & bigoted," tweeting that "only 12% of U.N. member states allow same-sex marriage."
Needlessly cruel & bigoted: State Dept. will no longer let same-sex domestic partners of UN employees get visas unless they are married. But only 12% of UN member states allow same-sex marriage. https://t.co/MjZpRVLYcf
— Samantha Power (@SamanthaJPower) September 28, 2018
Alfonso Nam, president of UN-GLOBE, an organization that advocates for LGBT staff in the U.N. system, told the Blade, "A policy that prioritizes marriages over all other forms of legal unions will have a chilling effect on all couples in the United States under a U.N.-sponsored visa who are in legal unions other than marriage."
"Whether it is an opposite-sex couple who did not get married for philosophical reasons, or a same-sex couple who did not get married because marriage was not a choice available to them, they would all now have to find a way to get married in order to remain in the United States," added Nam.
Currently, there are 10 U.N. employees in the United States who would need to marry by the New Year to have their partners' visas extended.
Joshua Smalley
is a New York-based writer, editor, and playwright. Find Josh at his
website
and on Twitter:
@smalleywrites
As July 4th creeps closer and closer thoughts of freedom and independence start to circulate. The 4th, marking the United State's independence from Great Britain in 1776, is celebrated across the country with cookouts, fireworks and the good ol' red white and blue. Here are a few other significant acts for the sake of liberty that occurred in July:
Keep reading...
Show less
What can we do to fix it?
As we thrust forward, full-throttle into a modern era defined by convenience and consumption, it's easy to blind ourselves to the effects our everyday lives have on the environment around us. Whether it's the choking yellow clouds that pour from our smokestacks or the heaps of refuse we leave behind us every trash day, one thing is clear: we're living with the garbage we create. We've only mapped about five percent of our oceans, but our garbage has reached seemingly every corner. 19 billion pounds of trash, a large portion of which is plastic, is dumped into the sea every year. This number is set to double by 2025.
Keep reading...
Show less
A guide to the naturalization process, what comes before and what happens after
With all the talk surrounding immigration, we thought it would be useful to break down the actual process of becoming a U.S. citizen.
Keep reading...
Show less
Why the only amendment never brought before the supreme court may be more important than you think
You'd be hard pressed to find someone living in the U.S.A. (and, perhaps in Russia) who could not tell you that the Second Amendment involved the right to bear arms. And, most people understand that something in the Bill of Rights protects them against unlawful search and seizure, even if they don't know that it's the Fourth Amendment that does so. But sandwiched in between these two celebrity amendments is the all-but-forgotten Third Amendment. Since its inclusion in the Bill of Rights (the first 10 amendments to the constitution), the Third Amendment has been the subject of a small handful of cases, and not one of them has gone before the Supreme Court. Here it is:

Keep reading...
Show less