ALEC puts people in for-profit jails, prevents gun laws, and stops action against climate change—all from inside locked hotel conference rooms.
In the "corporate bill mill" where corporate leaders and politicians meet, schmooze, and decide the future of the planet, evil is at work.
Georgia Senator Nan Orrick, a former ALEC (American Legislative Exchange Council) member, describes back rooms in Vegas resorts and behind-closed-doors legislative sessions where corporations not only vote on bills—they write them.
ALEC brands itself as an educational charity, she says, but hefty donations (memberships can cost $25,000 a year) fund "education efforts" for legislators, according to a local 11 Alive broadcast—educational efforts led by multi-billion dollar corporations with specific agendas.
The Investigators: ALEC - The Backroom Where Laws Are Born www.youtube.com
In the end, Orrick left ALEC because it was just a bunch of "angry white men," she said.

But these "angry white men" have arguably guided America towards the state it's currently in, making some sort of revolution inevitable.
From the Prison Industrial Complex to Stand Your Ground: ALEC's History of Oppression and Harm
ALEC was partly responsible for the massive spike in prison populations over the last few decades—a 500% increase over the last 40 years, to be exact. In 1995, ALEC's "Truth Sentencing Act" was signed in 25 states. ALEC also pushed for mandatory minimum sentences for nonviolent drug offenders. And ALEC helped privatize the bail bond industry and has worked to pass laws to create for-profit prisons, catalyzing what we now know as the Prison Industrial Complex.
Unsurprisingly, two of ALEC's major sponsors include the Corrections Corporation of America and the Geo Group (formerly Wackenhut Corrections).
"An In These Times investigation last summer revealed that ALEC arranged secret meetings between Arizona's state legislators and CCA to draft what became SB 1070, Arizona's notorious immigration law, to keep CCA prisons flush with immigrant detainees," write Mike Elk and Bob Sloan in The Nation. "ALEC has proven expertly capable of devising endless ways to help private corporations benefit from the country's massive prison population."
In Ava DuVernay's documentary 13th, which tells the story of Black oppression in America from the ratification of the 13th Amendment in 1865 until today, she dives into ALEC and how—building on momentum from the War on Drugs—it resulted in the mass criminalization of Black people, leading to a system of punishment that Michelle Alexander calls "The New Jim Crow."
13TH | FULL FEATURE | Netflix www.youtube.com
ALEC has a long track record of creating racist policies that disenfranchise vulnerable populations. For example, they were an origin point of voter ID laws that successfully prevented many voters from participating in elections. In 2011, the civil rights organization Color of Change launched an investigation into ALEC's political actions in 2011, and reported that for years, "the right wing has been trying to stop Black people, other people of color, young people, and the elderly from voting for partisan gain—and now some of America's biggest companies are helping them do it."

ALEC was also responsible for creating the "Stand Your Ground Laws," which helped George Zimmerman go home free after he shot Trayvon Martin.
Once people began connecting the dots and investigating this law across states, they realized that the bill looked almost identical from state to state—and were able to trace its origins back to ALEC.
A Foundation Built on Disregard For Human Life
Destruction is in ALEC's lifeblood. Two of ALEC's early founders were the Koch brothers, both of whom played a significant role in destroying early government action against climate change. Over recent years, ALEC has doubled down on its efforts to defend fracking and to fight against protestors and whistleblowers, passing bills that threaten to fine and imprison anyone who attempts to vandalize pipelines, and beyond.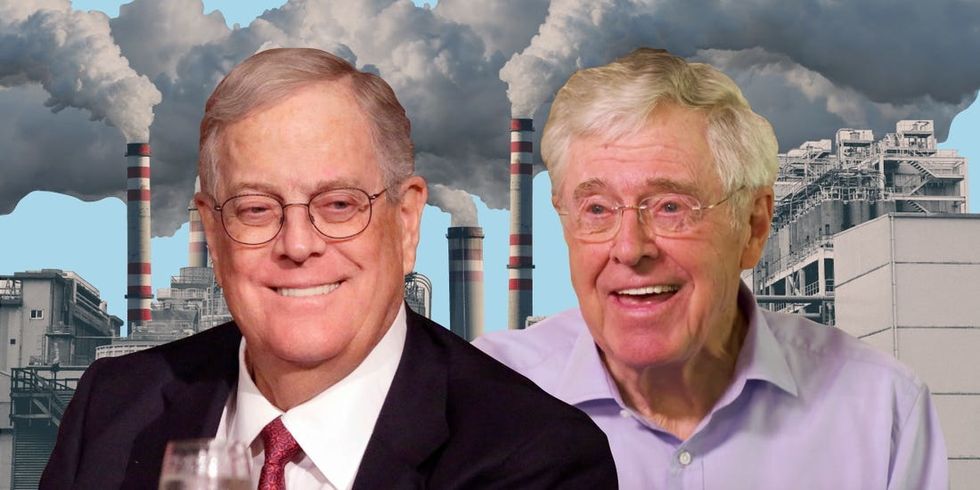 Koch Brothers
Other current corporate sponsors include the tobacco industry, the giant pharmaceutical company Pfizer, the National Rifle Association, Wal-Mart, ExxonMobil, and hundreds of other corporations. That means that these major corporations have a say in what bills are passed where.

ALEC has faced some resistance. After whistleblowers published a database called ALEC Exposed in Wikipedia, corporate sponsors began to face pressure to leave the shadowy lawmaking organization. Coca-Cola, Kraft, Intuit, the Gates Foundation, Google, and other companies pulled out. Hundreds of legislators have cut ties—but ALEC continues to meet year after year.
ALEC Is Still Alive and Well—and Was Fighting to Reopen in Mid-May
ALEC is still alive and well today, if quiet (or very good at diverting attention from it). According to the ALEC Exposed Wikipedia page, ALEC has been "Leading Right-Wing Campaign to Reopen the Economy Despite COVID-19" this May.
The suffering that some of ALEC's bills have caused is literally unimaginable–and genuinely apocalyptic in scale. The number of lives ruined from big pharma, gun violence, climate change, and mass incarceration is absolutely uncountable. Bills like the "No Sanctuary Cities for Illegal Immigrants Act," the "Consistency of Firearm Regulation" Act (which prevents local areas from restricting firearm possession), and many others have each had brutal lived consequences on people's lives—and each was created in an unjust, secretive way.
Yet ALEC still insists that it's a legal organization and that its nay-sayers are simply delusional leftists.
But if ALEC really were a legal organization, wouldn't they open their doors to the media instead of forcibly removing the reporters who try to enter at its annual policy summit?
Of course the fact that corporations are running the show nowadays isn't exactly a surprise, and ALEC is just one of the many corporate lobbyist groups that are "ghostwriting the government," as one Harvard Political Review report put it. The best of these groups are probably so secretive that no one knows exactly what they're called or where they are. Certainly, ALEC is growing alongside the times, figuring out how to further its agenda as more politicians refuse corporate donations, and who knows: It may disappear completely, reforming itself as another slick corporate group in some other identical hotel ballroom, ruining lives with the flick of a few keystrokes.
But at least the people are beginning to wise up to the fact that many of our lawmakers have pledged allegiance not to the people but to corporations.
United States of ALEC: A Follow-Up www.youtube.com
Politics is the ongoing debate over who and what gets to thrive and survive, and it is always personal.
Abortion. Gun control. Immigration. Police violence. The MeToo movement.
A dozen political issues, a dozen debates that we seem trapped in, condemned to repeat. It's been four decades since Roe v. Wade, and women's access to abortion seems as fragile as ever. Since the Sandy Hook massacre, there have been 2,402 mass shootings in the United States, and yet we don't feel any closer to passing common sense gun legislation than we were eight years ago. The American federal government has come to a complete standstill, but the poison runs deeper than that; at every level of human existence—political, cultural, artistic—we have lost the ability to meaningfully alter the status quo. We have the same arguments that we did eight years ago, we listen to the same types of music, and all the movies are sequels or franchises or reboots. We are a stopped culture.

It's a concept cultural theorist Mark Fisher referred to as the "slow cancellation of the future," part of his broader theory of Capitalist Realism—the notion that, as neoliberal hegemony continues, the people living under it will increasingly lose the ability to imagine a future different from the present. A mood has settled over America, a sense that things simply are the way they are. Massacres are common, police brutality happens regularly, abortion is difficult and precarious, healthcare costs are insane, and the government has no power (or will) to stop any of it from happening. The whole world is telling us, consciously or not, that nothing can be done. So what does all this have to do with the modern phenomenon recognized as "grievance politics?"
Simple. When we feel our politics have lost the ability to affect our lives, the only issues that seem to matter are personal ones.
If society is stuck, if we lack the power to change it and make it the way we want it to be, the only thing we can do is own each other—on Twitter, on stage, or in the voting booth. No politician can actually pass any legislation, but if the right ones win then the people on the other side will get upset. In turn, you might feel good for a little while, and maybe even convince yourself that your interests are being represented even though they're not. In modern mainstream political discourse every issue is disguised by one question: Who is "triggering" who? The whole world is telling you that nothing will be done about mass shootings or police violence or rape culture, but you can own the "Bernie Bros," and feel like you're owning all of the people in your life that you don't like.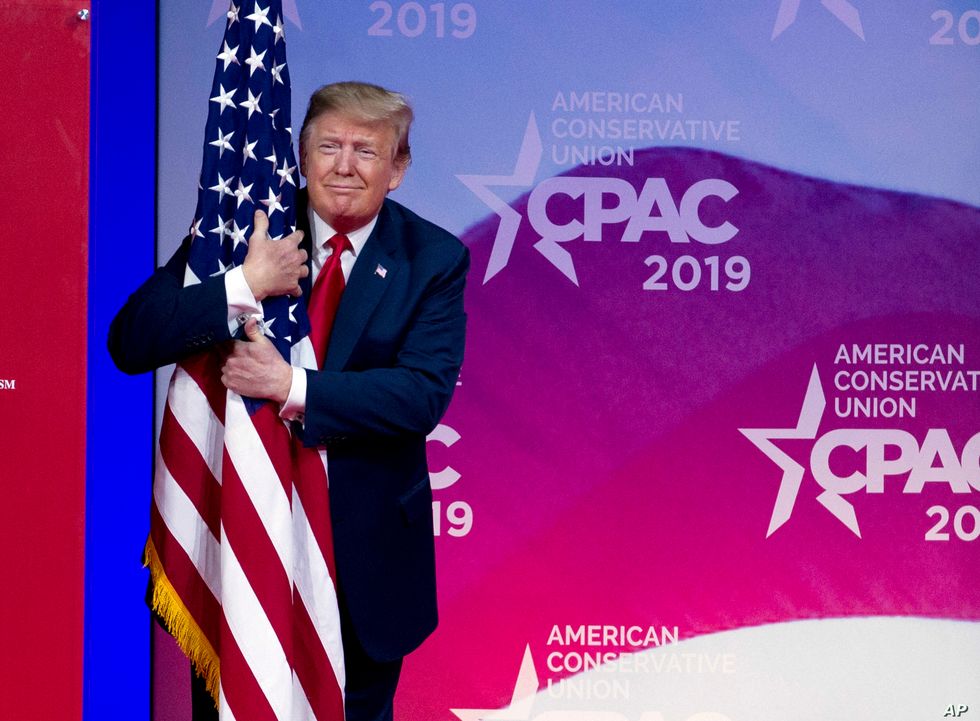 AP
That's how we got Trump. Whether or not they'll admit it, very few people really believed, in the logical parts of their minds, that Trump was ever gonna build his stupid wall. How could he? That would involve something happening, and nothing ever happens. The MAGA crowd, in a real sense, have as little power to bring about their ideal world as we do (thank god), because they can't stop us from agitating about inequality or gun control or kneeling for the national anthem. But when Donald Trump wins, college kids cry. And triggering the libs is as close as they can get to a victory.

If there's one good thing about the COVID-19 pandemic that is gripping the nation, it's this: We can no longer deny that our politics have a very real, very material impact on our lives. However, and this is important to stress: Politics is the ongoing debate over who and what gets to thrive and survive, and it is always personal. The pandemic has brought it home to the most privileged and insulated among us, but if you are vulnerable, if you are poor, if you are a racial or sexual minority, if you are a victim of gun violence or assault or our rapacious healthcare system, you have felt the effect of our politics in your life every single day. It's more important than the feeling it gives you, and it's more important than who's triggering who, and that's going to become more and more clear as we continue to suffer the consequences of a civil infrastructure that has spent the past forty years being ransacked.
Mainstream politics has always operated under the delusion that nothing was ever going to really happen. It would threaten to happen, it would almost happen, but it never actually would. Well, something has happened. Maybe now something can be done about it.
Probably not, though.
Short answer: Everything.
In a small office inside an old theatre in New Hampshire, Bernie Sanders' supporters gathered to share their highlights and challenges after a day of knocking on doors.
"I'm feeling grateful," said one, before relaying a story about a surprisingly friendly interaction with a Trump supporter.
Others said they were feeling energized and inspired, despite a low response rate after hundreds of knocks and hours out in the February drear. "Just talking to one person who thanked me for being out in the field made it all worth it," said another.
The moment one person said they were feeling cold, organizers leapt into action, tossing hand-warmers to the shivering canvasser.
The New Hampshire primary was in one week. Some organizers had been in the small office for months, others had been working steadily since 2016, and still others were canvassing for the first time, but the energy in the room was palpable and warm and beautifully chaotic and fundamentally communal, much like a lot of Bernie Sanders' campaign. That has something to do with its success.
As Sanders has steadily risen in the polls, major media outlets have been forced to examine his campaign and the massive base of supporters—many young, social media-savvy, and passionately fired-up about their 79-year-old patron saint—that have propelled them to this place. Some portray his supporters as a battalion of belligerent young white males; others insist that Bernie's base is the most diverse of all; still others view them as lazy, entitled kids.
Doubters have been forced to interrogate that last opinion, because it's clear that Sanders' campaigners are anything but lazy. Sanders' campaign has garnered the highest number of individual donors of any candidate, amassing $1.3 million after discovering that a super PAC planned to air a negative ad about him. He raised nearly $100 million in 2019, topping Pete Buttigieg by some $25 million without the help of major corporations. His supporters are fervently keyed in, texting, tweeting, and—as it became clear in that New Hampshire room—getting out into the streets, taking the time to talk to people.
So what's behind Sanders' sweeping, grassroots appeal? And who are his supporters, really?
The easiest answer to this question is that there is no single answer. Bernie Sanders' supporters are working-class Americans, disaffected progressives, starry-eyed optimists, frustrated pessimists, devil's advocates, and God-fearing moralists. They are not a monolith. In that way, they might just represent the actuality of the American people—in all their contradictions, devotion, and passion—better than any other base.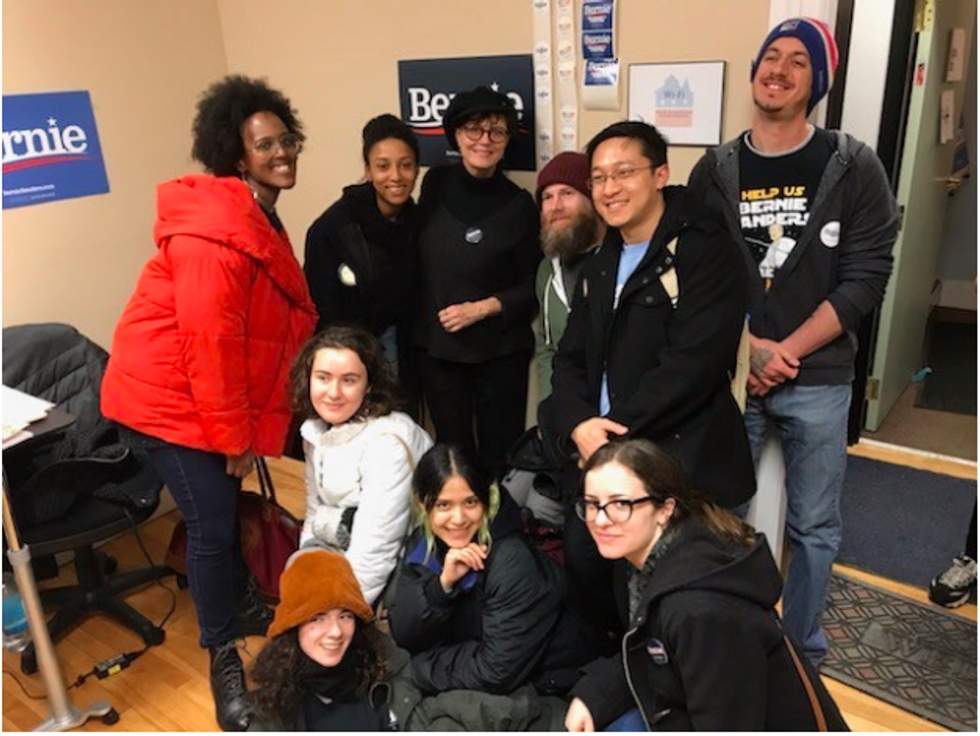 blackgirlnerds.com
"Not Me, Us" and the Fight Against American Hyper-Individualism
Miss Toni took a while to open the door. She was wearing a blue onesie covered in hearts, and her room was filled to the brim with records and posters from the 1980s. When she finally was able to open the door, a flock of birds fluttered away from her porch and took to the sky.
She told us she was already a Bernie supporter and began shakily filling out the sign-up sheet we gave her. She was registered to vote by her deadname (the male name she was given at birth), but she asked us to refer to her as Miss Tami. She had been an activist in the 1960s, she said. Bernie felt like the closest thing to bringing back the spirit of those days.
We also met a gun-owning Republican from Hawaii who, after hearing about Bernie's support for ending student debt and his dedication to ending the spirit of xenophobia in America, pledged to lend his support for Sanders on Tuesday.
Among the Trump supporters we met, their number one reason for supporting him was always the economy. "Me and my daughters are doing well."
"It would be nice if everyone could do as well as you and your family," we said. He shrugged. By the end of the conversation, he was genuinely smiling when he said, "I'm still voting for Trump. But I hope you guys keep going."
If Sanders does win the Democratic nomination, the economy will be paramount to the ensuing debates. While the currently strong American economy mostly exists thanks to Obama-era policies, and while many economists project that we are headed for a recession, it is true that Trump protects the Wall Street interests that continue to ensure cutthroat capitalism's success in America and around the world. These very successes are what have led America's income inequality levels to approach Depression-era extremities.
Sanders represents a synthesis of radicalism, anticapitalism, and a realistic understanding of the threats that America and the world are facing. To many, he also—contrary to the entire Bernie Bro narrative—represents human compassion. His campaign slogan, "Not Me, Us," is a refreshing antidote to the egotistical and self-absorbed nature of politics and neoliberalism in America. It's a reminder that—like the best stories, or the best policies—Sanders is just a vessel for something much greater, a catalyst for a dream.
Good luck to the planet to victims of American imperialism to people with giant student debt to those who want a li… https://t.co/EvaAD4D56p

— 𝐓𝐚𝐧𝐢𝐚 𝐒𝐢𝐧𝐠𝐡 (@𝐓𝐚𝐧𝐢𝐚 𝐒𝐢𝐧𝐠𝐡)1580738520.0
Sanders' Internet Army and the Limits of Tolerance

It's unfortunate that Bernie's campaign has been plagued by cruelty and disunity—and that these aspects of his base have been so heavily emphasized by the media. It's also true that some of Bernie Sanders' supporters can be cruel, and many need to learn to listen. If Bernie's supporters are serious about his campaign, they need to understand that shutting down discourse and rejecting all contention isn't the way to go about winning support.
But it's also true that in this America, people are dying thanks to medical bills they cannot pay, and students graduate into a world where they pay exorbitant amounts of money each month for years at a time in order to combat their student debt.
In light of this, the rage that many of Sanders' supporters feel at so-called centrists is born out of a deep-rooted desire to see real change instead of more of the same. It's a realization that trusting in the system and tolerating hatred is essentially the same thing as allowing them to continue.
It's also true that we're embroiled in a climate crisis, and kids are being born into a world of increasingly rampant natural disasters and apocalyptic scenarios playing out in real time, all while watching their politicians and parents do nothing. Bernie's Green New Deal is the most ambitious plan to address climate change of any candidate's; it also promises to renew the American economy, refurbishing our crumbling infrastructure by providing millions of new jobs in green, clean manufacturing. The strength of his plan has caused Sanders to gain the support of major environmental organizations across the country.
In a world where families can easily be crushed by a medical bill or a college admissions fee, Sanders' policies read like gospel for the disaffected. The Green New Deal, Medicare for All, free college, immigration reform, and an end to endless wars are plans that promise actual change, packaged in a promise that can be paid for with the money that the United States spends on wars and allows to burn holes in Jeff Bezos's pockets.
The gospel-like, lyrical, and consistent nature of Sanders' policies are at the center of his movement. Like "Make America Great Again," Sanders' policies appeal to the idea that politics is theatre, that the best politicians present a show and offer a vision, a possibility, a roadmap for a movement that will get people out of their homes and into the field.
Lighting the Fire
There's a video of Bernie Sanders in Vermont, teaching his campaign manager, Faiz Shakir, how to use a wood-burning furnace. Sanders is wrapped in a coat, bent over a cast-iron stove. "You want the flames from the small guys—are you recording me?" he says, stopping and then clarifying, "You want the small wood to be able to catch onto the big logs."
A Vermonter tries to teach a Floridian (me) how to properly light a wood-burning furnace. Let the record show he… https://t.co/Y5nLkZlWyS

— Faiz (@Faiz)1575426269.0
With his thick Brooklyn accent and his dedication to the task at hand, Sanders has intensely grandfatherly energy—but his statement also seems like it could suffice as his campaign slogan. He's a small flame, and when he began as a Vermont senator in 2016, he seemed to face impossible odds.

But every fire starts with a single spark. As the infamous poster that's a fixture in many dorm rooms reads, "Thousands of candles can be lit from a single candle, and the life of the candle will not be shortened. Happiness never decreases from being shared." It's a quote from the Buddha, but it could also apply to the ripple effect that Sanders' campaign has launched.
Change is catching and intoxicating. The spirit of hope and unity and fire that lights Sanders' campaign is a balm against apathy and hopelessness, against racism and xenophobia and economic inequality. It's about what human society can achieve—what we should achieve—what we are morally obligated to achieve.
Still, many of Sanders' supporters are realistic. We are well-aware that even if Sanders is elected, it will still only be the beginning of a long, hard fight against deep-rooted economic inequality, corporate greed, and dangerous capitalism-driven climate disaster in America and around the world. We know that visions and dreams mean nothing if the work isn't put into achieving them—the long, endless nights and the decades spent carving out policies.
But it's impossible to even begin the work if the dream isn't there in the first place, and if the people who believe in the dreams aren't allowed in the rooms where the work is done.
Regardless of what happens in Iowa and on the campaign trail, even the most fervent Bernie Sanders supporters believe that cruel attacks are not the answer. Even Alexandria Ocasio-Cortez—one of Sanders' biggest supporters—has stated that Democrats need to support whoever is elected in order to beat Donald Trump. If anything, we will need more unity and love and compassion for each other in the coming months than ever before.
We shouldn't have to compromise our values and allow people to die while others languish in the shade of the wealth and power they did nothing to earn, save being born in the right place.
Voting in Iowa closes at 7:00 PM CST in Iowa today, February 3rd. Find your caucus site here.

The opportunity to change your party affiliation in New York State closes February 14th.
Find out how to vote for Bernie in the primary in your state here.
We're here at the Ottumwa satellite precinct, which is the first Iowa precinct to caucus today. They'll kick off at… https://t.co/MFBXp2zHfn

— Brianne Pfannenstiel (@Brianne Pfannenstiel)1580752095.0
Over the course of the evening, it became apparent the two frontrunners, Joe Biden and Bernie Sanders, aren't old dogs with new tricks.
Last night, the second round of Democratic debates came and went. Ten out of the twenty candidates who qualified for the debates were chosen at random to participate in the second half of NBC's nationally televised event. Of course, the goal for the Democratic Party is to take the Oval Office and hopefully the Senate.
Over the course of the evening, it became apparent the two frontrunners, Joe Biden and Bernie Sanders, are old dogs without any new tricks. Honestly, it'd be difficult to tell the difference between a clip of Senator Sanders debating in 2016 and 2019—maybe this time around, he's a little more tired. Joe Biden was alarming on the stage: He was ill-prepared, stumbled over his words, and leaned heavily on his smile. It's not that Biden had a terrible night' it's that he only had an okay night— which, for a frontrunner, is not a good sign. There were only three people anyone should be excited to hear from: Kamala Harris, Pete Buttigieg, and Marianne Williamson.
#LetYangSpeak
Between the two debates, candidate Andrew Yang spoke the least by a two-minute margin. During the three minutes he did speak, Yang introduced his Freedom Dividend policy. The Freedom Dividend Policy is a Universal Basic Income plan. All people over the age of eighteen would be eligible to obtain a basic income of a thousand dollars a month. Yang's policy is one of the few proposed that addresses an imminent threat: technology. If corporations like Amazon were heavily taxed, that'd free a lot more money for workers who are displaced due to automated jobs accomplished by AI.
If you look into Yang, he's a contender thanks to his reasonably successful grassroots campaign. Last night, Yang turned his campaign into the trending hashtag #LetYangSpeak. According to the candidate, his mic had been turned off multiple times throughout the evening. The only evidence available is footage of Yang attempting to get a word in but to no avail.
#LetYangSpeak Here's proof that @AndrewYang was attempting to speak, but his mic was cut off. Coincidences don't ex… https://t.co/cRhdujENfD

— AVWilhite20 (@AVWilhite20)1561733609.0
In the video, he's speaking, loud enough for Joe Biden to hear him. Beyond that clip, there is no other evidence. If that were, in fact, true, then NBC would have a lot to answer for ah regarding their meddling in a primary debate.

Marianne Williamson, Be Still My Heart
Marianne Williamson sure made a name for herself last night. Her dramatic and chaotic delivery was a delight for many. Yet, she did not come to play games; she came to bring up points of contention and big ideas we need to tackle. According to her, "It's really nice if we've got all these plans, but if you think we're going to beat Donald Trump by just having all these plans, you've got another thing coming. He didn't win by saying he had a plan. He won by simply saying 'Make America Great Again.'" She's right, like she was right about a lot of things: Williamson thoughtfully addressed the need for reparations, slammed ageist rhetoric, and exclaimed of love over hate.
Although her delivery was off-kilter to many, Williamson should not be underestimated for her flowery language; she explained:
"I have had a career not making the political plans, but I have had a career harnessing the inspiration and the motivation and the excitement of people. Masses of people. When we know that when we say we are going to turn from a dirty economy to a clean economy, we're going to have a Green New Deal, we're going to create millions of jobs, we're going to do this within the next 12 years, because I'm not interested in just winning the next election, we are interested in our grandchildren. Then it will happen."
Many Americans never imagined Donald Trump would be our president, but here we are. Williamson's bold statements and captivating delivery about her hopes and dreams for this country have the potential to capture the American imagination. Sure, she may give off the spiritual energy of a wine mom who likes crystals, but why does that discredit her abilities? Remember, the hippies of our nation began revolutions.
Marianne Williamson: I Will 'Harness Love' To Defeat President Donald Trump | NBC News www.youtube.com
Yes, We Just Witnessed a Murder

Kamala Harris came prepared last night. Over all the ruckus, Harris reprimanded her fellow candidates with her rehearsed one-liner: "America does not want to witness a food fight; they want to know how we're going to put food on their table."
She continued to command the evening by confronting Joe Biden on his record. Harris challenged the former VP, asserting:
"I'm going to now direct this at Vice President Biden, I do not believe you are a racist, and I agree with you when you commit yourself to the importance of finding common ground. But I also believe, and it's personal— and I was actually very—it was hurtful to hear you talk about the reputations of two United States senators who built their reputations and career on the segregation of race in this country. And it was not only that, but you also worked with them to oppose busing.
"And, you know, there was a little girl in California who was part of the second class to integrate her public schools, and she was bused to school every day. And that little girl was me."
Kamala Harris Confronts Joe Biden On Race | TIME www.youtube.com
Biden, who was once a spirited debater, floundered in his response. He clarified that he supported busing, but on the state level. Harris clapped back, recounting how in her hometown of Berkeley, California, busing was not enforced. She utilized the anecdote to explain why The Civil Rights Act of 1964 and the Voting Rights Act of 1965 were crucial to this country, which is why we need to ratify the Equal Rights Amendment.

Biden was given thirty seconds to respond. He vouched for his record, reasserting that he always supported Civil Rights, before cutting himself off, saying, "— anyway, my time is up. I'm sorry." Biden caused the most damage to himself, as he failed to successfully defend himself.
Sometimes, You Just Can't Get it Done
Pete Buttigieg was another candidate with a breakout performance. The South Bend, Indiana Mayor may be young, but he's had skin in the game for seventeen years. Buttigieg is a veteran, a politician, a polyglot, and a gifted orator. He also made history last night as the first openly gay candidate to participate in a primary debate.
On the topic of immigration, he broke down the hypocrisy of the Christian-aligning Republican Party. Buttigieg did not hold back, proclaiming:
"The Republican Party likes to cloak itself in the language of religion. We should call hypocrisy, and for a party that associates with Christianity to say it is okay to suggest that God would smile on the division of families at the hands of federal agents, that God would condone putting children in cages has lost all claim to ever use religion language again."
The South Bend native also candidly addressed his failure to diversify his city's police force, noting, "I couldn't get it done." He went on to explain the pain his city is experiencing due to the devastating death of a local black man, Eric Logan. Logan was shot and killed by a white police officer. The officer did not have his body camera on at the time of the incident. Buttigieg unpacked how he could not take a position on the matter until the investigation is complete.
The mayor's transparency was received favorably and for a good reason. We need a president who doesn't spread fake news.
Stop Name Dropping
Joe Biden name-dropped Obama almost as frequently as he did Trump. Biden's attempts to piggy-back off the former President's accomplishments highlighted the reason Biden why was only able to make it into the Oval Office as a running mate instead of president: He is not our future. While Biden is a respected Washington staple, his vision for our country is dated and boring. It doesn't capture the America we live in today. After Harris' takedown, it's apparent that Biden cannot justify his unfavorable past.
Maybe California Senator Eric Swalwell was right when he told Biden to finally "pass the torch" to the next generation. Biden slyly smiled and said, "Not yet." However, if last night proved anything, it's that he should've let go of it a long time ago.
In a country where everyone has freedom of speech, where do we draw the line?
The structures of heteronormativity, patriarchy, and white supremacy are now made fun of, overshadowed, and cast aside by many.
Consequently, some straight, white, and/or male people, used to a society built for their needs, feel irrelevant and unheard. Anytime a minority or oppressed group is celebrated, privileged people try and insert themselves in the conversation. There's a reason why every year people ask, "Why isn't there a White History Month?" during Black History Month. When white men start getting passed up for promotions in favor of more diverse hires, it causes them to feel a fraction of what POC and women have experienced for decades. They view these setbacks as oppression and their erasure from representation as an attack. In turn, they acknowledge they're beginning to lack dominant authority. Groups like Meninists and All Lives Matter exist to belittle the root causes of systemic issues in our country. The relationship between the main systemic sources of violence in America resonate beyond Straight Pride: They remind us how those power dynamics are at play even within marginalized communities.
John Hugo, the President of Super Happy Fun America and head organizer of Boston's controversial Straight Pride Parade, describes himself "living openly as a straight man." Hugo is one of three white men advocating for heterosexual representation within the LBGTQ+ community. Super Happy Fun America is a perfect example of the phenomenon in which the privileged see equality as oppression. SHFA even has their own gay ambassador, Chris Bartely. His tokenism and bio illuminates that although he is a gay man, that does not mean he has the right to speak for the entire LGBTQ+ community:
As gay ambassador, Chris uses his status in the LGBTQ community to challenge heterophobia wherever it exists. He became involved in the straight pride movement after being ostracized from established advocacy groups for merely suggesting that straight people be afforded equal rights.
What Bartley gets wrong is that straight people are discriminated against. Although, not all people within straight relationships are afforded rights like maternity and paternity leave or an abortion, but that's due to issues unrelated to sexual orientation. SHFA utilizes right-wing Trumpism to prick at the current frustration white, straight men entertain. Meanwhile, the definition of "great" is up for debate across the nation. In retaliation, liberals are readdressing America's history and the narratives ignored in textbooks, thus increasing the discourse of who truly makes America great.
The SHFA convinced themselves they have good intentions, but in reality they're misinterpreting the purpose of the LGBTQ+ community. The organizers fail to understand that the community is more than an umbrella term for sexual orientation: It's comprised of identities that could endanger lives and livelihoods because of outside discrimination. Those identities go beyond sexual orientation. They include a spectrum of gender identities which already foster inner conflict within the community due to transphobia and misogyny. By viewing LGBTQ+ solely as a flag of sexual identities is to entirely miss the point of why the community itself exists.
However, pride is a touchy subject when it comes to who is welcome at the celebrations and who it's about. Specifically, it spawns conflict within the community from gay men who exhibit misogynistic rhetoric about female allies and bisexuals. Some within the community push binaries of homosexual relationships (gay men and lesbian women) as the standard. In such instances, systems of patriarchy and white supremacy affect transgender people and queer POC at an alarming rate compared to other peers. Straight pride is a reminder that pride incites complicated matters of identity politics and how the community can be exclusionary by gate-keeping.
Meanwhile, the leaders of Super Happy Fun America are challenging said gate-keeping by arguing in favor of an S in LGBTQIA. Their Vice President, Mark Sahady, has come forward to announce the event is moving forward since they have a permit from the city. If Boston were to take that permit away, Sahady would sue on grounds of discrimination. Their argument is a slap in the face to Pride's history.
With the 50th Anniversary of Stonewall, members of the community are reflecting on the horrors of their history, specifically police brutality. Today, police presence stirs debate about how parades can exist within governmental bounds. After all, every parade needs a permit, and the police are brought to enforce the safety of its participants. But when there's a history of police brutality with an oppressed community, it's difficult to trust their intentions. Yet, the men of Super Happy Fun America use their permit from Boston to their benefit (and yet, also as a legal threat). Due to their privilege, they don't see police presence as an issue, because the enforcers have never endangered them: Police protect white men.
The LGBTQ+ community and their allies are rightfully disappointed that anyone would want a straight pride parade, since they know what it truly stands for: These heterosexuals want to overshadow a marginalized community that is beginning to thrive. American society is not at a point yet where we can see or accept each other for who we are and our diverse perspectives. By breaking down other viewpoints' origins, we can get to the root of such ignorance. Straight Pride is a reminder that prejudice is often wielded in reaction to "others" and increases our divisions. To reflect on the roles of sexism, racism, and homophobia is to better ourselves and our communities, dismantling systems of oppression that keep us at odds and with each other as Americans.
The venerated photographer and hundreds of others overtook the atrium of New York's Guggenheim to protest the museum's ongoing relationship with the Sackler Family, one of its largest donors. The majority of the Sacklers' wealth comes from Purdue Pharma—the primary manufacturer and distributor of OxyContin.
Visionary photographer Nan Goldin made waves in the 1960s with her raw, vivid portraits, which showed the electric underside of New York's gritty arts scene as well as the intimacies of human life and love.
Back then, her photos were protests against stereotypes; they lovingly portrayed queer culture, denounced domestic violence, and provided a window into an open kind of sexuality that was not often seen during the stultified conformity of the 1950s.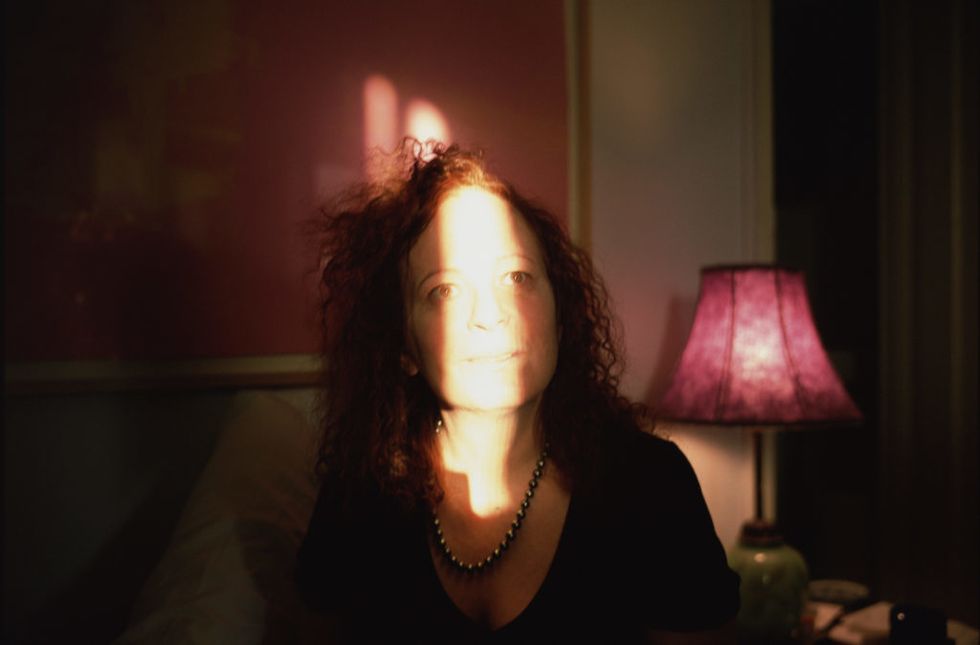 Image via Artnet News
Since then, Goldin's work has been exhibited at the MOMA and she has been recognized as one of the 20th century's most influential photographers. But in 2019, she's been occupying space in museums for a very different reason.

On Saturday night, Goldin and hundreds of others overtook the atrium of New York's Guggenheim to protest the museum's ongoing relationship with the Sackler Family, one of its largest donors. Exchanging money to support the arts certainly isn't a crime, but the majority of the Sacklers' wealth comes from their involvement with Purdue Pharma—the primary manufacturer and distributor of the extremely addictive and deadly drug OxyContin.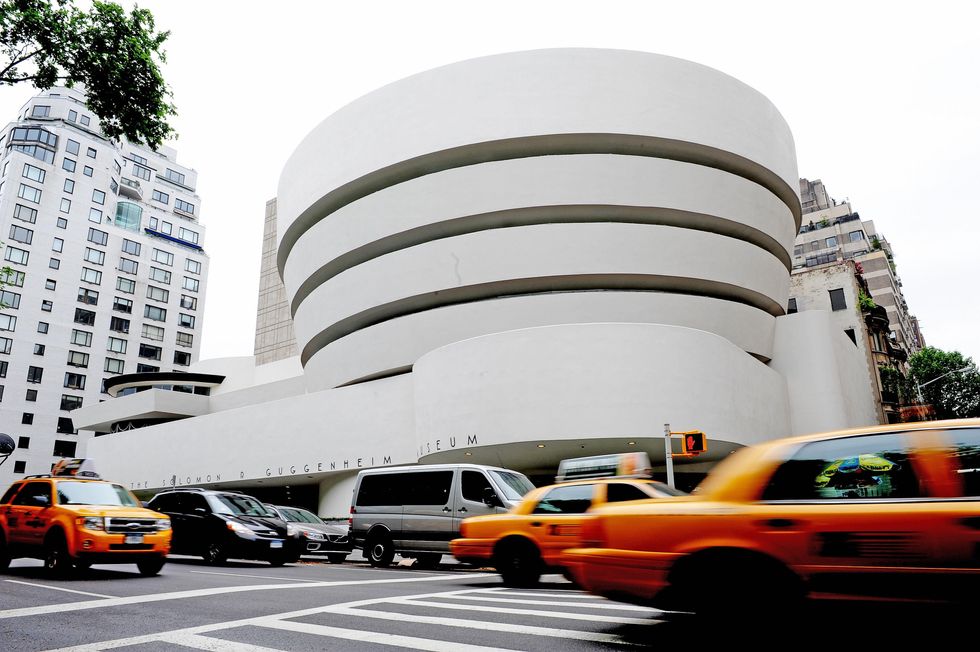 Image via the Forum
In 2013, Goldin was prescribed OxyContin for wrist surgery. "I ended up locked in my room for three years," she told the crowd that gathered in the Guggenheim on Saturday night. "I came to and I realized it was time to speak out." After a near-death experience with the drug, Goldin dedicated herself to taking down the Sackler Family, the group of billionaire pharmaceutical moguls who made tens of millions of dollars off OxyContin sales before the drug was flagged and criminalized for its addictive properties.

In 2007, Purdue Pharma admitted that OxyContin's branding was misinformative, but continued to distribute and profit off the product, allegedly paying themselves as much as $4 billion that year. Since then, waves of lawsuits have continued to dog the pharmaceutical company as they have continued to profit off opioid sales. In 2018, New York City won $500 million in damages as part of a suit against Purdue and a host of other narcotics peddlers, including the makers of Percocet and fentanyl patches.
None of the Sackler family members themselves have been individually targeted, though lawyers hope this may change as investigations ramp up, thanks to protests like Goldin's. Also, the sheer number of opiod-related deaths each day in America—over 130 per day, according to the U.S. Department of Health and Public Services—is a factor that's hard to ignore.
The Sacklers have filtered money earned through Purdue into thousands of cultural institutions, including the Guggenheim, which has its own Sackler wing. Other institutions that have benefitted from their donations include the Metropolitan Museum of Art, the Smithsonian, Harvard, and MIT. Goldin, among other activists, has been calling for the museums to stop taking Sackler money for years; her organization P. A. I. N. (Prescription Addiction Intervention Now) has staged die-ins at the Met, among other protests.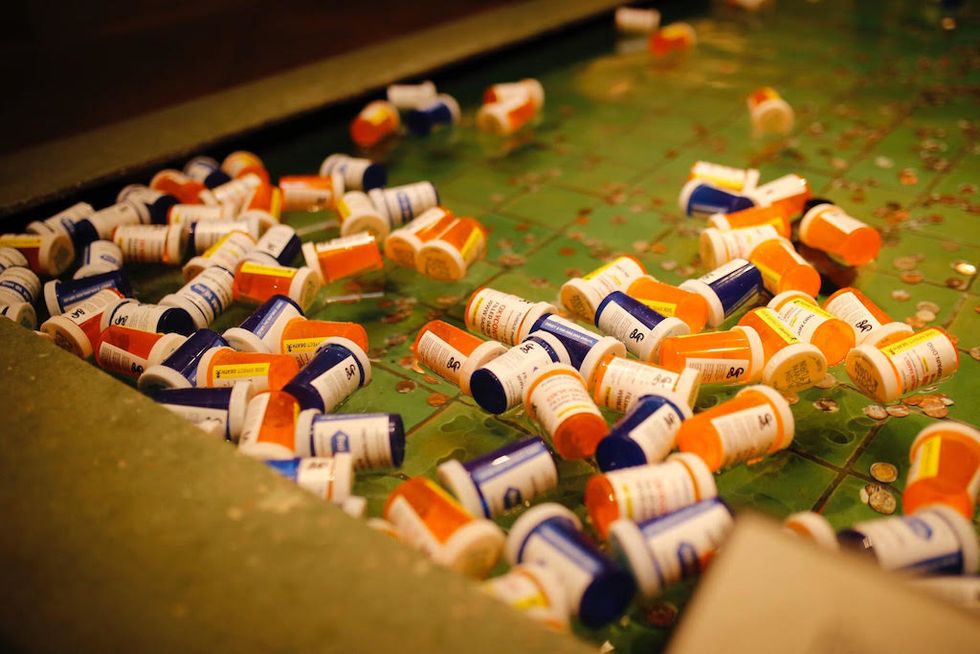 Image from a P.A.I.N. ProtestImage via ART News
That February night at the Guggenheim, protesters dropped sheets of paper resembling prescription notes from balconies high above, each printed with various Sackler quotes. One bore a phrase spoken by the late Purdue president Richard Sackler, in which he advised his employees to "hammer on abusers in every way possible," belying insidious involvement and intentional sabotage of already vulnerable populations. The quote appeared in a recent Massachusetts court filing that is accusing the Sackler family of direct, intentional involvement with the start of the opioid crisis. "It is an attractive market," an internal memo read, according to the suit. "Large unmet need for vulnerable, underserved and stigmatized patient population suffering from substance abuse, dependence and addiction."
So far, all of the aforementioned institutions have continued taking Sackler money, though the Met announced in January that it was planning on reconsidering its gift acceptance policies.
"We see museums and cultural institutions glorifying the very rich and we also see them giving them positions of power," one of the protestors, L. A. Kauffman, told ArtNews. "The Sackler family is one of many who has been able to stand outside the law because of their great wealth and we are saying: the time is up."
---
Eden Arielle Gordon is a writer and musician from New York City. Follow her on Twitter at @edenarielmusic.