"A tree is best measured when it is down," the poet Carl Sandburg once observed, "and so it is with people." The recent death of Harry Belafonte at the age of 96 has prompted many assessments of what this pioneering singer-actor-activist accomplished in a long and fruitful life.
Belafonte's career as a ground-breaking entertainer brought him substantial wealth and fame; according to Playbill magazine, "By 1959, he was the highest paid Black entertainer in the industry, appearing in raucously successful engagements in Las Vegas, New York, and Los Angeles." He scored on Broadway, winning a 1954 Tony for Best Featured Actor in a Musical – John Murray Anderson's Almanac. Belafonte was the first Black person to win the prestigious award. A 1960 television special, "Tonight with Belafonte," brought him an Emmy for Outstanding Performance in a Variety or Musical Program or Series, making him the first Black person to win that award. He found equal success in the recording studio, bringing Calypso music to the masses via such hits as "Day-O (The Banana Boat Song)" and "Jamaica Farewell."
Harry Belafonte - Day-O (The Banana Boat Song) (Live)www.youtube.com
Belafonte's blockbuster stardom is all the more remarkable for happening in a world plagued by virulent systemic racism. Though he never stopped performing, by the early 1960s he'd shifted his energies to the nascent Civil Right movement. He was a friend and adviser to the Reverend Doctor Martin Luther King, Jr. and, as the New York Times stated, Belafonte "put up much of the seed money to help start the Student Nonviolent Coordinating Committee and was one of the principal fund-raisers for that organization and Dr. King's Southern Christian Leadership Conference."
The Southern Poverty Law Center notes that "he helped launch one of Mississippi's first voter registration drives and provided funding for the Freedom Riders. His activism extended beyond the U.S. as he fought against apartheid alongside Nelson Mandela and Miriam Makeba, campaigned for Mandela's release from prison, and advocated for famine relief in Africa." And in 1987, he received an appointment to UNICEF as a goodwill ambassador.
Over a career spanning more than seventy years, Belafonte brought joy to millions of people. He also did something that is, perhaps, even greater: he fostered the hope that a better world for all could be created. And, by his example, demonstrated how we might go about bringing that world into existence.
Cancel culture and feigned outrage need to face the facts...
SPONSORED / PAID FOR BY DTC (DEFEND THE COMICS) 
SPECIES: HOMO SAPIEN
TAXONOMY: a.1.43.Luke.19.1971.OT.
TYPE: 1ST PERSON EXPERIENTIAL
INDICATIONS AND MEDICAL DISCLOSURE: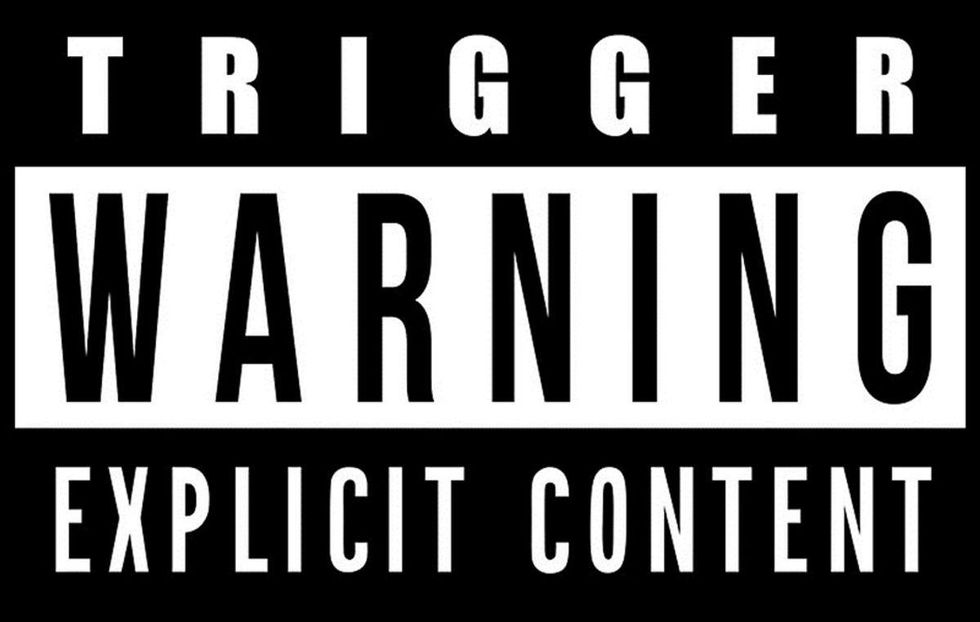 ZEITFRO® (alkaline antifreeze [ALF]) [dosage/instructions: taken after scone and artisanal Cappucino--read below-- 2x per day or otherwise directed by a medical doctor; limit: three doses per day]
INDICATIONS AND DOSAGE: ONE READING HAS BEEN CLINICALLY PROVEN TO SHOW SIGNS OF HELPING TO HELP, OR POTENTIALLY TRYING TO HELP BUT FAILING OR RECEIVING A PARTICIPATION BADGE FOR TRYING, ANTISOCIAL BEHAVIOR INCLUDING HATING AS DISPLACEMENT OF SELF-LOATHING OR SELF-LOVE (AKA SCHADENFREUDE), SYMPTOMS CAUSED BY EXCESSIVE NARCISSISM, ENNUI, ANGER MANAGEMENT DISORDER, AND NTDWYTFOCS [also known as ATW (ACUTE TIME WASTING) SYNDROME, OFTEN LINKED TO CHILDHOOD CRUELTY TO SMALL ANIMALS AND LIFE-LONG PATTERNS OF SOCIOPATHIC BEHAVIOR].
PARENTAL WARNING: UNCENSORED THOUGHTS CONTAINED BELOW, SOME OF WHICH MIGHT CAUSE SEIZURES, 'HOT DOG' FINGERS, ACUTE RESPIRATORY FAILURE INCLUDING POPCORN LUNGS, PINPRICK MACROECONOMIC BUBBLE BURSTING, THE ABANDONMENT OF ALLIES OF CONVENIENCE AKA 'MILD GENOCIDAL SYNDROME' (MGS and gluten-free), CARDIAC EPISODES, PANIC ATTACKS AND HALLUCINATIONS FEATURING CAMEOS BY BILL COSBY, RON HOWARD, GLORIA ESTEFAN, KEVIN SPACEY, HEART (the WHOLE band), R. KELLY AND ALL THE CATHOLIC PRIESTS OF YOUR YOUTH. ANYONE WHO HAS DIABETES OR ERECTILE DYSFUNCTION SHOULD CONSULT A DOCTOR BEFORE READING THIS ARTICLE. THOSE WITH GENDER APHASIA OR WHO WANT TO CHANGE GENDER ARE ALSO ADVISED TO WEAR 3-D GLASSES BEFORE READING BELOW THIS LINE OF TEXT. FURTHERMORE, FWIW FOR ALL WHO HAVE THE FOBLO VARIANT OF COVID. DO NOT TRY THIS AT HOME WITHOUT A 'SPOTTER.'
How about this comment from my mom's friend sitting next to me, a half-Jewish woman who I worried about offending by clicking "play" on Netflix on the now-infamous Chappelle special?
"I don't understand what the controversy is about..."
Well, yeah - that was the best outcome I could've hoped for when I pressured two aging hippies, activists who pushed for the Gloria Steinem / Helen Ready phase of feminism. But they also participated in the stuff that led MLK and Rosa Parks to fight hard for their place at the front of the bus. Full disclosure - one is my mother. The other is a woman I'll just call Bob (challenge parenthetical: use Hitchhiker's Guide to grok the Bob reference) so that nobody cancels this blue-haired beauty. Bob danced with Mama Cass and performed with the Rockettes. She is half-Jewish.
Archie Bunker is top of my mind as I write these words, and I know that Norman Lear knew what he was doing with that comedy. But he's a Space Jew (jk… duh).
What did Bob say to me when Chappelle's confessional comedy canon-fire finished with a punchline about sucking dick?
"I don't understand what the controversy is about..." -- Bob
Who'll be the hero of the inevitable swing of the pendulum towards some kind of true north -- fucking David Chappelle. I won't use that N-word here, because I'm not allowed. I don't want to be aborted before the fetus becomes human, and I'm not brown like Chappelle. Actually, I will use it - he's a Bad-ass N - as in Nostradamus. A hard one who tells the truth. And we can all learn from his truth.
All this is to say - Chappelle is a good lad, for real. He's not just a comedic genius. He's a man who fought against all odds, a scrapper (like my mom and her friend) looking to break the chain of privileged control of wealth and do his mfg thing. He knows his people and his history - and not just the black part of it all. And he is funny as fuck.
Here's the thing about it: I personally believe that America is *UN - FUCKING - AMERICAN*right now, and Chappelle fired a giant warning flare into the sky, an S.O.S. We need to talk, laugh, discuss things. We should not look for "gotcha" moments and reasons for hating one another.
We don't all need to be homogenous robots praying at the altar of some sort of C culture of silliness. Why work if you can whine? Nah. People want to work. We need to be human. Humans are tribal and we will have bias. And then there's this -- stereotypes contain both truth and danger. Not forever-truth but truth that comes from history, from epigenetic behavior that crosses culture and art and charisma and bloodlines stretching back to Africa. That's why I want to say this: Chappelle is our Nostradamus. If we look back years from now and identify a cultural inflection point, we will need a person in charge of that moment. That's kind of the way we catalog history.

Excerpt from new Rasmussen poll rasmussenreports.com
If you can't beat them, join 'em. Check out this newly published poll. These polls are super corrupt, I know. Just do the math. I mean - who wants jury duty or has time for this b.s.? Well-and-so, Facebook including Instagram - might be the altar to pray at for popular opinion. But… err… why is everyone on Facebook talking about what they had for breakfast and trolling for self-confidence from busted-up spaghetti code companies run by self-loathing geeks? I mean, who died and made Zuckerberg the foremost expert on how to be social? Sheesh - he comes across as the kind of dude who not only got shoved in the locker at high school but actually deserved it.
On a serious (not 'suck my dick'... tsk-tsk) note, I will also say this about Mr. Chappelle: he's worthy of comparison to the great comics who came before - everyone from Groucho to Gleeson to Lenny Bruce, Pryor, Robin Williams, Eddie Murphy, Rock, Tina Fey, and we cannot forget Carlin. But here's the thing that might be more important - he really feels. He's not out to judge, but to connect with everyone from trans people to the waiter at the fancy places he frequents. He's an empath - and not in some kind of bullshit X-Files way.
He's someone who keeps score according to a personal moral code that he cannot ignore and which informs his craft. That makes him a full-blown creator of literature and art who will be remembered for a long time to come. He's a storyteller and social commentator on par with some of the world's greatest - Oscar Wilde, James Baldwin, Dick Gregory, Lou Reed, Michael Lewis, Malcolm Gladwell, David Sedaris, Jay-Z, Regina King, Kendrick Lamar - writers and thinkers.
His (he / him / his) comedy is part of the new literature we need to consume because by doing so, we learn.
Thanks, Chappelle, for the S.O.S. We've got to save this fucking ship.
GOAT. Rising.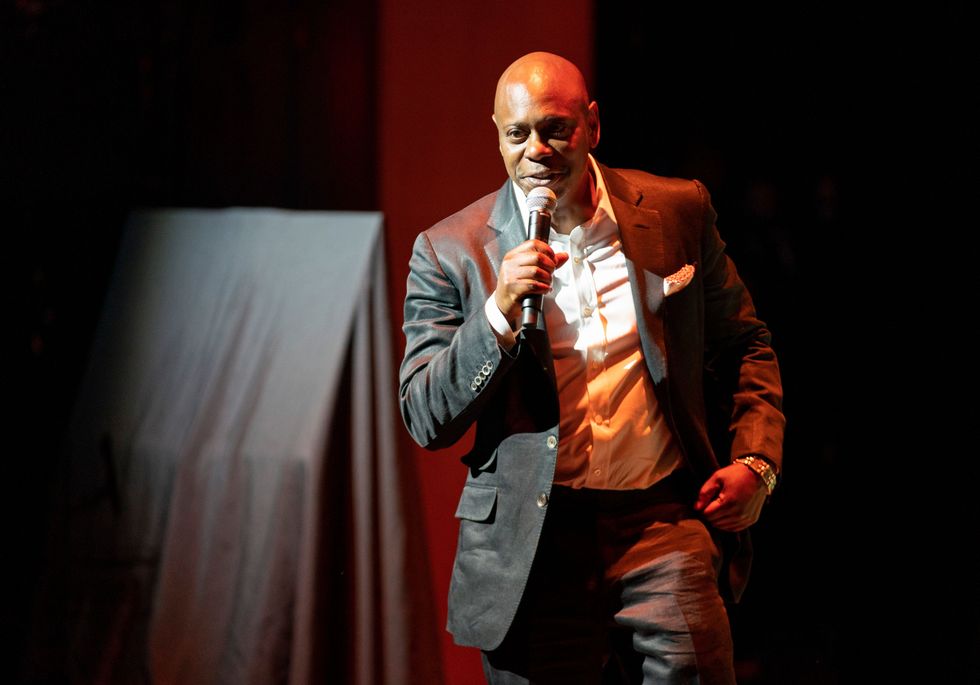 Dave Chappelle Photo by By Gemunu Amarasinghe (AP/Shutterstock)
Some songs as a p.s. [warning: internet connection and decent speakers required]:
True to Myself - Ziggy Marley
What a Wonderful World - Louis Armstrong
Thousands are Sailing - The Pogues
Same Love - Macklemore
Street Fighting Man - Rolling Stones
Daydream Believer - The Monkees
Why Are You On Facebook - Van Morrison
Dirty Boulevard - Lou Reed
Girls - Beastie Boys
Je T'aime, Serge Gainsbourg/Charlotte Gainsbourg
Democracy - Lumineers
Rain Street - Pogues
Angel of Harlem - U2
Black Boys on Mopeds - Sinead O'Connor
Lonely Teardrops - Jackie Wilson
River - Leon Bridges
For too long we've been told that "Black" politics would scare away moderates
First thing's first: I need white people to stop treating Stacey Abrams like their savior.
Deification, a form of dehumanization, strips a person of their humanity and turns them into a symbol. By overhyping Stacey Abrams, white people assert their goodness on the back of a Black woman, trying to be woke by association.
While Abrams deserves much praise, we cannot continue to place superhuman expectations upon her. We also cannot act like she was solely responsible for discovering a secret to turning Georgia blue. The reality is that Stacey Abrams worked tirelessly alongside other dedicated organizers to address the voter suppression Black people have been fighting in Georgia for decades.
So why haven't democratic politicians done this before? Obama did, campaigning at a grass roots level and counting on disenfranchised voters. But he was Obama, people might say, of course Black people will vote for him. The "Black vote" in political discourse is treated as an ineffable mystery and often discarded as impossible to count on. Black people just don't vote, politicians say, then focus their attention elsewhere.
So when the Black vote (alongside other BIPOC demographics such as the historic voter turnout of Indigenous populations in Arizona) undoubtedly delivered the 2020 election to the Democrats, then did the same for the House in the Georgia run-offs, everyone was talking about Stacey Abrams in a way a little too reminiscent of how the dad talked in Get Out.
But the election results revealed that Black voters are in fact the key to the Democratic Party's success. When is the Party going to start acting like it?
All through the election year, Democrats were convinced that playing it safe was the key to defeating Trump.
By electing Biden as the nominee instead of more "radical" Democratic candidates like Bernie Sanders or Elizabeth Warren, the DNC were adamant that the game plan was to appeal to white moderates — which meant not scaring them away.
So while Biden picked Harris, a biracial Black and Indian woman, as his Vice President, their campaign strategy was to hover around the center and appeal to white voters who somehow just weren't sure who to vote for yet.
Meanwhile, the country was going through a period of major racial protest. Black Lives Matter protesters spent the summer appealing for an end to police brutality, for legislative protection, for defunding the police and reexamining the carceral system in light of its racist roots.
And though there were some tweets and statements from major Democratic politicians in response to the murder of George Floyd, as well as that super embarrassing thing with the Kinte cloths, the sentiment remained that actually addressing the demands of protestors would be too risky and scare away the nice white voters.
Well, the nice white voters went for Trump.

Exit polls showed that 58% of white voters voted for Trump — an increase from the 2016 election. And while Trump made percentage gains with Black men, Black people overwhelmingly voted for Biden. And in key cities in key states, Black voters having the agency to vote in the presidential election and in the Georgia Senate races was instrumental in the Democratic wins.
The numbers speak for themselves. In his election speech, Biden even thanked Black voters for being instrumental to his victory. But Biden's main message was one of healing — not for marginalized groups who suffered most under the Trump presidency, but for … "the soul of America"?

Biden's speech seemed to focus on restoring party communication, going back to his comfortable place in the center and telling us (while invoking Langston Hughes in his references to "dreams deferred") to join him.
For many Black voters, moving to the center looks like regression. Again, the Democratic rhetoric was one that appealed to white moderates, to appease their concerns and placate their nerves after a year of proverbially "difficult" conversations and "reckoning."
But for Black Americans, the most difficult thing is being constantly gaslit — being told by a party which claims to care about us that fighting for our concerns (read: our lives) is too much, too difficult, too frightening.
In response to the calls to defund the police, many major Democrats were quick to dismiss the movement. Biden himself said that he did not want to defund the police. "I support conditioning federal aid to police based on whether or not they meet certain basic standards of decency and honorableness," he said instead, again appealing to vague notions of morality rather than actionable policy.
Even Black politicians took up this rhetoric. South Carolina Representative and major Civil Rights activist James Clyburn said that "nobody is going to defund the police," and that "police have a role to play." His plea was against "sloganeering," claiming that pleas like "Defund the Police'' would undermine the movement and lose the election.
Barack Obama said something similar (thanks, Obama): "If you believe, as I do, that we should be able to reform the criminal justice system so that it's not biased and treats everybody fairly, I guess you can use a snappy slogan, like Defund the Police, but, you know, you lost a big audience the minute you say it."
These sentiments are the work of years of conditioning that expects Black people to acquiesce to white audiences, to settle for banal "reform" and "slow, steady change" instead of radical action. They are examples of respectability politics and tone policing that reinforce the idea that Black folks are a liability, harming our own progress by scaring away potential allies.
But we're tired of it.
In the wake of the dismissal of BLM slogans, many major progressives also spoke out. Representative Ilhan Omar responded to Obama's comment in a tweet, saying: "We lose people in the hands of police. It's not a slogan but a policy demand. And centering the demand for equitable investments and budgets for communities across the country gets us progress and safety."
We lose people in the hands of police. It's not a slogan but a policy demand. And centering the demand for equitabl… https://t.co/fh8ftnTR7t

— Ilhan Omar (@Ilhan Omar) 1606872699
Her response points out the danger in the quick dismissal by these politicians: too focused on how the slogan sounds, they fail to address the policy changes it calls to action and continue to support a system of policing which currently exists in a fundamentally oppressive structure. Reform is not enough, complete restructuring and radical change is the only answer.

Most Black Americans do not have the privilege of not understanding this. And, after delivering the election to Biden and the Senate, we want recognition.
We want to no longer be the big scary thing that Democrats are afraid of. We want to be taken seriously, and we want our demands to be met, our communities to be prioritized, and our people to stop dying at the hands of the state.
Black voters do not appear magically to deliver democracy if white people click their heels, repost an infographic, and say, "Stacey Abrams" in the mirror three times. The Black Vote is a collection of diverse, real people who are tired of being treated like a liability, a threat to the party they have always been loyal to.
It's time the party returned the favor — pointing out the obvious transgressions of the (soon) past administration will not be enough. With a blue senate, Biden has the opportunity to be bold, to enact real change for the communities who showed up for him, despite his own flaws and a year spent turning his back to us for the sake of white voters who did not.
For most people, Biden's plan is great news.
With the election of Joe Biden to the Presidency, you're probably here seeking to understand how much your taxes are going to go up.
The answer: most people will see no tax increases.
The tax plan that Joe Biden has rolled out is targeted at individuals making more than $400,000 a year, less than 1% of the population of the US. If you (like me) are not one of these lucky individuals, then it's very-likely that nothing in this article is going to apply to you.
But, for argument's sake, let's hop in the Model S, drive over to the penthouse, and analyze what Biden's tax code plans mean for you.
If you make over $400,000 a year
First, Biden is going to impose a 12.4% tax on incomes over $400,000 to fund Social Security, split evenly between employers and employees. This is a new tax, because Social Security taxes in the past have been capped on income at or below $137,700.
People who made over $137,700 had a tax break where they didn't have to pay into Social Security for all of their income. Biden's tax plan still allows people making over $137,700 to not pay the Social Security payroll tax for income above that amount as long as they make under $400,000.
When your income exceeds $400,000, you then have to start paying the tax again. This creates an interesting tax structure where people's income at the very bottom and the very top of their income is being taxed for Social Security, but income in the middle is not.
Second, while Biden is likely to keep many of changes from the Tax Cuts and Jobs Act, he has stated that he is going to revert the marginal tax rate for individual incomes above $400,000 from 37% back to the previous 39.6%. As with the Social Security tax, this does not kick in unless your income goes above $400,000.
Individuals making above $400,000 will also have their incomes above $400,000 see itemized deductions capped at 28%. That means if your income is over $400,000 and your tax rate is over 28%, you have less options for itemizing your deductions to get a lower tax rate.
Some business owners have benefitted from deducting up to 20% of their business income as well as 20% of the dividends from qualifying Real Estate Investment Trusts (REITs) on their taxes. Biden is proposing phasing that out for incomes above – drumroll - $400,000.
But what if you're not just making $400,000 a year? What if you are making even more than $400,000 a year? What if you earn over $1 million a year? That's when Biden's really going to hit you where it hurts – your investments.
Most people pay taxes on what's called "earned income," referring to things like your salary at your job. The tax rates for that range from 10% to 37%, depending on how much you make. If you make money from investments instead, that's a whole different story.
If you buy an investment and sell it for a profit within one year of purchase, you would pay your normal income tax on any profit you make. But if you hold the investment for longer than a year, you pay a reduced tax rate between 0% and 20%, depending on your income.
If you make over $200,000 ($250,000 for married couples), you would also pay a 3.8% tax on net investment income. What Biden is proposing is taxing any income over $1 million the same regardless of it comes from your salary or your long-term investments.
The wealthiest people in the US have seen a large amount of their income come from investments, and this measure would keep the wealthiest Americans from paying less in taxes than average working people just because the money comes from holding stocks or real estate instead of a traditional job.
If you make under $400,000 a year
Let's say that you, like more than 99% of Americans, do not make $400,000 a year. Does this mean Biden's tax plan will not affect you at all? There's actually a decent chance you might see some changes to your taxes.
Biden is proposing bringing back the First-Time Homebuyers' Tax Credit, originally created to help the housing market during the Great Recession, and provide up to $15,000 for first-time homebuyers. With interest rates at historic lows, this may be another incentive for you to consider dipping your toes into the real estate game and becoming a homeowner.
Biden is also proposing expanding the Child and Dependent Care Tax Credit from $3,000 up to $8,000 for one dependent and $16,000 if you have multiple dependents. The maximum reimbursement rate would also adjust from 35% to 50%. If you have kids or other dependents, this may reduce how much you pay in taxes by giving you a child tax credit the money you spend to support your family.
Biden also has a few very targeted tax cuts and tax benefits that will apply to a much smaller group of people. One is expanding the Earned Income Tax Credit (a tax credit for low-income people who are very close to the poverty line) and allowing people over the age of 65 to also claim the credit even if they do not have dependent children.
He would also provide a refundable low-income renter's credit, reinstate tax credits for the purchase of electric vehicles and improvements to your home to make them more energy-efficient, as well as exempt forgiven student loans from taxable income. These may not apply to as wide a group of people, but if you're older, a renter, looking to live a more green lifestyle, or seeking forgiveness for student loans, Biden's tax proposals can have you looking at a smaller tax bill.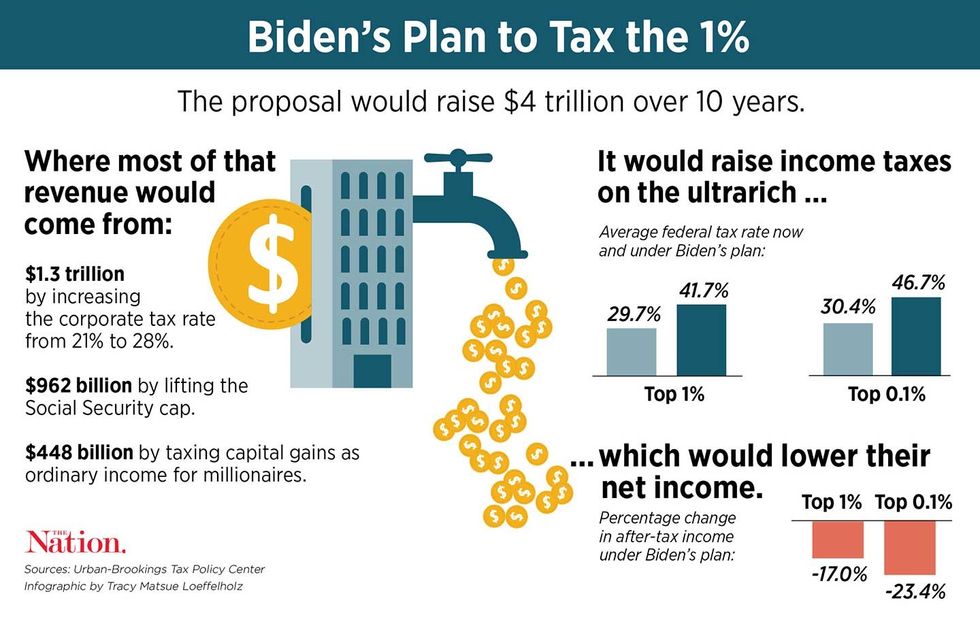 Biden's plans for inheritances
At first glance, it looks like everyone making more than $400,000 a year will pay higher taxes and everyone else will pay less taxes than they currently do. However, there is a part of Biden's tax plan that may have an impact on you even if you are lower income – if you have a rich family.
The Tax Cuts and Jobs Act raised the threshold at which estate taxes are paid and lowered how much they have to pay in taxes. If you stand to inherit an estate worth $11.6 million dollars today ($23 million if you are a married couple), right now you don't pay taxes on it.
If you inherit more than that, you would pay a top rate of 40% tax. Biden is proposing lowering the threshold where the tax would kick in back down to $3.5 million ($7 million for married couples) and raising the tax rate back to 45%. This will affect roughly 0.3% of estates. If you are in the 99.7%, you do not need to worry about the Biden inheritance policy.
Now, the next part is closing an inheritance loophole called the "stepped-up basis" loophole. Right now, when an heir inherits an asset, they only pay taxes on the gain in value of the asset from the time that they inherited it.
Let's say your parents bought $100 worth of stocks decades ago and today those stocks are worth $10,000. If your parents passed away and left you the stocks, you would be allowed to sell them immediately and not pay any taxes.
If you held the stock and the price rose to $12,000, you would only pay taxes on the $2,000 in value the stocks gained since you inherited it. This because the initial value of the stocks would be "stepped-up" to the value at the time you inherited it rather than the value at the time your parents bought it.
This loophole has allowed the very wealthy to leave very valuable assets to their children without needing to pay taxes and allowed generations to pass large fortunes to their children. Biden has proposed closing this loophole and not stepping-up the value of an asset when it is inherited; taxes will instead be paid on the value of the asset from when it was first purchased.
This part of the plan has yet to be fully fleshed-out by Biden, but it appears to be modelled after a proposal from the Obama administration. That plan allowed an exclusion of $100,000 per person (rising with inflation) and excluding $250,000 for primary residences ($500,000 for couples). It also allowed a 15-year payment period and tax deferrals for family-owned small businesses. Biden may roll out similar provisions once he rolls his tax plan out before congress.
Does any of the Biden tax policy outlines even matter?
Maybe?
Biden has presented something of a wish list for his tax plan, but that doesn't mean he can wave a magic wand on January 20th and put it into place. This plan will require significant negotiations in Congress, and if Republicans retain a Senate majority, they may refuse to even allow a bill to have a hearing. Ultimately, Biden's tax proposals may change significantly as they work their way through Congress and if they are not able to garner enough support, they may never come into effect.
Here's everything you need to know about Election Day 2020.
For many of us, it's been a very long, divisive four years. Finally, the end (for better or for worse) is in sight.
Today, November 3rd 2020, all remaining votes for the president of the United States of America will be cast. Most years we know who will be the next president by the end of election night, but like many things in 2020, this election will likely be different.
In fact, it's highly likely that we won't know whether Joe Biden or Donald Trump won the presidency tonight.
Here's why:
Mail-In Ballots
Most significantly, results will likely take longer than normal because more people than ever are voting by mail this year due to the global health crisis. It takes longer to count mailed in ballots because states have to verify signatures and other safeguards against voter fraud. Additionally, some states don't allow mail ballots to be processed until election day, and some states still count mail ballots received after election day as long as they're postmarked by election day.
More Votes
Say what you will about this administration, but it has certainly mobilized voters. Prior to today, over 91 million Americans had already voted, a number that represents around 67% of the total ballots cast in the 2016 presidential election. By the end of today, experts believe we will see record-setting voter turn out.
Early Tallies Will Likely Be Misleading
Some states count the ballots cast on election day first, and experts believe these counts are likely to favor Trump, as his supporters are more likely to vote on election day. In contrast, other states count mail-in ballots cast prior to election day first, and these results are likely to favor Biden, as polls show that his supporters are more likely to vote by mail this year. Essentially, we are unlikely to get a clear picture of who won the presidency until all ballots are counted.
US Postal Service Delays
Due to delays in deliveries by the U.S. Postal Service, many are fearful that ballots won't arrive in time to be counted. To add to the injustice of this, Republicans, including Trump's camp, have been filing lawsuits to keep ballots delivered after election day from being counted.
To illustrate the magnitude of this problem, one can look to Michigan, where an appeals court has struck down a 14-day ballot-counting extension, meaning that voters are now being urged to drop off their mail in ballots in person. Courts have also ruled that extensions aren't allowed in Wisconsin and Indiana.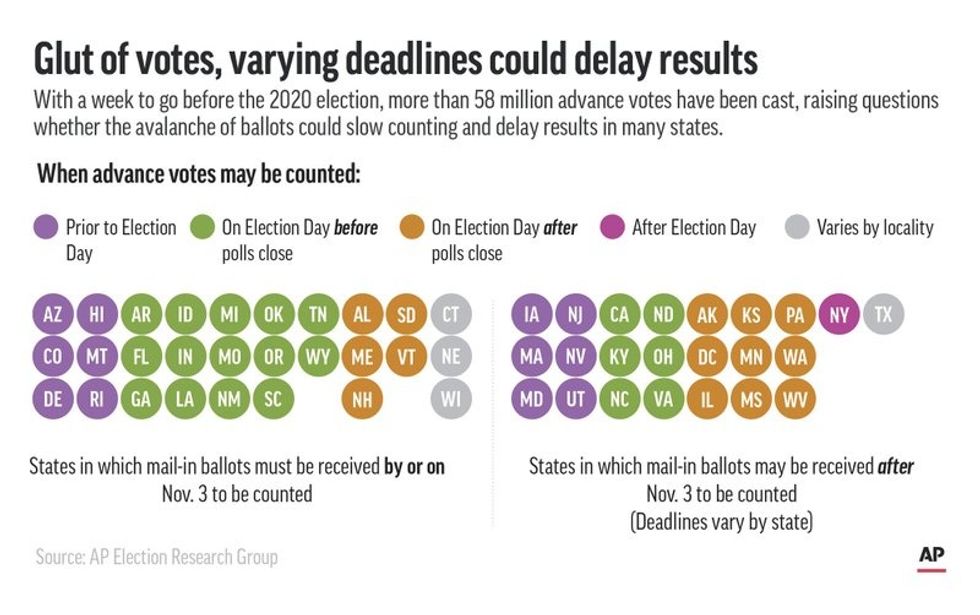 AP News
So when will we know who won?
We won't have a clear picture of who won until the swing states have been tallied. Here's when we can expect that to happen for each state.
Florida
Mail-in ballots can legally be counted in advance of election night in Florida, so we're likely to have an accurate picture of results tonight, which officials can release around 7:30 pm ET. However, if the election is close they may not call the state until Wednesday or Thursday.
Arizona
State law in Arizona allows mail-in ballots to be counted up to two weeks before election day, so it's likely election officials in Arizona have a clear picture of mail-in ballot results already. Arizona early vote results and and mail-in vote results can both legally be released about 10 p.m. ET tonight, and election day votes will soon follow. We may know Arizona's results on election night, but if the race is tight they may not call it for several days.
Michigan
We are unlikely to know Michigan's results on election night. According to NPR, "In Michigan, election officials in cities with more than 25,000 residents can start processing mail ballots on Monday at 10 a.m., sorting ballots and removing outer envelopes. They can't be counted, though, until Election Day."
"It could takeuntil Friday, Nov. 6 for all ballots to be counted," the office of Michigan Secretary of State Jocelyn Benson wrote on Thursday.
North Carolina
North Carolina has a very similar system to Arizona, so while we may know results on election night, its also possible it will take several days if the race is tight. 80% of voters already cast their ballots either through the mail or via early voting, but that remaining 20% who will vote on election day are more likely to be Trump voters.
"For the 20% or so of North Carolinians who vote on Election Day, we will be receiving those from the precinct and uploading those, as well," executive director of the North Carolina State Board of Elections Karen Brinson-Bell said on Thursday. "So, if there are really close races, those Election Day votes will tremendously matter in the outcomes of these elections."
Pennsylvania
We're unlikely to know the results of Pennsylvania on election night. Some counties may not even begin tallying absentee ballots until Wednesday. "We're sure it will take more time than it used to," Gov. Tom Wolf said Thursday. "We probably won't know results on election night." Luckily, Pennsylvania can accept mail-in ballots up to three days after the election as long as they are postmarked by election day.
Wisconsin
We should know the results for Wisconsin by Wednesday morning (Nov 4) at the latest. They aren't allowed to pause election counting once its begun according to state law, so its likely election officials will work through the night in some counties to offer results by Wednesday morning.
So...
In summary, it's likely we will not know election results for several days, unless it is such an enormous blow out (unlikely) that results become evident early. This could happen if Biden takes a key Republican state like Texas, but more than likely we'll just have to wait and see.
At his point, anything could be true...
In the early hours of Friday morning, the White House announced that President Donald Trump and first lady Melania Trump had both tested positive for COVID-19.
The news came shortly after it was confirmed that top aide Hope Hicks had tested positive after weeks of travellng with the president to campaign events. As a result, Trump's reelection campaign has canceled a number of upcoming campaign events in battleground states.
The idea of a sitting president contracting a life-threatening virus around a month before the 2020 election seems like the definition of a so-called "October surprise." But honestly, Donald Trump's reckless behavior in recent weeks—holding public rallies around the country, including a crowded indoor event in Henderson Nevada—makes his diagnosis substantially less surprising.
President Donald Trump said to have minor Covid-19 symptoms: New York Times reportwww.youtube.com
Of course, during Tuesday night's debate, Joe Biden expressed concern about that exact issue, noting that the president has "been totally irresponsible in the way in which he has handled the social distancing ... basically encouraging people not to [wear face masks]" at these events.
Trump, of course, responded by mocking Joe Biden for wearing "the biggest mask I've ever seen" and insisted that—in terms of his rallies and the risk of spreading COVID—"so far we have had no problem whatsoever." Less than 24 hours later, Donald Trump was at yet another rally in Duluth, Minnesota, where unmasked people were standing shoulder to shoulder.
Leaving aside the fact that Trump's "great friend" Herman Cain tested positive for COVID-19 just nine days after attending Donald Trump's Tulsa rally without wearing a face mask—dying soon after—and the fact that the state of Oklahoma saw a massive spike of COVID cases in the weeks following the event, it should finally be impossible for Trump to claim they've had "no problem."
That said, with an incubation period of up to 14 days, it would be unlikely—if Hope Hicks and the president had contracted COVID-19 in Duluth on Wednesday—for a test to come back positive so quickly. But that was the fourth rally the campaign has held in the past two weeks. Either of them might have been exposed in Pennsylvania, Virginia, or Florida.
But all of this ignores one confounding possibility—that this whole story might be just another Trump lie.
The Case Against COVID
Donald Trump has made it a regular practice to introduce some major disruptive news any time a negative story about him is dominating the cycle. Often that includes outright lies.
For the last few days, the story of "the worst debate ever"—mainly the result of Donald Trump constantly interrupting and talking over both his opponent and the debate moderator—has been all cable news wants to talk about. Even Brian Kilmeade—among Tump's biggest fans at Fox News—has expressed some criticism of the president's performance.
'Dumpster fire': See Jake Tapper and Dana Bash's blunt reaction to debatewww.youtube.com
With the election so near, Donald Trump and his team have made it clear that no tactic is too deceptive or underhanded for them to employ if they think it will help him win. So if Trump wanted to disrupt the continued analysis of that awful debate, what are the potential advantages of faking a COVID diagnosis?
For a start, now that he is reportedly ill and faces potentially dire health consequences, any criticism of how he has mishandled the pandemic (including this article) will be easy for his defenders to characterize as cruel politicization of the president's health.
It delivers a more or less guaranteed opportunity to demonize the media—one of Donald Trump's favorite methods for energizing his base—while also ensuring more neutral/positive coverage than he has gotten in recent days. If it works well enough, it might even provide enough media cover for the senate to push through Amy Coney Barrett's controversial nomination to the Supreme Court.

It could also rewrite the debate schedule. The second debate was originally planned for October 15th and will almost certainly be postponed or canceled. Maybe president Trump only wants to have one more debate. If he has a plan to come back from the disastrous first performance with some surprising tactics in one final debate—currently scheduled for October 22nd—Joe Biden will have no third round in which to adjust and counter.
Maybe he's planning to pivot—yet again—to a more disciplined and presidential poise, so that if Biden comes looking for a similar fight, he will instead come across as the combative one. If President Trump returns to the debate stage with a subdued performance, as though he's been humbled by a brush with his own mortality, perhaps he can win back some polite suburban voters who may have been turned off by his bullying debate style—though somehow not by every other aspect of his presidency.
Another advantage of faking a COVID diagnosis would be the opportunity to promote a supposed cure. If Trump claims that he took Chloroquine—or some other unproven treatment—after his diagnosis, and thus experienced only mild symptoms, he gets another chance to tout a "cure" that will soon have this global pandemic under control and the economy back on track. Even better, he can "brag" about how mild his illness was for him—painting himself as tough and healthy and affording another opening to attack Biden's fitness.
This is roughly the approach that fascist Brazilian president Jair Bolsonaro—one of Trump's closest international allies—took when he (possibly) contracted the coronavirus back in July. He was out shaking his supporters' hands and promoting hydroxychloroquine amid conflicting reports about his diagnosis. Was it all a ruse? Is Trump following the same game plan?

On the Other Hand...
Of course, none of this is to say that President Trump definitely doesn't have COVID. It's a highly contagious virus, and his reckless behavior has put him at significant risk.
While there may be tactical benefits to faking a COVID diagnosis, there's a lot of room for downsides as well—potentially inspiring his base to reconsider the threat of the virus and the value of the kind of strict lockdown procedures that could have prevented much of the pandemic's impact in the US. If they start having those thoughts, maybe it won't make so much sense to demonize liberal politicians for shutting things down while hundreds of thousands of Americans are dying...
That scenario may seem like a stretch—Trump's base is far more likely to attribute this kind of news to a Chinese conspiracy to infect their hero than to any GOP incompetence—but the point remains that news of this magnitude shifts the political narrative in unpredictable ways. Would Trump and his campaign really take the risk of faking something like this, even with the chance that it could turn against them?
Who knows? Whatever the arguments on one side or the other, the biggest reasons to question this story—and invest in all this conspiracy theory-logic—are the same reasons we should have learned by now to doubt nearly everything: We can't trust Trump, and we can't trust 2020.
The far-right group has links with the 2017 Unite the Right Rally and recent alt-right rallies in Portland, Oregon.
In case you were blissfully unaware, last night marked the first presidential debate between President Trump and Democratic nominee Joe Biden.
In what has been called "maybe the worst presidential debate in American history," Trump's constant interruptions of both Biden and moderator Chris Wallace did very little to expand his appeal beyond his existing fervent fan base. The president also repeatedly tried to associate Biden with the radical left—a statement that is simply not true. And while Biden kept a relatively calm composure, he missed a few key talking points, his most memorable quote being "Will you shut up, man?"
But the most disconcerting moment in the debate was when President Trump blatantly failed to denounce white supremacy.
"You have repeatedly criticized the vice president for not specifically calling out Antifa and other left wing extremist groups," Wallace said to Trump. "But are you willing tonight to condemn white supremacists and militia groups and to say that they need to stand down and not add to the violence in a number of these cities, as we saw in Kenosha and as we've seen in Portland?"
After a few moments of fumbling and putting the blame on left-wing groups, Trump's response was: "Proud Boys, stand back and stand by."
President Donald Trump: White supremacist group Proud Boys should 'stand back and stand by'www.youtube.com
Social media was immediately flooded with people voicing their concerns. While Trump has clearly displayed white supremacist behavior throughout his presidency, this is perhaps the most blatant example of all. The aforementioned Proud Boys have reportedly been celebrating Trump's apparent endorsement—but who are they, anyway?

The Proud Boys are a far-right, all-male extremist group that was formed in 2016 by Gavin McInnes, who describes the organization as a "pro-Western fraternal organization." Though they firmly denounce any accusations of racism (even filing a defamation lawsuit after being categorized as a hate group), they have been described as violent, nationalistic, Islamophobic, transphobic, and misogynistic. Though they deny any connotation with the alt-right, some of their core values include "anti-political correctness," "anti-racial guilt," and "reinstating a spirit of Western Chauvinism."
In its early months, the Proud Boys veered away from begin just a men's club and began growing into a flat-out, far-right extremist group that lived up to McInnes's longtime racist ideals. "I love being white and I think it's something to be very proud of," McInnes told the New York Times in 2003. "I don't want our culture diluted. We need to close the borders now and let everyone assimilate to a Western, white, English-speaking way of life."
In his detailed plan for the Proud Boys, McInnes stated that members would be sorted into nationwide chapters, and that each member can be sorted into one of three ranks. To achieve the first rank, you must publicly declare your pride in being a Proud Boy. The second is to receive a brutal beating while reciting five breakfast cereal names, and the third is to get a Proud Boy tattoo. "It's very freeing to finally admit the West is the best," McInness wrote. "That's because it's the truth."
No matter what accusations you might hear about violent protests supposedly escalated by Antifa, violence has been a major aspect of the Proud Boys' M.O. since their inception. A notable ex-Proud Boy is Jason Kessler, the founder of the infamous Unite the Right Rally in Charlottesville, Virginia in 2017. Many Proud Boys attended the event, which resulted in the death of a counter-protester named Heather Heyer.
More recently, the Proud Boys have had a significant presence in the current protests and rallies in Portland, Oregon. Their involvement in Black Lives Matter protests has revealed that they feel a duty to assist law enforcement officers.
And now, with fairly explicit approval from Trump, the Proud Boys feel a renewed sense of responsibility to further uphold their xenophobic beliefs.
"To say Proud Boys are energized by [Trump's statement at the debate] is an understatement," Megan Squire, a computer science professor who tracks online extremism, told NBC News. "They were pro-Trump before this shoutout, and they are absolutely over the moon now. Their fantasy is to fight antifa in his defense, and he apparently just asked them to do just that."
Screenshots of the Proud Boys' Telegram, a private messenger app, evidence their glee following the debate.
"Trump basically said go f*ck them up," member Joe Biggs wrote. "This makes me so happy."

If you were somehow unsure of Trump's white supremacy before, hopefully this alarming situation helps clear it up.