Dall-E Mini, the AI-powered text-to-image generator has taken over the internet. With its ability to render nearly anything your meme-loving heart desires, anyone can make their dreams come true.
DALL-E 2, a portmanteau of Salvador Dali, the surrealist and Wall-E, the Pixar robot, was created by OpenAI and is not widely available; it creates far cleaner imagery and was recently used to launch Cosmpolitan's first AI-generated cover. The art world has been one of the first industries to truly embrace AI.
The open-sourced miniature version is what's responsible for the memes. Programmer Boris Dayma wants to make AI more accessible; he built the Dall-E Mini program as part of a competition held by Google and an AI community called Hugging Face.
And with great technology, comes great memes. Typing a short phrase into Dall-E Mini will manifest 9 different amalgamations, theoretically shaping into reality the strange images you've conjured. Its popularity leads to too much traffic, often resulting in an error that can be fixed by refreshing the page or trying again later.
If you want to be a part of the creation of AI-powered engines, it all starts with code. CodeAcademy explains that Dall-E Mini is a seq2seq model, "typically used in natural language processing (NLP) for things like translation and conversational modeling." CodeAcademy's Text Generation course will teach you how to utilize seq2seq, but they also offer opportunities to learn 14+ coding languages at your own pace.
You can choose the Machine Learning Specialist career path if you want to become a Data Scientist who develops these types of programs, but you can also choose courses by language, subject (what is cybersecurity?) or even skill - build a website with HTML, CSS, and more.
CodeAcademy offers many classes for free as well as a free trial; it's an invaluable resource for giving people of all experience levels the fundamentals they need to build the world they want to see.
As for Dall-E Mini, while some have opted to create beauty, most have opted for memes. Here are some of the internet's favorites:
There's no looking back now, not once you've seen Pugachu; artificial intelligence is here to stay.
Feigned outrage and cancel culture need to face the facts...
SPONSORED / PAID FOR BY DTC (DEFEND THE COMICS) 
SPECIES: HOMO SAPIEN
TAXONOMY: a.1.43.Luke.19.1971.OT.
TYPE: 1ST PERSON EXPERIENTIAL
INDICATIONS AND MEDICAL DISCLOSURE: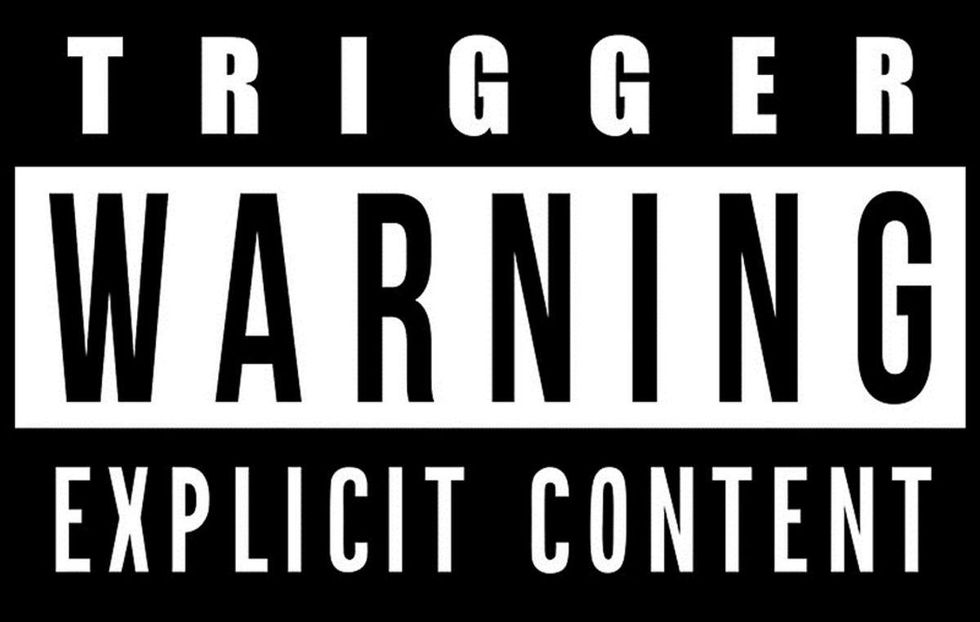 ZEITFRO® (alkaline antifreeze [ALF]) [dosage/instructions: taken after scone and coffee --read below-- 2x per day or otherwise directed by a medical doctor; limit: three doses per day]
INDICATIONS AND DOSAGE: ONE READING HAS BEEN CLINICALLY PROVEN TO SHOW SIGNS OF HELPING TO HELP, OR POTENTIALLY TRYING TO HELP BUT FAILING OR RECEIVING A PARTICIPATION BADGE FOR TRYING, ANTISOCIAL BEHAVIOR INCLUDING HATING AS DISPLACEMENT OF SELF-LOATHING OR SELF-LOVE (AKA SCHADENFREUDE), SYMPTOMS CAUSED BY EXCESSIVE NARCISSISM, ENNUI, ANGER MANAGEMENT DISORDER, AND NTDWYTFOCS [also known as ATW (ACUTE TIME WASTING) SYNDROME, OFTEN LINKED TO CHILDHOOD CRUELTY TO SMALL ANIMALS AND LIFE-LONG PATTERNS OF SOCIOPATHIC BEHAVIOR].
PARENTAL WARNING: UNCENSORED THOUGHTS CONTAINED BELOW, SOME OF WHICH MIGHT CAUSE SEIZURES, 'HOT DOG' FINGERS, ACUTE RESPIRATORY FAILURE INCLUDING POPCORN LUNGS, PINPRICK MACROECONOMIC BUBBLE BURSTING, THE ABANDONMENT OF ALLIES OF CONVENIENCE AKA 'MILD GENOCIDAL SYNDROME' (MGS and gluten-free), CARDIAC EPISODES, PANIC ATTACKS AND HALLUCINATIONS FEATURING CAMEOS BY BILL COSBY, RON HOWARD, GLORIA ESTEFAN, KEVIN SPACEY, HEART (the WHOLE band), R. KELLY AND ALL THE CATHOLIC PRIESTS OF YOUR YOUTH. ANYONE WHO HAS DIABETES OR ERECTILE DYSFUNCTION SHOULD CONSULT A DOCTOR BEFORE READING THIS ARTICLE. THOSE WITH GENDER APHASIA OR WHO WANT TO CHANGE GENDER ARE ALSO ADVISED TO WEAR 3-D GLASSES BEFORE READING BELOW THIS LINE OF TEXT. FURTHERMORE, FWIW FOR ALL WHO HAVE THE FOBLO VARIANT OF COVID. DO NOT TRY THIS AT HOME WITHOUT A 'SPOTTER.'
How about this comment from my mom's friend sitting next to me, a half-Jewish woman who I worried about offending by clicking "play" on Netflix on the now-infamous Chappelle special?
"I don't understand what the controversy is about..."
Well, yeah - that was the best outcome I could've hoped for when I pressured two aging hippies, activists who pushed for the Gloria Steinem / Helen Ready phase of feminism. But they also participated in the stuff that led MLK and Rosa Parks to fight hard for their place at the front of the bus. Full disclosure - one is my mother. The other is a woman I'll just call Bob (challenge parenthetical: use Hitchhiker's Guide to grok the Bob reference) so that nobody cancels this blue-haired beauty. Bob danced with Mama Cass and performed with the Rockettes. She is half-Jewish.
Archie Bunker is top of my mind as I write these words, and I know that Norman Lear knew what he was doing with that comedy. But he's a Space Jew (jk… duh).
What did Bob say to me when Chappelle's confessional comedy canon-fire finished with a punchline about sucking dick?
"I don't understand what the controversy is about..." -- Bob
Who'll be the hero of the inevitable swing of the pendulum towards some kind of true north -- fucking David Chappelle. I won't use that N-word here, because I'm not allowed. I don't want to be aborted before the fetus becomes human, and I'm not brown like Chappelle. Actually, I will use it - he's a Bad-ass N - as in Nostradamus. A hard one who tells the truth. And we can all learn from his truth.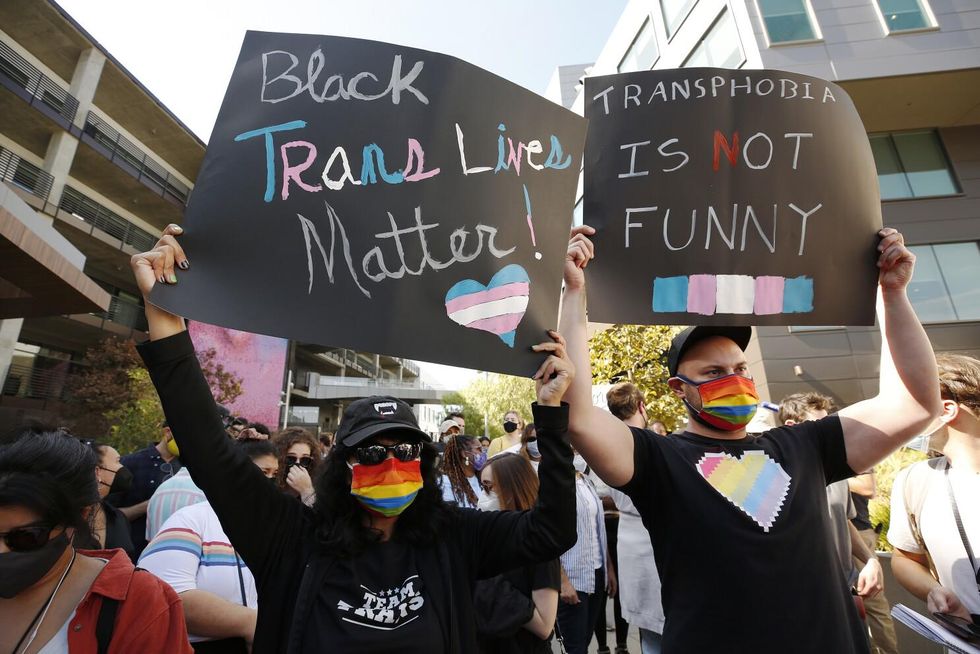 Protestors at Netflix Dave Chappelle Walkout Los Angeles Times
All this is to say - Chappelle is a good lad, for real. He's not just a comedic genius. He's a man who fought against all odds, a scrapper (like my mom and her friend) looking to break the chain of privileged control of wealth and do his mfg thing. He knows his people and his history - and not just the black part of it all. And he is funny as fuck.
Here's the thing about it: I personally believe that America is *UN - FUCKING - AMERICAN* right now, and Chappelle fired a giant warning flare into the sky, an S.O.S. We need to talk, laugh, discuss things. We should not look for "gotcha" moments and reasons for hating one another.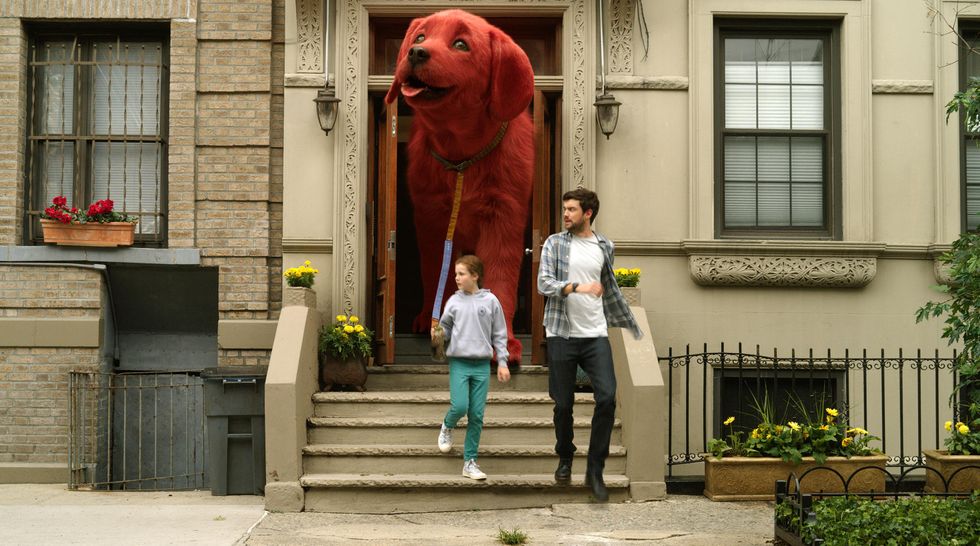 We don't all need to be homogenous robots praying at the altar of some sort of C culture of silliness. Why work if you can whine? Nah. People want to work. We need to be human. Humans are tribal and we will have bias. And then there's this -- stereotypes contain both truth and danger. Not forever-truth but truth that comes from history, from epigenetic behavior that crosses culture and art and charisma and bloodlines stretching back to Africa. That's why I want to say this: Chappelle is our Nostradamus. If we look back years from now and identify a cultural inflection point, we will need a person in charge of that moment. That's kind of the way we catalog history.

Excerpt from new Rasmussen poll rasmussenreports.com
If you can't beat them, join 'em. Check out this newly published poll. These polls are super corrupt, I know. Just do the math. I mean - who wants jury duty or has time for this b.s.? Well-and-so, facebook including instagram - might be the altar to pray at for popular opinion. But… err… why is everyone on facebook talking about what they had for breakfast and trolling for self-confidence from busted-up spaghetti code companies run by self-loathing geeks? I mean, who died and made Zuckerberg the foremost expert on how to be social? Sheesh - he comes across as the kind of dude who not only got shoved in the locker at high school but actually deserved it.
On a serious (not 'suck my dick'... tsk-tsk) note, I will also say this about Mr. Chappelle: he's worthy of comparison to the great comics who came before - everyone from Groucho to Gleeson to Lenny Bruce, Pryor, Robin Williams, Eddie Murphy, Rock, Tina Fey, and we cannot forget Carlin. But here's the thing that might be more important - he really feels. He's not out to judge, but to connect with everyone from trans people to the waiter at the fancy places he frequents. He's an empath - and not in some kind of bullshit X-Files way.
He's someone who keeps score according to a personal moral code that he cannot ignore and which informs his craft. That makes him a full-blown creator of literature and art who will be remembered for a long time to come. He's a storyteller and social commentator on par with some of the greatest - Oscar Wilde, James Baldwin, Dick Gregory, Lou Reed, Michael Lewis, Malcolm Gladwell, David Sedaris, Jay-Z, Regina King, Kendrick Lamar - type of writers and thinkers.
His (he / him / his) comedy is part of the new literature we need to consume, because by doing so, we learn.
Thanks, Chappelle, for the S.O.S. We've got to save this fucking ship.
GOAT. Rising.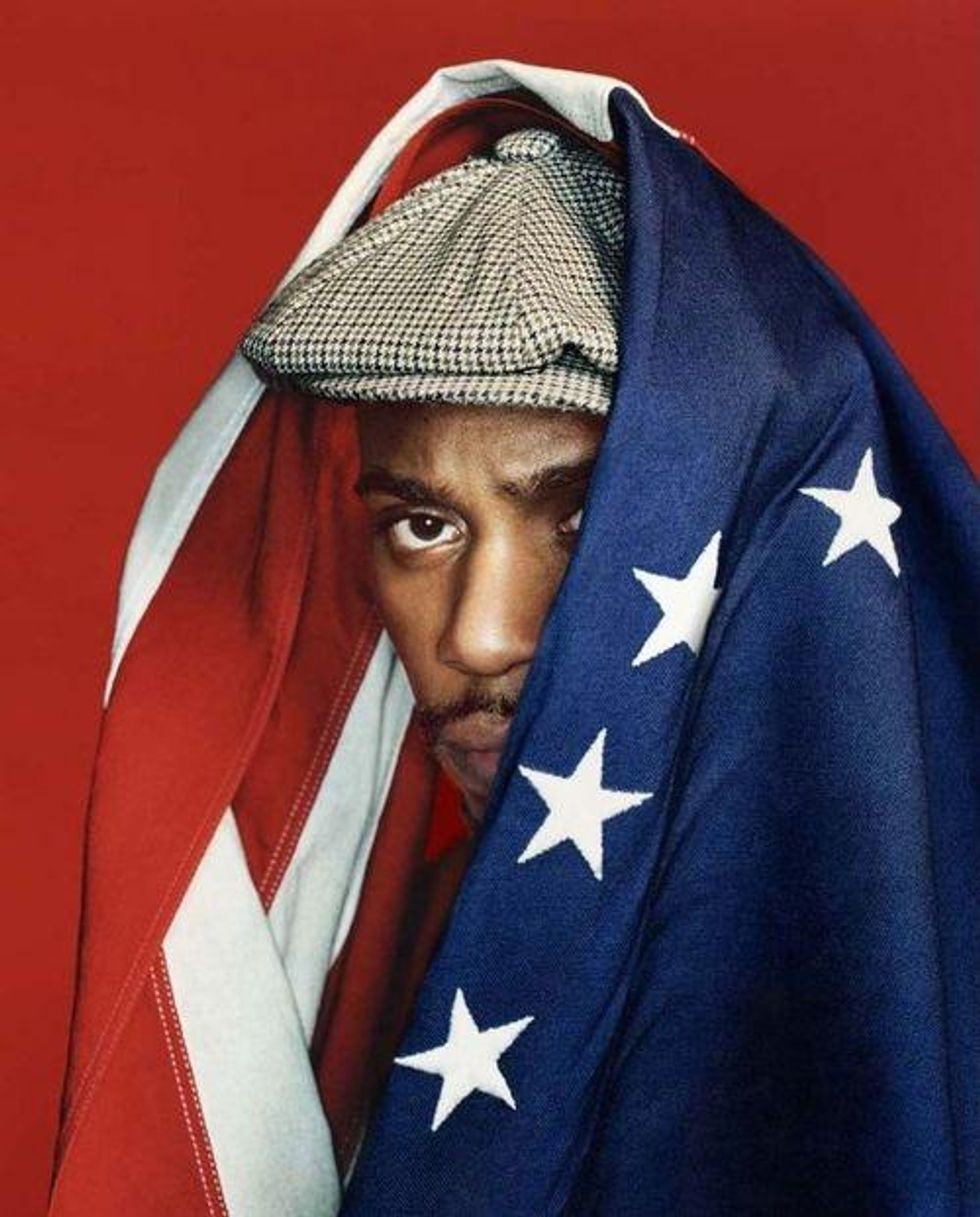 Dave Chappelle draped in the American Flag
Some songs as a p.s. [warning: internet connection and decent speakers required]:
True to Myself - Ziggy Marley
What a Wonderful World - Louis Armstrong
Thousands are Sailing - The Pogues
Same Love - Macklemore
Street Fighting Man - Rolling Stones
Daydream Believer - The Monkees
Why Are You On Facebook - Van Morrison
Dirty Boulevard - Lou Reed
Girls - Beastie Boys
Je T'aime, Serge Gainsbourg/Charlotte Gainsbourg
Democracy - Lumineers
Rain Street - Pogues
Angel of Harlem - U2
Black Boys on Mopeds - Sinead O'Connor
Lonely Teardrops - Jackie Wilson
River - Leon Bridges
Would she be good at the job? Maybe. But the campaign would be a political nightmare...
This week author Tom Bower — who reportedly signed a six-figure book deal to write an unauthorized biography of Meghan Markle — spoke to British tabloid Closer about the Duchess' prospects in American politics.
While her husband Prince Harry would have to get his American citizenship to pursue political office — and could never be eligible for the presidency — as a natural-born American citizen, there would technically be nothing stopping Markle from running for any office, up to and including commander-in-chief. And Bower suspects that's exactly "where she sees herself going."
If she wanted to be president, she would, of course, have to renounce her title as Duchess of Sussex — because the emoluments clause of the US Constitution actually counts if you're a woman, a person of color, a Democrat, or all three in Markle's case. But considering the fact that she and Harry have already stepped back from their royal roles to live as private citizens in America, that doesn't seem like too big a hurdle.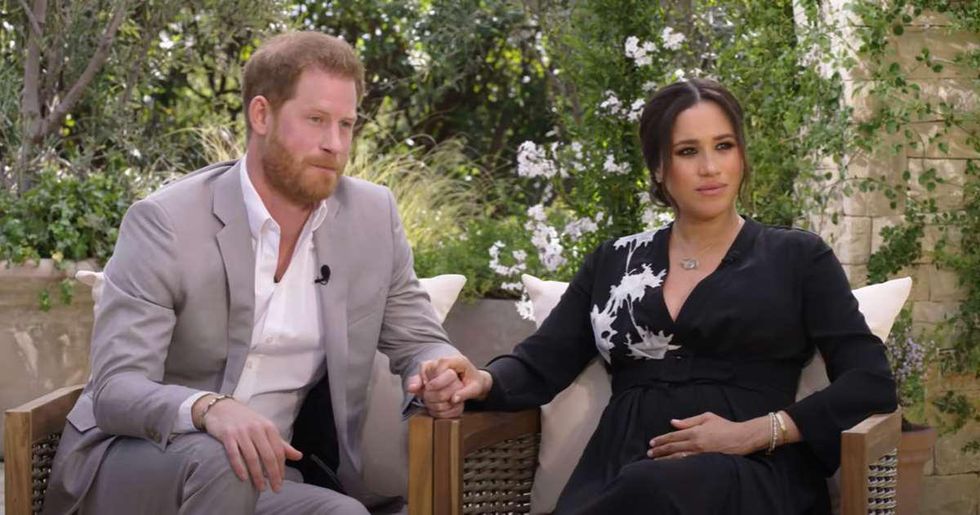 But does Bower even know what he's talking about? In the interview, he claimed that that "the prospect of Meghan running for president is possible and I'd even say likely," but according to The Sun, he has a full year of research ahead of him, which he will spend "speaking to the star and husband Prince Harry's friends, foes and associates."

In short, he might not even have a good sense of Markle yet. And to the extent that he does, he might not be a particularly reliable source.
A Harsh Biographer
Bower is known for his scathing, sometimes questionable portraits of figures from billionaire Richard Branson to former Labor Party leader Jeremy Corbyn and Ghislaine Maxwell's disgraced father Robert Maxwell. If this is another "hatchet job," Bower may simply be painting Markle in what he considers to be the harshest light possible.
While he suggests that she would have "a good chance of getting into the White House," and could "have tea with the Queen one day as President of the United States," he also seems eager to emphasize an unflattering view of Markle as overly-ambitious and hyper-sensitive.
His assertions that she "masterminded" the so-called Megxit she and Harry made from royal life, and that she would "need to learn to take the heat" of public scrutiny as a politician, reflect a perspective that predominates in much of the British media. And his seeming acceptance of reports that Markle bullied staff — claiming that "she doesn't seem to be able to hold onto her team" despite Markle's insistence that said reports are a "calculated smear campaign" — suggest a willingness to side with her detractors.
Has Meghan Split the Royal Family? | Good Morning Britain www.youtube.com
While Markle is generally viewed in a favorable light in the US, that's not the case in Harry's home country, where the royal family is largely still beloved and Markle's damning Oprah interview was seen as out of bounds. The idea that she is eager for the opportunity to run for president plays neatly into a narrative that is already painting her as a selfish opportunist.
Still, according to a friend speaking to Vanity Fair, Markle might "seriously consider" running. So, just in case there's any truth to Bower's perspective, it's worth noting why a Meghan Markle presidential would be a terrible idea...

A Messy Campaign
At first blush she seems like a great option. A young, attractive, poised, and charismatic Black woman, with plenty of experience in the public eye, and close ties to the leadership of one of our nation's closest global allies, she certainly has what it takes to navigate a political campaign... But that campaign would be so awful.
For a start, Markle's "close ties" to Enlgand would not exactly make for smooth diplomacy. Many Britons see her as something akin to a usurper. Elevating her to the highest office in American politics — only after she discards her UK title — would be more likely to sour relations between the two countries than to improve them.
The British narrative would also be guaranteed to make its way over into the American press, with Conservative outlets all too willing to paint an ambitious Black woman as undeserving of her position. While this tactic is guaranteed to be deployed against basically any woman of color running for high office (see: Kamala Harris), the established narrative in the British press would give them a head start, and they would be brutal.
The fact that Markle's estranged and (possibly) envious white father and step-sister would love to play into that story and criticize Markle for doing more with her life than they think she deserved would make things all the worse.
A Royal Celebrity President?
Markle is no doubt aware of all this, and if she feels up to putting herself through such a grueling process — after being driven nearly to suicide by the British press — all for the opportunity to serve her country, good for her. But do we, as a country, really want to deal with that mess for the sake of putting another celebrity in the White House?
Maybe if the former Suits star starts out with a couple terms in Congress, she'll have a strong enough foothold in American politics to be more than just another famous person using their profile to run for high office. Maybe we'd all find out that she's actually great at navigating policy and politics. But until she's proven that, the whole "outsider president" thing is a bit played out.
While a role in the British monarchy is largely ceremonial, the Presidency requires real governance. And we've seen how poorly an amateur can manage that responsibility.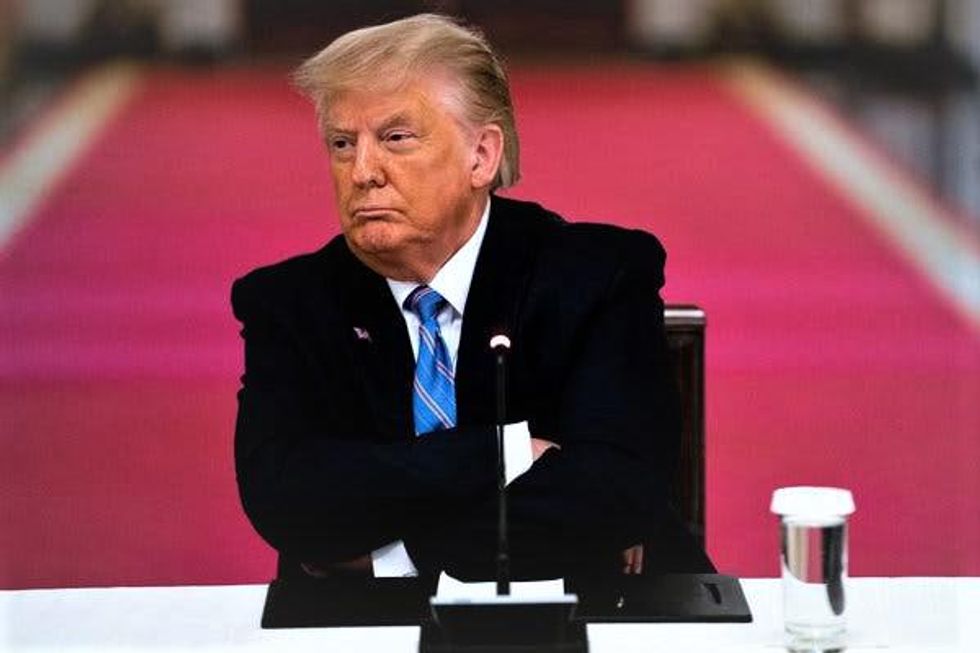 Okay, there's no way she would be this bad...
Finally, on the topic of the monarchy, the United States was founded with the express intent of severing our ties from that institution. Even so, we already have too much of a tendency to create political dynasties — think the Clintons, the Bushes, the Kennedys.

It may be a superficial objection, but the UK doesn't need a monarchy anymore, and we definitely don't need to get the actual British royal family involved in the presidency of the United States. The idea of Harry — the literal great, great, great, great, great, great grandson of the King George III against whom the founders revolted — moving into the White House as the first gentleman is just too weird to think about.
Keep reading...
Show less
Here's the best conspiracy theory you'll hear all day (among the many coming out of the White House): None of this is happening.

Everything since the 2016 presidential election is just b-roll for a parody movie about the American presidency. Our actual president is dancing with Annette Bening at state dinner. Our president is balancing the federal budget with common sense. Our American president is kicking ass on Air Force One.
Like most people these days, I rely on movies to feel anything close to a real emotion. When it comes to political fervor, most of my passion for democracy comes from watching movies about fictional presidents, preferably with excellent cinematography and unrealistically attractive actors who recite Aaron Sorkin lines in bold pant suits during dramatic "walk-and-talk" tracking shots. Who hasn't closed their eyes and pretended The West Wing's Martin Sheen was running America with his soft, uncular gaze?
But rather than analyze what that says about my and most Americans' civic values (or the fact that 96.5 percent of us don't give a f**k about democracy, according to a recent Yale study), I'm going to keep searching for the next great American president in my Netflix queue.
These are the best fictional American presidents (and their finest moments).
Keep reading...
Show less
Biden, Obama, Bush, and Clinton were the four horsemen of the 2021 Inauguration.
Though the physical event was small — due to the enhanced security measures enacted in fear of violence or resistance against the transition of power, and the persisting pandemic — and more than 191,500 flags stood in place of the people that usually crowd the surrounding area, the event was filled with prominent guests and high profile performances, both in person and virtual.
The virtual portion of the day was a mixture of performances, speeches, and video compilations 'hosted' by Tom Hanks.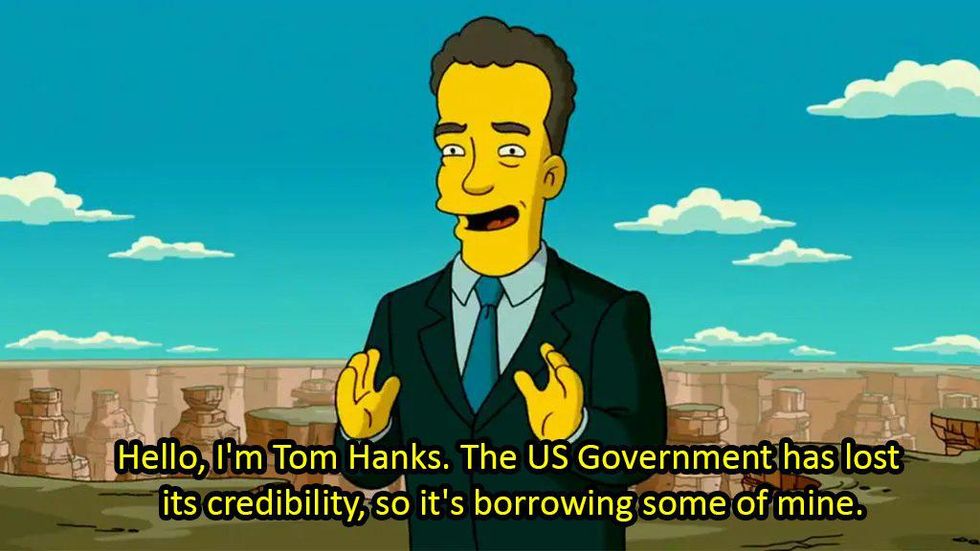 Just as the Simpsons predicted
As part of the proceedings, former Presidents Barack Obama, George W. Bush, and Bill Clinton appeared in a video giving a joint speech, which had the vibe of a group project where you didn't get to choose your partners and you got stuck with some kids you neither knew or liked.

The three most recently joined forces to volunteer to take the COVID-19 vaccine when it was first approved, and like an aged boyband, they came back for one night only, streamed live across America.
In their video, the three ex-presidents congratulated President Joe Biden and stressed the importance of peaceful transitions of power, ostensibly trying to lead by example in a show of bipartisan unity while making a point about the noticeably absent President Trump (who was on his way to Mar-a-Lago with his crying conspirators/children).
The message of the former presidents came alongside Biden urging for "unity" in his Inaugural address.
But what does this mean?
From the beginning of his Inauguration speech, Biden declared his presidency one of "history and hope. Of renewal and resolve." Referring to the historic nature of his cabinet and Kamala Harris's historic position as Vice President, Biden's self-congratulatory remarks also stir up questions.
The intentionally indefinite rhetoric asks: "hope" of what, and for whom? "Renewal" of what? Leaving an era defined by the slogan "Make America Great Again," it feels dangerous to tie a Presidency to the idea of some vague longing.
The politics of nostalgia allow the romanticization of a past which has always had as many problems as the present, if not more. Biden's emphasis on having a Presidency inspired by his predecessors refers to the presidency of Obama, but also to the other two horsemen of the inauguration apocalypse and the Founding Fathers … who we all know were flawed at best.
The desire to appeal to the American mythos reduces the oppression inculcated into US democracy to a footnote in the story — despite the fact that those institutions of inequality are prominent today.
Biden proclaimed that "the American story depends not on any one of us, not on some of us, but on all of us. On 'We the People' who seek a more perfect Union. This is a great nation and we are a good people."
… is that true?
While I would like to believe it, and perhaps there is room for more optimism and benefit of the doubt in an inaugural address than I'm accustomed to in life, moralizing the United States as a good nation filled with good people perpetuates the myth of American exceptionalism and allows for complacency.
We could be good people in a great nation, but the overpowering institutions of oppression and violence that we are socialized into make it easier to not be.
Biden did acknowledge that there is work still to be done, but it is dangerous to position the work of progress as a choice, rather than an imperative.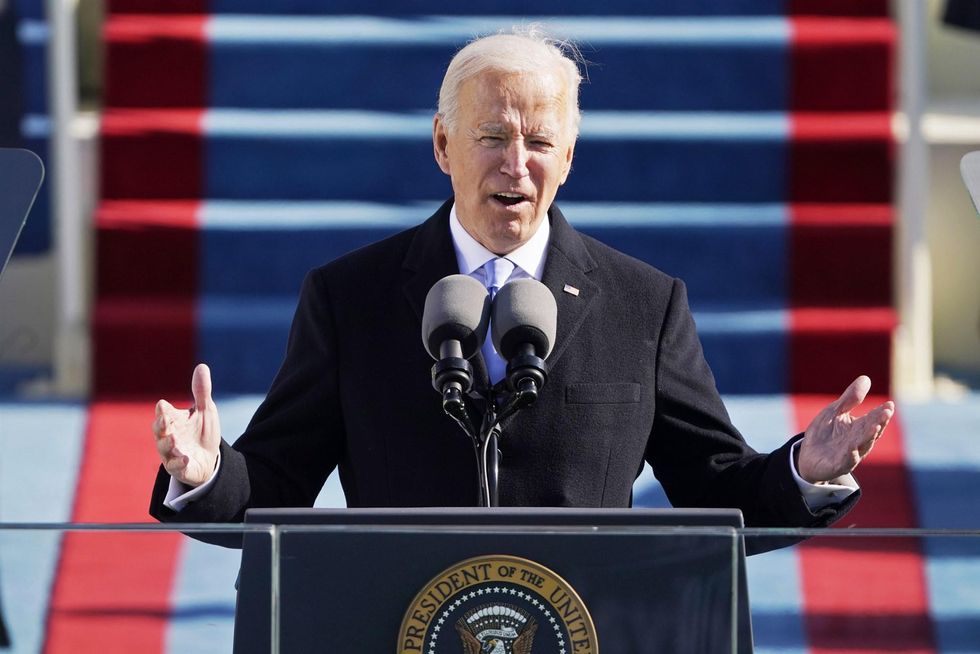 We did it, Joe
Biden's Path to Progress:

Biden's path to progress is simple: unity.
In one of the most pivotal passages of his speech, he said: "Speaking of unity can sound to some like a foolish fantasy. I know the forces that divide us are deep and they are real. But I also know they are not new. Our history has been a constant struggle between the American ideal that we are all created equal and the harsh, ugly reality that racism, nativism, fear and demonization have long torn us apart. The battle is perennial. Victory is never assured."
In this moment, Biden acknowledged the history of oppression in the United States and the deep-rooted divisions in its present. However, the proverbial good vs. evil dichotomy that he uses is a convenient scapegoat. It is easy to say that there are two sides of people, torn apart by outside forces, that just need to meet each other in the middle. But this is not how division in America has played out.
Progress in America cannot be a meeting in the middle of two forces with equal power, because that's not what the political and social landscapes look like. The forces of "racism, nativism, fear and demonization" have not "torn us apart" — those forces have separated and othered marginalized communities and excluded them from the American ideal.
Therefore, it is not the collective acceptance of the idea of "unity" that will heal the country, it is a commitment by the privileged to root out the divisive forces within themselves.
Unity and healing must happen as a result of progress, not at the expense of it. Biden's rhetoric leaves too much room for regression. But we must not pause to soothe the egos of white supremacists — their goals are not our goals. Biden's path to unity needs to look like accountability, not acquiescence.
In a recent tweet, activist Bree Newsome stated that "The only path toward 'unity' is one that dismantles white supremacy." Anything else would be a continuation of the same structures that "resulted in the Civil War, Jim Crow, the Trump era & the insurrection that occurred two weeks ago. "
There is no way forward without confronting whiteness— how it came to be a sociopolitical construct here, how it re… https://t.co/CAULWCruwH

— Unite in justice for the poor & oppressed (@Unite in justice for the poor & oppressed) 1611189052.0
Many are feeling the gaps in Biden's rhetoric that could allow for placid and ultimately unsatisfying "progress" and citing the urgent importance of moving forward, rather than back to some fabled better days of a pre-Trump era.
...but what if he said "I cannot be a president for all. I will not serve white supremacy. I will not serve hatred.… https://t.co/1H0JTIPZqV

— adriennemareebrown (@adriennemareebrown) 1611163169.0
The pre-Trump era created conditions for the Trump era. The current violence is not some aberration or some strange glitch in the matrix. It is a direct consequence of previous failures to root out the insidiousness of whiteness at the root of the United States.
The Problem With Moderation:
The shifting nature of Biden's address — his willingness to talk about the fact of American institutionalized oppression and speak out against white supremacy, but inability to articulate the deep internal work that we all have to do for progress — does not present a progressive pillar to build the next four years on.
It builds one that reflects his whole career: willing to inch towards "slow progress," but more concerned with moderation than radical change.
But moderation is not the way to establish real change. Moderation allows for complacency and, as Newsome articulated, "the 'return to normalcy' narrative is a call to settle for surface-level displays of civility diversity in the aftermath of Trump's brutish behavior without any real push for systemic change."
Even in the highest offices of the two-party government lie dangerous white supremacists who incited the riots alongside Trump and remain loyal to the MAGA following — so if bipartisanship looks like coalescing into an agreeable union that includes and validates those beliefs, I don't want it.
Instead, change has to look like examining the conditions within ourselves and our society which gave those people their platforms and amend those with an eye towards accountability.
The idea of "accountability" has been thrown around so much this election that it has become diluted. Accountability has to be active. It has to not just acknowledge the past, but use those acknowledgments to work diligently towards a new future.
While it's hard to predict how much Biden's speech was well-crafted rhetoric and how much was commitment to action, the prominent performativity of the ex-President's club does not bode well for radical change.
Rather, it signals a clinging onto old ideas of respectability and camaraderie between the powerful and a persistence of the same structures that allowed for the past violence to carry themselves into the future. It confirms that Trump's most egregious act was disrupting the illusion American exceptionalism, which has been long held up by mythology and militarism.
But that disruption was necessary. And it is with those new eyes that we are more critical of Bush, Clinton, Obama, and the entire systems that elected them We have to be.
Keep reading...
Show less
The future looks pretty grim.
It seems fitting that the Trump administration would go out with a bang. It also seems fitting that the bang would be unbridled white supremacy and blatant racism.

After the white supremacist insurrection at the Capitol, tensions have been high in anticipation of the January 20th Inauguration, with the whole country waiting on edge to see what how the transfer of power will go.
For a while, it looked like they'd have to drag Donald Trump out of the White House by his platinum wig. For a moment, it looked like there would be a coup. But the reality is much less dramatic but more insidious. Trump loyalists, it seems, are spending their last days seeping as much vitriolic rhetoric into the country (and presumably the White House floors judging by the news of a pre-Biden deep clean) as they possibly can.
Outgoing Secretary of State, Mike Pompeo, took to Twitter on his last full day in office to say, "Woke-ism, multiculturalism, all the -isms — they're not who America is. They distort our glorious founding and what this country is all about. Our enemies stoke these divisions because they know they make us weaker."
Woke-ism, multiculturalism, all the -isms — they're not who America is. They distort our glorious founding and what… https://t.co/aKWpDCy5iT

— Secretary Pompeo (@Secretary Pompeo) 1611066600.0
The image attached to the tweet reads: "Censorship, wokeness, political correctness, it all points in one direction — authoritarianism, cloaked as moral righteousness."

There's so much to unpack here.
The basic logic of his argument is hard to parse. From the tweet it seems that he believes that multiculturalism is a divisive tool used by "our enemies" to "distort our glorious founding" — though who he refers to and what our founding entails he does not specify.
The ensuing logic, however, makes claims that denounce authoritarianism and moral righteousness. In Pompeo's mind, multiculturalism somehow does not align with the individualism he thinks will save us from authoritarianism.
To pick apart the nonsense of his argument would be redundant, so it is instead easier to call it what it is: racist.
The tenuous thread of his logic rests on the shoulders of white supremacy. The narrative is familiar but no less frightening. Pompeo tells a short story of how our country was, and could be, so great if not for the threat of the encroaching "other" contaminating the nation's proverbial purity.
The ensuing language may be vague, but the purist sentiments of his rhetoric are clear. His focus on "multiculturalism" is a signpost that signals his issue is not just with the left, but with BIPOC communities.
Beneath his cacophony of buzzwords, the dangerous, fascist sentiments of the past four years are all encapsulated into a reminder that the Trump administration and the people who perpetrated the harm and violence of it does not stop with Trump.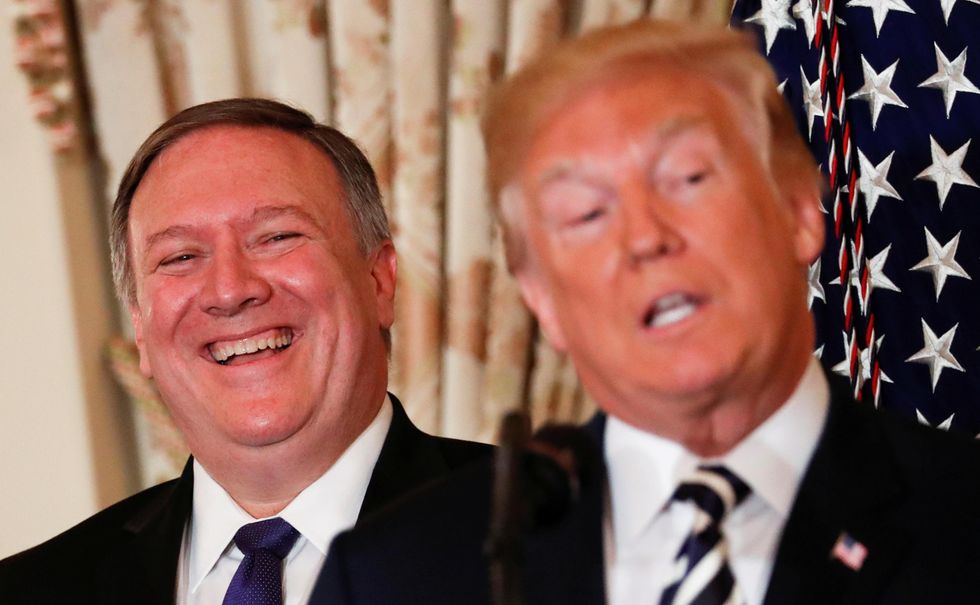 Whatever Trump was saying, it was definitely not that funny...
In truth, the barely concealed violence of Pompeo's rhetoric is engrained so deeply into the fabric of the United States that he might be right: Despite its insistence to the contrary, the US has purported to be a multicultural nation but has always been ruled by white supremacy.

Though this country claims to be about diversity and inclusion, so much of its history points to the opposite. But this is not the argument Pompeo is making.
There are valid claims about how, occasionally throughout US history, multiculturalism and the famous "melting pot" end up diluting people's cultures into a vague shadow of what they used to be. Pompeo, as a descendant of Italian immigrants, is a direct result of the dilution of Italian culture for the mantle of whiteness that he is so secure inside.
However, Pompeo is not calling for a more nuanced understanding of race, culture, and ethnicity.
He's calling for the same thing Donald Trump called for that brought on the Capitol siege, the same thing that has allowed racism, xenophobia, and white supremacy to persist as ruling bodies of this country — a scapegoat.
His vague language is intentional. It invites dissatisfied, disaffeced white people to substitute their ideals and their issues for the distortions and divisions he mentions, while uniting them against "multiculturalism."
While similar rhetoric has been spouted by this administration in various forms, its usual targets are the general left, or progressives and democrats. The focus on "multiculturalism" bypasses the white liberals he could be appealing to for unity against the "divisions" in our country.
The invocation of "woke-ism," a convenient neologism he makes up to orchestrate this tweet, fabricates another giant to distract from the actual "isms" most people would turn to … like, racism.
In fact, just deleting the first two words of the tweet makes a different argument altogether. Yes, I do agree that "all the -isms" distort the ideal vision of the country, but we have different "isms" and different ideals.
What's most frightening about this sentiment is that Mike Pompeo reportedly has ambitions to run for President in 2024. His key to winning: taking over the MAGA mantle.
Pompeo's sentiments coupled with his ambitions serve as a reminder that Trump's legacy is not going away with a Biden Presidency.
Despite Biden's calls for "unity," Trump loyalists do not want unity between all Americans. They want the vitriolic energy that put them in power to persist so that they can stay in power.
I implore Biden then, to pull back his hands, to waste less time appealing to white supremacists and more time reaching towards the communities who (somewhat reluctantly for most) ensured his win.
So far, Biden has elected a historically diverse cabinet, one which seems to exemplify multiculturalism at its best. But to make it its best, it's important that we do not take multiculturalism to mean tokenization, but rather the active process of representation, celebration, and learning that it should be.
Keep reading...
Show less
Lukewarm activism by white women, what's new?
This summer she was met with severe backlash to an Instagram rant in which she claimed she, a white woman, had been unfairly criticized in the music industry for how she claimed her femininity. In one of the most cognitively dissonant statements of the year, Lana claimed that "there has to be a place in feminism for women who look and act like me."
Because almost all the women she was comparing herself to in the rant — whose record breaking places on the charts served as the impetus for her misguided manifesto — were Black women, it seemed like "women who look like" Lana meant white women. Yikes.

However, Lana was quick to come to her own defense. Instead of issuing any semblance of apology or recognizing the nuance in the criticism her letter received, she took to the comment section to dismiss any criticism that came her way.
After that, she made another post (that kind of made it worse) announcing her upcoming album and then kind of disappeared. Until now.
When announcing the release of her first single from her new album, Chemtrails over the Country Club, Lana did not take the opportunity to clear the air — but we didn't expect that. She didn't even take the opportunity to shut up, pivot, and never speak of her typewriter series again (they're still up on Instagram, albeit buried under months worth of pictures by now, though if I were her publicist I would have wrestled the phone from her hands to delete it by now).
Instead, she took the time to parade her "diverse" and "inclusive" friend group on her cover and write another nonsensical caption that pretty much amounts to: see? I'm not racist, I have Black friends.
"Yes there are people of color on this records picture and that's all I'll say about that," Lana says near the beginning of the comment, but, unfortunately, continues to say more. "I have always been extremely inclusive without even trying to. My best friends are rappers, my boyfriends have been rappers."

Lana's tokenization of the people of color in her life is … uncomfortable, at best. Beyond tastelessly parading her friend's life histories in front of the internet for the sake of her reputation, by mentioning "rappers," she equates Blackness with a genre of music and also engages in the fetishistic notion that romantic desire is proximal to inclusion.
And if you think it couldn't get worse, the caption continued. In reference to the comments she had received on her initial post, Lana thought to respond preemptively, saying, "Before you make comments again about a WOC/POC issue, I'm not the one storming the capital [sic]."
The invocation of the attempted coup in comparison to her own racism is a blatant attempt to decenter the conversation and dismiss the voices of those she claims to be so inclusive of.
Lana's convoluted caption is an example of the flimsy arguments white women dredge up to affirm their own innocence when criticized. Unfortunately, we've already seen so much of this in 2021, especially in response to the display of domestic terrorism at the Capitol (which was partly sponsored by a group named Women For America First).
Unsurprisingly, much of the peak white feminism that occurred in the aftermath of the Capitol riots came from self-proclaimed allies. It seems that a key proponent of white feminism is the desire to help … but only if it doesn't require any actual evaluation of the self or the systems that perpetuate oppression.

Karlie Kloss recently (read: finally) came under criticism for her hypocritical comments about the riots and the current administration over all.
Though often we conveniently forget, Karlie Kloss is married to Josh Kushner. Yes, of that Kushner family. Her in-laws are Jared Kushner and Ivanka Trump, who sit at the proverbial right hand of the President.
Yet, despite these very close ties to the current administration, Karlie has managed to remain largely unscathed in the public eye. But this is not a romantic comedy where a likable blonde woman has to navigate her husband's crazy family — this is not The Family Stone. This is real life. And the actions of her in-laws have consequences that she, due to her wealth, race, and proximity, is mostly exempt from actually feeling.
Yet, Karlie Kloss has built her whole brand around activism. So how does this work?
From founding an organization to teach girls STEM, being a vocal #girlboss and #feminist, and yes, posting that black tile on Instagram, Karlie makes sure to remind us that she quit being a Victoria's Secret angel to go to NYU because she's just so, like, passionate about women's empowerment.
But despite all this, the furthest she has gone to speak out against the current administration have been bland social media posts and hashtags. When she made a more direct statement after the Capitol riots, many were quick to point out her hypocrisy.
After being called out for tweeting, "Accepting the results of a legitimate democratic election is patriotic. Refusing to do so and inciting violence is anti-American," and promptly being told, "Tell your sister in law and brother law," Karlie responded with a self satisfied: "I've tried."
But her response did not satisfy anyone else.
Page Six reported that Ivanka Trump was "surprised" by Karlie's claims, going so far as to say that Karlie is political in public, but not so much in private, and one tweet said that Kloss was choosing to "enjoy the privilege that comes from being close to them and feign moral superiority while not even acknowledging the privilege."

People were also quick to point out that Kloss is not just willing to tolerate her in-laws, but has purchased a multi-million dollar home in Florida to live just blocks away from where they, and the current President, will be relocating after the inauguration (and impeachment?).
One of the more prominent people to call out Karlie for her purported attempts was Tavi Gevinson, founder of Rookie Magazine and actress soon to be starring in the Gossip Girl reboot (which I will now be watching).
In an Instagram story, Tavi called out Karlie for having "no real interest in using [her] political power so much as maintaining [her] watery 'feminist' liberal brand while protecting [her] liberal brand." She identified Kloss's actions as more than just the bad decisions of an individual, inconsequential celebrity but part of a culture that minimizes the harm of the current administration and the latent oppressive structures that it reveals.
By her relative silence against the Trump family and administration, Gevinson said Kloss has "help[ed] legitimize their bigotry by branding [them] as simply having different 'political views," dubbing Kloss a "Resistance Barbie" archetype.
In her takedown, Gevinson went deeper than Kloss's shallow white feminism into a critique of not just Kloss herself, but the systems which she helps perpetuate. "Thank you for showing that you can vote blue and still be a white supremacist sympathizer," Gevinson finished.

Tavi, who at the beginning of her career had her own share of criticism about earlier iterations of Rookie's white feminism, used those valid criticisms to transform her platform into a diverse resource for learning, growing, and accountability.
Kloss, despite the direct confrontations about her hypocrisy, has remained silent — both on the internet, and probably to her in-laws, except maybe to plan the interiors of their Mar-a-Lago homes.
The self aggrandizing brand of white feminism has only increased in cultural capital this year as white women applaud themselves for being allies, while doing very little except calling themselves allies. While BIPOC Americans risk being alienated or gaslighted by declaring their politics, white women get to benefit by using them as a virtue signal, a personality trait, or a brand.
Twitter had enough of this when Demi Lovato tweeted that her response to the Capitol riots was … to write a song.
While well-intentioned, there are more nuanced ways for musicians to go about political music and Demi's last effort, "Commander in Chief," proved maybe that's not her genre.

With lyrics like "If I did the things you do I couldn't sleep," the song wasn't just bad — filled with easy rhymes and surface level lyricism — but it felt more like an indulgence of the ego rather than an attempt to make a change. Demi was reassuring us, herself, and other lukewarm allies that feeling bad about injustice is enough.
Unfortunately, it's not.
In her recent tweet, she magnanimously inflated the effects of her social media activism, saying, "THIS IS WHY I POST AS MUCH AS I DO..." While Demi has famously used her platform to advocate for social causes, the immediate pivot to saying: "I'm in the studio working on something special after today's assault on democracy," centers her own status as an artist and activist over the larger issues of violence.
White feminism is most guilty of this: diluting down political movements to their personal impacts rather than societal effects. By centering not just white women, but the individual white woman, white feminism ignores the nuances of oppression and the context in which it happens.
Even while claiming to be "woke" or socially conscious, the need to center themselves often derails well-meaning white women into perpetuating the acts of oppression they claim to be against. This compulsion in itself is a symptom of a system which values and protects the innocence and feelings of white women, while using that protective mantle as a form of oppression.
Yet, white women benefit from that innocence in their daily lives — from Lana's misguided conception of herself as a victim of bad feminism while enacting it, or even the "daddy-hat girl/SoHo Karen" calling herself an "innocent child" after assaulting … an innocent Black child.
It's only been two weeks of 2021, and I'm already tired of it. But I'm sure there will be more to come. But until white women address the ways they benefit from the systems they purport to be allies against, I see no end in sight.
Keep reading...
Show less
For too long we've been told that "Black" politics would scare away moderates
First thing's first: I need white people to stop treating Stacey Abrams like their savior.
Deification, a form of dehumanization, strips a person of their humanity and turns them into a symbol. By overhyping Stacey Abrams, white people assert their goodness on the back of a Black woman, trying to be woke by association.
While Abrams deserves much praise, we cannot continue to place superhuman expectations upon her. We also cannot act like she was solely responsible for discovering a secret to turning Georgia blue. The reality is that Stacey Abrams worked tirelessly alongside other dedicated organizers to address the voter suppression Black people have been fighting in Georgia for decades.
So why haven't democratic politicians done this before? Obama did, campaigning at a grass roots level and counting on disenfranchised voters. But he was Obama, people might say, of course Black people will vote for him. The "Black vote" in political discourse is treated as an ineffable mystery and often discarded as impossible to count on. Black people just don't vote, politicians say, then focus their attention elsewhere.
So when the Black vote (alongside other BIPOC demographics such as the historic voter turnout of Indigenous populations in Arizona) undoubtedly delivered the 2020 election to the Democrats, then did the same for the House in the Georgia run-offs, everyone was talking about Stacey Abrams in a way a little too reminiscent of how the dad talked in Get Out.
But the election results revealed that Black voters are in fact the key to the Democratic Party's success. When is the Party going to start acting like it?
All through the election year, Democrats were convinced that playing it safe was the key to defeating Trump.
By electing Biden as the nominee instead of more "radical" Democratic candidates like Bernie Sanders or Elizabeth Warren, the DNC were adamant that the game plan was to appeal to white moderates — which meant not scaring them away.
So while Biden picked Harris, a biracial Black and Indian woman, as his Vice President, their campaign strategy was to hover around the center and appeal to white voters who somehow just weren't sure who to vote for yet.
Meanwhile, the country was going through a period of major racial protest. Black Lives Matter protesters spent the summer appealing for an end to police brutality, for legislative protection, for defunding the police and reexamining the carceral system in light of its racist roots.
And though there were some tweets and statements from major Democratic politicians in response to the murder of George Floyd, as well as that super embarrassing thing with the Kinte cloths, the sentiment remained that actually addressing the demands of protestors would be too risky and scare away the nice white voters.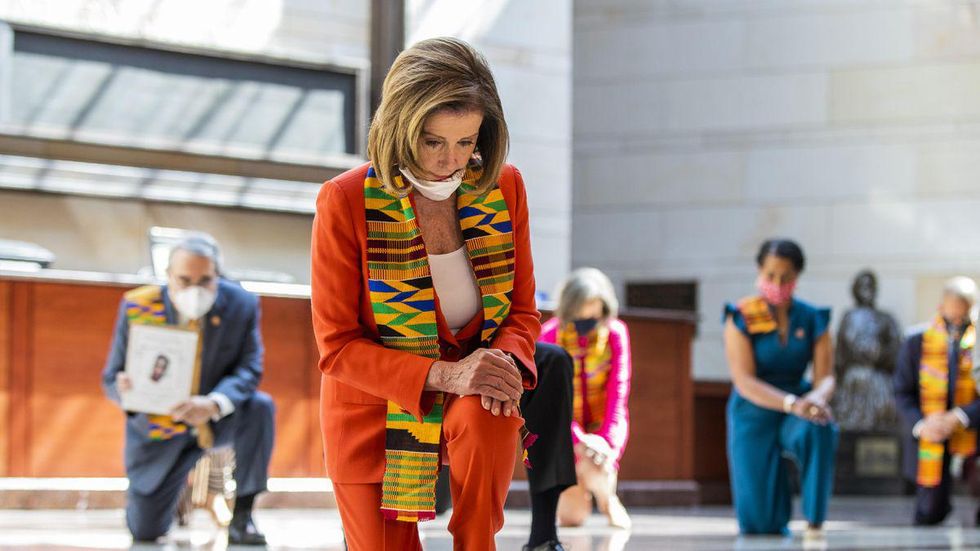 Nancy Pelosi taking a knee in a Kinte cloth for BLM apparently? Whose idea was this?
Well, the nice white voters went for Trump.

Exit polls showed that 58% of white voters voted for Trump — an increase from the 2016 election. And while Trump made percentage gains with Black men, Black people overwhelmingly voted for Biden. And in key cities in key states, Black voters having the agency to vote in the presidential election and in the Georgia Senate races was instrumental in the Democratic wins.
The numbers speak for themselves. In his election speech, Biden even thanked Black voters for being instrumental to his victory. But Biden's main message was one of healing — not for marginalized groups who suffered most under the Trump presidency, but for … "the soul of America"?

Biden's speech seemed to focus on restoring party communication, going back to his comfortable place in the center and telling us (while invoking Langston Hughes in his references to "dreams deferred") to join him.
For many Black voters, moving to the center looks like regression. Again, the Democratic rhetoric was one that appealed to white moderates, to appease their concerns and placate their nerves after a year of proverbially "difficult" conversations and "reckoning."
But for Black Americans, the most difficult thing is being constantly gaslit — being told by a party which claims to care about us that fighting for our concerns (read: our lives) is too much, too difficult, too frightening.
In response to the calls to defund the police, many major Democrats were quick to dismiss the movement. Biden himself said that he did not want to defund the police. "I support conditioning federal aid to police based on whether or not they meet certain basic standards of decency and honorableness," he said instead, again appealing to vague notions of morality rather than actionable policy.
Even Black politicians took up this rhetoric. South Carolina Representative and major Civil Rights activist James Clyburn said that "nobody is going to defund the police," and that "police have a role to play." His plea was against "sloganeering," claiming that pleas like "Defund the Police'' would undermine the movement and lose the election.
Barack Obama said something similar (thanks, Obama): "If you believe, as I do, that we should be able to reform the criminal justice system so that it's not biased and treats everybody fairly, I guess you can use a snappy slogan, like Defund the Police, but, you know, you lost a big audience the minute you say it."
These sentiments are the work of years of conditioning that expects Black people to acquiesce to white audiences, to settle for banal "reform" and "slow, steady change" instead of radical action. They are examples of respectability politics and tone policing that reinforce the idea that Black folks are a liability, harming our own progress by scaring away potential allies.
But we're tired of it.
In the wake of the dismissal of BLM slogans, many major progressives also spoke out. Representative Ilhan Omar responded to Obama's comment in a tweet, saying: "We lose people in the hands of police. It's not a slogan but a policy demand. And centering the demand for equitable investments and budgets for communities across the country gets us progress and safety."
We lose people in the hands of police. It's not a slogan but a policy demand. And centering the demand for equitabl… https://t.co/fh8ftnTR7t

— Ilhan Omar (@Ilhan Omar) 1606872699.0
Her response points out the danger in the quick dismissal by these politicians: too focused on how the slogan sounds, they fail to address the policy changes it calls to action and continue to support a system of policing which currently exists in a fundamentally oppressive structure. Reform is not enough, complete restructuring and radical change is the only answer.

Most Black Americans do not have the privilege of not understanding this. And, after delivering the election to Biden and the Senate, we want recognition.
We want to no longer be the big scary thing that Democrats are afraid of. We want to be taken seriously, and we want our demands to be met, our communities to be prioritized, and our people to stop dying at the hands of the state.
Black voters do not appear magically to deliver democracy if white people click their heels, repost an infographic, and say, "Stacey Abrams" in the mirror three times. The Black Vote is a collection of diverse, real people who are tired of being treated like a liability, a threat to the party they have always been loyal to.
It's time the party returned the favor — pointing out the obvious transgressions of the (soon) past administration will not be enough. With a blue senate, Biden has the opportunity to be bold, to enact real change for the communities who showed up for him, despite his own flaws and a year spent turning his back to us for the sake of white voters who did not.
Keep reading...
Show less
Howard Kurtz is equally tired of Republicans trying to stage a coup and of Democrats getting mad about it.
On Wednesday morning, Fox News host Howard Kurtz took to Twitter to let the world know that both sides are bad in the most hilarious attempt at false equivalency in modern memory.

Host of the Fox News show Media Buzz, Kurtz recognizes the dangerous game the Trump administration is playing. By blocking President-Elect Joe Biden and his team from transitional access to the workings of the federal government, they are threatening the stability of America's institutions.
A smooth transition of power is essential. And people like Secretary of State Mike Pompeo and General Services Administrator Emily W. Murphy are flouting that important process.

Sec. of State Mike Pompeo: 'There will be a smooth transition to a second Trump administration' www.youtube.com
In order to prop up Donald Trump's continued denial of the fact that he lost the election, they are refusing access to Biden's team. Pompeo even mocked a reporter's question on the issue in a press conference on Tuesday, remarking that there would be "a smooth transition to a second Trump administration."
In case there is any uncertainty, it should be noted that Joe Biden unequivocally won the election, and the only way to achieve a "second Trump administration" would be through a coup.

Read: Joe Biden Has Officially Won the 2020 Presidential Election—Now How Do We Get Rid of Donald Trump?
But Kurtz knows that this issue—like every issue in American politics—cannot possibly be one-sided. That's why he identified the major culprit on the other side of the aisle: Sister Act star Whoopi Goldberg.
One of the hosts of ABC's daytime talk show The View, Goldberg had a message on Monday for any of Donald Trump's supporters who are still in denial about the election's clear outcome. Addressing the camera directly, the comedian and actor told them to "suck it up."
"Hillary Clinton didn't say, 'Hey, wait a minute, this doesn't feel right, stop the count.' She didn't say, 'This doesn't feel right, I'm not going for it.' She didn't say any of that. So all of you, suck it up. Suck it up like we sucked it up."
From Trump's GSA barring Biden transition officials from federal buildings to Whoopi Goldberg telling his voters to… https://t.co/musEsjBXz1

— HowardKurtz (@HowardKurtz) 1605097229.0
Of course many Trump supporters would no doubt take issue with the idea that a three-year investigation into electoral misconduct—resulting in dozens of indictments and guilty pleas, including several figures from within the Trump campaign—was "sucking it up."

But Whoopi left room for them to pursue the same approach with Biden, saying, "If the law says it's something to look at, look at it." It's just that first they have to acknowledge the reality of the election results.
They have to stop clinging to phony claims of fraud and stories about election observers being excluded. They have to accept the election results and admit that Joe Biden and Kamala Harris won.
Still, Howard Kurtz felt that Goldberg—the woman who allowed Patrick Swayze to possess her so he could dance with Demi Moore in Ghost—had overstepped the bounds of her sacred duty. Pushing voters to accept the outcome of a democratic election is apparently out of line.
And who has a responsibility to remain politically impartial more so than the star of 1995's classic Theodore Rex—a movie about a dinosaur who is also a cop?
It was Howard Kurtz's own tweet promoting a column he wrote on "both sides" of the election dispute that highlighted the supposed parallel between Whoopi Goldberg and top Trump administration officials. But when "Whoopi Goldberg" became a trending topic on Twitter—with users mocking his comparison—Kurtz pushed back, saying in another tweet, "Gee, I'd really prefer people react to the whole column about anger and payback on both sides."
ah yes, the famous two sides, "the president of the United States" and "Whoopi Goldberg" https://t.co/DiQoOoz6OW

— Albert Burneko (@Albert Burneko) 1605106033.0
Leaving aside the fact that he chose those ridiculous examples to put in his original tweet, reading the full column doesn't make it much better.

Kurtz draws absurdly stretched comparisons throughout. He likens comments from a former Obama and DNC spokesperson to the actions of two sitting senators.
The former spokesperson, Hari Sevugan, recently called for Trump staffers to be held accountable for assisting in an attempted coup—for employers to shun them. On the other side, the two sitting senators from Georgia have called for the resignation of Georgia's secretary of state just for acknowledging that Joe Biden won the state through legal votes.
Never mind the strangeness of placing a man who no longer speaks for any political institution on the level of two of the nation's top legislators. While it's worth noting that they're obviously in different leagues, the reality is that they aren't even playing the same game.

Because Senators Perdue and Loeffler—who both face contentious run-off elections in January—weren't weren't criticizing the other side. They were attacking a fellow Republican simply for not supporting the president's delusional belief that he somehow won an election he clearly lost.
Kurtz's only other example of a Left-wing attack is a political commentator who hasn't been on MSNBC since 2015. Touré wished ill on Trump supporters for voting "against America and for a cult leader who has no redeeming or admirable qualities."
As for the Right-wing, Kurtz points to Attorney General Bill Barr, who has taken the unprecedented step of involving the Justice Department in what is technically an ongoing election. Before a winner is officially certified, Barr has approved investigators to pursue claims of election fraud.
There is, of course, no reason not to be vigilant in these matters. Investigators should pursue any legitimate allegation in an unbiased manner.
But at the moment there are no legitimate allegations—just a series of flimsy excuses. And Barr has spent his entire tenure as AG making it clear that his Justice Department is anything but unbiased. He works directly for Donald Trump. Which is presumably why Barr's latest move prompted the department's election crimes chief to resign this week.
With Bill Barr's newly issued 'Election Interference' memo, apparent we have a second Barr policy to add to the OLC… https://t.co/7ZcqQqsPBH

— Glenn Kirschner (@Glenn Kirschner) 1605044639.0
So, no, there is no "both sides" in the election dispute. Joe Biden won the election, and Donald Trump is using his power and his supplicating cronies in an effort to undermine the democratic result.

On the Left, media figures of varying stature are being rude and pushing Trump supporters to accept reality. On the Right, people with real power are supporting an attempted coup that strikes at the heart of American democracy–and attacking those who don't as apostates.
As is so often the case with efforts to find blame on "both sides," Kurtz is trying to provide cover for Republicans' blatant misconduct by dredging up petty gripes with the Democrats.
The reality is: Democrats and Republicans are not equivalent. In terms of corruption, deceptive rhetoric, and blind party loyalty, the Democrats are horribly outmatched. Kurtz's pathetic attempt to make it seem otherwise only serves to make that more clear.
Keep reading...
Show less
For most people, Biden's plan is great news.
With the election of Joe Biden to the Presidency, you're probably here seeking to understand how much your taxes are going to go up.
The answer: most people will see no tax increases.
The tax plan that Joe Biden has rolled out is targeted at individuals making more than $400,000 a year, less than 1% of the population of the US. If you (like me) are not one of these lucky individuals, then it's very-likely that nothing in this article is going to apply to you.
But, for argument's sake, let's hop in the Model S, drive over to the penthouse, and analyze what Biden's tax code plans mean for you.
If you make over $400,000 a year
First, Biden is going to impose a 12.4% tax on incomes over $400,000 to fund Social Security, split evenly between employers and employees. This is a new tax, because Social Security taxes in the past have been capped on income at or below $137,700.
People who made over $137,700 had a tax break where they didn't have to pay into Social Security for all of their income. Biden's tax plan still allows people making over $137,700 to not pay the Social Security payroll tax for income above that amount as long as they make under $400,000.
When your income exceeds $400,000, you then have to start paying the tax again. This creates an interesting tax structure where people's income at the very bottom and the very top of their income is being taxed for Social Security, but income in the middle is not.
Second, while Biden is likely to keep many of changes from the Tax Cuts and Jobs Act, he has stated that he is going to revert the marginal tax rate for individual incomes above $400,000 from 37% back to the previous 39.6%. As with the Social Security tax, this does not kick in unless your income goes above $400,000.
Individuals making above $400,000 will also have their incomes above $400,000 see itemized deductions capped at 28%. That means if your income is over $400,000 and your tax rate is over 28%, you have less options for itemizing your deductions to get a lower tax rate.
Some business owners have benefitted from deducting up to 20% of their business income as well as 20% of the dividends from qualifying Real Estate Investment Trusts (REITs) on their taxes. Biden is proposing phasing that out for incomes above – drumroll - $400,000.
But what if you're not just making $400,000 a year? What if you are making even more than $400,000 a year? What if you earn over $1 million a year? That's when Biden's really going to hit you where it hurts – your investments.
Most people pay taxes on what's called "earned income," referring to things like your salary at your job. The tax rates for that range from 10% to 37%, depending on how much you make. If you make money from investments instead, that's a whole different story.
If you buy an investment and sell it for a profit within one year of purchase, you would pay your normal income tax on any profit you make. But if you hold the investment for longer than a year, you pay a reduced tax rate between 0% and 20%, depending on your income.
If you make over $200,000 ($250,000 for married couples), you would also pay a 3.8% tax on net investment income. What Biden is proposing is taxing any income over $1 million the same regardless of it comes from your salary or your long-term investments.
The wealthiest people in the US have seen a large amount of their income come from investments, and this measure would keep the wealthiest Americans from paying less in taxes than average working people just because the money comes from holding stocks or real estate instead of a traditional job.
If you make under $400,000 a year
Let's say that you, like more than 99% of Americans, do not make $400,000 a year. Does this mean Biden's tax plan will not affect you at all? There's actually a decent chance you might see some changes to your taxes.
Biden is proposing bringing back the First-Time Homebuyers' Tax Credit, originally created to help the housing market during the Great Recession, and provide up to $15,000 for first-time homebuyers. With interest rates at historic lows, this may be another incentive for you to consider dipping your toes into the real estate game and becoming a homeowner.
Biden is also proposing expanding the Child and Dependent Care Tax Credit from $3,000 up to $8,000 for one dependent and $16,000 if you have multiple dependents. The maximum reimbursement rate would also adjust from 35% to 50%. If you have kids or other dependents, this may reduce how much you pay in taxes by giving you a child tax credit the money you spend to support your family.
Biden also has a few very targeted tax cuts and tax benefits that will apply to a much smaller group of people. One is expanding the Earned Income Tax Credit (a tax credit for low-income people who are very close to the poverty line) and allowing people over the age of 65 to also claim the credit even if they do not have dependent children.
He would also provide a refundable low-income renter's credit, reinstate tax credits for the purchase of electric vehicles and improvements to your home to make them more energy-efficient, as well as exempt forgiven student loans from taxable income. These may not apply to as wide a group of people, but if you're older, a renter, looking to live a more green lifestyle, or seeking forgiveness for student loans, Biden's tax proposals can have you looking at a smaller tax bill.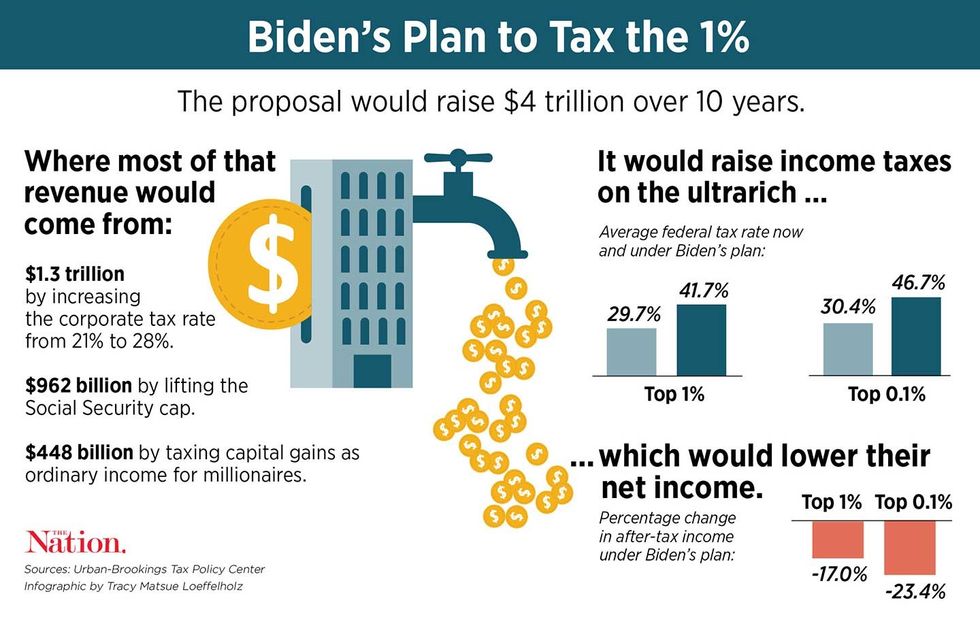 Biden's plans for inheritances
At first glance, it looks like everyone making more than $400,000 a year will pay higher taxes and everyone else will pay less taxes than they currently do. However, there is a part of Biden's tax plan that may have an impact on you even if you are lower income – if you have a rich family.
The Tax Cuts and Jobs Act raised the threshold at which estate taxes are paid and lowered how much they have to pay in taxes. If you stand to inherit an estate worth $11.6 million dollars today ($23 million if you are a married couple), right now you don't pay taxes on it.
If you inherit more than that, you would pay a top rate of 40% tax. Biden is proposing lowering the threshold where the tax would kick in back down to $3.5 million ($7 million for married couples) and raising the tax rate back to 45%. This will affect roughly 0.3% of estates. If you are in the 99.7%, you do not need to worry about the Biden inheritance policy.
Now, the next part is closing an inheritance loophole called the "stepped-up basis" loophole. Right now, when an heir inherits an asset, they only pay taxes on the gain in value of the asset from the time that they inherited it.
Let's say your parents bought $100 worth of stocks decades ago and today those stocks are worth $10,000. If your parents passed away and left you the stocks, you would be allowed to sell them immediately and not pay any taxes.
If you held the stock and the price rose to $12,000, you would only pay taxes on the $2,000 in value the stocks gained since you inherited it. This because the initial value of the stocks would be "stepped-up" to the value at the time you inherited it rather than the value at the time your parents bought it.
This loophole has allowed the very wealthy to leave very valuable assets to their children without needing to pay taxes and allowed generations to pass large fortunes to their children. Biden has proposed closing this loophole and not stepping-up the value of an asset when it is inherited; taxes will instead be paid on the value of the asset from when it was first purchased.
This part of the plan has yet to be fully fleshed-out by Biden, but it appears to be modelled after a proposal from the Obama administration. That plan allowed an exclusion of $100,000 per person (rising with inflation) and excluding $250,000 for primary residences ($500,000 for couples). It also allowed a 15-year payment period and tax deferrals for family-owned small businesses. Biden may roll out similar provisions once he rolls his tax plan out before congress.
Does any of the Biden tax policy outlines even matter?
Maybe?
Biden has presented something of a wish list for his tax plan, but that doesn't mean he can wave a magic wand on January 20th and put it into place. This plan will require significant negotiations in Congress, and if Republicans retain a Senate majority, they may refuse to even allow a bill to have a hearing. Ultimately, Biden's tax proposals may change significantly as they work their way through Congress and if they are not able to garner enough support, they may never come into effect.
Keep reading...
Show less
Here's everything you need to know about Election Day 2020.
For many of us, it's been a very long, divisive four years. Finally, the end (for better or for worse) is in sight.
Today, November 3rd 2020, all remaining votes for the president of the United States of America will be cast. Most years we know who will be the next president by the end of election night, but like many things in 2020, this election will likely be different.
In fact, it's highly likely that we won't know whether Joe Biden or Donald Trump won the presidency tonight.
Here's why:
Mail-In Ballots
Most significantly, results will likely take longer than normal because more people than ever are voting by mail this year due to the global health crisis. It takes longer to count mailed in ballots because states have to verify signatures and other safeguards against voter fraud. Additionally, some states don't allow mail ballots to be processed until election day, and some states still count mail ballots received after election day as long as they're postmarked by election day.
More Votes
Say what you will about this administration, but it has certainly mobilized voters. Prior to today, over 91 million Americans had already voted, a number that represents around 67% of the total ballots cast in the 2016 presidential election. By the end of today, experts believe we will see record-setting voter turn out.
Early Tallies Will Likely Be Misleading
Some states count the ballots cast on election day first, and experts believe these counts are likely to favor Trump, as his supporters are more likely to vote on election day. In contrast, other states count mail-in ballots cast prior to election day first, and these results are likely to favor Biden, as polls show that his supporters are more likely to vote by mail this year. Essentially, we are unlikely to get a clear picture of who won the presidency until all ballots are counted.
US Postal Service Delays
Due to delays in deliveries by the U.S. Postal Service, many are fearful that ballots won't arrive in time to be counted. To add to the injustice of this, Republicans, including Trump's camp, have been filing lawsuits to keep ballots delivered after election day from being counted.
To illustrate the magnitude of this problem, one can look to Michigan, where an appeals court has struck down a 14-day ballot-counting extension, meaning that voters are now being urged to drop off their mail in ballots in person. Courts have also ruled that extensions aren't allowed in Wisconsin and Indiana.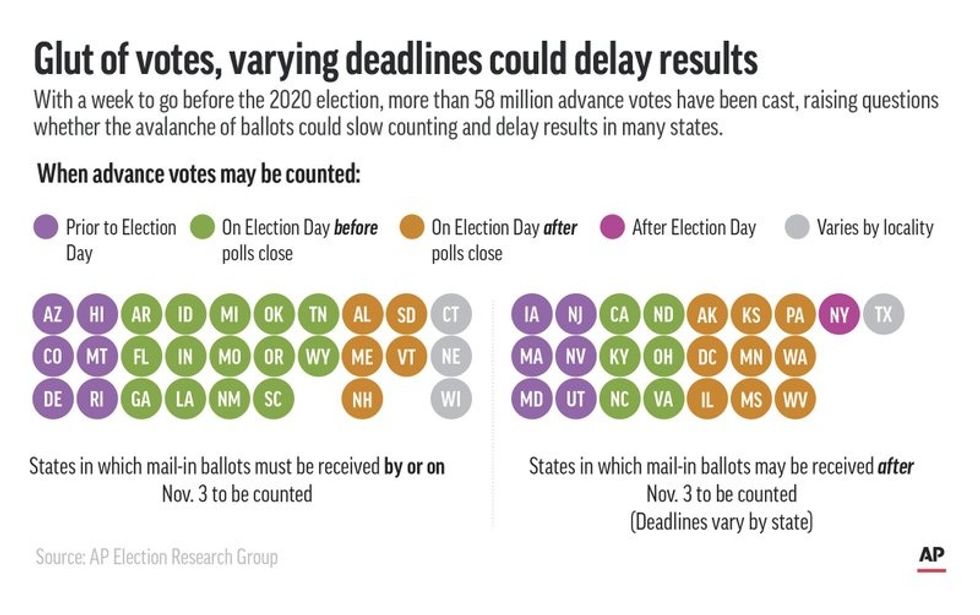 AP News
So when will we know who won?
We won't have a clear picture of who won until the swing states have been tallied. Here's when we can expect that to happen for each state.
Florida
Mail-in ballots can legally be counted in advance of election night in Florida, so we're likely to have an accurate picture of results tonight, which officials can release around 7:30 pm ET. However, if the election is close they may not call the state until Wednesday or Thursday.
Arizona
State law in Arizona allows mail-in ballots to be counted up to two weeks before election day, so it's likely election officials in Arizona have a clear picture of mail-in ballot results already. Arizona early vote results and and mail-in vote results can both legally be released about 10 p.m. ET tonight, and election day votes will soon follow. We may know Arizona's results on election night, but if the race is tight they may not call it for several days.
Michigan
We are unlikely to know Michigan's results on election night. According to NPR, "In Michigan, election officials in cities with more than 25,000 residents can start processing mail ballots on Monday at 10 a.m., sorting ballots and removing outer envelopes. They can't be counted, though, until Election Day."
"It could take until Friday, Nov. 6 for all ballots to be counted," the office of Michigan Secretary of State Jocelyn Benson wrote on Thursday.
North Carolina
North Carolina has a very similar system to Arizona, so while we may know results on election night, its also possible it will take several days if the race is tight. 80% of voters already cast their ballots either through the mail or via early voting, but that remaining 20% who will vote on election day are more likely to be Trump voters.
"For the 20% or so of North Carolinians who vote on Election Day, we will be receiving those from the precinct and uploading those, as well," executive director of the North Carolina State Board of Elections Karen Brinson-Bell said on Thursday. "So, if there are really close races, those Election Day votes will tremendously matter in the outcomes of these elections."
Pennsylvania
We're unlikely to know the results of Pennsylvania on election night. Some counties may not even begin tallying absentee ballots until Wednesday. "We're sure it will take more time than it used to," Gov. Tom Wolf said Thursday. "We probably won't know results on election night." Luckily, Pennsylvania can accept mail-in ballots up to three days after the election as long as they are postmarked by election day.
Wisconsin
We should know the results for Wisconsin by Wednesday morning (Nov 4) at the latest. They aren't allowed to pause election counting once its begun according to state law, so its likely election officials will work through the night in some counties to offer results by Wednesday morning.
So...
In summary, it's likely we will not know election results for several days, unless it is such an enormous blow out (unlikely) that results become evident early. This could happen if Biden takes a key Republican state like Texas, but more than likely we'll just have to wait and see.
Keep reading...
Show less