Would she be good at the job? Maybe. But the campaign would be a political nightmare...
This week author Tom Bower — who reportedly signed a six-figure book deal to write an unauthorized biography of Meghan Markle — spoke to British tabloid Closer about the Duchess' prospects in American politics.
While her husband Prince Harry would have to get his American citizenship to pursue political office — and could never be eligible for the presidency — as a natural-born American citizen, there would technically be nothing stopping Markle from running for any office, up to and including commander-in-chief. And Bower suspects that's exactly "where she sees herself going."
If she wanted to be president, she would, of course, have to renounce her title as Duchess of Sussex — because the emoluments clause of the US Constitution actually counts if you're a woman, a person of color, a Democrat, or all three in Markle's case. But considering the fact that she and Harry have already stepped back from their royal roles to live as private citizens in America, that doesn't seem like too big a hurdle.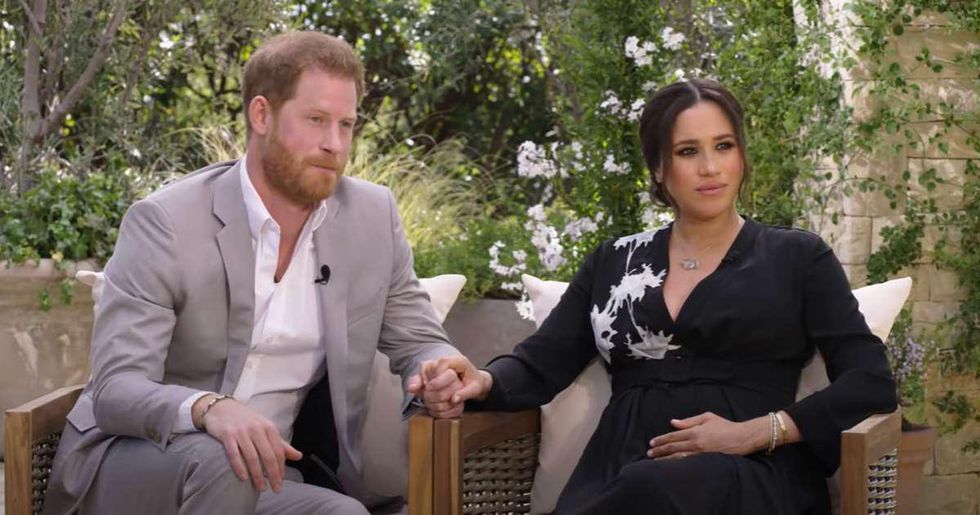 But does Bower even know what he's talking about? In the interview, he claimed that that "the prospect of Meghan running for president is possible and I'd even say likely," but according to The Sun, he has a full year of research ahead of him, which he will spend "speaking to the star and husband Prince Harry's friends, foes and associates."

In short, he might not even have a good sense of Markle yet. And to the extent that he does, he might not be a particularly reliable source.
A Harsh Biographer
Bower is known for his scathing, sometimes questionable portraits of figures from billionaire Richard Branson to former Labor Party leader Jeremy Corbyn and Ghislaine Maxwell's disgraced father Robert Maxwell. If this is another "hatchet job," Bower may simply be painting Markle in what he considers to be the harshest light possible.
While he suggests that she would have "a good chance of getting into the White House," and could "have tea with the Queen one day as President of the United States," he also seems eager to emphasize an unflattering view of Markle as overly-ambitious and hyper-sensitive.
His assertions that she "masterminded" the so-called Megxit she and Harry made from royal life, and that she would "need to learn to take the heat" of public scrutiny as a politician, reflect a perspective that predominates in much of the British media. And his seeming acceptance of reports that Markle bullied staff — claiming that "she doesn't seem to be able to hold onto her team" despite Markle's insistence that said reports are a "calculated smear campaign" — suggest a willingness to side with her detractors.
Has Meghan Split the Royal Family? | Good Morning Britain www.youtube.com
While Markle is generally viewed in a favorable light in the US, that's not the case in Harry's home country, where the royal family is largely still beloved and Markle's damning Oprah interview was seen as out of bounds. The idea that she is eager for the opportunity to run for president plays neatly into a narrative that is already painting her as a selfish opportunist.
Still, according to a friend speaking to Vanity Fair, Markle might "seriously consider" running. So, just in case there's any truth to Bower's perspective, it's worth noting why a Meghan Markle presidential would be a terrible idea...

A Messy Campaign
At first blush she seems like a great option. A young, attractive, poised, and charismatic Black woman, with plenty of experience in the public eye, and close ties to the leadership of one of our nation's closest global allies, she certainly has what it takes to navigate a political campaign... But that campaign would be so awful.
For a start, Markle's "close ties" to Enlgand would not exactly make for smooth diplomacy. Many Britons see her as something akin to a usurper. Elevating her to the highest office in American politics — only after she discards her UK title — would be more likely to sour relations between the two countries than to improve them.
The British narrative would also be guaranteed to make its way over into the American press, with Conservative outlets all too willing to paint an ambitious Black woman as undeserving of her position. While this tactic is guaranteed to be deployed against basically any woman of color running for high office (see: Kamala Harris), the established narrative in the British press would give them a head start, and they would be brutal.
The fact that Markle's estranged and (possibly) envious white father and step-sister would love to play into that story and criticize Markle for doing more with her life than they think she deserved would make things all the worse.
A Royal Celebrity President?
Markle is no doubt aware of all this, and if she feels up to putting herself through such a grueling process — after being driven nearly to suicide by the British press — all for the opportunity to serve her country, good for her. But do we, as a country, really want to deal with that mess for the sake of putting another celebrity in the White House?
Maybe if the former Suits star starts out with a couple terms in Congress, she'll have a strong enough foothold in American politics to be more than just another famous person using their profile to run for high office. Maybe we'd all find out that she's actually great at navigating policy and politics. But until she's proven that, the whole "outsider president" thing is a bit played out.
While a role in the British monarchy is largely ceremonial, the Presidency requires real governance. And we've seen how poorly an amateur can manage that responsibility.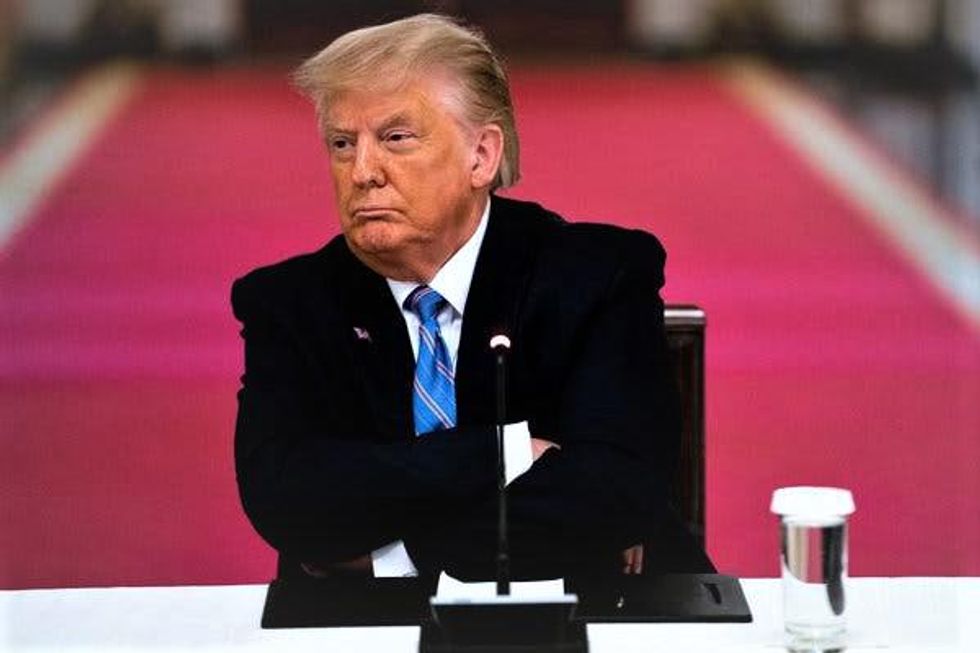 Okay, there's no way she would be this bad...
Finally, on the topic of the monarchy, the United States was founded with the express intent of severing our ties from that institution. Even so, we already have too much of a tendency to create political dynasties — think the Clintons, the Bushes, the Kennedys.

It may be a superficial objection, but the UK doesn't need a monarchy anymore, and we definitely don't need to get the actual British royal family involved in the presidency of the United States. The idea of Harry — the literal great, great, great, great, great, great grandson of the King George III against whom the founders revolted — moving into the White House as the first gentleman is just too weird to think about.
Keep reading...
Show less
For too long we've been told that "Black" politics would scare away moderates
First thing's first: I need white people to stop treating Stacey Abrams like their savior.
Deification, a form of dehumanization, strips a person of their humanity and turns them into a symbol. By overhyping Stacey Abrams, white people assert their goodness on the back of a Black woman, trying to be woke by association.
While Abrams deserves much praise, we cannot continue to place superhuman expectations upon her. We also cannot act like she was solely responsible for discovering a secret to turning Georgia blue. The reality is that Stacey Abrams worked tirelessly alongside other dedicated organizers to address the voter suppression Black people have been fighting in Georgia for decades.
So why haven't democratic politicians done this before? Obama did, campaigning at a grass roots level and counting on disenfranchised voters. But he was Obama, people might say, of course Black people will vote for him. The "Black vote" in political discourse is treated as an ineffable mystery and often discarded as impossible to count on. Black people just don't vote, politicians say, then focus their attention elsewhere.
So when the Black vote (alongside other BIPOC demographics such as the historic voter turnout of Indigenous populations in Arizona) undoubtedly delivered the 2020 election to the Democrats, then did the same for the House in the Georgia run-offs, everyone was talking about Stacey Abrams in a way a little too reminiscent of how the dad talked in Get Out.
But the election results revealed that Black voters are in fact the key to the Democratic Party's success. When is the Party going to start acting like it?
All through the election year, Democrats were convinced that playing it safe was the key to defeating Trump.
By electing Biden as the nominee instead of more "radical" Democratic candidates like Bernie Sanders or Elizabeth Warren, the DNC were adamant that the game plan was to appeal to white moderates — which meant not scaring them away.
So while Biden picked Harris, a biracial Black and Indian woman, as his Vice President, their campaign strategy was to hover around the center and appeal to white voters who somehow just weren't sure who to vote for yet.
Meanwhile, the country was going through a period of major racial protest. Black Lives Matter protesters spent the summer appealing for an end to police brutality, for legislative protection, for defunding the police and reexamining the carceral system in light of its racist roots.
And though there were some tweets and statements from major Democratic politicians in response to the murder of George Floyd, as well as that super embarrassing thing with the Kinte cloths, the sentiment remained that actually addressing the demands of protestors would be too risky and scare away the nice white voters.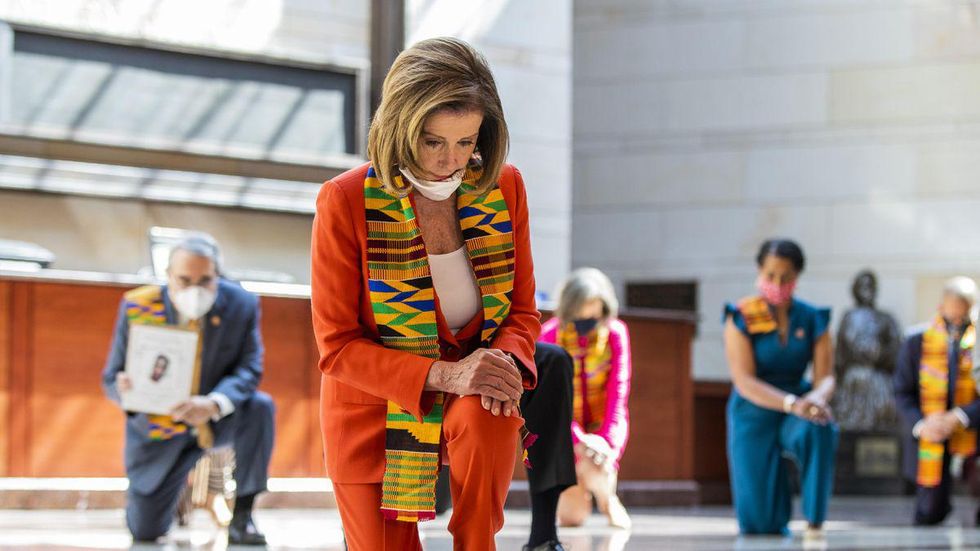 Nancy Pelosi taking a knee in a Kinte cloth for BLM apparently? Whose idea was this?
Well, the nice white voters went for Trump.

Exit polls showed that 58% of white voters voted for Trump — an increase from the 2016 election. And while Trump made percentage gains with Black men, Black people overwhelmingly voted for Biden. And in key cities in key states, Black voters having the agency to vote in the presidential election and in the Georgia Senate races was instrumental in the Democratic wins.
The numbers speak for themselves. In his election speech, Biden even thanked Black voters for being instrumental to his victory. But Biden's main message was one of healing — not for marginalized groups who suffered most under the Trump presidency, but for … "the soul of America"?

Biden's speech seemed to focus on restoring party communication, going back to his comfortable place in the center and telling us (while invoking Langston Hughes in his references to "dreams deferred") to join him.
For many Black voters, moving to the center looks like regression. Again, the Democratic rhetoric was one that appealed to white moderates, to appease their concerns and placate their nerves after a year of proverbially "difficult" conversations and "reckoning."
But for Black Americans, the most difficult thing is being constantly gaslit — being told by a party which claims to care about us that fighting for our concerns (read: our lives) is too much, too difficult, too frightening.
In response to the calls to defund the police, many major Democrats were quick to dismiss the movement. Biden himself said that he did not want to defund the police. "I support conditioning federal aid to police based on whether or not they meet certain basic standards of decency and honorableness," he said instead, again appealing to vague notions of morality rather than actionable policy.
Even Black politicians took up this rhetoric. South Carolina Representative and major Civil Rights activist James Clyburn said that "nobody is going to defund the police," and that "police have a role to play." His plea was against "sloganeering," claiming that pleas like "Defund the Police'' would undermine the movement and lose the election.
Barack Obama said something similar (thanks, Obama): "If you believe, as I do, that we should be able to reform the criminal justice system so that it's not biased and treats everybody fairly, I guess you can use a snappy slogan, like Defund the Police, but, you know, you lost a big audience the minute you say it."
These sentiments are the work of years of conditioning that expects Black people to acquiesce to white audiences, to settle for banal "reform" and "slow, steady change" instead of radical action. They are examples of respectability politics and tone policing that reinforce the idea that Black folks are a liability, harming our own progress by scaring away potential allies.
But we're tired of it.
In the wake of the dismissal of BLM slogans, many major progressives also spoke out. Representative Ilhan Omar responded to Obama's comment in a tweet, saying: "We lose people in the hands of police. It's not a slogan but a policy demand. And centering the demand for equitable investments and budgets for communities across the country gets us progress and safety."
We lose people in the hands of police. It's not a slogan but a policy demand. And centering the demand for equitabl… https://t.co/fh8ftnTR7t

— Ilhan Omar (@Ilhan Omar)1606872699.0
Her response points out the danger in the quick dismissal by these politicians: too focused on how the slogan sounds, they fail to address the policy changes it calls to action and continue to support a system of policing which currently exists in a fundamentally oppressive structure. Reform is not enough, complete restructuring and radical change is the only answer.

Most Black Americans do not have the privilege of not understanding this. And, after delivering the election to Biden and the Senate, we want recognition.
We want to no longer be the big scary thing that Democrats are afraid of. We want to be taken seriously, and we want our demands to be met, our communities to be prioritized, and our people to stop dying at the hands of the state.
Black voters do not appear magically to deliver democracy if white people click their heels, repost an infographic, and say, "Stacey Abrams" in the mirror three times. The Black Vote is a collection of diverse, real people who are tired of being treated like a liability, a threat to the party they have always been loyal to.
It's time the party returned the favor — pointing out the obvious transgressions of the (soon) past administration will not be enough. With a blue senate, Biden has the opportunity to be bold, to enact real change for the communities who showed up for him, despite his own flaws and a year spent turning his back to us for the sake of white voters who did not.
Keep reading...
Show less
Howard Kurtz is equally tired of Republicans trying to stage a coup and of Democrats getting mad about it.
On Wednesday morning, Fox News host Howard Kurtz took to Twitter to let the world know that both sides are bad in the most hilarious attempt at false equivalency in modern memory.

Host of the Fox News show Media Buzz, Kurtz recognizes the dangerous game the Trump administration is playing. By blocking President-Elect Joe Biden and his team from transitional access to the workings of the federal government, they are threatening the stability of America's institutions.
A smooth transition of power is essential. And people like Secretary of State Mike Pompeo and General Services Administrator Emily W. Murphy are flouting that important process.

Sec. of State Mike Pompeo: 'There will be a smooth transition to a second Trump administration' www.youtube.com
In order to prop up Donald Trump's continued denial of the fact that he lost the election, they are refusing access to Biden's team. Pompeo even mocked a reporter's question on the issue in a press conference on Tuesday, remarking that there would be "a smooth transition to a second Trump administration."
In case there is any uncertainty, it should be noted that Joe Biden unequivocally won the election, and the only way to achieve a "second Trump administration" would be through a coup.

Read: Joe Biden Has Officially Won the 2020 Presidential Election—Now How Do We Get Rid of Donald Trump?
But Kurtz knows that this issue—like every issue in American politics—cannot possibly be one-sided. That's why he identified the major culprit on the other side of the aisle: Sister Act star Whoopi Goldberg.
One of the hosts of ABC's daytime talk show The View, Goldberg had a message on Monday for any of Donald Trump's supporters who are still in denial about the election's clear outcome. Addressing the camera directly, the comedian and actor told them to "suck it up."
"Hillary Clinton didn't say, 'Hey, wait a minute, this doesn't feel right, stop the count.' She didn't say, 'This doesn't feel right, I'm not going for it.' She didn't say any of that. So all of you, suck it up. Suck it up like we sucked it up."
From Trump's GSA barring Biden transition officials from federal buildings to Whoopi Goldberg telling his voters to… https://t.co/musEsjBXz1

— HowardKurtz (@HowardKurtz)1605097229.0
Of course many Trump supporters would no doubt take issue with the idea that a three-year investigation into electoral misconduct—resulting in dozens of indictments and guilty pleas, including several figures from within the Trump campaign—was "sucking it up."

But Whoopi left room for them to pursue the same approach with Biden, saying, "If the law says it's something to look at, look at it." It's just that first they have to acknowledge the reality of the election results.
They have to stop clinging to phony claims of fraud and stories about election observers being excluded. They have to accept the election results and admit that Joe Biden and Kamala Harris won.
Still, Howard Kurtz felt that Goldberg—the woman who allowed Patrick Swayze to possess her so he could dance with Demi Moore in Ghost—had overstepped the bounds of her sacred duty. Pushing voters to accept the outcome of a democratic election is apparently out of line.
And who has a responsibility to remain politically impartial more so than the star of 1995's classic Theodore Rex—a movie about a dinosaur who is also a cop?
It was Howard Kurtz's own tweet promoting a column he wrote on "both sides" of the election dispute that highlighted the supposed parallel between Whoopi Goldberg and top Trump administration officials. But when "Whoopi Goldberg" became a trending topic on Twitter—with users mocking his comparison—Kurtz pushed back, saying in another tweet, "Gee, I'd really prefer people react to the whole column about anger and payback on both sides."
ah yes, the famous two sides, "the president of the United States" and "Whoopi Goldberg" https://t.co/DiQoOoz6OW

— Albert Burneko (@Albert Burneko)1605106033.0
Leaving aside the fact that he chose those ridiculous examples to put in his original tweet, reading the full column doesn't make it much better.

Kurtz draws absurdly stretched comparisons throughout. He likens comments from a former Obama and DNC spokesperson to the actions of two sitting senators.
The former spokesperson, Hari Sevugan, recently called for Trump staffers to be held accountable for assisting in an attempted coup—for employers to shun them. On the other side, the two sitting senators from Georgia have called for the resignation of Georgia's secretary of state just for acknowledging that Joe Biden won the state through legal votes.
Never mind the strangeness of placing a man who no longer speaks for any political institution on the level of two of the nation's top legislators. While it's worth noting that they're obviously in different leagues, the reality is that they aren't even playing the same game.

Because Senators Perdue and Loeffler—who both face contentious run-off elections in January—weren't weren't criticizing the other side. They were attacking a fellow Republican simply for not supporting the president's delusional belief that he somehow won an election he clearly lost.
Kurtz's only other example of a Left-wing attack is a political commentator who hasn't been on MSNBC since 2015. Touré wished ill on Trump supporters for voting "against America and for a cult leader who has no redeeming or admirable qualities."
As for the Right-wing, Kurtz points to Attorney General Bill Barr, who has taken the unprecedented step of involving the Justice Department in what is technically an ongoing election. Before a winner is officially certified, Barr has approved investigators to pursue claims of election fraud.
There is, of course, no reason not to be vigilant in these matters. Investigators should pursue any legitimate allegation in an unbiased manner.
But at the moment there are no legitimate allegations—just a series of flimsy excuses. And Barr has spent his entire tenure as AG making it clear that his Justice Department is anything but unbiased. He works directly for Donald Trump. Which is presumably why Barr's latest move prompted the department's election crimes chief to resign this week.
With Bill Barr's newly issued 'Election Interference' memo, apparent we have a second Barr policy to add to the OLC… https://t.co/7ZcqQqsPBH

— Glenn Kirschner (@Glenn Kirschner)1605044639.0
So, no, there is no "both sides" in the election dispute. Joe Biden won the election, and Donald Trump is using his power and his supplicating cronies in an effort to undermine the democratic result.

On the Left, media figures of varying stature are being rude and pushing Trump supporters to accept reality. On the Right, people with real power are supporting an attempted coup that strikes at the heart of American democracy–and attacking those who don't as apostates.
As is so often the case with efforts to find blame on "both sides," Kurtz is trying to provide cover for Republicans' blatant misconduct by dredging up petty gripes with the Democrats.
The reality is: Democrats and Republicans are not equivalent. In terms of corruption, deceptive rhetoric, and blind party loyalty, the Democrats are horribly outmatched. Kurtz's pathetic attempt to make it seem otherwise only serves to make that more clear.
Keep reading...
Show less
For most people, Biden's plan is great news.
With the election of Joe Biden to the Presidency, you're probably here seeking to understand how much your taxes are going to go up.
The answer: most people will see no tax increases.
The tax plan that Joe Biden has rolled out is targeted at individuals making more than $400,000 a year, less than 1% of the population of the US. If you (like me) are not one of these lucky individuals, then it's very-likely that nothing in this article is going to apply to you.
But, for argument's sake, let's hop in the Model S, drive over to the penthouse, and analyze what Biden's tax code plans mean for you.
If you make over $400,000 a year
First, Biden is going to impose a 12.4% tax on incomes over $400,000 to fund Social Security, split evenly between employers and employees. This is a new tax, because Social Security taxes in the past have been capped on income at or below $137,700.
People who made over $137,700 had a tax break where they didn't have to pay into Social Security for all of their income. Biden's tax plan still allows people making over $137,700 to not pay the Social Security payroll tax for income above that amount as long as they make under $400,000.
When your income exceeds $400,000, you then have to start paying the tax again. This creates an interesting tax structure where people's income at the very bottom and the very top of their income is being taxed for Social Security, but income in the middle is not.
Second, while Biden is likely to keep many of changes from the Tax Cuts and Jobs Act, he has stated that he is going to revert the marginal tax rate for individual incomes above $400,000 from 37% back to the previous 39.6%. As with the Social Security tax, this does not kick in unless your income goes above $400,000.
Individuals making above $400,000 will also have their incomes above $400,000 see itemized deductions capped at 28%. That means if your income is over $400,000 and your tax rate is over 28%, you have less options for itemizing your deductions to get a lower tax rate.
Some business owners have benefitted from deducting up to 20% of their business income as well as 20% of the dividends from qualifying Real Estate Investment Trusts (REITs) on their taxes. Biden is proposing phasing that out for incomes above – drumroll - $400,000.
But what if you're not just making $400,000 a year? What if you are making even more than $400,000 a year? What if you earn over $1 million a year? That's when Biden's really going to hit you where it hurts – your investments.
Most people pay taxes on what's called "earned income," referring to things like your salary at your job. The tax rates for that range from 10% to 37%, depending on how much you make. If you make money from investments instead, that's a whole different story.
If you buy an investment and sell it for a profit within one year of purchase, you would pay your normal income tax on any profit you make. But if you hold the investment for longer than a year, you pay a reduced tax rate between 0% and 20%, depending on your income.
If you make over $200,000 ($250,000 for married couples), you would also pay a 3.8% tax on net investment income. What Biden is proposing is taxing any income over $1 million the same regardless of it comes from your salary or your long-term investments.
The wealthiest people in the US have seen a large amount of their income come from investments, and this measure would keep the wealthiest Americans from paying less in taxes than average working people just because the money comes from holding stocks or real estate instead of a traditional job.
If you make under $400,000 a year
Let's say that you, like more than 99% of Americans, do not make $400,000 a year. Does this mean Biden's tax plan will not affect you at all? There's actually a decent chance you might see some changes to your taxes.
Biden is proposing bringing back the First-Time Homebuyers' Tax Credit, originally created to help the housing market during the Great Recession, and provide up to $15,000 for first-time homebuyers. With interest rates at historic lows, this may be another incentive for you to consider dipping your toes into the real estate game and becoming a homeowner.
Biden is also proposing expanding the Child and Dependent Care Tax Credit from $3,000 up to $8,000 for one dependent and $16,000 if you have multiple dependents. The maximum reimbursement rate would also adjust from 35% to 50%. If you have kids or other dependents, this may reduce how much you pay in taxes by giving you a child tax credit the money you spend to support your family.
Biden also has a few very targeted tax cuts and tax benefits that will apply to a much smaller group of people. One is expanding the Earned Income Tax Credit (a tax credit for low-income people who are very close to the poverty line) and allowing people over the age of 65 to also claim the credit even if they do not have dependent children.
He would also provide a refundable low-income renter's credit, reinstate tax credits for the purchase of electric vehicles and improvements to your home to make them more energy-efficient, as well as exempt forgiven student loans from taxable income. These may not apply to as wide a group of people, but if you're older, a renter, looking to live a more green lifestyle, or seeking forgiveness for student loans, Biden's tax proposals can have you looking at a smaller tax bill.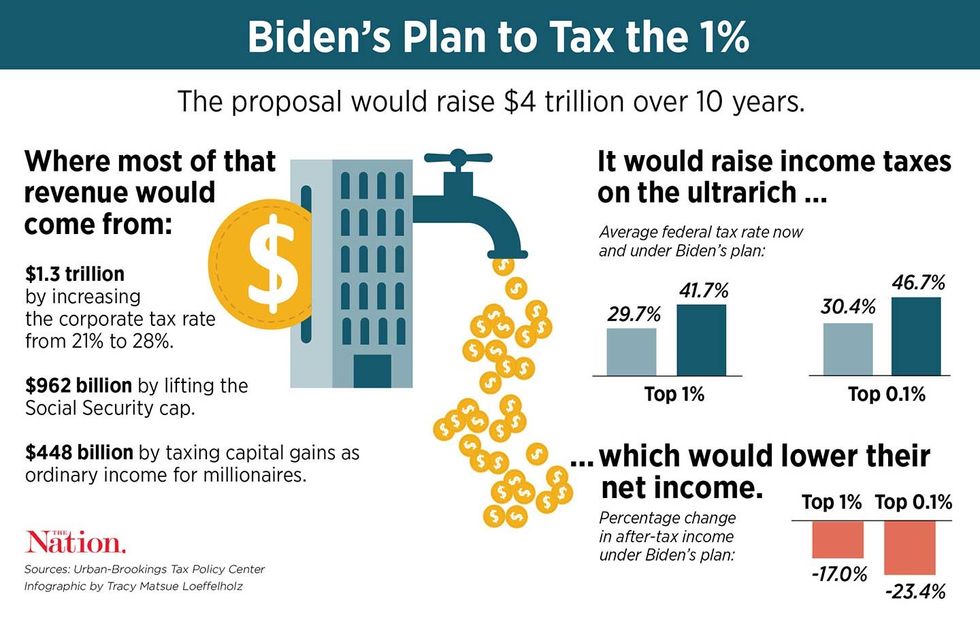 Biden's plans for inheritances
At first glance, it looks like everyone making more than $400,000 a year will pay higher taxes and everyone else will pay less taxes than they currently do. However, there is a part of Biden's tax plan that may have an impact on you even if you are lower income – if you have a rich family.
The Tax Cuts and Jobs Act raised the threshold at which estate taxes are paid and lowered how much they have to pay in taxes. If you stand to inherit an estate worth $11.6 million dollars today ($23 million if you are a married couple), right now you don't pay taxes on it.
If you inherit more than that, you would pay a top rate of 40% tax. Biden is proposing lowering the threshold where the tax would kick in back down to $3.5 million ($7 million for married couples) and raising the tax rate back to 45%. This will affect roughly 0.3% of estates. If you are in the 99.7%, you do not need to worry about the Biden inheritance policy.
Now, the next part is closing an inheritance loophole called the "stepped-up basis" loophole. Right now, when an heir inherits an asset, they only pay taxes on the gain in value of the asset from the time that they inherited it.
Let's say your parents bought $100 worth of stocks decades ago and today those stocks are worth $10,000. If your parents passed away and left you the stocks, you would be allowed to sell them immediately and not pay any taxes.
If you held the stock and the price rose to $12,000, you would only pay taxes on the $2,000 in value the stocks gained since you inherited it. This because the initial value of the stocks would be "stepped-up" to the value at the time you inherited it rather than the value at the time your parents bought it.
This loophole has allowed the very wealthy to leave very valuable assets to their children without needing to pay taxes and allowed generations to pass large fortunes to their children. Biden has proposed closing this loophole and not stepping-up the value of an asset when it is inherited; taxes will instead be paid on the value of the asset from when it was first purchased.
This part of the plan has yet to be fully fleshed-out by Biden, but it appears to be modelled after a proposal from the Obama administration. That plan allowed an exclusion of $100,000 per person (rising with inflation) and excluding $250,000 for primary residences ($500,000 for couples). It also allowed a 15-year payment period and tax deferrals for family-owned small businesses. Biden may roll out similar provisions once he rolls his tax plan out before congress.
Does any of the Biden tax policy outlines even matter?
Maybe?
Biden has presented something of a wish list for his tax plan, but that doesn't mean he can wave a magic wand on January 20th and put it into place. This plan will require significant negotiations in Congress, and if Republicans retain a Senate majority, they may refuse to even allow a bill to have a hearing. Ultimately, Biden's tax proposals may change significantly as they work their way through Congress and if they are not able to garner enough support, they may never come into effect.
Keep reading...
Show less
Here's everything you need to know about Election Day 2020.
For many of us, it's been a very long, divisive four years. Finally, the end (for better or for worse) is in sight.
Today, November 3rd 2020, all remaining votes for the president of the United States of America will be cast. Most years we know who will be the next president by the end of election night, but like many things in 2020, this election will likely be different.
In fact, it's highly likely that we won't know whether Joe Biden or Donald Trump won the presidency tonight.
Here's why:
Mail-In Ballots
Most significantly, results will likely take longer than normal because more people than ever are voting by mail this year due to the global health crisis. It takes longer to count mailed in ballots because states have to verify signatures and other safeguards against voter fraud. Additionally, some states don't allow mail ballots to be processed until election day, and some states still count mail ballots received after election day as long as they're postmarked by election day.
More Votes
Say what you will about this administration, but it has certainly mobilized voters. Prior to today, over 91 million Americans had already voted, a number that represents around 67% of the total ballots cast in the 2016 presidential election. By the end of today, experts believe we will see record-setting voter turn out.
Early Tallies Will Likely Be Misleading
Some states count the ballots cast on election day first, and experts believe these counts are likely to favor Trump, as his supporters are more likely to vote on election day. In contrast, other states count mail-in ballots cast prior to election day first, and these results are likely to favor Biden, as polls show that his supporters are more likely to vote by mail this year. Essentially, we are unlikely to get a clear picture of who won the presidency until all ballots are counted.
US Postal Service Delays
Due to delays in deliveries by the U.S. Postal Service, many are fearful that ballots won't arrive in time to be counted. To add to the injustice of this, Republicans, including Trump's camp, have been filing lawsuits to keep ballots delivered after election day from being counted.
To illustrate the magnitude of this problem, one can look to Michigan, where an appeals court has struck down a 14-day ballot-counting extension, meaning that voters are now being urged to drop off their mail in ballots in person. Courts have also ruled that extensions aren't allowed in Wisconsin and Indiana.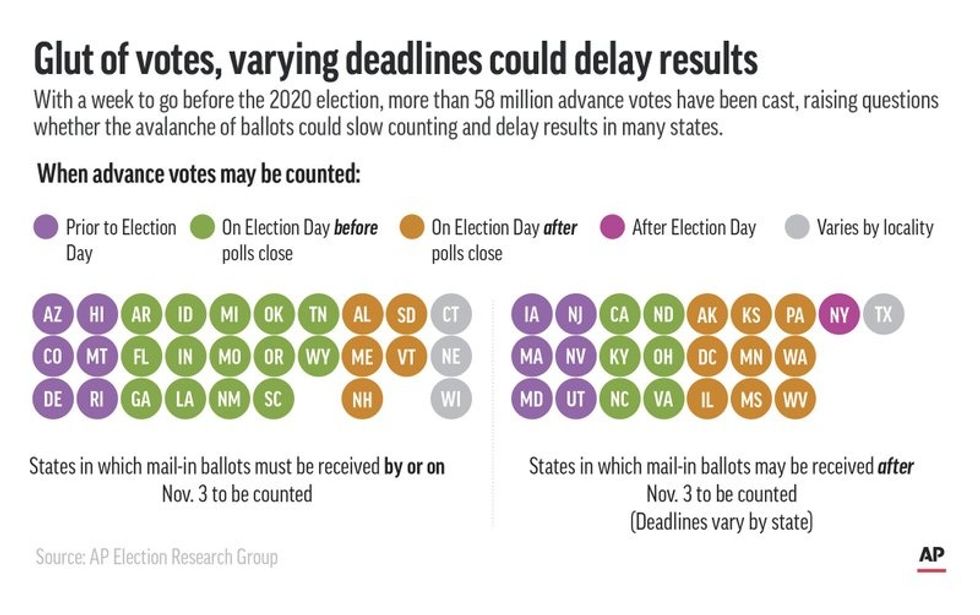 AP News
So when will we know who won?
We won't have a clear picture of who won until the swing states have been tallied. Here's when we can expect that to happen for each state.
Florida
Mail-in ballots can legally be counted in advance of election night in Florida, so we're likely to have an accurate picture of results tonight, which officials can release around 7:30 pm ET. However, if the election is close they may not call the state until Wednesday or Thursday.
Arizona
State law in Arizona allows mail-in ballots to be counted up to two weeks before election day, so it's likely election officials in Arizona have a clear picture of mail-in ballot results already. Arizona early vote results and and mail-in vote results can both legally be released about 10 p.m. ET tonight, and election day votes will soon follow. We may know Arizona's results on election night, but if the race is tight they may not call it for several days.
Michigan
We are unlikely to know Michigan's results on election night. According to NPR, "In Michigan, election officials in cities with more than 25,000 residents can start processing mail ballots on Monday at 10 a.m., sorting ballots and removing outer envelopes. They can't be counted, though, until Election Day."
"It could take until Friday, Nov. 6 for all ballots to be counted," the office of Michigan Secretary of State Jocelyn Benson wrote on Thursday.
North Carolina
North Carolina has a very similar system to Arizona, so while we may know results on election night, its also possible it will take several days if the race is tight. 80% of voters already cast their ballots either through the mail or via early voting, but that remaining 20% who will vote on election day are more likely to be Trump voters.
"For the 20% or so of North Carolinians who vote on Election Day, we will be receiving those from the precinct and uploading those, as well," executive director of the North Carolina State Board of Elections Karen Brinson-Bell said on Thursday. "So, if there are really close races, those Election Day votes will tremendously matter in the outcomes of these elections."
Pennsylvania
We're unlikely to know the results of Pennsylvania on election night. Some counties may not even begin tallying absentee ballots until Wednesday. "We're sure it will take more time than it used to," Gov. Tom Wolf said Thursday. "We probably won't know results on election night." Luckily, Pennsylvania can accept mail-in ballots up to three days after the election as long as they are postmarked by election day.
Wisconsin
We should know the results for Wisconsin by Wednesday morning (Nov 4) at the latest. They aren't allowed to pause election counting once its begun according to state law, so its likely election officials will work through the night in some counties to offer results by Wednesday morning.
So...
In summary, it's likely we will not know election results for several days, unless it is such an enormous blow out (unlikely) that results become evident early. This could happen if Biden takes a key Republican state like Texas, but more than likely we'll just have to wait and see.
Keep reading...
Show less
What could possibly end decades of American global leadership? Trump's Personality.
Donald Trump says his foreign policy is "America First," but in reality, it's "America Only."

He has spent the last four years sowing seeds of distrust amongst our Democratic allies while mending fences with strongman autocratic dictators. If America were to get into a major war today, it's hard to know what side we would be on and who would even be willing to help us.
Donald Trump abandoned our Kurdish allies in Syria.
As commander in chief, Donald Trump abandoned Kurdish allies in the Middle East, allowing Turkish forces to invade Syria. The Kurds had helped the US fight against the Islamic State since 2014 and are a part of the Syrian Democratic Forces, and they fought side by side with American forces for years.
Trump's sudden withdrawal was met with ire from American leaders on both sides. Mitch McConnell urged the president to reconsider, warning that "major new conflict between Turkey and our partners in Syria would seriously risk damaging" the U.S.-Turkey relationship. "American interests are best served by American leadership, not by retreat or withdrawal," he said. Even South Carolina senator Lindsey Graham called this retreat a "stain on America's honor."
Donald Trump is destroying our relationships with European allies.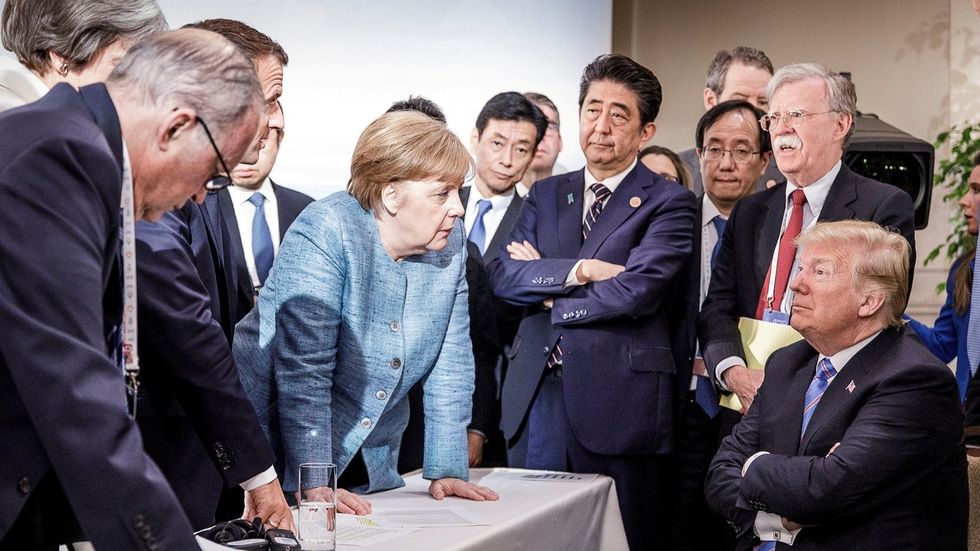 German Chancellor Angela Merkel speaks to U.S. President Donald J. Trump during the second day of the G7 meeting in Charlevoix, Canada on June 9, 2018. Jesco Denzel/Bundesregierung
Trump often describes the European Union, whose membership overlaps significantly with NATO's, as a competitor rather than a close global partner—as it has been to every recent American president. He has threatened to pull out of NATO and at one point said the U.S. would "no longer deal" with the British ambassador. He also implemented a plan to pull 10,000 U.S. troops out of Germany without warning NATO or German Chancellor Angela Merkel. These are all huge divergences from the past, when the US shared a close and mutually beneficial relationship with Europe.

All Republican and Democratic presidents since World War II have expressed strong support for a united Europe and for NATO. However, Donald Trump has spent all of his time criticizing the alliance and accusing allies of not paying their fair share. Following Trump's threats, French President Emannuel Macron warned European countries that they can no longer rely on a Trump-led America to defend NATO allies. "What we are currently experiencing is the brain death of NATO," Macron said. Trump responded by calling the French allies' words "very, very nasty."
Trump has also promised to pull out of the World Health Organization during the largest global health crisis in the last 100 years. The WHO is definitely not the most efficient organization, and certainly needs reform. However, unilaterally pulling out leaves our allies in a tough position, and surrenders the organization mostly to the control of its next largest stakeholder, China.
Trump has also brought tension to the G-7 alliance. The G-7 alliance is a group of seven major developed Democratic countries: Canada, France, Germany, Italy, Japan, the United Kingdom, and the United States.
The Trump administration has repeatedly called for Russia to be readmitted to the group, which has created conflict with the other countries. In 2018 Trump refused to sign a joint agreement with the group that vowed to ensure "free, fair, and mutually beneficial trade" while fighting protectionism. Instead Trump doubled down on protectionist tariffs (taxes on imports from other countries) continually punishing our allies in Canada and the EU.
German Chancellor Angela Merkel described Trump's behavior as a "depressing withdrawal," while French President Emmanuel Macron invited him "to be serious." The extent of the damage became clear in 2020 when it was Trump's turn to host the G7 summit and Angela Merkel declined to attend, citing both the dangers of the coronavirus and Trump's decision to invite Vladimir Putin to the summit.
Trump's invitation to Putin also drew the ire of the UK and Canada, whose leaders came out publicly against the move. The summit was rescheduled to 2021.
All of these actions have weakened the United States' relationship with our strongest democratic allies, while simultaneously, Trump has praised and appeased some of the world's most notorious despots and autocrats.
Donald Trump is a Vladimir Putin fanboy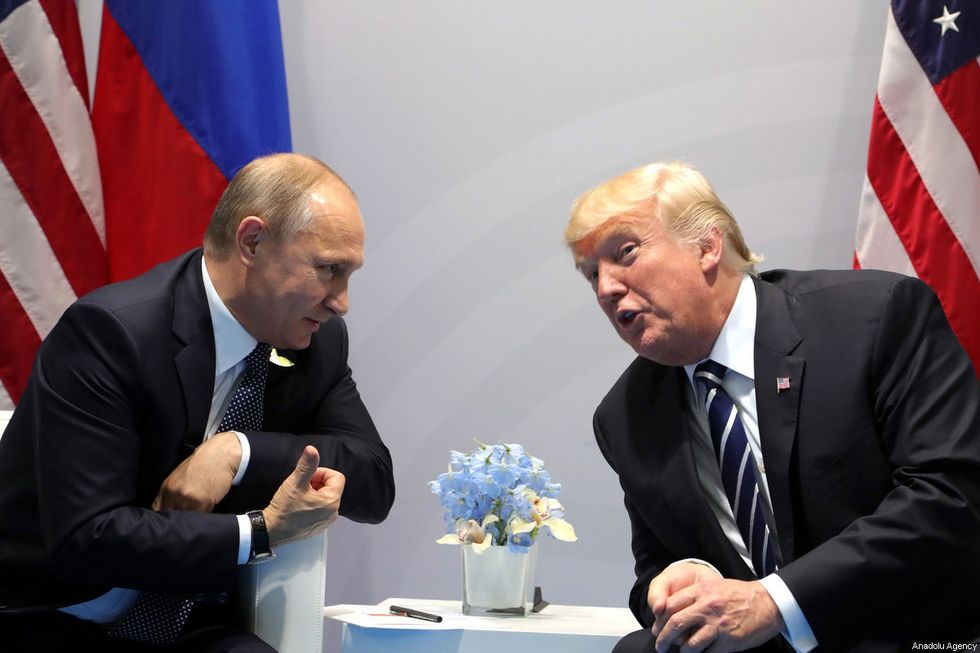 Russian President Vladimir Putin (L) and US President Donald Trump (R) in Hamburg, Germany, on 7 July 2017 Russian Presidential Press and Information Office/Anadolu Agency
Trump has been a Putin fan for years. Before he entered the White House, Trump wrote a series of adoring letters to Russian President Vladimir Putin. In the letters, which were released to the public in a Senate intelligence committee report, Trump told Putin that he was a "big fan" and asked him to be a guest of honor at a Miss Universe Pageant in Moscow.
Around the same time, Trump told Larry King that Putin had done "a really great job outsmarting our country" and told David Letterman that he himself had done "a lot of business with the Russians" and that Putin was "a tough guy." He later denied ever having met Putin.
When Joe Scarborough mentioned that Putin's Russia had been accused of killing journalists, Trump responded "He's running his country and at least he's a leader, unlike what we have in this country." Trump added, "I think our country does plenty of killing also, Joe, so you know. There's a lot of stupidity going on in the world right now, a lot of killing going on, a lot of stupidity." Not a particularly patriotic statement. For context, at least 34 journalists have been murdered in Russia since 2000, while during the same time period 3 journalists have been murdered in the United States.
Trump's love for Putin has translated to wildly inconsistent policies. When Trump pulled us out of Syria, he left Russia with control of the area. Trump personally froze $391 million in US military and security assistance for Ukraine in their fight against Russia, Trump directed the Central Intelligence Agency to share more counterterrorism intelligence with Russia, and Trump pulled troops out of Germany a move which nearly two dozen Republican lawmakers said would "strengthen the position of Russia to our detriment."
Fellow Republican Charlie Dent who served in Congress for 13 years criticized the president, saying, "Never in my wildest dreams could I have imagined a Republican President praising autocrats and advancing Russian President Vladimir Putin's foreign policy interests in Europe and the Middle East." Yet Trump has done exactly that.
Donald Trump loves dictators.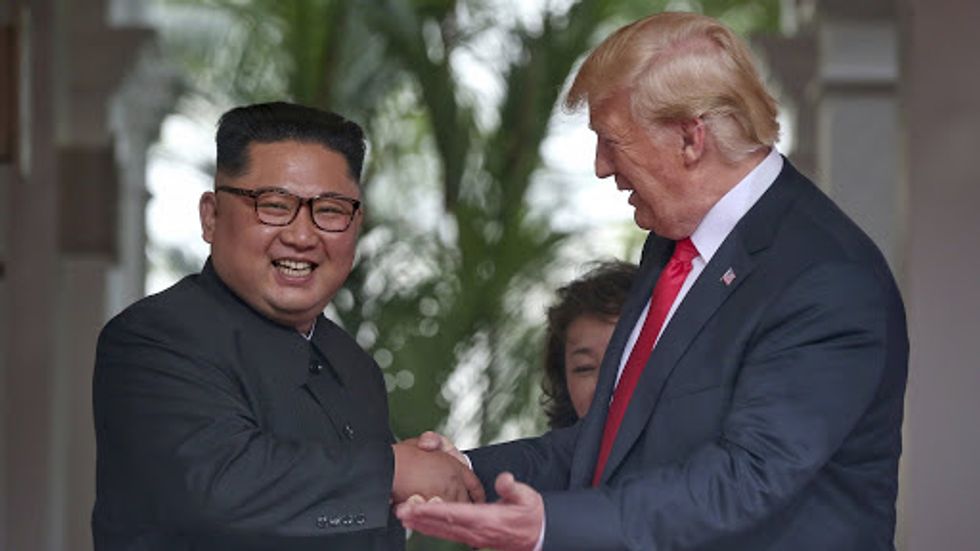 Trump and Kim Jong Un in 2018 AP
President Trump has spoken glowingly of many of democracy's greatest enemies. He said he fell in love with Kim Jong Un, who rules North Korea with extreme brutality. At a rally in 2018 Trump said, "And then we fell in love, OK? No, really, he wrote me beautiful letters, and they're great letters. We fell in love." North Korea is among the worst human rights violators in the world.

Trump has also formed a friendship with Turkey's Recep Tayyip Erdoğan, an authoritarian leader whose country has the most jailed journalists of any country in the world. Turkey is technically our ally despite their undemocratic government since they're a member of NATO, but Trump seems to like Erdogan on a more personal level, hailing him as a "great leader" and saying Erdogan "has become a friend of mine."
He also considers Xi Jinping, the communist dictator of China, to be a friend. President Xi is known for ending term limits so he could rule for life, for detaining and torturing Uighur Muslims, and forcibly suppressing any dissent. Trump says of Xi, "And I like President Xi a lot. I consider him a friend, and—but I like him a lot. I've gotten to know him very well. He's a strong gentleman, right? Anybody that—he's a strong guy, tough guy."
Trump has referred to Egyptian President Abdel-Fattah al-Sisi as "my favorite dictator," and said that "He's a very tough man, I will tell you that. But he's also a good man, and he's done a fantastic job in Egypt. Not easy." al-Sisi became ruler of Egypt after he orchestrated the military's July 2013 removal of Mohamed Morsy, Egypt's first freely elected president. This military coup included the killing of at least 900 protesters.
The trend here is that Trump seems to view "strong" and "tough" as the highest compliments, and refuses to confront dictators about their significant human rights violations.
Donald Trump has the lowest confidence rating amongst our allies.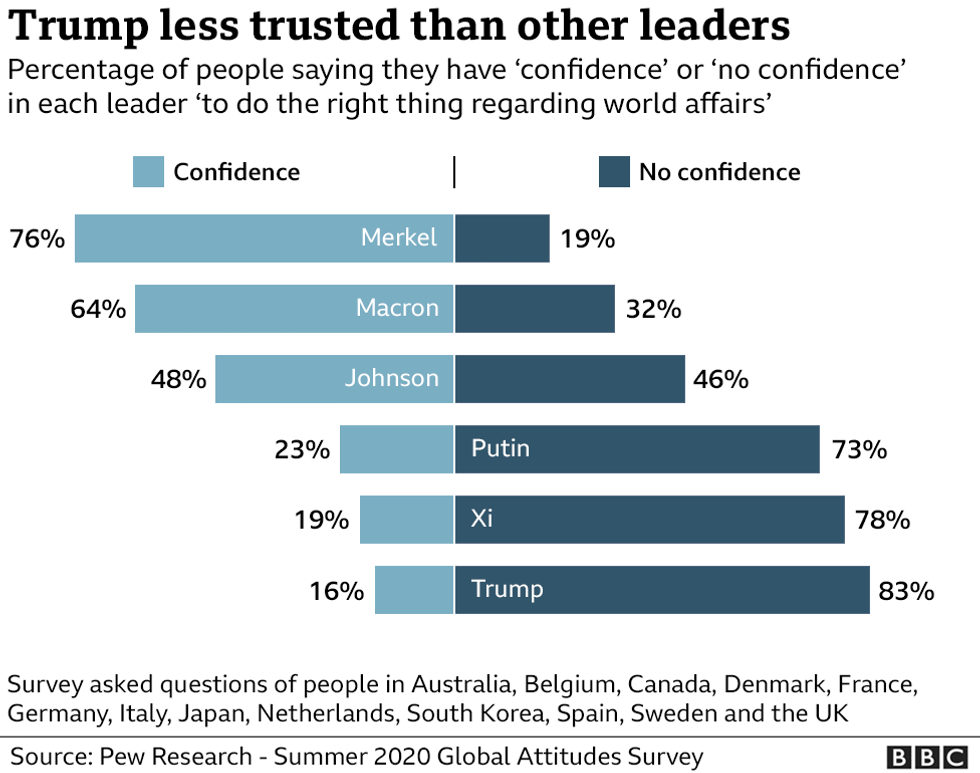 Survey of American allies confidence in world leadersPew Research
A new 25-nation Pew Research Center survey shows that our allies in Europe have a particularly low opinion of Donald Trump. When asked if they had confidence that the US president would do the right thing regarding world affairs, only 28% of the UK, 10% of Germany, and 9% of France expressed confidence.
An even more recent 13-nation Pew Research Center survey asked candidates to compare 6 world leaders, Emmanuel Macron of France, Angela Merkel of Germany, Boris Johnson of the UK, Xi Jinping of China, Donald Trump of the United States, and Vladimir Putin of Russia. The survey examined attitudes towards the leaders, and overall Donald Trump received the most negative ratings among the five. Lower than the two dictators. A median of 83% across the 13 allied nations polled lack confidence in our American leader.
Trump himself is aware of the stark contrast between his relationships with our allies vs his relationship with our enemies. In a recording by Bob Woodward, he says, "It's funny, the relationships I have, the tougher and meaner they are, the better I get along with them. You'll explain that to me someday, ok? But maybe it's not a bad thing. The easy ones I maybe don't like as much or don't get along with as much."
But it's easy to explain: he gets along better with the strongman autocrats who hate the press and love looking tough, because he sees himself and everything he wants to be in them.
Trump's personality is irreparably bad for our national security. In August 2020, 130 Republican senior national security officials released a statement proclaiming that they believe Donald Trump has damaged the United States' standing in the world and has compromised our nation's safety. They stood together to publicly state that "The President has demonstrated that he is dangerously unfit to serve another term."
Read their entire letter here:
Keep reading...
Show less