Trump continues to alienate the U.S. from the global community by panning diplomacy for his own agendas.
Donald Trump singled out the United States before the entire international community at the G20 summit over the weekend. He was the only leader in attendance to refuse to sign a joint statement pledging a non-binding commitment to continue combating climate change.
After a strenuous, all-night negotiation in Buenos Aires, the world leaders issued a communiqué re-affirming that the Paris climate agreement "is irreversible" and vowing "full implementation" of its policies to "continue to tackle climate change, while promoting sustainable development and economic growth."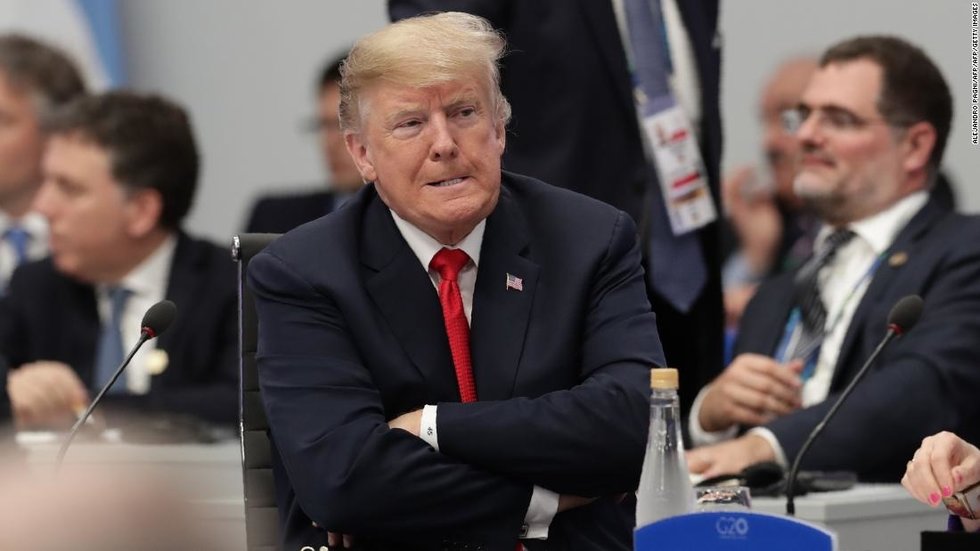 CNN
However, the summit was fraught with tensions over various countries' objections and demands, including Trump's refusal to budge on climate change or trade agreements. As such, world leaders struggled to pen a separate clause to account for Trump's "America First" stance. The communiqué reads: "The United States reiterates its decision to withdraw from the Paris Agreement, and affirms its strong commitment to economic growth and energy access and security, utilizing all energy sources and technologies, while protecting the environment."

In another compromise forced by Trump's intransigence, this year's G20 statement also shirked its usual promises to fight protectionism and uphold multilateral trading rules. The summit weakly acknowledged the "contribution" of the "multilateral trading system," despite the fact that it's "falling short" of its goals in trade growth and job creation. One European official present at the weekend's negotiations told NBC News, "There were moments when we thought all was lost."
At last year's summit, Trump shocked world leaders with his first refusal to join the consensus on climate and trade issues. He continued to alienate the U.S. from the international community over the summer. In June, the president refused to sign a joint statement on global economic policies from the G7 summit, even taking to Twitter to deride Canadian Prime Minister Justin Trudeau over the policies.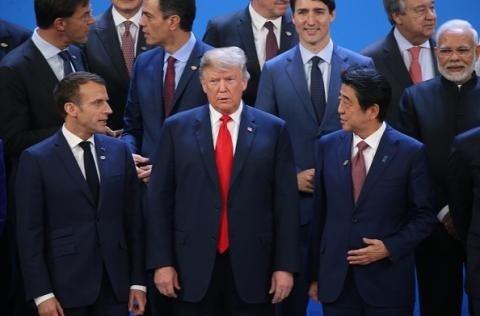 Newsweek - Getty Images
As a final act of belligerence, Trump stormed off the stage as the rest of the world leaders gathered for a photo to commemorate the end of a two-day effort in global solidarity. After shaking hands with Argentine President Mauricio Macri, Trump left Macri visibly confused on stage as he hastily left. Trump was audibly recorded telling an aide, "Get me out of here."

Reluctantly, he returned to the stage moments later to pose for group photos.
Hilarious moment Trump caught saying "get me out of here" at G20 Summit www.youtube.com
Meg Hanson is a Brooklyn-based writer, teacher, and jaywalker. Find Meg at her website and on Twitter @megsoyung.

In a closed vote House Democrats spotlit Pelosi with overwhelming support, 203-32.
Nancy Pelosi secured the Democratic nomination on Wednesday, regaining her position as Speaker of the House. Pelosi, 78, ran unopposed on a secret ballot when the House Democrats cast a 203-32 vote in a closed door meeting.
Still, Pelosi was opposed by a small faction who charge that the Californian lawmaker is too divisive a figure to represent the party. Rep. Brian Higgins (D-N.Y.) was an initial detractor, but he turned to voice his endorsement of Pelosi last week.
Higgins told reporters, "Democracy is a sloppy mess. ... There are a lot of differing views, even within the Democratic Caucus. The ability to pull that together is not clean and efficient all the time, and everyone has laid on the table what they are looking for." He added, "Everyone here, 435 members in the House, has one legislative tool and that is their vote."
The House of Representatives will elect a new speaker on January 3. Even with Democrats holding a majority of the 435 seats, it's still possible for Pelosi to lose the final vote; those 32 opposers are enough to tip the scales if Republicans unanimously reject her. Pelosi has until the new year to win over more representatives like Higgins.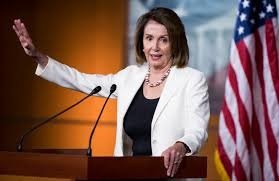 Time Magazine
Meg Hanson is a Brooklyn-based writer, teacher, and jaywalker. Find Meg at her website and on Twitter @megsoyung.

Trump threatens to close the border completely, despite having no authority to do so.
On Sunday, a group of Mexican migrants reportedly rushed the San Ysidro border crossing near San Diego, drawing tear gas from Border Patrollers. Consequently, the crossing was closed for several hours. Homeland Security Secretary Kirstjen Nielsen later said the closing of the border was "to ensure public safety in response to large numbers of migrants seeking to enter the U.S. illegally." According to the Washington Post, "At least two dozen tear gas canisters could be seen on the Mexican side of the border after the migrants eventually turned back."
Images from the incident, shot by Reuters photographer Kim Kyung-Hoon and showing young children fleeing the tear gas in obvious distress, have elicited outrage across the country. The photos also appear to contradict Republican propaganda claiming the migrant caravan was full of criminals.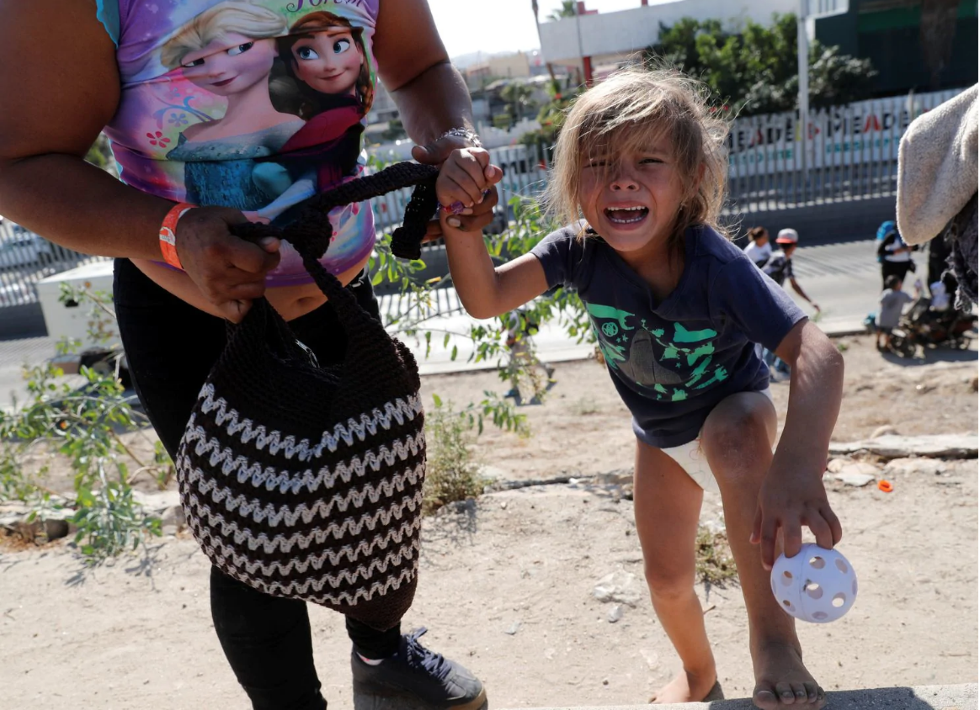 Kim Kyung-Hoon/Reuters
Senator Brian Schatz, D-Hawaii, condemned the extreme measures taken by border patrol, tweeting:

Gavin Newsom, the Democratic governor-elect from California, echoed this sentiment, saying:
On Monday, President Trump addressed the border closing by threatening to close the border permanently and calling for the deportation of the tear gassed migrants.
Despite this inflammatory claim, there are no legal provisions that would allow Trump to close the border in its entirety. Additionally, by law, asylum seekers must be allowed to present their case to a U.S. judge if they're able to cross the border. This means that the migrants who were tear-gassed on Sunday were not there illegally at all, and U.S. officials are required by law to consider their claim before deporting them back to Mexico. Yale Law School's Harold Hongju Koh, former legal adviser to the State Department, said that what Trump does not understand "is that everyone crossing our Southern border is not illegally present. Those with valid asylum claims have a legal right to assert those claims and remain."

But as the number of migrants waiting at the border grows and as Trump's anti-immigration policies and rhetoric cause longer and longer delays in the hearing of these cases, illegal immigration actually becomes more likely, not less. Wayne Cornelius, professor at the University of California, San Diego and expert on the border, told the New York Times, "The longer the caravaners stay in Tijuana, the more likely they are to succumb to the temptation to cross illegally into the U.S." So the Trump administration's anti-immigration stance is not only perpetuating a false impression that immigrants at the border are breaking the law, but also making the illegal immigration they're supposedly so opposed to more likely than ever.
Now, Trump is reportedly working with the Mexican government to add further peril and hardship to the journeys of these migrants. Trump tweeted on Saturday:
This provision, which the new Mexican government is reportedly agreeable to, would further violate asylum laws, which state that the United States must ensure that individuals waiting for asylum are safe not only from a hostile government, but from gangs and other threats. It would be nearly impossible for America to ensure asylum seekers this kind of protection while they're still in Mexico, and it would undoubtedly require a massive allocation of resources to do so. The American Civil Liberties Union immigration attorney Lee Gelernt told the Washington Post on Sunday night, "We believe it would be impossible for the U.S." to ensure asylum seekers safety while still in Mexico.
The truth of the matter is that these migrants are not the villains Trump has made them out to be, as they're merely seeking a better life for themselves and their families. Andrés Medina, 22, who left Honduras to escape gang recruitment and was a part of the group that rushed the crossing, said, "We've got to try one more time, we don't even have weapons." He added, "We just wanted to cross."
Brooke Ivey Johnson is a Brooklyn based writer, playwright, and human woman. To read more of her work visit her blog or follow her twitter @BrookeIJohnson.
Democrats have control of the House for the first time in eight years. Now, they have a mandate to push for a bold agenda on infrastructure, healthcare, immigration, and voting rights.
After months of warnings, the "Blue Wave" finally came to shore. Democrats took back control of the House, gaining 32 seats, a number that could increase to 38 or 39, depending on the results of the uncalled races. With the party back in charge of the lower chamber, much of the discussion around what their priorities should be has revolved around investigating the president and his myriad of financial and political scandals. House Democrats have a clear mandate to fulfill their constitutional duty to provide oversight of the White House, but Democrats also have a mandate to address a number of major legislative issues. Though it's unlikely Democrats that will get any of these priorities pushed before the president and a Republican Senate, it's crucial that they signal to their voters what they want to done should they win the presidency and the Senate in the future.
Infrastructure
As a candidate and in the beginning of his presidency, Donald Trump promised to tackle the nation's crumbling infrastructure. That, of course, has gone nowhere and every "Infrastructure Week" ended in some scandal, quickly becoming an ongoing joke. But the state of America's infrastructure is nothing to joke about. Infrastructure spending has long been a Democratic Party priority before Trump attempted to co-opt it. Democrats should push that issue once again, proposing a bold infrastructure plan to repair crumbling roads and bridges, modernize public transportation systems, expand access to high-speed, fiber-optic Internet, and invest in green energy projects like wind, solar, and hydroelectric power.
Such an infrastructure plan would signal the party's commitment to investing in neglected communities and funding renewable energy projects such as a broader plan to combat climate change—not to mention open the door to the many economic benefits of infrastructure spending. It would also establish a clear contrast with Trump's previous infrastructure plan that's been criticized as a giveaway to private contractors. The president has said he is willing to work with Democrats, so why not press him to keep his word? Democrats would be wise to pressure the president and his Republican supporters to prioritize infrastructure, or face political consequences.
Healthcare
No other issue played a bigger role in the Democrats' midterm success than healthcare. Their electoral message on healthcare was simple: Protect people with pre-existing conditions, expand coverage and stop proposed cuts to Medicare and Medicaid. Now they must deliver on these promises. House Democrats can immediately pass legislation to protect coverage for people with pre-existing conditions, pressuring Trump and other Republicans who have vowed to do the same to keep their word. With a full repeal of the Affordable Care act now temporarily off the table, Democrats should push to expand coverage and address the limitations of the ACA. These can range from introducing incremental policies that get support from more moderate Democrats, like legislation to stabilize insurance markets, to bolder policies that attract the progressive wing of the party, like allowing Medicare more power to negotiate drug prices and proposing a Medicare buy-in for 55 to 64-year-olds.
While the long-term goal for the party should be to push for a Medicare for All system, these are positive steps toward a goal that still has a lot of opposition from within the party. Finally, any budget proposed by House Democrats should reverse any funding cuts to Medicare and Medicaid. Democrats have an ideal opportunity to push for a positive vision on healthcare and continue to have the upper hand on the issue heading into 2020.
Immigration
Bitter political battles over immigration, especially over funding for the border wall and the fate of DACA, will be a prominent feature of politics the next two years. Democrats are right to be alarmed over the administration's immigration policies like family separation and ending DACA, but now it's crucial they advocate for an immigration agenda in contrast to the Republican agenda. With the fate of DACA likely in the hands of the Supreme Court, Democrats must push for a long-term legislative solution. The most stable solution is the passage of the Dream Act. It would also be politically beneficial for the Democrats to bring it to the floor cleanly, without a compromise on funding for the wall. Furthermore, Democrats should schedule hearings about the family separation policy and Trump's pre-election decision to bring troops to the southern border in response to the migrant caravan. Democratic voters have become more liberal on immigration, and it's important the party signal to its base that they are willing to find solutions on the issue without compromising its core values.
Voting Rights
Much of the post-election analysis has focused on the effects of voter suppression, notably in Georgia, North Dakota, and Florida. These voter suppression efforts have only increased since the Supreme Court struck down the section of the Voting Rights Act, which required states with a history of racial discrimination to get permission from the Department of Justice when enacting any changes in voting laws. In response, states around the country immediately passed strict voter ID laws. Fortunately, the Supreme Court decision left the door open for future legislative action. House Democrats can immediately take action and strengthen the Voting Rights Act. They would also be wise to propose legislation to make Election Day a federal holiday, or move Election Day to a Sunday, as it is in most places around the world. While Republicans are busy spreading conspiracy theories about voter fraud, Democrats should take the opposite path and make it clear they will fight continuing discrimination in voting. For strategic and moral purposes, the party has an obligation to extend democracy in every way when voting rights are under tremendous pressure.
Dan is a writer, thinker and occasional optimist in this random, chaotic world. You can follow him on Twitter @danescalona77.
The 85-year-old Supreme Court Justice fell in her office on Wednesday night.
According to a statement from the Supreme Court, Justice Ruth Bader Ginsburg fell in her office Wednesday night and fractured three ribs. Initially, the Justice thought all was well following the fall and went home. After experiencing pain throughout Wednesday night, however, she was admitted to George Washington University Hospital Thursday morning.
Her stay at the hospital meant that Ginsburg was not present for Thursday's investiture of Trump-appointed Justice Brett Kavanaugh, an event that reportedly drew crowds in protest.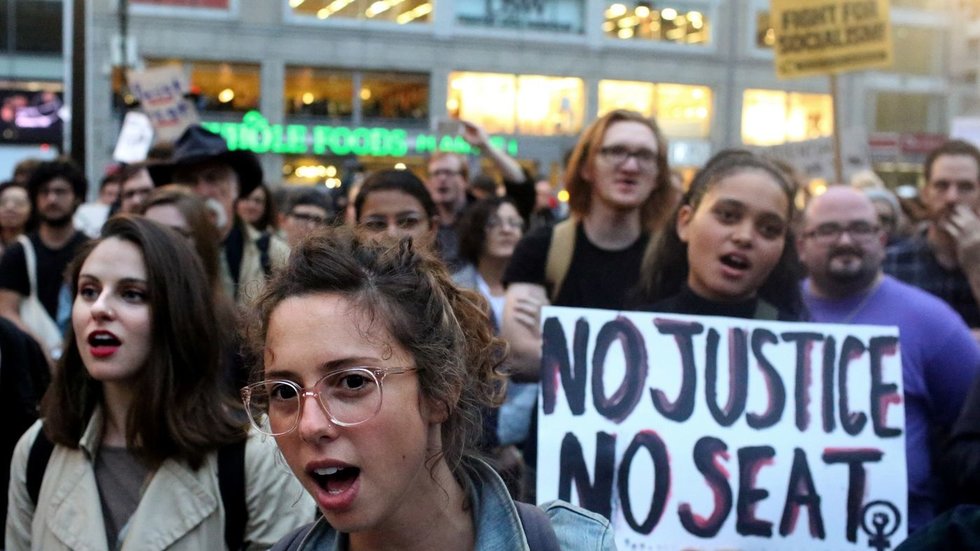 LA Times
Since her appointment to the court in 1993, Ginsburg has become a pop culture icon, praised by progressives for her liberal influence. In particular, Ginsburg is seen as an opponent of President Trump, whom she called "a faker" in 2016. Since the replacement of Justice Anthony M. Kennedy by conservative Justice Brett Kavanaugh, progressives have been particularly concerned as to the state of Ginsburg's health, fearing that her age may force her to retire before Trump's tenure ends, allowing him to put another conservative Justice on the bench.
The next sitting of the Supreme Court begins Nov. 26, and given Justice Ginsburg's history of attending work despite health issues, her fractured ribs are unlikely to hinder her participation. She broke two ribs in 2012 and returned to work the next day. In November 2014, she underwent a heart procedure; in 2009, she was treated for early stages of pancreatic cancer and returned to work three weeks later.
In July, the Justice stated that she hopes to stay on the bench for the duration of Trump's term. "I'm now 85," Ginsburg said. "My senior colleague, Justice John Paul Stevens, he stepped down when he was 90, so think I have about at least five more years."

Brooke Ivey Johnson is a Brooklyn based writer, playwright, and human woman. To read more of her work visit her
blog
or follow her twitter
@BrookeIJohnson
.
Sessions submitted a letter of resignation "at the request" of the president earlier on Wednesday.
Administrative changes were expected following yesterday's midterm elections, but perhaps none with implications as big as the ousting of Attorney General Jeff Sessions. Sessions, who submitted a letter of resignation at the request of the president, has been the target of criticism from his boss for more than a year after recusing himself from special counsel Robert Mueller's investigation into Russian interference in the 2016 presidential election and possible collusion from the Trump campaign.
Sessions's chief of staff, Matthew Whitaker, will assume the role of acting attorney general until a permanent replacement is named. Whitaker will oversee the Mueller investigation, which has so far led to the convictions and guilty pleas of Trump allies including campaign chairman Paul Manafort and former personal lawyer, Michael Cohen. Though the former Alabama senator was one of the president's earliest and loudest supporters, he has been on the receiving end of Trump's consistent and public grievances.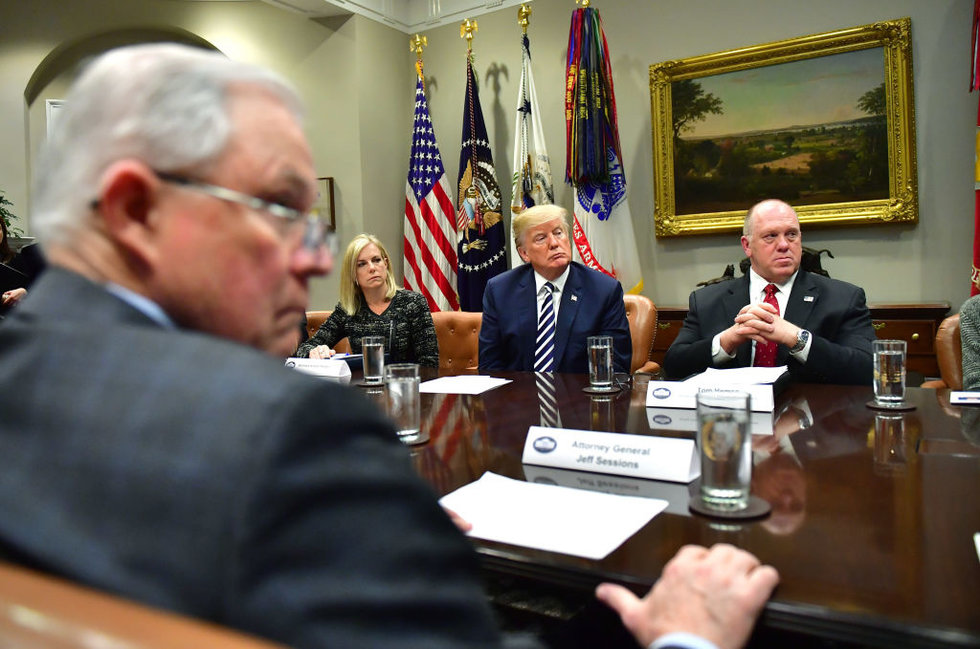 President Trump holds a law enforcement roundtable on sanctuary cities at the White House Getty Images North America
"Sessions should have never recused himself, and if he was going to recuse himself, he should have told me before he took the job and I would have picked somebody else," the president told the New York Times in a July interview.
The president has also lambasted Sessions for his management of the Justice Department, though Sessions has largely worked to make good on Trump's campaign promises by shifting legal focus away from protection of civil rights in favor of measures of "law and order" in the name of immigration reform and national security.
Reaction from Democratic leadership has been swift. Ranking House Judiciary member Jerry Nadler took to Twitter demanding answers about the timing of the announcement, and Minority Leader Chuck Schumer told reporters that any resulting interference with the special investigation would be considered a "constitutional crisis."
Whitaker, a former US attorney from Iowa who serves as director of the conservative ethics watchdog group Foundation for Accountability and Civic Trust, published an opinion piece for CNN in 2017, before he had joined the Justice Department, which was titled "Mueller's Investigation into Trump has Gone too Far."
Rebecca Linde is a writer and cultural critic in NYC. She tweets about pop culture and television @rklinde.
It was an election night of firsts.
While the midterm elections didn't bring the overwhelming blue wave Democrats had hoped for, they managed to win an important moral victory, electing several representatives from demographics that had never before been represented in Congress.
In the 2018 midterms, the U.S. elected its first Muslim congresswomen, Ilhan Omar of Minnesota and Rashida Tlaib of Michigan, both Democrats. Kansas and New Mexico elected the nation's first Native American women to join congress, Democrats Deb Haaland (KS) and Sharice Davids (NM). South Dakota and Maine elected their first female governors, Tennessee and Arizona sent women to the Senate for the first time, and Massachusetts and Connecticut elected their first-ever black women to the House. These milestones are joined by America's first lesbian mom in congress (Angie Craig, Minnesota), the first openly gay man elected as a state's governor (Jared Polis, Colorado), and the youngest woman ever elected to Congress, twenty-nine-year-old Democrat Alexandria Ocasio-Cortez (NY).
As NPR reports, "record numbers of Native Americans, Muslim Americans and women, including many women of color, ran for office in 2018. A 'rainbow wave' of LGBTQ candidates also sought office. And after the ballots were cast, all those groups notched notable firsts."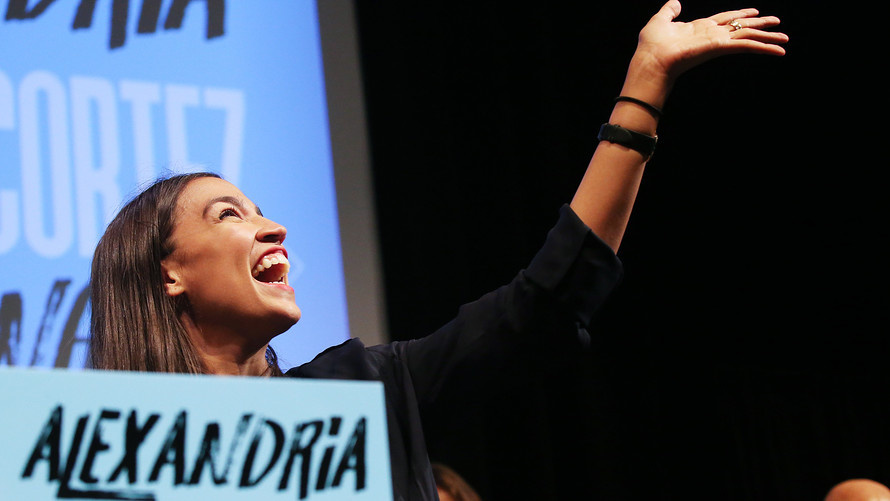 Alexandria Ocasio-CortezMarketWatch
These candidates can likely thank a record turnout by women and young people for their victories. The polls found that voters under 30 favored Democrats by a 35-point margin over Republicans, compared with an 11-point margin in 2014, and women chose the Democratic Party by 19 points — the largest margin in the history of US midterms — compared with their margin of four points in 2014, according to network exit surveys from CNN.
Despite these Democratic victories, Trump can take comfort in the fact that Republicans managed to retain control of the Senate, exposing an America deeply divided. As CNN points out, the midterm results "underscored a political and cultural gulf among diverse and affluent liberals living in big cities and their suburbs and the mostly, white, working class and rural conservative bloc of voters for whom Trump remains an iconic figure." The midterm elections proved that the extreme polarization of political leanings, to which many attribute Trump's 2016 election, are still alive and well in America.
But even with consistent support from his base, this new influx of progressives to Washington spells bad news for the Trump administration, as Democrats are prepared to closely scrutinize Trump's policies on immigration, education, and healthcare. But progressive leaders have also made it clear that they don't plan to immediately pursue impeachment, as former House Majority leader Nancy Pelosi said that a call for impeachment "would have to be bipartisan, and the evidence would have to be so conclusive."
Despite this, Trump has already begun threatening Democrats with retaliation if they move to investigate him, tweeting:
If the Democrats think they are going to waste Taxpayer Money investigating us at the House level, then we will likewise be forced to consider investigating them for all of the leaks of Classified Information, and much else, at the Senate level. Two can play that game!
— Donald J. Trump (@realDonaldTrump) November 7, 2018
Senate Majority Leader Mitch McConnell (R-Ky.) has also picked up this defensive tune, telling reporters Wednesday morning that he cautioned Democrats against engaging in "presidential harassment."

In response, Democratic Rep. Jerrold Nadler, the likely leader of the House Judiciary Committee, cautioned Republicans that the election was about accountability for Trump. "He's going to learn that he's not above the law," Nadler said.
Brooke Ivey Johnson is a Brooklyn based writer, playwright, and human woman. To read more of her work visit her blog or follow her twitter @BrookeIJohnson.
New Jersey voters face a difficult choice.
It's a tough pill for progressives to swallow that in the age of the Trump GOP, one of our most flagrantly corrupt politicians is a Democratic senator. It's difficult to say when exactly the scandals surrounding New Jersey Senator Bob Menendez began, but it may have been as early as 2006, when "federal prosecutors suspected that the New Jersey senator had steered federal funds to a nonprofit group that was paying him rent." Or in 2014, when Menendez allegedly helped free two accused Ecuadorian criminals in exchange for campaign donations. There have even been rumors that just before Menendez's 2012 election, he was involved with underage prostitutes in the Dominican Republic, though the FBI ultimately found no evidence to support these allegations.
At this point, Menendez has escaped all of these scandals relatively unscathed. The most he has faced in the way of repercussions was the Senate Ethics Committee "severely admonishing" him for accepting over a million dollars in gifts from an affluent Florida eye doctor. But whether Menendez's behavior has been explicitly unlawful or not, there is no question that the Democratic senator has a questionable moral compass unbecoming of a lawmaker, as well as a knack for getting out of trouble. And now, thanks to the virulently anti-Trump attitude of New Jersey, Menendez may just avoid negative consequences once again.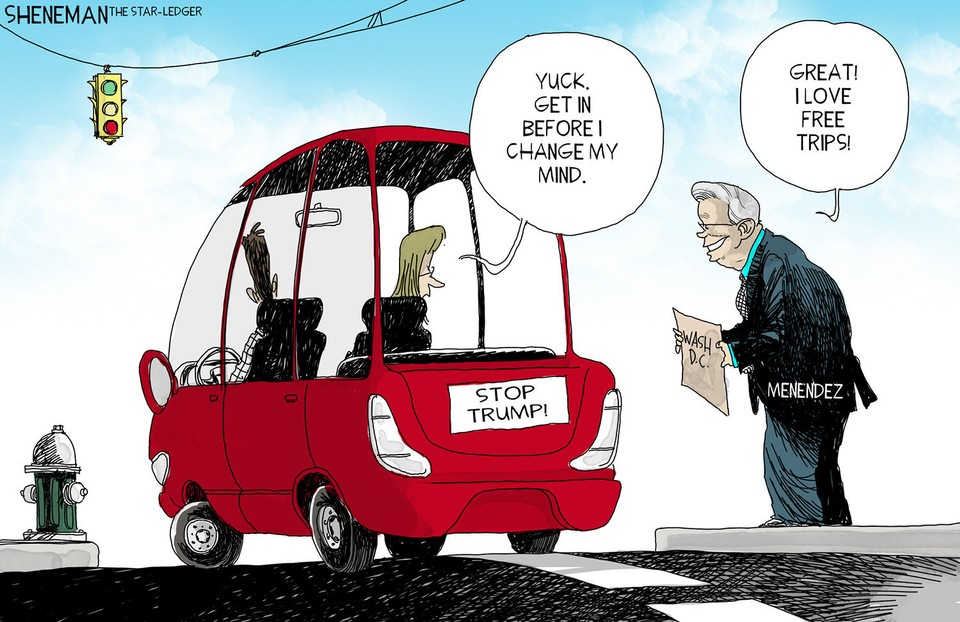 The Star Ledger
In an average year, New Jersey voters would likely settle for a republican Senator instead of appearing to condone Menendez and the corruption he has come to represent. Indeed, in the latest poll conducted by Rutgers University's Eagleton Institute of Politics, only 28 percent of New Jersey voters view Menendez favorably. But, it appears he may just win reelection anyway, as he currently leads Republican Bob Hugin by a narrow margin ahead of Tuesdays midterm election. While Menendez is, in a word, slimy, the historically blue state appears to be willing to grit their teeth and bear him in order to avoid electing a Senator with clear Trump affiliations. Menendez's opponent, Bob Hugin, is a pharmaceutical mogul who raised money for Trump's campaign in 2016, donated $200,000 to Trump, and served as a convention delegate for Trump. As a result, New Jerseyans are facing what many editorials call "the most depressing choice for New Jersey voters in a generation."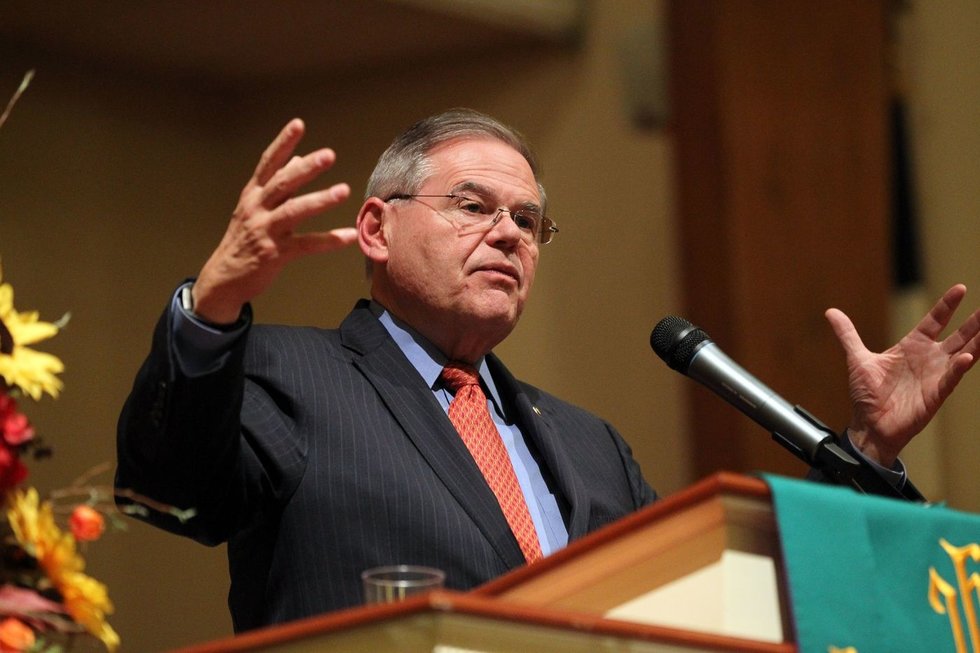 Philly.com
The fact is that this is not a normal midterm election, and progressive voters are willing to put up with a lot to take back congress. The extremist rhetoric and erratic behavior that has become characteristic of Trump's presidency is driving people to the polls in record numbers already, and that is expected to remain true during regular voting on Tuesday. Trump's presidency has forced many previously moderate Americans to cling, unquestioningly, to the Democratic Party, because for all of the democrats' flaws, at least they aren't tainted by the White House's toxic run-off. If Menendez does manage to win reelection, he can thank this Trump-fueled reticence towards conservative candidates. As Drew Sheneman writes for the New Jersey paper The Star Ledger, by voting for Menendez, "Are you rewarding a man who in no way deserves a reward? Certainly. Should you do it anyway? Certainly."

Brooke Ivey Johnson is a Brooklyn based writer, playwright, and human woman. To read more of her work visit her
blog
or follow her twitter
@BrookeIJohnson
.
The President vilifies immigrants as the midterms approach.
On Thursday Nov. 1st, President Trump released a political ad that accused Democrats of plotting to help murderers and criminals invade the country.
The ad is a flagrantly manipulative and fear mongering move, a new low in Trump's inflammatory closing argument of the GOP's midterm campaign.
The video — produced by Trump's campaign — features Luis Bracamontes, a Mexican immigrant who returned to the United States after being deported, and was then convicted of killing two California deputies. Bracamontes is shown with a chilling smile, saying, "I'm going to kill more cops soon," meanwhile, a caption flashes across the screen that reads "Democrats let him into our country. Democrats let him stay." The video then goes on to show footage of people crossing the border as menacing music plays. The screen then reads, "Who else would Democrats let in?" The spot is not only a clear attempt at sowing fear, but also rife with misinformation, as Bracamontes was actually originally deported by a democrat, Bill Clinton, and let back in by a Republican, George W. Bush.

After posting the video, Trump told reporters he would deploy 15,000 troops to the southern border to repel a caravan of central American immigrants, which is still hundreds of miles away. He also suggested that these troops could fire on the migrant caravan if rocks or stones were thrown, a claim that contradicts Official Department of Defense regulations, which state, "deadly force is justified only when there is a reasonable belief that the subject of such force poses an imminent threat of death or serious bodily harm to a person." Additionally, Trump repeatedly implied to reporters that there are Middle Eastern individuals hiding amongst the caravan, but later said, "There's no proof of anything. There's no proof of anything. But there could very well be."
In the wake of all of this troubling rhetoric surrounding immigration, Trump claimed Thursday that he would sign an executive order "next week" aimed at limiting immigrants ability to seek asylum in the United States. These developments come on the heels of Trump's recent assertion that he aims to repeal the 14th amendment, which automatically grants citizenship to children born in the United States.

This recent rise in anti-immigration rhetoric is yet another example of the President's willingness to exploit racial divides to falsely inflate his power and the cause of the Republican midterm campaign. It's clear that the Trump administration has chosen to scapegoat and villify central American immigrants in an attempt to counteract
rising enthusiasm
about democratic candidates in the midterm elections. The question is, will voters succumb to Trump's scare tactics, or see it as the manipulative and divisive rhetoric that it is?
Keep reading...
Show less
"This caravan cannot come to the United States. They will not be allowed in," said Department of Homeland Security Department Secretary Kirstjen Nielsen.
Thousands of asylum-seeking migrants are making their way towards the U.S.-Mexico border, and President Trump wants to stop them.

The administration is looking at ways to crack down on border crossings as a means to rally his political base ahead of the midterm elections, specifically taking aim at the controversial migrant caravan that left Honduras on October 12th.
Reportedly still more than 1,000 miles from the U.S. border, the caravan's exact numbers are unknown amidst conflicting accounts. The Mexican government estimates the number of people taking part in the caravan has fallen below 4,000, while United Nations officials assisting Mexican authorities said Monday that more than 7,200 people had participated. Alex Mensing, a U.S.-based organizer with the humanitarian group Pueblo Sin Fronteras claimed the size of the caravan has swelled to 10,000.
Officials said they are considering all options for sealing the border, including denial of Central American asylum applications based on the so-called "travel ban" of 2017, which a deeply divided U.S. Supreme Court upheld as a legitimate use of executive authority. No final decisions have been made, they said, citing legal challenges as a barrier to some of the more aggressive methods.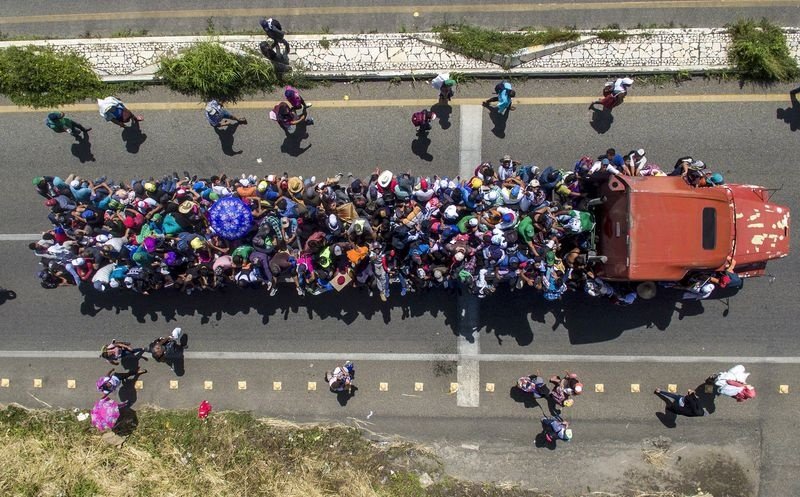 Pedro Pardo/AFP via Getty Images
"The administration is considering a wide range of administrative, legal and legislative options to address the Democrat-created crisis of mass illegal immigration," a White House official explained. "No decisions have been made at this time. Nor will we forecast to smugglers or caravans what precise strategies will or will not be deployed."

The details are expected to be finalized by early next week in a speech by the president. In the meantime, the Pentagon is preparing to deploy at least 800 troops to the border to confront the caravan.
Department of Homeland Security Department Secretary Kirstjen Nielsen said Thursday night, "If [the migrants] come here illegally with no legitimate reason to stay, they absolutely will be apprehended and removed immediately," she said. "To ignore, basically, refuge and continue, in some cases, to come to the United States raises questions of what their real motives are."
Human Rights First, a non-profit and non-partisan rights group, spoke out against this proposed regulation, saying President Trump is "misinterpreting the law."

"The fact that the president can apply it to asylum is where we say no," said Jennifer Quigley, an advocacy strategist for refugee protections with Human Rights First, a non-profit and non-partisan rights group. She explained that such a move from the Trump administration would be a violation of the U.S. Constitution's due process clause and obligations under international law, such as the Refugee Convention.
Marielena Hincapie, executive director of the National Immigration Law Center agreed that closing the border would do more harm than good. "This is going to impact a large range of people coming through who may or may not be part of the caravan, other people who are seeking asylum, or other forms of visas," she said. "A lot of people are simply coming over to do business."
---
Joshua Smalley is a New York-based writer, editor, and playwright. Find Josh at his website and on Twitter: @smalleywrites.