Dall-E Mini, the AI-powered text-to-image generator has taken over the internet. With its ability to render nearly anything your meme-loving heart desires, anyone can make their dreams come true.
DALL-E 2, a portmanteau of Salvador Dali, the surrealist and Wall-E, the Pixar robot, was created by OpenAI and is not widely available; it creates far cleaner imagery and was recently used to launch Cosmpolitan's first AI-generated cover. The art world has been one of the first industries to truly embrace AI.
The open-sourced miniature version is what's responsible for the memes. Programmer Boris Dayma wants to make AI more accessible; he built the Dall-E Mini program as part of a competition held by Google and an AI community called Hugging Face.
And with great technology, comes great memes. Typing a short phrase into Dall-E Mini will manifest 9 different amalgamations, theoretically shaping into reality the strange images you've conjured. Its popularity leads to too much traffic, often resulting in an error that can be fixed by refreshing the page or trying again later.
If you want to be a part of the creation of AI-powered engines, it all starts with code. CodeAcademy explains that Dall-E Mini is a seq2seq model, "typically used in natural language processing (NLP) for things like translation and conversational modeling." CodeAcademy's Text Generation course will teach you how to utilize seq2seq, but they also offer opportunities to learn 14+ coding languages at your own pace.
You can choose the Machine Learning Specialist career path if you want to become a Data Scientist who develops these types of programs, but you can also choose courses by language, subject (what is cybersecurity?) or even skill - build a website with HTML, CSS, and more.
CodeAcademy offers many classes for free as well as a free trial; it's an invaluable resource for giving people of all experience levels the fundamentals they need to build the world they want to see.
As for Dall-E Mini, while some have opted to create beauty, most have opted for memes. Here are some of the internet's favorites:
There's no looking back now, not once you've seen Pugachu; artificial intelligence is here to stay.
Politics is the ongoing debate over who and what gets to thrive and survive, and it is always personal.
Abortion. Gun control. Immigration. Police violence. The MeToo movement.
A dozen political issues, a dozen debates that we seem trapped in, condemned to repeat. It's been four decades since Roe v. Wade, and women's access to abortion seems as fragile as ever. Since the Sandy Hook massacre, there have been 2,402 mass shootings in the United States, and yet we don't feel any closer to passing common sense gun legislation than we were eight years ago. The American federal government has come to a complete standstill, but the poison runs deeper than that; at every level of human existence—political, cultural, artistic—we have lost the ability to meaningfully alter the status quo. We have the same arguments that we did eight years ago, we listen to the same types of music, and all the movies are sequels or franchises or reboots. We are a stopped culture.

It's a concept cultural theorist Mark Fisher referred to as the "slow cancellation of the future," part of his broader theory of Capitalist Realism—the notion that, as neoliberal hegemony continues, the people living under it will increasingly lose the ability to imagine a future different from the present. A mood has settled over America, a sense that things simply are the way they are. Massacres are common, police brutality happens regularly, abortion is difficult and precarious, healthcare costs are insane, and the government has no power (or will) to stop any of it from happening. The whole world is telling us, consciously or not, that nothing can be done. So what does all this have to do with the modern phenomenon recognized as "grievance politics?"
Simple. When we feel our politics have lost the ability to affect our lives, the only issues that seem to matter are personal ones.
If society is stuck, if we lack the power to change it and make it the way we want it to be, the only thing we can do is own each other—on Twitter, on stage, or in the voting booth. No politician can actually pass any legislation, but if the right ones win then the people on the other side will get upset. In turn, you might feel good for a little while, and maybe even convince yourself that your interests are being represented even though they're not. In modern mainstream political discourse every issue is disguised by one question: Who is "triggering" who? The whole world is telling you that nothing will be done about mass shootings or police violence or rape culture, but you can own the "Bernie Bros," and feel like you're owning all of the people in your life that you don't like.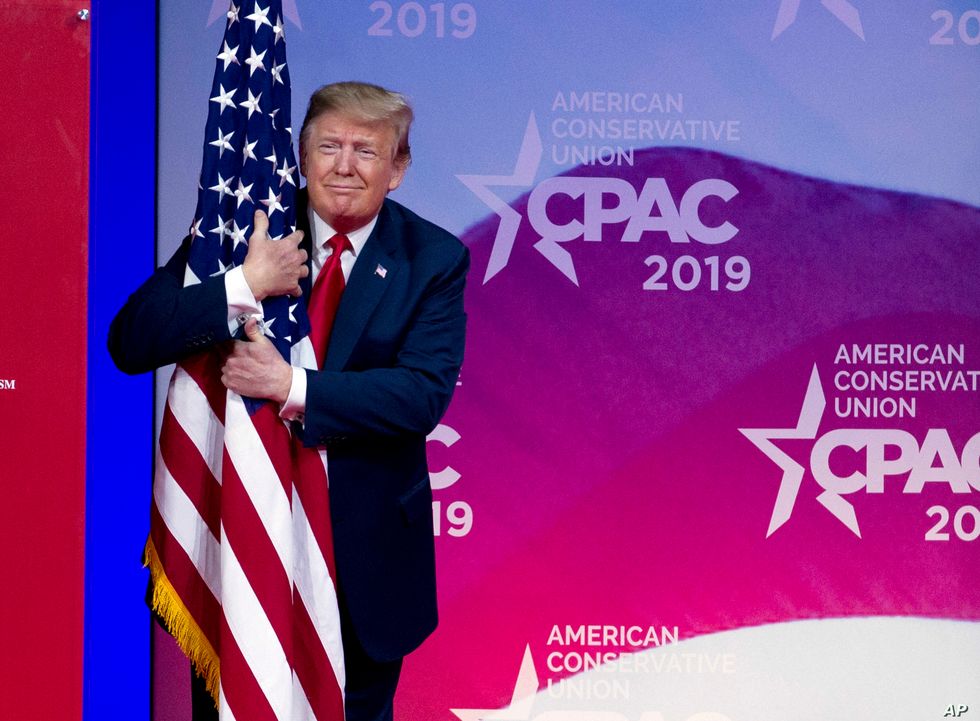 AP
That's how we got Trump. Whether or not they'll admit it, very few people really believed, in the logical parts of their minds, that Trump was ever gonna build his stupid wall. How could he? That would involve something happening, and nothing ever happens. The MAGA crowd, in a real sense, have as little power to bring about their ideal world as we do (thank god), because they can't stop us from agitating about inequality or gun control or kneeling for the national anthem. But when Donald Trump wins, college kids cry. And triggering the libs is as close as they can get to a victory.

If there's one good thing about the COVID-19 pandemic that is gripping the nation, it's this: We can no longer deny that our politics have a very real, very material impact on our lives. However, and this is important to stress: Politics is the ongoing debate over who and what gets to thrive and survive, and it is always personal. The pandemic has brought it home to the most privileged and insulated among us, but if you are vulnerable, if you are poor, if you are a racial or sexual minority, if you are a victim of gun violence or assault or our rapacious healthcare system, you have felt the effect of our politics in your life every single day. It's more important than the feeling it gives you, and it's more important than who's triggering who, and that's going to become more and more clear as we continue to suffer the consequences of a civil infrastructure that has spent the past forty years being ransacked.
Mainstream politics has always operated under the delusion that nothing was ever going to really happen. It would threaten to happen, it would almost happen, but it never actually would. Well, something has happened. Maybe now something can be done about it.
Probably not, though.
Healthcare professionals say that nonviolent and at-risk prisoners must released from facilities ASAP.
UPDATE: Tekashi 6ix9ine was released from prison this week. He will serve the rest of his sentence on house arrest.
The rapper, whose real name is Daniel Hernandez, was incarcerated in December 2019 for involvement in a violent street gang. His lawyer, Lance Lazzarro, has called for his immediate release due to the fact that Hernandez suffers from asthma, a vulnerability that puts him at risk from coronavirus. Hernandez was also hospitalized last year for bronchitis and sinusitis, and he has been suffering from shortness of breath, one of the main symptoms of COVID-19.
"Mr. Hernandez has been complaining to prison officials this week of shortness of breath, but apparently the warden of his facility will not allow Mr. Hernandez to go to the hospital despite the recommendation of the facility's medical director that Mr. Hernandez be treated by a doctor at a hospital," Lazzaro said.
In Britain, Julian Assange's lawyers are also requesting the WikiLeaks founder's release on the basis of health risks. He will make an application for bail on Wednesday.
Tekashi 6ix9ine Isn't the Only Immunocompromised Prisoner—Most Just Don't Have Lawyers

Tekashi 6ix9ine and Julian Assange are a few of the many current prison inmates facing profound risks from coronavirus. Even if you dislike them personally, their desperate pleas should raise the alarm about the state of prisons on the whole in light of our global pandemic.
As the rest of the world self-isolates and as New York City shuts down, inmates remain in close quarters, making prisoners extremely vulnerable to exposure—and most of them don't have access to a lawyer and press coverage.
Prisons and coronavirus is a particularly dangerous combination, one that could lead to disaster. "Jails and prisons are often dirty and have really very little in the way of infection control," said Homer Venters, former chief medical officer at Rikers' Island. "There are lots of people using a small number of bathrooms. Many of the sinks are broken or not in use. You may have access to water, but nothing to wipe your hands off with, or no access to soap."
Inside prisons, it may be nearly impossible to successfully separate sick patients from well patients. Outbreaks are inevitable, and healthcare in prisons is often lacking to begin with.
Because of this, most public health officials are arguing that the best solution to the problem is mass release. According to the Marshall Project, Mark Stern, the former Assistant Secretary for the Washington State Department of Corrections, has suggested "downsizing" prison populations in order to ensure inmate and staff health and safety. Downsizing might involve releasing low-risk prisoners and proposing alternatives to arrest for certain crimes.

David Falthi, director of the ACLU's National Prison Project, puts it more succinctly. "The only effective response is to reduce the population density by releasing people," Fathi says, "starting with those who are most at risk of severe injury or death if they were to contract the virus." In particular, people who suffer from preexisting health conditions, like Tekashi 6ix9ine, and other vulnerable populations like older people, ought to be sent back to their families where they can isolate and be taken care of.
"Across the U.S. we have built a system of punishment that is traumatic, and this is only increased with the coronavirus," said Becca Fealk, an organizer with the American Friends Service Committee of Arizona. "ADC must do more than just provide soap to reduce the chance of an outbreak. They need to release people, including older/aging adults who can be cared for by their loved ones."

Many prison administrations have insisted that they're complying with the CDC's guidelines with regards to their incarcerated populations, but if prisons aren't providing inmates with basic human rights and living supplies—and if even Tekashi 6ix9ine can't get to a doctor—how can we expect them to take care of people during an outbreak?
Prisons Begin Releasing Inmates—But Is It Enough?
Faced with a public health crisis that could lead to mass deaths, prisons all around the nation and the world are taking note. Alameda County plans to release 250 inmates, per NPR, and Los Angeles jails have also begun releasing nonviolent inmates. In New Jersey, up to 1,000 inmates will be released this Thursday, including those serving for parole violations and those serving municipal court convictions. In some places, prisons and law enforcement are coming together to reduce their inmate population. France has delayed or suspended short-term sentences, reducing daily prison admissions from 200 to 30.
These actions garnered support from Senator Kamala Harris, who tweeted that the Bureau of Prisons should release "all low-risk inmates, including those who are in pretrial detention because they can't afford to make bail."

Some jails are also beginning to waive copays in an effort to make sure their incarcerated populations receive healthcare.
"The state's decision to temporarily suspend the $4 copay — the equivalent of a week's worth of work at the prisoner minimum wage of 10 cents an hour — for people reporting cold and flu-like symptoms is a step in the right direction," said Prison Law Office attorney Corene Kendrick, "but it exposes how counterproductive it is to have such a barrier to seeking care. Unfortunately, prior to the COVID-19 crisis," she added, "We regularly heard from incarcerated people that there were shortages of hygiene supplies such as toilet paper and menstrual products." Many incarcerated people's families wind up paying for their hygiene and healthcare.
The coronavirus crisis is exposing the flaws in many institutions, and mass incarceration is just one of them. All these revelations beg deeper questions about why inmates weren't given these supplies or opportunities in the first place. Activists have been asking these questions for years, and the tragedy of the American carceral system has come to the fore in the case of migrants enclosed on the U.S.-Mexico border and in ICE facilities across the nation.
In three ICE detention centers in New Jersey, prisoners are currently on hunger strike in protest of poor conditions and coronavirus risks. One detainee told Vice that his fellow inmates are being kept in a small room without access to soap or even cleaning supplies.

"They say they are locking us in so we can be protected," said a current hunger striker named Olisa Uzoegwu. "But they don't do anything different. The cells stink. The toilets don't flush. There's never enough soap. They give out soap once a week. One bar of soap a week. How does that make any sense?"
This week, hundreds of doctors and thousands of activist organizations expressed this concern about these issues, flooding ICE with letters demanding that they release their overcrowded detention centers. The only crime committed by inmates in these facilities is usually non-sanctioned entry to the United States. Despite all this, ICE is still making arrests. Agents were spotted tracking down undocumented immigrants in San Francisco the day of the state's lockdown.
A Global Issue and a Gathering Storm: Colombia, France, Iran, and the US Grapple with Prison Risks
But the coronavirus pandemic is a global issue, and prisons all around the world are facing questions about how to handle incarcerated populations and prison employees. In some cases, inmates are taking things into their own hands. In Colombia, a prison riot left 23 inmates dead. Prisoners were rioting in protest of overcrowding and poor health services that they felt left them at an extreme risk. Riots have also broken out in prisons in Brazil and Italy.
The largest prison coronavirus outbreak in the nation is in New York City, with 38 inmates at the Rikers' Island prison testing positive; 20 have been released, and 200 more will be tested today. In As Mayor Bill DeBlasio considers whether to release 200 more people, 551 people serving "city sentences" for minor offenses and another 666 serving for technical parole or probation violations (like missing a drug test or a parole check-in) are trapped in Rikers alone. These are nonviolent offenders who do not deserve to be exposed to a potentially deadly virus. Still, the New York Police Chief has said that his officers will not cease making arrests, even though 70 officers have tested positive for COVID-19.
All across the nation and the world, jails are releasing inmates. Why they—especially nonviolent offenders—were there in the first place begs a different question. For now, the most important thing is to open the jails and let the people go. Short of mass release, prisons should not be arresting new inmates outside of extreme circumstances; they need to take more precautionary measures, institute comprehensive testing and quarantine, and follow protocols like those called for by the Federal Defenders of New York.
"A storm is coming," wrote Ross MacDonald, the chief physician at Rikers. "We have told you who is at risk. Please let as many out as you possibly can."
How to Help
In the meantime, anyone concerned can make a call to their state representative and inquiring about their current efforts; calling airports and prisons using this script from the New Sanctuary Coalition; participating in actions and protests like those being hosted by the Never Again Action, donating to the ACLU, the Southern Poverty Law Center, and other similar organizations.
I've lived in New York City for the past year. About a week ago I moved to London to be with my long term partner. You may be thinking that international travel was a bold decision given the rapid global spread of COVID-19. Truthfully, it barely crossed my mind.
I bought my plane ticket to London about a month ago, when the novel coronavirus was still just a headline, not a reality in my life. I'm 23-years-old, don't have any health problems besides a history of Lyme's disease, and I have access to healthcare. I'm not in the demographic that needs to worry over every flu and cold for fear that it could be fatal; and besides, I've been nowhere near the places where the disease is most rampant.
So I set off from Dulles International Airport in Washington D.C. to Heathrow Airport in London on March 3rd with only the vaguest fears about COVID-19. If anything, I was admittedly pleased to find my flight unexpectedly empty thanks to people's fear of the virus keeping them from traveling. As always, I wiped down my seat with antibacterial wipes as soon as I boarded, used hand sanitizer throughout the uneventful journey, and made sure to wash my hands frequently.
Upon landing at Heathrow, I was met with a bizarrely sparse customs line, something I was also exceedingly grateful for. There were no temperature checks or other indications that the virus had reached London. I got my luggage from the carousel and stacked my bags on a luggage trolley, waiting for my partner to arrive at the airport.
Flash forward a couple of days, and I find myself repeating for the second time that day that I might be coming down with a cold.
I take my temperature to find that it's about 100.5 Fahrenheit. I take nighttime cold medicine and go to bed. The next morning I find the fever has persisted, and with it has come a hacking, wet cough. Assuming it's the flu, my partner calls a doctor and lists my symptoms. They ask about international travel, and upon learning that I passed through Heathrow, they inform us that two baggage handlers at that airport have just been confirmed to have COVID-19. This means that, technically, I've been exposed to the virus. We're told to remain in the house for two weeks at the very least but certainly as long as symptoms persist, and if my illness progresses such that I need medical attention we are to call an ambulance and inform them about my exposure status, so I can be transported safely. Both my partner and I immediately start taking my symptoms a lot more seriously.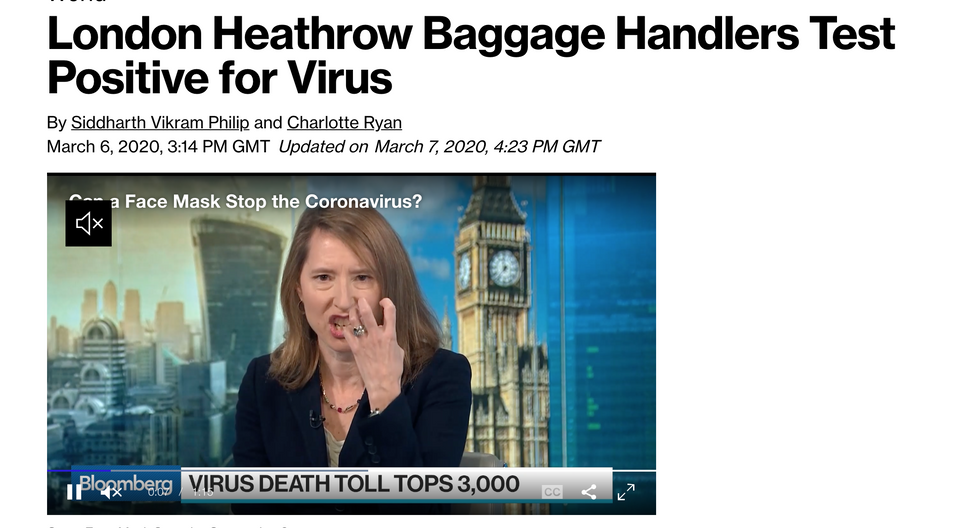 For the first several days, I had a fever on-and-off (pretty effectively suppressed with day time cold medicine and ibuprofen), a sore throat, plugged ears, nasal congestion, and a hacking cough that caused me to feel breathless if stood upright too long. From Friday, March 6th to today, March 9th, I slept essentially 24-hours-a-day, only waking up to eat (my appetite was not as impacted as I would have thought). Today, I woke up without a fever and feeling stronger than I have since arriving in London. My cough persists, but now I just feel like I have a bad cold or a mild case of bronchitis.

Whether or not I have COVID-19 is still unclear, as I have not been definitively tested, but my symptoms fit perfectly with those described on the NHS website, and I know I've been in an infected airport. For the most part, my illness has felt like the flu with a particularly bad cough. Most of all, my illness has caused me to wonder how many people have mild cases like mine and were told, when they contacted a doctor, to recover at home.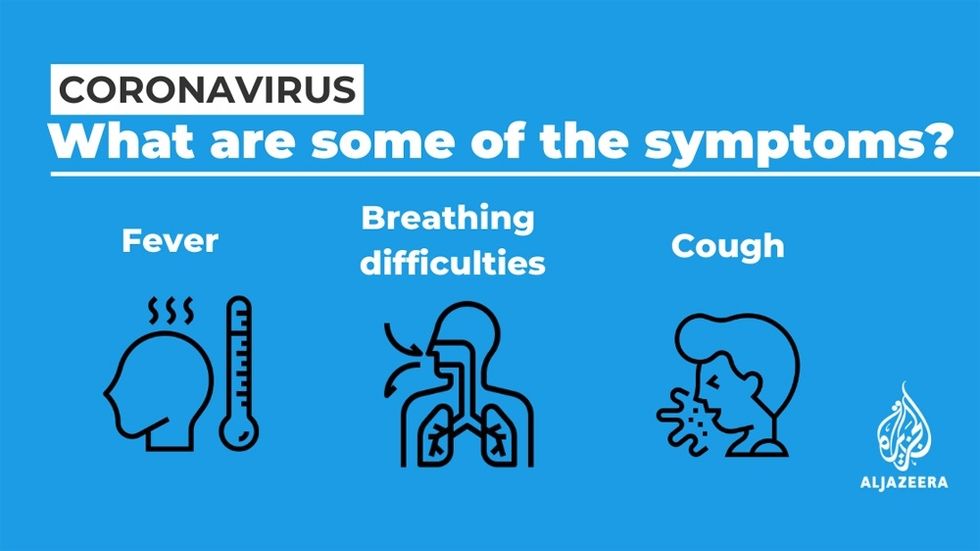 How many cases are governments across the world keeping under wraps because they're discouraging people from seeking medical help? How many people across the world are staying home from work but still going to the grocery store, waiting out what they think is a bad cough? If I am infected with COVID-19, I'm lucky that I seem to be on the path to a relatively swift recovery. I'm also lucky in that I was economically able to take the time to rest and recover. But how many people will feel the relatively common and mild symptoms I felt and still go into work out of economic necessity? How many immunocompromised people will be infected because a doctor wouldn't test some other person because their symptoms were comparatively mild? How many elderly people will die because Trump's strategy to keep American COVID-19 case numbers low is to simply not test?

If I am infected, then I can tell you that COVID-19, for me, felt very similar to the flu or any other run-of-the-mill upper respiratory infection. I can also tell you it absolutely flattened me for several days, and I'm a healthy young adult. I can't imagine how badly I would have felt if I were elderly and immunocompromised. Our governments have to come up with a better strategy for testing, even mild cases, and they have to do it soon. Because, if my experience is any indicator, it's already far more widespread than we think.
And what can be done about it?
A recent document leaked by the Chinese government has proven something that many of China's detained Uighur population and the global human rights community have known for a long time: China's central government is detaining groups of people on the basis of their religion and culture.
The new data leak contains comprehensive information on over 2,000 detainees being kept in China's detention camps, which have locked away almost a million members of ethnic minority groups, mostly Muslims, since 2014. Once again, the database proves that China's authoritarian government has been locking away people not only for religious extremism, but for activities as simple as going to a mosque.
The Chinese Communist Party has vehemently denied accusations that it's imprisoning people as a method of religious persecution, but by now it's clear that's what they're doing. What's less clear is what might be done about it—and what will happen to the nation's prisoners now that the coronavirus poses a serious threat.
Who Are the Uighurs?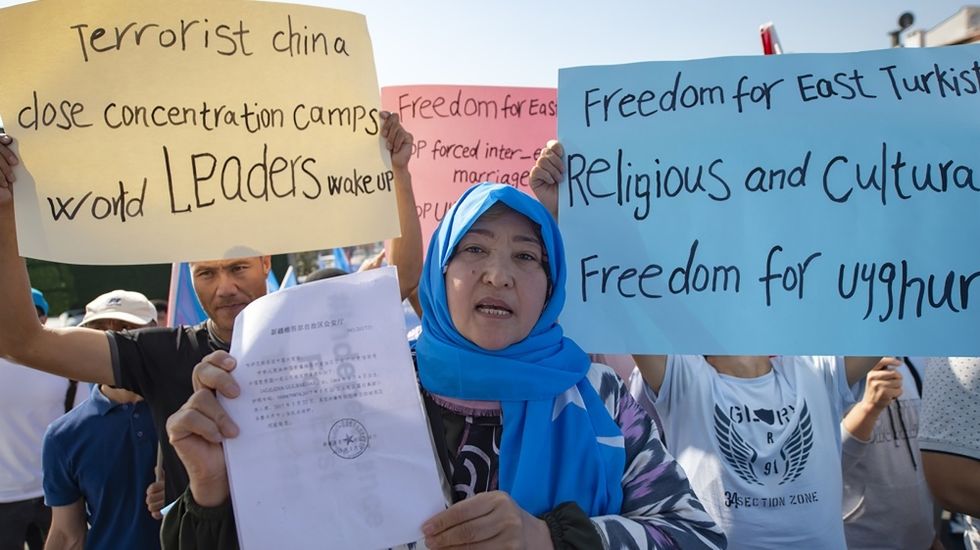 aljazeera.com
The term "Uighur" has a complex history, and its definition is largely contingent on who is defining it. In general, the term refers to a group of Muslims who are indigenous to Central and East Asian nations, according to BBC. They are usually thought of as having descended from the 8th and 9th century Turkish Khaganate empire, but many migrated from present-day Mongolia to present-day Xinjiang, where they joined with an ancient indigenous population and eventually converted to Islam en masse.
According to loose consensus, the term resurfaced in the 20th century when the group—with help from the Soviet Union—declared independence from colonial China in the first half of the 20th century. They were brought under Chinese control in 1949, when the Communist party took hold and ended the Uighur's experiments with independence. Today, like Tibet, Xinjiang is considered an autonomous nation but remains under China's authoritarian control.
According to many activists and spokespeople, Beijing authorities have persecuted the Uighur population for decades, restricting their cultural and religious activities. On the other hand, according to China's central government and its diplomats, the Uighurs are waging a violent campaign for an independent state, and by detaining them, China is acting out of necessity.
What's Happening to the Uighurs?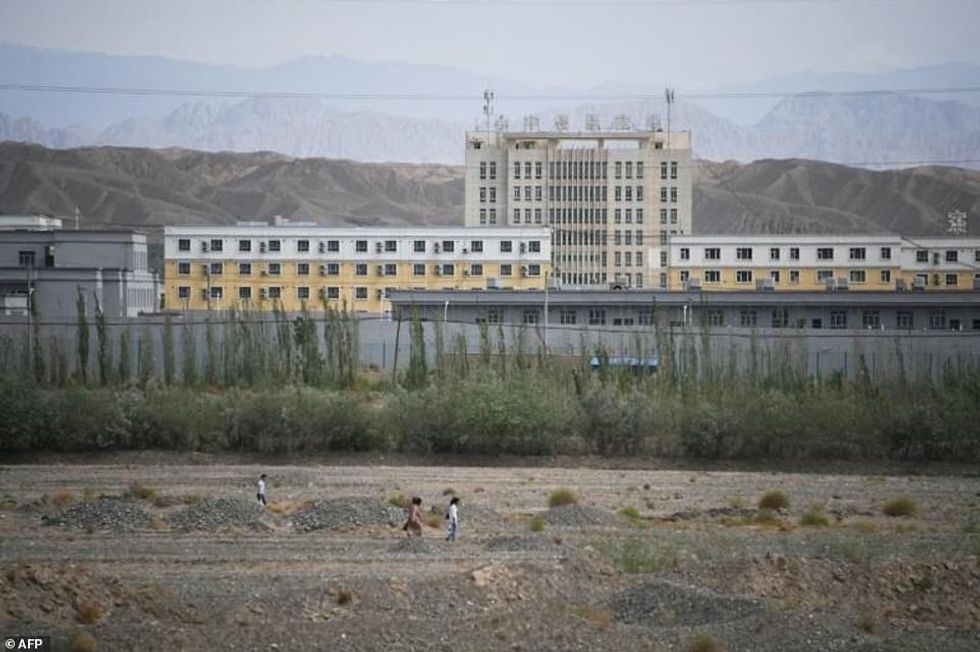 dailymail.co.uk
Today, the worldwide consensus is that the Uighurs are the subject of tremendous persecution in China, a persecution that was fastidiously hidden by the Chinese government for decades.
In November of 2019, The New York Times leaked 400 pages of documents that exposed China's efforts to detain Muslims en masse in the Xinjiang region. "Even as the government presented its efforts in Xinjiang to the public as benevolent and unexceptional, it discussed and organized a ruthless and extraordinary campaign in these internal communications," wrote Austin Ramsey and Chris Buckley for The Times. "Senior party leaders are recorded ordering drastic and urgent action against extremist violence, including the mass detentions, and discussing the consequences with cool detachment. Children saw their parents taken away, students wondered who would pay their tuition and crops could not be planted or harvested for lack of manpower, the reports noted. Yet officials were directed to tell people who complained to be grateful."
In essence, Uighur peoples were taken in massive numbers from their homes and detained in concentration camps, and the story was kept out of the global press for years. Rumors of the existence of China's Uighur prisons began to emerge in global media when Google Earth satellite software captured pictures of massive prisons in the deserts of Xinjiang in 2018. Interviewers and investigators who pressed the matter were told by Chinese diplomats that the camps were "re-education centers," and as news of the camps grew, the Chinese government began to release propaganda about its education initiatives.
Eventually, it became clear that Uighur detainees are subject to highly illegal abuses. They are forced to praise China's ruling party, to learn Mandarin, and to renounce their sins—which might include going to a mosque. People living in the camps have said they were forced to exercise and beaten when they could not follow the proper laws and regulations set by authority officials. "There was a special room to punish those who didn't run fast enough," said 29-year-old Ablet Turson Toti, who was detained in a camp in Hotan, in the south of Xinjiang. "There were two men there, one to beat with a belt, the other just to kick."
Uighur communities have been destroyed by Beijing's imprisonment and conversion initiative. "Every household, every family had three or four people taken away," said Omer Kanat, executive committee chairman of the World Uyghur Congress. "In some villages, you can't see men on the streets anymore—only women and children—all the men have been sent to the camps."
The non-detained also face persecution, forced to surrender passports to CCP government officials and prohibited from practicing Islam and wearing headscarves and subjected to "anti-extremism laws." Subsequently, many Uighurs have fled the country, living as refugees in Turkey and other nations, forced to lose contact with family members.
Why Is This Happening?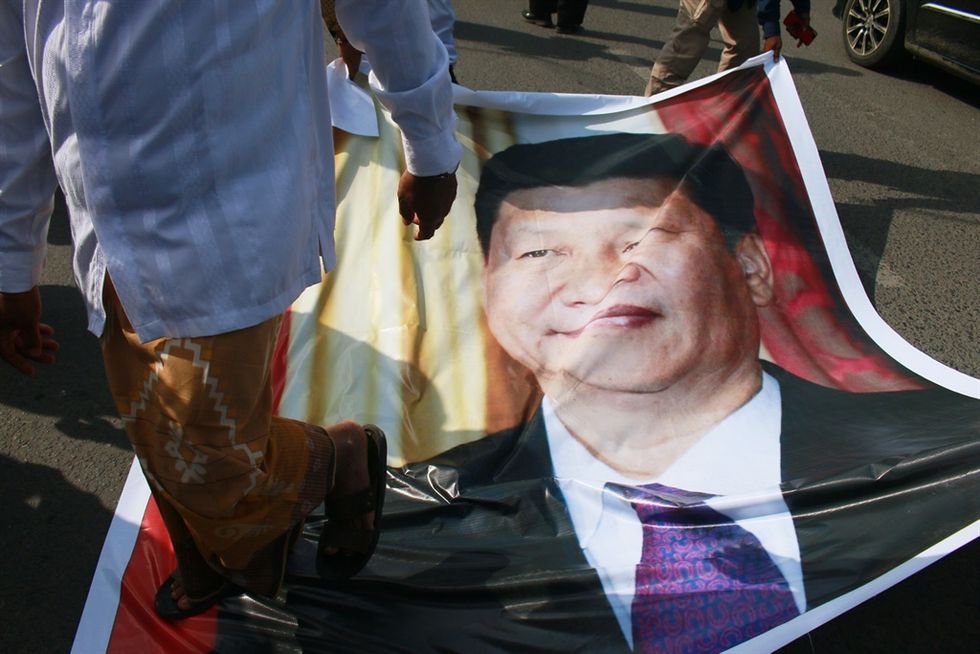 Business Insider
Ostensibly, the ethnic cleansing of the Uighurs is an effort on China's part to unify China, and to transform and deradicalize Muslims.
"Penetration of everyday life is almost really total now...You have ethnic identity, Uighur identity in particular, being singled out as this kind of pathology," said Michael Clarke, an Australian National University professor and expert on Xinjiang.
On another level, it's all about political power. In part, a rise in Islam may have led to the CCP's fears that the Xinjiang peoples could unify and rebel against the Communist government, as they had done in the first half of the 20th century."Why are Uyghur persecuted?" writes Massimo Introvigne for the World Uyghur Congress. "Although fears of 'separatism' may play a role, basically the answer is that they are persecuted because the strong revival of Islam among them scared the regime. The CCP was, and is, afraid that the Muslim revival may expand to other non-Uyghur Muslim groups in China, and join forces with a revival of religion in general that may one day overcome the CCP's rule. The logical conclusion is that, although no persecution is ever purely religious, the Uyghurs are indeed victims of a religious persecution."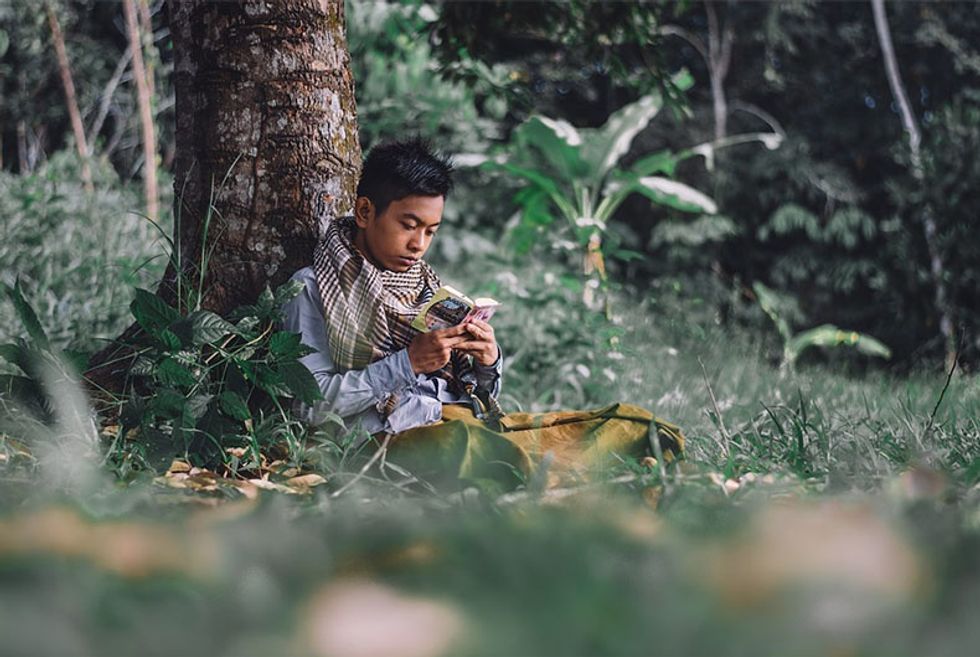 ummid.com
On an even deeper and more complex level, what's happened to the Uighur peoples is inextricably connected to capital and lines of profit, which cross oceans and connect major powers like the United States and China—and leave indigenous populations like the Uighurs in the dust. "The mineral wealth—in particular oil and gas—of a region almost five times the size of Germany has brought huge levels of Chinese investment, rapid economic growth and large waves of Han Chinese settlers," writes John Sudworth for BBC.
Despite the U.S.'s recent determination to denounce the Uighur government, no major power is inculpable. "In today's world, authoritarian politics and predatory commerce cooperate to exploit 'cultural differences.' Nowhere is this point clearer than in the symbiosis in recent decades between Western corporations and the Communist elite in China," argues Ai Weiwei in an op-ed for the Times.
That symbiosis reached a head during the post-9/11 era. In recent years, the United States has joined with the United Nations to denounce abuses of the Uighurs, but actually, the United States was instrumental in revving up early anti-Uighur and anti-Muslim sentiments. After 9/11, many members of the Uighur population were painted as potential allies of Al Qaeda, though little corroborative evidence has surfaced regarding these claims. Some 20 members were detained without charge and possibly tortured in Guantanamo Bay. "For years, the United States has been at the forefront of promoting an abusive counterterrorism architecture at the United Nations and has been allied with China on many of these efforts," says Letta Tayler, a Human Rights Watch expert on counterterrorism.
For their part, Muslim nations have also failed to protect the Uighurs. "Many risk looking like hypocrites over their own records of human rights abuses if they confront China—or risk imperiling lucrative partnerships," writes Joseph Zeballos-Roig for The New Republic. He identifies "deepening economic relationships, coziness with authoritarianism and the allure of a "Confucian-Islamic" alliance against the West" as "[outweighing] the political willingness of Muslim governments to act."
What Can Be Done About All This?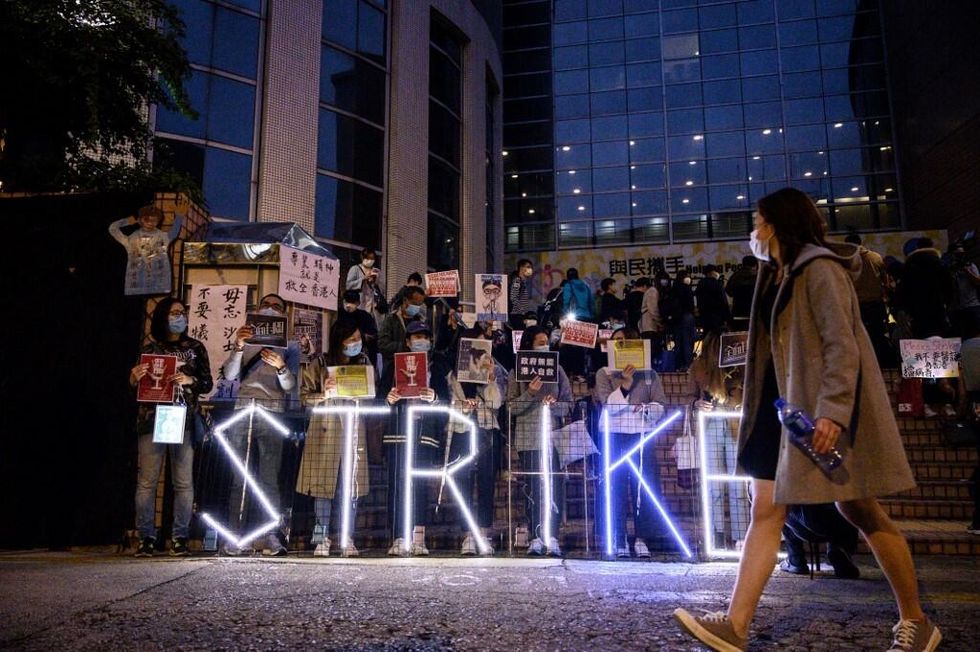 albawawa.com
What can people around the world do about the ethnic cleansing occurring in China? While it's tempting to fall back on an argument that the United States and major global powers should embroil themselves in China's affairs, this impulse has been a historically unproductive and dangerous habit rooted in a white savior mentality which usually leads to further turmoil. Instead, the United States should use its economic power to pressure China and Middle Eastern allies into changing their ways on the basis of human rights violations.
Already, lawmakers in Washington are pushing the Trump Administration to place sanctions on China, many of which enjoy bipartisan support. This is on the right track, for "the most effective resistance to the treatment of Uighurs is increasing the public-relations costs for Beijing," write Daniel Bessner and Isaac Stone Fish for The Nation. "The State Department should publicize this issue in other Muslim countries, particularly influential American allies like Saudi Arabia, and among China's neighbors, especially Pakistan and Kazakhstan, with the hopes of increasing international pressure to end the ethnic cleansing."
Activist groups, they continue, should "pressure groups like the ABA to publicly criticize China while simultaneously compelling universities to embrace their commitment to free inquiry," and specifically, "the left should encourage civil-society groups to use their connections to politicians to push for programs to resettle Uighurs—and dissent-minded Chinese—who desire to move to the United States. And," they conclude, "it goes without saying that this must be done with the active participation—and indeed, leadership—of Uighurs themselves, who understand the needs and interests of their community better than any outsider."
In 2020, due to the onset of the coronavirus, presses around the world are calling for the Beijing authorities to release prisoners. "These camps, where as many as 3 million people are detained, are at risk of becoming death chambers," writes Abdul Majakbid for USA Today. "The World Health Organization declared the coronavirus a public health emergency this month, yet China's government, the WHO and the United Nations are apparently so far silent about the potential danger to the detained Uighurs." In fact, there are rumors that China is sending Uighur citizens to Wuhan, the epicenter of the virus. In light of the Uighur population's vulnerability to the virus, there are calls for the United States to levy sanctions against Chinese authorities unless they comply with global calls to inspect Uighur prisons and protect the detained from the virus.
It's important to remember that in spite of China's undeniable human rights violations, the United States is embroiled in its own human rights abuses, specifically on the U.S. border—so it may be hypocritical to fixate on China without first healing some of the crisis in this nation. Plus, much of the critiques that exist about China and coronavirus have xenophobic aspects of their own.
Still, all of these abuses are interconnected, rooted in xenophobia and racism that stems from neoliberal capitalism and a global reliance on oil.