Americans need to take the hint...
As cases of COVID-19 skyrocket across the country, it's clear that Americans need to abide by stricter social distancing measures.
But Americans have remained the anomaly. In fact, many European nations have reported almost no cases at all in recent weeks. Additional countries like New Zealand, Vietnam, and Taiwan have kept their numbers dormant for months.
What all of these coronavirus-free meccas had in common was their hard-hitting methods of social distancing. New Zealand imposed strict lockdowns back at the beginning of March, which everybody followed and, as a result, completely eliminated the disease.
Meanwhile, places like Taiwan ramped up testing availability and made masks a requirement. While that's all well and good on a global scale, Americans have proven to be too ignorant to wear a mask or merely stay inside.
So perhaps there are ways to encourage social distancing that are a bit more...fun? Countries still embroiled in disease are saying: absolutely. Here are just a few creative, less-draconian ways of asking people to keep their distance.

Japan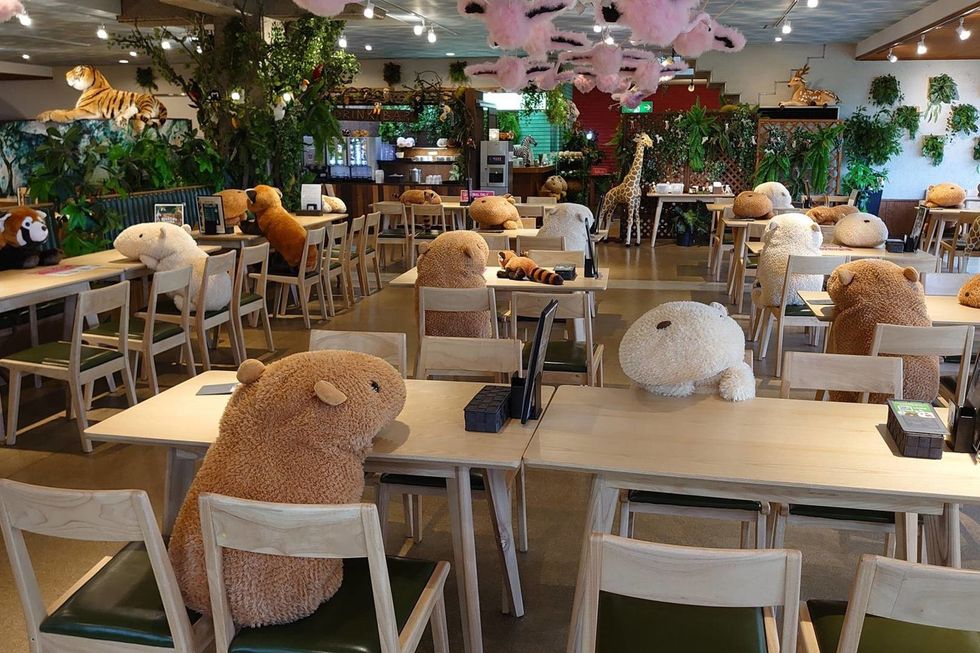 At the Izu Shaboten Zoo in Shizuoka, Japan, the cafe has been filled with massive stuffed capybaras to encourage socially distant dining. From giraffe's to tigers and even a lemur, the adorable toys sit scattered at every table to keep people distant without feeling lonely.
"Why capybaras, you ask?" wrote Johnny Suputama, who shared the viral photo of the cafe on his social media. "Well, this zoo is credited with being the first (in 1982) to introduce the animals to hot baths."
Germany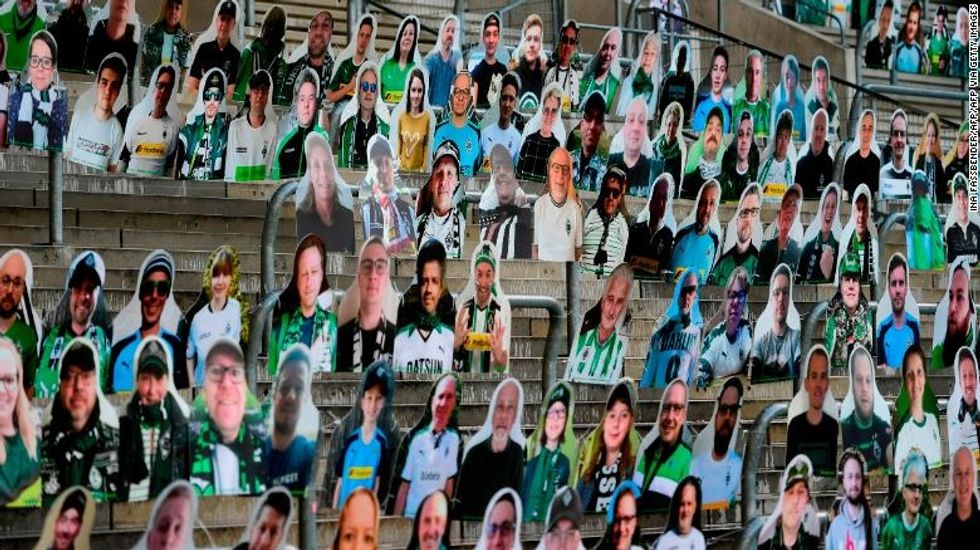 Germany's legendary football league The Bundesliga knows that football isn't half as fun without the stadium's screaming, hungry fans. As the first professional sports league allowed to resume its interrupted season, 4,500 cut-out pictures of fans were placed throughout the stadium to mimic live crowds.
Amsterdam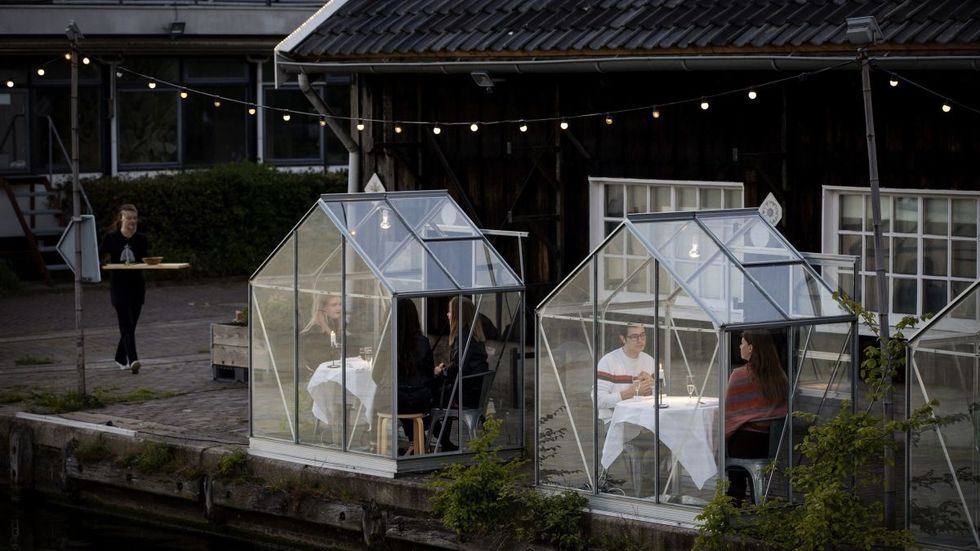 Amsterdam's legendary Mediamatic arts centre already takes the cake for the most sophisticated social distancing tactic. The center adopted a project called Serres Séparées, which translates to "separate greenhouses," that allow guests at the centre's ETTEN restaurant to sit in sleek, glass-enclosed greenhouses along Oosterdok marina.
Servers additionally wear plastic face shields and gloves and set the food into the patron's glass box using a long piece of wood. Overall, the greenhouses seem very intimate and romantic.
California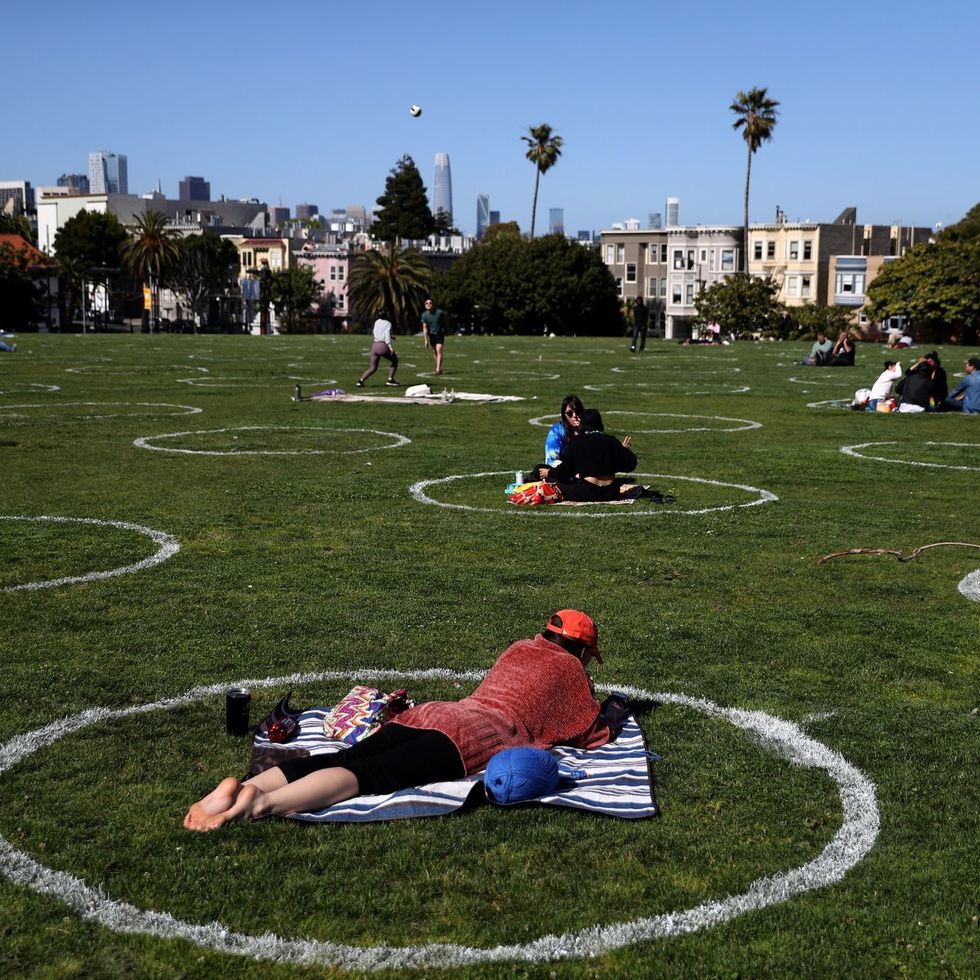 In San Francisco's iconic Dolores Park, painted circles are a minimalist and classy way to indicate 6 feet of distance from your neighbor. Domino Park in NYC is also taking on this measure, which has proven to be effective in encouraging park-goers to social distance.
Greece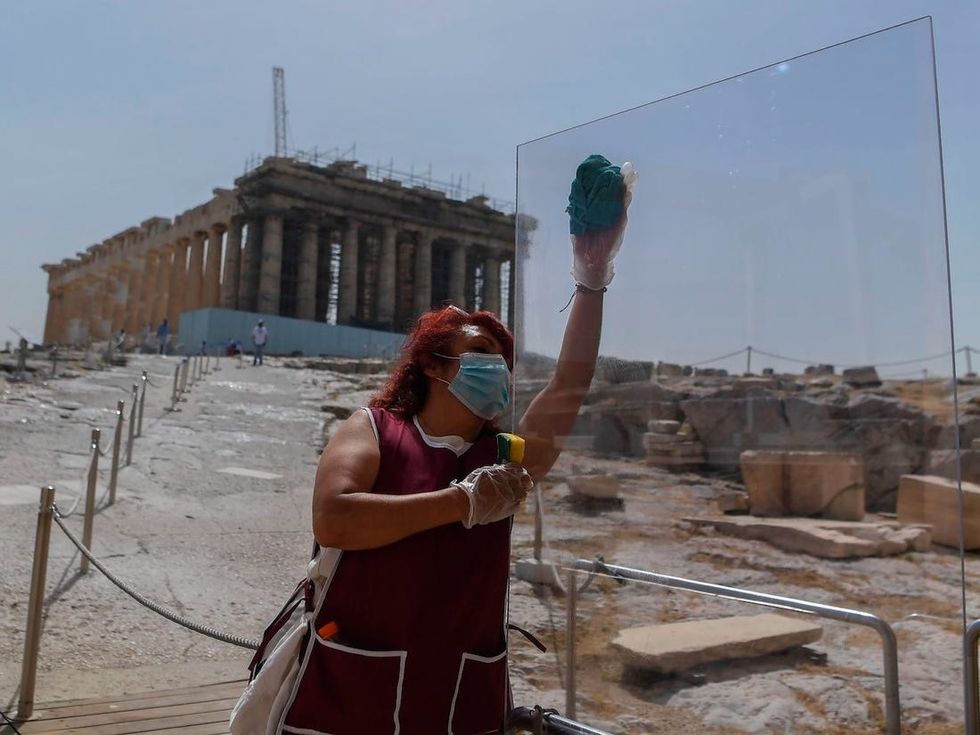 Athens is known for its profound collection of Archaeological sites. Thankfully, most of them were able to reopen back in May, with many of them observing a clever variation of social distance measures. At the Acropolis, in particular, visitors stand behind a sanitized plexiglass shield. The effort keeps guests from safely spewing droplets everywhere, while also minimizing interference with photos.
Hong Kong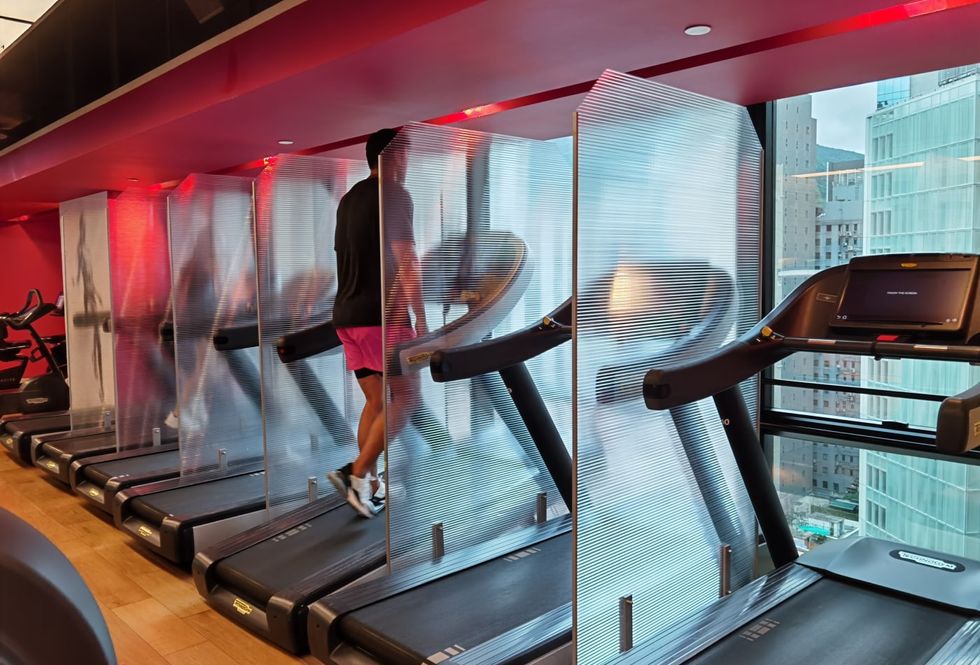 At Hong Kong's reopened Pure Fitness, joggers are enclosed in thick plexiglass to keep from spewing droplets while they workout. Additionally, they have increased sanitizing policies, and most people have grown accustomed to wear a mask while they work out. While gyms, in general, are probably some of the unsafest destinations, it's nice to know some methods can help minimize the risk.
New evidence suggests asymptomatic transmission is less likely than previously thought.
On Monday, a representative from the World Health Organization called asymptomatic transmissions of the coronavirus "very rare." This was quickly bolstered by conservative lawmakers to call for the end of social distancing guidelines and the mandatory wearing of face masks. Many health experts and scientists questioned WHO's statement, citing a lack of evidence.
Today, WHO has walked back their original statement, clarifying that the observation "was based on a relatively small set of studies," and, "Evidence suggests people with symptoms are most infectious, but the disease can be passed on before they develop."
So What Happened?
Essentially, the original statement was referring to a small set of data from various countries in instances where an asymptomatic case had been followed up and secondary infections among the asymptomatic person's contact had been sought out. This data suggested that infections among the people the asymptomatic person had come in contact with were "very rare."
The WHO emphasized today that there is no way of knowing if this trend is true on a global scale.
According to the BBC, the Director of the WHO's health emergencies program, Dr Michael Ryan, said he was "absolutely convinced" asymptomatic transmission was occurring, but "the question is how much."

What Exactly Does Asymptomatic Mean, Anyway?
According Dr Van Kerkhove, the WHO's head of emerging diseases, there are three categories within the designation of "asymptomatic."
People who never develop symptoms (asymptomatic)
People who test positive when they don't yet have symptoms - but go on to develop them (pre-symptomatic)
People with very mild or atypical symptoms who do not realise they have coronavirus
So, while people who never develop symptoms are unlikely to pass on the virus, it's impossible to know if someone who has tested positive is truly asymptomatic or merely pre-symptomatic. If they are pre-symptomatic, then they are more likely to pass on the virus.
Should I Continue to Social Distance and Wear a Mask?
Yes. There is still so much that experts don't know about the spread of COVID-19, so while some evidence may suggest the virus isn't as easily passed on by as many people as previously thought, that doesn't mean you won't contract the virus if you aren't careful.
We looked for 2020 to be the year of Exodus from all of the strife of the previous decade(s). But, it seems that we might have to endure a few more plagues before we see the Promised Land.
2020 was supposed to usher in a decade of change and elevation. On December 31, 2019, personal and social resolutions were at the forefront of our minds as we collectively waited for midnight. For Black Americans exclusively, this was the hope that the atrocities from the 2010s in regards to race relations wouldn't accompany us. Still, it seems we've become more engrossed in the fight for our right to exist on several fronts.

The COVID-19 pandemic has caused an unprecedented paralysis in the world both economically and emotionally. Millions are without jobs, adequate health care, and engaged leadership. African Americans are the most impacted by the disease. As of June, there have been over 21,000 COVID-19 related deaths in the Black Community nationwide. Pre-existing health conditions and challenging living situations act as barriers preventing proper social distancing and protection/recovery. Though coronavirus is an unexpected nemesis for Blackness to combat, an old foe is still ever-present.
Currently, foreign and domestic protests and riots have erupted in response to the multiple deaths of unarmed Black men and women at the hands of law enforcement. The murder of George Floyd in Minneapolis, Minnesota, on Memorial Day has captured the world's attention. In an 8 minute and 46-second clip, America has yet another lifelong lasting image of an unarmed African American male screaming, "I Can't Breathe" - an unholy sequel to the video of Eric Garner uttering those exact words in 2014 as his life was brutally driven from his body.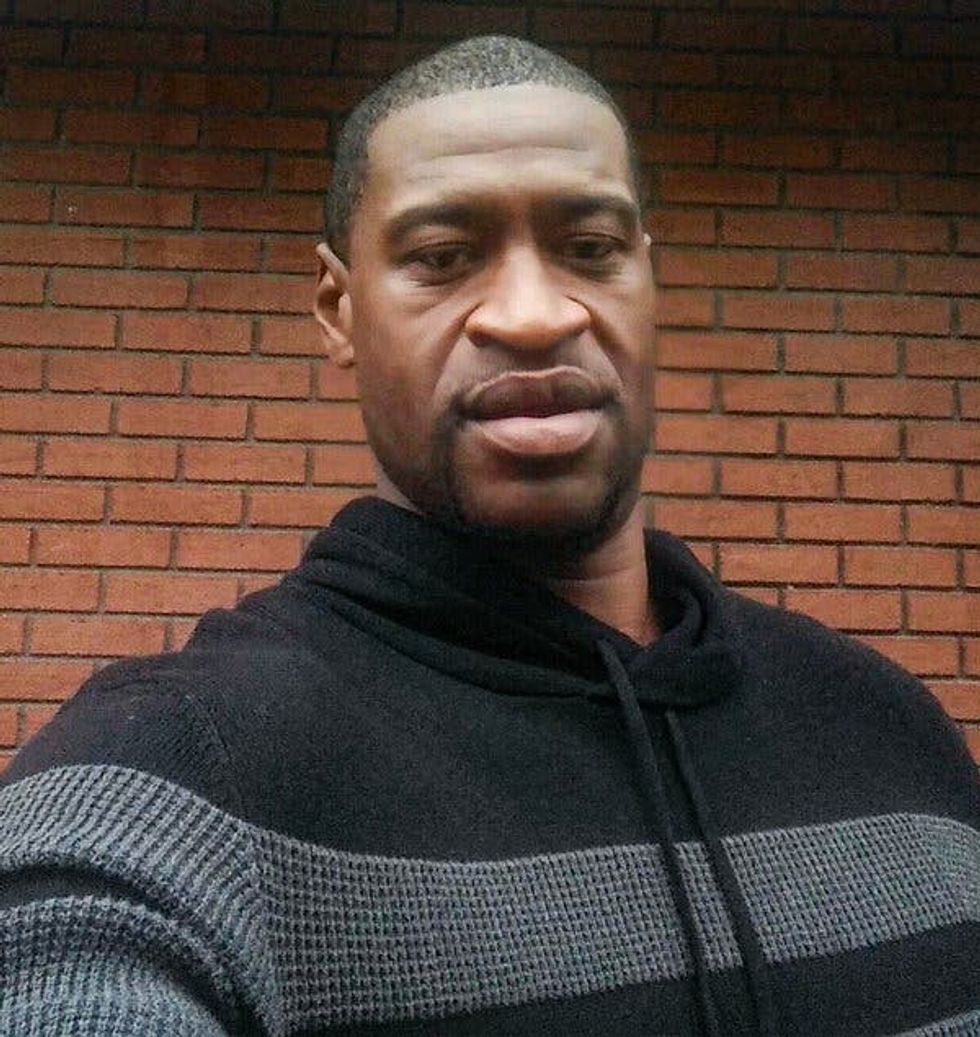 If Floyd's death was the explosion on a global scale, then Breonna Taylor's death was undoubtedly the fuse. Back in March, the 26-year-old Louisville EMT worker was fatally shot eight times when the Louisville Metro Police Department entered her home serving a no-knock warrant.

Overwhelming feelings of helplessness, anger and fear due to coronavirus, coupled with the recent murders at the hands of the authorities, have exacerbated our current temperaments. We are expected to adhere to the pleas of law officials and politicians to shelter in place and social distance when the particular cases of Floyd and Taylor indicate the antithesis of these requests when put into practice by the police.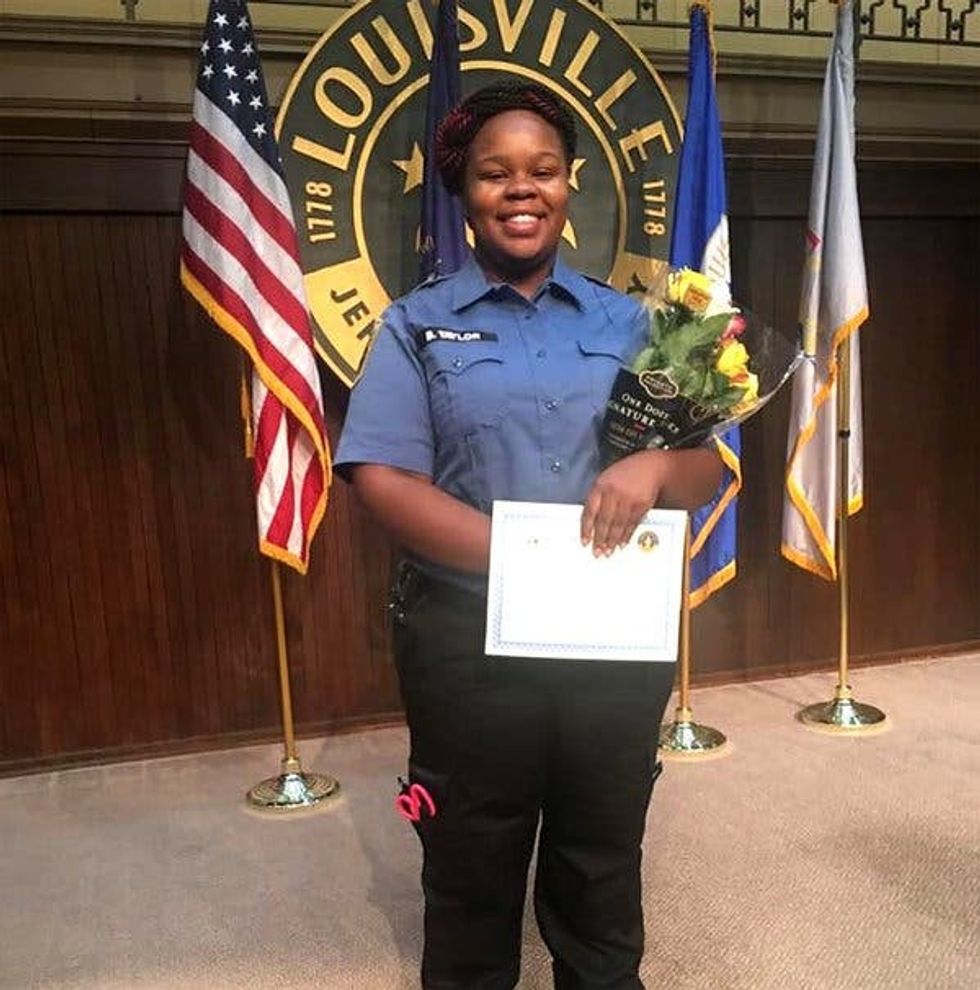 While dealing with a faceless adversary in COVID-19, African Americans remain engaged in an ongoing battle with a known opposition. Black people have become savants at juggling multiple issues of our survival. But balancing civil unrest and possible contagion simultaneously, and at this magnitude, is an ask that is too great - despite our resiliency.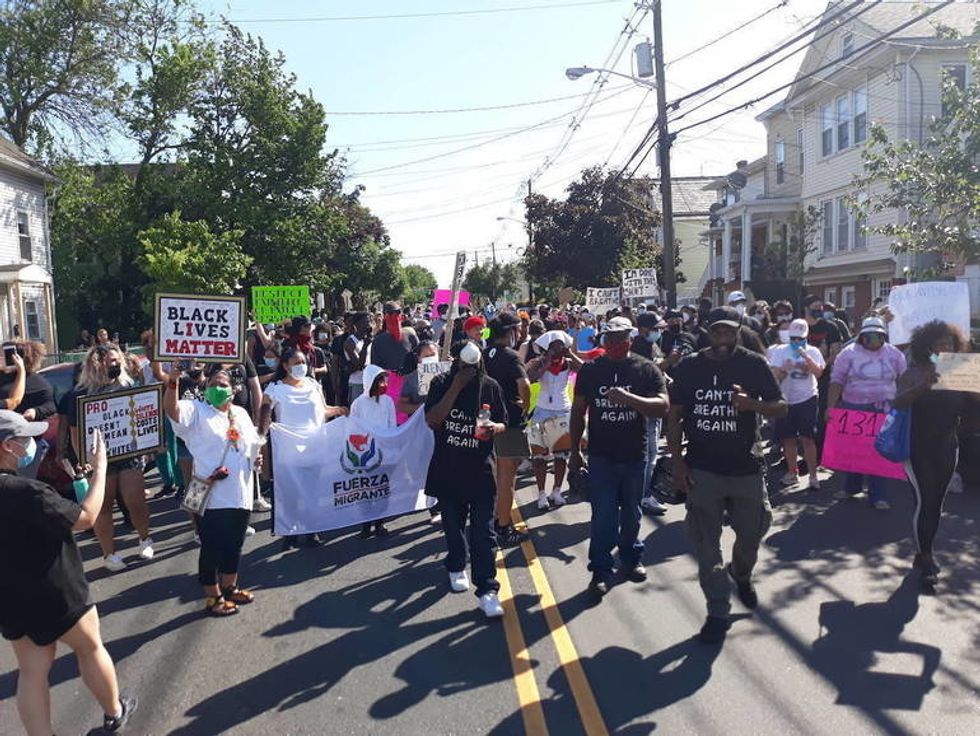 At the risk of further spreading coronavirus, the streets are running wild with rebellion. However, the sickness of racism, of injustice, is a pandemic that has been ever-present since this country's inception. We looked for 2020 to be the year of Exodus from all of the strife of the previous decade(s). But, it seems that we might have to endure a few more plagues before we see the Promised Land.

Dwayne "Deascent" Gittens is a Hip Hop artist, On-Air Personality, & Content Creator from The Bronx. Follow him on Instagram & Twitter @Deascent.
The science of COVID-19 explained by a doctor.
By Anthony Lee, MD
Faculty, Harvard Medical School
As we make our way through this pandemic, the large number of cases in the United States has caught our attention and prompted much discussion. In Part 8 of this series, we continue to see The US reliably decline in the number of daily deaths in most areas of the country with at least one exception being Georgia. Sweden has never shown a clear trend in decreasing cases and deaths. We will focus on these locations as they continue to be of interest. As mentioned in previous installments of this series, easing lockdown measures was expected to disrupt downward trends in cases and deaths. Georgia is the best example as they lifted lockdown measures on May 1st and we subsequently have 30 days of data.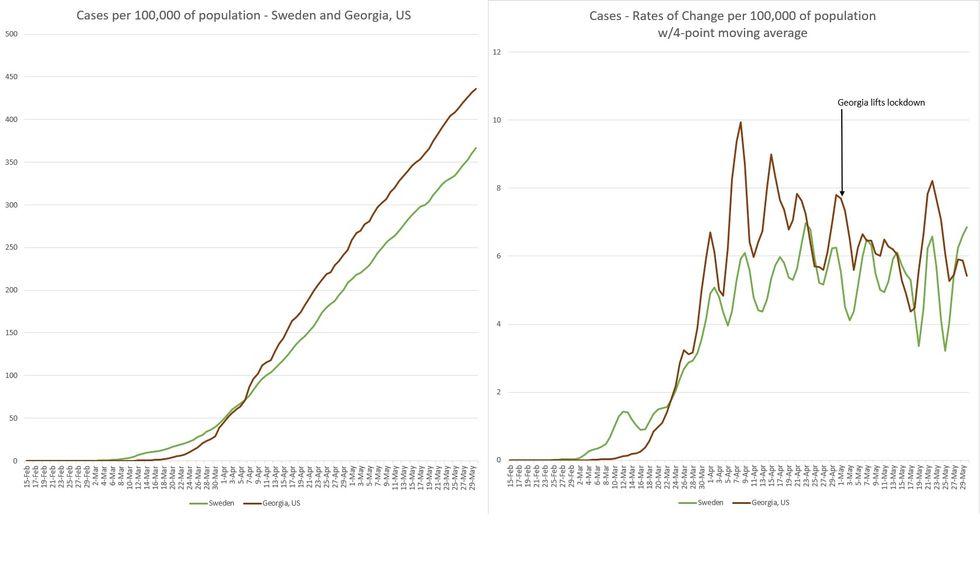 In Figure 1, we see the plots of daily new cases in Georgia and Sweden. On the left we see the cumulative number of cases per 100,000 population, and on the right, the number of daily new cases per 100,000 population. Three weeks after lifting of lockdown measures there appears to be a spike in Georgia's new cases. While in Sweden, daily new cases continue to plateau with a potentially larger surge in the midst.

Want to READ MORE?
COVID-19 Part 7: New York and Massachusetts Continue to Improve - Sweden Is Less Clear - Monitoring Georgia 17 Days After Lifting Restrictions
COVID-19 Part 6: Massachusetts Tops New York in Daily Casualties While Sweden Seems to Magically Improve
COVID-19 Part 5: Massachusetts Tops New York in Number of Daily New Cases Per Capita
COVID-19 Part 4: New York Cases Plateau, Massachusetts Surges, the Rest of the U.S. Is Relatively Flat
COVID-19 - Part 3: The Inflection Point
COVID-19 - Part 2: New York is the Epicenter of the World
COVID-19: Tracking the Changes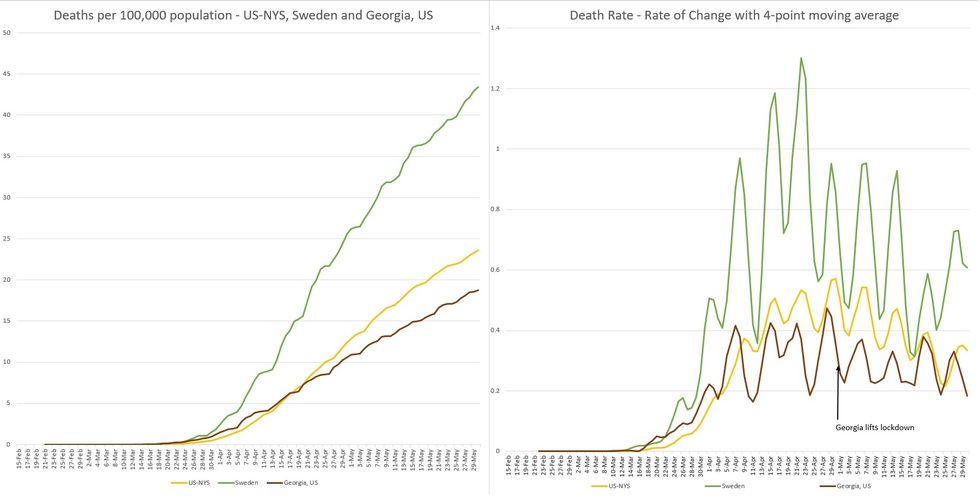 Figure 2 shows that for "The Rest of the United States" (US minus NYS or US-NYS), the maximum number of daily deaths occurred on 4/29 - 42 days after the start of social distancing, and this number continues to fall. In Georgia, daily deaths peaked on 4/27, 20 days after their peak of daily new cases. However, a more recent, lower peak appears on 5/22 - 3 weeks after lifting restrictions.
For Sweden, the maximum number of daily deaths (and new cases) occurred on 4/23 - 25 days after the start of their light social distancing measures. Since then these numbers have not shown a clear pathway to resolution, with the latest surge being larger than the previous one.
Sources of data: Worldometer.com, Georgia Department of Public Health, https://en.wikipedia.org/wiki/COVID-19_pandemic_in_the_United_States
The science of COVID-19 explained by a doctor.
By Anthony Lee, MD
Faculty, Harvard Medical School
As we make our way through this pandemic, the large number of cases in the United States has caught our attention and prompted much discussion. In Part 7 of this series, we continue to see New York and Massachusetts reliably decline in the number of daily deaths. As we assume that the pandemic in these states is on the mend, we will no longer track the number of daily new cases.

Likewise, Ireland and the UK have not seen increases in daily new cases or deaths over the last 3-5 weeks, so we will no longer follow them. However, as these countries begin easing lockdown measures, this may change.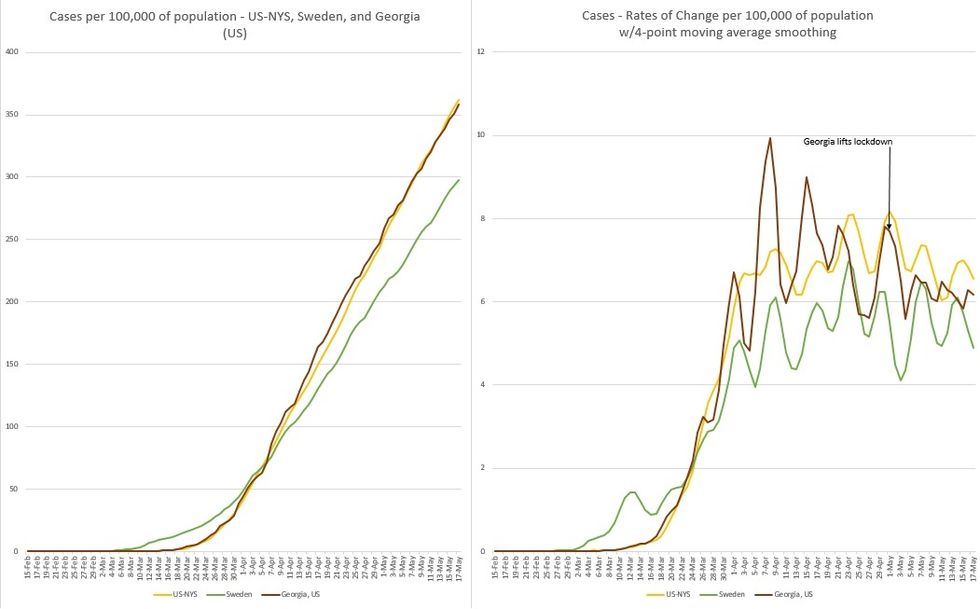 In Figure 1, the plot for "The Rest of the United States" (US minus NYS or US-NYS) is compared to those of Sweden and Georgia.
On the left of Figure 1, the cumulative number of cases increased at different rates by location. On the right of Figure 1, the number of daily new cases are declining in Georgia and the Rest of the US, while it plateaus in Sweden.
Keep reading...
Show less
The economic impact of reopening is unclear, but the goal to keep government "small" is unwavering even in a crisis
In the coming weeks many US states will begin the process of loosening COVID-19 lockdown restrictions and "reopening" their economies.
Other states have already done so.
While the argument for reopening has been unequivocal—it's supposedly what we need to save our flagging economy from a full-blown depression—it's not clear that it will serve that function at all. Recent polling has shown that the vast majority of Americans support social-distancing and stay-at-home measures and are not enthusiastic about the prospect of going back to restaurants and crowded stores while the coronavirus pandemic is ongoing. Which means that the number of customers who return as states drop their restrictions may not be enough to keep small businesses afloat.
Unfortunately that majority opinion has not received as much attention as many of the loudest advocates for reopening—who have argued that a death toll that is likely to more than double current figures is worth it, or that the whole pandemic is just a hoax. Of course it makes sense for small business owners and people who are struggling to make ends meet right now to want to get back to work, but what good will it do?
If cases spike, overwhelming local hospital systems and causing deaths and tremendous medical debt in the process, then restrictions will need to be reinstated, and the economic problems we're currently dealing with will only be prolonged. Right now we lack the widespread testing and the sufficiently improving conditions to support reopening without a vaccine. There are measures we could take at the federal level to improve the situation without such startling risks, but we are ignoring those options—treating reopening like it's the only solution available—for one simple reason: Americans hate "big government."
Last Monday, cases hit their lowest daily total since March. Today, the case number is up a couple thousand cases… https://t.co/NJoLmhZwMZ

— The COVID Tracking Project (@The COVID Tracking Project)1589839717.0
Since at least the 1980s our society has been flooded with anti-government propaganda. We recite mantras about government mismanagement, waste, incompetence, while ignoring successful programs at home and abroad. One of our two major parties has devoted much of its political willpower to actively sabotaging federal programs and agencies like the US Postal Service to prove their point and push for further privatization (that they, along with their donors and friends, stand to personally profit from). In this context, the kind of aggressive federal spending we would need to keep small businesses and struggling families afloat in current conditions is virtually unthinkable.

Even America's relatively compassionate party is only pushing fairly moderate measures that are likely to be whittled down and paired with massive business subsidies in the Senate—just like what happened with the Cares Act in March. In its current form the Heroes Act includes $175 billion in housing assistance, a second round of $1200 stimulus payments (with children receiving as much as adults this time), $200 billion in hazard pay for essential workers, $1 trillion in funding for states to pay their vital workers, and a six month extension of the $600 unemployment expansion.
Undoubtedly these measures will help a lot—though not as much as more generous proposals—but they ignore some major issues. The biggest problem (apart from the fact that the senate isn't going to let the bill pass as is) is that states are straining to make the basic unemployment payments that the $600 expansion is meant to supplement. As a result, many of the tens of millions of people trying to file for unemployment have been stymied by bureaucratic foot-dragging and red tape, and now states are using reopening as a way to push workers off of unemployment and protect state budgets from possible bankruptcy—an outcome which Senate Majority Leader Mitch McConnell has no interest in preventing. In some states there are even systems being implemented to report workers who refuse to go back to work, regardless of their circumstances or legitimate fears.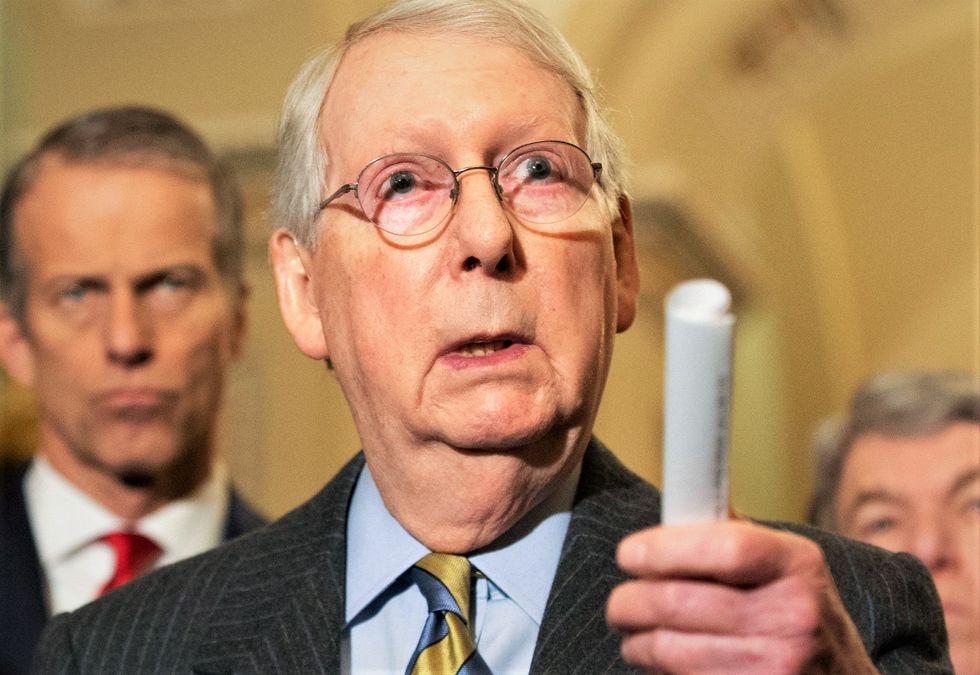 Whether any of this will improve the national economy in the long run remains to be seen. What is clear is that state governments are being understandably cautious with their budgets, and the Republican party is playing their usual political games with lives, health, and livelihoods on the line. The result is that states are reopening, and millions of workers are about to be pushed off unemployment. The next stop is cutting retirement benefits, and fully dissolving any remnant of a social safety net this country has.

As we enter what is likely to be another global depression, it's worth keeping in mind that these programs are among the measures that helped us get through the last one under FDR and that countries that chose a different path were pushed toward a scarier form of politics that has lately been threatening resurgence: outright fascism. Let's try not to repeat the mistakes of the 1930s.
New studies show a correlation between COVID-19 deaths and low levels of the "sunshine vitamin."
Vitamin D has long been a useful warrior in the fight against disease, but now some studies are hinting that it might help fight COVID-19.
In this day and age, everyone is desperately looking for a cure, the Internet is rife with misinformation, and nothing is certain about vitamin D yet. But several promising studies have found that lower levels of vitamin D can put patients at increased risk of death from COVID-19, while higher levels might increase patients' chances of survival.
An April 9 study from the Philippines measured vitamin D levels in 212 coronavirus patients and found that patients with lower Vitamin D levels had relatively mild symptoms, while patients with deficiencies tended to grow much sicker. Prior to that, an Indonesian study from May said that "majority of the COVID-19 cases with insufficient and deficient vitamin D status died."
A similar study from Northwestern University explored 10 countries and also "found a correlation between low vitamin D levels and hyperactive immune systems." Most recently, a new study from Trinity in Ireland came to the same conclusions, also finding that lower levels of vitamin D are linked to a higher mortality rate for COVID patients.
Vitamin D plays an important role in the body's immune response. It may also be able to help heal compromised respiratory functions, according to Newsweek. COVID-19 is still a relatively unknown disease, but it is believed that the virus creates what's called a cytokine storm in patients. That means that the body produces a superabundance of messenger proteins called cytokines, which can lead to inflammation in the lungs. Vitamin D can help prevent the release of cytokines.
These studies are inconclusive, and clinical trials are just beginning. "If vitamin D levels are really a marker for better diet, or more access to healthcare, or any of a variety of other variables that are not statistically assessed, then it is not the vitamin D that is the cause of the better or worse outcomes but rather the other factors," said Daniel Culver, Director of the Interstitial Lung Disease Program in the Department of Pulmonary, Medicine at the Cleveland Clinic.
To be clear, vitamin D is not a miracle cure. "We found no clinical evidence on vitamin D in COVID-19," scientists from Oxford University wrote after their study. "There was no evidence related to vitamin D deficiency predisposing to COVID-19, nor were there studies of supplementation for preventing or treating COVID-19."
Still, because it's relatively harmless, some countries are now calling for widespread dissemination of vitamin D supplements and advising people to pay attention to their own levels. It's important to note that it is possible to ingest too much vitamin D, but a few supplements, some eggs, or some extra (safe) sunshine is probably as good a prescription as any during these isolated times.
The science of COVID-19 explained by a doctor.
By Anthony Lee, MD
Faculty, Harvard Medical School
As we make our way through this pandemic, the large number of cases in the United States has caught our attention and prompted much discussion. In Part 6 of this series, we continue to see Ireland and the UK consistently decline in number of daily deaths. If we assume that the pandemic in these countries is on the mend, tracking the number of cases is no longer fruitful.
Likewise, Italy, Belgium, and Northern Ireland have not seen increases in daily new cases, or deaths, over the last 3-6 weeks so we will no longer follow them. However, as these countries begin easing lockdown measures, this may change.
Please note that this report will only consider confirmed COVID deaths.
As explained in Part 4 and Part 5, it's the case density (cases per 100,000 people) that matters and not the total number of cases. The higher the number of cases per 100,000 people, the more dangerous that location is. For example: riding in a subway car. If a specific location has a high case density, it's more likely that riding on a subway car in that location will have more infected passengers compared to a subway car in a different location.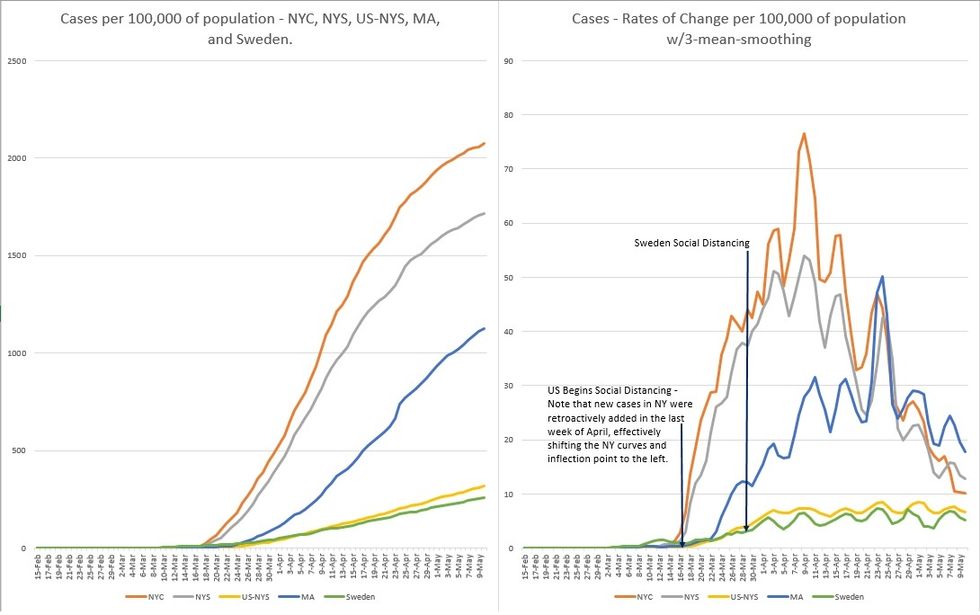 In Figure 1, Plots of New York City and New York State are compared to Massachusetts, "The Rest of the United States" (US minus NYS or US-NYS), and Sweden.
On the left of Figure 1, Massachusetts' cumulative number of cases continues to rise. On the right of Figure 1, the number of daily new cases in Massachusetts is declining. However, its daily new cases now exceed that of NYS, which started to decline 15 days prior.
Keep reading...
Show less
A true understanding of the intersection of risk and human nature entails disseminating accurate information regarding actual risk levels and letting people make their own decisions.
It's a sign of the times that we hear the phrase "Stay safe!" everywhere. While I know it's well meaning, it has started to grate on my nerves like nails on a chalkboard.

Oftentimes it closes a communication, or comes as advice, with the addition of "stay home" - as if we can stay safe by staying at home. While true with regard to those most at risk, as a general matter this can create the illusion of safety and mask real danger.
When we talk about safety, we should also consider the economic tsunami washing over our nation. The usual argument between "staying safe" and "opening the economy" presents a false choice based on the illusion that a safe path actually exists.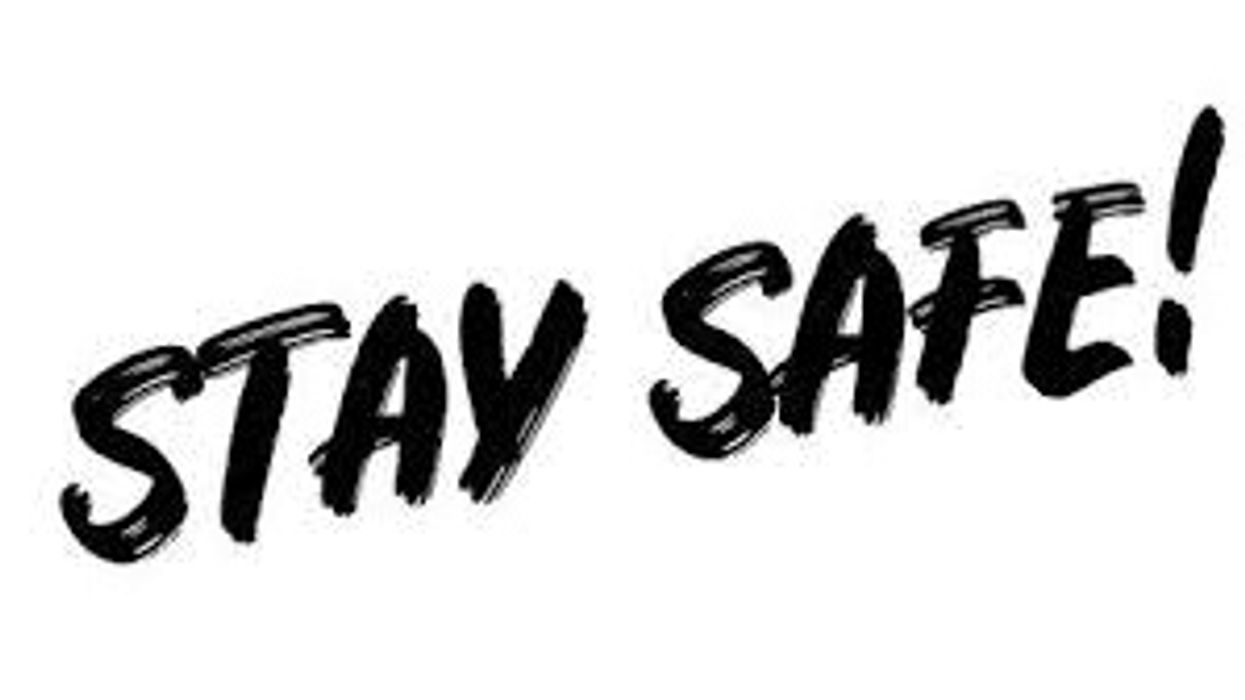 I'm not going to engage in second-guessing the shutdown itself. I think we can give those who executed it the benefit of the doubt for having made the best decision they could with the information they had. We can also assume that it helped avoid the feared broad meltdown of the healthcare system and that it saved lives. However, we have to hold our leadership accountable for the decisions they're currently making in the name of safety, particularly as more information becomes available.
It's clear that the debate around reopening the economy has become highly political along red/blue lines. Frankly, I don't think we should care about the politics of it all, but I do think we should care about the truth. So, as you listen to advocates of the "lock down" versus the "open up", I ask you to consider the following questions:
Who has skin in the game?
Many people have been able to work from home through this disaster with little financial impact, at least for now. Thank goodness, or the economic pain would be even more widespread. That said, those individuals should have compassion for the many kinds of work that cannot be done remotely as well as for the entire sectors of the economy that have been vaporized by the shutdown.
No one has been unaffected, but some people have more economic skin in the game with respect to reopening the economy. Others have more skin in the game with regard to exposure to COVID itself. This leads to the confounding choice between "safety" and opening the economy. There are varying degrees of risk exposure based on the short, mid, and long term consequences of continued shut downs.
What is actually happening to our health system?
One of the main justifications to shut down our economy was to make sure that the health system wouldn't be overwhelmed and increase lives lost. We accepted that and marched along like good soldiers. We even eliminated so called "elective" procedures (like treatment for cancer patients) in order to prepare for a surge.
Our health care professionals adapted and found ways to care for the sickest of the sick alongside COVID patients and even dynamically improved the outcomes for COVID patients. It seems that the shutdown has been gradually working.
But, we also have to look at the situation on the ground as some of our healthcare systems must lay off thousands to compensate for empty beds as well as the loss of highly profitable elective procedures. In the meantime, hospitals are empty while people die at home for fear of going to the hospital.
We ill-serve our citizens - especially the ill - as well as our system itself by unnecessarily prolonging this situation in the name of safety.
What about another potential growing public health crisis?
Our healthcare experts have spent years evaluating the environmental contributors to poor health. Healthcare connects to every aspect of our lives as a matter of promoting health and wellness. We know that stress and anxiety lead to poor health, suicide rates spike based on desperation, abuse at home arises from hopelessness, unsettled home situations lead to poor health, food insecurity leads to poor health, poverty leads to poor health, and homelessness presents a national health problem. All of these things are environmental contributors to poor health.
Roughly 30 million Americans are out of work. The average household is 2.52 people, which means that tens of millions of our population now face those environmental contributors to poor health. COVID is a real threat, but so is this collateral healthcare crisis. In this light the statement "stay home and stay safe" ignores the suffering of tens of millions of fellow citizens who stand to benefit from a reopened economy. We have to look at the total public health picture in balance, and COVID is only one element of that picture.
How bad could the economic picture get, really?
Unfortunately, the notion of keeping the economy shut down indefinitely until COVID somehow goes away is a form of magical thinking. We have every reason to expect that COVID will be with us for a while and future outbreaks could come in waves. So, one can understand the desire to hunker down long enough to outlast that risk. However, this is at odds with the interconnected nature of the economy.
Consider rent and mortgages. Think about how many rents and mortgages are not getting paid by people and businesses as a result of the shutdown. Who should absorb those losses and how? Behind every rent or mortgage payment stands a bank or investment fund. Banks and investment funds do not have unlimited money. Rather, they have the money their customers invest for safe keeping, which they in turn invest. At the end of the day, your savings and investments are tied up in institutions that have lent those funds out to the market.
Consider the many industries that have been crushed by the shutdown: travel, airlines, aerospace, hospitality, brick and mortar retail, automotive, etc. Just the obvious ones are about 20-30% of the economy. But nearly every kind of business is suffering to one degree or another. As firms cut back or go out of business, as other firms lose business accordingly and don't get paid, imagine all of the dominos that will fall.
There is no government program large enough to bail everything out. In a worst case scenario, we'd see massive failures across supply chains, financial institutions, and within the basic systems that keep our society functioning. So much so that there would be little safety for anyone.
What about risk and human nature?
Experts have projected two million deaths in America from COVID-19. The World Health Organization states that globally, about 3.4% of reported COVID-19 cases have died. Studies by Stanford University and the State of New York indicate that actual mortality could be 0.05% or less. We don't know absolutely and it is critical to find out, but at this point the actual mortality seems to run below the worst case scenario.
This is not to say that a small percent of a big number is not a lot of people, nor to say that we shouldn't care about those who are at risk. However, as the risk becomes more knowable, it can be evaluated on a personal basis.
For example, we know that there's elevated risk based on age and comorbidity. Wouldn't it make sense to manage that risk in a focused way to assist the most at-risk and vulnerable? Especially since nearly everyone seems to agree that COVID is not going away and is highly contagious?
Further, risk is part of life. We live with risk every day and innately evaluate it to make decisions. Individuals left to their own devices will make their own decisions as to what risk they'll tolerate with regard to COVID, based on their own profile. A true understanding of the intersection of risk and human nature entails disseminating accurate information regarding actual risk levels and letting people make their own decisions.
Undoubtedly, that will affect the economy and change behavior, but it needs to be efficient, effective, and driven by choice rather than by government mandate.
The definitive death rate of being alive is 100%
None of us get out of here alive. Life remains inherently unsafe and no amount of "lock down" will change that. On the contrary, a lock down shifts from one risk to a different kind of risk, both of which cause real suffering and real health concerns. Based on individual circumstances and profiles, each approach has different winners and losers. But, guaranteeing safety is just not possible. We should understand that one is not for or against "safety" based on looking to balance different kinds of risk.
It's easy to be angry about this entire situation. It's easy to blame others. It's easy to feel that you know how people ought to behave. That said, there is no "safe" answer between a rock and a hard place. No matter what we do, we can't "stay safe".
In closing, I want to add this observation: the "war metaphor" has been used time and again during this pandemic, and it doesn't make sense. After the Twin Towers fell, New Yorkers bound together and felt aligned against the awful threat of terrorism spawned by a militant group who killed thousands of innocent people. And every American became a New Yorker.
In many ways, the government's handling of COVID-19 has had the opposite effect. People are running away from each other, unwilling to ride in the same elevator, or say hello on the street. It's pitting neighbor against neighbor.
The governmental mismanagement of testing and quarantine status and tracing has hurt the culture and the global economy in ways that will wreak untold havoc for years to come. And it has exacerbated the already polarized politics in an America that is starting to feel positively "un-American".
It's time for a change.
Margaret Caliente is a professional athlete turned internet entrepreneur and Manhattan-based journalist.
They don't need our thanks, they need us to continue containing the spread of the coronavirus
In honor of National Nurses Day, Donald Trump invited a group of nurses to the White House on Wednesday afternoon to thank them for their dedicated service to their patients and for the sacrifices they've made in this difficult time.

This comes the day after Trump referred to reopening the country and the "Yankee stadium of death" that will result (a gross understatement of actual projections).
Keep reading...
Show less