The president attended the annual anti-abortion event in Washington, D.C.
Today, Donald Trump became the first-ever president to attend the March for Life.
The March for Life—not to be confused with the very different March for our Lives—is an annual gathering with an ultimate mission to end abortion in the United States. At the national march in Washington, D.C. this morning, Trump expressed that he was honored to be the first president in attendance.
Trump delivered his speech in a very characteristic manner, claiming the venue had maxed capacity, bragging about his contributions to the anti-abortion movement, and describing himself and his presidency with hyperbolic statements: "Unborn children have never had a stronger defender in the White House," he assured the crowd.
"When it comes to abortion...Democrats have embraced the most radical and extreme positions," Trump added.
March for Life's official website says they "celebrate life from the moment of conception to the moment of natural death, and every moment in between," a sentiment underlined in Trump's speech. "We are fighting for those who have no voice," he added. "[The women at the march] just make it your life's mission to spread God's grace." But of course, Trump's words and his actions haven't always aligned: just last November, the Associated Press reported that nearly 70,000 migrant children were held in U.S. government custody over the past year. While Trump may care about the fate of unborn children (or at least pretend to to gain the support of evangelical christians) he has made it extremely clear how little he cares about living children.
Historically, fewer than 10% of all presidential vetoes have been overturned, or 106 in total.
On Tuesday, the House of Representatives voted 245-182 to overrule Donald Trump's declaration of national emergency regarding immigration at the U.S.-Mexico border. Trump declared a national emergency on February 15 in hopes to redirect up to $8 billion from military funds and the Treasury to fund a border wall. While unprecedented, the tactic could theoretically manipulate the Constitution's funding laws to successfully bypass Congress and allow a sitting president to reallocate funds without congressional permission. Even though the House passed the resolution to terminate the declaration of emergency, Trump has vowed to veto the resolution if it should make it to his desk. So how can Congress overrule a veto, and how rarely is it done?
When a president vetoes a bill, Congress can only override the veto by taking a second vote in both chambers and passing the bill with a two-third majority in both houses. Historically, fewer than 10% of all presidential vetoes have been overturned, or 106 in total. The last time Congress over-ruled a veto was October 11, 2000, when Bill Clinton's bill Energy and Water Development Appropriations.
The rarity of a veto override is attributed to the bipartisan conflict of each chamber of Congress. For example, in 2000, the Republicans held a majority in both the Senate and the house when they overruled the sitting Democrat president. The current Congress is divided between a Democrat-lead House (235-199) and a Republican-led Senate (53-45). Achieving a two-thirds majority in both chambers of Congress is simply unlikely when they are led by separate parties.
As for the resolution to overrule Trump's national emergency, the Senate is set to vote on the resolution before March 18. Since it's a privileged measure, no filibustering is allowed; only a majority will pass or defeat the resolution. The crux of the matter is whether enough Republican Senators can be swayed to vote with the Democrats. As of Friday, three Republican Senators have vowed to to do so: Susan Collins of Maine, Lisa Murkowski of Alaska, and Thom Tillis of North Carolina. Only four more would be needed to send the resolution to Trump, assuming all Democrat Senator voted with their party. According to Five Thirty Eight, if Trump vetoes the measure, then both chambers of Congress are short of the votes needed to override (50 short in the House and 20 short in the Senate).
Thom Tillis wrote an op-ed for The Washington Post explaining his position to vote against party: "As a U.S. senator, I cannot justify providing the executive with more ways to bypass Congress," Tillis explained. "As a conservative, I cannot endorse a precedent that I know future left-wing presidents will exploit to advance radical policies that will erode economic and individual freedoms."
Prior to the House vote, Speaker Nancy Pelosi addressed House Republicans, "Is your oath of office to Donald Trump or is it to the Constitution of the United States? You cannot let him undermine your pledge to the Constitution."
Meg Hanson is a Brooklyn-based writer, teacher, and jaywalker. Find Meg at her website and on Twitter @megsoyung.
The president's re-election campaign doubled spending over the last three months.
Even with his re-election vote two years away, President Trump has raised more than $100 million towards his campaign.
The president's fundraising total, which include his campaign committee and joint accounts with the Republican National Committee (RNC), raised more than $18 million from July to September, according to numbers filed by the Federal Election Commission on Monday night. With more than $106 million at his disposal, Trump has raised a historic amount for an election this far in advance. In contrast, President Barack Obama had just $2.3 million in his bank account two years before his 2012 re-election bid.
The preemptive effort to undermine his future Democratic contender began as soon as 2017, with Trump's abnormal decision to file for re-election the day he was sworn in. There was barely a pause in his campaign's rallying tours across the country—they continued in the first months of his presidency.
Strikingly, the president's campaign committee has raised the majority of its bursting wallet from donations of less than $200. These small sums represent nearly 98% of the money he collected during the third quarter of the year. That's not to say his fundraising team hasn't sought larger donors. One check deposited in the RNC joint account for $250,000 came from venture capitalist and human blood enthusiast Peter Thiel.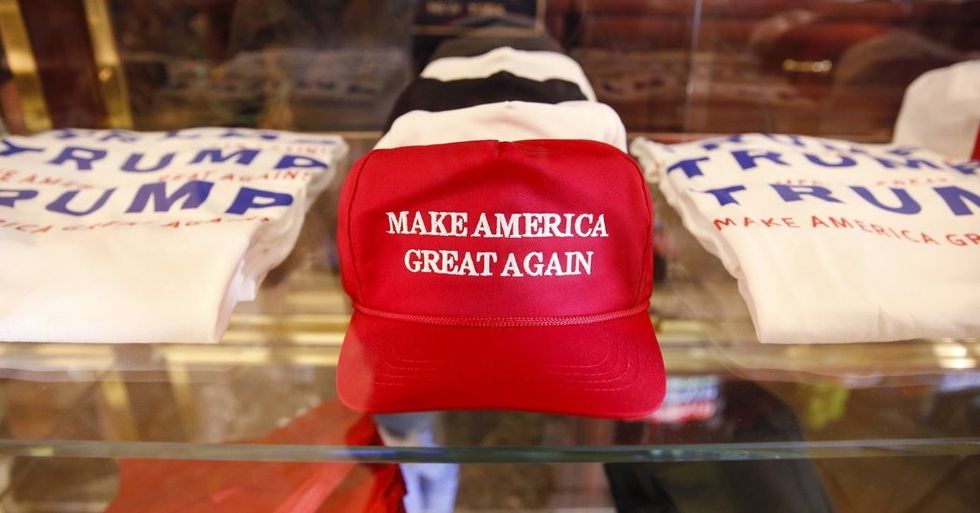 Reuters
Trump's campaign doubled spending over the last three months to $7.7 million, seeking to stir up its Republican base with more rallies and online appeals. $604,000 was paid to Ace Specialties in Louisiana, the manufacturers of the Trump base's favorite "Make America Great Again" red hats. $1.3 million was paid for legal fees, which includes services related to the Russian meddling investigations, and $1.6 million was spent on advertising to a shadowy company called American Made Media Consultants.

According to the New York Times, the company was created by the campaign to purchase media advertisements as well as online fundraising solicitations. While it's not intended to create profit for Trump, the company could allow the campaign to avoid declaring precise spending details to the election commission. The idea seems to draw inspiration from Mitt Romney's presidential campaign.
In a statement, the Trump campaign's senior advisor encourages their grass-root supporters "and millions more like them to get out and vote in the midterms so President Trump can continue to build on his agenda with even greater success for the forgotten men and women of this great country."
Despite his success, Rep. Beto O'Rourke, the Democratic challenger to Sen. Ted Cruz in Texas, reportedly raised more than double what Trump did between July and September. The $38.1 million haul is a quarterly fundraising record for a Senate campaign.

Joshua Smalley is a New York-based writer, editor, and playwright. Find Josh at his website and on Twitter: @smalleywrites.
At approximately 2:18 PM today, every cellphone in America received a message testing this new system.
The current chapter of American history feels like a piece of speculative fiction, something resembling a joke we collectively forgot the punchline to. In the past two months alone, we've watched our Commander-in-Chief demolish a foreign economy via Twitter, fall in love with a voluptuous beauty, and nominate a gang rapist to the Supreme Court. Donald Trump, by virtue of his absurdity, has sent the news into a state of quantum flux in which the country's more prominent newsrooms have been forced to hire full-time staffers to monitor social media, patiently waiting for the tweet that abolishes the SEC or makes it legal to kill your dog. Now, with the help of FEMA, the president has the power to send alerts directly to your cellphone, whether you want him to or not. At approximately 2:18 PM today, every cellphone in America received a message testing this system.
Keep reading...
Show less
Gone at 81, his legacy will live on
Thoughts and prayers are ringing in with harmony at the news that Senator John McCain lost his brave battle with brain cancer. A life well-lived, filled with strength and struggle, wins and losses, and ups and downs, McCain's 81 years on Earth have left a mighty legacy, one that his family will forever cherish, politicians from both sides of the aisle appreciate, and Americans admire.
Keep reading...
Show less
With Trump as president, the term 'impeachment' is always thrown around, but what does it mean?
Discussion of the possible impeachment of President Donald Trump has been following news regarding his administration and business practices for several months. Most recently, a Democratic congressman has announced plans to file articles of impeachment in the House of Representatives. However, not many people truly understand what impeachment means and how it really works. Impeachment is a process laid out in the Constitution as a check on presidential power, but it has only really been put to use twice in all of American history.

Keep reading...
Show less