Dall-E Mini, the AI-powered text-to-image generator has taken over the internet. With its ability to render nearly anything your meme-loving heart desires, anyone can make their dreams come true.
DALL-E 2, a portmanteau of Salvador Dali, the surrealist and Wall-E, the Pixar robot, was created by OpenAI and is not widely available; it creates far cleaner imagery and was recently used to launch Cosmpolitan's first AI-generated cover. The art world has been one of the first industries to truly embrace AI.
The open-sourced miniature version is what's responsible for the memes. Programmer Boris Dayma wants to make AI more accessible; he built the Dall-E Mini program as part of a competition held by Google and an AI community called Hugging Face.
And with great technology, comes great memes. Typing a short phrase into Dall-E Mini will manifest 9 different amalgamations, theoretically shaping into reality the strange images you've conjured. Its popularity leads to too much traffic, often resulting in an error that can be fixed by refreshing the page or trying again later.
If you want to be a part of the creation of AI-powered engines, it all starts with code. CodeAcademy explains that Dall-E Mini is a seq2seq model, "typically used in natural language processing (NLP) for things like translation and conversational modeling." CodeAcademy's Text Generation course will teach you how to utilize seq2seq, but they also offer opportunities to learn 14+ coding languages at your own pace.
You can choose the Machine Learning Specialist career path if you want to become a Data Scientist who develops these types of programs, but you can also choose courses by language, subject (what is cybersecurity?) or even skill - build a website with HTML, CSS, and more.
CodeAcademy offers many classes for free as well as a free trial; it's an invaluable resource for giving people of all experience levels the fundamentals they need to build the world they want to see.
As for Dall-E Mini, while some have opted to create beauty, most have opted for memes. Here are some of the internet's favorites:
There's no looking back now, not once you've seen Pugachu; artificial intelligence is here to stay.
POLITICS
The Presidential Alert System: Why Donald Trump is Texting You
At approximately 2:18 PM today, every cellphone in America received a message testing this new system.
The current chapter of American history feels like a piece of speculative fiction, something resembling a joke we collectively forgot the punchline to. In the past two months alone, we've watched our Commander-in-Chief demolish a foreign economy via Twitter, fall in love with a voluptuous beauty, and nominate a gang rapist to the Supreme Court. Donald Trump, by virtue of his absurdity, has sent the news into a state of quantum flux in which the country's more prominent newsrooms have been forced to hire full-time staffers to monitor social media, patiently waiting for the tweet that abolishes the SEC or makes it legal to kill your dog. Now, with the help of FEMA, the president has the power to send alerts directly to your cellphone, whether you want him to or not. At approximately 2:18 PM today, every cellphone in America received a message testing this system.
And no, you can't opt out of the messaging service. In 2006, Congress passed a law called the Warning, Alert, and Response Network Act preventing this. There's now a satellite uplink that telegraphs Trump's dementia-addled ramblings straight to your iPhone, and there's nothing you can do about it. This is kind of like having Bill O'Reilly's cirrhotic liver on speed dial. We live in hell.
Okay, so the above paragraph isn't exactly true. While the emergency texting program will light up your phone whenever there's "a natural disaster, act of terrorism, or other man-made disaster or threat to public safety," Trump (probably) won't use this system as a means of continuing his many Twitter rants. That said, the question of what exactly constitutes a "natural disaster, act of terrorism, or other man-made disaster or threat to public safety" might provide the president with just enough leeway to use the system as a means of communicating his private thoughts.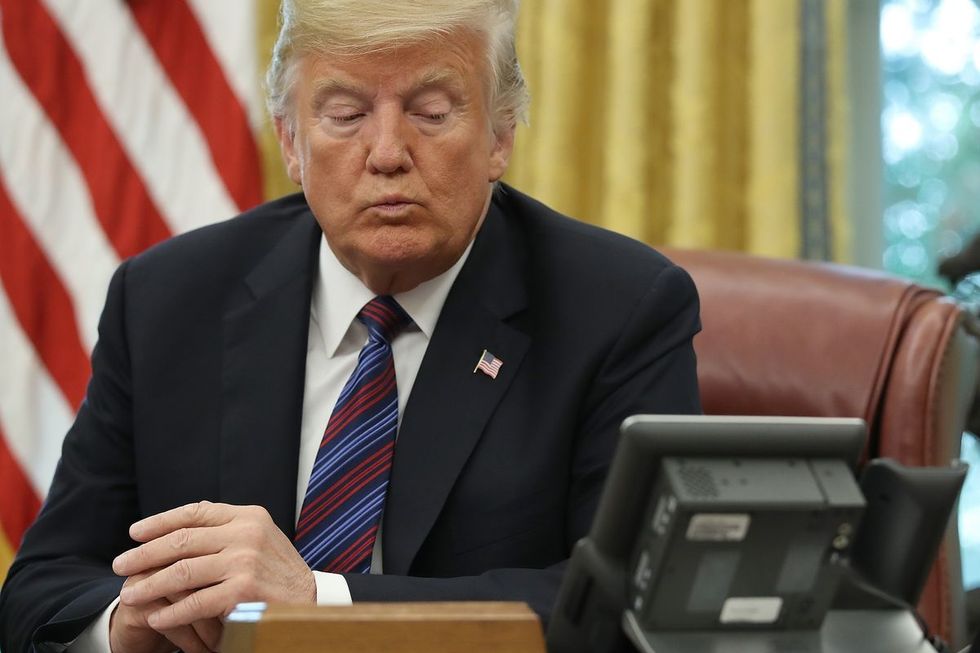 Irwin Redlener, director of the National Center for Disaster Preparedness at Columbia University, is worried that Trump will abuse this system, saying, "I'm not sure that the system would protect us from rogue announcements by a president who has exhibited the kind of behavior President Trump has over the last two years."

Also, it's not as if the government's never made an honest mistake with its emergency broadcast system. Remember in January when this happened:
Trump's steadily erratic Twitter posts and penchant for mocking the disabled have people worried that their phones are going to be inundated with a constant stream of presidential alerts. The fear is that if we get too many false alarms (or pointless rants), the text system will be rendered useless. Whether or not this happens remains to be seen, but the chances that this is the one function of his office that Trump uses responsibly seems unlikely.
Matt Clibanoff is a writer and editor based in New York City who covers music, politics, sports and pop culture. He currently serves as Lead Editor for Gramercy Media. His editorial work can be found in Inked Magazine, Pop Dust, The Liberty Project, and All Things Go. His fiction has been published in Forth Magazine. -- Find Matt at his website and on Twitter: @mattclibanoff