"A tree is best measured when it is down," the poet Carl Sandburg once observed, "and so it is with people." The recent death of Harry Belafonte at the age of 96 has prompted many assessments of what this pioneering singer-actor-activist accomplished in a long and fruitful life.
Belafonte's career as a ground-breaking entertainer brought him substantial wealth and fame; according to Playbill magazine, "By 1959, he was the highest paid Black entertainer in the industry, appearing in raucously successful engagements in Las Vegas, New York, and Los Angeles." He scored on Broadway, winning a 1954 Tony for Best Featured Actor in a Musical – John Murray Anderson's Almanac. Belafonte was the first Black person to win the prestigious award. A 1960 television special, "Tonight with Belafonte," brought him an Emmy for Outstanding Performance in a Variety or Musical Program or Series, making him the first Black person to win that award. He found equal success in the recording studio, bringing Calypso music to the masses via such hits as "Day-O (The Banana Boat Song)" and "Jamaica Farewell."
Harry Belafonte - Day-O (The Banana Boat Song) (Live)www.youtube.com
Belafonte's blockbuster stardom is all the more remarkable for happening in a world plagued by virulent systemic racism. Though he never stopped performing, by the early 1960s he'd shifted his energies to the nascent Civil Right movement. He was a friend and adviser to the Reverend Doctor Martin Luther King, Jr. and, as the New York Times stated, Belafonte "put up much of the seed money to help start the Student Nonviolent Coordinating Committee and was one of the principal fund-raisers for that organization and Dr. King's Southern Christian Leadership Conference."
The Southern Poverty Law Center notes that "he helped launch one of Mississippi's first voter registration drives and provided funding for the Freedom Riders. His activism extended beyond the U.S. as he fought against apartheid alongside Nelson Mandela and Miriam Makeba, campaigned for Mandela's release from prison, and advocated for famine relief in Africa." And in 1987, he received an appointment to UNICEF as a goodwill ambassador.
Over a career spanning more than seventy years, Belafonte brought joy to millions of people. He also did something that is, perhaps, even greater: he fostered the hope that a better world for all could be created. And, by his example, demonstrated how we might go about bringing that world into existence.
"Times Square," said Andrew Yang in a recent interview with Ziwe. "What's not to like?"
As a New Yorker who once walked through the hellscape that is the Times Square subway station twice a day, I find that question not only abhorrent but stunningly tone deaf. Sure, Times Square has its own kitschy appeal and the subway station is still part of the city I love so much, but also… it's Times Square. Real New Yorkers know that Times Square is a distorted tourist trap, and the subway station bears none of the charm and beauty that so many of the city's other subway stations do.
Take, for example, the Coney Island Stillwell Avenue station, my favorite subway station. Rising out of the ground to the sight of the ocean is an experience I'll never be over. There's Brooklyn's Prospect Avenue station, with its tangles of vines and its mournful yellow lamplight. There's 28th Street Station, with its cherry blossom mosaics… I could go on.
I could possibly forgive Yang's comment if I felt it came from a place of love — perhaps the man has a special adoration for chaos, souvenirs, the smell of things burning, and stations that allow transfers to almost every other part of the city.
But Andrew Yang has been making out-of-touch comments since the beginning of his mayoral candidacy. He confessed that he'd spent most of the pandemic out of the city, saying, "We've spent more time upstate than in the city over the last number of months." He misidentified a food market as a bodega. He complained about life in his two-bedroom Hell's Kitchen apartment, stating, "Can you imagine trying to have two kids in virtual school in a two-bedroom apartment, and then trying to do work yourself?" Why yes, Andrew Yang. (Why yes, many thousands of the New Yorkers you hope to represent have been doing exactly that for over a year now.)
Yang was also criticized for name-dropping LGBTQ+ spots like a tourist looking to explore the gay side of Greenwich Village for the first time. "Well, first, let me say that if I go to Cubbyhole, I think I'm going to be accompanied by at least one of my two campaign managers who are both gay," he said. "So there's like a lot of, you know, familiarity with, with the community, at the head of my campaign leading it." Later on in the same speech, he told a mostly LGBTQ+ audience that their community is "so human and beautiful."
His tweets are a mess as well. He later apologized for a tweet reading, "You know what I hear over and over again - that NYC is not enforcing rules against unlicensed street vendors. I'm for increasing licenses but we should do more for the retailers who are paying rent and trying to survive." But the damage was done. New York City's vibrance comes in large part from its street vendors, many of whom make their living selling food on the sidewalks. Many saw Yang's comments as further evidence that he had no connection to everyday New Yorkers.
He also recently apologized for a blatantly pro-Israel and anti-Arab tweet, which garnered praise from none other than Donald Trump Jr. The tweet read, "The people of NYC will always stand with our brothers and sisters in Israel who face down terrorism and persevere." Yang also said, in a Forward op-ed, that the Boycott, Divest, Sanctions movement was the result of "anti-semitic thought and history."
In another interview, Yang confessed that he has never voted in a single mayoral election in NYC. In a recent press conference, he stated, "One thing that I think would be extraordinarily helpful is to have specific shelters for victims of domestic violence, who are often fleeing from an abusive partner," Yang said during the forum. "It's a distinct population with distinct needs, and they should have separate [facilities]." Others were quick to point out that New York City does, in fact, have these types of shelters, and Yang tried to walk back his claim, but the damage was done.
In yet another fumbled press conference, Yang was asked, "Do you agree with the repeal of 50-a?" He replied, "The repeal of 50-a," prompting the interviewer to ask, "Do you know what 50-a is?" Yang fumbled the reply further by saying, "This is not the — it's not the mandatory interview of the—" prompting another candidate to clarify that 50-a is actually a bill that hides police officers' disciplinary actions from the public. The bill received widespread attention during the George Floyd protests this year.
Later on, Yang was asked about the MTA's debt, and he responded, "The MTA doesn't break its numbers out that cleanly, but you're looking at revenues around eight or nine million dollars and an operating deficit of around three-and-a-half." The MTA's debt is actually in the billions of dollars, which Yang likely meant to say, but he further flubbed the response by mentioning MTA bridges that go out of the city, which there are none of (the Port Authority controls outer-city transit).
Each one of these foibles reveals a candidate who is blatantly out of touch with the extremely complicated everyday realities of New York City. All these little mishaps are arguably easy to forgive on their own — but look at them together and it becomes easier to piece together who Andrew Yang is (and who he is not).
Look deeper at his policies and the practices he hopes to implement as the mayor of the Big Apple — a position he may very well win — and a more ominous picture starts to take shape.
Policy Flaws and a Poor Track Record
For example, Yang — who grew famous during the 2020 election cycle thanks to his promises of Universal Basic Income — has since walked back his promises and has failed to garner critical union and progressive support. He pledged, for example, to offer $1,000 to $2,000 per year to "each family of a student whose family income puts them at the poverty threshold," as well as English language learners and special education students. $1,000 or $2,000, essentially a one-time stimulus check, would, of course, not lift any student or their family out of poverty, especially in a place like New York City, nor would it be anything close to a universal basic income.
Even Yang's original Universal Basic Income proposal, the "Freedom Dividend," would have required families to choose between receiving some public benefits such as Medicare and $1,000 per month.
If you weren't already aware at this point, Yang, though allegedly a Democrat, with wide residual progressive appeal from 2020, has conservative-leaning policies. That's part of what makes him so insidious and competitive as a candidate: He can appeal to progressives who don't do their research, to Democrats looking for an acceptably centrist candidate, to independents looking for a non-establishment politician, and to Republicans who know Yang is probably the closest thing to a conservative mayor they'll find right now.
Rightly so, Yang is facing vehement opposition from many groups, particularly among the powerful coalition of progressive organizations in NYC. "Andrew Yang's pro-cop, anti-public education, anti-union, big business-centric platform is not what New Yorkers need," Senti Sojwal, cofounder of the Asian American Feminist Collective, told Teen Vogue. Sojwal, along with 790 grassroots AAPI organizers and leaders, recently signed a letter opposing Yang's mayoral bid.
Yang is apparently "in talks with Tusk Strategies, the consulting firm that worked on Mike Bloomberg's 2009 mayoral campaign." The CEO of Tusk Strategies is Bradley Tusk, a former consultant for the city's largest police union.
Yang also advocated for putting more police in subway stations and has been a vocal critic of the defund the police movements.
In general, Yang seems to glorify a capitalist free market that many fear would be damaging to NYC's already fragile housing situation. Back in 2019, Yang proclaimed his distaste for zoning laws and seemed to advocate for a kind of wild free-for-all situation based on the premise that the market would work its magic. However, New York City is in the midst of a housing crisis that free market development will certainly not help solve.
A look at Yang's record reveals that he has long been oscillating between progressivism and conservatism.
After working as a test-prep executive, he started a nonprofit called Venture for America, which promised to create 100,000 jobs. It only created around 4,000.
Running New York City is far, far more complicated than running a single nonprofit, and Yang's record is not promising. His policies are chaotic at best; he has promised to bring cryptocurrency to New York despite the potentially devastating environmental impact. He confessed to having never visited one of New York City's public housing developments prior to the mayoral race, and after living in Hell's Kitchen for 25 years, he seemed surprised after visiting Brownsville, Brooklyn, saying, "You saw things that were very, very dark and bleak." Talk about out of touch.
In general, critics say Yang lacks the expertise to address NYC's most pressing problems, including its failing subway systems, its housing crisis, and impending environmental crises such as future hurricanes.
So Why is He a Frontrunner?
In spite of all this, Yang is polling strongly. There are several reasons for this. Yang has the name-factor recognition, and he has leveraged his celebrity status to the max, promising to be a "cheerleader" for a post-COVID New York. Like Trump, his controversial tweets and gaffes tend to bring more attention to him. As The New York Times writes, "Andrew Yang Believes in New York and Himself. Is That Enough?" It may well be, though it seems strange that in a city that prides itself on its no-nonsense, no bullshit ethic, wild optimism could be a winning campaign.
Yang has amassed a coalition that includes Orthodox Jews (Yang promised to take a hands-off approach to yeshivas), some Asian American voters, and some young people still riding the high of the Yang Gang.
In addition, none of his competitors have managed to overtake him in popularity or notoriety. His opponent Scott Stringer, the current comptroller, was recently accused of sexual assault, causing key groups to withdraw their support. Candidate Dianne Morales is a strong progressive champion running on a promise to bring social housing to NYC, but she lacks the name recognition of Yang, and the same goes for fellow candidate Maya Wiley. The fact that Yang seems to be running on a platform based on unearned confidence that is eclipsing the campaigns of two qualified Black women is reason for pause in and of itself.
As of now, Yang's primary opponent seems to be Eric Adams, the Brooklyn borough president who is a former cop who promised to carry a gun if elected. Another major opponent is Kathryn Garcia, the former New York City sanitation commissioner, who came out on top in a recent poll.
So, in spite of all this, it seems that New Yorkers may be stuck with Andrew Yang. Of course, he's probably not the worst man for the job. Yang has big, optimistic visions: invest in the city's failing infrastructure and affordable housing, reinvigorate the city's arts and culture sector, develop education, a People's Bank for the city, address the homelessness crisis and more. After Bloomberg, almost any new energy will feel welcome.
Whether Yang can achieve any of his visions is to be seen. But with New York City on the brink of rebirth, change is coming fast — and it's up to voters to decide what kind of change they ultimately want to see.
COVID-19 updates from a Harvard physician.
By Anthony Lee, MD
Faculty, Harvard Medical School
As we make our way through this pandemic, the large number of cases in the United States has caught our attention and prompted much discussion. In Part 4 of this series, we examine the latest trends in cases and deaths in the 10 locations we've been following.
Much of the media continues to report absolute number of cases by location, which is misleading because a location's population matters in terms of what's known as local severity.
This is better described as case density, or the number of cases per capita. For example, if 10 out of 50 people were infected on a small grass field, the case density would be 20%. If 25 out of 500 people were infected on a larger grass field, the case density would be 5% even though there are more cases.


Therefore, even though 2.5 times more people were infected on a larger grass field, the case density would be 4 times less, and therefore the local severity would be less critical. The same is true for deaths per capita. With that in mind, here are the updated charts.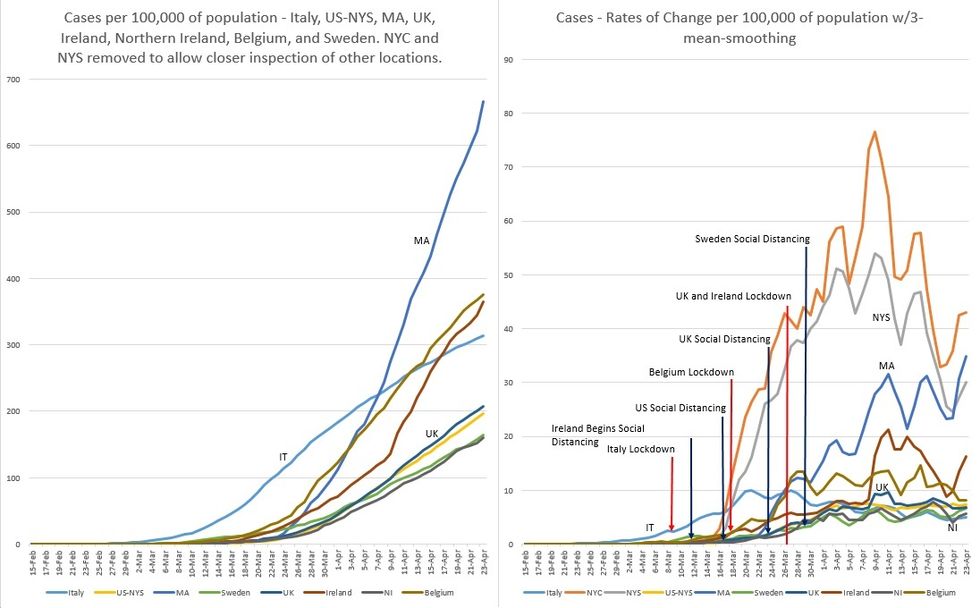 Figure 1: On a per 100,000 population basis, the rises for New York City and New York State are quite steep. When plotted with other locations, the plots of the other locations are squashed significantly and misrepresent the actual condition. Therefore, the plots of NYC and NYS have been removed for the sake of clarity. However, for the rates of change chart, NYC and NYS plots remain as they don't obscure the other plots significantly.
On the left of Figure 1, we see that Massachusetts is experiencing the largest surge in cases so far. It is said that Massachusetts may soon become the new epicenter of case growth in the US.
But to maintain perspective, NYS still carries 31% of all cases in the US and 9.9% of all cases in the world. By contrast, Massachusetts carries 5.2% of all cases in the US and 1.7% of all cases in the world. However, case density in Massachusetts has surpassed that of "The Rest of the US" (US-NYS) by more than a factor of 3, but less than half of NYS.
On the right of Figure 1, the number of daily new cases in Italy peaked on March 21st, 12 days after their lockdown with daily cases continuing to fall over the last 33 days. For NYS and NYC, the number of daily new cases peaked on April 9th, 23 days after social distancing began, and has continued to fall over the last 2 weeks.
For the UK, the number of daily new cases peaked on April 11th, 15 days after lockdown but 19 days since increasingly stringent social distancing began. This downward trend has been ongoing over the last 12 days.
For Ireland, the number of new cases peaked on April 11th but is currently escalating again. Belgium's number of new cases peaked on April 16th, but it's too early to tell if it will increase again. It looked as if Belgium was on a downward trajectory in terms of rates of change, but the country experienced a subsequent surge. The same holds true for Northern Ireland.
Sweden, like Massachusetts, is on a surge, but with much less magnitude.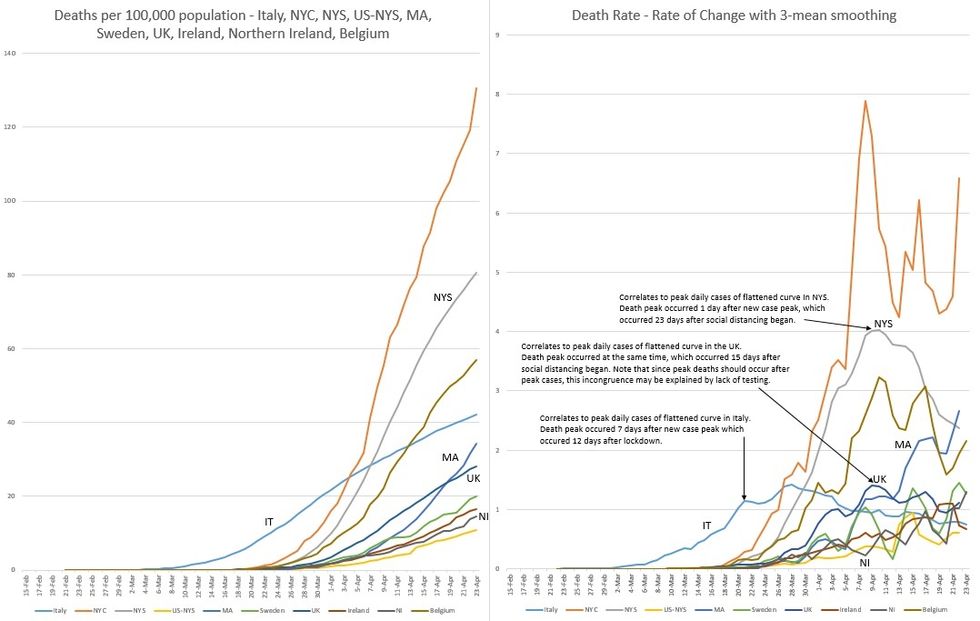 Figure 2 illustrates the relative lag times between the peak of new cases and the peak of daily deaths. The arrows correlate to when the daily peak cases occurred (not the peak of deaths, although they may coincide by chance).
In general, deaths follow cases. One would expect that the peak of daily deaths for any location would arrive after the peak of daily new cases. This is true for Italy, where the peak of daily deaths occurred 7 days after the peak of daily new cases, which in turn occurred 12 days after lockdown. 19 days of lockdown were required to lessen Italy's death rate.
The UK needed 15 days of lockdown to simultaneously reduce both the number of daily new cases and the death rate. This could be because the UK may be under-testing, resulting in a delay of the peak of daily new cases.
It's also conceivable that the peak of new daily cases can arrive after the peak of the daily death rate. Further support for this notion is the fact that Ireland has a higher case density than the UK, yet the UK has a higher number of deaths per capita.
NYS required 24 days of social distancing to reduce the death rate; a reduction which occurred 1 day after the peak of daily new cases. Again, this could be due to the lack of testing. In NYC, deaths are on the rise again but to an unknown extent. The same is true for Massachusetts, Northern Ireland, Belgium, and Sweden. It's too early to tell what will happen in Ireland.
For "The Rest of the US," the death rate peaked 8 days ago, 29 days after social distancing was instigated.
Sources of data: Worldometer.com, Spectrum News NY1, New York State Department of Health, Massachusetts Department of Public Health, HSC Public Health Agency
The very small window of opportunity to close down the country
By Anthony Lee, MD
Faculty, Harvard Medical School
As we make our way through this pandemic, the large number of cases in the United States has caught our attention and prompted much discussion. In Part 3 of this series, we will delineate the events that have thus far unfolded for the United States.
In Parts 1 and 2 of this series, we plotted cases and deaths on a per 100,000 population basis. In Part 2 we added "The rest of the US" as a location, represented by "US-NYS" to illustrate that outside of New York State, the US is doing relatively well compared to NYS and other parts of the world.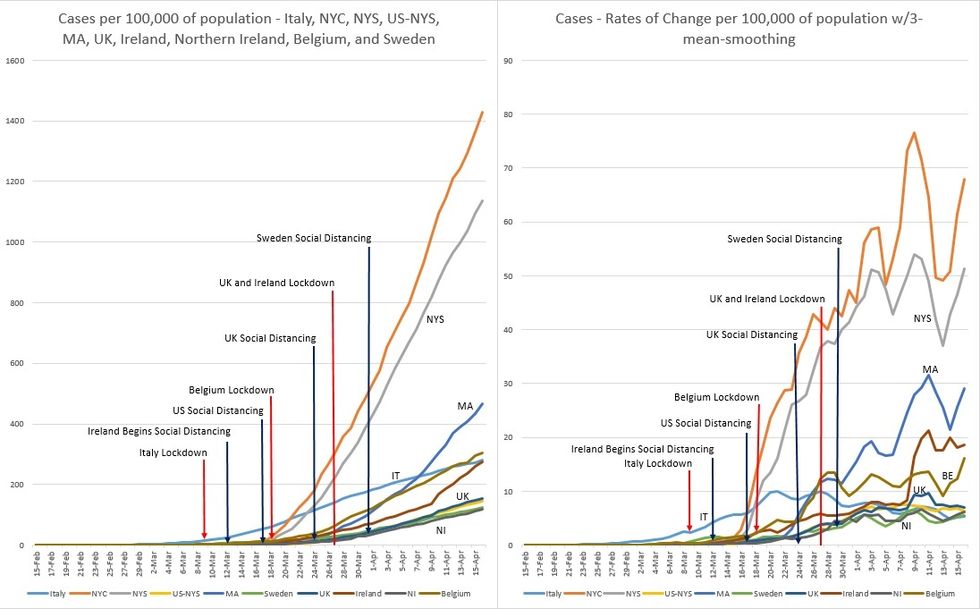 One notices, however, that in Figure 1 for NYC and NYS, a low and flat trajectory is seen from early February and continues until March 16th, when suddenly the trajectory begins to steepen. This is called the inflection point of the curve and will be described in Figure 2.
In Figure 2, locations other than NYC, NYS, and US-NYS (US minus NYS) have been removed. Social distancing began on March 17th. Note that in prior charts, social distancing for the US was lumped with that of the UK. But, after reviewing history, the US actually began social distancing a week earlier. (This has been corrected on subsequent charts.)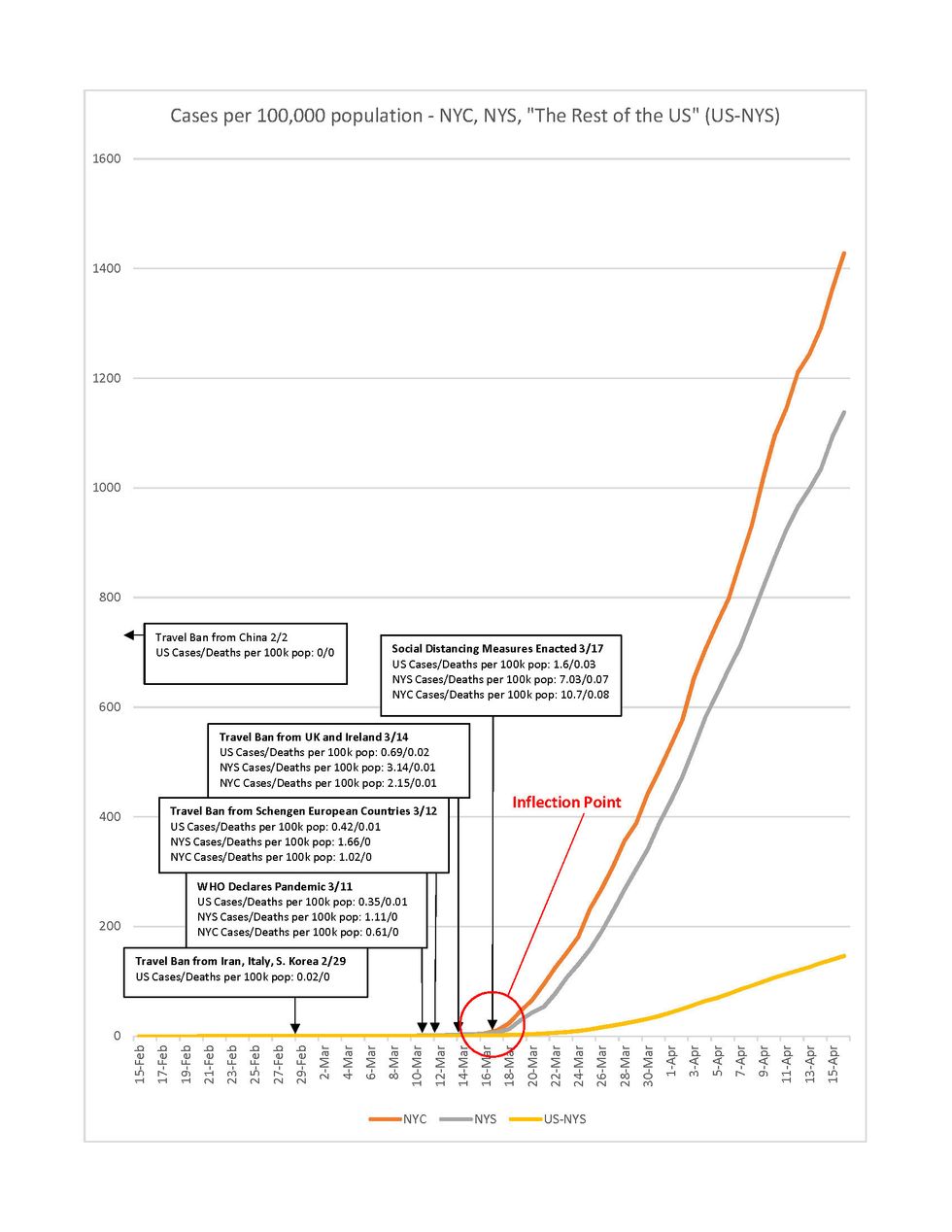 Figure 2 presents milestones that show when certain measures were enacted and what the number of cases and deaths were at that time, on a per 100,000 population basis by location. The inflection point represents a small window of opportunity to make a quick decision on mitigation.

Here are the events leading up to and around the inflection point:
2/2/20: Travel ban from China
2/29/20: Travel ban from Iran, Italy, and South Korea
3/11/20: World Health Organization declares COVID-19 a pandemic
3/12/20: Travel ban from Schengen European Countries*
3/14/20: Travel ban from UK and Ireland
3/17/20: Social distancing and restrictions start
3/19/20: Travel restrictions from Japan (not shown in Figure 2)
3/19/20: Increased testing in New York (not shown in Figure 2)
As far as the other locations seen in Figure 1, we can see that Italy continues to decrease in daily new cases, Ireland and Belgium have seen spikes in new cases. Massachusetts and NY continue to see waves of new cases that overall seem to be increasing in magnitude, while the rest of the locations continue on low and flat trajectories.
New York State continues to be the epicenter of the world, with 33% of all US cases and 10% of all cases globally.
Sources of data: Worldometer.com, Spectrum News NY1, Massachusetts Department of Public Health, HSC Public Health Agency
*The Schengen Area is composed of 26 European states that have officially abolished passports and all other types of border control at their mutual borders.
Block Renovation's got you covered.
Home renovations can be a nightmare - Having to find and coordinate meetings with designers and contractors, sourcing and scheduling materials, not to mention having to sacrifice your home for weeks.
Update: Get a free estimate when you take the 3 minute quiz.
The stress and expense of it all makes you wonder if it's even worth it. Plus, we've all heard the inflated costs that continue to increase throughout the project.
Thankfully, Block Renovation makes the process so seamless with their technology, network of contractors, and sourcing of material that you can plan your whole renovation virtually from the comfort of your couch.
With Block, you get the whole package of at home consultations (in-person or with video), architect-grade designs & drawings, materials sourcing, and a ready-to-build contractor. Their process is 3 times faster than average.
Here are 3 reasons Block Renovation is the place to go for bathroom and kitchen renovations:
Convenient
With Block, the whole process is technology based, you enter details that generates a quote online and a Block Project Planner will quickly get in touch to schedule a video consultation to see your space and hear about your objectives.Block then refines the proposal and sends it within 24 hours.
After a design session either in person or over video, your designer follows up with a package containing everything you need to get your renovation project going - design renders, building approval documents, a build manual, and a construction timeline.
Block orders and schedules the delivery for all materials needed so you don't have to source them yourself or deal with backorders like you would with most renovation projects. The contractors are all vetted and briefed on your project with an up-front timeline.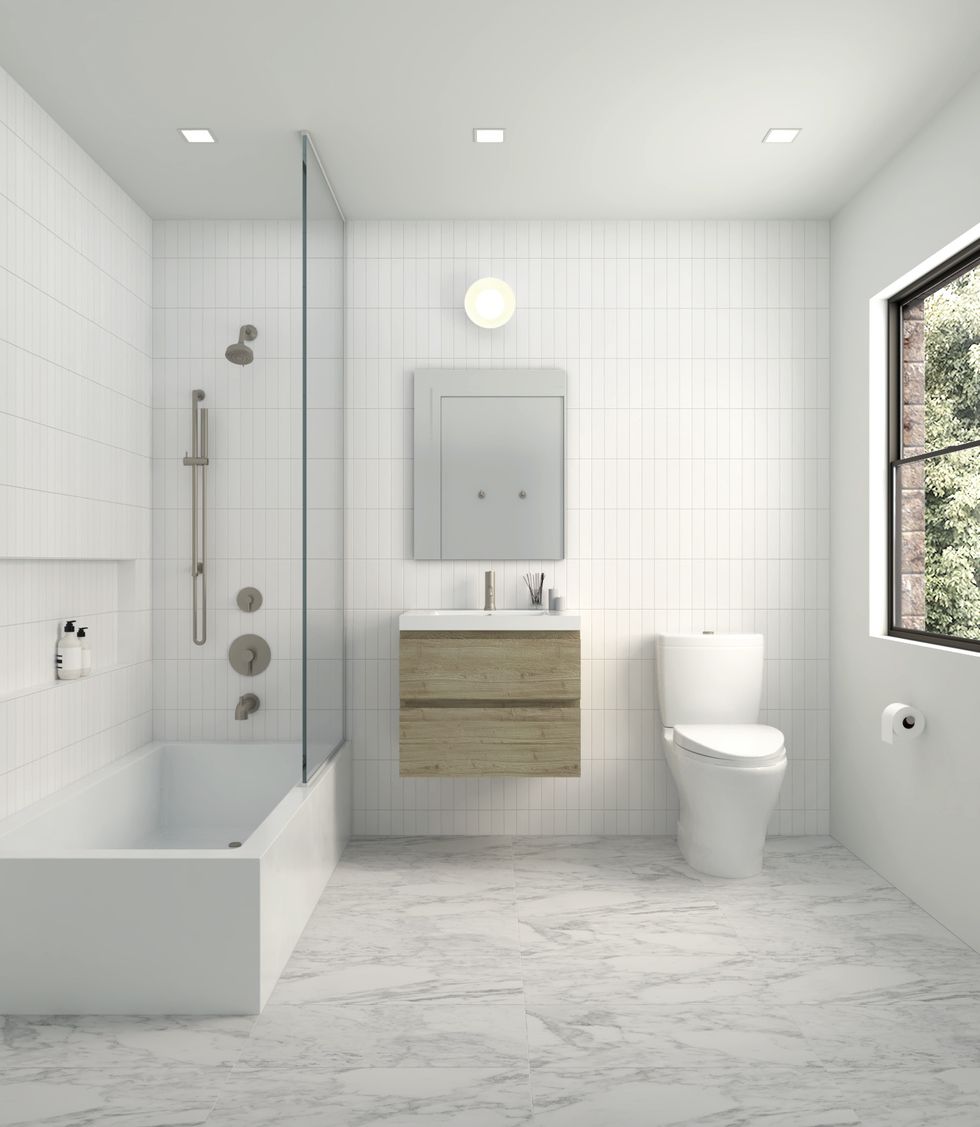 Fast
Block Renovation is 3 times faster than the national average when it comes to renovation. Their average build time for a bathroom is 4 weeks! Compared to the national average of 16 weeks, which is due to its convenient, seamless process. You can literally apply online in a few minutes, and once you send your videos and photos, they get back to you in 24 hours.
With other renovations, the estimated date of completion can change as complications arise.
Affordable
With most renovation companies, it's likely that the price given upfront is only an estimate. With lots of competition, other companies bid with optimistic numbers that can change along the way.
Block Renovation is completely clear and realistic with price. They are more accurate and reasonable with pricing because they have pre-negotiated rates with their roster of contractor partners.
Block Renovation supports you and your assigned builder from start to finish, ensuring there are no delays. This can save you more than 60 hours of personal time trying to manage and organize the whole project.
There really is no better option than Block Renovation when it comes to high-end bathroom and kitchen renovations.
From Cardi B to Hamilton to Queen Bey herself, here are ten songs that have inspired and soundtracked the ascensions of female politicians and powerful women of the modern world.
If it wasn't clear from Alexandria Ocasio-Cortez's recent Twitter battle with Cardi B and Tomi Lahren, we're living in an era where politicians and musicians have the ability to influence each other on huge scales.
But music has long been a source of inspiration and power, especially for women or other people whose voices have been subjugated or silenced.
In honor of the newest class of women in Congress, and in celebration of women in politics in general, here's a list of ten songs that we think would make the perfect soundtrack to their ascensions, and might even inspire you to follow suit.
1. Cardi B – Best Life
Cardi B - Best Life feat. Chance The Rapper [Official Audio]www.youtube.com
Not only did Rep. Alexandria Ocasio-Cortez grow up in the same borough of New York as superstar Cardi B; she also tweeted the lyrics to her song Best Life, featuring Chance the Rapper.
I never had a problem showin' y'all the real me/ Hair when it's messed up, crib when it's filthy/ Way-before-the-de… https://t.co/SdojcZ9olh

— Alexandria Ocasio-Cortez (@Alexandria Ocasio-Cortez) 1542740838.0
The song's lyrics seem to align with Ocasio-Cortez's approach to communicating with her supporters, which has been radically honest and personal, as she frequently shares developments at work and at home via her Instagram stories. Though she was met with backlash from users who told her to "write intelligibly," Ocasio-Cortez's supporters cheered the reference.

Unabashedly outspoken and proud of their stratospheric rise to the top of their respective fields, Ocasio-Cortez and Cardi B are two women who seem to be on unstoppable paths—while determined to keep it real all the while.
2. Anaïs Mitchell – Why We Build the Wall
Anaïs Mitchell ft. Greg Brown - Why We Build the Wallwww.youtube.com
When folk singer Anaïs Mitchell penned "Why We Build the Wall" in 2006 for her concept album Hadestown, she never imagined that its lyrics—which retell the story of the Greek god of death Hades and his quasi-American capitalist hellscape—would become so relevant.

The song is a call-and-response narrative between Hades and his citizens, who work ceaselessly on a wall in exchange for the economic security that living in Hadestown provides. It contains lyrics like, "The wall keeps out the enemy / and the enemy is poverty / and we build the wall to keep us free / that's why we build the wall." Hadestown, which also tells the story of Orpheus and Eurydice, is coming to Broadway in the spring of 2019.
This song seems like it would make the perfect satirical rallying cry for Nancy Pelosi, who denounced Donald Trump's request for $5.7 billion to build his wall between the U.S. and Mexico after his speech on January 8th, two weeks in to what would become the longest government shutdown ever.
3. Aretha Franklin – Respect
Aretha Franklin - Respect [1967] (Original Version)www.youtube.com
Aretha Franklin passed away in August of 2018, but her legacy lives on within every woman who ever wanted to be treated with honor and—as perhaps her most iconic song repeats—R - E - S - P - E - C - T. (Hint: that's all of us).

Aretha's unforgettable voice soars above the song's infectious musical backdrop, coalescing to form a track that is alternatingly prideful and enraged, hopeful and world-weary. This song's message seems too vast to be contained to one politician or time period. It's a timeless sentiment that could change the world, if we'd only listen.
4. Ms. Lauryn Hill – Everything is Everything
Lauryn Hill - Everything Is Everythingwww.youtube.com
In June, recently-announced 2020 presidential candidate Kamala Harris posted a Spotify playlist as a homage to important black musicians of the 20th century. The third song on the playlist, "Everything is Everything" from the iconic The Miseducation of Ms. Lauryn Hill, echoes sentiments that Harris has proclaimed in her own speeches.

Its powerful lyrics, "Sometimes it seems / We'll touch that dream. But things come slow or not at all / And the ones on top, won't make it stop / So convinced that they might fall," seem like they could be a rallying cry for Harris, a politician campaigning on promises of "American values" and "not putting people in boxes."
Hill's message of everything is everything is a beautiful sentiment about the way that all people and all issues are interconnected and cannot be addressed independently, and she has long been a powerful voice for women of color.
Kamala Harris's work as a prosecutor is under scrutiny from leftists everywhere, but judging by her playlist, at least her music taste is up to par.
5. Lin-Manuel Miranda – Satisfied
Satisfiedwww.youtube.com
Female characters take the backseat to the titular protagonist of Lin-Manuel Miranda's Hamilton, but Angelica Schuyler's Satisfied is a show-stopper in a class of its own. Sung by the sister of Eliza, Alexander Hamilton's wife, it is a flashback to the night that they all met, when Angelica developed feelings for Alexander but decided she needed to set her sights on marrying someone richer.

Angelica, played by Renée Elise Goldsberry in the musical, spits some of the show's fastest bars and hits some of its highest notes in this virtuosic performance, which reveals the extent of her brilliance as well as the extent of her regret at not taking a chance on love.
It might be easy to dedicate this song to Hillary Clinton, whose tenacious determination to win the presidency and refusal to be satisfied with a mere first-ladyship (or Secretary of State position) does belie a similar ambition to Angelica's.
But Angelica, with her razor-sharp wit and social sensibilities, seems similar to some of Congress's outspoken freshmen members, such Ayanna Pressley, who has been an outspoken critic of Trump and many of his policies from her first moments on the House floor, running on the message "Change can't wait" with an urgency evocative of Angelica's intense drive.
6. Taylor Swift – Bad Blood
Taylor Swift - Bad Blood ft. Kendrick Lamarwww.youtube.com
Taylor Swift has had her fair share of beef with other artists, but until 2018 remained staunchly apolitical. But after Swift announced in an Instagram post that she "could not support Marsha Blackburn," the politician lashed out—provoking serious flashbacks to the time that Taylor Swift allegedly attacked Katy Perry over a feud involving backup dancers through her video, Bad Blood.

The stakes were slightly higher in this situation, and Blackburn still snagged the Senate seat in spite of the star's opposition.
"Of course I support women and I want violence to end against women," said Blackburn in response to Swift, who had also written that the politician's "voting record in Congress appalls and terrifies" her. Blackburn has been a supporter of Trump's border wall as well as his efforts to end Obamacare.
7. Questlove's Entire Michelle Obama Playlist
Michelle Obama's Musiaqualogy Vol 1 1964-1979 by Questlove
Michelle Obama's Musiaqualogy Vol 2. 1980-1997 by Questlove
Michelle Obama's Musiaqualogy Vol 3. 1997-2018 by Questlove
The musician Questlove of the band The Roots has created three 100-song playlists for Michelle Obama's Becoming book tour, and every song is worth putting on repeat. Entitled The Michelle Obama Musiaquology, it is a journey through time (and occasionally, space) filled with mournful, fierce, and empowering tracks—much like the biography it was designed to soundtrack.

Obama's Becoming is more about hope and unity than it is about politics and division, and so are most of the songs in this playlist. An exuberant melding of jazz, pop, and the occasional stylistic outlier, Questlove's compilation elevates voices of joy, pride, black power, and solidarity in an era in desperate need of them. Featuring icons ranging from Ella Fitzgerald to Kendrick Lamar, it's a survey of music throughout history that has given hope to those who need it most.
8. MILCK – I Can't Keep Quiet
MILCK - Quietwww.youtube.com
Newcomer MILCK's powerful composition became the anthem of the first Women's March, and since then, the artist has continued to release waves of meaningful music while maintaining a confessional and motivational social media presence.

The vulnerable and passionate song that made her famous could be an anthem for kids like Emma Gonzalez, speaking out against gun violence, and for all the other women who have spoken and will continue to reach out and fight for their beliefs.
9. Against Me! — True Trans Soul Rebel
Against Me! - True Trans Soul Rebel [ALBUM VERSION]www.youtube.com
In the shadows of the Trump administration's ban against transgender people in the military, this song is a reminder that trans people not only exist but will continue to fight.

Transgender politician Christine Hallquist did not win in the general Vermont elections for governor, but she did secure a spot in the 2018 Democratic primaries, the first time a transgender person has been nominated by a major party. And more transgender and LGBTQ people ran and won races in November 2018 than ever before, signaling an upswing of pride in spite of the Trump administration's anti-trans policies.
Against Me!'s True Trans Soul Rebel has long been an anthem for the transgender community, an outcry of pain against a world that constantly threatens them with erasure.
10. Beyoncé – Who Run the World (Girls)
Beyoncé - Run the World (Girls) (Video - Main Version)www.youtube.com
No list of songs for female politicians would be complete without Queen Bey's presence. This song is one of the crown jewels of feminist anthems, with its infectious beat pounding underneath Beyonce's velvety vocals and its iconic refrain. This one goes out to all the future female politicians, including the hopefully soon-to-be first female commander-in-chief.

With that, we welcome the 42 new female congresswomen, celebrate the women who came before them, and encourage all the women and trans people coming after to rise up and sing out. Listen to these songs enough and internalize their messages, and it could be you in those seats someday.
---
Eden Arielle Gordon is a writer and musician from New York City.
---
Come Jan. 1, 2019, the non-binary marker will become a NYC milestone

d3jkudlc7u70kh.cloudfront.net
Along with California, Washington, New Jersey, and Oregon, NYC is moving away from pre-determined gender identification at birth by adding an "X" option to birth certificates along with "male" and "female." This is a huge step towards greater equality and dignity, not only for transgender and nonconforming New Yorkers, but for the next generation, who will now have the ability to start their lives without a label to live up to. As The Source explains, "The option could be used by parents of intersex children or by parents who want their child to be able to choose a gender at a later date," as well.

As per NBC News, "The New York City Council and Board of Health voted on Wednesday (9-12-18) to include a third gender category, 'X,' on birth certificates starting Jan. 1, 2019. Furthermore, the legislation will discontinue the need for a doctor's note or health care provider's affidavit to change one's gender marker." The bill was adopted by a 41-6 vote. This means people can also update their existing birth certificate to reflect their identity retroactively.
The proposal for this change was presented in June 2018 by Mayor Bill de Blasio and City Council Speaker Corey Johnson. Johnson stated, "This groundbreaking legislation will make New York birth certificates more inclusive for all and will send a powerful signal to the world that New York City government works for everyone."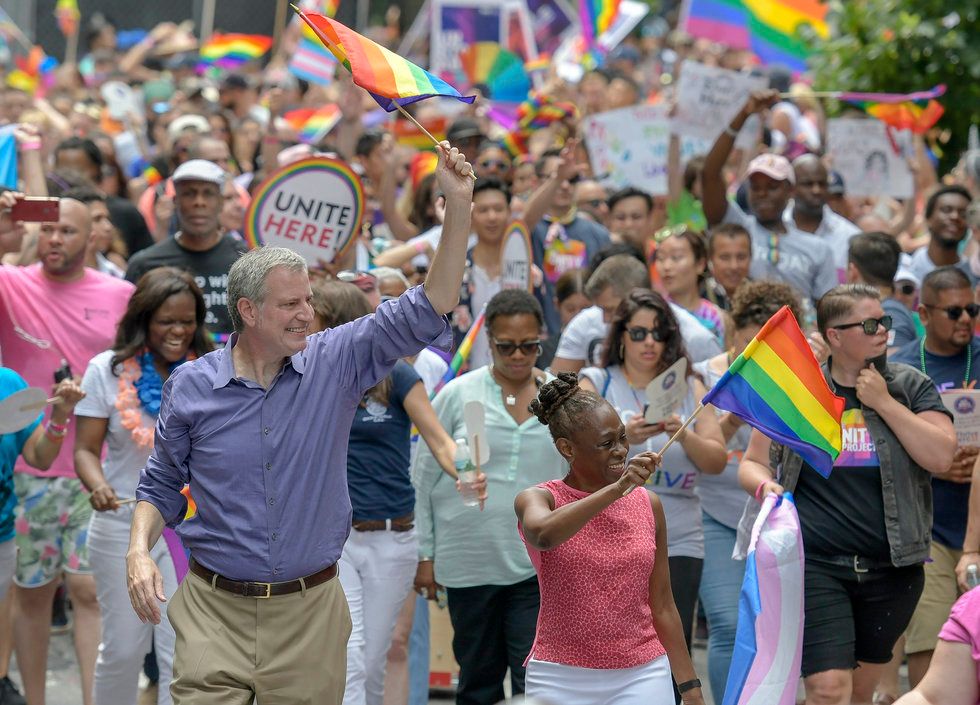 media3.s-nbcnews.com
Health Commissioner Dr. Mary T. Bassett added, "By allowing self-attestation and 'X,' the Health Department and City Council are reaffirming our commitment to the self-determination of the transgender and gender nonconforming community. We know that being able to live your authentic gender and gender expression is critical to physical and mental health. Now more than ever, we must ensure that all people can live their best and healthiest lives."
Along with California, Washington, New Jersey, and Oregon who are already on board with the "X" option for birth certificates, additional states are making strides in this direction too. As NBC News reports, "Maine, Oregon, and Washington, D.C., currently enable residents to opt for a nonbinary gender marker on their driver's license, and California will join them starting in January." Other states have gender-change laws in place, most only for male-to-female (and vice versa) updates. For a state-by-state listing, see the Intersex & Genderqueer Recognition Project's report.
"Today is a historic day for New York in its role as a worldwide champion for inclusivity and equality," City Council Speaker Corey Johnson told NBC News. Will the remainder of the country follow in the Big Apple's footsteps? From the looks of things thus far, change is contagious.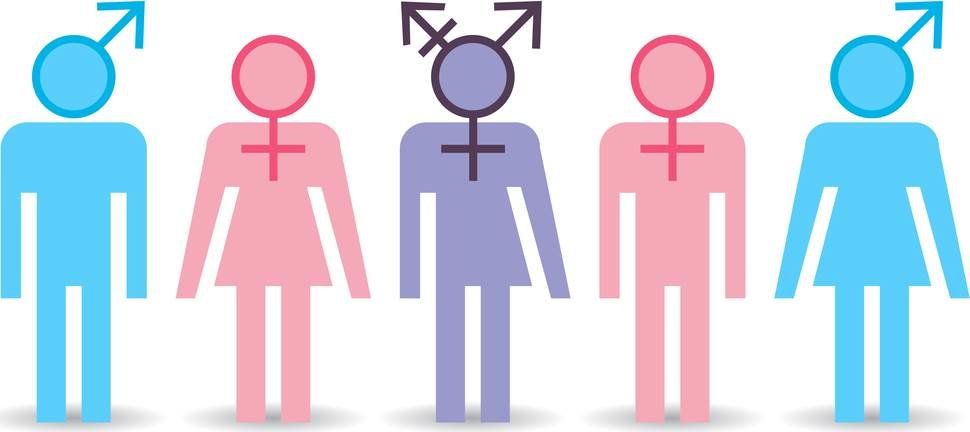 www.thescopeatryerson.ca
Earlier today, seven members of the NYPD were arrested, one of whom is a retired vice detective. The vice detective, who is married to a prostitute, teamed up with his wife to start two brothels, one in Sunset Park, Brooklyn and one on Roosevelt Avenue in Queens. As a result, there are 30 other officers currently under investigation by the Department of Internal Affairs.
The investigation began over three years ago as an FBI probe and started "after a member of the department suspected illegal activity by other members of the department and reported to Internal Affairs" according the New York Post. During today's busts, Internal Affairs raided the NYPD's 72nd precinct in Sunset Park and confiscated the electronic devices of the entire staff in search of additional evidence. They also stormed the precinct's locker room, clipping the lock on Det. Manuel Rodriguez's locker and going through his possessions. Despite his only having been in the 72nd precinct for about 5 months, Internal Affairs placed Rodriguez on modified duty.
While most of the action went down in Sunset Park, other arrested officers came from 109th and 84th precincts, as well as Transit Bureau Investigation and Evidence Collection. "Today, those who swore an oath and then betrayed it have felt the consequences of that infidelity. The people of this Department are rightly held to the highest standard, and should they fail to meet it, the penalty will be swift and severe," said NYPD Commissioner James O'Neill in a press conference. Details regarding who was involved in what portion of the illegal activity and to what extent, have yet to be released.
Those arrested include:
Sgt. Carlos Cruz, 69th Precinct Det. Squad
Sgt. Louis Failla, Queens Evidence Collection Team
Sgt. Cliff Nieves, Transit Bureau Investigation
PO Steven Nieves, 84th Precinct
PO Giancarlo Raspanti, 109th Precinct
Det. Gionanny Rojas-Acosta, Criminal Investigation Division Training
Det. Rene Samiego, Brooklyn South Vice.
The two detectives placed on leave were:
Det. Rafael Vega, of the Criminal Enterprise Investigative Section
Det. Manuel Rodriguez, of the 72nd Precinct