Dall-E Mini, the AI-powered text-to-image generator has taken over the internet. With its ability to render nearly anything your meme-loving heart desires, anyone can make their dreams come true.
DALL-E 2, a portmanteau of Salvador Dali, the surrealist and Wall-E, the Pixar robot, was created by OpenAI and is not widely available; it creates far cleaner imagery and was recently used to launch Cosmpolitan's first AI-generated cover. The art world has been one of the first industries to truly embrace AI.
The open-sourced miniature version is what's responsible for the memes. Programmer Boris Dayma wants to make AI more accessible; he built the Dall-E Mini program as part of a competition held by Google and an AI community called Hugging Face.
And with great technology, comes great memes. Typing a short phrase into Dall-E Mini will manifest 9 different amalgamations, theoretically shaping into reality the strange images you've conjured. Its popularity leads to too much traffic, often resulting in an error that can be fixed by refreshing the page or trying again later.
If you want to be a part of the creation of AI-powered engines, it all starts with code. CodeAcademy explains that Dall-E Mini is a seq2seq model, "typically used in natural language processing (NLP) for things like translation and conversational modeling." CodeAcademy's Text Generation course will teach you how to utilize seq2seq, but they also offer opportunities to learn 14+ coding languages at your own pace.
You can choose the Machine Learning Specialist career path if you want to become a Data Scientist who develops these types of programs, but you can also choose courses by language, subject (what is cybersecurity?) or even skill - build a website with HTML, CSS, and more.
CodeAcademy offers many classes for free as well as a free trial; it's an invaluable resource for giving people of all experience levels the fundamentals they need to build the world they want to see.
As for Dall-E Mini, while some have opted to create beauty, most have opted for memes. Here are some of the internet's favorites:
There's no looking back now, not once you've seen Pugachu; artificial intelligence is here to stay.
The shining light of American democracy—a beacon for the world—is actually a smoldering dumpster fire
American "Democracy."
Americans do not live in a democracy.
Right-wing pricks will tell you that's a good thing. They will say that America's founding father's—in their immense wisdom—established the United States as a Republic, not a democracy, specifically to avoid the danger of the unruly masses inflicting their tyrannical will on out-groups and minority populations.
Leaving aside the fact that these revered men did not generally believe in the humanity of women, Black people, native Americans, and presumably men with facial hair—and that democracy mostly frightened them with the possibility of the unwashed masses voting to take away their powdered-wig money—there were actually some nice ideas in there.

For instance, they enshrined some rights with the intention of preventing the kind of religious conflict and ideological oppression that had torn Europe apart for centuries. That's great and all, but they never enshrined any right to vote, and if their intention was to use the intermediaries of a representative republic to prevent a majority from monopolizing democratic power and inflicting hateful tyranny on a powerless minority of the population, there's some bad news...
The roots of America's democracy problem www.youtube.com
While our system has gotten more democratic in some ways—we now elect our senators through a direct popular vote, rather than having them selected by state legislatures—the consolidation of political power among a small percentage of wealthy elites has resulted in a powerful minority inflicting hateful tyranny on both the powerless majority and on truly oppressed out-groups.

It doesn't matter if most people don't want overpriced private healthcare, environmental degradation, regressive taxation, prohibitive abortion laws, immigrant concentration camps, and corporate overlords with the power to quash collective bargaining. The legislation that serves the interests of the wealthy and powerful—either directly, or by providing a distraction from the issues that actually affect our daily lives—is the legislation that consistently gets passed.
That's how the system is built at every level. As former president Jimmy Carter put it, we now live in an "oligarchy" where "unlimited political bribery" leads to "a complete subversion of our political system."
The Electoral College
The electoral college may be the most obvious example of how warped America's "democratic" institutions are. Each state was originally apportioned a number of electors based on their population of citizens, with each enslaved black person equal to 3/5 of a citizen. While those enslaved people would not be represented by the government, the men with the moral fortitude to treat them like subhuman cattle would be, and they believed that they deserved a louder voice because of all the human beings they owned.
Each state had the right to decide how its electors would be selected, either by popular vote or by state legislators; then those electors, though they had a "pledged" loyalty, could cast their vote for whoever they wanted to be president and have occasionally abandoned their pledges to vote for someone else.
The National Popular Vote v. the Electoral College [POLICYbrief] www.youtube.com
If that sounds like a frustrating board game where they made the rules excessively complicated as a substitute for making them, you know, work...you're starting to get the hang of it. Of course, nowadays we also have a national popular vote where we listen to what every voter wants—because every vote counts!—before turning our attention back to the electoral college and the handful of swing states where votes actually count.

In 40% of elections in this century the popular vote winner has lost the electoral college, and the will of the governed has been ignored in favor of some arcane rules written by men with syphilitic brain damage.
There is currently a push for states to embrace the National Popular Vote Interstate Compact, which would assign a winning number of electors to whichever candidate won the national popular vote and eliminate the familiar routine of candidates chasing each other around contested states and ignoring most of the country.
But while the compact is only a few large states away from going into effect, it seems unlikely that it will come into effect any time soon. Because while you might think that voters in Texas would resent the idea of their votes having less than 1/3 the power of voters in Vermont or Washington D.C., they have been sold on the idea that their interests are best served by the current incarnation of the Republican party—which is heavily favored by the electoral college—rather than a version that was forced to actually listen and adjust to the populace...
And even if the compact went into effect, it's there's a good chance that the Supreme Court's current, wildly conservative 6-3 majority—5/6 of whom were appointed by presidents who lost the popular vote—would overturn it.
Gerrymandering
Speaking of Texas and the disenfranchisement of voters, can you guess how many Left-wing congresspeople represent the famously liberal enclave of Austin?
If you guessed 1 out of 5, congratulations! If that's not what you guessed, you're probably pretty confused about why a city with a population under a million even has five congressional representatives (New York City, with a population of over 8 million, has 13 representatives in Congress), let why four of them are Republicans. The answer is gerrymandering.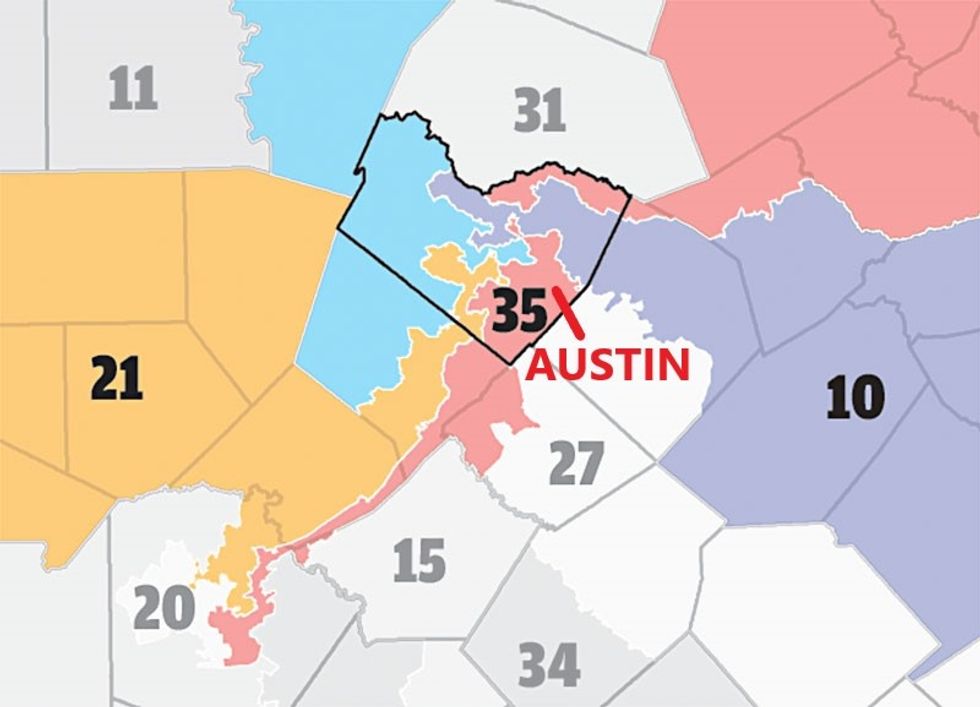 Named after some old-timey guy named Gerry, Gerrymandering is the ancient practice of reshaping the boundaries of a voting district into grotesque contortions according to partisan calculations. If you can pick your voters, you can make sure that the voters never pick someone you don't like.

One of the most common versions of this is known as "cracking and packing," where a population with politics you don't agree with—say, the liberals in Austin–is either split up and diluted into various conservative-leaning districts or carefully contained to one hyper-liberal district—as with Louisiana's 2nd district, which contains both Baton Rouge and New Orleans.
This is how the Republican party has maintained a stranglehold on power since the 2010 redistricting, despite representing a smaller and smaller portion of Americans. This is why Pennsylvania Democrats—who won a significant the majority of votes in state races in 2018—still ended up being the minority party in the state legislature.
Gerrymandering is why—despite more Americans preferring the generally inoffensive corporate milquetoasts of the Democratic party (e.g. Joe Biden)—to the greedy, hateful and even more corporate shills of the Republican party (e.g. Donald Trump) are still dominant at the level of state legislatures, and remain nationally competitive.
Citizens United
In 1886—fewer than 30 years after ruling that Black Americans couldn't be citizens in the Dred Scott case—the United States Supreme Court decided on dubious grounds that, if the 14th amendment insisted that formerly enslaved people counted as full people (effectively repealing the "3/5 compromise"), then rich people's companies should count as people too.
It was the only way to make sure that the kind of rich assh*les who used to treat Black people like subhuman cattle—as well as their northern counterparts—could still have way too much power. it meant they couldn't be held accountable for any crimes they committed or debts they incurred through their companies.
What Uber and Lyft don't want you to know about California's Prop 22. (For more info, read my thread:… https://t.co/17xj9CkMV7

— Adam Conover (@Adam Conover) 1604290482.0
Then, in 2010, the narrowly conservative Supreme Court ruled on the Citizens United case and endorsed that concept of personhood, with the addition that those corporate "persons" have as much freedom of speech as you or I—though, lacking mouths, they can only speak with their millions and millions of dollars.

That green, paper speech can be used to influence and manipulate political discussions to the preferences of the wealthy investors, meaning that companies like Uber and Lyft can fund advertisements that make it seem like their gig economy employees—"contractors"—would hate having health benefits and a minimum wage.
That's what's happening in California right now with the proposition 22 vote, where voters don't even know that the the deceptive "Yes on Prop 22" ads they're being fed are funded by massive corporations trying to rob their employees of those benefits.
The embrace of corporate money in political advertising is mirrored in the abandonment of public election funding in favor of big money donors. Increasingly, politicians only need to cater their messages to the ultra wealthy, and to the pet issues of their most devoted political bases—ignoring most citizens.
Voter Suppression
In another stunningly brilliant move by the Supreme Court (boy, wouldn't it be great if we could have placed three humane justices in the last four years...) in 2013 they gutted the voting rights act, ruling that the limitations on certain states to alter their voting systems without oversight were not necessary, because there hadn't been any racist alterations lately. In other news, if you haven't burned your hands on a baking sheet in while, you can probably throw out your oven mitts...
Since that time, those previously overseen states have closed over 1,600 polling places and instituted various discriminatory voter ID laws, as well as purging hundreds of thousands of voter registrations. Incidentally, when voter turnout is up, Democrats tend to perform better...
Education
In The Republic, Greek philosopher Plato (who was awful and ridiculous in many ways, but just leave that aside for now...) determined that strong universal education was fundamental to the functioning of society.
Without a proper education, individuals could not help to make informed decisions for their own interests and the general welfare of society. And if only some individuals are educated, there's nothing to stop those individuals from steering society—including education—to their own advantage.
Plato's best (and worst) ideas - Wisecrack www.youtube.com
Unfortunately, that is exactly what is happening with people like current Secretary of Education Betsy DeVos in charge of American schools. Arguing for "school choice" (and for the kind of religious establishment the founding fathers tried to prevent) they deprive free public schools of their already skewed funding (tied to property values, because...evil), encouraging parents to seek private schooling, which is often a great option for the wealthy, and often an inadequate insult for working class families.
How are people supposed to properly exercise their democratic rights if their massively underfunded schools never taught them the basics of America's political system? The answer is: They aren't.
People like Betsy DeVos benefit when most of the citizens don't know their rights or understand what has been stolen from them. People like Betsy DeVos—and Donald Trump, and Mitch McConnell—benefit from the fact that we don't live in a true Democracy, and from the fact that most Americans don't have the education to realize how much better things could be—how much better they are in countries with functioning Democracies.
People like you and me (assuming you aren't a multi-millionaire) benefit when enough of us vote to push back against the oligarchy and assert our preference for Democratic rule. And maybe—if we keep it up—we might even get it one day.
Keep reading...
Show less
The Census has one goal: "Counting everyone once, only once and in the right place." Every 10 years, the US Census Bureau conducts a survey of every single person living in the United States.

The United States has been conducting census surveys since the 1790's because when the founding fathers were building their fledgling democracy they decided that population would be the basis of political power.
The 2020 Census asks a few simple questions about you and everyone who was living with you as of April 1, 2020. The survey asks about the number of people living in your household, and each persons age, sex, and race.
The September 30th deadline is rapidly approaching, but some American's still haven't filled out their census. Not filling it out, has some very real consequences. Here are six reasons why you should definitely fill out your census immediately.
1. It's illegal not to.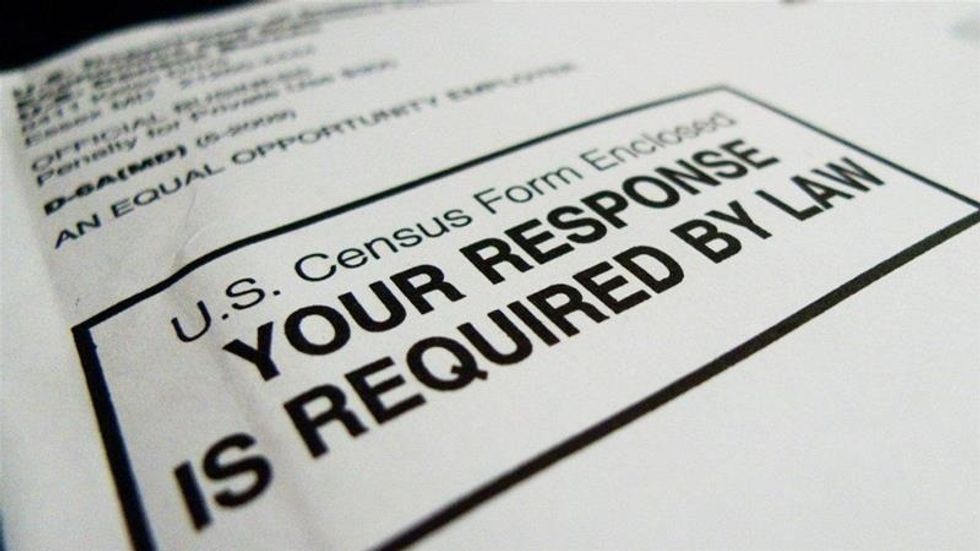 Your response is required by law.Getty Images
Filling out the census is mandatory, and everyone living in the U.S. and its five territories as of April 1, 2020, is supposed to be counted. This includes children, babies, people without homes, college students, and immigrants regardless of their legal status.
According to United States Code, Title 13 (Census), Chapter 7 (Offenses and Penalties), SubChapter II, if you're over 18 and refuse to answer all or part of the census, you can be fined up to $100. If you give false answers, you're subject to a fine of up to $500. If you offer suggestions or information with the "intent to cause inaccurate enumeration of population," you are subject to a fine of up to $1,000, up to a year in prison, or both.
2. If you don't, someone will show up at your house.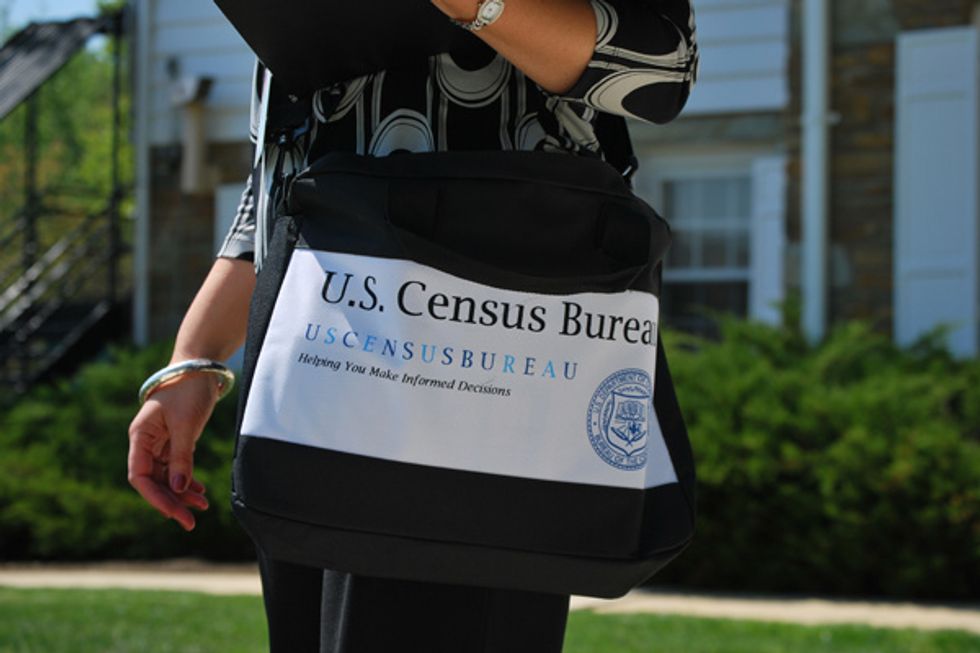 Census Bureau EnumeratorU.S. Census Bureau
If you haven't already filled out the census, you can expect a visit from a US Census taker as part of NRFU. The Nonresponse Followup operation (NRFU) is when census takers visit nonresponding households to survey their inhabitants in-person and enter their answers on their secure Census Bureau smartphone.
If no one is home when the census taker visits, they will leave a notice of their visit with information about how to respond online or by phone. As necessary, they will make additional visits to collect responses from the household.
NRFU is a huge operation, this year they are expected to send enumerators to approximately 56.4 million households that have not responded to the 2020 Census.
3. It affects your representation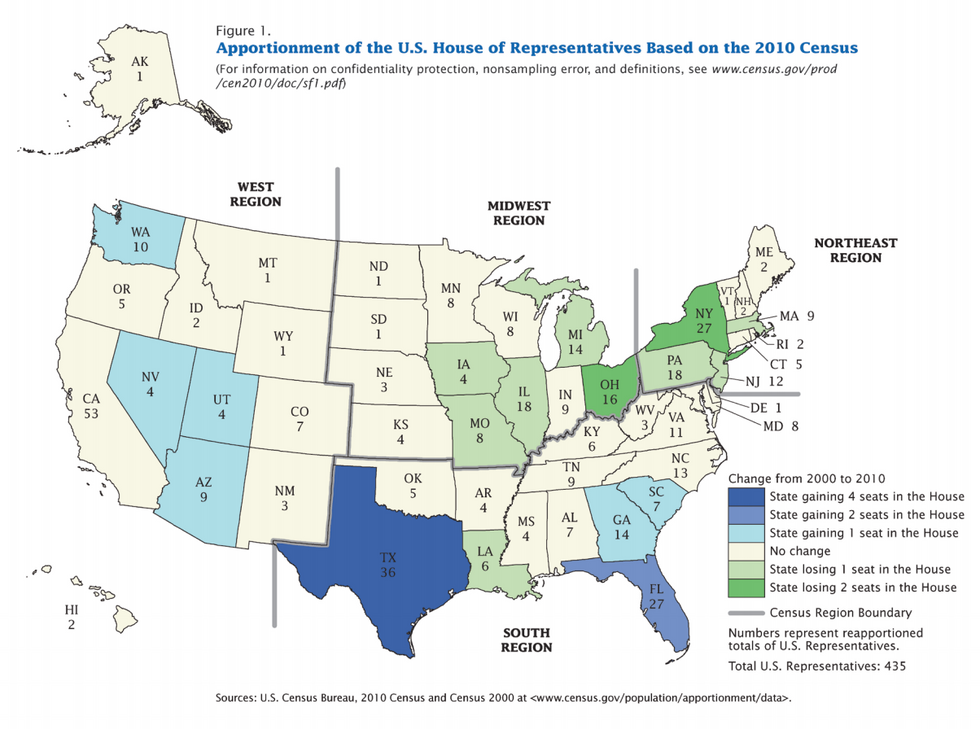 Apportionment map of 2010 CensusU.S. Census Bureau
The census determines how many representatives each state will have in Congress for the next 10 years. The US House of representatives has 435 seats, each of which is allocated based on population. For instance, Texas gained four seats after the last Census, while New York and Ohio lost two seats each. State and local officials also use census results to help redraw congressional, state, and local district boundaries.
4. It affects your community's funding.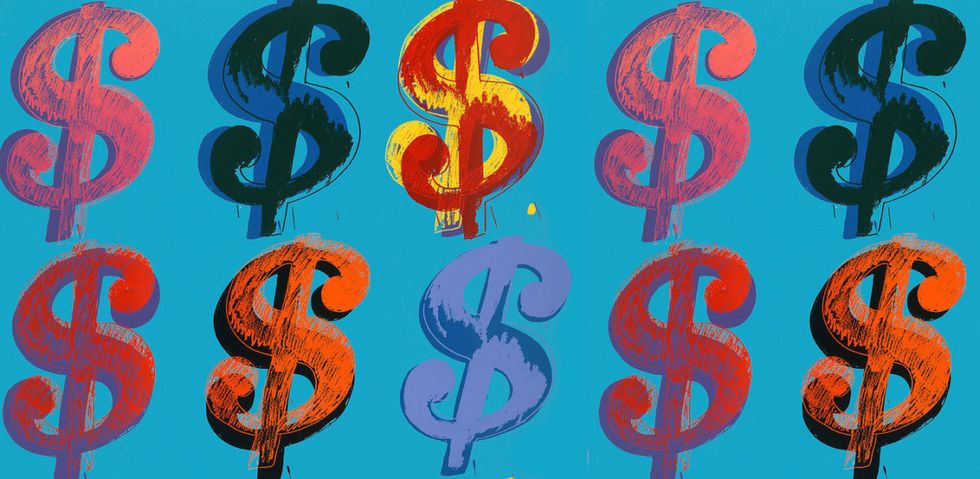 Billions in government funding are allocated through census data every year. Andy Warhol
The Census also affects funding. Each year, approximately $675 billion in federal funds is spent on schools, hospitals, roads, public works and other vital programs, and this money is divided up largely based on population. Responding to the census helps your community receive its fair share of that funding.

Census data isn't only used by the public sector. It is also used by many businesses in the private sector to decide where to build factories, offices, and stores, and developers use the census to decide where to build new homes.
Local governments use the census so they can plan for every emergency from riots to fires to hurricanes, and advocacy groups use the census to support community initiatives involving legislation, quality-of-life and consumer rights.
5. It's so easy and safe!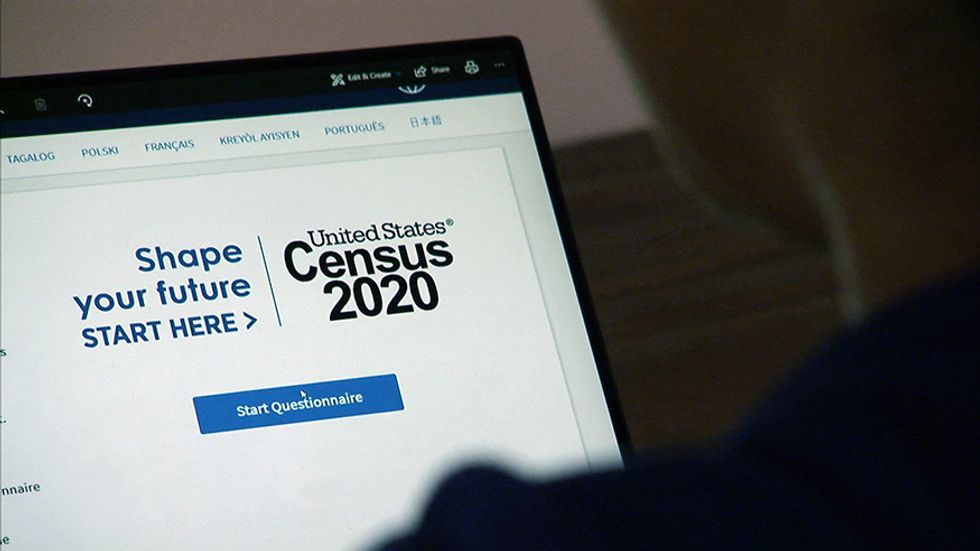 This is the first year you can fill out your census online!U.S. Census Bureau
This year, there are three different easy ways to fill out your census.
By mail. You should have received a paper survey in the mail in April, which can still be mailed back to the U.S. Census Bureau.
Online. This is the first time the census can be completed online! Visit www.2020census.gov to fill out the survey. The online survey has 13 available language options.
By phone. Respondents can call the Census Bureau at 844-330-2020, and can be provided with answers over the phone in 13 languages.
You may be thinking that you don't care how easy it is, and no matter what, you don't want to share your information with the government. But the census really is a safe and secure way to participate in democracy. It is strictly against the law for the Census Bureau to disclose or publish any census information that identifies an individual. Title 13 makes it very clear that the data collected can only be used for statistical purposes—and it is not allowed to be used for anything else, including law enforcement. No law enforcement agency can access or use your personal information at any time, including the Department of Homeland Security, ICE, the FBI, and the CIA.
6. COVID-19 might lead to an undercount, which hurts vulnerable populations.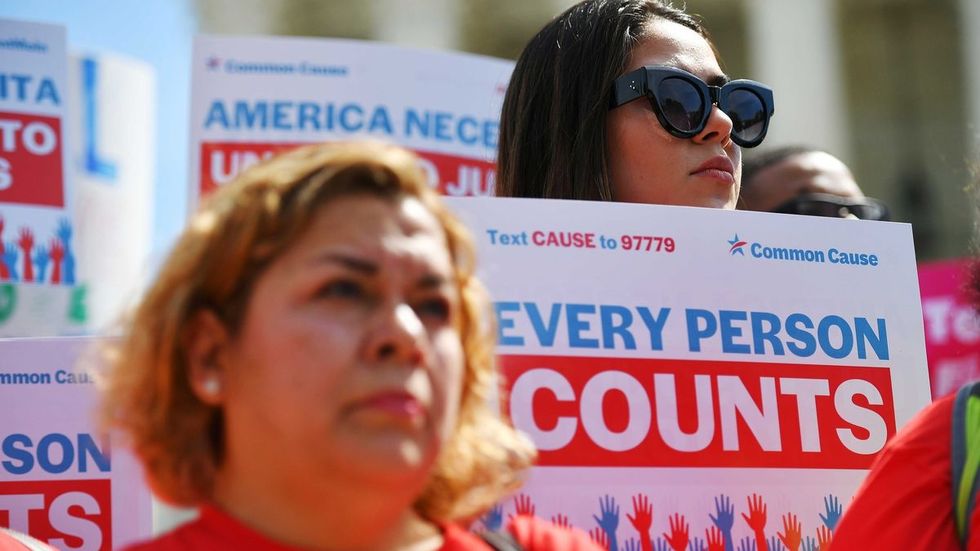 Undercounts hurt everyone, but they hurt vulnerable populations the most.Getty Images
The coronavirus has changed a lot about how the Census operates. In-person efforts to reach census respondents have been significantly reduced and delayed, the Census office had to undergo a month long hiring freeze right as they began sending out survey, and the deadline for filling it out has shifted twice.
The NRFU operation was originally scheduled for May 13 through July 31, 2020, but these dates have been adjusted due to the COVID-19 pandemic and are now set to take place between August 11 and September 30, 2020. This reduction from two and a half months to one and a half months has caused some concern.
The Census Bureau is also having trouble hiring and keeping employees during the pandemic. They say they require 435,000 census-takers to complete their accelerated count, but as of Aug. 18 they had onboarded just 309,000. A report from the Government Accountability Office explains this discrepancy may be due to high attrition rates. The Census Bureau expected that about 10% of employees that started training would not show up for field work, but surprisingly the rate was closer to 35%.
The Bureau's original COVID-19 plan was to extend the census count's follow-up period from July 31 to October 31. Given this extension,the Bureau also requested that Congress delay the mandated reporting of census results to the president from December 31, 2020 to April 30, 2021. However, the extension was never approved and on August 3, the Bureau announced its intention to end all follow-up activities by September 30 and report the results to the president by December 31.
The Census Bureau says they are on track to meet this goal, but many have criticized the decision and blamed it on pressure from the White House. Four former Census Bureau directors who served under nine presidents have made a statement saying that without the full deadline extension, "The Census Bureau will not be able to carry out the NRFU fully and will be forced to take steps such as fewer in-person visits and rely instead on the use of administrative records and statistical techniques on a much larger scale than in previous census." This could result in a serious undercount of hard-to-count populations.
Hard-to-count populations have always taken extra efforts to reach. These populations include the homeless, residents of dormitories or group homes, racial minorities, immigrants, rural residents, and residents on Native American reservations. Some groups are hard to count simply because they are hard to locate, like homeless people or people in remote locations, but others don't respond on purpose because they don't trust the government.
Unfortunately, the populations that are most likely to go uncounted are also those who need funding and representation the most. These populations are often already underserved by the government and an undercount could affect the next 10 years of resources available to them. Homeless people, minorities, immigrants, and rural communities are all at risk of being underrepresented in legislative bodies, and they also risk receiving less funding for desperately needed social programs, hospitals, and schools.
September 30 is the last day to be counted in the United States Census.
As of September 1st, approximately
64.9%
of the country has already self-responded, and another 17.9% have been counted through follow-up efforts by the bureau. Unfortunately, that still leaves approximately 17.6% of the population to locate and count in the next 30 days. Make sure your community gets the resources and representation it deserves by filling out the Census today
For more well-researched, unbiased information on today's biggest issues, follow Alexandra's Instagram account The Factivists.
With the Democratic nomination essentially a toss-up between Bernie Sanders and Joe Biden, America's fear of electing competent, prepared women is prevalent.
This week, Senator Elizabeth Warren suspended her campaign in the 2020 presidential election.
The announcement arrived after a disappointing Super Tuesday for the progressive candidate, who failed to win her home state of Massachusetts. "I refuse to let disappointment blind me— or you—to what we've accomplished," Warren wrote. "We didn't reach our goal, but what we have done together—what you have done—has made a lasting difference. It's not the scale of the difference we wanted to make, but it matters—and the changes will have ripples for years to come."
Warren built a successful grassroots movement and, for much of the race, was a Democratic front-runner. She supports key issues like the Green New Deal and Medicare for All, and she mapped out proposals for affordable housing and free college for lower-income students. Her liberal policies earned her numerous comparisons to Bernie Sanders, but as Warren fell behind and her more moderate opponents, like Amy Klobuchar, Michael Bloomberg, and Pete Buttigieg, exited the race—each endorsing former Vice President Joe Biden—it became clearer that her participation might be splitting the progressive vote. Her choice to bow out for the sake of the country's future is honorable, but her departure makes the Democratic nomination a toss-up between Sanders and Biden as congresswoman Tulsi Gabbard trails behind significantly. That shouldn't be the case.
#ThankYouElizabeth ...for running an exceptional campaign. For knocking #Bloomberg out of the race. And for push… https://t.co/tHe1kfRbF8

— Peter Daou (@Peter Daou) 1583425541.0
Yes, Biden has decades of experience; he first became a senator in 1972, while Warren wouldn't be elected until thirty years later. Despite serving two terms as vice president, however, Biden failed to match Warren's sharp wit in debates—his muddled answers and seemingly inattentive performances spurred headlines like "Is Joe Biden OK?" Additionally, there's an ongoing list of allegations about his creepy behavior towards girls and women, for which he's never formally apologized.

When it comes to policy, Biden can be moderate to a dangerous degree. His stance on abortion has wavered throughout the years (to be fair, Warren was a Republican until the '90s), and he supported a constitutional amendment in the '80s that would have let states overturn Roe v. Wade. In the '90s, he voted against legalization of gay marriage, and later in the early '00s, he voted in favor of the Iraq War. Today, he opposes Medicare for All, would let states individually allow to legalize recreational marijuana, doesn't believe in abolishing ICE, and wouldn't bring U.S. troops home from overseas; Warren's stance on each of those issues is the opposite, which makes the trending #WarrenToBiden hashtag so disappointing.
Elizabeth Warren ethered Mike Bloomberg and John Delaney, two plutocrats with terrible policies who thought they co… https://t.co/jxOSe75jeN

— Adam Best (@Adam Best) 1583429691.0
Though Warren has generally kept her gender out of her campaign (aside from telling little girls that she's running for president because "that's what girls do"), much of Biden's sudden lead ahead of her can be accredited to sexism. Despite experience, Warren has proven time again and again that she's incredibly fit to be president; how has Biden become our most "electable" option?

Yes, Democrats need to unite to ultimately defeat Donald Trump. But we also can't risk electing a candidate who repeatedly appears mentally unwell, poses dangers to women, and doesn't have an aggressive plan to tackle the climate crisis. Thankfully, we have a viable candidate left with Sanders, but Biden shouldn't be the other choice. The U.S. deserves better than Biden, but it'll be hard to get there until we've overcome our fear of electing a woman.
Why are we overlooking the brightest hope for America's future?
With 17 Democratic candidates vying for the chance to oust Trump in the 2020 presidential election, we're witnessing divides within the party that hammer home the fact that politics are infinitely nuanced, complicated, petty, and—forgettable? For some reason, Michael Bennet, the 54-year-old Colorado Senator whose face is as symmetrical and innocent as Mrs. Potts in Beauty and the Beast, is often overlooked in the race for the White House. But you are doing yourself a disservice—nay, an offense—if you haven't familiarized yourself with his campaign platform, his experiences as a Senator and as superintendent of Denver's school system, and his initiatives as a member on the Committee on Agriculture, Nutrition and Forestry; as well as the Committee on Finance and the Subcommittee on Energy, Natural Resources, and Infrastructure.
Basically, Michael Bennet might covertly be the sh*t. Consider the evidence: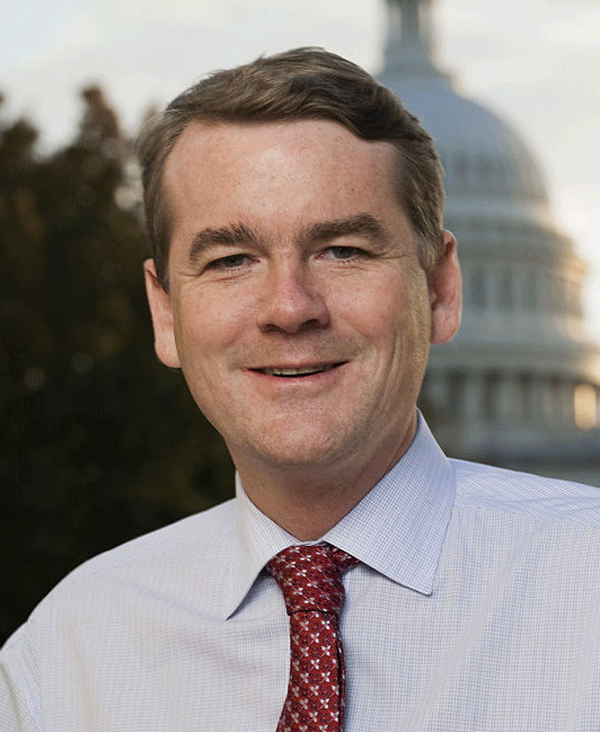 Look at that face! He looks like the Brave Little Toaster!
He's Good with His Hands
Listen: Bennet's home state of Colorado has a lot of land to farm. In fact, agriculture contributes up to $40 billion to the state's economy each year and accounts for over 173,000 jobs. As state Senator, Michael isn't afraid of dirty work. In 2019, he penned an op-ed in The Wall Street Journal calling out the ways that "Trump Has Been Bad for Farmers." What's the farmer's equivalent to throwing down a gauntlet? Throwing down a...hoe? Anyway, Michael's pushed for legislation to create jobs and protect dairy farmers, as market instability has endangered their livelihood, and he openly "believes a resilient agricultural sector is vital to a strong economy. This is certainly true in Colorado, where farming and ranching are a proud tradition and generate more than $40 billion in economic output each year. As a member of the Senate Committee on Agriculture, Nutrition, and Forestry, Michael is working to bring the diverse voices of Colorado to the debate in Washington."
Additionally, Michael's family owns a 1,500 acre farm in Arkansas; and sure, he rents it out to contribute to his notable wealth, but he probably owns at least one pair of overalls. Picture it: Michael Bennet in denim overalls. Wouldn't he look like such a happy little farmer? Hot.
He's Down-to-Earth and Down to Save the Earth
When it comes to land conservation, Michael doesn't mess around. Partly to advocate for America's 2 million farmers and partly because he's adorable and probably has a favorite species of flower, "Michael believes protecting public lands and wild places is an integral part of Colorado's heritage. It's why he brought together a diverse group of stakeholders to protect the Hermosa Creek watershed, and why he has stood up for sacred places and critical wildlife habitat across the country. From hiking to hunting, Michael also recognizes that outdoor recreation is vital to Colorado's economy."
Similarly, he's serious about converting American industry over to clean energy. In the last two years alone, he's cosigned or cosponsored multiple letters and legislation calling for improvements to the Environmental Protection Agency, the Land and Water Conservation Act, and proactive government action to combat climate change (like providing incentives to produce more solar panels in the U.S.). Always the good farmer, he wants to cut down hazardous emissions from farming and ranching with clean energy initiatives, and he supports plans that could conserve nearly one-third of U.S. lands.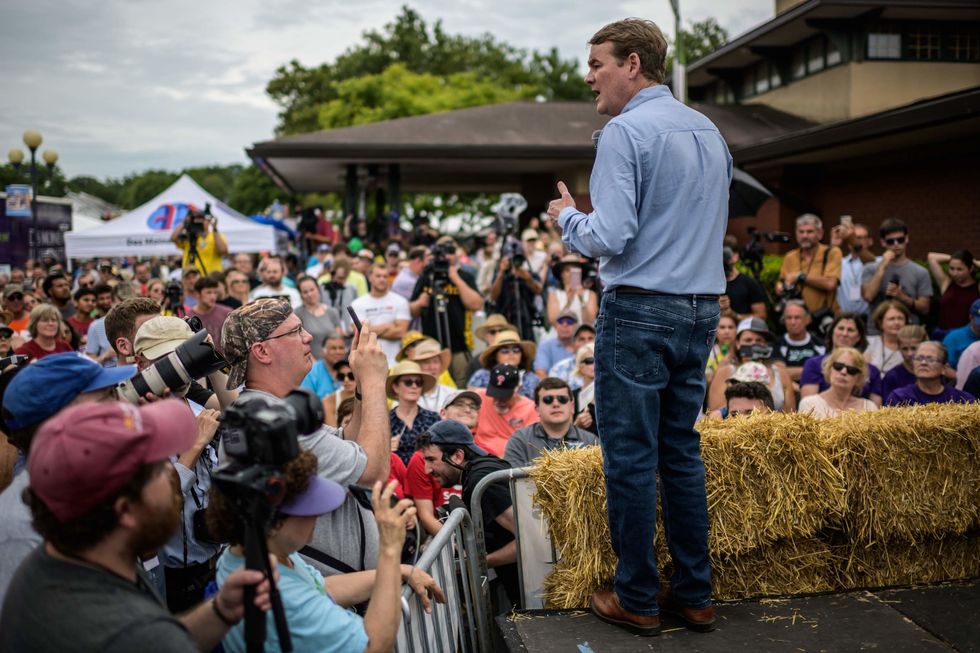 We're DEFINITELY not looking at his butt...We're DEFINITELY not looking at his butt...DEFINITELY not.The Gazette
Per his campaign team, "He recognizes this moment in our country as an opportunity to modernize our energy system, transition to low-cost renewable sources of energy, increase energy independence, and provide reliable and affordable energy for every American. Michael knows climate change is not a problem we can push off to the next generation. He believes in a comprehensive approach to combat climate change that includes commonsense actions to reduce carbon pollution and increase the resiliency of our communities, all while growing the economy."

Do you see? He's a happy and environmentally conscious farmer! (So screw you, Jay Inslee, you look like Bruce from Finding Nemo. We don't need you when we have Mike).
He's Almost Definitely into Weed
Speaking of loving plants, as the Colorado Senator, of course Mike is down with 4/20. Specifically, he's an advocate for legalizing marijuana for the sake of job creation, more health care options, and a fairer justice system. In fact, he's one of many supporters of the Affordable Care Act and supporting rural communities with less access to health care; but he's also a member of the U.S. Senate Committees on Finance and Agriculture. Through the committee, "Bennet championed the legalization of hemp in the 2018 Farm Bill and is a cosponsor of the SAFE Banking Act and Marijuana Justice Act, which would end the federal prohibition on cannabis and reverse decades of drug policies that have disproportionately affected low-income communities and communities of color."

In short, we're confident that Mike loves more than one type of grass.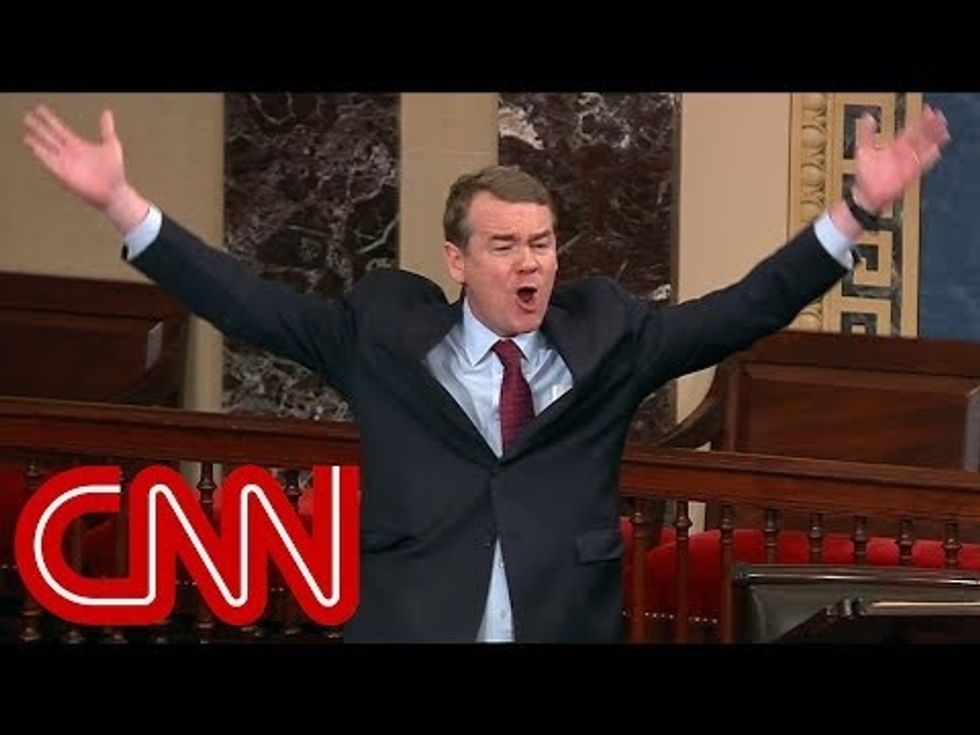 CNN
He Hates Washington

Who doesn't love the passion of a man who's running for the nation's highest office while publicly calling that office "broken." When it comes to government reform, "Michael knows that Washington is broken, and he has worked since 2009 to make Congress more functional. Michael has fought to hold lawmakers accountable to their promises and the rule of law. He supports overturning the Supreme Court's Citizens United decision and placing commonsense limits on campaign spending. Michael also believes that democracy depends on transparency and public access to information, and has lobbied federal agencies to swiftly comply with the Freedom of Information Act."
Michael's also called out the failures of America's immigration policies and our education system. Remember that he was Denver's superintendent for four years, during which time enrollment grew, dropout rates decreased, graduation rates increased, and college enrollment rose, leading The Denver Post to praise, "Bennet has been a force—pushing reforms and steering the state's second-largest district to a culture of success."
So he's proven his ability to helm a broken system and turn it around. He also managed to run a public school system to the public's satisfaction. If that's not a testament to the charm of his boyish freckles and a face that belongs on the label of some hipster's artisanal butter, we don't know what is.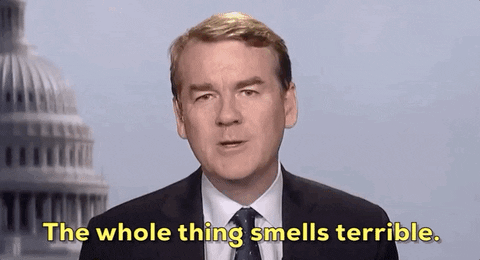 He's a Sagittarius
Obviously, you're not going to exercise your civic duty based on something as whimsical as a candidate's astrology sign. But to peer into the unassuming genius of Michael Bennet's brain, you must know his origins. Born on November 28, 1964, Michael is a through-and-through Sagittarius. Just ask Buzzfeed; they point out his "particularly Sagittarius trait: Bennet overcame dyslexia as a child and went on to graduate from Wesleyan University and Yale Law School, where he served as the Editor In Chief of the Yale Law Journal. That's some big Sagittarius energy!"
More tellingly, very credible and not at all bogus horoscopes for Sagittarius in 2020 foretell a year of professional strides and great success! Those born under the sign of the Archer are expected "to make more progress at work this year. You will work more this year than usual. But it will also help you to become more successful as the year goes on. If anything drains your energy this year, it will be your job!" Thanks, SunSigns.org, our gut's telling us that Michael's in for a future of glory, too!
No Scandals and No Game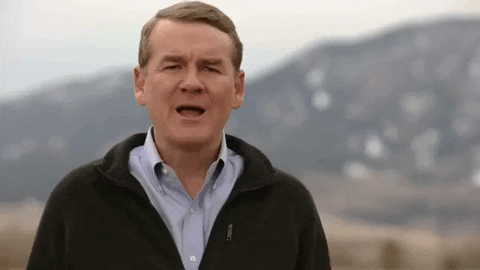 Let's face it: We love that he looks like George H. W. Bush was genetically spliced with our childhood hamster. He's the kind of boomer who just wants to drive you home from soccer practice and remind you to call your mother more often, without trying to smell your hair or mouth-breathing heavily with some rancid breath (JOE!). He's not creepy or even slick. In fact, he has zero moves that could remotely seem suspicious. Think about it: Obama danced like he knew he was hot. Everyone knows Trump has the most delicate, fluttery hands. Bennet? He has no distracting characteristics, no deceptive grace, and no smooth-talking rhetoric that raise any of our suspicions. Bill Clinton may have won over voters by pushing some "cool" image by playing saxophone on the Arsenio Hall Show, but that's not what we want in 2020.
We want a wholesome, dad's-golf-buddy type with a face that laughs even when he's trying to cry and who boldly tries new things. We want Bennet. After all, how could we be duped or betrayed as a nation by a man who dances this purely—as if a camera has never captured his quiet-uncle energy before, as if time and space were just illusions and he is that little boy beside him—as if he's never lost a race in his life and never will?
Michael Bennet does some dancing 🕺🏻 https://t.co/D3Tq7GhZDJ

— Behind 2020 (@Behind 2020) 1567476824.0
Because the Military Forcing a Resignation is True Democracy
Bernie Sanders and Alexandria Ocasio Cortez would have you believe that Evo Morales's recent resignation at the behest of the Bolivian military was a coup.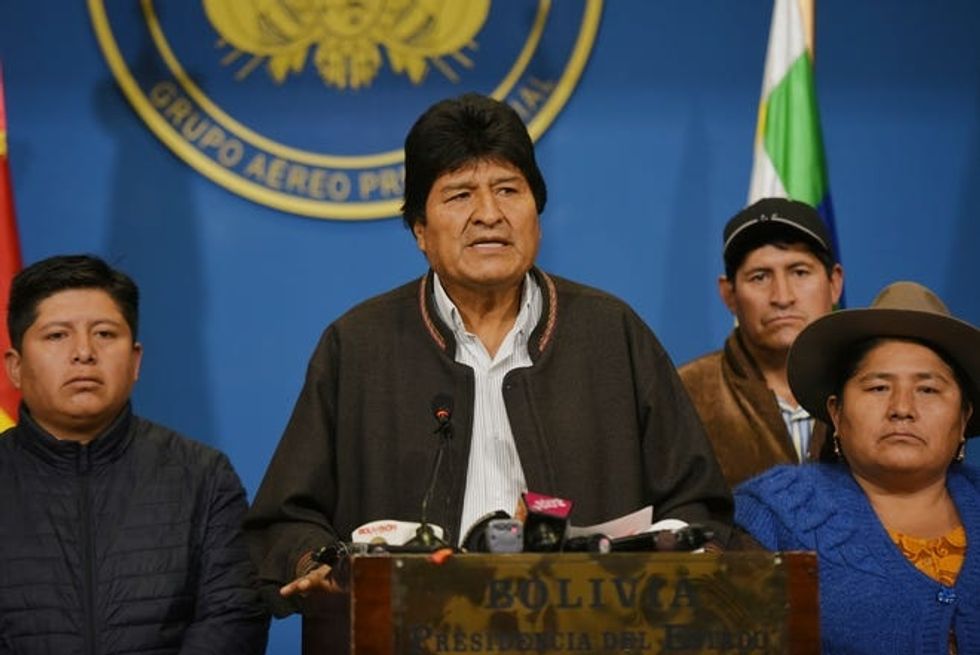 Don't be fooled! A coup is something bad that bad people do to take control of a democratically elected government, but there were actually irregularities in Bolivia's recent election, which means it's not democracy. Can you even imagine if there was ever any suggestion of electoral irregularities or cheating in the US? We would flip out. And yes, Evo Morales agreed to hold a second election, but that sounds boring, and it would take so much longer than just using the military to force him to leave so an opposition senator can declare herself president while wielding a giant bible and banishing indigenous belief systems from the palace.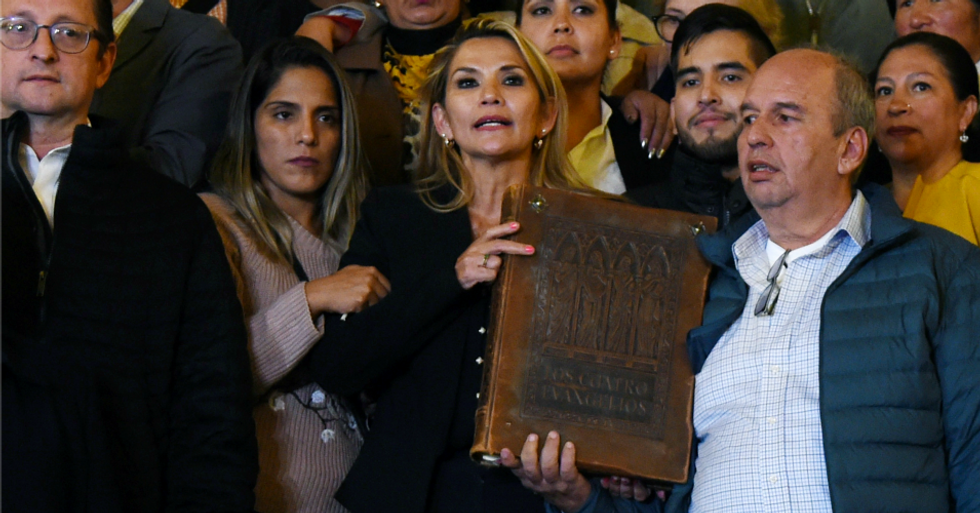 Speaking of elections, can you believe this impeachment nonsense? That's the real coup—the kind that is laid out in the constitution as an official process and is run according to rules established by the president's political allies. They've been acting as if just because this is a completely different context and process than a criminal trial, it doesn't need to follow the same rules as a courtroom. Since when? They're making this fundamentally political process into something ugly and political. Why can't these Democrat bozos just wait a year for the next election?

The Wall Street Journal knows what's up. Their opinion page has declared Evo Morales's resignation a "Democratic Breakout" and informed us that the impeachment "Subverts the Constitution." Clearly, if the Democrats were really upset with Trump's using military aid to get a foreign government to interfere with the 2020 election, they should not have investigated. They should have waited for an independent organization to point out the issues after Trump won reelection, then wait for Trump to agree to a new election before having the military kick him out of the country and allowing Dianne Feinstein to declare herself the new president. That's democracy! Investigating the President's crimes and airing his dirty laundry in front of the whole country, then having elected representatives who are accountable to their voters decide whether he should be removed from office—that's a coup.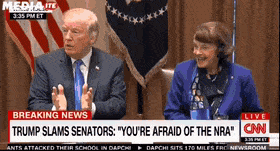 Of course, if you disagree with these sentiments, you may want to voice your opinion by calling your congressional representatives or signing a petition to have Congress acknowledge the Bolivian coup, so the US cannot support the new, unelected government. But that would be crazy.

In our second Visionaries Project installment, we talk to sex workers' rights activist and writer Elsie B.
The Visionaries Project is a new subsection of The Liberty Project dedicated to highlighting the lives, passions, and work of radical activists currently working towards social justice and liberation from oppression. We aim to uplift the perspectives of diverse voices working in media and activism today—and not just the faces who make headlines, but the real people on the ground every day, working towards their visions of a better world.
For our second installment of the Visionaries Project, we're featuring Elsie B., a writer and activist who can be found on Twitter at @NotSuperIntoIt. Elsie is an out and proud member of the bisexual community and an active participant in the fight for sex workers' rights.
Sex workers, as Elsie informs us, often face unique legal constraints and social stigma that can prevent them from accessing adequate healthcare and opportunities. As sex workers' rights have been threatened in the United States and across the world by new laws that constrain their ability to work and share online under legal protections, the need for information and action has grown.
As Amnesty International implies, criminalization of sex workers' rights almost always puts them at a disadvantage. "We have chosen to advocate for the decriminalization of all aspects of consensual adult sex - sex work that does not involve coercion, exploitation or abuse," reads the organization's statement on the matter. "This is based on evidence and the real-life experience of sex workers themselves that criminalization makes them less safe."
Or as Elsie writes, "It's long past time to demand fair and equal treatment for sex workers, and the consequences of delayed action by civilians and lawmakers will be lethal."
We spoke to Elsie about how she became involved in the fight for sex workers' and LGBTQ+ rights, what kind of activism work she does, and how she unwinds after a long day of fighting oppression and injustice.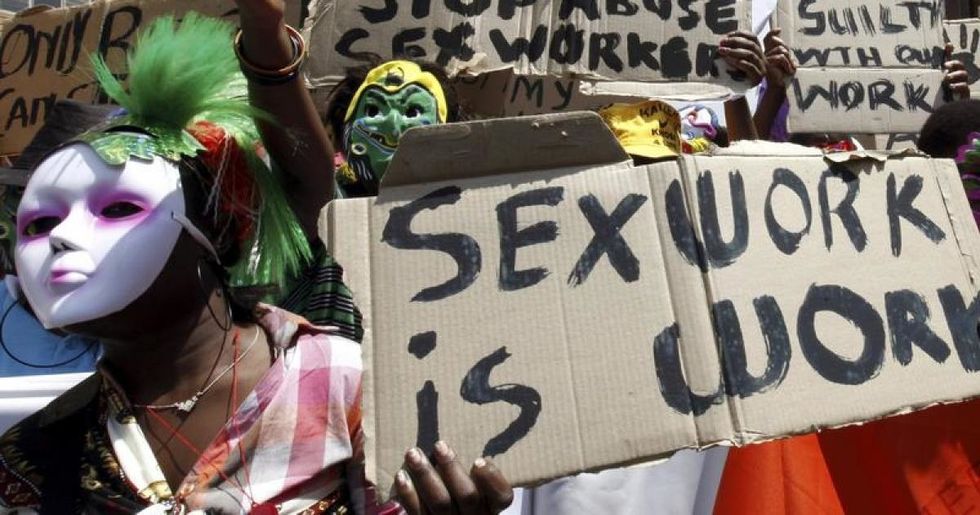 Human Rights Watch
LIBERTY PROJECT: Can you tell me a bit about your background? How did you get interested in activism?
ELSIE B: I'm fortunate to have grown up in a family that values social justice. I was raised as an ethical vegetarian and attended circus protests as a child. In middle school, I printed animal rights literature and ordered a pack of stickers from Peta2 that said "cut class, not frogs," which I slapped on every table in the science room when the dissection unit began approaching. As I got older, my dad and I would attend political rallies for Democratic candidates. During college, my politics became more radical than those I was raised with, thanks to some incredible professors. I was involved in social justice clubs, including the campus LGBTQ+ outreach program and an animal rights group of which I became VP.
In graduate school, I met a group of activists who shared my radical political beliefs and were doing meaningful, grassroots work for social justice and to end animal suffering. As I befriended these folks, I began to widen my interests in regard to my activism. I met my friend Emily during this time who is a stripper. Her influence changed my understanding of feminism and women's rights.
After graduate school, I started a small organization that helped connect feminist women and worked for the Sanders 2016 campaign.
How did you first start getting interested in sex workers' and LGBTQ+ rights?
A: From the time I realized LGBTQ+ folks were treated differently, I've been interested in the rights of non-hetero folks. I grew up with gay and lesbian culture as a constant in my life. And, at about the age of eight, I realized I myself am interested in more than only the opposite sex.
My official foray into LGBTQ+ activism started in college, but I saw myself as an ally at that time. However, after the Pulse shooting, I began to see my role in the LGBTQ+ community not as an ally but as a member of the community. I had quietly come out as bisexual many years before but had never felt comfortable identifying as someone in the LGBTQ+ community. However, after the gut-wrenching experience of watching what I realized was my community face such horrific violence, I decided it was my responsibility as an out bisexual to fight for destigmatization, especially of bisexuals who are at the highest risk for suicidal ideation and attempts.
Around the same time, sex workers started to experience attacks on their primary methods of advertisements, especially on Backpage. As so many of my friends are sex workers, I saw the panic these workers experienced. This is when I began to incorporate sex workers' rights into my activism platform. Then, in 2018, FOSTA/SESTA was introduced and passed. During this time, I dedicated all of my activism to fighting FOSTA/SESTA. During that year, I marched, helped plan harm reduction meetings, petitioned, and contacted government officials. The energy during 2018 was one of terror and excitement as sex workers rallied to fight against these new laws. It was electrifying to be a part of the first International Wh*re's March, but that euphoric buzz of being with other activists was quelled as the reality of a changing internet landscape for sex workers sunk in.
Sex workers are being locked out of their accounts en masse. This is terrifying for sex workers who have already be… https://t.co/8d7TYSFL7A

— Elsie (@Elsie) 1568936565.0
From 2018 to present, most of my activism has been based online, since sex workers work mostly in isolation. Through online communities, I have been able to continue my work in harm reduction, petitioning, and community organizing. I've also written under various pseudonyms (since even working as an activist carries stigma). I've had viral writing, which has given me some hope that sex workers' rights are beginning to creep into the consciousness of civilians, the term for non-sex workers.
Are there any challenges you've faced in activism work? Any particular successes, favorite moments, or pieces you've written?
A: Activism is draining, but there is no better feeling to me than having someone reach out to let me know how I've helped them. This has been especially true of my work as an activist for bisexual individuals. The number of messages I've received from people telling me I gave them the courage to come out or that reaching out to me is the first time they've admitted their attraction to more than one gender has been simultaneously heartbreaking and the most rewarding feeling.
Working as an activist for sex workers has unique challenges in that even associating with sex work as a topic comes with stigma. I usually work under pseudonyms, as I don't want my work in sex work to affect my other activism (I've worked in activism for education orgs which serve younger students).
Activism as a bisexual cis-woman has also been challenging, as biphobia and stigma are often just as hostile, if not more, in the community. Bisexuals have a unique fight, in that they are shunned from straight and gay communities for not being straight or gay enough. It can be painful to watch people choose to repress their complex sexual orientation in order to feel accepted by one group.
Coming out very publicly was one of the best feelings as an activist. It was such a personal act, and the number of friends and acquaintances who reached out to me during that time to tell me their stories was so touching.
Seattle Police shockingly claim sex workers need to be arrested "to disrupt the cycle of violence and abuse". Thi… https://t.co/WocSniI500

— Kshama Sawant (@Kshama Sawant) 1570115501.0
What would you suggest people do if they want to start to get involved in the fight for LGBTQ+ and sex workers' rights?

A: For most people, the most effective activism they can do is within their own communities. Talking about sex workers and LGBTQ+ rights with family and friends may seem menial, but it is some of the most important work we can all do.
To talk to folks in your circles though, you need to be armed with correct information about those you are hoping to help. It is important to avoid savior complexes. Listen to people in the communities you want to fight for. Trusted sources are SWOP chapters, the ACLU, the LGBT Center in Los Angeles (or local chapters to you), and actual LGBTQ+ folks and sex workers.
Of course, you can volunteer and leaflet with local chapters and organizations, but it is also important to support community members directly. You can do this by supporting a business owned by LGTBQ+ folks and sex workers or by tipping them directly!
You do a lot of challenging work. What do you do to take care of yourself and have fun?
A: What's been so great about my current work is the wonderful people I have met. I have never had more fun with a group of people than my sex worker comrades. We take trips, drink wine in the backyard, and gas each other up constantly.
Personally, I go to the gym almost every day and try to spend some time there with my phone off. Turning your phone off is very important for activists (and all workers at this point). In 2019 we can be constantly reached, and it's hard not to engage when you are so passionate about your work helping others.
I also got a fully functional TV for the first time in my adult life this year and now understand the benefits of winding down watching TV (even if I mostly watch The Office).
A call for Julian Assange's arrest and extradition was found in an unrelated court filing.
U.S. Department of Justice charges against WikiLeaks founder Julian Assange have been discovered through an administrative error in an unrelated court filing late Thursday night.
The filing from prosecutors for the Eastern District of Virginia on August 22 contains language indicating the government is seeking a future warrant for Assange's arrest "in connection with the charges" in a sex-crimes case for Seitu Sulayman Kokayi, who was charged with coercing and enticing an underage person to engage in unlawful sexual activity. Unsealed last week by Seamus Hughes, a terrorism expert at George Washington University, the file says Assange "can therefore no longer evade or avoid arrest and extradition."
Joshua Stueve, a spokesman for the Eastern District of Virginia, referred to the mentions of Assange as an "administrative error" on Friday, and said the August case had nothing to do with WikiLeaks. He declined to comment further. However, multiple news outlets have reported that the Justice Department is preparing to prosecute Assange, citing people familiar with the matter in addition to the inadvertent court disclosure. The precise criminal charges he faces remain unclear.
U.S. authorities were allegedly prepared to seek charges against Assange in April 2017, but none were ever sought. Assange is currently located in the Ecuadorean embassy in London, where he's been living for years. If the charges against Assange are filed, it would require a multistep diplomatic and legal process to arrest and extradite him.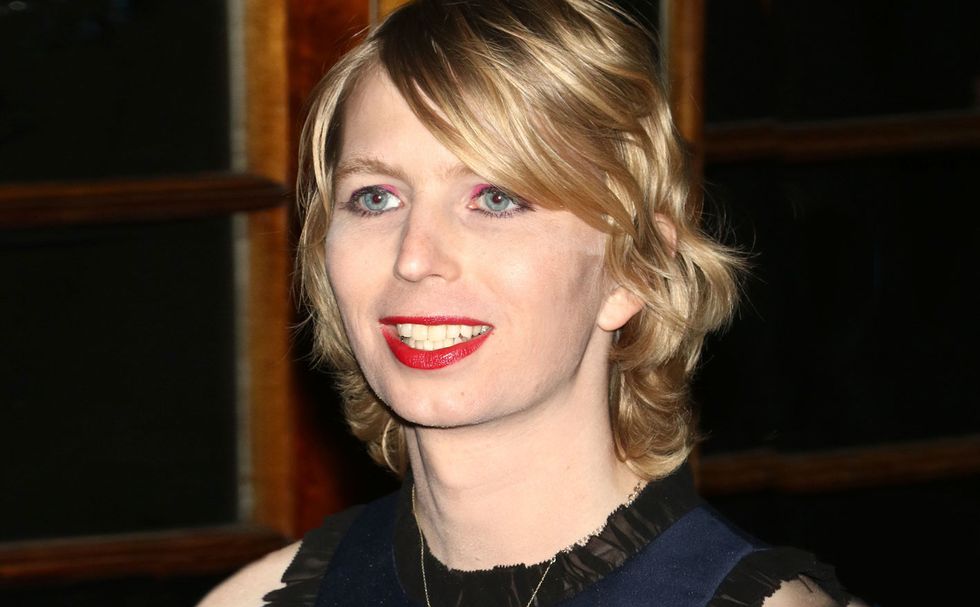 Chelsea Manning
Justice Department officials have been investigating Assange since 2010, when thousands of confidential government files were posted on WikiLeaks from U.S. Army intelligence analyst Chelsea Manning. The recent disclosure comes as special counsel Robert S. Mueller III continues to investigate the website while discerning potential links between Trump Administration officials and Russia's 2016 election interference. The site published thousands of emails during the election that were stolen by Russian intelligence officers as part of a disruption campaign against presidential nominee Hillary Clinton.

WikiLeaks tweeted about the filing soon after the news broke, saying "US Department of Justice 'accidentally' reveals existence of sealed charges (or a draft for them) against WikiLeak's publisher Julian Assange in apparent cut-and-paste error in an unrelated case."
SCOOP: US Department of Justice "accidentally" reveals existence of sealed charges (or a draft for them) against Wi… https://t.co/GjZMblZXAy

— WikiLeaks (@WikiLeaks) 1542338074.0
While the exact details are a mystery, the potential charges against Assange for publishing information of public interest—even if it was obtained by Moscow hackers—would be a critical development in the relationship between modern governments and freedom of the press, and may set a threatening precedent.

"The news that criminal charges have apparently been filed against Mr. Assange is even more troubling than the haphazard manner in which that information has been revealed," Barry Pollack, an attorney for Assange, told CNN. "The government bringing criminal charges against someone for publishing truthful information is a dangerous path for a democracy to take."
Joshua Smalley is a New York-based writer, editor, and playwright. Find Josh at his website and on Twitter: @smalleywrites.
Dennis Hof won his bid for Nevada Assembly District 36 last night, despite having died three weeks ago.
Midterm elections are often considered a referendum on a sitting administration's progress—a collective report card graded by the people. Early numbers from this year's elections suggest a substantial and possibly record increase in voter turnout, which has been historically low in non-presidential voting years. It's not surprising, given the turbulent political climate, that candidates from both parties continued to campaign at full speed up until the final hours. Yet despite an election cycle that saw blatantly racist attack ads, felony accusations, and threats of violence, the one surefire road to victory has been apparent for years: death.
Outlandish as it may seem, at least nine dead people have been elected to public office since 1962—six in the last 20 years alone. The latest, Dennis Hof, whose body was discovered last month after the legal brothel owner had celebrated at a campaign-and-birthday party, claimed victory in Nevada last night. Prior to his death, the 72-year-old had been celebrating with friends Heidi Fleiss, Ron Jeremy, and Joe Arpaio.
Ballots Beyond the Grave: Deceased People Who Have Won Elections
Rep. Clement Miller (CA, 1962; airplane accident)

Reps. Nick Begich (AK) and Hale Boggs (LA, 1972; airplane accident)

Gov. Mel Carnahan (MO, 2000; plane crash)

Rep. Patsy Mink (HI, 2002; viral pneumonia)

Sen. James Rhoades (PENN, 2008; car accident)

Sen. Jenny Oropeza (CA, 2010; cancer)

Sen. Mario Gallegos (TX, 2012; liver disease)

Dennis Hof (NV, 2018; cause of death not yet reported)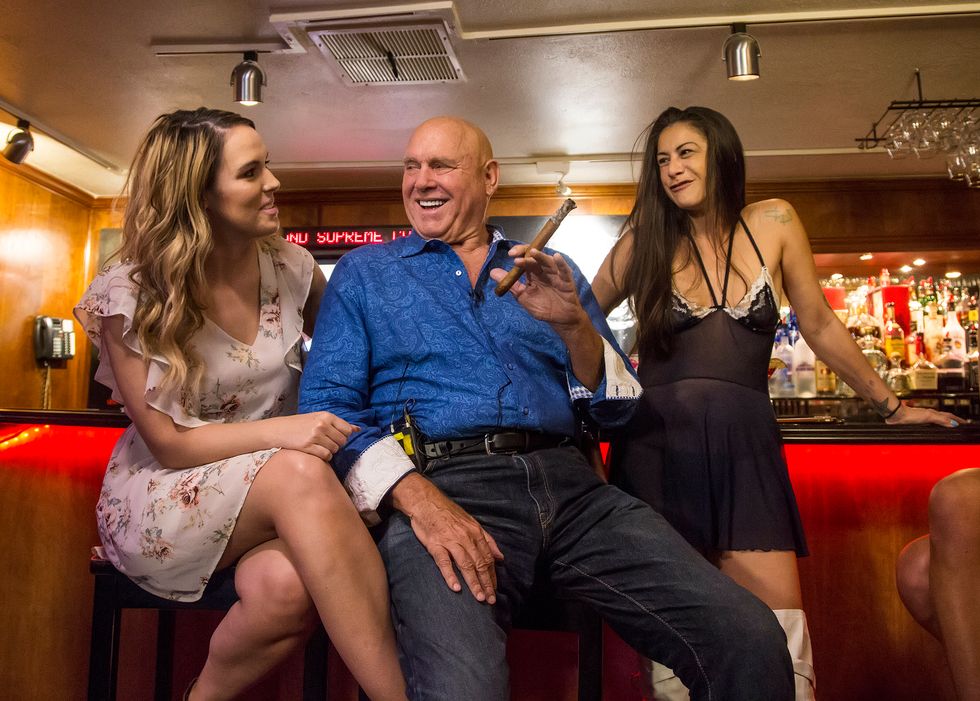 The Nevada Independent
Hof ran for office as a self-proclaimed "Trump Republican" and stated that the president's 2016 win ignited his own desire for a career in politics. Similarities between the two run deep. Hof gained fame as a reality star on the long-running HBO documentary series Cathouse, which captured life at the Moonlite Bunny Ranch, one of several legal brothels owned and operated by Hof. In 2015, he published a memoir titled "The Art of the Pimp," a clear homage to Trump's "The Art of the Deal." In it, Hof included a psychological profile by psychotherapist Dr. Sheenah Hankin, which categorizes Hof as a narcissist who abused the sex workers he employed.
Among the issues he championed were immigration reform, a repeal of Nevada's 2015 Commerce Tax, and a campus carry law that would allow concealed-carry permit holders to bring their weapons onto Nevada college and university campuses. He was endorsed by Roger Stone and Grover Norquist. In the 2018 primary elections, Hof beat incumbent James Oscarson by a mere 432 votes. Because he died within 60 days of the upcoming election, Hof remained on the ballot, though signs were posted at polling sites notifying voters of his death.
It seems as though these issues matter more than electing a living person to citizens of the 36th Assembly District. In fact, a 2013 study by Vanderbilt University found that, in lower-level elections, voters are most likely to elect the candidate with the highest name recognition.
The 36th Assembly District, which spans Clark, Lincoln, and Nye counties, has long been a GOP stronghold. Hof defeated Democrat Lesia Romanov, a first-time (living, breathing) candidate and lifetime educator who works as assistant principal of an elementary school for at-risk children. Romanov was impelled to run for office by a desire for common-sense gun reform following the mass shooting in Parkland, Florida. Yet, too many of her constituents, upon discovering she was running against Hof, she became a de facto advocate for women, including "survivors of sex trafficking and exploited and abused brothel workers," according to NBC News. Romanov was among many women running for office in hopes of making Nevada's legislature the first to hold a female majority in the country.
As The Washington Post reported in 2014, there hasn't been an election with a dead person on the ballot in which the dead person lost. It's hard to determine what's more damning for American democracy: that voters are so divided that they're more likely to vote for a dead person than cross party lines or that they've been voting that way for years. At the same time, one might argue that giving Hof's seat to a living Republican (as appointed by county officials, according to state law) is a better outcome than if it'd gone to Hof himself, considering his history of sexual abuse allegations. The most preposterous indictment of the American political system is that although deceased candidates have been elected before, now the electorate could seemingly ask itself—in all seriousness—whether a dead serial abuser makes a better candidate than a living one. And no one seems to know the answer.