Donald Trump is the most innocent president of our time.
Amidst the House's mounting Trump impeachment inquiry, only one thing is 100% certain no matter what the facts end up being: Donald Trump is totally innocent.
We know this because he tells us on Twitter, and if there's one thing we can all agree on, it's that Donald Trump never lies (and even if he was pretty much lying 84% of the time, that's only to troll stupid people, and by that I mean college-educated democrats and people who can read).
So who cares if the Whistleblower's statement has been proven accurate in a line-by-line dissection? And who cares if the White House definitely tried to cover up the details of the Ukraine call. If Donald Trump says he didn't do anything wrong, well, he's the president so I believe him. So in celebration of how truthful and honest our President is, and how much I believe him no matter what he says or does, I've made a lot of 5 times that Donald Trump was completely innocent.
The Immigration and Customs Enforcement agency detained 680 migrants yesterday. Here's how you can respond.
This has been an unusually horrific week for American immigrants, and that's saying something.
Yesterday, ICE staged its largest single-state immigration raid in history, sending over 600 agents to seven Mississippi food processing plants. 680 people were arrested and detained. They were ushered onto buses, where they had their hands tied with plastic bands; some tried to flee into parking lots but were captured on foot. The detained immigrants will be tried on a case-by-case basis, with no limit on how long they might be kept in ICE custody. As of now, 300 people have allegedly been released.
Many of the detained have children at home, who have been left without their parents. A local school in Scott County that started their academic year on Tuesday has gone "on standby," and bus drivers have been instructed to check whether the child is met by a parent or guardian before letting them off the bus, in order to ensure that the child is not returning to an empty house.
While the children have waited to hear from their parents, some members of the local community have stepped up, including a gym owner named Jordan Barnes, who's helped house some children until they can be connected with a family member or guardian.
Summer of Deportation
For supporters of the crackdown on illegal immigration, the raids are viewed as triumphs. In July, President Trump told reporters that "[ICE is] gonna take people out and they're going to bring them back to their countries or they're gonna take criminals out, put them in prison, or put them in prison in the countries they came from."
The raids in Mississippi came only five days after a mass shooting that was motivated by racism and anti-immigrant sentiment rocked El Paso, Texas and left 31 dead. They appear to be the climax of a summer of relentless ICE crackdown on migrants across the nation. Currently, the U.S. operates the world's largest immigration detention system, with an estimated 30,000 people in custody on any given day. The raids began in June, with ICE targeting up to 2,000 migrants in 10 U.S. cities.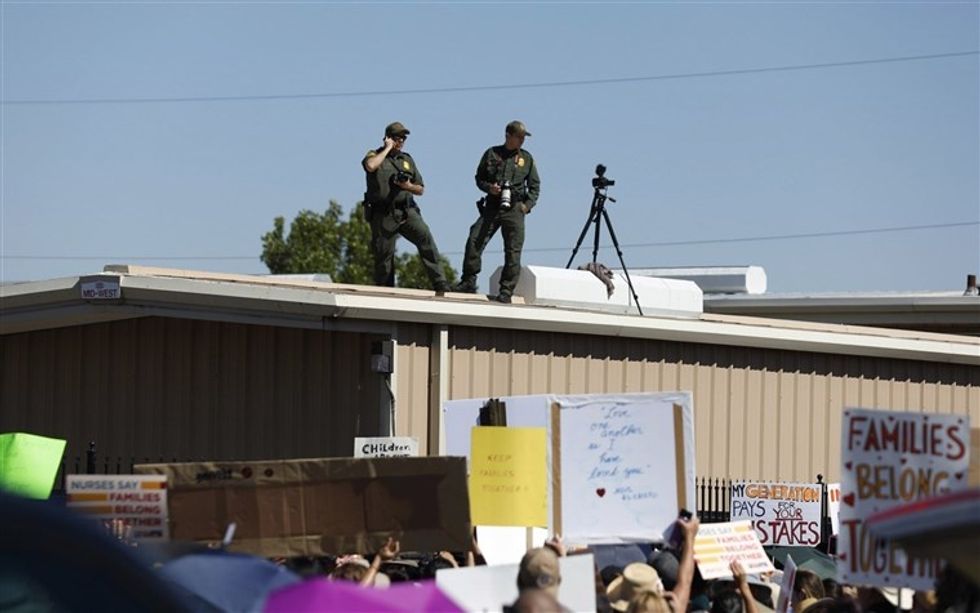 Image via NBC News
These detention centers have been loci of contention for the past few months in particular. On Tuesday, August 6, over 100 hunger-striking immigrants at a Louisiana facility were sprayed with pepper spray, shot at with rubber bullets, and blocked from contacting their families. Reports of atrocious conditions at the facilities have continued to flood in from many sources.

On Wednesday, just one day before the Mississippi raids, a man named Jimmy Aldaoud—who spent most of his life in the U.S. and had never lived in Iraq, though he was of Iraqi nationality—died in Baghdad, after he'd been left homeless and without access to insulin following his deportation. Aldaoud was detained as part of a massive crackdown on the Detroit Iraqi community. In a video filmed before he died, he appears to be sitting on a street in Iraq. "Immigration agents pulled me over and said I'm going to Iraq," he said in the clip. "I said, 'I've never been there. I've been in this country my whole life, since pretty much birth.' … They refused to listen to me."
What Can You Do?
In the wake of this news, and knowing that the raids will likely only grow worse, you might be wondering what you can do. Here are a few suggestions:
Spread and share information about immigrants' rights.
There are many guides in various formats available to the public that detail immigrants' rights. The ACLU has one, as well as the National Immigration Law Center, and the Immigration Defense Project offers a variety of flyers and pamphlets available for distribution. Essentially, the most important fact to share is that if an ICE agent shows up at your door, you are never obligated to open it unless they have a warrant, and you are never obligated to speak to an officer if they stop you in public. They cannot arrest you without a warrant, and you have permission to tell them that you are exercising your right to remain silent.
As an ally, you can also share stories on social media and among your networks, highlight migrants' voices, do your own research into issues of asylum and immigration and contact your representatives to voice your opposition, especially if you live in a state or community where the raids are taking place. You can find your local ICE community relations officer here and your representative here. You can also use the website 5calls.org to find more people to contact.
Report ICE raids when you see them.
If you see an arrest, take note of the officers' badge numbers and license plates and take videos. You can also report raids to hotlines, like United We Dream. If you're a legal U.S. citizen, use your judgment to decide when to speak up and get involved in a raid. Recently, in Nashville, a group of community members noticed that the ICE was surrounding one of their neighbors' vans, and so they formed a circle around the car until the agents left the scene.
Remember that it's unhelpful to report potentially false information about ICE raids, as they can spread unnecessary panic, so exercise caution when dealing with raids in real time.
Donate to help migrants.
A lawyer can make all the difference in a migrant's case. Many migrants qualify for legal citizenship in the U.S. and simply are unable to compile the necessary documentation. The Cornell Law School has a list of organizations seeking donors or volunteers. Just be sure to do your research and vet the charity using a site like Charity Navigator.
Get involved in advocacy groups.
Allies can participate in a variety of contexts. There are many organizations that allow allies to help migrants prepare their documents for citizenship hearings, or coordinate groups to attend these hearings, such as the New Sanctuary Coalition and Cosecha in NYC.
If you're an attorney or are fluent in translating Spanish to English, your expertise is particularly valuable to these groups. Even if not, just attending a court hearing can put enough pressure on judges to turn the tide in favor of migrants.
You can also push your local church, school, or community organization to act as a short-term sanctuary for migrants. If you want to give even more, you could look into underground networks dedicated to keeping migrants and refugees safe.
Organize for the 2020 elections.
Though protests and active allyship can be powerful, none of these small actions can replace systemic changes coming from the very top.
The rising tides of migration to the U.S. are not occurring in a vacuum. They are products of policy issues stemming from root sources like climate change, the War on Drugs, and other large, structural issues that require equally large, structural changes.
Even if you don't believe that undocumented immigrants should be allowed to stay in the country, the images of children crying as their parents are dragged away into unsanitary and dangerous prisons should be enough to stir some basic human impulse to react. There is a better way.
How can one commemorate all that D-Day represents while cheering on the nationalist Trump administration as it attempts to dismantle the very alliances America solidified during WWII?
75 years ago today, on June 6, 1944, the Allied forces landed on the Nazi-occupied beaches of Normandy, liberating France and laying the foundation for Allied victory on the Western Front; this operation came to be known as D-Day.
But while many Americans are using the anniversary to commemorate the Greatest Generation's historic valor, it's important to recognize that anyone doing so while continuing to support Donald Trump and the current far-right agenda are blatant hypocrites. After all, D-Day was an international effort against fascism. So how could one possibly justify commemorating all that D-Day represents while cheering on a hyper-nationalist, identitarian administration attempting to dismantle the very alliances America solidified during WWII?
D-Day was a collaborative effort involving the United States, the British Empire, Canada, Australia, Czechoslovakia, France, Norway, and Poland. One might even categorize such an effort as globalist. The allied forces were fighting against an oppressive regime based around white nationalist superiority and discrimination against ethnic and LGBTQ minorities. The Nazis were also notorious for killing non-white children. All of these factors echo actions committed by the Trump administration—but it's different when America does it, right? Or maybe we just need to wait until our atrocities reach the level of the Nazis.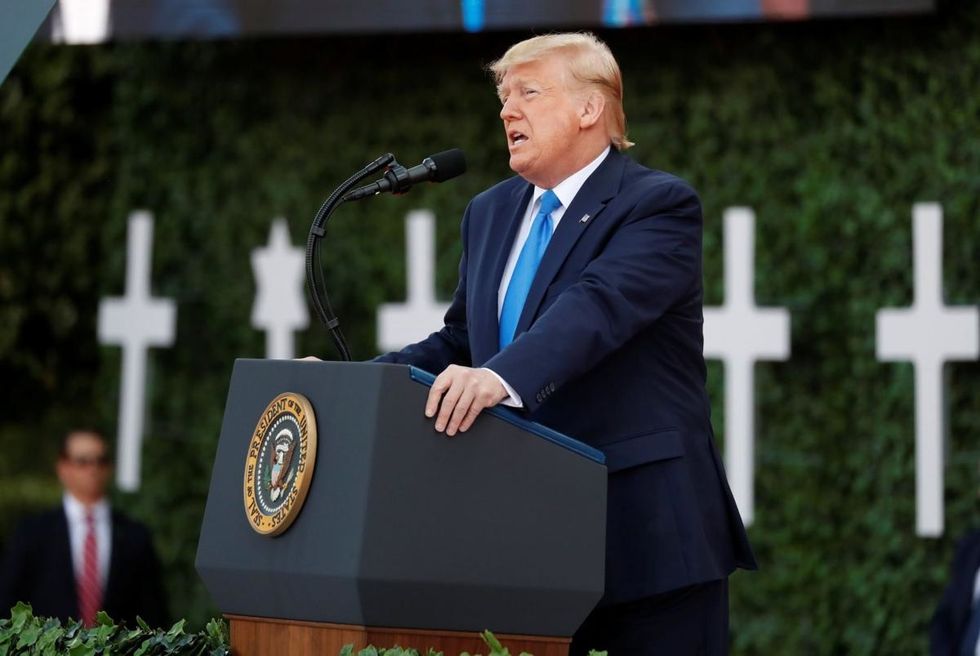 Trump speech on D-DayREUTERS
Meanwhile, the Trump administration is working tirelessly to soil every good relationship America has around the globe, alienating Canada, France––the whole EU, really––and multiple other trading partners. Australia just barely dodged the bullet. Make no mistake, Trump is dictatorially-minded with a penchant for obstructing established government oversight at every turn. The fact that he hasn't done more damage yet is a testament to the tentative functionality of our checks and balances, which he's challenged at every turn. To continue supporting Donald Trump is to support the same ideological basis we fought against during World War II.

The question, then, is how are so many Americans capable of both publicly memorializing D-Day and also supporting Donald Trump? For some, like Senator Lindsey Graham, the answer is likely that they have embraced their own hypocrisy.
But for many, the reasoning is probably far less intentional. Cognitive dissonance is a psychological phenomenon characterized by the discomfort caused by holding two conflicting beliefs at the same time. It's possibly the reason why many Trump supporters double-down when confronted with evidence contradictory to their views. Digging one's heels into the ground and refusing to acknowledge hypocrisy is a much more soothing solution than addressing one's own ideological inconsistencies. This explains how Trump supporters can both love the idea of Americans fighting fascist regimes while supporting a fascist regime themselves. They tell themselves that the Nazis were "real" fascists and then excuse away all of Trump's fascist actions. They further solidify this belief by pretending that left-leaning people are the "real" fascists, because how dare they call Trump fascist in the first place and demonetize hate speech on YouTube.and...women in video games, or whatever.
So what's the best way to really commemorate D-Day, a day when Americans banded together with our global allies to kick fascism's ass? By praising our divisive, nationalist president for reading something off a teleprompter? Somehow, that doesn't seem right. After all, D-Day is about fighting Nazis, not fellating them. Perhaps one could think it over at Wendy's––milkshakes are especially nice this time of year.
While the Fifth Amendment is a crucial marker of individual rights, the lack of clear definitions and changing political landscapes make its application dangerously subjective.
Your right to "plead the fifth" is a constitutional protection against self-incrimination, but it's only one component of the legal provision that safeguards your rights from unjust criminal prosecution.
The Fifth Amendment protects against double jeopardy, being forced to incriminate oneself, prosecution without a jury of one's peers, and eminent domain. The legal precedents establishing due process protect more than just criminals; everyday citizens are protected from abuse of the justice system.
The provision, in full, dictates: "No person shall be held to answer for a capital, or otherwise infamous crime, unless on a presentment or indictment of a Grand Jury, except in cases arising in the land or naval forces, or in the Militia, when in actual service in time of War or public danger; nor shall any person be subject for the same offence to be twice put in jeopardy of life or limb; nor shall be compelled in any criminal case to be a witness against himself, nor be deprived of life, liberty, or property, without due process of law; nor shall private property be taken for public use, without just compensation."
In 2019, what are the limitations of these protections? Are there exceptions? What situations would require you to invoke them? What should you say to activate these rights?
While some may see "pleading the fifth" as tantamount to admitting guilt, it symbolizes your protection from self-incrimination. Cornell Law School defines the term to mean, "The act of implicating oneself in a crime or exposing oneself to criminal prosecution." When questioned by law enforcement during an investigation or during a criminal trial, an individual may refrain from answering questions or submitting requested materials to officials if it's believed that doing so may result in new criminal charges.
However, issues unrelated to criminal matters are not always protected from self-incrimination rights. For example, tax issues are not covered under the law so as to prevent individuals from withholding materials from the IRS. Furthermore, the law becomes murky when external circumstances could easily influence a person's ability to remain silent. Egregious examples of this right being circumvented include forced confessions and unjust interrogations.
As to due process, it's well known that before you can be found guilty of a crime, a grand jury of 16 to 23 people must be presented the case in private and deem that criminal charges justified. While a grand jury acts as "a kind of buffer or referee between the government and the people," an individual has a right to trial by jury. However, the Constitution's vital dictum against citizens being "deprived of life, liberty or property without due process of law" is only defined through a series of court rulings and provisions.
Of note is that due process protections are designed for individuals and application "in each case upon individual grounds." Sadly, this means that whole groups or communities are not, strictly speaking, as entitled to due process. For example, entire student bodies, teachers, or consolidated groups like protesters can be given treatment outside of lawful protections.
Lastly, eminent domain is the restricted power of the government to take private property and convert it into public use. Under the Fifth Amendment, the government can only use this power if they provide the private owners with fair compensation. However, abuse of eminent domain is fairly common.
For example, in 2019, Donald Trump defended his demand for a border wall separating the United States and Mexico under the right of eminent domain. While it was originally meant to be an economic benefit, there are no codified measurements of what constitutes "just compensation." The seizure of land by the government quickly becomes exploitative and a violation of privacy that's paramount to government theft.
While the Fifth Amendment is a crucial marker of individual rights, the lack of clear definitions and changing political landscapes make its application dangerously subjective. From due process to eminent domain, there are more exceptions than clear definitions of "justice."
Meg Hanson is a Brooklyn-based writer, teacher, and jaywalker. Find Meg at her website and on Twitter @megsoyung.
The term is typically used to refer to a whole person, not a person's legal status, and so it therefore implies that the person themselves is not a viable human being, thus not entitled to any human rights protections.
The word "illegal" has become a buzzword in modern immigration discourse, a common way of describing someone who has crossed the border into America without papers.
The term is typically used to refer to a whole person, not a person's legal status, and so it therefore implies that the person themselves is not a viable human being, thus not entitled to any human rights protections.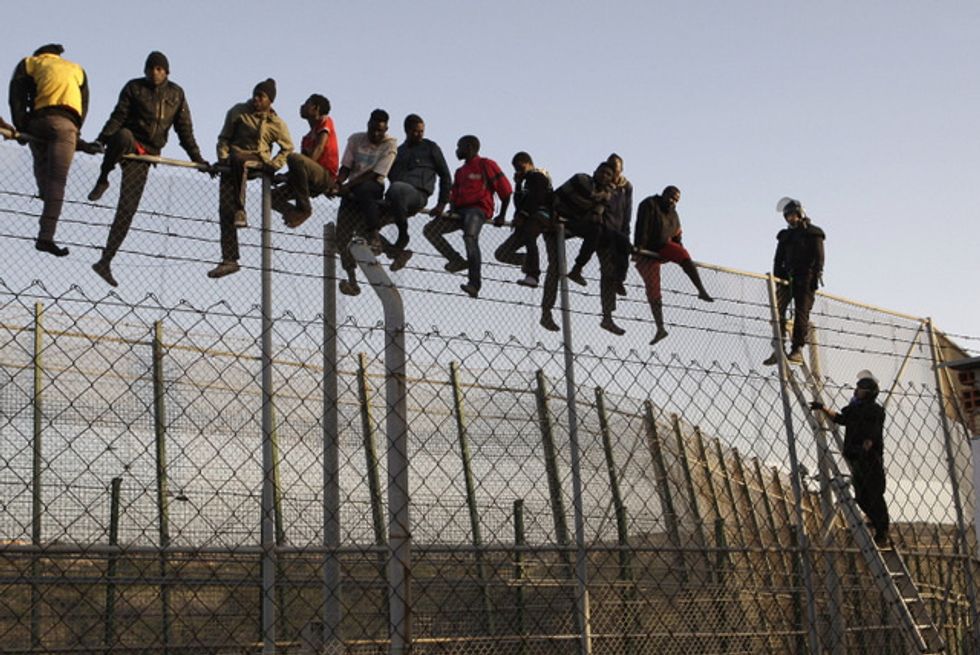 Image via thoughtco.com
The term "illegal immigrant" was first coined to describe Jews fleeing during the second world war. "How can a human being be illegal?" asked the writer and Holocaust survivor Elie Wiesel, pinpointing the contradictory nature of the term. In 2017, journalist Maria Hinojosa riffed on Elie Wiesel's description of illegality, stating that "Because once you label a people 'illegal,' that is exactly what the Nazis did to Jews.' You do not label a people 'illegal.' They have committed an illegal act. They are immigrants who crossed illegally. But they are not an illegal people."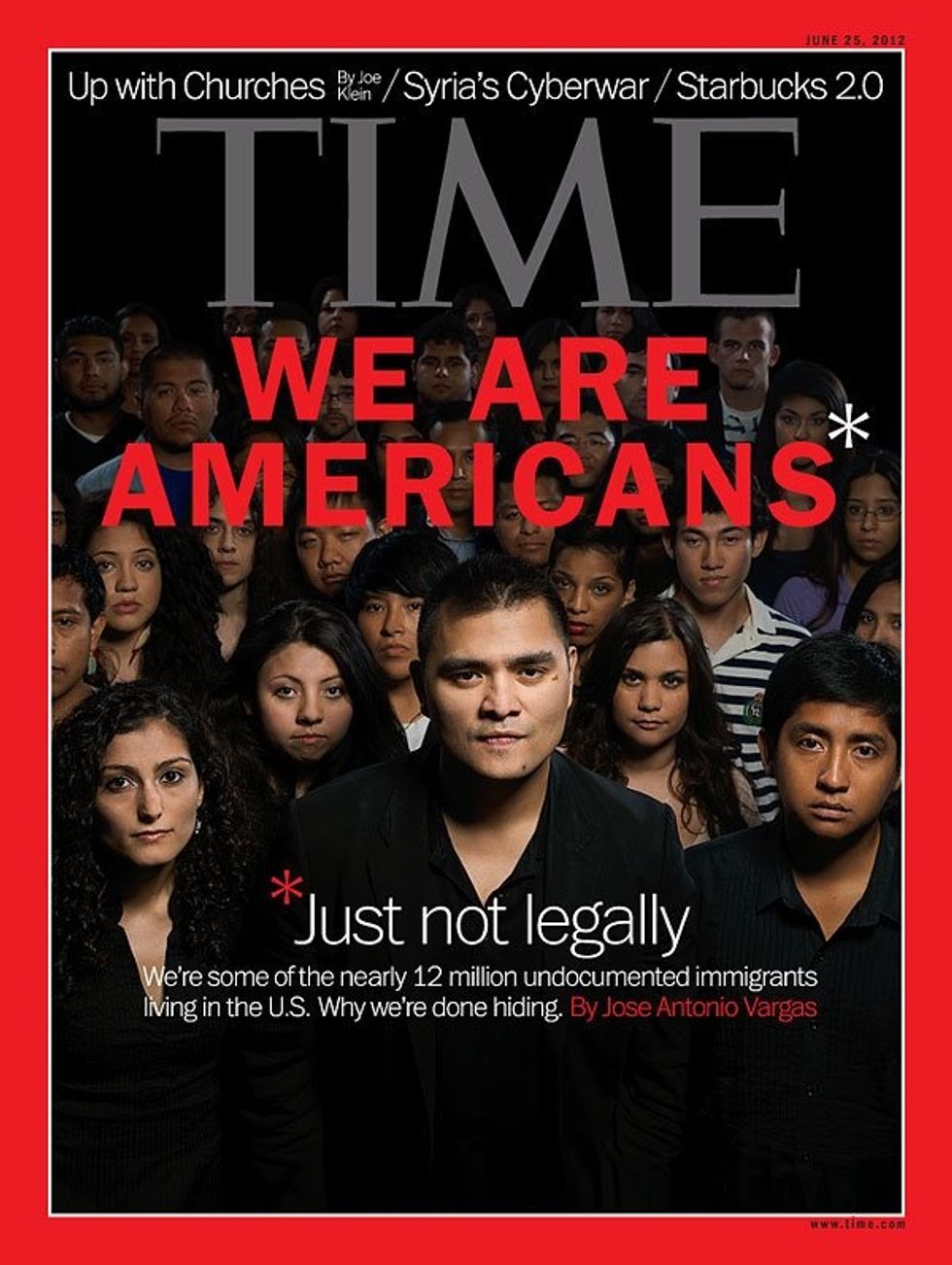 Image from Time
Being labeled as illegal has severe consequences for those who fall under the term's shadow. An "illegal" immigrant cannot demand raises or report human rights abuses at work. Undocumented immigrants face the double pressure of fear of being sent back to where they came from and fear of being 'found out' in their new nation.

The majority of migrants labeled as "illegal" are actually doing work for low wages, and provide services while demanding nothing in return. In practice, their work is similar to mass incarceration, which keeps whole segments of the population out of sight while they perform unpaid labor and are unable to exercise their civil rights.
In the novel Dear America: Notes from an Undocumented Citizen, the Filipino journalist Jose Antonio Vargas outlines the unique stresses and pains that come with living as an undocumented civilian. "This book is about homelessness," he writes, "not in a traditional sense, but the unsettled, unmoored psychological state that undocumented immigrants like me find ourselves in. This book is about lying and being forced to lie to get by; about passing as an American and as a contributing citizen; about families, keeping them together and having to make new ones when you can't. This book is about constantly hiding from the government and, in the process, hiding from ourselves."
Vargas, a successful reporter, came to the US at eight and discovered he was undocumented at age 11; what followed were decades of trying to hide his status until he finally spoke out and became one of the most famous undocumented citizens in the public eye.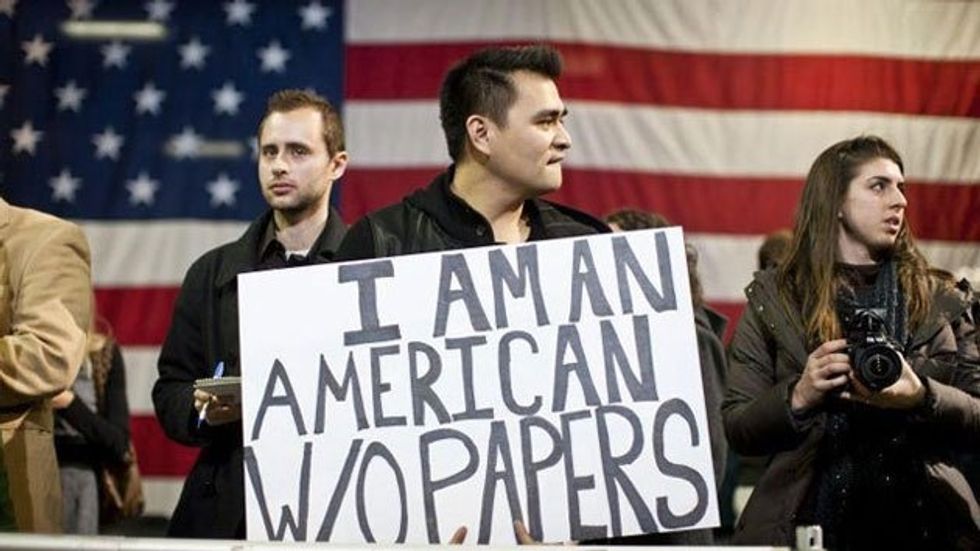 Image via Mother Jones
Every single migrant's story is different, and for many people, speaking out is not an option. Many people have to work, to support families or relatives at home, and cannot risk "coming out" as illegal like Vargas.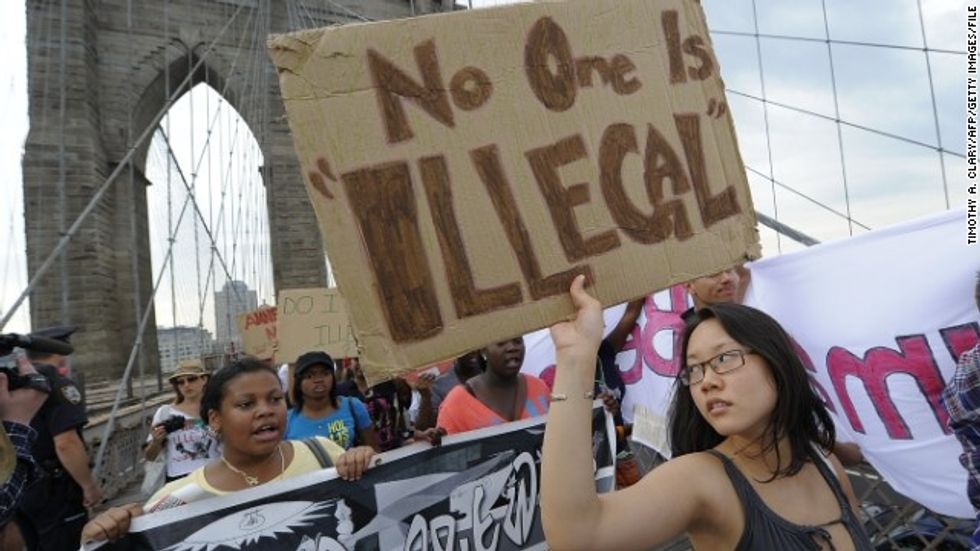 Image via CNN.com
Studies have found that undocumented immigrants—especially those of Latinx descent—are especially at risk of mental health disorders due to the unique combination of trauma and secrecy that often plagues their journeys to the United States. As Warsan Shire writes in her stunning poem Home, "how do the words / the dirty looks / roll off your backs / maybe because the blow is softer / than a limb torn off." Although living in an America that calls them "illegal" is preferable to remaining in their native countries, many migrants have written about the psychological impacts of living in constant fear, and of being "found out" on American soil.

Bigotry and xenophobia may be better alternatives than the violence that many migrants faced at home, but defining groups of people as "illegal" is a convenient way to strip human beings of their humanity, the very thing that lies at the heart of the United Nations' Declaration of Human Rights. Peoples who are in flux are especially at risk of getting lost, as official laws refuse to help them; outside of the light of official regulations, people are quite literally disappearing, slipping into the cracks between policy and legal protection.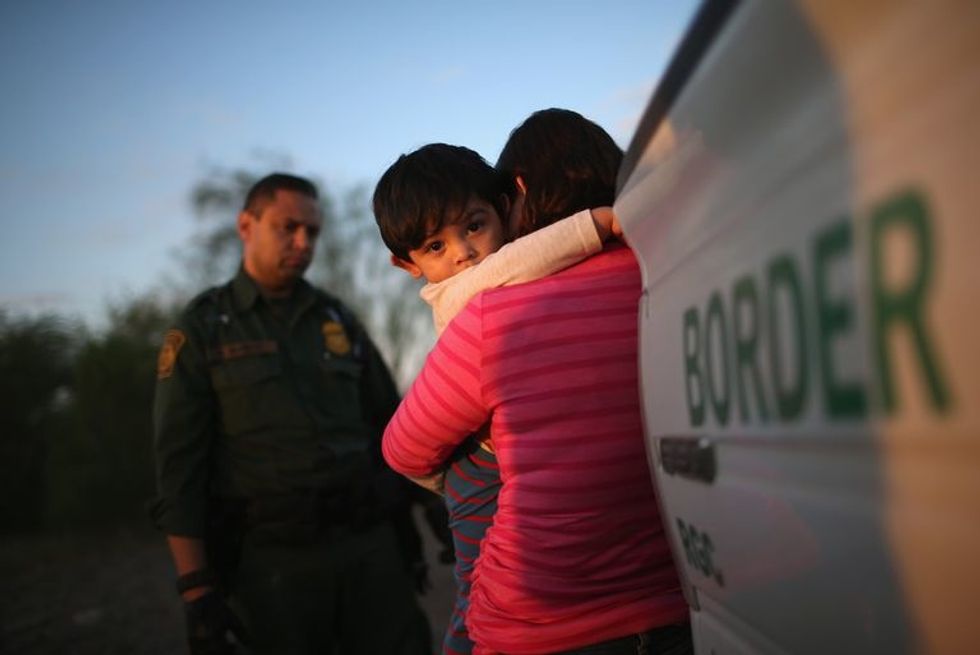 Image via thoughtco.com
Keeping people in the subterranean realms of the criminal justice system or beneath the umbrella term of "illegal," is the result of a cycle that relies on many elements that work to perpetuate it. Xenophobia is one of the important steps that keep this cycle in place. A pervasive distrust of foreigners is a way of creating divisions and continuing cycles of disadvantage. Human rights abuses happen when human beings become faceless, anonymous, and stripped of recognition and legal protection. Rejecting and silencing people because they are so-called "illegal" even if it is not consciously spoken, is a way of selectively subjugating certain voices.
Of course, America has never been open to all migrants. This nation has a history of drawing non-white migrants to it when it needed labor—such as with the Chinese in California during the building of the railroads in the 19th century—and sending them home via acts like the Chinese Exclusion Act once the work was completed. This nation has a history of silencing certain groups, making it so they have no chance to even take a crack at the American dream.
Everyone is allowed to use language to express their beliefs—that's one foundational premise of the American experiment that everyone can agree on (though of course in practice it gets more complicated). Language is always political, and the word "illegal" carries powerful implications that it should at least be understood, not thrown around as an abstract umbrella term.
---
Eden Arielle Gordon is a writer and musician from New York City. Follow her on Twitter at @edenarielmusic.

The sordid history of Trump's NatSec advisor.
Picture the most gung-ho Warhawk in modern history, a man who's made a career out of calling for military invasions of foreign countries, forced regime changes, ends to peace treaties.
Do you imagine a hardened war veteran with military accolades who's seen the cost of war and knows its price? Or a nationalist who's fine throwing human life away from the safety of his armchair, despite doing everything in his power to avoid going off to war himself as a youth? If you picture the latter, you've got Trump's former national security advisor John Bolton.
John Bolton did serve in the National Guard and Army Reserve. But he did so in order to avoid being drafted for the Vietnam War, essentially biding his time stateside out of fear of real battle. "I confess I had no desire to die in a Southeast Asian rice paddy. I considered the war in Vietnam already lost," wrote John Bolton in his 25th college reunion book.
Speaking from a position of privilege might be Bolton's greatest asset, though. Those who have seen war generally speak about it in more tempered measures, while Bolton reached his position through pushing extremes.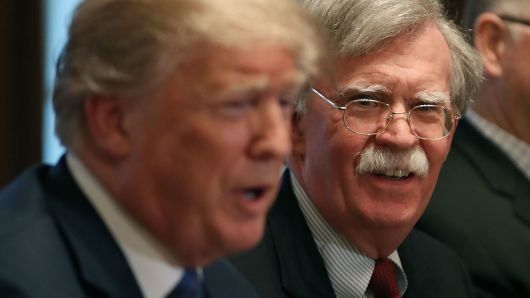 fm.cnbc.com
Throughout his long career, Bolton has worked under multiple right-wing administrations, from Reagan to W. Bush to Trump. During this time, he's advocated again and again for war, pushing for a U.S. invasion of Iraq dating back to shortly after the first Gulf War, calling for the "end of North Korea," and advocating to terminate the Iran Nuclear Deal. He has also expressed strong nationalistic views against the concept of the United Nations, stating, "There is no United Nations. There is an international community that occasionally can be led by the only real power left in the world, and that's the United States, when it suits our interests and when we can get others to go along."
John Bolton's greatest supporters tend to be similarly-minded radicals like Dick Cheney and Donald Trump, while his detractors tend to be anyone more moderate. Even fellow Republicans denounce Bolton. Condoleezza Rice resisted Cheney's efforts to make Bolton her deputy when she was secretary of state, instead passing him off as a UN ambassador. During the nomination hearing for that job, conservative Republican intelligence official Carl Ford described him as a "kiss-up, kick-down sort of guy" who "abuses his authority with little people." Even George W. Bush would later say he regretted Bolton's appointment, allegedly saying he didn't "consider Bolton credible."
And yet Bolton was named the national security advisor to Donald Trump, a fellow draft dodger with a known disregard for human life. To Trump, it didn't matter that Bolton was reviled by the international community. It didn't matter that Bolton was considered radical, largely disrespected even within his own party. For Trump, Bolton was the right man for the job. It remains to be seen whether he will do a better job as a witness.
Trump's demands for $5 billion to build a border wall stymies Congress' ability to fund government in 2019.
Just nine days ahead of the December 7 deadline, Congress has made no progress towards passing the seven appropriations bills needed to avoid government shutdown. At the center of the deadlock are President Trump's demands for $5 billion to fund his border wall. In an Oval Office interview with Politico on Tuesday, Trump affirmed he'd "totally be willing" to shut down the government if Congress doesn't allocate the funds.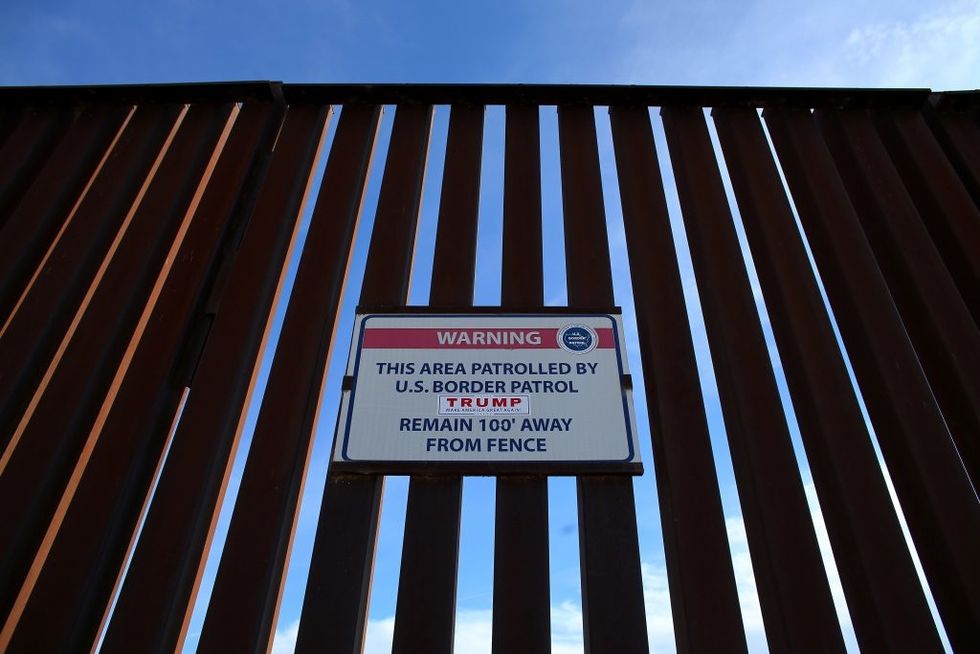 PBS
In September Democrats and Republicans agreed on a long-term funding package for the departments of Defense, Labor, Health and Human Services, and Education for 2019. However, they only reached short-term compromises for the remaining agencies, including the Department of Homeland Security, Justice Department, and the State Department. Even then, Trump was threatening to shut down the federal government if he didn't receive multi-billion dollar funding for his wall, but Republican leaders expressed doubt over his conviction.

Now, with those short-term deals expiring next Friday, Congress is more wary than ever of losing government function. Senator Joni Ernst (R-Iowa) spoke against the prospect in an interview on Sunday, "I hope that we can avoid shutting down the government. We have a lot of departments that do a lot of good for our citizens, so we need to make sure that we're funding them properly through Congress."
That's not to say Trump doesn't have Republican support, with House Majority Whip Steve Scalise (R-Louisiana) stating from the White House on Tuesday, "I'm glad that President Trump is following through on his commitment to keep this country safe. He needs $5 billion to make sure he can follow through on that promise and we need to be there for him and see that this gets done."
Resistance from Democrats is the main obstacle to appeasing Trump, with Scalise even posing the deadlock as a failure of the party's values. He asked if Democrats are "going to shut down the government because they don't want to keep America safe?"
The closest piece of compromise is the Democrats' concession of $1.6 billion in funding for border security. They've showed no sign of budging towards Trump's demands for triple that figure. Senate Democratic leader Chuck Schumer spoke for the party on Tuesday, affirming, "If there is any shutdown, it's on President Trump's back. Stick to the $1.6 billion."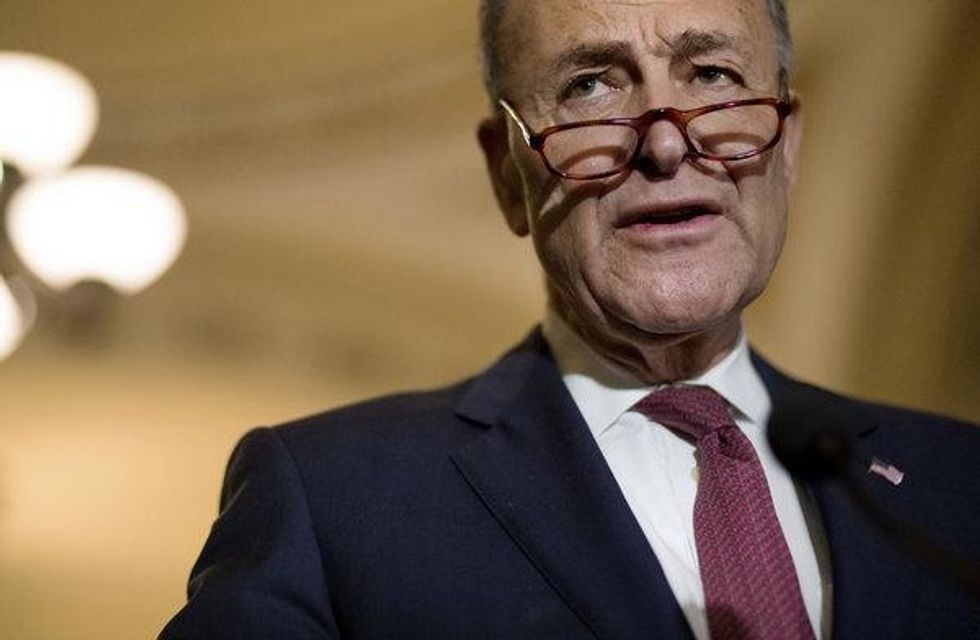 The New York Times
As for Trump, he told Politico he "was in no mood" to compromise on using federal funds to construct a border wall (despite initial and unfeasible claims it was to be funded by Mexico). He told Politico, "I will tell you, politically speaking, that issue is a total winner. People look at the border, they look at the rush to the police, they look at the rock throwers and really hurting three people, three very brave border patrol folks – I think that it's a tremendous issue, but much more importantly, is really needed. So we have to have border security."

Trump was referring to a confrontation at the border on Sunday in which he claimed three border patrol agents were "very badly hurt." While multiple migrants were harmed by tear-gas unleashed by border officials on Sunday, Trump's claim remains unsubstantiated.
Negotiations between Democrats and Republicans continue to take place this week, as a possible funding package is still in nascent planning stages. The odds of avoiding government shutdown are grim, with only nine days to draft a deal, gain sign off from House and Senate leadership, and win over a president who is "in no mood" to compromise his own agenda.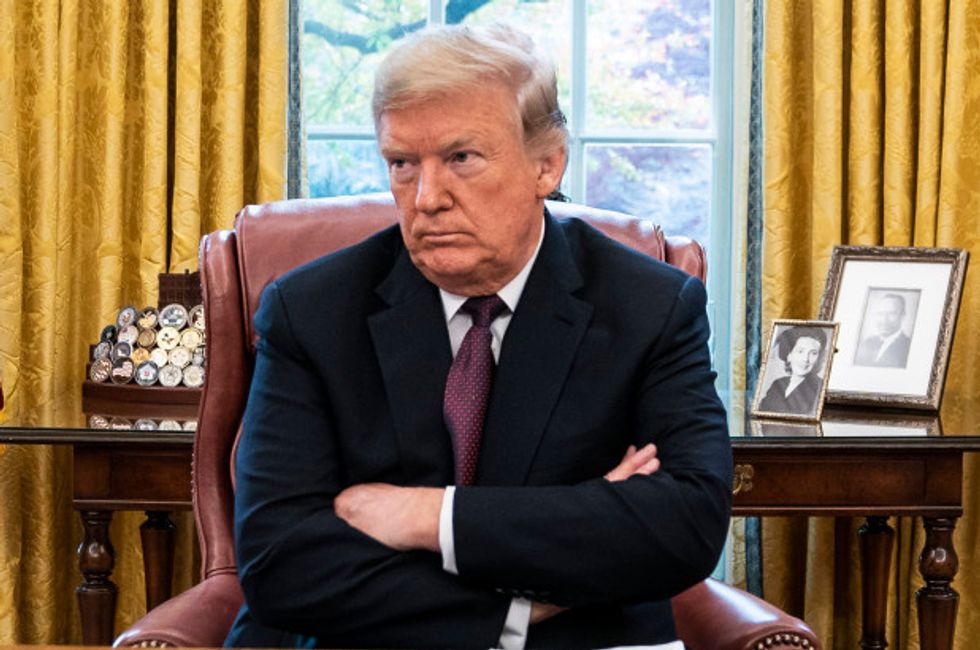 Getty Images - New York Post
Meg Hanson is a Brooklyn-based writer, teacher, and jaywalker. Find Meg at her website and on Twitter @megsoyung.

The WHCA will not invite a comedian to speak at the 2019 dinner due to "unusual moment" in history when Trump's threats to freedom of the press aren't funny.
According to The White House Correspondents' Association, tensions between the press and the Trump Administration are nothing to joke about. This year's annual fundraising dinner, which traditionally invites a comedian to roast the president and the press corps, will instead feature Ron Chernow, noted biographer of Alexander Hamilton, as its speaker.
Oliver Knox, the association's president, announced Chernow's selection on Monday, stating, "As we celebrate the importance of a free and independent news media to the health of the republic, I look forward to hearing Ron place this unusual moment in the context of American history."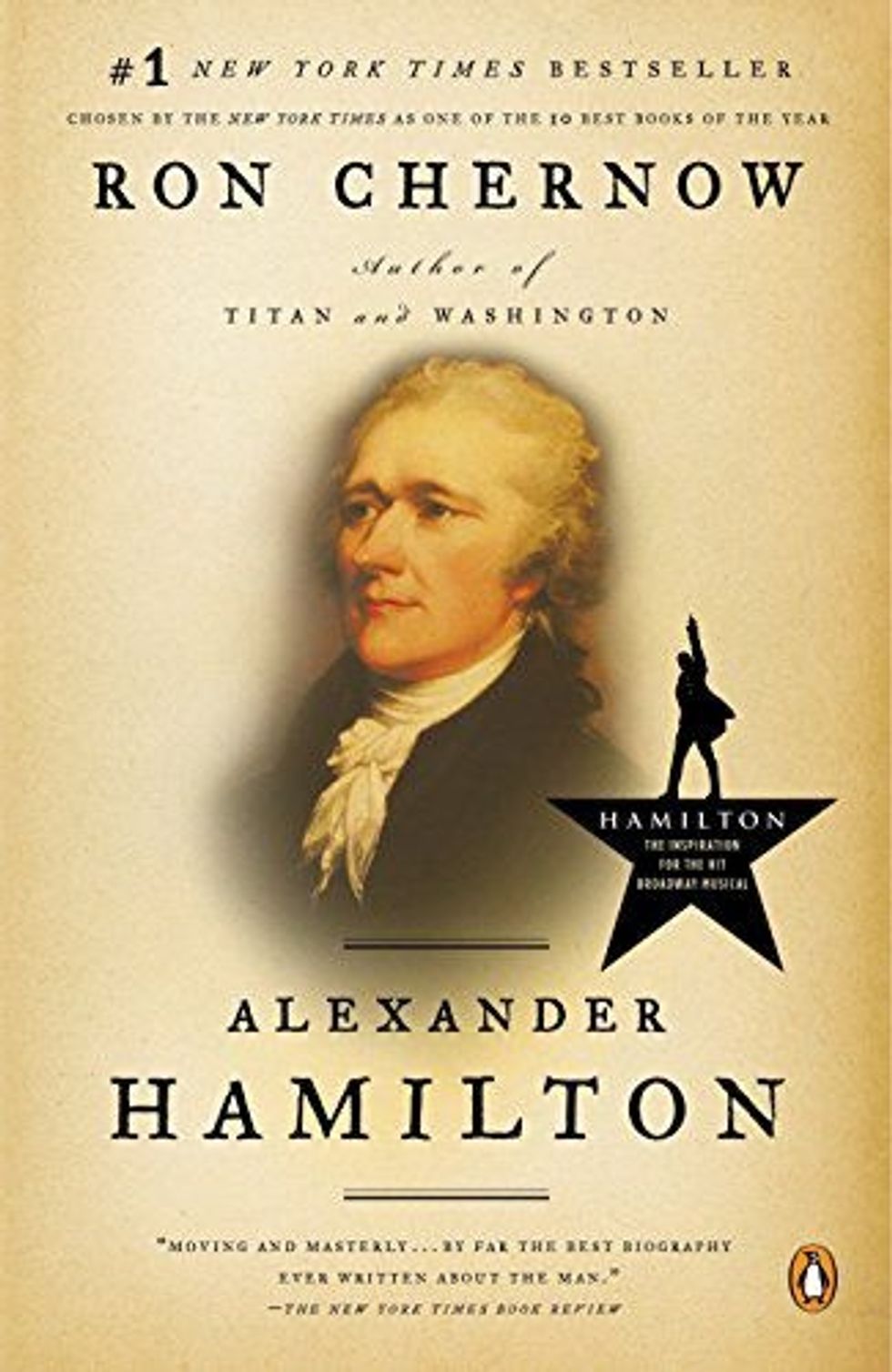 Town & Country Magazine
Ironically, it's Trump's expected absence from the event that worries the association. Another facet of the annual tradition is for the seated president to speak first, jest with the press corps and perhaps poke fun at himself, and then the comedian parries back in their own speech. However, Trump has declined to attend the last two years, giving no indication that he plans to appear at the April 27th event with Chernow. Knox has noted that the president's absence can skew the tone of the room into feeling antagonistic toward the current administration, rather than a good-humored acknowledgement of differences.

In fact, last year's event (sans Trump) featured Michelle Wolf, who incurred the president's wrath and general backlash for her remarks. For instance, Wolf singled out White House reporters for empowering Trump, stating, "You helped create this monster, and now you're profiting off of him." Later Trump took to Twitter to denounce Wolf as a "filthy 'comedian'."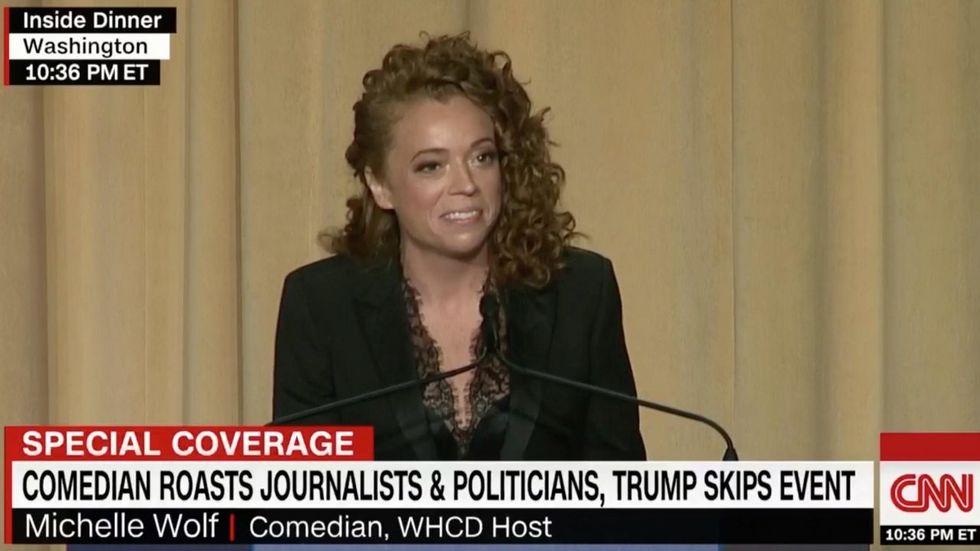 CNN - The Blaze
This year, Chernow is clarifying that "he's never been mistaken for a stand-up comedian," but he's aware of the "unusual moment" Knox speaks of, in terms of the fraught relationship between the Trump administration and the press. High points of tension include the widely publicized legal battle between CNN and the White House after CNN correspondent Jim Acosta's press pass was revoked and then reinstated by a judge after his network took the matter to court.

Stuck in the middle, Chernow released a statement, "The White House Correspondents' Association has asked me to make the case for the First Amendment and I am happy to oblige. Freedom of the press is always a timely subject and this seems like the perfect moment to go back to basics. My major worry these days is that we Americans will forget who we are as a people and historians should serve as our chief custodians in preserving that rich storehouse of memory."
Meg Hanson is a Brooklyn-based writer, teacher, and jaywalker. Find Meg at her website and on Twitter @megsoyung

The President vilifies immigrants as the midterms approach.
On Thursday Nov. 1st, President Trump released a political ad that accused Democrats of plotting to help murderers and criminals invade the country.
The ad is a flagrantly manipulative and fear mongering move, a new low in Trump's inflammatory closing argument of the GOP's midterm campaign.
The video — produced by Trump's campaign — features Luis Bracamontes, a Mexican immigrant who returned to the United States after being deported, and was then convicted of killing two California deputies. Bracamontes is shown with a chilling smile, saying, "I'm going to kill more cops soon," meanwhile, a caption flashes across the screen that reads "Democrats let him into our country. Democrats let him stay." The video then goes on to show footage of people crossing the border as menacing music plays. The screen then reads, "Who else would Democrats let in?" The spot is not only a clear attempt at sowing fear, but also rife with misinformation, as Bracamontes was actually originally deported by a democrat, Bill Clinton, and let back in by a Republican, George W. Bush.

After posting the video, Trump told reporters he would deploy 15,000 troops to the southern border to repel a caravan of central American immigrants, which is still hundreds of miles away. He also suggested that these troops could fire on the migrant caravan if rocks or stones were thrown, a claim that contradicts Official Department of Defense regulations, which state, "deadly force is justified only when there is a reasonable belief that the subject of such force poses an imminent threat of death or serious bodily harm to a person." Additionally, Trump repeatedly implied to reporters that there are Middle Eastern individuals hiding amongst the caravan, but later said, "There's no proof of anything. There's no proof of anything. But there could very well be."
In the wake of all of this troubling rhetoric surrounding immigration, Trump claimed Thursday that he would sign an executive order "next week" aimed at limiting immigrants ability to seek asylum in the United States. These developments come on the heels of Trump's recent assertion that he aims to repeal the 14th amendment, which automatically grants citizenship to children born in the United States.

This recent rise in anti-immigration rhetoric is yet another example of the President's willingness to exploit racial divides to falsely inflate his power and the cause of the Republican midterm campaign. It's clear that the Trump administration has chosen to scapegoat and villify central American immigrants in an attempt to counteract
rising enthusiasm
about democratic candidates in the midterm elections. The question is, will voters succumb to Trump's scare tactics, or see it as the manipulative and divisive rhetoric that it is?
Keep reading...
Show less
A government agency proposes to restrict gender identity to only "male" or "female."
The Trump administration is attempting to scale back civil rights of transgender and non-binary identifying persons. The New York Times exposed an interoffice memo from the Department of Health and Human Services (HHS) proposing to dictate the definitions of "sex" and "gender" "on a biological basis that is clear, grounded in science, objective and administrable." The memo caps a concerted effort by the Trump administration to negate Obama-era expansions of civil rights to the transgender community. Previous progress loosened the legal concept of gender in federal education and health programs to recognize gender as an individual's chosen identity rather than the sex assigned at birth.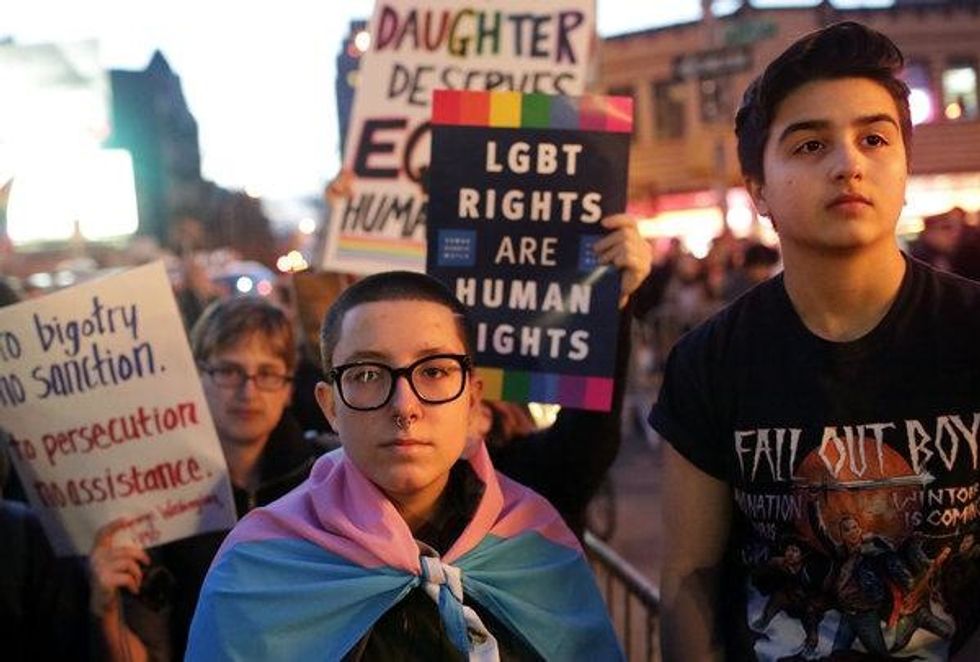 Spirit Daily
Now, HHS plans to present a new definition of "sex" to the Justice Department before the end of this year. The draft of the memo argues: "Sex means a person's status as male or female based on immutable biological traits identifiable by or before birth. The sex listed on a person's birth certificate, as originally issued, shall constitute definitive proof of a person's sex unless rebutted by reliable genetic evidence." If the Justice Department adopts the proposed legal definition, then sex will be restricted to male or female designations, with no legal option to change one's category in adulthood.

The impetus for the memo relates to the federal government's ability to distribute funding to educational services and its power to dictate the policies of those services. The drafted memo attempts to justify defining individuals' gender identity under Title IX of the Education Amendment Act of 1972, which "prohibits discrimination on the basis of sex in any federally funded education program or activity." The claim is that all federal agencies need to adopt a concrete and uniform definition of "sex" in order to comply with the law; in reality, the attempt is the latest in a series of maneuvers to restrict the transgender community's rights. Over the last year, President Trump has attempted to ban transgender people from serving in the military. Contentious political debate has also surrounded the right of transgender individuals to use public restrooms that align with their gender identity rather than their sex assignment at birth.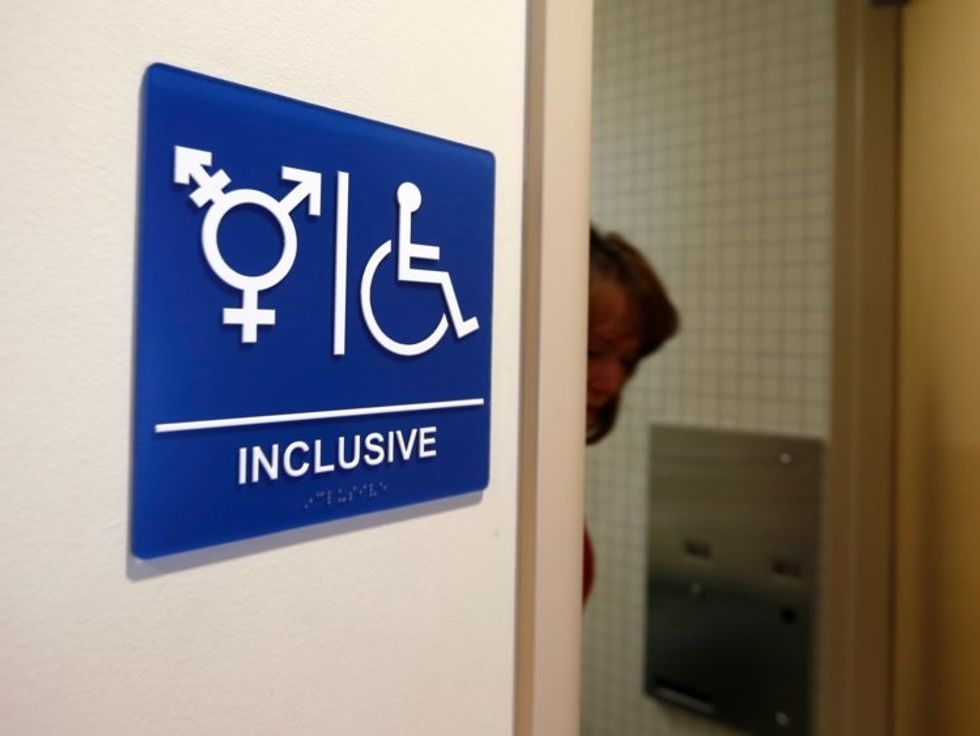 Business Insider
If the proposed definition is approved by the Justice Department, then an estimated 1.4 million transgender Americans could have their right to self-identity negated by U.S. law. Public spaces like locker rooms and bathrooms could become oppressive and discriminatory places that contradict America's putative legal bans of discrimination based on race, color, religion, national origin, age, disability, and sex.

HHS spokeswoman Caitlin Oakley went on record, "We do not comment on alleged, leaked documents that purport to indicate the status of deliberations or the focus of the department," yet she criticized, "The Obama administration's broad definition of 'sex' was enjoined by a federal court on a nationwide basis in December 2016 and the Obama administration did not appeal. That court found that the Obama administration regulation was overbroad and inconsistent with the text of the 1972 Title IX law prohibiting discrimination on the basis of sex."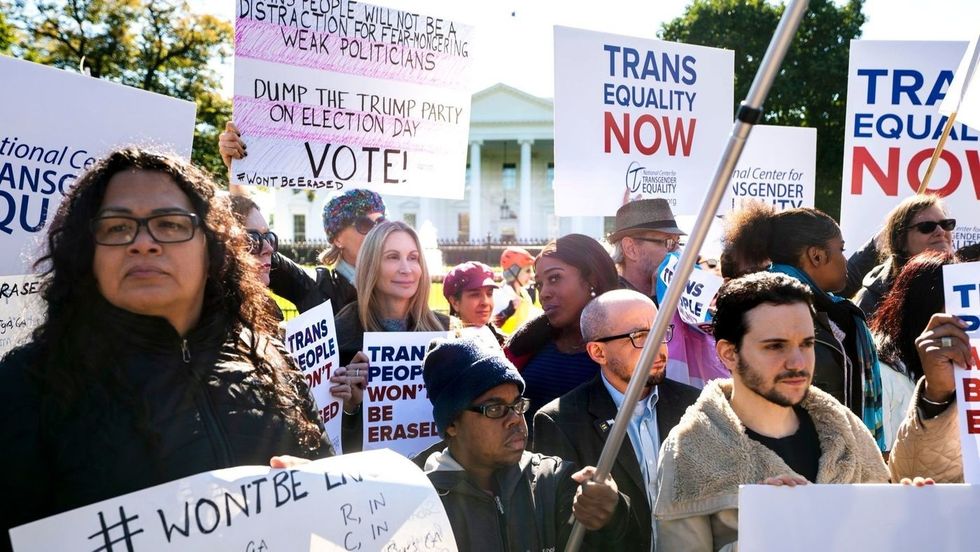 Los Angeles Times
In a response posted by Psychology Today, Elizabeth J. Meyer, Ph.D. castigates the administration for its ignorance, stating, "The authors of this memo are under-informed or misusing terms and concepts that are generally agreed-upon by most active members of the scholarly community who research sex and gender." Dr. Meyer enumerates that gender allows for diverse expressions of the self and is not an "immutable, biological" category, sex is recognized by the medical community as a multifaceted set of characteristics, and gender is constructed by social institutions that have "harmed many people and led to long-term harm" when prescribed in rigid and oppressive regimes.

"This narrowing of civil rights protections – which on its surface impacts a small percentage of the population – in actuality harms us all," Dr. Meyer attests.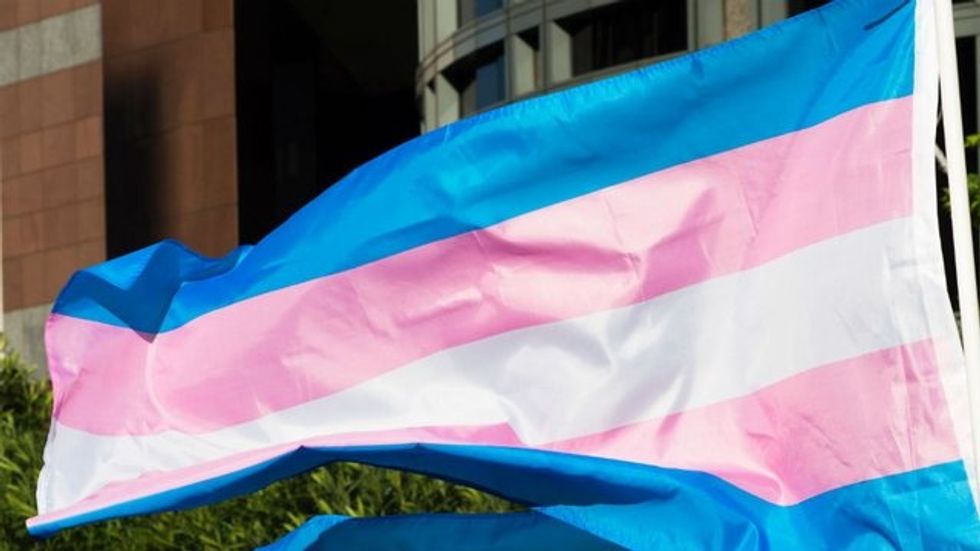 The Hill
In fact, the federal imposition of a single, rigid definition of "gender" also highlights how divisive social issues give rise to tensions between state and federal governments. Earlier this month, New York City Mayor Bill de Blasio signed into law a provision that added a third gender category ("X") on birth certificates. New York City joined five other states to do so, decreeing that restrictions to male and female categories discriminate against non-binary, gender-nonconforming, and transgender people. With five states taking action to widen their local law's recognition of gender identities and the federal government pushing to narrow them, the conflict rests between state and federal administrations. If the U.S. government is seeking to codify the gender binary into law, then what power will the states have to counteract it? Who will listen?

Meg Hanson is a Brooklyn-based writer, teacher, and jaywalker. Find Meg at her website and on Twitter @megsoyung.