Dall-E Mini, the AI-powered text-to-image generator has taken over the internet. With its ability to render nearly anything your meme-loving heart desires, anyone can make their dreams come true.
DALL-E 2, a portmanteau of Salvador Dali, the surrealist and Wall-E, the Pixar robot, was created by OpenAI and is not widely available; it creates far cleaner imagery and was recently used to launch Cosmpolitan's first AI-generated cover. The art world has been one of the first industries to truly embrace AI.
The open-sourced miniature version is what's responsible for the memes. Programmer Boris Dayma wants to make AI more accessible; he built the Dall-E Mini program as part of a competition held by Google and an AI community called Hugging Face.
And with great technology, comes great memes. Typing a short phrase into Dall-E Mini will manifest 9 different amalgamations, theoretically shaping into reality the strange images you've conjured. Its popularity leads to too much traffic, often resulting in an error that can be fixed by refreshing the page or trying again later.
If you want to be a part of the creation of AI-powered engines, it all starts with code. CodeAcademy explains that Dall-E Mini is a seq2seq model, "typically used in natural language processing (NLP) for things like translation and conversational modeling." CodeAcademy's Text Generation course will teach you how to utilize seq2seq, but they also offer opportunities to learn 14+ coding languages at your own pace.
You can choose the Machine Learning Specialist career path if you want to become a Data Scientist who develops these types of programs, but you can also choose courses by language, subject (what is cybersecurity?) or even skill - build a website with HTML, CSS, and more.
CodeAcademy offers many classes for free as well as a free trial; it's an invaluable resource for giving people of all experience levels the fundamentals they need to build the world they want to see.
As for Dall-E Mini, while some have opted to create beauty, most have opted for memes. Here are some of the internet's favorites:
There's no looking back now, not once you've seen Pugachu; artificial intelligence is here to stay.
POLITICS
The Cognitive Dissonance Between Commemorating D-Day and Supporting Trump
Galerie Bilderwelt
How can one commemorate all that D-Day represents while cheering on the nationalist Trump administration as it attempts to dismantle the very alliances America solidified during WWII?
75 years ago today, on June 6, 1944, the Allied forces landed on the Nazi-occupied beaches of Normandy, liberating France and laying the foundation for Allied victory on the Western Front; this operation came to be known as D-Day.
But while many Americans are using the anniversary to commemorate the Greatest Generation's historic valor, it's important to recognize that anyone doing so while continuing to support Donald Trump and the current far-right agenda are blatant hypocrites. After all, D-Day was an international effort against fascism. So how could one possibly justify commemorating all that D-Day represents while cheering on a hyper-nationalist, identitarian administration attempting to dismantle the very alliances America solidified during WWII?
D-Day was a collaborative effort involving the United States, the British Empire, Canada, Australia, Czechoslovakia, France, Norway, and Poland. One might even categorize such an effort as globalist. The allied forces were fighting against an oppressive regime based around white nationalist superiority and discrimination against ethnic and LGBTQ minorities. The Nazis were also notorious for killing non-white children. All of these factors echo actions committed by the Trump administration—but it's different when America does it, right? Or maybe we just need to wait until our atrocities reach the level of the Nazis.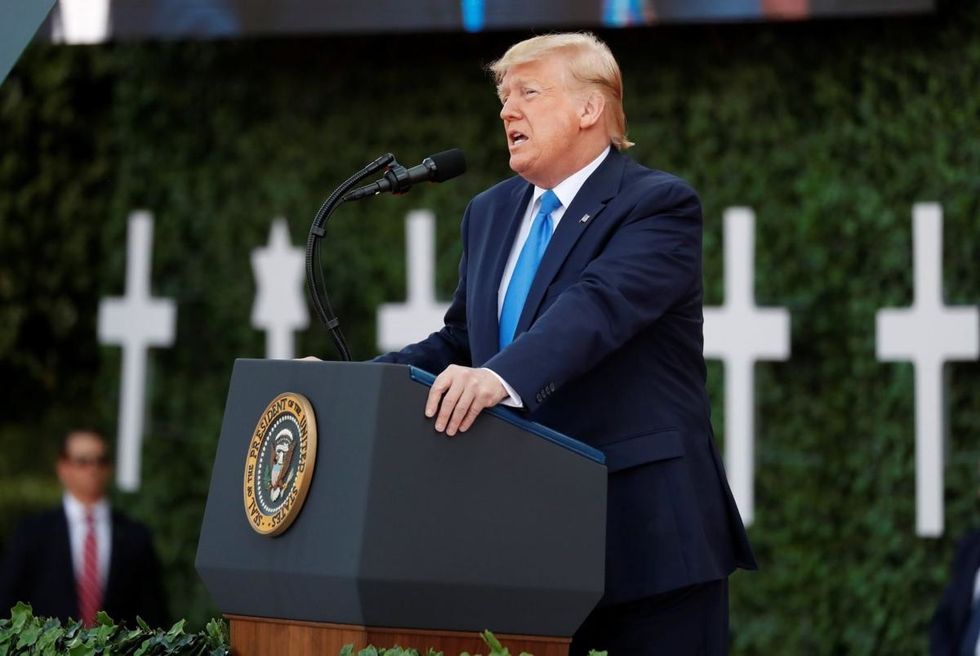 Trump speech on D-DayREUTERS
Meanwhile, the Trump administration is working tirelessly to soil every good relationship America has around the globe, alienating Canada, France––the whole EU, really––and multiple other trading partners. Australia just barely dodged the bullet. Make no mistake, Trump is dictatorially-minded with a penchant for obstructing established government oversight at every turn. The fact that he hasn't done more damage yet is a testament to the tentative functionality of our checks and balances, which he's challenged at every turn. To continue supporting Donald Trump is to support the same ideological basis we fought against during World War II.

The question, then, is how are so many Americans capable of both publicly memorializing D-Day and also supporting Donald Trump? For some, like Senator Lindsey Graham, the answer is likely that they have embraced their own hypocrisy.
But for many, the reasoning is probably far less intentional. Cognitive dissonance is a psychological phenomenon characterized by the discomfort caused by holding two conflicting beliefs at the same time. It's possibly the reason why many Trump supporters double-down when confronted with evidence contradictory to their views. Digging one's heels into the ground and refusing to acknowledge hypocrisy is a much more soothing solution than addressing one's own ideological inconsistencies. This explains how Trump supporters can both love the idea of Americans fighting fascist regimes while supporting a fascist regime themselves. They tell themselves that the Nazis were "real" fascists and then excuse away all of Trump's fascist actions. They further solidify this belief by pretending that left-leaning people are the "real" fascists, because how dare they call Trump fascist in the first place and demonetize hate speech on YouTube.and...women in video games, or whatever.
So what's the best way to really commemorate D-Day, a day when Americans banded together with our global allies to kick fascism's ass? By praising our divisive, nationalist president for reading something off a teleprompter? Somehow, that doesn't seem right. After all, D-Day is about fighting Nazis, not fellating them. Perhaps one could think it over at Wendy's––milkshakes are especially nice this time of year.