Dall-E Mini, the AI-powered text-to-image generator has taken over the internet. With its ability to render nearly anything your meme-loving heart desires, anyone can make their dreams come true.
DALL-E 2, a portmanteau of Salvador Dali, the surrealist and Wall-E, the Pixar robot, was created by OpenAI and is not widely available; it creates far cleaner imagery and was recently used to launch Cosmpolitan's first AI-generated cover. The art world has been one of the first industries to truly embrace AI.
The open-sourced miniature version is what's responsible for the memes. Programmer Boris Dayma wants to make AI more accessible; he built the Dall-E Mini program as part of a competition held by Google and an AI community called Hugging Face.
And with great technology, comes great memes. Typing a short phrase into Dall-E Mini will manifest 9 different amalgamations, theoretically shaping into reality the strange images you've conjured. Its popularity leads to too much traffic, often resulting in an error that can be fixed by refreshing the page or trying again later.
If you want to be a part of the creation of AI-powered engines, it all starts with code. CodeAcademy explains that Dall-E Mini is a seq2seq model, "typically used in natural language processing (NLP) for things like translation and conversational modeling." CodeAcademy's Text Generation course will teach you how to utilize seq2seq, but they also offer opportunities to learn 14+ coding languages at your own pace.
You can choose the Machine Learning Specialist career path if you want to become a Data Scientist who develops these types of programs, but you can also choose courses by language, subject (what is cybersecurity?) or even skill - build a website with HTML, CSS, and more.
CodeAcademy offers many classes for free as well as a free trial; it's an invaluable resource for giving people of all experience levels the fundamentals they need to build the world they want to see.
As for Dall-E Mini, while some have opted to create beauty, most have opted for memes. Here are some of the internet's favorites:
There's no looking back now, not once you've seen Pugachu; artificial intelligence is here to stay.
POLITICS
The Cuck Zone Looks Pretty Chill: Why the American Right Wing Can't Be Satirized
Chelsea Saunders
In 2005, while debating creationism in a thread on christianforums.com, a writer named Nathan Poe accidentally engineered one of the Internet's most prevailing theorems:

"Without a winking smiley or other blatant display of humor, it is utterly impossible to parody a Creationist in such a way that someone won't mistake for the genuine article."
Now known as "Poe's Law," the definition has grown to encapsulate all extremist ideologies. Essentially, Poe's Law states that it is impossible to parody extremism online without first stating authorial intent, as no matter how absurd the parody, some readers will mistaken it as genuine.
So on that note, welcome to the Cuck Zone.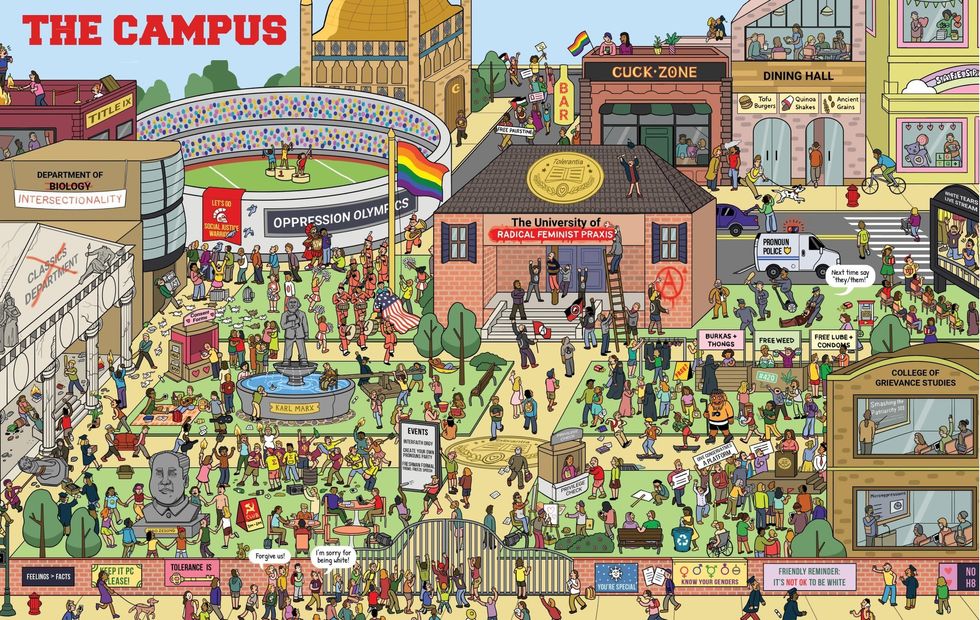 Chelsea Saunders
Popularly named after the Cuck Zone bar at the image's top-center, "Cuck Zone" is a Where's Waldo-esque illustration depicting the absurdity of liberal colleges. Along with the titular bar where, presumably, everyone is a cuckhold, there are actual Oppression Olympics, a pronoun police van, a white tears livestream, and of course, free weed.
It's a funny image no matter how you look at it, but it's especially funny when shared unironically by right-wingers who don't realize that they're the butt of the joke. Because, as it turns out, the Cuck Zone is satirical.
In fact, it was drawn for our magazine by a left-wing Black woman, to parody the right's ludicrous vision of what c… https://t.co/HPdez7rYye

— Current Affairs (@Current Affairs) 1589206928.0
The image originated in Current Affairs magazine with the title "The Campus Seen Through The Eyes of US Conservatives." This means that, at some point, someone photoshopped out the bulk of the title and re-shared it as a genuine reflection of their views. Then, left-wing people found the image being shared unironically and began sharing it ironically without realizing that they were sharing it as it was intended to be shared in the first place.
All of which is to say, Poe's Law prevails once again.
Poe's Law in action. Somebody took this parody image, removed "as it exists in the mind of a U.S. conservative," an… https://t.co/Ics8dUYGLy

— Stan Patton (@Stan Patton) 1589219086.0
The sad truth is that America's Overton Window has moved so far right over the past few decades (but especially during the past few years) that even baseline right-wing ideology is indistinguishable from extremism. We're reached a point where the majority of American Republicans believe that college education is bad. To be clear, the mainstream American right-wing platform has congealed around the criminally inept Trump administration and a rejection of education in favor of willful ignorance. This is truly beyond the pale.
But at least as we wait for the inevitable destruction of America, we can take solace in the "Cuck Zone," a left-wing interpretation of a right-wing fantasy that actually would be really cool because who doesn't love free weed?
Related Articles Around the Web