We're looking at you, ExxonMobil.
Gucci has announced that it wants to go carbon neutral.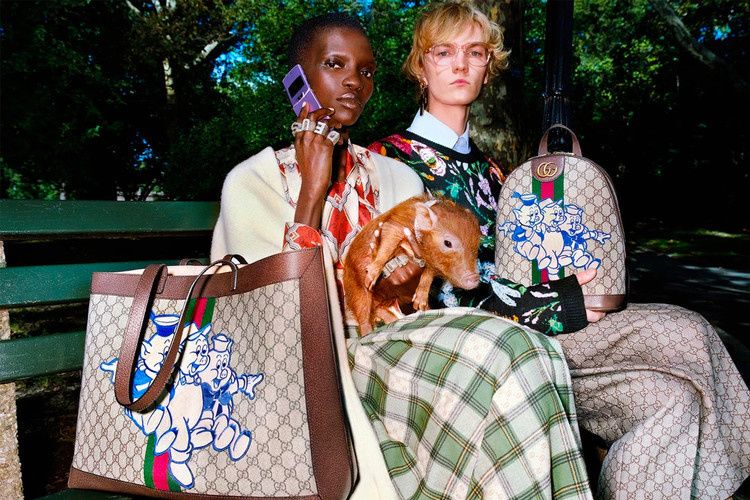 hypebeast.com
The company's CEO, Marco Bizzarri, just confirmed that the company will be purchasing carbon credits that cancel out the emissions of all the people who attend its upcoming Milan fashion show.

The high fashion brand has been working on their eco-friendliness for a while, launching a ten-year sustainability plan in 2018 and swearing off fur products the year prior.
Next up, the 100 fossil fuel companies that are responsible for 71% of the world's global emissions should go carbon neutral, shutting down or changing their product from fossil fuels to reusable energy.
Particularly, the 25 companies that are responsible for half of global emissions in the past three decades should consider offsetting their toxic effects (from selling a deadly substance that will kill us all, slowly and painfully) by paying a few trillion dollars in carbon credits and reparations to the communities they have destroyed.
It's great that eco-friendliness is fashionable now. It's awesome that high fashion companies are trying to go carbon neutral by buying carbon credits, even though carbon offsets are definitely not going to be enough to stop the climate crisis.
It would be even greater if ExxonMobil, Shell, BP, ConocoPhillips, Suncor, Saudi Aramco—and all the other companies bankrolling politicians that deny climate change, obfuscating decades of scientific research, and making it virtually impossible to stop climate change no matter how many models strut around in faux fur—would do the same.
The world is both hotter and more overcrowded than ever before. Naturally, these things are intertwined.
World Population Day was established in 1989 by the United Nations Council in order to draw attention to population issues. Back then, the world's population stood at 5.198 billion. Thirty years later, there are 7.7 billion people in the world, with an estimated 360,000 more being born each day.
It's hard to think about overpopulation without thinking about climate change, which threatens the livelihoods of every single one of these new children.
Climate change's consequences have already begun to emerge, and needless to say, they will worsen exponentially if climate change continues at its current rate. Effects include rising sea levels, tens of thousands of heat-related deaths, polluted air, a spike in chronic illnesses, severe droughts, mass extinctions that ruin ecological systems and destroy agriculture, and many natural disasters such as hurricanes and wildfires that will devastate infrastructure and generate massive flows of refugees. We've already seen these things, in the devastating 2018 California wildfires, in hurricanes like Sandy and Maria, in the drought that was a root cause of the Syrian refugee crisis, and in so many other instances.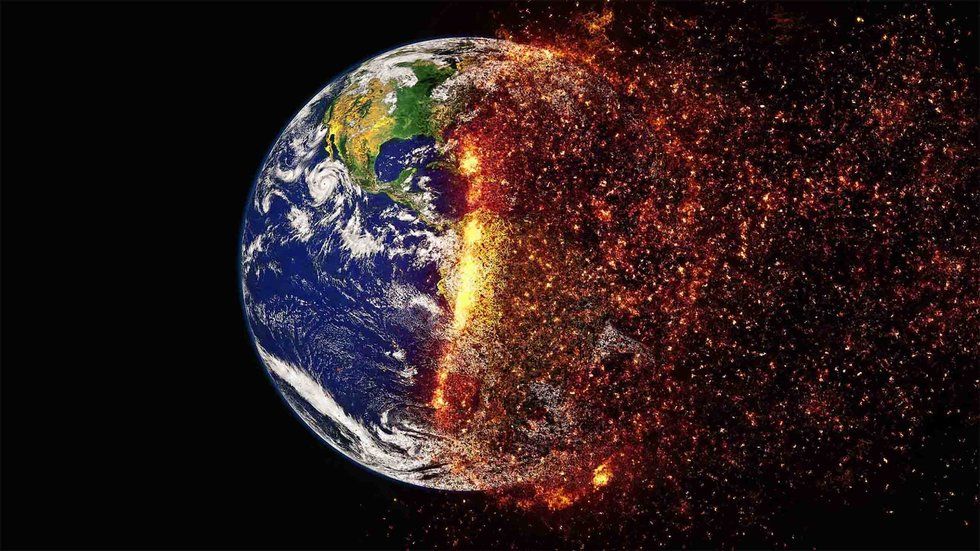 Image via Undark
These events are only the tip of the iceberg. A 2018 UN report announced that we have twelve years to reverse the worst effects of climate change; if we fail to essentially keep temperatures from rising above 1.5C, hundreds of millions of people will suffer the consequences.

Certainly, the vastness of our world's population is a root cause of this deadly warming. According to Business Today, "One of the greatest consequences of growing population, which is perhaps a great threat to our livelihood as well, is the quick depletion of natural resources." More people means more carbon burned, more resources consumed, more people falling through the cracks.
In a merely theoretical sense, it seems logical that humanity's population explosion would happen concurrently with exponential climate change and ecological disaster, because the way our population has grown is anything but natural.
Prior to the Industrial Revolution, human society followed a particular law: As populations grow, food supplies decrease, and so the population decreases, and the food supply increases. This is the same rule that keeps animal populations in check. However, since the dawn of industry, human beings have been producing more and more food and resources to support our burgeoning population, effectively placing ourselves at the top of the food chain, subsequently displacing animal populations, and decimating our natural resources.
Now, we are reaching a breaking point.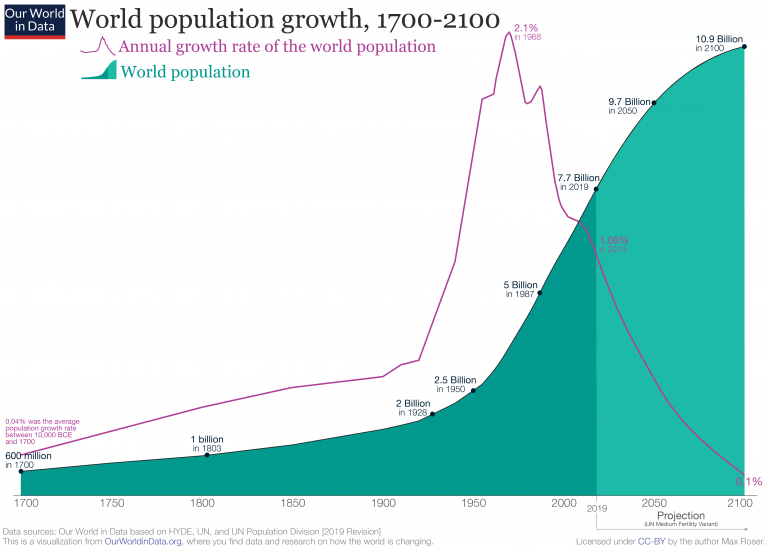 Image via MarketWatch
However, it's too simplistic to say that the amount of people in the world is directly proportional to the rate of climate change. It's true that the locations where the largest percentages of children are being born are the places that will be most severely damaged by the rising tides and hurricanes that are stemming from warming. According to Time Magazine, rapid population growth will only lock these nations into cycles of poverty, making it extremely difficult for these places to rebound from climate change's effects. However, these places are not the ones producing the majority of carbon emissions: That honor is reserved for developed countries, like the US.

The real cause of climate change is not overpopulation alone. It's the mentality that has allowed oil companies to grow into the massive corporations they are; and that has allowed Americans, who comprise 5% of the global population, to consume 25% of the world's resources, and that has allowed many childless couples in the US to consume far more resources than couples with children. That mentality has led us to accumulate endlessly without paying any heed to natural balances or equity.
Therefore, reducing the population is actually not the most important step that needs to be taken in order to combat climate change. This is because, according to Vox, it's not that the resources we have can't support a larger population: the US could successfully feed 400 million people simply by consuming locally what we are currently exporting. The problem is that we can't maintain the kinds of resource-guzzling, carbon-based lifestyles that we—and particularly, the extremely wealthy—have become accustomed to living. Simply reducing the number of people but not addressing our society's problem with carbon and consumption will have a negligible effect on the climate. In actuality, lower fertility rates can lead to higher GDP, as childless folks can accumulate more resources that they in turn spend on flights and other energy-guzzling activities.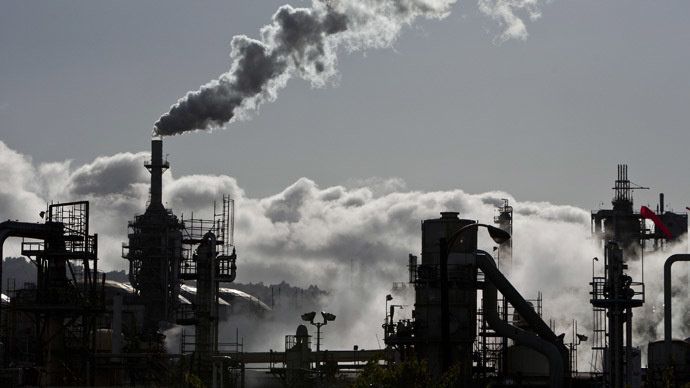 Image via RT.com
Though population control would help, it's far more important that we figure out how to re-distribute resources in a sustainable way, rather than wasting such a vast amount of resources like we do in America. In the end, slashing carbon emissions—and, concurrently, shifting our cultural obsession with accumulation and individualism to an emphasis on egalitarianism—is still by far the most important thing we can do for the climate.

Even so, having fewer children and making education and birth control more widely accessible would be hugely significant overall. Furthermore, deciding not to have a child is totally a viable, impactful way to combat climate change (and it's possibly even the ethical choice, given the ecological mess that new generations will find themselves involuntarily subjected to).
Because if we remain on the path we're on? The population will just continue to expand, hitting a projected 8 billion by 2050. Soon enough, natural disasters will result in the deaths of millions; more people will starve or die in refugee camps; and then, as water becomes undrinkable and the planet becomes too hot for any growing thing, that will be the end of this whole experiment called life.
It's much easier to certify the free-range, grass-fed provenance of a hamburger than it is to guarantee that tourmaline gemstone is conflict-free.
"Knowing the lineage of a crystal is somewhat akin to knowing where the meat you're eating came from," LA-based energy healer Colleen McCann told Goop in an article on the eight crystals every follower of the new New Age should know.
But there's a hitch. It's much easier to certify the free-range, grass-fed provenance of a hamburger than it is to guarantee that tourmaline gemstone is conflict-free. Crystals aren't just shrouded in mysticism; often their source is shrouded in straight-up mystery, as the New Republic recently reported.
"Imagine if someone who owned a burger joint had to figure out the entire agriculture meatpacking industry," Julie Abouzelof, owner of Hawaii's Moonrise Crystals, told the magazine. "Except there's 1,000 different meats, and nobody's farm is listed online, and even when you meet the farmer in person, they don't want to talk to you."
Crystals and gemstones are mined on every continent on Earth, and the process isn't universally bad news. In the U.S., you can dig-your-own crystals, just as you can pick-your-own strawberries. There are also small family- and state-owned mines with environmentally friendly operations. Among crystal sellers online, some are transparent about where their rocks are from.
Others just don't know.
"It's not like this is some big conspiracy cover up," Abouzelof told the New Republic. "The sellers just don't always know."
What they don't know could hurt many people. Some crystals come from large-scale industrial gold, copper and cobalt mine; the crystals aren't what miners are after, they're the profitable byproduct on the hunt for gold. In the US, these mines have had a deleterious effect on the environment, including groundwater contamination. In New Mexico, both the State and U.S. Department of Justice have filed natural resource claims against the Tyrone Copper Mine for damages to water and wildlife. It's the same mine that produced this large blue chrysocolla—a "supportive goddess energy stone," reported The New Republic,
And that's in the United States where the industry is regulated. In the Democratic Republic of Congo, children as young as seven work the cobalt and copper mines in the country's Katanga region that contain deposits of minerals like tourmaline, amethyst, citrine, blue and smoky quartz.
At the annual Gem, Mineral and Fossil Showcase in Tucson, Arizona, Abouzelof chose not to buy a relatively cheap supply of jade when she learned it had been mined in Myanmar. The New York Times has compared Myanmar jade to blood diamonds; its extraction has "helped finance a bloody ethnic conflict and unleashed an epidemic of heroin use and H.I.V. infection among the Kachin minority who work the mines."
Those are the kind of bad vibes that can't be cleansed from a gemstone bathing in the light of the full moon.
But should the murky provenance of crystals keep you from getting your goddess on with the stones? If it's human rights your worried about, your cell phone is probably a bigger ethical dilemma than your crystal collection, writes crystal healer and seller Hibiscus Moon. The so-called "conflict minerals" in our electronics fund human atrocities in the Democratic Republic of Congo, she writes, and "are the ones we need to concern ourselves with." Tony Nikischer, president of Excalibur Mineral Corporation, told Emily Atkin at the New Republic that crystal mining "certainly is not a 'despoiler of the earth' activity as some large scale mining operations in foreign countries may be."
Maybe your rose quartz really will help usher in true love. But if you can't be sure you're not causing suffering of another human spirit to praise something pretty in pink on your altar, it might not be worth it.
"You could give up the habit and leave those pretty rocks where they belong," writes Katie Herzog at The Stranger, "in the earth."
Is there truth behind going green and can it really help save the planet?
So many campaigns want you to recycle, avoid creating trash and reduce your carbon footprint. There are many, many tips online to living a green lifestyle. And many people are attempting to reduce waste and conserve energy — but is this enough to really make an impact?

Sure, if every single person (or at least most people) in developed societies lived an eco-friendly lifestyle, there would be a significant impact on the environment. But right now, about 75 percent of Americans don't do more than turn off the lights and recycle even though about 79% consider themselves environmentally conscious.
...fossil fuels are intertwined with pretty much everything we do.
If you live in an urban area, it might be a little easier to make more green lifestyle choices. Your city probably has the ability to recycle more than in other areas. You have access to public transportation and many more options when it comes time to shop or get groceries. These options just aren't as widely available in suburban and rural areas. Some municipalities don't even have any kind of recycling plant. Everything (including plastic, paper, bottles and cans) goes to the dump. Beside the fact that going through the effort to change your lifestyle to become more green takes time and money that some just can't spare.
But let's take a step back. Even if a lot of people do everything right and live an incredibly environmentally conscious lifestyle, nothing will really change. Why? Because fossil fuels are intertwined with pretty much everything we do. The solution to global warming isn't rooted in going paperless (using paper is more eco-friendly than smartphones anyway). The solution is in fundamentally changing the very fabric of our economy. That's not something individuals can do on their own.
Almost everything you buy and consume has to be transported to the store (for you to purchase. Within the country, this is done with trucks. Overseas, it's usually done with ships or planes. Every single one of those vehicles burns some type of fossil fuels to get going. You probably burn them when you're going to the store too. (You can't really get around this by ordering online either.)
In the end, using an electric car can actually put more carbon in the atmosphere than your average gas-powered car.
Electric cars are often seen as a solution for this. It's better to use electricity than gas, right? Definitely — if most of the power didn't come from burning fossil fuels. America's power grid is powered by about 40 percent coal, 25 percent natural gas, 20 percent nuclear power and about 10 percent renewable sources (mostly hydroelectricity). If you own or are considering an electric car, you would most likely still be burning fossil fuels. And that's not even taking into account everything that goes into making a new car. Just like a regular car electric vehicles require precious metals and minerals to be manufactured. What's more is all of the materials and parts are transported using fossil fuels as well as the final product itself. In the end, using an electric car can actually put more carbon in the atmosphere than your average gas-powered car.
Just about every facet of our modern economy depends on burning fossil fuels. That isn't something one person can change. To really live a sustainable and eco-friendly lifestyle, we need to change everything about how we live. That just isn't an easy process.
Of course, it still helps to reduce, reuse and recycle — but that only makes a relatively small impact compared to the overall economy. But it isn't all doom and gloom. The Paris Agreement was an encouraging step toward reducing carbon emissions around the world. If you really care about reducing your carbon footprint, the best solution is to organize and lobby companies and the government to change procedures and regulations. Ultimately, individuals independently choosing to live a greener lifestyle only makes a small impact in reducing our global carbon footprint.