"A tree is best measured when it is down," the poet Carl Sandburg once observed, "and so it is with people." The recent death of Harry Belafonte at the age of 96 has prompted many assessments of what this pioneering singer-actor-activist accomplished in a long and fruitful life.
Belafonte's career as a ground-breaking entertainer brought him substantial wealth and fame; according to Playbill magazine, "By 1959, he was the highest paid Black entertainer in the industry, appearing in raucously successful engagements in Las Vegas, New York, and Los Angeles." He scored on Broadway, winning a 1954 Tony for Best Featured Actor in a Musical – John Murray Anderson's Almanac. Belafonte was the first Black person to win the prestigious award. A 1960 television special, "Tonight with Belafonte," brought him an Emmy for Outstanding Performance in a Variety or Musical Program or Series, making him the first Black person to win that award. He found equal success in the recording studio, bringing Calypso music to the masses via such hits as "Day-O (The Banana Boat Song)" and "Jamaica Farewell."
Harry Belafonte - Day-O (The Banana Boat Song) (Live)www.youtube.com
Belafonte's blockbuster stardom is all the more remarkable for happening in a world plagued by virulent systemic racism. Though he never stopped performing, by the early 1960s he'd shifted his energies to the nascent Civil Right movement. He was a friend and adviser to the Reverend Doctor Martin Luther King, Jr. and, as the New York Times stated, Belafonte "put up much of the seed money to help start the Student Nonviolent Coordinating Committee and was one of the principal fund-raisers for that organization and Dr. King's Southern Christian Leadership Conference."
The Southern Poverty Law Center notes that "he helped launch one of Mississippi's first voter registration drives and provided funding for the Freedom Riders. His activism extended beyond the U.S. as he fought against apartheid alongside Nelson Mandela and Miriam Makeba, campaigned for Mandela's release from prison, and advocated for famine relief in Africa." And in 1987, he received an appointment to UNICEF as a goodwill ambassador.
Over a career spanning more than seventy years, Belafonte brought joy to millions of people. He also did something that is, perhaps, even greater: he fostered the hope that a better world for all could be created. And, by his example, demonstrated how we might go about bringing that world into existence.
You know the old saying — an ounce of prevention is worth a pound of cure. Doubly so on the internet.
Having one's digital life hacked is a little like death: We walk through daily life, blissfully unaware of its possibility, while all the while it dangles over our heads like the Sword of Damocles.
Rather than be caught unawares, surrendering bank account information and sexy selfies to nefarious, faceless internet criminals, follow these steps now to protect yourself. You know the old saying — an ounce of prevention is worth a pound of cure. Doubly so on the internet.
Use better passwords
That means no pet names, no birthdays, no kid names. Get creative with a complex string of upper and lowercase letters, numbers, and symbols. You might even think of this as an opportunity to give yourself a motivational phrase like, "Youarebrilliantin2019!" Set up passwords — and different ones! — on your voicemail, Wi-Fi, and individual apps for banking and email.
...and use a password manager
Password managers like 1Password and LastPass make logging into websites simple without leaving yourself vulnerable to problematic browser autofill. One master password gains access to all the others, so you want it to be long and complex with numbers and special characters so not even the most determined hacker can guess it. From there, the password manager takes care of all your other password.
Employ multi-factor authentication
Sheera Frenkel, who writes about cybersecurity for The New York Times, says that a password manager and multifactor authentication "are the bare minimum of what we should all be doing. And even with all that, I just assume I'm going to be hacked any day." Here's how to set up multi-factor authentication on Apple, Google, Instagram, and more.
Keep your operating systems up-to-date
Most successful hacks exploit vulnerabilities of out-of-date operating systems. When Apple or Android tells you an update is ready, download and install it. Ditto with apps. Keep them up-to-date to protect against data breaches, and be mindful which ones you download. No longer using Shazam or Tinder? Delete 'em.
Use "Find My Phone"
You can set your phone to automatically erase itself after a certain number of incorrect passcode attempts. You can also use Apple and Google's "find my device" services, which can locate your phone on a map, remotely lock it, make it ring or the nuclear option — delete it entirely.
Beware open wifi
The danger isn't in your local Intelligentsia — though you shouldn't log into your bank accounts on any open networks — but if you're ever unsure about a wireless network, stick with your phone's mobile internet connection or use a VPN, which routes your activity through a private encrypted connection. Here's a recent rating of VPN services by PC Mag to help you choose.
There's no such thing as 100% security but following these steps will keep your digital data as safe as a citadel.
These apps are free to download, but they seduce you into spending.
These apps may be free to download, but once they're on your phone, you're likely spending cold hard cash when you use them. Delete or spend at your own peril!
Data-suckers
When Dan Frommer of Quartz took a look at which of his apps were gobbling up most of his data usage, he was surprised.
"Twitter turns out to be my biggest 'expense,' he wrote. "This seemed surprising at first: isn't Twitter just 140-character text snippets? But with all the photos and videos in the Twitter stream today, plus loading websites in the built-in browser, addict-level usage adds up." Next in line, Instagram.
If you're only using these apps on wifi, you're not spending by scrolling. But if you can't resist seeing what your ex is up to when you're sitting in the no-wifi dentist's waiting room, then it's gonna cost you. Delete and set yourself free.
Instagram
Sure, it's free, and yeah, you're just using it for fitness inspiration or keto recipes or whatever you tell yourself. But Instagram's super-targeted, compelling, and on-point ads may be causing you to click-to-buy products you'd never otherwise consider. You know: the miracle exfoliator, the chicest workout leggings, the meal kit that will make your life easier and way more delicious.
Seven out of ten hashtags on Instagram are branded, which means most of the time you're interacting with advertisers whether you realize it or not. In 2016, at least thirty percent of Instagram's users had purchased a product they first discovered on the platform; in 2018, when the monthly users were up to 1 billion on the platform, there was sure to be even more app-driven purchases. And yes, we speak from personal experience.
Amazon
You love your Prime, we know. We do too. But all the seductive lure of those free deliveries is causing you to spend beaucoup bucks. When you've got the phone in your hand and one-click buying activated, a new backyard hammock or silky nightgown or kitchen gadget is one tap away. And the taps add up.
Research has shown that Prime members spend an average of $1,300 per year on Amazon, compared with just $700 for non-Prime customers. Take the app off your phone and you might find a new way to fund that trip to Portugal you've been dreaming of.
Don't stop at Amazon; this goes ditto for all your go-to shopping apps, like ShopBop and Etsy. According to App Annie, time spent on Amazon, Amazon Shopping, Wish, Etsy and Zulily grew 44 percent in the first half of 2017 compared with the first half of 2016. If you're spending time, you're probably spending money.
Food Delivery Apps
Any time you're making convenience too, well, convenient, you're hurting your wallet. Consider dinner. Between taxes, service fees, delivery charges and driver tips, a $10 burrito can easily turn into a $20 mindless splurge.
Americans spend an average of $63 a month on food delivery services. that's $756 a year — enough for a round-trip ticket to Europe. When HuffPost editor Janie Campbell wrote about her reliance on Postmates, she found that the had spend $287.71 on delivery fees and another $70.88 for additional fees in the first 22 days of a month.
Delete that app and use your phone the old-fashioned way — to call in a pick-up order. Or save mondo bucks by learning a few easy-to-whip up pantry meals; soon enough you'll have saved enough to eat ramen in Tokyo.
What's happened in September throughout history? A lot.
Liberty Project Time Capsule: A look back in history at what's happened this month throughout time.
September 1, 1939— At 5.30 a.m., Hitler's armies invaded Poland beginning World War II in Europe. During the invasion, which lasted one month and five days, there were 66,000 casualties, 133,700 wounded, and 694,000 captured.
September 2, 1666— The Great Fire of London (pictured above) began in the house of King Charles II's baker on Pudding Lane near London Bridge. Over the next three days, the fires raged, destroying most of London. Miraculously, fewer than twenty people are reported to have died in the fires.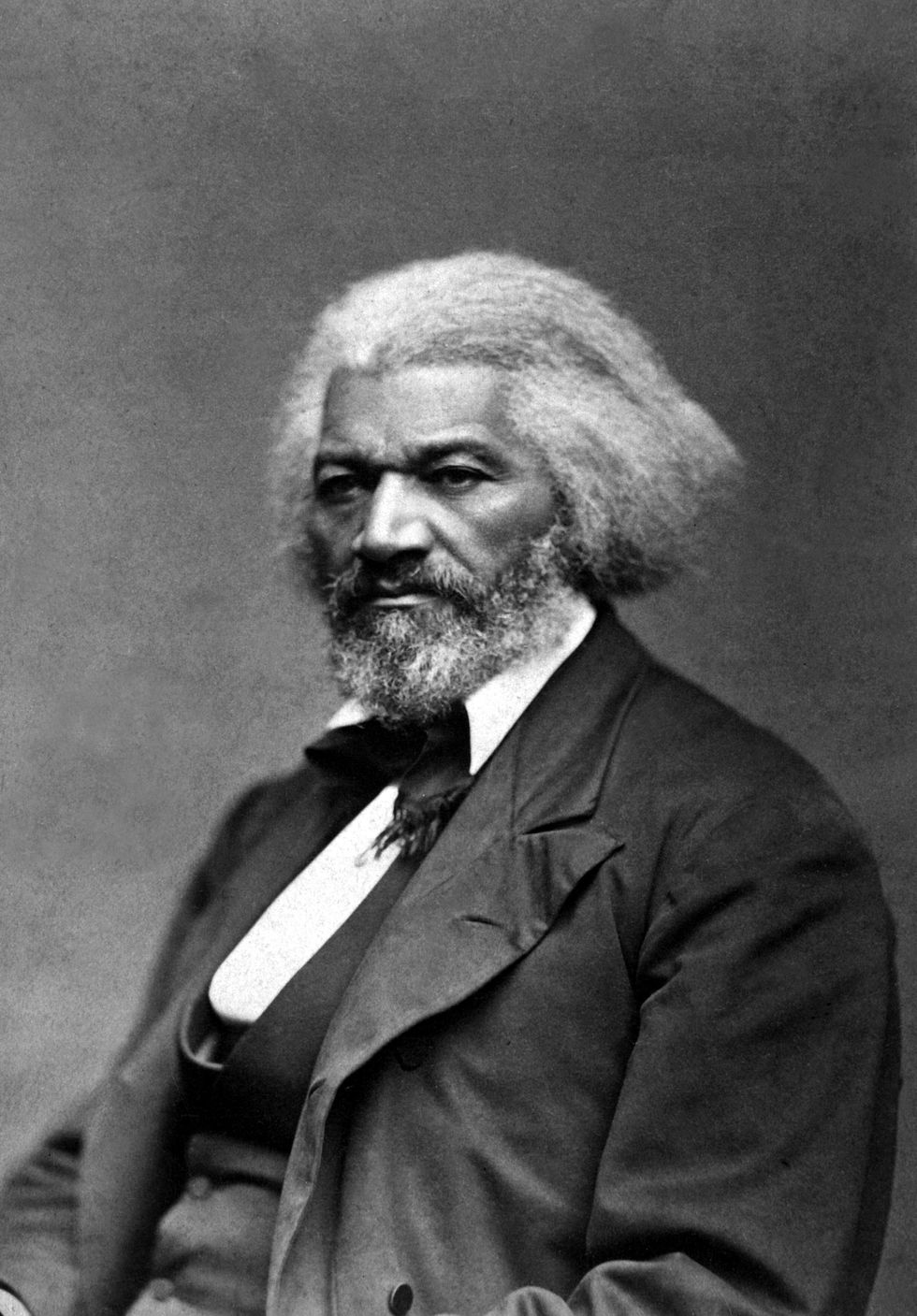 September 3, 1838— In his second attempt to escape slavery, Frederick Douglass boarded a train in Baltimore disguised as a free black sailor. Twenty-four hours after embarking on his journey — in which, he wrote in his autobiography, "Minutes were hours, and hours were days during this part of my flight" — Douglass arrived in New York where he came under the protection of the Underground Railroad.
September 4, 1609— Henry Hudson "discovered" Manhattan. On the same day, nearly two-hundred years later, the city of Los Angeles is founded by the Spanish Governor of California, Felipe de Neve. The original name was El Pueblo de la Reina de Los Angeles (The Town of the Queen of the Angels).
September 5, 1997— Mother Teresa died in Kolkata, India at age 87, where she had lived her life serving those in extreme need — including lepers, the homeless, and the poorest of the poor — through the organization she founded, the Missionaries of Charity. "The most terrible poverty is loneliness, and the feeling of being unloved," she said.
September 8, 1974— A month after resigning the presidency in disgrace as a result of the Watergate scandal, Richard Nixon was granted a full pardon by President Gerald R. Ford for all offenses committed while in office. "It could go on and on and on, or someone must write the end to it," Ford said. "I have concluded that only I can do that, and if I can, I must."
September 9, 1776— The Continental Congress gives our country the name by which we are now known, renaming the United Colonies, The United States.
September 11, 2001— The worst terrorist attack in U.S. history occurred as four large passenger jets were hijacked then crashed, killing nearly 3,000 people. "U.S. Attacked," reads the New York Times coverline the following day. "Hijacked jets destroy Twin Towers and hit Pentagon in day of terror."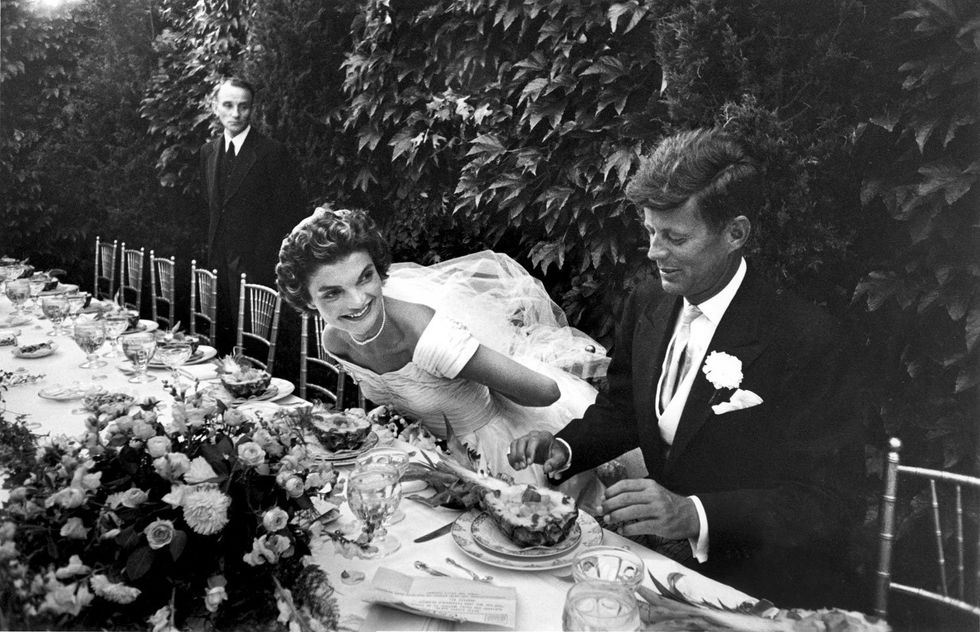 September 12, 1953— In the social event of the season, future president John F. Kennedy, 36, married Jacqueline Bouvier, 24. There were so many guests, it took the couple two hours to greet all of them in the receiving line.
September 14, 1927— Dancer Isadora Duncan was killed in a freak accident when her long scarf became caught in the spokes of a car wheel in which she was riding in Nice, France, strangling her. The same day, fifty-five years later in 1982, Grace Kelly died when her car her car plunged off a winding mountain road in Monte Carlo.
September 16, 1620— The Mayflower departed from England's shores with 102 passengers and a small crew, reaching Provincetown, Massachusetts on November 21st.
September 19, 1893— After two decades of campaigning by the Women's Christian Temperance Union, New Zealand became the first country to grant women the right to vote.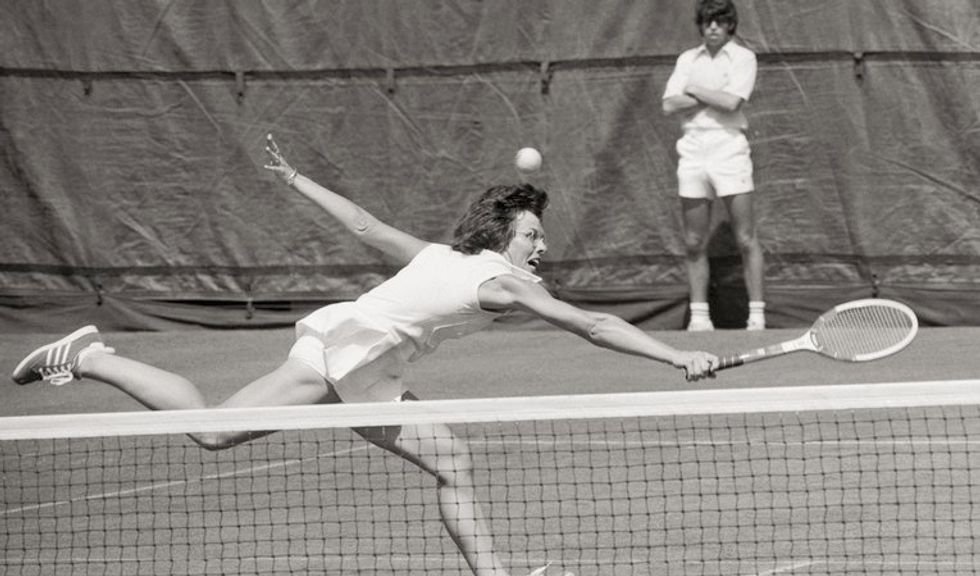 September 20, 1973— At the Houston Astrodome, 55-year-old tennis player Bobby Riggs is defeated in three straight sets by 29-year-old Billie Jean King in the much-hyped "Battle of the Sexes." "Ever since that day when I was 11 years old, and I wasn't allowed in a photo because I wasn't wearing a tennis skirt," Billie Jean King said, "I knew that I wanted to change the sport."
September 25, 1690— The first single and only edition of America's first newspaper, Publick Occurrences Both Foreign and Domestick, appeared in Boston, Massachusetts. The paper was intended to be published monthly, "or, if any Glut of Occurrences happen, oftener." Four days later, on September 29, the paper was shut down by British authorities.
September 30, 1955— Actor, heartthrob, and Rebel Without a Cause, James Dean, died in a head-on collision in California while driving his brand-new Porsche 550 Spyder. He was 24.
The sourcing of many vitamin supplements is murky at best.
When exercise and nutrition coach Ryan Andrews was researching his story for Precision Nutrition on how vitamins and minerals in nutritional supplements are sourced, he ran into some interesting—and frankly, ironic—informational barriers.
"I emailed Nature Made about vitamin B-1," Andrews writes. "They said: 'We appreciate your questions concerning our supplements. Nature Made Vitamin B-1 is manufactured in a laboratory from chemicals. It is synthetically made in our manufacturing facilities in Southern California.'"
Nature Made, in other words, is a bit of a misnomer.

Andrews shines a spotlight on the issue of vitamin sourcing in his article as he calls one company after another:
"I called Centrum. They don't have any information on where the nutrients in their products come from. They told me that their 'vitamins are synthetic and the minerals are derived from natural sources.'
I called Bayer (the maker of Flintstone's Vitamins) two times. They didn't provide any response about where their vitamin supplements are derived."
Such is the case with many vitamin supplements — synthetic or partially synthetic, and made, processed, or extracted using a host of petrochemical ingredients — the sourcing of which is on par with the crystal industry in terms of transparency.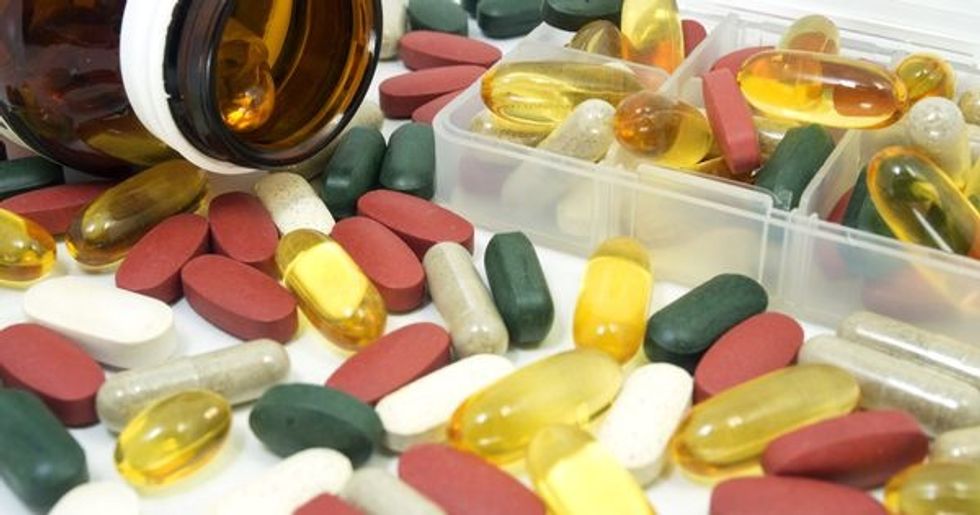 Naturopath Robert Thiel told The Australian that many companies use petroleum extracts in the extraction process and use coal tar derivatives, chemically processed sugar, acids, and industrial chemicals when processing their supplements. And while this may sound extreme, it's not all that uncommon, Australia's RMIT University professor of complementary medicine Marc Cohen told the paper. Petrochemicals are also commonly found in cosmetics, shampoos and medicines. Most standard vitamin supplements on the market today are "bio-identical," meaning a supplement is synthetic but mimics nature, with a molecular structure identical to the same nutrients occurring in nature. Manufacturers often prefer this process because of the cost and scarcity of natural resources. Lesley Braun, associate professor of integrative medicine and director of the Blackmores Institute, says rather than slaughter countless cows to get coenzyme Q10, it's made in labs by the Japanese. "It's bio-identical and proven very effective," she says.

But it's also possible to pop a food-based supplement whose origins came from the ground and not a test tube. Whole food supplements are made with blends of concentrated, dehydrated whole foods, sometimes with additional vitamins and minerals. Because the nutrients are combined as they are in natural foods, advocates argue, the body can use and absorb them better than nutrients in isolation.
The drawback of whole food supplements is their relatively low-potency. "The small doses often used in whole-food supplements are unlikely to confer significant benefits, given how easy it is for the body to rapidly use up micronutrients as a result of exercise, insufficient diet, stress, disease, environmental toxins, and genetic weaknesses," Jonathan E. Prousky, ND, chief naturopathic medical officer at the Canadian College of Naturopathic Medicine in Toronto told Delicious Living.
Which brings us back to what probably got you thinking about vitamin supplements in the first place. Are you getting enough? And can a vitamin help make up any deficit?
The USDA reported that the nutrient content of vegetables has fallen since 1973 due to the degradation of soil by fertilizers, pesticides, herbicides, irrigation, and other unsustainable farming practices. Of the vitamins we do ingest from whole foods, absorption can be as low as 20 percent. There are some supplements whose benefits have been well-studied, including: folic acid for pregnant women; iron for those with anemia; B-vitamins for those dealing with alcoholism; vitamin D; vitamin C; magnesium and CoQ10. What vitamins won't prevent is cancer or cognitive decline.
"Vitamin supplements have never been shown to provide the cancer and heart disease preventing effects of a healthy diet," David Cutler, MD, family medicine physician at Providence Saint John's Health Center in Santa Monica, CA told Prevention. In fact, the medical journal Annals of Internal Medicine published an article (with the cutting-to-the-chase headline "Enough is Enough: Stop Wasting Money on Vitamin and Mineral Supplements") noting there was no evidence that multivitamins had any effect on cognitive decline, heart disease, cancer, or overall mortality.
In 2006, the final word at the National Institute of Health State-of-the-Science Conference was that, "The present evidence is insufficient to recommend either for or against the use of MVMs [multivitamins/minerals] by the American public to prevent chronic disease." The Academy of Nutrition & Dietetics (AND) recommends that the best nutritional strategy for optimal health and reducing the risk of chronic disease is to eat a wide variety of whole foods. In the 2015-2020 Dietary Guidelines for Americans, the UDSA made the following recommendations:
Adults over age 50 should take a vitamin B-12 supplement
Older adults, people with dark-colored skin, and people who don't get much sunlight exposure should take a vitamin D supplement
Women who may become pregnant or are already pregnant, and are planning to carry their fetus to term, should take a folic acid supplement
"Taking a multivitamin is not a substitute for healthy eating," Alana Biggers, MD, MPH, assistant professor of clinical medicine at University of Illinois-Chicago College of Medicine told Prevention. The best way to get the vitamins and minerals you need is to eat a well-balanced diet of fruits, veggies, whole grains, and protein.
"The best has always been whole, organic food, in season and locally grown," professor Marc Cohen said. "Nature has being doing its job for years." The closer you can come to consuming nutrients in their natural form, the better, he added.
Exercise common sense in your kitchen and medicine cabinet by balancing a healthy diet with supplements, understanding that the more you can find out about the sources of both, the better.
A recent survey from the American Psychological Association found that more than half of Americans say the news causes them stress, with many reportedly feeling anxiety, fatigue or suffering from sleep loss. Here's how to deal.
No matter where you are on the political spectrum, we're all caught in a deluge of devastatingly bad news. According to a 2011 study, we take in the equivalent of about 174 newspapers' worth of information—five times as much as we did in 1986, the New York Times reported. And that study is seven years old; since then, the pings are only coming faster and more furiously.

A recent survey from the American Psychological Association found that more than half of Americans say the news causes them stress, with many reportedly feeling anxiety, fatigue or suffering from sleep loss. Here's how to deal. One in 10 adults checks the news every hour, while 20 percent cop to "constantly" checking in on their social media feeds, Time reports. Women especially, who are twice as likely to be plagued by anxiety as men, tend to feel overwhelmed by the never-ending cycle of bad news, psychiatrist Gail Saltz wrote in Health.
"Compassionate people are overwhelmed now with the deluge of terrible news," Krista Tippett said recently on On Being. "The pictures are too present and too vivid. The news cycle is too relentless. I see pictures of children in faraway places that wreck me for a day."
What can the compassionate person do?
What we're experiencing now, Roshi Joan Halifax told Tippett, is "empathic distress." "When we are more stabilized, then we can face the world with more buoyancy, more capacity to address these very profound social and environmental issues," she said. Here are some ideas for what that can look like in your day-to-day life.
Limit your news—and be strategic
Instead of considering your phone and its news alerts an extension of your body, set aside time—at lunch, say—to check in with what's going on in the world. We're big fans of NPR's "Up First," a 10-minute podcast segment that tells you what you need to know to start your day. Loretta Breuning, author of Habits of a Happy Brain, advises banishing the news from your bedtime routine.
Whatever you do, don't feel guilty about creating distance between you and the news in the name of emotional wellbeing. "It's important to maintain healthy boundaries, practice self-care. It's your life. Time is really precious," Kriss Kevorkian, who teaches classes on trauma, crisis and disasters in the Master of Social Work program at Walden University, told Quartz. If people find you selfish, she advises reminding them of the airplane air mask principle: "Tell them, 'Yeah, I am, because I come first.'"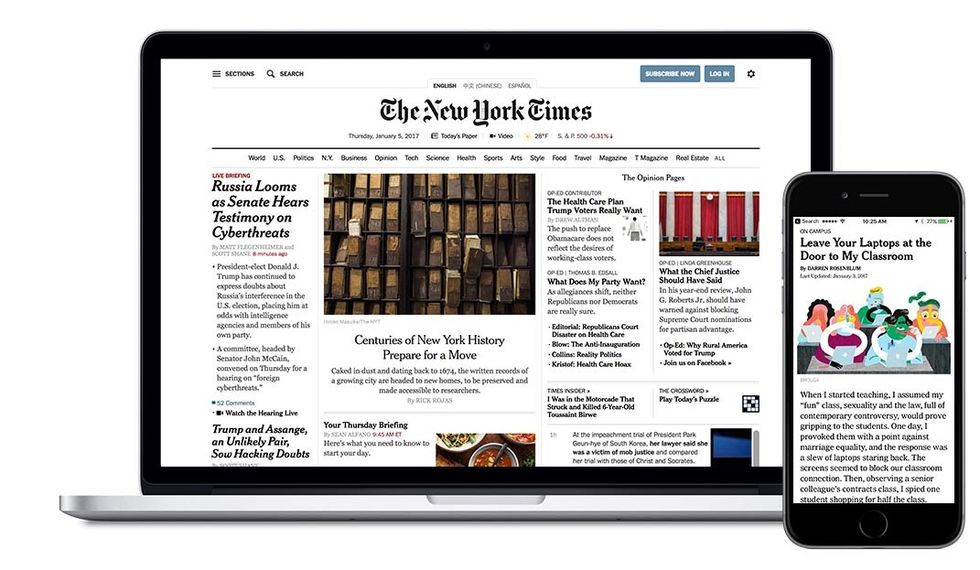 Too many of your devices provide access to breaking newsNew York Times
Ask the right question—and then move on
When the news triggers your compassion ask yourself once, and only once, What can I do to solve this problem? On Tiny Buddha, Lori Deschene emphasizes the importance of thinking small. "Whether you have grand plans or not, I think it's important to play small every day—even while keeping your eye on a larger goal. The little things make a huge difference, both for us and the people whose lives we touch." Try not to ruminate and spin your wheels in compassionate distress. "If you can't think of a plan or solution that's realistic, rational, and logical, move on," Saltz wrote.
Go to a holy place
The news whirs, buzzes, drones, and whirls. Replace it with quiet and stillness. "I think there are many antidotes, actually," said Roshi Joan Halifax. "A setting...which is so physically beautiful and psycho-socially safe, is important. I think there are houses of worship in many denominations here, so people can go and touch into the stillness and, as well, into the inspiration." For you, it may be a Quaker Meeting, group meditation at the candlelit yoga studio, or a woodland grove. "This is coming back to the value of a contemplative practice," said Roshi Joan Halifax. "Within any tradition or non-tradition is that when you are in a state of deep internal stillness, you see the truth of change, the truth of impermanence that's constantly in flow, moment by moment. And so that becomes a kind of insight that liberates you from the futility of the kind of grief that disallows our own humanity to emerge."


Practice loving kindness
This form of meditation extends feelings of compassion, love, peace, and safety from the sitter to the greater world. Begin by extending blessings to yourself: "May I be happy. May I feel love. May I have peace." Then, visualize people you love—your mother, your best friend, your spouse—and extend blessings to them, eventually expanding the circle of compassion until it encompasses your town, country, and the planet. "May all beings be happy; may all beings feel love; may all living beings experience peace."
Broaden your field of vision
It's not only spirituality, meditation, and nature that can restore our feelings of interconnectedness and equanimity. This is also the dominion of great art and literature. "We've turned our vision to being so superficial and outward," said Roshi Joan Halifax. In addition to turning your attention to the wider world, focus your attention on works of art and beauty. News isn't the only form of media; remember verse, sculpture, sonnets? Artists have been working through questions of compassion and meaning in novels, poetry, and painting for centuries. Be restored by the answers there.
The takeaway
"There's a potential for a new kind of enlightenment in our time," said Roshi Joan Halifax. "And that is, I think, a yearning that many of us experience, as we see the world distancing itself from its own heart." Seeing this yearning, this desire, fills her with hope rather than futility. Follow the longing you feel. Reframe your discomfort as vital information—your body and soul are telling you they want to reconnect to the heart of the world.
"Getting by" is a notably nebulous terms and it's in stark contrast to a "livable wage."
"What you don't necessarily realize when you start selling your time by the hour," writes Barbara Ehrenreich in Nickel and Dimed: On (Not) Getting by in America, "is that what you're really selling is your life." The going hourly rate for your life is? $7.25 if you go by the federal minimum wage, which hasn't been raised since 2009. More than half of states mandate a higher minimum wage than the federal level. A minimum wage job will fetch you $10 an hour in Maine; $10.50 in California; and $12.50 in Washington, D.C. But where is that wage enough to get by?
"Getting by" is a notably nebulous term. In 2018, the federal poverty level for an individual was $12,140. Work 40 hours a week at $7.25 an hour for all 52 weeks of the year, and you'll top out at the relatively princely $15,080. But if you have two children that salary puts you more than $5,000 below the poverty line.
And "getting by" is in stark contrast to a "livable wage." When the website Zippia crunched the numbers using MIT's Living Wage Calculator, Kentucky, the most affordable, still required $43,308 annually to support two adults and one kid.
Across the country, a single parent working minimum wage with two children should expect to sleep in the living room. A new study by the National Low Income Housing Coalition found there's not a single county or metropolitan area in the United States in which a minimum-wage worker can afford a two-bedroom home. There are only 12 counties in the country where a one-bedroom home is within reach at all, and most of them were in rural areas, where jobs are few and far between.
"I grew up hearing over and over, to the point of tedium, that 'hard work' was the secret of success: 'Work hard and you'll get ahead' or 'It's hard work that got us where we are,'" writes Ehrenreich. "No one ever said that you could work hard — harder even than you ever thought possible — and still find yourself sinking ever deeper into poverty and debt."
So where can a person scrape by on minimum wage? GOBankingRates found the largest cities where the minimum wage is higher than the $7.25-an-hour federal minimum wage. Then they factored in the median cost of a one-bedroom apartment, groceries, utilities, and transport and found the best places to live on very, very little.
Detroit
The minimum wage is $8.90 an hour but the median rent in Motor City is just under $600. After the necessities are paid, minimum-wage earners in Detroit will have $4,870 left over.
Toledo, Ohio
Though the minimum wage is only $8.15 an hour, GOBankingRates could find no city with rent cheaper than Toledo, where it's about $500 a month. Groceries are cheapest here, too. After basic necessities, a minimum wage earlier in Toledo could expect to have $5,248 in their pockets.
Mesa, Ariz.
The minimum wage in Arizona is a comparatively princely $20,800. They also pay less for utilities than most places, so that when the bills are paid, a minimum wage earner here could expect to have $6,201 left over for the year.
Fresno, Calif.
With the highest minimum wage on the list at $10.50 an hour, it's possible to get by in Fresno where rent and utilities are also pretty cheap. At the end of the year, a minimum wage worker here will have $8,387 left over.
Tucson, Ariz.
Topping the list for it-can-be-done is Tucson, Arizona, where rent, groceries, and utilities are comparable to Toledo but the minimum wage is almost $2 more per hour. A minimum-wage worker in Tucson can expect to clear $8,704 annually after the necessities.
But this life is far from the high life. Living on an extreme budget year-round is like trying to thrive long-term on a super-restrictive diet—it's not sustainable. And the stress of poverty is so profound, it's shaving years—often more than a decade—off people's lives.
"People go to work to 'make a living,'" writes Kate McGahan, "and yet it seems to me they just work very hard to pay for a life that they cannot live because they are so busy working to pay for it."
It's much easier to certify the free-range, grass-fed provenance of a hamburger than it is to guarantee that tourmaline gemstone is conflict-free.
"Knowing the lineage of a crystal is somewhat akin to knowing where the meat you're eating came from," LA-based energy healer Colleen McCann told Goop in an article on the eight crystals every follower of the new New Age should know.
But there's a hitch. It's much easier to certify the free-range, grass-fed provenance of a hamburger than it is to guarantee that tourmaline gemstone is conflict-free. Crystals aren't just shrouded in mysticism; often their source is shrouded in straight-up mystery, as the New Republic recently reported.
"Imagine if someone who owned a burger joint had to figure out the entire agriculture meatpacking industry," Julie Abouzelof, owner of Hawaii's Moonrise Crystals, told the magazine. "Except there's 1,000 different meats, and nobody's farm is listed online, and even when you meet the farmer in person, they don't want to talk to you."
Crystals and gemstones are mined on every continent on Earth, and the process isn't universally bad news. In the U.S., you can dig-your-own crystals, just as you can pick-your-own strawberries. There are also small family- and state-owned mines with environmentally friendly operations. Among crystal sellers online, some are transparent about where their rocks are from.
Others just don't know.
"It's not like this is some big conspiracy cover up," Abouzelof told the New Republic. "The sellers just don't always know."
What they don't know could hurt many people. Some crystals come from large-scale industrial gold, copper and cobalt mine; the crystals aren't what miners are after, they're the profitable byproduct on the hunt for gold. In the US, these mines have had a deleterious effect on the environment, including groundwater contamination. In New Mexico, both the State and U.S. Department of Justice have filed natural resource claims against the Tyrone Copper Mine for damages to water and wildlife. It's the same mine that produced this large blue chrysocolla—a "supportive goddess energy stone," reported The New Republic,
And that's in the United States where the industry is regulated. In the Democratic Republic of Congo, children as young as seven work the cobalt and copper mines in the country's Katanga region that contain deposits of minerals like tourmaline, amethyst, citrine, blue and smoky quartz.
At the annual Gem, Mineral and Fossil Showcase in Tucson, Arizona, Abouzelof chose not to buy a relatively cheap supply of jade when she learned it had been mined in Myanmar. The New York Times has compared Myanmar jade to blood diamonds; its extraction has "helped finance a bloody ethnic conflict and unleashed an epidemic of heroin use and H.I.V. infection among the Kachin minority who work the mines."
Those are the kind of bad vibes that can't be cleansed from a gemstone bathing in the light of the full moon.
But should the murky provenance of crystals keep you from getting your goddess on with the stones? If it's human rights your worried about, your cell phone is probably a bigger ethical dilemma than your crystal collection, writes crystal healer and seller Hibiscus Moon. The so-called "conflict minerals" in our electronics fund human atrocities in the Democratic Republic of Congo, she writes, and "are the ones we need to concern ourselves with." Tony Nikischer, president of Excalibur Mineral Corporation, told Emily Atkin at the New Republic that crystal mining "certainly is not a 'despoiler of the earth' activity as some large scale mining operations in foreign countries may be."
Maybe your rose quartz really will help usher in true love. But if you can't be sure you're not causing suffering of another human spirit to praise something pretty in pink on your altar, it might not be worth it.
"You could give up the habit and leave those pretty rocks where they belong," writes Katie Herzog at The Stranger, "in the earth."