"A tree is best measured when it is down," the poet Carl Sandburg once observed, "and so it is with people." The recent death of Harry Belafonte at the age of 96 has prompted many assessments of what this pioneering singer-actor-activist accomplished in a long and fruitful life.
Belafonte's career as a ground-breaking entertainer brought him substantial wealth and fame; according to Playbill magazine, "By 1959, he was the highest paid Black entertainer in the industry, appearing in raucously successful engagements in Las Vegas, New York, and Los Angeles." He scored on Broadway, winning a 1954 Tony for Best Featured Actor in a Musical – John Murray Anderson's Almanac. Belafonte was the first Black person to win the prestigious award. A 1960 television special, "Tonight with Belafonte," brought him an Emmy for Outstanding Performance in a Variety or Musical Program or Series, making him the first Black person to win that award. He found equal success in the recording studio, bringing Calypso music to the masses via such hits as "Day-O (The Banana Boat Song)" and "Jamaica Farewell."
Harry Belafonte - Day-O (The Banana Boat Song) (Live)www.youtube.com
Belafonte's blockbuster stardom is all the more remarkable for happening in a world plagued by virulent systemic racism. Though he never stopped performing, by the early 1960s he'd shifted his energies to the nascent Civil Right movement. He was a friend and adviser to the Reverend Doctor Martin Luther King, Jr. and, as the New York Times stated, Belafonte "put up much of the seed money to help start the Student Nonviolent Coordinating Committee and was one of the principal fund-raisers for that organization and Dr. King's Southern Christian Leadership Conference."
The Southern Poverty Law Center notes that "he helped launch one of Mississippi's first voter registration drives and provided funding for the Freedom Riders. His activism extended beyond the U.S. as he fought against apartheid alongside Nelson Mandela and Miriam Makeba, campaigned for Mandela's release from prison, and advocated for famine relief in Africa." And in 1987, he received an appointment to UNICEF as a goodwill ambassador.
Over a career spanning more than seventy years, Belafonte brought joy to millions of people. He also did something that is, perhaps, even greater: he fostered the hope that a better world for all could be created. And, by his example, demonstrated how we might go about bringing that world into existence.
What does hope look like if our society is incapable of facing reality?
A 2020 study published in the journal Nature Climate Change shows that polar ice sheets are melting in line with "worst-case scenario" climate models.
In Antarctica and Greenland, melting ice sheets have been dumping hundreds of billions of tons of fresh water into the ocean each year, at a rate up to three times as fast as in recent decades.
This process not only raises water levels—causing dramatic increases in catastrophic storm surges—it alters the salinity, current dynamics, and acidity of the oceans in ways that have dire ecological and meteorological impacts. It is guaranteed to produce both predictable crises and unforeseen catastrophes. And nobody cares.
Why would they? We're in the midst of a global pandemic that is triggering an unprecedented economic crisis. It has caused food insecurity to affect millions more families than were already struggling, and may soon result in tens of millions of Americans losing their homes.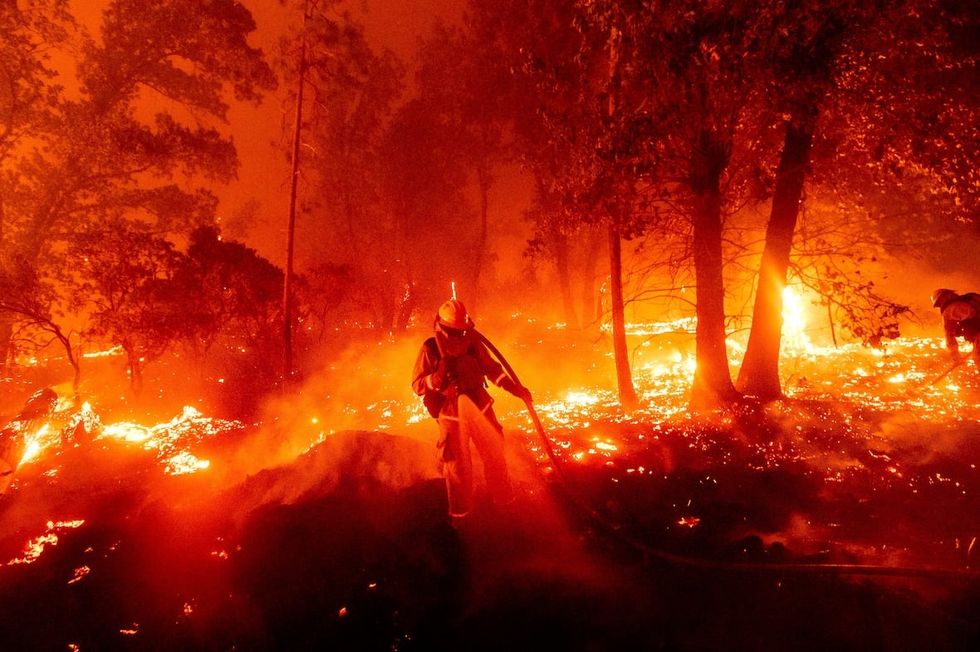 On top of that, California has faced another devastating wildfire season (including another "gender-reveal" gone wrong) amid a record-breaking heatwave and the now-familiar drought conditions, all while a tumultuous hurricane season in the Atlantic is producing powerful storms at a faster rate than in any year since we started keeping track.

The world—and the US in particular—has more pressing concerns than melting ice in 2020, don't we? Well, considering the fact that the "worst-case scenario" for climate change could bring about the collapse of civilization within 30 years, no we really don't.
We can't make the changes to avoid that scenario overnight. It will take years of change that will need to be done sooner, rather than later. Oh, and now scientists are advising the need for a new model of a worse worst-case scenario...
The COVID-19 pandemic has wreaked unforeseen havoc on our society, but it's really just a snapshot of the kind of devastation that climate change will inevitably bring about without the kind of transformational action that is beginning to seem impossible.
Congress can't agree to help people keep their homes during an unprecedented unemployment crisis. What chance do we have that they will stand up to lobbyists and big-business donors to restructure our economy into a sustainable model? Does it even matter how big the threat is? Does it matter that everything we're facing is only going to get worse?
Because not only will hurricanes, droughts, floods, heat waves, food shortages, wildfires, gradually get worse and worse as a result of climate change—until the crises of 2020 become a fond memory—but infectious diseases are likely to reach epidemic and pandemic levels more frequently.
With traditional food sources destroyed by weather events and the changing oceans—along with animals migrating due to deforestation—people will be exposed to more exotic animals, and non-human viruses will have more opportunity to make the leap.
With more and more heat waves reaching and exceeding body temperature for days at a time, microbes that can't currently survive inside our bodies will begin adapting into dangerous pathogens.
And with tens of millions of people being displaced by catastrophic weather events and conflicts arising from scarce resources—most of them forced into crowded conditions—infectious diseases new and old will spread more rapidly.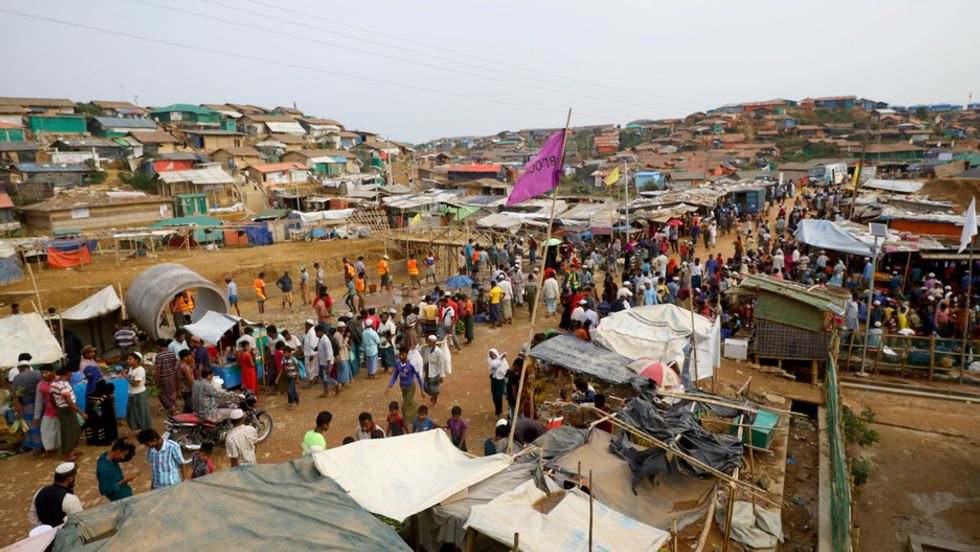 We will perpetually be dealing with some new epidemic. Some urgent disaster is always going to occupy our attention and energy while we continue to ignore the underlying, apocalyptic cause. And all of these problems will only make it easier for the rising strain of global fascism to demonize outsiders, and further isolate nations from the kind of international cooperation we so desperately need.

At what point are we expecting to have fewer "pressing concerns" than we have right now? In what idyllic future will we have the peace and security to start focusing on addressing the hazy, foundational threat that is likely to destabilize everything we know?
As a pandemic rages, America's two-parties continue to be incapable of cooperating to help the American people—of making the other side look good. Our aging, wealthy ruling class doesn't take threats facing younger generations and the working class seriously. And this familiar rot of a two-party stalemate is even more evident in the challenge of forming a consensus behind pragmatic, necessary action like Alexandria Ocasio Cortez's Green New Deal.
Instead of backing it, and favoring the long-term habitability of our only planet, people prefer to scoff at an imagined plan to steal their hamburgers. And corporate-owned media empires are happy to serve up the team-sports drama of it all while the end of everything we know rushes toward us. Meanwhile, the Pentagon is preparing for global societal destabilization.
The dynamics of American "democracy" under capitalism seem to be wholly incapable of saving us, and the structure of the military industrial complex will no doubt view the crises that arise from displaced people and global unrest as a series of nails to be handled by their ever-more-sophisticated hammers.
There is a famous quote of uncertain attribution that says that, within our system, "it is easier to imagine an end to the world than an end to capitalism." It's becoming increasingly easy to see that end to the world looming, while the armor protecting the forces of for-profit ecological ruination show no signs of weakening.
In astrophysics there is a concept known as the Fermi Paradox that questions why—if the conditions for producing intelligent life are not exceedingly rare—we do not see any evidence of other civilizations spread across the vastness of space.
The Fermi Paradox II — Solutions and Ideas – Where Are All The Aliens?www.youtube.com
There are various responses that may explain that observation, but among the most popular is the idea that civilizations just don't last. The forces of progress that allow creatures to develop technology like radio transmitters and spacecraft may lead inevitably to world-ending weapons or climate collapse.

Whether that's true throughout the universe, it seems increasingly to be the case for the only confirmed civilization in the Milky Way. For all our amazing advances, we remain stupid apes,—incapable of planning beyond next month, and constantly discovering new and clever ways to kill ourselves.
It's customary—in an article this dark—to end on a hopeful note. That makes sense. It's generally considered rude to actively ruin a stranger's day. But isn't it also rude to lie? Because I'm not convinced that there is any real hope for our civilization—not in the long run.
Sure, we can find some ways to delay and mitigate the damage. Pointing to 2050 as the likely end is probably overly pessimistic. If we do a surprisingly good job of adapting, legislating, and cooperating—and also get very lucky—we may have a couple good generations left.
In that case, most of the people reading this are likely to be dead of all the familiar causes before the total collapse of world order. Only our children or grandchildren—and however many generations after—will be forced to face the immense suffering of a new dark age.
That is the sad shade of fate that we should all be fighting for with desperate passion—because it's a hair shy of pure black void. Better than that, at this point, seems to be in the realm of fantasy.
We've already done so much irreversible harm. And the path we're on is so resistant to change. It would be wonderful—joyous—to be proven wrong, but the society and the way of life we know can't last. And there's no indication we'll be able to replace it in time.
Maybe our only realistic hope is to drastically lower our expectations. Short of saving the world as we know it, maybe we can keep portions of the planet habitable—maybe an enclave in the region around Colorado and another in the Mongolian steppe will hang onto less-than-hellish conditions. Maybe we need to start planning for the post-apocalypse.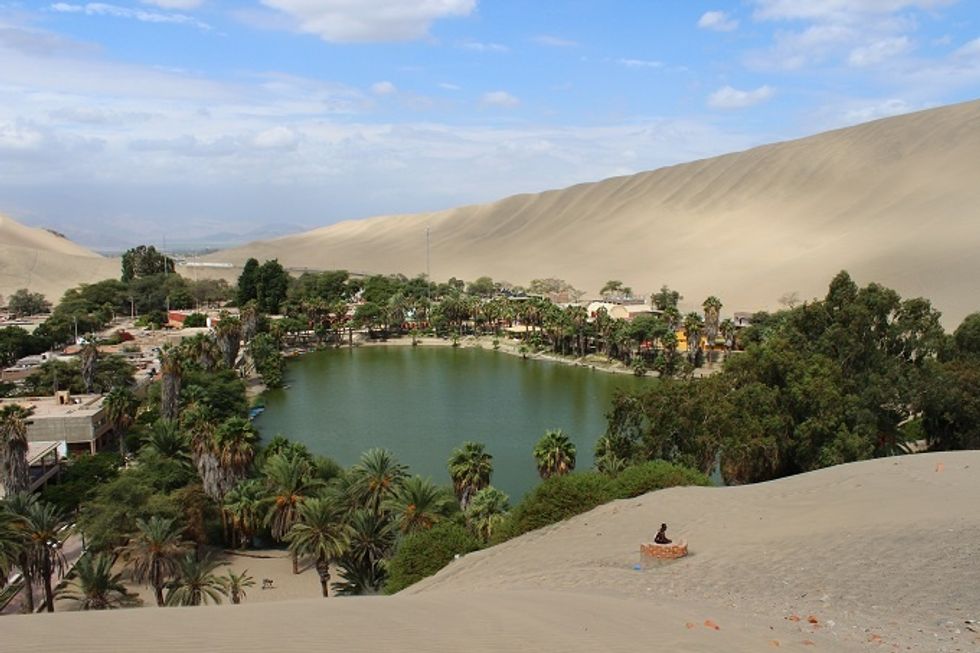 With preparation, little pockets around the world could maintain a lifestyle that's worth living for some sizable remainder of humankind—even if they have to do without most of the luxuries afforded by global stability—the electronics, transportation, medicines, supply chains, entertainment, and communication we take for granted.

A return to something closer to pre-industrial conditions is likely for survivors of the collapse, but maybe—for some fraction of the population—life won't become a living hell.
And maybe, somewhere out in the universe, there is an some alien species that has managed to survive the pitfalls of progress and achieve a sustainable, equitable, idyllic life. Maybe they're watching us, waiting to see how we handle ourselves—to see if we learn our lesson from this impending apocalypse—before they swoop in and share their utopia.
If we peer far enough into distant uncertainty, it's possible to conceive of something better after the end of Western Civilization—after likely billions of deaths and immeasurable suffering.
Does that count as hope? Is that enough to spit up the black pill of despair?
Earth Week NYC saw climate activists deftly pivoting from IRL to digital actions. Here's a look at how they did it.
Earth Week NYC wasn't supposed to look this way.
Just a month ago, climate activists were planning a massive in-person rally and a three-day sequence of curated protests in honor of the 50th anniversary of the first Earth Day. Earth Week NYC was meant to recapture the spirit of the first Earth Day celebrations, which took place in 1970 and brought nearly 20 million Americans into the streets, while uplifting the movement's modern and more intersectional demands.
Instead, most of the climate movement's energetic young activists—like most of the rest of us should be—are at home in their houses. But that hasn't stopped them from organizing. Over the past few weeks, a three-day event that was supposed to pull thousands into the streets shifted almost entirely online.
"The Earth Week NYC coalition switched to a fully digital strategy almost overnight once large gatherings were banned in the city," said Ted Bogin, a member of the youth-led climate organization Sunrise NYC. "We built a website, earthweeknyc.com, that allows anyone to fight for climate justice at home with tools and scripts for calling and emailing our elected representatives, among other ways."
Events and actions moved to Instagram, Facebook Live, Slack, and Zoom. In-person office visits turned into email blasts and telephone calls. In preparation, climate activists hosted digital community care workshops, drafted emails, and crafted mutual aid resources and teach-ins.
The themes of each day remained in place as planned. Earth Week NYC consisted of three themed days, each dedicated to a different aspect of climate action. The first day's theme was "Strike," the second day's was "Divest," and the third was "Vote."
On the first day, Earth Day, young organizers took to social media to post images of themselves holding signs, calling for a Green New Deal, a People's Bailout, and other climate and social justice actions. Some activists even banded together for a socially distanced banner drop in New York City.
On the second day, activists lobbied with Stop the Money Pipeline, an organization dedicated to ending Wall Street's support of fossil fuels. Participants were encouraged to make calls to the CEOs of BlackRock, JP Morgan, Chase, and Liberty Mutual, using scripts to request fossil fuel divestment. (One terrifying statistic kept appearing: Wall Street has poured $1.9 trillion into the fossil fuel industry since 2015).
On the third day, which centered around voting, lobbying, and teach-ins, the NYC coalition sent out toolkits full of lesson plans for teachers, asked people to fill out their censuses, and called on everyone to reach out to their representatives and to encourage their friends to vote for climate champions. Championed in part by Fridays for Future, the organization first inspired by Greta Thunberg, Friday's actions (like the rest of the week's) focused on the intersections between social justice and climate change and the vital importance of local, indigenous-led, people-powered action.

All of it was supplemented by a flurry of online activities, including a three-day, all-day live broadcast hosted by the Future Coalition. Featuring politicians like Elizabeth Warren and John Kerry, musicians like Jason Mraz, and hundreds of other superstar activists and musicians, the livestream was a rousing marathon, a display of unity in the face of a brutal pandemic and the looming reality of the climate crisis.
Despite activists' best efforts, the week still suffered from a sense of inevitable disjointedness. But the climate crisis, with all its intersecting forces and causes and consequences, has never been an easy or cohesive thing to fight.
Back in the 1970s, activists were fighting against visible consequences of environmental degradation—rivers in flame, birds falling from the sky—but now we fight against a more invisible but much more insidious monster: rising global temperatures and the inequity that created and continues to perpetuate them.
Still, today's climate activists are used to shifting strategies on a dime and fighting rampant misinformation as well as apathy and inequality.
"Our demands include a people's bailout, prioritizing and funding those who have been hit first and worst by COVID-19 and the current recession, including, but not limited to, Black, Latinx, Indigenous, and low-income communities," reads an op-ed by the Youth Climate Strike Coalition, published last month in Teen Vogue. Additional demands include a Green New Deal that transitions the economy to 100% clean energy by 2030 and the return of stolen Indigenous lands.
Careful not to praise clearing skies or temporarily lowered pollution, the modern climate movement is dedicated to addressing environmental racism and large-scale problems head-on. Gone are the days of recycling and individual guilt. Instead, the modern movement is about collective action in the face of global tragedy.
The climate movement is all about the intersections that tie all things together—the land, the people, the economy, and even the digital world. In a way, perhaps the modern climate movement is uniquely well-suited to online action. "As one of the social media coordinators for the Sunrise NYC hub, I've seen our channels swell in importance and reach as people isolated in their homes connect with us digitally," said Jon Kirsch, an organizer with Sunrise NYC. "It's been tremendously exciting seeing Earth Week NYC take shape the past few months." Perhaps the digital world, which thrives on connection, is an ideal vehicle for the modern climate movement.
Regardless, the movement will not be giving up anytime soon. Populist activists have always been up against shadowy, malicious powers, winning seemingly impossible battles and fighting for justice in the short and long term. Now, more than ever, most agree that change is imperative.
"New Yorkers have made their demands for Climate Justice heard, and the fight will continue on (digitally for now) after Earth Week," said Bluedorn. "Fighting for Climate Justice is more important in this moment than ever, as we fight to reimagine what a more just and equitable world can look like."
For more information and to get involved with the movement, visit https://www.earthweeknyc.com.
With the Democratic nomination essentially a toss-up between Bernie Sanders and Joe Biden, America's fear of electing competent, prepared women is prevalent.
This week, Senator Elizabeth Warren suspended her campaign in the 2020 presidential election.
The announcement arrived after a disappointing Super Tuesday for the progressive candidate, who failed to win her home state of Massachusetts. "I refuse to let disappointment blind me— or you—to what we've accomplished," Warren wrote. "We didn't reach our goal, but what we have done together—what you have done—has made a lasting difference. It's not the scale of the difference we wanted to make, but it matters—and the changes will have ripples for years to come."
Warren built a successful grassroots movement and, for much of the race, was a Democratic front-runner. She supports key issues like the Green New Deal and Medicare for All, and she mapped out proposals for affordable housing and free college for lower-income students. Her liberal policies earned her numerous comparisons to Bernie Sanders, but as Warren fell behind and her more moderate opponents, like Amy Klobuchar, Michael Bloomberg, and Pete Buttigieg, exited the race—each endorsing former Vice President Joe Biden—it became clearer that her participation might be splitting the progressive vote. Her choice to bow out for the sake of the country's future is honorable, but her departure makes the Democratic nomination a toss-up between Sanders and Biden as congresswoman Tulsi Gabbard trails behind significantly. That shouldn't be the case.
#ThankYouElizabeth ...for running an exceptional campaign. For knocking #Bloomberg out of the race. And for push… https://t.co/tHe1kfRbF8

— Peter Daou (@Peter Daou) 1583425541.0
Yes, Biden has decades of experience; he first became a senator in 1972, while Warren wouldn't be elected until thirty years later. Despite serving two terms as vice president, however, Biden failed to match Warren's sharp wit in debates—his muddled answers and seemingly inattentive performances spurred headlines like "Is Joe Biden OK?" Additionally, there's an ongoing list of allegations about his creepy behavior towards girls and women, for which he's never formally apologized.

When it comes to policy, Biden can be moderate to a dangerous degree. His stance on abortion has wavered throughout the years (to be fair, Warren was a Republican until the '90s), and he supported a constitutional amendment in the '80s that would have let states overturn Roe v. Wade. In the '90s, he voted against legalization of gay marriage, and later in the early '00s, he voted in favor of the Iraq War. Today, he opposes Medicare for All, would let states individually allow to legalize recreational marijuana, doesn't believe in abolishing ICE, and wouldn't bring U.S. troops home from overseas; Warren's stance on each of those issues is the opposite, which makes the trending #WarrenToBiden hashtag so disappointing.
Elizabeth Warren ethered Mike Bloomberg and John Delaney, two plutocrats with terrible policies who thought they co… https://t.co/jxOSe75jeN

— Adam Best (@Adam Best) 1583429691.0
Though Warren has generally kept her gender out of her campaign (aside from telling little girls that she's running for president because "that's what girls do"), much of Biden's sudden lead ahead of her can be accredited to sexism. Despite experience, Warren has proven time again and again that she's incredibly fit to be president; how has Biden become our most "electable" option?

Yes, Democrats need to unite to ultimately defeat Donald Trump. But we also can't risk electing a candidate who repeatedly appears mentally unwell, poses dangers to women, and doesn't have an aggressive plan to tackle the climate crisis. Thankfully, we have a viable candidate left with Sanders, but Biden shouldn't be the other choice. The U.S. deserves better than Biden, but it'll be hard to get there until we've overcome our fear of electing a woman.
Climate change activism has a whiteness problem and a class problem.
Climate change is inextricably linked to other systems of oppression, like neoliberal capitalism and colonization. But mainstream environmental movements have historically failed to recognize the roots of the climate crisis; and partly because of this, climate change activism has a whiteness problem and a class problem.

The movement's hypocrisy has grown harder to ignore as the climate crisis has intensified. Environmental racism has left poorer communities on the frontlines of unclean air and dangerous pipelines, while largely shutting their voices out of the decision and policy-making aspects of change.
The problem is rooted in the way environmental activism has traditionally been defined. Early environmental efforts (at least the ones that received the most funding) often focused on preservation and conservation of untouched land. These efforts existed in silos, painting the Earth as a childlike entity—as if the planet was separate and somehow lower than humans. This Earth was treated like an entity that required saving, and the saving was to be done by corporate firms and guilty consumers.
Even during these early times, many groups were actively fighting systemic oppression in conjunction with environmental activism, from Latino farmworkers protesting pesticides to Black students in Harlem fighting to oppose city garbage dumps in their communities. Still, over the next several decades, the mainstream environmental movement failed to realize that the climate crisis was not merely a matter of spoiled rivers and suffering polar bears. The climate crisis was seen as something separate from human life and separate from other social issues. Large "big green" corporations focused on promoting small changes that people could make on individual scales, as if "going green" could save us. We could all take shorter showers, take the bus instead of driving, purchase expensive organic products, and shut up—nevermind that the super wealthy have always used up far more resources and energy than their fair share.
A Crisis of Understanding
"Our economic system and our planetary system are now at war," writes Naomi Klein in This Changes Everything: Capitalism Vs. the Climate. "Or, more accurately, our economy is at war with many forms of life on earth, including human life. What the climate needs to avoid collapse is a contraction in humanity's use of resources; what our economic model demands to avoid collapse is unfettered expansion. Only one of these sets of rules can be changed, and it's not the laws of nature."
The climate movement will absolutely fail if it does not recognize the importance of its relationships with other social movements. The climate movement must stand in solidarity with organizations fighting for racial and class equity, for an end to the prison industrial complex and for reparations. It must stand in solidarity with people of color and particularly with Indigenous people, who have always been leading in the fight, and all climate movements must defer to leaders who are living on the front lines of the crisis.
If the climate movement continues to prioritize "an end to the climate crisis" over an end to capitalism, if the movement continues to languish in apocalyptic fears rather than paying attention to how climate actually affects people's lives, if the movement remains disconnected from actual life and the way that the climate crisis is already here for so many people around the globe, it will fail.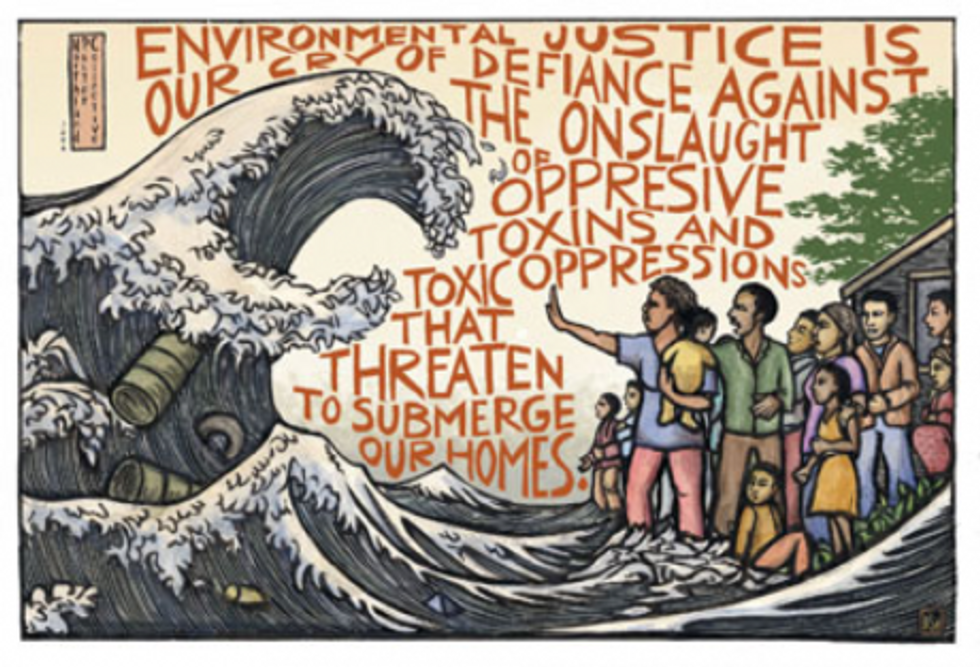 socialism.ca
Just as we humans cannot survive if we view ourselves as separate from the earth, we can't view the climate crisis as unrelated to other issues of inequality and systemic violence. We need to understand that, just as everything in nature relies on everything else—rivers flow into oceans, tree roots create an underlying network of communication that stretches through an entire forest—the movement to stop climate change is the movement to end relentless capitalism, which is also the movement to actually address the monetary inequalities that still exist because of America's legacy of colonization, slavery, and other violences.

The Future of Environmental Justice
Activist groups are waking up to this, at least theoretically. Groups like the youth organization Sunrise Movement have rallied around Alexandria Ocasio-Cortez's Green New Deal, a movement that aims to combine a massive reduction in carbon emissions with reforms that will make safe housing, affordable food, and health care available to everyone.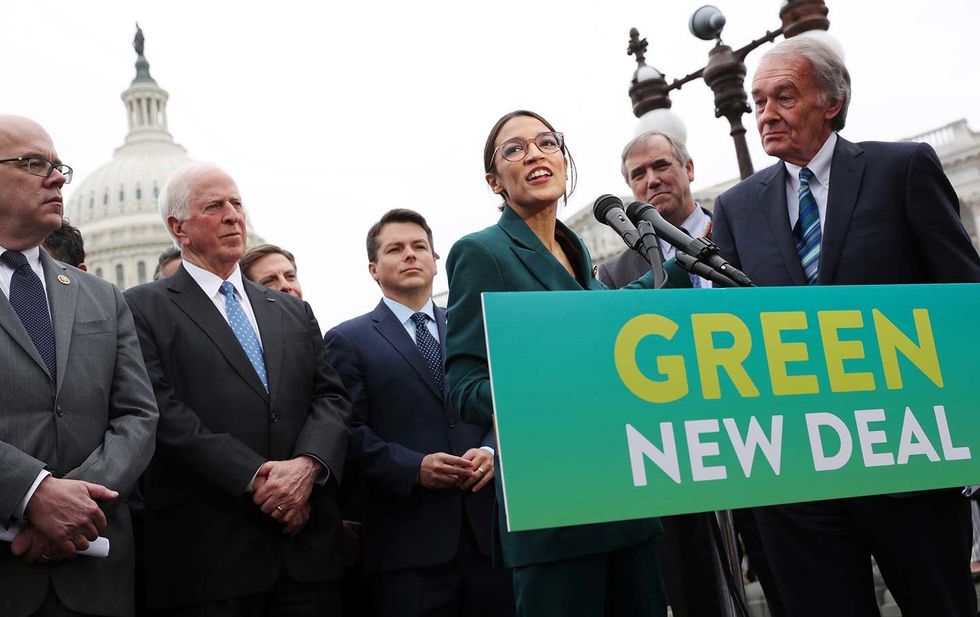 thenation
In some ways, Sunrise still suffers from the problems that have always plagued environmental groups: a pervasive level of whiteness and classism. But the movement has been discussing how to change this, initiating a hub restructure program and encouraging the development of smaller, more local groups that will facilitate local outreach. The next step is to put the voices of people who are already fighting for justice into power, people like the Indigenous climate activists who have been protecting the earth for centuries, often at great personal risk.

These are complex tasks that require deep thought and challenging conversations, but they are of the utmost importance. The environmental movement will fail unless it embraces its interconnectedness with all things–Embracing interconnectedness will only ever make us all stronger.
Climate change will inevitably result in tremendous change. If we somehow succeed in pulling the world back from the brink of climate disaster but fail to address other systems of oppression—if we merely keep the world as it is, favoring only the super-rich, allowing suffering on a massive scale despite the fact that we have the resources to address it—would the movement be a victory for anyone except those who were already winning?
In the fourth installment of the Visionaries Project, we speak to activist and community organizer Ebony Ava Harper.
The Visionaries Project is a new subsection of The Liberty Project dedicated to highlighting the lives, passions, and work of radical activists currently working towards social justice and liberation from oppression. We aim to uplift the perspectives of diverse voices working in media and activism today—and not just the faces who make headlines, but the real people on the ground every day, working towards their visions of a better world.
Ebony Ava Harper is an activist, philanthropist, writer, creator, life and world-changer, advocate for marginalized communities, and a tremendous inspiration to many. As an openly Black and trans woman and an advocate for environmental justice, prison reform, and so much more, she has done incredible work to fight for her communities, forging a path to a better world in the process. She is currently head of California TransCends, a statewide organization that works to promote the health and wellness of transgender people in California, and she's the recipient of the 2019 Stonewall Four Freedoms Award and the among other achievements (none of which could come close to adequately recognizing all of her marvelous work). We spoke about resilience, environmental justice, community organizing, and more.
1. Can you tell me a little bit about your background? Where are you from, and what were and are you passionate about?

I was born in Prince Georges County, Maryland, to a family of Jamaican immigrants. I believe I'm the first American born in my family. My parents migrated from Maryland to Los Angeles, CA when I was just a baby, so all I know is growing up in Los Angeles. I spent the first 27 years of my life mostly in Los Angeles, and then I moved to Sacramento. I've been in Sacramento for some time now, and I consider this my home city.
I'm passionate about dismantling systems of oppression and dismantling my own oppressive behaviors. I'm passionate about loving the unlovable. Flipping that negative into a positive and improving not only my quality of life but the quality of life of all living beings (plants and trees included).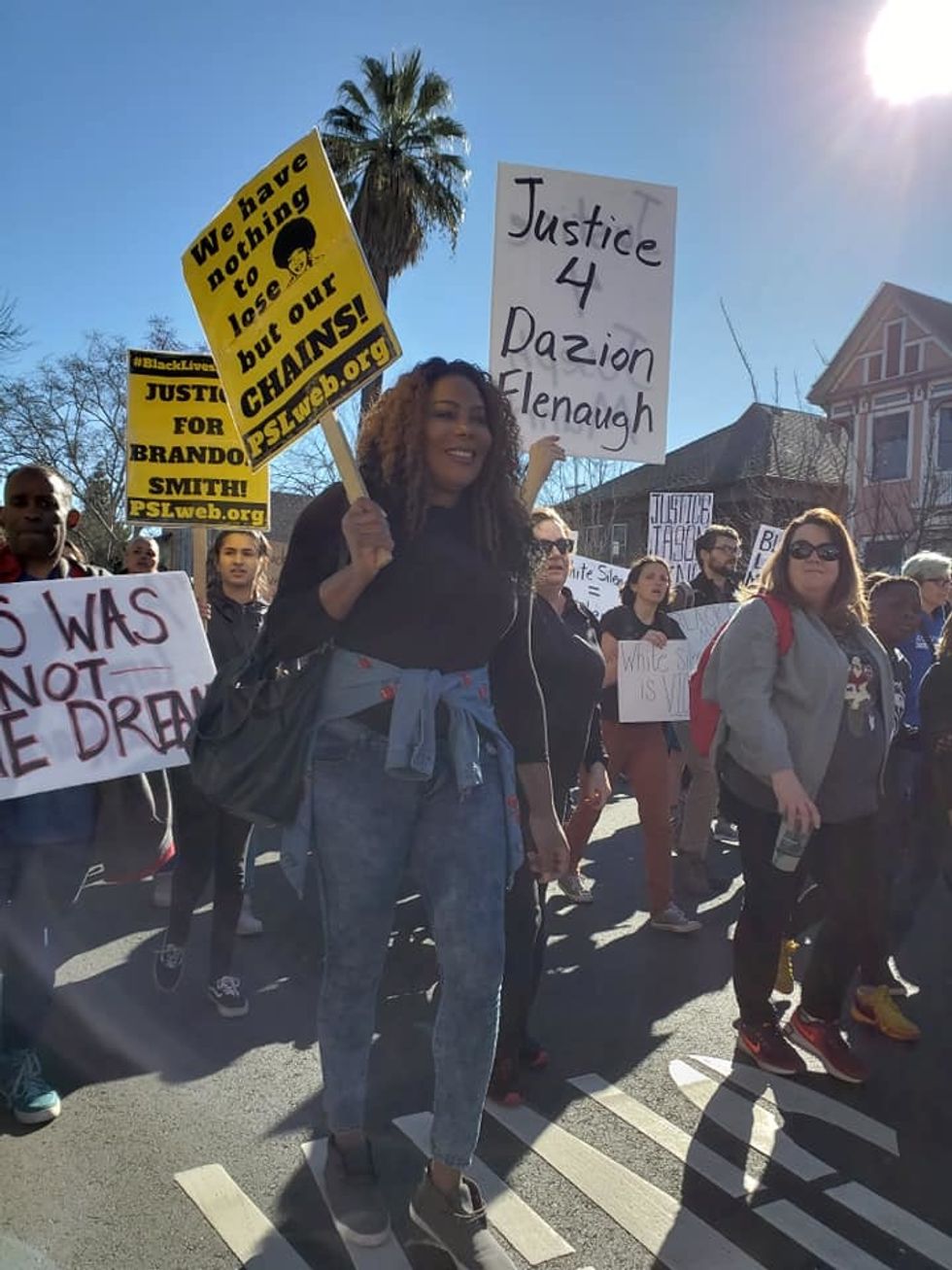 2. How did you first get started with activism, and what movements are you most involved in now?
I'm a Black trans woman that came out early in life, so I always say I came out fighting for survival from the gate (from the start). I was born an activist. I had to fight and speak up for myself to simply be... I'm a decedent of Jamaica, and if you listen to our music, you'll hear a lot about love, peace, "getting up, standing up, fighting for your rights." I would say I hit the ground fighting with all these intersections I embody. I also hit the ground loving and having empathy for others. My inner indignation against injustice and my tender Jamaican roots inform who I am today and my activism. My activism has transitioned along with me. I feel like we're all transitioning in some way. I have transitioned away from just relegating myself to being a trans activist, I'm a human rights activist. I fight for all oppressed peoples. Social oppression is even showing up through this current climate crisis.
I'm involved in Gender Justice, Climate Justice, Disability Justice, and Race Equity!! They all interconnect in my life.
3. A lot of your writing seems to focus on internal and community-wide restorative efforts and resilience, whether in terms of health, the environment, or the spirit. What does human resilience mean to you, and for you?
I love this question! It's a big question. I came from some harsh beginnings: All I know is resilience. I'm an introspective person, so as I have aged, I think about resilience on a much larger scale than the marginalized groups that produced me or my sole experience. I think about all the times life itself was on the brink of total catastrophe, and boom.... It rebounds. Resilience means to rebound from something that could've taken you out. It means hope for the future, it means another chance, another road, another shot. I'm a descendant of slaves and a descendant of those that have walked this trans path: All I know is resilience. I wish to share my struggle with others in hopes that they may be inspired not to give up. You know, "If that big ole queen can make it, so can I." That's the seed I want to plant when I'm sharing on any platform.
4. You wrote an amazing piece for Forbes in which you discuss feminism's failure to address "inequities of human injustices caused by colonial, capitalist, and social oppression." You also addressed this in your Sacramento News and Review piece in which you wrote, "Trans people, particularly our black women and femmes, were on the front lines of the Stonewall Rebellion, yet we're on the back lines of the gay and lesbian liberation." Feminism and many, or really most, social movements suffer from such a lack of intersectional and trans recognition. Where do you see that need for change manifesting itself?
I think social justice movements don't always think in terms of intersections, or they fight for things that will serve them in that particular moment, never really seeing how all this suffering intersects. They'll have all the language right, but their actions will be about that one topic. We need to remove the berries and realize an injustice to a Black trans woman is the same as an injustice to a cis woman. An injustice to a Black trans woman is an injustice to the Black community as a whole. There's no separation; Black trans issues are multidimensional and are relatable to any social justice issue today. You have to be radical and intentional about inclusivity to Black trans women.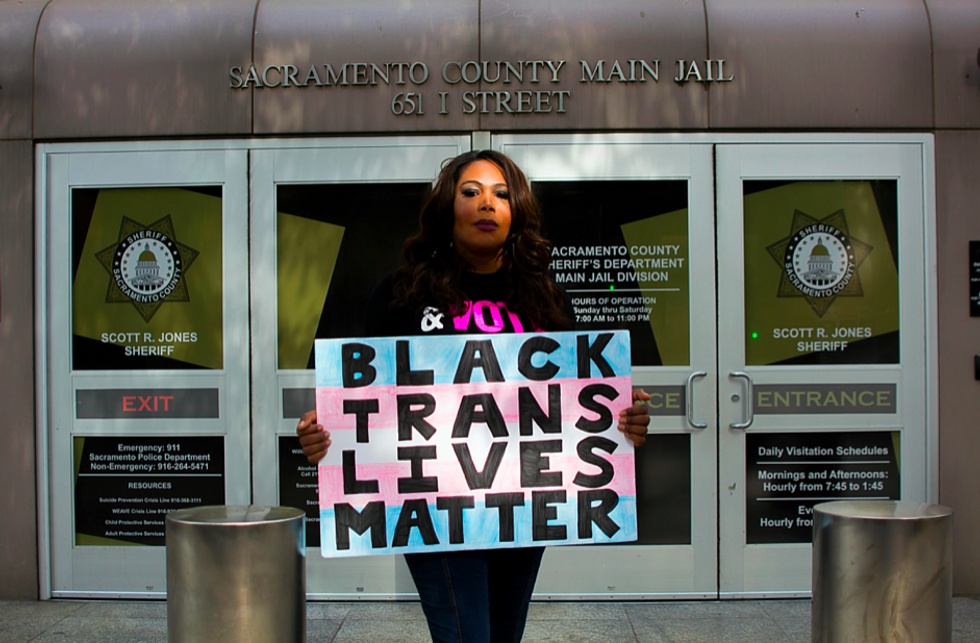 5. Are there any trans leaders, writers, or figures you're particularly inspired by at the moment?
Too many to name here, but I'll name just a few. Valerie Spencer inspired me as a young trans kid. We have Black trans philosophers, and I would say she's one of our great philosophers. Aria Sa'id is a young Black trans woman that has contributed so much to our movement at such a young age. She's Executive Director of the first Trans Cultural District in the nation, and she's smart as hell... Daroneshia Duncan-Boyd, from Alabam leading the charge for trans health equity throughout the South. Elle Hearns, one of the founding members of Black Lives Matter that just so happens to be a Black trans woman. Omega West, a Black trans man who, like me, came from some rough stuff and is out here fighting for our rights daily. Last but not least, my translatina sister, Bamby Salcedo, who's a national treasure in our community fighting for our freedoms every day.
6. You're vocal online about a lot of environmental issues. Do you see the environment as intertwined with queer, trans, and Black and Brown community issues? What does environmental justice mean to you?
It's absolutely intertwined! The factories in impoverished neighborhoods, access to clean food, clean water, information around health all are linked to poverty. Extreme poverty is linked to these marginalized groups that live on the fringe of the fringes of society. No resources, so capitalism exploits them. We have to look at what's affecting those at the bottom and work from there, while fighting these big corporations that are siphoning the life out of the planet.
7. What changes (spiritual or societal or both) would you like to see most in the near future? What does your vision of a better future look like?
Green renewable energy. No more wars. The end of capitalism! Love abounding on the earth like never before. Total freedom to just be without judgment.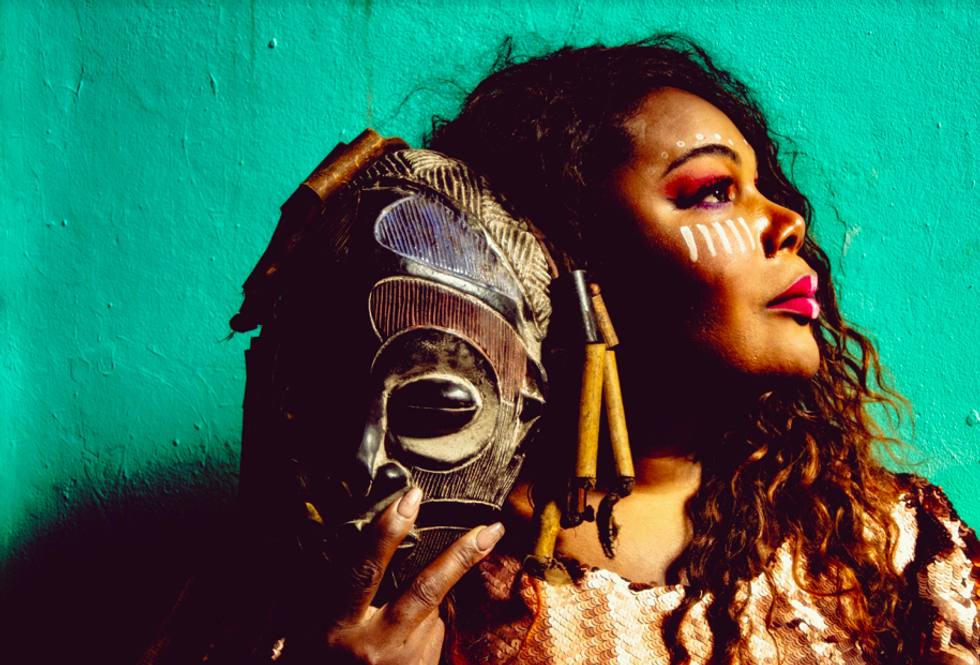 8. Are there any organizations or initiatives you'd like to promote?

I'm the leader of the new statewide initiative, California TransCends, in partnership with the California Endowment and California Public Health Advocates. California TransCends promotes the health and wellness of transgender people throughout the state of California. I'll be doing a statewide assessment of the needs of trans people living in rural communities, trans people of color, and our trans elders. We'll be working with local policymakers to see what we can do to make trans lives a bit more bearable. We're engaging other trans organizations that are leading statewide work to form a statewide and national coalition that will work in one accord on issues that need our rapid response. Lastly, we'll have micro-grants available for coalition-building conferences for trans people of color. I'm also one of the directors for the newly formed Employment Equality.
9. You're doing so much amazing work—how do you balance it all? What do you do for self-care and for fun?
I take a couple of days a week off and recharge. I have a small circle but good friends I can call when I'm going through a tough time. I have a spiritual community, The Center for Spiritual Awareness, that loves and supports me. This is my combination for staying afloat.
10. Do you have any advice for activists, or any lessons or mantras that you follow?
Don't become the same evil you're fighting! It's easy to fall into the trap of anger and vengeance. When fighting injustice, you have to make sure your approaches are balanced, or you'll perpetuate the same injustices you're fighting.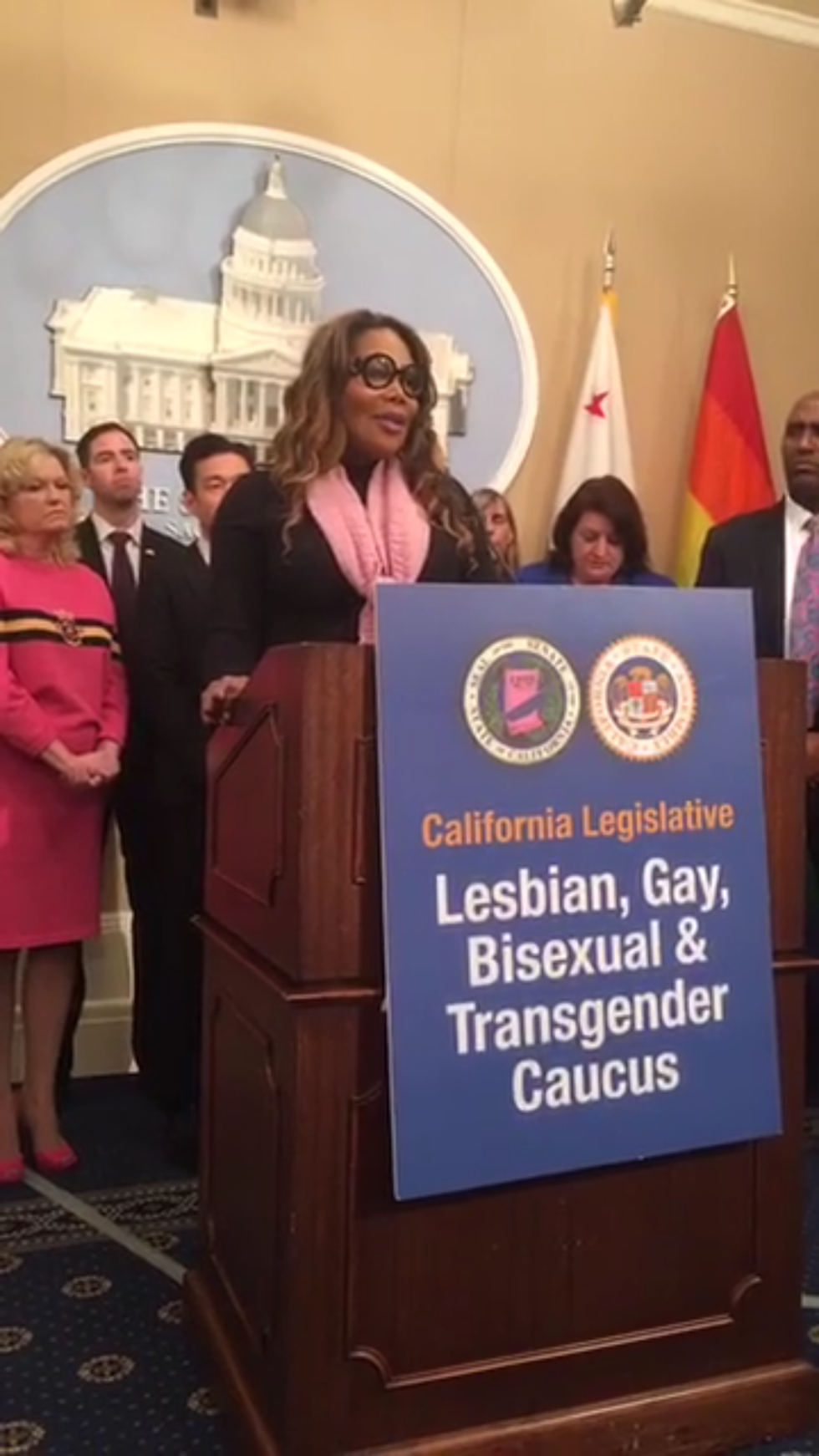 The decision to have children carries huge moral, financial, and ecological implications, but they aren't enough to dissuade us
Kurt Vonnegut once wrote of a discussion with friend and fellow author William Styron, in which they tried to determine what portion of the people on Earth have lives worth living.
The figure they arrived at was 17%—about one in six people.
On a good day I can tell myself that number must have gone up since then—that we've made progress in battling poverty and disease on a global scale. Maybe it's up to 20% or even 25% by now. On a bad day I'm certain that they were being far too optimistic and that things are bound to get worse.
In the coming decades humanity is guaranteed to face mounting ecological crises as a result of the pollutants we've already pumped into the atmosphere. This is likely to feed into current political trends toward nationalism, as tens and hundreds of millions of climate refugees are forced to seek safe haven around the world.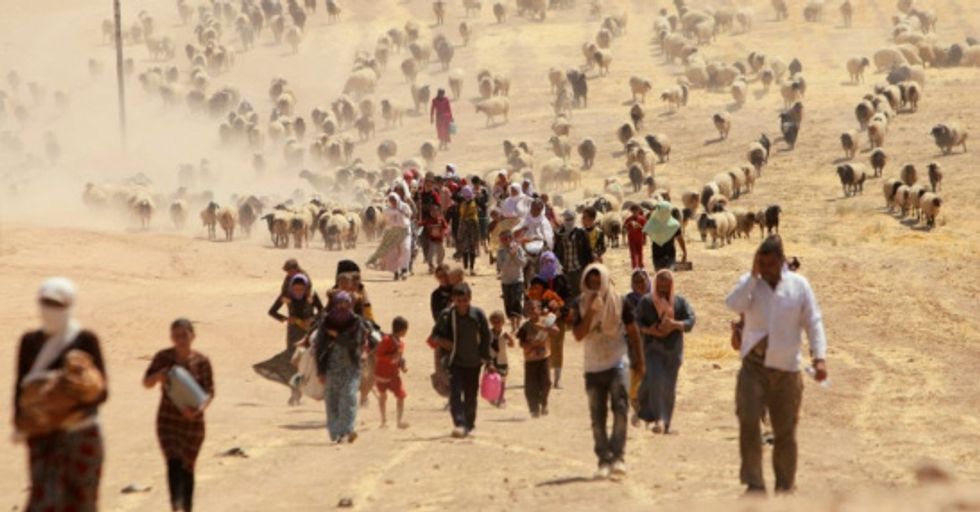 Reuters
Countries will seal up their borders and churn out propaganda about the inhuman hordes pounding at the gates—the crime, the diseases, the vermin. If we aren't careful, full-blown eco-fascism will take hold. The climate crisis will become a powerful excuse for state-sanctioned violence, oppression, and racism, and the coming generations will relive horrors that were supposed to be behind us. Those are the threats we face even if we defy current political trends and pass sweeping climate legislation—finally beginning the hard work of avoiding total ecological collapse.

Given the scale of the problem, the choices we can make at the individual level are inadequate, but still valuable. I cut out red meat, I avoid driving as much as possible, and I try not to buy a lot of stuff that I don't need. If millions of people made the same changes…it would probably be better than nothing. Of course the reality is that I still produce far more ecological damage than the average person on Earth. Some of that is unavoidable—a product of living in the US —but I can't deny that a lot of it is because of the way I live. There are certain things I don't want to give up. I travel. I eat dairy. And my wife and I are planning to have kids.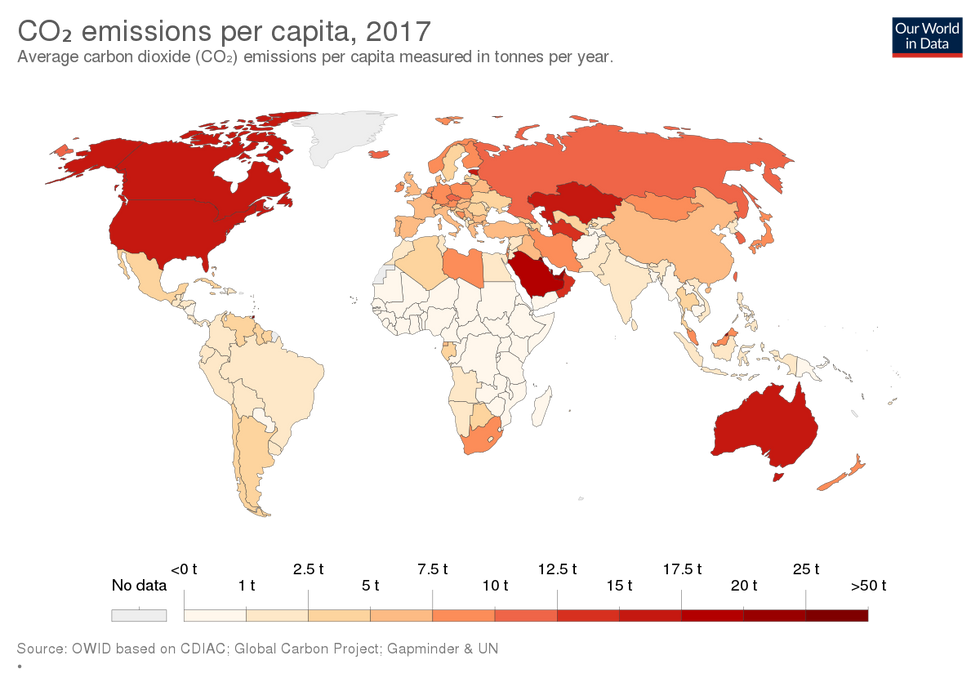 Whatever other decisions you make with your life, none are likely to have as much impact as deciding to create another life—another human to eat and travel and make imperfect decisions. Another human to wrestle with difficult questions and fear for the future. How can we justify the decision to force life on another person in a dark world? Another person whose life we can only try our best to make worth living. Another person who will, in many ways, add to the collective problems of humanity. I'm not going to claim that it's an easy decision to justify, and I don't fully expect to convince anyone who disagrees with our decision. As much as anything, this is an attempt to articulate a hazy justification for myself—and possibly to bolster my rationalization.

The aspect of being a parent that most excites me is the opportunity to reinvest in the future. After multiple decades of passionate concern for the planet—all while people with the power to effect positive change have done nothing—it's hard not to become a little jaded and complacent. Now that prominent political figures are finally pushing for the kind of societal transformation we need, I want to have a stake in fighting for a world that can sustain life beyond my death.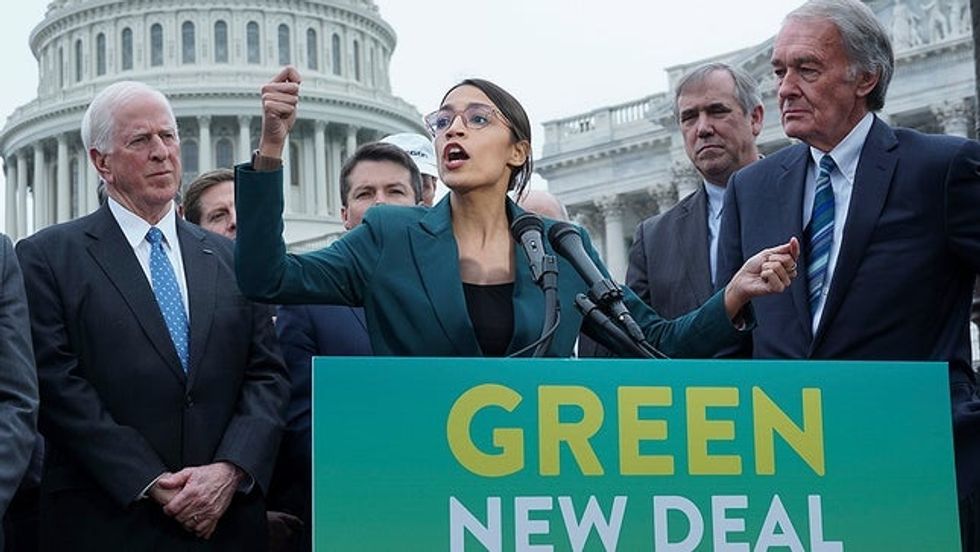 Stefani Reynolds
If I'm going to invest in that hope, I have to believe that—despite the ecological impact—it's still possible for a person to make the world a better place. And I want to believe that the people raised with care and love and positive intention are exactly what the future needs. Having a child—and caring for them, teaching them about our complicated and frightening and beautiful world—is a manifestation of that belief. I want the surprises and challenges that will come with parenting, and I want the pressure to contribute to something greater than myself—both in my personal life and my engagement with political change. I want a connection to the future of humanity that this fight is all about.

Of course, I can get all of that through adoption, and get it without forcing existence and the challenges of life on a brand new human. My wife and I do intend to adopt—or at least to be foster parents—down the line. But right now the window to have children of our own is closing. The financial burden of raising a child is so daunting that we would probably put it off for another decade if we could, but we can't. There are biological pressures that can't be ignored. Our bodies are getting older. The safest time to have kids will soon be behind us. If we could satisfy ourselves to raise adopted children, then we could wait until we reach some hypothetical state of readiness—prepared for the endless crises of raising a child. That state probably doesn't exist, but why is adoption not enough for us?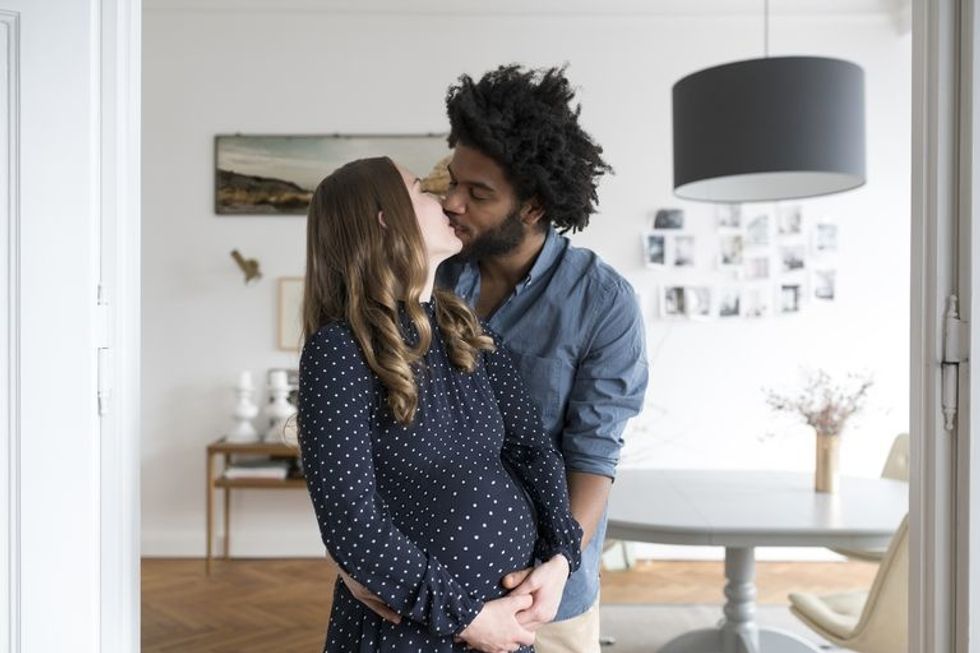 Getty Images
To suggest that the answer is anything but selfishness would be a lie; but, love is in some ways a selfish emotion. Being selfish for each other and selfish as a unit is part of what makes love worth all the pain and the effort we put into chasing it. We love what we are together, and we want good things for that union. We love us.
The bond and belonging between us is a strong comfort in a world that's dominated by so much loneliness. And as much as we believe that we could extend that bond to any child who needed to belong, there is something beautiful and exciting (and selfish) in the thought of using that bond to bring a new life into the world—a new person, autonomous and unique, but a person who embodies aspects of us both and of what we love about each other.
It's the idea of transforming what we are to welcome that new person into our bond. Life at its best is transformative and a little bit frightening. What could be more transformative and frightening than the process of pregnancy, birth, and parenthood? I can only be supporting staff in much of that process, but I'm still excited by the prospect.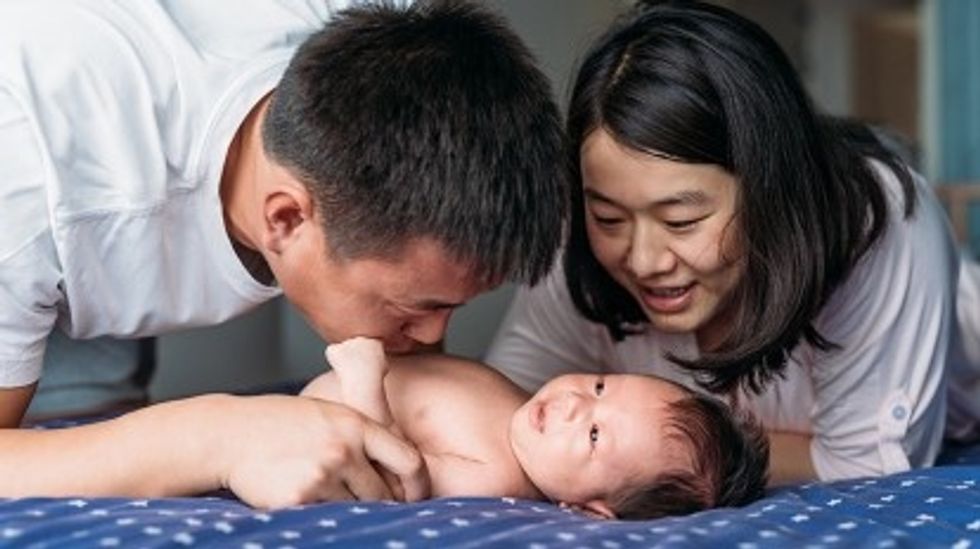 Maybe this is all just a muddled translation of my evolutionary function. That excitement might be a purely biological impulse. But there are limits to denying biology. At the base, biology drives everything we do. Regardless, at this point we are committed to having children of our own—or committed at least to trying. If it weren't such a common choice—if friends weren't choosing the same; if our families weren't also excited for us to pursue that selfish impulse—we would probably be shamed out of it. Instead, we just worry about being good parents while people with experience try to reassure us that the worry gets us halfway there.
We must look at the mass actions that are making life difficult for the powerful in Chile and Lebanon and Hong Kong, and prepare ourselves to make the same kind of trouble at home.
With all the global significance connected to the 2001 attack on the World Trade Center, many people don't realize that September 11th has a very different set of meanings in Chile.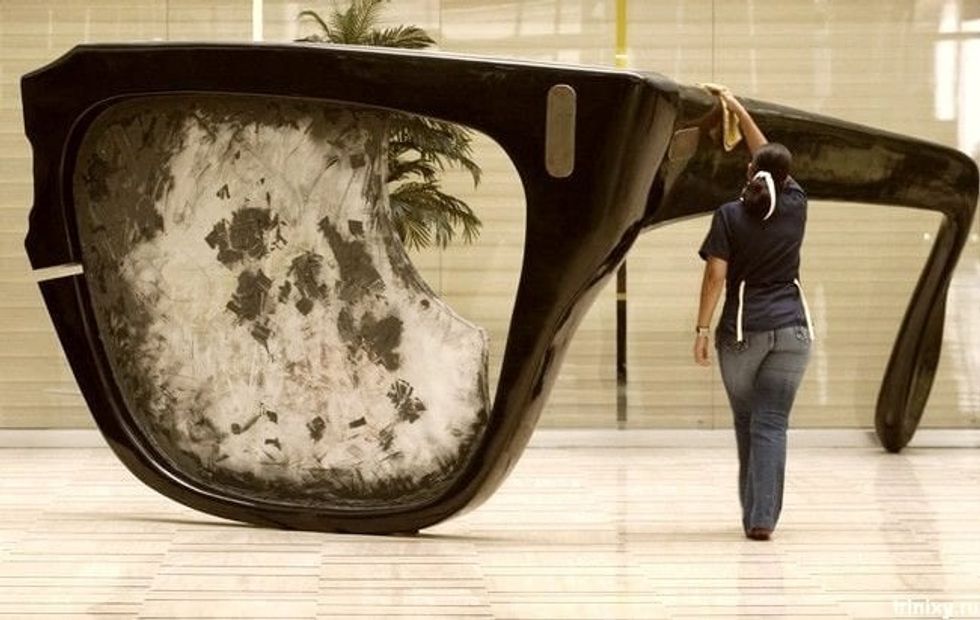 A memorial depicting Allende's broken glasses in the aftermath of the coup
On that day in 1973, the United States backed a coup that killed Chile's democratic socialist president, Salvador Allende, ushering in the brutal era of Pinochet. Chile has never fully recovered from the violence of that period, nor the sudden shift in economic policy that followed. For many Chileans, it has been hard to imagine a world in which the leadership could work for them, rather than the global elite. But now the streets of Santiago and Valparaiso are being taken over by thousands of protesters who've been unwilling to accept piecemeal concessions from President Sebastian Pinera.

In Chile, a billionaire president pushes austerity while the military represses protesters. Thousands have been arrested. Knowing Chile's history, this is very dangerous.

The solution here and across the world is obvious. Put power where it belongs: with working people. https://t.co/s6J7kOtDXs
— Bernie Sanders (@SenSanders) October 30, 2019
So far many of these protests have been peaceful, but there have been instances of arson and of violent clashes between protesters and security forces. At least 20 have already died, but the activists there are not giving up. They are relentless, and they are only interested in substantive change—a fundamental restructuring of the Chilean Government to serve the working people. They want Pinera to resign, and they are calling for changes to the Chilean constitution.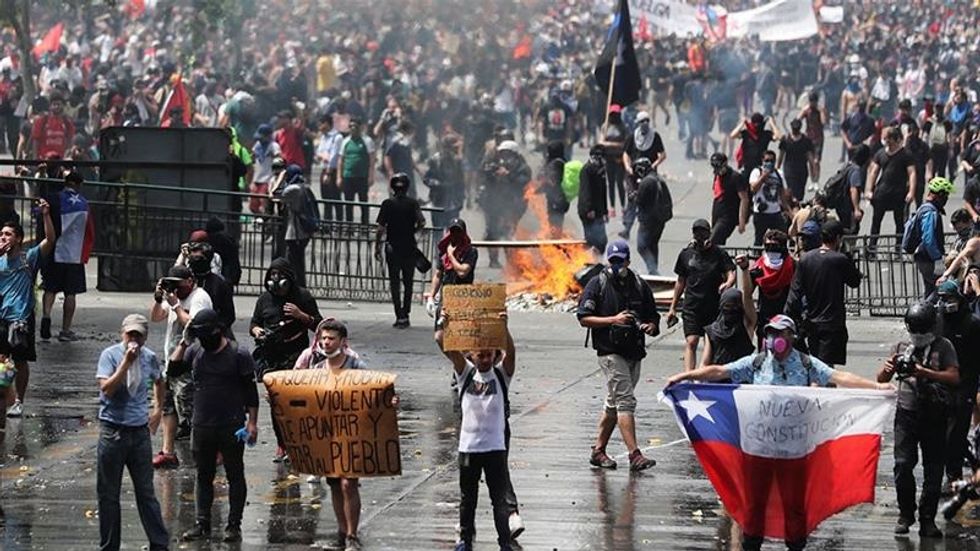 Al Jazeera
For Americans, this kind of protest remains out of the question. Protest in America does not exist to be disruptive or to force action. It only serves as a salve for our powerlessness.
American protest is sanctioned by the system and restricted to its proper time and place. It makes the protesters feel better for a time—makes them feel seen, like they're a part of something—and maybe it raises some awareness for a cause or inspires some phone calls to congress. And if it attempts to do more, it is met with swift and violent crackdowns. It does not—cannot—break down the country's normal functions.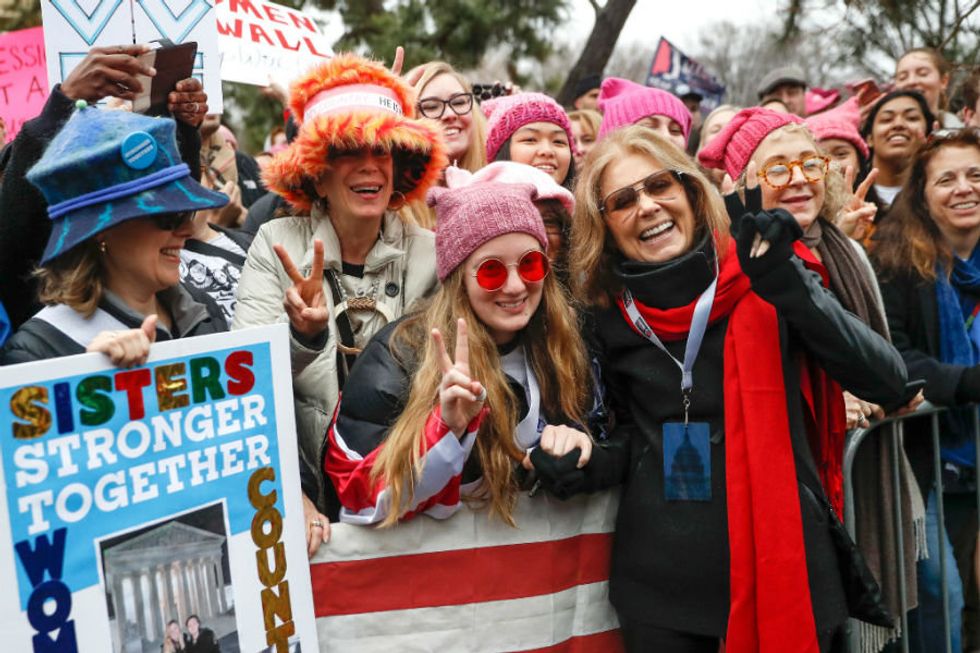 Christian Science Monitor
But what if the normal functions no longer work for the people? What if the interests that led the United States to back coups against Socialist leaders are also fueling mass propaganda campaigns against grass roots movements at home? What if they're defending those in power from the normal avenues of accountability?
The American media has a tight focus right now on the rapidly developing impeachment proceedings, and that makes sense. There is new information coming out of those efforts on a near daily basis, and there is a significant precedent for this kind of procedure to effect change. But it remains to be seen whether all this new evidence will survive the spin and propaganda from the likes of Fox News and One America News. We should not place our faith purely in the institutions of power to regulate power. To achieve anything for the people, the institutions of power must be afraid of the alternative.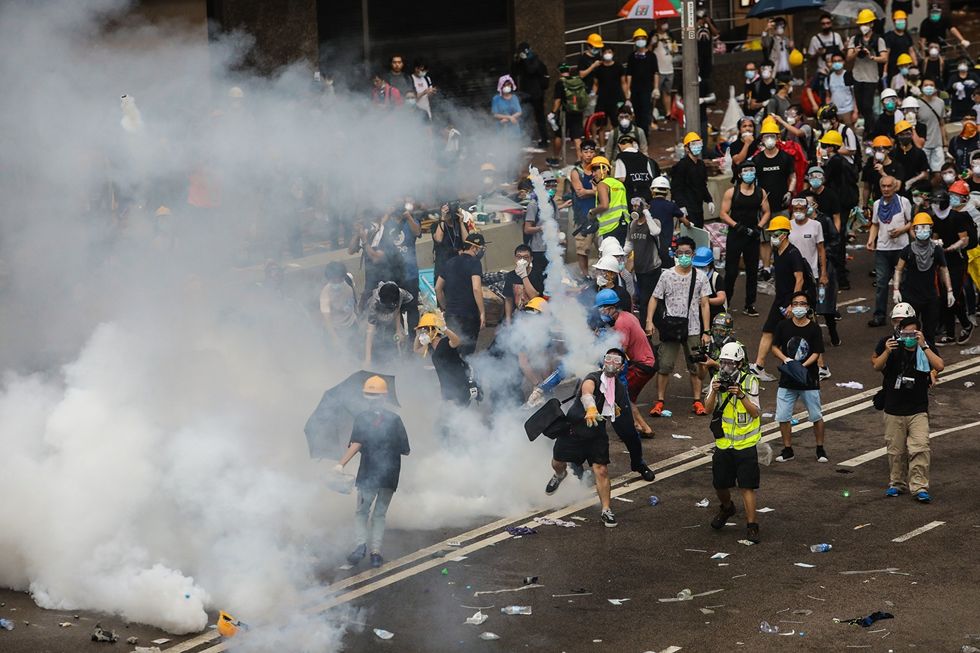 AFP/Getty Images
We must look at the mass actions that are making life difficult for the powerful in Chile and Lebanon and Hong Kong, and prepare ourselves to make the same kind of trouble at home. Even if Trump is forced out of office and the Democrats choose a progressive nominee and the 2020 election fully flips control to the Democrats, the fight will only be getting started. The interests and forces that killed Salvador Allende in Chile will still be doing everything in their power to protect the status quo. We must be willing to upend the normal order if we want to produce real change.

To keep the earth's temperatures from rising, serious changes need to happen over the next year and a half.
While Robert Mueller and Donald Trump dominate the public's attention, experts have quietly come to the consensus that we have around 18 months to stop the worst effects of climate change.
Last year, a study by the Intergovernmental Panel on Climate Change found that in order to prevent catastrophic warming, we need to cut carbon emissions by 45% by 2030. Today, political theorists believe that in order to achieve that goal, we must immediately begin implementing the political structures that will allow us to reach it.
At a reception for the Commonwealth foreign ministers, Prince Charles spoke out in support of climate action. "I am firmly of the view that the next 18 months will decide our ability to keep climate change to survivable levels and to restore nature to the equilibrium we need for our survival," he said.
'It's happening, it's now,' says U.S. government report on climate changewww.youtube.com
A Critical Time
So, why are the next 18 months so vital for the future of the earth's climate? During the next year and a half, a series of important political meetings and conventions will take place. On September 23, the UN will hold a special climate summit in New York, where attending countries are expected to present their emission-cutting plans. Then the UN's annual climate change summit, known as the COP25, will be held in Santiago, Chile in December 2019. Finally, the COP26 will take place at the end of 2020, most likely in the UK.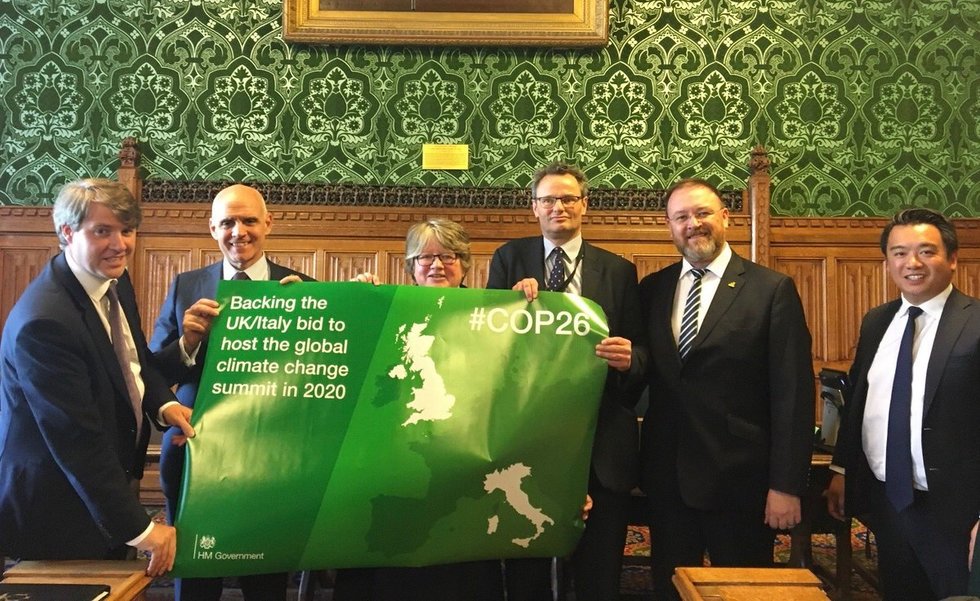 Image via Twitter
According to Environmental Secretary Micheal Gobe, the importance of these meetings cannot be understated. "We need at COP26 to ensure other countries are serious about their obligations and that means leading by example," he said. "Together we must take all the steps necessary to restrict global warming to at least 1.5C."

Depending on what happens at these meetings during the next 18 months, we could see plans like the Green New Deal set into motion. On the other hand, if a climate change denier remains in the US office, the UK summit could be the moment where the US formally withdraws from the Paris agreement (which proposed the bare minimum carbon emission cuts needed to prevent extreme consequences from climate change).
No Choice but Change
If these conferences fail to spark large-scale action, "we will have no chance of getting to a 1.5 or 2C limit," said Professor Michael Jacobs, a former climate advisor to the Prime Minister Gordon Brown.
There are several other conferences happening in the next year and a half, namely the Convention on Biological Diversity and the UN Convention on the Law of the Sea, both of which are expected to craft plans to protect our livelihoods. It's promising that all these conferences are occurring. Still, many fear that they will not push for action radical enough to meet the 1.5 degree goal.
If the goal is not met, the consequences will be unimaginable. More natural disasters (like the wildfires we're seeing right now in Alaska) would ravage coastlines and could destroy entire nations. Chronic refugee crises would ensue. Disease would flourish. One in four animal species would go extinct.
Judging by the current state of politics and carbon emissions (India is on track to overshoot its Paris Agreement goal by 60%), things are looking bleak. Fortunately, a rise in activism and protest—helmed by figures like Greta Thunberg and Alexandria Ocasio-Cortez—has drawn much needed political attention to the climate crisis. Still, it's not enough: In order to ensure a livable future for the earth, people around the world must come together and force their representatives and nations to listen to science and reason.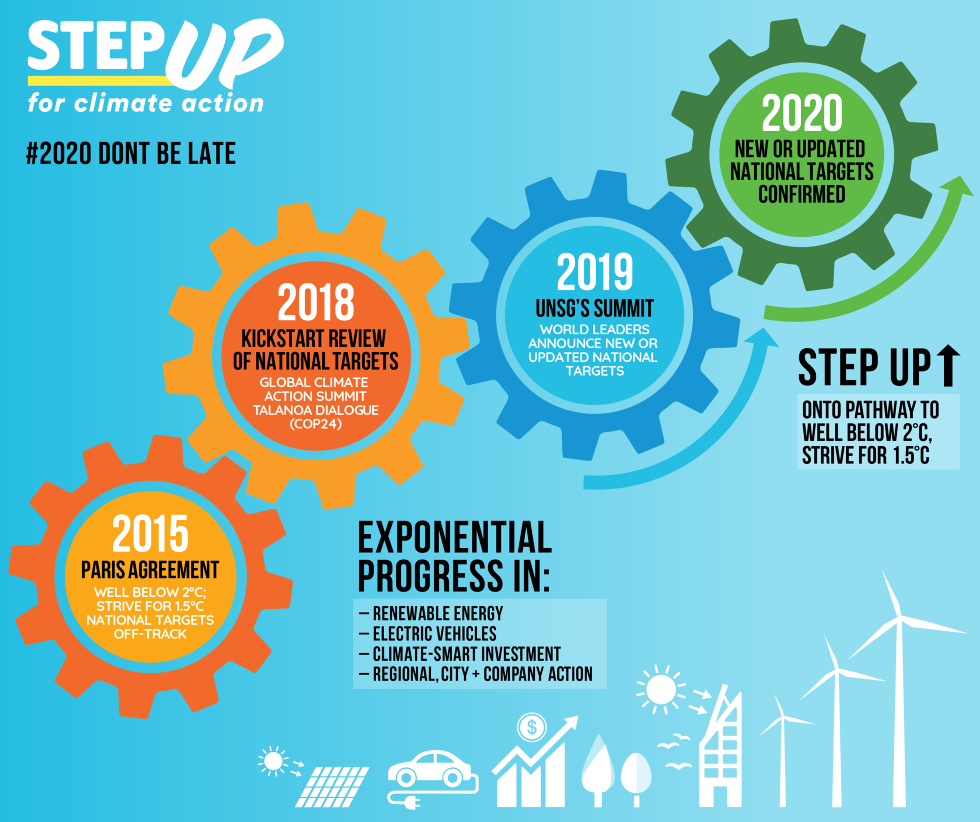 Image via World Economic Forum
This week, Rep. Alexandria Ocasio-Cortez and Senator Ed Markey will be proposing the most ambitious plan to fight climate change yet.
Recycle. Take shorter showers. Turn the lights off.

Over the past several decades, most of us have heard these diatribes repeated over and over, and have perhaps become numbed to these mantras, which promise that tiny droplets of collective action could potentially save the planet from environmental ruination.
It's true that small changes are important, and that each person contributes to the growing levels of waste and pollution that are killing our ecosystems and raising the planet's temperatures so dramatically that Manhattan-size gaps are forming in Antarctic ice. But it's also true that 71% of carbon emissions come from just 100 companies. It's also true that the scale of the crisis has grown unmanageable, and poses an unprecedented threat to human life.
That's where the Green New Deal comes in.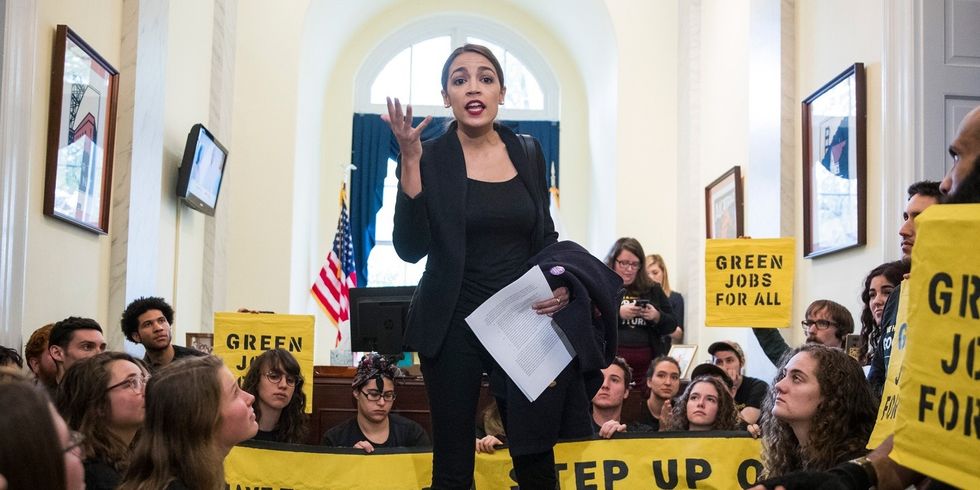 Image via The Intercept
"It's the only plan that matches the scale of the crisis," said Naomi Klein of the proposal, speaking on livestream yesterday night to thousands of activists tuning in across America. The livestream was hosted by the Sunrise Movement, a millennial-founded organization dedicated to supporting and fortifying the Green New Deal, especially as it's proposed in Congress in the coming week. Klein is the author of This Changes Everything, a book that argues that impending climate catastrophe actually presents an extraordinary opportunity to revamp the world's economic systems for the better. "I believe we were born for this moment," she told viewers.

Named after FDR's New Deal—which revolutionized the entire country on a tremendous scale, planting three billion trees and establishing hundreds of national forests in addition to catalyzing widespread economic, agricultural, and social reforms—the Green New Deal seeks to implant reforms on an equivalent scale in a time when it seems like there is no other option.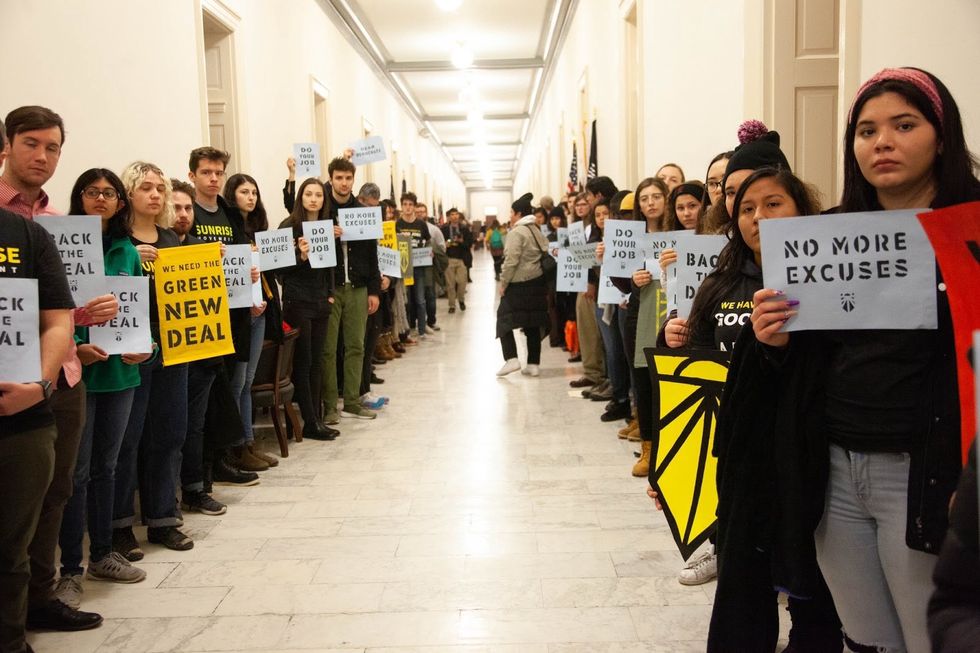 Image via Vice News
The plan has gone through several phases, but the one that's being proposed in Congress this week focuses on several fundamental points. First: achieve net-zero carbon emissions by 2030, and transition to renewable energy on a huge scale through initiatives like the creation of a nationwide electrical grid. Second: institute a living wage for all, in tandem with the creation of unlimited numbers of green jobs. These are the plan's main tenets, but its ideological aspirations stretch much further. It hopes to generate thousands of jobs in the form of start-ups and maintenance, and to start a wave of international trade in the renewable energy sector.

The original plan focused on a switch to 100% renewable energy by 2030, but a recent five-page draft obtained today by Bloomberg didn't mention this point, perhaps as a nod to moderates, though the omission is still subject to change. The draft proposes large-scale investment in green technology, the restoration of threatened lands, waste removal, and "massive growth in clean U.S. manufacturing, removing pollution byproducts and greenhouse gas emissions from that sector as much as technologically feasible."
The term "Green New Deal" is not a new one, though it has been going through different iterations since its inception. It was coined in a 2007 column by Thomas Friedman, and Barack Obama included it in his 2008 platform. Britain also took note, but a surge of Republican/Tory victories stymied its momentum.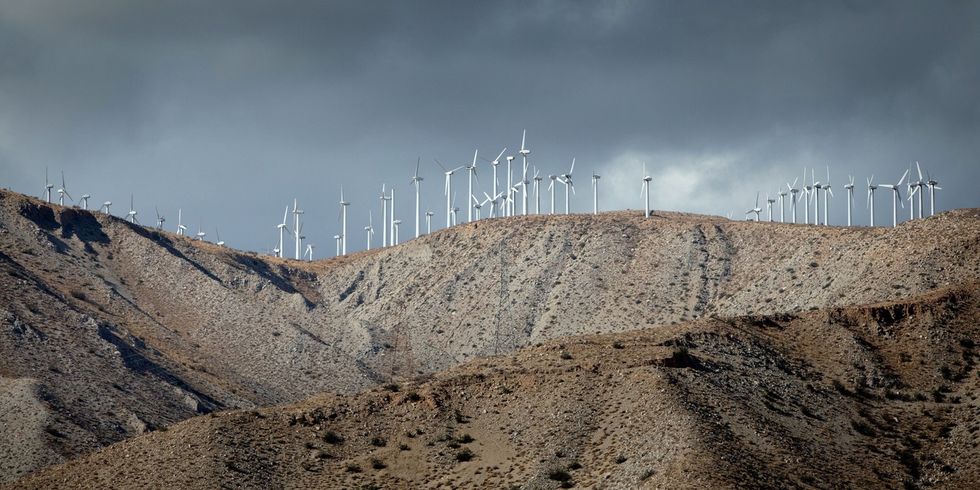 Image via theintercept.com
The GND has found new life in Representative Alexandria Ocasio-Cortez, the Bronx electorate whose rise to political success has been accompanied by widespread social media fame. Ocasio-Cortez showed up in person to support a Sunrise Movement sit-in in Nancy Pelosi's office, demanding the creation of a committee dedicated to developing and pushing the GND, and since then she has become one of its biggest proponents. Now she will be proposing it in Congress this week, alongside Massachusetts senator Ed Markey. The plan has also garnered support from Rep. Ayanna Pressley, as well as 2020 presidential candidates Kamala Harris, Cory Booker, and Bernie Sanders.

The Sunrise Movement began in 2015, when it was founded by climate activists Sara Blazevic and Varsini Prakash, and quickly gained momentum, taking notes from the heady drive of the 1963 civil rights protests of Birmingham, Alabama. Its founders gathered activists, reached out to politicians, and pulled together the finer points of the Sanders campaign and other recent social movements; the successful Pelosi sit-in was the product of months of organizing.
The movement is appealing in a narrative sense: the vision of young people fighting against bloated fossil fuel behemoths has a definite draw to it. There's also the fact that science says the fate of the entire world requires unprecedented global change over the next few years, otherwise catastrophes like Hurricane Sandy and the California wildfires will become the stuff of the everyday.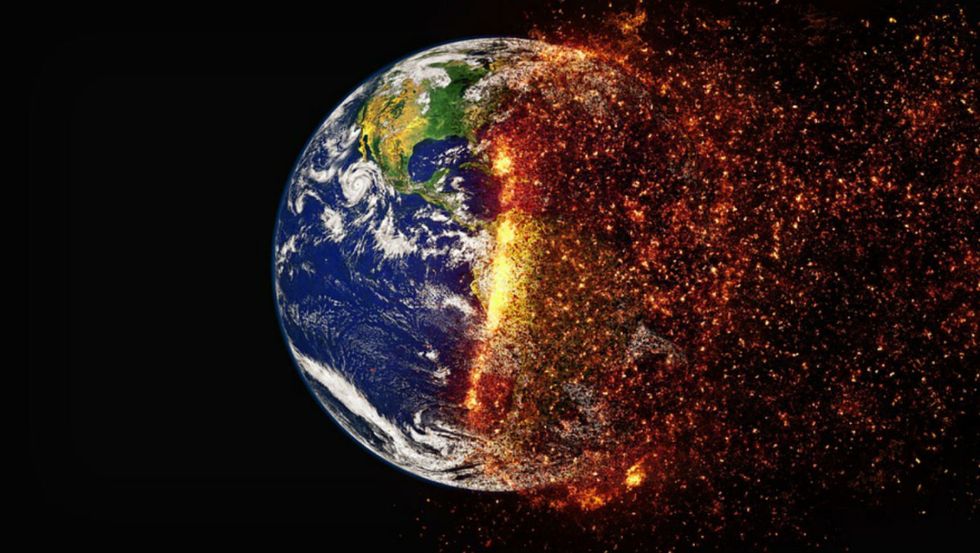 Image via theinsurgent.com
But the GND is still just an idea, and it could remain that way. Its lack of specific policy has been subject to criticism, though an official draft has yet to be unveiled, and conservative news sources have labeled it as a hoax, an amorphous idea without policy to back it.
While the GND might seem like an impossibly ambitious proposition, humans have revamped and reshaped the world before a hundred times over, and we are nothing if not creative and adaptive. We've created technologies that connect the globe and turned empty landscapes to highway-lined cities in a matter of years. Now—unless you like the idea of joining Elon Musk's exclusive Mars colony—it's time to turn all of our collective energies towards the future of the home we share.
70 leading Democrats have signed on in support so far, and momentum is building for its official proposition. The Sunrise Movement is planning on facilitating office visits to congress people across the country this week, as well as a rally in Washington on February 26th.
In an age of doomsday threats and constant headlines about plastic oceans and refugee crises facilitated by environmental droughts, the idea of a Green New Deal—something that could actually, genuinely make a difference that touches every aspect of life—seems like a light at the end of the tunnel. Now it's just a matter of getting there.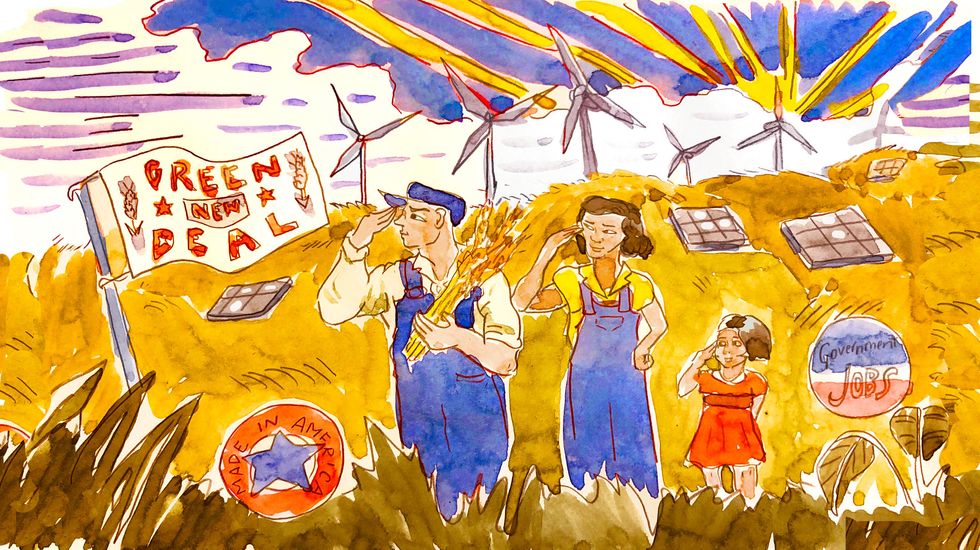 Image via radioopensource.org
Environmental crisis affects the poor and vulnerable at disproportionate levels; it catalyzes mental and physical illness, economic decline, and overall devastation. Irreparable damage has already been done—but the fight is not quite over yet, though time is running out.
---
Eden Arielle Gordon is a writer and musician from New York City. Follow her on Twitter at @edenarielmusic.

---
Is there truth behind going green and can it really help save the planet?
So many campaigns want you to recycle, avoid creating trash and reduce your carbon footprint. There are many, many tips online to living a green lifestyle. And many people are attempting to reduce waste and conserve energy — but is this enough to really make an impact?

Sure, if every single person (or at least most people) in developed societies lived an eco-friendly lifestyle, there would be a significant impact on the environment. But right now, about 75 percent of Americans don't do more than turn off the lights and recycle even though about 79% consider themselves environmentally conscious.
...fossil fuels are intertwined with pretty much everything we do.
If you live in an urban area, it might be a little easier to make more green lifestyle choices. Your city probably has the ability to recycle more than in other areas. You have access to public transportation and many more options when it comes time to shop or get groceries. These options just aren't as widely available in suburban and rural areas. Some municipalities don't even have any kind of recycling plant. Everything (including plastic, paper, bottles and cans) goes to the dump. Beside the fact that going through the effort to change your lifestyle to become more green takes time and money that some just can't spare.
But let's take a step back. Even if a lot of people do everything right and live an incredibly environmentally conscious lifestyle, nothing will really change. Why? Because fossil fuels are intertwined with pretty much everything we do. The solution to global warming isn't rooted in going paperless (using paper is more eco-friendly than smartphones anyway). The solution is in fundamentally changing the very fabric of our economy. That's not something individuals can do on their own.
Almost everything you buy and consume has to be transported to the store (for you to purchase. Within the country, this is done with trucks. Overseas, it's usually done with ships or planes. Every single one of those vehicles burns some type of fossil fuels to get going. You probably burn them when you're going to the store too. (You can't really get around this by ordering online either.)
In the end, using an electric car can actually put more carbon in the atmosphere than your average gas-powered car.
Electric cars are often seen as a solution for this. It's better to use electricity than gas, right? Definitely — if most of the power didn't come from burning fossil fuels. America's power grid is powered by about 40 percent coal, 25 percent natural gas, 20 percent nuclear power and about 10 percent renewable sources (mostly hydroelectricity). If you own or are considering an electric car, you would most likely still be burning fossil fuels. And that's not even taking into account everything that goes into making a new car. Just like a regular car electric vehicles require precious metals and minerals to be manufactured. What's more is all of the materials and parts are transported using fossil fuels as well as the final product itself. In the end, using an electric car can actually put more carbon in the atmosphere than your average gas-powered car.
Just about every facet of our modern economy depends on burning fossil fuels. That isn't something one person can change. To really live a sustainable and eco-friendly lifestyle, we need to change everything about how we live. That just isn't an easy process.
Of course, it still helps to reduce, reuse and recycle — but that only makes a relatively small impact compared to the overall economy. But it isn't all doom and gloom. The Paris Agreement was an encouraging step toward reducing carbon emissions around the world. If you really care about reducing your carbon footprint, the best solution is to organize and lobby companies and the government to change procedures and regulations. Ultimately, individuals independently choosing to live a greener lifestyle only makes a small impact in reducing our global carbon footprint.