Trump's latest tweet has sparked questions across the nation.
Of all the senseless tweets we've had to make sense of since Donald Trump was elected president of the United States in 2016, one of the most alarming went out on July 30th.
The tweet reads: "With Universal Mail-In Voting (not Absentee Voting, which is good), 2020 will be the most INACCURATE & FRAUDULENT Election in history. It will be a great embarrassment to the USA. Delay the Election until people can properly, securely and safely vote???"
With Universal Mail-In Voting (not Absentee Voting, which is good), 2020 will be the most INACCURATE & FRAUDULENT E… https://t.co/VcSCg7IPwj

— Donald J. Trump (@Donald J. Trump)1596113169.0
For obvious reasons, many people around the world reacted strongly to the suggestion that Trump may try to delay the election. It's long been speculated that President Trump will dispute election results should he lose in November 2020, and this tweet seems to support the idea that Trump is priming his followers to question the validity of the results.
Does Trump have the power to delay the election?
Luckily, Trump does not actually have the power to delay the election, and it's incredibly unlikely that Congress would allow a delay.
By law, the presidential election is held on the first Tuesday after the first Monday in November. For that date to be changed, both houses of Congress (the House of Representatives and the Senate) would need to approve the delay. The constitution is very clear on the matter of election date change, and Congress would have to undertake the arduous process of amending the constitution in order to change the date.
As The New York Times points out, "Article II of the Constitution empowers Congress to choose the timing of the general election. An 1845 federal law fixed the date as the first Tuesday after the first Monday in November. It would take a change in federal law to move that date. That would mean legislation enacted by Congress, signed by the president and subject to challenge in the courts."
Prominent law experts have also spoken out and confirmed that Trump doesn't have the power to move the election, including Democratic election lawyer Marc Elias.
🚨Trump cannot delay the election. Only Congress, through a new law could do so. In any event, per the US Constituti… https://t.co/XTupQVZsZ9

— Marc E. Elias (@Marc E. Elias)1596114116.0
Is universal mail-In voting a bad idea?
Not at all. In fact, mail-in voting has been a major part of elections since the Civil War when soldiers voted by mail from the battle field. Voter fraud is extremely rare in any case.
According to a study by the Brennan Center for Justice, incident rates of voter fraud in mail-in situations are between .0003% and .0025% nationwide. Oregon, the first state to institute universal mail in voting in 2000, have only documented about a dozen cases of proven fraud in the last two decades. According to The New York Times, "Numerous studies have shown that all forms of voting fraud are very rare in the United States. A panel that Mr. Trump established to investigate election corruption was disbanded in 2018 after it found no real evidence of fraud. Experts have said that voting by mail is less secure than voting in person, but it is still extremely rare to see broad cases of voter fraud."
Does mail-in voting disproportionately benefit the Democratic party?
It's unlikely. As the Brooking Institute points out, "The first state to adopt a universal mail-in ballot program was Oregon in 2000. Shortly after it was enacted, Adam J. Berinsky, Nancy Burns, and Michael W. Traugott sought to explore the impact of the new law. They found that voting by mail did not bring substantial numbers of new voters into electorate, nor did it have any effect on whether the electorate was more Democratic or more Republican. The only effect they found was that it helped keep regular voters in the electorate."
A Stanford study on the subject found: "(1) vote-by-mail does not appear to affect either party's share of turnout; (2) vote-by-mail does not appear to increase either party's vote share; and (3) vote-by-mail modestly increases overall average turnout rates, in line with previous estimates. All three conclusions support the conventional wisdom of election administration experts and contradict many popular claims in the media."
In summary, it is incredibly unlikely that Donald Trump will be successful in delaying the election, and he is incorrect about mail-in voting being subject to widespread voter fraud.
Check out this helpful graphic for more information:
The coronavirus pandemic provides cover for crass political maneuvering.
April 28th was the original date for New York State's primary election.
Last month Governor Andrew Cuomo announced that it would be postponed until June 23rd, but on Monday the state's Board of Elections removed Bernie Sanders from the ballot, effectively cancelling the presidential primary for New York voters.
Sanders had previously suspended his campaign but was staying on the ballot in remaining elections in order to increase his delegate count and his leverage in shaping the party's platform at the Democratic National Convention this summer. A similar strategy in 2016 helped Sanders to reduce the sway of unelected superdelegates on the party's nominating process. Unfortunately for voters who wanted to support that strategy, a state law signed earlier this year allowed the board to remove Sanders from the ballot.
The official reasoning is that the election process would undermine the state's efforts to combat the coronavirus pandemic, which has hit New York City harder than anywhere else in the country. Given the new infections that resulted from Wisconsin's primary election on April 7th, no one can blame officials for being concerned, but many had assumed that the state would simply shift to an exclusively mail-in ballot process.
Both of these rallies happened in New York City and now none of these people will get to vote in the primary, mysel… https://t.co/SIf3p8Kv82

— Carlo (@Carlo)1588011358.0
A charitable interpretation would say that there wasn't enough time to coordinate such a large-scale task, but that's not the whole picture. Whatever the logistical challenges of providing safe voting access to the all of New York's voters, state officials have made it clear that this move also served to prevent an embarrassing result for their preferred candidate and to defend the party orthodoxy against the demands of the country's young progressive movement.

"What the Sanders campaign wanted is essentially a beauty contest that, given the situation with the public health emergency, seems to be unnecessary and, indeed, frivolous."
That was what Co-Chair Doug Kellner said during a live stream announcing the board's decision. It's unclear what he might have meant by the "beauty contest" comparison, though perhaps it was a reference to the fact that the candidate he prefers looks really bad right now. With an increasingly credible accusation of sexual assault leading the trending hashtags #DropOutBiden and #BidenDropOut on Twitter in recent days, establishment insiders who favor Joe Biden's candidacy have a vested interest in treating the nomination like it's already decided. Kellner voiced that sentiment bluntly, saying, "I think it's time for us to recognize that the presidential contest is over,"
Breaking: @CNN covers Tara Reade's accusations against @JoeBiden His campaign is over. What is the response from… https://t.co/ZHMFjjuJ8M

— Habiba Choudhury (@Habiba Choudhury)1587842002.0
But it's not over. It's very rare for a candidate to have clinched the nomination this early in the process. Joe Biden could easily make up a face-saving excuse to drop out and make way for a candidate without his baggage. He is currently several hundred pledged delegates short of a majority, with nearly half the states still waiting to vote—Ohio's mail-in primary is taking place today. But even assuming that he stays in the race, the final delegate count remains a key way to shape the policy conversation at the convention. While Biden has a distinct lead over Sanders—to the point where even a major scandal like the Tara Reade allegations is unlikely to change the outcome—holding the election in some form would have allowed for New York's voter's to be heard.

As senior Sanders campaign advisor Jeff Weaver put it, "While we understood that we did not have the votes to win the Democratic nomination our campaign was suspended, not ended, because people in every state should have the right to express their preference. What the Board of Elections is ignoring is that the primary process not only leads to a nominee but also the selection of delegates which helps determine the platform and rules of the Democratic Party,"
New York, with its young, left-leaning electorate, represented Bernie Sanders' best remaining chance of adding to his delegate count. Now the Board of Election has undermined that chance and ensured that New Yorkers won't get a say at all. With a critical election coming up in November, and the future of our nation resting on our ability to oust Donald Trump, they found a surefire way to reinforce young voters' sense of distrust and dissatisfaction with the Democratic party establishment.
Short answer: Everything.
In a small office inside an old theatre in New Hampshire, Bernie Sanders' supporters gathered to share their highlights and challenges after a day of knocking on doors.
"I'm feeling grateful," said one, before relaying a story about a surprisingly friendly interaction with a Trump supporter.
Others said they were feeling energized and inspired, despite a low response rate after hundreds of knocks and hours out in the February drear. "Just talking to one person who thanked me for being out in the field made it all worth it," said another.
The moment one person said they were feeling cold, organizers leapt into action, tossing hand-warmers to the shivering canvasser.
The New Hampshire primary was in one week. Some organizers had been in the small office for months, others had been working steadily since 2016, and still others were canvassing for the first time, but the energy in the room was palpable and warm and beautifully chaotic and fundamentally communal, much like a lot of Bernie Sanders' campaign. That has something to do with its success.
As Sanders has steadily risen in the polls, major media outlets have been forced to examine his campaign and the massive base of supporters—many young, social media-savvy, and passionately fired-up about their 79-year-old patron saint—that have propelled them to this place. Some portray his supporters as a battalion of belligerent young white males; others insist that Bernie's base is the most diverse of all; still others view them as lazy, entitled kids.
Doubters have been forced to interrogate that last opinion, because it's clear that Sanders' campaigners are anything but lazy. Sanders' campaign has garnered the highest number of individual donors of any candidate, amassing $1.3 million after discovering that a super PAC planned to air a negative ad about him. He raised nearly $100 million in 2019, topping Pete Buttigieg by some $25 million without the help of major corporations. His supporters are fervently keyed in, texting, tweeting, and—as it became clear in that New Hampshire room—getting out into the streets, taking the time to talk to people.
So what's behind Sanders' sweeping, grassroots appeal? And who are his supporters, really?
The easiest answer to this question is that there is no single answer. Bernie Sanders' supporters are working-class Americans, disaffected progressives, starry-eyed optimists, frustrated pessimists, devil's advocates, and God-fearing moralists. They are not a monolith. In that way, they might just represent the actuality of the American people—in all their contradictions, devotion, and passion—better than any other base.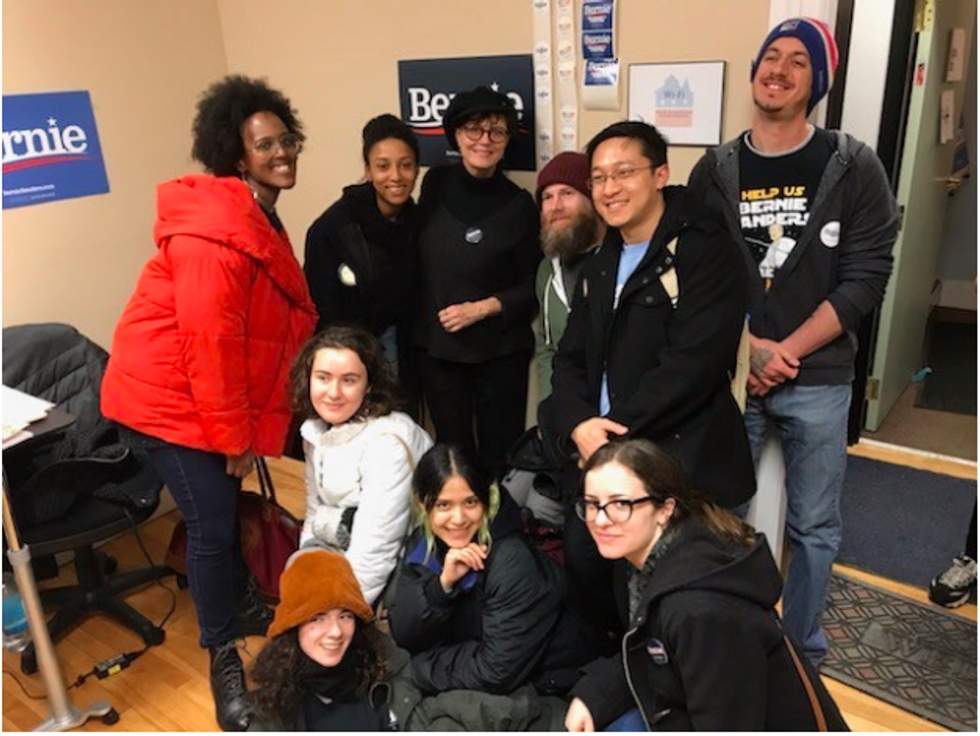 blackgirlnerds.com
"Not Me, Us" and the Fight Against American Hyper-Individualism
Miss Toni took a while to open the door. She was wearing a blue onesie covered in hearts, and her room was filled to the brim with records and posters from the 1980s. When she finally was able to open the door, a flock of birds fluttered away from her porch and took to the sky.
She told us she was already a Bernie supporter and began shakily filling out the sign-up sheet we gave her. She was registered to vote by her deadname (the male name she was given at birth), but she asked us to refer to her as Miss Tami. She had been an activist in the 1960s, she said. Bernie felt like the closest thing to bringing back the spirit of those days.
We also met a gun-owning Republican from Hawaii who, after hearing about Bernie's support for ending student debt and his dedication to ending the spirit of xenophobia in America, pledged to lend his support for Sanders on Tuesday.
Among the Trump supporters we met, their number one reason for supporting him was always the economy. "Me and my daughters are doing well."
"It would be nice if everyone could do as well as you and your family," we said. He shrugged. By the end of the conversation, he was genuinely smiling when he said, "I'm still voting for Trump. But I hope you guys keep going."
If Sanders does win the Democratic nomination, the economy will be paramount to the ensuing debates. While the currently strong American economy mostly exists thanks to Obama-era policies, and while many economists project that we are headed for a recession, it is true that Trump protects the Wall Street interests that continue to ensure cutthroat capitalism's success in America and around the world. These very successes are what have led America's income inequality levels to approach Depression-era extremities.
Sanders represents a synthesis of radicalism, anticapitalism, and a realistic understanding of the threats that America and the world are facing. To many, he also—contrary to the entire Bernie Bro narrative—represents human compassion. His campaign slogan, "Not Me, Us," is a refreshing antidote to the egotistical and self-absorbed nature of politics and neoliberalism in America. It's a reminder that—like the best stories, or the best policies—Sanders is just a vessel for something much greater, a catalyst for a dream.
Good luck to the planet to victims of American imperialism to people with giant student debt to those who want a li… https://t.co/EvaAD4D56p

— 𝐓𝐚𝐧𝐢𝐚 𝐒𝐢𝐧𝐠𝐡 (@𝐓𝐚𝐧𝐢𝐚 𝐒𝐢𝐧𝐠𝐡)1580738520.0
Sanders' Internet Army and the Limits of Tolerance

It's unfortunate that Bernie's campaign has been plagued by cruelty and disunity—and that these aspects of his base have been so heavily emphasized by the media. It's also true that some of Bernie Sanders' supporters can be cruel, and many need to learn to listen. If Bernie's supporters are serious about his campaign, they need to understand that shutting down discourse and rejecting all contention isn't the way to go about winning support.
But it's also true that in this America, people are dying thanks to medical bills they cannot pay, and students graduate into a world where they pay exorbitant amounts of money each month for years at a time in order to combat their student debt.
In light of this, the rage that many of Sanders' supporters feel at so-called centrists is born out of a deep-rooted desire to see real change instead of more of the same. It's a realization that trusting in the system and tolerating hatred is essentially the same thing as allowing them to continue.
It's also true that we're embroiled in a climate crisis, and kids are being born into a world of increasingly rampant natural disasters and apocalyptic scenarios playing out in real time, all while watching their politicians and parents do nothing. Bernie's Green New Deal is the most ambitious plan to address climate change of any candidate's; it also promises to renew the American economy, refurbishing our crumbling infrastructure by providing millions of new jobs in green, clean manufacturing. The strength of his plan has caused Sanders to gain the support of major environmental organizations across the country.
In a world where families can easily be crushed by a medical bill or a college admissions fee, Sanders' policies read like gospel for the disaffected. The Green New Deal, Medicare for All, free college, immigration reform, and an end to endless wars are plans that promise actual change, packaged in a promise that can be paid for with the money that the United States spends on wars and allows to burn holes in Jeff Bezos's pockets.
The gospel-like, lyrical, and consistent nature of Sanders' policies are at the center of his movement. Like "Make America Great Again," Sanders' policies appeal to the idea that politics is theatre, that the best politicians present a show and offer a vision, a possibility, a roadmap for a movement that will get people out of their homes and into the field.
Lighting the Fire
There's a video of Bernie Sanders in Vermont, teaching his campaign manager, Faiz Shakir, how to use a wood-burning furnace. Sanders is wrapped in a coat, bent over a cast-iron stove. "You want the flames from the small guys—are you recording me?" he says, stopping and then clarifying, "You want the small wood to be able to catch onto the big logs."
A Vermonter tries to teach a Floridian (me) how to properly light a wood-burning furnace. Let the record show he… https://t.co/Y5nLkZlWyS

— Faiz (@Faiz)1575426269.0
With his thick Brooklyn accent and his dedication to the task at hand, Sanders has intensely grandfatherly energy—but his statement also seems like it could suffice as his campaign slogan. He's a small flame, and when he began as a Vermont senator in 2016, he seemed to face impossible odds.

But every fire starts with a single spark. As the infamous poster that's a fixture in many dorm rooms reads, "Thousands of candles can be lit from a single candle, and the life of the candle will not be shortened. Happiness never decreases from being shared." It's a quote from the Buddha, but it could also apply to the ripple effect that Sanders' campaign has launched.
Change is catching and intoxicating. The spirit of hope and unity and fire that lights Sanders' campaign is a balm against apathy and hopelessness, against racism and xenophobia and economic inequality. It's about what human society can achieve—what we should achieve—what we are morally obligated to achieve.
Still, many of Sanders' supporters are realistic. We are well-aware that even if Sanders is elected, it will still only be the beginning of a long, hard fight against deep-rooted economic inequality, corporate greed, and dangerous capitalism-driven climate disaster in America and around the world. We know that visions and dreams mean nothing if the work isn't put into achieving them—the long, endless nights and the decades spent carving out policies.
But it's impossible to even begin the work if the dream isn't there in the first place, and if the people who believe in the dreams aren't allowed in the rooms where the work is done.
Regardless of what happens in Iowa and on the campaign trail, even the most fervent Bernie Sanders supporters believe that cruel attacks are not the answer. Even Alexandria Ocasio-Cortez—one of Sanders' biggest supporters—has stated that Democrats need to support whoever is elected in order to beat Donald Trump. If anything, we will need more unity and love and compassion for each other in the coming months than ever before.
We shouldn't have to compromise our values and allow people to die while others languish in the shade of the wealth and power they did nothing to earn, save being born in the right place.
Voting in Iowa closes at 7:00 PM CST in Iowa today, February 3rd. Find your caucus site here.

The opportunity to change your party affiliation in New York State closes February 14th.
Find out how to vote for Bernie in the primary in your state here.
We're here at the Ottumwa satellite precinct, which is the first Iowa precinct to caucus today. They'll kick off at… https://t.co/MFBXp2zHfn

— Brianne Pfannenstiel (@Brianne Pfannenstiel)1580752095.0
Can the Democratic establishment get it right this time?
With the first Democratic primary still about eight months away, the Democratic party establishment appears prepared to throw all of their weight behind Joe Biden.

To hear MSNBC or CNN tell the story, Joe Biden has been the Democratic party's frontrunner since before he even declared his candidacy. Whether or not this is entirely true, however, is debatable. Misleading polls are being conducted and then misrepresented by many liberal news outlets as a means of solidifying Uncle Joe's frontrunner status early on in hopes of swaying voters toward the "more electable" candidate in the primaries. If Joe Biden can be made to look like he actually has the best chance of clinching the nomination or winning against Trump in a general election, then, voters will be more likely to vote for him as the safe bet.
IVN, or the Independent Voters Network, self-described as "a platform for unfiltered political news and policy analysis from independent-minded authors," has highlighted the biased nature of many political polls. IVN writer, Rudolpho Cortes Barragan reports:
"FiveThirtyEight, which is owned by ABC/Disney, functions as a sort of gatekeeper for polling, and polls are extremely important for candidacies. The public is told that polls judged as A+ by FiveThirtyEight are to be seen as real bellwethers of popular opinion. In reality, 'the polls' are manufactured to produce the results that the pollsters (and their corporate funders) want to see."
Barragan goes on to cite a recent Mammoth University poll as evidence. "The results showed Biden 9 percentage points ahead of Sanders," he writes, "but if you look closely you will see that more than 70% of the people polled are over the age of 50. Any honest person would be able to tell you that the 2020 electorate will be far younger than 50." The data is seldom presented within its full context on mainstream news outlets like MSNBC or CNN, and instills in voters a false sense of Biden's electability and props him up as the "safe" vote.
If this sounds eerily familiar, it's because the same thing happened in 2016. Hillary Clinton, like Biden, was prematurely propped up as the most electable candidate, even though an anti-establishment candidate like Bernie Sanders may have stood a better chance against Trump's "outsider" persona, which resonated with many voters (particularly across the midwest). This was proven in the wake of Trump's victory when analyses showed that many Bernie supporters either did not vote in the general election or jumped on the Trump ticket, preferring the radical change suggested by Trump's "drain the swamp" narrative over Clinton's years of experience as a politician.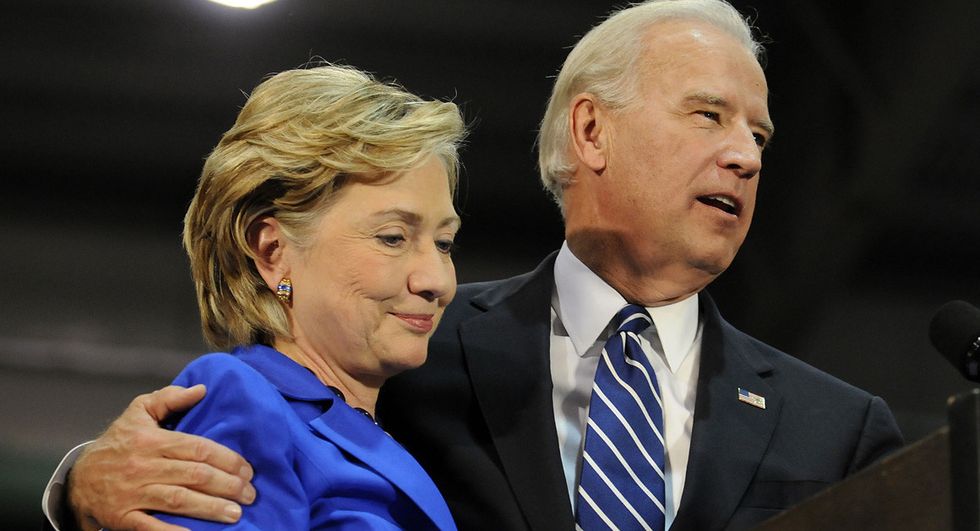 Joe Biden, like Clinton, is firmly rooted in the Democratic establishment. While Trump's approval rating has wavered over the last few years, hitting its low at 35% in 2017, it has remained around 40 to 45% — a number that should be alarming for Democrats going into 2020, as there have been only three single-term presidents since World War II.

Either way, the Democratic party and its voters must avoid making the same mistakes if there is any hope of preventing a Trump reelection. Poll manipulation was not the only issue in the 2016 election. The Democratic National Committee (DNC) was also exposed for unfairly tipping the scales toward Clinton in 2016, effectively rigging the primary against Bernie Sanders.
Donna Brazile, former interim chair of the DNC, revealed in her book, Hacks: The Inside Story of the Break-ins and Breakdowns that Put Donald Trump in the White House, the nefarious– although not technically illegal, according to US District Judge William J. Zloch, who dismissed a class action lawsuit against the DNC – actions of the Committee.
"Hillary would control the party's finances, strategy, and all the money raised," writes Brazile. "Her campaign had the right of refusal of who would be the party communications director, and it would make final decisions on all the other staff. The DNC also was required to consult with the campaign about all other staffing, budgeting, data, analytics, and mailings."
It's unclear whether the DNC's current chair, Tom Perez, will run an honest and fair ship as we approach the 2020 election cycle. Perez held the position of labor secretary during the Obama administration, and Biden publicly threw his support behind Perez during his campaign for DNC chair; whereas Sanders preferred Keith Ellison, who lost by a narrow margin. Only time will tell if Perez will tip the scales in Biden's favor due to their favorable history together, but the Democratic party is no stranger to nepotism, so Perez – especially in light of 2016 – should be watched carefully in the months to come.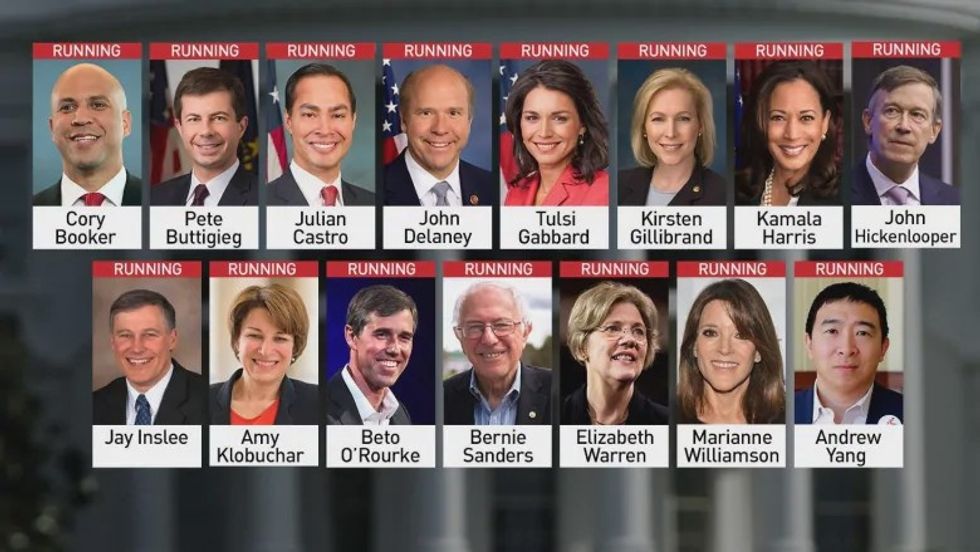 Even if the DNC does run a fair election this time around, electing Joe Biden would be a grave mistake. A mistake that the party already made last time around in the form of gifting the primary to Hillary Clinton. This election will not be one for tepid, center-of-the-road policies. We've already seen how an establishment centrist performs against Donald Trump. The Democratic party must embrace and adopt the progressive push to the left provided by candidates like Sanders and others if they have any hope of winning in 2020. Playing politics as usual will cost the Democratic party, and the nation, another four years of a Donald Trump White House.

Over the course of the evening, it became apparent the two frontrunners, Joe Biden and Bernie Sanders, aren't old dogs with new tricks.
Last night, the second round of Democratic debates came and went. Ten out of the twenty candidates who qualified for the debates were chosen at random to participate in the second half of NBC's nationally televised event. Of course, the goal for the Democratic Party is to take the Oval Office and hopefully the Senate.
Over the course of the evening, it became apparent the two frontrunners, Joe Biden and Bernie Sanders, are old dogs without any new tricks. Honestly, it'd be difficult to tell the difference between a clip of Senator Sanders debating in 2016 and 2019—maybe this time around, he's a little more tired. Joe Biden was alarming on the stage: He was ill-prepared, stumbled over his words, and leaned heavily on his smile. It's not that Biden had a terrible night' it's that he only had an okay night— which, for a frontrunner, is not a good sign. There were only three people anyone should be excited to hear from: Kamala Harris, Pete Buttigieg, and Marianne Williamson.
#LetYangSpeak
Between the two debates, candidate Andrew Yang spoke the least by a two-minute margin. During the three minutes he did speak, Yang introduced his Freedom Dividend policy. The Freedom Dividend Policy is a Universal Basic Income plan. All people over the age of eighteen would be eligible to obtain a basic income of a thousand dollars a month. Yang's policy is one of the few proposed that addresses an imminent threat: technology. If corporations like Amazon were heavily taxed, that'd free a lot more money for workers who are displaced due to automated jobs accomplished by AI.
If you look into Yang, he's a contender thanks to his reasonably successful grassroots campaign. Last night, Yang turned his campaign into the trending hashtag #LetYangSpeak. According to the candidate, his mic had been turned off multiple times throughout the evening. The only evidence available is footage of Yang attempting to get a word in but to no avail.
#LetYangSpeak Here's proof that @AndrewYang was attempting to speak, but his mic was cut off. Coincidences don't ex… https://t.co/cRhdujENfD

— AVWilhite20 (@AVWilhite20)1561733609.0
In the video, he's speaking, loud enough for Joe Biden to hear him. Beyond that clip, there is no other evidence. If that were, in fact, true, then NBC would have a lot to answer for ah regarding their meddling in a primary debate.

Marianne Williamson, Be Still My Heart
Marianne Williamson sure made a name for herself last night. Her dramatic and chaotic delivery was a delight for many. Yet, she did not come to play games; she came to bring up points of contention and big ideas we need to tackle. According to her, "It's really nice if we've got all these plans, but if you think we're going to beat Donald Trump by just having all these plans, you've got another thing coming. He didn't win by saying he had a plan. He won by simply saying 'Make America Great Again.'" She's right, like she was right about a lot of things: Williamson thoughtfully addressed the need for reparations, slammed ageist rhetoric, and exclaimed of love over hate.
Although her delivery was off-kilter to many, Williamson should not be underestimated for her flowery language; she explained:
"I have had a career not making the political plans, but I have had a career harnessing the inspiration and the motivation and the excitement of people. Masses of people. When we know that when we say we are going to turn from a dirty economy to a clean economy, we're going to have a Green New Deal, we're going to create millions of jobs, we're going to do this within the next 12 years, because I'm not interested in just winning the next election, we are interested in our grandchildren. Then it will happen."
Many Americans never imagined Donald Trump would be our president, but here we are. Williamson's bold statements and captivating delivery about her hopes and dreams for this country have the potential to capture the American imagination. Sure, she may give off the spiritual energy of a wine mom who likes crystals, but why does that discredit her abilities? Remember, the hippies of our nation began revolutions.
Marianne Williamson: I Will 'Harness Love' To Defeat President Donald Trump | NBC News www.youtube.com
Yes, We Just Witnessed a Murder

Kamala Harris came prepared last night. Over all the ruckus, Harris reprimanded her fellow candidates with her rehearsed one-liner: "America does not want to witness a food fight; they want to know how we're going to put food on their table."
She continued to command the evening by confronting Joe Biden on his record. Harris challenged the former VP, asserting:
"I'm going to now direct this at Vice President Biden, I do not believe you are a racist, and I agree with you when you commit yourself to the importance of finding common ground. But I also believe, and it's personal— and I was actually very—it was hurtful to hear you talk about the reputations of two United States senators who built their reputations and career on the segregation of race in this country. And it was not only that, but you also worked with them to oppose busing.
"And, you know, there was a little girl in California who was part of the second class to integrate her public schools, and she was bused to school every day. And that little girl was me."
Kamala Harris Confronts Joe Biden On Race | TIME www.youtube.com
Biden, who was once a spirited debater, floundered in his response. He clarified that he supported busing, but on the state level. Harris clapped back, recounting how in her hometown of Berkeley, California, busing was not enforced. She utilized the anecdote to explain why The Civil Rights Act of 1964 and the Voting Rights Act of 1965 were crucial to this country, which is why we need to ratify the Equal Rights Amendment.

Biden was given thirty seconds to respond. He vouched for his record, reasserting that he always supported Civil Rights, before cutting himself off, saying, "— anyway, my time is up. I'm sorry." Biden caused the most damage to himself, as he failed to successfully defend himself.
Sometimes, You Just Can't Get it Done
Pete Buttigieg was another candidate with a breakout performance. The South Bend, Indiana Mayor may be young, but he's had skin in the game for seventeen years. Buttigieg is a veteran, a politician, a polyglot, and a gifted orator. He also made history last night as the first openly gay candidate to participate in a primary debate.
On the topic of immigration, he broke down the hypocrisy of the Christian-aligning Republican Party. Buttigieg did not hold back, proclaiming:
"The Republican Party likes to cloak itself in the language of religion. We should call hypocrisy, and for a party that associates with Christianity to say it is okay to suggest that God would smile on the division of families at the hands of federal agents, that God would condone putting children in cages has lost all claim to ever use religion language again."
The South Bend native also candidly addressed his failure to diversify his city's police force, noting, "I couldn't get it done." He went on to explain the pain his city is experiencing due to the devastating death of a local black man, Eric Logan. Logan was shot and killed by a white police officer. The officer did not have his body camera on at the time of the incident. Buttigieg unpacked how he could not take a position on the matter until the investigation is complete.
The mayor's transparency was received favorably and for a good reason. We need a president who doesn't spread fake news.
Stop Name Dropping
Joe Biden name-dropped Obama almost as frequently as he did Trump. Biden's attempts to piggy-back off the former President's accomplishments highlighted the reason Biden why was only able to make it into the Oval Office as a running mate instead of president: He is not our future. While Biden is a respected Washington staple, his vision for our country is dated and boring. It doesn't capture the America we live in today. After Harris' takedown, it's apparent that Biden cannot justify his unfavorable past.
Maybe California Senator Eric Swalwell was right when he told Biden to finally "pass the torch" to the next generation. Biden slyly smiled and said, "Not yet." However, if last night proved anything, it's that he should've let go of it a long time ago.