"A tree is best measured when it is down," the poet Carl Sandburg once observed, "and so it is with people." The recent death of Harry Belafonte at the age of 96 has prompted many assessments of what this pioneering singer-actor-activist accomplished in a long and fruitful life.
Belafonte's career as a ground-breaking entertainer brought him substantial wealth and fame; according to Playbill magazine, "By 1959, he was the highest paid Black entertainer in the industry, appearing in raucously successful engagements in Las Vegas, New York, and Los Angeles." He scored on Broadway, winning a 1954 Tony for Best Featured Actor in a Musical – John Murray Anderson's Almanac. Belafonte was the first Black person to win the prestigious award. A 1960 television special, "Tonight with Belafonte," brought him an Emmy for Outstanding Performance in a Variety or Musical Program or Series, making him the first Black person to win that award. He found equal success in the recording studio, bringing Calypso music to the masses via such hits as "Day-O (The Banana Boat Song)" and "Jamaica Farewell."
Harry Belafonte - Day-O (The Banana Boat Song) (Live)www.youtube.com
Belafonte's blockbuster stardom is all the more remarkable for happening in a world plagued by virulent systemic racism. Though he never stopped performing, by the early 1960s he'd shifted his energies to the nascent Civil Right movement. He was a friend and adviser to the Reverend Doctor Martin Luther King, Jr. and, as the New York Times stated, Belafonte "put up much of the seed money to help start the Student Nonviolent Coordinating Committee and was one of the principal fund-raisers for that organization and Dr. King's Southern Christian Leadership Conference."
The Southern Poverty Law Center notes that "he helped launch one of Mississippi's first voter registration drives and provided funding for the Freedom Riders. His activism extended beyond the U.S. as he fought against apartheid alongside Nelson Mandela and Miriam Makeba, campaigned for Mandela's release from prison, and advocated for famine relief in Africa." And in 1987, he received an appointment to UNICEF as a goodwill ambassador.
Over a career spanning more than seventy years, Belafonte brought joy to millions of people. He also did something that is, perhaps, even greater: he fostered the hope that a better world for all could be created. And, by his example, demonstrated how we might go about bringing that world into existence.
80% of Americans believe abortions should be legal, so it's time, people - time for us to... Get up, stand up / Stand up for your rights
Less than a week before Mother's Day, Politico published a leaked draft opinion revealing that the Supreme Court's conservative majority of justices are ready to strike down two rulings on abortion rights, including Roe V. Wade the 1972 landmark decision that made abortion a federally protected right in the United States.

Since the Roe v. Wade ruling and the 1992 Planned Parenthood v. Casey ruling that affirmed the Roe decision, the court has never allowed states to prohibit the termination of pregnancies prior to fetal viability outside the womb – that's roughly 24 weeks.
The news sent shock waves around the world ...and with good reason. Roe guaranteed women's right to have an abortion without excessive government restriction. Written by Justice Samuel Alito, the Supreme Court draft majority opinion shows what could happen if the court overturns Roe v Wade.
Jesse Wegman brilliantly summed up the dire situation in a recent opinion piece in the NYTs: "If the holding in the draft opinion stands, it will mark an astonishing moment in our history: the elimination of an existing constitutional right, one that millions of American women (not to mention the men who impregnated them) have relied on for nearly half a century."
Though the draft was leaked by a person or persons unknown, the Court has acknowledged that the leak is genuine. Not all Washington conservatives agree with what's assumed to be the Court's position, but it fits within the Right's larger policies attacking and penalizing women, the poor, and people of color. Should Roe be overturned, the greatest impact will be felt by minority women.
As journalist Manuella Libardi has written:
"...the reality is that abortion is only illegal for poor women. Women with resources can always interrupt their unwanted pregnancies… Restricting access to safe abortions keeps poor women in poverty, perpetuates the cycle that prevents them from social mobility, and allows wealth to remain in the hands of the rich, particularly white men. Deciding if and when to have a child is essential for a woman's economic and psychological well-being: it has implications for her education and for entering the workforce."
The consequences of overturning Roe V. Wade and letting individual states determine their stances on abortion are frightening. No matter what the Court's decision is, women will still need to have abortions for personal, medical, and legal reasons. It'll just be harder to arrange – and far more treacherous.
A deputy spokesperson for United Nations Secretary-General António Guterres stated that "reproductive health and rights are essential to achieve equality around the world. The secretary‑general has long believed that sexual and reproductive health and rights are the foundation for lives of choice, empowerment, and equality for the world's women and girls...Without the full participation of 50% of its population, the world would be the biggest loser."
The Leak
The drafting of Supreme Court opinions is a fluid and dynamic process, so the document is not the court's final ruling. A work-in-progress, the leaked opinion is marked "first draft" and was dated Feb. 10, 2022. That's two months – or 8 fetal weeks – after oral arguments were heard in the Mississippi case Dobbs v. Jackson Women's Health Organization.
This is a document that citizens were never supposed to have seen. Following Politico's publication of the draft, Chief Justice Roberts announced that the Marshal of the Court – its chief operations and security officer – will investigate the source of the leak.
"Court employees have an exemplary and important tradition of respecting the confidentiality of the judicial process and upholding the trust of the Court. This was a singular and egregious breach of that trust that is an affront to the Court and the community of public servants who work here," Roberts said.
Just Who's On That Bench?
Liberal Judges: Sonia Sotomayor, Elena Kagan, Stephen Breyer
Conservative Judges: Chief Justice John Roberts, Clarence Thomas, Samuel Alito, and the three Trump-appointed justices Brett Kavanaugh, Neil Gorsuch, and Amy Coney Barrett
The Court has a blatantly partisan crop of justices who appear prepared to overturn Roe outright. The draft opinion has the support of at least four of Chief Justice Roberts' colleagues, according to Politico: Justices Thomas, Gorsuch, Kavanaugh, and Barrett – the only woman in the majority.
It's rumored that Roberts – ostensibly committed to the court's reputation and established precedent – may attempt to convince one of his conservative colleagues to join him in a narrower opinion that would not completely overturn Roe v. Wade.
The State of the States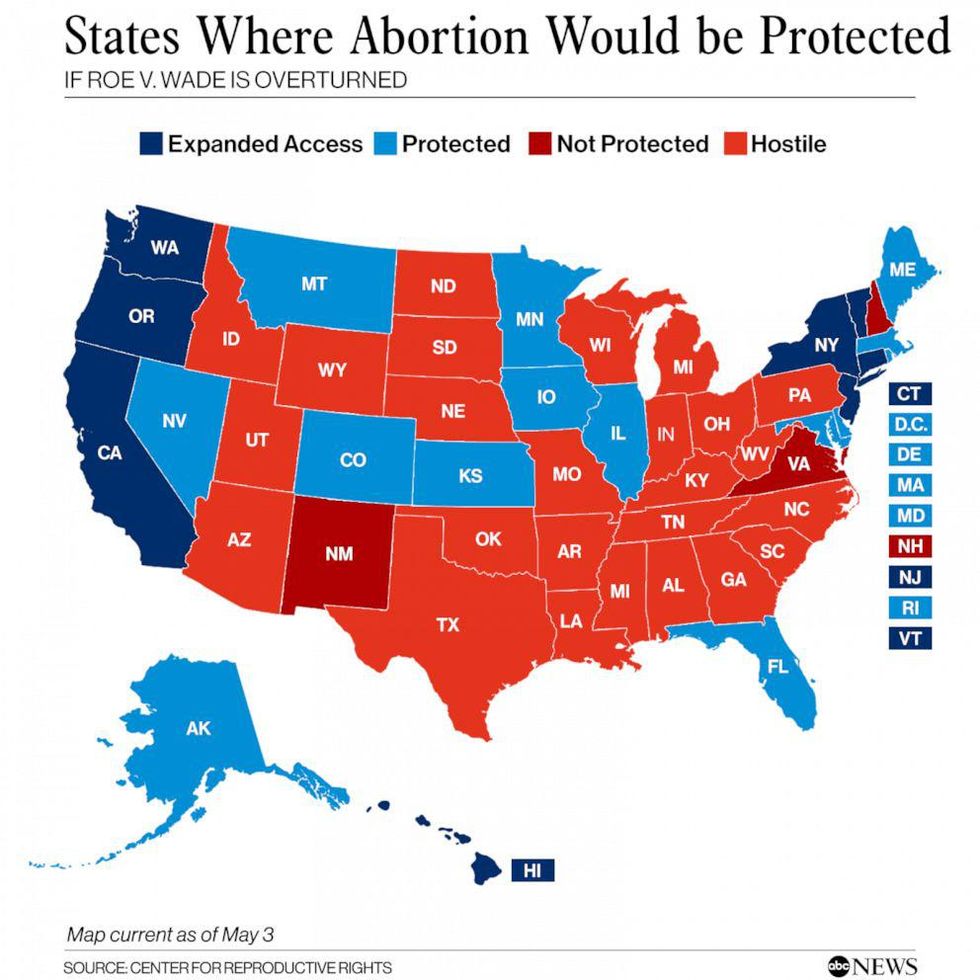 Abortion is currently legal in all 50 states, but over the past several decades many states have passed laws that limit access – most recently in Oklahoma, Florida, and Texas. Should the Supreme Court rule to overturn Roe, the power to decide abortion access would rest with each state's elected leaders.
According to the reproductive rights organization The Guttmacher Institute, over half of the nation's 50 states are prepared to ban it. Twenty-one states already have laws on the books that would ban it immediately, with five additional states likely to.
States planning to ban abortion are clustered in specific geographic regions – including the American South – where women will have to travel hundreds of miles at a greater inconvenience and cost. Imagine you're 15 years old, you're pregnant, and you live in Cyclone, WV, on Tribal Land in Tahlequah, OK, or Belle Glade – one of Florida's poorest cities and only an hour's drive from Mar-a-Lago. The denial of your right to health, education, and selfhood would be insurmountable.
As Langston Hughes challenges: "What happens to a dream deferred?"
Many attempts have been made on both the state and federal levels to overthrow or curtail the right to abortion. And more are sure to be made in the wake of the Supreme Court's decision. If Roe goes away, states can allow it, regulate it, or outlaw it.
And-so. Let's get down to it – I am sick to death of these men using words as sticks to beat us with. Blithely tossing around terms like trust and betrayal of confidences: LIKE. THEY. CARE one atom about trust, confidence, betrayal.
"Roe was egregiously wrong from the start," Justice Alito's draft states. "It is time to heed the Constitution and return the issue of abortion to the people's elected representatives."
In a statement issued Wednesday, Chief Justice John Roberts called the leaked draft a "singular and egregious breach" of trust.
I'm particularly struck by these two Justices' use of the word egregious so I dug into its etymological roots:
Originating in the 1530s, egregius comes from the Latin ex = 'out of' + grex or greg = 'flock' – literally 'rising above the flock' – illustrious, distinguished, excellent, extraordinary.
Egregius. What a precise word to define the leaker's singular and extraordinary act of courage. To rise above the herd and step bravely in front of a butcherous, onrushing train...
Let's call this for what it is. This is a chronic, concerted attack on gender, race, income equity, our health, and the well-being of our country. We are human beings who grew within, merged and emerged from a body – a body that bore us in blood, torment, and pain. Once. Before we were born, we were one with our mother.
At this moment in America, our bodies (regardless of gender), our body of law, our body of government are in great peril. We are one body – and we need to treat ourselves with the highest regard.
Let's end this terrifying war on reproductive health, this war on all Americans.
Get up, stand up / Stand up for your rights
Get up, stand up / Don't give up the fight
Honor Molloy is a novelist and dramatist whose work often addresses reproductive rights. Madame Killer is a Gothic Noir set in 19th Century Manhattan. In 2020, Round Room won Origin First Irish Theatre Festival's Best Play Award.
Because the Military Forcing a Resignation is True Democracy
Bernie Sanders and Alexandria Ocasio Cortez would have you believe that Evo Morales's recent resignation at the behest of the Bolivian military was a coup.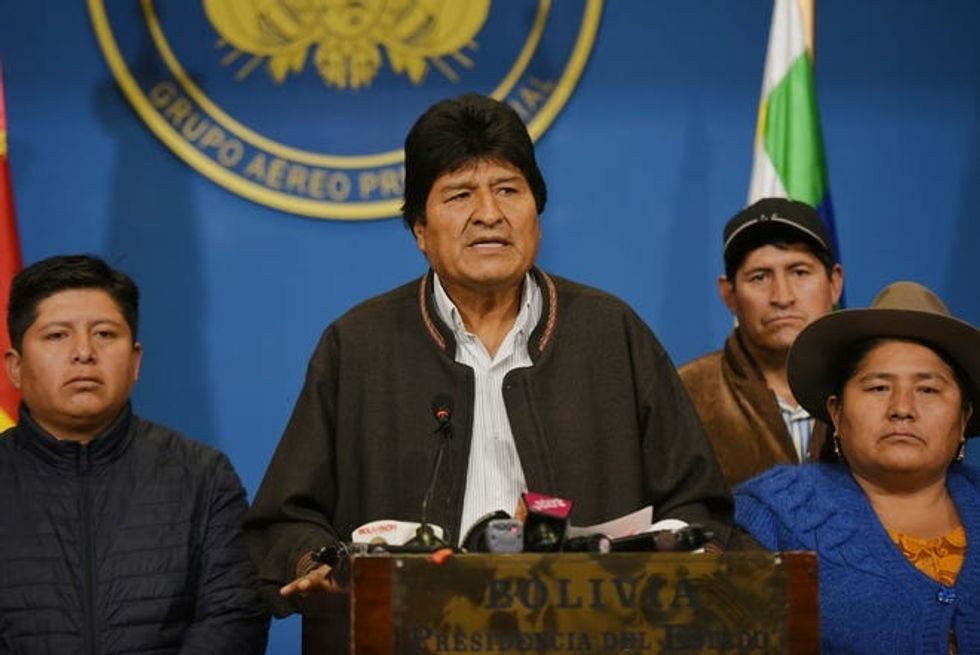 Don't be fooled! A coup is something bad that bad people do to take control of a democratically elected government, but there were actually irregularities in Bolivia's recent election, which means it's not democracy. Can you even imagine if there was ever any suggestion of electoral irregularities or cheating in the US? We would flip out. And yes, Evo Morales agreed to hold a second election, but that sounds boring, and it would take so much longer than just using the military to force him to leave so an opposition senator can declare herself president while wielding a giant bible and banishing indigenous belief systems from the palace.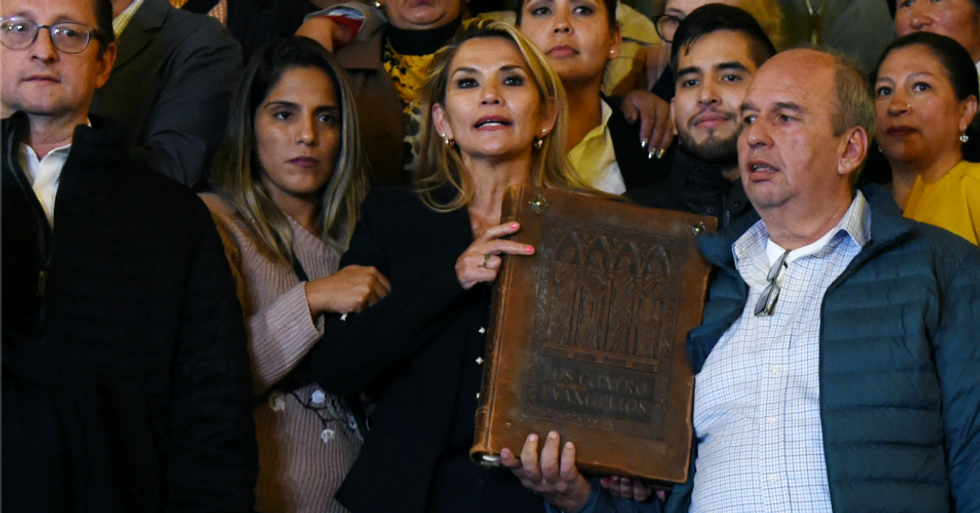 Speaking of elections, can you believe this impeachment nonsense? That's the real coup—the kind that is laid out in the constitution as an official process and is run according to rules established by the president's political allies. They've been acting as if just because this is a completely different context and process than a criminal trial, it doesn't need to follow the same rules as a courtroom. Since when? They're making this fundamentally political process into something ugly and political. Why can't these Democrat bozos just wait a year for the next election?

The Wall Street Journal knows what's up. Their opinion page has declared Evo Morales's resignation a "Democratic Breakout" and informed us that the impeachment "Subverts the Constitution." Clearly, if the Democrats were really upset with Trump's using military aid to get a foreign government to interfere with the 2020 election, they should not have investigated. They should have waited for an independent organization to point out the issues after Trump won reelection, then wait for Trump to agree to a new election before having the military kick him out of the country and allowing Dianne Feinstein to declare herself the new president. That's democracy! Investigating the President's crimes and airing his dirty laundry in front of the whole country, then having elected representatives who are accountable to their voters decide whether he should be removed from office—that's a coup.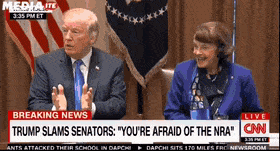 Of course, if you disagree with these sentiments, you may want to voice your opinion by calling your congressional representatives or signing a petition to have Congress acknowledge the Bolivian coup, so the US cannot support the new, unelected government. But that would be crazy.

While the Fifth Amendment is a crucial marker of individual rights, the lack of clear definitions and changing political landscapes make its application dangerously subjective.
Your right to "plead the fifth" is a constitutional protection against self-incrimination, but it's only one component of the legal provision that safeguards your rights from unjust criminal prosecution.
The Fifth Amendment protects against double jeopardy, being forced to incriminate oneself, prosecution without a jury of one's peers, and eminent domain. The legal precedents establishing due process protect more than just criminals; everyday citizens are protected from abuse of the justice system.
The provision, in full, dictates: "No person shall be held to answer for a capital, or otherwise infamous crime, unless on a presentment or indictment of a Grand Jury, except in cases arising in the land or naval forces, or in the Militia, when in actual service in time of War or public danger; nor shall any person be subject for the same offence to be twice put in jeopardy of life or limb; nor shall be compelled in any criminal case to be a witness against himself, nor be deprived of life, liberty, or property, without due process of law; nor shall private property be taken for public use, without just compensation."
In 2019, what are the limitations of these protections? Are there exceptions? What situations would require you to invoke them? What should you say to activate these rights?
While some may see "pleading the fifth" as tantamount to admitting guilt, it symbolizes your protection from self-incrimination. Cornell Law School defines the term to mean, "The act of implicating oneself in a crime or exposing oneself to criminal prosecution." When questioned by law enforcement during an investigation or during a criminal trial, an individual may refrain from answering questions or submitting requested materials to officials if it's believed that doing so may result in new criminal charges.
However, issues unrelated to criminal matters are not always protected from self-incrimination rights. For example, tax issues are not covered under the law so as to prevent individuals from withholding materials from the IRS. Furthermore, the law becomes murky when external circumstances could easily influence a person's ability to remain silent. Egregious examples of this right being circumvented include forced confessions and unjust interrogations.
As to due process, it's well known that before you can be found guilty of a crime, a grand jury of 16 to 23 people must be presented the case in private and deem that criminal charges justified. While a grand jury acts as "a kind of buffer or referee between the government and the people," an individual has a right to trial by jury. However, the Constitution's vital dictum against citizens being "deprived of life, liberty or property without due process of law" is only defined through a series of court rulings and provisions.
Of note is that due process protections are designed for individuals and application "in each case upon individual grounds." Sadly, this means that whole groups or communities are not, strictly speaking, as entitled to due process. For example, entire student bodies, teachers, or consolidated groups like protesters can be given treatment outside of lawful protections.
Lastly, eminent domain is the restricted power of the government to take private property and convert it into public use. Under the Fifth Amendment, the government can only use this power if they provide the private owners with fair compensation. However, abuse of eminent domain is fairly common.
For example, in 2019, Donald Trump defended his demand for a border wall separating the United States and Mexico under the right of eminent domain. While it was originally meant to be an economic benefit, there are no codified measurements of what constitutes "just compensation." The seizure of land by the government quickly becomes exploitative and a violation of privacy that's paramount to government theft.
While the Fifth Amendment is a crucial marker of individual rights, the lack of clear definitions and changing political landscapes make its application dangerously subjective. From due process to eminent domain, there are more exceptions than clear definitions of "justice."
Meg Hanson is a Brooklyn-based writer, teacher, and jaywalker. Find Meg at her website and on Twitter @megsoyung.
Here are three crucial ways the digital age complicates your protections under the Fourth Amendment.
When the Fourth Amendment codified citizens' protections against government spying in 1791, Americans couldn't say, "Alexa: turn off the lights." With technology pervasively conducting our daily errands, the amendment against illegal search and seizure is not equipped to protect digital users. In fact, David Cole, a law professor of constitutional law and national security at Georgetown University, critiques, "In the modern digital age, it means very, very little."
To be clear, the totality of the Fourth Amendment reads: "The right of the people to be secure in their persons, houses, papers, and effects, against unreasonable searches and seizures, shall not be violated, and no Warrants shall issue, but upon probable cause, supported by Oath or affirmation, and particularly describing the place to be searched, and the persons or things to be seized."
Here are three crucial ways the digital age complicates your protections under the Fourth Amendment:
1. Law enforcement doesn't always require a search warrant to enter your home
When police want to mine your private information on suspicion that you've committed a crime, they have to meet the familiar requirement of "probable cause." Traditionally, they must convince a judge that there is a sound reason to search and/or bug your property for surveillance. True to the wording of the law, your protected personal belongings include your physical body, "houses, papers, and effects."
However, "probable cause" includes the "plain view" clause, wherein authorities have the right to enter your home if they see evidence, contraband, or suspicious materials in your home. In the age of social media, a picture, check-in, or status you post could very well justify law enforcement entering your home without a warrant. The ruling in Katz v. United States stands as the most notable example that qualifies the Fourth Amendment as only applying to situations in which "an individual has a reasonable expectation of privacy." When you're sharing the details of your life on social media sites, you waive much of that expectation.
2. Your personal information is no longer "private" from the government once shared on social media
A series of rulings in the 1960s and 1970s began to add exceptions to the "probable cause" requirement. Namely, the government does not need a search warrant to obtain any personal information that you've already shared with somebody else. Hence, the government can obtain any private information given to credit card companies, banks, or phone companies, because you've technically de-privatized the information by using those services.
Of course the same applies to any and all social media accounts. All the government needs is a subpoena, which experts say is "trivially easy to issue."
3. Your location can be tracked by the government
While it may seem obvious to be wary of broadcasting your location at any given time, some personal devices and social media sites automatically tag and record your location. Your whereabouts cease to be a topic of government surveillance when you share the information willingly (which you do by using digital services). As Justice Alito noted when presiding over the United States v. Jones, social media tools "will . . . shape the average person's expectations about the privacy of his or her daily movements." Traditional protections simply don't apply to what you publicize yourself.
Trump has expressed his intention to repeal the 14th amendment.
President Trump's latest attack on immigration targets the children of undocumented persons by threatening to nullify the writ of birthright citizenship, also known as the 14th Amendment. Legislatively, this is nearly impossible and unheard of; but, most damningly, its patent ridiculousness is alienating both sides of the aisle.
While fatuous celebrity rants may err in understanding constitutional law, as was the case of Kanye West's Twitter fodder to "abolish" the 13th Amendment, a United States President's defective understanding of the constitution is as alarming as it is shameful.
But on Wednesday Trump once again aimed his tweets directly at his blind spot for facts, underscoring that he's impenetrable to shame. He claimed that "so-called Birthright Citizenship...is very unfair to our citizens. It is not covered by the 14th Amendment because of the words 'subject to the jurisdiction thereof."
So-called Birthright Citizenship, which costs our Country billions of dollars and is very unfair to our citizens, w… https://t.co/TDGBLMUNAh

— Donald J. Trump (@Donald J. Trump) 1540992317.0
The tweet was precipitated by an interview with Axios on HBO, which was released on Tuesday. Trump evinced his ignorance on constitutional law by stating, "It was always told to me that you needed a constitutional amendment. Guess what? You don't." Convinced, he added, "You can definitely do it with an act of Congress. But now they're saying I can do it just with an executive order."
No, of course he can't. In brief, the U.S. policy of jus soli dictates that an individual has a right to citizenship in the country he/she is born. This "Citizenship Clause" is codified in the 14th Amendment, which reads, "All persons born or naturalized in the United States, and subject to the jurisdiction thereof, are citizens of the United States and of the State wherein they reside." Depending on your interpretation of the constitution, no matter if you see it as elastic or fixed, legal precedent set by the U.S. Supreme Court in 1898 has upheld the Citizenship Clause as we know it.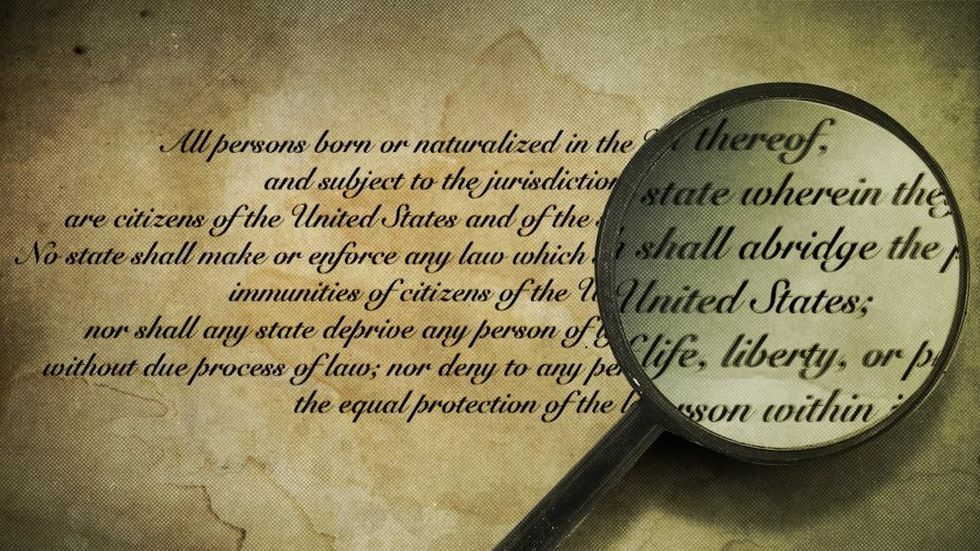 CNN
Trump went on to misattribute the "law of soil" as a singularly American mistake, stating, "We're the only country in the world where a person comes in, has a baby, and the baby is essentially a citizen of the United States for 85 years with all of those benefits." That's incorrect; over 30 other nations recognize birthright citizenship. "It's ridiculous. It's ridiculous. And it has to end," Trump went on.

Of course, rudimentary awareness of American history reminds us that constitutional amendments are complex pieces of legislation which are subject to checks and balances. If President Trump truly believes he can solely command an amendment change, House Speaker Paul Ryan clarified in a radio interview that he "obviously cannot do that." In fact, Ryan spoke on behalf of all conservatives as fully dissenting from Trump's views.
"You obviously cannot do that. You cannot end birthright citizenship with an executive order. We didn't like it when Obama tried changing immigration laws via executive action, and obviously as conservatives, we believe in the Constitution," Ryan told WVLK radio. "I'm a believer in following the plain text of the Constitution, and I think in this case, the 14th Amendment's pretty clear, and that would involve a very, very lengthy Constitutional process." Ryan added, "I believe in interpreting the Constitution as its written."
With midterm elections approaching, Trump's turgid misrepresentations of immigration law can only be in hopes of rallying votes from anti-immigration supporters and encouraging strife between republicans and democrats. Dem. Sen. of Virginia, Mark Warner said, "This is simply an attempt for Donald Trump, who wants to do anything possible to bring back fears around immigration, to use that as a political tool in this last week before the election."
He adds, tellingly, "This is again, where a President's words matter. The Constitution is quite clear that no one, including the President of the United States, is above the law."
Indeed, the President's stream of inflammatory rhetoric only serves as a distraction from his unfulfilled promises and his administration's failings. For instance, two new studies reported by The New York Times indicate growing anti-Trump sentiments in the top GOP district, suggesting that voters are alienated by "endless lies and hate-mongering." Greg Sargent at The Washington Post adds, "One likely answer is that the story Trump has told about the economy - and the country - just isn't resonating in many of these districts."
That Trump took to Twitter to repudiate Paul Ryan's reality check is par for the course, as was his ad hominem attack questioning Ryan's credentials to comment on birthright citizenship.
Paul Ryan should be focusing on holding the Majority rather than giving his opinions on Birthright Citizenship, som… https://t.co/fWpqNevAGI

— Donald J. Trump (@Donald J. Trump) 1541004199.0
Meg Hanson is a Brooklyn-based writer, teacher and jaywalker. Find Meg at her website and on Twitter @megsoyung.
Contrary to popular belief, there is no hate speech exception to the First Amendment.
The social networking site Gab has been taken offline since it was confirmed that the Pittsburgh synagogue gunman used it to post anti-Semitic hate speech and to threaten Jews. The site is popular with the far right and describes itself as "an ad-free social network for creators who believe in free speech, individual liberty, and the free flow of information online. All are welcome." Gab was originally created by conservative businessman Andrew Torba in response to Twitter clamping down on hate speech in 2016.
Robert Bowers logged onto the platform shortly before killing 11 people at the Tree of Life synagogue on Saturday to post the following.
Consequently, the site has been abandoned by payment processing firms PayPal and Stripe, as well as hosting service Joyent and domain register GoDaddy. A statement on Gab's website Monday read that the platform would be "inaccessible for a period of time" as it switches to a new web host. It said the issue was being worked on "around the clock." The statement went on to defend the website, saying, "We have been systematically no-platformed [and] smeared by the mainstream media for defending free expression and individual liberty for all people."
Regarding Bowers' use of the site, Torba said, "Because he was on Gab, law enforcement now have definitive evidence for a motive," Mr. Torba wrote. "They would not have had this evidence without Gab. We are proud to work with and support law enforcement in order to bring justice to this alleged terrorist."

But companies associated with Gab were not satisfied by the site's cooperation with law enforcement and continue to abandon the site. PayPal, the platform Gab used to manage donations from users, said in a statement, "When a site is explicitly allowing the perpetuation of hate, violence or discriminatory intolerance, we take immediate and decisive action."

A tweet from Gab on Monday morning implied that the people behind the site believe themselves to be a victim of intentional defamation.
Set aside the questionable intent of the decidedly tone-deaf tweet; and, legally, Gab did not do anything wrong. Contrary to popular belief, there is no hate speech exception to the First Amendment. The Supreme Court reaffirmed this in 2017 in Matal vs. Tal, deciding, "Speech that demeans on the basis of race, ethnicity, gender, religion, age, disability, or any other similar ground is hateful...the proudest boast of our free speech jurisprudence is that we protect the freedom to express 'the thought that we hate.'" Despite this, many people are calling for the permanent removal of the site, as Wired points out, "Momentary political rage can blind people into abandoning sacred values."

However, the internet inarguably contributes to the creation of extremists, as we have seen in the case of terrorists, rapists, school shooters, and now the synagogue shooter in Pittsburgh. Sites like Gab allows users to easily find other people who share their most extreme viewpoints, inevitably normalizing disturbing rhetoric the user may have otherwise suppressed or self-corrected in time. Therefore, sites like Gab become polarizing spaces that can help to sew the kinds of ideas that lead to violent acts. But, if there's no legal action to be taken against a site like Gab without damaging free speech, what can be done?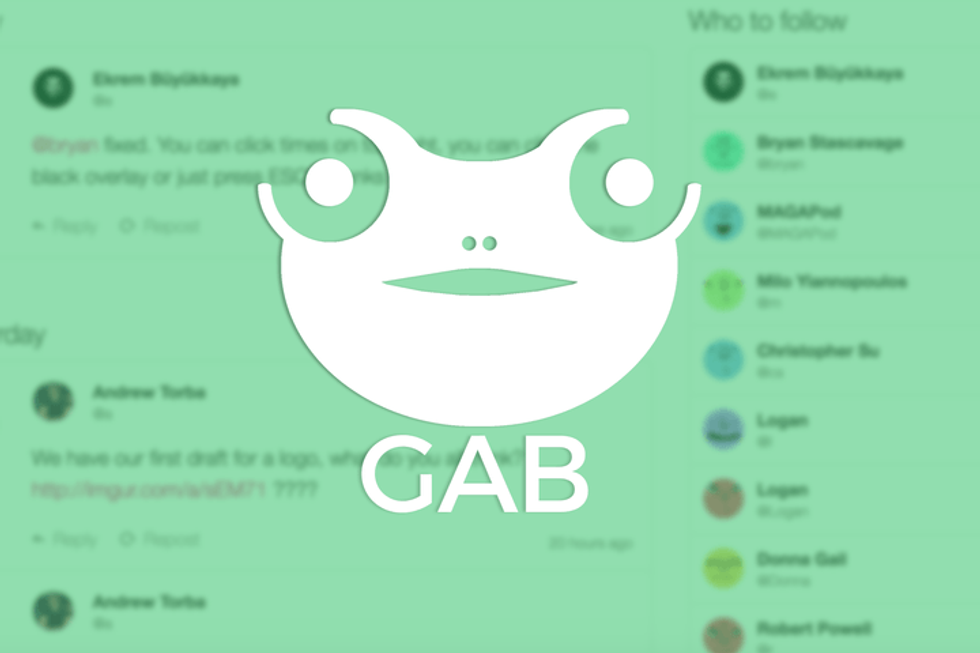 GAB Logo
Justice Anthony Kennedy said in his opinion following Matal vs. Tal, "A law that can be directed against speech found offensive to some portion of the public can be turned against minority and dissenting views to the detriment of all. The First Amendment does not entrust that power to the government's benevolence. Instead, our reliance must be on the substantial safeguards of free and open discussion in a democratic society."

While what exactly those safeguards are remains unclear, one can speculate that what Kennedy meant is exactly what Gab calling unjust now. As previously mentioned, the site has been abandoned by all of the companies whose services were needed for the site to remain online. And just as Gab has the right to allow freedom of expression on their site as they see fit, these companies are also free to express themselves in refusing to work with websites that allow hateful rhetoric.
Indeed, the conversation surrounding the fate of Gab has revealed that freedom of speech online is not decided by the government, but by social media platforms, servers, and domain registers who are free to decide with what kind of opinion their company wants to be associated. This also means that, on some level, what is seen as acceptable online is driven by consumer outrage and approval.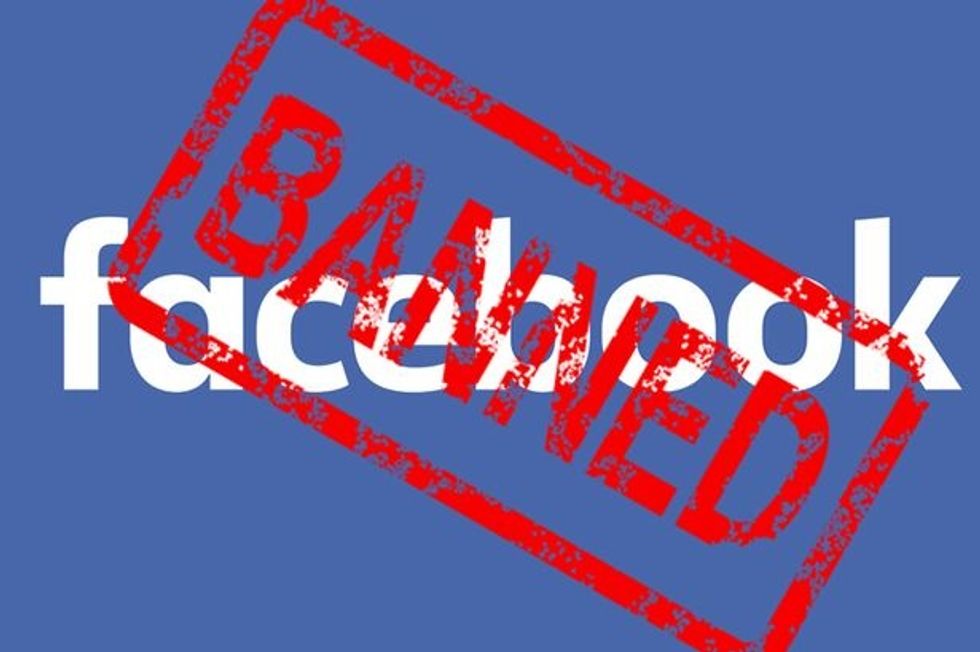 Daily Mirror
For example, after facing criticism for allowing users to post prejudiced content, larger social networking sites like Twitter and Facebook have been actively fighting against hateful rhetoric with varying degrees of success. In 2016, a code of conduct was established by the European Union in collaboration with Facebook, Twitter, YouTube, and Microsoft. The code is aimed at fighting racism and xenophobia and encourages the social media companies to remove hate speech from their platforms.

So, instead of outraged Americans calling for the legal suppression of sites like Gab — an impossibility if the First Amendment is to remain intact — the real power of the individual to fight hate speech is in one's ability to support or boycott companies based on how they handle free expression.
Brooke Ivey Johnson is a Brooklyn based writer, playwright, and human woman. To read more of her work visit her
blog
or follow her twitter
@BrookeIJohnson
.
Why the only amendment never brought before the supreme court may be more important than you think
You'd be hard pressed to find someone living in the U.S.A. (and, perhaps in Russia) who could not tell you that the Second Amendment involved the right to bear arms. And, most people understand that something in the Bill of Rights protects them against unlawful search and seizure, even if they don't know that it's the Fourth Amendment that does so. But sandwiched in between these two celebrity amendments is the all-but-forgotten Third Amendment. Since its inclusion in the Bill of Rights (the first 10 amendments to the constitution), the Third Amendment has been the subject of a small handful of cases, and not one of them has gone before the Supreme Court. Here it is:

No Soldier shall, in time of peace be quartered in any house, without the consent of the Owner, nor in time of war, but in a manner to be prescribed by law.
Called the "runt piglet" of the Constitution by the American Bar Association, the Third Amendment would seem on the face of it to have little place in our lives. Does anyone think the government is going to try to use our homes as barracks? The idea is almost laughable. At the same time, this anachronistic addition to our Constitution is fundamentally concerned with the same issue as its better known siblings, namely protecting citizens from excessive government authority, and the elemental conflict between the rights of the individual versus the rights of the federal government. As such, the Third Amendment actually does have some relevance today, and could have even more in the future.
Militarized police force
Written by James Madison in response to calls from several states for greater constitutional protection for individual liberties, the Bill of Rights lists specific prohibitions on governmental power. Its purpose was not to grant rights but to protect rights the framers saw as fundamental and to place specific limits on government power. Third Amendment centers around the individual's right to privacy in their homes, and underscores that citizens have the right not to have the government intrude in that sacred space, even in times of war. When the amendment was written in the eighteenth century, quartering troops in private homes would have been top of mind for Americans and Englishmen. In fact, one of the many accusations Congress leveled against the king in The Declaration of Independence were his "quartering large Bodies of Armed Troops among us." One issue then, as now, is a balance between the rights of individual citizens and the needs of the military. For example, what if the military claims they need to occupy a home in order to surveil a suspected terrorist cell next door? Beyond that, what actually constitutes "military?" Civil liberties activates warn that our nation's police forces have increasingly taken on a military role, and that the increased use of police in this capacity is bound to create conflicts.
Back in 2013, a family in Nevada claimed that police had occupied their home to gain a tactical advantage against a suspect in a near-by house, there-by violating that families' Third Amendment rights. The case was dismissed in federal court because, among other findings, Judge Andrew Gordon ruled that a municipal police officer is not a soldier. Judge Gordon also followed a 1982 decision that the Amendment does not relate to state governments. But, as the lines between the police and the military are increasingly blurred, if not obliterated, we might expect to see more of these Third Amendment cases being brought before the courts. As Ilya Somin of the Washington Post pointed out in 2015, "The difficult issues raised by the militarization of police forces suggest that it may be time to stop treating the Third Amendment as just a punchline for clever legal humor."
A surveillance society
The Third Amendment is the only part of the Bill of Rights, and the Constitution as a whole, that actually addresses the relationship between citizens' rights and the military. Scholars have pointed out that it actually underscores civilian control over the military. That power dynamic would be important in any era, but takes on another layer of significance today when what passes for, and acts in the capacity of, the military is very different from what it was in 1791. We live in a world where people leave a digital trail of data wherever they go, and where we rely on the use of independent contractors, satellite surveillance and drones for our national defense, and let's not forget about AI. In a not-too-distant future when our military may be more machine than human, what could having "soldiers" in our "homes" mean?
A 2015 article "Could the Third Amendment be used to fight the surveillance state?" quoted law professor Steven Friedland, who had an idea.
"The Third Amendment no longer will be the forgotten amendment if it is considered to interlock with the Fourth Amendment to provide a check on some domestic mass surveillance intruding on civil life, particularly within the home, business or curtilage of each. In the digital era, the dual purposes of the Amendment should be understood to potentially limit the reach of cyber soldiers and protect the enjoyment of a private tenancy without governmental incursion."
Home is where the heart is
While the US Constitution itself does not contain an express right to privacy, the Bill of Rights reflects the Framers' concerns for protecting specific aspects of it, namely; the right to privacy of beliefs in the 1st Amendment, the right to privacy for person and possessions against unreasonable search and seizure in the 4th amendment, and the right to privacy in the home, the Third Amendment.
The right to a private space we call home is not just an American right. It is unquestionably a fundamental human right. The Third Amendment is largely forgotten in today's world of bots, drones, data, and virtual reality, but that "runt piglet" may end up being the very thing we need to call upon to protect it.
Getting to know your Constitution and the rights it guarantees you.
Can you recite the five central freedoms protected by the First Amendment? If not, you aren't alone. The New York Times, citing a recent study by the First Amendment Center at Vanderbilt University, revealed that just over half the people surveyed knew that our First Amendment protects freedom of speech, under 25% knew that it protects freedom of religion, under 20% knew that it protects freedom of the press, 14% knew that it protects freedom of association and only 6% knew that it protects the right to petition the government for grievances. Yet another survey conducted by the Annenberg Public Policy Center found that 37% of Americans could not even name one right protected under the First Amendment. Back in 2006, one in four Americans could name one right, but more than half could name at least two members of the cartoon family, The Simpsons.

Ironically, according to an August 2017 telephone survey, 73% of Americans think the right to free speech is worth dying for. Clearly, there is a disconnect between being willing to die for something and not knowing what it is you're willing to die for–time to bridge that gap. You can't properly exercise, let alone protect, your rights if you don't know what they are.
The First Amendment to the Constitution was adapted into the Bill of Rights in 1791. Here it is:
Congress shall make no law respecting an establishment of religion, or prohibiting the free exercise thereof; or abridging the freedom of speech, or of the press; or the right of the people peaceably to assemble, and to petition the government for a redress of grievances.
In other words, The First Amendment guarantees freedoms relating to religion, expression (speech and press), assembly, and petition. Here are some recent examples of the First Amendment at work.
Freedom of Expression
Self-proclaimed white supremacists marching down the streets of Charlottesville chanting "Jews will not replace us," were exercising their First Amendment right to expression. When Donald Trump stated that there is "No collusion between Trump and Russia" or that "Black homeownership just hit the highest level it has ever been in the history of our country," he was also exercising his First Amendment rights. Speech doesn't have to be true to be protected. In fact, many lies, intentional or not, are protected by the First Amendment, though there are exceptions in cases of libel or defamation of character. Other examples of speech not protected by the First Amendment are:
Obscenity
Fighting words
Defamation
Child pornography
Perjury
Blackmail
Incitement to imminent lawless action
True threats
Solicitations to commit crimes
Plagiarism of copyrighted material
Freedom of Speech

The First Amendment right to free speech is at the center of the national debate about our rights on social media. Is blocking an individual on Twitter or removing unflattering comments (as President Trump has done) a violation of one's right to freedom of speech? Is there even a right to free speech on social media platforms that are owned by private corporations? As reported by Lincoln Caplan in the 10/11/17 issue of Wired, The Knight First Amendment Institute sued President Trump to force him to unblock the people he had blocked. The Institute argued that the President had violated users' rights to free speech because he only blocked people who disagreed with him.
Freedom of Religion
When the Alabama State Supreme Court ruled that then Judge Roy Moore had to remove the 10 Commandments from his court room, they were protecting our First Amendment right stating that "government shall make no law respecting the establishment of religion." Because Roy Moore posted the 10 Commandments in his role as a public servant and not as a private citizen, declaring his personal views were, in this case, a violation of the First Amendment and not an expression of his First Amendment rights.
Freedom of Assembly and Petition
A recent debate is centered around whether or not environmental protesters' First Amendment rights were violated when they were forcibly removed from the Keystone Pipeline in North Dakota. According to Jennifer Cook, policy director of the ACLU of North Dakota, "The right to protest is fundamental to our democracy and the interference with that right by agents of the counties and the state of North Dakota violates both the spirit and letter of the First Amendment. As the courts in this state have recognized, the First Amendment forbids the enactment of laws 'abridging the freedom of speech ... or the right of the people peaceably to assemble.'" The protest at the Dakota Access pipeline is precisely the type of assembly protected by the First Amendment. Peaceful protest is at the core of the First Amendment and restrictions to such activity, such as the closing of highways with the effect of preventing assembly or effective messaging of protesters, should be viewed skeptically. Law enforcement agents have a duty to ensure that the rights of protesters are protected, not just the rights of corporations. While law enforcement officers have a right to ensure the safety of all of our citizens, this goal should be achieved by ensuring that all citizens, including protesters, are protected and that there are enough police in place to prevent violence, but not prevent peaceful protest or assembly."
Applying the First Amendment to real life situations is not always black and white. For example, law enforcement officials can put time, place, and manner restrictions on protests. Rules can vary from city to city, but law enforcement can require permits for large groups, for marches that black traffic, or for protests that will create a lot of noise. As with most situations relating to rights and laws, First Amendment principles are open and subject to interpretation. But as we watch debates about our freedom of speech and freedom of the press play out in real time, it's useful and necessary to know what it is that we are protecting.
Despite being the highest court in the land, let's remember that Supreme Court decisions can be—and have been—overturned.
The Supreme Court's handed down a handful of controversial decisions.
These include Obergefell v. Hodges, which legalized same-sex marriage in all 50 states. As expected, many on the right were quick to criticize the Court. But the Supreme Court isn't a newbie. Justices, both past and present, have handed down disruptive decisions.
But these decisions, while irrevocable, are not exactly permanent.
In 2008, District of Columbia v. Heller had many on the left up in arms. This decision stated that the Second Amendment guarantees American citizens the right to a firearm for personal safety.
And of course, there is the most famously debated Supreme Court decision: Roe v. Wade. The 1973 case legalized abortion across the nation. Whether you agree with these decisions or not, they are the law. The Supreme Court has the final say in the federal court system. While their decisions are irrevocable, they're not necessarily permanent. Under the Constitution, there are three ways to overrule a Supreme Court decision.
1. Congressional Statute
If the Supreme Court has struck down all or part of a federal statute, Congress can go back and adjust the statute to their liking. This is often used to supplement or augment Court decisions. For example, the Supreme Court decided in the 2000 case FDA v. Brown & Williamson Tobacco Corp that the FDA didn't have the authority to regulate tobacco. Congress changed that with the Family Smoking Prevention and Tobacco Control Act of 2009.
Until a case concerning this federal statute comes before the Supreme Court, Congress has the final say.
2. Constitutional Amendment
The Supreme Court has the final word on the meaning of the Constitution. But there is a process of amending the Constitution. Article Five of the Constitution lays out the specific process. Amendments can be proposed by Congress, with two-thirds approval in both the House and the Senate. States can also propose them with a two-thirds majority, and the holding of a convention for proposing the amendments. Once proposed, the amendment must be ratified by a three-fourths majority of the states. The voting to ratify or reject the proposed amendment can take place in state legislatures or state conventions.
Since the adoption of the Bill of Rights, 17 amendments have been ratified. One principle example of a Constitutional amendment overturning a Supreme Court case is the Sixteenth Amendment.
In Pollock v. Farmers' Loan and Trust Company, the Supreme Court declared a progressive federal income tax unconstitutional. In 1913, the Sixteenth Amendment was ratified — completely negating this decision.
3. The Supreme Court
Finally, the Supreme Court can overrule itself. This is probably the simplest, if most unlikely, avenue. The most famous example of this is Brown v. Board of Education. This landmark case declared racial segregation unconstitutional in public schools. This case directly contradicts a case decided almost 60 years prior called Plessy v. Ferguson, which began the legal standard of "separate but equal" for segregation. But the Supreme Court doesn't change its mind often. The Brown v. Board decision was issued almost 60 years after Plessy.