"A tree is best measured when it is down," the poet Carl Sandburg once observed, "and so it is with people." The recent death of Harry Belafonte at the age of 96 has prompted many assessments of what this pioneering singer-actor-activist accomplished in a long and fruitful life.
Belafonte's career as a ground-breaking entertainer brought him substantial wealth and fame; according to Playbill magazine, "By 1959, he was the highest paid Black entertainer in the industry, appearing in raucously successful engagements in Las Vegas, New York, and Los Angeles." He scored on Broadway, winning a 1954 Tony for Best Featured Actor in a Musical – John Murray Anderson's Almanac. Belafonte was the first Black person to win the prestigious award. A 1960 television special, "Tonight with Belafonte," brought him an Emmy for Outstanding Performance in a Variety or Musical Program or Series, making him the first Black person to win that award. He found equal success in the recording studio, bringing Calypso music to the masses via such hits as "Day-O (The Banana Boat Song)" and "Jamaica Farewell."
Harry Belafonte - Day-O (The Banana Boat Song) (Live)www.youtube.com
Belafonte's blockbuster stardom is all the more remarkable for happening in a world plagued by virulent systemic racism. Though he never stopped performing, by the early 1960s he'd shifted his energies to the nascent Civil Right movement. He was a friend and adviser to the Reverend Doctor Martin Luther King, Jr. and, as the New York Times stated, Belafonte "put up much of the seed money to help start the Student Nonviolent Coordinating Committee and was one of the principal fund-raisers for that organization and Dr. King's Southern Christian Leadership Conference."
The Southern Poverty Law Center notes that "he helped launch one of Mississippi's first voter registration drives and provided funding for the Freedom Riders. His activism extended beyond the U.S. as he fought against apartheid alongside Nelson Mandela and Miriam Makeba, campaigned for Mandela's release from prison, and advocated for famine relief in Africa." And in 1987, he received an appointment to UNICEF as a goodwill ambassador.
Over a career spanning more than seventy years, Belafonte brought joy to millions of people. He also did something that is, perhaps, even greater: he fostered the hope that a better world for all could be created. And, by his example, demonstrated how we might go about bringing that world into existence.
June 3, 1972 – Sally Jan Priesand is the first woman to be ordained as a rabbi in the U.S.A., (the first in the world being Regina Jones in 1935, who died in Auschwitz in 1944), breaking with thousands of years of patriarchal tradition in the Jewish faith.

June 4, 1989 – Troops in China fire on unarmed pro-reform protesters in Tiananmen Square. The People's Army used tanks, machine-guns, clubs and tear gas on their own citizens. The Chinese government claimed that only 300 people were killed, but estimates point to over 3,000. After the massacre, over 1,600 demonstrators were arrested and jailed. 27 were executed.
June 5, 1968 – Robert F. Kennedy is assassinated while leaving the Hotel Ambassador in Los Angeles following a celebration for his victory in the California presidential primary.
June 6, 1872 – Susan B. Anthony is arrested, tried and fined $100 (which she does not pay) for attempting to vote in a presidential election in Rochester, NY. It would take 88 more years for Congress to ratify the 19th Amendment, granting women this fundamental right.
June 6, 1944 – The largest amphibious landing in history began as Allied forces landed in Normandy, France --- otherwise known as D-Day. By the end of the day, 150,000 soldiers had landed, with 15,000 wounded or killed.
June 7, 1965 – Citing privacy "zones" guaranteed by the First, Third, Fourth and Ninth Amendments, the US Supreme Court strikes down a Connecticut statute which criminalized counseling and other medical treatment to married couples for the purpose of preventing conception. This established a new constitutional right; the right to privacy in marital relations, including freedom from government intrusion into matters surrounding birth control.
June 12, 1898 – The Philippines declare their independence from Spain, only to be invaded and occupied by US forces. The Philippines remains a US colony until after WWII.
June 12, 1963 – Medgar Evers is assassinated in Jackson, Mississippi. The Civil Rights leader had been working to integrate schools and register black voters in the South.
June 13, 1971 – The Pentagon Papers, secret documents that revealed the US strategy in the Vietnam War, are published by The New York Times.
June 13, 1966 – The Supreme Court finds in favor of Miranda in Miranda v. Arizona, guaranteeing that accused people must be told of their rights before being questioned by the police. These rights include the right to remain silent, the right to know that anything said can be used against that person in a court, and the right to have an attorney present during any questioning. These rights are known as the "Miranda Rights."
June 15, 1215 – King John signs the Magna Carta, guaranteeing his subjects basic rights, which become the foundation of all democracies that follow.
June 17, 1972 – Five men are arrested at the National Democratic Headquarters in the Watergate complex in Washington, D.C. An investigation follows which eventually implicates President Nixon and his administration in illegal activities and an extensive cover-up. A House Judiciary Committee adopts three articles of impeachment against the president in July 1974, and in August of that same year, Richard M. Nixon becomes the first US President to resign.
June 28, 1914 – Archduke Ferdinand, The Crown Prince of Austria, and his wife are assassinated in Sarajevo which leads to the outbreak of WWI. Five years later, with over nine million combatants and seven million civilians dead, the war formally ended with the signing of The Treaty of Versailles. The League of Nations was then formed to prevent such a horrible event from taking place again. It failed, and Europe plunged into economic depression which laid fertile ground for nationalism and, eventually, the outbreak of WWII.
June 30, 1971 – A debate over lowering the voting age from 21 to 18, which began in WWII and increased during the Vietnam War, centered on the argument that young men conscripted to fight and die for their country should not be denied the right to vote. This debate concludes on June 30, 1971, with the enactment of the 26th Amendment, which grants all American citizens 18 years or older this fundamental right.
From labor movements, to free speech, here are some historic highlights for liberty in the month of May
May, 1968— Following the April 23rd Columbia University student protests, May 1968 marked a month of student uprising in Paris. Protesters were critical of everything from France's outdated university system, to lack of employment opportunities and general working conditions. Demonstrations for radical economic and political change began, and, on May 3rd, protesters at the Sorbonne clashed with police and hundreds of students were arrested. The unrest continued, culminating on May 24th, when students seized the Paris Stock Exchange, and raised a Communist flag over the building. Following these events, President Charles de Gaulle agreed to some concessions, including better working conditions, education reform and higher wages.
May 4, 1886 – Police advanced on workers at a labor demonstration in Haymarket Square in Chicago on May 3, 1886. The next day, a rally in support of those workers, and of an eight-hour work day, erupted in violence when police clashed with protesters. A bomb was thrown, resulting in death and injury to police and demonstrators alike. The event came to be known as The Haymarket Massacre, and is considered the inspiration for May Day observances for workers around the world.
May 4, 1970 – Four students, 19 year-old Allison Krause, 20 year-old Sandra Lee Scheuer, 19 year-old William K. Schroeder, and 20 year-old Jeffrey Glenn Miller, were killed, and 11 others wounded, by National Guardsmen who opened fire on a group of 1000 students who were protesting President Nixon's planned invasion of Cambodia. This event led to campus demonstrations and protests in over 450 colleges and universities across America.
May 5, 1862 – Mexican troops under General Zaragoza, outnumbered three to one, defeated invading the invading French forces of Napoleon III in the Battle of Puebla. This victory is celebrated today as Cinco de Mayo.
May 5, 1961 – Alan Shepard became the first American in space.
May 7, 1945 – General Alfred Jodl signed the unconditional surrender of German forces in Reims, Germany, marking the end of WWII in Europe.
May 10, 1994 – Nelson Mandela was inaugurated as the president of South Africa after winning in a free election, and in spite of efforts to derail his election.
May 14, 1607 – The establishment of the first permanent English settlement in America at Jamestown, Virginia.
May 14, 1804 – Lewis and Clark began their 6,000-mile journey across the country to explore the Northwest.
May 17, 1954 – The US Supreme Court ruled that segregation in public schools and racially separate educational facilities were inherently unequal in Brown V. Board of Education. This landmark case was argued by Thurgood Marshall who went on to become the first African American appointed to the Supreme Court.
May 19, 1926 – Britain's Trades Union Congress called off their General Strike, which had brought the nation to a halt for nine days. Though many thought the strike presaged class warfare, it never actually evolved into a revolutionary uprising.
May 20, 1932 – Ameilia Earhart flew out of Newfoundland, Canada and landed near Londonderry, Ireland, becoming the first woman to fly solo across the Atlantic.
May 21, 1881 – Nicknamed "the angel of the battlefield" for her work treating injured soldiers in The American Civil War, Clara Barton founds The American Red Cross after a trip to Europe, where she volunteered for The International Red Cross.
May 23, 1810 – Margaret Fuller was born in Cambridgeport, Mass. She would become the first American woman to work as a foreign correspondent. Her 1845 book, Women in the 19th Century, is considered a groundbreaking feminist statement and was the first of its kind.
May 24, 1844 – Samuel Morse sent the first official telegraph message from the Capital building in Washington D.C. He asked "What had God wrought?"
May 28, 1961 – London lawyer Peter Berenson founds Amnesty International after writing his famous Forgotten Prisoners newspaper article in May 1961after reading about two students in a Portuguese cafe who had been imprisoned after raising their glasses "to liberty."
Why the only amendment never brought before the supreme court may be more important than you think
You'd be hard pressed to find someone living in the U.S.A. (and, perhaps in Russia) who could not tell you that the Second Amendment involved the right to bear arms. And, most people understand that something in the Bill of Rights protects them against unlawful search and seizure, even if they don't know that it's the Fourth Amendment that does so. But sandwiched in between these two celebrity amendments is the all-but-forgotten Third Amendment. Since its inclusion in the Bill of Rights (the first 10 amendments to the constitution), the Third Amendment has been the subject of a small handful of cases, and not one of them has gone before the Supreme Court. Here it is:

No Soldier shall, in time of peace be quartered in any house, without the consent of the Owner, nor in time of war, but in a manner to be prescribed by law.
Called the "runt piglet" of the Constitution by the American Bar Association, the Third Amendment would seem on the face of it to have little place in our lives. Does anyone think the government is going to try to use our homes as barracks? The idea is almost laughable. At the same time, this anachronistic addition to our Constitution is fundamentally concerned with the same issue as its better known siblings, namely protecting citizens from excessive government authority, and the elemental conflict between the rights of the individual versus the rights of the federal government. As such, the Third Amendment actually does have some relevance today, and could have even more in the future.
Militarized police force
Written by James Madison in response to calls from several states for greater constitutional protection for individual liberties, the Bill of Rights lists specific prohibitions on governmental power. Its purpose was not to grant rights but to protect rights the framers saw as fundamental and to place specific limits on government power. Third Amendment centers around the individual's right to privacy in their homes, and underscores that citizens have the right not to have the government intrude in that sacred space, even in times of war. When the amendment was written in the eighteenth century, quartering troops in private homes would have been top of mind for Americans and Englishmen. In fact, one of the many accusations Congress leveled against the king in The Declaration of Independence were his "quartering large Bodies of Armed Troops among us." One issue then, as now, is a balance between the rights of individual citizens and the needs of the military. For example, what if the military claims they need to occupy a home in order to surveil a suspected terrorist cell next door? Beyond that, what actually constitutes "military?" Civil liberties activates warn that our nation's police forces have increasingly taken on a military role, and that the increased use of police in this capacity is bound to create conflicts.
Back in 2013, a family in Nevada claimed that police had occupied their home to gain a tactical advantage against a suspect in a near-by house, there-by violating that families' Third Amendment rights. The case was dismissed in federal court because, among other findings, Judge Andrew Gordon ruled that a municipal police officer is not a soldier. Judge Gordon also followed a 1982 decision that the Amendment does not relate to state governments. But, as the lines between the police and the military are increasingly blurred, if not obliterated, we might expect to see more of these Third Amendment cases being brought before the courts. As Ilya Somin of the Washington Post pointed out in 2015, "The difficult issues raised by the militarization of police forces suggest that it may be time to stop treating the Third Amendment as just a punchline for clever legal humor."
A surveillance society
The Third Amendment is the only part of the Bill of Rights, and the Constitution as a whole, that actually addresses the relationship between citizens' rights and the military. Scholars have pointed out that it actually underscores civilian control over the military. That power dynamic would be important in any era, but takes on another layer of significance today when what passes for, and acts in the capacity of, the military is very different from what it was in 1791. We live in a world where people leave a digital trail of data wherever they go, and where we rely on the use of independent contractors, satellite surveillance and drones for our national defense, and let's not forget about AI. In a not-too-distant future when our military may be more machine than human, what could having "soldiers" in our "homes" mean?
A 2015 article "Could the Third Amendment be used to fight the surveillance state?" quoted law professor Steven Friedland, who had an idea.
"The Third Amendment no longer will be the forgotten amendment if it is considered to interlock with the Fourth Amendment to provide a check on some domestic mass surveillance intruding on civil life, particularly within the home, business or curtilage of each. In the digital era, the dual purposes of the Amendment should be understood to potentially limit the reach of cyber soldiers and protect the enjoyment of a private tenancy without governmental incursion."
Home is where the heart is
While the US Constitution itself does not contain an express right to privacy, the Bill of Rights reflects the Framers' concerns for protecting specific aspects of it, namely; the right to privacy of beliefs in the 1st Amendment, the right to privacy for person and possessions against unreasonable search and seizure in the 4th amendment, and the right to privacy in the home, the Third Amendment.
The right to a private space we call home is not just an American right. It is unquestionably a fundamental human right. The Third Amendment is largely forgotten in today's world of bots, drones, data, and virtual reality, but that "runt piglet" may end up being the very thing we need to call upon to protect it.
Liberty Project Takes A Look Back: These are significant U.S. events from the month of April over the years...
Liberty Project Time Capsule: A Look Back in History
On April 17, 1989 – Polish labor union Solidarity attained legal status after years of struggle, making way for the downfall of the Polish Communist Party.
On April 18 1776 – Paul Revere and William Dawes rode out of Boston at night to warn patriots at Lexington and Concord that the British were coming.
On April 19,1775 – 70 armed militiamen faced off on Lexington Green with a British guard unit. The confrontation is credited by many as the start of the American Revolution.
On April 19, 1943 – Jewish people in the Warsaw Ghetto stage a revolt against Nazi troops attempting to deport them to death camps
On April 25, 1967 – The first law legalizing abortion, outside of cases when the woman's life was threatened, was signed by Colorado Republican Governor John Love
On April 25, 1994 – Multiracial elections held for the first time in South Africa vote in Nelson Mandela as president and F.W. de Klerk as vice president
On April 28, 1945 – Italian fighters shot the dictator Benito Mussolini and end 23 years of Fascist rule in Italy.
On April 30, 1789 – George Washington becomes the first President of the United States of America on the balcony of Federal Hall in New York City.
Could Pluto be to blame for our current era of upheaval?
If there's one word that describes the last ten years, it's disruption.
Consider the climate: The earth has experienced raging fires, drought, destructive floods, and hurricanes of unprecedented power, as well as earthquakes, mudslides, and record snowfall. And, according to a January 2, 2018 article in Newsweek, there are six active volcanoes across the globe that scientists are monitoring for possible cataclysmic eruptions. Politics: Well, you'd have to be living under a very large rock not to know that we are living in a time of tremendous political upheaval. Once relied upon ideologies, government institutions and accepted social norms have been whirled around faster than a max-extract spin cycle, if not destroyed outright. Russia influencing elections? Donald Trump is President of the United States? Culture: Between #MeToo and the relentless assault on women's reproductive rights, it feels like we're all over the place, like everything we know is changing, all the time. Some of these changes are hopeful; many are terrifying.
Why is so much happening at once? What gives?
Academics and economists point to the widening gap between rich and poor, the scarcity of resources, the stresses of living in a hyper-connected world, the growing numbers of disenfranchised people as well as the stress of climate change and the enormous amount of toxins in the air, earth and water as some of the potential causes of disruption. All of this may be true, but astrologists around the globe agree; if you want to know the root cause of all this disruption and destruction, look no further than 4.67 billion miles away, to Pluto.
Pluto was discovered in 1930 by astronomer Clyde Tombaugh.
It was named after the ancient Roman god of the underworld in a contest by Venetia Burney, an 11-year old English school-girl, and designated the ninth planet of our solar system. It had a nice run, until 2006 when Pluto was demoted to a dwarf planet by the International Astronomical Union because of its diminutive stature. Astrologists, however, continue to hold it in high esteem, recognizing Pluto as an extremely powerful force for us folks here on Earth.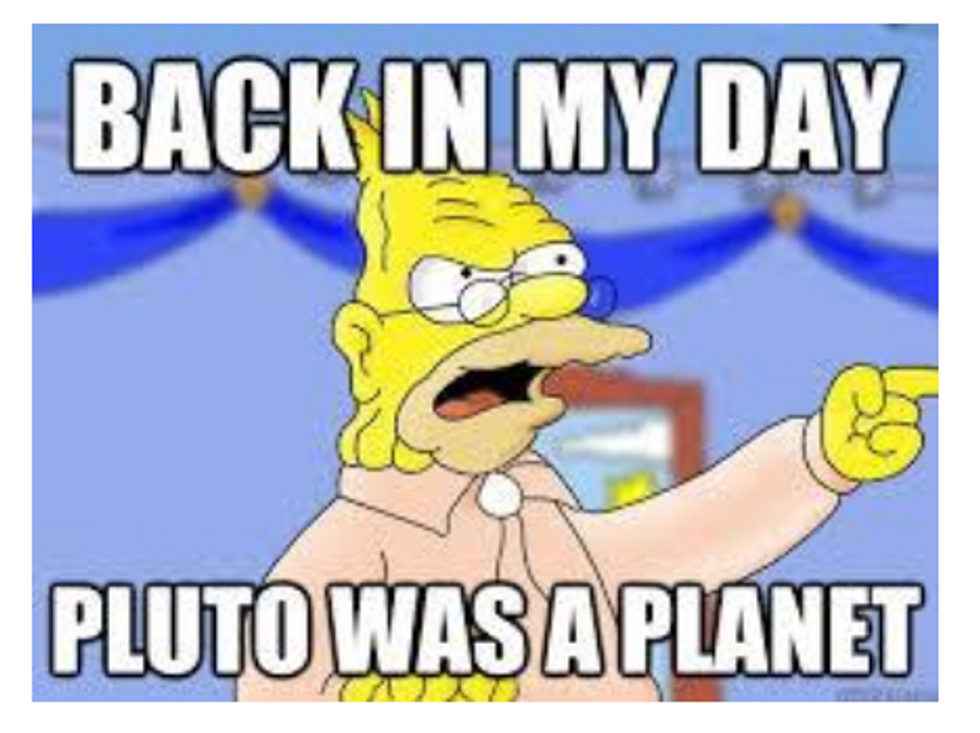 Back in our day..Pluto was a planet! So much has changed...
Pluto, like the ancient god it is named for, represents death, destruction, rebirth and transformation.
Astrologers like to say that Pluto shines a light into the dark recesses of both our individual and collective conscience and demands that the truth be exposed. Pluto's awesome power is particularly evident when it enters into the astrological cycle of Capricorn, as it did in November 2008, the year that saw the U.S. election of the first black president as well as the duel implosions of the housing and financial markets. Capricorn is an earth sign that rules structure, government, monetary systems and tradition. Added to this heavenly hash, the planet Uranus (disruption and revolution) then entered into Aries (individual rights and liberty). Astrologers knew what was coming, warning that Pluto the destroyer would waste no time leveling Capricornian structures. As astrologist Rose Marcus explains, "When that which Capricorn has held in check…is released, it is done with great force. It can be radically so when extreme Uranus in Aries squares destructive Pluto in Capricorn.
This duo is most formidable, eruptive, disruptive, and explosive of all planetary combinations.
Beyond all levels of human existence, its life-altering reach is powerful enough to produce geophysical disturbances and earthquakes. The perilous years when the transit of Uranus in Aries squares Pluto in Capricorn are signature razor's edge times, when both life on the planet and the planet itself undergo major upheaval and critical transition. In addition to the progressive fall-out from global warming, our rage, anger, frustration, and aggression can heat to the boil-over point, the result of which can ignite a particularly merciless episode of man's crimes against man, and against humanity, too. Brutality, ruthlessness, violence, crime, sexual violation, murder, and war can run rampant in such desperate times."
Okay. Wow.

But, say the skeptics, isn't this just coincidence? Perhaps, but take a look at how the so-called Pluto/Capricorn effect has lined up with major events in global history throughout the past centuries.
From 532-551, the world experienced what is known as the Dark Ages. Around 540, a huge volcanic eruption of the Rabaul Caldera caused a cataclysmic series of events. Culture collapsed and earth went into a deep freeze. Winter was coming, and it stayed --- for over two decades. The existing world structure of the Roman Empire fell and Barbarian hordes swept civilizations away.

The years 1517 to 1533, throughout the entire transit of Pluto in Capricorn, coincided with that sweeping and transformative era called The Reformation.
Martin Luther challenged the authority of the Catholic Church by nailing up his proclamation for all to see in 1517, ushering in radical religious and social upheaval. Not that far away, in good old England, Henry VIII established The Church of England, breaking with the Catholic Church to marry Anne Boleyn. This was also the period of the rise of the Spanish empire and the destruction of the Aztec and Incan empires.
The last time Pluto was in Capricorn was from 1762 to 1778.
The world saw the writing of The Declaration of Independence, and witnessed The American Revolution. The United States of America was born, and with it a new and enlightened form of government came on to the world stage. On a darker side, this period gave rise to the barbaric slave trade in Africa, which would eventually lead to the Civil War. In France, Marie Antoinette and Louis XVI came to the throne in 1770--and we all know how that ended.
There has been a tremendous amount of upheaval since Pluto once again entered into Capricorn in November, 2008, bringing us up to the present day and the election of Donald Trump. Once accepted social norms, like sexual harassment, are being turned on their heads and exposed for what they are. Yetothers, like open racism from our government officials and attacks on our system of justice, are being tolerated. With every day that passes, it seems that we, and the traditions and structures we've relied upon, are being tested as never before.
The good news is that nothing lasts forever, and, if history is any guide, what comes around, goes around. Though Pluto does have an erratic and long orbit, it will exit Capricorn in six years, in January 2020, at which point many astrologers are predicting a full reckoning. Until then, fasten your seat belts, and blame it on Pluto.
Getting to know your Constitution and the rights it guarantees you.
Can you recite the five central freedoms protected by the First Amendment? If not, you aren't alone. The New York Times, citing a recent study by the First Amendment Center at Vanderbilt University, revealed that just over half the people surveyed knew that our First Amendment protects freedom of speech, under 25% knew that it protects freedom of religion, under 20% knew that it protects freedom of the press, 14% knew that it protects freedom of association and only 6% knew that it protects the right to petition the government for grievances. Yet another survey conducted by the Annenberg Public Policy Center found that 37% of Americans could not even name one right protected under the First Amendment. Back in 2006, one in four Americans could name one right, but more than half could name at least two members of the cartoon family, The Simpsons.

Ironically, according to an August 2017 telephone survey, 73% of Americans think the right to free speech is worth dying for. Clearly, there is a disconnect between being willing to die for something and not knowing what it is you're willing to die for–time to bridge that gap. You can't properly exercise, let alone protect, your rights if you don't know what they are.
The First Amendment to the Constitution was adapted into the Bill of Rights in 1791. Here it is:
Congress shall make no law respecting an establishment of religion, or prohibiting the free exercise thereof; or abridging the freedom of speech, or of the press; or the right of the people peaceably to assemble, and to petition the government for a redress of grievances.
In other words, The First Amendment guarantees freedoms relating to religion, expression (speech and press), assembly, and petition. Here are some recent examples of the First Amendment at work.
Freedom of Expression
Self-proclaimed white supremacists marching down the streets of Charlottesville chanting "Jews will not replace us," were exercising their First Amendment right to expression. When Donald Trump stated that there is "No collusion between Trump and Russia" or that "Black homeownership just hit the highest level it has ever been in the history of our country," he was also exercising his First Amendment rights. Speech doesn't have to be true to be protected. In fact, many lies, intentional or not, are protected by the First Amendment, though there are exceptions in cases of libel or defamation of character. Other examples of speech not protected by the First Amendment are:
Obscenity
Fighting words
Defamation
Child pornography
Perjury
Blackmail
Incitement to imminent lawless action
True threats
Solicitations to commit crimes
Plagiarism of copyrighted material
Freedom of Speech

The First Amendment right to free speech is at the center of the national debate about our rights on social media. Is blocking an individual on Twitter or removing unflattering comments (as President Trump has done) a violation of one's right to freedom of speech? Is there even a right to free speech on social media platforms that are owned by private corporations? As reported by Lincoln Caplan in the 10/11/17 issue of Wired, The Knight First Amendment Institute sued President Trump to force him to unblock the people he had blocked. The Institute argued that the President had violated users' rights to free speech because he only blocked people who disagreed with him.
Freedom of Religion
When the Alabama State Supreme Court ruled that then Judge Roy Moore had to remove the 10 Commandments from his court room, they were protecting our First Amendment right stating that "government shall make no law respecting the establishment of religion." Because Roy Moore posted the 10 Commandments in his role as a public servant and not as a private citizen, declaring his personal views were, in this case, a violation of the First Amendment and not an expression of his First Amendment rights.
Freedom of Assembly and Petition
A recent debate is centered around whether or not environmental protesters' First Amendment rights were violated when they were forcibly removed from the Keystone Pipeline in North Dakota. According to Jennifer Cook, policy director of the ACLU of North Dakota, "The right to protest is fundamental to our democracy and the interference with that right by agents of the counties and the state of North Dakota violates both the spirit and letter of the First Amendment. As the courts in this state have recognized, the First Amendment forbids the enactment of laws 'abridging the freedom of speech ... or the right of the people peaceably to assemble.'" The protest at the Dakota Access pipeline is precisely the type of assembly protected by the First Amendment. Peaceful protest is at the core of the First Amendment and restrictions to such activity, such as the closing of highways with the effect of preventing assembly or effective messaging of protesters, should be viewed skeptically. Law enforcement agents have a duty to ensure that the rights of protesters are protected, not just the rights of corporations. While law enforcement officers have a right to ensure the safety of all of our citizens, this goal should be achieved by ensuring that all citizens, including protesters, are protected and that there are enough police in place to prevent violence, but not prevent peaceful protest or assembly."
Applying the First Amendment to real life situations is not always black and white. For example, law enforcement officials can put time, place, and manner restrictions on protests. Rules can vary from city to city, but law enforcement can require permits for large groups, for marches that black traffic, or for protests that will create a lot of noise. As with most situations relating to rights and laws, First Amendment principles are open and subject to interpretation. But as we watch debates about our freedom of speech and freedom of the press play out in real time, it's useful and necessary to know what it is that we are protecting.
A mother's reflection in the wake of yet another school shooting.
Several months ago, I heard an interview on NPR with a woman who said that water carries memory. When the water freezes, the memories it carries are held in place, and when the ice melts, those memories are released. I don't remember which NPR show this was, nor do I remember the woman's name or what she was being interviewed about, except that she was in the arts, perhaps theater, or music, and she was talking about her most recent project. But, I remembered this one thing she said; that water carries memories, which are held and released, and held and released with the cycling of seasons.

I took a walk this morning. The biting chill in the air was giving way to a cooling thaw, and it felt as if spring might be coming early this year. At Bear Mountain park, near where I live, a grayish white vapor rose off of the frozen surface of the man-made lake, hovering, stretching out like an altostratus cloud. It was early, and I was the only person on the trail. It was so peaceful – the sounds of the breeze through the still bare trees, their fallen branches reaching out from the underneath the veil of ice like giant hands and the smell of the wet earth, ready to release new life.
In the Bible, water is mentioned over 700 times. It symbolizes cleansing, but also creation and God's awesome power. In Genesis, before there is light, sun, earth, plants, leaving creatures, there was water—it existed before existence itself. In Chinese Taoist philosophy, water is home to our essence. It represents wisdom, and great force, as well as perseverance.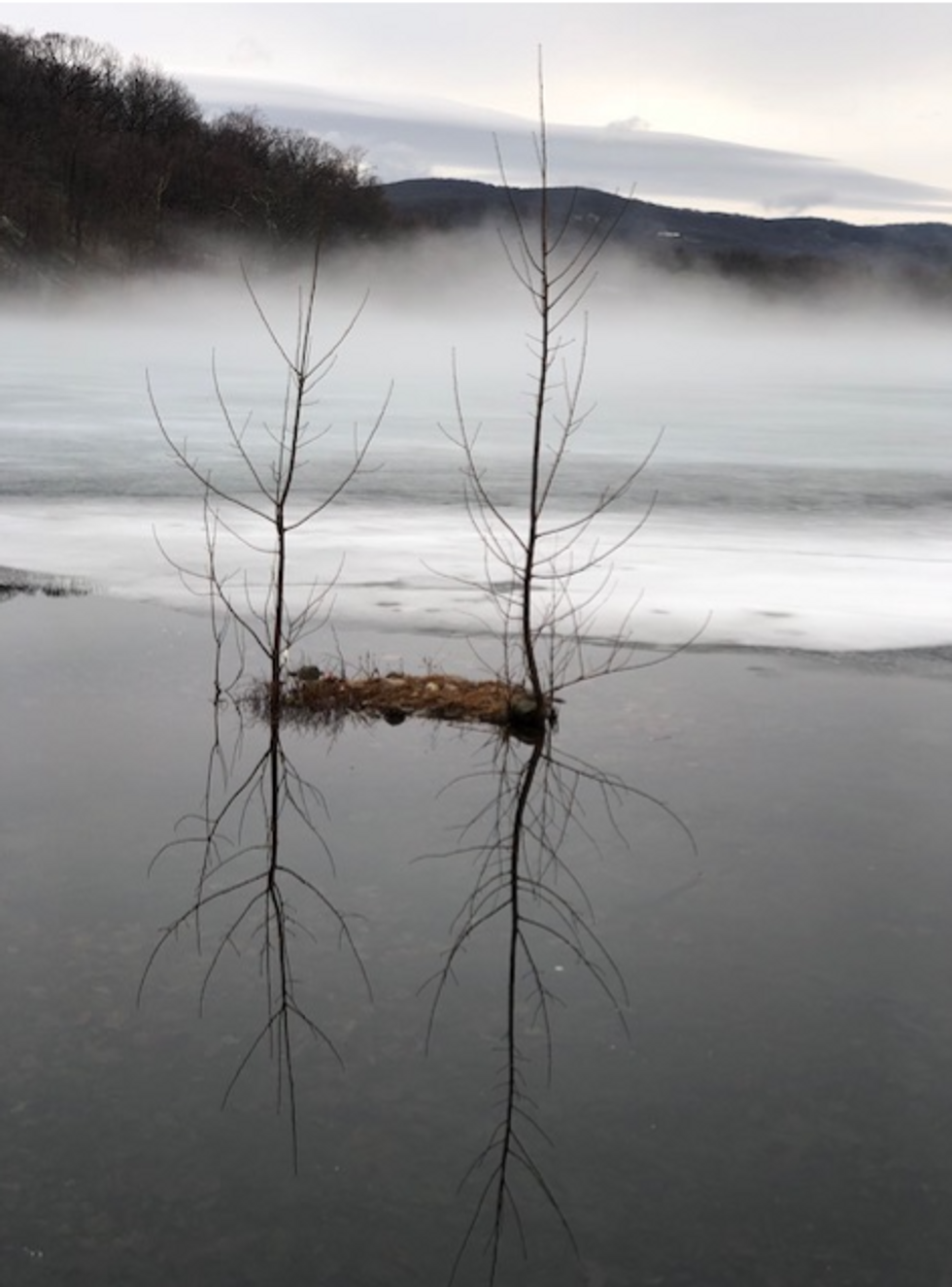 Everywhere I looked this morning, ice was melting, becoming liquid. Bubbles formed underneath the surface of the frozen water on the rocks, sliding and turning over and around the bumps and crevices like tad pols in a stream. The sound of the melting release was everywhere. The applause of the filling streams running down off of the mountain, the rain storm of the current under my feet. In the distance, there was the crack-crack sound of something breaking --- a giant tree falling, or perhaps the roll of a machine, clearing a path Today, however, it reminded me of gun fire.
I often work from home on Thursdays and Fridays, partly to give myself a break from a grueling two-hour commute to work, but mainly to be home to drop off and pick my daughter up from school and to be present. My child is the most important thing in the world to me. Her infectious laughter, the feel of her cheek against mine when I kiss her goodnight, the furrow in her brow when she's worried, how proud I am of all she has achieved and my hopes for all that is yet to come --- this, and everything else about her is part of me, like the heart in my chest or the soul that lives someplace even deeper.
Six years ago, when she was in second grade, I watched images of grieving, broken parents of Newtown, Connecticut on CNN. I lived in a small town very much like Newtown, and I had a daughter who was exactly the same age as those children who were murdered with an assault rifle. Not a day has gone by since when I don't, at some point, worry that I might drop my child off at school in the morning, and not see her alive in the afternoon. After February 14, 2018, I watched CNN again, and, again, the same images of broken and grieving parents as they endure what no parent should ever have to; the senseless murder of a child.
It is said that everything is cyclical. There are some cycles that ground us; nature, aging, good times and bad. Some that challenge us; sickness and health, success and failure. These can't always be controlled – we just have to go with it. And then there are the cycles of another sort; violence, insanity, corruption, dishonesty, dereliction of duty. These are the kind of cycles that, if not controlled, if not broken, will break us. These are the cycles that Lori Alhadeff, the mother of 14-year-old victim Alyssa Alhadeff inveighed against when she pleaded into the camera, "President Trump, we need action. Now!" It's the cycle that sophomore Isabella Gomez took on when, in response to President Trump's declaration that We are here for you. We are here to ease your pain, that "He really needs to take into consideration gun control."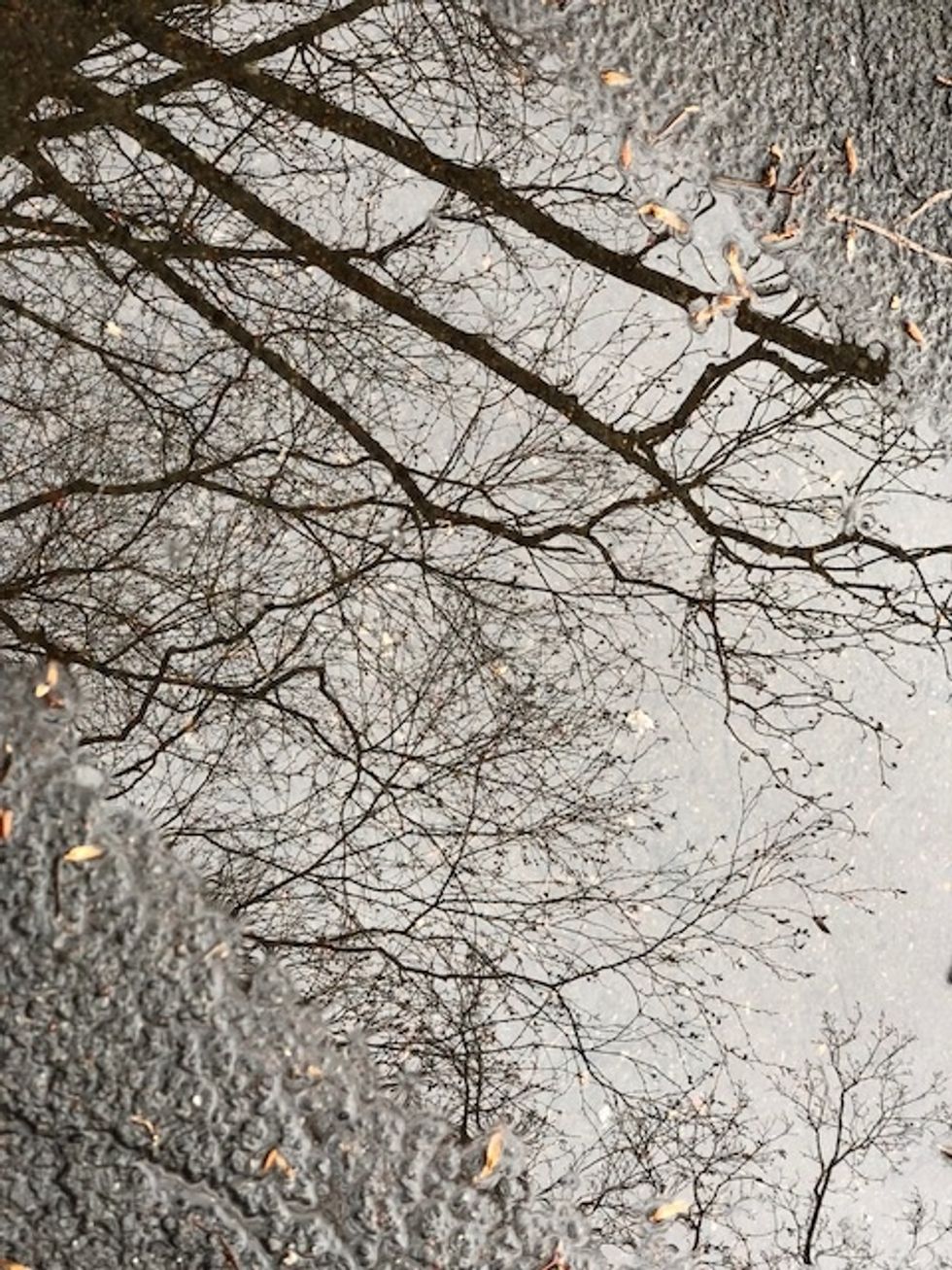 Memories are our foundation. This is one of the things that is so cruel about Alzheimer's --- it robs a person of their past, and with it, their identity. After Columbine, Virginia Tech, Sandy Hook, Marjory Stoneman Douglas, and the rest of the now over 150 mass shootings*, as a country, it is tempting to say that these horrors keep happening because we are suffering from collective Alzheimer's. But that's not it. We do remember. Who could forget? But what does that matter? Is that the point? We'll never forget you? I am reminded of Susan Sontag's brilliant post-9/11 piece in the New Yorker; "Our country is strong, we are told again and again. I for one don't find this entirely consoling. Who doubts that America is strong? But that's not all American has to be." Who doubts that we will remember mass shootings? If our thoughts and prayers are really with the victims in Parkland, Florida, we need to offer them a lot more than a place in our memories.
Water, like life itself, is full of contradiction. We develop and thieve in a watery womb, yet once we are born that same water will drown us. Rivers and oceans are sources of peace and tranquility, but also of flood and devastation. Of the many qualities water has, perhaps the one that most comes to mind after this latest mass shooting is reflection. In the words of 17-year-old survivor David Hogg, "This is a time for our country to take a look in the mirror and realize there is a serious issue here."
Note: *This is an approximate number, at best. As pointed out in a recent piece in The Atlantic, "The lack of reliable information on school shootings and other gun-related mass violence isn't just a matter of inconsistency in definitions; political factors have also played a role in limiting access to information. Under pressure from the National Rifle Association, Congress in 1996 prohibited the Centers for Disease Control and Prevention from funding public-health research on issues related to firearms. These prohibitions have largely persisted, and there is still no comprehensive federal database on gun deaths, let alone on school shootings."