"A tree is best measured when it is down," the poet Carl Sandburg once observed, "and so it is with people." The recent death of Harry Belafonte at the age of 96 has prompted many assessments of what this pioneering singer-actor-activist accomplished in a long and fruitful life.
Belafonte's career as a ground-breaking entertainer brought him substantial wealth and fame; according to Playbill magazine, "By 1959, he was the highest paid Black entertainer in the industry, appearing in raucously successful engagements in Las Vegas, New York, and Los Angeles." He scored on Broadway, winning a 1954 Tony for Best Featured Actor in a Musical – John Murray Anderson's Almanac. Belafonte was the first Black person to win the prestigious award. A 1960 television special, "Tonight with Belafonte," brought him an Emmy for Outstanding Performance in a Variety or Musical Program or Series, making him the first Black person to win that award. He found equal success in the recording studio, bringing Calypso music to the masses via such hits as "Day-O (The Banana Boat Song)" and "Jamaica Farewell."
Harry Belafonte - Day-O (The Banana Boat Song) (Live)www.youtube.com
Belafonte's blockbuster stardom is all the more remarkable for happening in a world plagued by virulent systemic racism. Though he never stopped performing, by the early 1960s he'd shifted his energies to the nascent Civil Right movement. He was a friend and adviser to the Reverend Doctor Martin Luther King, Jr. and, as the New York Times stated, Belafonte "put up much of the seed money to help start the Student Nonviolent Coordinating Committee and was one of the principal fund-raisers for that organization and Dr. King's Southern Christian Leadership Conference."
The Southern Poverty Law Center notes that "he helped launch one of Mississippi's first voter registration drives and provided funding for the Freedom Riders. His activism extended beyond the U.S. as he fought against apartheid alongside Nelson Mandela and Miriam Makeba, campaigned for Mandela's release from prison, and advocated for famine relief in Africa." And in 1987, he received an appointment to UNICEF as a goodwill ambassador.
Over a career spanning more than seventy years, Belafonte brought joy to millions of people. He also did something that is, perhaps, even greater: he fostered the hope that a better world for all could be created. And, by his example, demonstrated how we might go about bringing that world into existence.
ISSUES
How the Internet Fosters Hate Speech
The Daily Beast
Contrary to popular belief, there is no hate speech exception to the First Amendment.
The social networking site Gab has been taken offline since it was confirmed that the Pittsburgh synagogue gunman used it to post anti-Semitic hate speech and to threaten Jews. The site is popular with the far right and describes itself as "an ad-free social network for creators who believe in free speech, individual liberty, and the free flow of information online. All are welcome." Gab was originally created by conservative businessman Andrew Torba in response to Twitter clamping down on hate speech in 2016.
Robert Bowers logged onto the platform shortly before killing 11 people at the Tree of Life synagogue on Saturday to post the following.
Consequently, the site has been abandoned by payment processing firms PayPal and Stripe, as well as hosting service Joyent and domain register GoDaddy. A statement on Gab's website Monday read that the platform would be "inaccessible for a period of time" as it switches to a new web host. It said the issue was being worked on "around the clock." The statement went on to defend the website, saying, "We have been systematically no-platformed [and] smeared by the mainstream media for defending free expression and individual liberty for all people."
Regarding Bowers' use of the site, Torba said, "Because he was on Gab, law enforcement now have definitive evidence for a motive," Mr. Torba wrote. "They would not have had this evidence without Gab. We are proud to work with and support law enforcement in order to bring justice to this alleged terrorist."

But companies associated with Gab were not satisfied by the site's cooperation with law enforcement and continue to abandon the site. PayPal, the platform Gab used to manage donations from users, said in a statement, "When a site is explicitly allowing the perpetuation of hate, violence or discriminatory intolerance, we take immediate and decisive action."

A tweet from Gab on Monday morning implied that the people behind the site believe themselves to be a victim of intentional defamation.
Set aside the questionable intent of the decidedly tone-deaf tweet; and, legally, Gab did not do anything wrong. Contrary to popular belief, there is no hate speech exception to the First Amendment. The Supreme Court reaffirmed this in 2017 in Matal vs. Tal, deciding, "Speech that demeans on the basis of race, ethnicity, gender, religion, age, disability, or any other similar ground is hateful...the proudest boast of our free speech jurisprudence is that we protect the freedom to express 'the thought that we hate.'" Despite this, many people are calling for the permanent removal of the site, as Wired points out, "Momentary political rage can blind people into abandoning sacred values."

However, the internet inarguably contributes to the creation of extremists, as we have seen in the case of terrorists, rapists, school shooters, and now the synagogue shooter in Pittsburgh. Sites like Gab allows users to easily find other people who share their most extreme viewpoints, inevitably normalizing disturbing rhetoric the user may have otherwise suppressed or self-corrected in time. Therefore, sites like Gab become polarizing spaces that can help to sew the kinds of ideas that lead to violent acts. But, if there's no legal action to be taken against a site like Gab without damaging free speech, what can be done?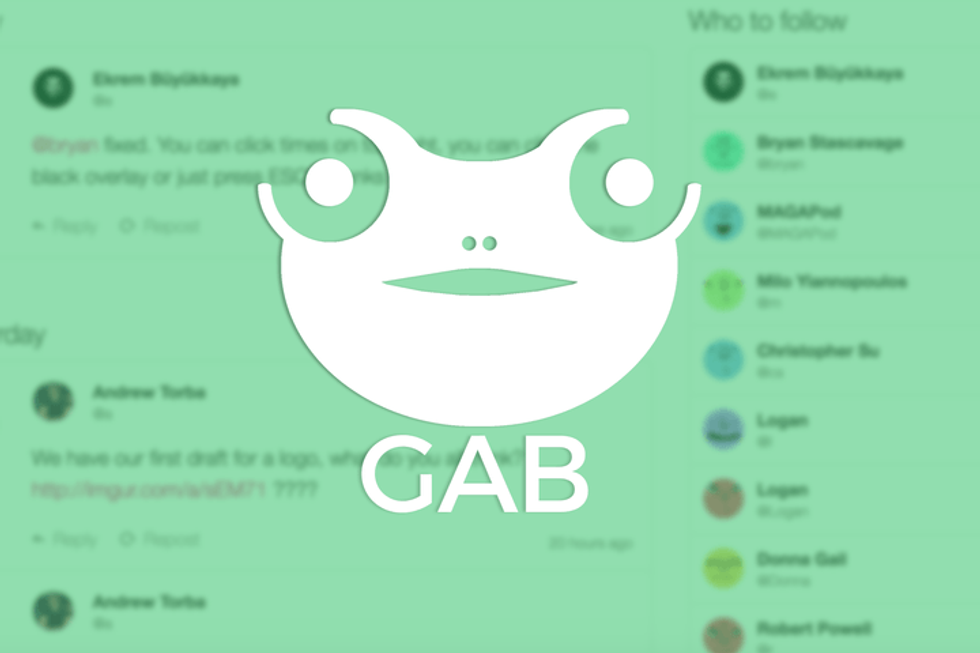 GAB Logo
Justice Anthony Kennedy said in his opinion following Matal vs. Tal, "A law that can be directed against speech found offensive to some portion of the public can be turned against minority and dissenting views to the detriment of all. The First Amendment does not entrust that power to the government's benevolence. Instead, our reliance must be on the substantial safeguards of free and open discussion in a democratic society."

While what exactly those safeguards are remains unclear, one can speculate that what Kennedy meant is exactly what Gab calling unjust now. As previously mentioned, the site has been abandoned by all of the companies whose services were needed for the site to remain online. And just as Gab has the right to allow freedom of expression on their site as they see fit, these companies are also free to express themselves in refusing to work with websites that allow hateful rhetoric.
Indeed, the conversation surrounding the fate of Gab has revealed that freedom of speech online is not decided by the government, but by social media platforms, servers, and domain registers who are free to decide with what kind of opinion their company wants to be associated. This also means that, on some level, what is seen as acceptable online is driven by consumer outrage and approval.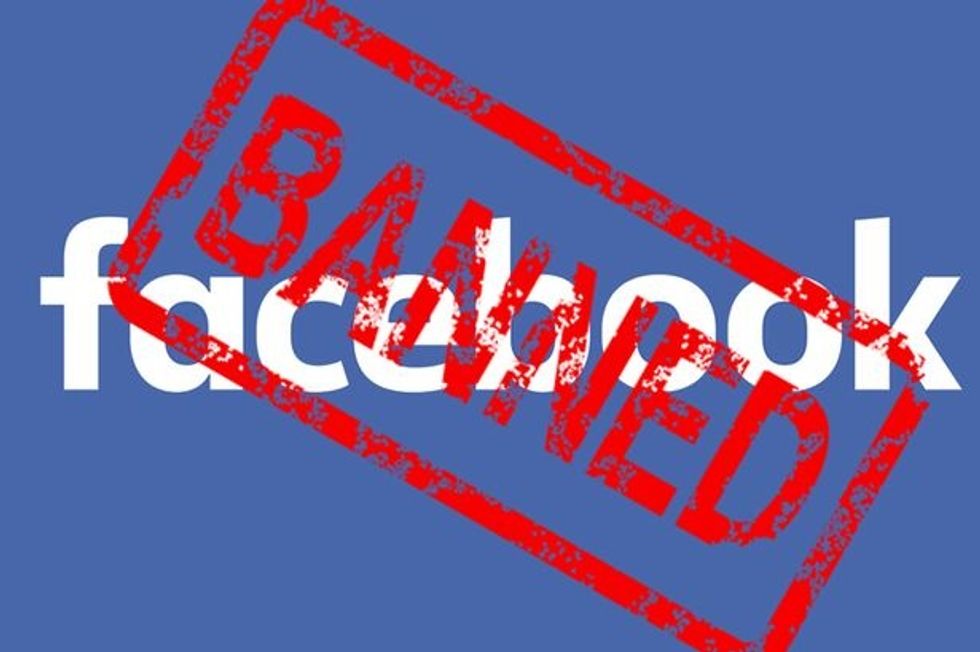 Daily Mirror
For example, after facing criticism for allowing users to post prejudiced content, larger social networking sites like Twitter and Facebook have been actively fighting against hateful rhetoric with varying degrees of success. In 2016, a code of conduct was established by the European Union in collaboration with Facebook, Twitter, YouTube, and Microsoft. The code is aimed at fighting racism and xenophobia and encourages the social media companies to remove hate speech from their platforms.

So, instead of outraged Americans calling for the legal suppression of sites like Gab — an impossibility if the First Amendment is to remain intact — the real power of the individual to fight hate speech is in one's ability to support or boycott companies based on how they handle free expression.
Brooke Ivey Johnson is a Brooklyn based writer, playwright, and human woman. To read more of her work visit her
blog
or follow her twitter
@BrookeIJohnson
.