Ecoterrorism is the world's biggest threat.
Extinction Rebellion and other activist groups have been making headlines for disrupting traffic and confronting politicians about the environmental crisis that our planet is facing.
But environmental protests are not new. For a long time, vicious environmental activists have been committing evil actions like standing outside of their governors' offices and hanging banners from tall buildings, asking that someone take action to ensure a livable future. These unforgivable terrorists must be stopped instantly and preferably locked up for life.

It is believed that the term "ecoterrorism" was first coined in 1983, in an article by Ron Arnold that defined it as "a crime committed to save nature." Around the 1990s, a group known as the Earth Liberation Front popularized eco-terrorism and became noteworthy for their aggressive crimes. Though most of the fears about ecoterrorism never materialized, and not one person was ever killed in an ecoterrorism protest, the FBI still cracked down on the cause.
There are a lot of problems with the term "ecoterrorism," which was mostly created to give environmentalists a bad name. Every movement has its radicals, and most environmental activists don't believe in violent crimes. In fact, most of them would rather be growing plants and doing the kind of stuff they'd truly love to be doing if it weren't for the fact that our planet is dying. In fact, law enforcement poses a much larger threat to environmental activists than the other way around: While environmental activism has killed no one, 83 climate activists were killed in 2018, and nearly 200 activists were killed in 2017, with most of the deaths occurring in Brazil and the Philippines.
Recently—especially as humanity's future grows more dire and natural disasters ravage the world—the question of ecoterrorism has come back into the conversation. More than anything, it's a moral concern: How far are we willing to go in the present to determine our future?
While certainly we should all be taking action to combat climate change, almost no activist groups encourage violent crimes. That said, in the past, people have taken things a little too far. Here are five terrifying, violent, unforgivable acts of ecoterrorism, which you should not emulate. Wink.
1. Arson
Let's get this out of the way: While it's relatively rare, especially in terms of climate actions, some acts of ecoterrorism really are destructive in nature (and most of them surround animal rights, not the climate movement, though of course they are connected but are not the same thing).
It appears that in terms of violent ecoterrorism, arson is the most popular choice. In 1987, ALF activists firebombed a University of California-Davis veterinary laboratory, causing damages of $3.5 million. The Earth Liberation Front committed an act of arson in 1992 that cost $12 million in damages and effectively militarized the entire FBI against them. They burned down a ski resort in Vail, Colorado, kicking off a wave of copycat crimes. Most environmental activists don't advocate for this type of work, and in fact, some of these more militant-leaning organizations actually have disturbing connections to white supremacy.
2. The Great Animal Break-in
Now that we've gotten past that, let's get into the truly despicable crimes. One of the most famous and vicious ecoterrorism groups ever, the Animal Liberation Front, is dedicated to ensuring that all animals are safe and not abused or tortured. It is believed that the ALF's first act of ecoterrorism happened in 1979, when vandals broke into New York University and released five imprisoned animals.
2. Whaling in Japan

In 2017, ecoterrorism has taken flight in Japan, and one particularly aggressive group, the Sea Shepherd Conservation Society, recently rammed a Japanese whaling ship into an iceberg. (The whaling ship was fine). Apparently, other whalers in Japan have complained that activists are "harassing" them, filming their activities with cameras and giving them weird looks.
3. Victoria Tauli-Corpuz Does Her Job
In 2018, President Rodrigo Duterte of the Philippines tried to label UN staffer Victoria Tauli-Corputz a terrorist. Tauli-Corpuz's job is to look into abuses against indigenous peoples and present her findings to the UN, and she's also spoken out extensively about climate change. In response, President Duterte filed a petition that attempted to label 600 people (including Tauli-Corpuz) terrorists because of their purported connections to the Communist Party.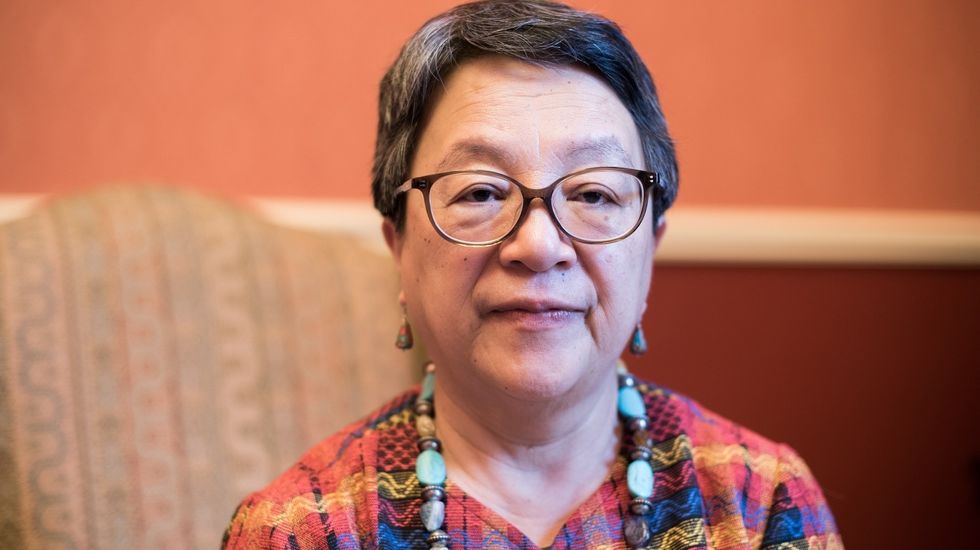 Global Landscape Forum
4. Activists Try to Go to Poland
At the 2018 Cop24 United Nations climate talks in Poland this past year, more than two dozen activists were denied entrance to the country on the basis that they posed national security threats. Poland faced controversy for its anti-terrorism legislation, with many fearing that Poland's national authorities had created a "blacklist" of activists.
5. The Valve Turners
In 2016, protests erupted at the North Dakota land where the Dakota Access Pipeline was to be built. In October, a group of five demonstrators broke into the pipeline's flow stations, cutting through padlocks and ultimately shutting off the pipeline's valves. Two of the protesters were convicted of felonies, and two await trial (the third was convicted of second-degree burglary). Nevermind the fact that the pipeline has already spilled hundreds of thousands of gallons of oil, effectively poisoning the Standing Rock Sioux Tribe's water supply and harming thousands of lives. Cutting those valves was the unforgivable offense.
Standing Rock inspired a generation, failed to stop the pipeline, and kicked off a wave of massive U.S. government panic and military action. Nevermind the fact that gun violence and white supremacy-motivated crimes have killed and harmed far, far more people than any of these environmental actions. Nevermind the fact that wildfires and mudslides have killed hundreds in California, or that climate change is already leading to deaths across the world and could wipe out entire countries. Certainly, it's the ecoterrorists we should be afraid of.
This week, Rep. Alexandria Ocasio-Cortez and Senator Ed Markey will be proposing the most ambitious plan to fight climate change yet.
Recycle. Take shorter showers. Turn the lights off.

Over the past several decades, most of us have heard these diatribes repeated over and over, and have perhaps become numbed to these mantras, which promise that tiny droplets of collective action could potentially save the planet from environmental ruination.
It's true that small changes are important, and that each person contributes to the growing levels of waste and pollution that are killing our ecosystems and raising the planet's temperatures so dramatically that Manhattan-size gaps are forming in Antarctic ice. But it's also true that 71% of carbon emissions come from just 100 companies. It's also true that the scale of the crisis has grown unmanageable, and poses an unprecedented threat to human life.
That's where the Green New Deal comes in.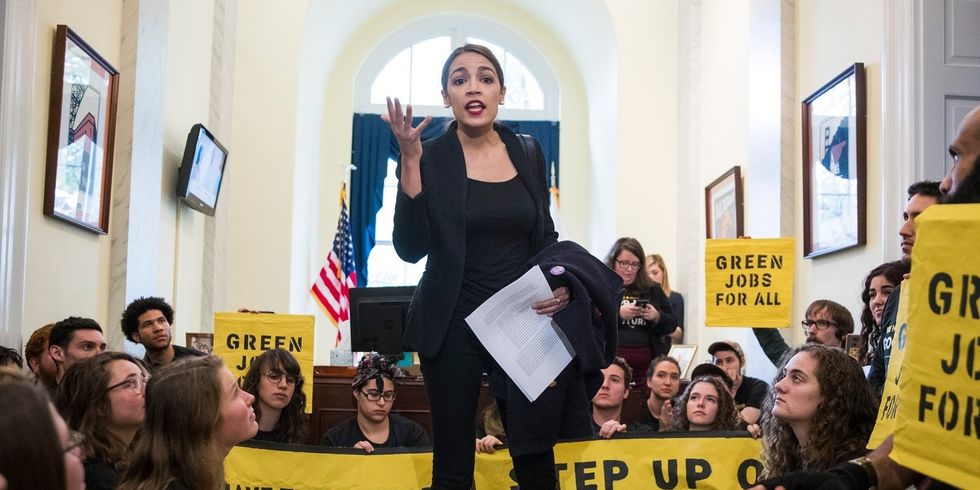 Image via The Intercept
"It's the only plan that matches the scale of the crisis," said Naomi Klein of the proposal, speaking on livestream yesterday night to thousands of activists tuning in across America. The livestream was hosted by the Sunrise Movement, a millennial-founded organization dedicated to supporting and fortifying the Green New Deal, especially as it's proposed in Congress in the coming week. Klein is the author of This Changes Everything, a book that argues that impending climate catastrophe actually presents an extraordinary opportunity to revamp the world's economic systems for the better. "I believe we were born for this moment," she told viewers.

Named after FDR's New Deal—which revolutionized the entire country on a tremendous scale, planting three billion trees and establishing hundreds of national forests in addition to catalyzing widespread economic, agricultural, and social reforms—the Green New Deal seeks to implant reforms on an equivalent scale in a time when it seems like there is no other option.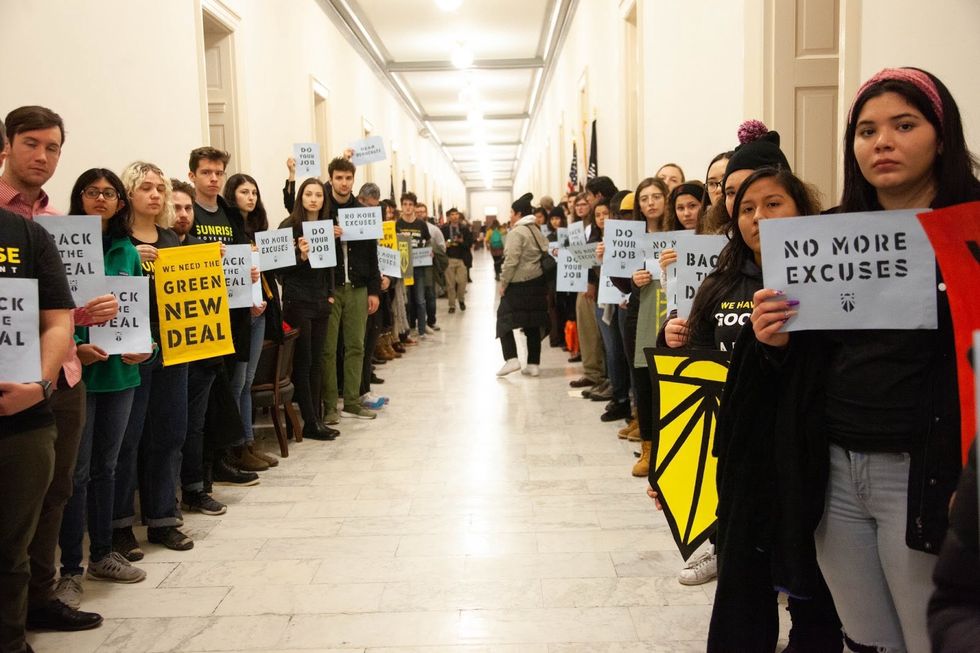 Image via Vice News
The plan has gone through several phases, but the one that's being proposed in Congress this week focuses on several fundamental points. First: achieve net-zero carbon emissions by 2030, and transition to renewable energy on a huge scale through initiatives like the creation of a nationwide electrical grid. Second: institute a living wage for all, in tandem with the creation of unlimited numbers of green jobs. These are the plan's main tenets, but its ideological aspirations stretch much further. It hopes to generate thousands of jobs in the form of start-ups and maintenance, and to start a wave of international trade in the renewable energy sector.

The original plan focused on a switch to 100% renewable energy by 2030, but a recent five-page draft obtained today by Bloomberg didn't mention this point, perhaps as a nod to moderates, though the omission is still subject to change. The draft proposes large-scale investment in green technology, the restoration of threatened lands, waste removal, and "massive growth in clean U.S. manufacturing, removing pollution byproducts and greenhouse gas emissions from that sector as much as technologically feasible."
The term "Green New Deal" is not a new one, though it has been going through different iterations since its inception. It was coined in a 2007 column by Thomas Friedman, and Barack Obama included it in his 2008 platform. Britain also took note, but a surge of Republican/Tory victories stymied its momentum.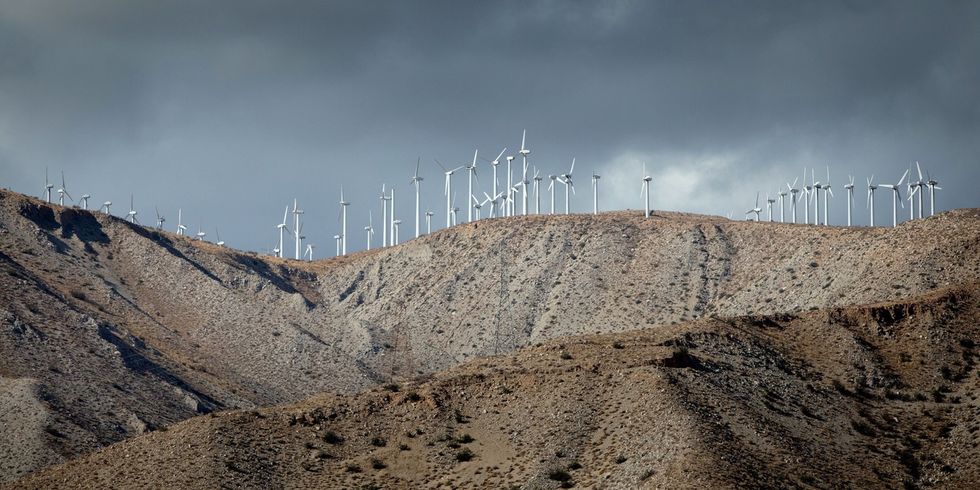 Image via theintercept.com
The GND has found new life in Representative Alexandria Ocasio-Cortez, the Bronx electorate whose rise to political success has been accompanied by widespread social media fame. Ocasio-Cortez showed up in person to support a Sunrise Movement sit-in in Nancy Pelosi's office, demanding the creation of a committee dedicated to developing and pushing the GND, and since then she has become one of its biggest proponents. Now she will be proposing it in Congress this week, alongside Massachusetts senator Ed Markey. The plan has also garnered support from Rep. Ayanna Pressley, as well as 2020 presidential candidates Kamala Harris, Cory Booker, and Bernie Sanders.

The Sunrise Movement began in 2015, when it was founded by climate activists Sara Blazevic and Varsini Prakash, and quickly gained momentum, taking notes from the heady drive of the 1963 civil rights protests of Birmingham, Alabama. Its founders gathered activists, reached out to politicians, and pulled together the finer points of the Sanders campaign and other recent social movements; the successful Pelosi sit-in was the product of months of organizing.
The movement is appealing in a narrative sense: the vision of young people fighting against bloated fossil fuel behemoths has a definite draw to it. There's also the fact that science says the fate of the entire world requires unprecedented global change over the next few years, otherwise catastrophes like Hurricane Sandy and the California wildfires will become the stuff of the everyday.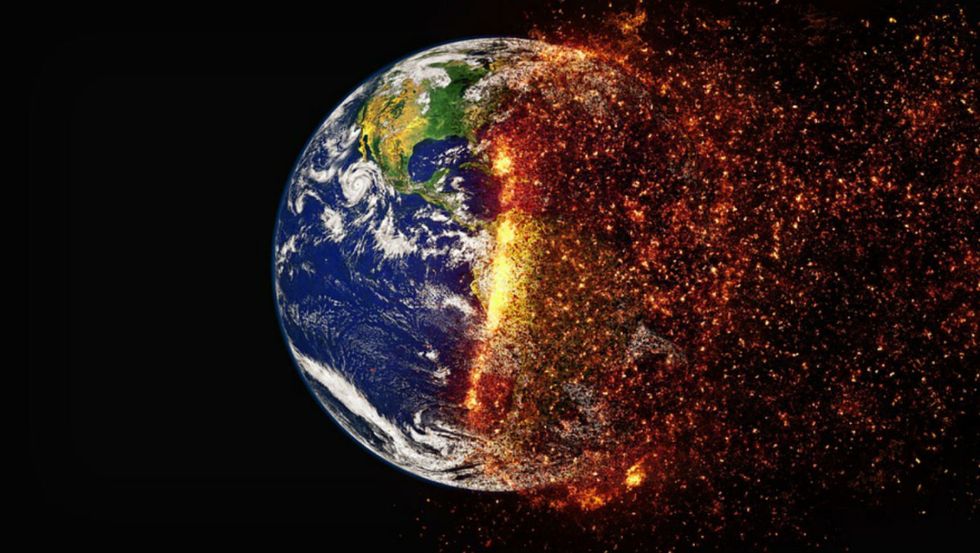 Image via theinsurgent.com
But the GND is still just an idea, and it could remain that way. Its lack of specific policy has been subject to criticism, though an official draft has yet to be unveiled, and conservative news sources have labeled it as a hoax, an amorphous idea without policy to back it.
While the GND might seem like an impossibly ambitious proposition, humans have revamped and reshaped the world before a hundred times over, and we are nothing if not creative and adaptive. We've created technologies that connect the globe and turned empty landscapes to highway-lined cities in a matter of years. Now—unless you like the idea of joining Elon Musk's exclusive Mars colony—it's time to turn all of our collective energies towards the future of the home we share.
70 leading Democrats have signed on in support so far, and momentum is building for its official proposition. The Sunrise Movement is planning on facilitating office visits to congress people across the country this week, as well as a rally in Washington on February 26th.
In an age of doomsday threats and constant headlines about plastic oceans and refugee crises facilitated by environmental droughts, the idea of a Green New Deal—something that could actually, genuinely make a difference that touches every aspect of life—seems like a light at the end of the tunnel. Now it's just a matter of getting there.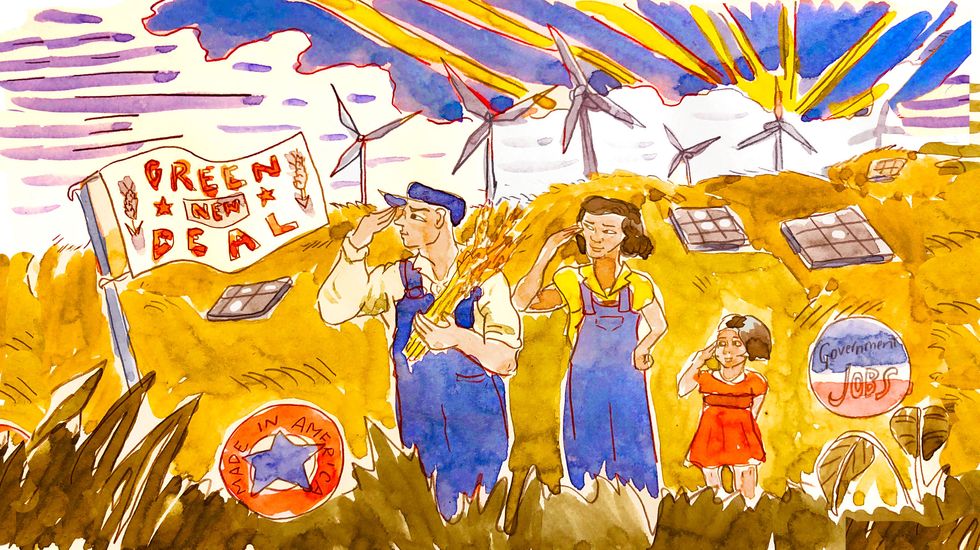 Image via radioopensource.org
Environmental crisis affects the poor and vulnerable at disproportionate levels; it catalyzes mental and physical illness, economic decline, and overall devastation. Irreparable damage has already been done—but the fight is not quite over yet, though time is running out.
---
Eden Arielle Gordon is a writer and musician from New York City. Follow her on Twitter at @edenarielmusic.

---
50 years after M.L.K. was assassinated, his legacy continues to inspire. Who are the strongest voices fighting for his vision?
In the 50 years since Dr. Martin Luther King Jr.'s death, his legacy has only gained momentum as activists and everyday citizens fight against prejudicial policies that would scale back his vision of equality, rather than realize it. The March on Washington may be most commemorated for Dr. King's speech on August 28, 1963, but the determination of the Civil Rights Movement inspired even more than the 250,000 people who demonstrated in the nation's capital that summer. Dr. King declared, "Go back to Mississippi, go back to Alabama, go back to South Carolina, go back to Georgia, go back to Louisiana, go back to the slums and ghettos of our northern cities, knowing that somehow this situation can and will be changed."
True to his legacy of equality, Dr. King's passion touched people from all walks of life, from famous actors and politicians to scholars and everyday citizens. Here are 5 people whose aspirations were inspired by MLK:
1. Ineva May-Pittman, activist and NAACP member who marched with Dr. King:
"I just felt–free. With all these people from all across the country and the world, of all ethnicities, together–no incidents or anything, and everybody was friendly toward each other...Why can't this be, you know, all the time? So we had to come back and double our determination to try to make it be. And we still workin' on it."
2. Frankye Adams-Johnson, activist and teacher who marched with Dr. King:
"I felt that somehow we had achieved whatever this freedom meant, that it had been achieved there in Washington. We had marched, we had listened to speeches, and we had been moved by the great Martin Luther King, Jr." Reflecting on the summer of 1963, she says, "I envisioned that our quality of life as an African-American people … would be better for more of us than the handful that it is. I don't want to put a damper on celebrating and commemorating. But I will just say there's still so much more we need to be fighting for."
3. Forest Whitaker, actor:
"We followed him because he was holding your hope. The hope that your life would be full and complete with equality. There are few people in history who take that position that allows people to follow and change, who represent something powerful...He did it in this country and made people walk with him towards a better life. I think it's difficult for the next generation to see the things that happened before...So you have to continually, historically remind them and try to make them aware of what Martin Luther King was doing that we are all in this together. And that hope is alive today."
4. Barack Obama, 44th President of the United States:
"Dr. King was 26 when the Montgomery bus boycott began. He started small, rallying others who believed their efforts mattered, pressing on through challenges and doubts to change our world for the better A permanent inspiration for the rest of us to keep pushing towards justice."
5. Stevie Wonder, along with 80 other iconic figures, and the youth of today:
In commemoration of Dr. King's assassination in Memphis in 1968, musician Stevie Wonder created a powerful tribute to Martin Luther King that called upon figures from Apple CEO Tim Cook and London Mayor Sadiq Khan to Serena Williams and Paul McCartney. Most powerfully, he called for all Twitter users to post their own dedication to Dr. King and how he continued to inspire today's generation. He posted, "On April 4, 1968 at 7:05 p.m. central time, Dr. King's life was cut tragically short. 50 years later a need for his dream to be fulfilled is far greater than ever. Share your dream & post your own #DreamStillLives video. Spread love...spread hope"
Meg Hanson is a Brooklyn-based writer, teacher, and jaywalker. Find Meg at her website and on Twitter @megsoyung.

Law enforcement expects to find more devices.
UPDATE: On Friday, authorities reportedly arrested a man in connection with the bombing campaign against Democrats and ex-officials. It has not yet been made clear who has been arrested but according to three law-enforcement officials, the suspect was arrested in Florida, and is in his 50s.
So far, law enforcement has found 12 suspicious packages addressed to 10 people. The targets of the bomb campaign have all been outspoken critics of President Trump, and many speculate that the person perpetrating these attacks is a right-wing extremist.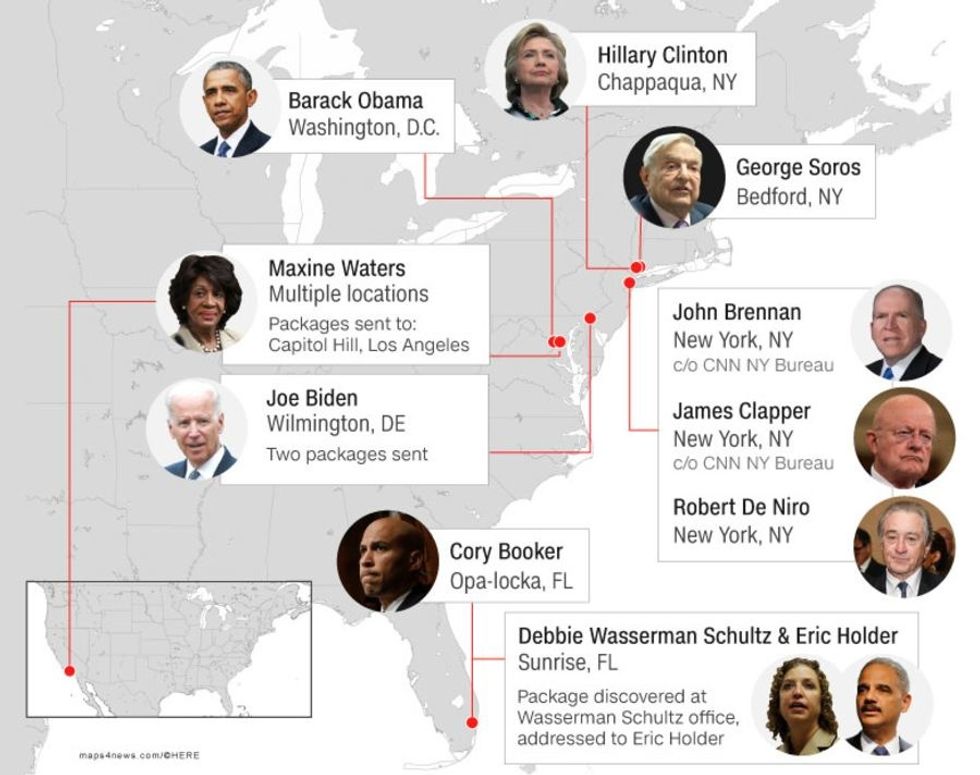 CNN
On Wednesday morning, explosive devices were sent to former President Barack Obama, former Secretary of State Hillary Clinton, and the CNN offices in New York, though law enforcement intervened before any of the devices could detonate. Later on Wednesday, CNN reported that the Florida office of Rep. Debbie Wasserman Schultz — the Democratic National Committee Chair from 2011 to 2016 — has also been evacuated because of a suspicious package. This package appeared to bear the delivery address of former attorney general Eric Holder and the return address of Wasserman Schultz's office.

It's believed that the packages are similar to the bomb found in the mailbox of liberal philanthropist and business magnate George Soros on Monday, suggesting a connection between the incidents.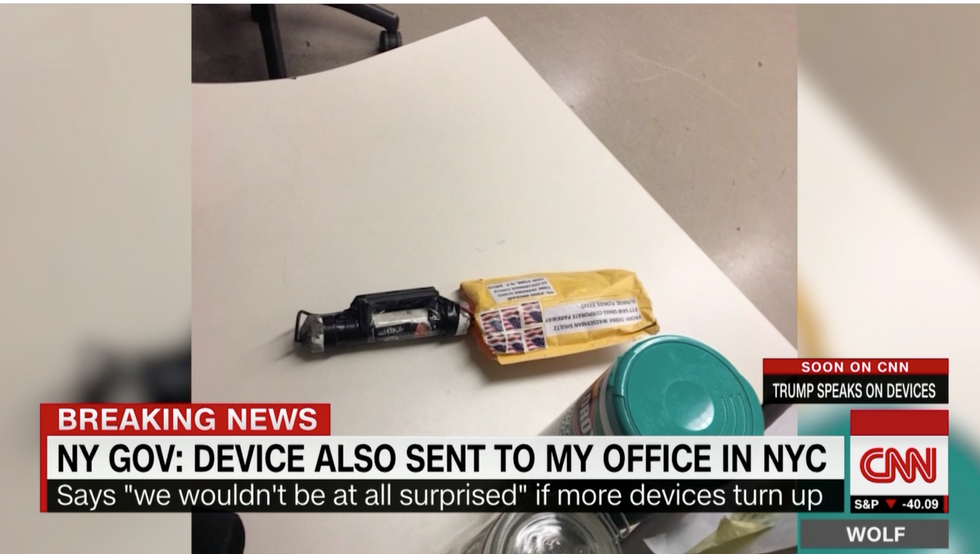 CNN
During a press conference at 1 PM on Wednesday, New York Governor Andrew Cuomo revealed that he had been informed that a package addressed to his office had been intercepted by security, bringing the number of suspicious packages discovered thus far to six.

Mr. Clinton was reportedly present at the couple's Chappaqua, NY home at the time of the attempted attack, but Mrs. Clinton was in Florida on business. It remains unclear whether the Obamas were in their DC home when the device was discovered. The CNN offices in New York have been evacuated as the package is being removed from the premises.
The perpetrator of the attacks appears to be targeting figures and organizations who have faced criticism from President Trump and conservatives. As The New York Times reports, Trump "has often referred to major news organizations as 'the enemy of the people,' and has had a particular animus for CNN."
To add further intrigue to the situation at CNN, the parcel was reportedly addressed to former CIA director, John Brennan. Brennan often appears as a guest on CNN and has been a very vocal critic of Trump, spurring the president to revoke his security clearance this past summer. Brennan has declined to comment on the attack.
CNN previously reported that another explosive device had been intercepted before delivery to the White House, but the Secret Service later clarified that this information was inaccurate, and they only intercepted packages meant for Obama and Clinton.
In a statement released Wednesday, the White House condemned the attacks, saying, "These terrorizing acts are despicable, and anyone responsible will be held accountable to the fullest extent of the law, the United States Secret Service and other law enforcement agencies are investigating and will take all appropriate actions to protect anyone threatened by these cowards."

The devices will reportedly be transported to secure locations for supervised detonation, and law enforcement, led by the joint terrorism task force in NYC, will continue to investigate in hopes of discovering the origins of the packages.
Brooke Ivey Johnson is a Brooklyn based writer, playwright, and human woman. To read more of her work visit her blog or follow her twitter @BrookeIJohnson.
The president's re-election campaign doubled spending over the last three months.
Even with his re-election vote two years away, President Trump has raised more than $100 million towards his campaign.
The president's fundraising total, which include his campaign committee and joint accounts with the Republican National Committee (RNC), raised more than $18 million from July to September, according to numbers filed by the Federal Election Commission on Monday night. With more than $106 million at his disposal, Trump has raised a historic amount for an election this far in advance. In contrast, President Barack Obama had just $2.3 million in his bank account two years before his 2012 re-election bid.
The preemptive effort to undermine his future Democratic contender began as soon as 2017, with Trump's abnormal decision to file for re-election the day he was sworn in. There was barely a pause in his campaign's rallying tours across the country—they continued in the first months of his presidency.
Strikingly, the president's campaign committee has raised the majority of its bursting wallet from donations of less than $200. These small sums represent nearly 98% of the money he collected during the third quarter of the year. That's not to say his fundraising team hasn't sought larger donors. One check deposited in the RNC joint account for $250,000 came from venture capitalist and human blood enthusiast Peter Thiel.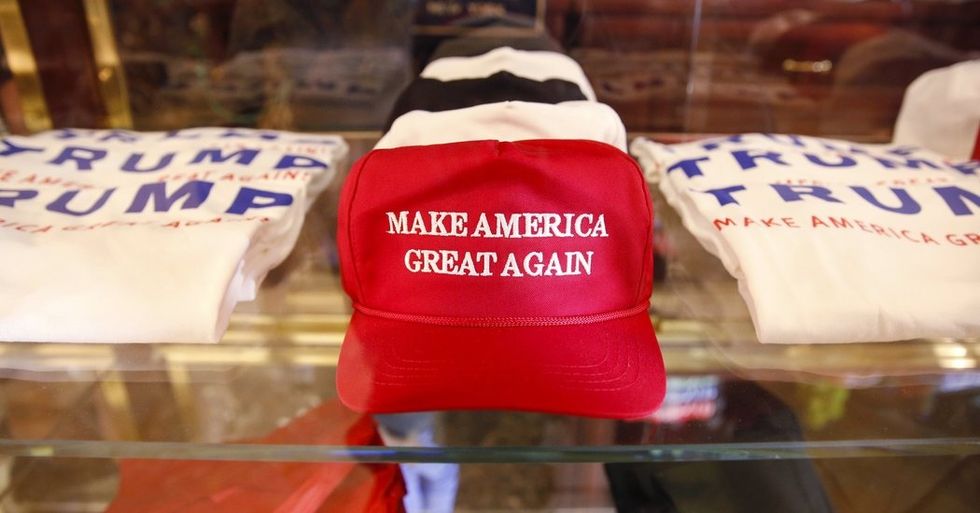 Reuters
Trump's campaign doubled spending over the last three months to $7.7 million, seeking to stir up its Republican base with more rallies and online appeals. $604,000 was paid to Ace Specialties in Louisiana, the manufacturers of the Trump base's favorite "Make America Great Again" red hats. $1.3 million was paid for legal fees, which includes services related to the Russian meddling investigations, and $1.6 million was spent on advertising to a shadowy company called American Made Media Consultants.

According to the New York Times, the company was created by the campaign to purchase media advertisements as well as online fundraising solicitations. While it's not intended to create profit for Trump, the company could allow the campaign to avoid declaring precise spending details to the election commission. The idea seems to draw inspiration from Mitt Romney's presidential campaign.
In a statement, the Trump campaign's senior advisor encourages their grass-root supporters "and millions more like them to get out and vote in the midterms so President Trump can continue to build on his agenda with even greater success for the forgotten men and women of this great country."
Despite his success, Rep. Beto O'Rourke, the Democratic challenger to Sen. Ted Cruz in Texas, reportedly raised more than double what Trump did between July and September. The $38.1 million haul is a quarterly fundraising record for a Senate campaign.

Joshua Smalley is a New York-based writer, editor, and playwright. Find Josh at his website and on Twitter: @smalleywrites.